Today's wedding is guaranteed to give you all the warm, cosy feels. Think of it as a comforting (yet elegant) hug of a wedding. We've got pillar candles and roses cascading down a historic staircase, a romantic, stone-built country manor and the crisp, fresh air of an early spring day.
Please, come with me to Errol Park for the relaxed, personal celebration of Sara and Paul. Helping them to piece together their vision was Laura from Devine Bride, who was invaluable in making the day run smoothly.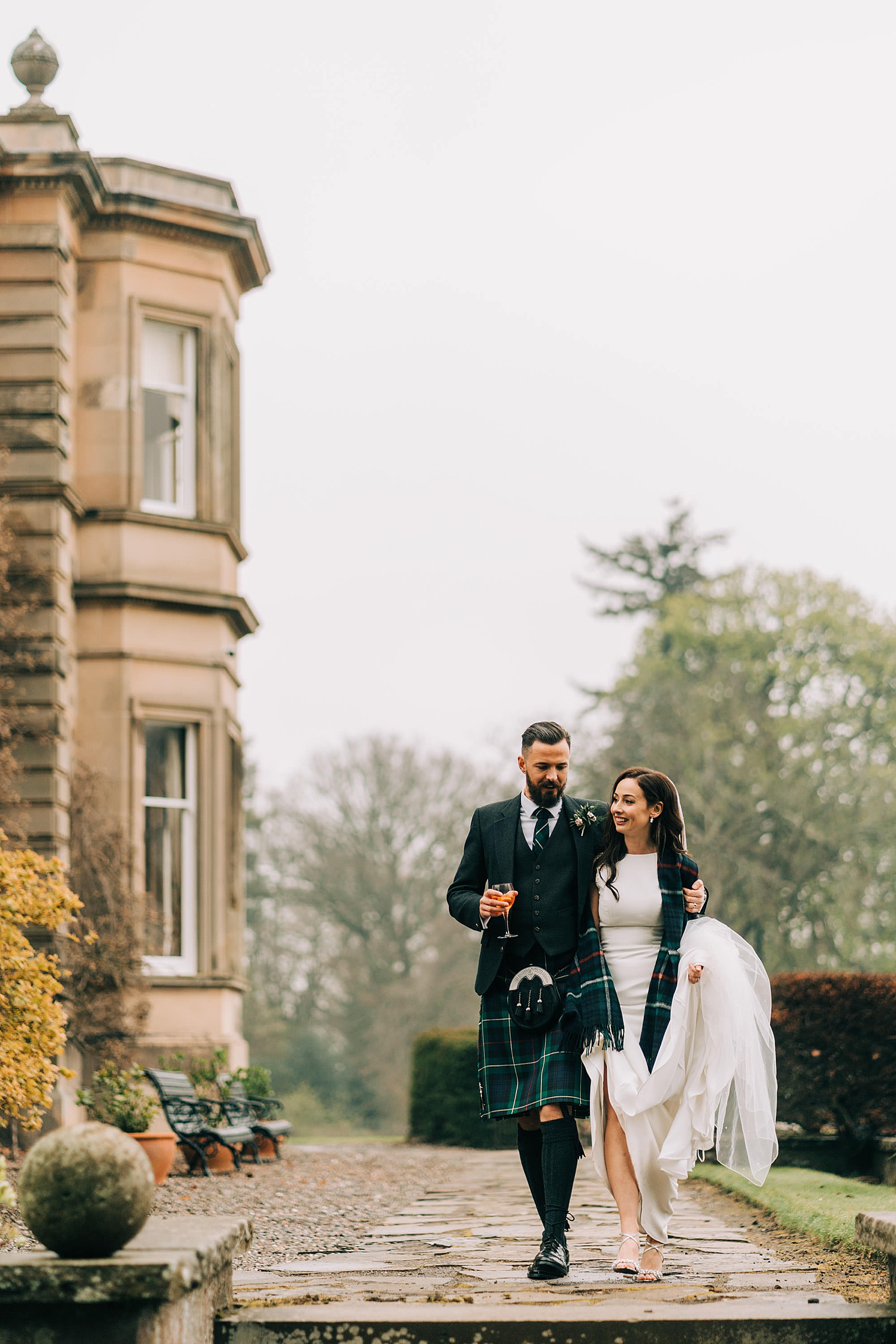 "Although we planned the wedding ourselves we hired Laura from Devine Bride for on-the-day wedding coordination. Having a 'DIY' wedding, I quickly realised that there would be lots of bits and pieces to be co-ordinated on the day and didn't want the added stress of having to co-ordinate and delegate jobs to our bridal party. Laura communicated with all our suppliers in the lead-up and ensured everything ran smoothly on the day. She was seriously invaluable and ensured I could just relax and enjoy the day knowing it was in safe hands."
Errol Park, just outside Perth in Scotland, was the setting for the wedding of Sara, a student midwife and Paul, a business analyst, on 6 April 2019. With its incomparably beautiful landscape and the flexibility of the venue and its splendid historic house and more relaxed stable, the couple fell in love with Errol Park at first glance.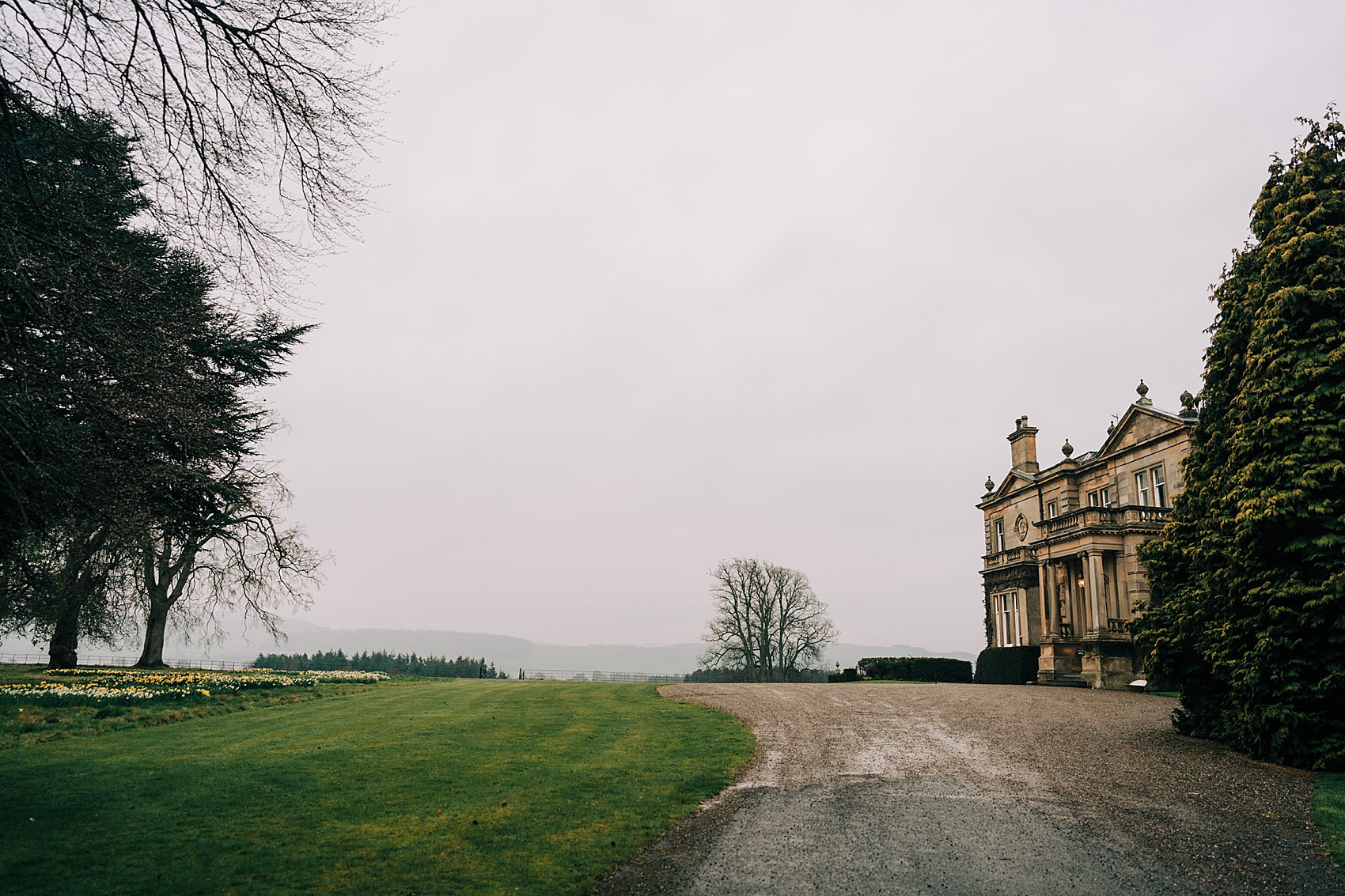 "We only visited two venues, Errol Park being the second, and we knew it was the one for us as soon as we saw it. We loved that we could have the whole day there but that we had the mixture of the grand main house for ceremony and drinks reception and then the more relaxed and informal stables for our meal and reception."
"We also liked the flexibility of being able to hire in lots of our own suppliers and the freedom to decorate as we wished. We really had free reign to create the day that we wanted.  We also thought the place had loads of character and the added bonus of some gorgeous Scottish scenery."

Flowers were a key part of the styling, and the whole tone was set by Sara's romantic and natural bouquet.
"I came across Amy Annand Flowers on Instagram and instantly knew I wanted her to do our flowers. We went for a natural/neutral palette with lots of foliage (eucalyptus, ferns) and neutral/pink flowers (roses, ranunculus). Amy also added lots of extra touches like candles on the staircase where we were married and in the stables where she hung hoops of foliage with hanging lanterns. I was blown away when I saw the flowers on the wedding morning. It is crazy how much flowers and candles can transform a space. She is worth every penny."
Sara has thoughtfully provided more details about how this utterly sumptuous, elegant look was put together; I love how organic it feels, seamlessly blending into the feel of the venue.
"Our florist, Amy Annand Flowers, was mostly involved in decoration and used lots of candles and foliage to decorate around the venue.  We also added personal touches such as photos of our grandparents on their wedding day and Polaroids from our travels together. I bought a variety of boards and stands and Laura from Devine Bride set them up on the morning of the wedding."
"It looked great. We also hired lots of décor items from Just Vintage Hire, including a large marquee heart, easel for the table plan and a large cartwheel to add some extra character to the venue. Elaine was great, I'd highly recommend her and she was really reasonable in comparison to some other suppliers."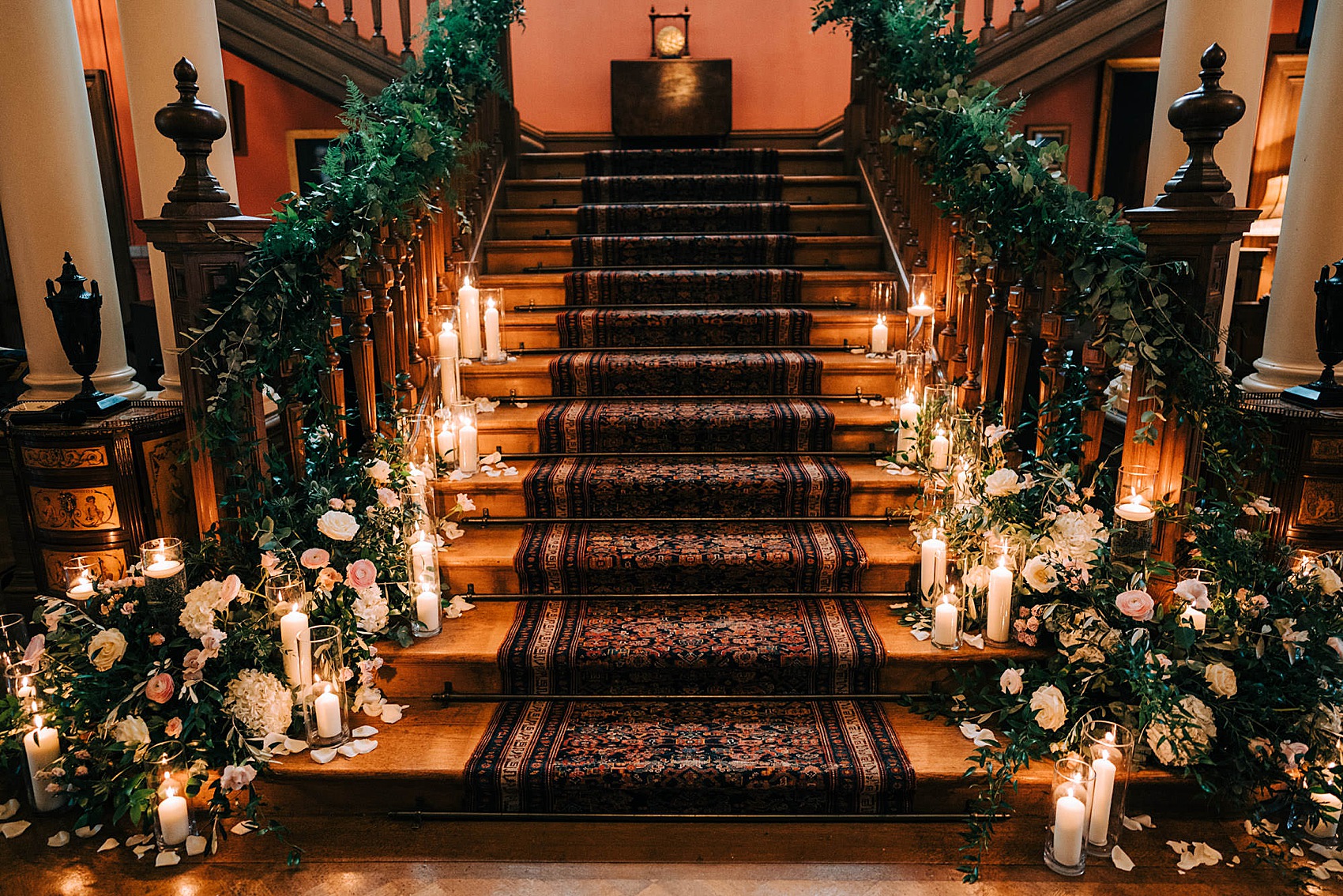 On the morning of the wedding, the bride and groom got ready at lodges just around the corner from the Park. True to his roots, Paul dressed in traditional Scottish attire.
"Paul wore a Modern MacKenzie tartan kilt. We both absolutely love Scotland and exploring different areas in Scotland so for him the kilt was an easy choice."
Feeling like herself was very important for Sara, and her hair stylist, Pin Up Hair Glasgow, and make-up artist, Cat Robertson MUA, more than delivered.
"Cat and Gillian work together a lot and this meant we were able to have such a laugh the morning of the wedding. They are both very relaxed and are able to do a more 'natural' wedding look which was definitely what I wanted. They made me feel like a better version of myself and not someone totally different which I was so happy about. They really helped my confidence on the wedding morning."
In beautiful contrast to the jewel tone of the bridesmaids, the bride dressed in an exquisitely-cut, modern-style gown from Pronovias, featuring a sexy open back and the prettiest, beaded cap sleeves. The train pools so wonderfully behind Sara, and check out the delicate beading at the base of the spine.
"Everyone says 'you just know' when you try on your wedding dress but I really didn't find this to be the case! I bought my dress from Ivory Pinks in Bothwell. It was one of the first I tried on and although I really loved it when I tried it on, I found it really hard to commit and worried that there might be something else better I was missing."
"My dress was really simple and I was worried I 'should' be going for something a bit fancier and almost ended up ordering a very embellished, beaded gown. In the end, I realised I would feel so much more myself and comfortable going with the simple 'Dravidia' dress."
"Wilma at Ivory Pinks was absolutely amazing. She let me visit to try the dress on a fair number of times before I was finally realised it was definitely my dress and was really helpful during all of my fittings too. I was never made to feel a hassle and always left feeling great about myself! I loved every visit to the boutique. I felt amazing on the day."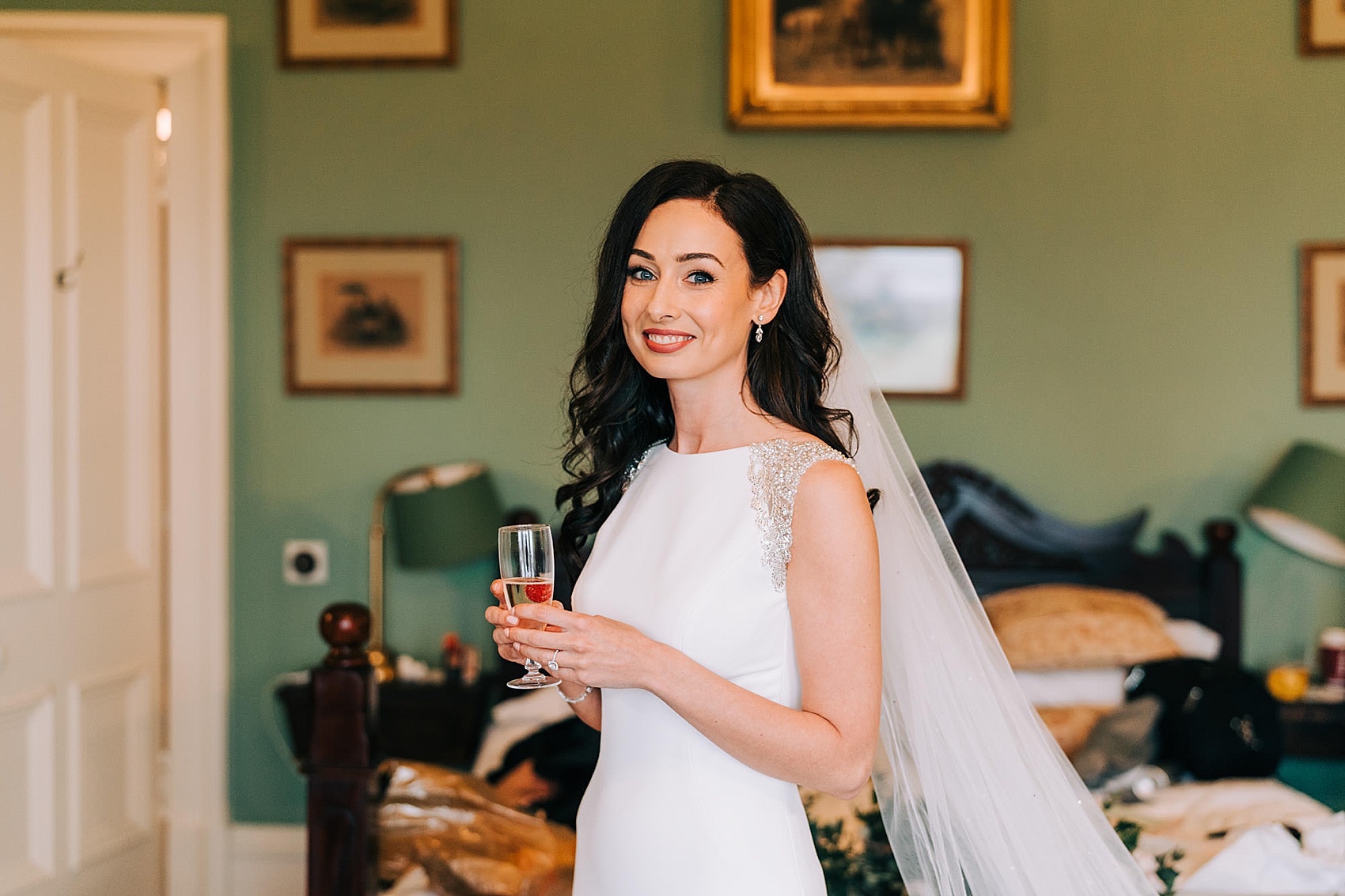 "I probably loved the fit of the dress the most. The fabric was really thick crepe which helped pull me in and the cut was really flattering. The dress comes with an embellished back which clips on but I decided not to add this bit to the dress as I felt much more comfortable with an open back and felt the embellishment wasn't really me! The long train also definitely helped me feel like a bride."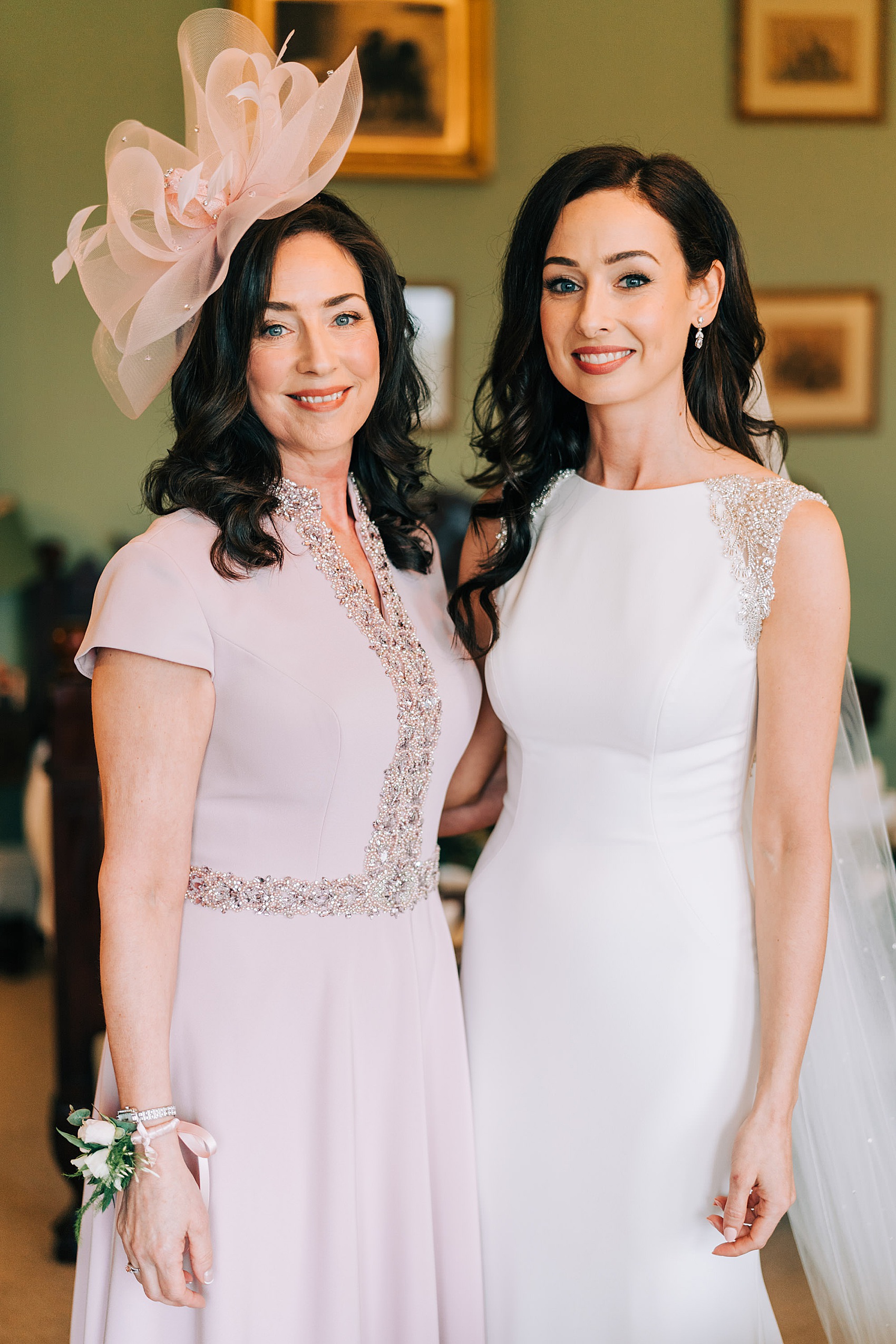 I love how the tartan blends so well with the bridesmaids' rich, luxe gowns, the Ghost Salma gown in Emerald Green.
"I had seen lots of photos of bridesmaids in Ghost dresses and originally had the idea of having all bridesmaids in the same colour but different styles of dress. It turned out that they all liked the Salma dress so we went for this. I took a while to decide on colour as I wasn't too sure if the emerald green was more wintery but it looked great on all the girls. The dresses are cut so well that my bridesmaid at 33 weeks pregnant still managed to fit into her pre-pregnancy size dress!"
Complementing the cap sleeves were Badgley Mischka heels and pendant earrings.
"They were by Stephanie Browne, a designer I came across whilst living in Australia."
Her perfume was Jo Malone's English Pear and Freesia.
"I think Paul was sick to death of the trips to Jo Malone before the wedding day to choose my perfume but I knew I wanted something I hadn't worn before to really remind me of the day. I loved this one from Jo Malone. When I wear it now I am transported back to getting ready on the morning of the wedding."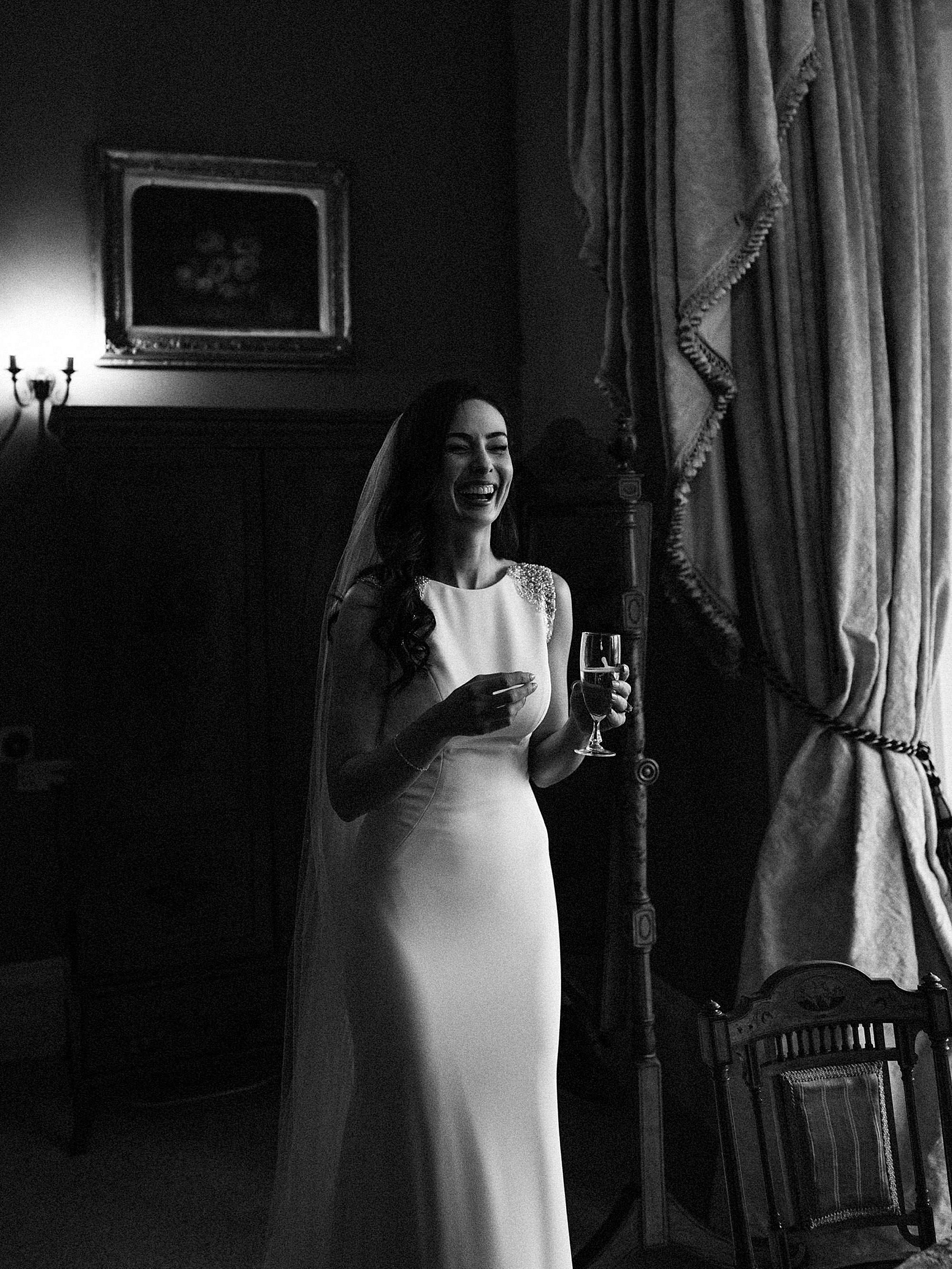 Before the ceremony, the couple's friends and family gathered at the bottom of the staircase so that they could look at Paul and Sara as they exchanged their vows.
The bride was accompanied down the first flight of stairs (which, by the way, are sensational thanks to the cascade of flowers and candles) by her father to an acoustic version of 'Heartbeats' by Jose Gonzalez.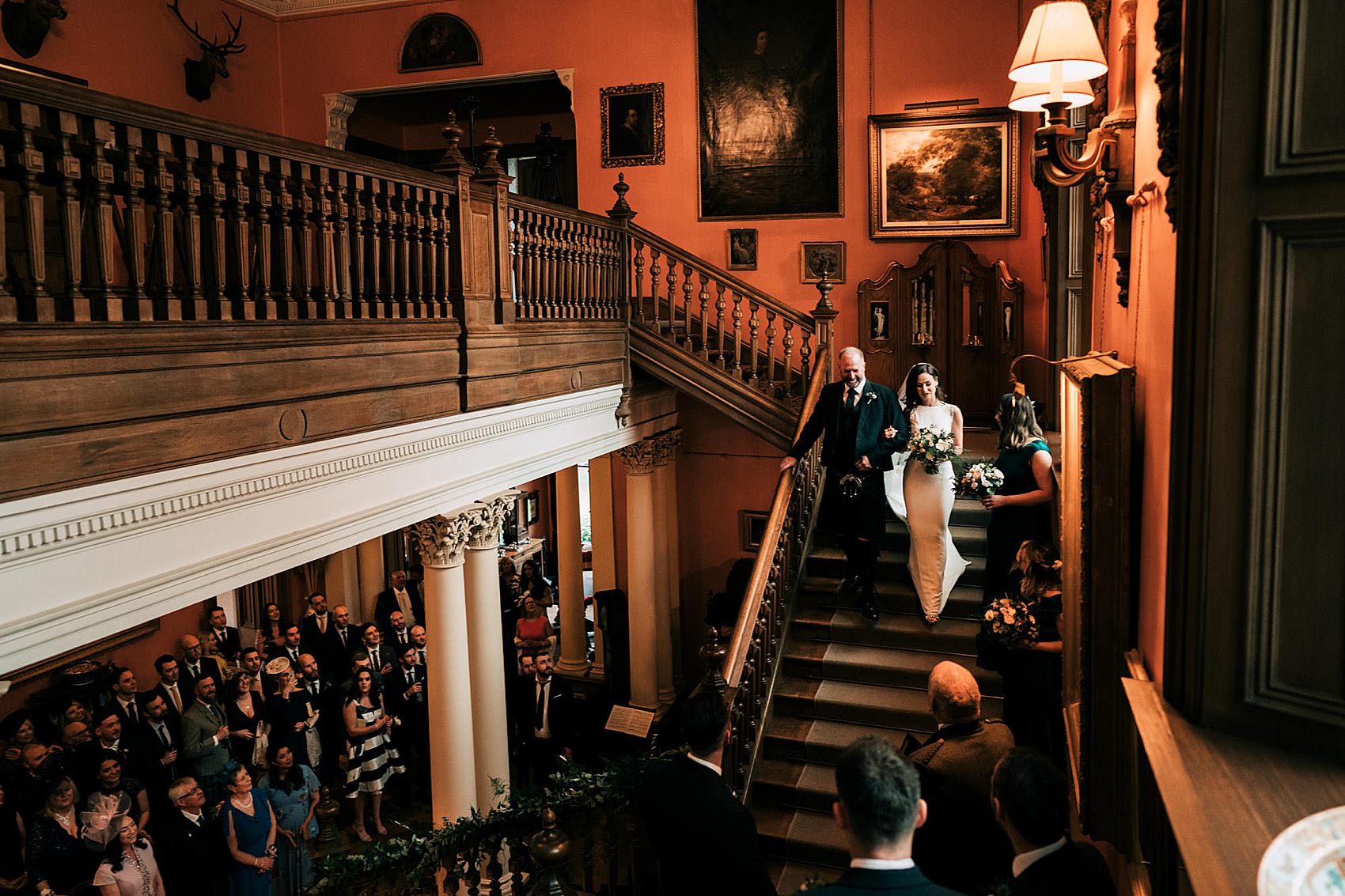 "My dad walked me down the stairs and was much needed to make sure I didn't trip! We had a family friend play guitar during our ceremony and drinks reception. He played José Gonzáles' 'Heartbeats' as I walked down the stairs, Sister Sledge's 'Thinking Of You' and Fleetwood Mac's 'Everywhere' during the ceremony."
"Sandy Geddes, our celebrant, was amazing. His loud voice really took control of our rowdy crowd and he was great at telling our story and getting a few laughs from the crowd. He made us feel both relaxed and we both enjoyed how much we could personalise the ceremony ourselves. Our ceremony was one of the highlights of the day for me and Sandy definitely helped that."
'Union' by Robert Fulgham, was one of the couple's readings and was read by their friend Ashley, who had travelled from Australia for the wedding.
"We chose this reading as, while we spent two and a half years travelling together, we often would chat about our future and what we would like to do together in the years to come and what we would want our wedding to be like so we felt like this reading really captured that sentiment and celebrated that we had made it to our wedding day."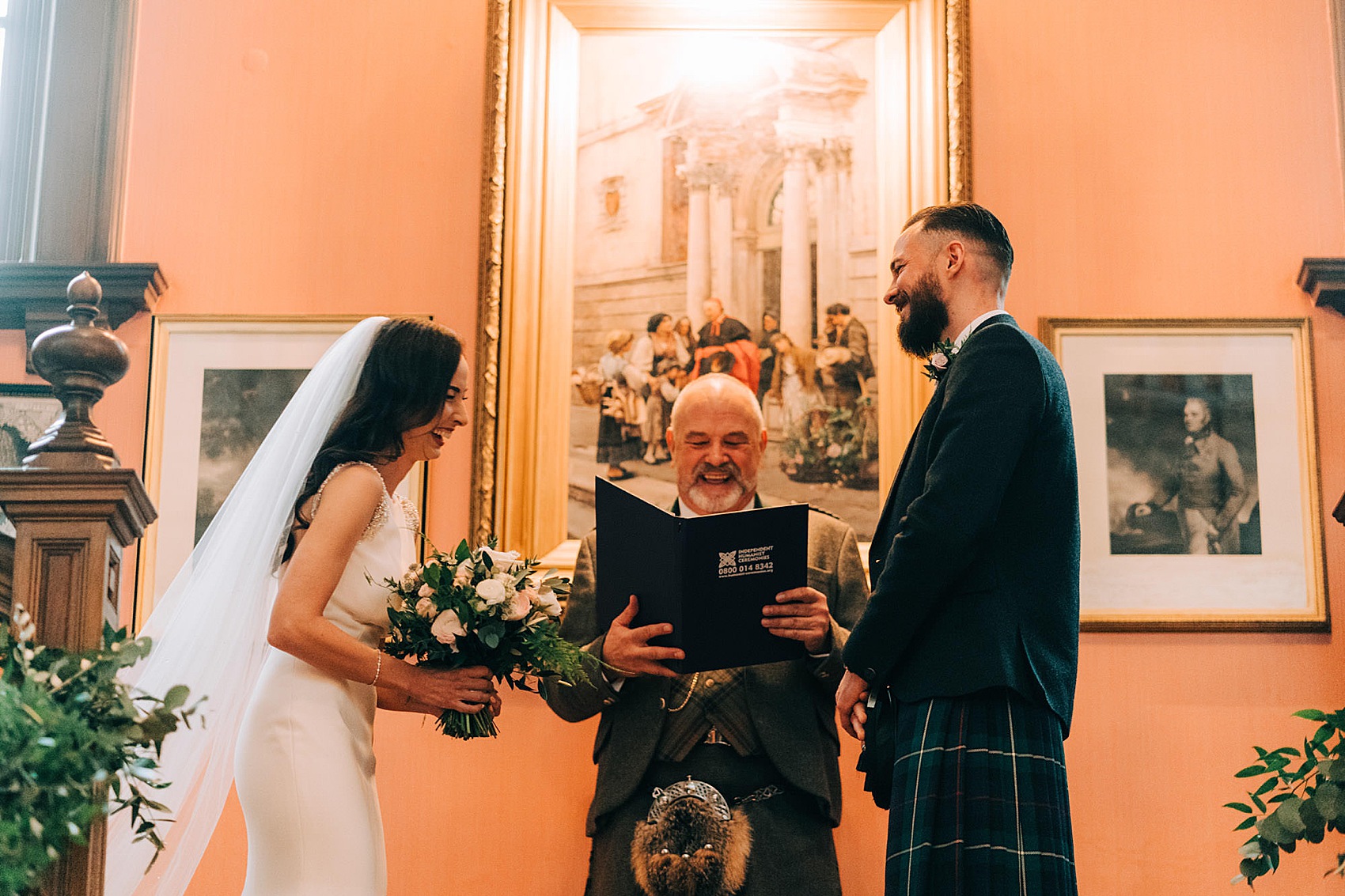 "Sandy had suggested a few symbolic additions to the ceremony like drinking from the quaich however we didn't really feel this was for us so instead we joined hands as he read "These Hands'."
The rings were supplied by a family friend at JV Watchmakers.
"I went for a thin diamond band to complement my engagement ring. Paul went for a thick silver band which seemed to suit him best and felt comfortable for someone who never wears jewellery."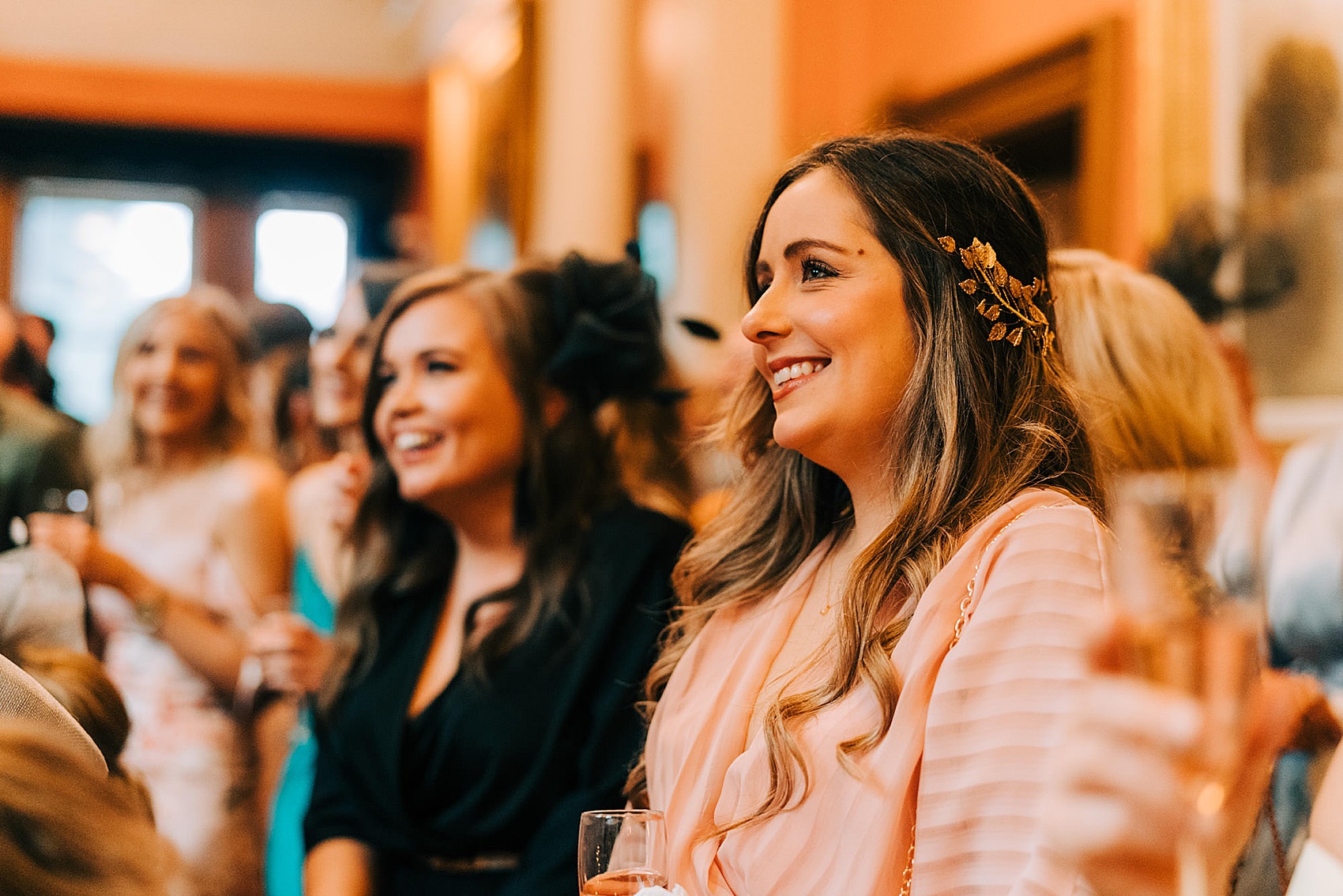 Instead of the beads, the bride added drama with a sweeping, cathedral-length gown with a scattering of diamantes.
"At first I wanted to go for a plain cathedral veil but my mum and gran were really pushing for the jewelled one! In the end, I was really glad I went for it as it looked great lying on top of the plain train, especially when it caught the light."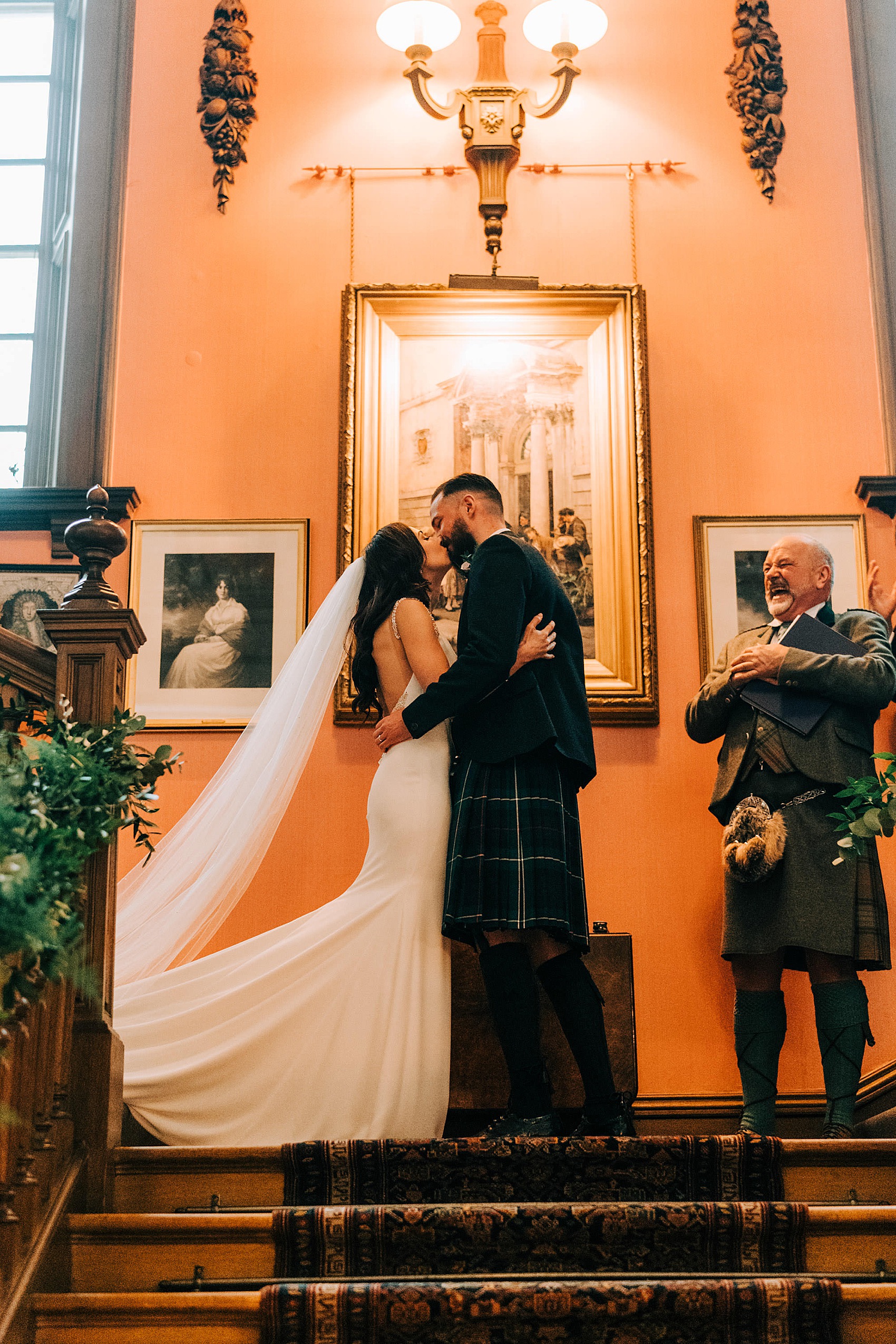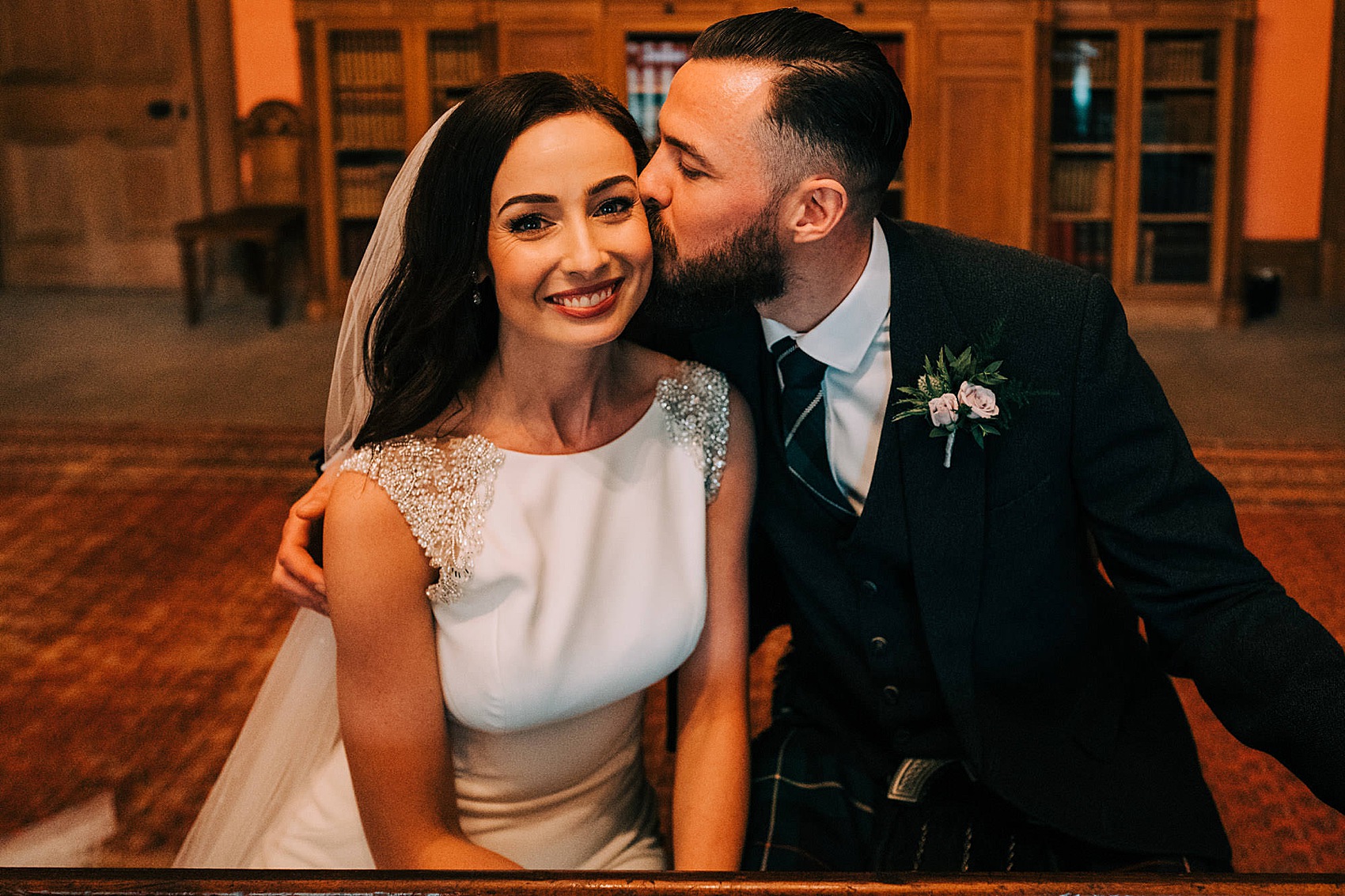 I can definitely see both sides of the couple's vision in these wonderful photos from Photos by Zoe. Her timeless, peaceful ceremony photos flow seamlessly into her colourful, energetic record of the dinner and party.
"Our photographer has been featured a few times on Love My Dress so seeing her photos definitely solidified us wanting her! Paul and I both knew we wanted the day captured as naturally as possible and to have lots of candid shots. We wanted to limit the staged photos as much as possible. I came across Zoe's photos on a few blogs and absolutely loved her style. She seems to really capture the essence of the day. We loved how we barely remembered she was there at times and she managed to get some great photos of us without us having to awkwardly pose! She was also so friendly and easy to relax around. I would highly recommend her."
The Park and its grounds made a wonderful setting for the post-ceremony drinks reception, and Paul and Sara stole away into its gardens for some beautiful newly-wed shots. The day was also captured on film by Robert at MacDonald Studio.
"Paul was unsure about having a videographer on the day as he didn't want to feel like he was being filmed all day but we can both honestly say we are so glad we chose Robert. Robert and Zoe worked as a team and he also was so easy to relax and be around. We love our wedding video; his editing is beautiful and it has made for some really special memories to watch back (apart from my dancing at the reception – I was tempted to edit that bit out!)."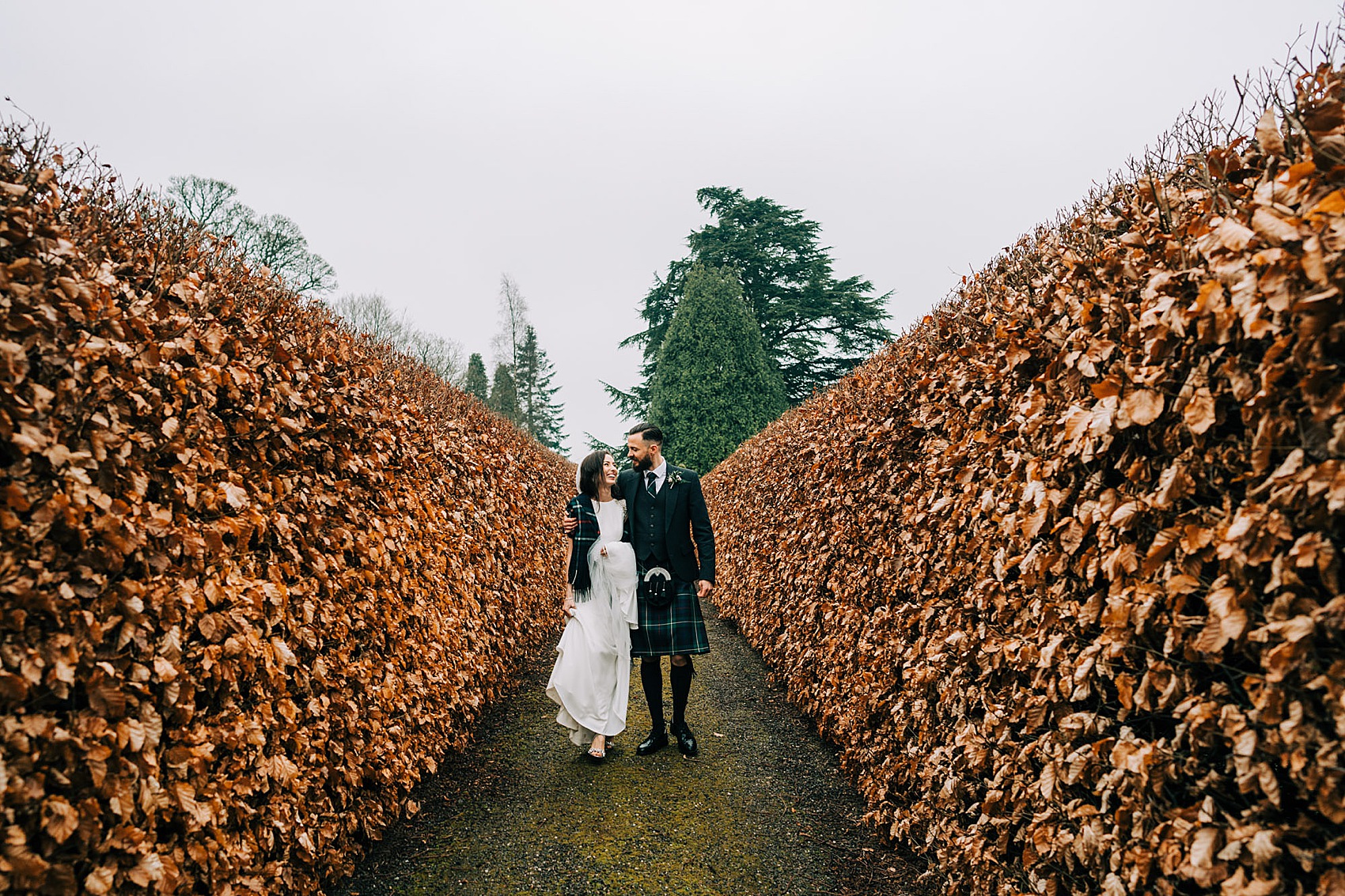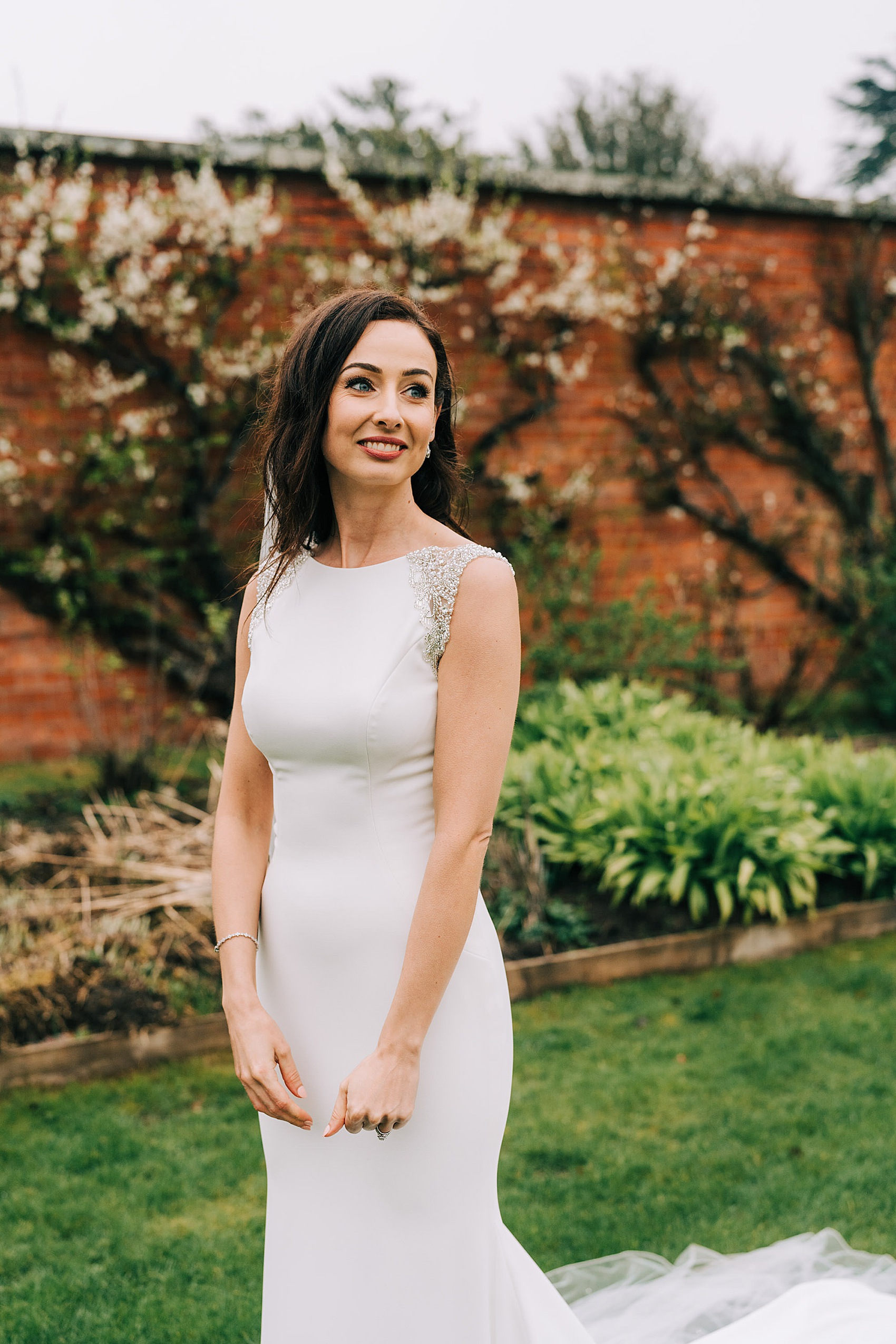 Following the photos, the whole party made their way into the Park's renovated stables, a gorgeously open and airy space to celebrate in. There, they were treated to a three-course, sit-down meal from Thomson Catering, as well as speeches.
"Instead of favours, we had an envelope as a place setting with a personalised note from either myself or Paul inside thanking the guests for coming and saying why it was important to us that they were there. Catherine of Alley Cat Designs originally did these for us with her beautiful handwriting and we got her to do table names painted on wooden boards, table plan cards and a few other wooden signs around the venue. She was fantastic and I highly recommend her."
Later on, there was plenty of food for the guests thanks to a dessert table and marshmallow toasting station.
"Errol Park has two large fire pits out on the courtyard so we set up a marshmallow toasting station and a guestbook station for guests to use a Polaroid camera. I also set up a dessert table ordering lots of mini desserts and some medium cakes from Three Sisters Bake."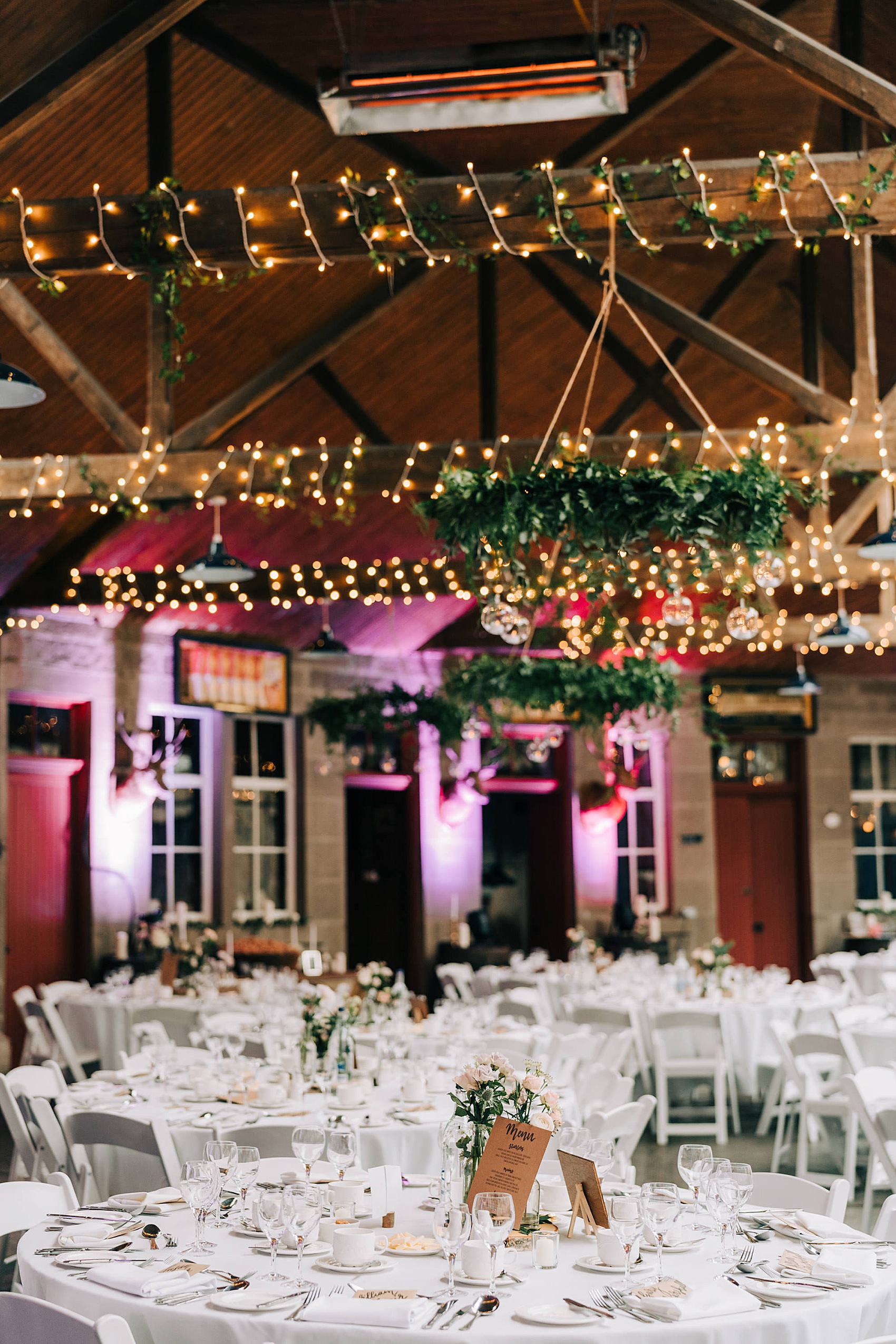 The wedding cake was a simple tiered creation from 3D Cakes.
"To save some cash we ordered a very plain cake which Amy dressed with flowers and added a cake topper from Etsy."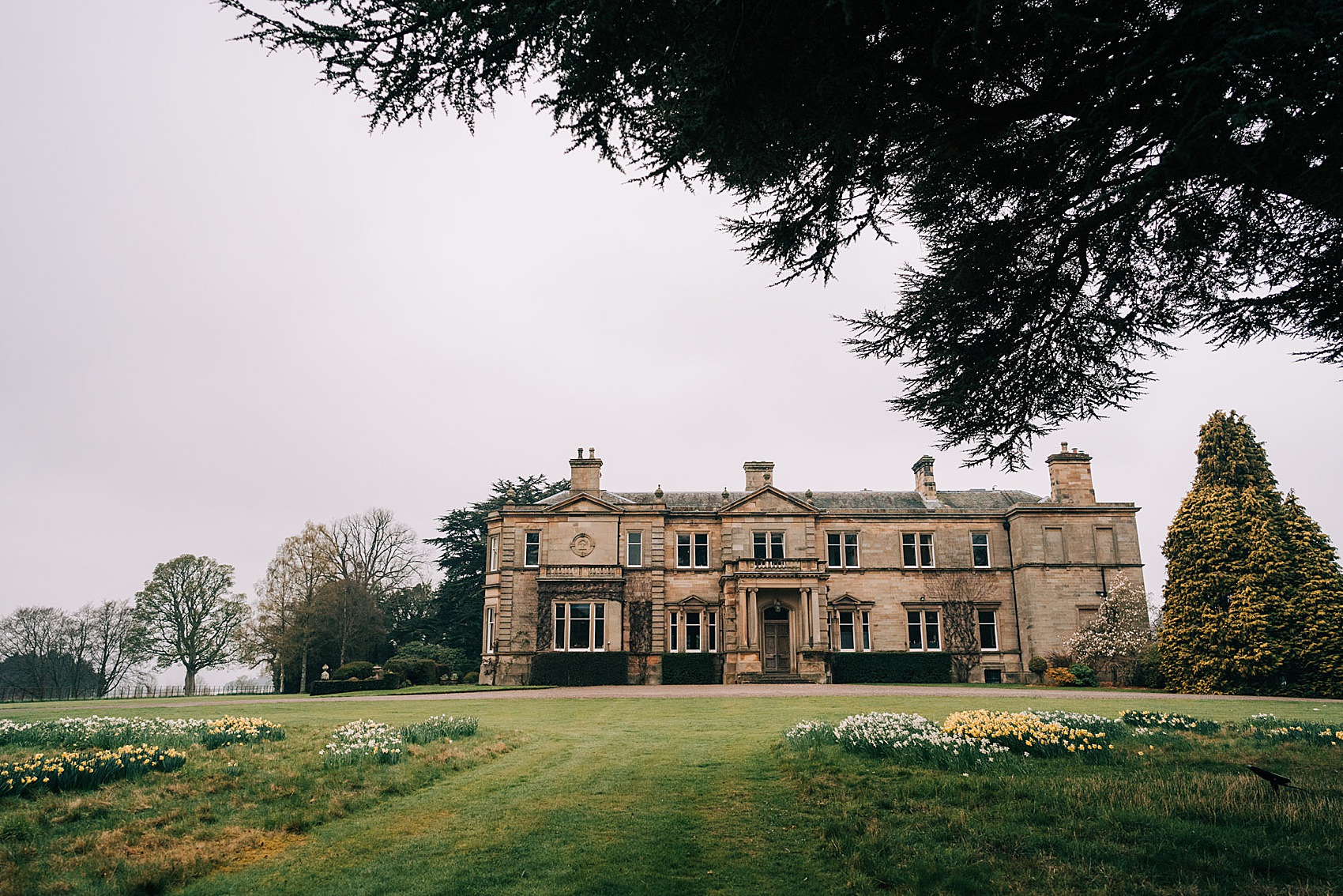 "At the reception, we had the band The Invitations. The lead singer was actually unwell on the day but the replacement was great and the dancefloor was full all night. Everyone was up dancing even at the band's soundcheck! Our first dance was Artic Monkeys' 'I Wanna Be Yours'."
"We both are a big fan of the band and wanted to go for something more personal to us rather than a classic first dance track. Also, it was relatively short so meant we didn't need to dance alone for too long."
"I find it hard to choose just one favourite moment but it was probably our ceremony. The atmosphere, the décor, the music and, of course, the fact it is the whole point of the day! Standing up on the stairs, we were able to get a good look at all of our guests."
"There was a great buzz with so much excitement in the room. It was an amazing experience to get married with so much laughter, excitement and love around the room. I also really loved getting ready with my bridesmaids and family in the morning, the atmosphere and excitement was great."
Words of Wedded Wisdom
"It's easier said than done, but try not to stress and enjoy all the planning as once the day is over you will really miss the planning and organising. Also, don't sweat the small stuff as on the day you genuinely will not care! As long as you both got married, it was a success!"
"On reflection, I wouldn't have stressed about the guest list. I have a big family and it caused me a lot of stress trying to cut down the numbers. I wish I hadn't wasted so much time worrying as people understand and all that matters is that you have those closest to you there to celebrate on the day. Also, worrying about the weather. I had hoped to get married outside but the weather was absolutely miserable. On the day, I couldn't have cared less! We had an amazing day and even got some really great photos in the miserable weather."
Well Sara and Paul, thank you and so many congratulations on your spring wedding. I've loved seeing your exquisite use of flowers to dress the staircase, and I'm so glad you stayed true to yourself and selected a gown you felt like yourself in.
We've got plenty more brides in Pronovias if you lovelies would like to see more of their designs. And for more natural, flower-filled weddings why not spend a few minutes drinking in these?
Ele xx