Happy weekend lovely ones – we're inching ever close to Christmas and ever further towards the end of an indescribable year for so many.
It feels so very important to continue providing reasons to feel inspired and celebrate throughout this time – and certainly, I know from recent conversation and feedback how very important our role here at Love My Dress is in that respect, so let's not waste ANY time today in celebrating the glorious nuptials of designers Laura and Andy, whose micro wedding took place on 6th November 2020 at One Devonshire Gardens, Hotel du Vin Glasgow, Scotland.
Caro Weiss Photography

+ Follow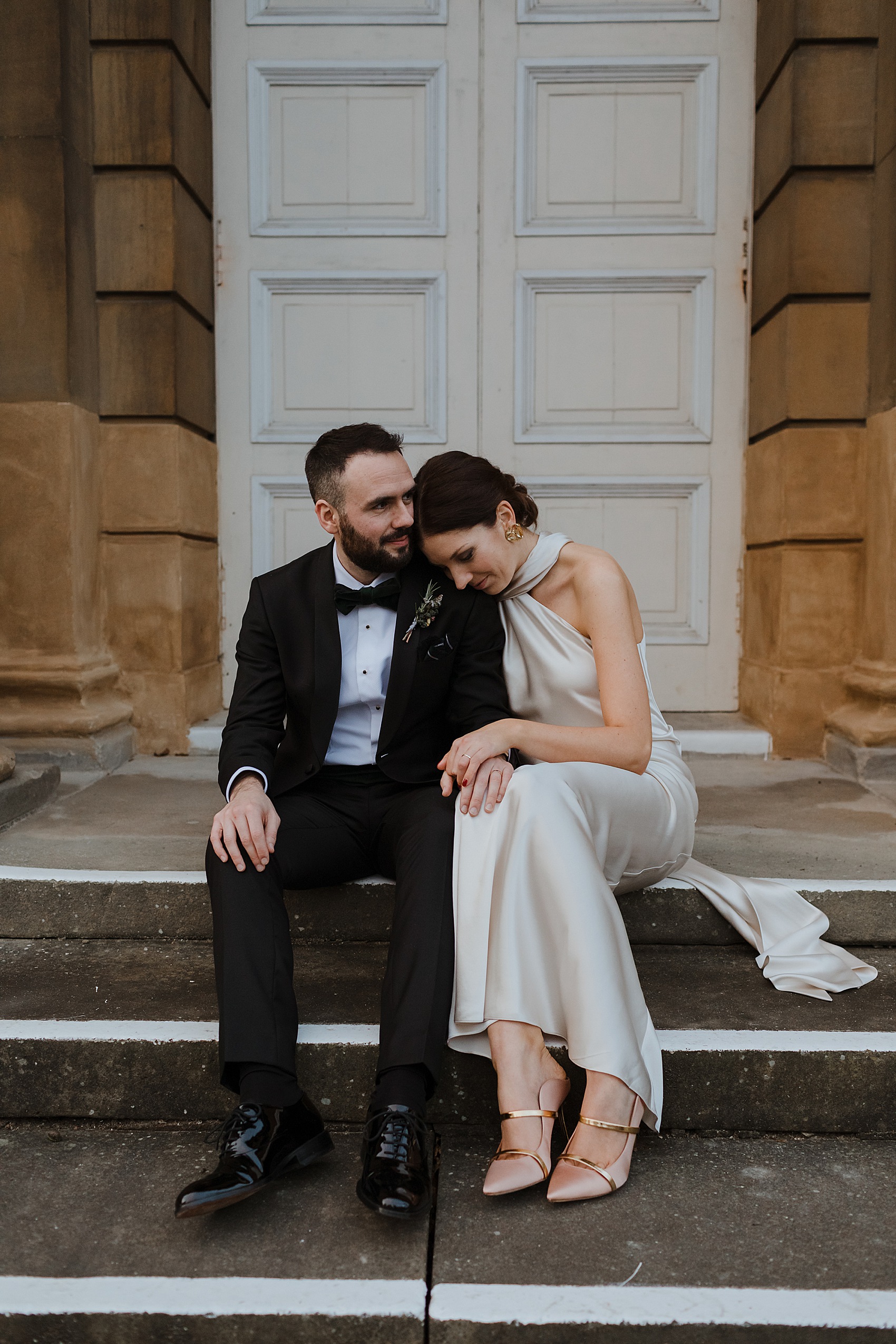 "Our original wedding was supposed to be just under 100 people in September 2020. Roughly around March/April though we knew we had to accept things and re-think. We were completely torn, it was so difficult."
We had been engaged for almost two years and were so ready to get married but my brother, his wife and my two nieces 2 and 4 (our flower girls!) live in Sydney and I honestly couldn't stomach the thought of having our wedding without them."
"So at first we were pretty sure we would postpone the bigger wedding to May 2021 but as time went on and I spoke to my brother more and more, he didn't see it likely that they'd be able to travel out of Australia and back in at that stage and it would more likely be end of 2021 or 2022."
"The thought of waiting to get married that long really hit us both so we knew we had to reevaluate things. It was honestly so hard and took a long time to come to terms with going ahead without them and processing what that would mean."
"But we both had the same gut instinct (which helped) – that we wanted to get married this year if we could, whatever that looked like."
"The hotel did our menus and table cards and we used Papier for some order of service booklets and an order of the day sign. We wanted some physical elements of the ceremony to be able to send to some guests who couldn't be there."
"And I felt like an order of the day was helpful for guests to know what was going on especially because of the curfew and it being a COVID wedding."
"My shoes were a pair of Malone Souliers 'Maureen' blush satin mules – I love them so much! I'd been admiring them for so long then found a pair online in the sale in the summer time. They were the first part of the outfit I got!"
Laura opted for an elegant up-do and hired hair and makeup artist Kate Elliot Muir.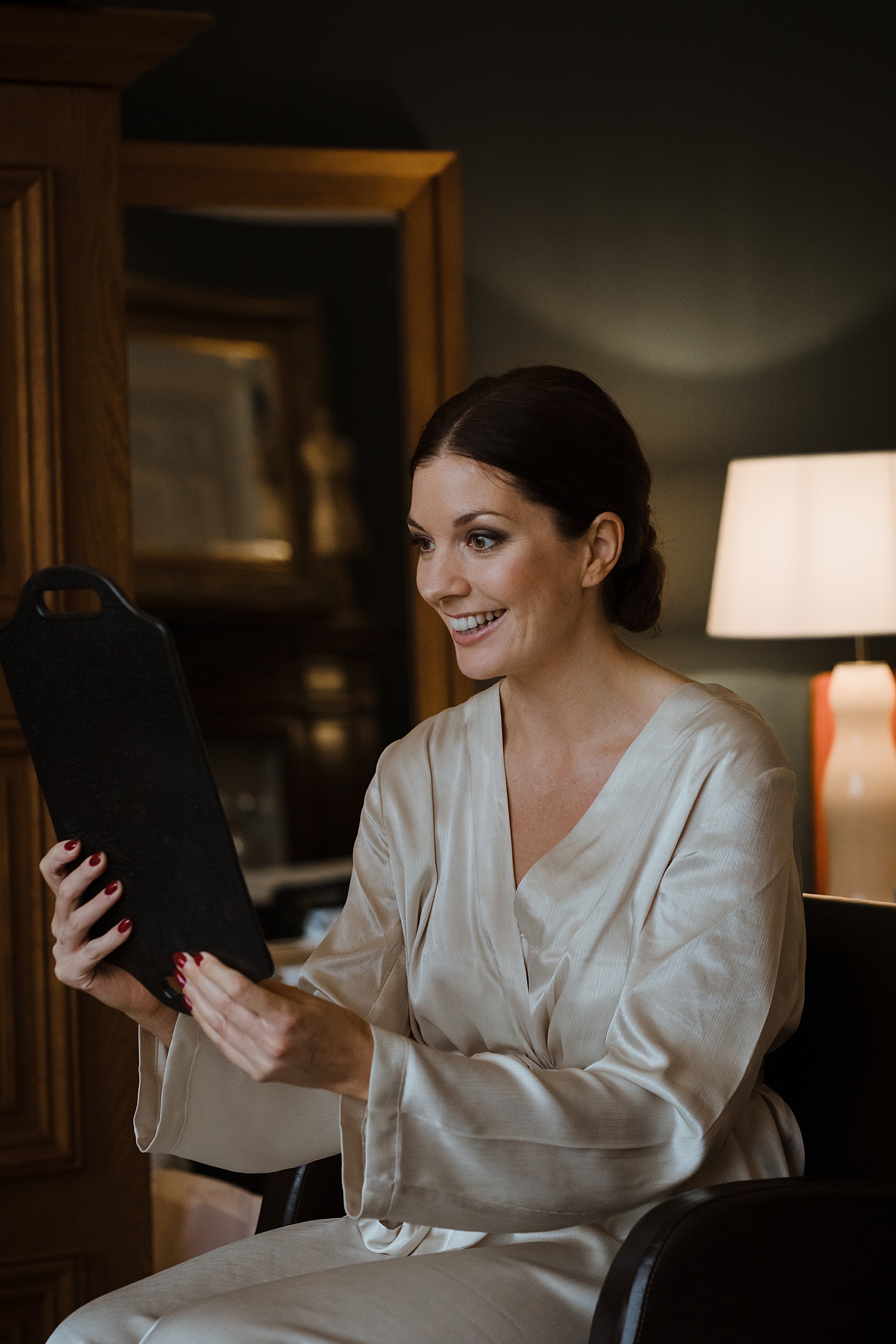 The groom looked incredible in a Tigers of Sweden  tux and custom made shirt from Hunter Kingsley Tailoring in Ayr.
"Alan at Hunter Kingsley also talked me through my accessories and they designed and made a forest green bow tie and cummerbund for me. They also stocked cuff links and button studs to tie the whole outfit together. I felt a million bucks: h
"I'm a womenswear designer so I knew I wanted to do my own dress. I run my own slow fashion womenswear studio in Glasgow and create womenswear and bridal pieces with craftsmanship, quality and ethics at the core. All our pieces are made locally and made in 100% natural fabrics."
"My designs are usually inspired by the 1930s aesthetic, very elegant and feminine with a modern edge. The dress was a heavy-weight pure satin silk gown, cut on the bias with an asymmetric neckline detail, a bow at the back and floor-length ties for a bit of drama."
"It was all made in Glasgow together with my small team – amazing pattern cutter Susan and seamstress Alison."
Laura wore the most beautiful pair of vintage clip-ons from a vintage seller on Etsy.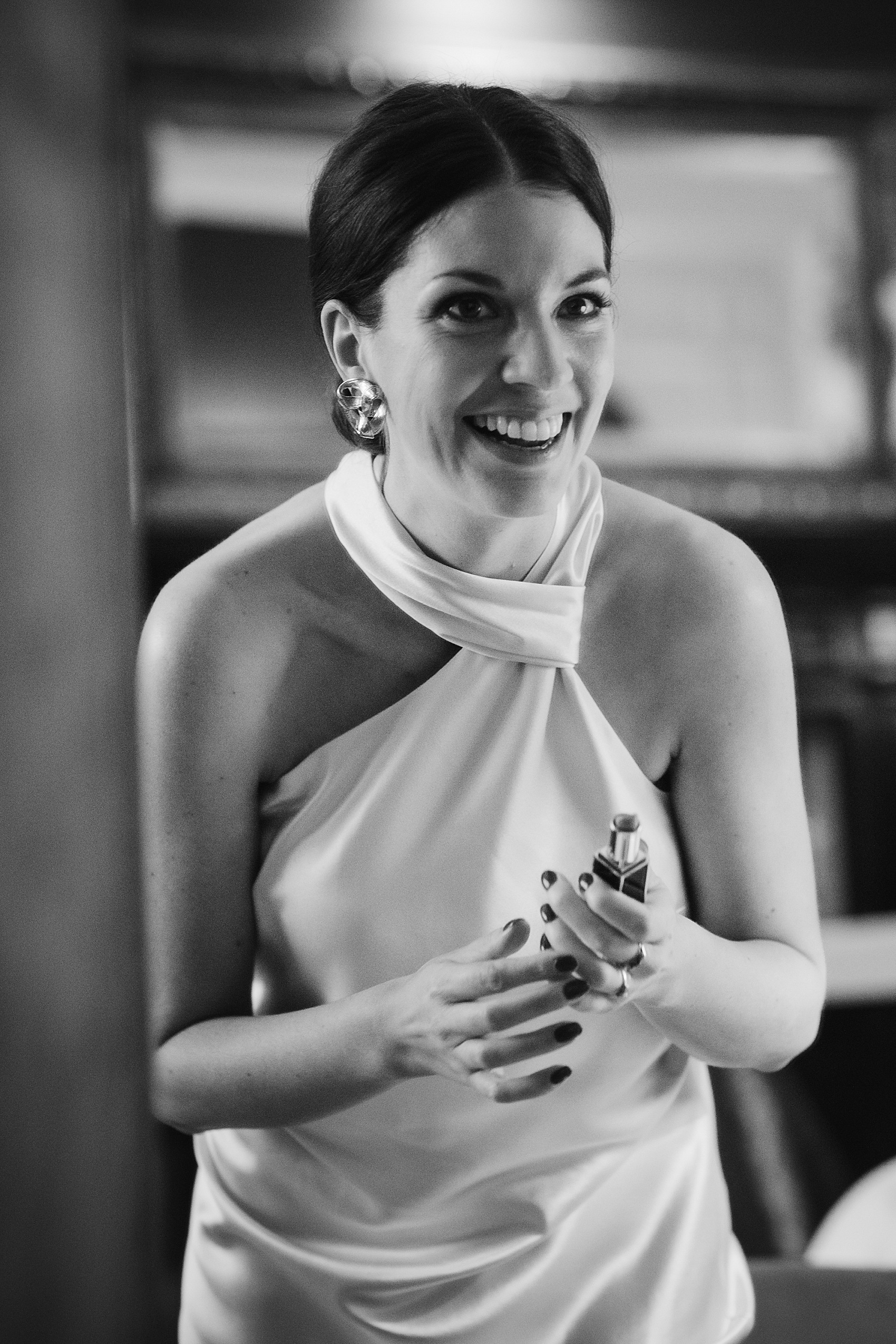 "It took me a long time to make decisions on my dress style, I really couldn't make up my mind. Then the reimagining of the day and the shrinking down of things helped take some pressure off I think and helped me be more decisive. As with a lot of the wedding decisions after COVID hit, I wanted to keep the style simple to keep stress to a minimum."
"But also because I prefer that sort of style and I think it suits me better! I tried on a few different types of dresses and separates in bridal shops and other non-bridal shops to get a better idea of what suited my shape and what type of style I wanted."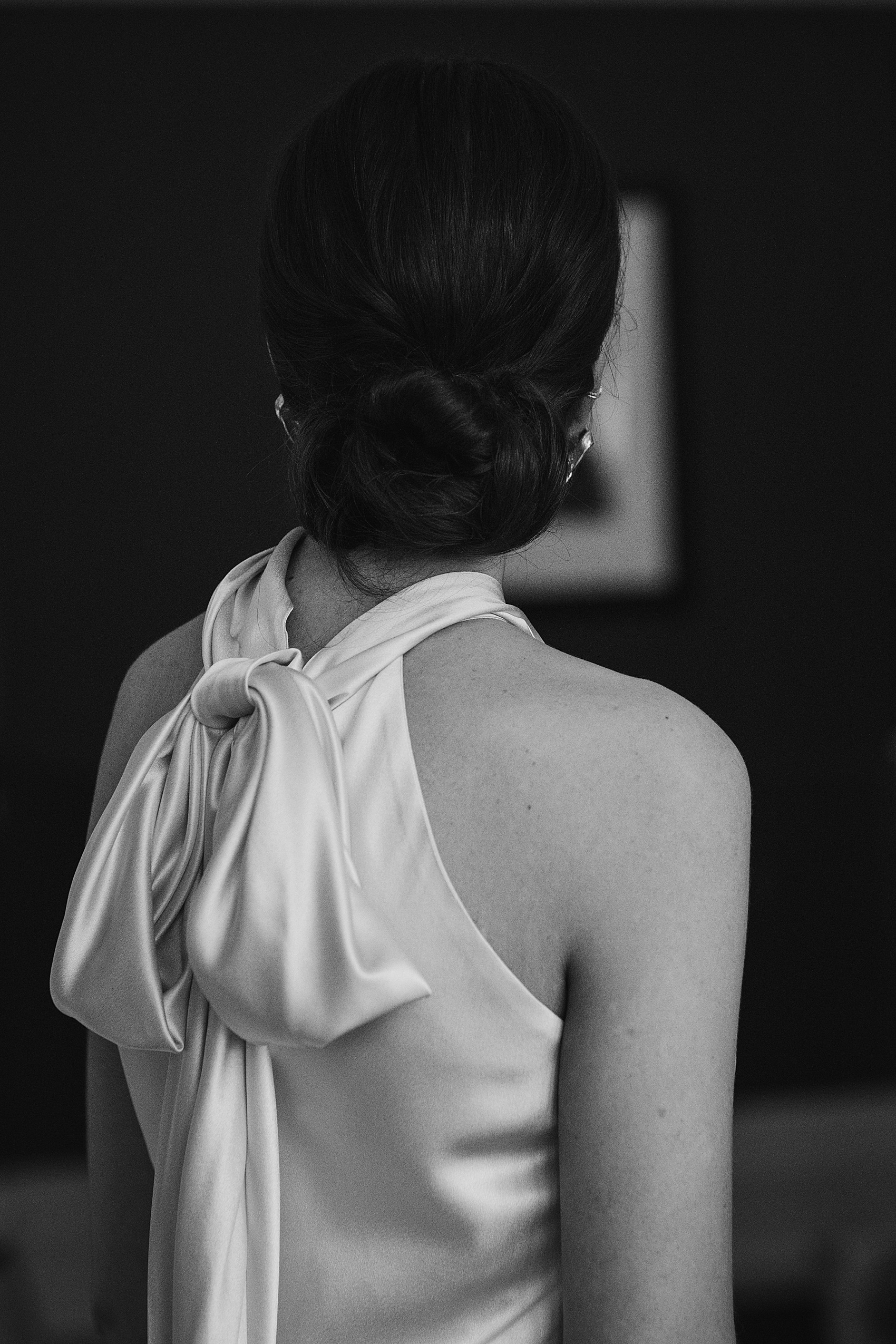 "I was so pleased with how it turned out and I felt completely comfortable and completely myself on the day. "We both wanted our outfits to be quite stylish, glamorous and to reflect the feeling of the elegant 30s wedding style.
"I loved how amazing wearing the dress felt, the luminous colour and weight of the fabric was so luxurious. I felt like a film star but completely at ease and myself at the same time. I also loved my shoes!"
The bride's mum accompanied her into the ceremony, to the sound of John Martyn's 'Couldn't Love You More'.
The couple's ceremony was officiated over by Scottish Humanist Celebrant,  Viv Adams.
"We chose to do our vows with the Celtic tradition of handfasting. We used silk from my wedding dress and the Robertson (Andy's surname) tartan. We put together our own vows but using excerpts of a lot of examples that our Celebrant gave us."
"We liked the final ones we used because it highlighted our individuality, the acceptance of each other's strengths and weaknesses and also the importance of laughter in our relationship."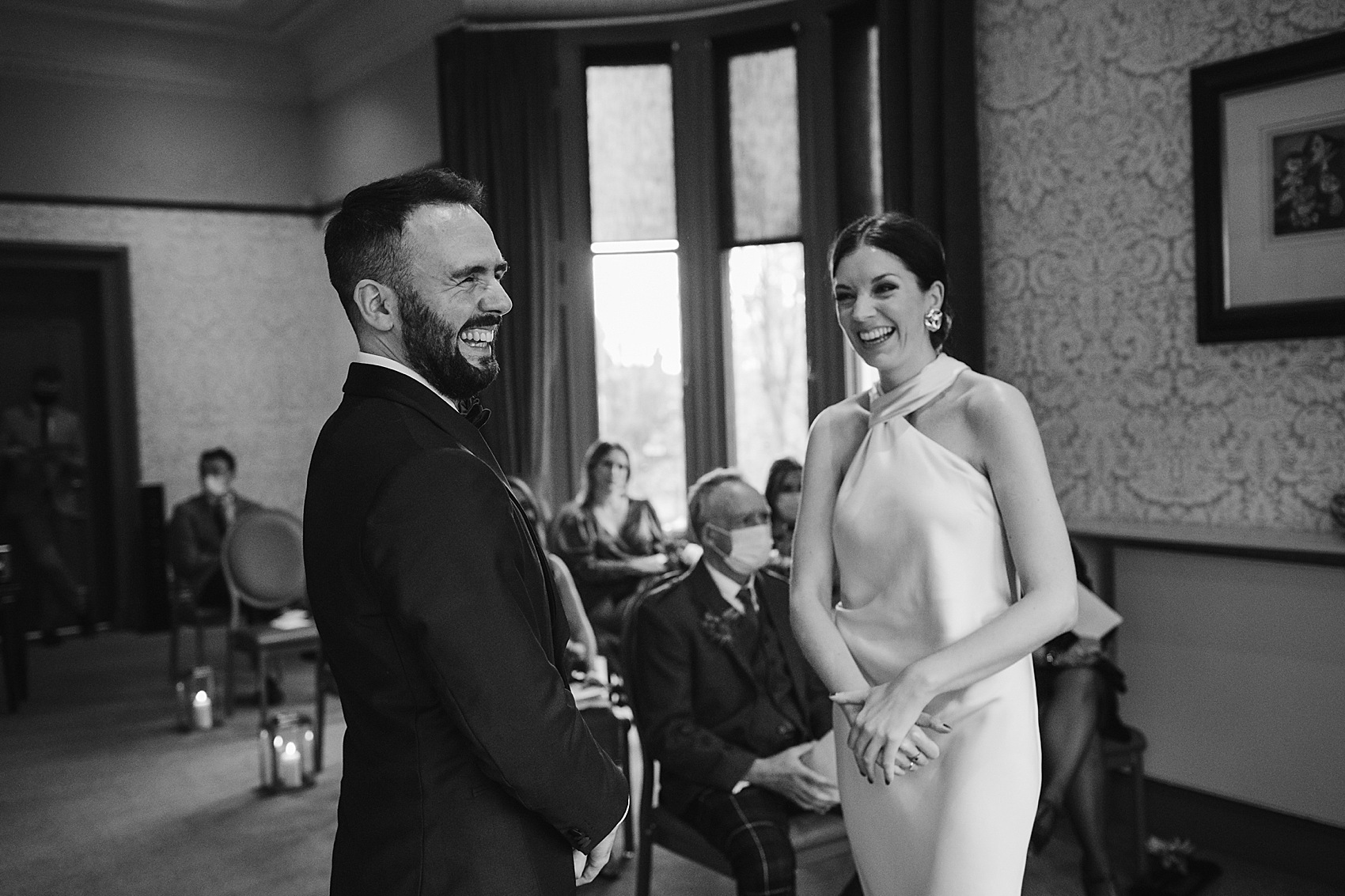 "For readings, we chose Love is Enough by William Morris because we thought it was a beautiful reading and it felt apt for the wedding in the middle of a pandemic!"
"A friend sent me the most beautiful message on the morning of my wedding day and she said she 'hoped that life steps back and the magic of love comes rushing forward' and I feel like that's exactly what happened and this reading captures that. Love completely took over on our day and the extremity of everyday COVID life in the world all still going on around us took a step back."
"We also chose The Orange by Wendy Cope for a more light hearted reading that also felt fitting for the times, how our appreciation of the small everyday moments in life have been heightened because of lockdown and the pandemic. Andy is also endlessly eating oranges. I've never known someone who love and eats oranges so much."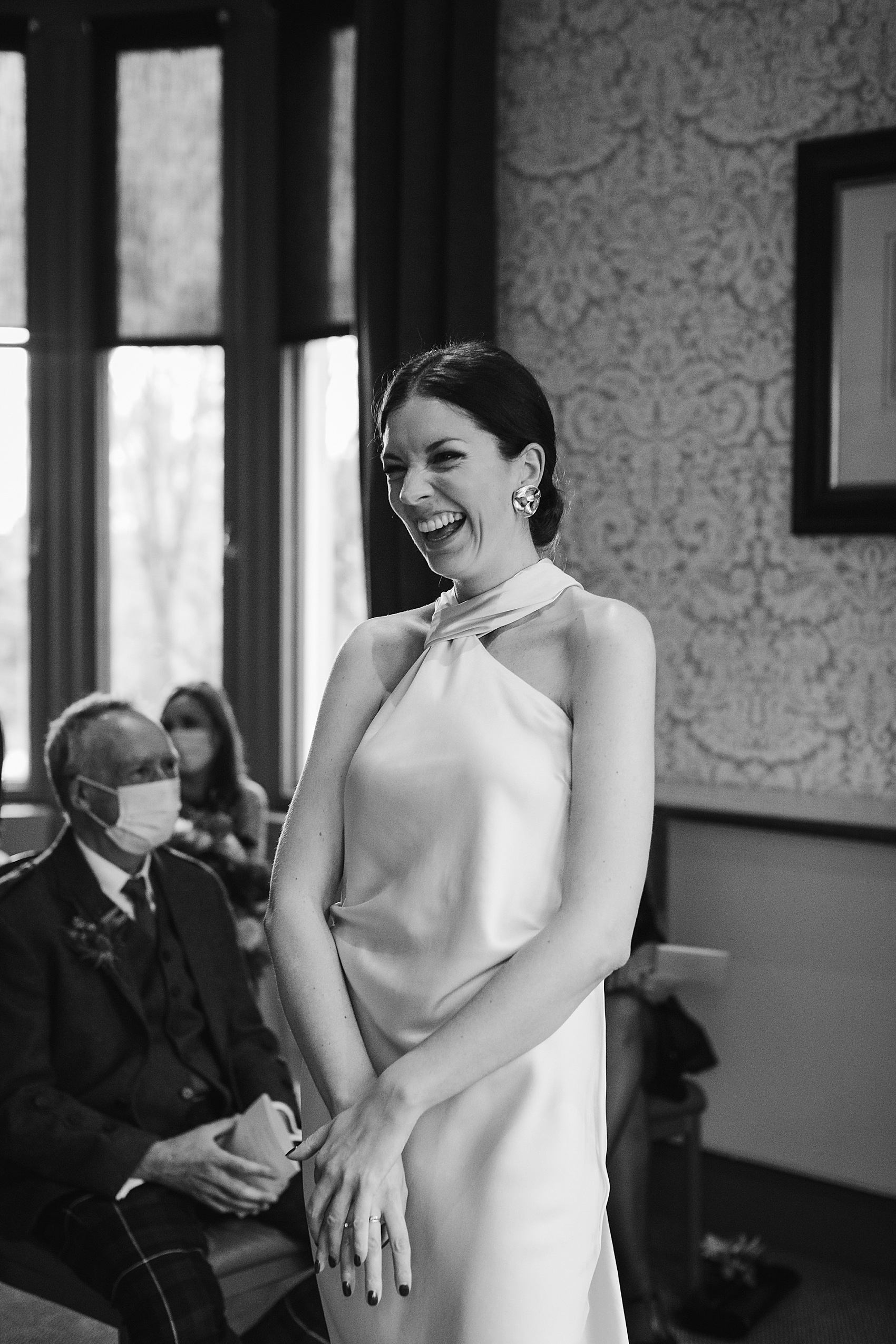 "Both of our favourite part was the ceremony. Specifically, our celebrant had asked us both 3 things we love about each other and one thing we'd change and we kept it private from each other so we didn't find out until the day. It was such a lovely part of the ceremony and such a nice surprise."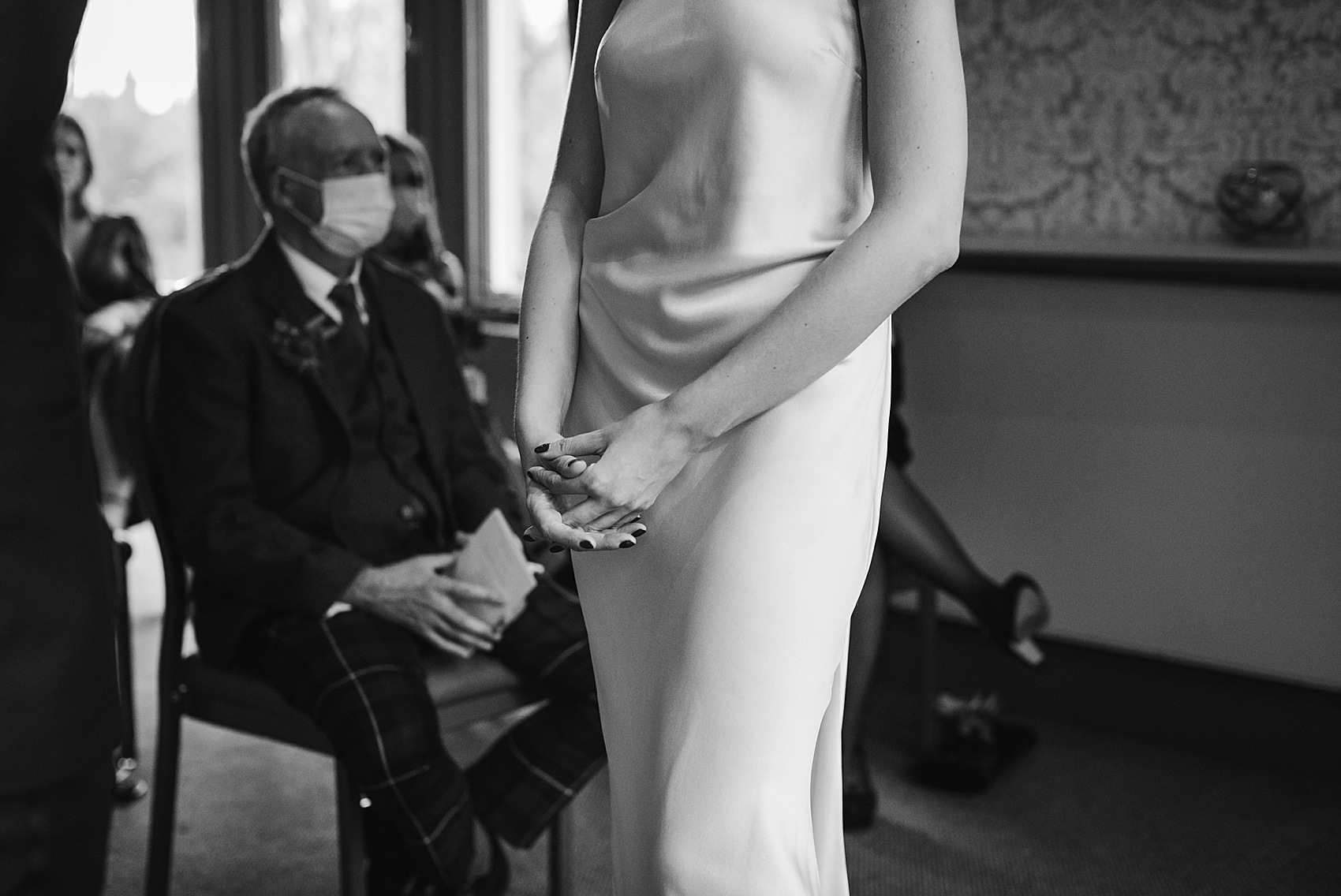 "The whole ceremony felt so relaxed and happy, we laughed all the way through it! It felt completely us. Viv our celebrant has a background in playwriting and we knew as soon as we met her that she was just right for us."
She just completely understood us and she's a great story teller and it made for such a fun, light-hearted ceremony full of love and lots of laughter from us and our guests too. So many of our guests commented on it."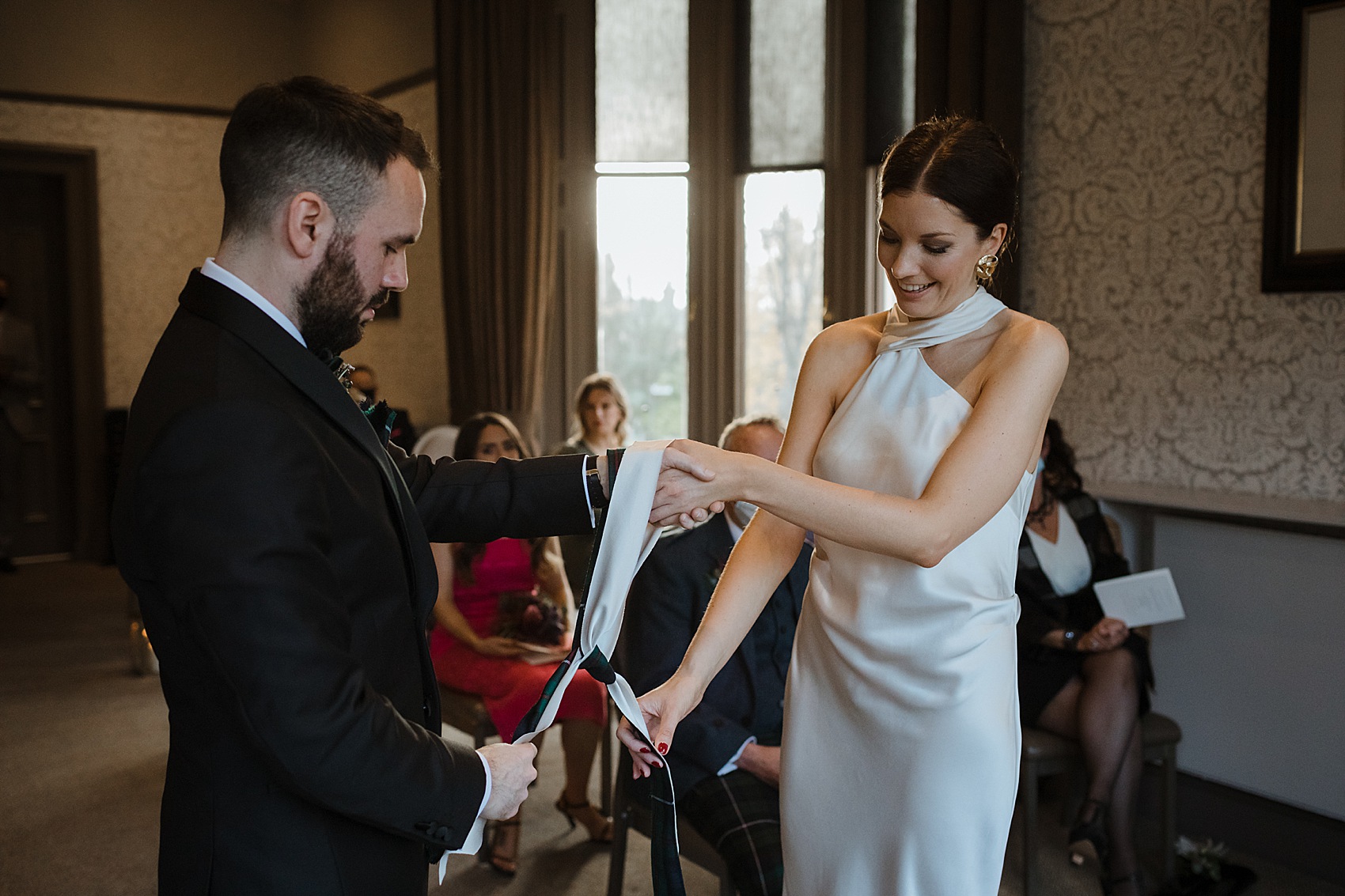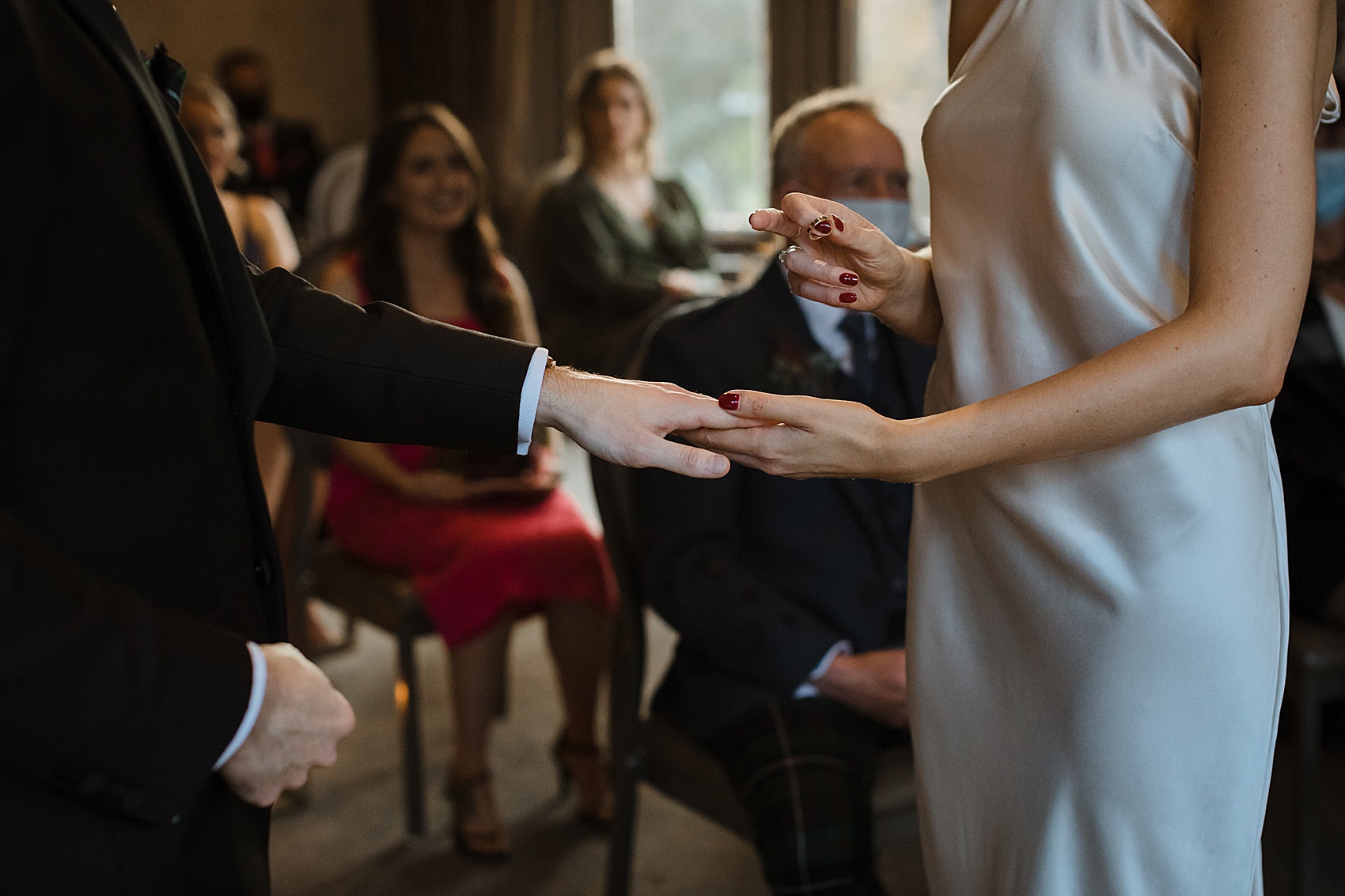 "All the bridesmaids arranged their own dresses. The Maid of Honour Gillian wore a Laura Ironside silk slip dress in navy."
The couple hired long-time highly recommended photographer and Little Book member, Caro Weiss. I can't even tell you how much I adore this woman's photography. Love My Dress turned 11 years old last month and Caro has been supporting us from the very off.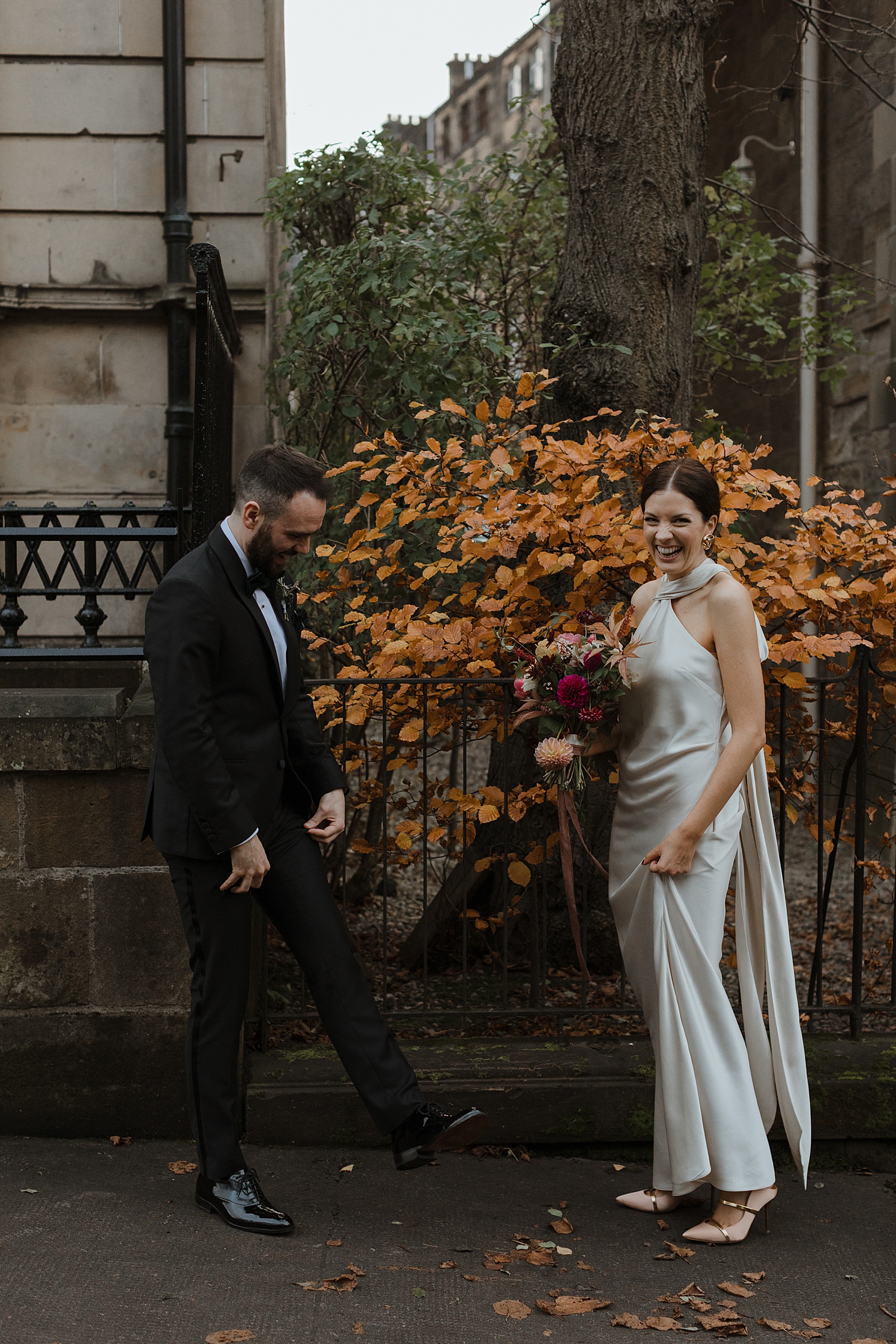 That we are still sharing her work and it is simply better than ever is testament to her incredible artistry and ability to capture people, places and moments in time so effortlessly.
"I would absolutely recommend Caro to others. She's very laid back which makes for stress-free planning and a stress-free presence on the day. We had her booked for our original bigger wedding too and she was amazing with changing dates and shrinking our plans and offered us a smaller package."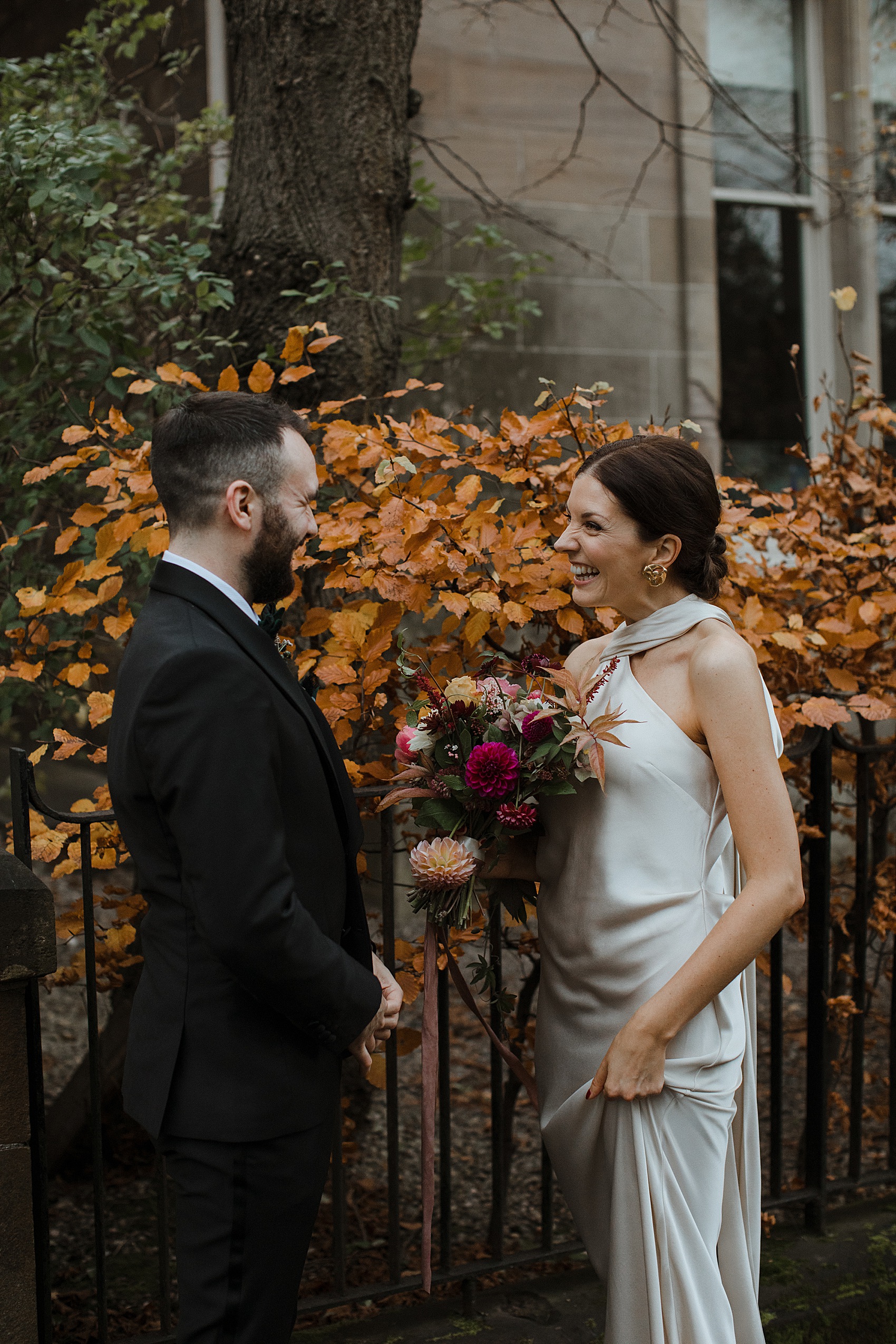 "We chose Caro because of her beautiful relaxed photography style and the way she captures moments and emotions so honestly. It was a day completely filled with laughter, joy and love and Caro has truly captured this."
"We knew the photography was so important too as that would make the day live on. I've admired Caro's work for years and also worked with her professionally before. I just knew she would capture the day so perfectly."
"Her style is completely un-staged and natural and for me, being someone who feels very awkward in front of the camera I knew she'd be perfect."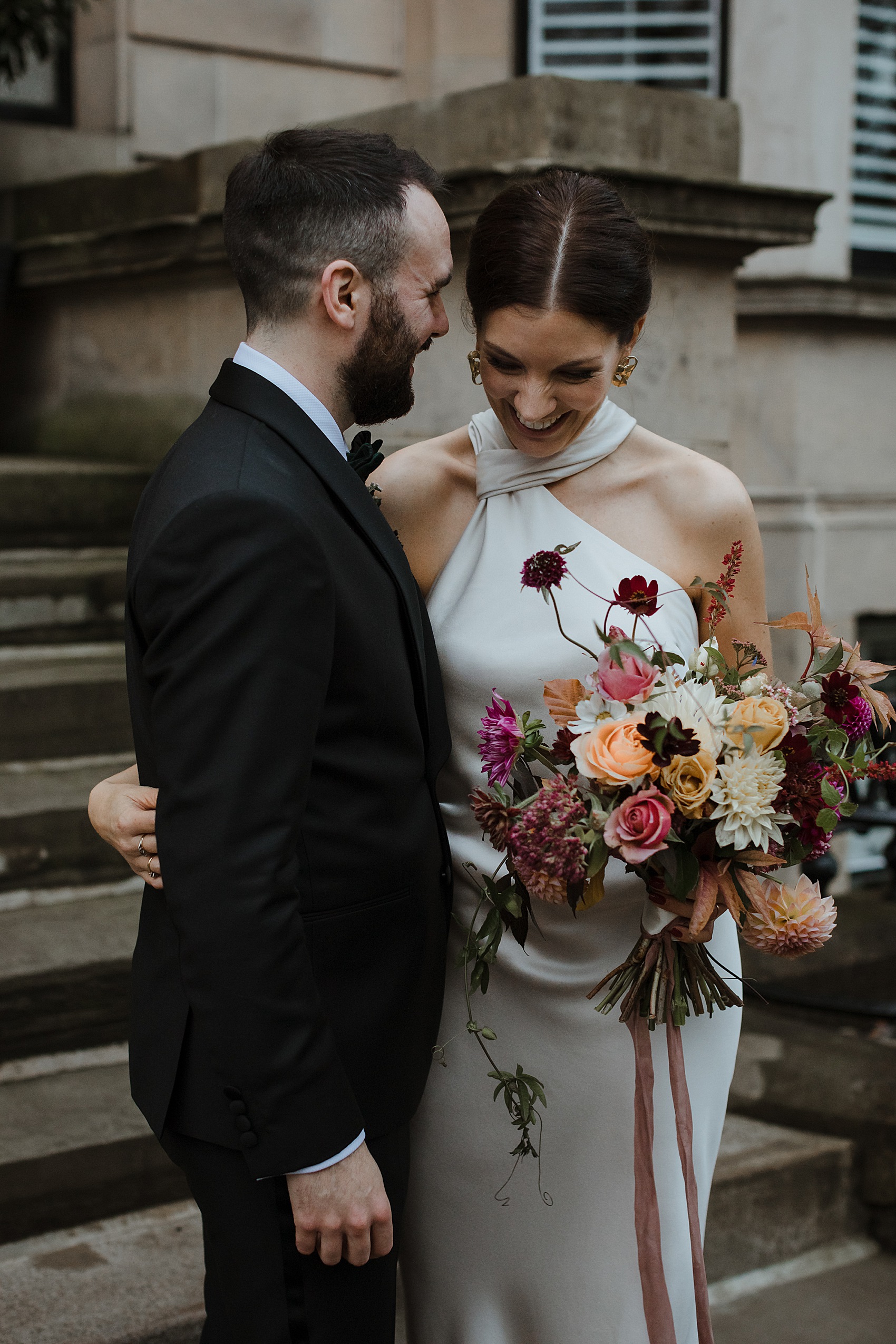 "She really captured the whole feeling of the day and I knew that was so important to be able to share with those who couldn't be there. We also both really wanted to dress up! We didn't want to feel like it was a practice run or anything or that we were saving fully going all out until we could have a bigger day."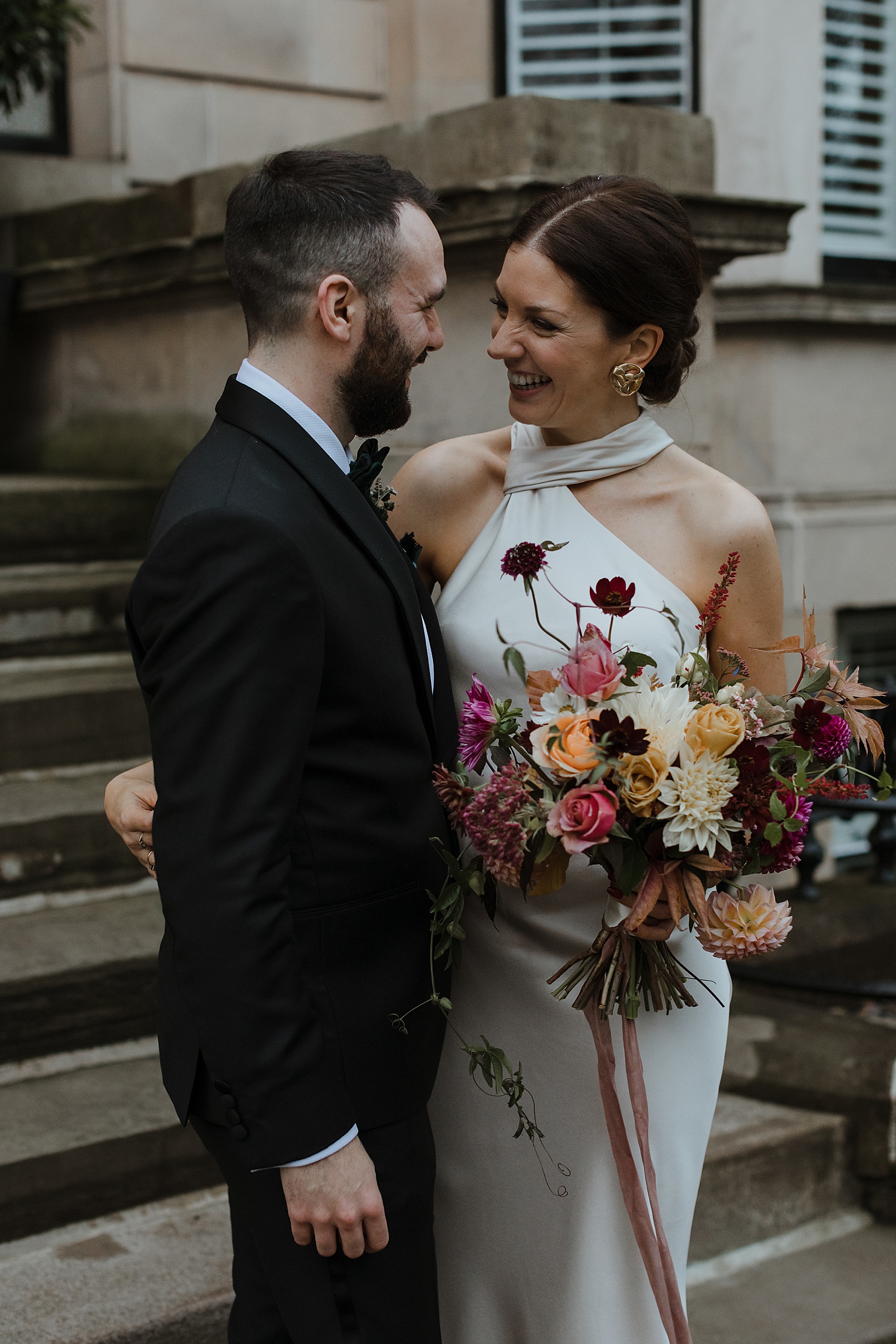 "And as trivial as it may sound, we both wanted to stay in a gorgeous hotel for our wedding and feel special, wear fluffy dressing gowns and order room service and pretend there wasn't a global pandemic going on for a while and that's exactly what we did! And it was amazing!"
"We had chosen a little restaurant next to the water near Callander in Scotland originally for a bigger wedding in September but then when COVID hit we had to look at other alternatives. We decided to stay close to home in Glasgow instead, Glasgow is where we met and where we've now lived together for almost 8 years and we knew the surroundings of One Devonshire would be perfect for an intimate November wedding."
"We met while I was on a business training program ran by the company Andy worked for. We would chat a lot whenever we saw each other around the building. Then at the christmas party we chatted more and went for drinks afterwards just the two of us. Andy's quote about this night was used in our ceremony by our celebrant!"
"We went to a nearby bar for a drink or six. I thought it was going pretty good and suggested I ask her out again. To prove my intention I called her there and then and left a voicemail. My USP as a prospective beau was, she's new in a dangerous city like Glasgow and needs a local scruff like me to make sure she doesn't get lost or go to any uncool bars. Then we very drunkenly kissed over the table."
"We got engaged on Camusdarach beach in Arisaig in Scotland in August 2018. I absolutely love the sea and Camusdarach beach is my favourite beach, it's so beautiful and secluded there. Andy planned it all, the trip away was amazing."
He got down on one knee as we walked on the deserted beach late one afternoon then we climbed a wee hill and drank warm champagne from the bottle and went to the local village pub for dinner! When we got married we had been engaged for 2 years and 3 months."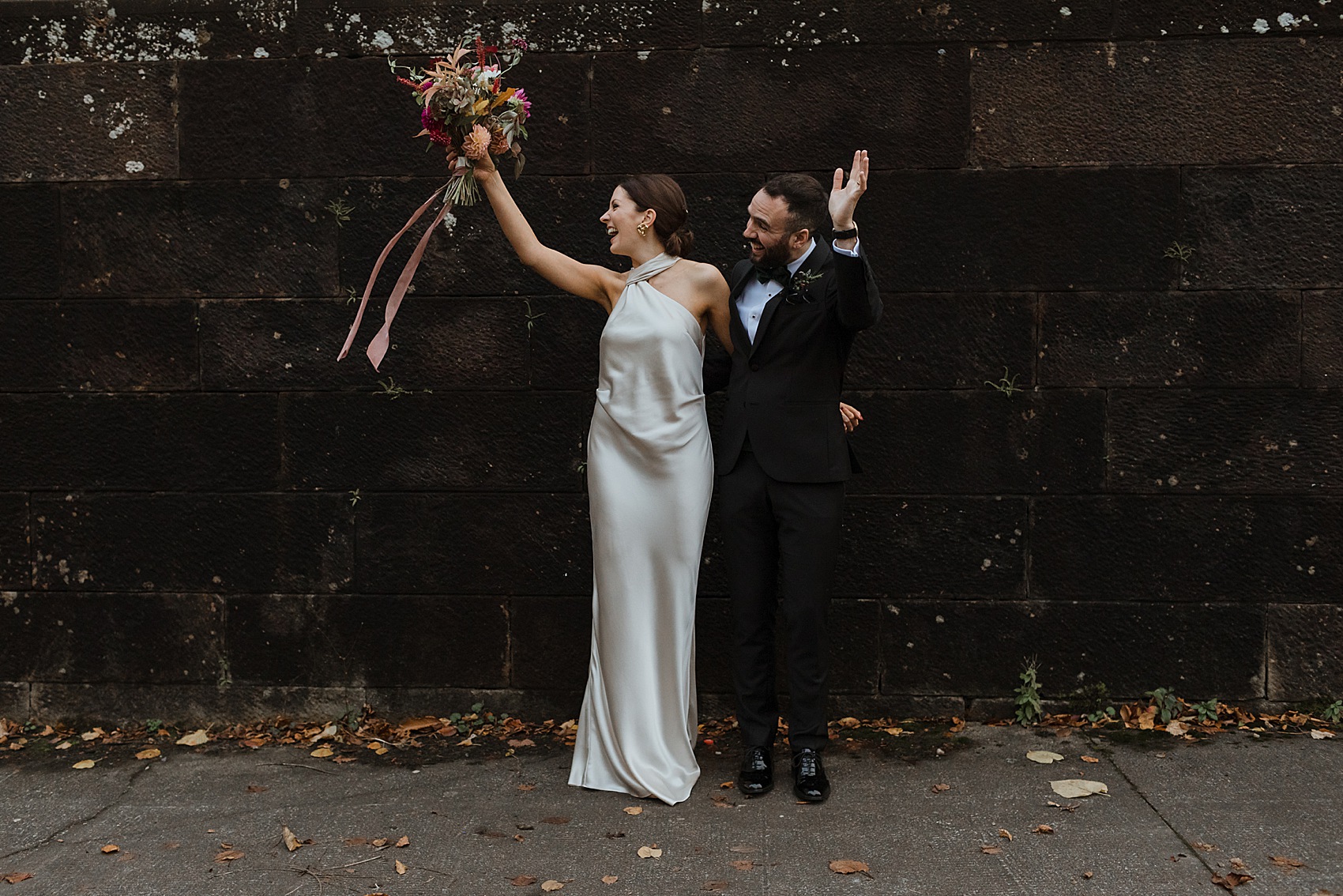 "We both love 1930s French, art deco influences in decor and design and I'm such a lover of the 1930s in terms of the fashion too. We had decided early on we were aiming for this sort of overall style to the day, with jewel tone colours. Our original venue would've been a blank canvas which we had planned to style much more ourselves but with COVID our plans obviously had to change but so did our budget."
"My business had really taken a hit in 2020 with the pandemic so we really tightened our budget. Choosing One Devonshire gardens meant that most of the decor was taken care of and it was another stress alleviated to be honest. We did still however want to put our own stamp on things and source locally and ethically."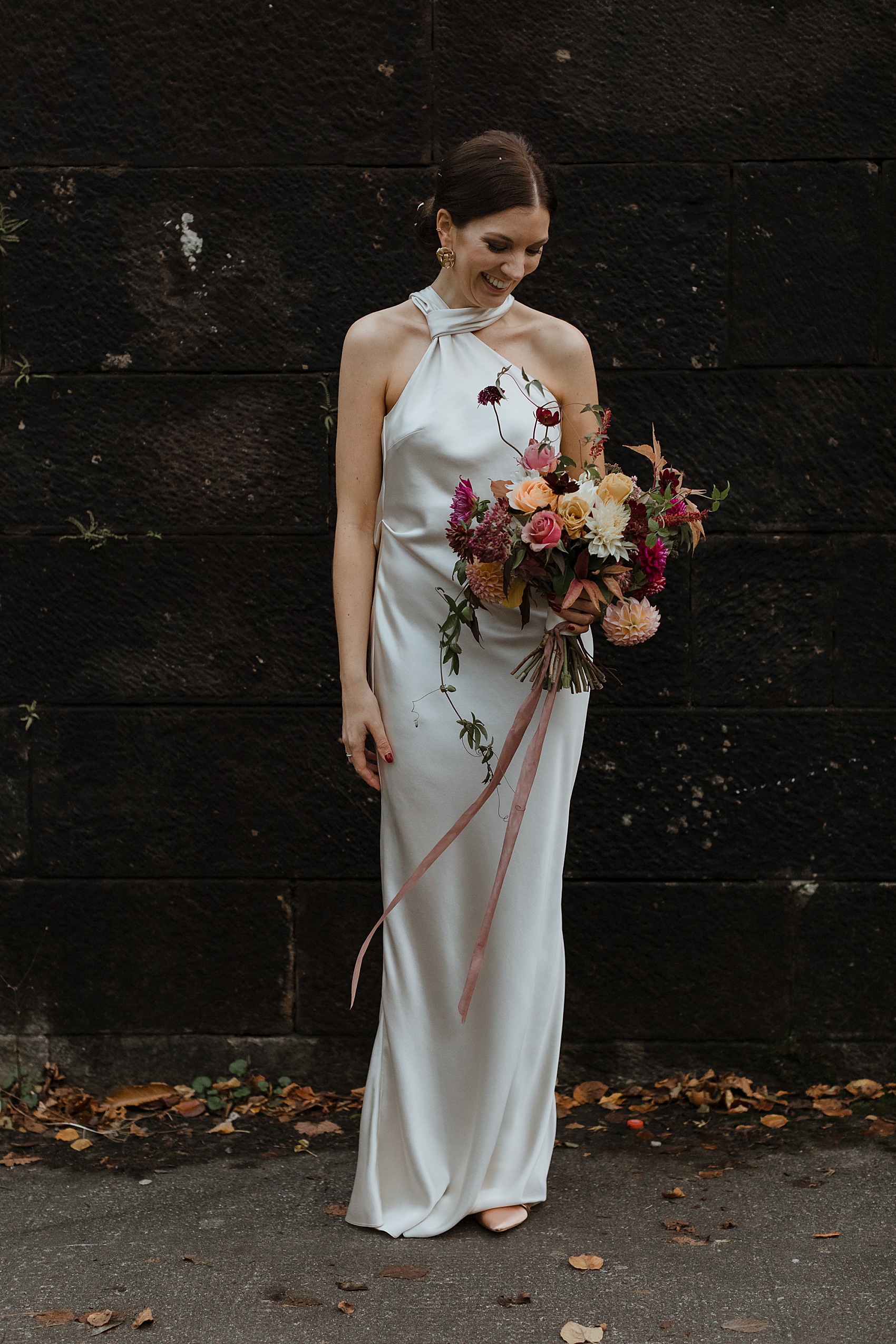 "My mum helped us source second hand stylised pieces very cheaply – geometric trays, brass candle holders and glass bud vases from charity shops and rich jewel coloured fresh flowers and flowers that she dried from her garden and her neighbours garden."
"We had a lot of fun the 3 of us playing with decoration ideas at my mum's house before hand, I mixed in satin fabrics that I had leftover from work and mirrored tiles and trays that my mum already had and played with height and proportion. We made a display on two of the mantle pieces in the venue which were then used used on the table for the dinner too."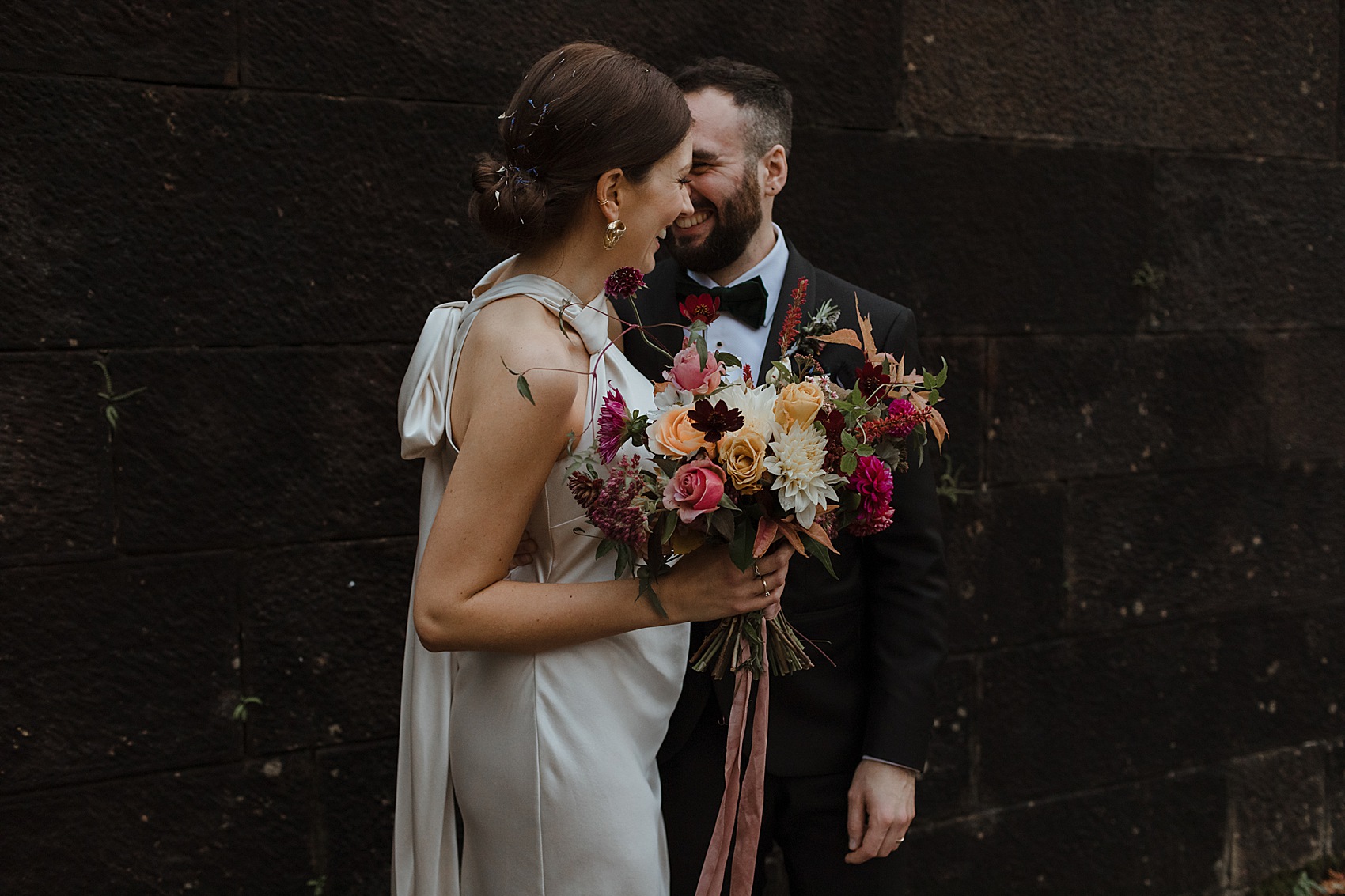 "We were allowed 20 guests which included our photographer and 3 week old nephew! All guests had to wear a mask for the ceremony, then we could move through to the bar and remove masks for drinks and canapés but we had to be seated. We had to wear masks moving around the hotel but could take them off when seated. As the weather was good we were able to go outside and have photographs taken together in groups and Andy did our couple shoot. We then did the cutting of the cake and then went back through for speeches at the dinner table."
"For the dinner we were at one huge table but seated in our households with enough space apart to socially distance. All of which felt very relaxed and normal. Dinner was served slowly and we were really able to relax and enjoy it all. We then went back through to the bar for cake and tea and coffee."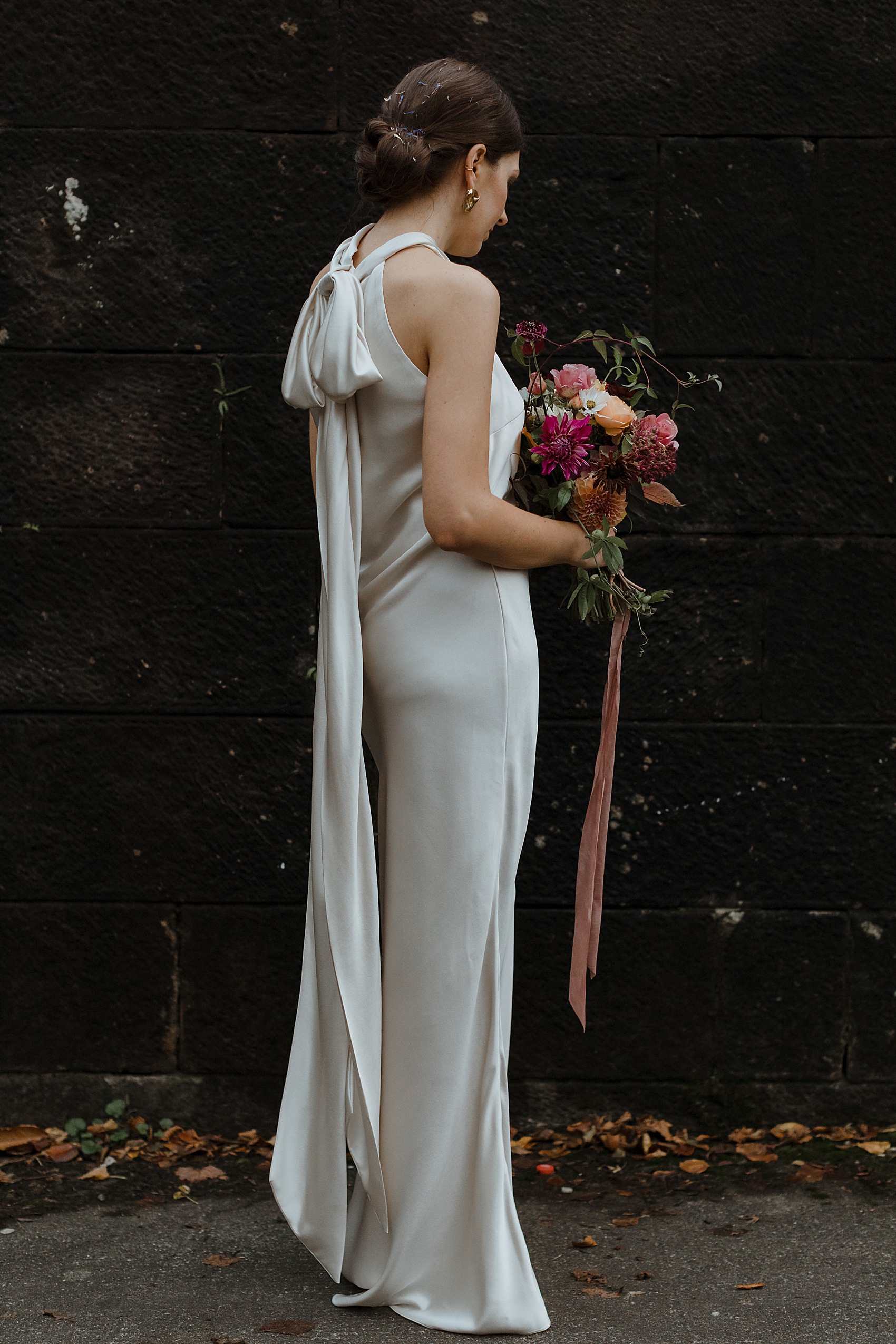 "Curfew was very strict at 10pm, but the staff were great at announcing notice of last orders and curfew over a period of time and then we arranged sparklers and goodbyes outside at 9.45pm as a way of marking the end of the day. It was such a lovely punctuation to the end of the evening, a lot of fun! I was so concerned before hand about it all feeling like a funeral."
"And feeling like we didn't have enough to entertain everyone without music and dancing but we honestly didn't notice and everyone is just so happy to be celebrating and be together it just completely takes over. I wasn't prepared for just how much love and happiness really does take over. There's no need to feel like you need to entertain people or give them anything more than sharing your day with them."
"On the day, we were able to set up a live streaming of the ceremony and we invited all of our original guests to watch it, including of course my brother and his family who got dressed up and watched it at 2am Sydney time! We used free online service Jitsi which allowed a couple of different camera angles."
"We set up a phone right at the head of the aisle where the celebrant would normally stand and then had a laptop at the bottom for the bridal party entrance. We had so many positive comments afterwards from our guests watching online who said they had the best view in the house."
"They could hear and see everything clearly but also watch all of our facial expressions too."
"I'm so glad it worked so well, I didn't realise how amazing it would feel to know that so many people were watching and supporting on the day digitally. So any people made such an effort to get dressed up and have bubbles and then send us wee film clips and photos of their view streaming it."
"It was honestly amazing and so unexpected, it added a whole other dimension to it all. It also meant we can still talk about it all with the people who weren't there in person which is amazing."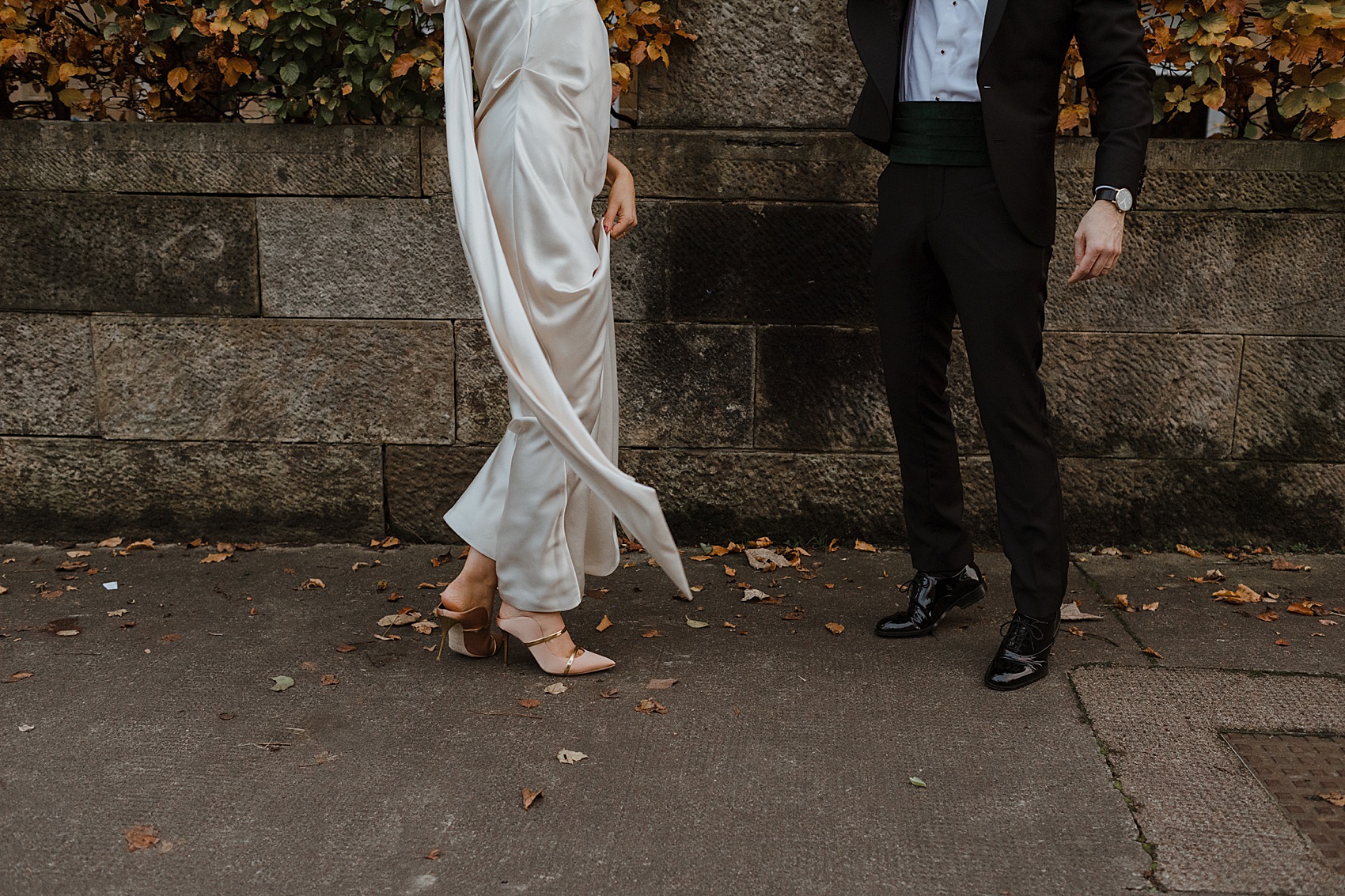 "The COVID rules were changing so much in the lead up to the wedding, luckily we were just after the change of rules on bride and groom wearing a mask which was one thing we were both struggling with the thought of so that was a huge relief. The way the venue is set up we had a whole townhouse to ourselves."
"So we had a private entrance for our guests, the main room for the ceremony which then got changed over for the dinner, a separate bar to ourselves then upstairs to our bedrooms. It gave it all a really lovely intimate, family feel and felt very relaxed and safe. All the staff were amazing too and went out of their way to help and make us feel at ease."
They've done so many weddings, everything just ran like clockwork and it made me feel so relaxed and happy."
"Allow yourself time to process. The grief and loss is huge and I think you need to allow yourselves time to get through that. Think about what the most important things are to you both that you can have and try and keep those, keep them extra special and exactly the way you want them."
"Even if they seem small or trivial things, it all means a lot when you're having to do without so much. So for me, I have such a small family and literally half of them couldn't be there so it was so important to me to have my two best friends there and Andy's two sisters as bridesmaids."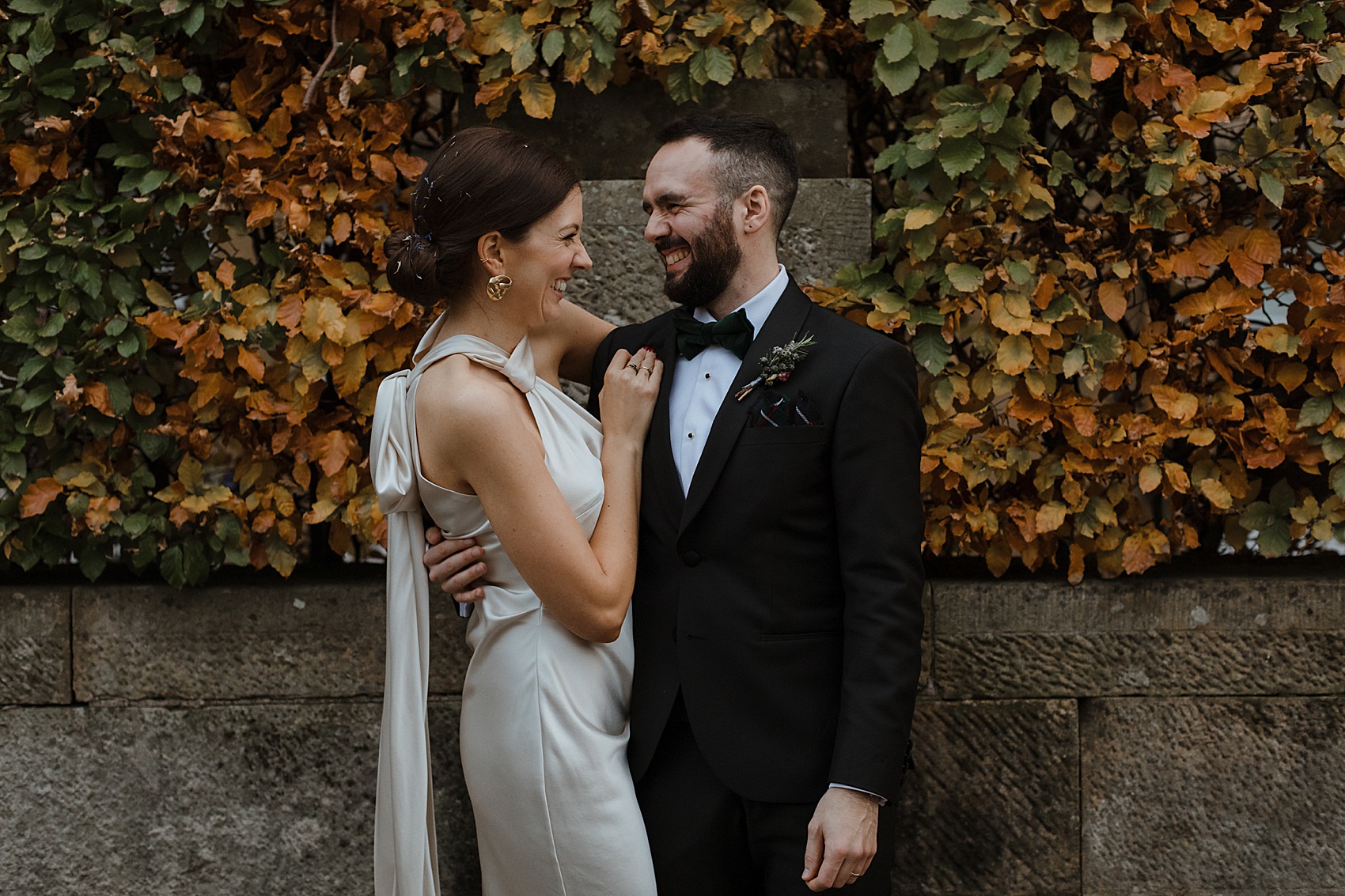 "After the whole re-plan though I just said to my bridesmaids to wear whatever they wanted as long as they felt comfortable, it didn't seem to matter so much about specific outfits any more."
"One of them was due to give birth just a few weeks before as well so I wanted her to wear whatever she felt comfortable in and I just wanted to ease all the decision making and stress. My mum made them gorgeous bouquets too with flowers from her garden."
"I love cake and absolutely love Three Sisters Bakery in Glasgow so I was so excited to have a cake made by them for the day, it was a Victoria sponge and tasted amazing."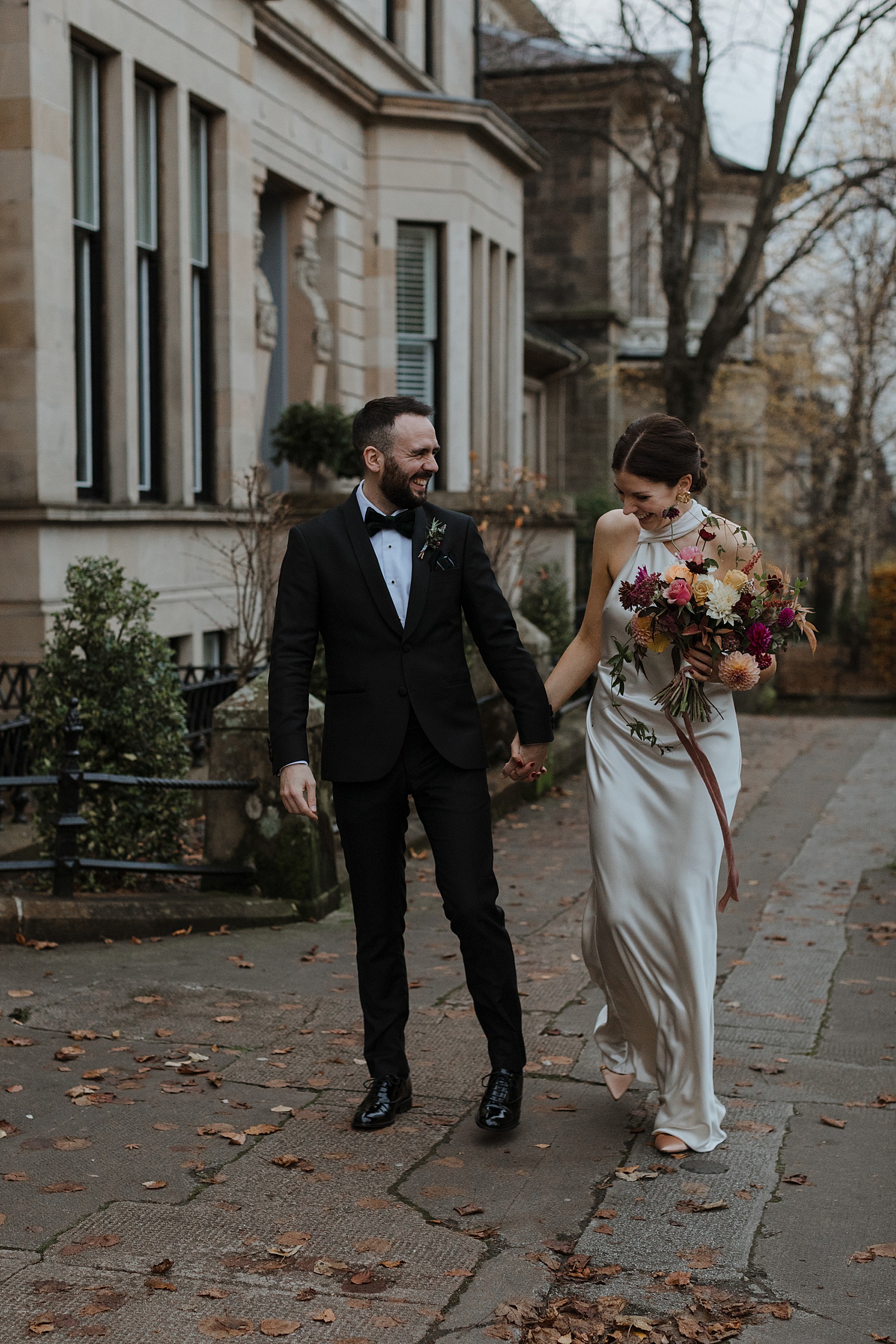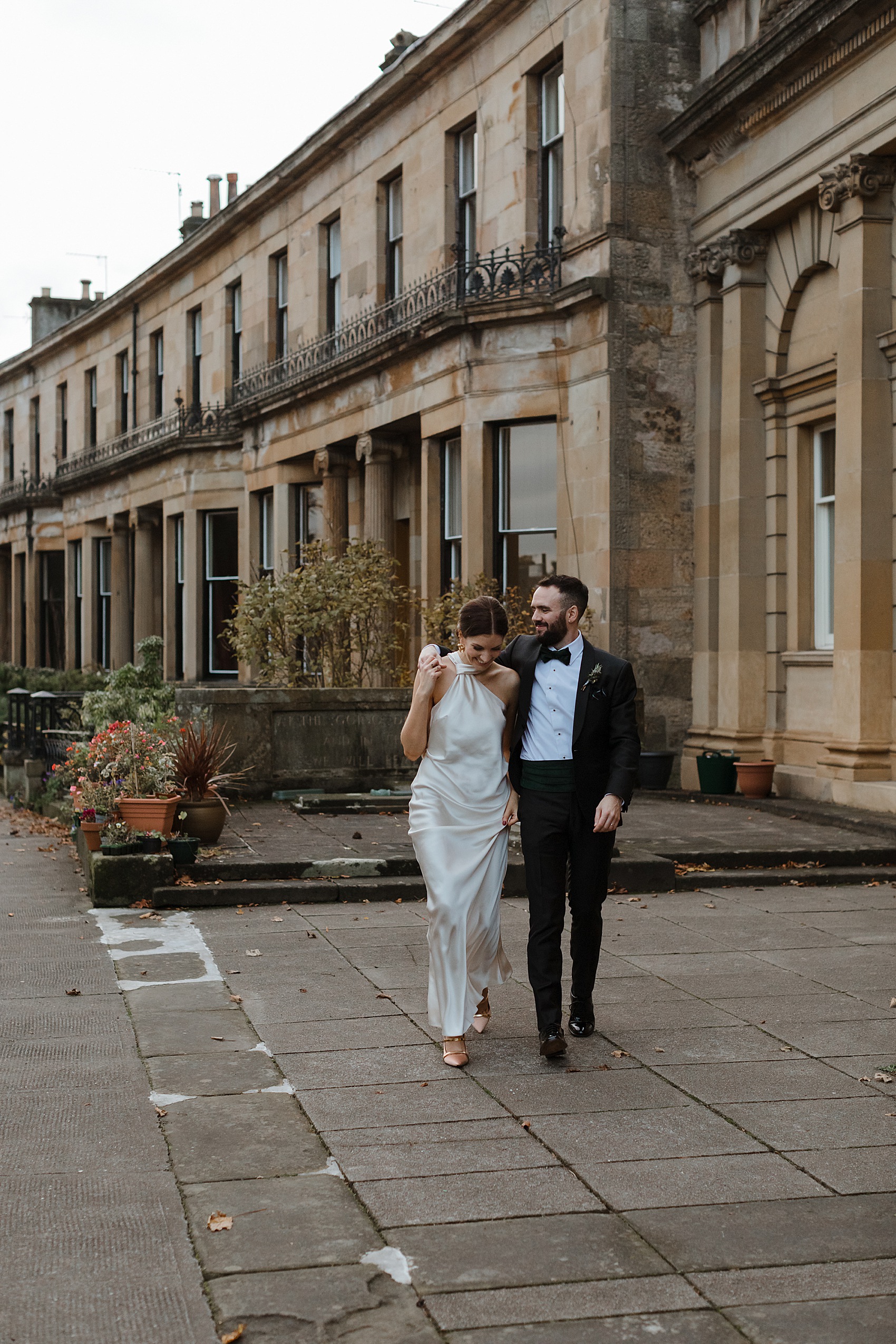 "I had also been speaking with Pyrus Botanicals for our original wedding and had planned to do a lot more with them but then of course when our budget and wedding shrank we had to re-think."
"I absolutely adore their work and have done for years so I really didn't want to let that go completely."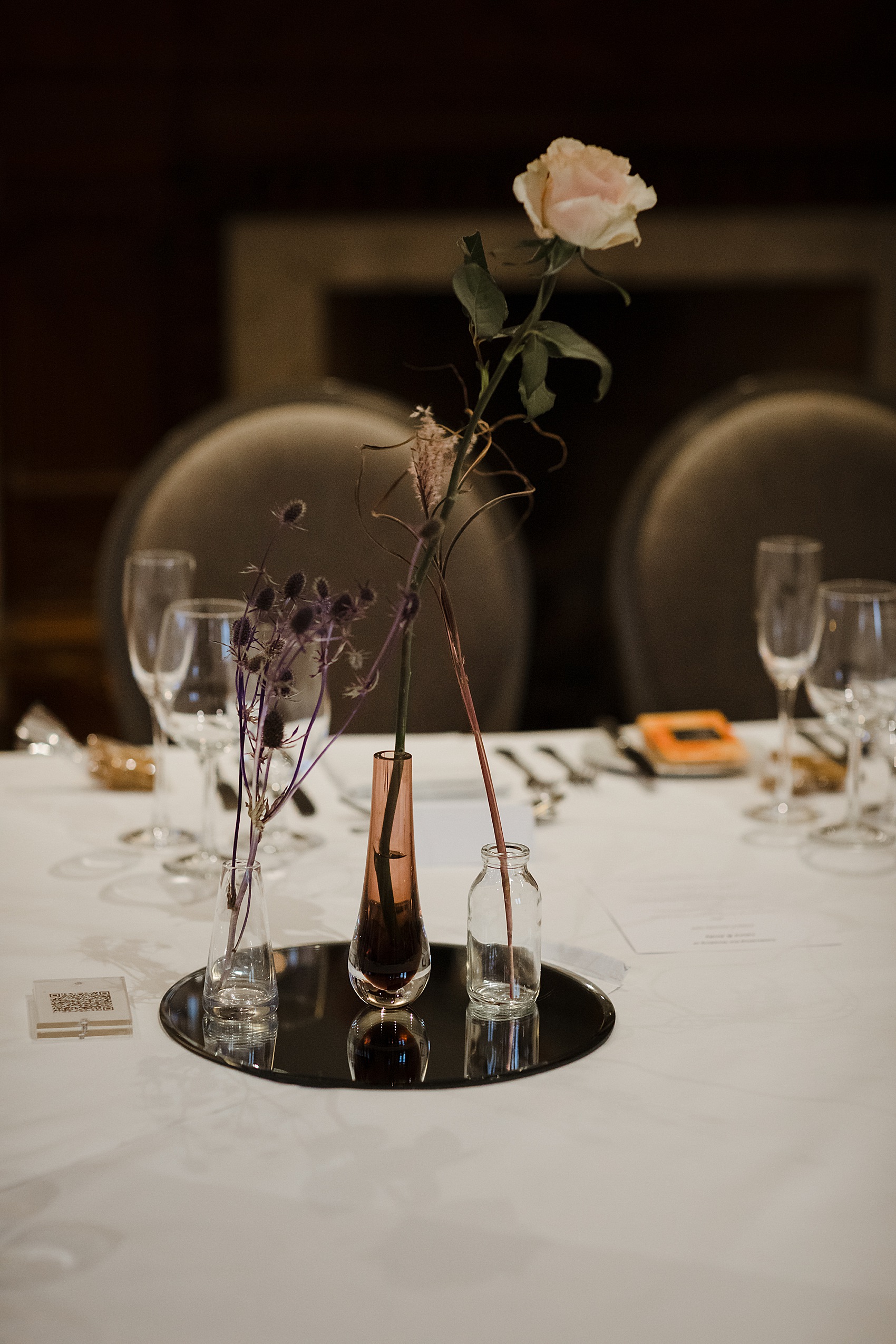 "They are a sustainable flower studio in Edinburgh; they grow the most unusual florals and create the most beautiful installations and displays."
"They work with the seasons and I knew that whatever they would do it would be magical. So we had my bouquet made by them which I loved so much and the boys' buttonholes and I asked them to create a floral display gift as a surprise and thank you to my mum to take away – which she absolutely loved too."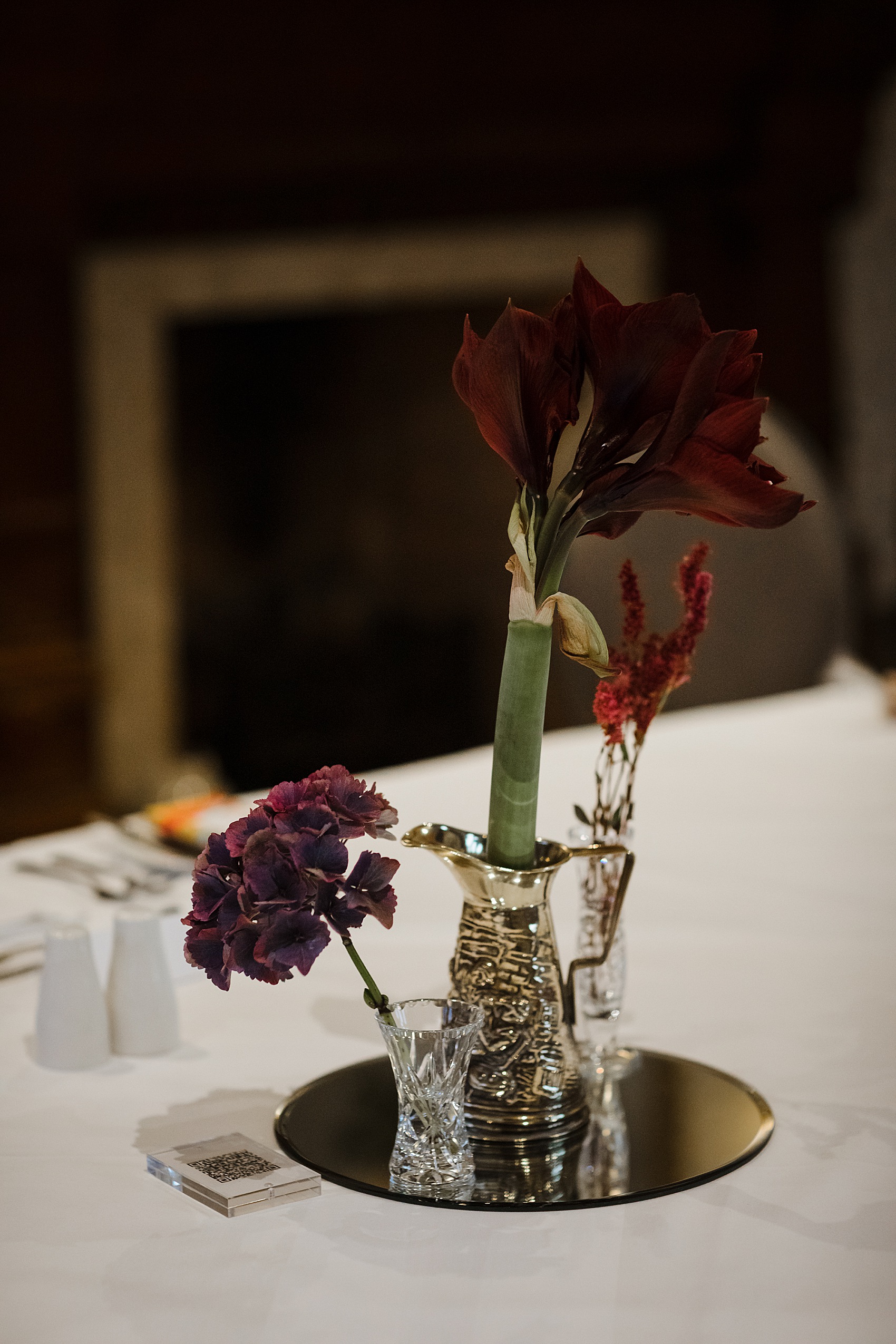 For favours, the couple supplied Coco chocolate bars – ethically produced chocolate made in Edinburgh, along with homemade tablet made by Andy's aunty.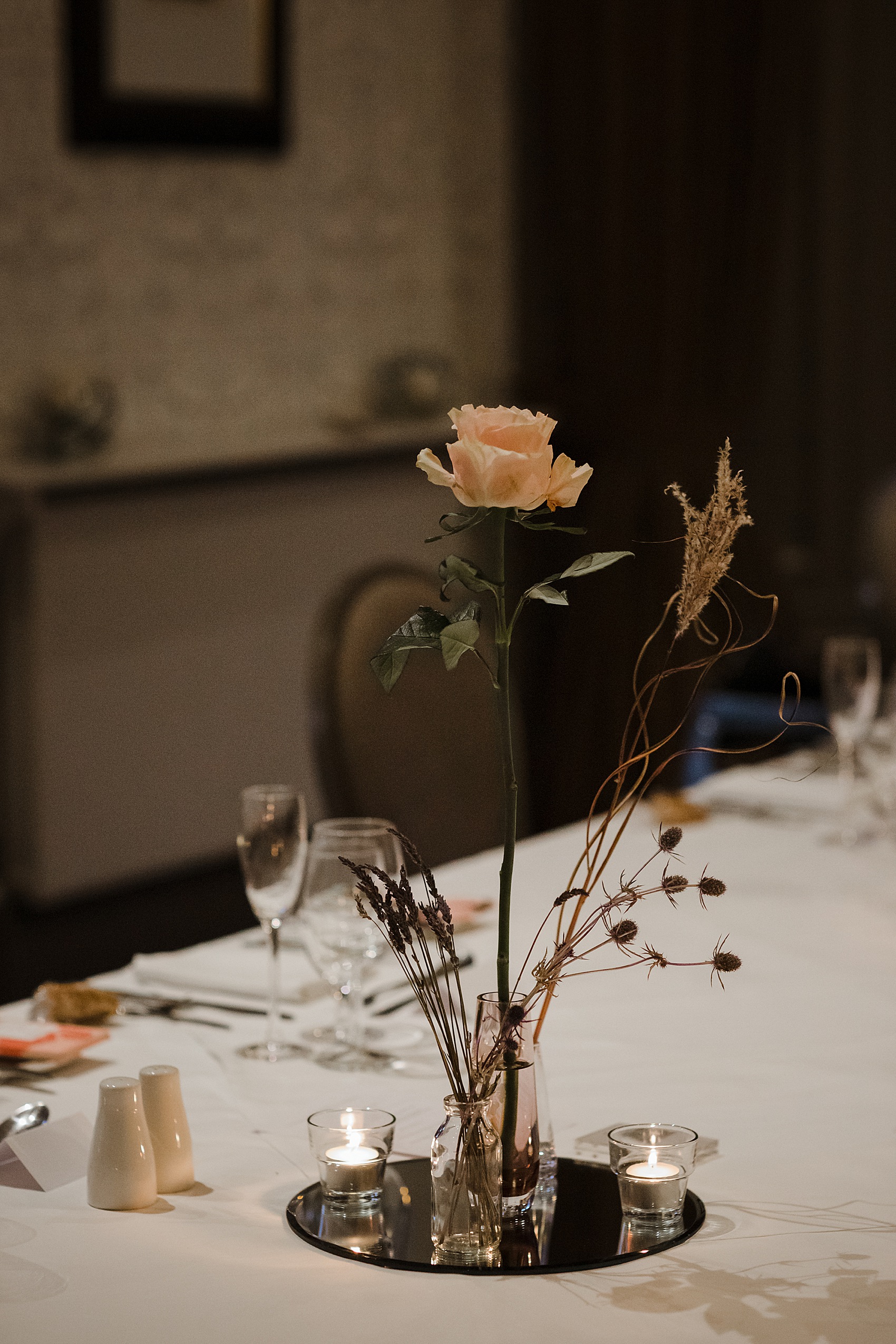 The couple had a cake created from Scottish sugar star talents, Three Sisters Bake.
"It was a 'Nearly Naked Vctoria sponge cake. I had already tasted their cakes so many times and I knew that it would be amazing."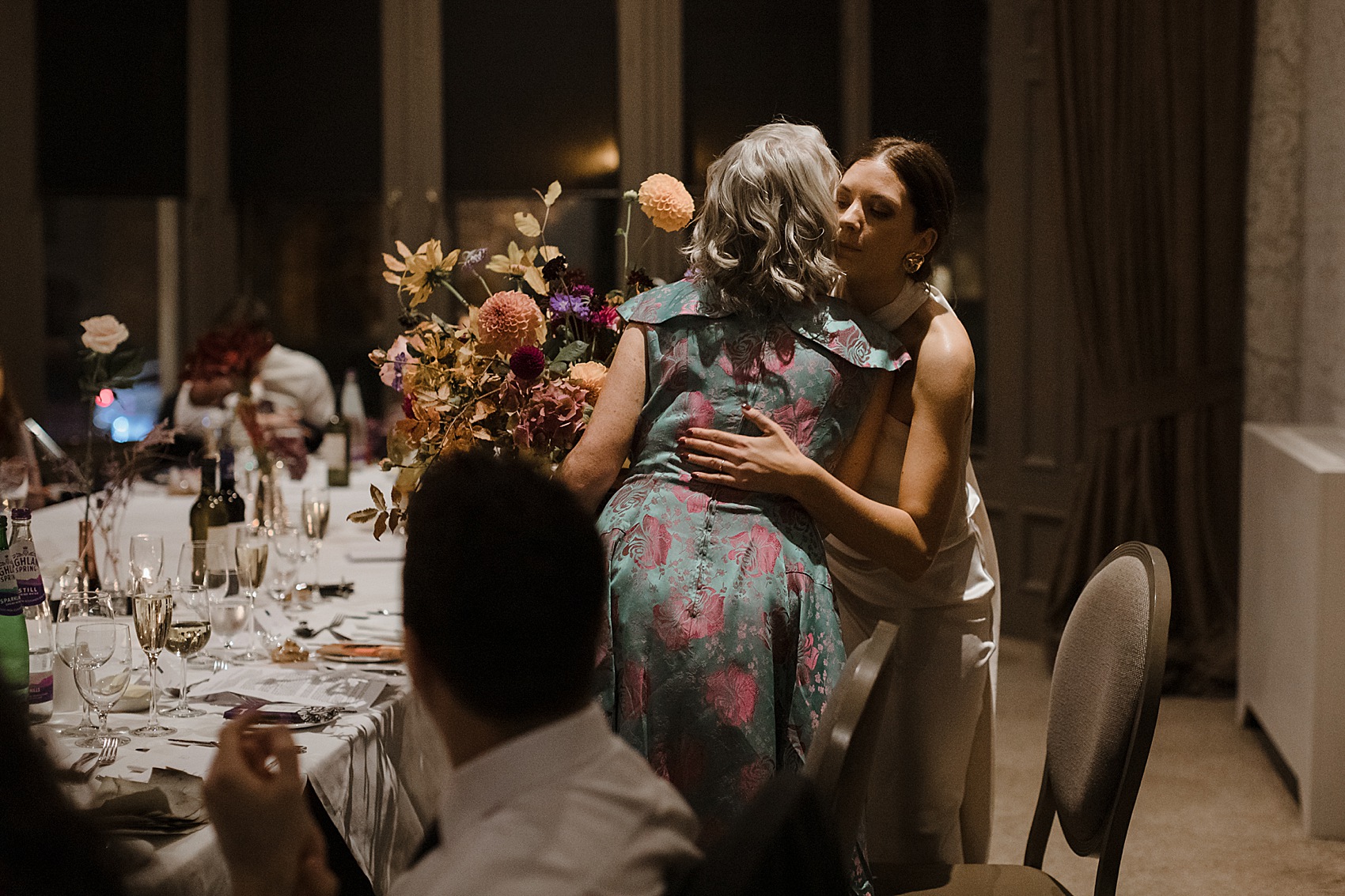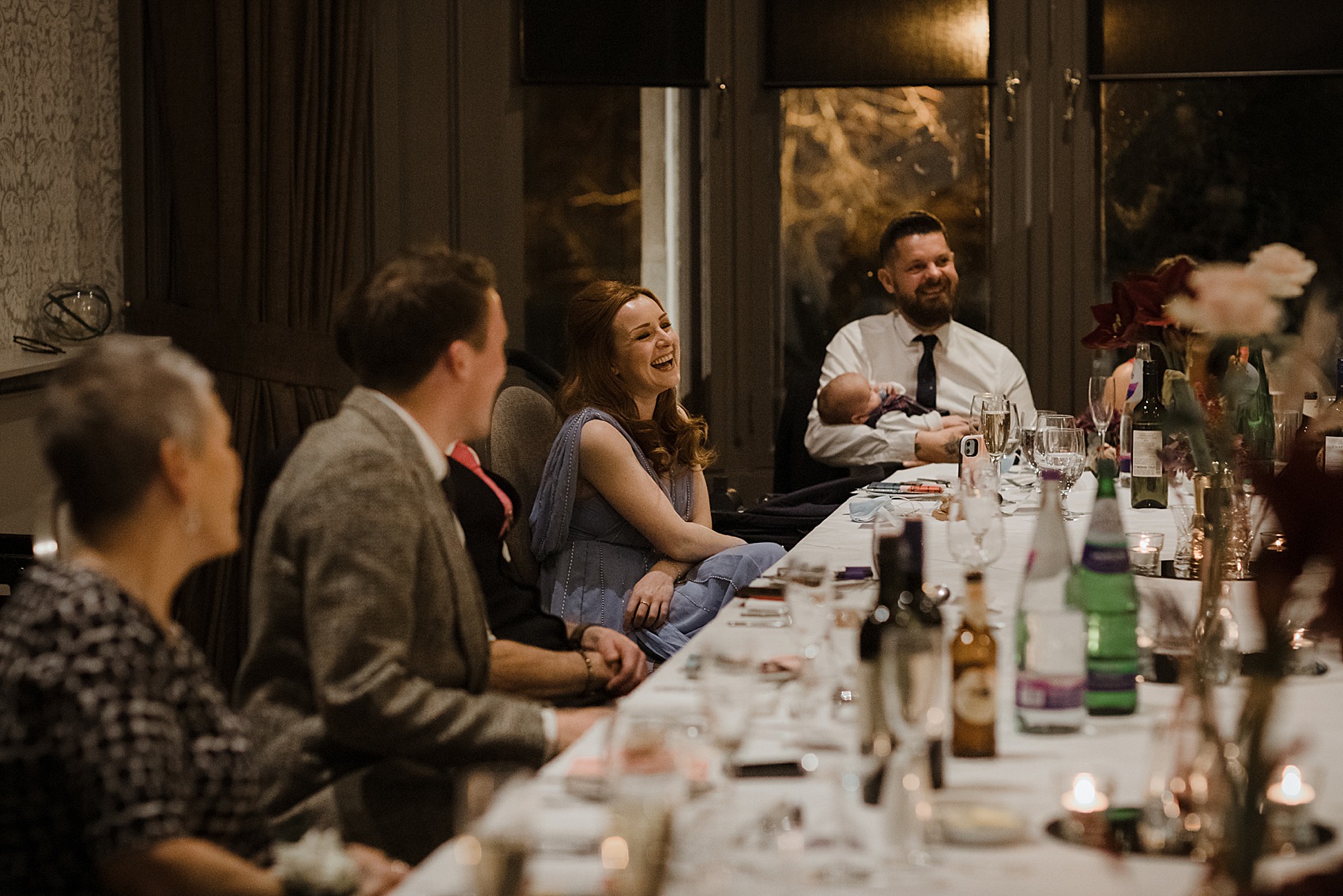 Words of Wedded Wisdom
"Try to enjoy all the lead up and planning and not get bogged down in the detail. It can be so easy to get pre-occupied with details and I think the pandemic really taught me that so much of that really doesn't matter."
"Try to keep the both of you, what you both want & your story at the centre of it all. There can be so many other opinions going on and feelings of things you ought to do that it can be difficult to hear yourself. But really, the day is only about the two of you. It will be all the better when the day reflects who you both are and your personalities."
"In particular for COVID micro weddings – don't worry about not being able to 'entertain' guests or about filling time. I was so worried about this! On the day everyone is so up for it, so ready to enjoy themselves and so happy to celebrate with you, it is more than enough entertainment! It's an incredible atmosphere when everyone gets together to celebrate love!
"I really appreciated the ongoing help and support on planning a wedding in the restrictions. The Love My Dress instagram too was always packed full of up to date real honest support and practical advice it was amazing. As a supplier and as someone trying to plan a wedding in a pandemic it really helped me in both capacities. Some of the earliest blog posts back in March especially were so useful in terms of practical advice dealing with suppliers and how to approach everything, when no one had a clue what was going on!
The uplifting content is so useful just now and the stories of successful COVID weddings were so reassuring for me reading and hearing from real couples saying how amazing it all was. I had been so worried about how our wee wedding would work beforehand and all of this really helped."
Absolutely totally and utterly GORGEOUS.
You can see more micro weddings here lovely ones, and much, much more from the memory maker that is Caro Weiss right here. Caro is a proud member of our Little Book Wedding Directory.
With much love,
Annabel x