Oh, it feels good to be flexing my writing fingers again and what a beauty of a wedding I have to share with you this chilly January day.
Jess and Max's story may be familiar with many of you, as due to Covid-19 their original wedding plans were derailed. I hope, though, that you take joy and inspiration from their wonderful autumnal ceremony which, though not as originally planned, was full of love and happiness.
Please meet Jess and Max, who wed on 26 September 2020 in an intimate ceremony at Bury St Edmunds' The Athenaeum followed by a joy-filled reception in the atmospheric Library at The Ickworth Hotel, just a short drive away in the beautiful Suffolk countryside."
Inspired by the rich, earthy tones of autumn, the day was simple and relaxed.
Throughout the planning process and the changing Covid restrictions, Jess was a part of our Love My Dress Facebook group, which I highly recommend you join.
"I joined the Love My Dress Facebook group and it was a huge support tool for me. It was helpful and inspiring to hear what other couples were planning under all the restrictions, and helped me understand that I wasn't alone in this."
"Love My Dress had real wedding inspiration and invaluable advice, especially around Covid-19. Also, the What About Weddings campaign has been amazing and inspiring. Talking about both couples and suppliers going through Covid has been really important."
Jess has shared more about their decision to wed on their original wedding date, and how their plans changed as the pandemic unfolded.
"When everything started with Covid we really didn't think our September wedding would be affected but in May we made the decision to postpone to May 2021."
"Even though at this point we have no idea what next May will look like, at the time it was such a relief after so many weeks of stress over what we should do."
"We postponed our big wedding to next year. The Athenaeum was not our original venue but we still wanted to get married on our original date and in Suffolk where I grew up."
"We wanted to keep the legal day as simple as possible and Bury St Edmunds registry office has a lovely ceremony room."
"We got married the weekend before they cut the numbers from thirty to fifteen and I now realise how lucky we were. We had to make a plan C when further restrictions meant that any reception must happen in a Covid-secure venue."
"By this point I did feel like giving up – we'd already had to postpone our whole wedding and now we couldn't even celebrate the legal bit with our close family? Max's parents were amazing and were quickly on the phone to find us somewhere for a small reception."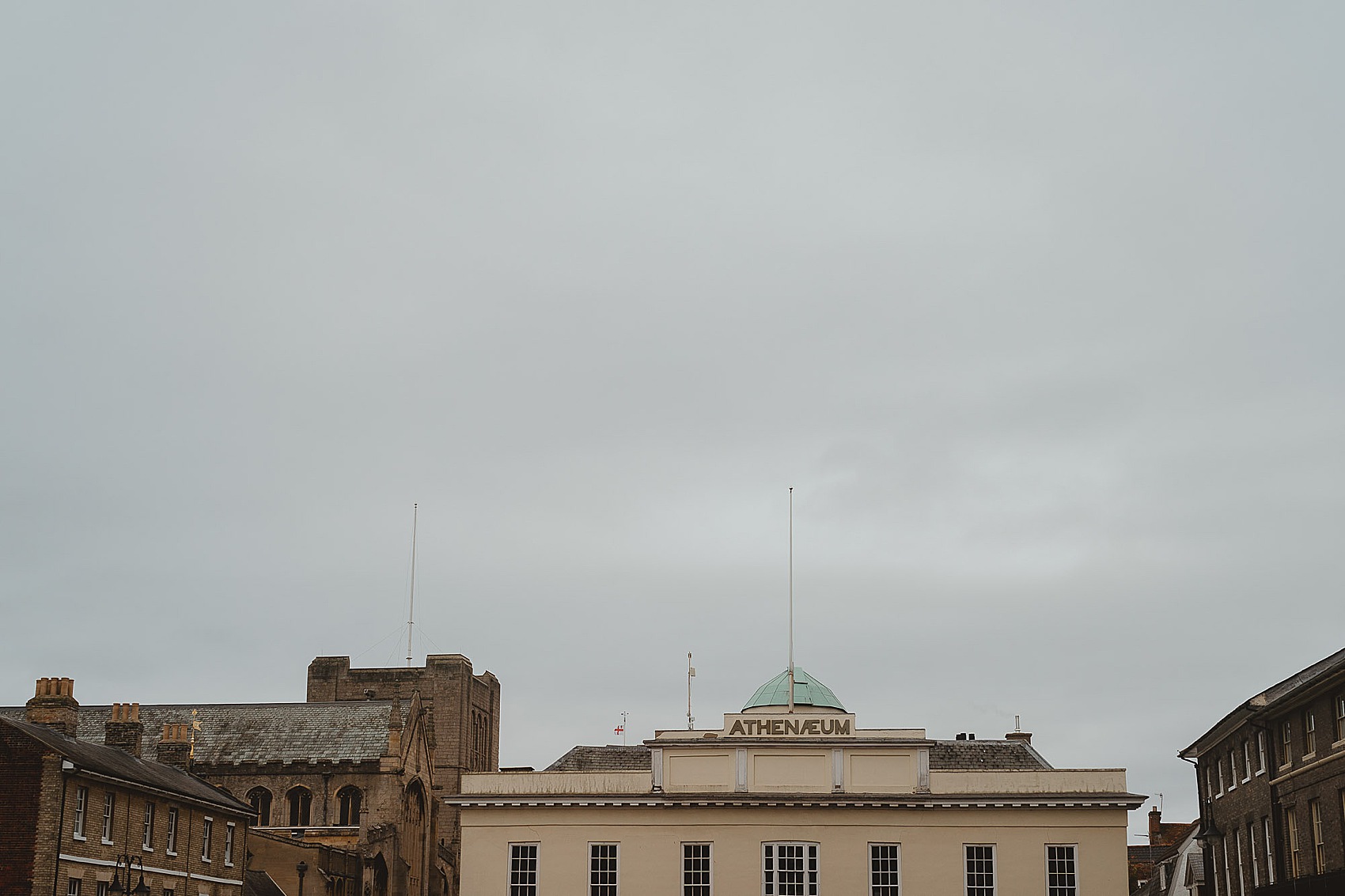 "They managed to book a private dining room at The Ickworth Hotel for twenty of us. I contacted the registry office and managed to transfer our booking to midday at the Bury St Edmunds ceremony room."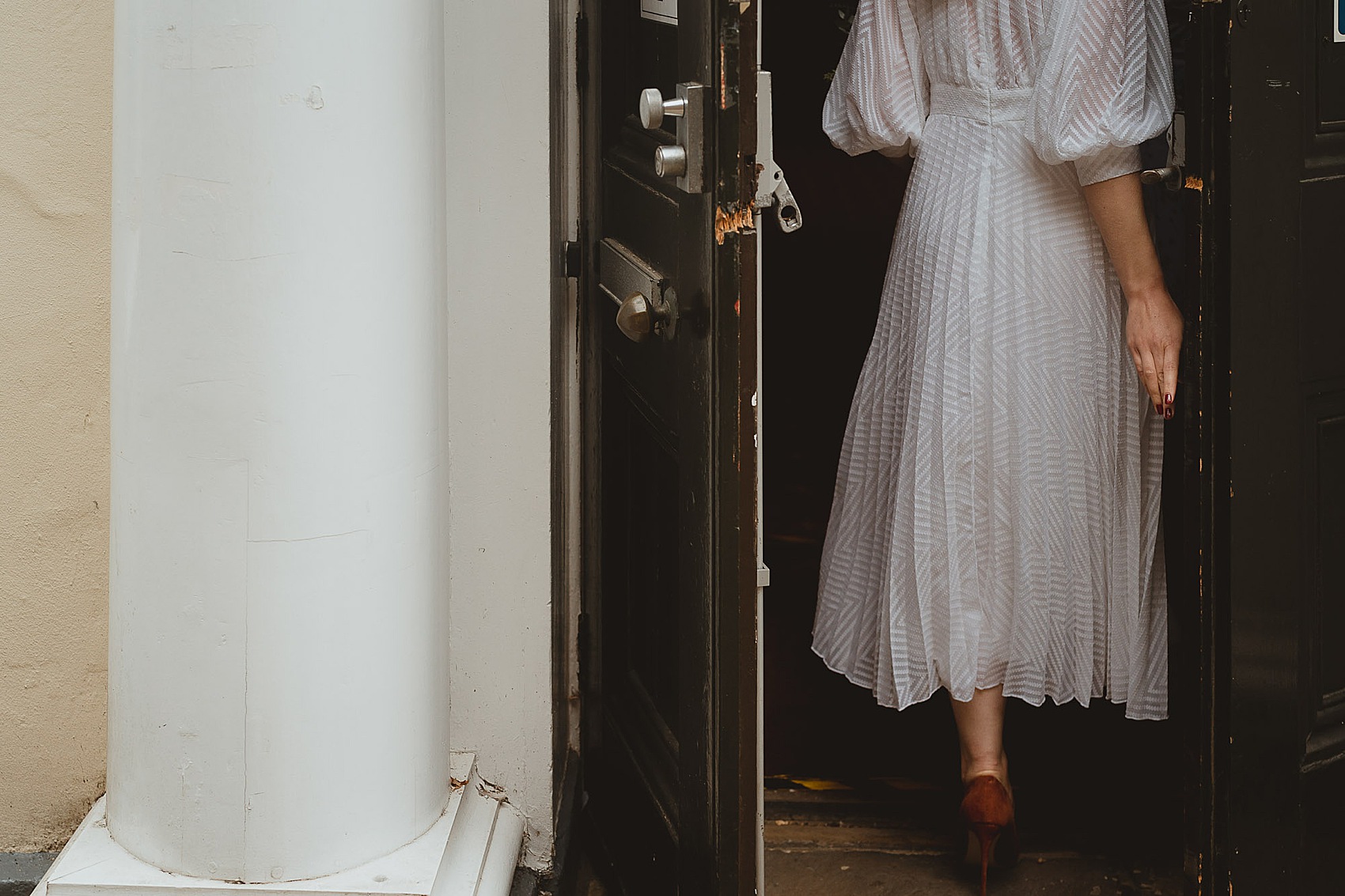 "We were told only six guests were permitted in the ceremony room and this hadn't changed by the time we got married."
"Our original day was (and hopefully still will be!) a rustic/boho barn wedding with around 75 guests."
"It will be much more personal and relaxed – we are excited to make the most of the fact there won't be any legal restrictions that can come with a registrar conducting legal ceremonies."
We'd never thought about doing it this way previously but it makes so much sense now! I feel like it has taken a bit of pressure off our big day and I'm glad we ended up having an intimate ceremony with just a few family members present."
"I was quite worried about having to walk down the aisle in front of 70+ people all staring at me but knowing we've already done the official bit makes me feel less nervous about doing it next year."
"The postponement of our big day meant that we didn't really have any specific ideas for our legal day – we just wanted a simple, relaxed day with some close family where we could get married and enjoy a bite to eat afterwards."
"We didn't give much thought to the style because all the uncertainty and stress leading up to it meant our brains were already full of things to think about."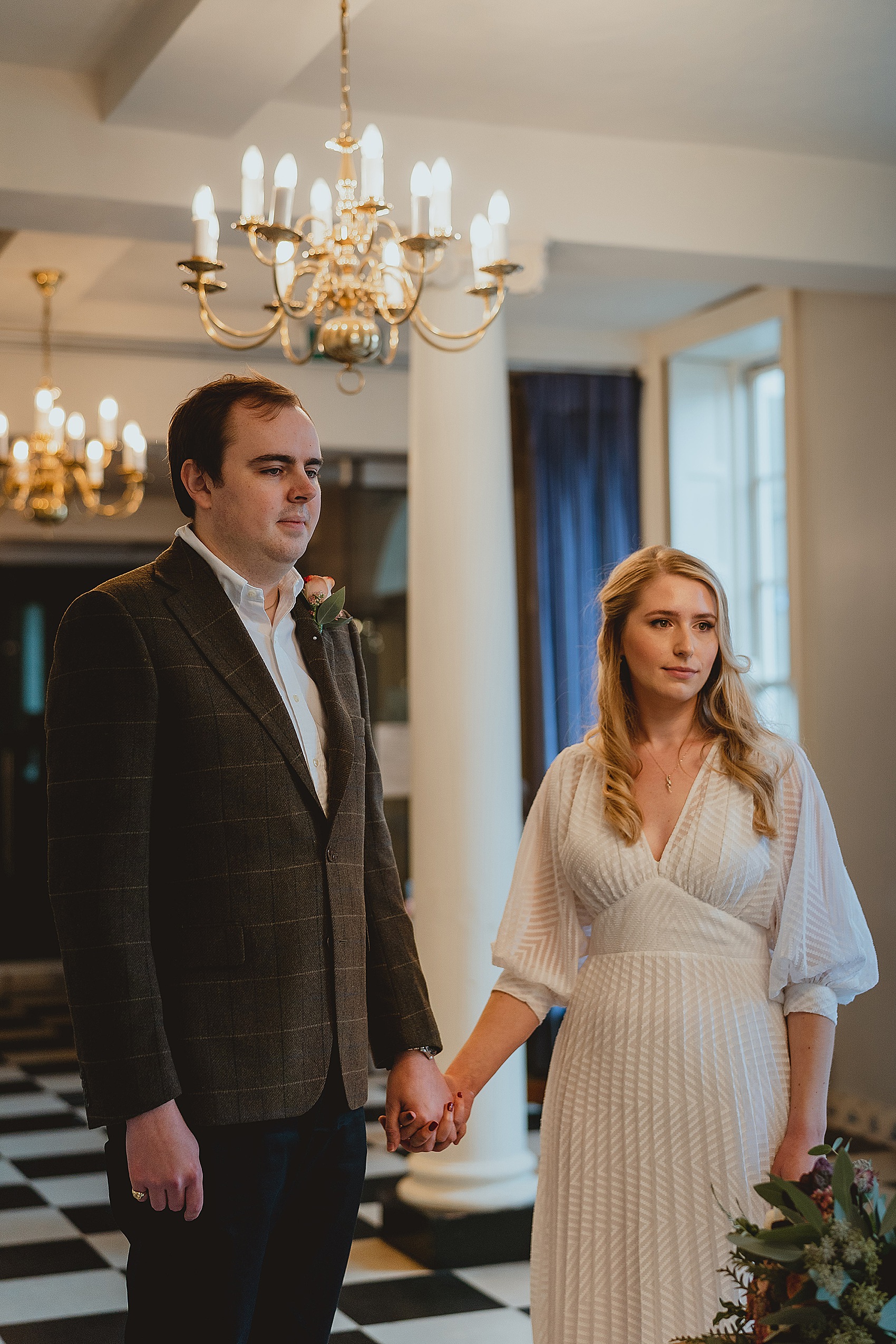 After the couple were pronounced husband and wife, they emerged into a shower of dried petals before making their way to The Ickworth Hotel.
Along the way, photographer Georgia Rachael captured some utterly beautiful shots of them in the historic streets of Bury St Edmunds. Georgia is a member of our Little Book Wedding Directory and it is our huge pleasure to recommend her wedding photography to you today.
Every single image in this wedding portfolio is so soft, beautiful and full of emotion- it's hard to choose a favourite.
"Georgia Rachael is the absolute best! I follow a lot of wedding photographers on Instagram and Georgia was always the one I went back to and obsessed over all her wonderful photos."
"Her style just fit with what we were looking for. She gets such natural shots but they are pieces of art."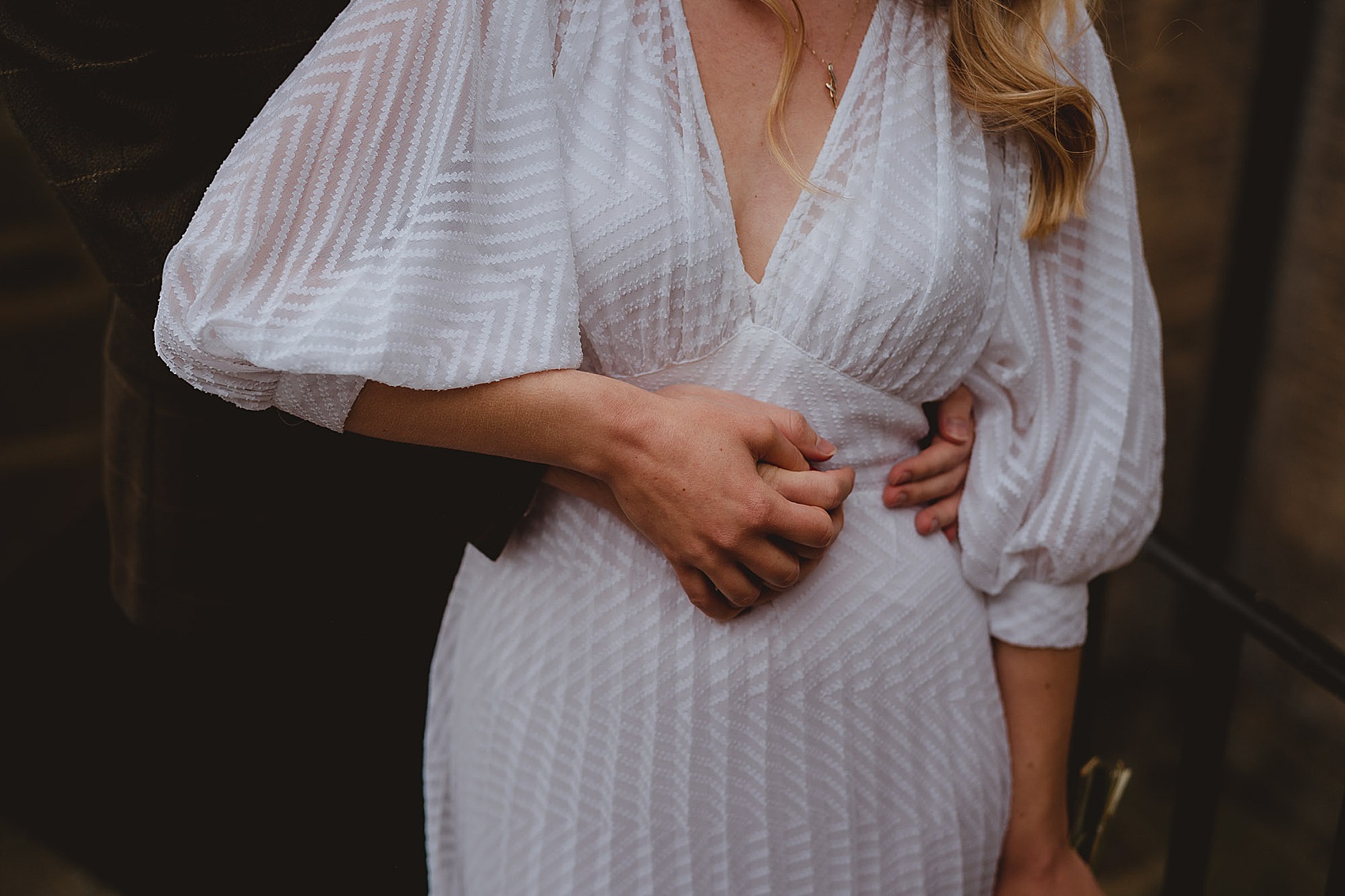 "From the moment we first got in touch she was so warm and friendly and made us feel so important. She was incredibly generous and offered to document our legal day after we postponed and that was so special."
"Max and I are certainly not the most comfortable in front of the camera but she gently guided us and got such beautiful photos that really captured the feel and emotion of the day."
"The day went by in a flash so we're really grateful we have lots of photos to look back on. I feel so lucky that she is our photographer and whatever happens with our wedding plans next year, I'm so excited that she will be capturing it."
The couple met on their first day at the University of Leicester back in 2012 when they were placed in the same accommodation block.
"I remember texting my friend to say, 'Just met a cute guy called Max'. We got engaged in Sorrento, Italy in July 2019. I am a naturally shy person so Max always knew he wasn't going to propose in public. It happened at sunset on our hotel room balcony overlooking lemon groves and the sea."
Jess decided to save her original wedding gown for the 2021 reception and purchased this delightful, floaty gown from ASOS for her intimate ceremony. I love how special the chevron-design makes it feel and the cinched-in waist and mid-length, pleated skirt are so pretty.
"I wanted to save my wedding dress for our day next year – we didn't particularly want the day in September to feel like a 'wedding', more of a mini celebration so we wanted to keep it relaxed. I bought my actual wedding dress from the amazing Claire at Lavender & Jude in Bungay, Suffolk. By the time I went to her shop I had visited four other boutiques and felt that I'd never find a dress."
"I was very stubborn with what I thought I wanted but could never explain what I was picturing in my head. Claire was kind and patient and told me what I needed to hear. I ended up buying a dress that, of course, wasn't anything like I was originally picturing and I cannot wait to wear it!"
"I loved my £45 ASOS bargain! I felt a little bridal as it was white and swishy but still so relaxed and comfortable. I reckon I can re-wear it on a sunny holiday in the future so it will conjure up lovely memories."
The mid-length showed off her wonderful, chestnut suede shoes from Steve Madden, which tone in perfectly with the ribbons which flowed from her bridal bouquet.
"My bouquet and Max's buttonhole were from Callendar's Florist in Framlingham, Suffolk. I wanted a relaxed, autumnal bouquet with soft tones and lots of foliage."
Her jewellery was simple and delicate; just a necklace given to her by Max on her 21st birthday and pretty drop earrings from Aluna Mae.
The bride's hair and make-up were done by C L Lydford Hair Design and Victoria Bradfield Makeup Artist, both of whom are hired to style her for the reception next year. I love the natural, slightly boho vibe of her hair and the fresh dewiness of her make-up – so perfect.
Like Jess, Max chose an alternative look for the ceremony, wearing a country-style ensemble of checked jacket from Moss Bros, a smart, open-necked shirt from Ralph Lauren, chinos from Spoke and brogues from Bertie at Dune London. I love the natural feel, which fits in so well with the country town setting.
For the weekend, Max hired the charming Harold the Camper from Suffolk VW Campers and the couple arrived at The Athenaeum together.
"We'd always wanted to hire a VW Camper for a holiday but never got around to it so it was a memorable first experience in one. Plus, it was the perfect autumnal colour and looked so pretty! We all arrived together at the registry office. Max and I spoke with the registrars first to confirm our details and then our guests came in and took their seats."
"For the ceremony, our guests were seated individually around the edge of the room. They had to wear masks and the registrar marrying us wore a shield (decorated with sparkly sequins)."
Our ceremony was super short – less than ten minutes. We basically said the bare minimum to make it legal and we were ok with that!"
Although there were no readings, the couple could still exchange rings, chosen at Jacobs the Jewellers in Reading.
"It's an independent shop with the loveliest staff. Max bought my engagement ring from them and we knew we wanted to go back for our wedding rings."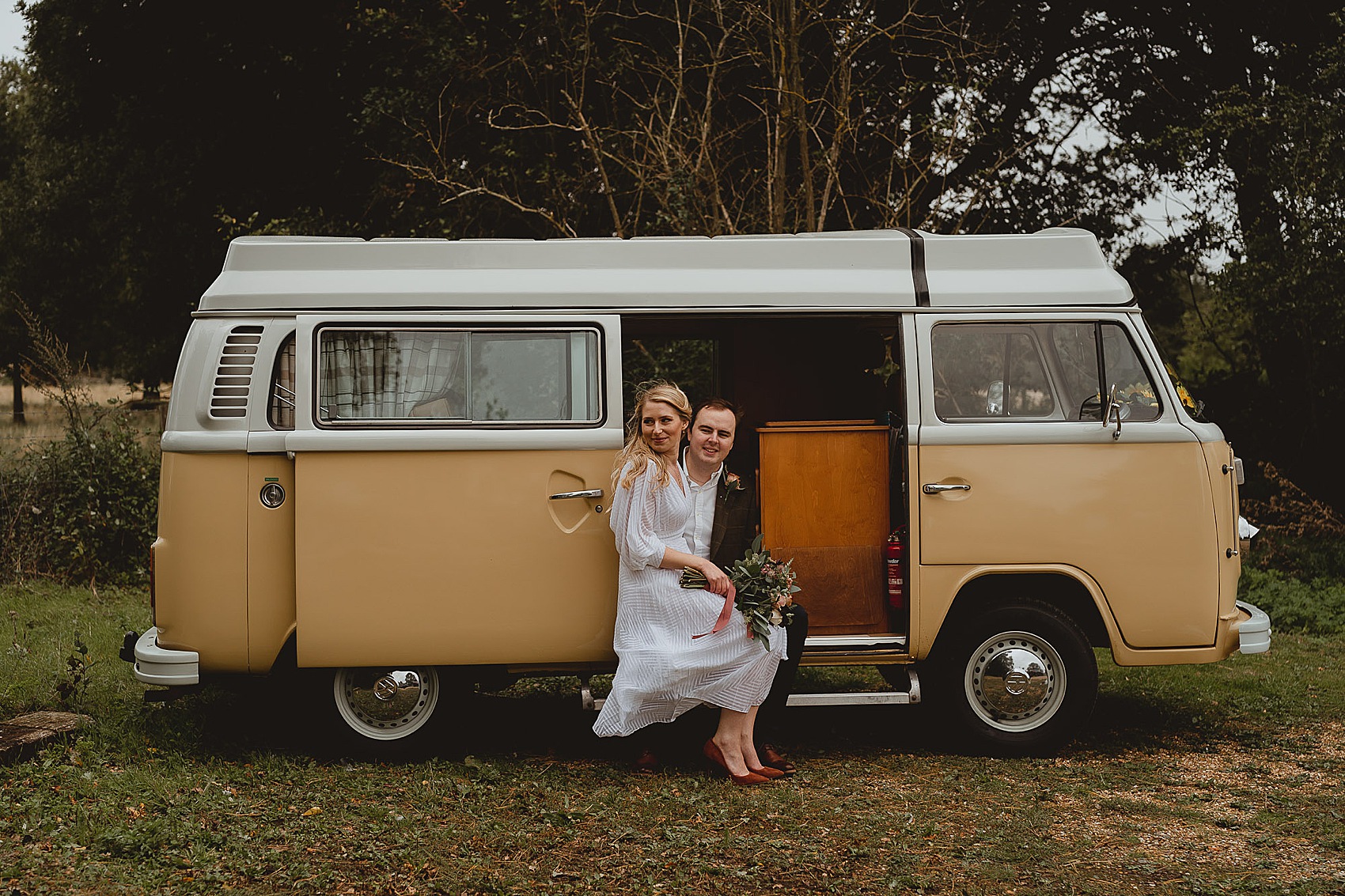 The wedding breakfast was provided by The Ickworth Hotel's catering team and Max's auntie baked their simple, tiered cake.
"Max's auntie famously makes cakes for lots of family occasions and she made us a two tiered, semi-naked cake with fresh cream and berries. She decorated the cake table with a few autumnal touches – leaves, mini pumpkins and acorns."
"We brought a little speaker with us to plug in at the hotel and we'd made a Spotify playlist a couple of days before. Simple but effective!"
After the restrictions for weddings changed last summer, Max's parents arranged the reception for them with less than two weeks to go.
"We were relieved to have somewhere to celebrate so we didn't even think about any decor! Max's parents booked to have flowers for the tables in the dining room, which were a lovely surprise when we arrived, as we didn't know what they would be like, or even what the room was like! Max's parents booked Tudor Rose Florist for the table arrangements for the meal. It was a gorgeous display of rich, bold autumn colours. At the hotel for our post-ceremony meal they seated us in households."
The celebration went on until 5pm, when the newly-weds headed to their room for the night and relived their day.
"We had booked the best room at The Swan Hotel in Southwold for our wedding night as it was close to our original venue. We booked a non-refundable room, which we joked about at the time… 'Why would we need to cancel it? We know we're definitely getting married!'. We decided to keep the room which was such a treat – we felt having to postpone our wedding was a good excuse!"
"We headed to The Swan Hotel for the rest of the evening where we drank some fizz and ordered room service. It was lovely having so much time to enjoy our room and talk about the day."
Before we share the bride's general wedding advice, she has some Covid-specific wisdom to share which I really think will help brides in a similar situation.
"It was really important for me to remember that I wasn't the only one going through it and that it wasn't just our wedding that was affected. I felt guilty when I was stressed or angry or sad about the situation because I knew there were bigger things happening."
"But, we are allowed to feel these feelings and we do deserve a special day. It can be tough planning a wedding, let alone during a global pandemic."
"This pandemic is going on longer than anyone was expecting, so naturally wedding plans are going to be different for a while."
"I have loved seeing so many couples embrace the changes and completely overhauling their original wedding plans."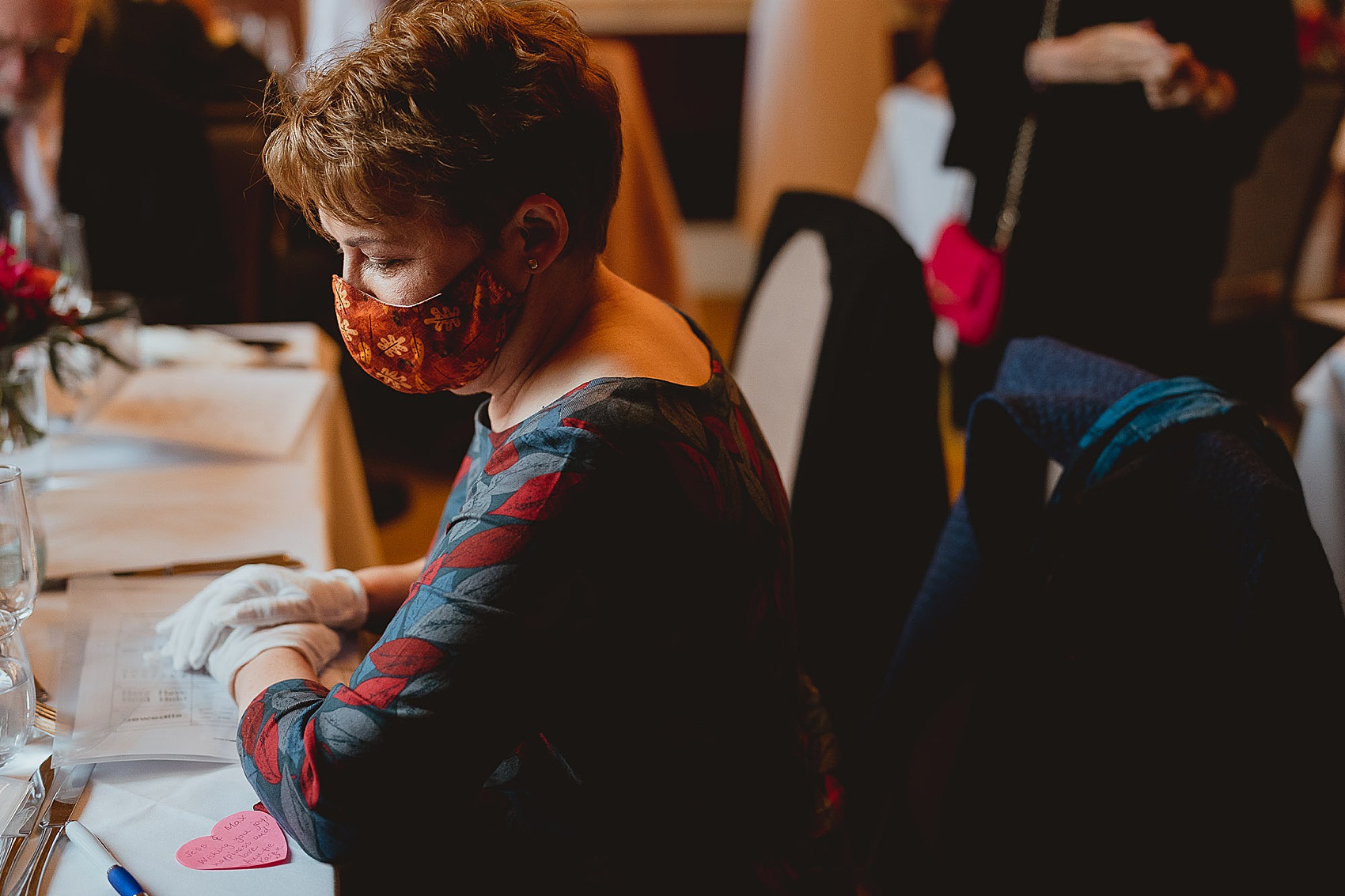 "When restrictions kept being put in place, I definitely had moments of thinking everything had fallen apart (and it's fine to have those moments!) but eventually you get used to what's happening and you will be able to adapt your plans and still have a wonderful day."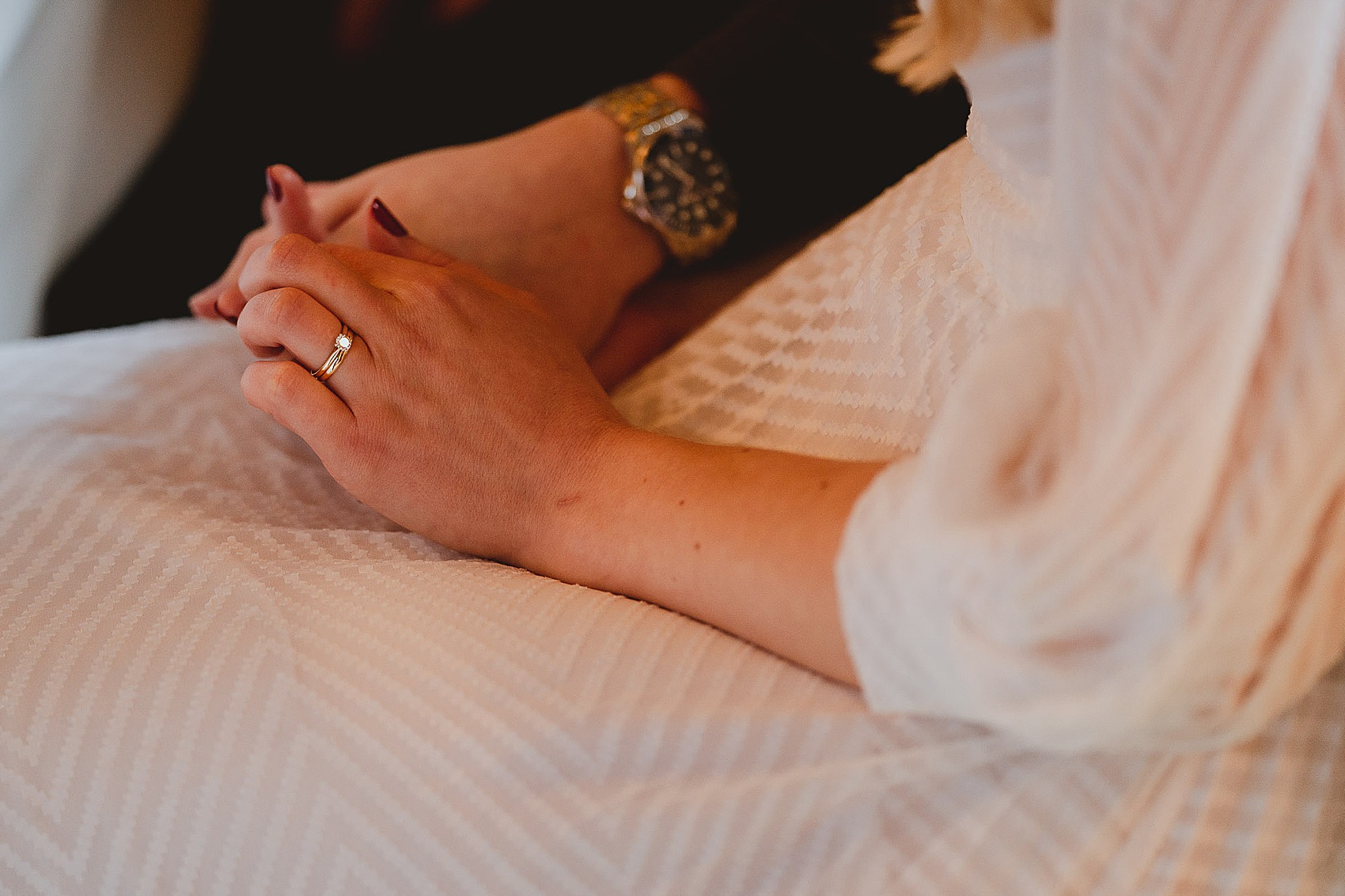 "Use this bizarre situation as an opportunity to re-evaluate or change your wedding plans. Do something you wouldn't have thought of before like having the legal ceremony as a separate little bonus day. Circumstances beyond our control forced us to change our original plans but it's given us more confidence to think about doing things differently and not worrying about keeping people happy. It's about you two and no-one else."
"The main goal is marrying your best friend, and when you finally do it, it really the most awesome feeling. Now that we are married we feel more relaxed about what may come over the next year with regards to our wedding plans and we certainly feel less pressure to have our big day a certain way."
"Doing a small legal ceremony and having a celebration later on means that you can have two completely different days that celebrate your love. I was excited to have two 'gos' at things like my bouquet, dress, even the location, as we wouldn't have picked a country house for our wedding but this is where we ended up having our Covid-secure mini reception for our legal day."
"We even had a few speeches so people got some practice in for next time! (I realise so many people are experiencing financial difficulties at the moment so I don't want this to come across as insensitive if it seems like I'm suggesting paying for two wedding days)."
"Be sure to keep the dialogue open with your suppliers if you are thinking about changing your wedding plans – be that changing the date or scaling it all back to something smaller. They are real people too and it's important for everyone to be on the same page, plus they may be able to share some cool ideas."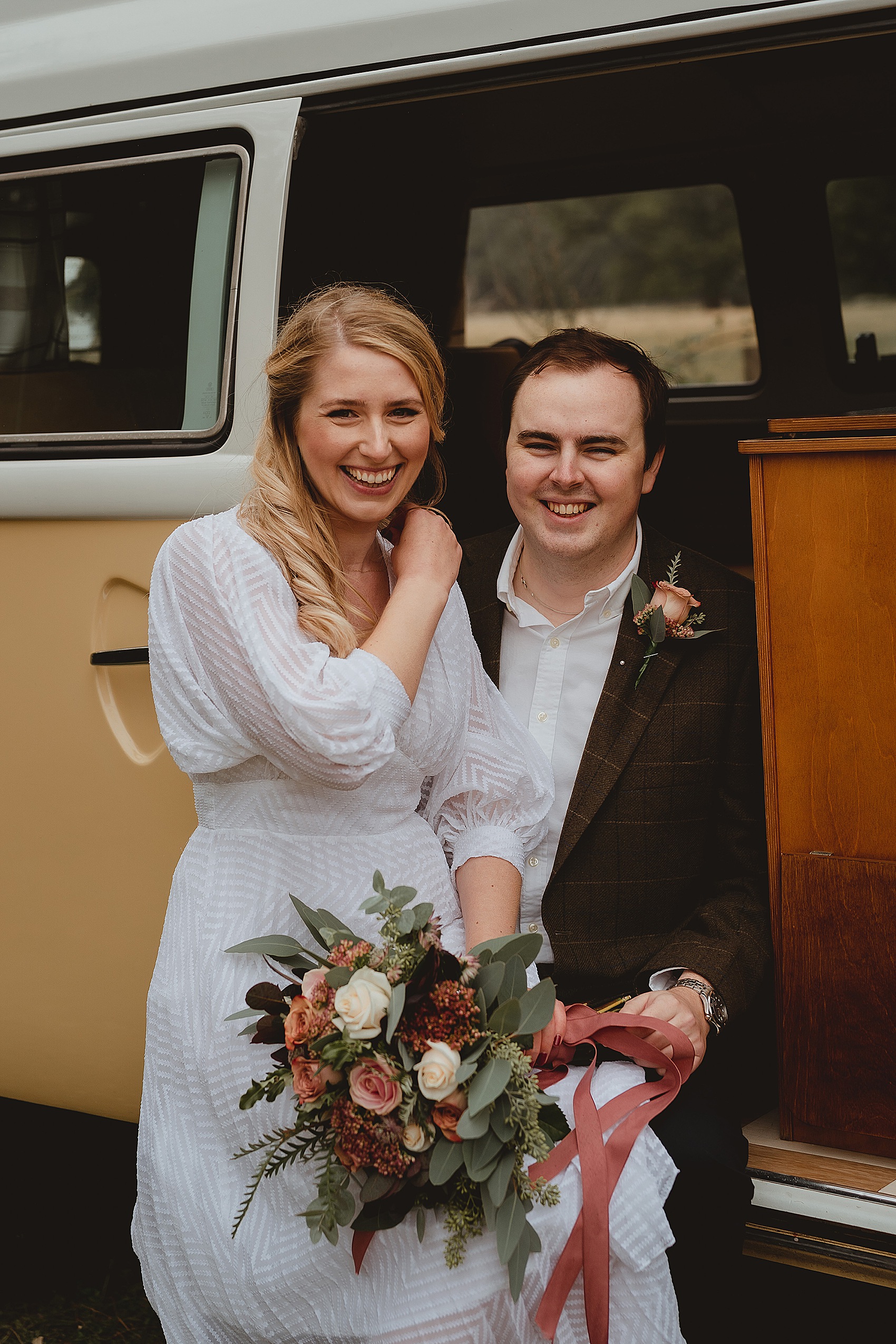 Words of Wedded Wisdom
"At the end of the day, you are marrying your best friend – that is what this is all about. It's so easy to get snowed under with all the small details or worrying that your day won't be as you had it planned for so long, but the feeling you have once you are finally married is pure joy."
"The pandemic has been tough on us all. If you feel yourself getting overwhelmed with everything going on, take a step back from wedding planning, give yourself a few days off and remember the reasons you are getting married in the first place."
"Your wedding will be special because it's your wedding. Covid has thrown the rulebook out the window. Do what will make you happy!"
Jess and Max, it's been a real honour to have an insight into your legal ceremony and your advice for other brides is absolutely invaluable. From me and all of the Love My Dress readers, please accept my thanks and congratulations, and I have no doubt that your reception, when it comes around, will be epic.
With love
Ele xx