Sending SO much love to you all today. I'm so conscious that this past couple of weeks have felt so exhausting for so many – the endless lack of certainty over weddings and life plans, over careers and work, it just feels too much at times.
Which is why I am so happy to be able to share something truly delightful with you this morning. Rachael, a Fundraising and Communications Manager for an international development charity, married Will, a Captain in the British Army, on 5th December 2020. Their beautiful 'micro wedding' captures so perfect the release of joy for couples who have waited to tie the knot, but had their plans delayed because of the pandemic.
Rachael chose to wear a dress by The Own Studio and these lovely photographs were taken by the talented Katie Rogers.
Katie Rogers Photography

+ Follow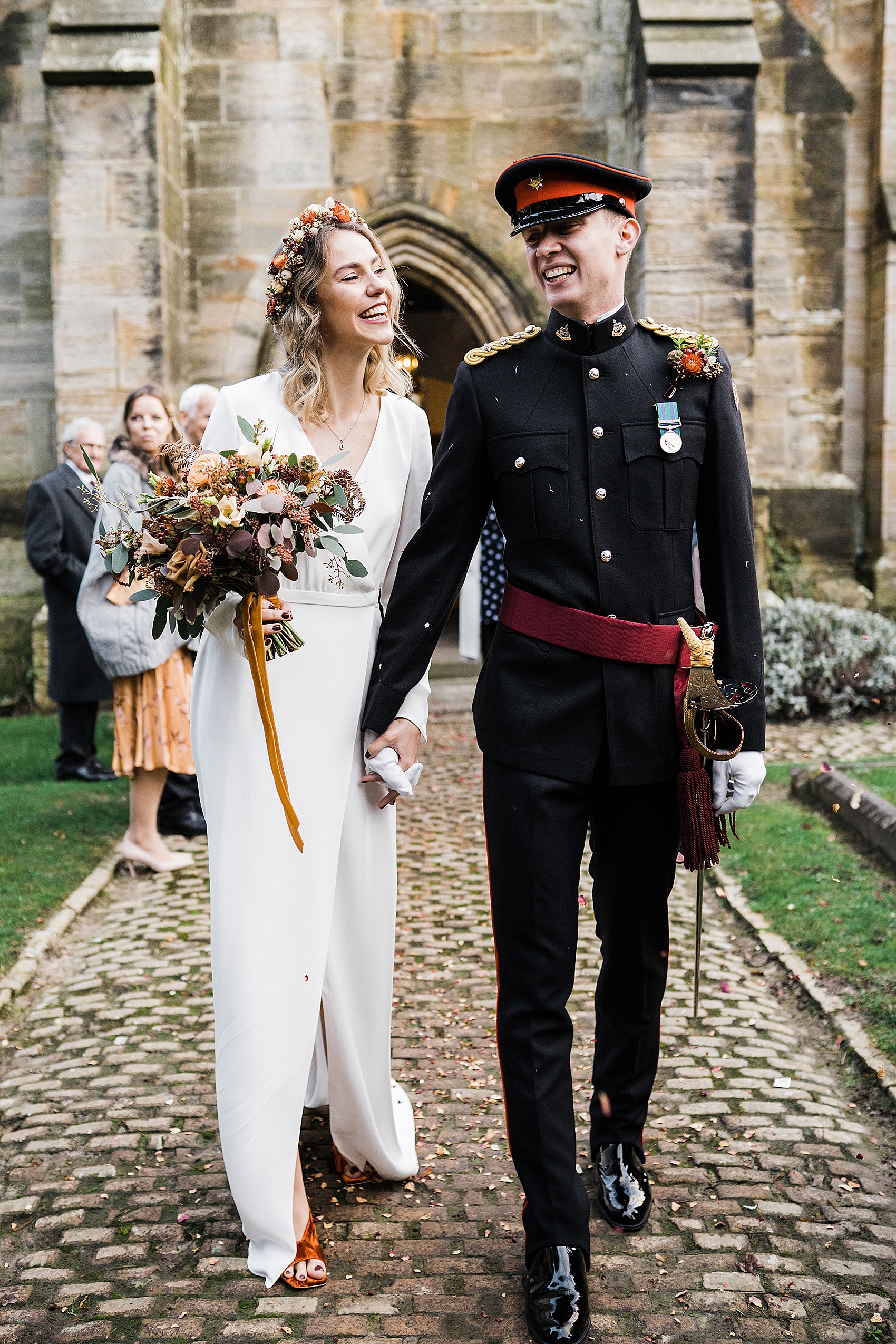 "Rather than postponing our wedding we actually decided to bring it forward. We were due to be married in September 2021 at Elmore Court, and back in October when Boris announced that weddings would be stuck at 15 people for 6 months, we felt very skeptical about what the future was looking like and didn't want to keep planning for a 150+ extravagant wedding that may or may not happen – it was taking all the fun out of it.""At this point we decided the most important thing to us was to get married so we thought, why the hell not. So we postponed our booking at Elmore Court until October 2022 (party pending) and cracked on with making plans for our little wedding."
"All of the jewellery I was wearing had sentimental value to me. I wore a necklace and ring from my late grandmother on my dad's side. As a gift ahead of the wedding, Will's parents gave me an engagement ring that had belonged to Will's great great grandmother, to whom his grandpa had been evacuated to during the war."
"My earrings were the ones Will had used in our proposal. I also had a second pair of earrings from V by Laura Vann, I had bought myself and my Maid of honour a pair of the same hoops as a wedding pressie. Hers were green and mine red."
"As my something borrowed I was also wearing my aunty Karen's tanzanite tennis bracelet that her husband had made for her. Her step daughter/my cousin had also worn it at her wedding the year before so it has now become some what of a family tradition."
"My watch, was my late mothers. It's very special to me and I only wear it on special occasions (which also explains why the battery was dead and I didn't have time to get it changed ahead of the wedding)
"We are SO glad that we did thing this way, as if we hadn't changed our plans then we never would have been married at Kilndown Church which was so special and meant so much to Will's parents, and we would have had to sit with a load of uncertainty for another 4/5 months."
"Now we are happily married, had the most magical, intimate and simply amazing wedding, and we get to do it all again in 2022."
"Our last min change of plans was not without its own drama, true COVID style of course. Just as we had sorted most things out, Boris announced the 2nd national lockdown that was to end of the 2nd December, just 3 days before our supposed wedding."
"At this point we didn't know what the other side of lockdown was going to look like so we just had to sit tight and cross our fingers. We had agreed that whatever the situation if we could go ahead with the ceremony we would."
"Fortunately, a week before lockdown ended they announced the tiered system. Unfortunately, parts of Kent were going into tier 3 which meant no reception, but we could still have the ceremony with 15 people (including the bride and groom)."
"So we had to cancel our booking with Hotel Du Vin, and then set on a mission to try and come up with a new plan. For added complication, all of my (the brides) family, including Will and I lived in surrey which was tier 2 so we were allowed to stay in hotels etc but Will's family were all in Kent so they had to stay home. Luckily Dale Hill Golf Club which is right on the border between Kent and Sussex had room for all of my family so we all stayed there the night before and this is where I got ready."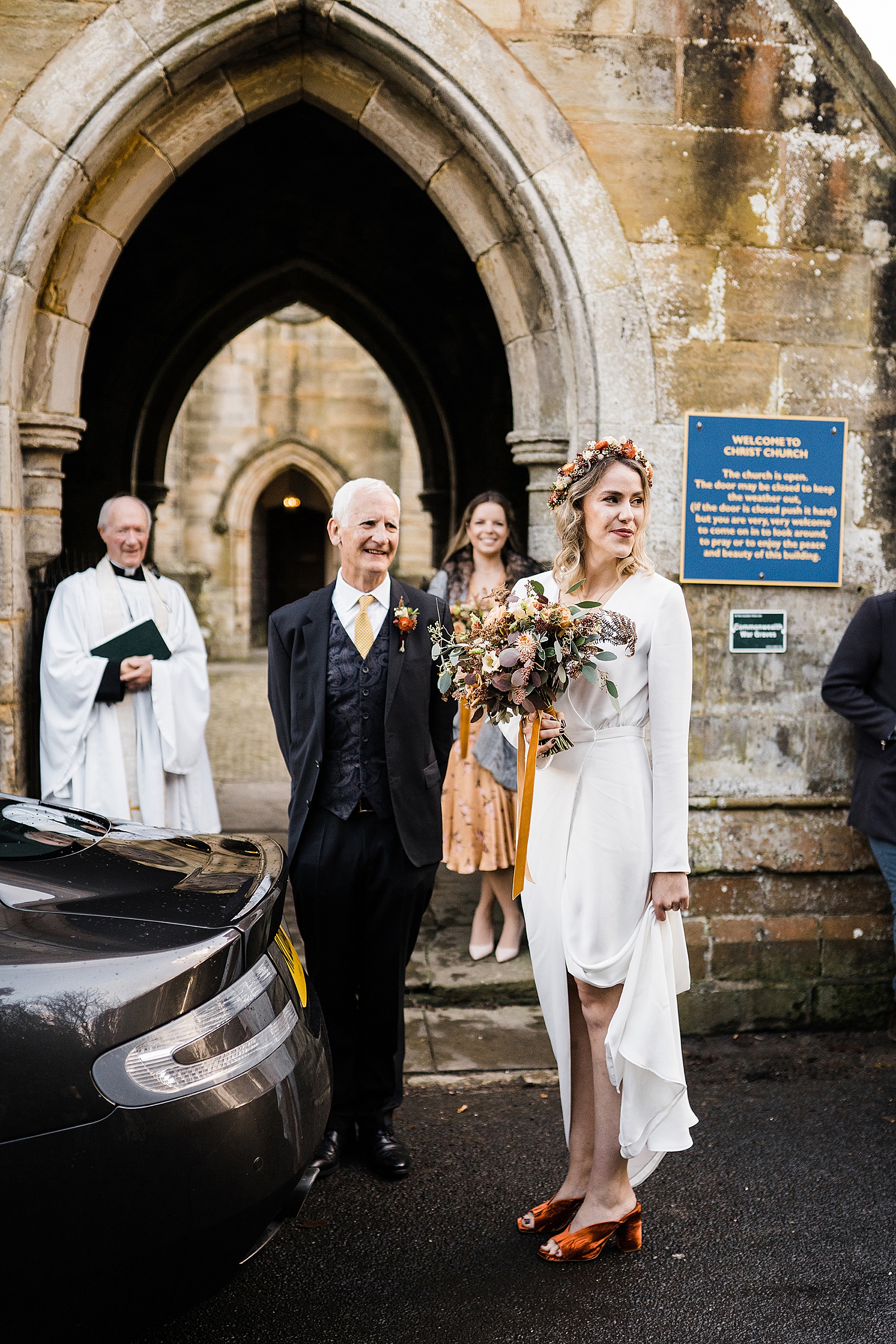 The couple tied the knot at Christchurch Kilndown Church in Kent.
"My Dad, David, walked me down the aisle. The entrance music was played on the organ and we had 'Arrival of the Queen of Sheba'."
"We chose this venue when we changed our wedding plans. The main reason for choosing Christchurch was because it was Will's family church, and we wanted to get married somewhere that was both beautiful and special."
"We had two readings, the first was read by Will's Grandpa, Peter, and he read a passage from Corinthians. We chose this a we felt it was a lovely bible reading focusing on love. The second was read by my Aunty Karen, and she read, To Love Is Not To Possess, by James Kavanaugh."
"We loved this reading and felt that it perfectly represented our relationship, and we both felt very connected to it when reading it. As it was a COVID wedding and we weren't allowed a proper reception my Dad also did his speech as a part of the ceremony which was lovely."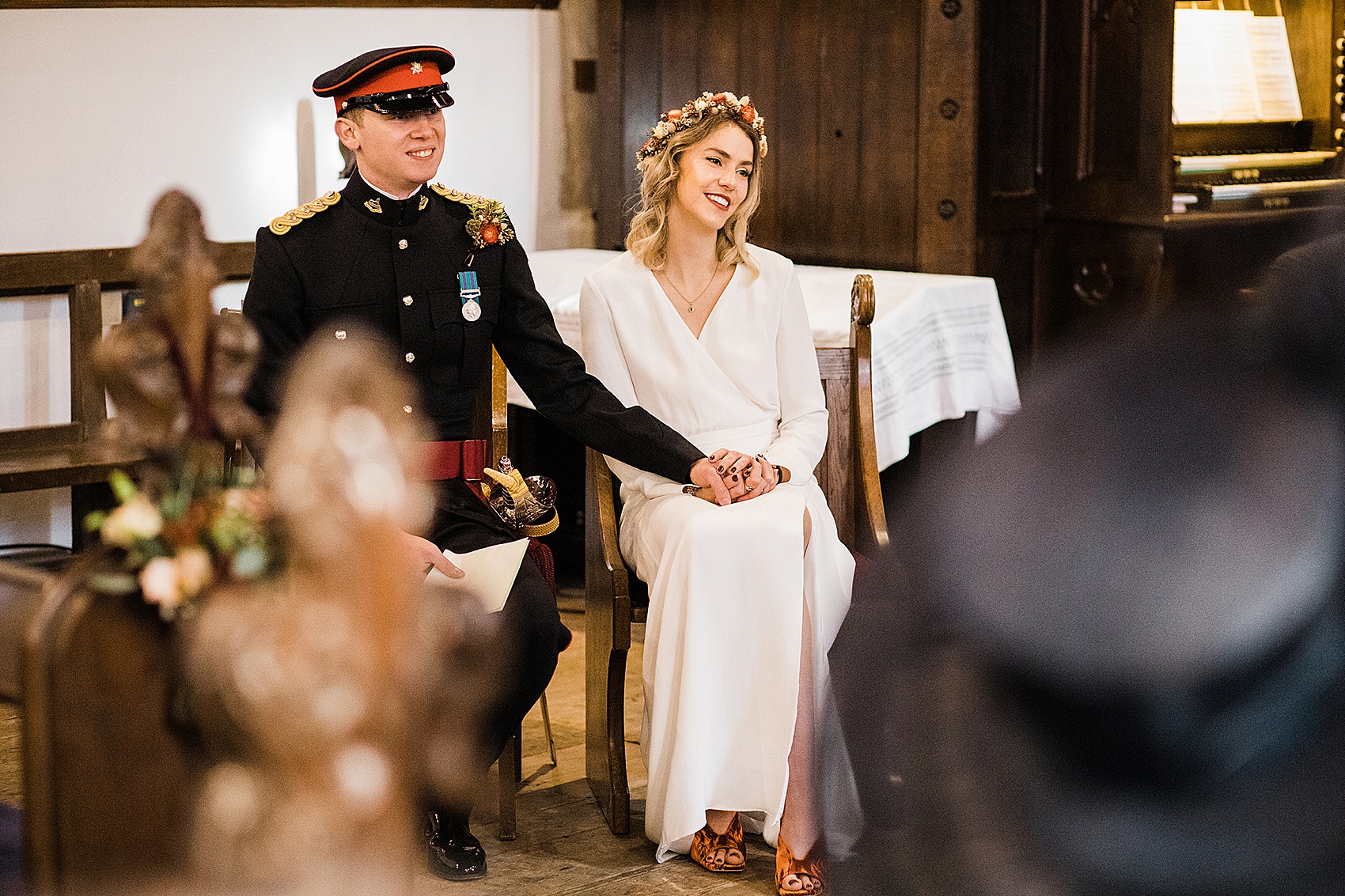 "We didn't tailor our vows we used the standard ones that were included in the ceremony – I am glad that we didn't tailor them as I started to cry on line two and blubbed my way through the rest, so pleased I just had to repeat what Neville was saying."
"The church is very local to Will's parents' house which was his childhood home, both Will and his younger brother were christened there and his parents are both members of the choir there."
"It is also a beautiful rural church with loads of character and colourful windows."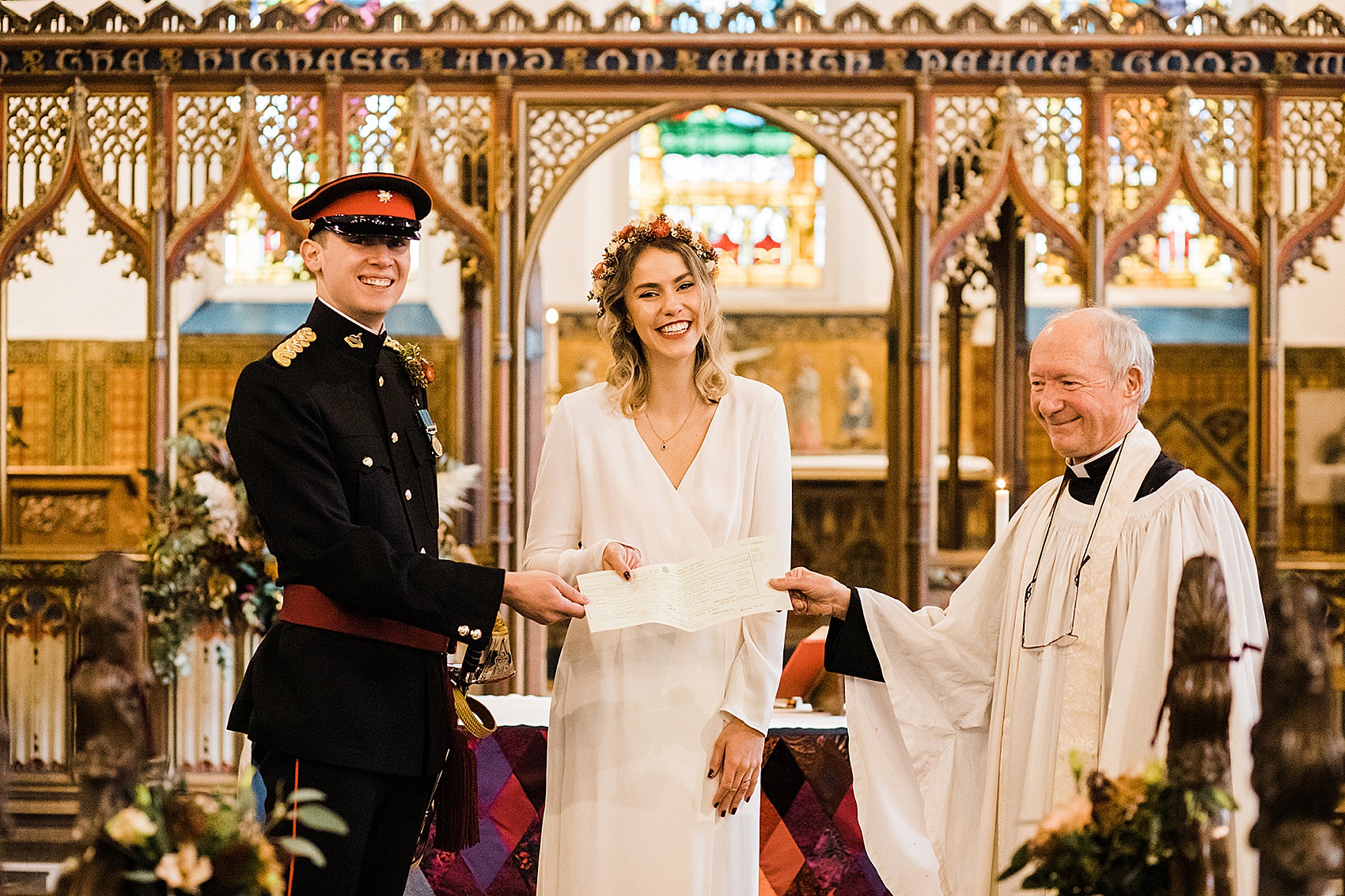 "Also by a stroke of luck, the acting reverend at the time was Neville, a long-standing family friend of Will's family. So, we were very lucky not to have a stranger conducting the ceremony."
"We didn't have a proper reception in the end as at the time they were not allowed, but this was originally supposed to be at Hotel Du vin Tunbridge Wells."
"Our rings were from Brooklands Jewellers in West Byfeet, Surrey. This was our local jewellers and they had resized and fixed lots of my jewellery in the past, as we only had a few days to get the rings made before lockdown two kicked in we got a quote from them and entrusted them with the job."
"We also didn't want anything complicated and were happy to support a local business."
The couple hired the very lovely Katie Rogers to document their day in images.
"We chose Katie Rogers, because when we changed our plans we needed a new photographer as we were in a completely different location. Jo, my maid of honour, had recently had a shoot with Katie and I had seen some of the pics and they were amazing."
"I asked Jo if she would recommend her and she said without a doubt. So that was that, I sent Katie an enquiry and we had a chat on the phone and I knew she was perfect for us the minuet that she started talking. Katie is SO lovely, I can't put into words how great she is and was on our wedding day."
"Katie kept us and everyone totally at ease, and it was just like having a bonus friend at our wedding. Her photos are perfect and she managed to capture the joy and magic of the day perfectly. She also had some great and creative ideas which were fun to get involved with."
"Neither of us had ever had a photos taken of us before and she made it so easy, comfortable and fun for us. We couldn't have got a more perfect photographer and I would literally recommend her to everyone (and have been)."
"All our family that were there have complimented us on how wonderful and lovely Katie was on the day and how great the photos are. They have also been recommending her to friends.
"Jess and Rosie of The Own Studio were amazing. Once I had spotted their Style 021 dress I was confident it was the one for me, so emailed them explaining the situation and that I needed a dress pronto. They got back to me saying this was totally possible but that I needed to come in right away, and helped me find an appointment."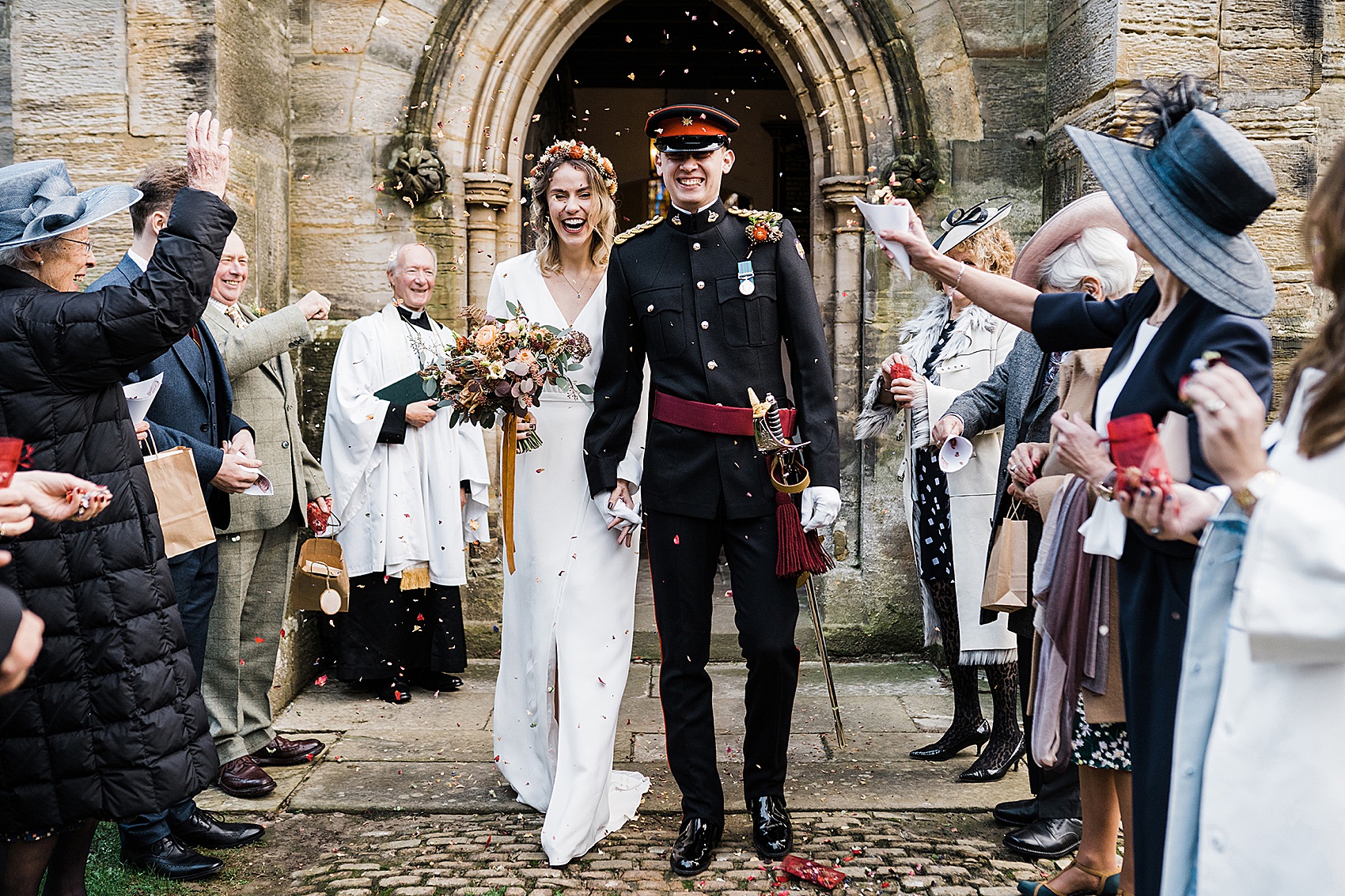 "The initial appointment was great, Rosie was so lovely and helpful and a calming influence. My dress was the first one I tried and I knew it was for me, I decided to sleep on it and then emailed them the next day placing an order."
"From there I had one fitting and the dress was handmade to order. They also made Will and I some masks to match our outfits that had our initials embroidered on."
"My dress was then delivered within a matter of weeks in beautiful packaging. The quality was simply gorgeous and I loved that the dress was made for me."
"The own studio are amazing and I was so happy to be supporting a female owned business, would highly recommend to everyone and I am very tempted by their dancing mini dress for our celebration in 2022."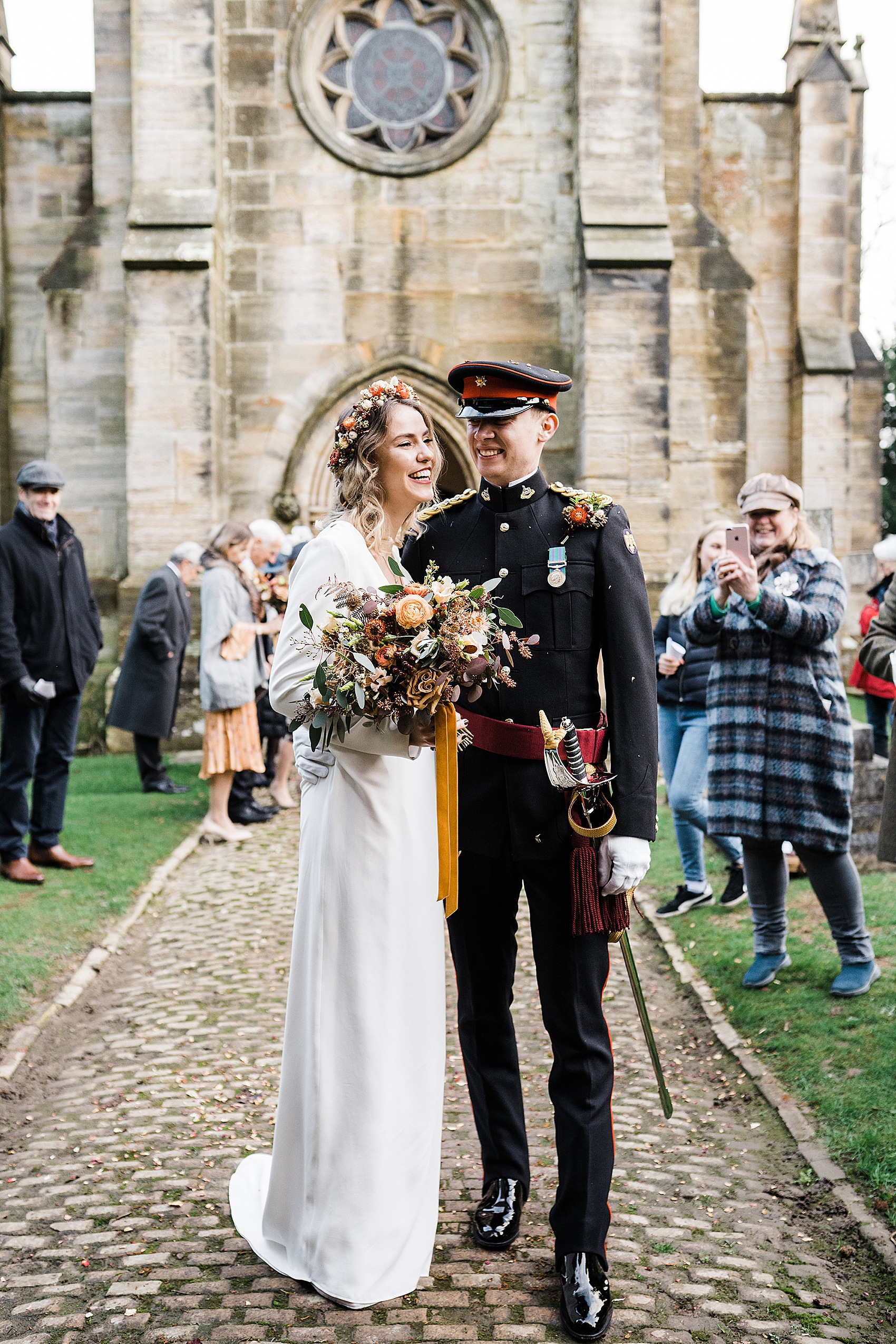 "I had a hundred different dresses saved on my instagram, and originally planned to get a dress from the Mews Bridal. All I knew was that I wanted something comfortable and relaxed but also elegant and timeless. I also wanted long sleeves."
"I initially thought I would wear something quite different, but when I saw my dress it was quite simply 'me' and I felt that it was what I would usually wear but turned into a wedding dress. It was perfect and made of the most delicious silk that felt amazing and kept me warm."
"It was the first dress I tried on…I never thought it would be that easy. What I loved most about the dress was how easy it easy it was to wear, it wasn't fussy, it hung beautifully, made me feel great and was so soft and silky….the puddle train was also so cute!"-
"My maid of honour, Jo, wore a dress from Ghost that by complete accident worked perfectly with the colour scheme. The original bridesmaids dresses we had picked out for the 6 of them are from rewritten are they are holding them until the celebration in October 2022."
Rachel wore a beautiful fresh flower crown, created by her florist, Florist in the Forest.
"We found Katherine of Florist in the Forest, through a recommendation from my mother in laws florist friend. Her flowers were perfect for us, beautifully put together but not too 'ordered'. We loved the fact that they were wild and natural, and the way that Katherine used different textures and colours to really bring the arrangements to life."
"Katherine did the most incredible job and the flowers were so stunning, I was in shock when she delivered them. The colours went perfectly with my shoes and coat, and I loved the way she used darker red's and yellows in the church to tie the arrangements in with the church décor."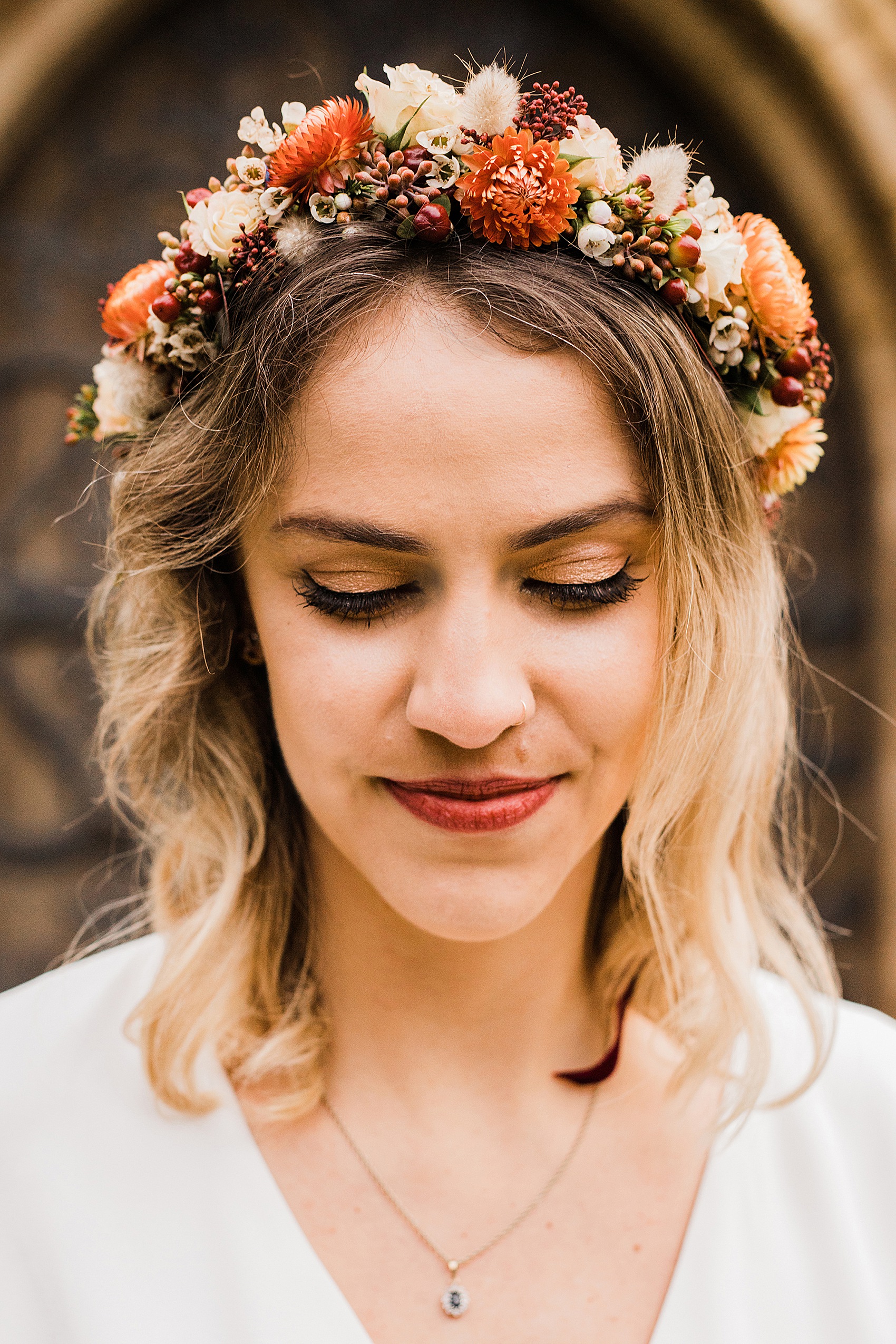 "Our brief to Katherine was nothing to structured, lots of colours and no white! I don't like white flowers at the best of times and especially with it being Christmas time we didn't want the wedding to look Christmassy."
"We sent her some pictures of my shoes and will's uniform as well as the inside of the church and then left her too it, and I was so pleased that we did. She exceeded our expectations beyond belief, we loved the flowers."
"As we couldn't have a reception, we asked our brilliant photographer Katie for some ideas of what to do after the ceremony. This is when we did some last min ordering of sparklers, napkins and picnic forks, and started planning for champagne and cake cutting in the grave yard around the church, and told all our guests to wear their thermals."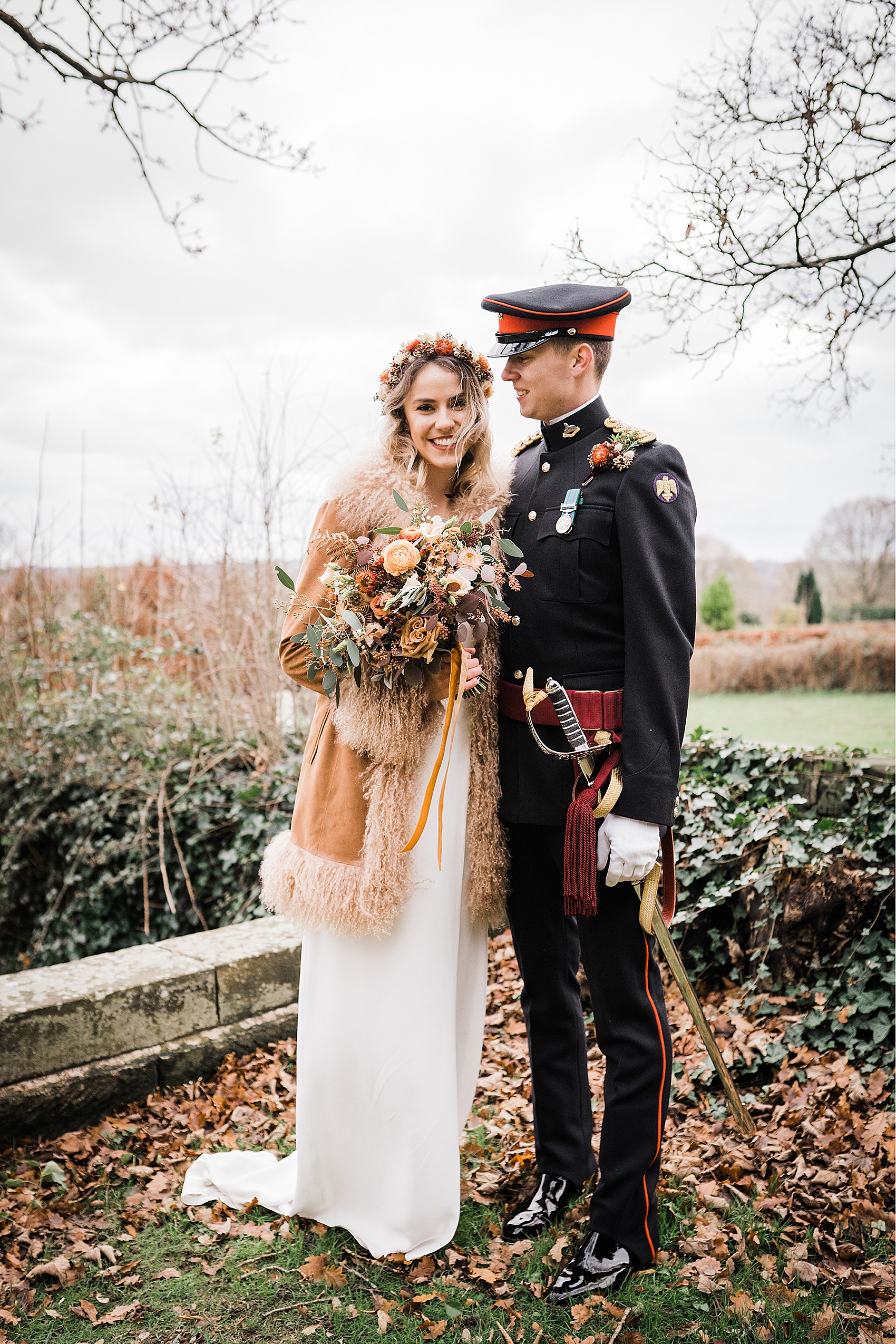 "Will and I met during our first year of studies at the University of Birmingham. I was studying Politics and Will, War Studies. Will had the option to take a module in another discipline and chose International Relations, and it was here that we met."
"We both had the same 9am seminar on a Friday morning, which just so happened to be after one of the more popular club nights on a Thursday evening. This meant that we were both often the last ones to arrive at the seminar room and resulted in us sitting next to each other every week. As time went on we kept bumping into each other around campus and on nights out, and discovered we had a few mutual friends."
"Things progressed and eventually we started hanging out more. Soon after he invited me to go to his Officer Training Corps (OTC) ball, and the night before made things 'official' by asking me to be his girlfriend. This was spring 2013 and the rest is history so they say."
"We got engaged in August 2019. It was the perfect reflection of us, at home still in our pyjamas having just finished a big fry up. I lived in Sheffield at the time and Will was still in army accommodation. He was staying for the weekend and we had planned to go for a morning walk in the peak district, which is where he wanted to propose. However, we stayed up to stupid o'clock' watching Stranger Things, as we were addicted to the show at the time, which then meant we slept in."
"We had different plans in the afternoon (which were later cancelled) so Will wanted to ask the question before we went off. We were about to pop out to get something when he asked me to go check that he had shut the window upstairs, I said 'why can't you go' but obliged nonetheless."
"When I came downstairs Will was standing right at the bottom of the stairs holding a long thin box*, I had no idea what was going on and he started saying the most lovely things to me."
"Next thing I know he is proposing and I was so surprised, he was also so nervous that he had 'forgotten' to get down on one knee so suddenly dropped to the floor."
"It was at this point that I began to uncontrollably cry, obviously said yes, and then we continued to cry for another hour or so before eventually deciding to take that walk in the peaks and celebrate with a bottle of champagne."
"Will proposed with a pair of beautiful citrine earrings, one of my favourite stones, as he knew that I wanted one of my late mums rings as an engagement ring to wear everyday. The ring I wanted was with my Nan so wanted to wait to ask her for the ring until we were actually engaged."
"To be honest I think it was more luck than good judgement that our day turned out as beautiful as it did! As we threw it together at the last minute, we were both quite relaxed. It all just kind of came together."
"We didn't want anything too fussy or structured, we just wanted it to be relaxed, colourful, personal and feature lots of orange (our fave colour). That was pretty much the brief and then the rest was excellent suppliers."
"I wore my Charlotte Simone coat – which was just something I had treated myself to earlier in the year as I love the brand, then on the day I had a couple of coat options and this one just went perfectly with the dress and flowers and tied it all together."
"Decor wise, we had candles and flowers, and an AMAZING welcome sign designed and painted by one of our closest friends Sophie Millns, which included portraits of our two pets Ziki the cat and Clive the JRT."
"We popped this on an easel at the entrance to the church that Jo had brought with her and decorated with fairy lights. "
"Our cake was all a bit last min as we weren't sure what our situation was going to be. In the end of friend of mine said that her sister-in-law had just started a cake business and would be able to fit us in at short notice. So Jess, of Cakes and Bakes by Jess, let us know what flavours she could do, my husband made the choice as he is the real cake lover, and Jess made us a delicious lemon cake with lemon curd and buttercream."
"It was decorated with fresh berries and they delivered it to us in Surrey to take down with us for the wedding the next day. Again we didn't want anything too fancy or traditional, just something that was tasty and Jess certainly delivered."
"We loved every second, and honestly can't pick a fave moment but here are a couple; Arriving at the church and seeing that so many friends, family and villagers were standing out in the cold just to celebrate with us! They stayed there all through the ceremony and showered us with confetti as we came out. Seeing the 'just married' sign with tin cans and all attached to my dad's ridiculous car was brilliant!"
"The sparklers at the end of the day! It was a great moment and added such a fun element to the day. Also, cutting a cake with a sword is much harder than you would think! Will's brothers best man speech, at the back of the church with everyone drinking champagne and munching on cake. – I know this was one of Will's highlights
Words of Wedded Wisdom
"I know that it feels tough and like a never-ending storm, but do what is right for you. You wedding might look different to what you originally planned, but that is ok. Welcome the change. I never thought I would have had a tiny 15 person wedding – I was meant to have six bridesmaids, but honestly I wouldn't change it for the world. Also don't worry about what other people will think, I was so worried about disappointing people but everyone was unbelievably happy for us and loved the fact that we just wanted to be married and be together."
"Don't worry about what other people think or what the right and wrong thing is to do, because there isn't one! Just do what makes you feel happy, have fun with it, do the crazy thing that just popped into your head as you won't regret it!"
"Also don't invite someone because you feel you have to! It is a waste of time and money, and you will only regret it on the day. I say this as we had 13 guests, and yes I wish more people could have been there but also it was perfect with just a small number of people. So don't waste time worrying about what people might think if you don't invite X etc, my opinion is that if someone is going to kick up a fuss about not being invited then they don't care enough about you anyway so they shouldn't be there…that is very much a them problem."
"Our budget was all over the place as we changed our plans dramatically. It is probably obvious that we spent far less on this wedding that we planned with Elmore, but we still have that in the pipeline."
"It was truly perfect, and we loved every second of it. Although not the big party we originally had planned we LOVED how personal the day was and it was just us down to a tee."
Thank you so much  Rachael and Will for sharing your beautiful day. Wishing you so much love for your big wedding celebration at Elmore Court!
Readers, you can view more micro weddings here.
Sending so much love to you all today.