I just love everything about this joyful, stylish, colourful and intimate wedding in the beautiful and historic city centre of Edinburgh – on the Royal Mile itself, no less.
This is the lovely, intimate celebration of Ally, who is a community project worker with an Edinburgh based charity, and Martin, a mechanical engineer. They wed on the 8th August 2020 at Edinburgh City Chambers, and whilst they had planned to hold their ceremony there from the outset, they postponed their original wedding date in May 2020 due to the Covid-19 pandemic.
Sinead Firman Photography

+ Follow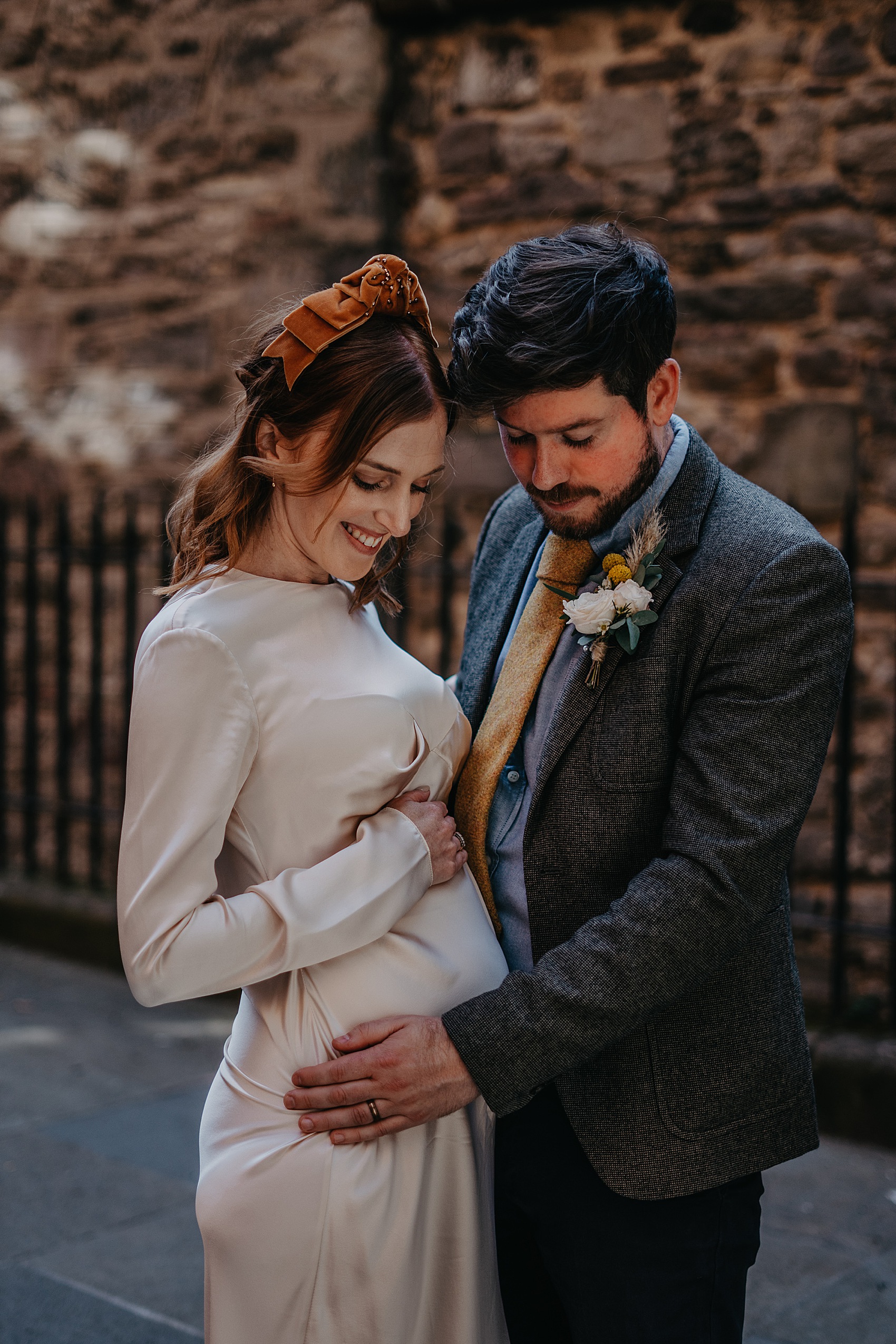 "Just a few days after we postponed our May date, we also found out that we were expecting our first child! When the day came, restrictions meant that we could have a maximum of 10 guests only and that receptions were banned.
"We had already cancelled our reception and let our guests know that if our wedding service went ahead, it would be strictly family only."
Ally and Martin first met via Bumble, and Ally proposed to Martin on her birthday in 2019. They were engaged for around a year before their wedding day, with their original pre-Covid plan being to hold a simple City Chambers ceremony followed by a stroll over to a nearby pub for their reception.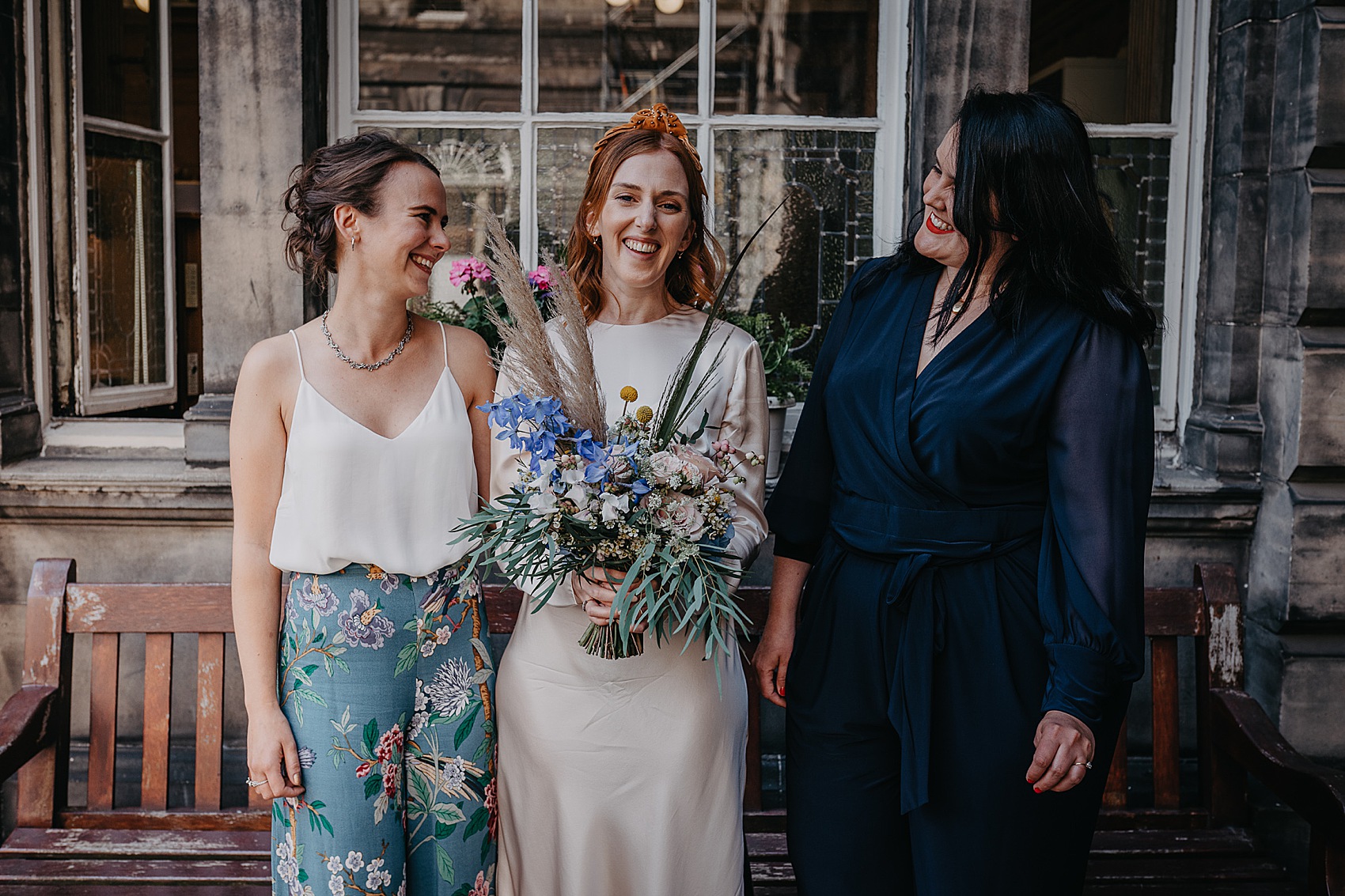 "In planning our day, we were very drawn to small, colourful and laid back weddings. Neither of us thrive on being the centre of attention, so the emphasis for us was more on creating a fun and relaxed atmosphere for our guests to enjoy."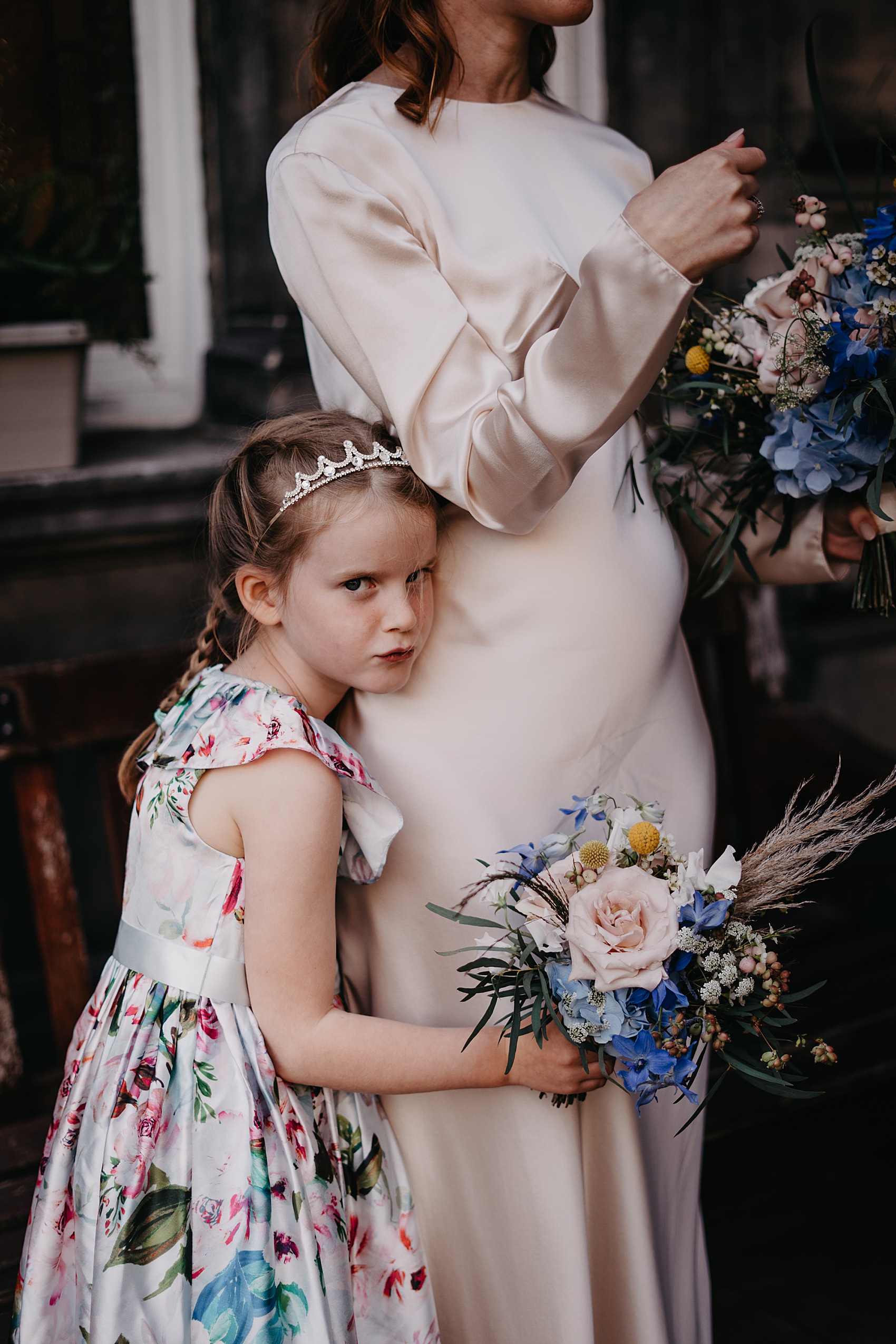 "Our Pinterest boards were full of receptions with colourful paper decorations, and dried flowers and grasses in pastels with pops of colour. Of course our plans ended up being guided by the very fluid Covid-19 restrictions."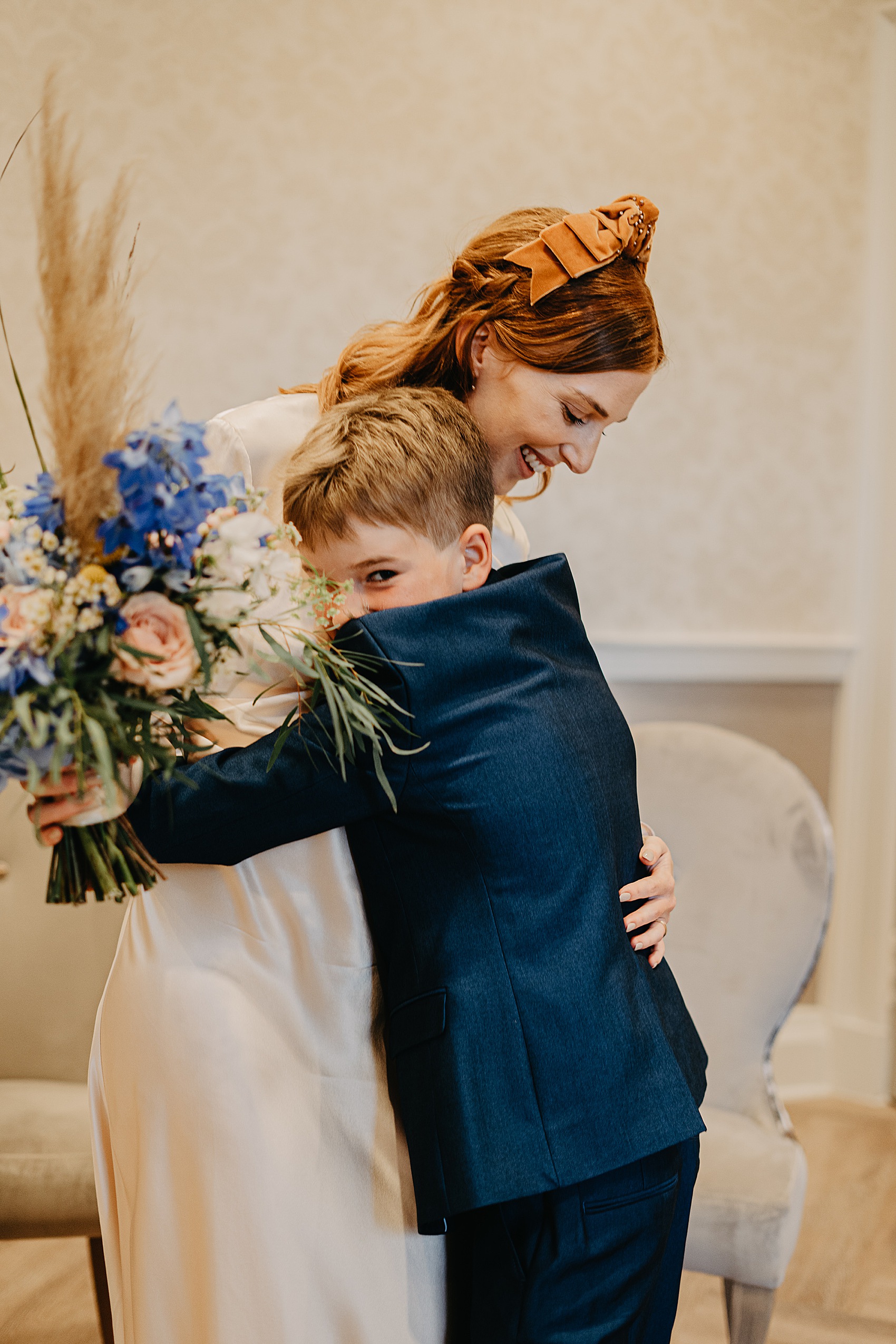 "Unfortunately, my family and friends in Australia weren't able to travel and be at the wedding. So on the day, we had Martin's family, and we were both able to have two friends each and our photographer in attendance."
"When we postponed, the City Chambers offered for us to set another, tentative date which was the 8th August. There were no guarantees with this date, and there was no knowing what restrictions would be in place even if it could go ahead, but we decided to chance it and book the date."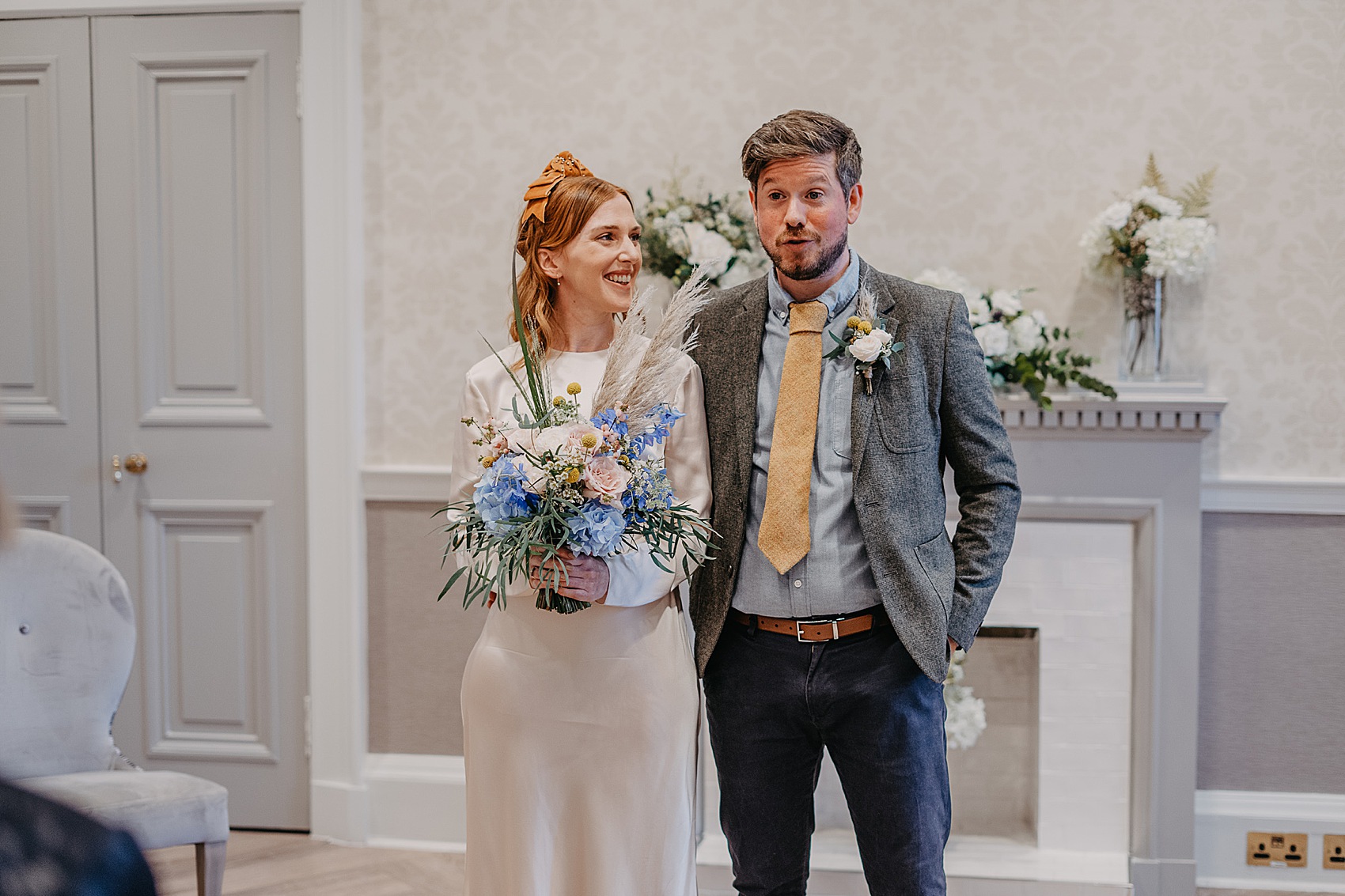 Ally and Martin got ready for their wedding together at Martin's parents' home, and to minimise the risks, Ally took care of her make-up look herself. She did head to a local hair stylist in the morning though (sadly no details provided) and then added an incredible custom-made hair bow in orange velvet, by her talented cousin Netty Twemlow (AKA Netushka), based in Sydney, Australia.
"She is a very talented creative and designer, and I always admired her style when we were growing up, so I loved wearing something that she had made and something from home as well."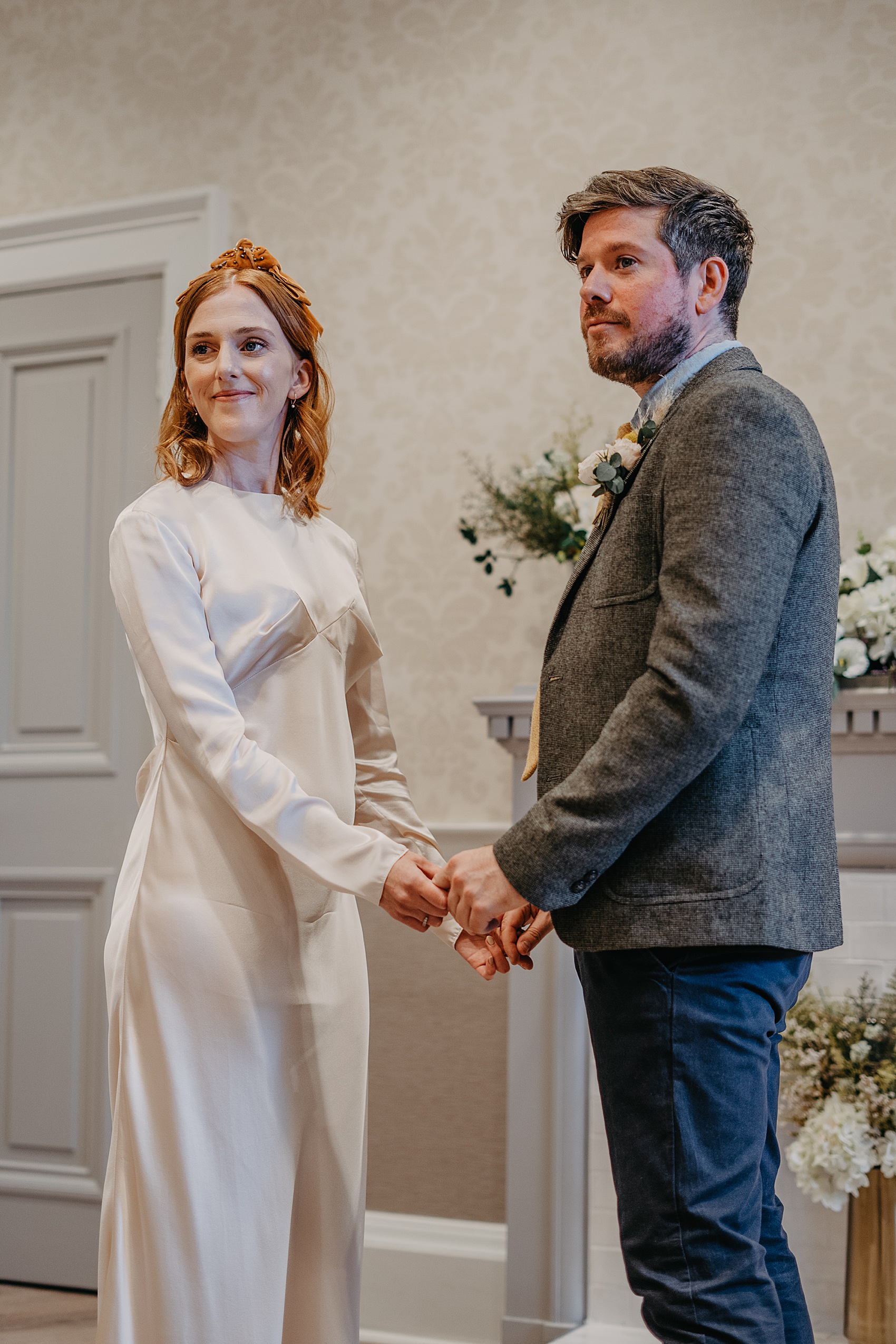 Laura Ironside designed and made Ally's exquisite champagne silk dress, and I adore the vintage, 1930s style bias cut silhouette. Laura's ethos is sustainable luxury, and each of her pieces are made with consideration for their environmental and social impact.
"I found Laura on Instagram and fell in love with her contemporary yet vintage inspired dresses. I chose her 'Knight' bias cut dress in the colour 'Bloom' because it looked elegant, beautiful and comfortable."
"Although I had chosen the dress before I found out I was pregnant, comfort had obviously become one of the most important things to me in a dress knowing that I would have a baby bump come August."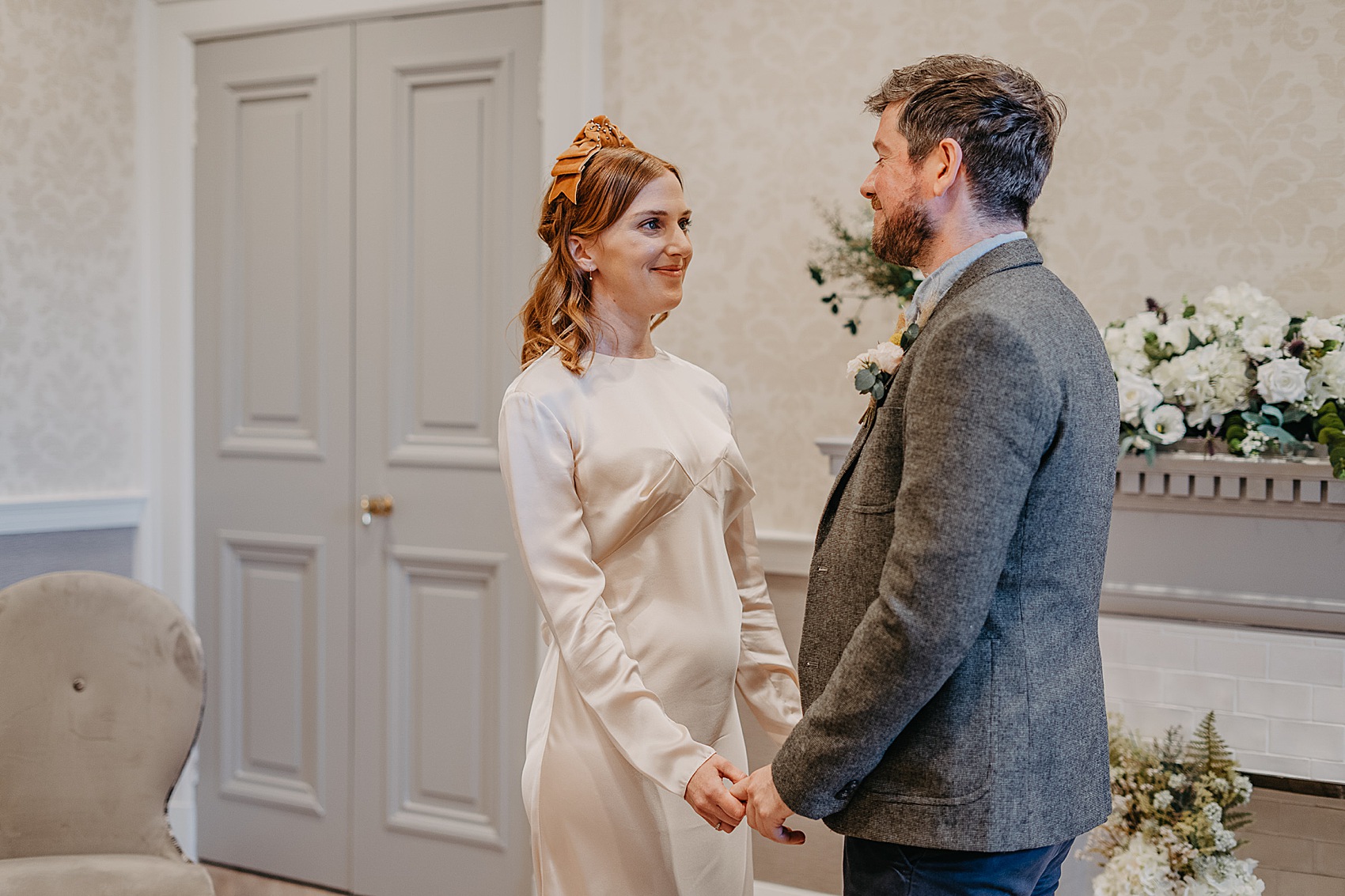 "The design of the dress with its draped detailing around the waist fell beautifully around my bump. I felt beautiful and confident on the day."
"From the consultation in her beautiful home studio to receiving the finished product, Laura was wonderful to work with. I highly recommend Laura, and I can highly recommend the 'Knight' bias cut dress to pregnant brides to be!"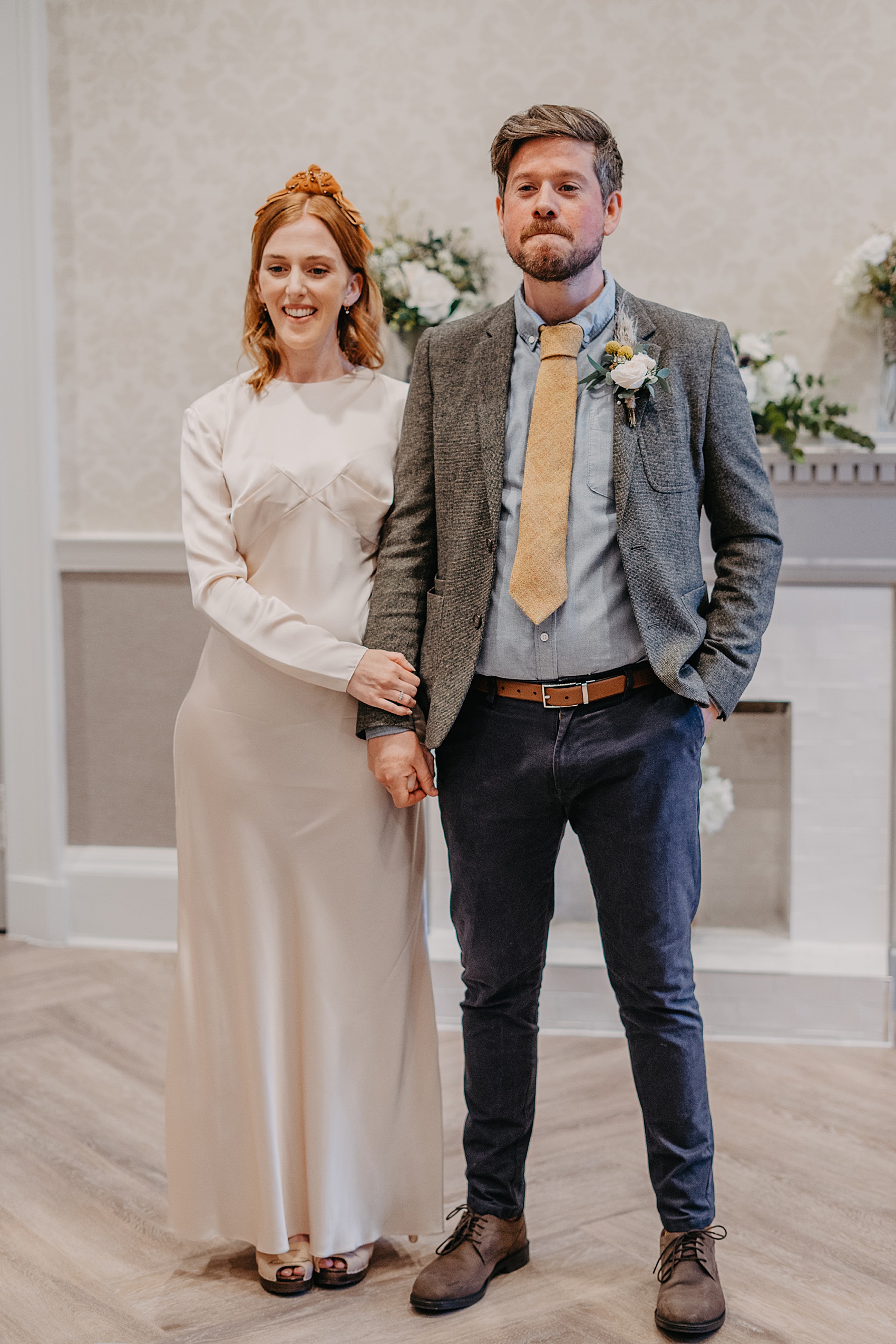 "I was looking for a dress that was vintage inspired, unique, elegant and comfortable, and this dress ticked all of those boxes for me. As mentioned above, I love how even though I had already chosen this dress before Covid-19 and before I was pregnant, it fit my pregnant body like a dream. It was meant to be."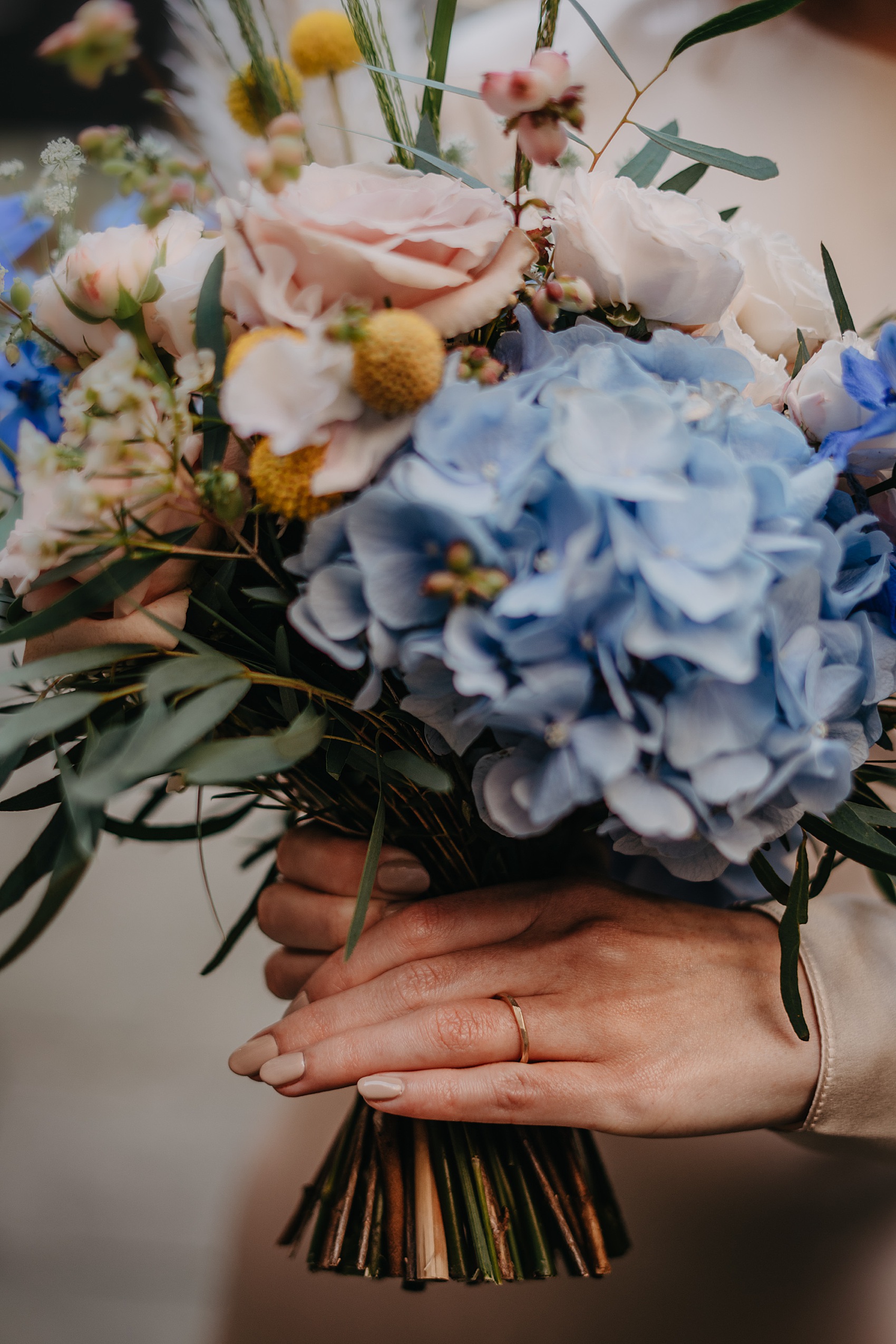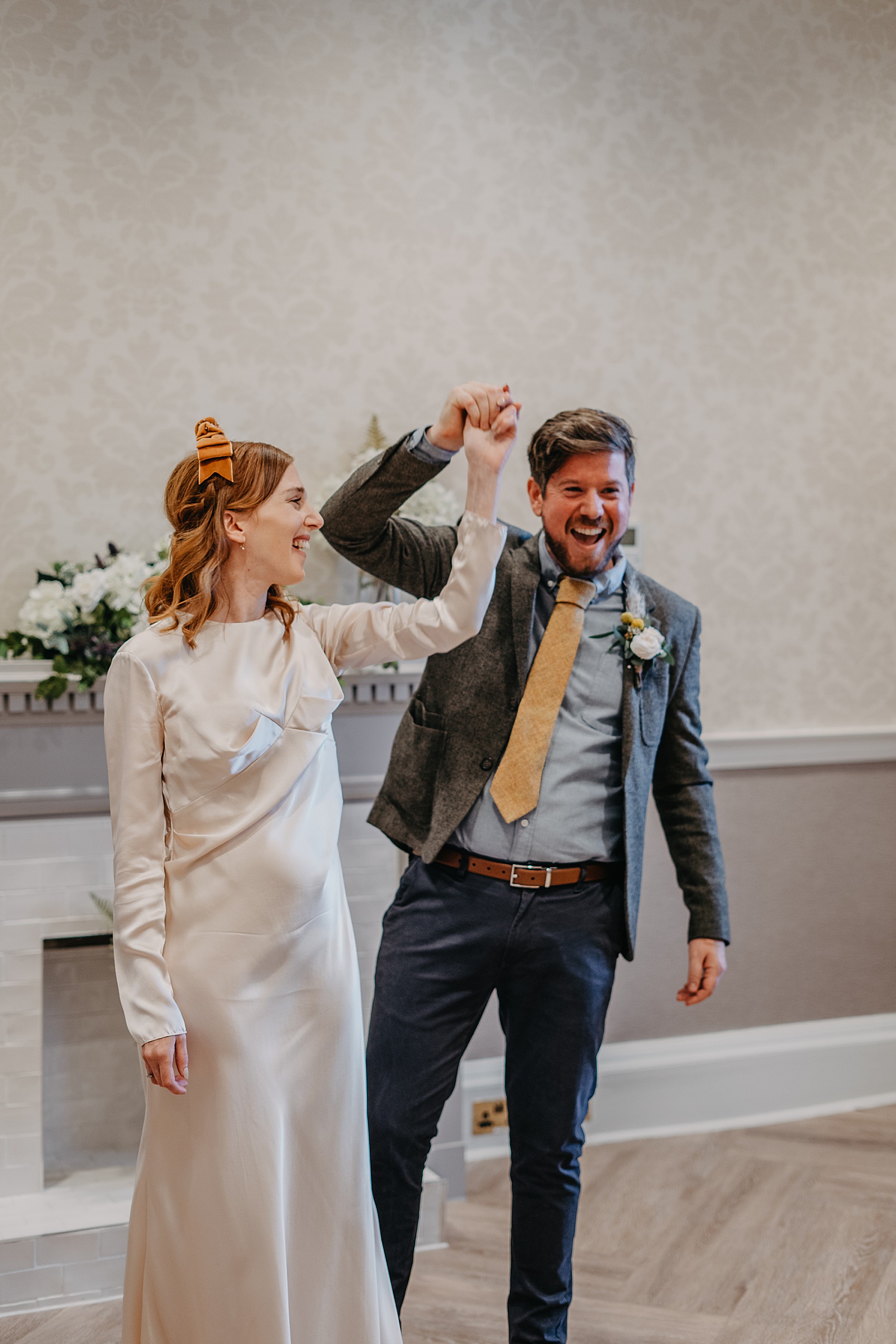 "Martin and I walked 'down the aisle' together. Our guests were able to arrange the seating in the way they wanted, so for the service we were facing our guests who were sitting in a semi-circle around us. "
"t was lovely. My brother was originally going to walk me down the aisle, but due to Covid-19 and being in Australia, this couldn't happen."
Ally and Martin exchanged their vows; arms wrapped around each other, and gave each other rings, too. Ally's was a bespoke band made by Cecilia Stamp in Glasgow, whose designs she loves.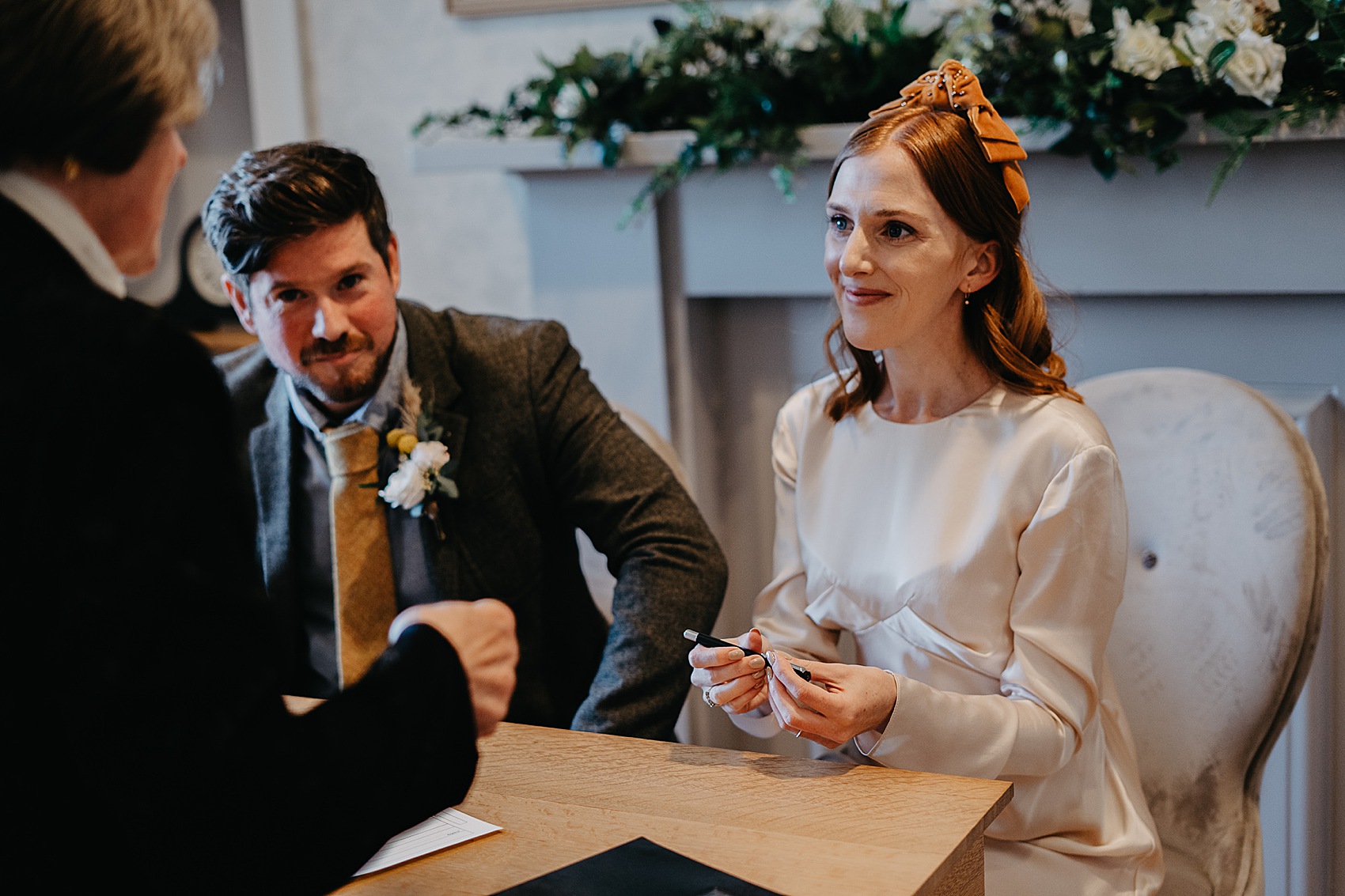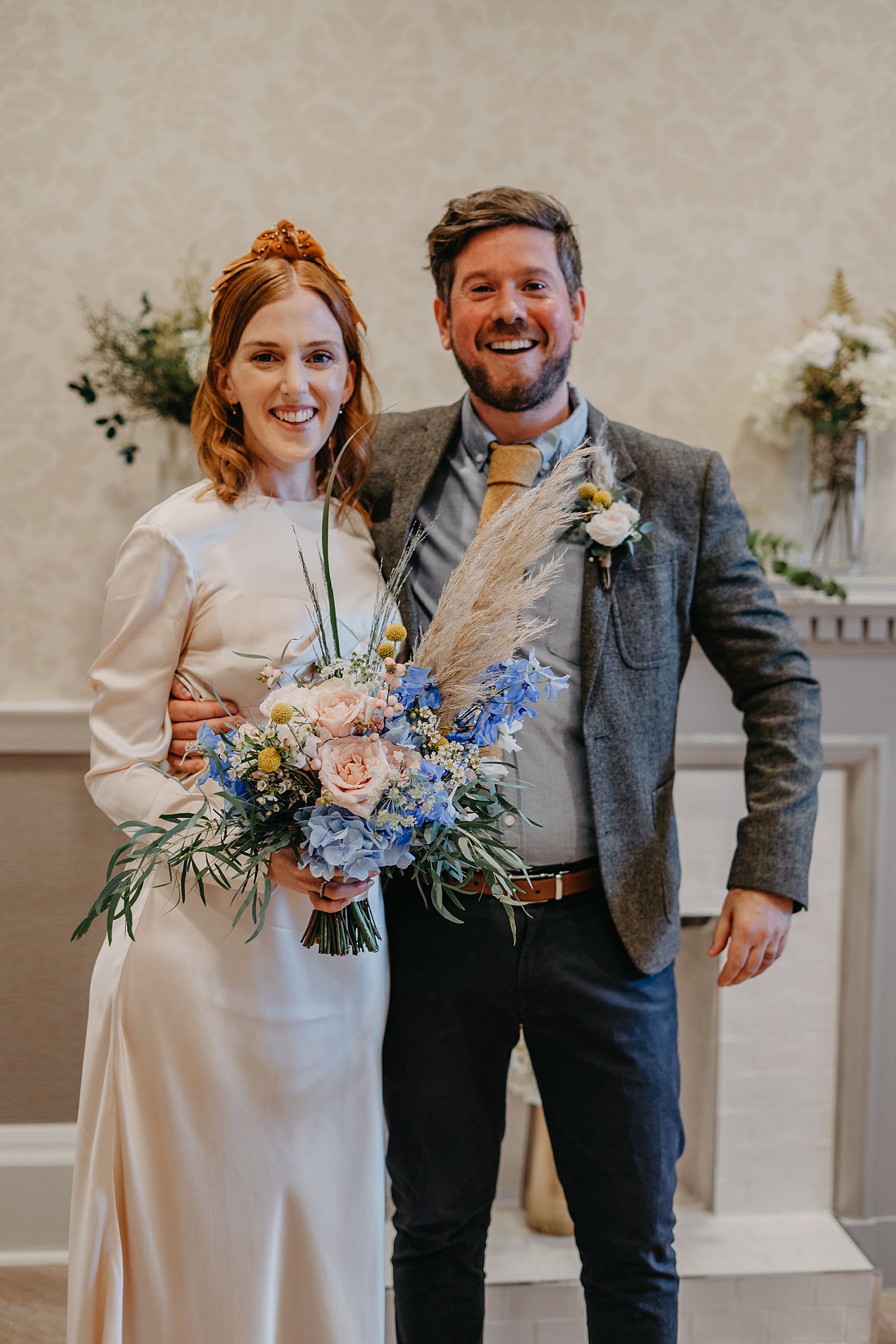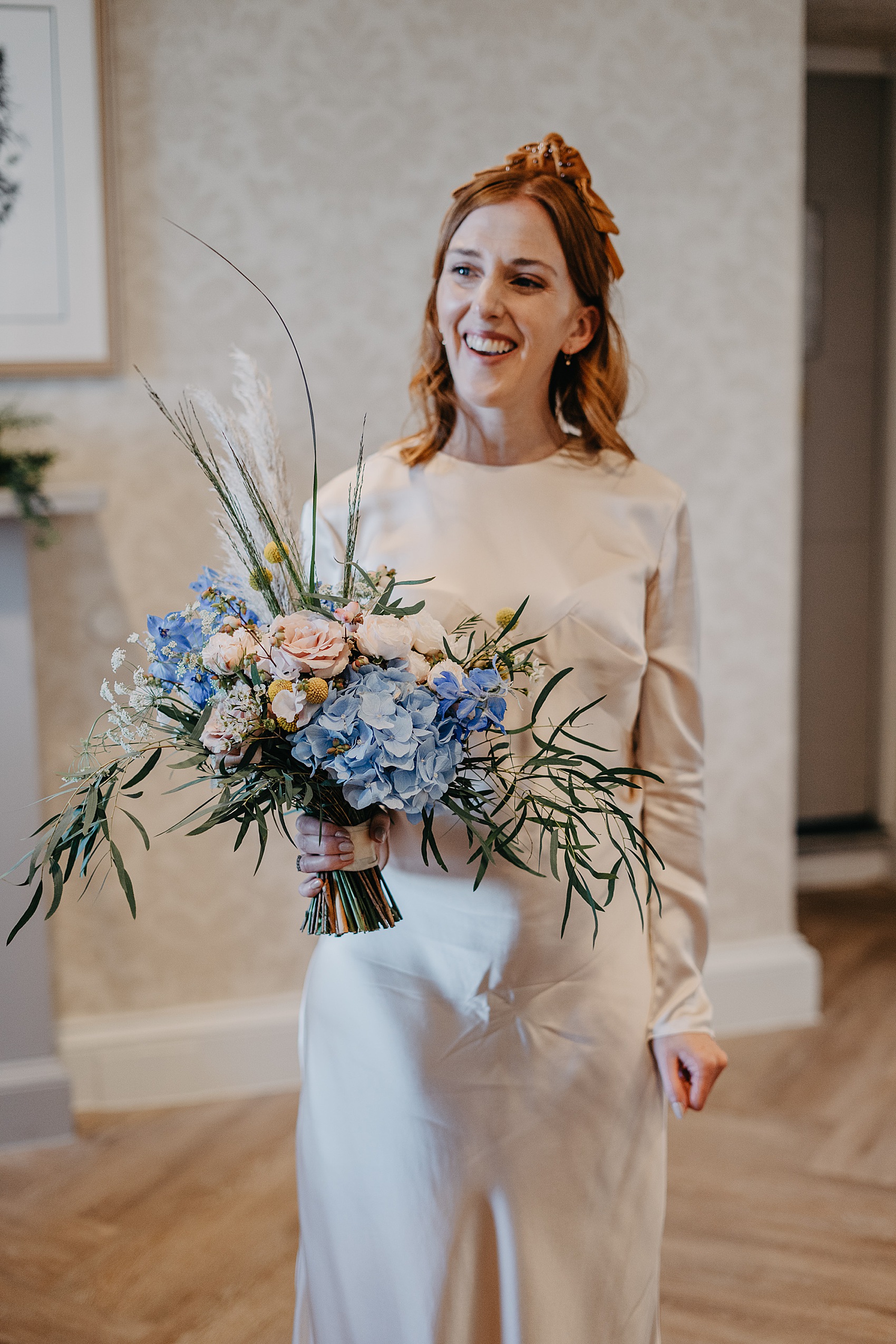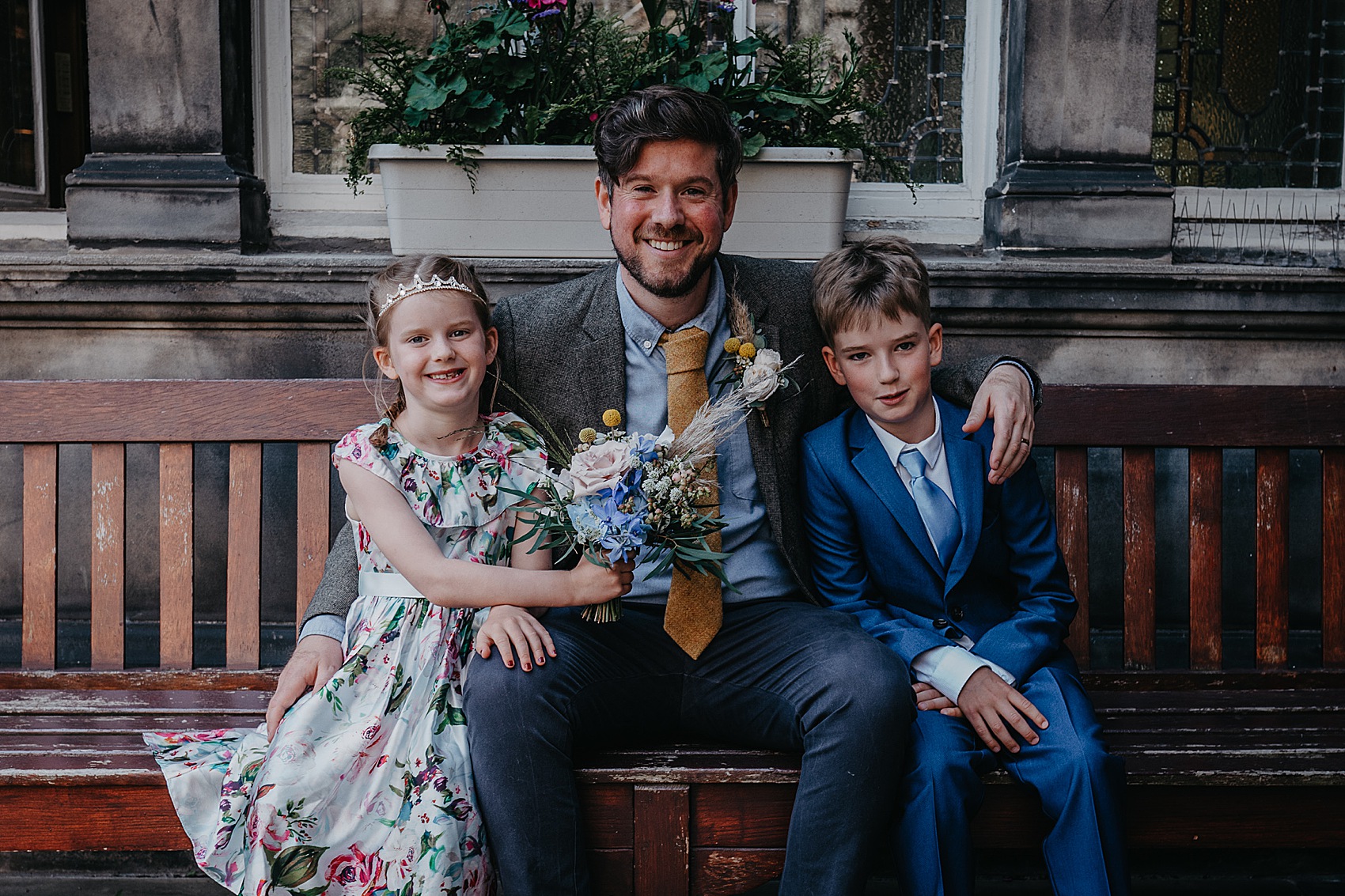 The couple's photographer was Sinead Firman, and it's wonderful to share her work for the first time on our pages. She beautifully captured every bright, loving moment, all set against the magnificent backdrop of Edinburgh's historic architecture.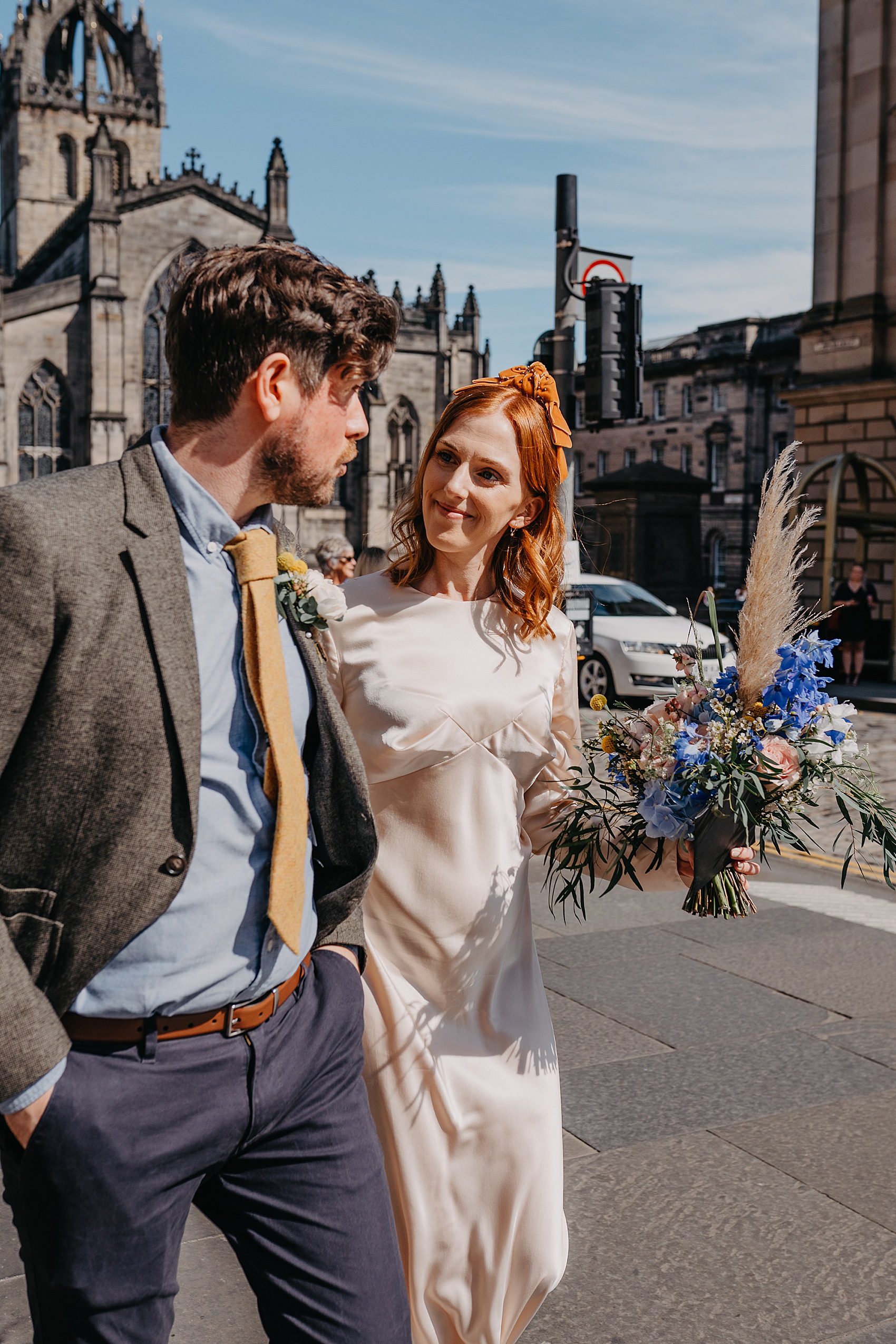 "I had known Sinead as a friend for a few years, so there was no question about asking her to be our photographer. I had always been a fan of how natural and warm her photographs were. She was extremely understanding and flexible regarding our day and Covid-19."
"She made us feel that we could rely on her entirely to be there no matter what the circumstances were."
"Martin and I aren't too comfortable in front of a camera but we felt relaxed with Sinead, and this is down to her calm and friendly nature. She had taken the time to find locations before the service that were away from the crowds to make us feel comfortable."
"We were over the moon when we saw the pictures. They were exactly the natural shots that we were hoping for. We can't recommend a more talented, instinctive, warm and friendly photographer for your wedding day."
Ally's delightful, whimsical bouquet was by Rose & Ammi Flowers, and included colour pops of blue hydrangea blooms and sunny yellow craspedia, along with white waxflowers, pampas grass, and pale pink roses.
"I absolutely loved our flowers. Coincidentally, (I wish I had thought of it myself), they included eucalyptus leaves in my bouquet, which I loved as a nod to Australia."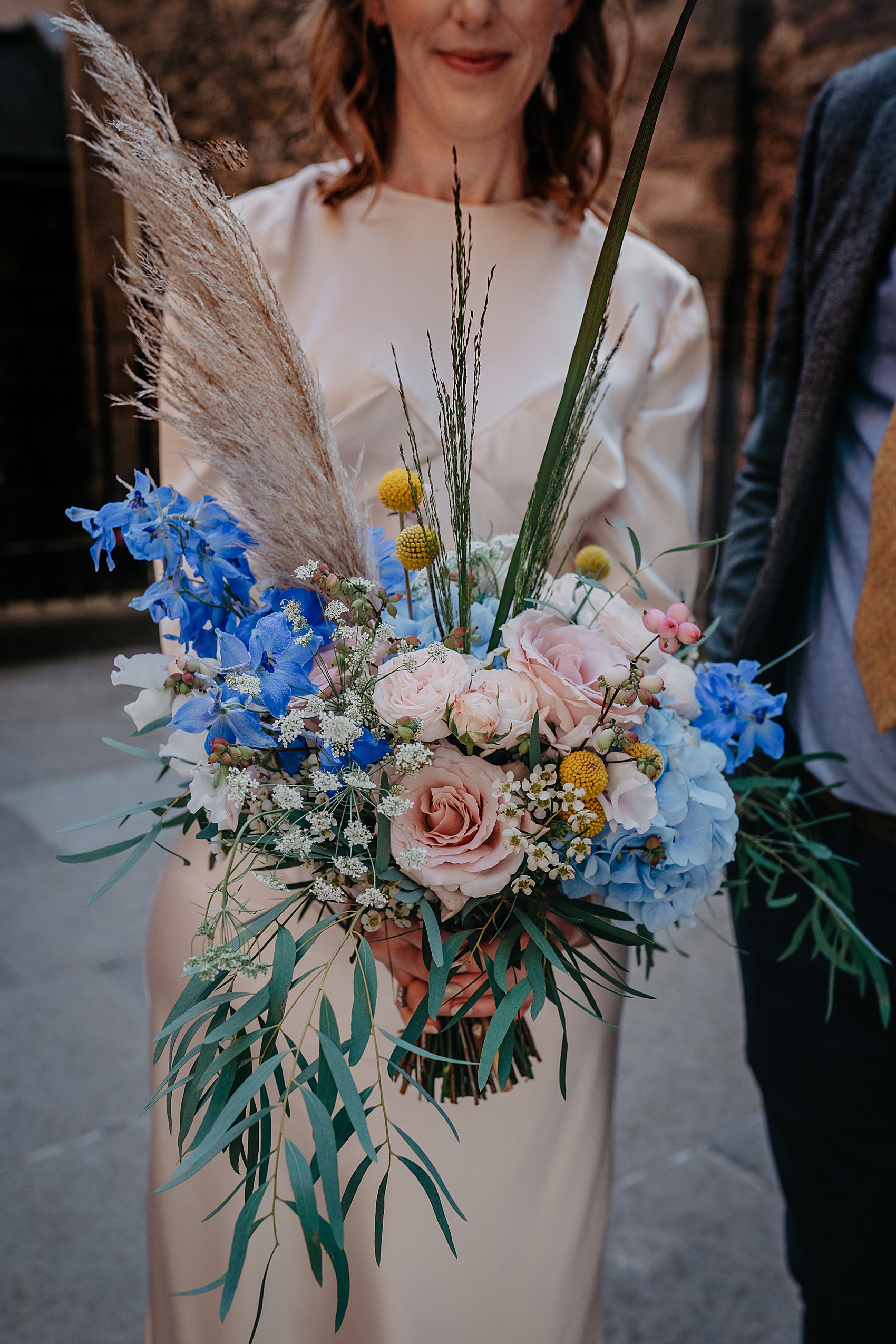 "With our small party and the restrictions being what they were in Scotland, we were able to spend the evening after our service in Martin's parents' garden. We spent the morning adorning the garden with bright, paper pom poms. We were incredibly lucky to get probably the most beautiful Summer's day in August."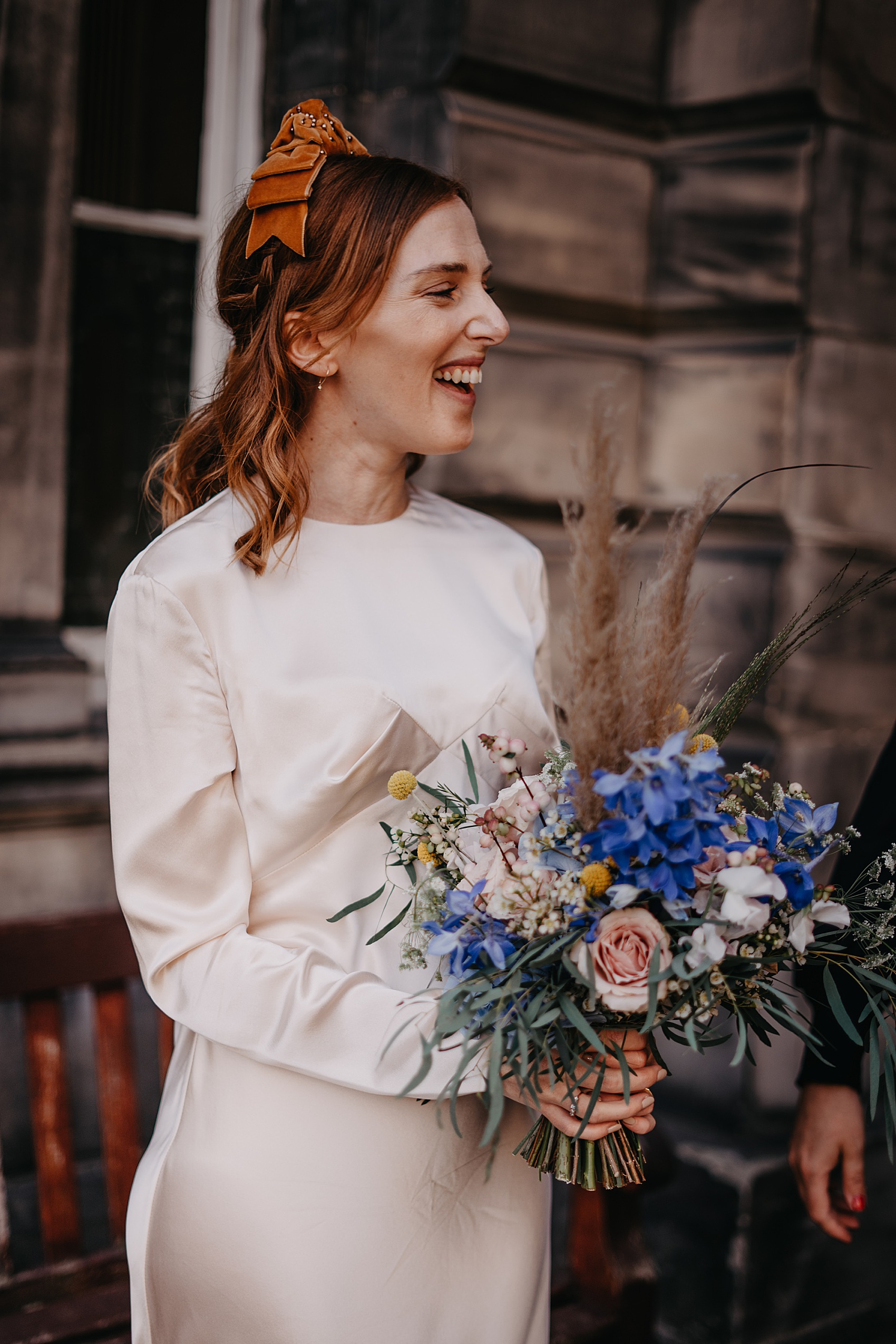 "In August, restrictions were probably the most relaxed they had been in Scotland. The only time we were really reminded that Covid-19 was present was having to wear masks in the car on the way to the City Chambers, and our guests being physically distanced during the service."
Delicious grazing boards courtesy of Platter & Pop were served in Martin's family garden post-ceremony, and a wonderful lemon curd and pistachio cake from the couple's favourite city bakehouse, The Pastry Section, decorated with fresh flowers to complement Ally's bouquet.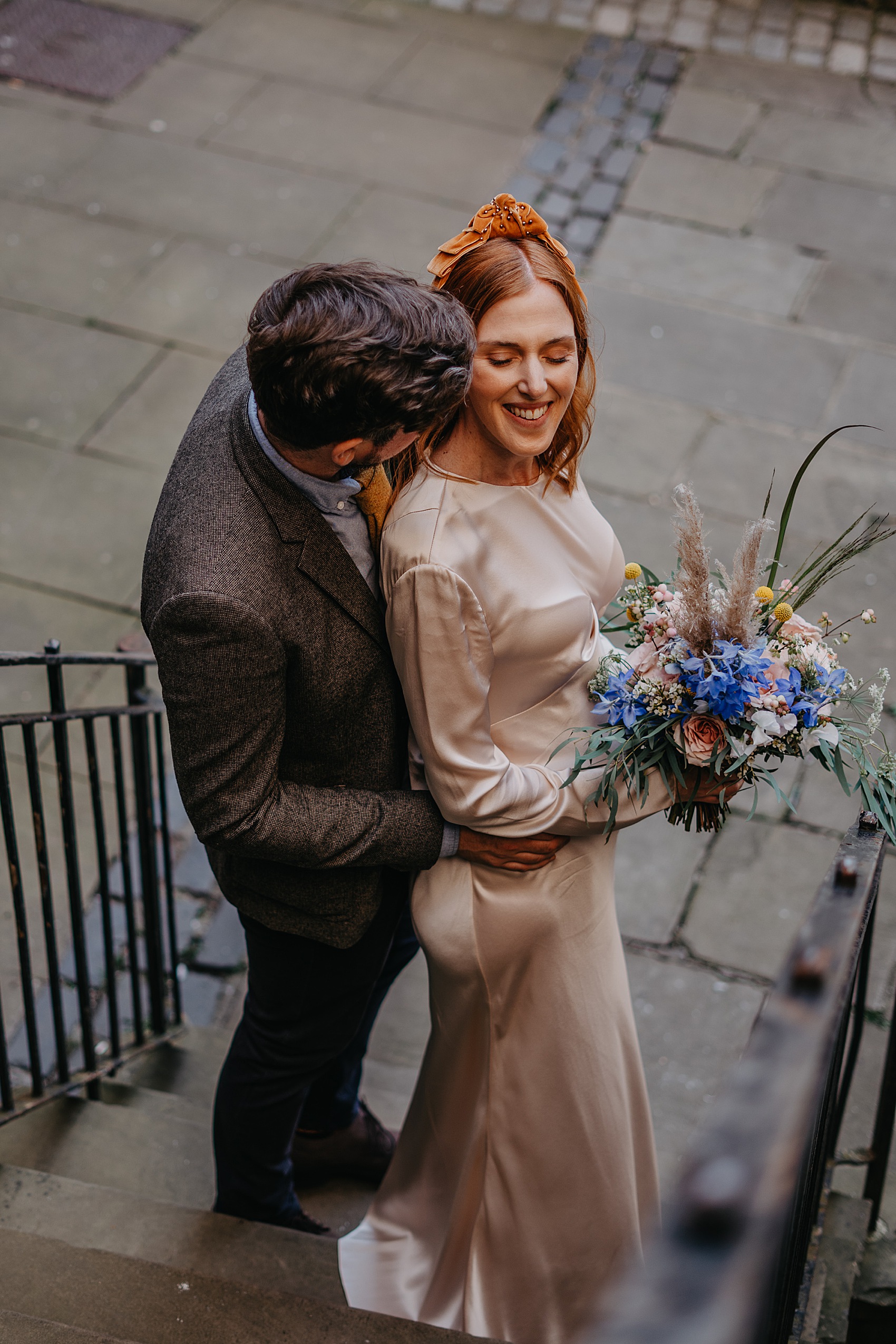 To negotiate the cobblestones on Edinburgh's Royal Mile, Ally chose a pair of clogs by Lotta From Stockholm, and she finished off her look with a pair of recycled gold drop earrings by Polly Collins.
"Martin wore a pre-loved outfit. He did get some lovely new accessories – a beautiful tweed, wool tie and wool socks from Walker Slater in Edinburgh."
"Our favourite part of the day changes a wee bit, but at the moment we would say when we were having our photographs with my baby bump taken. You don't ever forget that you're pregnant, but I think in that moment it was a reminder that our wee son was there with us."
"Martin and I also got ready together which was really lovely. There was no fuss, no first looks. It was just such a lovely, relaxed time, and we enjoyed being together for the whole day so much."
Words of Wedded Wisdom
"I think one of the worst things about Covid-19 forcing our plans to change was that the hours we had put into curating our wedding playlist and choosing songs went to waste."
"Having a micro wedding ended up being perfect for us and we wouldn't have changed a thing. We always had a small wedding planned anyway, so we were incredibly lucky that we didn't lose too much with having to cancel our original plans. Having our day the way that it was really meant that we could focus on each other and be completely present. Apart from being at the City Chambers on time, we didn't have to stick to a schedule and watch the clock at all. We got married and then we spent the day sitting in the sun with the people we love most in the world."
"If you are forced to scale back your day, it won't make it any less special. Without all of the bells and whistles, the emphasis the whole day is on the love you have for the person you are marrying. You can also consider the amazing party you can throw in the future to celebrate with the people who would have been there!"
"I think every couple who changed their plans in the last year and had a micro wedding would agree that it's not about the bells and whistles. If you strip everything back, at the end of the day your wedding is about you and your partner and confirming how much you love each other."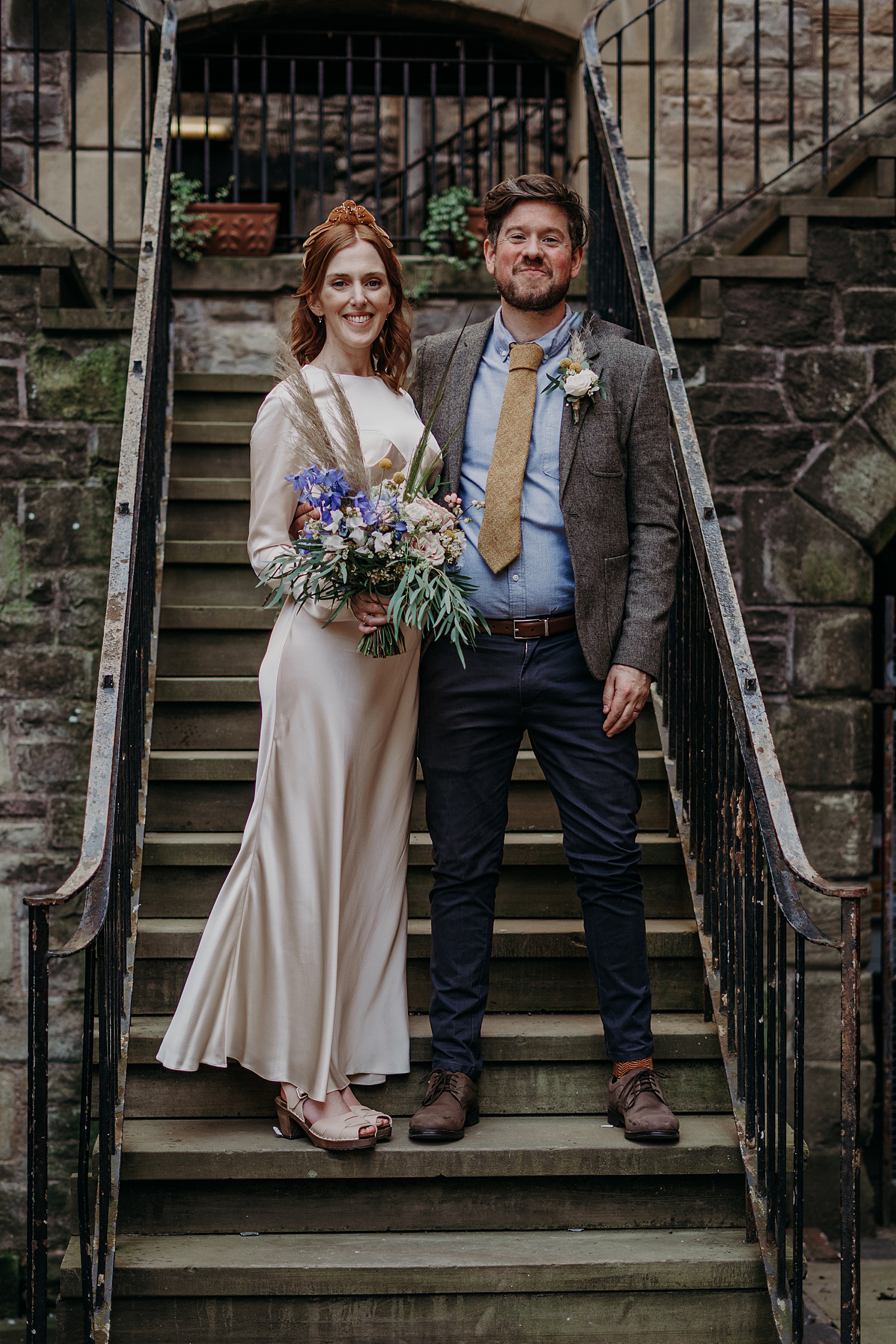 Congratulations Ally and Martin – both for your wedding and the birth of your child, too! I've absolutely loved sharing the effervescent joy and charm of this lovely day with everyone, all captured beautifully by Sinead Firman Photography – thank you so much.
Until next time.
Love, Laura