Happy Saturday my loves – sending you all the love on this beautiful sunny day. As we publish this beautiful wedding, there are just over 12 hours to go until our clocks change and our days start to feel lighter and longer – and I can't wait for it to happen.
It has felt like such a long, long winter, and I'm so very happy to feel a sense of lightness from the arrival of spring and whisperings of summer on the horizon. It's less than 3 months now until the longest day of the year! And it's just over 5 months since Lauren, a Nursery teacher, married Ali, a Trainee Anaesthetist at the very beautiful Treseren, an intimate venue in Cornwall, that we are immensely proud to recommend through our Little Book directory.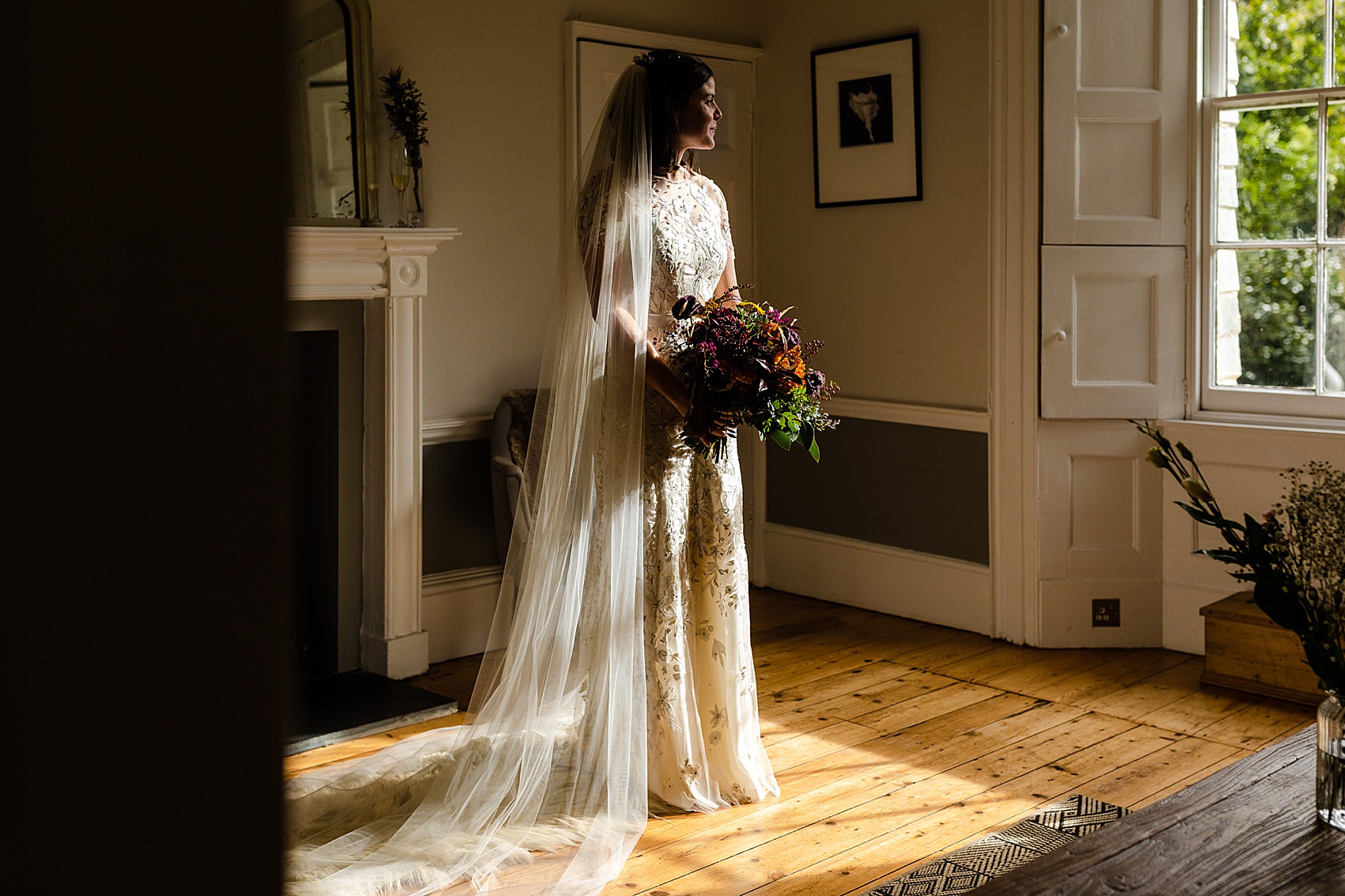 The couple, who had and kept to a budget of £10k for their wedding, tied the knot on 10th October 2020, in between lockdowns, and as with so many other couples, had to majorly adapt their wedding day plans.
"We had originally planned a much bigger wedding celebration in August and in Wales but this just wasn't viable with the COVID-19 rules and regulations at the time. We discussed our options and decided that we still really wanted to get married this year no matter what this ended up looking like."
"The venue we had booked was closed and were moving all weddings to the following year resulting in us having to cancel. Unfortunately, this meant that we lost some money but for us it was the right choice."
"When we began looking for other venues, we choose to look in England and in particular the South West. At the time England were in front of Wales in terms of what they were allowing, and the South West had relatively low numbers of coronavirus cases. The rules were 30 people including registrars, photographers, the couple, and guests."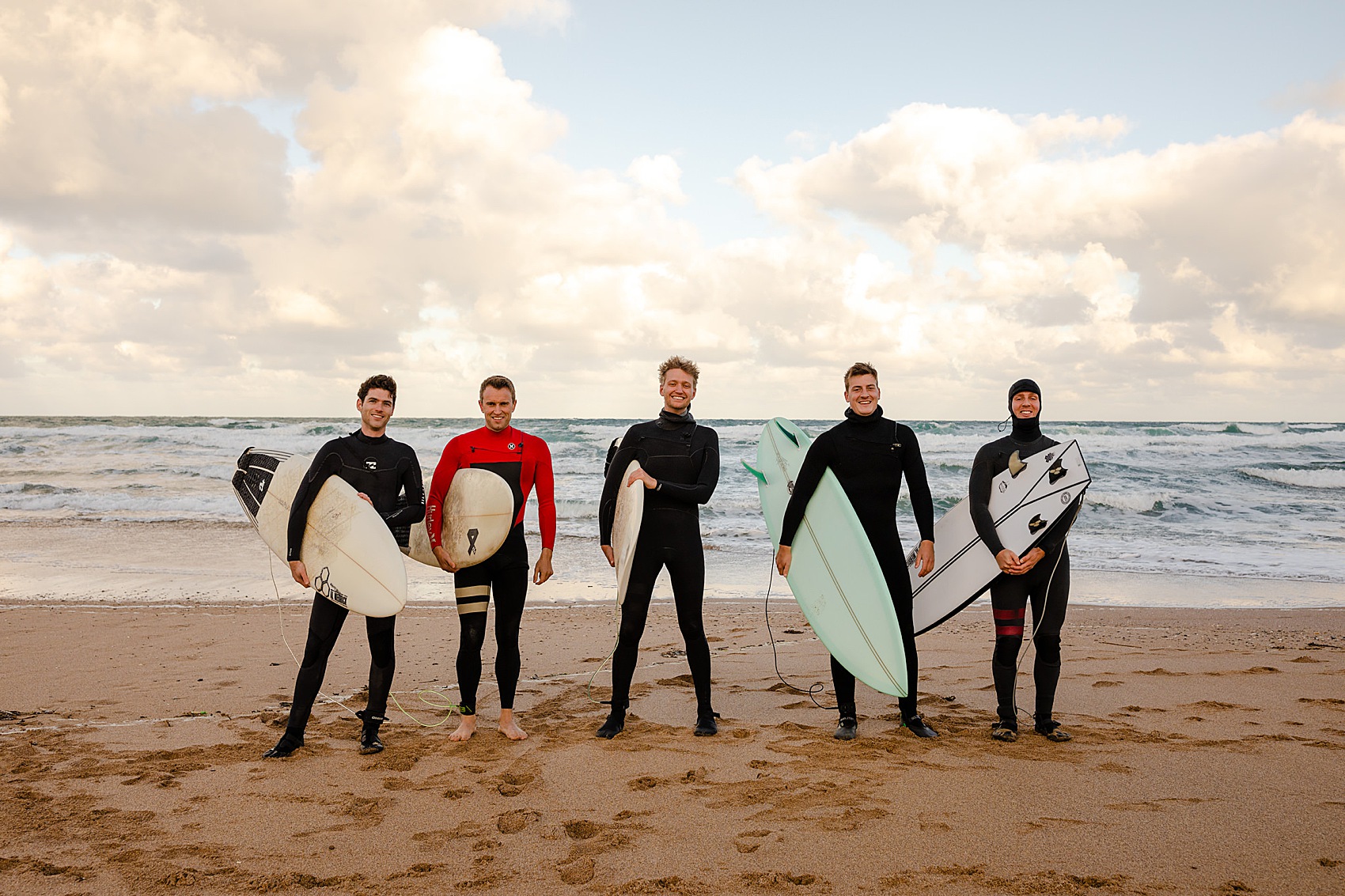 "We stumbled upon Treseren after searching Google for small, intimate wedding venues. Having lived in Cornwall together it is a place that holds lots of special memories for us and after reading the reviews, looking through their gallery and scrolling through their real weddings journal we fell in love."
"After speaking to Emma the super human host and owner of Treseren who made us feel so at ease and filled us with confidence even with the ever changing rules and regulations we managed to set a date."
"I really think that we made the best of a difficult situation and that was down to our amazing and understanding family, friends, venue and suppliers. We thank them from the bottom of our hearts."
"I am rubbish at hair so having Emma C was a must. I chose Emma as she recommended by Treseren and when looking through her gallery she had done lots of natural and free flowing hair styles."
"On the day she used some of my inspiration pictures but also made it a style just for me, she took the weather into account as she knew we wanted to go to the beach for some pictures and wanted to make sure it held all day."
"I did my own make use products from benefit."
Very sadly, the beautiful boutique that Lauren discovered her wedding dress at, has now closed, but regardless, I'm keen to share Lauren's feedback of her experience her, to help dispel the myths that boutique shopping is a scary thing!
"I believe that Exquisite bridal Winchester is now closed, but her shop now but Natalie and her seamstress Anna were amazing! Trying on dresses in front of people with everyone looking is quite daunting but them made me feel so beautiful and comfortable."
"I had found the dress on Pinterest and chose the wedding shop as I knew it stocked the dress. What drew me in was the delicate botanical embroidery. I wanted something very natural and boho looking that I felt comfortable and could move freely in."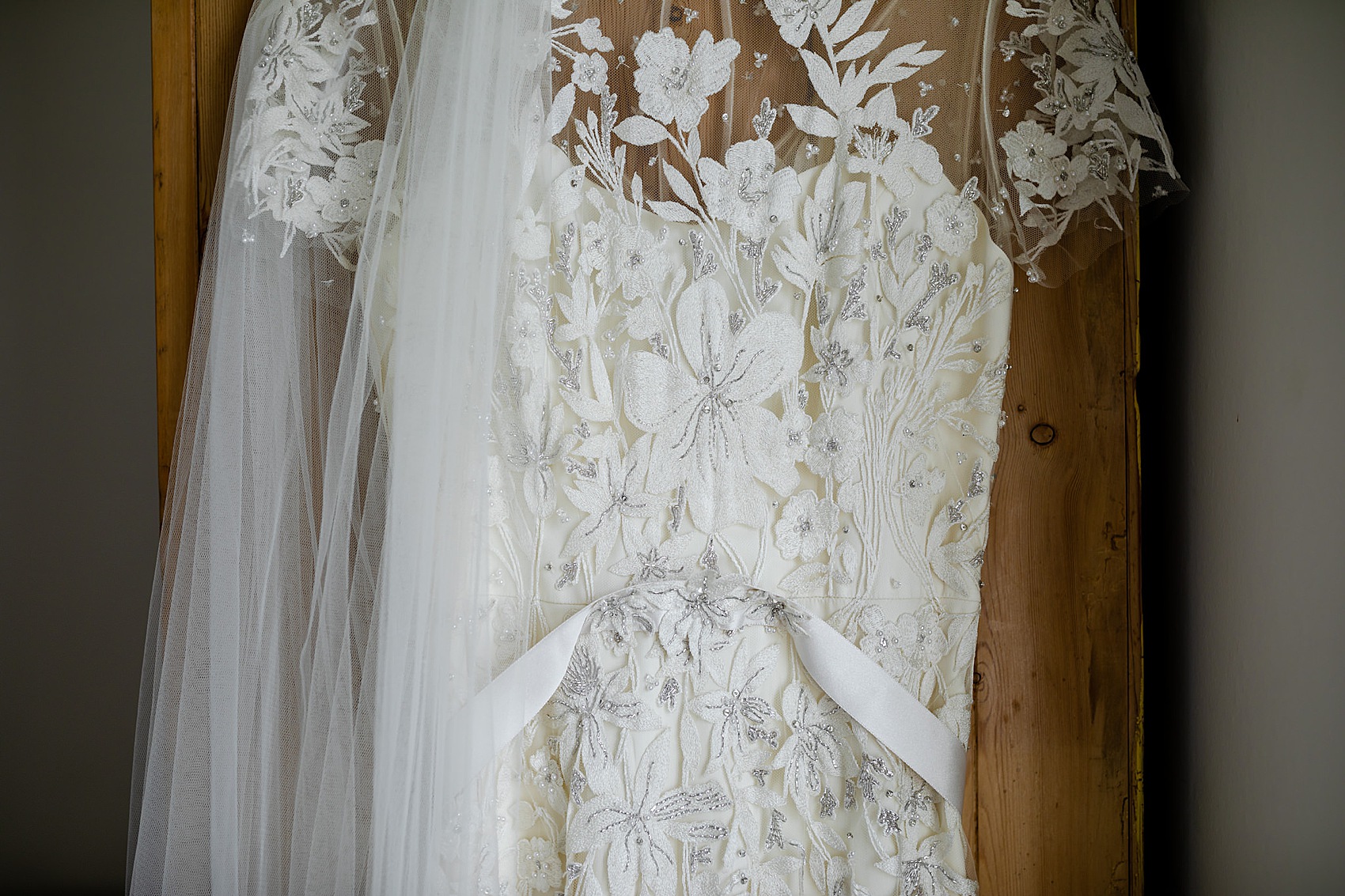 "Throughout the whole of the wedding planning, my mum had given us so much advice and support, she is my best friend and I wouldn't of remained as calm without her."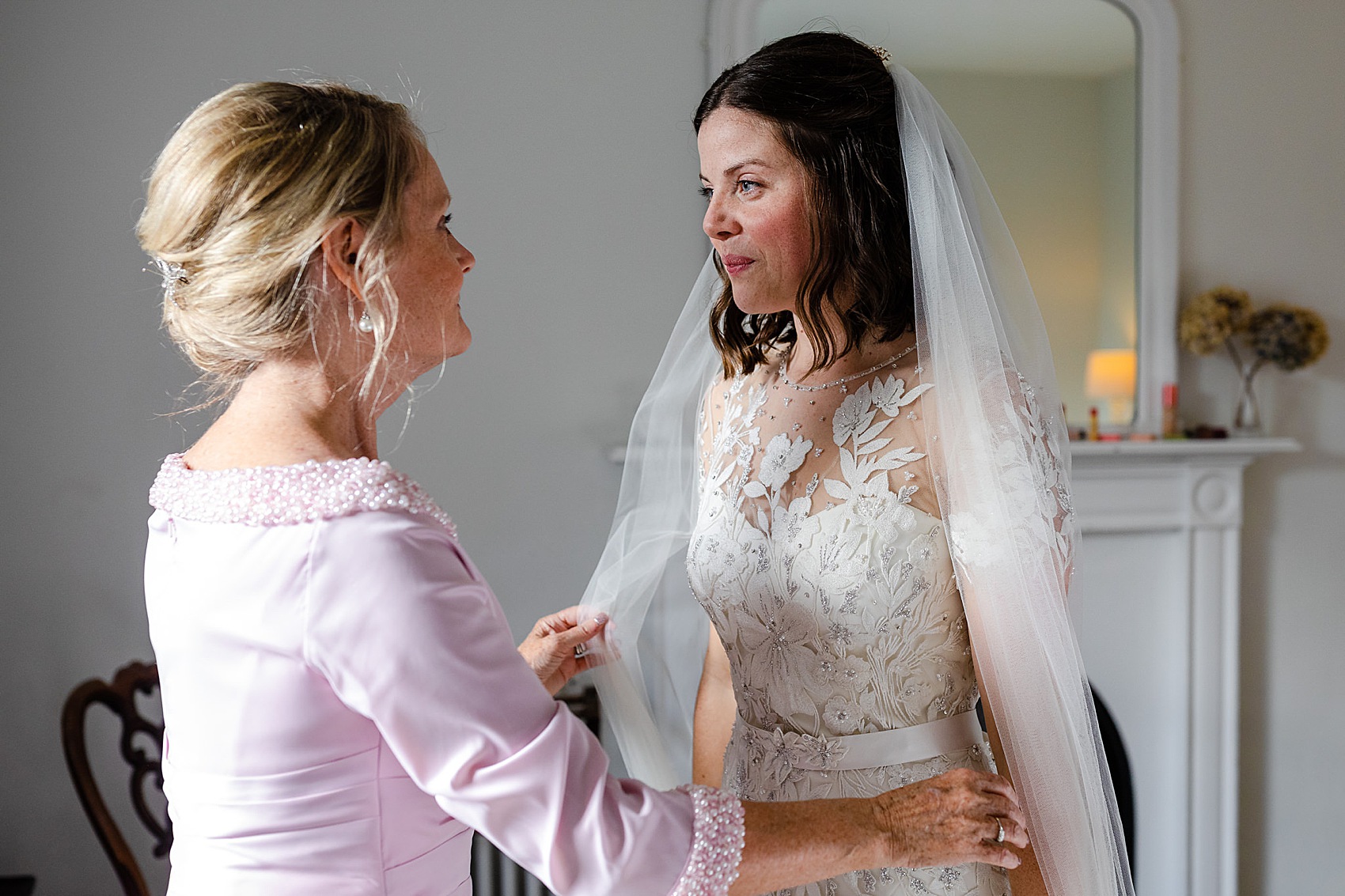 "My mum had a beautiful silk facemask made for me by a wedding dress shop in Newport called 'House of Couture Bridal Boutique'."
"I bought Ali a handkerchief which I had embroidered by Ink & Thimble, in my handwriting a quote from our favourite book 'the little prince'. This was a surprise and was given to Ali the morning of the wedding. He kept it in his breast pocket all day."
"We met in our first year at Plymouth university. Our flats in halls were next to each other and as whole flats we used to go on nights out together. We both started university in September and were a couple by November."
"We got engaged in a place called Kaikoura in New Zealand. Ali had booked this amazing glass cabin overlooking a valley for my birthday. As soon as we'd un-packed I was sitting on the deck enjoying the view with a glass of wine and out he came ? This is the view! We had been engaged nearly 3 years."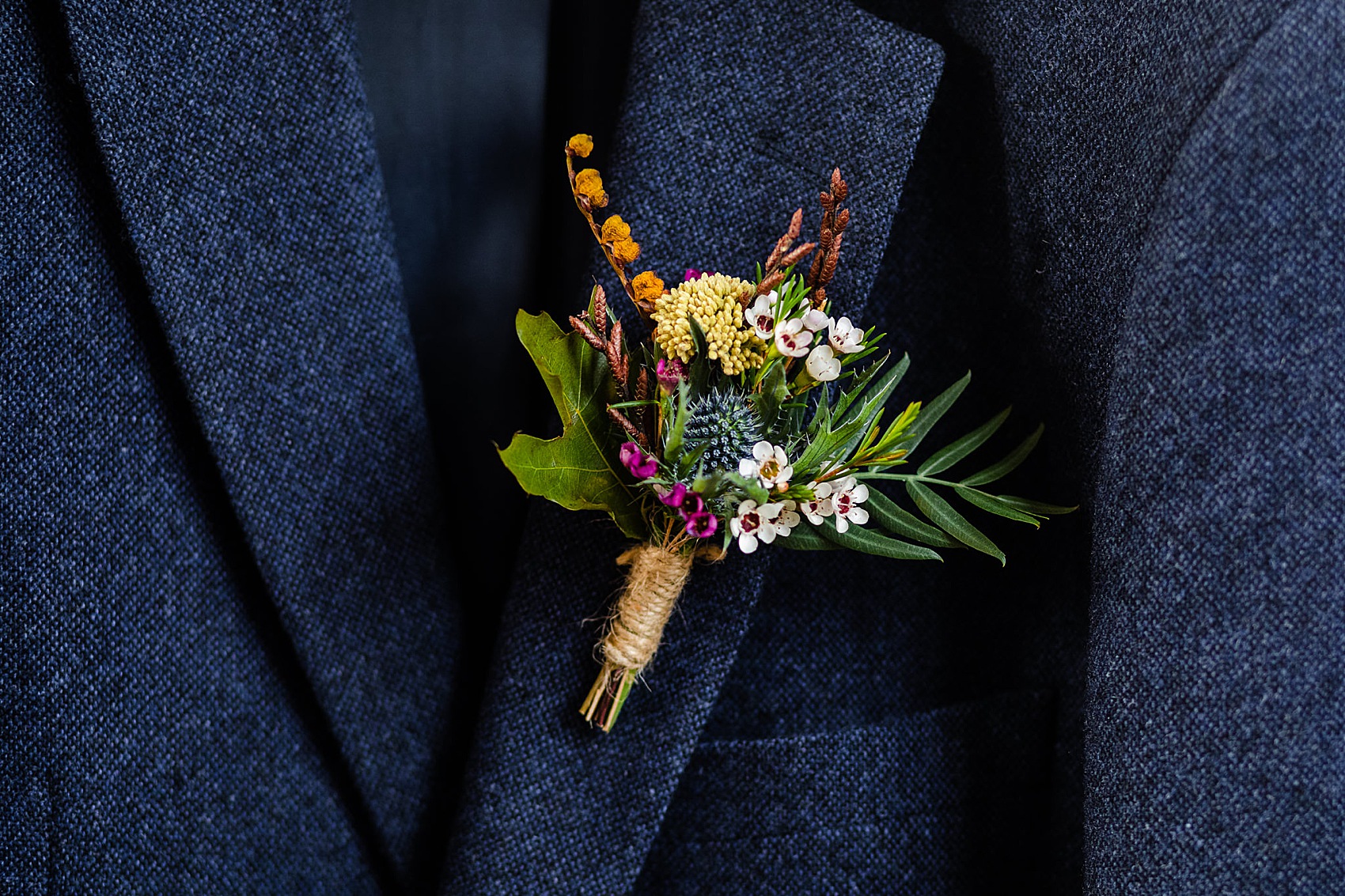 "We have always had strong connections with nature and the coast, and although we didn't have this as a particular theme, we wanted to bring the outdoors in. We are also laid back people and wanted the day to unfold as naturally as possible."
"But most of all we wanted to get married and have as many of our closest friends and family there as possible."
"Living in Wales made things a bit more tricky as many family and friends were in local lockdown during the wedding which meant that they were able to come to the ceremony but not the reception."
"This rule came into place one week before the big day. This was very disappointing as it affected mostly my side of the family/friends however, we made it the best that we could."
"I think I would say that it is heartbreaking to have to change your original plans for your big day but if anyone is thinking of having a smaller more intimate wedding it's the best choice they could make. Even though all our guests were not there in person I have never felt more loved. I would not change our day for the world and all that matters is you and your partner."
The couple hired florist Cat Tide…
"I wanted the floral vibe to be reminiscent of a Cornish country garden in the Autumn. Natural and a touch wild, full of texture and seasonal flowers with dried and fresh elements working together. Ali's had a touch of mustard yellow to match his tie."
"I had collected lots of different sized and coloured glass bottles from carboot sales and antique shops which we used to put flowers to decorate the ceremony and reception table."
"We also live streamed the ceremony via zoom so even though the vast majority of our guests weren't able to attend in person, they were able to watch the stream online live or the recording afterwards."
"We had people watching from Canada to Germany and It was so lovely to see them all. Some had made a real effort and dressed to impress."
Lauren entered the ceremony room to the sound of a Welsh lullaby called 'Suo Gan',
"I am welsh and even though I don't speak the language, it's a song that Ali and I found which makes us feel so peaceful. I am immensely proud of being welsh and having this incorporated in the day in some way was important."
"We then had a beautiful instrumental piece composed and played by my cousin for the signing of the registers along with another instrumental piece called ' The bell' by the Olllam."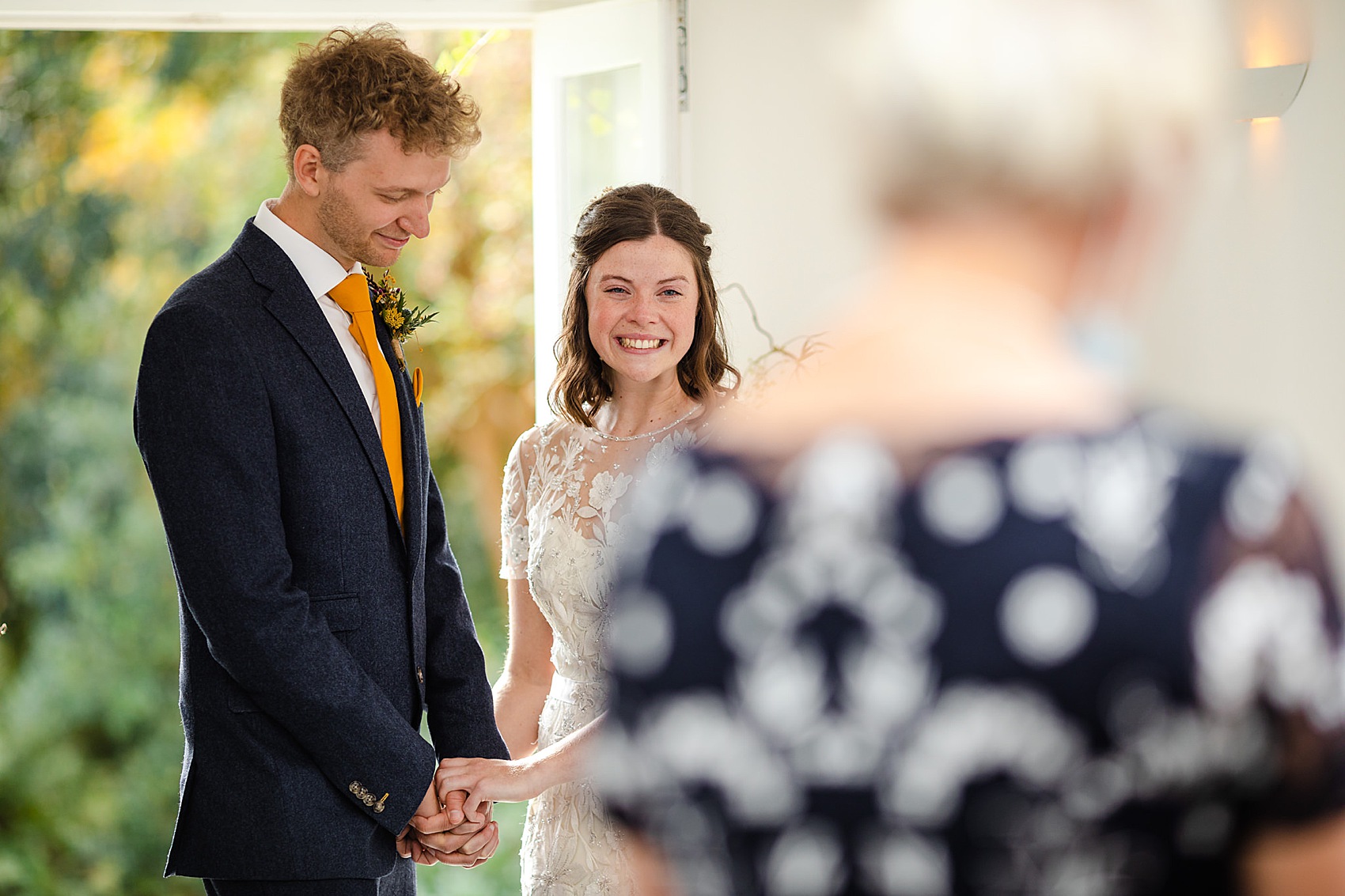 "We both wanted to make the ceremony feel as personal and 'us' as we could so wrote our own vows to each other. We kept these a secret from each other so hearing for the first time on the day was really special."
"It was funny because they were so different in some ways, Ali's being more in the moment whereas mine were more formal but the had so many little similarities about them, like making a great team and promising to continue having many more adventures."
The couple had two readings during their ceremony. The first, delivered by one of the bridesmaids, was 'Friendship', by Judy Bielicki.
"Ali's mums reading was an extract from our favourite book, 'The little Prince', by Antoine de Saint-Exupéry."
"Ali had picked the song that we exited it was a surprise to me. He'd picked ' Boom bang a bang' by LULU it's the theme to a tv series called 'Him and Her' about a couple who are very lazy, love staying in bed and eating which are some of our favourite things."
"My bridesmaids wore dresses from ASOS, with a few alterations. They were a light grey with a beautiful v neck back and finished with a satin bow. They bridesmaids were stunning!"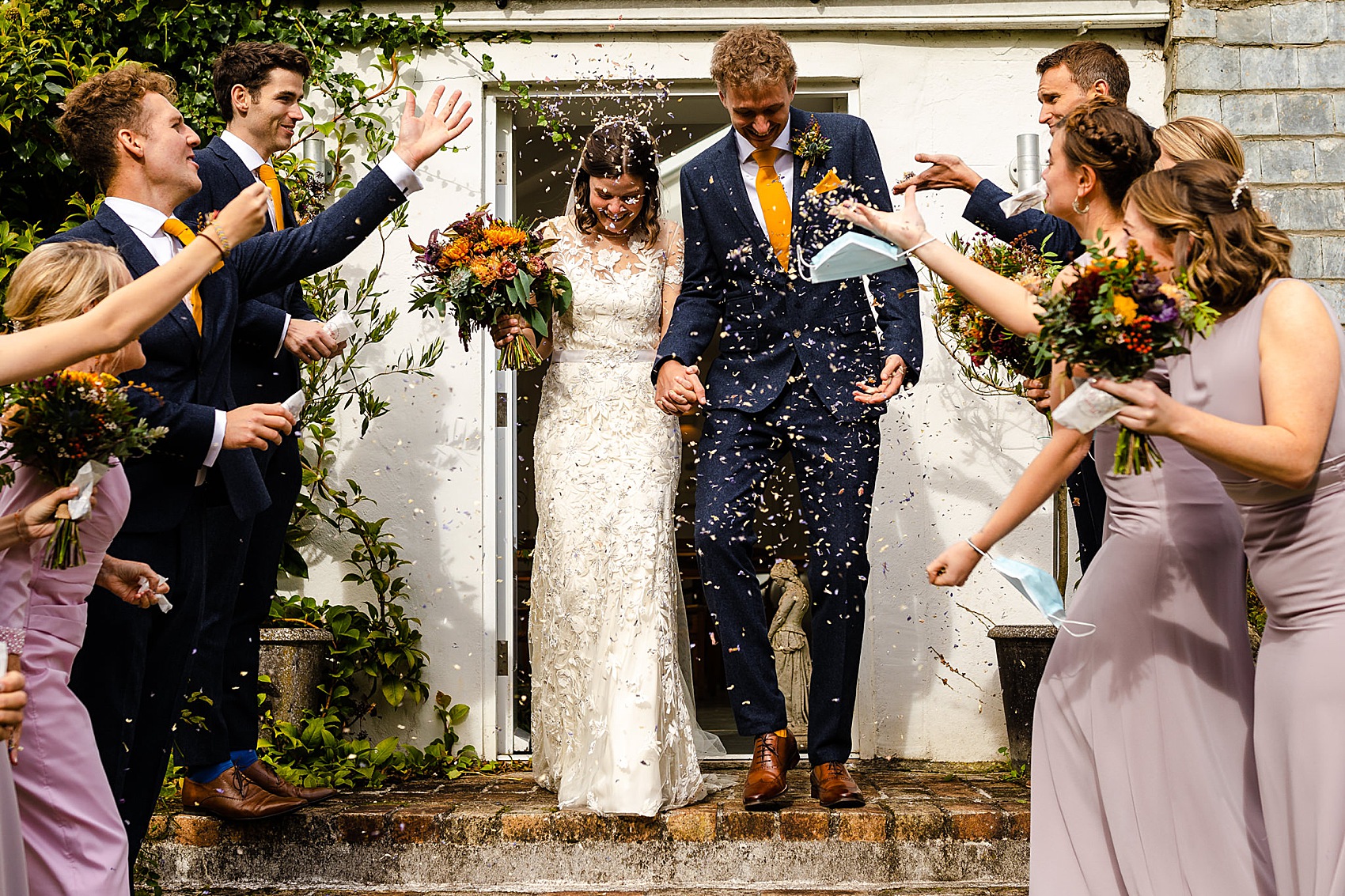 "We wanted someone to take off the cuff, natural photos. Photos that really captured the raw emotions of the day. Not staged! We met with Steve of Art By Design and really liked him. His personality fitted with ours and the ideas that we had for the day."
"During the day Steve was here there and everywhere capturing all our special moments. Despite doing this he was never rushed! He made us both feel so comfortable and made having what I think can be really awkard couple photos fun and relaxing."
He made it a time for Ali and I to enjoy some time alone and process everything that was going on. The photos of the two of us at our favorite place (the beach) make me the happiest."
"One of my bridesmaids designed our invitations, place names and menus. She did a delicate floral watercoluor in autumn colours. I really wanted the day to feel as personal as possible and loved having friends and families input."
"I made the cake myself. Having prepared the sponge and icing at home it got to the day of the wedding and it was still hidden in the wardrobe in the bedroom at our venue. I was a little bit embarrassed as I had a disaster with the icing."
"It wasn't until later that evening and after a few glasses of wine it got brought out, iced and decorated by myself and a few friends. It was delicious !! I think anything would have been at that time of the night."
"We tried to keep the same caterers from our original wedding, but they catered for a minimum of 20 and with restrictions we were down to 6 at our reception meal. We just couldn't justify paying so much money and having so much food for so few people."
"Luckily, we found Chef Natasha at short notice and she was available. I can find the words to describe how delicious her food was, and we loved that it was local sourced."
"Ali's mum keeps bee's so we had a small pot of honey tied with some hessian string and a tag saying 'with love'."
The couple share their favourite moments of the day..
"Mine was saying our vows to each and listening to Ali's vows to me. Hearing those for the first time and the commitments that he had made himself made me feel like the luckiest girl in the world and for those few moment it felt like we were the only two people there, in a bubble full of love. I will remember those precious moments so clearly for the rest of my life."
Alis says his favourite moments were "Going to the beach a place that we feel at our happiest and having time to ourselves where we could mess about and process all the excitement of the day so far."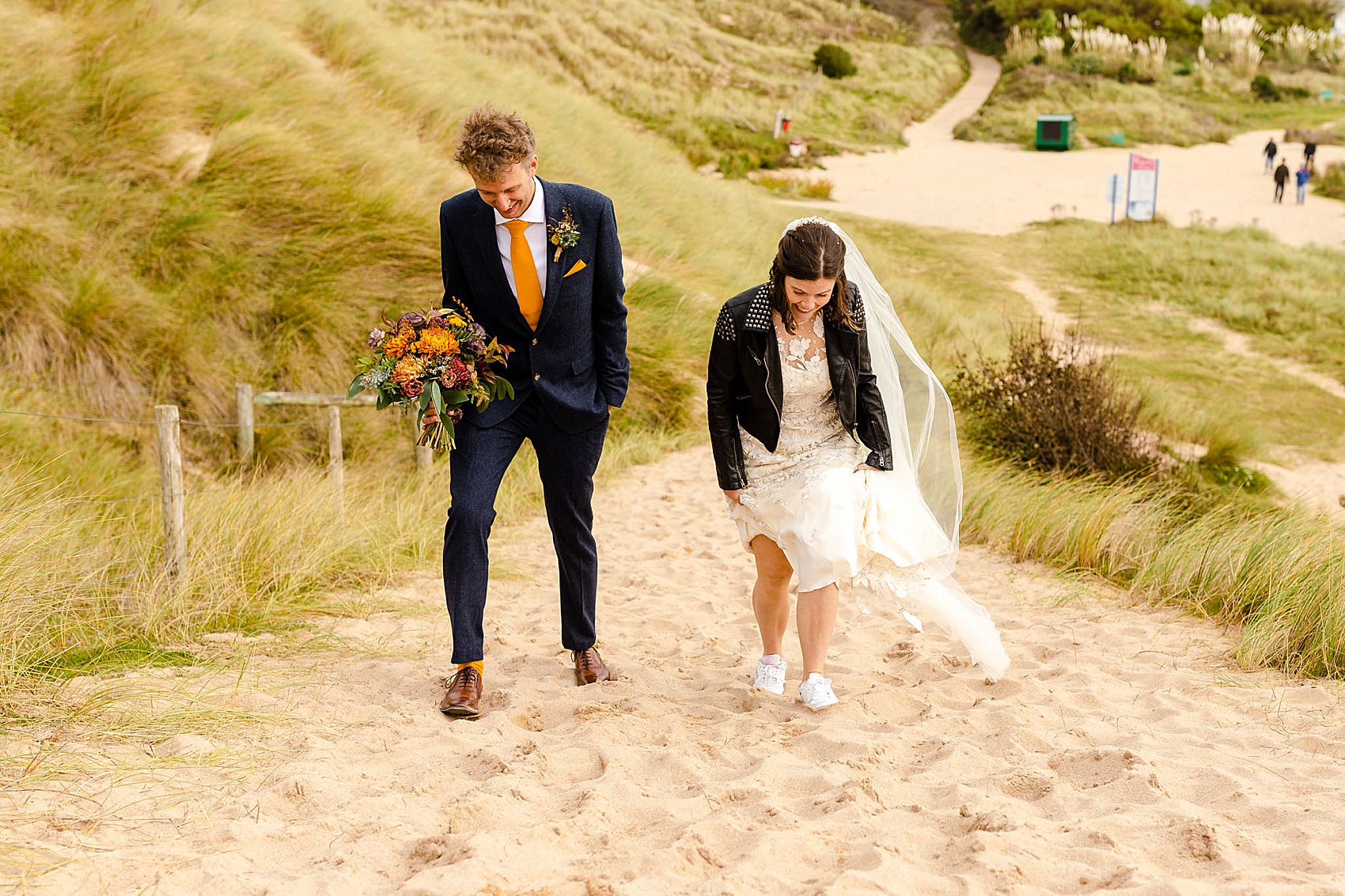 Words of Wedded Wisdom
"This is day is about the two of you!! Put your personality into it and don't feel pressured to do anything that will make you unhappy or stressed. Weddings don't have to follow any rules so choose things that make you as a couple shine."
Notes From Treseren
Lauren and Ali faced much turbulence during their wedding planning journey – and their micro-wedding in a Georgian country house in Cornwall was far from the huge celebration they had planned in Wales. Despite all of the unknowns, Lauren and Ali kept a brilliantly positive attitude throughout – they simply wanted to celebrate their love for each other with their closest family and friends.
Lauren looked stunning in her Jenny Packham dress (and they agreed, naming her Jenny Packham bride of the week on Instagram) and the autumnal flowers were matched perfectly with the groom's mustard yellow tie and pocket square. Integral to the day was a visit to Holywell Bay, a place close to the couple's hearts, where their photographer captured the most romantic shots – Lauren's look completed with her favourite leather jacket to beat the Cornish autumn chill.
After their guests departed, Lauren and Ali began their honeymoon with a stay in the luxurious Scarlet Hotel before heading off in their trusty van to enjoy their first Cornish adventure as husband and wife.
Lauren and Ali said – 'Even though this wasn't the wedding that we originally planned it was the best day of our lives! It has been a privilege to have our special day here and Treseren will be in our hearts forever.'
Lauren and Ali had originally planned a large wedding in Wales, but like so many couples, the Covid-19 restrictions meant they had to rethink their plans. Cornwall had a special place in their hearts as they had lived here for a short time at the beginning of their relationship, so when it came to planning a smaller wedding they were certain that it was to be a Cornish celebration.
With ever changing rules in Wales, the final numbers and plans for the day changed multiple times right up until days before their arrival, but Lauren and Ali kept a brilliantly positive attitude throughout – they simply wanted to celebrate their love for each other with their closest family and friends.
Embracing the 'new normal', Lauren and Ali streamed their ceremony to those who couldn't be with them on the day and will be celebrating with them all when they throw a big party next year. Lauren and Ali's love for each other shone through in every aspect of the day, not least in their thoughtful handwritten vows and secretly arranged gifts for one another.
The twin rocks of Holywell Bay are iconic for being a filming location for the infamous Poldark and Ali and his groomsmen began the day with a surf in these Cornish waters, before Ali and Lauren returned to the sand dunes after their ceremony to capture the most romantic windswept images, with Lauren in a delicate lace Jenny Packham gown teamed with a leather jacket to combat the autumn chill.
The flowers for the day echoed the changing seasons, with a beautiful broken arch creating a backdrop to the ceremony in deep reds and auburn tones, replicated in the bouquets and buttonholes that perfectly complimented the groomsmen's mustard yellow ties and pocket squares. Lauren and Ali added lots of personal touches to the day, from the vintage coloured glass bottles which decorated the windowsill and later the dining table, to the local Welsh honey table favours.
Lauren and Ali embraced the budget changes that opting for a smaller wedding can offer, and treated the 4 guests that were able to stay for their reception evening meal to a fine dining experience by Chef Natasha, with the scene being set with our gold cutlery, brass candlestick holders and linen napkins.
After their guests departed, Lauren and Ali began their honeymoon with a stay in the luxurious Scarlet Hotel before heading off in their trusty van to enjoy their first Cornish adventure as husband and wife.
Lauren and Ali said – 'Even though this wasn't the wedding that we originally planned it was the best day of our lives! It has been a privilege to have our special day here and Treseren will be in our hearts forever.
Thank you so much Lauren and Ali for sharing your day, and thank you so very much Treseren for sharing this wonderful glimpse into your beautifully idyllic and romantic wedding venue.
Readers – you can learn more about Treseren here. If you are seeking a magical Cornwall wedding venue fit for a very special, intimate wedding, we highly urge you to find out more!