One of the most beautiful things that happened for me in lockdown was being gifted a poem that had been written especially for me.
You can read more about that here. I'm a big poetry lover in general and so loved this editorial concept that we were sent, courtesy of Sally R. Wilkes, the talented wordsmith behind Rhymes To Remember, whose words follow.
"For centuries, poetry has been used as a beautiful way of articulating love. As a means of expressing an individual's inner most feelings towards another. So, what could be more romantic than a wedding themed around poetry?"
Rhymes To Remember

+ Follow
"Set at the picture perfect Shottle Hall in Derbyshire, a fantastic team of wedding suppliers came together to transform the words of writer/poet Sally R. Wilkes of Rhymes To Remember into this stunning modern take of Pride and Prejudice."
"From show-stopping backdrops to intimate love letters and treasured keepsakes, this styled wedding shoot was overflowing with messages of love."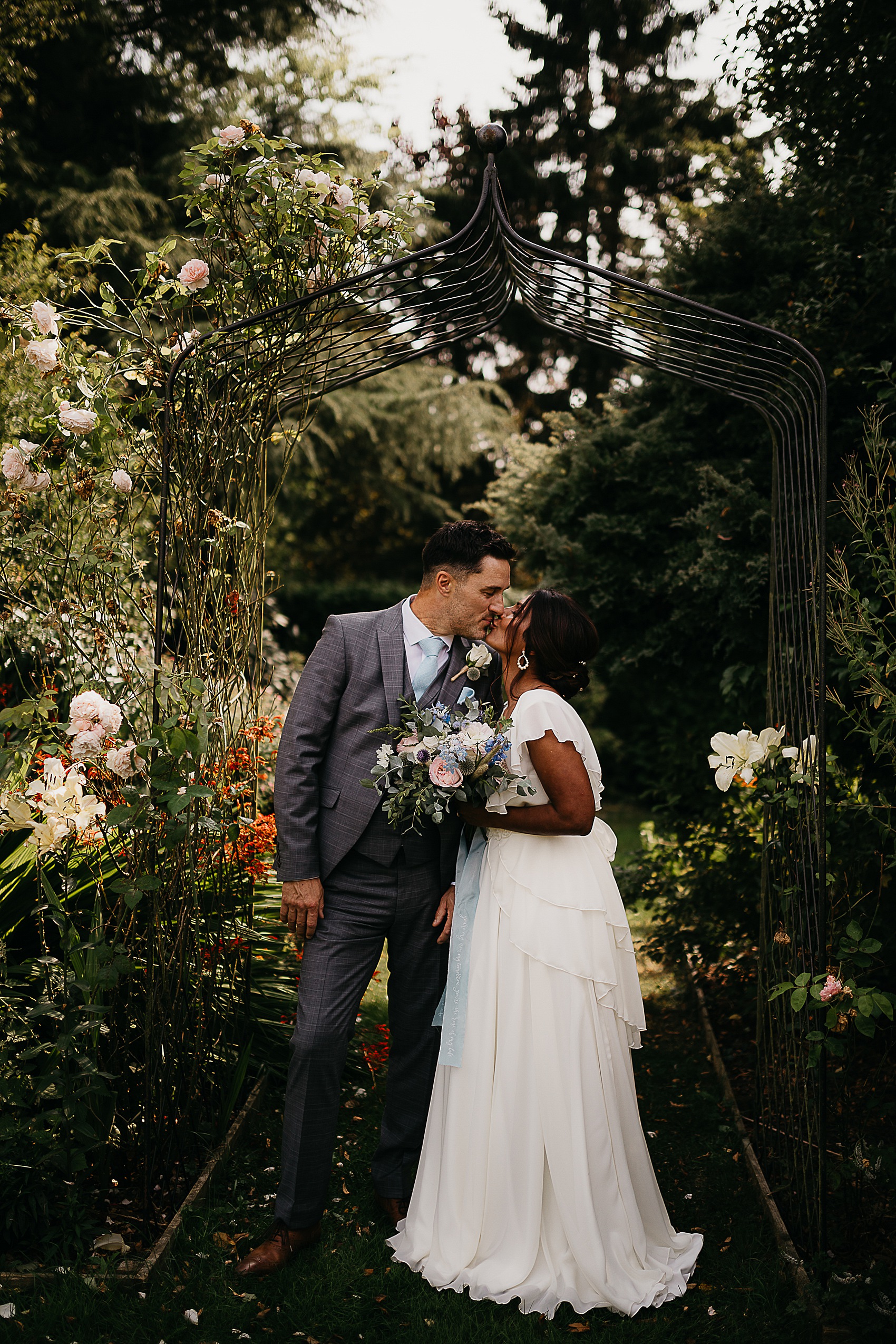 "The models, Tina Sarker and Richard Portman, are a real-life couple who got engaged in February 2020."
"They plan to elope and get married abroad just the two of them in 2021 and so they referred to the shoot as their 'fedding' (fake wedding!)."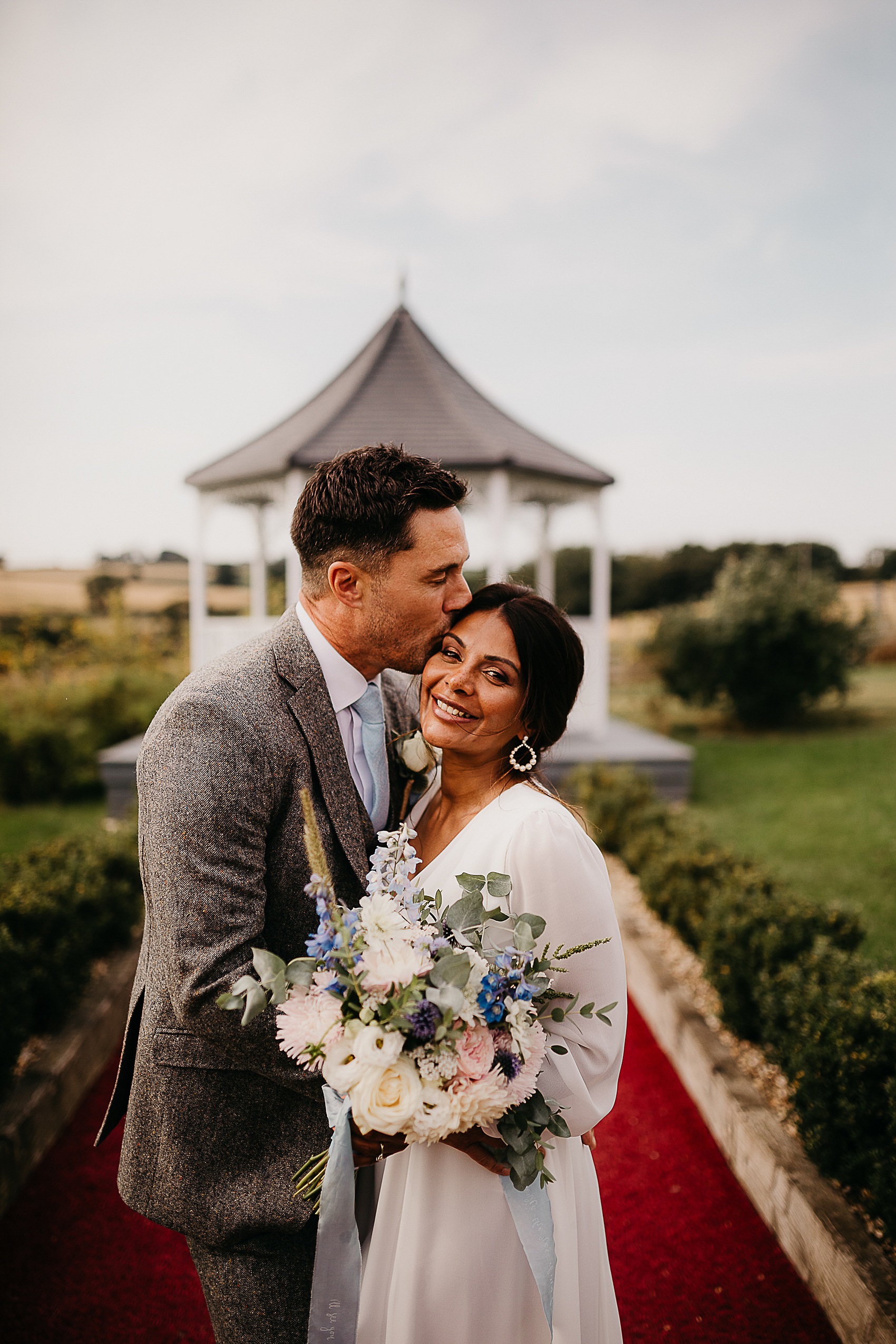 "However, there is nothing fake about their feelings. Their love for each other was perfectly clear for everyone to see on the day and is just as clear in both the photos and the video footage."
"On the day, Richard wore a grey check three-piece lounge suit with a pale blue tie and pocket square from Jon Paul Menswear. The stunning dress from Ryley And Flynn Vintage was handmade from ivory chiffon with a circular skirt, gentle flounces and an elegant train."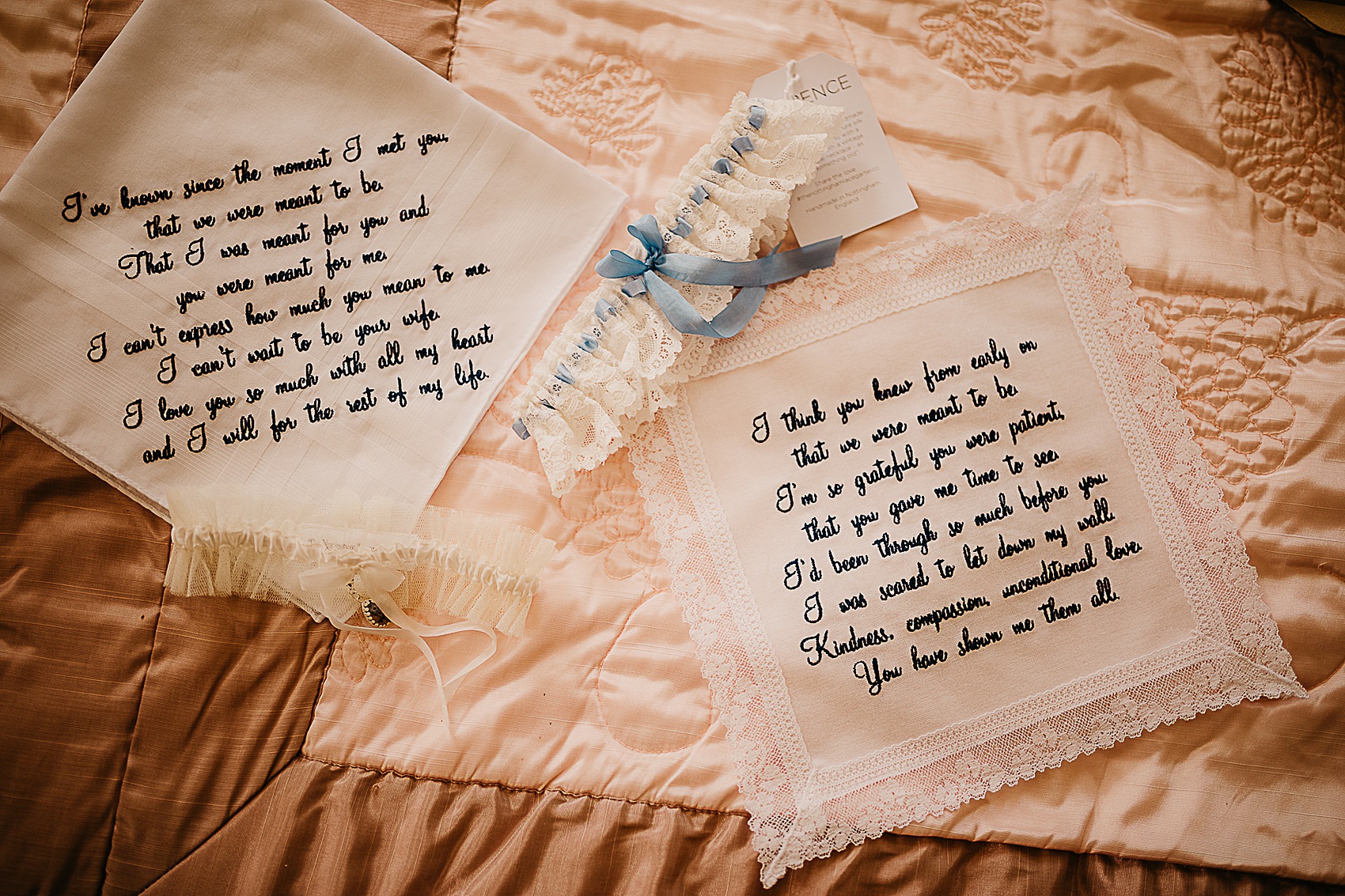 "Tina's hair was styled by Emma Rebecca Bridal Hair in a romantic low updo with a centre part and whispy curls. She wore pearl hair accessories and coordinating earrings, all from Rachel Sokhal Bridal. Makeup artist, Sophie Downing, created a soft, romantic bridal look, light on the skin with a deeper sultry eye."
"The Two Hummingbirds styled the venue using tones of dusty blue and white textured fabrics for impact, paired with delicate gold accents. The floral arrangements and bridal bouquet from Hollie Fox Flowers had an English country garden feel with David Austin Roses, Cafe au Lait Dahlias, Delphiniums, Echinops, Scabiosa and Ammi majus."
"Tied around the bouquet was a beautiful dusty blue silk ribbon with a two-line quote, which had been lovingly hand-lettered onto the surface by The Handmade Sign Company."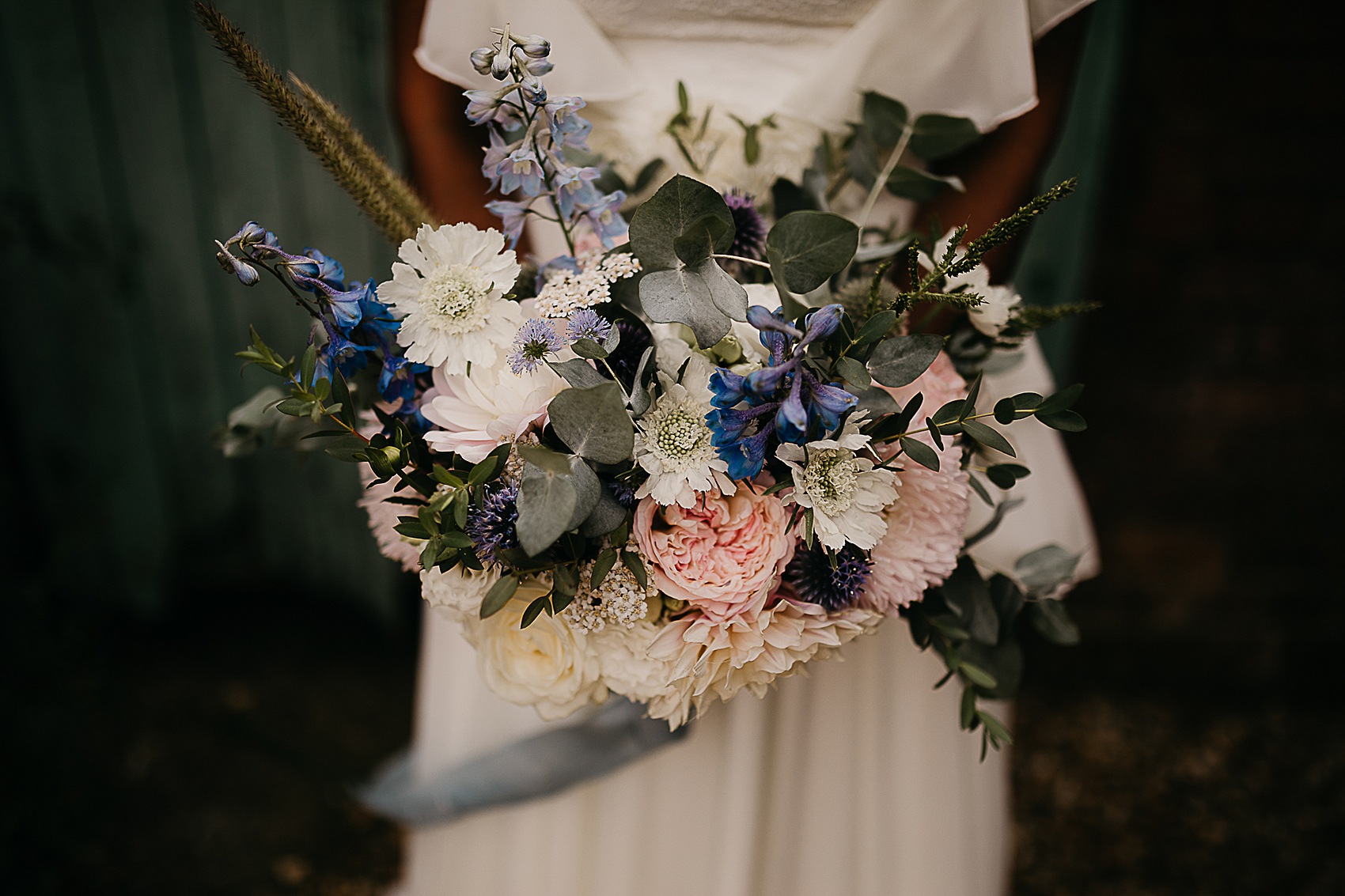 "Both the floating fabric backdrop and the sensational white and gold wooden cake backdrop featured poems written by Sally R. Wilkes of Rhymes To Remember, and both were elegantly hand-lettered by The Handmade Sign Company."
"A pale blue colour was chosen for the decadent three tier cake made by the Simply Gorgeous Cake Company so that it would stand out against the white wooden backdrop. It featured subtle ruffles, delicate sugar roses and hand painted gold words, which were chosen to tie in with the poem on the backdrop."
"Tina and Richard's real-life love story was captured in two very moving pieces of bespoke poetry which were hand written in blue ink by The Cheshire Calligrapher on handmade torn edge paper."
"The couple each read the poems aloud on the day and their emotions were perfectly captured both in film and photo by Mitchell Films and Fly On The Wall Wedding Photography."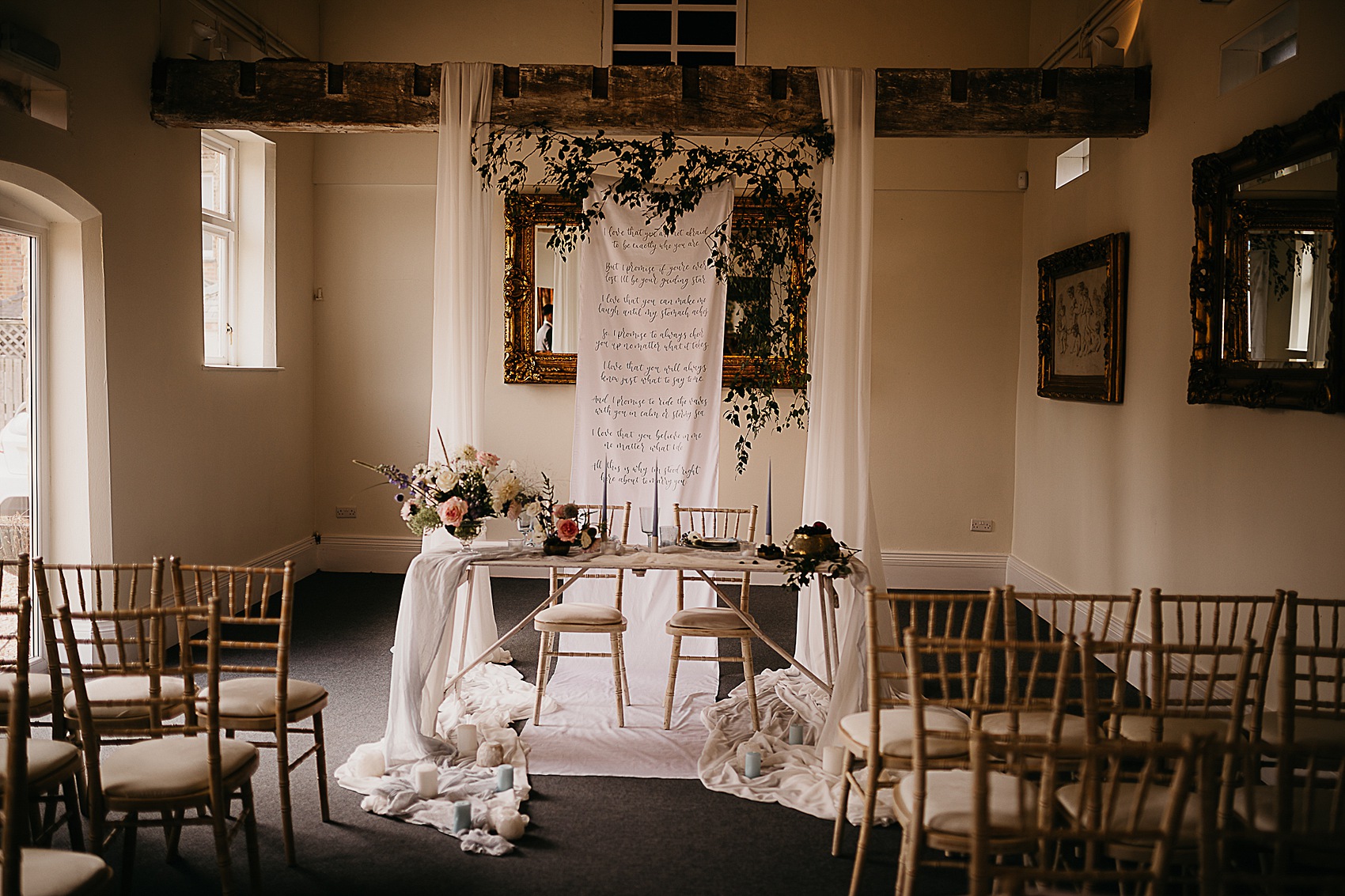 "They captured another emotional moment when Tina read for the first time a poem about her late father that had been intricately embroidered by Extra Special Touch and stitched inside the left-hand panel of the dress so that it would be worn right by her heart."
"True to her style, Adele from Fly On The Wall Wedding Photography, captured a day full of movement to accentuate the beautiful dress. Whilst, Karl from Mitchell Films captured the romantic story through timeless cinematography."
All of the poems and quotes seen in the shoot are protected by Copyright©️ Sally R. Wilkes of Rhymes To Remember 2016-2020.