Today's wedding is full of the joy of long distance love fulfilled, the most beautiful winter sunlight and pretty Cotswolds village backdrop.
On the 22nd January 2021, Event Planner Kathryn married Rowley, who works with racehorses, at the Northleach Church of St Peter and St Paul in the idyllic Cotswolds. The couple were given special permission to marry during lockdown, when government guidelines permitted weddings for 6 people, including the couple, and only in exceptional circumstances.
Permission was granted by the Diocese, because the couple were separated by the pandemic and living in different countries; Kathryn was in the USA and Rowley in the UK. They wanted to be together but needed to be married to get their visas. Kathryn will be moving to the UK next month to start a new life with Rowley here.
Kathryn and her family were COVID tested and followed strict quarantine rules when they arrived from the USA for the wedding.
Benjamin Wheeler

+ Follow
Kathryn's dress was a beautifully cut, classically elegant design by Jenny Yoo, with a wrap by Blue Willow Bride. I especially love the bateau style neckline – such simple perfection with the contrast of the statement bow at the back, and the full skirt with train.
These pieces and Kathryn's lace edged veil by Sara Gabriel were all chosen at Twirl in Lexington, Kentucky.
"I wanted to be classic and not wear something too trendy that I may one day regret. I wore a lace veil, and I am so happy that I did. It made me feel like a real bride!"
On her feet, Kathryn wore shoes by Badgley Mischka, and accessorised with her mother's pearl earrings, and her favourite perfume, Princess by Vera Wang.
Exquisite invitations for the day were by Claudia Engle Lettering and Design, and wonderfully illustrated orders of service tied with blush pink ribbon were by G.H Knight.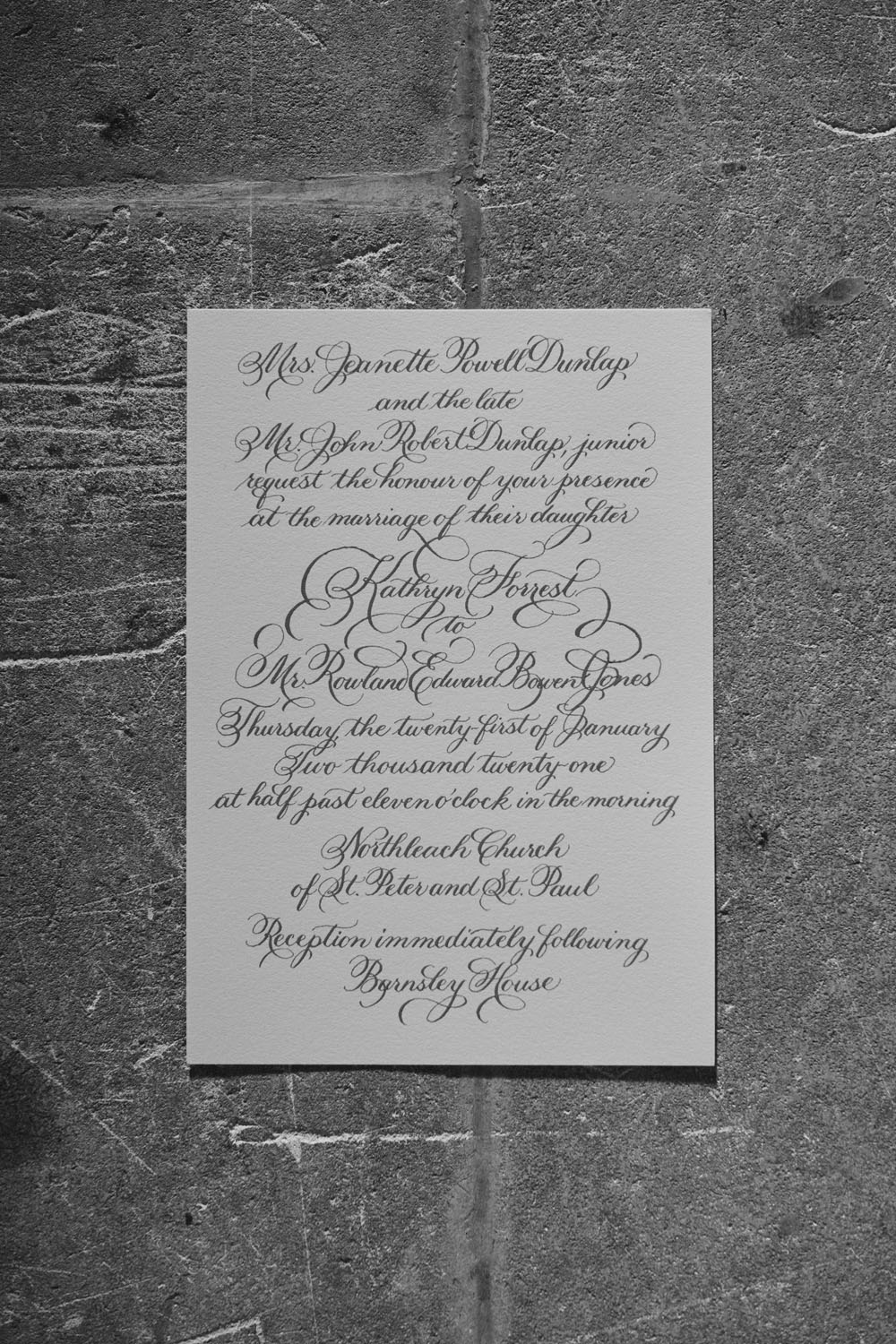 "Rowley's grandparents married in the Church and his dad is buried there. We met through mutual friends while I was living in England after university."
"We dated for four years before marrying. Two and a half of those years were long distance. Due to our circumstance of being apart for so long, we were only engaged for about 3 months."
Inside the church was a spectacular floral installation that looked as if it had grown up from the ground – filled with trailing ferns and greenery, roses, snapdragons, tulips and lots of other beauties besides.
"Fi from Corky and Prince was amazing to work with. I am sure I was more particular that most brides as my mom is a florist and I work as a full service event planner and designer."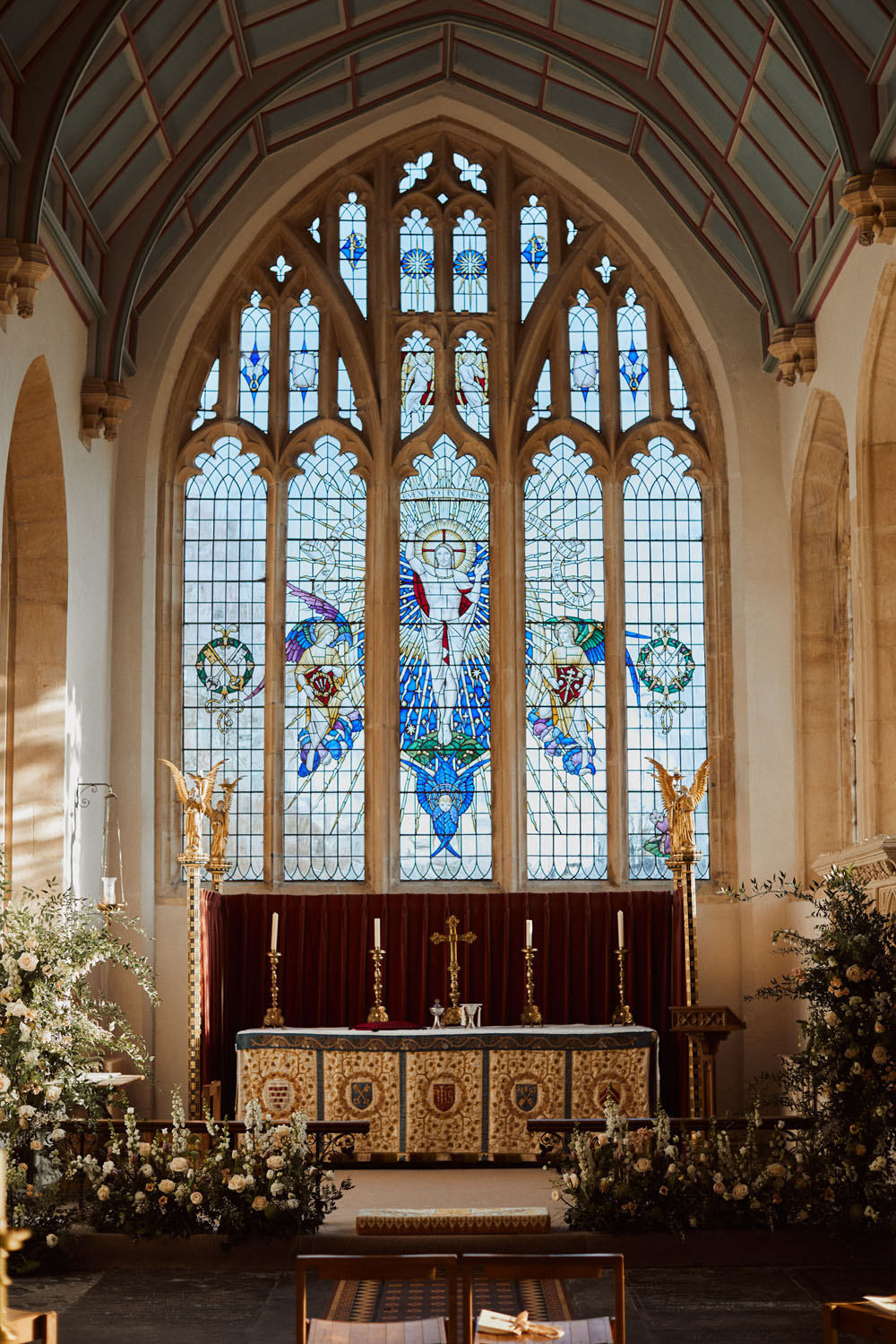 "I wanted soft pinks and blushes with a loose garden feel. Fi did a wonderful job choosing flowers to fit our look as well as sourcing particular flowers we wanted."
"Fi was the only florist I enquired with. She had delivered an arrangement to Rowley's mom when his dad passed away, and I loved it so I filed away the business card just in case I might need it one day."
"Turns out I needed it a lot sooner than I thought."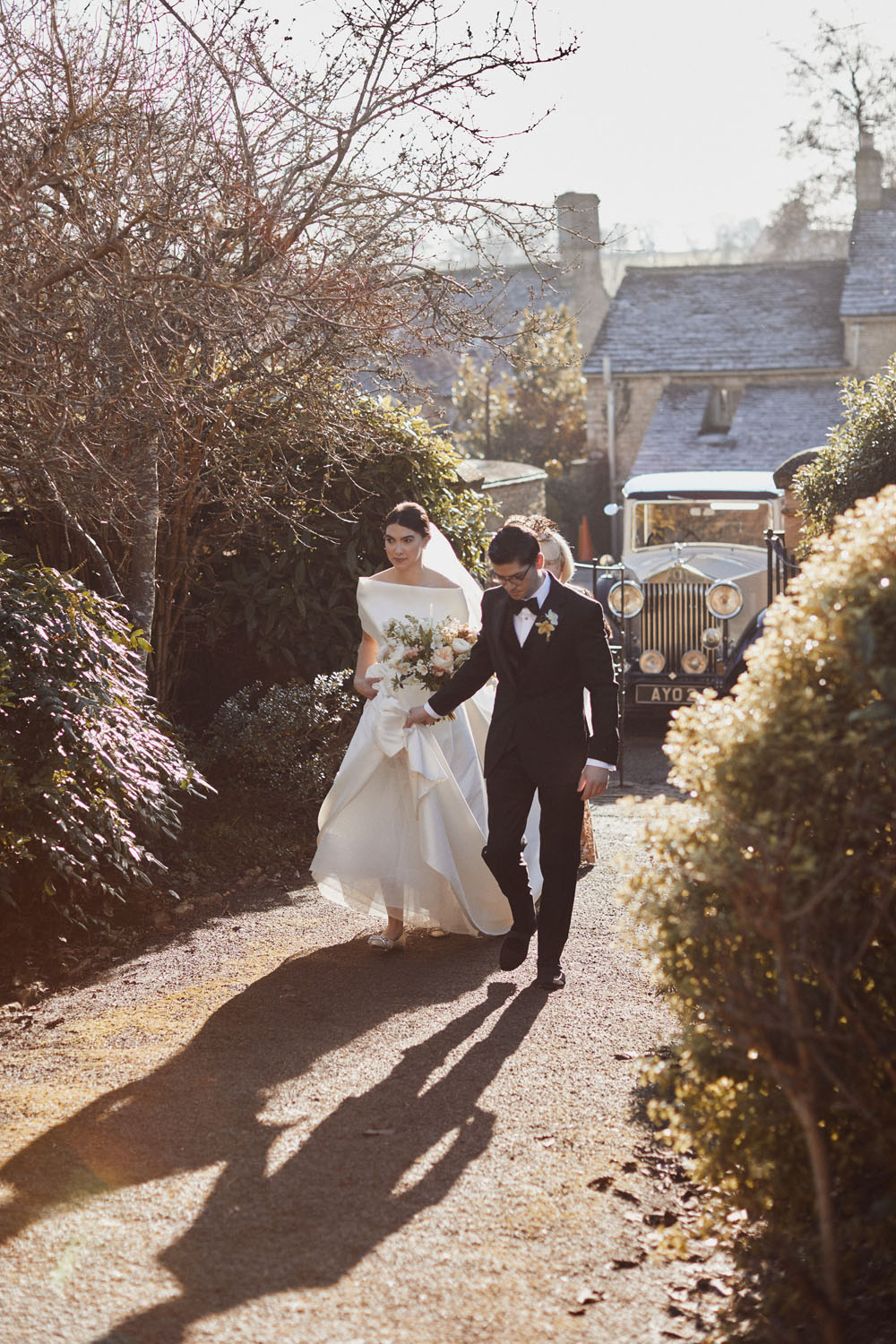 Kathryn, her mom and brother were driven to the church in a vintage Rolls Royce from Enchanted Carriages, and Kathryn was accompanied down the aisle by her brother.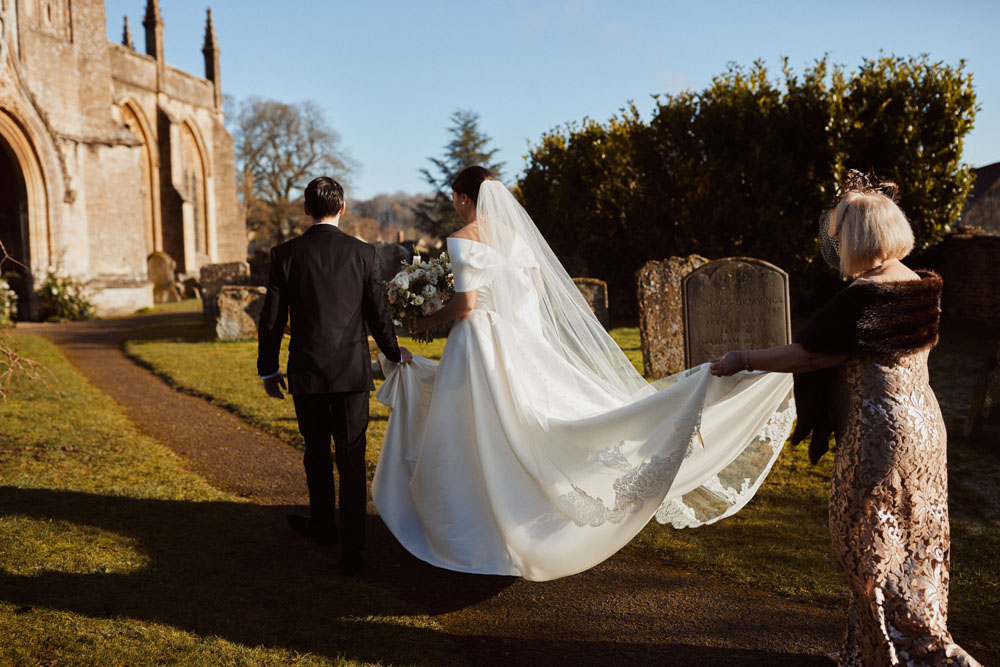 Rowley waited by the altar, wearing a smart morning suit and Hermes tie belonging to his beloved dad, which he had worn on his own wedding day. Kathryn also gifted Rowley a signet ring from Hancocks.
"We lost both of our dads within a year of each other. My dad passed away in November 2019 and Rowley's dad passed in September 2020."
The couple's ceremony was officiated by Bishop David Jennings. He also conducted Rowley's father's funeral, and it was important to both Kathryn and Rowley that they ask him to marry them.
"We had been living apart for so long and we were ready to be married and in the same place."
"We had originally planned for 15 guests and a lunch reception as that is what was allowed at the time of us planning."
"When the country went into lockdown after Christmas, we thought we would have to cancel the wedding, however we were very fortunate to be granted permission to still marry."
"We were then allowed four guests so it worked perfectly for our families. We each have a brother, so our brothers and moms were able to attend."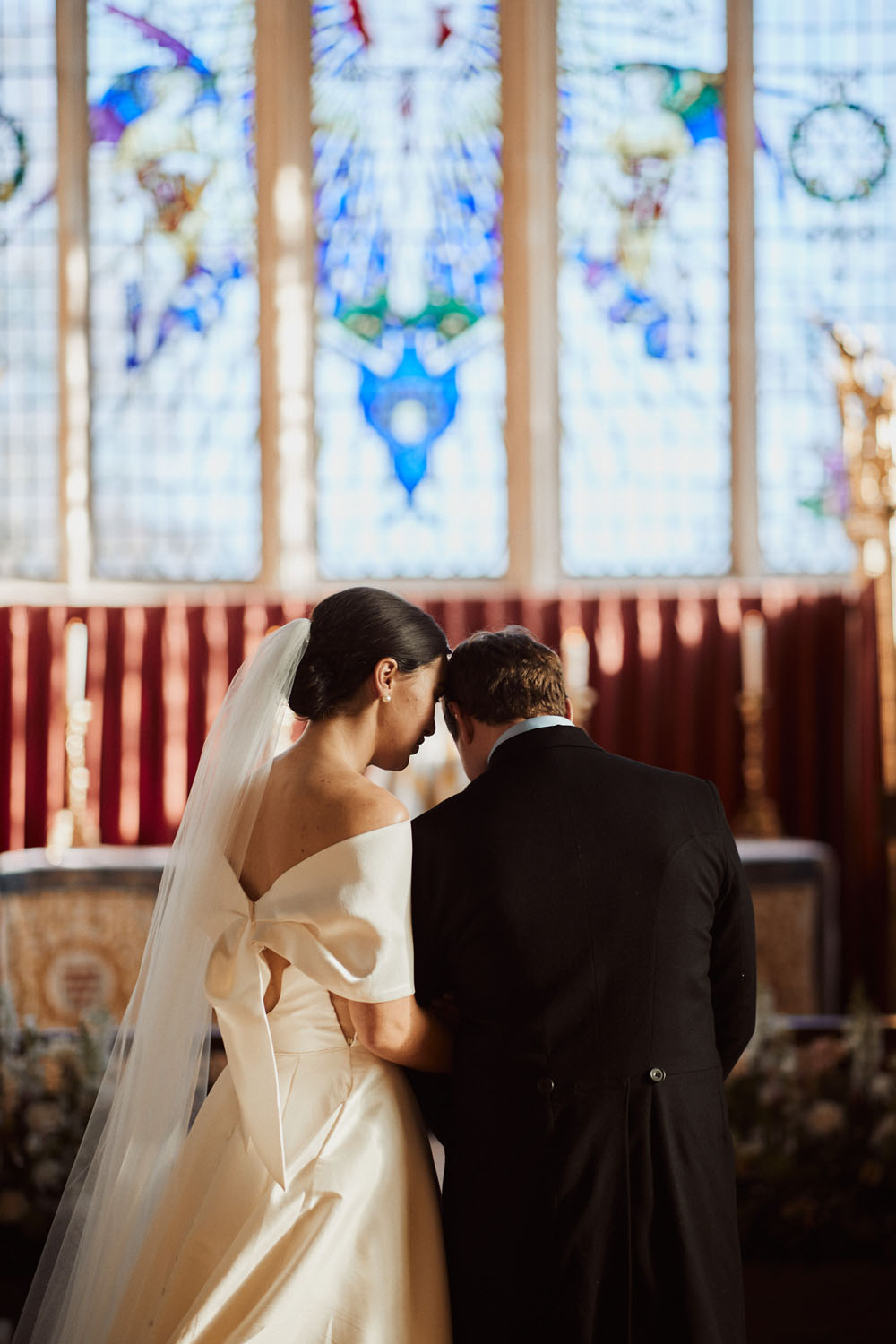 During the ceremony there were three readings, each from the Bible: Colossians 3:12-17, 1 John 4:71-12, and John 15: 12-16.
As they spoke their vows to one another, Kathryn and Rowley solidified their commitment to each other with rings, which they chose at Bakers Fine Jewellery in Cheltenham.
Make-up artist Jessica Rose was originally booked by Kathryn, but sadly due to pandemic restrictions, she was unable to be there on the day. Jessica did however, give Kathryn a Zoom tutorial and send a list of products so that on the wedding morning, Kathryn was able to recreate the look Jessica had planned.
"I would recommend her to everyone, and I just can't wait to have the occasion to have my make-up done by Jessica again."
After the ceremony, Kathryn added her grandmother's fur coat to her bridal outfit, as well as a pearl embellished headband by Cara Meehan from The Cotswold Hat Club.
"I had a wonderful experience with Rachel. We went in to get a hat for my mom but I saw the headband and knew I needed to wear it on my wedding day!"
"I knew I wanted to wear my grandmother's fur since my grandfather gave it to her the day they brought my mom home from the hospital."
"It's so special to me, but I'd have to say that I absolutely love the wrap and the headband that I wore, too."
These luminous, romantic images are by the wonderful Benjamin Wheeler, whose work you might know from the wedding of Princess Beatrice to Edoardo Mapelli Mozzi in July 2020.
Benjamin's work beautifully combines fine art style with such grace and sensitivity.
"Benjamin's style was exactly what I wanted. I knew I wanted more candid photos instead of posed, and that he would capture the flow and emotions of the day perfectly."
"We were so comfortable on the day and I would recommend him to everyone."
"I would put on my wedding dress anytime just to shoot with Benjamin again."
"Ben Tynegate was wonderful, and I watch our short video just about every day. Benjamin Wheeler recommended him to us and I am so thankful we chose to have a videographer."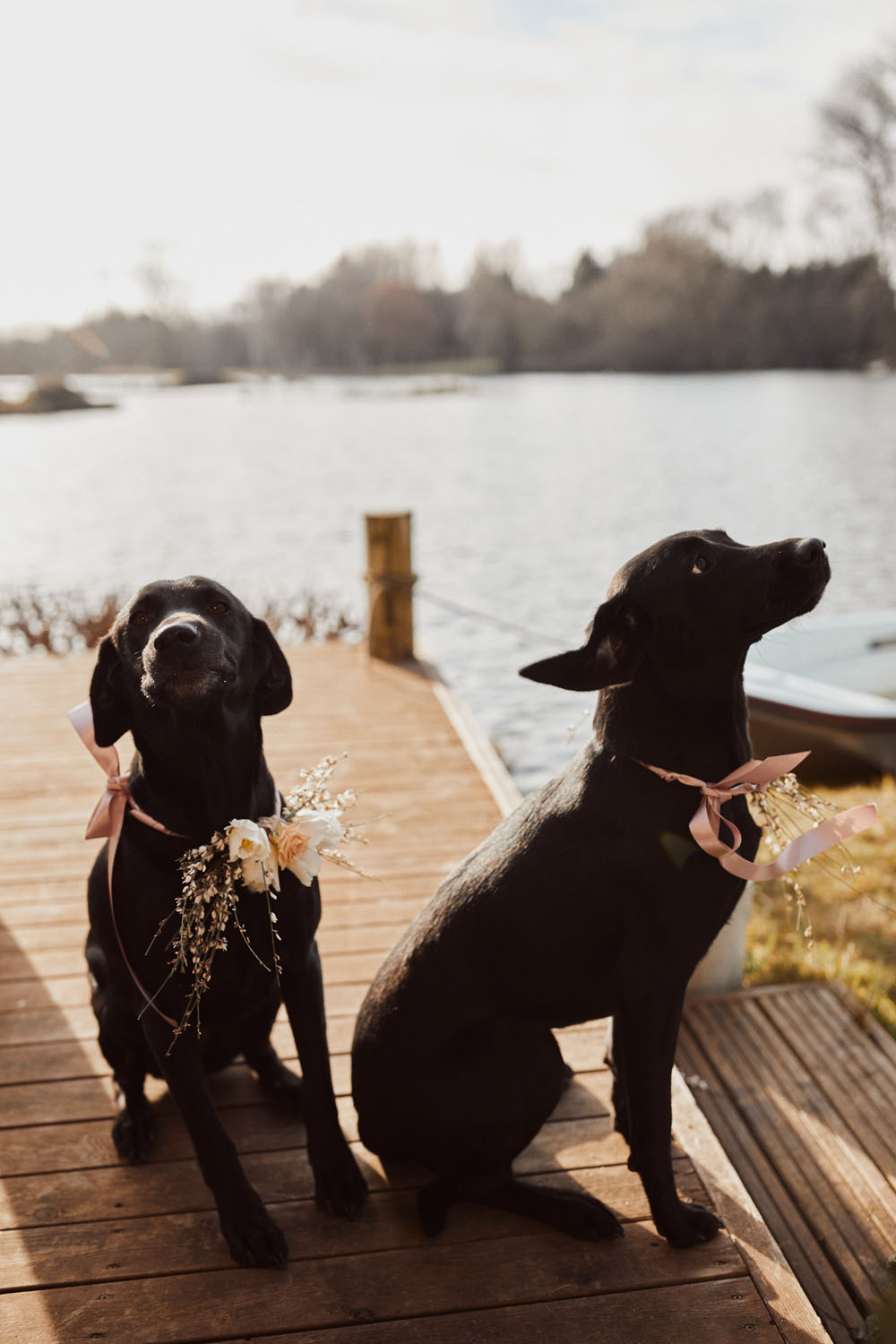 The Cotswold Cake Kitchen made an elegant tall, two-tiered cake for Kathryn and Rowley, tied with silk ribbon, which the newly married couple cut outside in the last of the day's beautiful sunlight.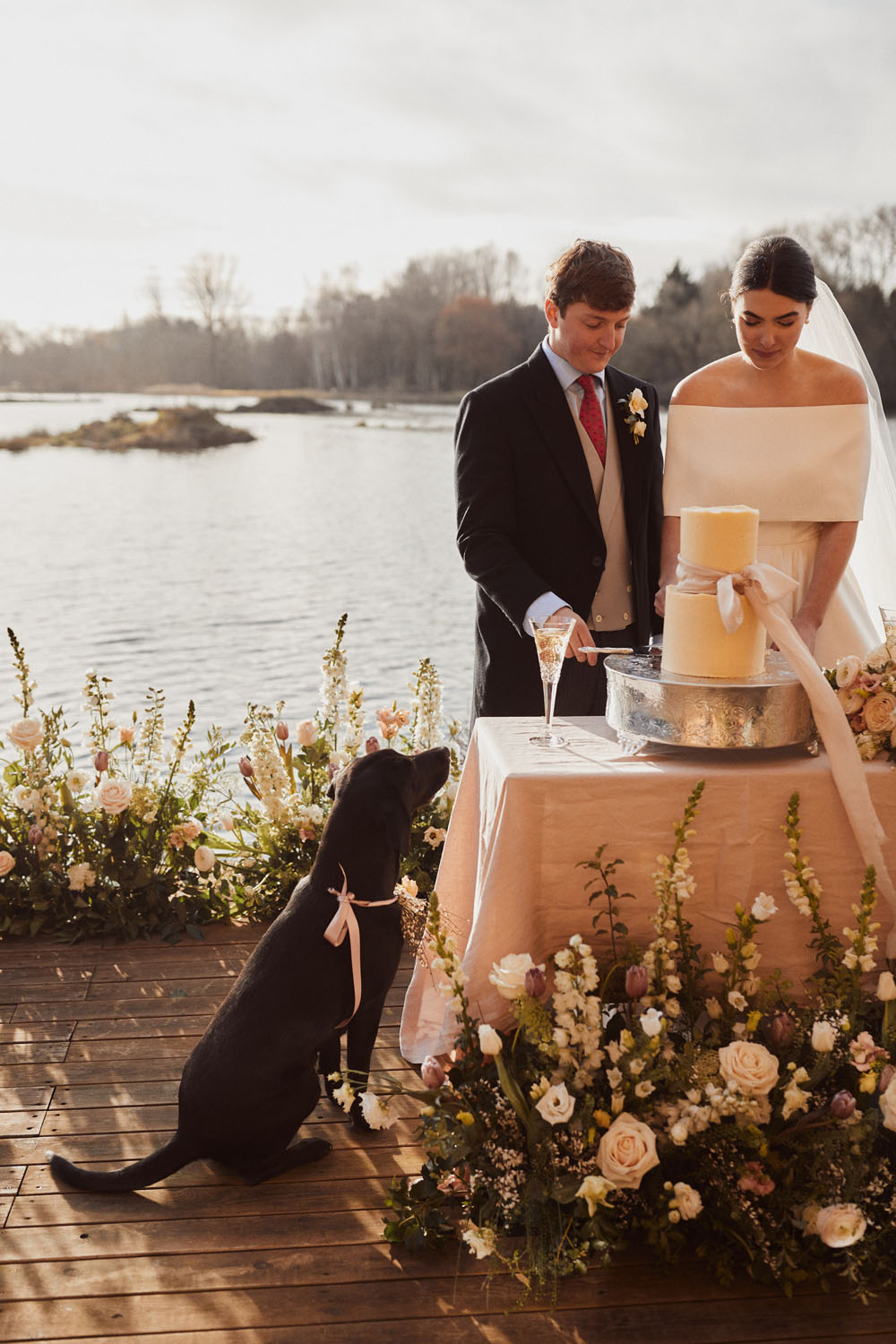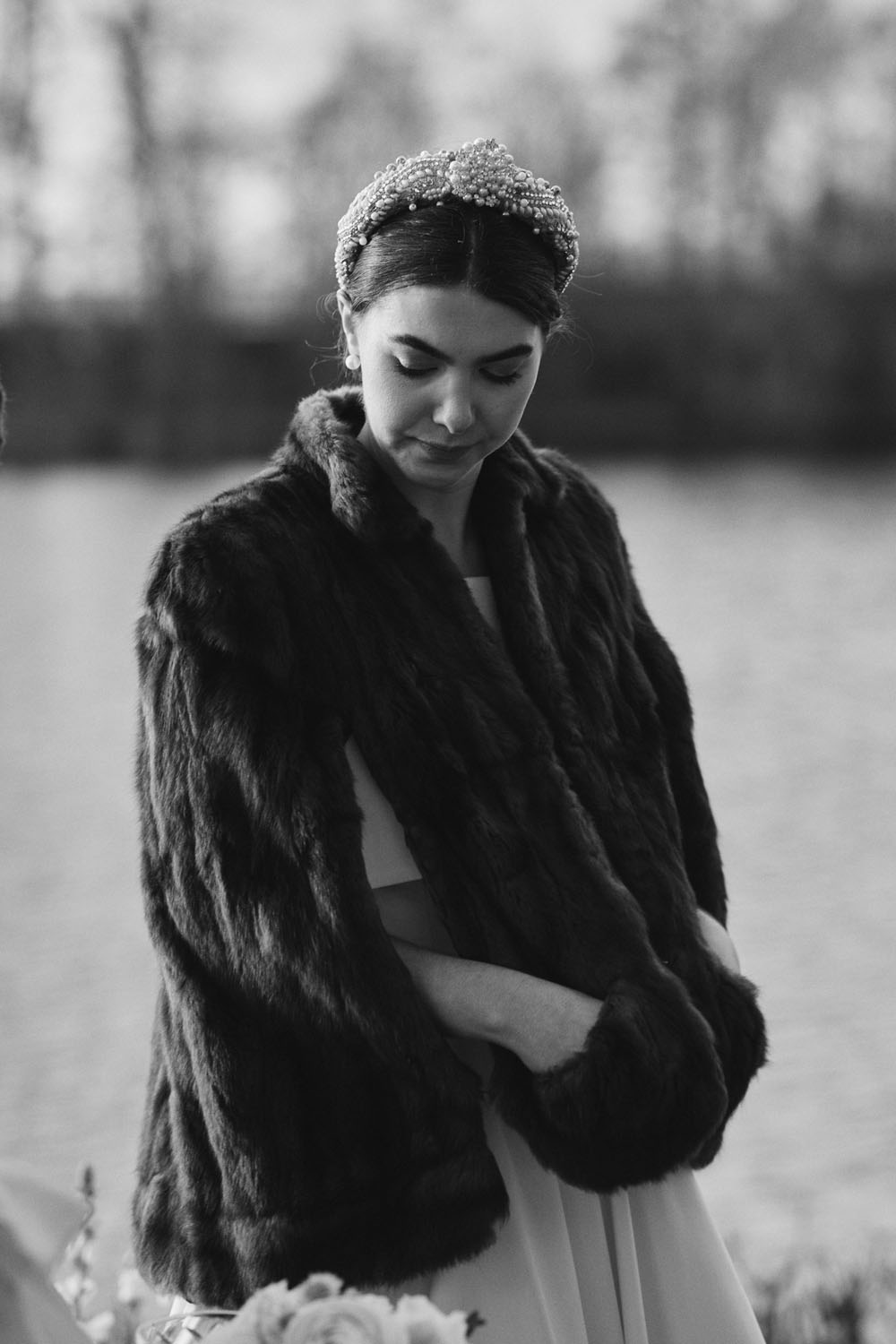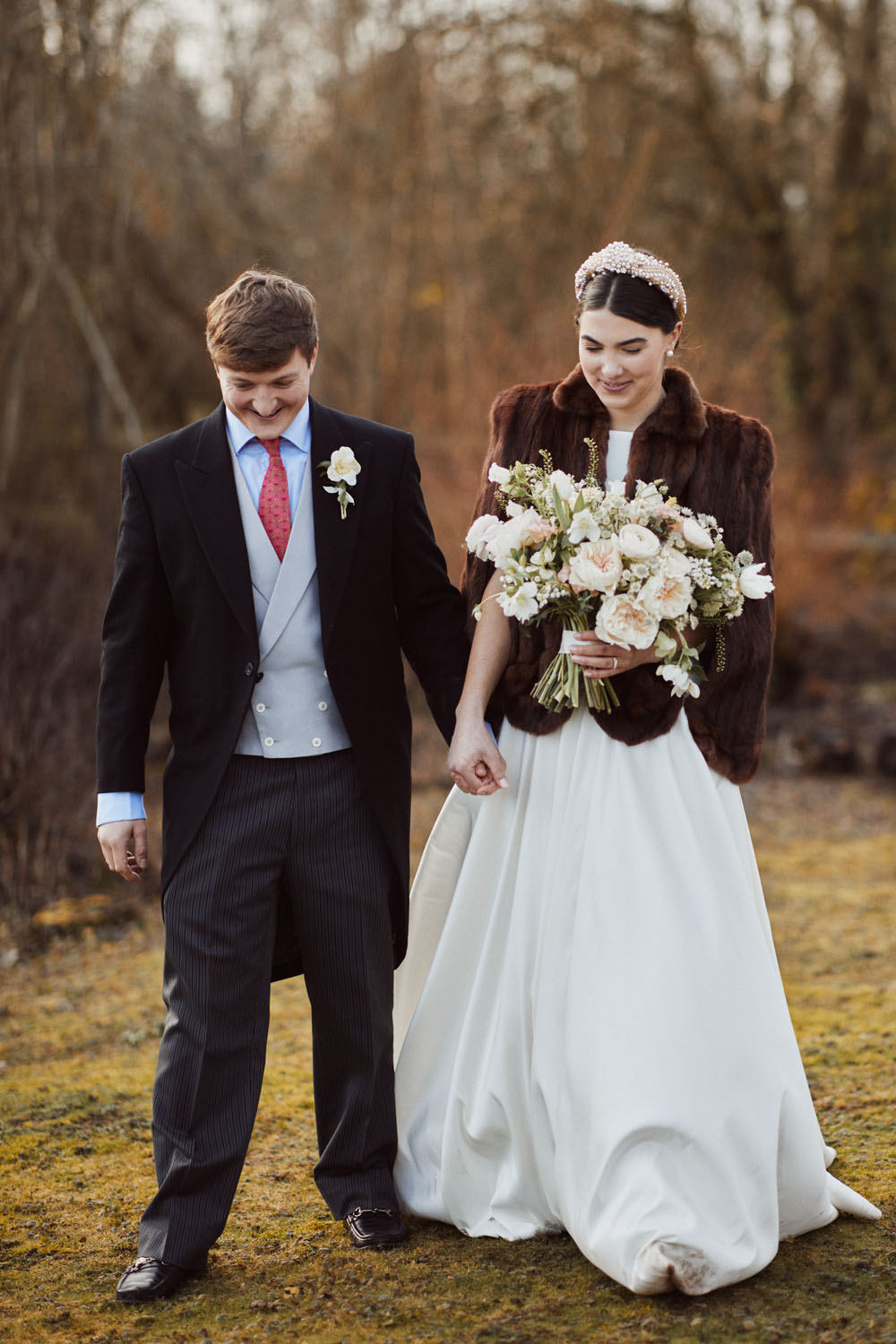 Words of Wedded Wisdom
"Don't get caught up in the details or worry about making other people happy with your decisions. Don't forget the true reason for the day and what a marriage truly means."
"I am extremely grateful we had such a small, intimate wedding.  The most important thing to us was that the two of us were able to marry with our moms and brothers there, and we knew we could celebrate with our extended family and friends at a later date."
"Now that we had a small wedding, we have both said we couldn't imagine having a big wedding. It was the perfect day celebrating our love for each other and beginning our life together with those that ultimately matter the most to us."
Congratulations Kathryn and Rowley, it's been a true delight to write about your wedding day and share all of the glorious details. Many thanks to Benjamin Wheeler for these exquisite images, too.
With love,
Laura