Welcome to the start of a brand new week lovely ones! Time for a whole new round of wedding inspiration on our beloved wedding blog.
Melissa, a Content Designer, married Ben, a Civil Engineer, on 11th October 2020 at the Temple of Minerva, in the Botanical Gardens of Royal Victoria Park, Bath. The couple's original 2020 wedding plans had been disrupted by Covid, but this wasn't going to stop them tying the knot as soon as they could, in between lockdowns.
"We had initially planned to marry in April, but covid put a stop to that. We knew we still wanted to get married in 2020, so we rethought our plans over the summer."
Siobhan Amy Photography

+ Follow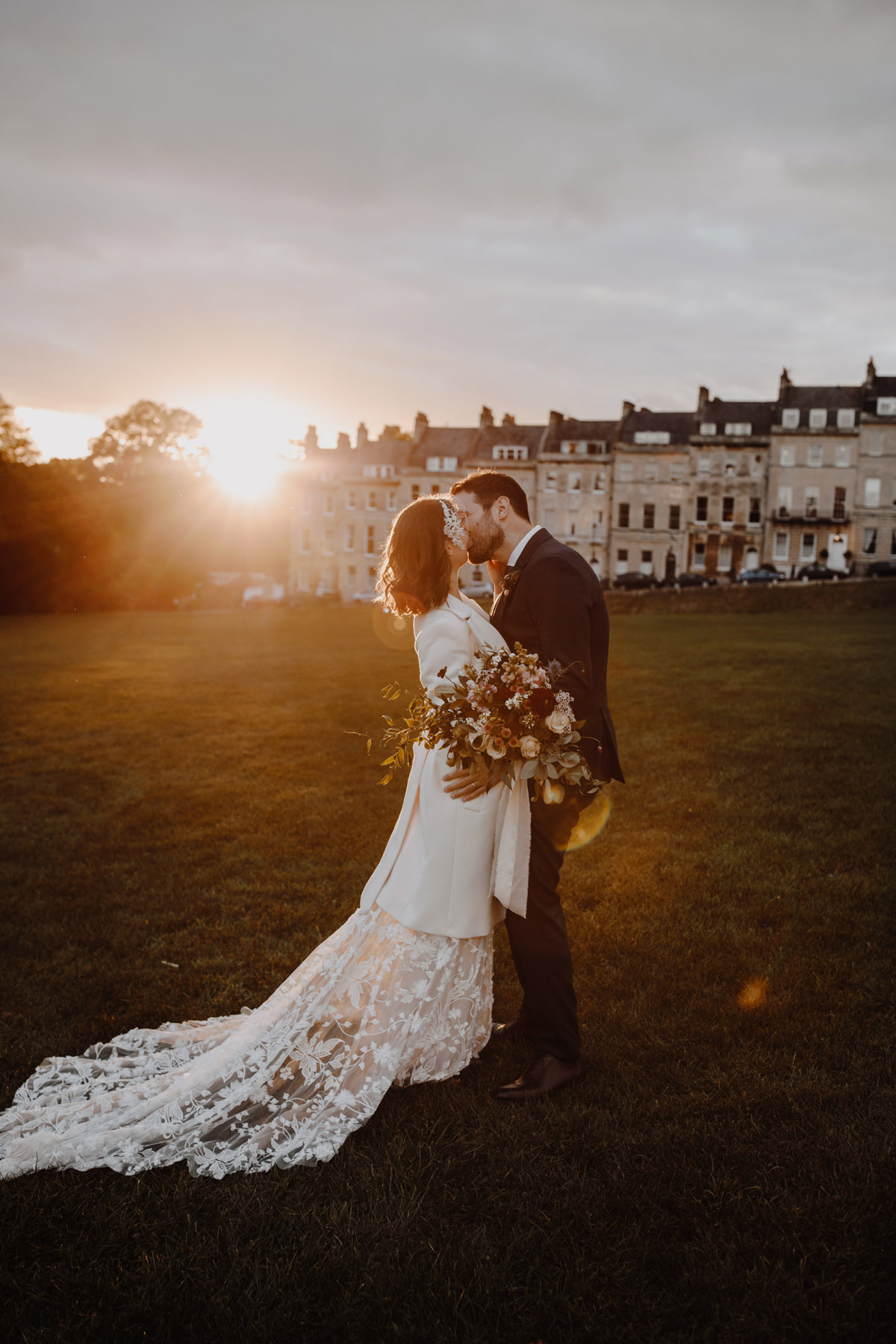 "I wore a beautiful lace Made with Love gown from The White Collection. I visited their Portishead boutique and had the most wonderful time with my mum and bridesmaids."
"The space is beautiful, the dress selection was brilliant, and the girls there are so kind and helpful."
"I really loved their spacious changing area at the back – it's enormous, so I could try the dresses on really easily and see them from all angles."
"We felt really well looked after there and I knew I wanted to souce my dress from there as the experience had been so enjoyable."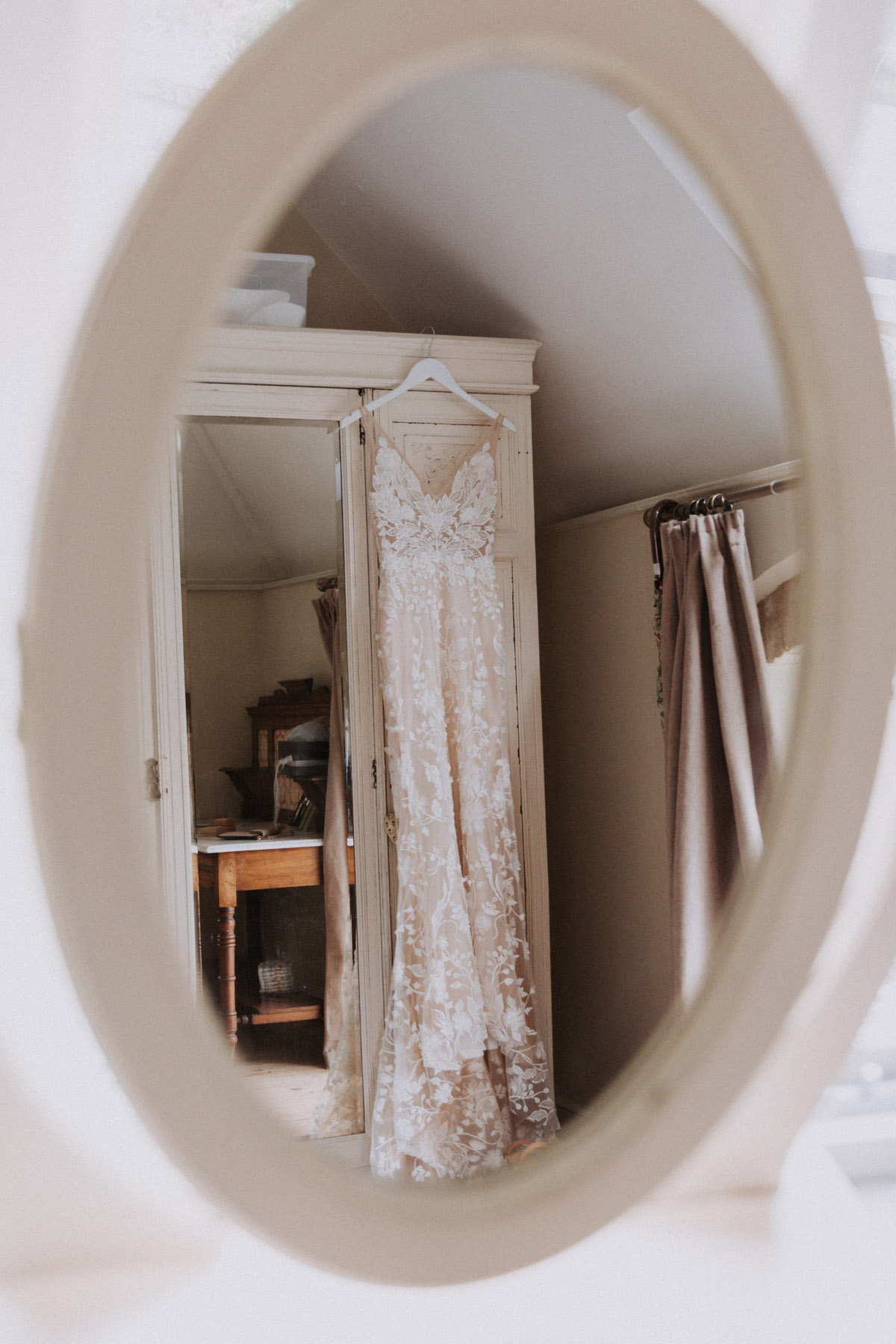 "I went for simple block heal sandals from & Other Stories. I knew they wouldn't been seen much and I wanted to be able to walk around the park easily, so I just went for something understated."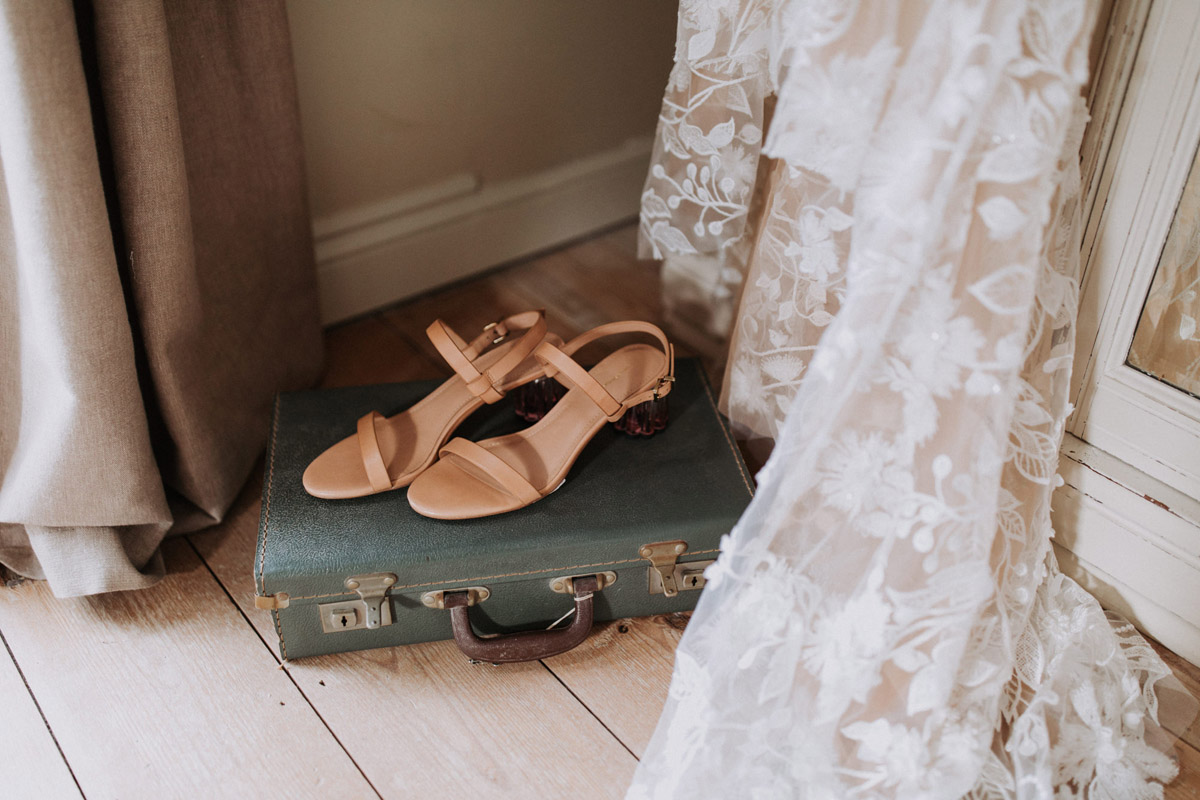 "I knew I wanted something fairly fitted and unstructured, so that I could move about easily throughout the day, but I fell in love with this gown because of nature-inspired lace."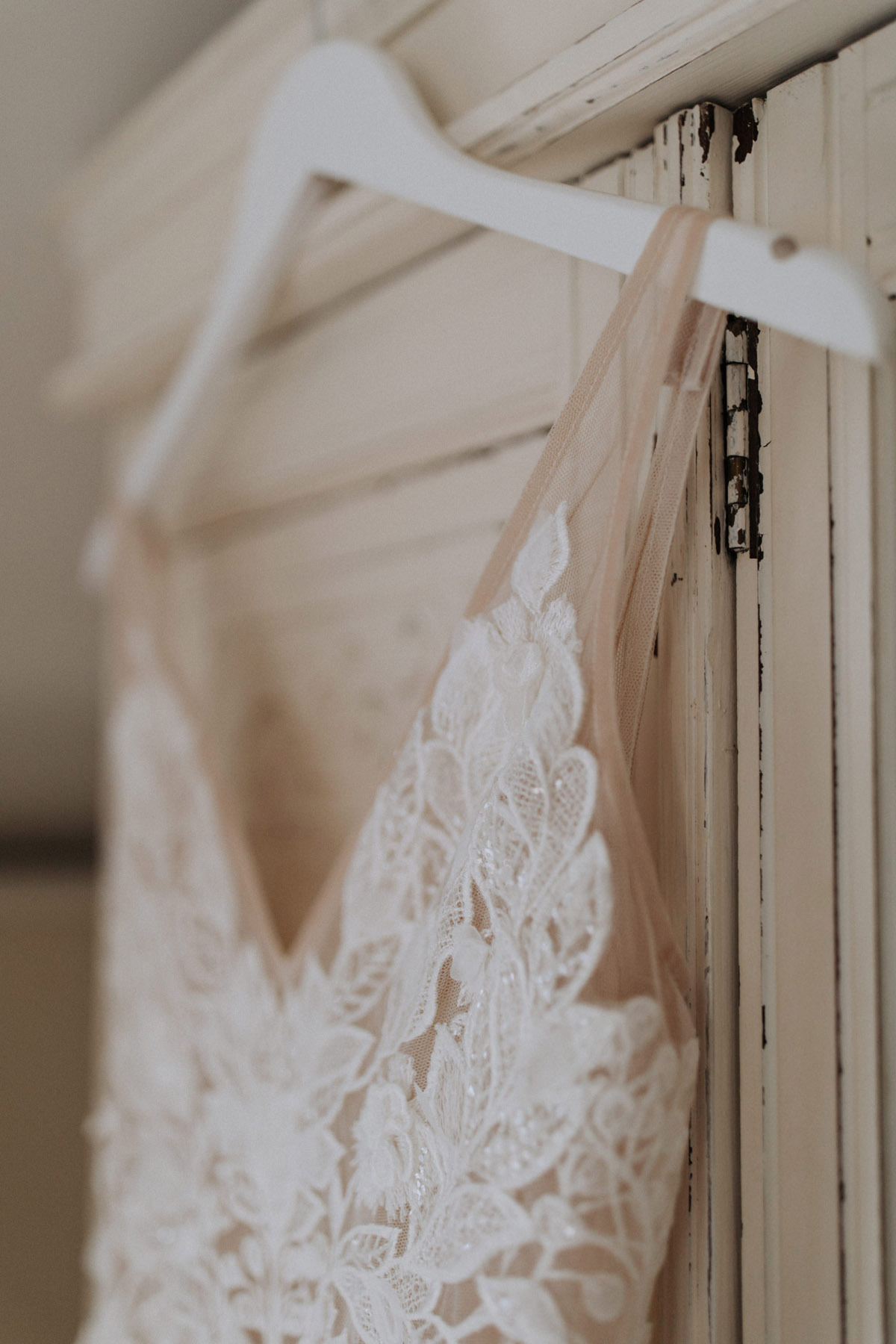 "I felt this perfectly reflected the setting and style of the day."
"The train in particular was absolutely stunning. My little nieces loved the details of the lace and one of my favourite memories from the day is them running up behind me to arrange my train so that it fell perfectly."
"I wore a turquoise necklace as my something blue – Ben bought it for my from a little boutique while we were in Texas, so it felt fitting."
"I hadn't planned to wear a veil as I wanted to look fairly natural, but at the last moment I fell for an Agnes Hart birdcage veil. It was made to order and matched to the lace of my dress and my hair colour."
"It felt decorative without being too fussy, and it was really comfortable."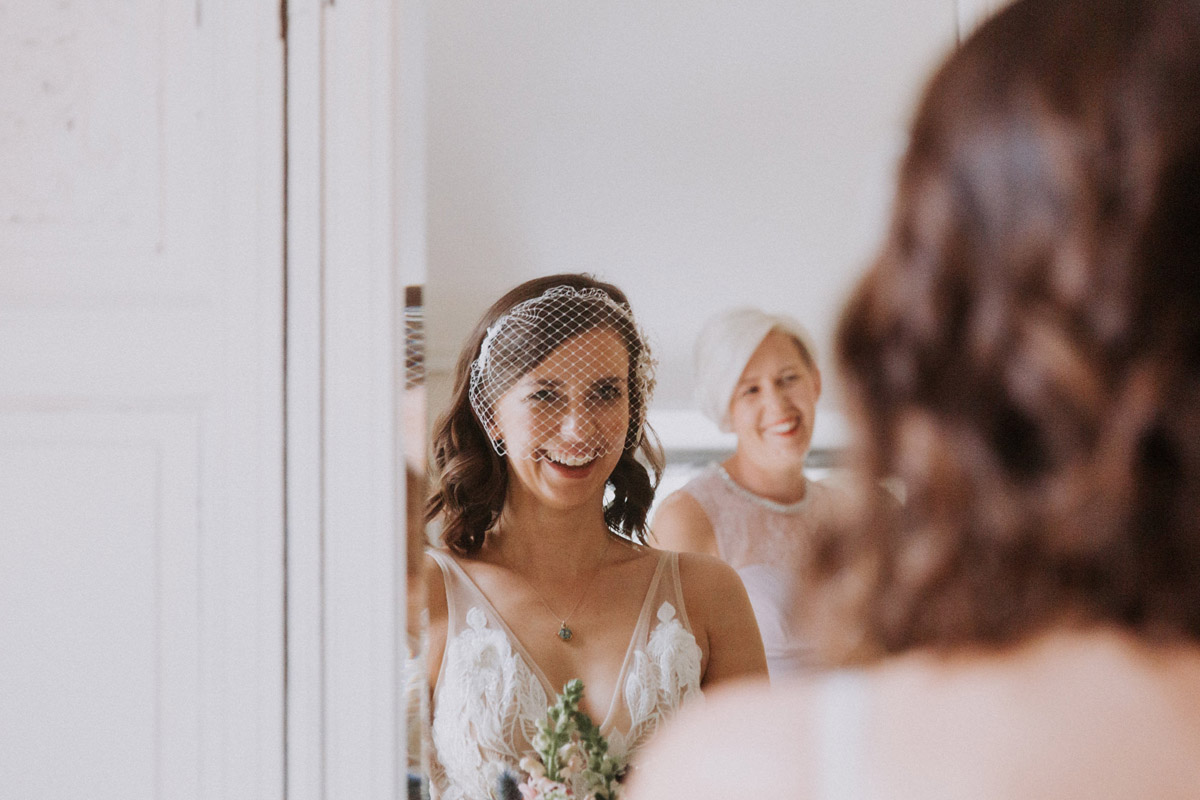 "I was always going to have my sister Jasmin, of Belle & Bea Floral Design, as my florist for the day. We had a great time using Pinterest boards to share ideas and inspiration."
"She came up with a beautiful scheme that reflected my ideas for an unstructured, nature-inspired look."
"The flowers felt delicate enough to suit my dress, while the tones also worked well with the autumnal season. It was perfect and so special to have her involved."
"We wanted to keep things relaxed and for our bridal party to look like themselves, so we encouraged the bridesmaids and groomsmen to choose their own outfits."
"Everyone looked fantastic and I also think it worked really we for our small event, as they made up a large proportion of our guests."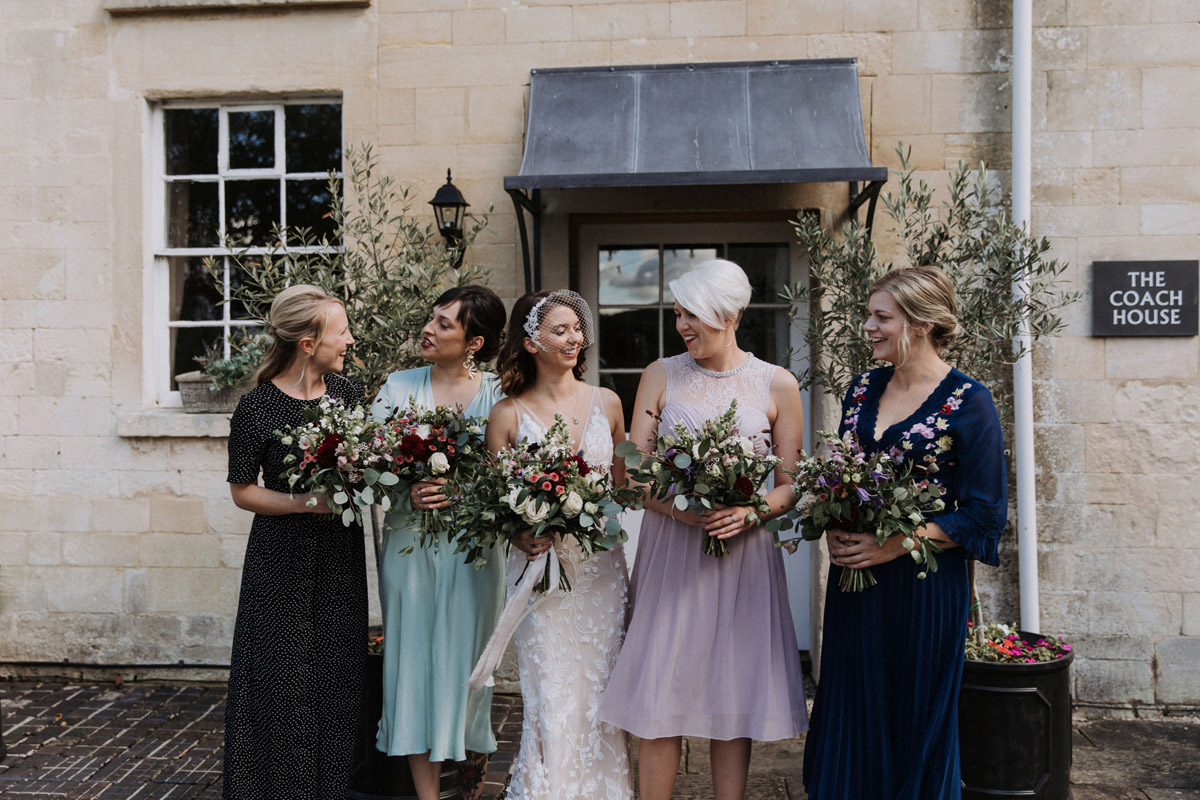 "Bath felt the perfect choice, as I've always found the regency architecture very romantic, plus it's conveniently placed for our friends and family."
"When we viewed the temple we both felt it was perfect. The building is beautiful, flooded with light and really well suited to smaller weddings."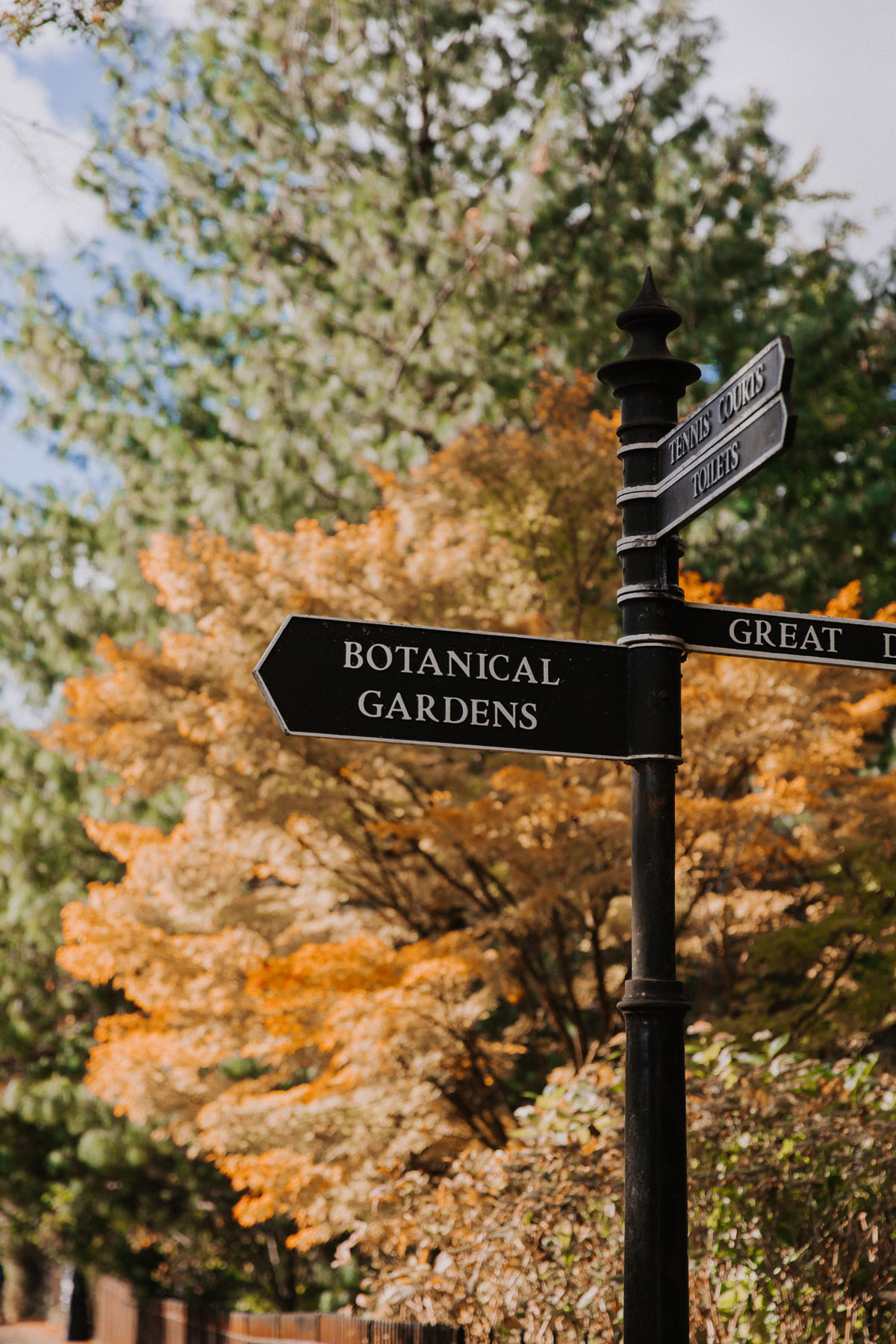 "We also loved the informality of the botanical gardens setting. It meant we could have a relaxed wedding and reception, before strolling over to our hotel for dinner as a married couple that evening."
"We chose the temple because we love Georgian architecture and the natural park setting – for me, this meant I was free to keep décor simple. It was just about enhancing what was already there. This made other choices easier too, like having an afternoon tea, a string trio and a floral lace dress. They all just made sense together."
"We had a wonderful string trio who played for the ceremony and into the afternoon. They even learned Home by Edward Sharpe and the Magnetic Zeros for when I walked down the aisle – a favourite song of ours."
"That was very moving and definitely one of the most special moments of the day for me and Ben."
"Ben and I met on Tinder a few years ago. We were both living in Bristol and got on really well from the start. We had lots in common too, like going out, good food and music."
"Ben proposed while we were on a 3-week road trip around America in December 2018. We were in Texas at the time and he proposed in Enchanted Rock nature reserve. He found a beautiful, secluded spot overlooking miles of unspoilt countryside."
"Ben had sourced a beautiful piece of sapele wood and carved it into an engagement ring. He used this to propose and then a few weeks later we went to the Isle of Wight together to pick out our rings at my favourite independent jeweller, RUST."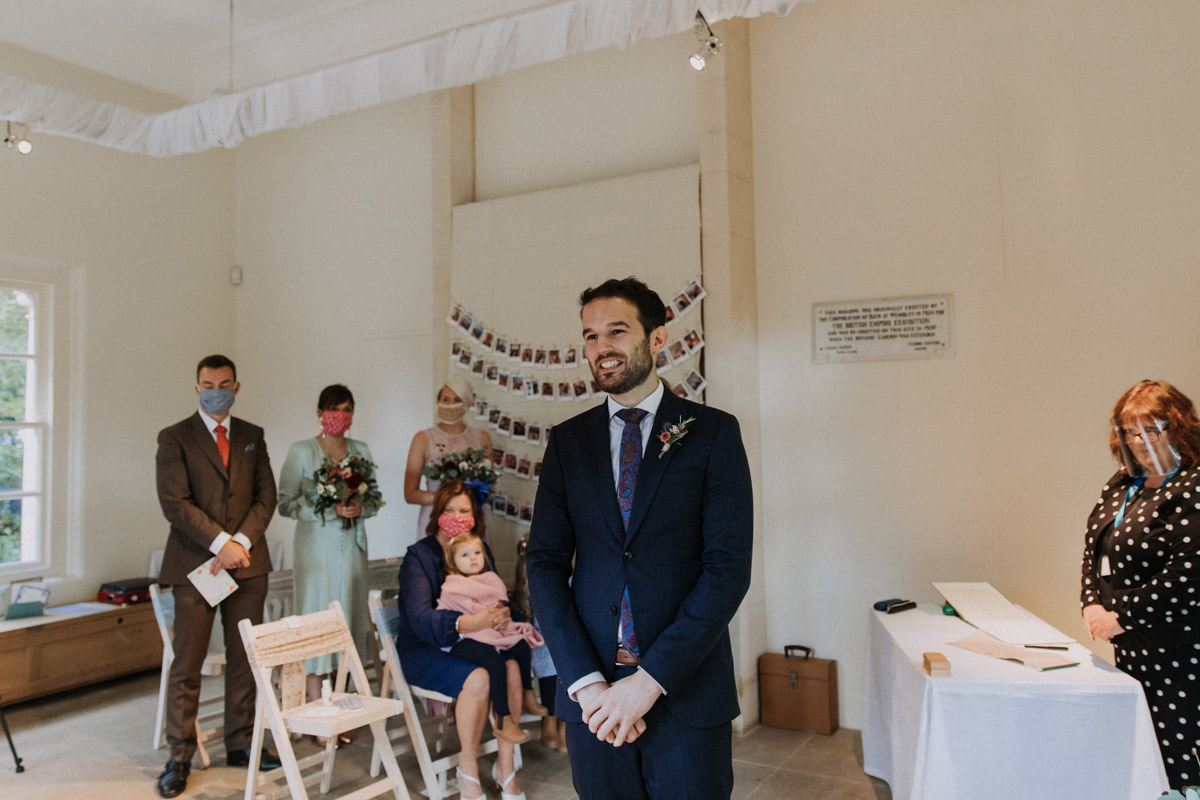 "I've admired their creations for years and ended up picking out a ring that I'd had on my (not so secret) wedding Pinterest board since I was at university."
"It felt very special to finally be able to wear that design as my engagement ring."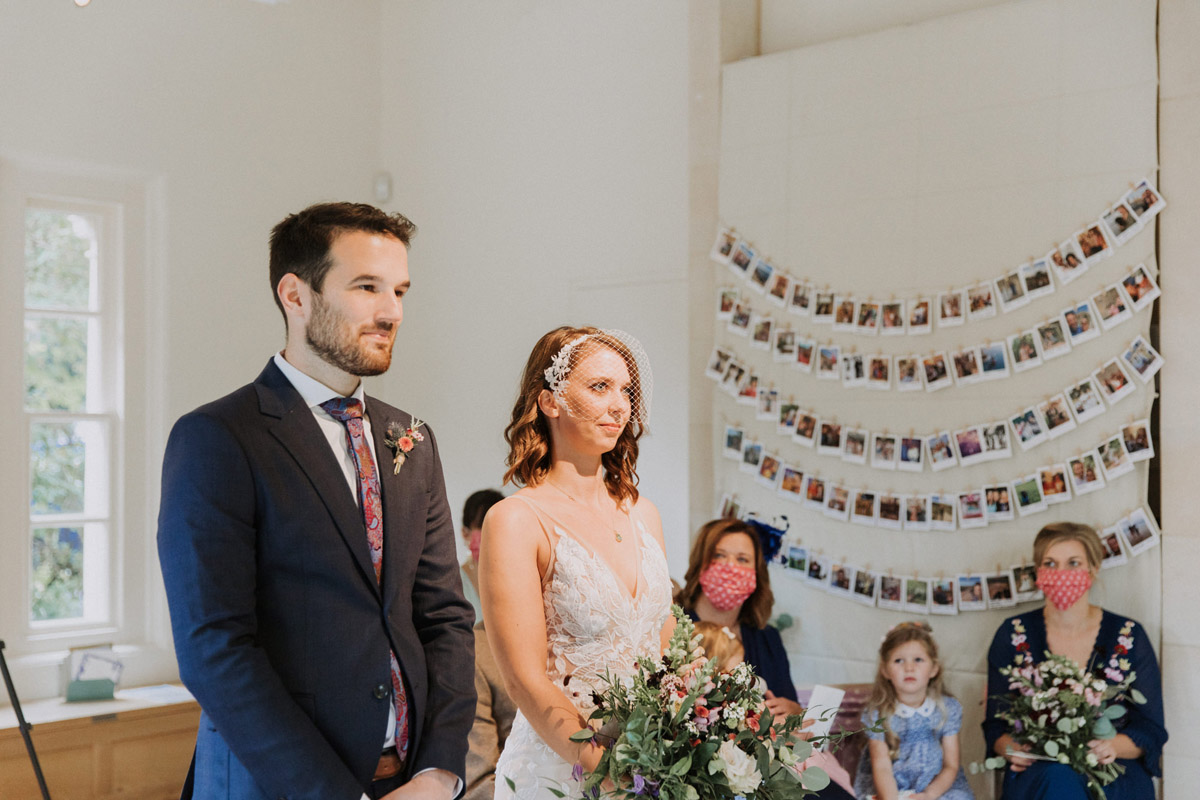 "While we were there, we also picked out our wedding rings, so they're all from an independent, ethical jeweller."
"I found picking them at the same time really useful, as I was able to choose my engagement ring together, making sure they suited each other together as well as looking good individually."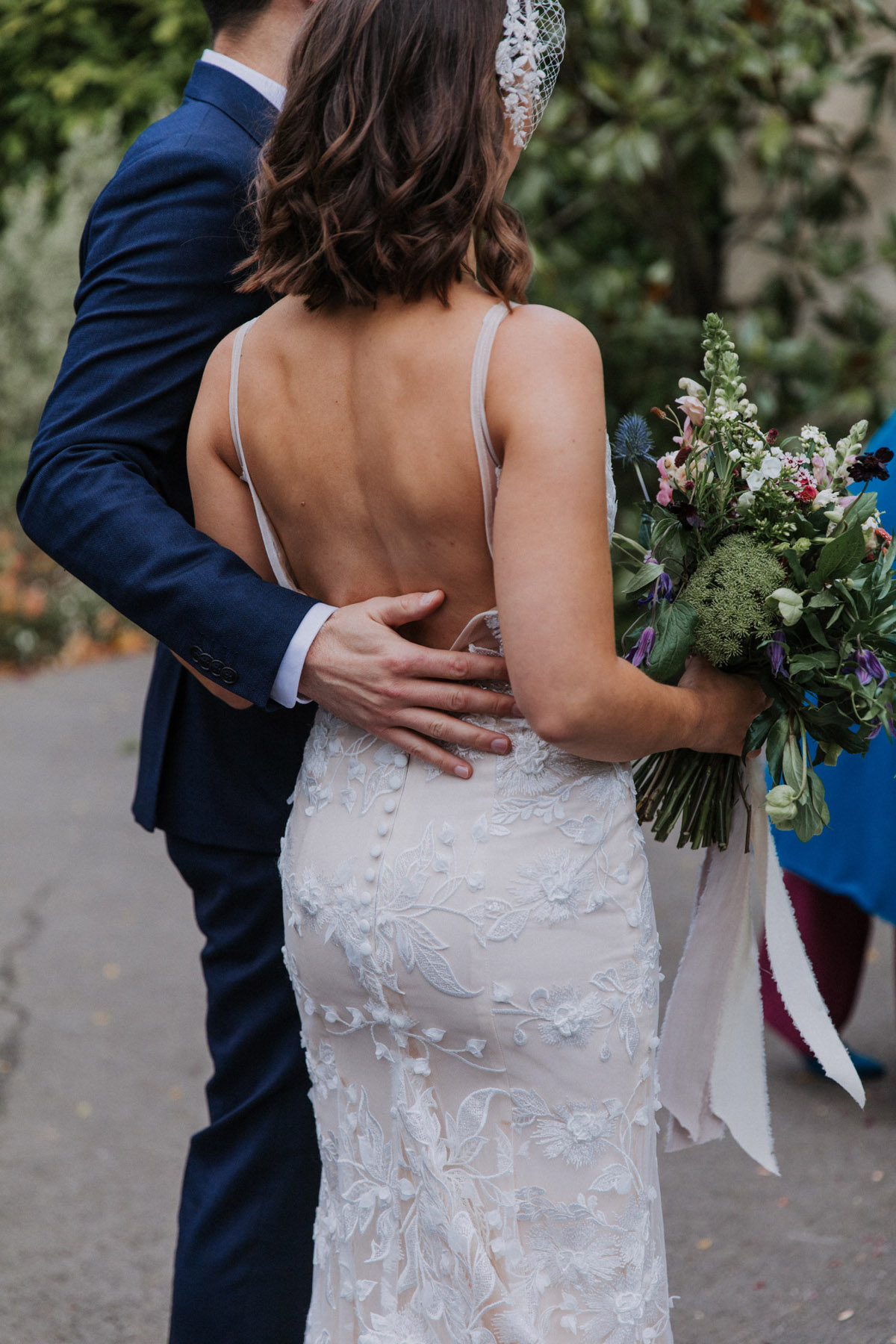 The couple pulled on the talents and passions of their family for multiple elements of their wedding day. As well as hiring her sister to provide the flowers, "….the other bridesmaids were fab too – Bertie curated the wines for us and Abi did my make-up. Ben's mum also baked the cake. It was so lovely to be able to draw on people's talents and involve as many people as possible in the day."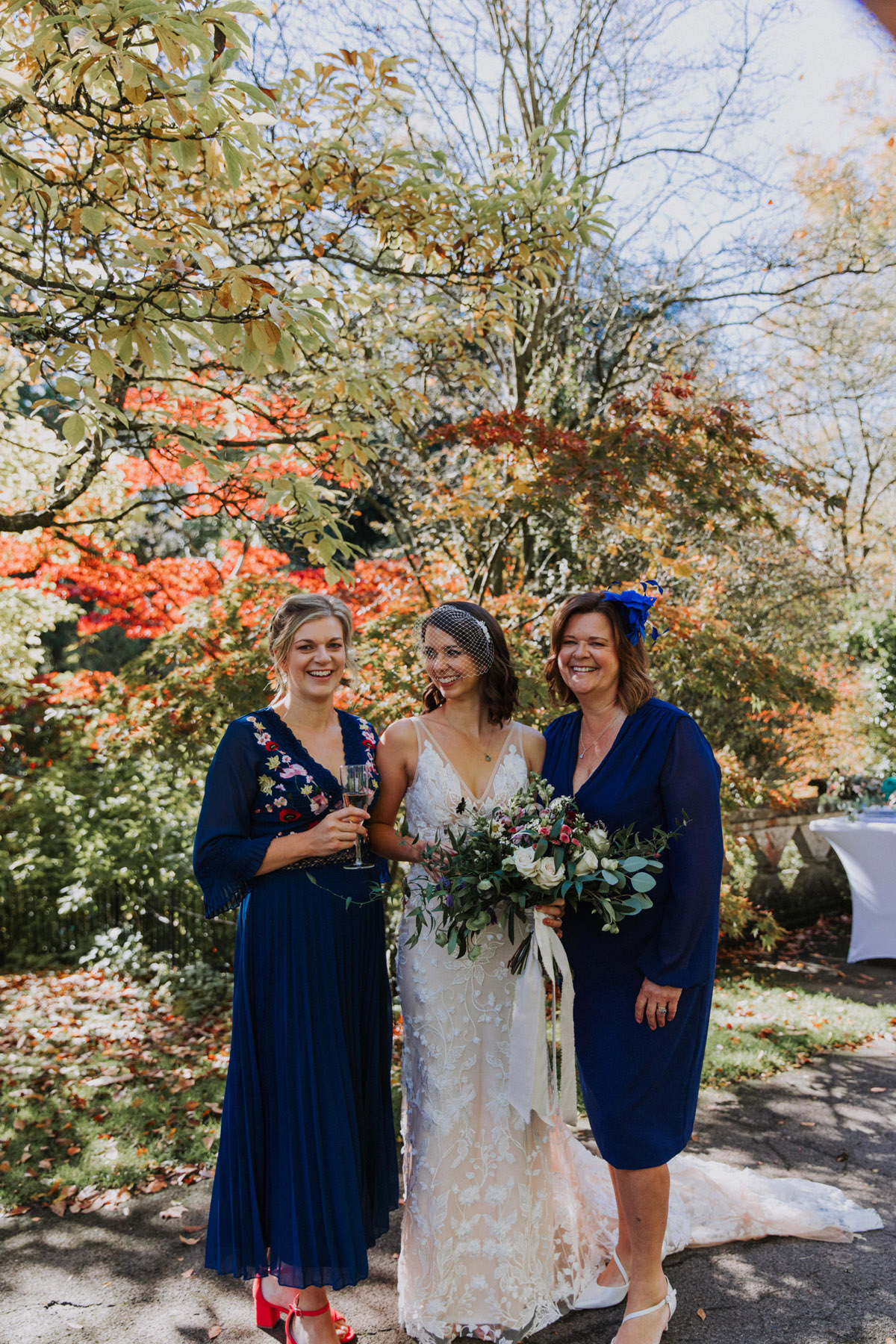 "Being an afternoon event, the time absolutely flew by so there was little need for entertainment. That said, I was determined to have live music as I think it creates a special atmosphere."
"We had a wonderful string trio, Reflection Strings, who played for the ceremony and into the afternoon."
"They even learned Home by Edward Sharpe and the Magnetic Zeros for when I walked down the aisle – a favourite song of ours."
"That was very moving and definitely one of the most special moments of the day for me and Ben."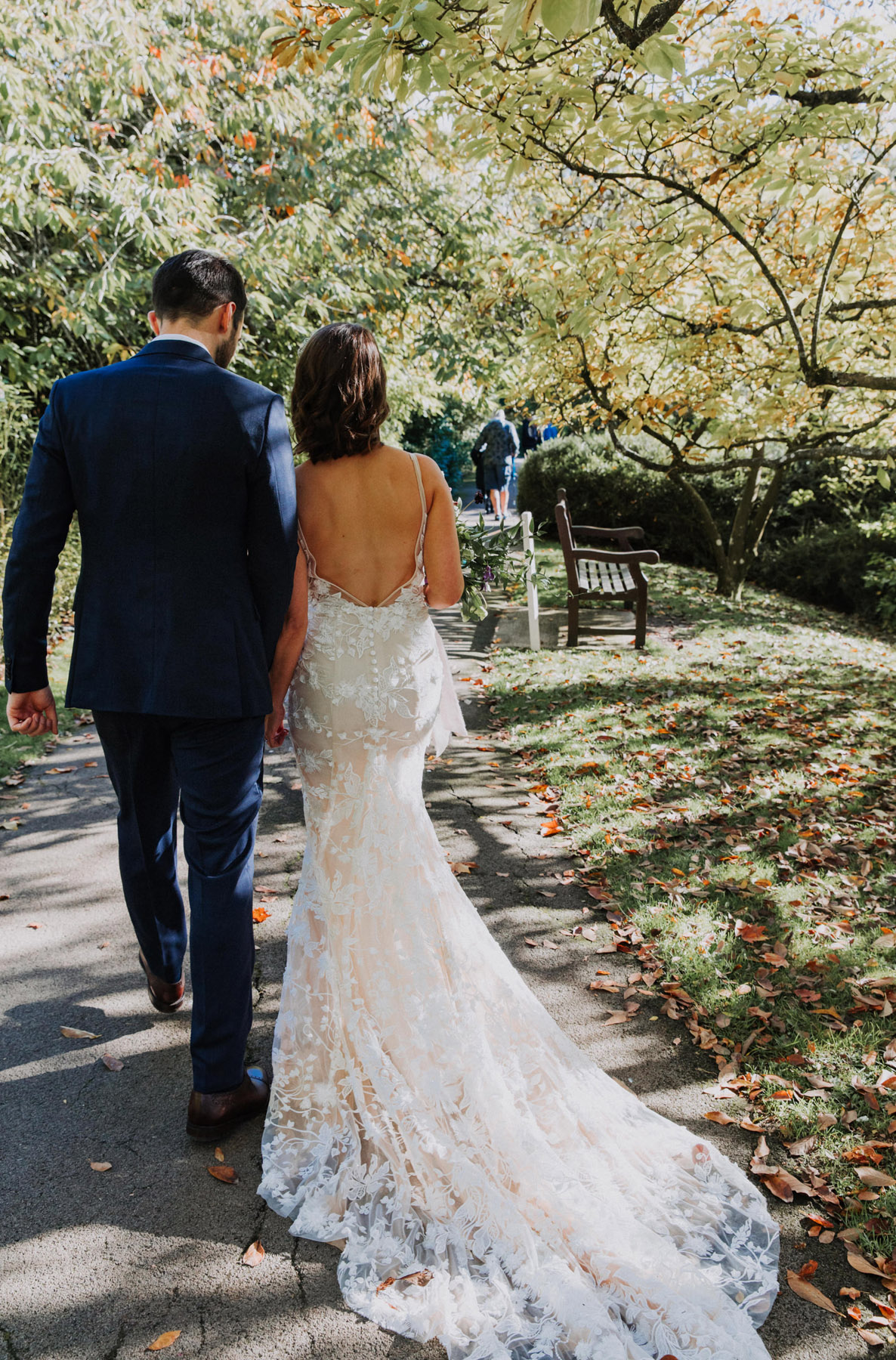 After their ceremony and photographs, the couple made their way to The Temple for a reception.
"We chose the temple because we love Georgian architecture and the natural park setting – for me, this meant I was free to keep décor simple. It was just about enhancing what was already there."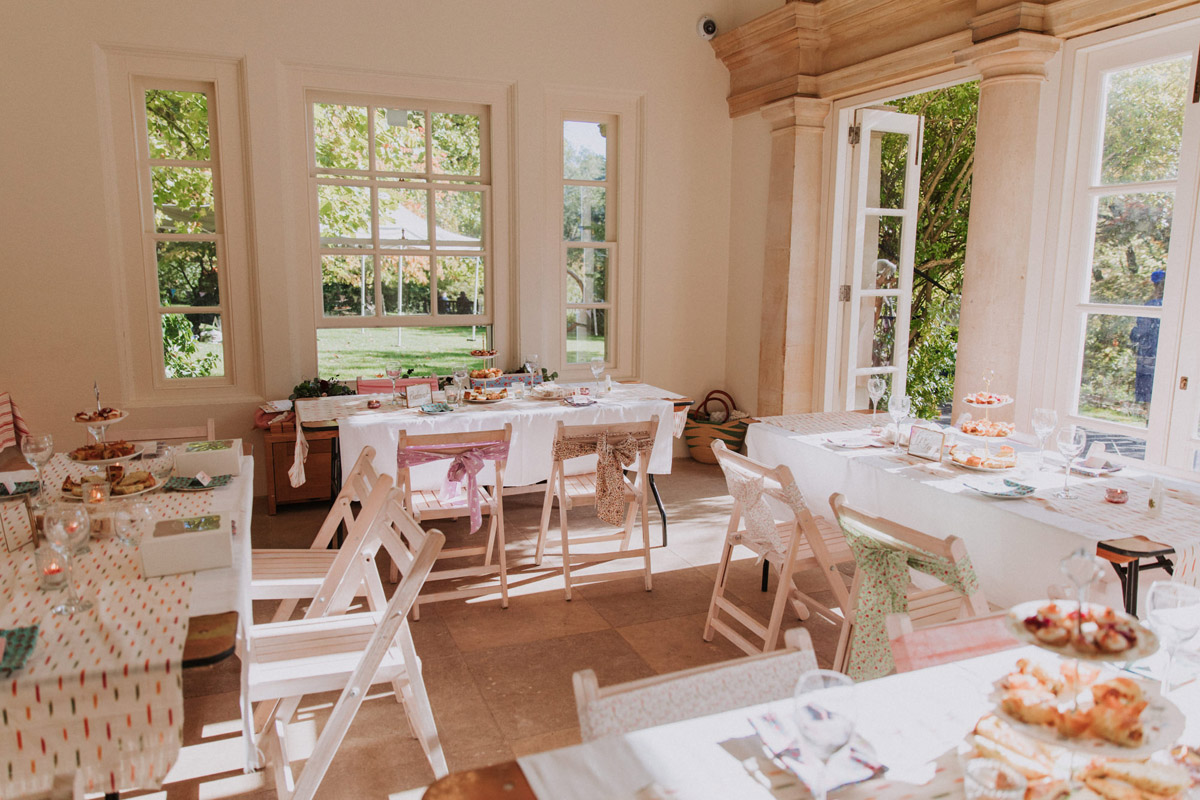 "Ben and I met and live in Bristol, so we named our tables after the boroughs that we've lived in. I added fun and colour to the tables by making napkins and table runners our of block-printed fabric sourced on Etsy."
"For the afternoon tea, we switched to our record player and favourite records, which all held sentimental value and created the perfect playlist."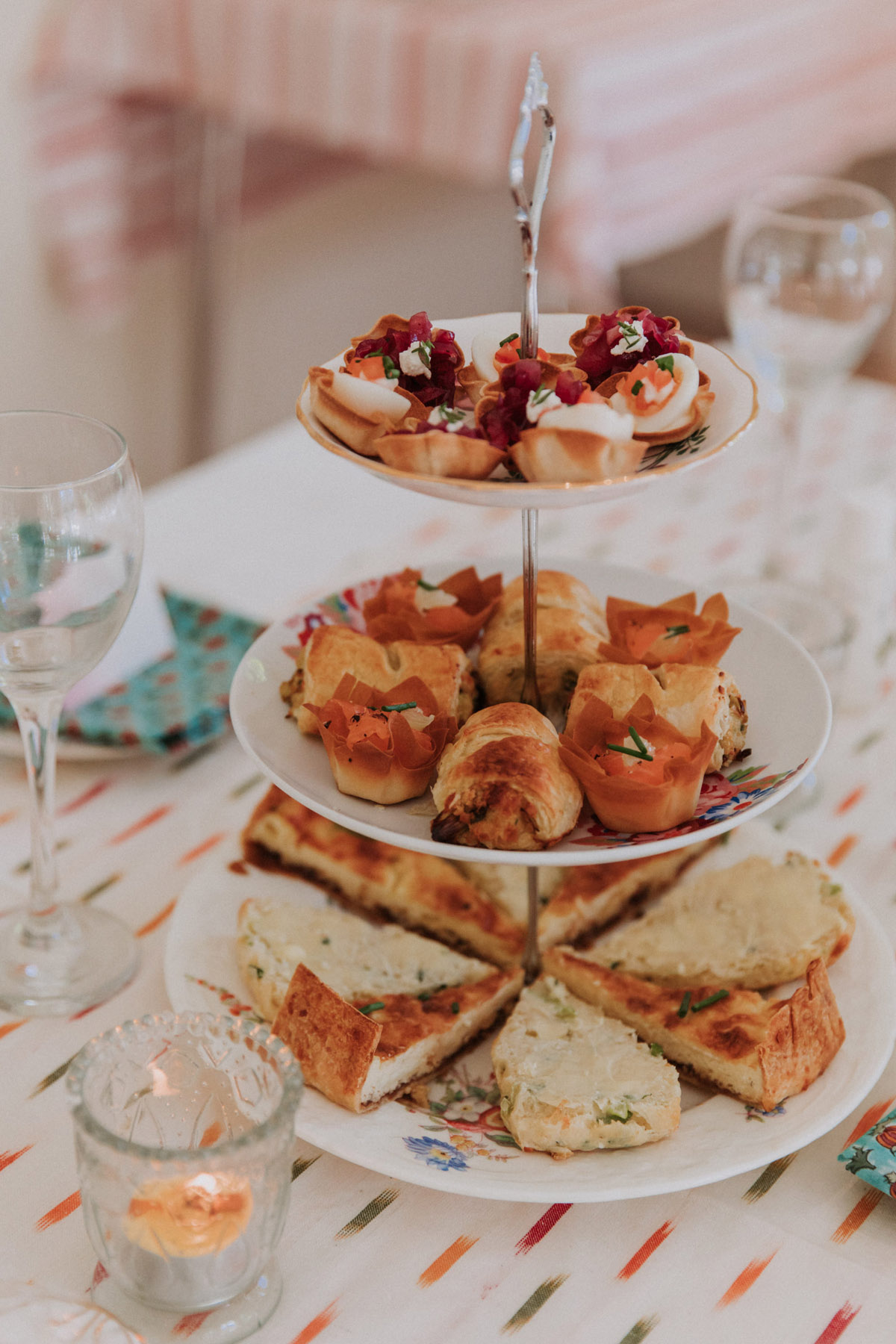 "We filled a wall of the temple with polaroid photos taken over the last few years. This was a great way to show everything we've done as a couple, as well as include all our friends and family who couldn't be there in person."
"It was a fun talking point for guests too."
"We kept favours simple. Given the pandemic, each guest received a Woven Riches mask and Bramley hand sanitiser when they arrived. As well as a beautifully printed order of the day, which I designed in Papier."
"This made me really happy, as we'd planned the wedding at such short notice, we hadn't sent out printed invitations, so this was a way of giving everyone a printed memento of the day."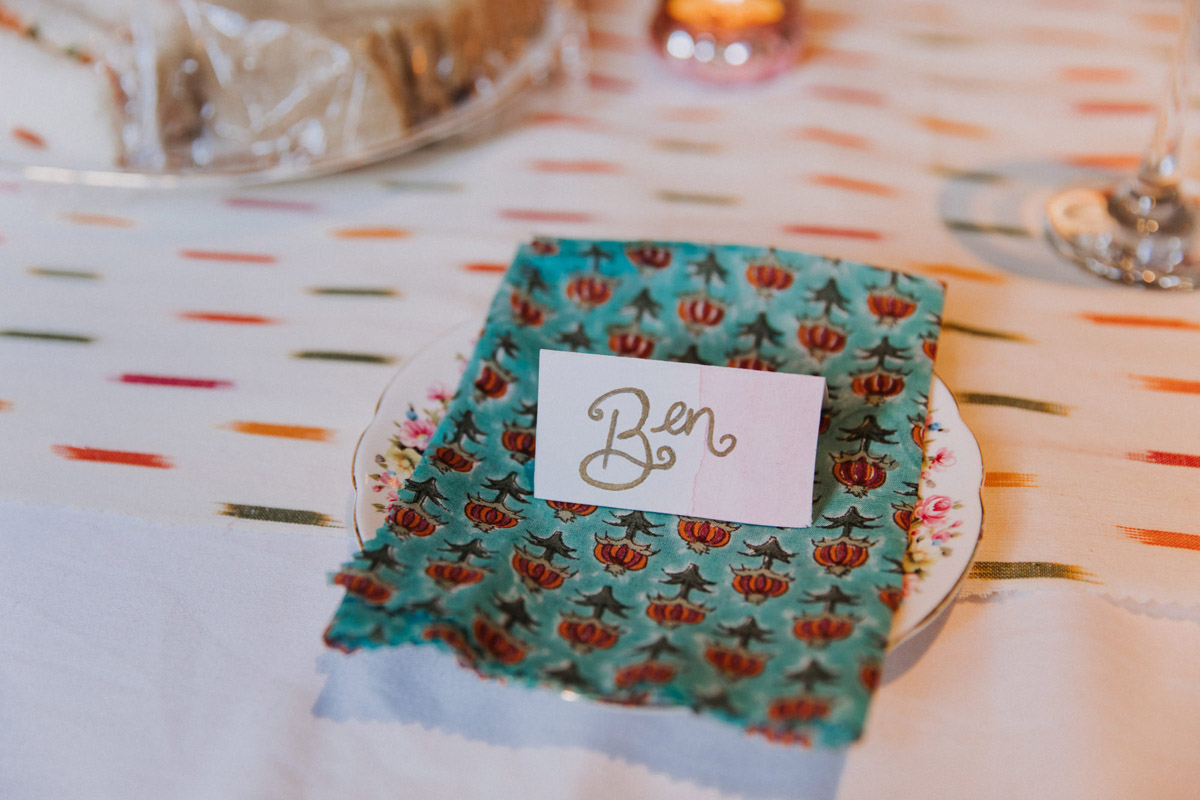 "Because of covid, our ceremony had to be kept quite simple and we didn't have personal vows. To compensate for this, both Ben and I did a speech at the reception."
"As well as thanking people, we spoke at length about each other. It ended up working really well, as we were able to set our own tone and structured to the words we shared."
"I also loved being able to ask everyone to raise a glass to my husband that day."
"We worked closely with our wonderful photographer, Siobhan Amy, who did a fantastic job throughout the day."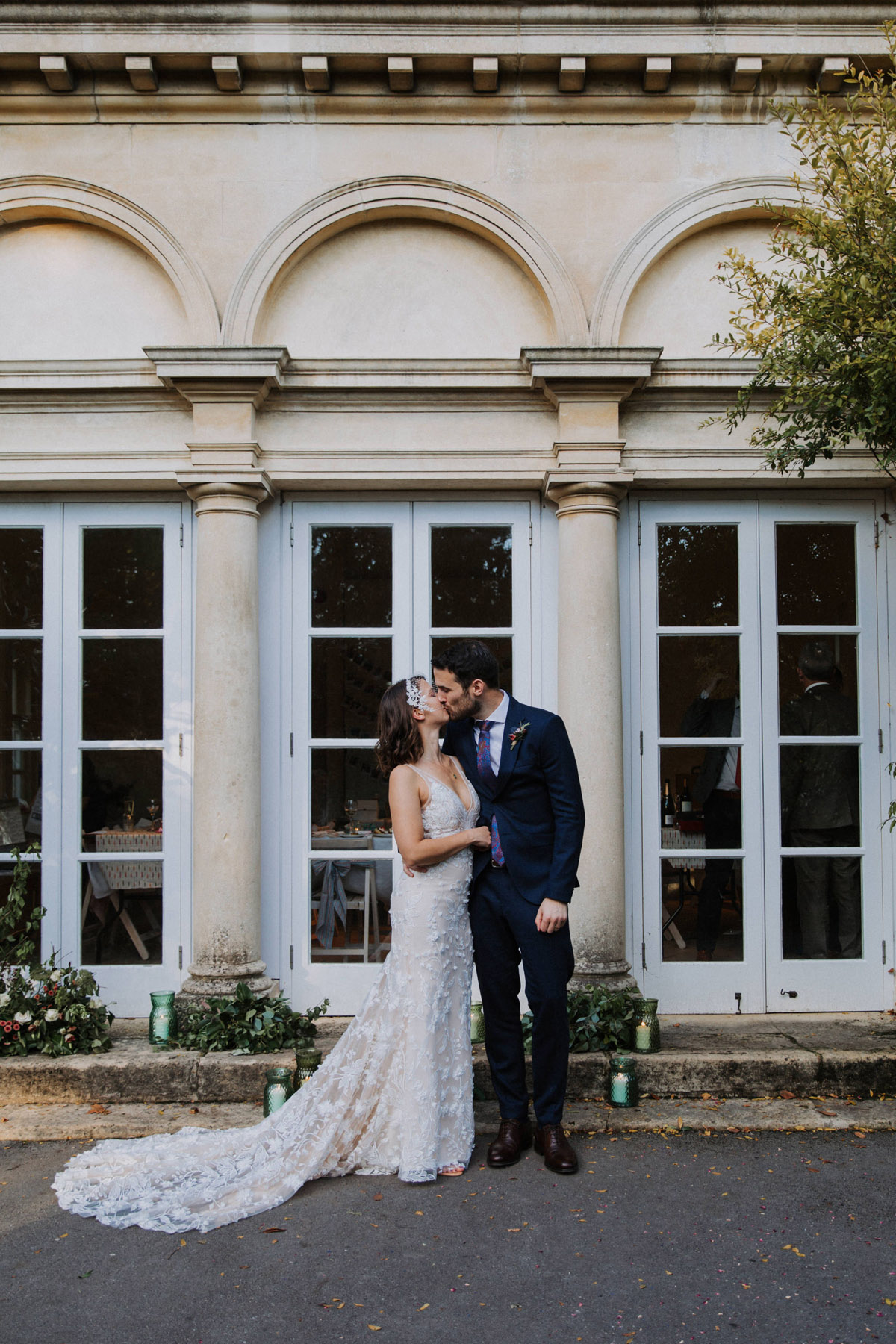 "We felt super lucky with the weather – despite being October, we had beautiful sunshine and it was warm all afternoon. Being in a park, the light looked beautiful against the autumnal leaves and streaming through the windows of the temple. It helped create such a sense of celebration and Siobhan captured the atmosphere beautifully."
"We are very lucky to have talented friends and family who we asked to be involved in the day. My sister owns Belle & Bea Floral Design, so she was a natural choice for the flowers."
"We worked closely to create something personal and in keeping with the autumnal garden setting."
"Ben wore a classic navy wool suit from Tiger of Sweden. He and the groomsmen spent the day in Bath picking out their ties, so that they'd be coordinated, which helped tie things together."
"He also worked with my sister on the buttonhole, choosing a thistle as a nod to his Scottish heritage."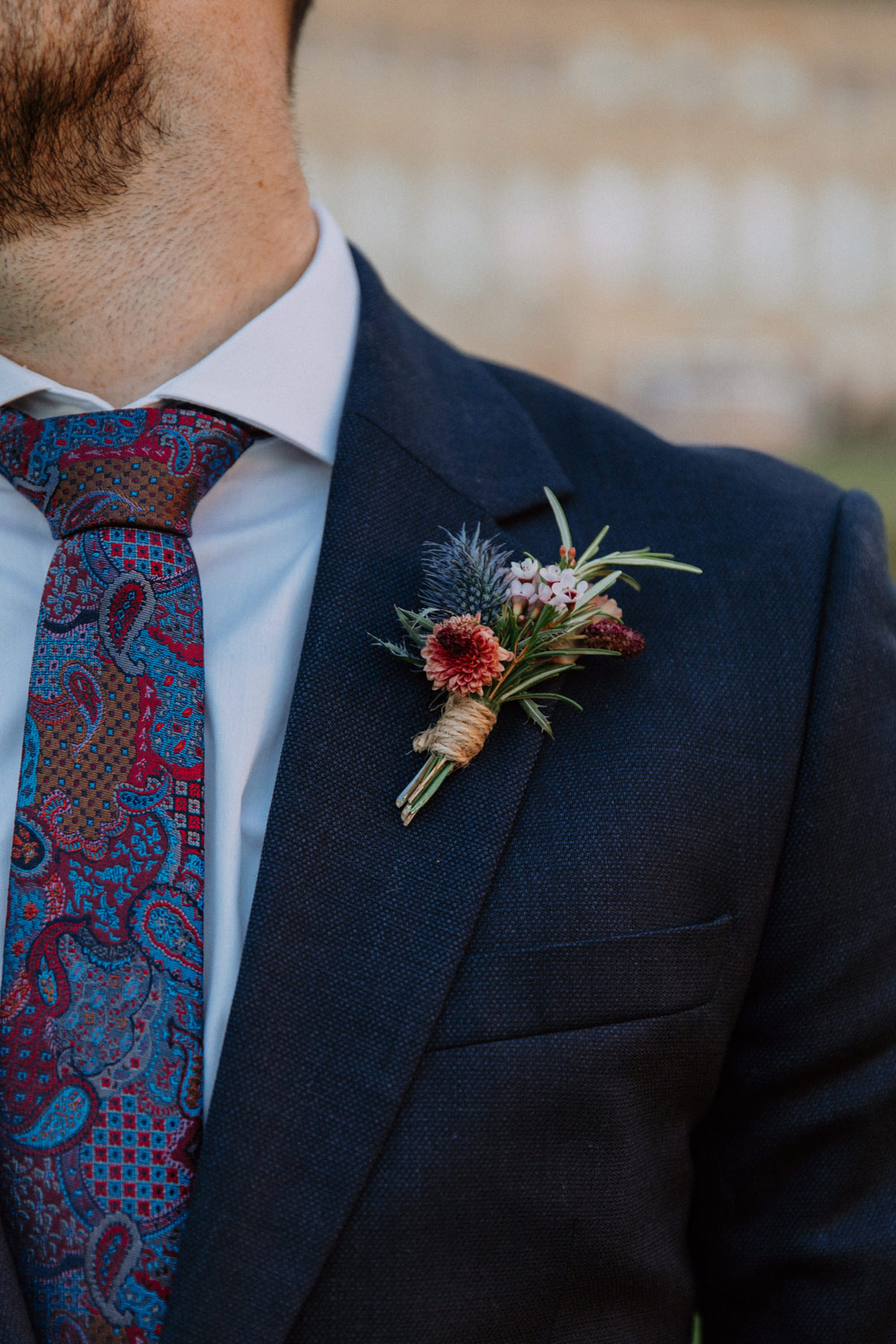 "The best bit was at the end of the reception, when the three of us walked from the park, across Bath to The Royal Crescent Hotel."
"We timed it to coincide with golden hour, so that Siobhan could capture some autumnal city shots of us en route. It was great fun strolling across the city together and the photos ended up being fantastic."
Words of Wedded Wisdom
"Be willing to adapt. Ben and I ended up having to replan our wedding three times, but our willingness to adapt led us to have the perfect day. We focused on what felt important to us and let the noise of everything else fade away."
"Although it wasn't what we initially planned, we wouldn't change our wedding day for anything."
"Our final budget was approximately £10k. Our previous/original budget had been £25k, but the day ended up being much more affordable because of guest list restrictions."
"For our evening dinner at the hotel, I switched to a floral Vampire's Wife mini dress. I felt a wedding gown in a restaurant might be a bit much, but I still wanted the dress to feel special, so I treated myself."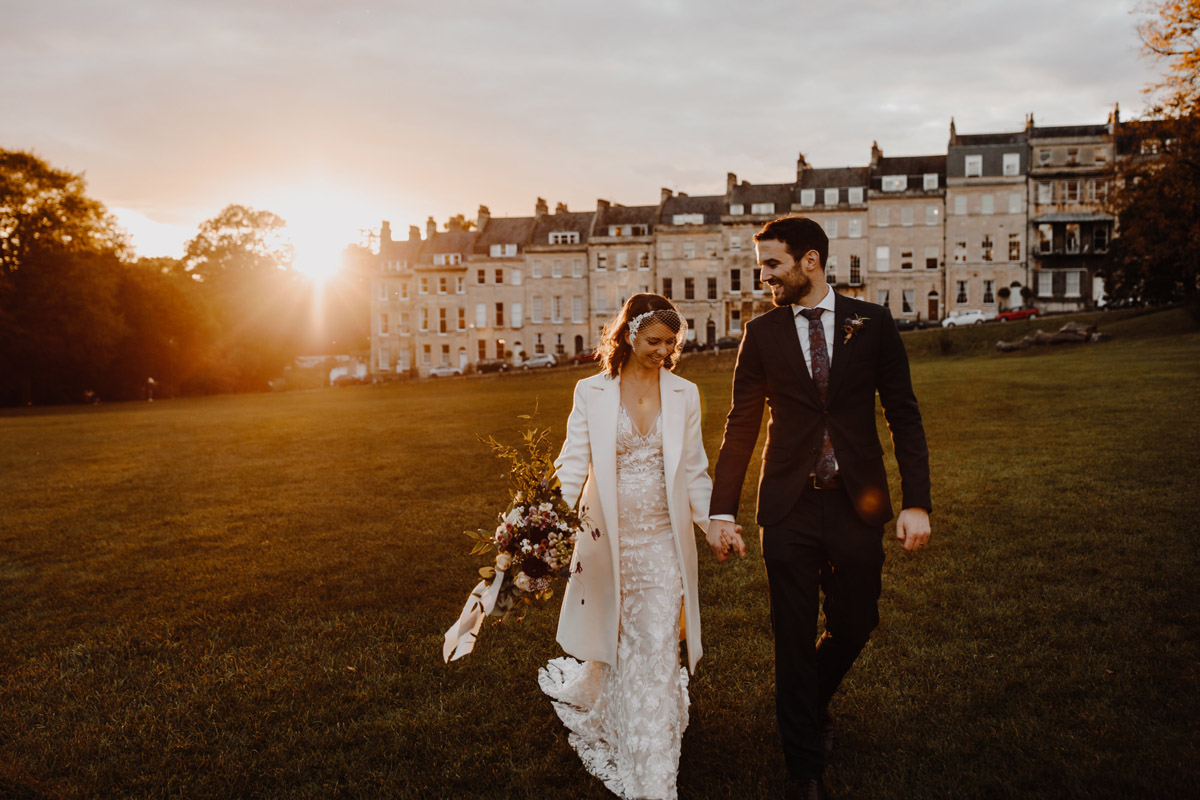 You can see more brides wearing Made With Love here on Love My Dress, and more botanical inspired weddings here.