It's always lovely to see when a building or a place is re-purposed as an events space, and given a new, vibrant lease of life.
That's exactly what happened to the venue we're heading to today; once a livery farm on the historic Tatton Estate in Cheshire, and now converted into a fun and flexible space in which to hold an epic wedding celebration.
On the 16 November 2019, Emma, a University Administrator at Manchester Metropolitan University, and Steve, a Digital Analyst for Autotrader were married at Stock Farm, near Knutsford in Cheshire. Right from the beginning of their planning, Emma and Steve knew they wanted an autumn wedding, and put seasonal colour and natural beauty at the heart of their day.
Let's set the scene with a lovely film by the couple's excellent photographer and videographer, Caroline Goosey.
Louise Kelly from Make You Up took care of Emma's hair and make-up, and in her loosely waved hair, she wore a bespoke headband with a delicate birdcage veil by Nicola of Silver Sixpence in Her Shoe.
"When I met with Nicola for my first consultation, she showed me some new styles she had been working on – embellished headbands. I tried one on, and we knew that it was the perfect style for me."
"We soon decided to combine the headband (to be embellished with pearls of ivory, rose gold and copper) with a birdcage veil. I was so over the moon with the finished product, and I love that I have a headpiece that was personally made with such passion by Nicola, and totally bespoke for me."
At The White Closet in Didsbury, Emma discovered her breathtakingly beautiful Charlie Brear dress. The texture of the fabric, with its minute series of pleats, is known as plisse. It draped beautifully down the three-quarter length sleeves, the simple high neckline leading round to the elegantly draped cowl back.
Emma accented her dress with a pearl belt by Charlie Brear, and a pearl bracelet from Oliver Bonas.
"The White Closet was the first boutique I visited, and the first dress I tried on was the one! Millie and her team made it the most perfect experience for me with their warmth, friendliness, and impeccable attention to detail. Each dress I tried on was so carefully pinned in to the point where you would have thought I'd put on a perfectly fitted dress."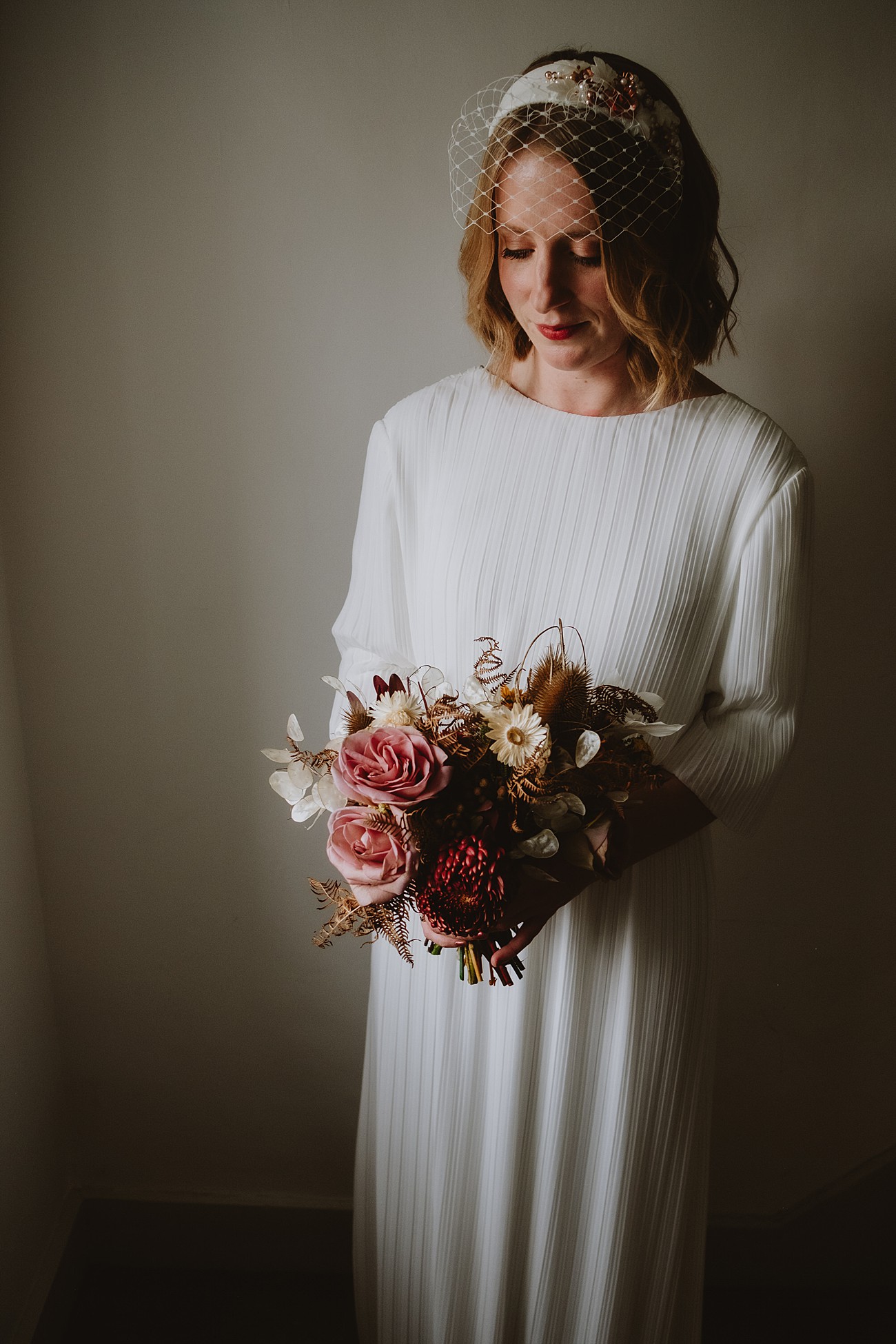 "They were so knowledgeable on accessorising, and would quickly change the style of a dress to suit me by adding a belt, clipping in a hair vine, or adding a delicate over top."
"I never felt rushed; I felt they had all the time in the world purely devoted to finding my perfect dress – which I did! I would wholly recommend The White Closet."
Emma's shoes were silver and rose gold open-toe heels from Nine West, and for perfume, Steve gifted her a new bottle of her favourite scent, Chanel Eau Fraiche.
"Before I went dress shopping, I had no idea what I wanted – I only knew what I didn't want! I was attracted to Charlie Brear's dresses as soon as I saw them. They are modern, classy and not traditional, but still clearly wedding dresses, and as soon as I tried the first dress on I fell in love with it precisely for these reasons."
"What I absolutely loved most about my dress was the gorgeous low back, and the most beautiful pearl Charlie Brear belt – it made the look complete."
The couple held their ceremony inside the venue's warm and inviting barn, and Emma's bridesmaids made their way down the aisle first, each wearing a forest green velvet wrap dress from Costurero Real, worn with their own choice of gold shoes, and gold necklaces with shell and pearl pendants – a gift from Emma, which she found at Etsy shop LucindaElla.
"My dad walked me down the aisle to Comptine d'un autre été – L'après-midi, by Yann Tiersen. Steve has always loved this piece of music from the film Amélie, and had already decided he wanted me to walk down the aisle to this before he proposed!"
At the end of the aisle, Steve was waiting, wearing a smart three-piece suit in a navy blue check from Ben Sherman at Debenhams.
The ceremony was conducted by the registrar team from Cheshire East Council, and Emma and Steve made their vows, as well as giving one another rings to solidify their commitment.
Emma's ring was from Heather Stephens Jewellery, and Steve chose his at Goldsmiths.
"We knew straight away that we wanted I Wanna be Yours as one of our readings. We both love John Cooper Clarke, particularly his dry, deadpan, Mancunian humour – and this poem is one of our favourites. It also inspired our table names!"
"The lyrics to the Talking Heads song, This Must be the Place, I would say was more my choice."
"It's one of my favourite songs and we both thought the lyrics were perfect for a reading. I had to edit the words slightly to remove the 'Oohs' and the 'Aahs'! This reading also inspired our welcome sign,too."
As guests enjoyed glasses of fizz and canapes post ceremony, Emma and Steve took some time out together, just the two of them, to take in those just-married feelings.
"We met in February 2013 at a mutual friend's birthday party. Our first date was a couple of weeks laterm and the rest, they say, is history. After 2.5 years we bought our first house, and then in August 2018, whilst on holiday in Norway, Steve proposed."
"Having hiked up Mount Floyen in Bergen, he popped the question surrounded by the beautiful views of the harbour, fjords and forest. We knew we didn't want to wait too long for our big day, from booking our venue in September 2018, we were married 14 months later."
"Autumn is my favourite season, and its seasonal colours are definitely what inspired me for the style. In particular, dried flowers were a big inspiration for me, and this was definitely the 'theme', with colours of deep green, burgundy and ivory, as well as the wild textures of dried and fresh foliage."
When Emma met florist Grace from Studio Kado (formerly known as Maybe May Flower Studio) she knew she'd found just the person to create their bouquets and buttonholes, using a gorgeous mixture of fresh blooms like soft blush pink and ivory roses and deep red chrysanthemums, together with dried beauties like honesty, statice, teazles, and burnished fern leaves.
"I was absolutely over the moon with the bouquets and buttonholes, and I love that I have been able to keep all the dried elements of my bouquet, which is still sitting proudly in front of our fireplace."
"I knew from the beginning of planning that dried flowers were going to be a big part of the decoration, I love the colours and it was the perfect time of year for them. Myself, my mum and grandma began collecting and drying flowers and grasses in the summer, which made up the bunches for the chairs, tables and signs."
"A lot of these were sourced from our own and friends' back gardens, as well as anywhere else we could find them. Amongst the dried flowers, we incorporated fresh eucalyptus and gypsophila from Triangle Nursery, and Morrisons and Sainsbury's!"
"When we visited Caroline Goosey's website, we immediately loved her style – very natural, strong colours, and full of emotion."
"Once we had a phone conversation with her we knew we wanted to go with her. She seemed very much like us, was laid back, and her documentary style suited us down to the ground."
"Caroline describes herself as a photography ninja, and I have to agree! She was so discreet we hardly noticed her (in the best possible way!) and she made us feel so comfortable when we had our couples shoot."
"Caroline was also our videographer, but we never knew when she flicked from photo to video, and it resulted in the most wonderful, natural photos and video."
"We love watching the video, it takes us right back – she captured all the joy and love we felt on the day. We highly recommend Caroline, she's just wonderful!"
Invitations were designed by Emma's cousin Rob Jenkins, and printed at E.E Chrisp Letterpress. All other on-the-day signage was handwritten onto chalkboards by Emma.
"The idea that on our wedding day, the grounds would purely host ourselves and our wedding guests was a real draw, as well as the opportunity to rent the farmhouse for the weekend with our close family and friends."
"The barn was a huge space and a blank canvas for us to get creative – it was perfect for the size of our party and the ceilidh we were planning!"
On the tables, there were posies of dried flowers, trailing garlands of fresh eucalyptus, and softly flickering pillar candles. There was more atmospheric lighting, with fairylights provided by Hipswing.
"Instead of individual wedding favours, we had a sweetie table with retro sweetie bags for our guests to fill to their heart's content – and it all went!"
"Stock Farm was the very first venue we saw, and we fell in love with it immediately. We loved how secluded it felt surrounded by beautiful countryside, with rustic stables and an eighteenth century farmhouse."
Olive Tree Catering made a delicious wedding feast, and Steve's talented mum Heather baked their three-tier cake, with two layers of chocolate and one of lemon.
"When it came to the icing, my brother-in-law took the reins! We wanted a naked icing style, and he did a brilliant job. I decorated the cake with rosemary and eucalyptus from our garden, and it was topped with one of my bunches of dried flowers and fresh eucalyptus in a small silver vessel, which had come from my mum and dad's own wedding cake. Safe to say, our wedding cake was certainly a family affair!"
After the cake cutting, Emma, Steve and their guests went outside to light sparklers in the crisp, autumn evening air, before making their way back inside the barn to the dancefloor for the first dance, followed by live music from ceilidh band Triple Scotch.
"Our first dance was to John Grant – GMF. We are both big fans of John Grant, and we knew before we were even engaged that if it were ever to happen, that this would be our first dance song!"
"It's very difficult to pin down a particular favourite part because we had the best day from start to finish, but if I were to choose it would probably be the ceilidh in the evening."
"It was our moment to let loose, and have an absolute ball with all our friends and family!"
Words of Wedded Wisdom
"Stick to your guns and trust your own ideas. Enjoy every moment of the planning, as the day will go in such a flash. I made a pact with myself that by the evening before the wedding, not to worry about anything, as there was nothing we could do about it by that point anyway – then we could just relax and enjoy the weekend with our family and friends, which we certainly did."
"Trust your suppliers and venue on the day. If anything went wrong on the day we had no idea! Don't waste your time worrying!"
Emma and Steve, thank you so much. What a lovely venue you chose in Stock Farm – just perfect for a cosy, autumnal celebration. Many thanks to Caroline Goosey for these wonderful images and super film.
Lots of love,
Laura