I'm just head over heels for today's lovely, intimate celebration, which took place at the coolest mid century modern house and walled garden.
There are beautiful autumn colours here aplenty, and a super stylish bride rocking a long skirt and jacket combination, too. Join me for the wedding of Rachel, who runs an online book subscription service, and MJ, an agency account director.
Rachel looked incredible in an ankle-skimming polka dot chiffon skirt with the perfect amount of swish by Charlie Brear, chosen at Edinburgh bridal boutique Olive Jones. Realising that she would need something to keep warm, Rachel ordered a white tailored jacket from Whistles via John Lewis a week before the wedding, and wore shoes from ASOS.
Solen Photography

+ Follow
"Olive Jones is near to where I live, and where one of my best mates had bought her dress from. The owner Rachel is great, and was totally unfazed when I turned up for my appointment alone and announced I didn't want to look like a bride. My biggest fear was that I'd feel like I was playing dress up, but in the end Rachel helped me find an outfit that felt good."
"I wanted something fun to wear and easy to dance in – in the end there wasn't a dancefloor but the outfit was extremely easy to wear and comfortable too. The skirt was actually a lot longer, but on the first fitting we decided to hack off the length so it rested above my ankle to make it easier to move."
The couple were married on the 3rd October 2020 at Leuchie Walled Garden in North Berwick, Scotland. This architecturally spectacular modernist house is set within 5 acres of walled garden.
"We met at work and were good friends for a year before we started dating. Seven years after that we got engaged over a slice of pizza, and two years later we were saying 'I do'."
Due to the COVID-19 pandemic, Rachel and MJ's original wedding date was cancelled with three weeks to go, and the couple rethought their plans and looked around for an alternative venue.
"It sucked but at the same time the pandemic was a lot bigger than us, and so we didn't despair. We honestly thought we'd be in for a few rough months, push everything back and jut pick up where we left off towards the end of 2020. Our suppliers all agreed to let us change the date so we felt like we had nothing to worry about."
"By August it was clear that though we could get married we were a long way off from throwing the party we had originally planned. We were gutted not to be able to have a big celebration with our friends, but in all honesty we couldn't really be bothered moving it for a second time – we just wanted to get married. We decided to go ahead with the rescheduled date as planned and pivot to a micro-wedding with our immediate families – our parents and siblings."
"We wanted a house where my family could stay (who had come from Toronto) with a garden so we could do the ceremony and most of the day outdoors. I found it completely by chance while I was searching for a place my family could stay while they were here. It was the first and only place we looked at. The house and grounds were absolutely amazing and the owners were so kind and generous with us. North Berwick was already a location we knew and loved – it was almost like we planned it!"
MJ's super smart ensemble – tartan suit, navy blue shirt and tie, and dark brown brogues were all from Paul Smith, which Rachel says was his only non-negotiable about the whole day – and that she had never seen someone enjoy a shopping trip more!
Rachel's Maid of Honour was her sister Christine, who wore a vintage dress that she discovered in a vintage clothing store in her hometown of Toronto.
"There's a bit of a funny story to this dress – she didn't check the price tag until after she had it on. When she apologetically told the store owner that it was way out of her budget, the owner insisted. She asked my sister what the most she could pay for it was, and then gave it to her for that price because she said the dress was made for her."
Florist Aoife from Feather Grass Florals wove the most enchanting autumnal spell over the venue space, with glorious arrangements filled with beautiful texture from pampas grass and dried leaves, and jewel toned dahlias and roses (to name just a few).
"Her flowers really set the scene. On the day she also used some flowers and greenery from the grounds at the house, which we all loved – it added an extra special layer of meaning to her already gorgeous arrangements." 
As they were a small group, Rachel and MJ decided not to walk down the aisle, but relaxed with their loved ones until it was time to begin the ceremony, which was conducted by Humanist celebrant Susan Mathieson. The couple didn't write their own vows as they didn't want the added pressure of saying them out loud, but beforehand had written the ceremony, to which they included all the heartfelt words they wanted to say, expertly delivered by Susan.
"Susan was just great – a really lovely person who just got it. We wanted a ceremony that was meaningful but not over emotional. One of the best parts about choosing a Humanist ceremony is we could decide exactly what we wanted to say and how we wanted to say it. This worked brilliantly – Susan said it all on our behalf and we could just relax and enjoy the moment. We focused the ceremony on our families and how the people who were there to witness us getting married were the people who embody all the qualities we wanted to bring with us into our marriage."
The ceremony also included a short and funny 'blessing', courtesy of Ogden Nash, and the exchanging of rings. To complement her antique engagement ring, Rachel took jewellery belonging to her mother and grandmother to Moira Patience, who designed a bespoke wedding band incorporating diamonds and gold from the heirloom pieces. MJ's ring was chosen at a jeweller local to the couple, Annie Smith Jewellery Studio.
"Working with Moira was so much fun, and I love that I now carry around a little piece of my mum and her mum with me wherever I go."
"Figuring out how to make sure we were Covid secure took a bit of careful planning but otherwise it was fine. We came up with a schedule to make sure all the vendors could be socially distanced and everyone have as little interaction as possible. We did the ceremony outdoors, wore masks indoors and had a one-way system through the house."
"When my family arrived from Canada they had to self-isolate for 14 days, we joined them so we could bubble into one household, which felt much more like a family holiday than a quarantine in the end. We stayed almost completely isolated until the wedding day and our other guests also made sure to completely limit their contacts in advance. By the time the wedding arrived we felt like we had done everything in our power to make sure everyone there would be safe and comfortable and so everything was fine."
Planner and event designer Carrie from Union worked closely with Rachel and MJ to create not one, but two weddings after the first date was cancelled. Her calm and supportive presence was so appreciated in those difficult moments, and she organised the couple's Walled Garden wedding in record time.
"It was very easy to leave everything in her hands. She found the venue and all the suppliers and helped us plan a wedding we were genuinely excited to be attending. Then with three weeks to go, Covid hit and it all imploded; we tentatively pushed the wedding back to October 2020 and waited for everything to blow over (ha!)."
"Carrie was totally unflappable. When we figured out the party wasn't going to happen, we scrapped the whole thing and decided to get married in the back garden of a rented house with just our immediate families present."
"With not a lot of time to spare she got everyone and everything organised and pulled together what we joked was the poshest dinner party any of us will ever go to. There are not enough words to describe how wonderful Carrie is – she truly made it possible for us to be guests at our own wedding."
"The most stressful part of the whole thing was the two weeks before the October date. The rules were changing quickly and we listened to every update with a sense of dread – by biggest fear was that my family wouldn't get here from Canada."
"We agreed early on that this was ultimately the only thing we cared about; if my family were able to get on that airplane we could roll with everything else, even if it meant we had to get married in a registry office and order in a pizza afterwards."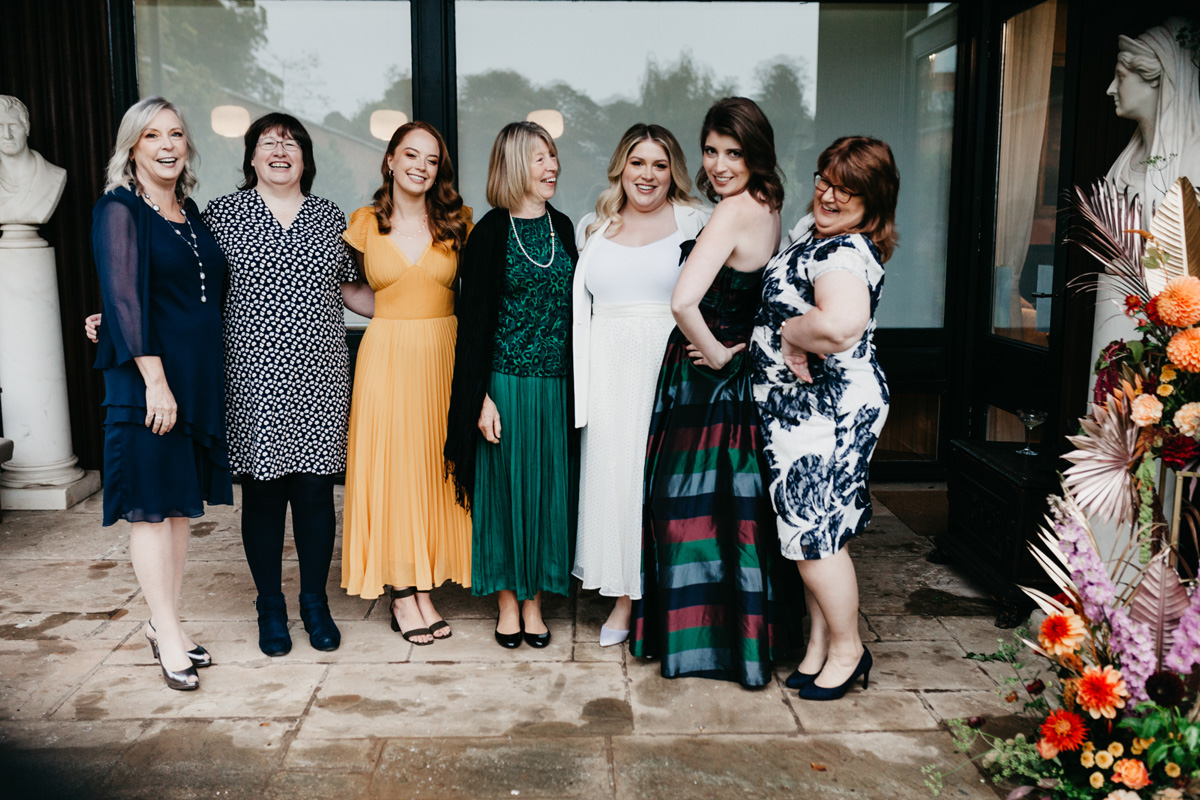 When it came to hair and make-up for Rachel and her bridal party, make-up artist Erika Marie and hair stylist Melanie Herriot were there to make sure everyone felt amazing, comfortable, and most importantly – like themselves.
"Erika and Mel both got it completely and made the morning easy for all of us. Both Erika and Mel were absolute champs, too. Erika was booked to do our make-up for the original wedding day and came back from Ireland to do it when the date got moved, and managed to teach us all a few tricks and give us product recommendations along the way. Mel joined us at the 11th hour when we changed wedding venues and my local hairdresser wasn't able to do it. She had another wedding in the morning and still managed to come and get us all ready in record time. I don't think you can ask for much more than two really lovely people to hang out with who also have the knack of making you look like a movie star."
These wonderful images of Rachel and MJ's day are by the brilliant Solen Photography, who is also part of our directory, too. Solen has such a sensitive, creative eye, and a wonderful flair for both drama and intimate detail in her work.
"I am convinced Solen is the best in the game. She has this incredible knack for capturing all these fun, cheeky moments – her pictures have a wonderful energy about them."
"It's always true that you end up hanging out with your photographer for most of your wedding day but this was especially true for us – it was my family and Solen hanging out all afternoon."
"She took amazing pictures but was also just a joy to be around in general – she just got on with everyone."
"Our wedding day also happened to fall on the wettest day on record (not an exaggeration – hello Storm Alex!). It poured rain for 18 hours straight and she didn't care at all – she was soaked through and still had a smile on her face all day. I think the quality of her photography speaks for itself; she delivered us an album of photos of my family enjoying themselves that I'll genuinely cherish forever."
"She also captured all sorts of little details that all our loved ones who weren't there with us on the day could enjoy later. If you need a wedding photographer look no further, she is your girl."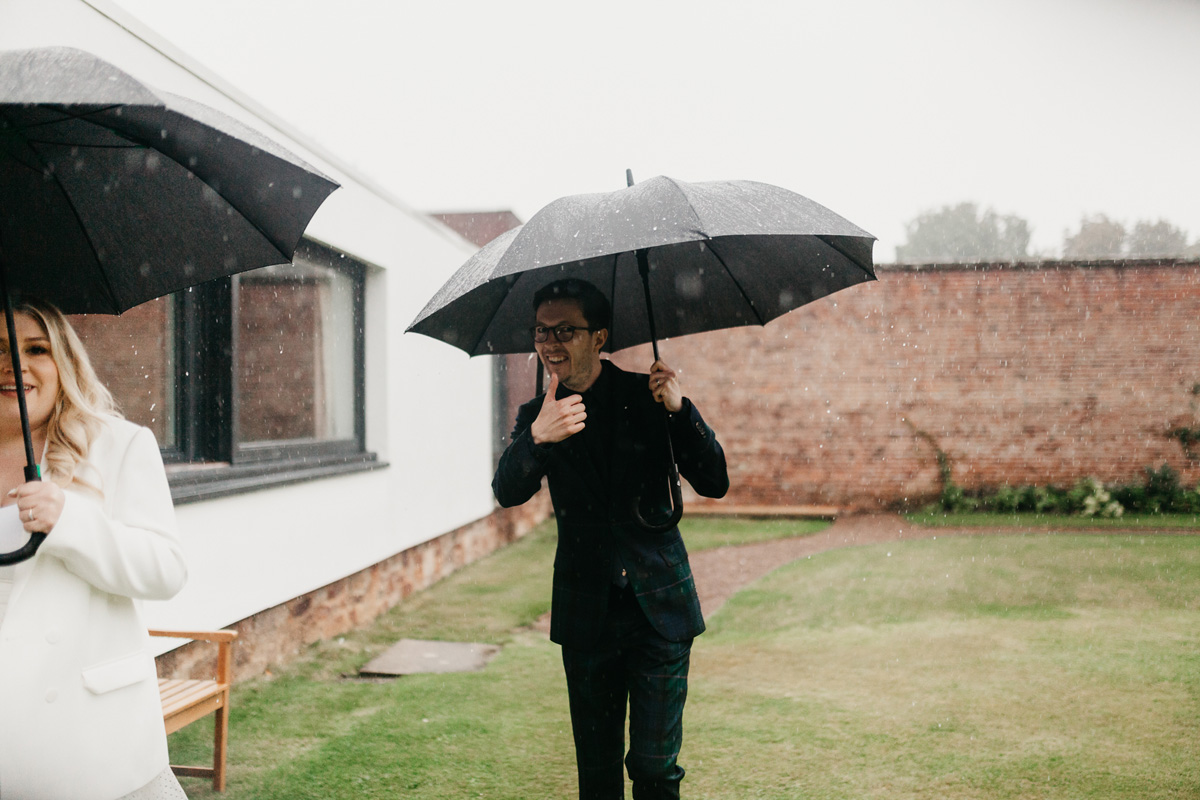 Having a more intimate celebration meant that the focus was enjoying the most delicious dinner. Bespoke Catering & Events stepped in at the last minute, but blew everyone away nonetheless, with a menu inspired by classic New York City steakhouses (as Rachel and MJ were supposed to travel to New York for their honeymoon).
"I can honestly say dinner was the best meal of my life. When our April wedding was cancelled for good we got a big chunk of cash back from the original venue, and in the end decided to blow it all on the fanciest meal we could think of serving to our family. Seriously – we spent the budget of a 60-person buffet on dinner for 10. I honestly can't recommend this enough; we kept the menu a secret until after the ceremony and it was enormous fun to see everyone's excitement when they realised we were going to serve lobster up as our starter."
Even in the pouring rain, the walled garden was the loveliest backdrop for post-ceremony photos, in amongst the brightly coloured dahlias and sheltering from the weather in the very handy greenhouse!
Inside the house, more amazing flowers adorned the place, and there was an elegant dining table laid for the wedding feast. Carrie from Union found a table runner and napkins from Habitat in a perfect, autumnal shade of burnished orange, complemented with tall taper candles and tea lights.
"Our wedding favours were leather luggage tags personalised with each guest's initials on them – a little nod to the fact that most of the people in attendance had to travel to get to us."
"These were made by a lovely indy biz called Hyde Wares. I did all the stationery myself since I already knew how – we sent out paper save the dates and then used Paperless Post for the invitations."
Having a more intimate celebration meant that the focus was enjoying the most delicious dinner. Bespoke Catering & Events stepped in at the last minute, but blew everyone away nonetheless, with a menu inspired by classic New York City steakhouses (as Rachel and MJ were supposed to travel to New York for their honeymoon).
"I can honestly say dinner was the best meal of my life. When our April wedding was cancelled for good we got a big chunk of cash back from the original venue, and in the end decided to blow it all on the fanciest meal we could think of serving to our family. Seriously – we spent the budget of a 60-person buffet on dinner for 10."
"I honestly can't recommend this enough; we kept the menu a secret until after the ceremony and it was enormous fun to see everyone's excitement when they realised we were going to serve lobster up as our starter."
Nikki and Hollie from Daisy Fay's Weddings & Events were the party's waiting staff for the day, and provided an excellent, smooth and attentive service from start to finish.
"Early on when we got engaged my brother joked that the fanciest thing you can get at a wedding is oysters – so we served these up as canapes for a laugh. As practical jokes go that was pretty delicious. My parents and aunts love a lemon drop martini – so that was our signature cocktail for the evening, and in the end, the only thing I drank all day and night."
Rachel's siblings also made a wedding cake, although everyone forgot about it until the next day, so it was enjoyed then! During dinner there were speeches, which was Rachel's favourite part of the day.
Everyone was asked to make a short toast and offer words of advice to the newly married couple.
"My sister blatantly ignored our request for a quick, short toast, and kicked things off with an incredibly emotional speech that had us all open weeping to the point of dehydration. The rest was a happy blur. MJ and I finished off the toasts by telling our families we wanted to read them our vows."
"What we actually did was wrote vows on behalf of each other, then exchanged them on the spot and read them out. The rule was: each could write whatever they wanted for the other, and when it was your turn you had to read whatever was on the page verbatim."
"My vows (written by MJ) started with me complimenting my new husband's recent haircut and promising that we'd order a takeaway curry once a week."
"In his vows (written by me) he promised he'd never forget to turn the dishwasher on again and marvelled that if he had known how much fun getting married would be he wouldn't have waited so long to get engaged. It turned out to be a hilarious battle of wits between the two of us and a big laugh for all involved."
Words of Wedded Wisdom
"The advantage of our small wedding was it ended up being so meaningful for all of us. Something that I never appreciated the first time around was how important this day was for our families – our parents and siblings were also extremely invested in the wedding and because they were the only guests we were able to really make it special for them, too. If we had the bigger party we originally planned, there's just no way I would have spent as much concentrated time with my family as our attention would have been split between a lot more people. We just kept focusing on this as we planned the smaller event – how can we delight our families? What surprises could we pull off? How can we make it feel special for them? Plan B turned out to be pretty great."
"My advice for couples who are planning now or who are trying to figure out what to do about a rescheduled wedding day is figure out what's non-negotiable to you and then let that inform the rest of your decisions. For us, we couldn't imagine a day without our parents and siblings but could make peace with the rest, so that's what we did. But by the same token, I have friends in the same boat, who realised that the chance to bring all the important people in their lives together for a big celebration really mattered to them – so they stopped entertaining plan B and decided to just wait this pandemic out until they can do what they want. If you know what your priority is with your own wedding it makes every decision that comes after it easier."
"Even though the wedding plans got turned upside down, when I look back on everything I just feel really, really grateful that everything worked out like it did and that we were actually able to get married. Our suppliers were amazing people, and we were all connected not just by the wedding but by all the insane uncertainty we had lived through in the last six months. Every single one of the vendors rolled with the punches when our wedding was cancelled and then rescheduled. They let us change our date, adjust our plans and figure out how to get married during a pandemic with real grace. Carrie and the team of suppliers she pulled together are all so talented, and such great people, and have had to endure a miserable year of restrictions destroying their income. All of them showed up smiling and ready to go – it's hard to put into words how much that meant to us. They all deserve a lot of praise!"
"Think of your wedding as if you were a guest attending it; what would you want? Food, booze, good music, a comfortable chair?! Work backwards from there!"
Rachel and MJ, many congratulations and thanks a million for sharing your radiantly joyful day with us, and for these wonderful words as well. Huge thanks to Solen Photography for the graceful, beautiful way it was all captured on camera, too.
With love, Laura