When the bride says she was inspired by Bond girls, there's no doubt the wedding is going to be cool.
The iconic entrance porch and beautiful, historic interiors of Old Marylebone Town Hall were the backdrop of choice for this gorgeous bride and her 60s and 70s inspired Spring wedding this year. 
On 23 May 2021, childhood sweethearts since the age of 10, Brooke and Archie, who both work in graphics, tied the knot in London with an intimate dinner party after at Marylebone's 28-50 Wine Workshop and Kitchen.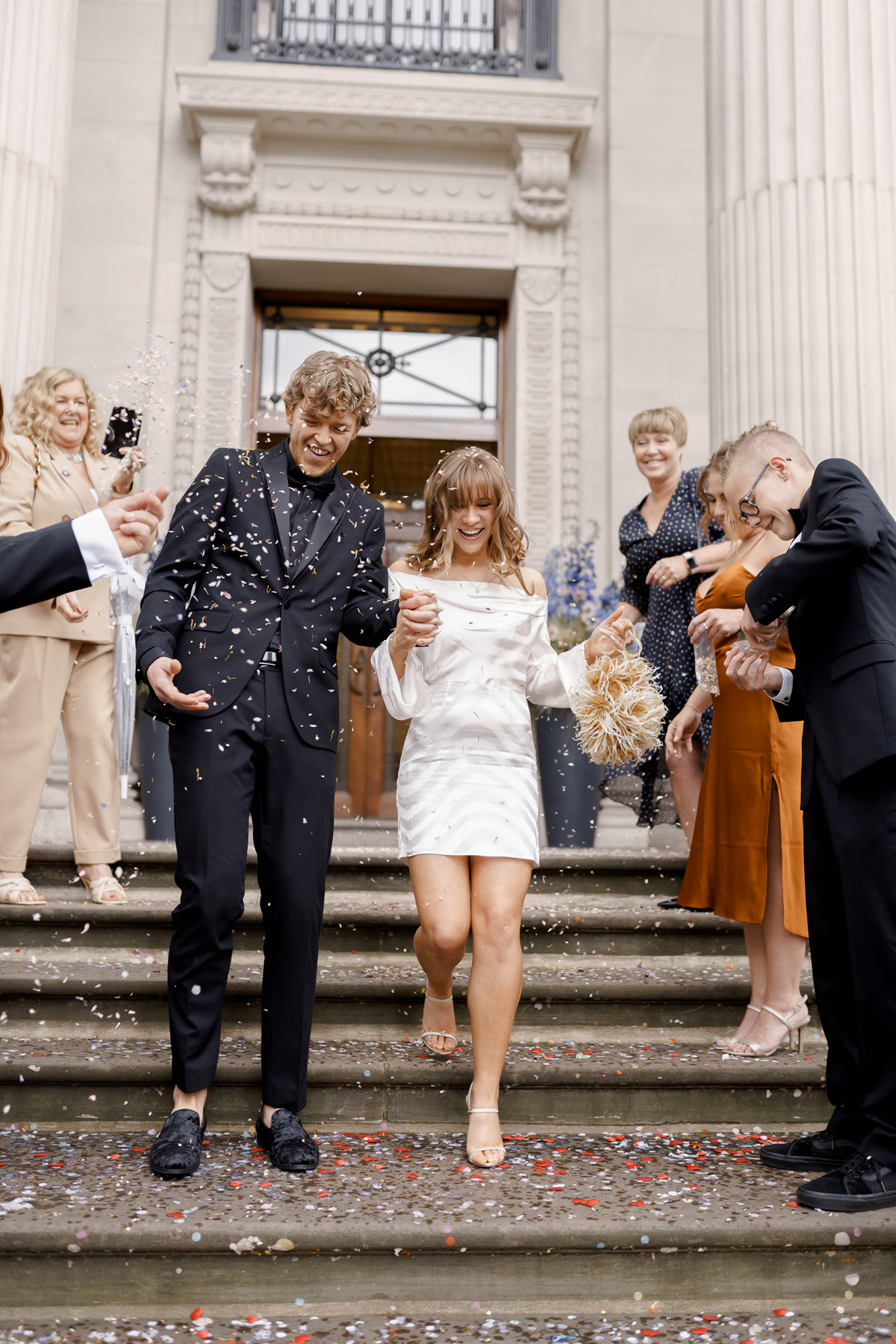 "I have a strong sense of self with regards to my style and take influence from many sources. For the wedding, the 60s and 70s were the forefront of inspiration, alongside minimalism. I wanted to create an aesthetic that would look timeless."
Brooke did her own hair and make-up, opting for a pared-back, flawless skin and to wear her hair down – her long fringe and relaxed waves suiting the 70s vibe so well. Her shoes were strappy, high-heeled sandals from Steve Madden.
"I wore Victoria's Secret Coconut Passion. It sounds silly but I love to smell like I've just come off the beach in Bali."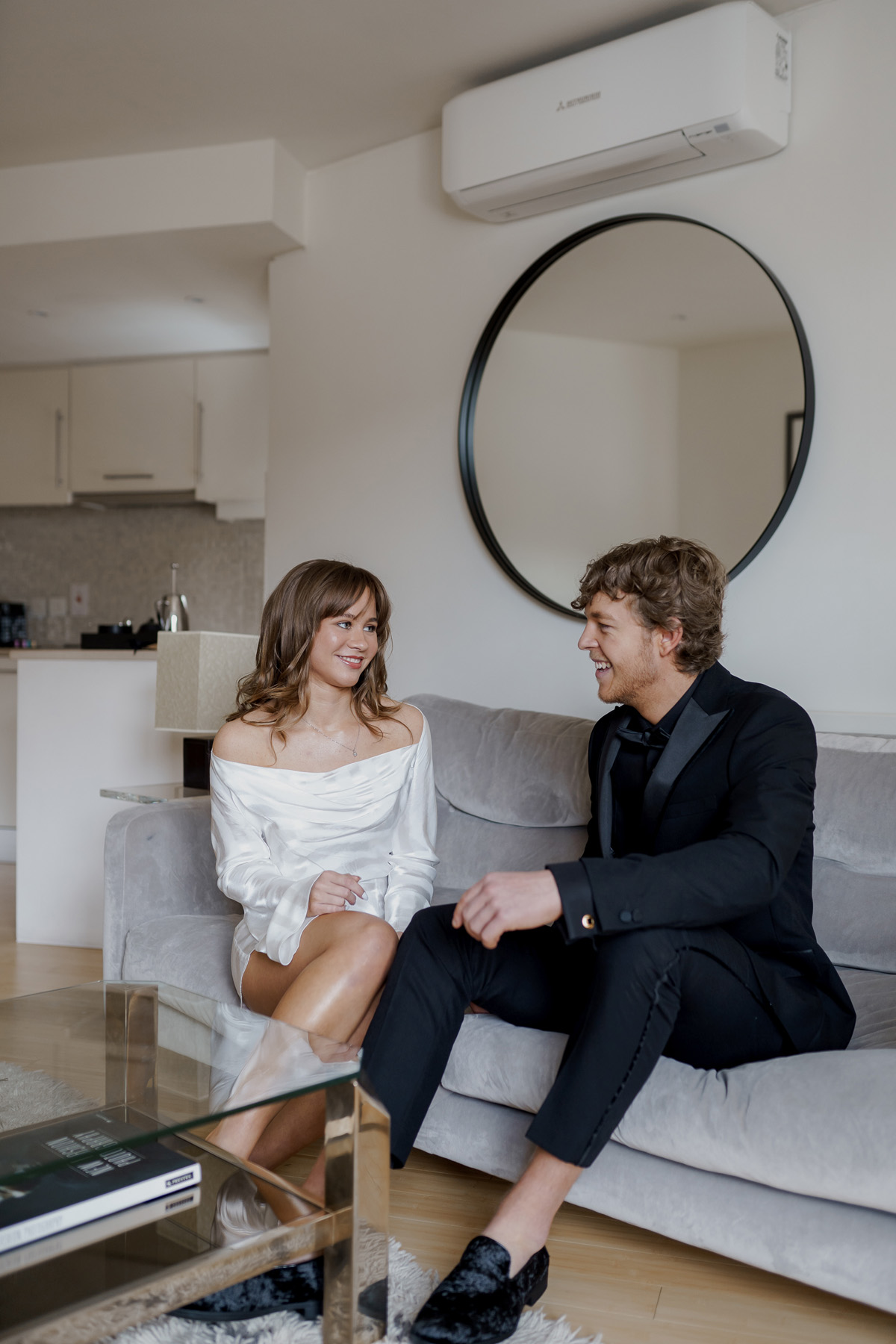 Just like the bride, Archie has a strong sense of style, channelling classic James Bond with a modern twist in his black, velvet trim tuxedo and matching black shirt, both from Moss Bros. His shoes were also velvet, with a subtle animal print.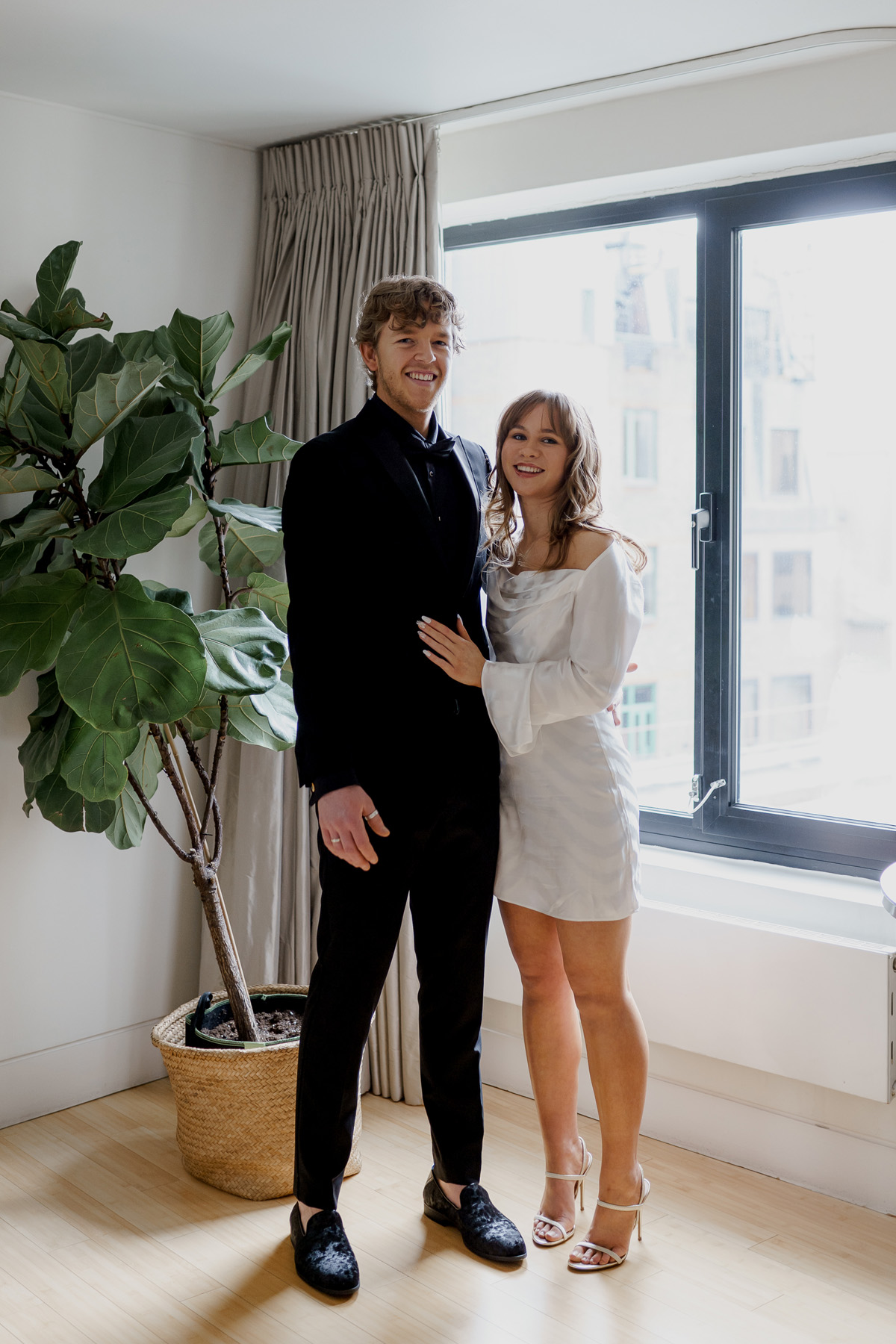 "We booked Addison Lee to take us to the ceremony and a whole bunch of cabs to nip around London for photos. Walking wasn't an option in those heels after a few hours!"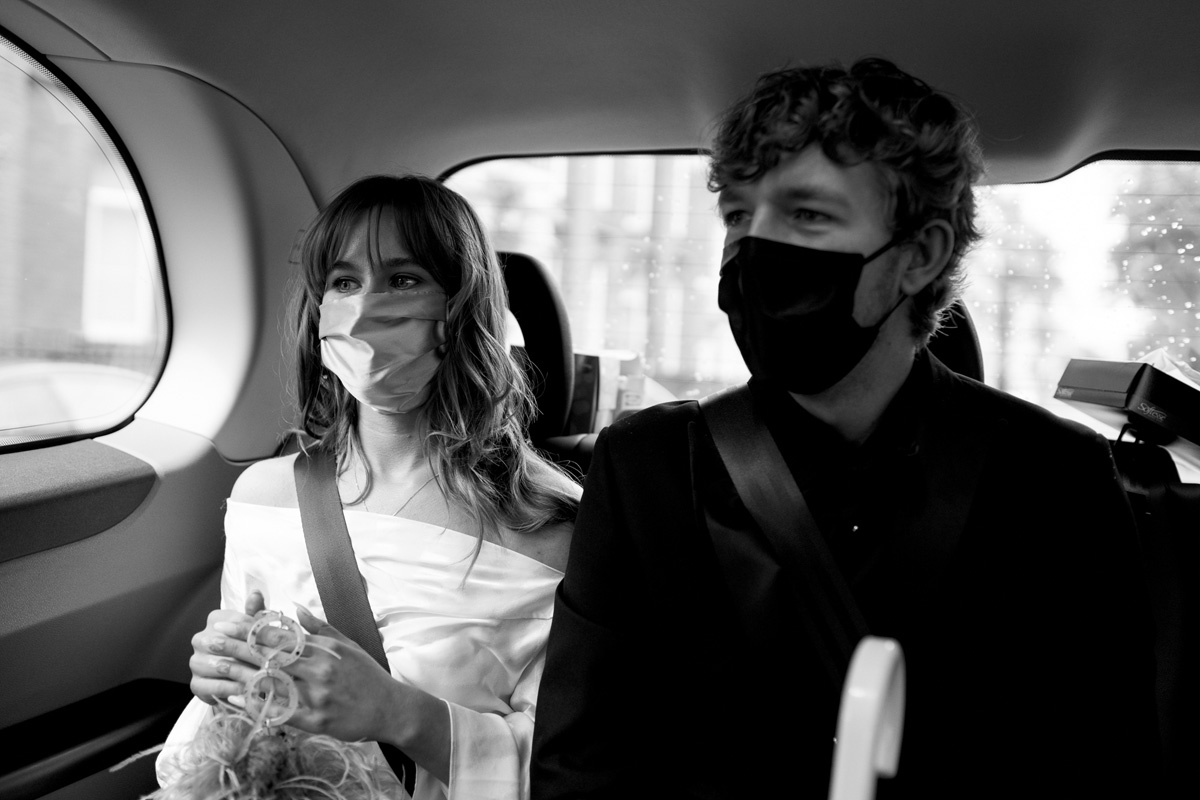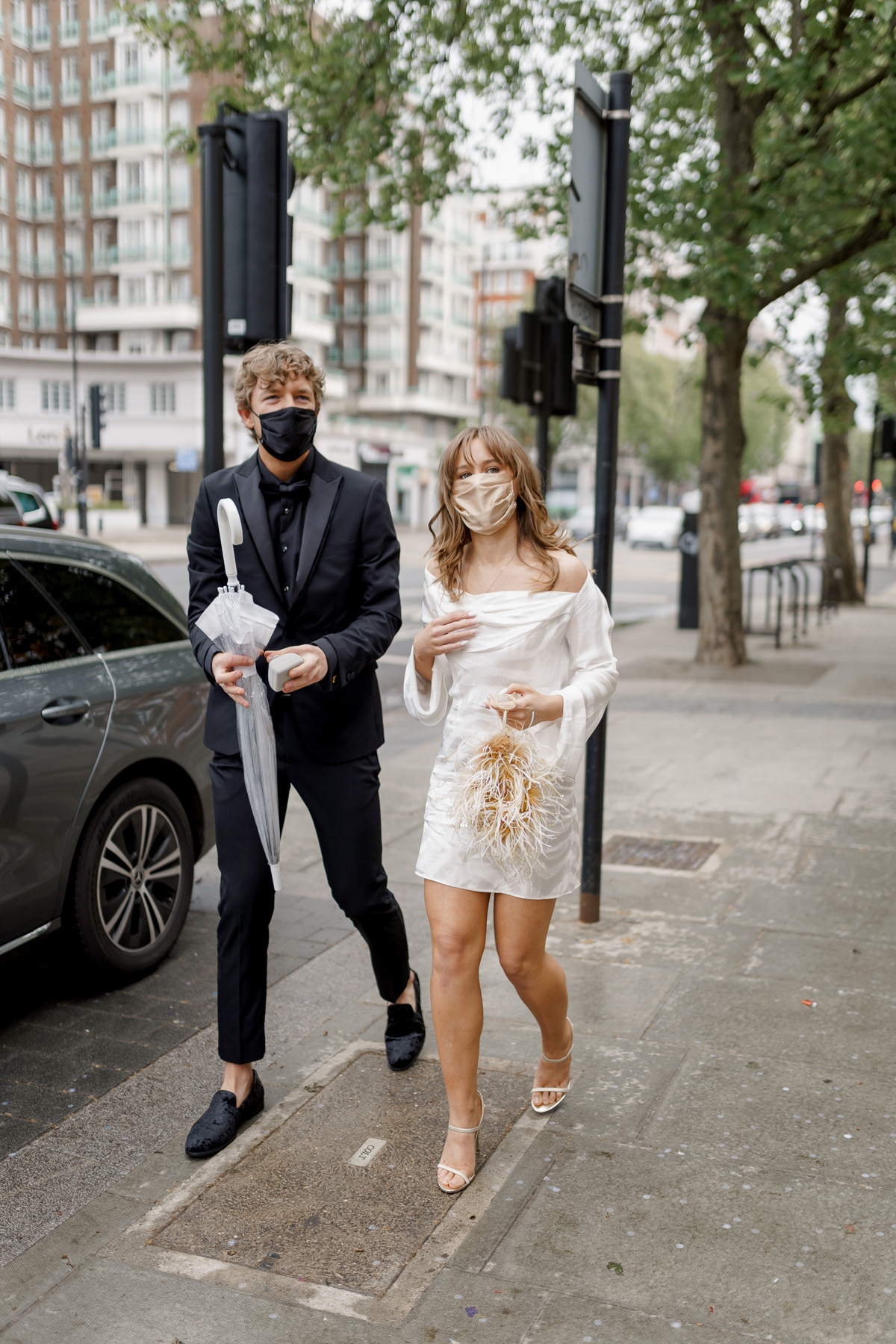 Drawn to the buzz and energy of central London, the couple loved the elegant, minimal chic of the Town Hall, which matched seamlessly with the bride's own sense of style. The bride entered the ceremony room along with her dad, to the gorgeous sounds of Etta James' 'At Last'.
"We chose to get married at the Old Marylebone Town Hall in Central London. We love spending time in London and wanted the city's unmistakable bustle and charm to be part of our day."
"The Town Hall is equally sophisticated and chic. I fell in love as soon as I saw the huge steps leading into the building."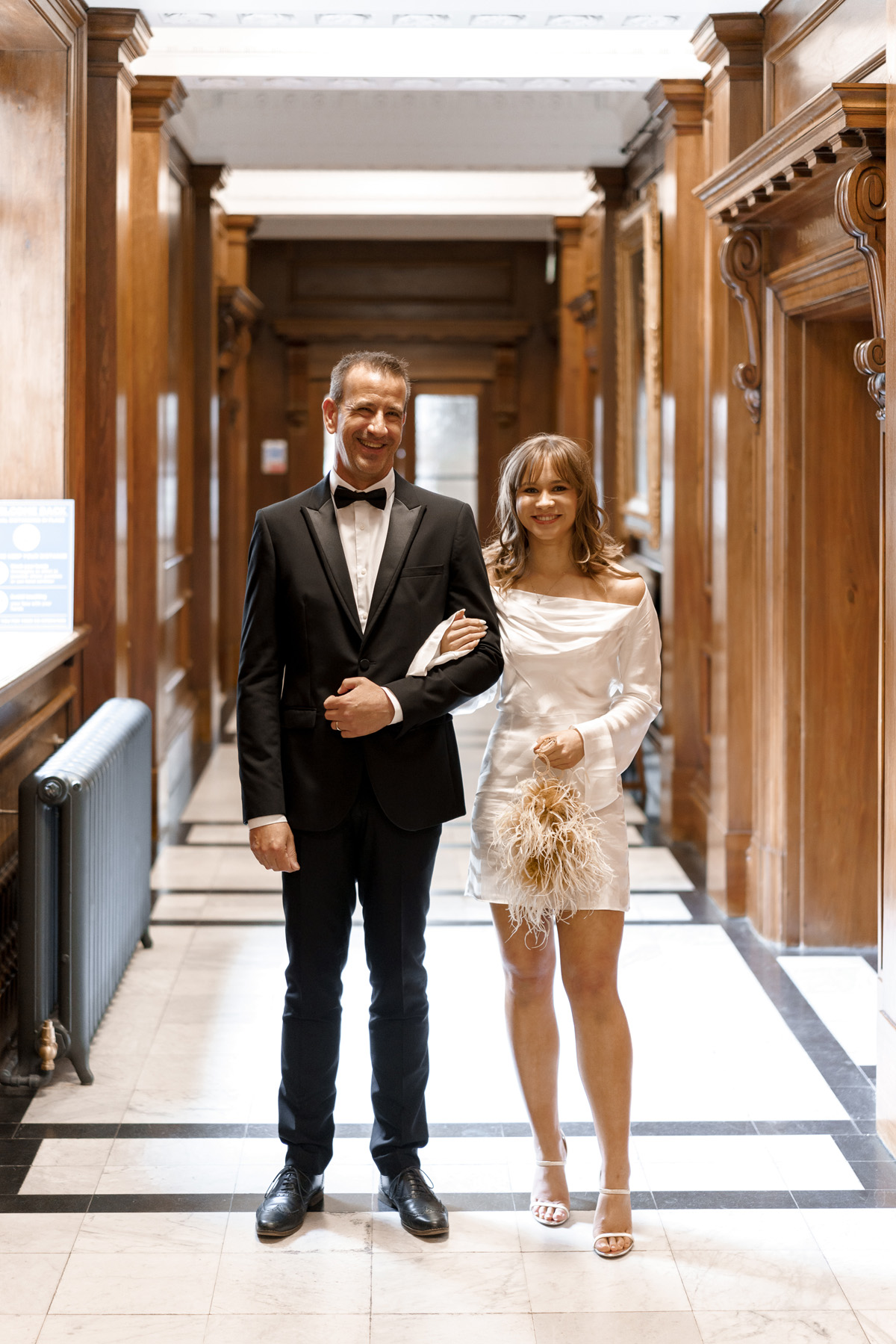 "Etta's 'At Last' has a beautiful intro and felt fitting giving we had to postpone the first time. This was performed by the string trio Blue Topaz."
"They played for our guests upon arrival, throughout the signing of the schedule and as we left as husband and wife. They were fantastic. Having them present created a wonderful ambience."
Archie and Brooke have been a big part of each other's lives for many years, having been to school together since the age of ten.
"It wasn't until our final year at secondary school that our Chemistry teacher thought I spent more time talking than working so decided to sit me alongside Archie to focus more. Little did we know we would move in together at eighteen, get engaged at twenty one and married at twenty three. It still amazes me something that seemed so irrelevant at the time has grown into something incredibly special. "
"Archie proposed in our home on Christmas Eve 2018. It was a complete surprise and definitely topped Christmas Day that year."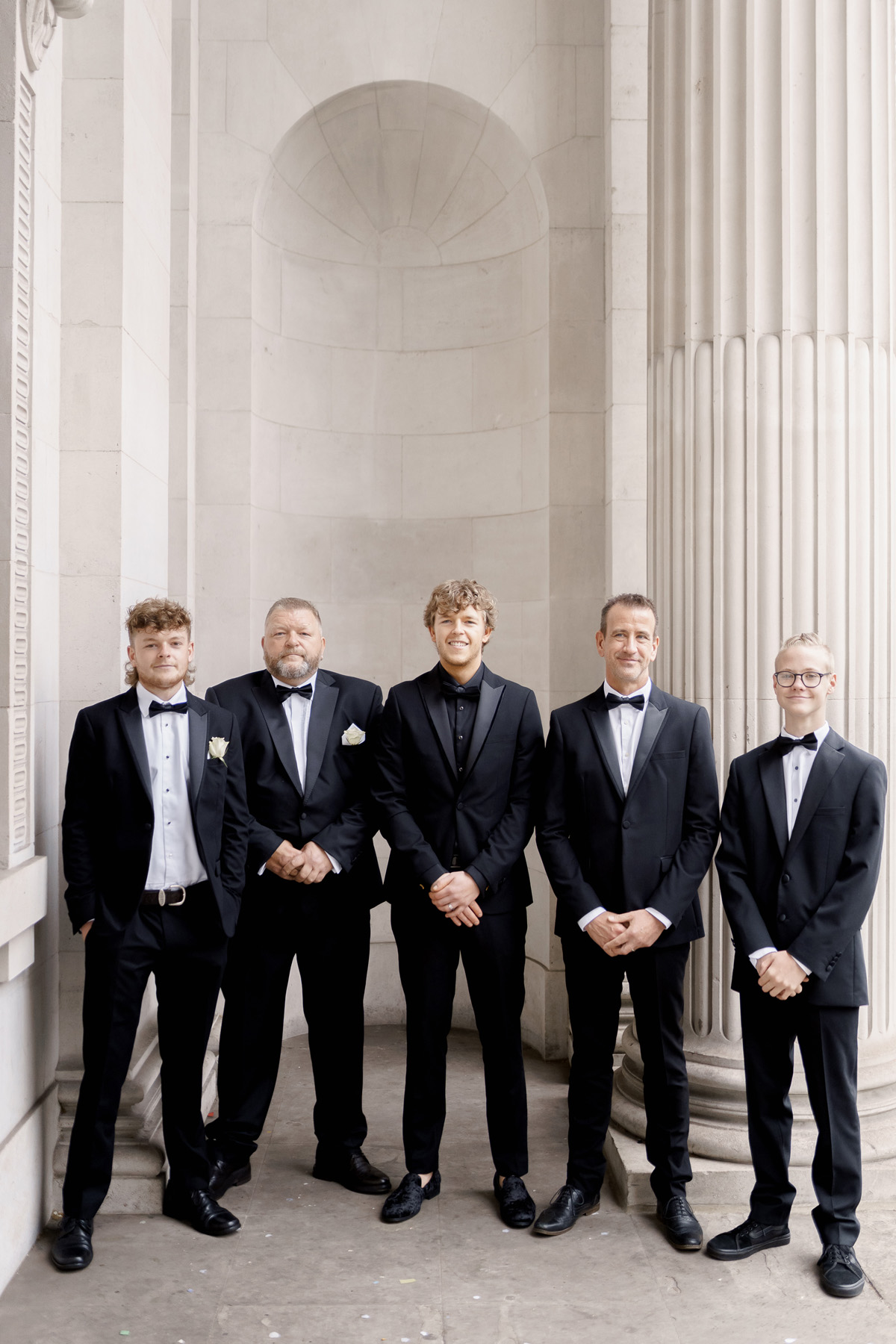 "Our original date was 6 September 2020. We decided to postpone as there was so much uncertainty."
"We thought we would have been well out of the woods by rebooking for the following May but when the January lockdown occurred, we lacked confidence our day would go ahead."
"We didn't want to postpone again. At this point we had time to realise what was most important to us as a couple and that was to become husband and wife."
"We decided to 'uninvite' most of our guests, reducing it down to immediate family only. We thought smaller numbers would be easier to plan with success."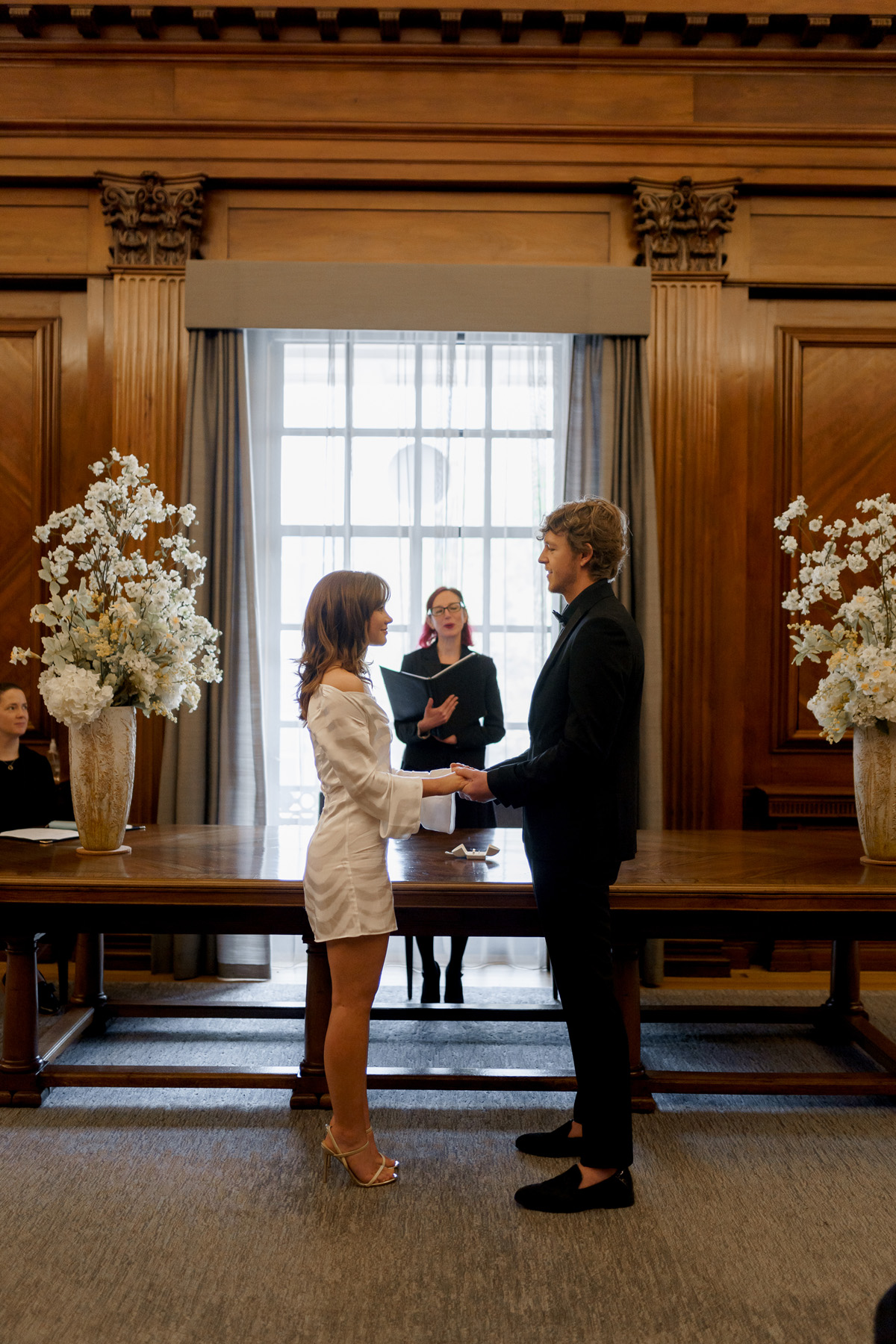 "Luckily, restrictions lifted and our day went ahead with our revised guest list. I was concerned leading up to the day how Covid precautions were going to impact our plans but I was pleasantly surprised."
"Archie and I did not have to wear masks throughout our entire ceremony and I was thrilled to learn my dad could walk me down the aisle unmasked too."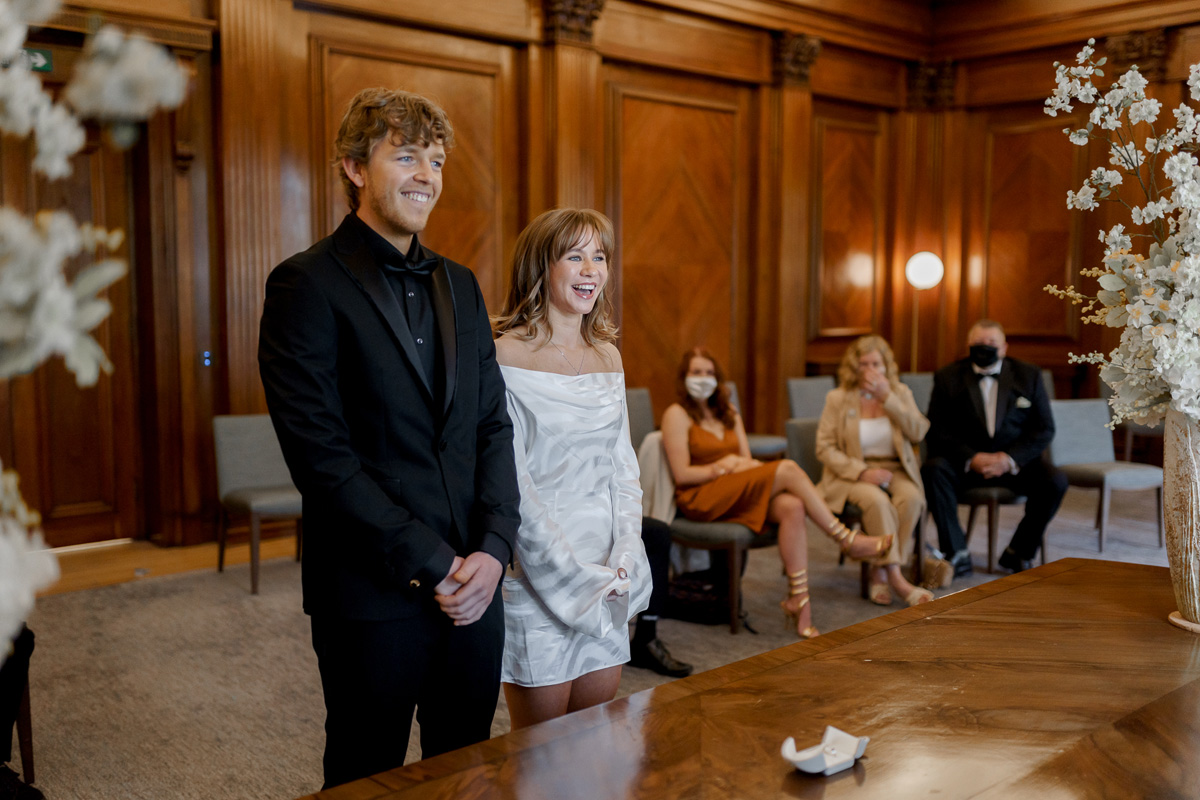 "Parts of the ceremony were limited (no readings and no procession of bridesmaids) but it still felt special. We were encouraged to hand sanitise upon arrival and our guests wore face coverings and were seated further apart."
Our venue had strategically placed the social distancing stickers in photo hotspots so they weren't visible from certain angles when being photographed which I thought was very clever."
"All in all, the safely measures didn't take away from our day: we were just happy to be there."
"We chose traditional vows. I loved how these included the line, 'You may kiss the bride'. Our rings were from our local jewellers in Lincolnshire, Scotts."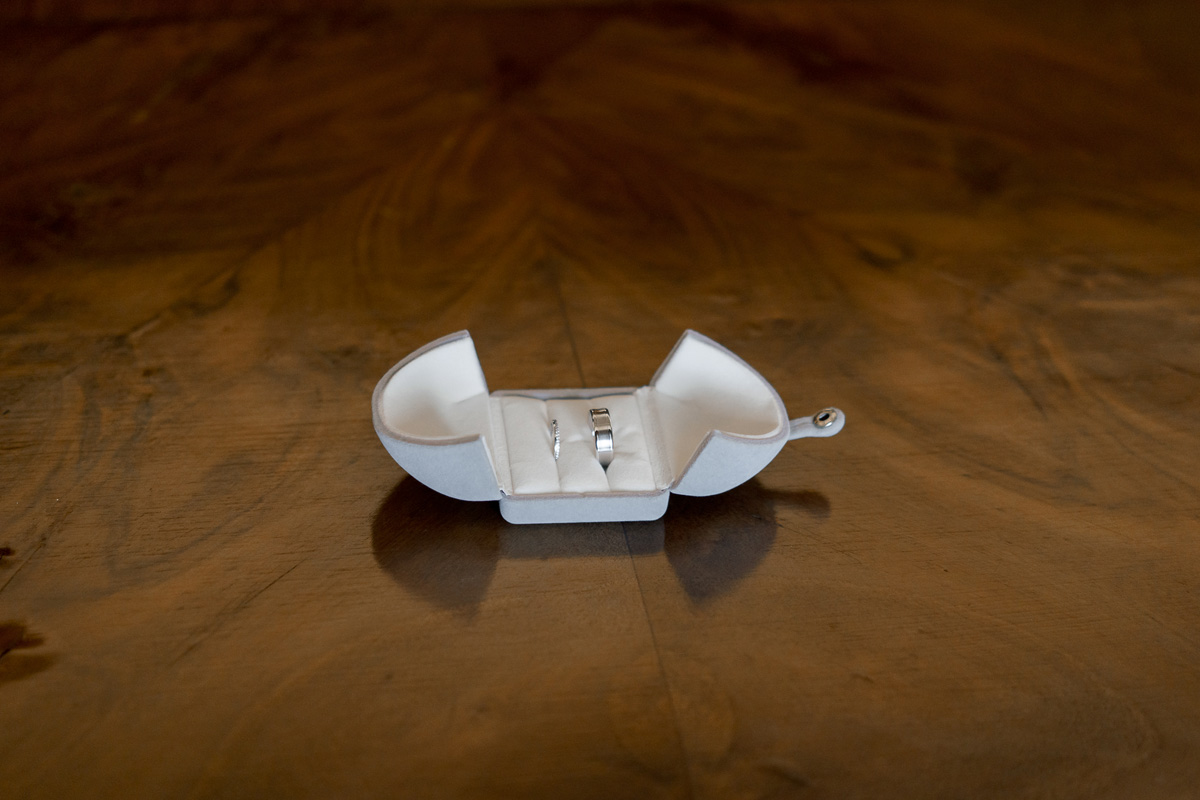 Due to Covid restrictions, the couple were limited in what they could include in the ceremony. They opted to use the traditional vows and made sure that absent family and friends were included thanks to Zoom.
"All our original guest list was invited to join us via video call. Most of them dressed up in full wedding attire, some with champagne at the ready. It was amazing to see. The Zoom call also recorded the entire ceremony so we can watch it back."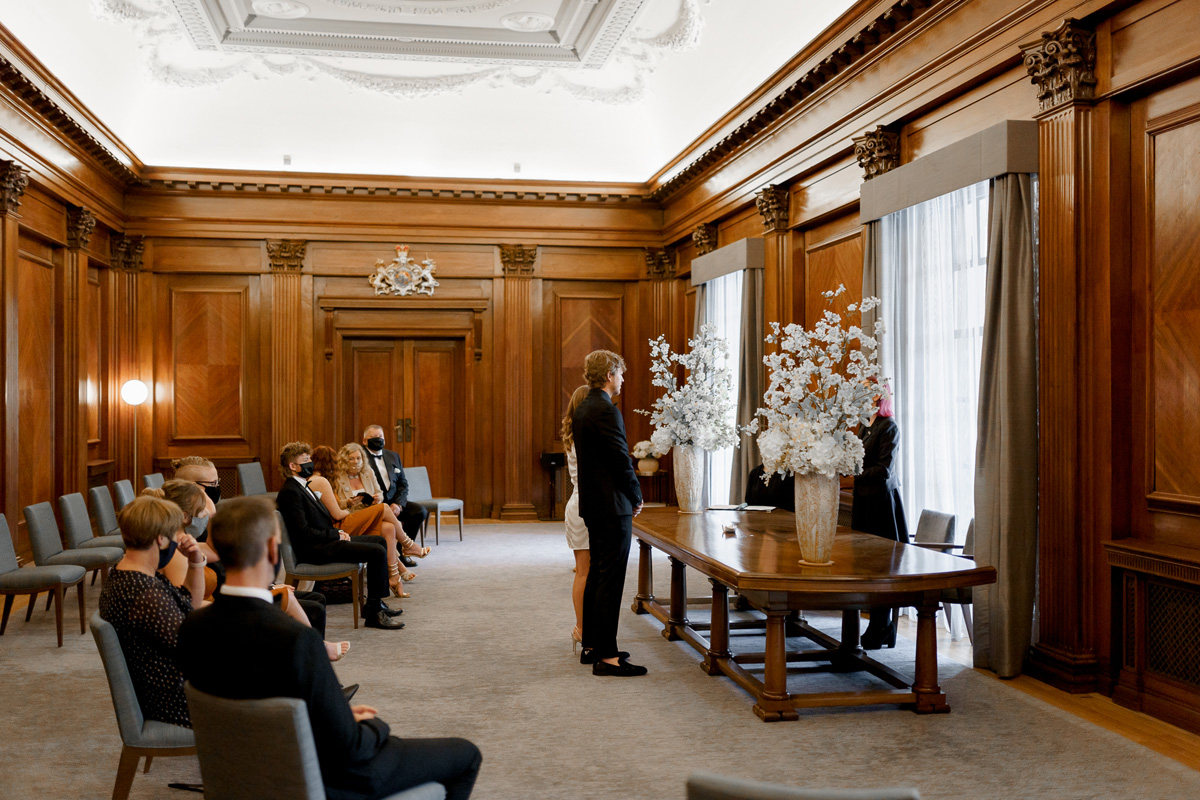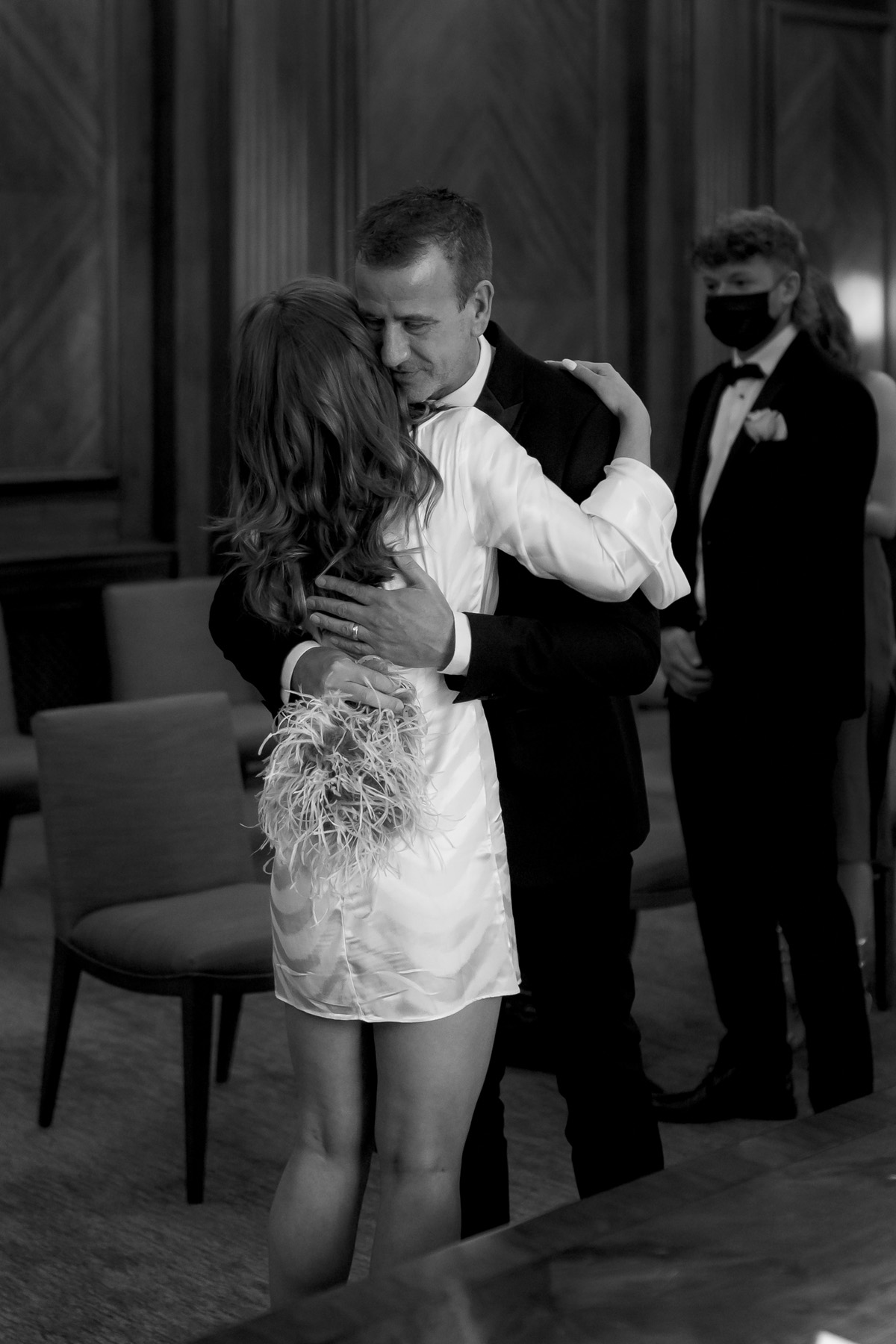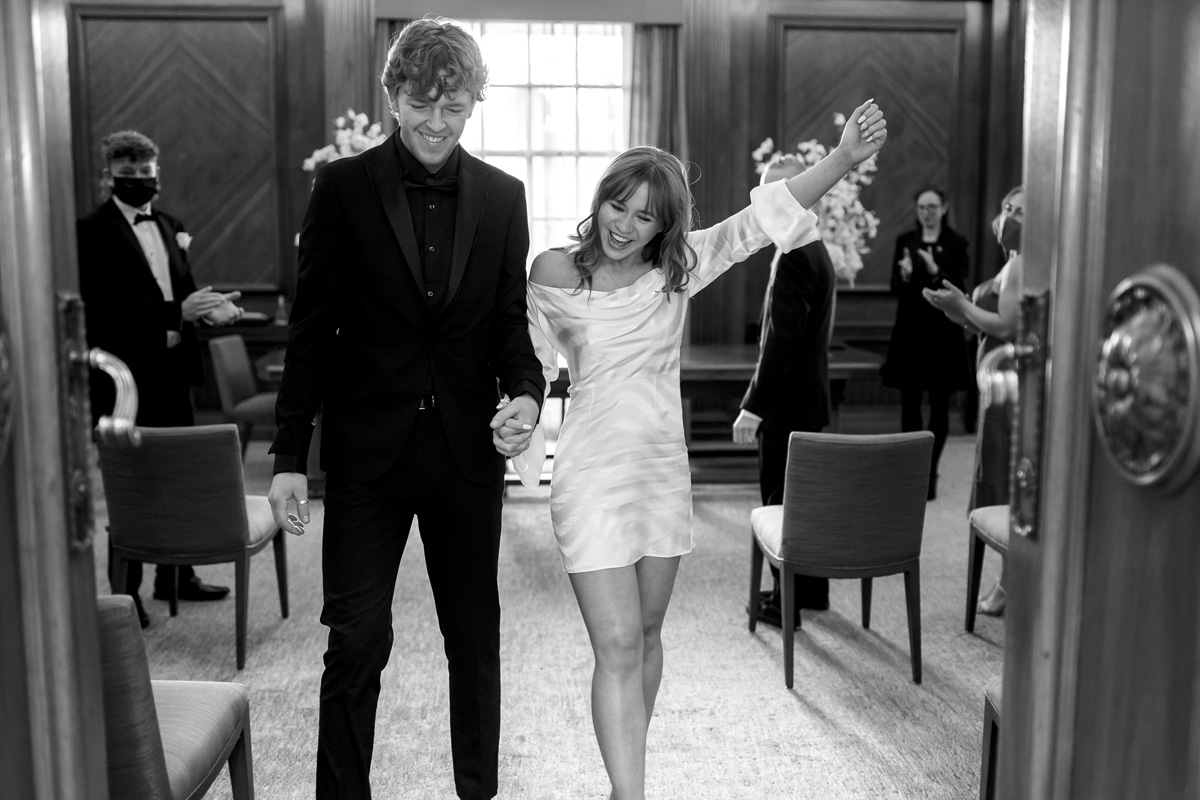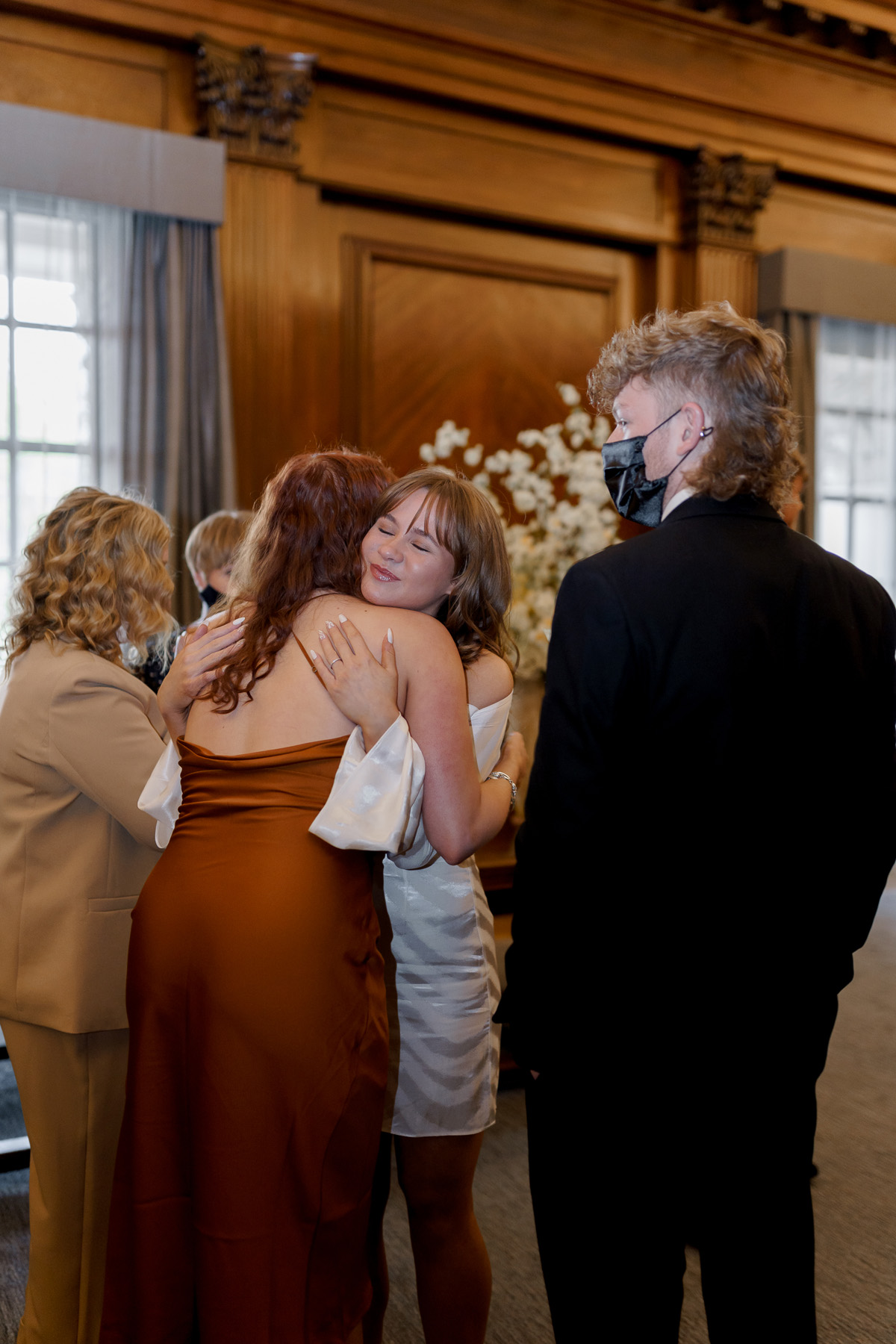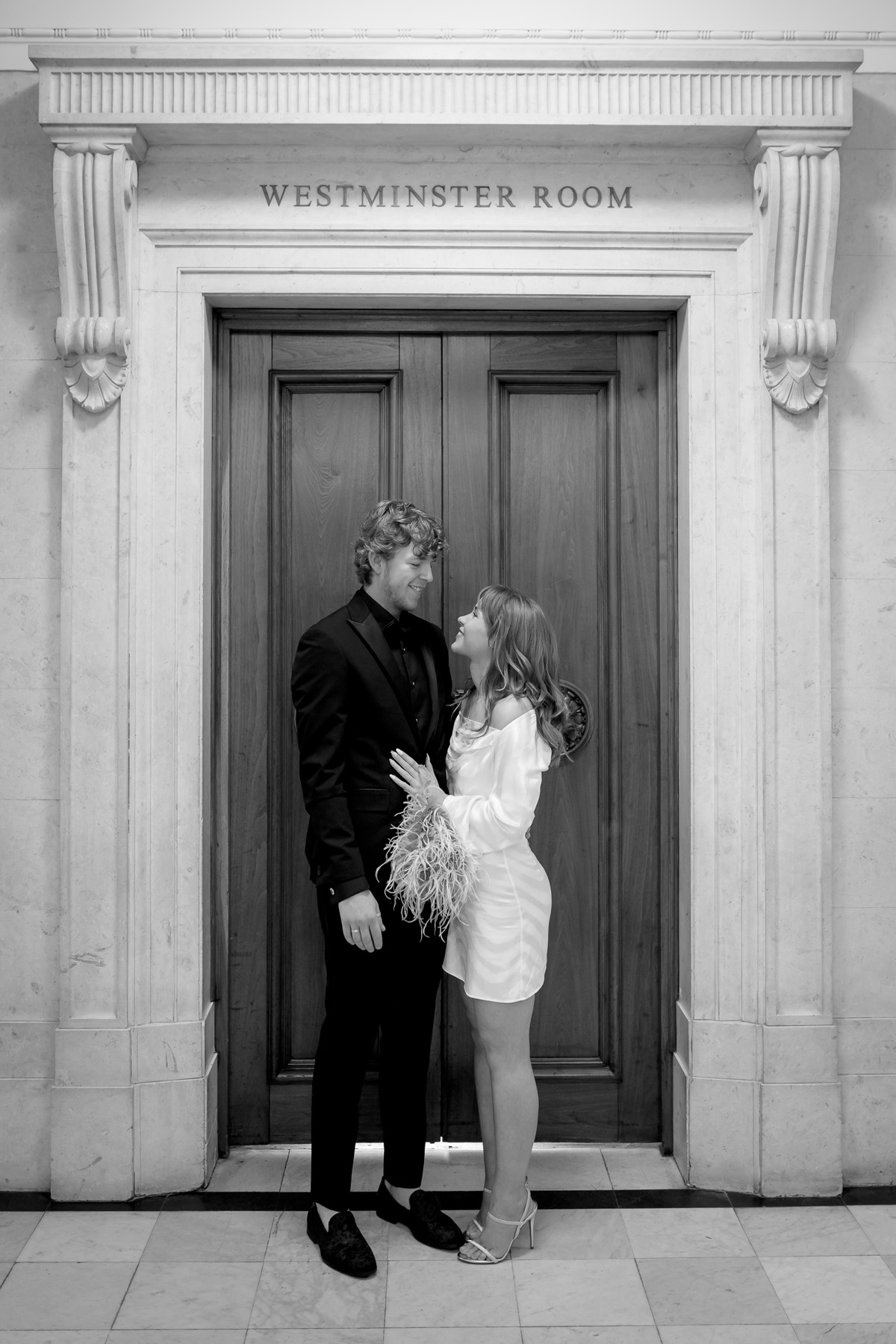 Capturing the day and each of its beautiful, minimal elements was photographer Zak at ZL Weddings.
"We saw he had photographed at our venue before and his Instagram looked incredible."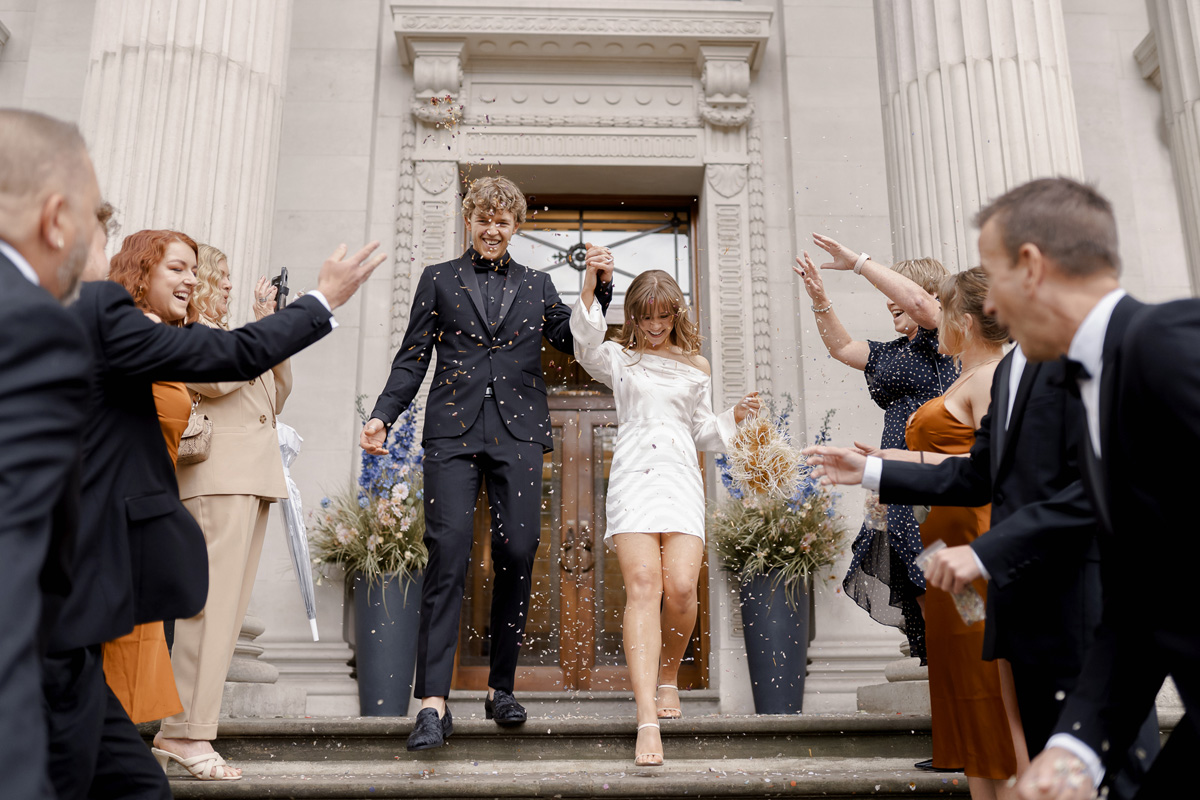 "We cannot praise Zak highly enough. From booking, postponing, meeting and receiving the photos, he was amazing."
Zak made us feel comfortable straight away, he got to know us as a couple and made us feel very special."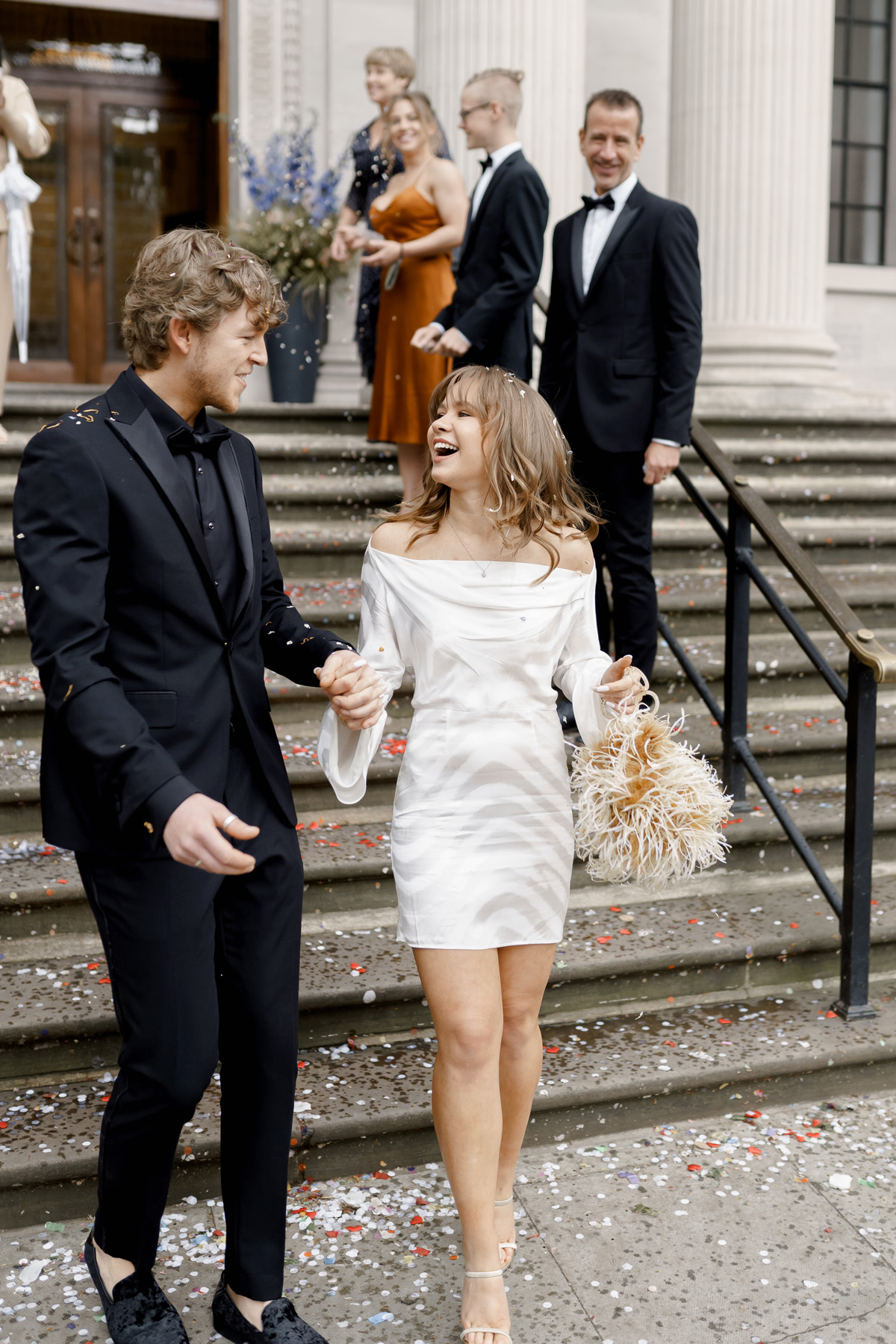 "He blended seamlessly into our day and all our guests made a point of saying how friendly he was. My favourite part of our time with Zak was zipping around in cabs to different locations for photos."
"You could tell how passionate he is for photography when he would light up with ideas for the next place to go or when he had taken a great shot."
"We received our photos around two weeks later in a beautifully edited online gallery. We love them so much and cannot thank Zak enough for doing such a fantastic job."
Like the bride, the two bridesmaids wore shorter gowns; simply-cut strappy styles in a gorgeous burnt orange from Abercrombie & Fitch.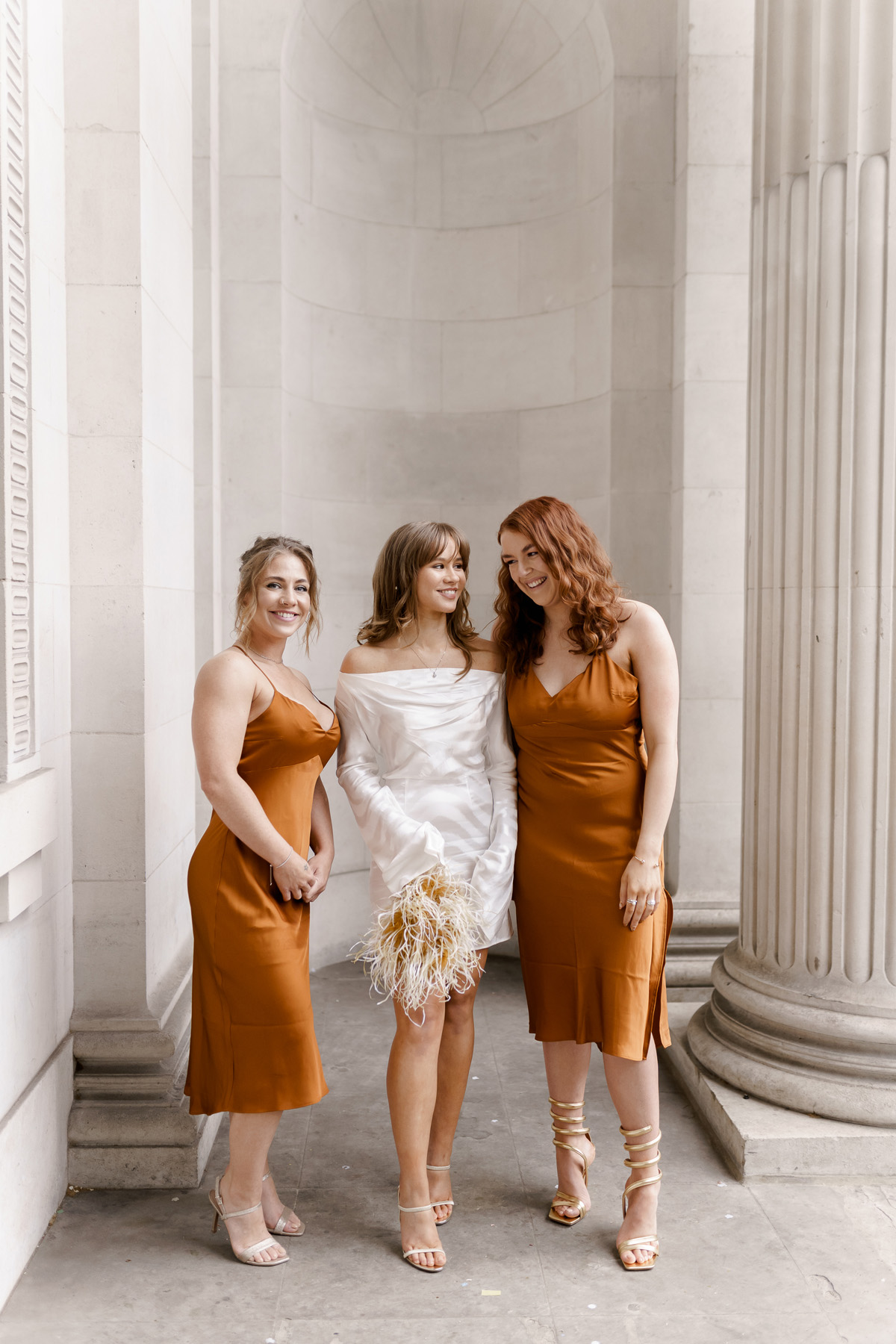 Brooke certainly set the tone for the day in her sexy, luxe mini-dress, created by Rat & Boa. I love its cropped, short skirt which is so perfectly balanced by the long, off-the-shoulder trumpet sleeves.
"I bought my dress online. I didn't want to go into store and try gowns on. I knew I wasn't going to opt for a traditional dress so steered away from bridal stores. "
"I was inspired by the Bond Girls in the old James Bond movies for my dress. Those women were so effortlessly sexy, stylish and confident and I wanted to channel that."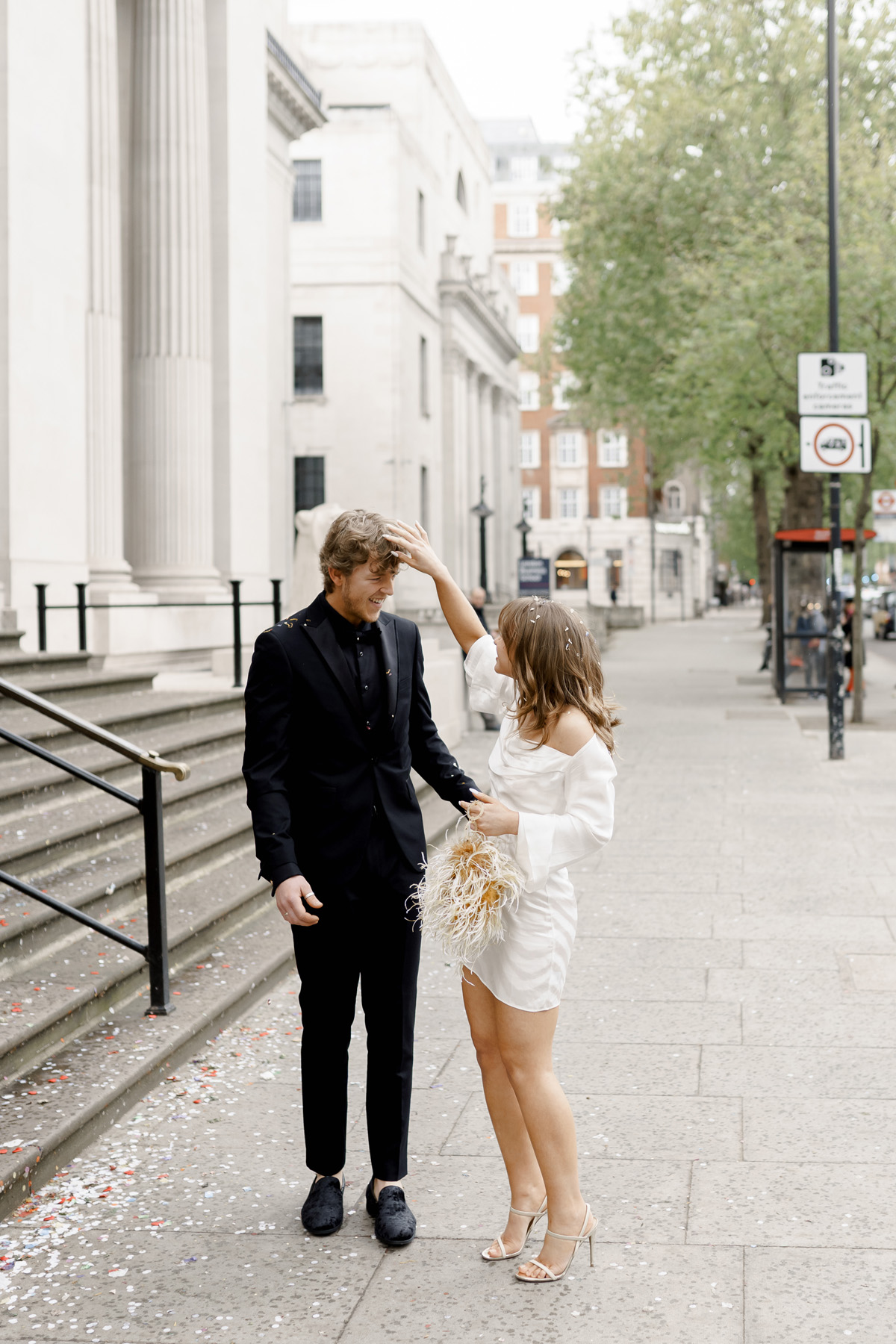 Instead of flowers, Brooke added drama and extra style by carrying a feathered bag from Vanina at Net a Porter.
"My handbag became a real focus point for my look. I didn't want flowers and this was the perfect substitute. the ostrich feathers added great texture. I can't wait to use it on my honeymoon."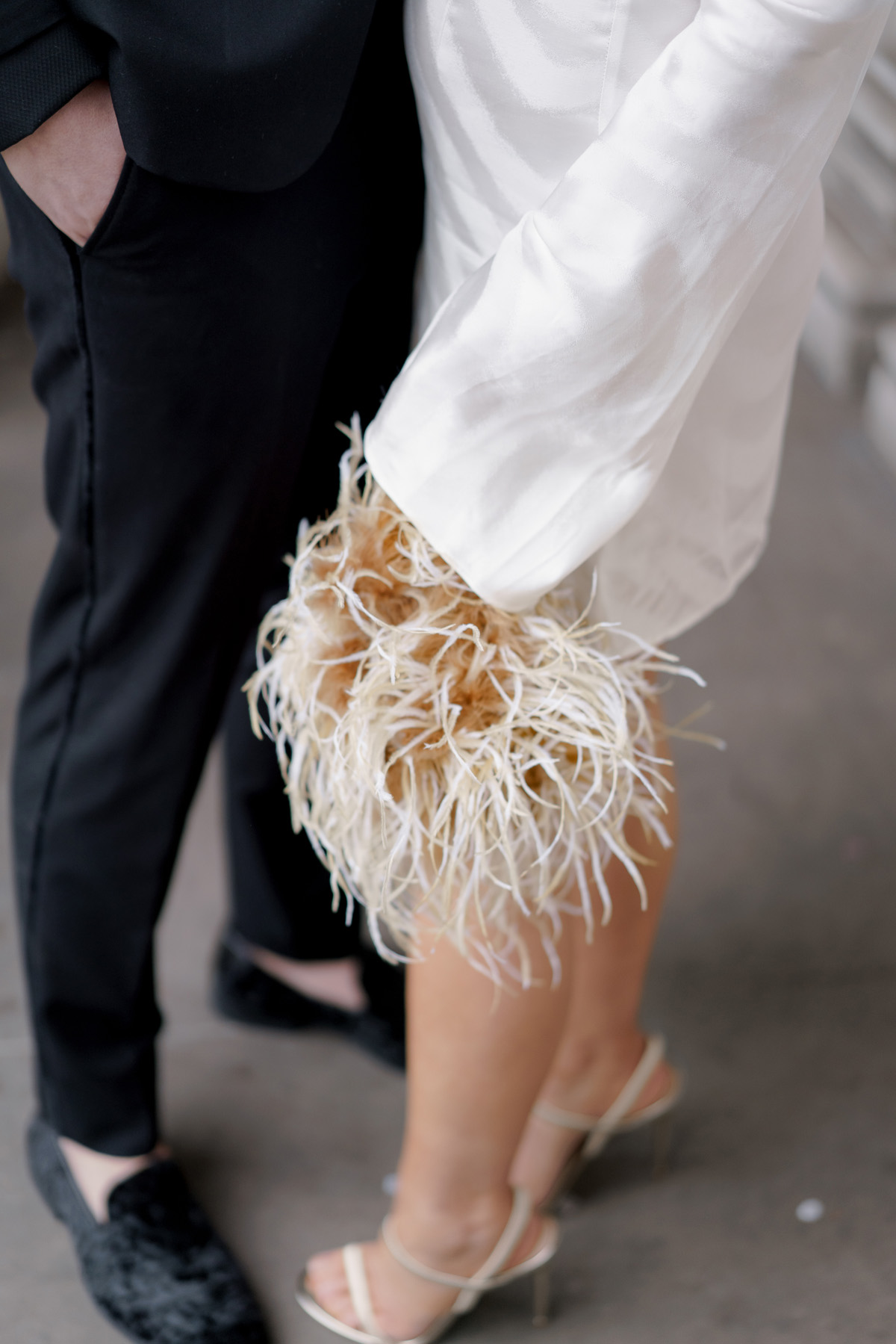 "The diamond necklace I wore was a gift from Archie a few years ago. Funnily enough there was a bit of a misunderstanding when he handed me the jewellery box kneeled – I thought he was going to propose."
"I couldn't hide the disappointment on my face and he must have thought I was so ungrateful. We can laugh about it now and wearing it on our wedding day was really a full circle moment! It is a beautiful necklace."
I absolutely love the portrait shots of the newly-weds enjoying time together walking around the quiet streets of London. Timeless and classic, I'm sure that Brooke and Archie will cherish these images for many years.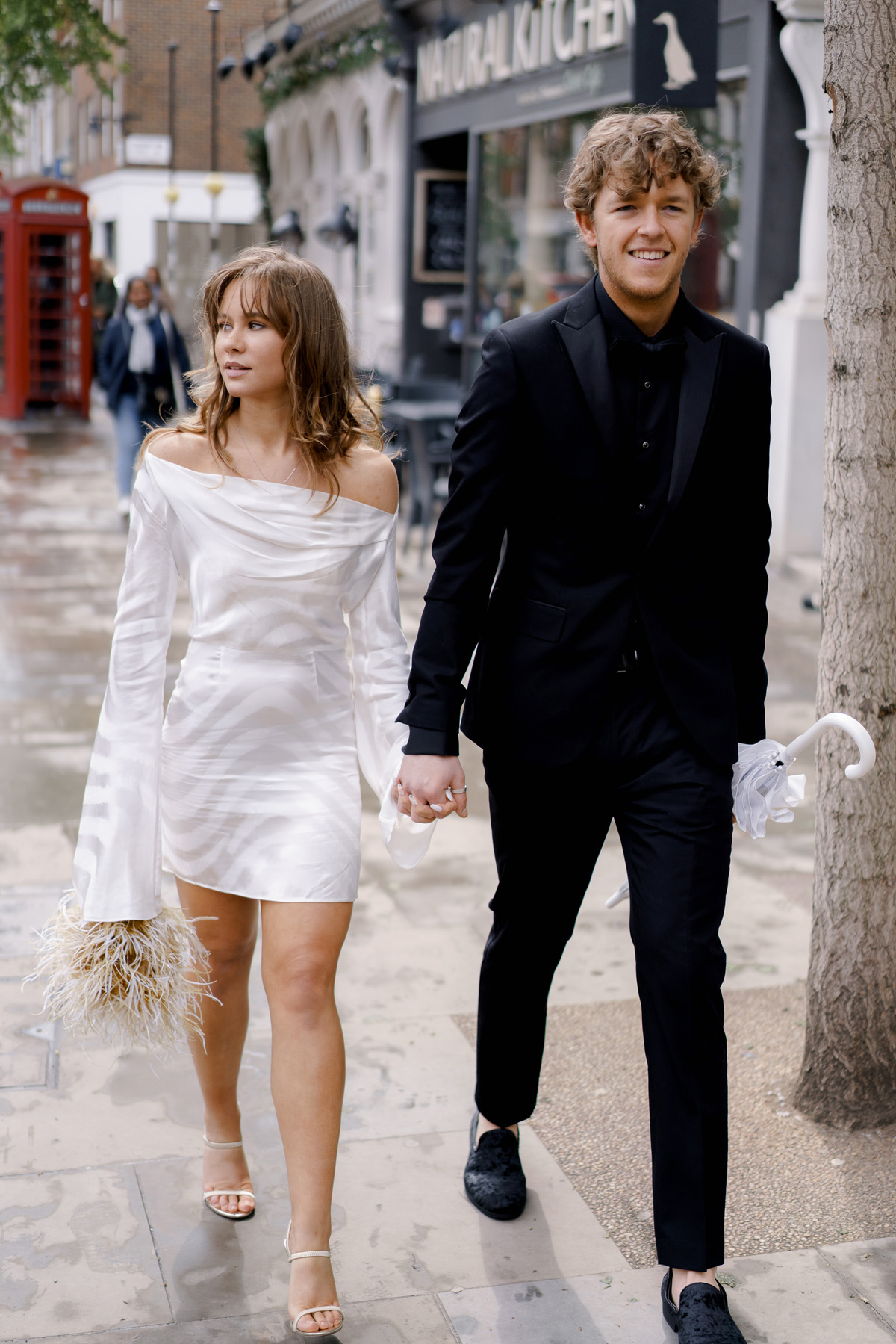 "My favourite part of the day was having our couple shots around London. The ceremony was such a blur therefore it was a nice time to take a moment to ground ourselves."
"We felt like celebrities strolling down the street being photographed. Zak said he felt like paparazzi too. It's such a far stretch from normality for us and we both really enjoyed it."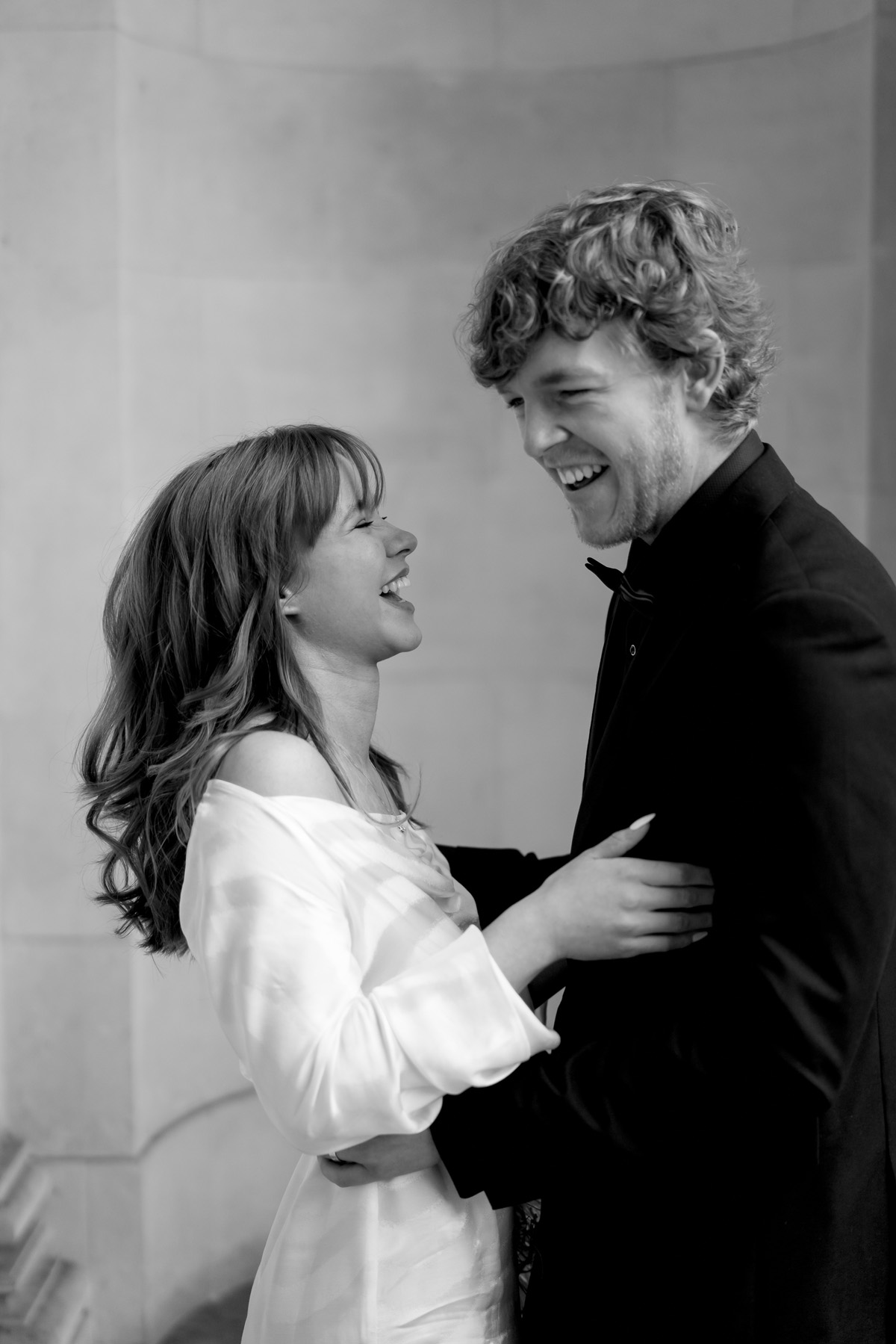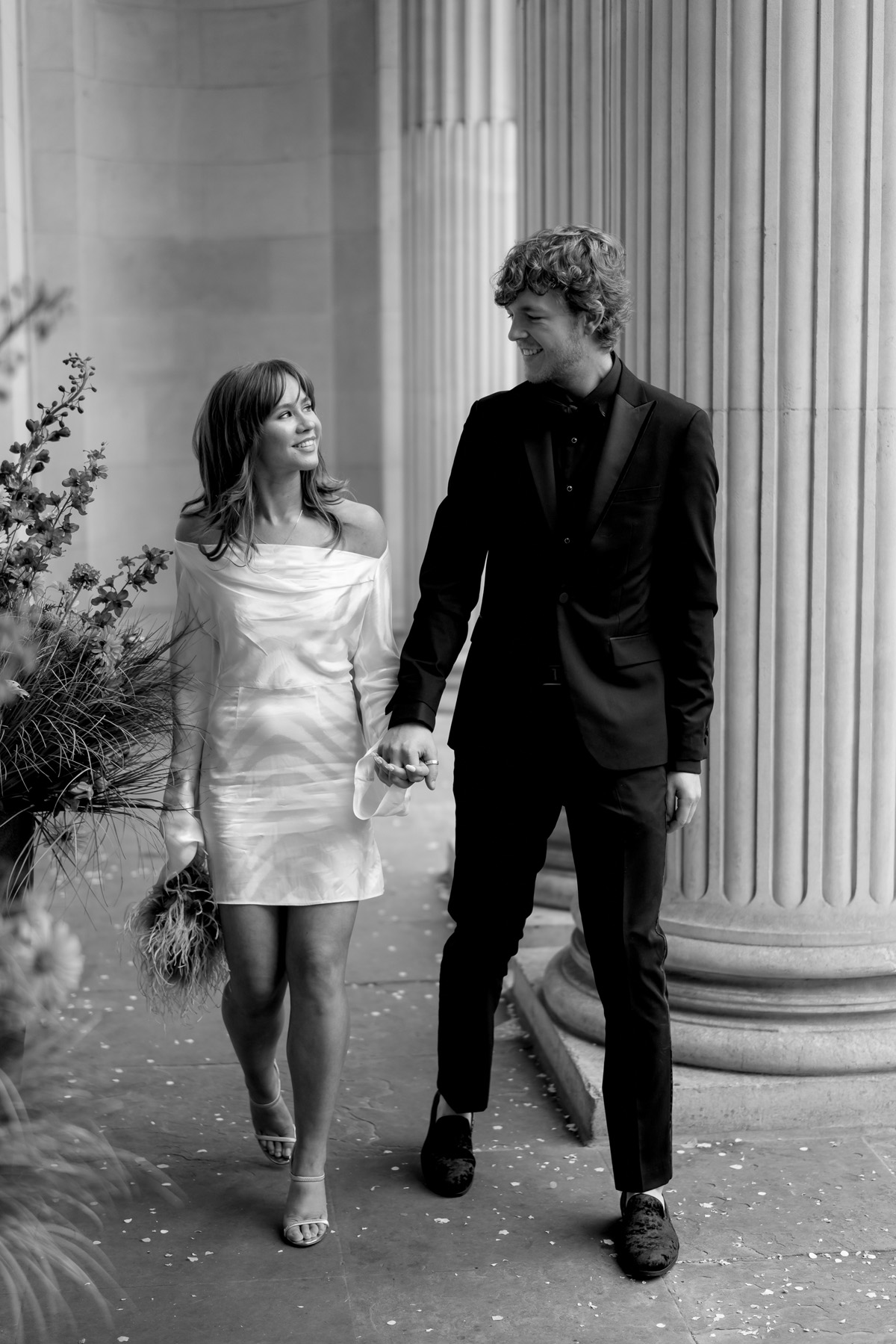 After the ceremony, the couple and their guests headed to Marylebone restaurant 28-50 Wine Workshop and Kitchen for an intimate, sit down dinner.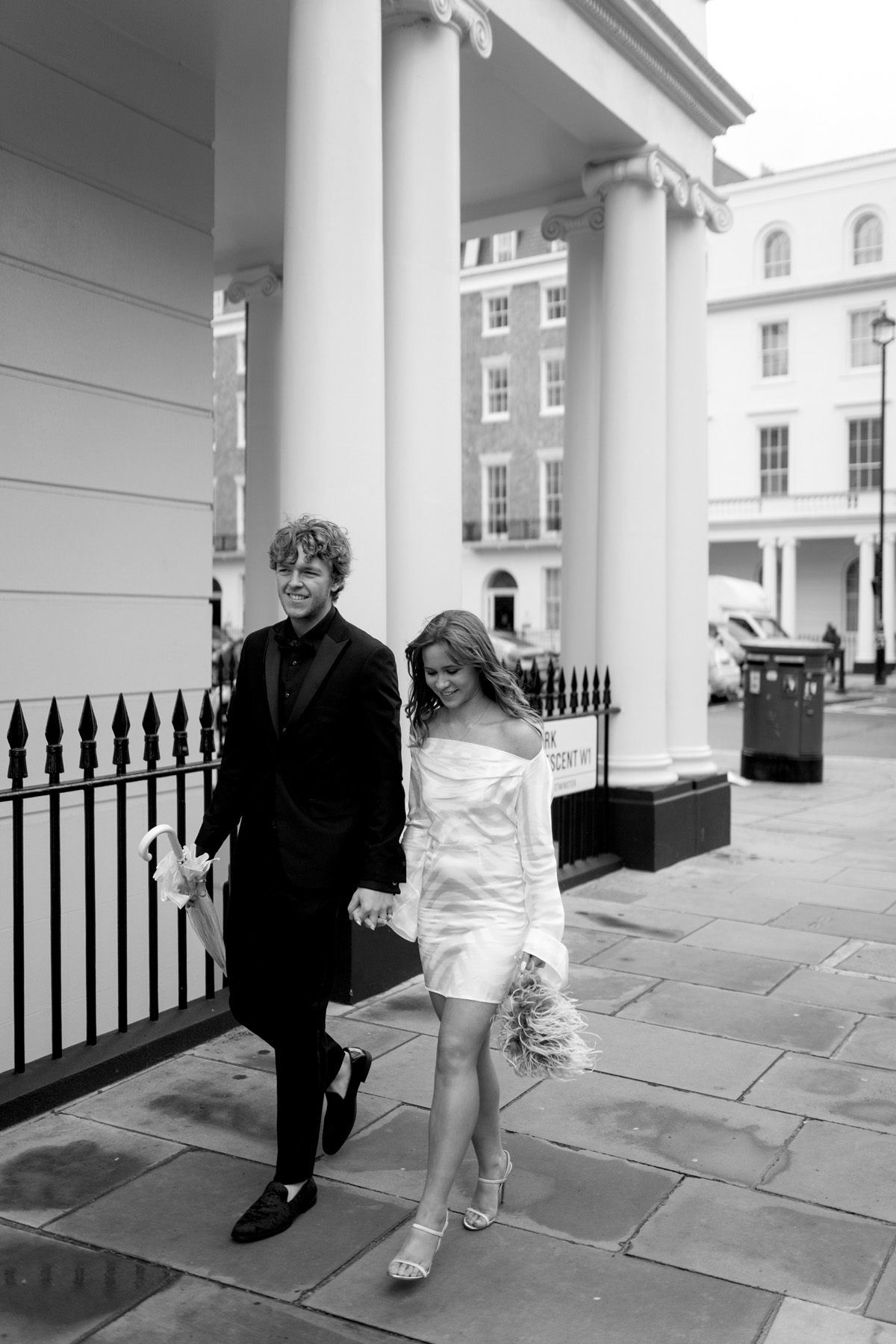 "28-50 Marylebone were helpful beyond belief and the service was brilliant. The private dining area had a beautiful, relaxed atmosphere and the cocktails and food were stunning."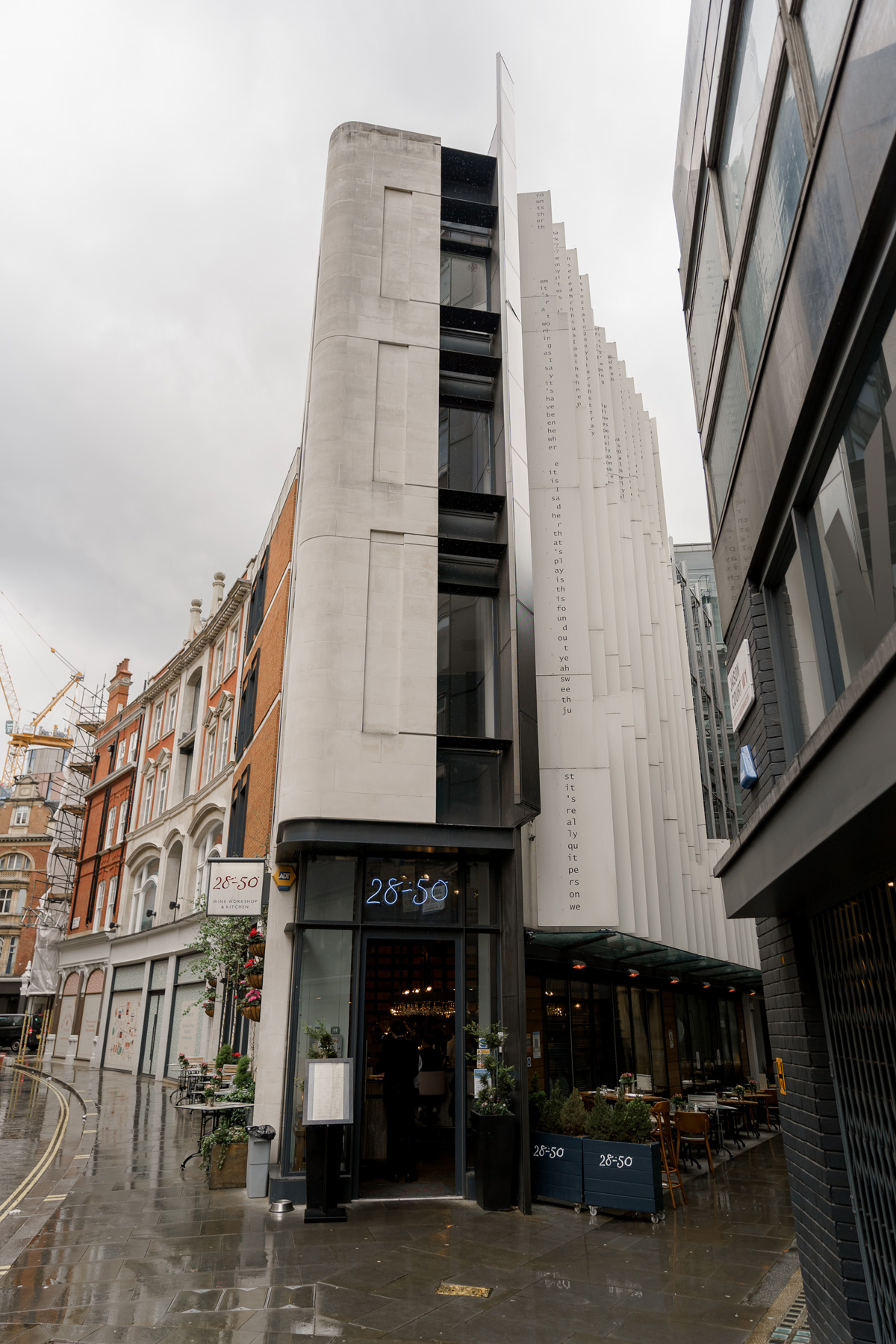 "They dressed the table with our decorations, piñata included, and gifted us champagne as thanks. We would highly recommend 28-50 to any couple."
The couple used their graphic design skills to add a touch of themselves to the beautiful surroundings.
"I designed and created all the wedding stationery myself. As a graphic artist, I have the tools at my workplace to design stationary. I did rope in a few colleagues to help me cut them all."
"I made the table centrepieces using faux flowers and feathers I had bought from a craft store. When I was making them the week before, every time I put a feather in our kitten Rupi would take it out."
"Another favourite part of mine was just winding down at the reception, enjoying time with our families and being present. The beginning of the day went so fast, therefore it was great to enjoy the afternoon at a slower pace."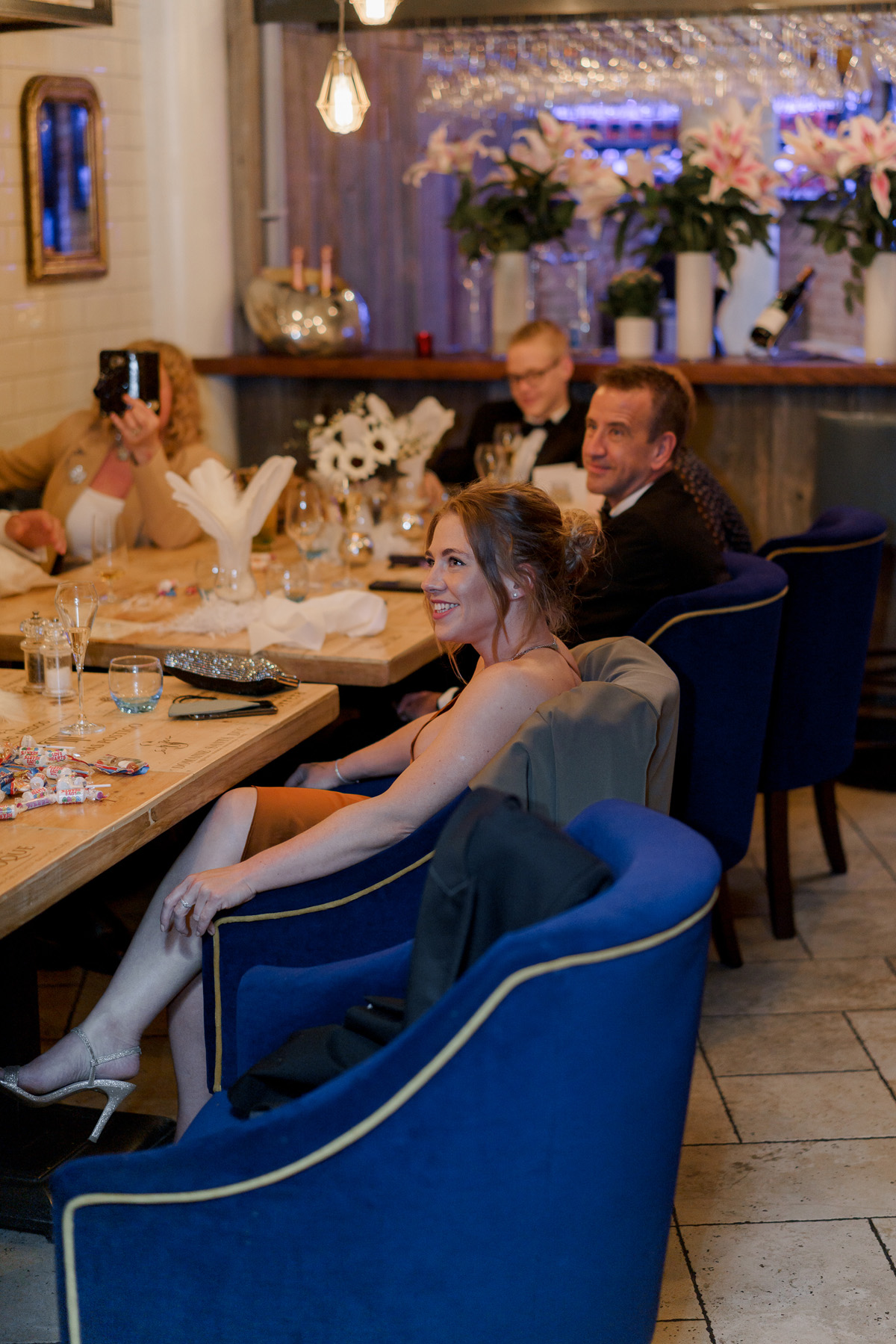 Rather than a cake, the couple hoisted up a colourful, sweet-filled piñata.
"We thought it would be much more enjoyable than cutting a cake – it took quite the effort to burst in the end. Our guests loved it."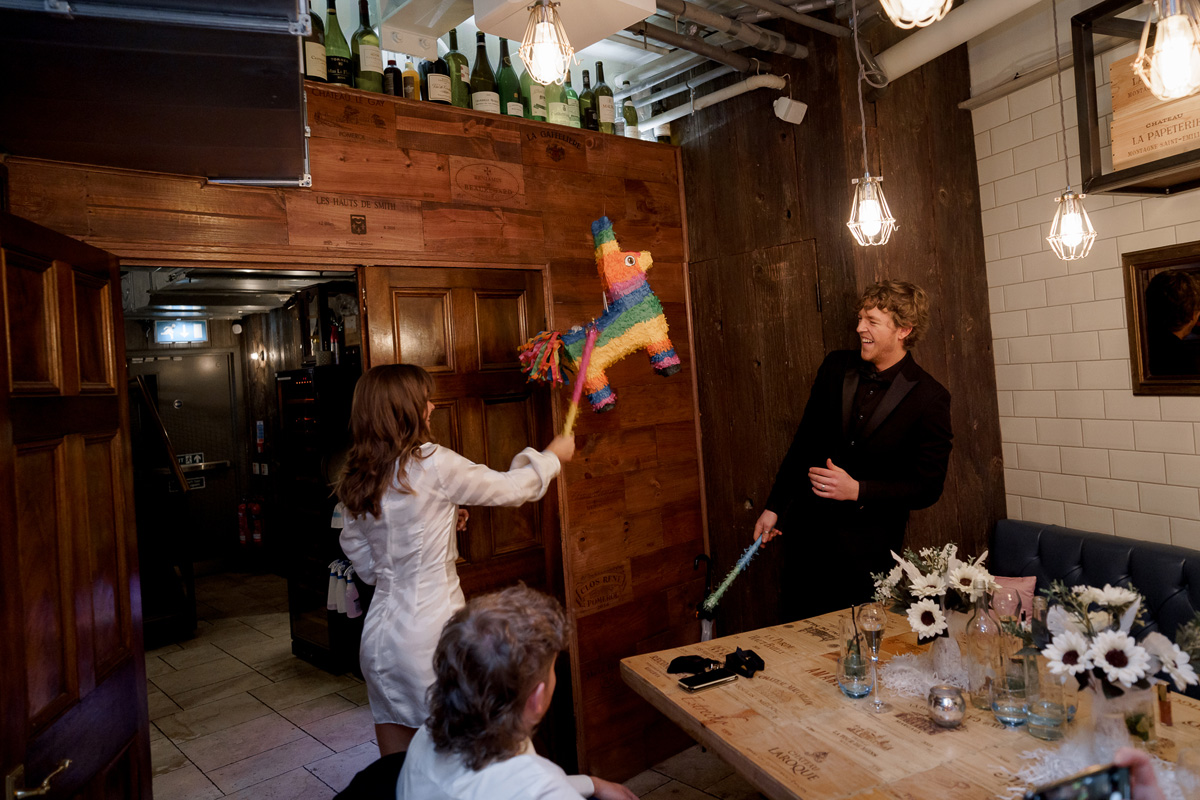 "It was a truly magical day and I am grateful for every moment. We didn't set a budget but we knew what we were willing to pay for and what we were happy to do away with, if necessary."
"For example, it wasn't important for me to have a designer dress, expensive floral displays or a huge after party. However, it was important that we created a day that we would look back on and smile, have beautiful rings that will last a lifetime and photographs that will hold the happiest of memories."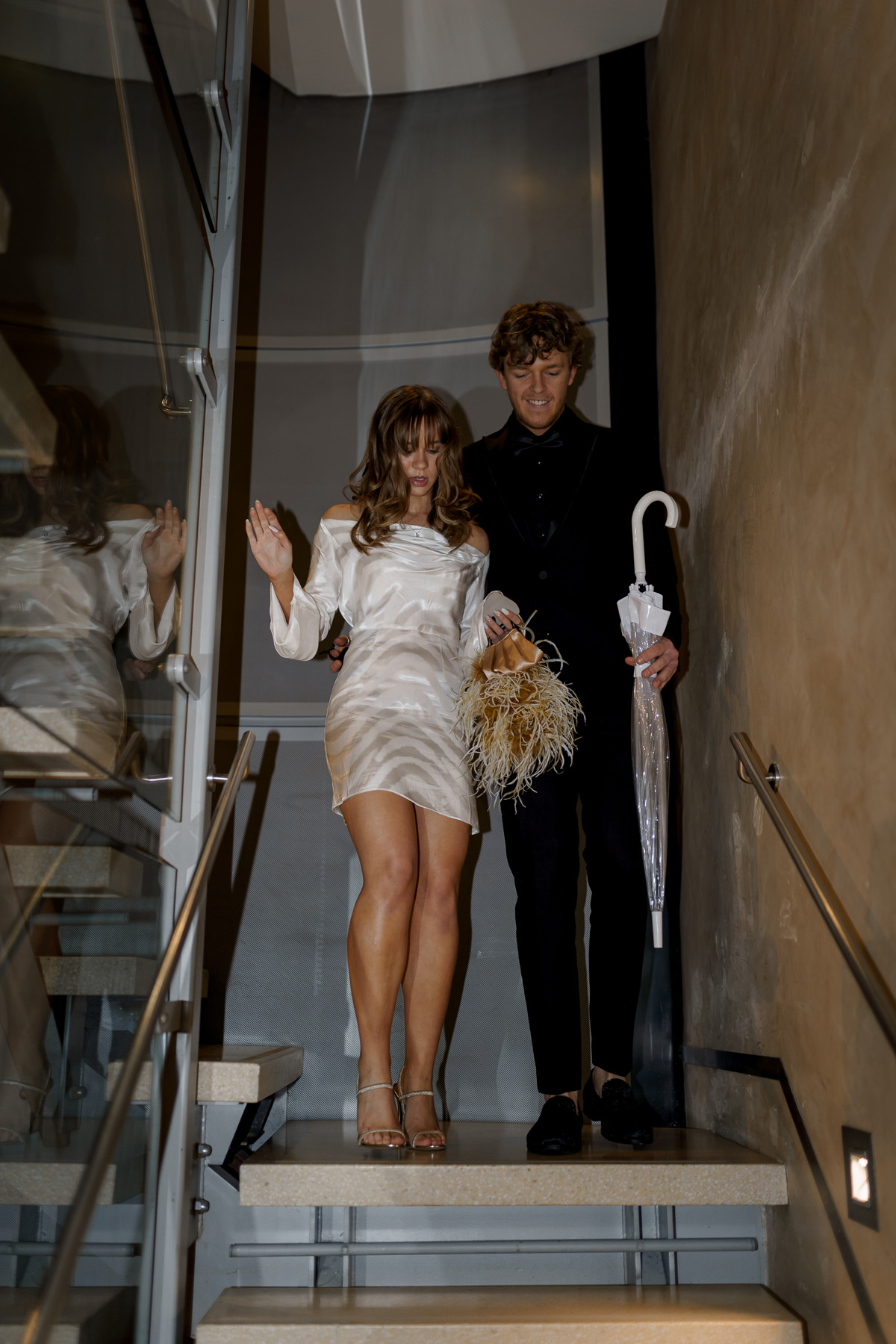 Words of Wedded Wisdom
"Just do you. It is so easy to lose focus when planning a wedding. Before you know, it you're planning a day for everyone else and have lost sight of what is important to you and your husband/wife."
"Evaluate at every step and remain true to your own vision. And have fun with it."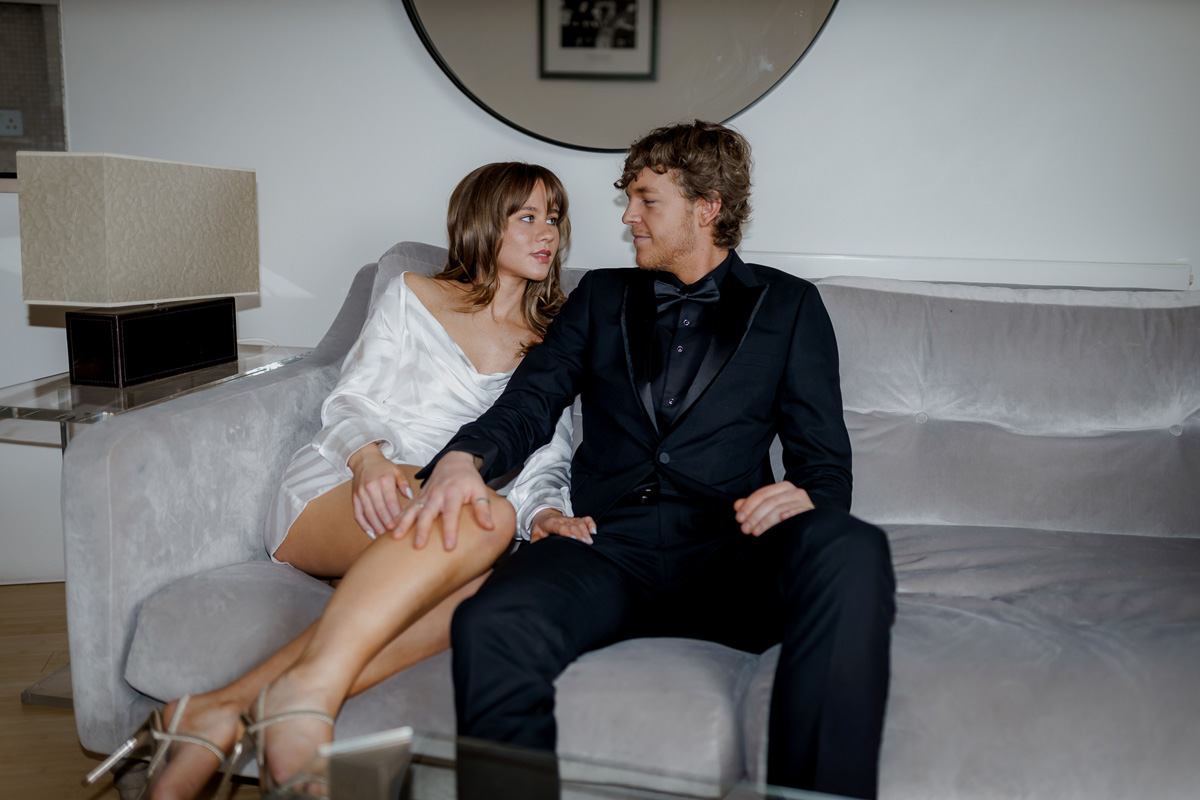 Brooke and Archie, congratulations to you both. You both looked incredible and it truly looks as if you had the most wonderful day together with your friends and family, with many happy memories made.
Thank you so much to you both, and thank you ZL Weddings too.
For more City wedding inspiration, why not enjoy these other celebrations, sure to give you plenty of ideas for your own day.
Ele xx