One of the things I love about writing for Love My Dress is the opportunity we get through weddings to explore the British Isles, albeit virtually, and discovering the hidden beauties that abound.
Today we're heading to the Isle of Wight for a summer wedding that is the essence of contemporary minimalism combined with a relaxed, beachy setting. Please meet research scientist Abi and solicitor Duncan, whose summery day was held at East Afton Farmhouse on the Isle of Wight on 20 July 2019. The couple aspired to a laid-back vibe with a clean and minimalist style, against a crisp backdrop of white, black and green for a contemporary feel.
Jason Williams Photography

+ Follow
The first thing that caught my eye in these photos was the beautiful, sweeping scenery, captured so well by Jason Williams Photography. I love that he shared the couple's minimalist vision with his cinematographic, unfussy images.
Jason is one of our much-loved Wedding Directory members, and we're so pleased to showcase him and his work here.
"We were looking for a local photographer and found Jason through searching wedding photographers on Google Images. Getting the right photographer was important to Duncan and we loved his natural style and use of light."
"As soon as we reached out to Jason he was enthusiastic and fun. On the day, it felt like he was one of our friends, helping us get ready and run things between us! He made us and our guests feel at ease. He even drove us to our favourite beach to get some epic shots. We couldn't recommend him more highly."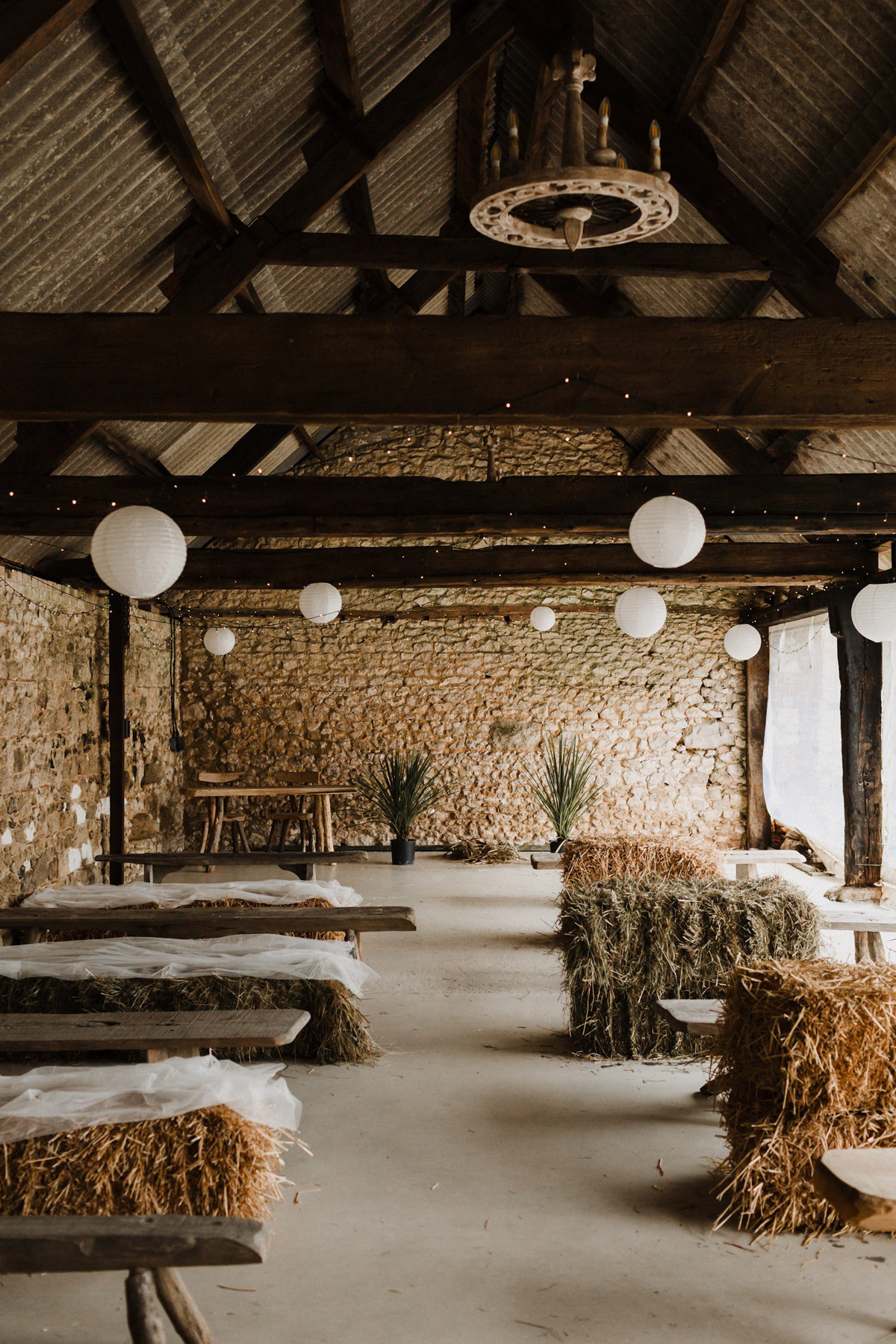 Returning to the Isle of Wight was important to Duncan as it's where he spent the majority of his summers as a child at the family cottage and has since enjoyed many happy holidays there with Abi.
"We were looking for a venue in the West Wight. Ideally, we wanted a venue where we could have our families to stay and extend the celebration."
"East Afton was perfect for this. The fact that it was the venue for the 1970 Isle of Wight festival where the likes of Jimi Hendrix, The Doors and The Who played made it even better; you could still channel the vibes."
"We also wanted to be close enough to Compton Bay to nip down for a paddle and some photos on the day which worked out perfectly. Unfortunately, we didn't have chance to buy an ice cream."
Abi wore a minimalist cowl back gown by Charlie Brear – a discovery at the Ellie Sanderson bridal boutique.
"Having found Ellie Sanderson online, I just knew I had to make an appointment – the styles stocked were so different and contemporary. From the off, Ellie and the girls were amazing and made me feel like a model."
"I was asked what styles I was interested in and a number of gowns were picked out with this brief in mind. But I only had eyes for the Trine dress I'd seen in the window walking up to the boutique. Ellie kindly met me with the dress at the Woodstock boutique one evening to confirm my decision."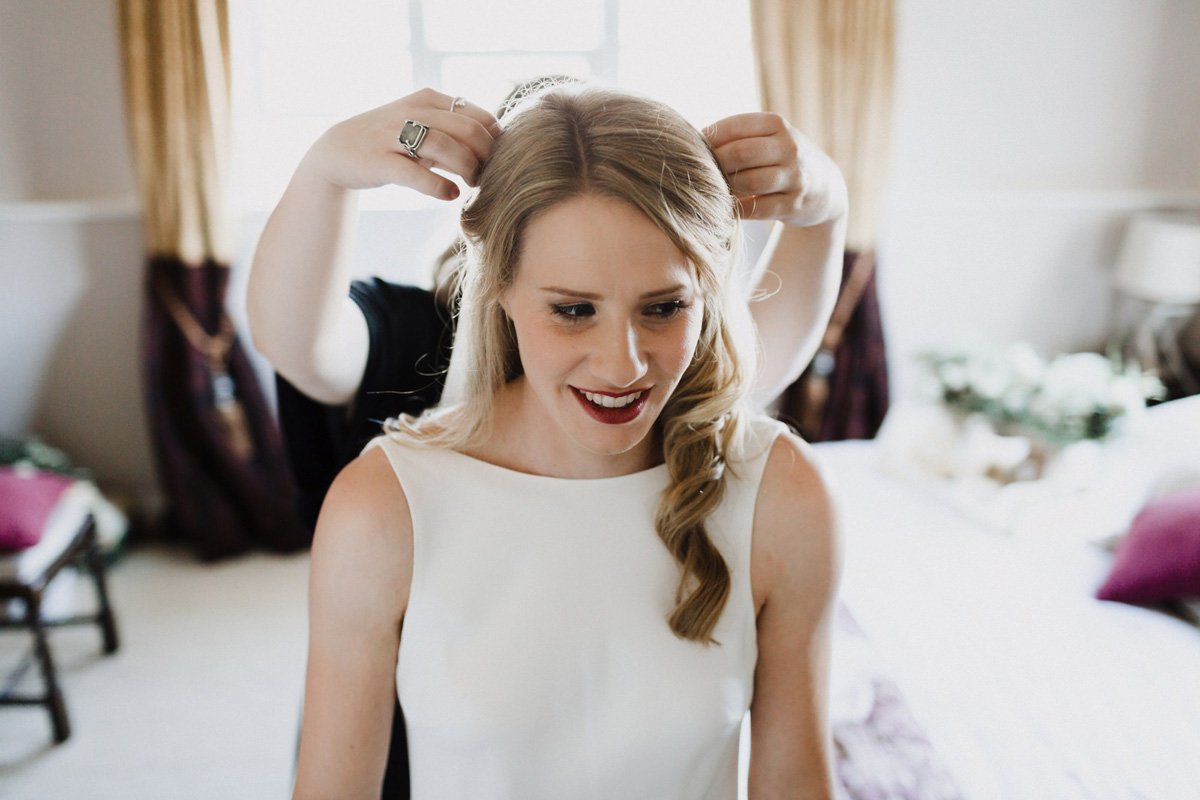 "Having started looking at dresses in February for a July wedding, Ellie was conscious of the manufacturing time but she never made me feel rushed or anxious which cannot be said of other boutiques. Overall this was a wonderful experience which I would highly recommend."
"I LOVED the cowl back. I was looking for something minimalistic and elegant, hopefully with a cowl back and this is the first dress I saw hanging up and fell in love!"
The veil was a handmade 'Snapdragon' veil from Ashley Wild Bridal. This is another of our fabulous Wedding Directory suppliers and we have so many of her exceptional pieces for you to discover here.
"Ash is a good friend of ours and I love her cool style. Ash kindly offered to make me a veil/hat/hair piece for the big day. Ash helped with the wedding dress shopping so she knew exactly the kind of thing I was after."
"When she showed me the Snapdragon, I knew it was the one to work with the cowl and I couldn't have been happier with it."
"My bridesmaids wore emerald, satin-look cropped jumpsuits and emerald dresses from H&M. As a lover of jumpsuits, I was interested in either wearing a bridal jumpsuit or have my bridesmaids wear one. As it turned out my best friend asked if she could wear this jumpsuit so I asked my sister to try it on and it looked fab."
The plain green shows off the bridesmaids' untamed bouquets so well, assembled by Bembridge Flower Shop.
"I contacted Clare only a month or two before the wedding date. She was very accommodating and asked a number of questions to work out the vibe of the day and the style we were after, including height and build and pictures of the dress."
"I knew I wanted white blooms with lots of greenery in a relaxed bouquet but was happy to be led by Clare's expertise and use mostly what was in season. I appreciated that Clare was not afraid to say what blooms didn't suit my brief."
Setting the scene for the day was the couple's wedding stationery, designed by a friend of the couple.
"Our close friend and best man Andrew Bever designed the save the dates, invites and table plans based on our rough doodles. Thankfully, as a professional graphic designer, he made our scribbles look amazing!"
The pared-back barn at the East Afton Farmhouse made for a delightfully rustic setting for the ceremony, lit by hanging paper lanterns and with hay bales for seating.
"Duncan's cousins volunteered to play the piano for us down the aisle and saxophone during the drinks reception. They were excellent!"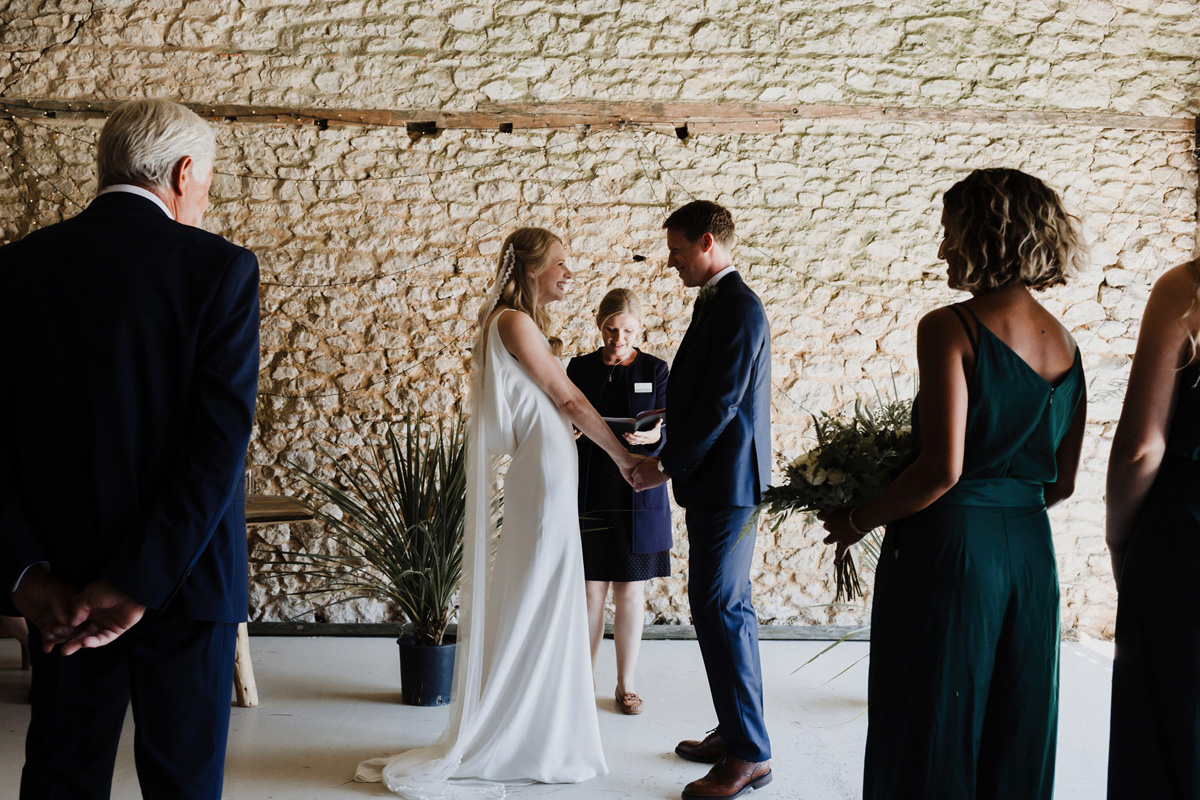 The couple chose an excerpt from 'Captain Corelli's Mandolin' to be part of their ceremony.
"It's a book we both love and felt was especially fitting. Our bespoke rings were designed by us made by a Birmingham-based friend of a friend in the Jewellery Quarter."
After being wed, the couple emerged into the glorious summer day for a relaxed reception on the farm's lawns. There was plenty of time for the guests to get stuck into the garden games as Duncan and Abi escaped for some time together and these delightful portrait shots taken on the empty beach at low tide.
Ready for a hot summer day, Duncan dressed in a crisp blue, tailor-made suit from Simon Dowling Bespoke in Reading, along with Loake shoes and a Junghams Max Bill watch, a gift from the bride.
The venue really does sound an ideal place to centre their celebrations as it offered a great-value package.
"The venue cost included five nights and slept 16. It was equivalent to other venues which we looked at which were a similar price just for the day."
The bride wore her long, blonde hair pulled back from her face in soft waves, styled by Lynzey-Marie at Isle of Wight Beauty.
Her make-up was flawless, with a deep red lipstick adding a splash of drama.
Back at East Afton Farmhouse, the wedding breakfast was hosted in a clear-sided marquee from Coast and Country Marquees, something that looks so elegant and special.
"It was a completely clear marquee. We were concerned about heat in the blazing sun and had to warn guests to bring sunglasses but with the sides rolled up it was not as bad as we thought it would be."
The food was created by Kevin Hendy Private Chef whilst the elegant cake sported a ska checkerboard design as a surprise for Duncan.
"Amazing food and service using top quality local produce. The three-tier fruit cake was made by my mum."
"We were looking for a local photographer and found Jason through searching wedding photographers on Google Images."
"Getting the right photographer was important to Duncan and we loved his natural style and use of light. As soon as we reached out to Jason he was enthusiastic and fun."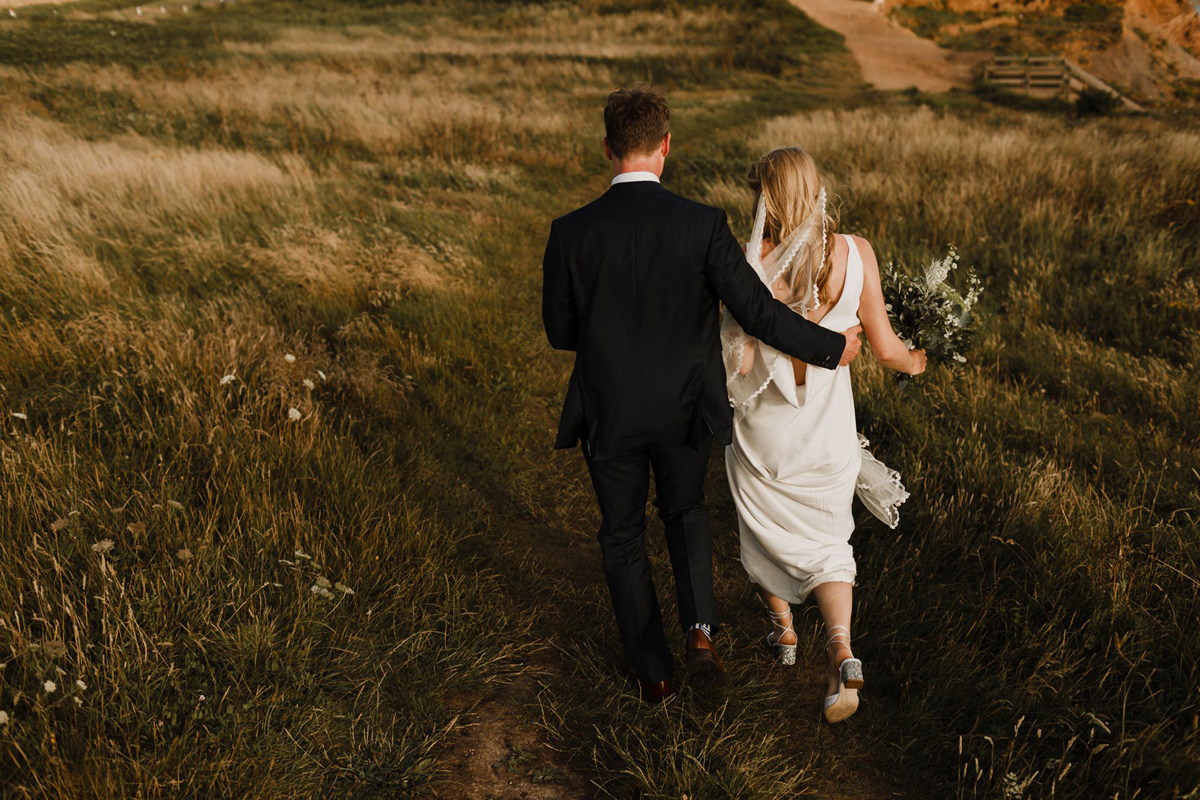 "On the day, it felt like he was one of our friends, helping us get ready and run things between us! He made us and our guests feel at ease."
"He even drove us to our favourite beach to get some epic shots. We couldn't recommend him more highly."
Music is central to the couple's relationship as it is how they first got together.
"We met in halls during our first week of university where we discussed our mutual love of ska punk and the rest is history."
"We got engaged in December 2017 which involved the help of our pet cat Carl and got married in July 2019."
"We went for a predominantly white, green and black colour scheme and incorporated elements of our lives into the décor including Duncan's old skateboard decks for signs and bike wheels as a nod to our mutual love of cycling."
"A free bar was important and we set up an outdoor bar in the front garden along with a range of games for guests to play after the ceremony and before food including Kubb, shove ha'penny (an awesome wedding gift) and Hammerschlagen (a traditional Austrian mountain game which we have spent many drunken hours playing in the alps on ski holidays and later found out is a traditional wedding game)."
"Although it rained heavily the days before and the morning of, thankfully the skies cleared and we were blessed with glorious sunshine which made the day extra special. We were keen to use local produce and suppliers where possible to make the most of what the Island has to offer including the food, flowers and beer from Island Brewery."
Finally, as we fell in love over a mutual love of ska, we had to have a ska band and they truly lived up to all our expectations, helping to get everyone on the dance floor skanking from the first to the last song."
As evening fell, Ska'd For Life, the Isle of Wight's ska band, started to play – the couple's literal dream!
"The band had to turn down a scooter rally to play at our wedding and had the dance floor skanking for their entire set! We also had a great time building our own Spotify playlist together which we played in between and after the band's set. This allowed us to include some classic songs from our time together including tracks from Snoop Dogg to Rage Against the Machine."
"Our first dance was Regina Spektor's 'Samson', our song from when we first got together at uni."
What a beautiful day, so beautiful that the bride couldn't name a single part that stood out as her very favourite.
"We had a rough budget in mind but we were happy to spend more on the things we wanted such as the band, food, drink, photographer and dress. However, even though we got exactly what we wanted none of these were ridiculously priced."
Words of Wedded Wisdom
"Doing a booze cruise to France can save lots of money if you are providing a free bar. You'll also end up with enough leftover alcohol to keep you going for years after."
"We aren't big planners so this was destined to be our biggest project. Despite this and going by rough timetables we found online, we had more time than we thought and you shouldn't feel pressured or rushed into big/expensive decisions."
"Although weddings can seem expensive and frivolous it really is a once in a lifetime party with family and friends and you don't need to spend huge amounts."
"Also, it is important to have some entertainment for the guests between the ceremony and wedding breakfast."
Thanks so much Abi for these very down to earth words of wisdom. I've been blown away by the elegant simplicity of your day and it really does look as if you and Duncan had the most wonderful day. Thank you to you both, and thank you Jason Williams for your beautiful work.
If beachy weddings are your thing then there are plenty more to inspire you over here on Love My Dress.
Ele xx