Today's wedding celebration may have taken place in the UK's smallest county of Rutland, but it's nonetheless big on charm, romance and array of lovely details, from the wonderful sailcloth marquee for the reception, to the dreamy colour palette and beautiful dried flowers.
Teachers Alice and Alex were married on the 13th July, pre-covid, at the village church in Clipsham, Rutland. Alice's parents live in Clipsham, and so the couple and their guests then made the short journey to Alice's parents' garden for their elegant reception inside a sailcloth marquee hired through Shades.
Rebecca Goddard Photography

+ Follow
"The lovely Rachel at Nullipress made our save the date, invitation and order of service. I found her on Etsy and she was so helpful."
"She made a bespoke design based on some of the standard designs on her website."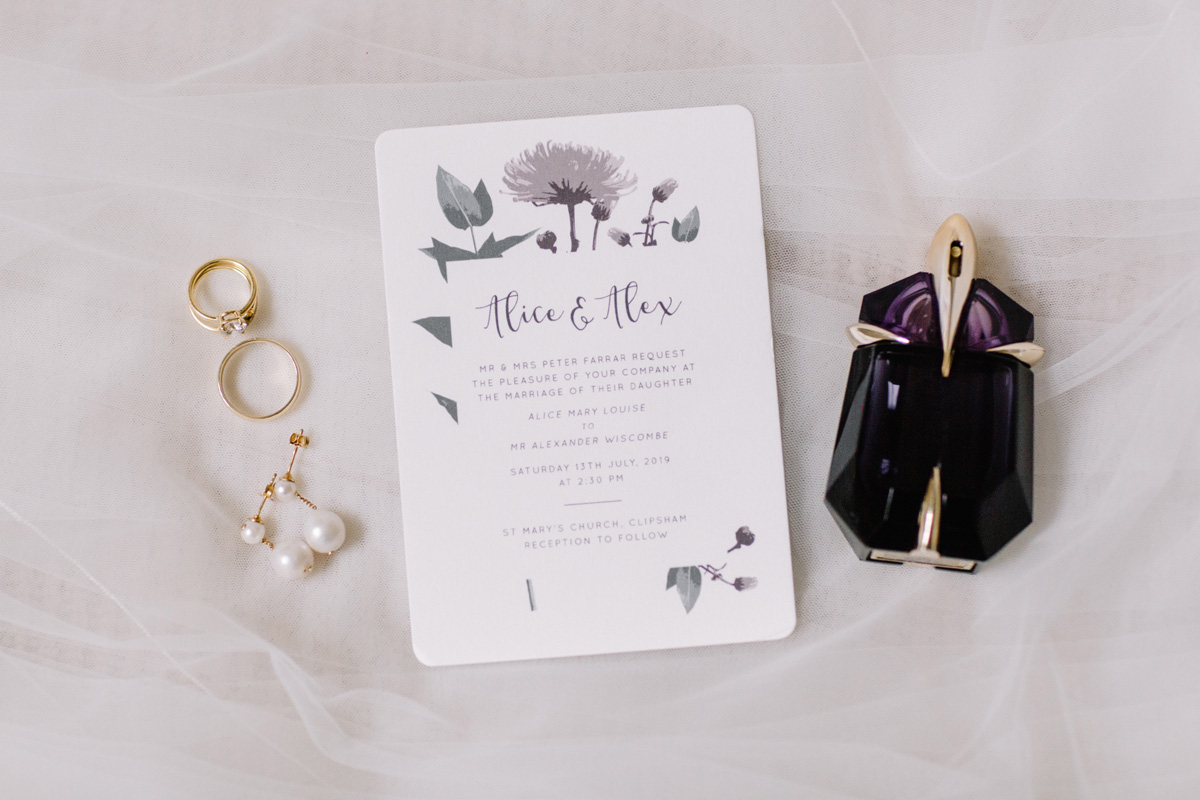 The sweet flowergirls (nieces Arabella and Martha) wore white dresses from John Lewis, with one wearing a pretty flower crown of pink gypsophila, too.
Alice and her bridesmaids each carried beautiful bouquets of dusky pink and white roses, peonies, astilbe and sweet peas by florists The Flower House, tied with hand dyed silk ribbons from Pompom Blossom.
Alice's hair was styled by Krystel Palmer, and she also wore a long, soft tulle veil by Elena Ferrara, and her wedding day perfume was her everyday favourite, Thierry Mugler Alien.
The beautiful pearl drop earrings Alice wore were by New Zealand jewellery designer Jasmin Sparrow, and her dress was a bespoke creation by Elena Ferrara Bridal Boutique in York.
I love the pared back simplicity of Alice's graceful dress, with long and softly billowing cuffed sleeves in ethereal silk chiffon.
"My sister, Lizzie, had a bespoke wedding dress made at Elena Ferrara Bridal Boutique in York, so after a few months of trying but failing to find something I wanted, I decided to do the same."
"It wasn't the best location-wise (living in Hove), but with family nearby and time on our side, we made it work."
"I gave Elena a collection of all the images I had collected from Pinterest/Instagram and we set about designing a style."
"It was very hard to picture in my head as we merged lots of looks and I didn't really get to see the final look until a month before the wedding, which was quite unnerving."
The body of the dress was silk crepe, whilst the arms were silk chiffon. The pouffy arms and cuffs were the main criteria and we basically designed the dress around them!"
"Being able to walk from home to the church made the day feel very personal. I wanted a traditional style, but quite delicate and romantic."
" I got a lot of my inspiration from Spanish and Portuguese weddings, particularly their dresses with clean lines and simplicity."
"I wanted quite a natural bouquet which wasn't too big. I chose subtle pinks, dusty pinks, white and then a more darker plum colour to add some depth."
"I don't wear bold colours, and our home is very neutral, so the colour scheme worked with my general style."
Alex wore a navy blue suit from Reiss, which he had tailored in their Regent Street store in London, with a grey double-breasted waistcoat by Hackett, and shoes from Joseph Cheaney & Sons.
The village church at Clipsham was adorned with more wonderful, pastel hued flowers, and Alice, her bridesmaids, flowergirls and Dad, Peter, all walked together from the family home.
"I walked down the aisle to Portuguese Love Theme from Love Actually played on the piano by Ross Gilmartin (AKA Ross Key). It is just so romantic, but in an uplifting way."
"So many love songs are about hurt and sadness! My friend Amy learnt the organ for us (she is a pianist) for the hymns, which was really special."
"I loved the church service. Walking in to a sea of faces was so magical. I thought I was going to be super nervous walking in, but the experience was actually the opposite! I smiled from start to finish!"
Alice and Alex first met at work, and made their home together in Hove. One morning, over toast in bed, Alex proposed – with a diamond instead of a ring, so that Alice was then able to have a ring designed just as she wished. Her engagement ring and both their wedding bands were by Brighton based jewellers Ring.
"Our Bible reading was 1 Corinthians 13: 4-13 (Love is Patient, Love is Kind). It is a classic and although we had heard it many times before at weddings, it is very apt."
"For our second reading we chose He's Not Perfect by Bob Marley, read by our dear friend Kas. We didn't want anything too soppy, or anything we had heard before (which is hard when you reach your 30's and have been to many weddings!)"
Alice and Alex walked back down the aisle together hand in hand, now married, and outside to be greeted with hugs and kisses from loved ones.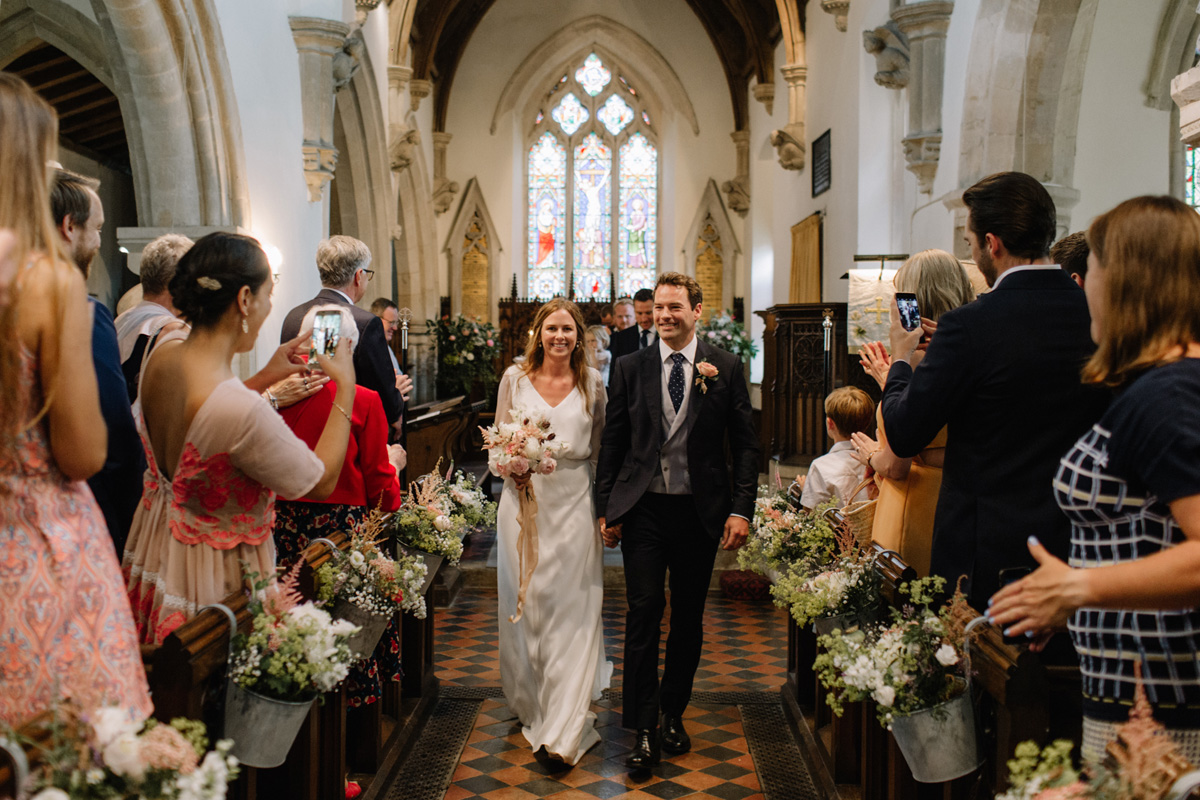 Whilst guests (and flower arrangements!) headed over to the garden reception, the couple took the time for a walk together with their super photographer, Rebecca Goddard.
"Beccy had already photographed two of my bridesmaids' weddings and we loved all their photos, so she was the obvious choice! Her photos are beautifully classic, unstaged and with a warm, but subtle filter."
"Beccy's style suited our romantic theme and she captured every key moment from all angles (despite being solo). She is super calm and very experienced. She managed to organise the bridal party rabble with minimal fuss!"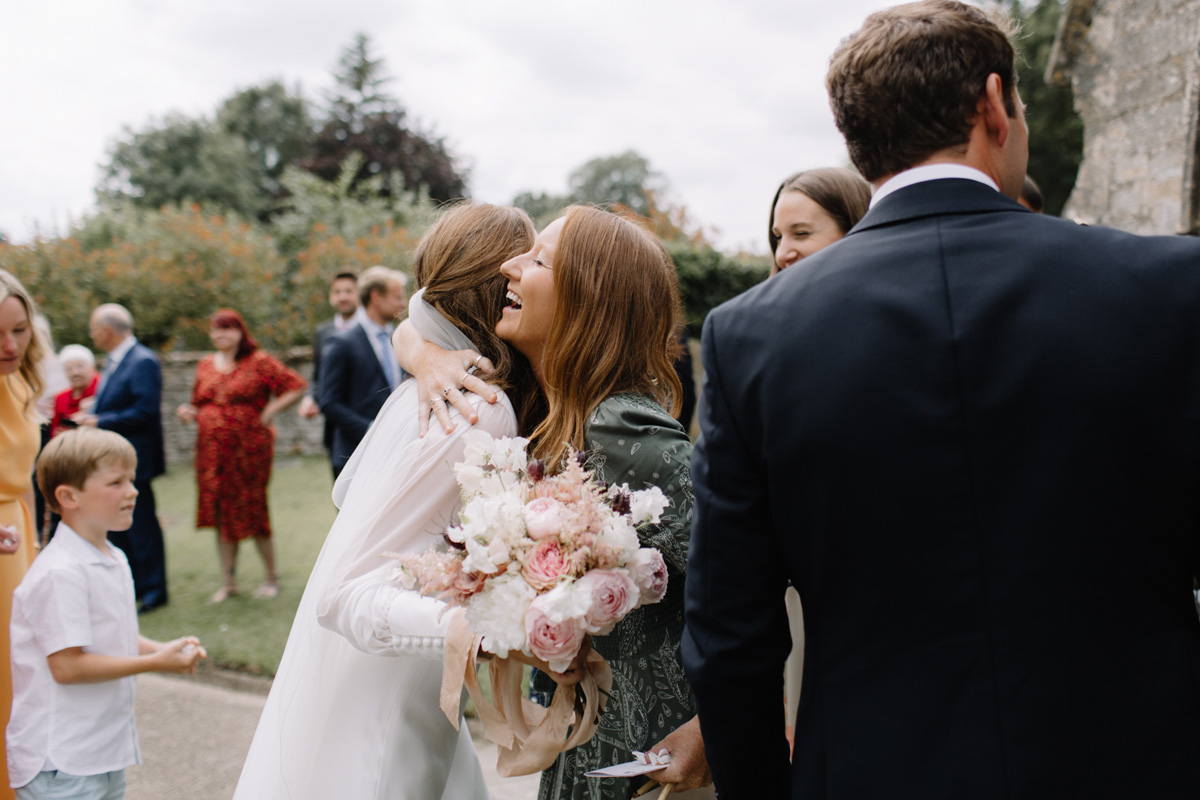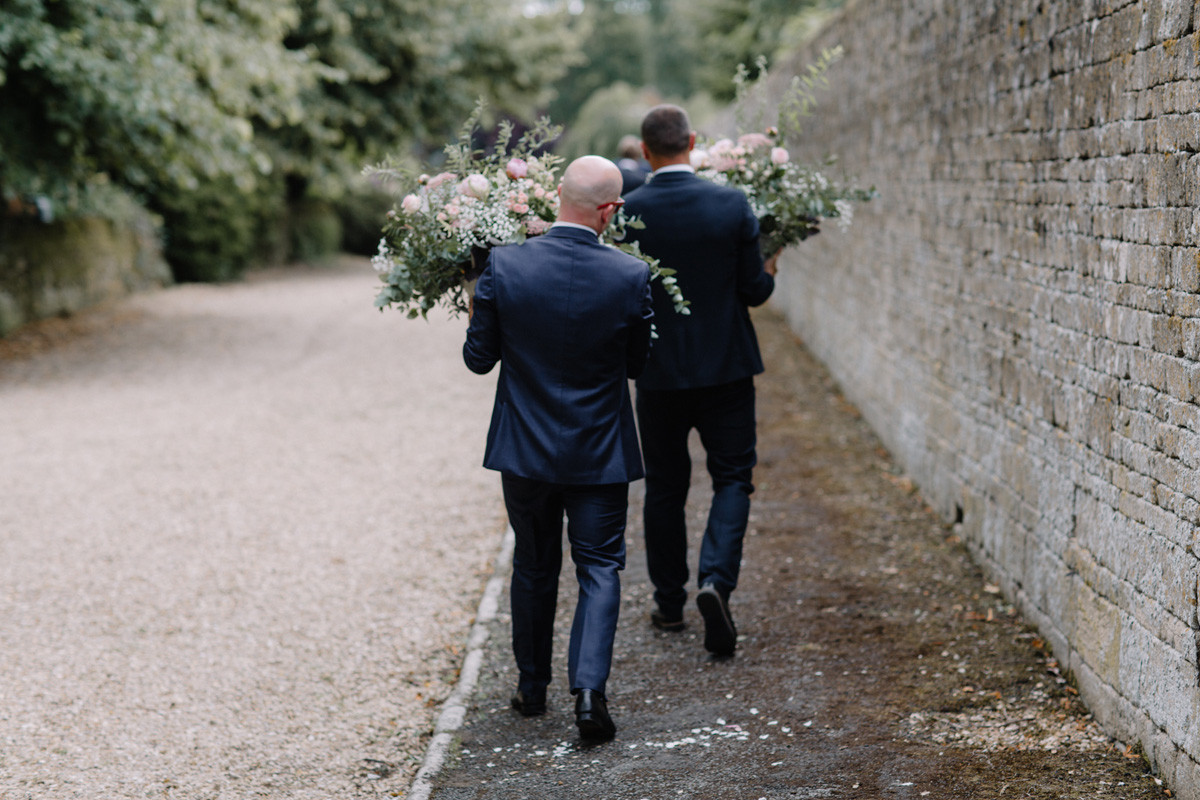 "Choosing bridesmaid dresses was one of the most challenging aspects of wedding planning! I think at one point I had seen every dress on sale in the UK."
"My sister was pregnant, which meant it had to have a bit of give to it and I strongly dislike typical bridesmaid dresses."
"I was relieved when we landed on the Sezane dresses, which were a high quality material, suited all my bridemaids and could be worn again after the wedding."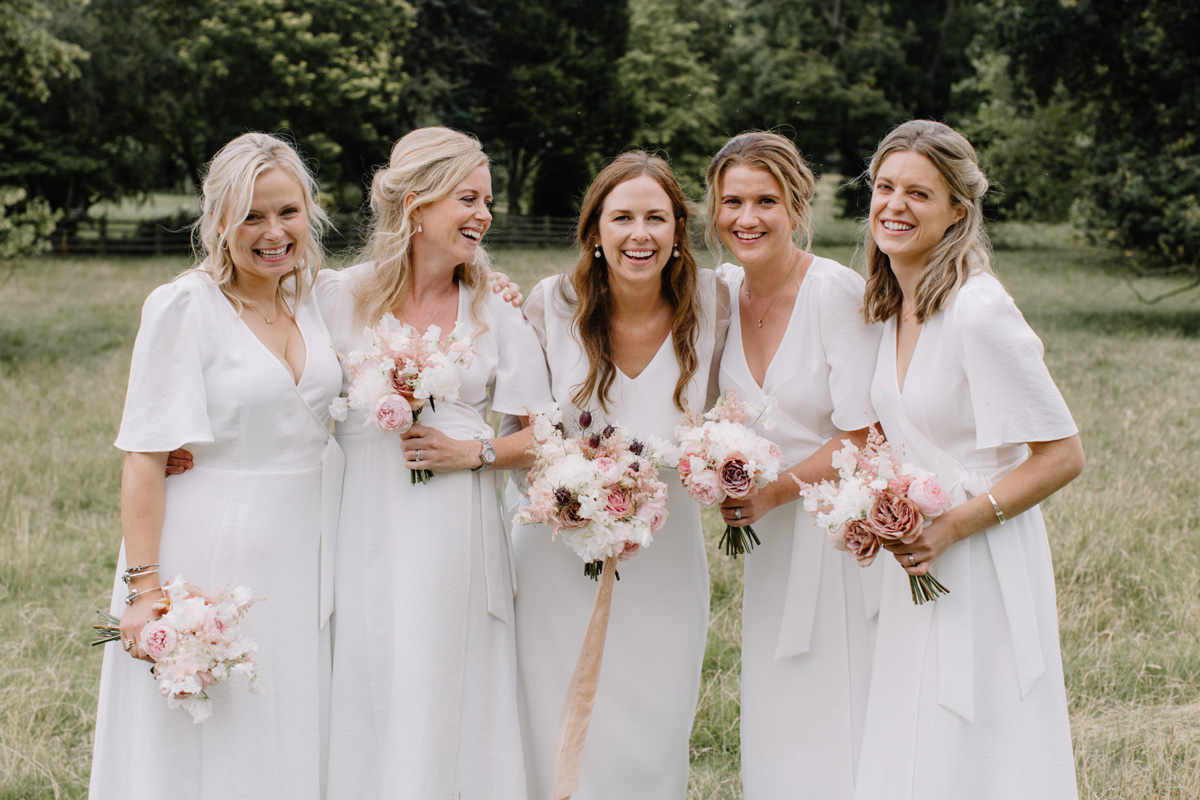 "Shades Canvas provided the sailcloth tent. We liked the more modern shape, high ceilings and that you could open up the sides. They were really helpful – would highly recommend."
In the marquee we added some rustic tones (dried flowers, etc.). The colour scheme evolved from quite striking pinks, to more whimsical tones with lots of whites, but also dark plum to make it not too insipid."
Lilac & White made the elegant table plan, which was set on an easel and decorated with lovely dried flowers. The marquee was a lovely, light-filled space made even more beautiful with lots of flowers – in vases and bowls, and dried stems in bottles and glasses, too.
"We wanted the décor to be quite simple and classic. We used some of the marquee company props (tables, chairs and the hanging festoon ladder), but kept it pretty simple otherwise. I splashed out on tapered candles from Ester and Erik for the tables – they were perfect!"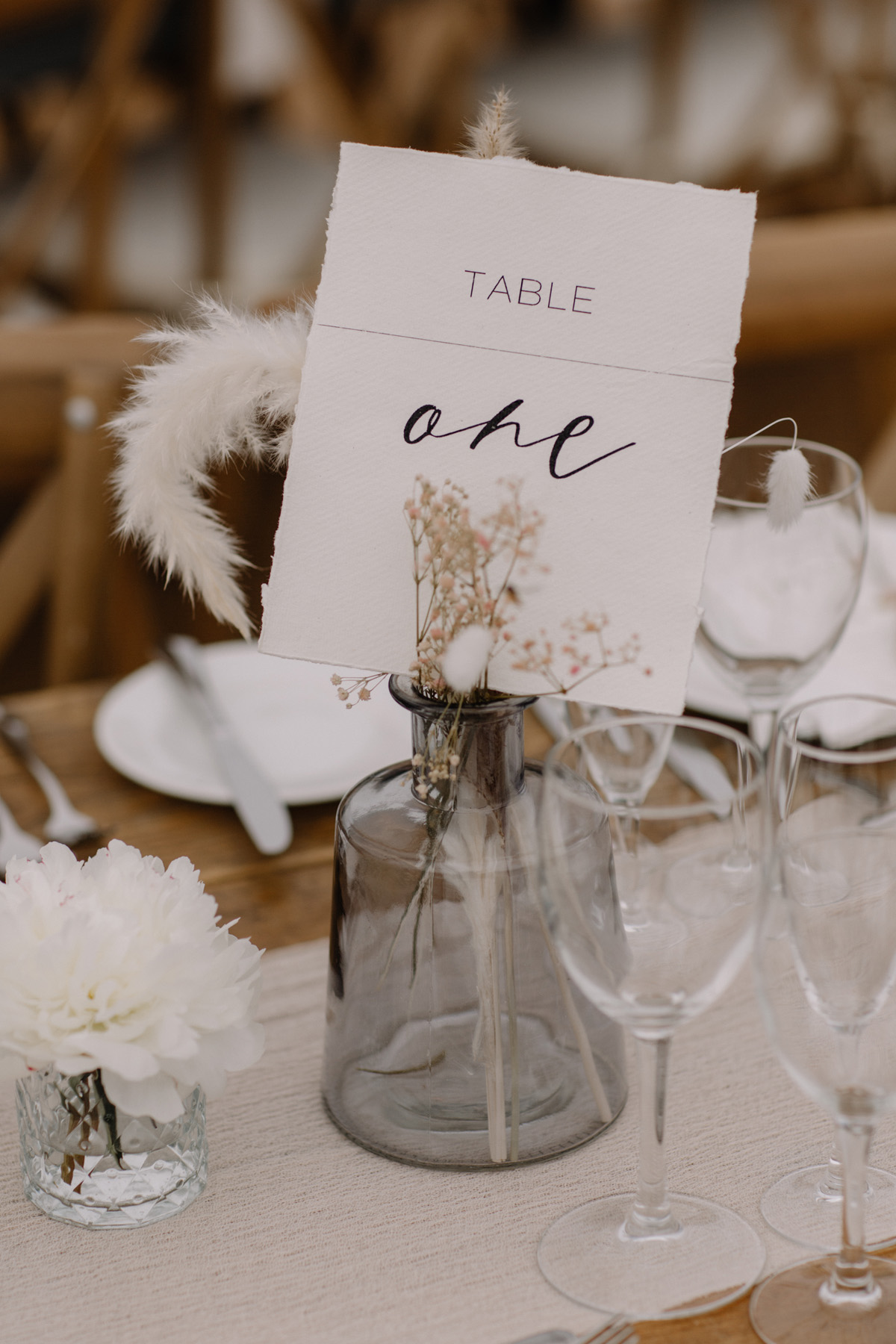 A priority for Alice and Alex when it came to planning was the food, and The Dimblebee Catering Co. laid on a delicious feast, beginning with canapés (which included sliders) served in the garden.
The starter was an Italian inspired sharing board, followed by steak and chips, and Baileys creme brûlée for dessert.
"We chose a three-tier Victoria sponge wedding cake with different thickness of icing on each tier, made by Michelle at Love Life Eat Cake. I copied a photo we had seen from an editorial shoot that my photographer had done."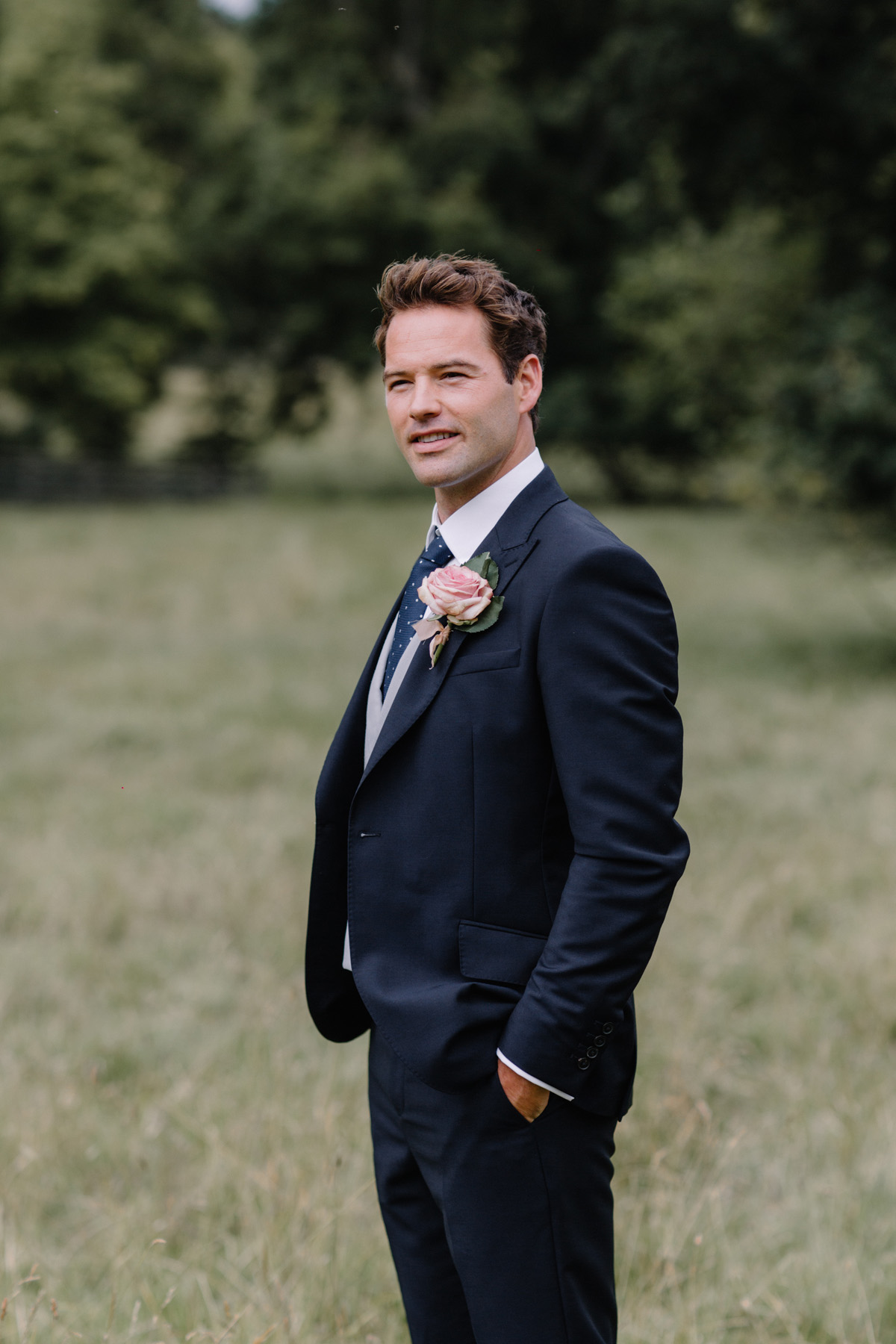 After dinner, toasts and cake cutting, Alice and Alex headed to the dance floor for their first married dance, to the song Craving by James Bay, which carries very special meaning for them both.
"Our first proper holiday together was to Sri Lanka in 2016. Travel is a huge part of our lives (I am a Geography teacher) and the song brings back happy memories of playing James Bay on repeat on the most beautiful beaches. Our wedding band had to cancel a week before the event, which we were initially gutted by as we had spent many hours choosing them."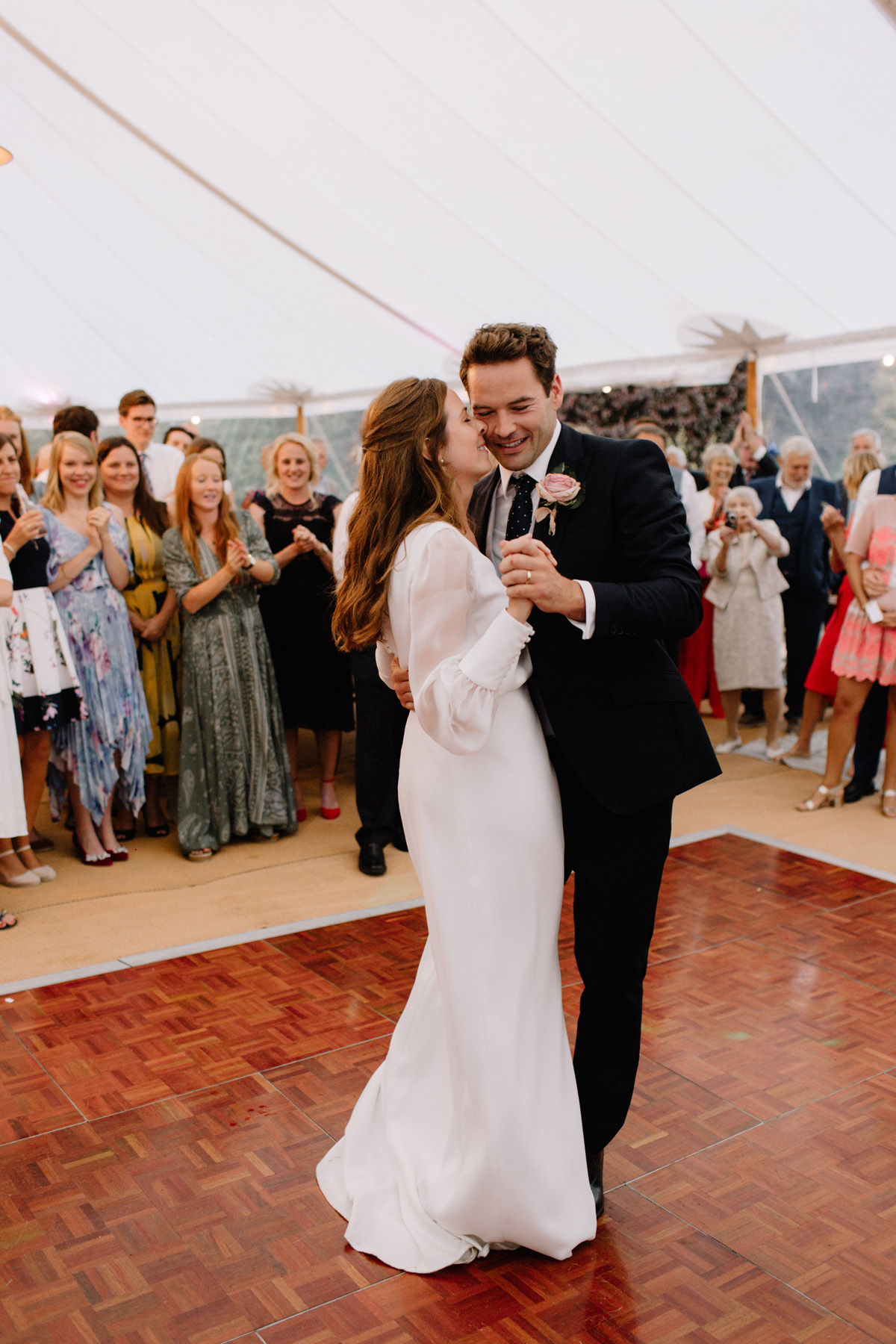 "We had booked through Function Central who immediately set about finding us a replacement. Penfold had coincidently been cancelled on themselves, so we snapped them up!"
"They were really ace, great fun, organised a dance-off and learned our first dance in 5 days!"
Words of Wedded Wisdom
"Try and have some original elements to your day. Trends come and go, so we tried to avoid the latest fad. We tried really hard to make as much as we could unique/bespoke, e.g. our rings, dress, stationery, first dance, etc. I think people presume bespoke means more expensive, but my dress was not too dissimilar in price to ones I saw in bridal stores."
"I got really annoyed with people telling me not to worry about the small stuff as people won't notice. I disagree! I always notice and knew some of my guests would appreciate the small touches (and they did!). Be careful with looking at editorial and staged table décor photos. In reality they are hard to recreate! Tables need space for glasses, water jugs, wine, food, condiments, etc. and those photos don't account for that!"
"I was worried the day wouldn't live up the hype, how wrong I was! It really was the best day ever!"
Alice and Alex, thank you so much for sharing your charming, country wedding day with us. There are so many beautiful details and touches to enjoy, all captured elegantly by Rebecca Goddard Photography – thank you!
Until next time.
Love,
Laura