Hello my lovelies! Well, what a treat I have for you today; a destination wedding in the heart of rural France.
Please welcome Kirstie and Matt, who both work in tendering in the construction industry, who escaped to the idyllic surroundings of Le Château de Mailly, Mailly-le-Chateau in Burgundy for their pre-Covid, summer wedding.
Grace & Mitch Photo & Film

+ Follow
The styling of the day was simple and elegant, with a fresh colour palette of ivory, blush pink and soft green for a timeless look. The couple fell in love with the fairy-tale feel of the Chateau and it's dry-hire approach meant they could create the day they dreamed of.
"We knew we wanted a wedding abroad, mainly for the weather and a chance to have a more intimate day with those closest to us."
"We found the château online through a holiday rentals company and after a trip to France to view a couple of places, we decided on Chåteau de Mailly as it ticked all our boxes and felt like a real fairytale destination."
"The château had hosted some weddings before but only a handful as it was essentially a dry hire venue. The owner and housekeeper were amazingly helpful at letting us know what was available for use, such as furniture, party lights and table linens etcetera."
"They even allowed us a weekend stay out of season to familiarise ourselves with the place and to look around at what we could use and plan for what we would need to hire or bring."
Kirstie and Matt met through one of their best friends whilst they were in their late teens and were friends for a year or so before they became a couple.
"We'd been together for eight years when we got engaged. Matt organised the most perfect proposal on the night of our anniversary. We went out for dinner and when we got home the lounge was filled with candles."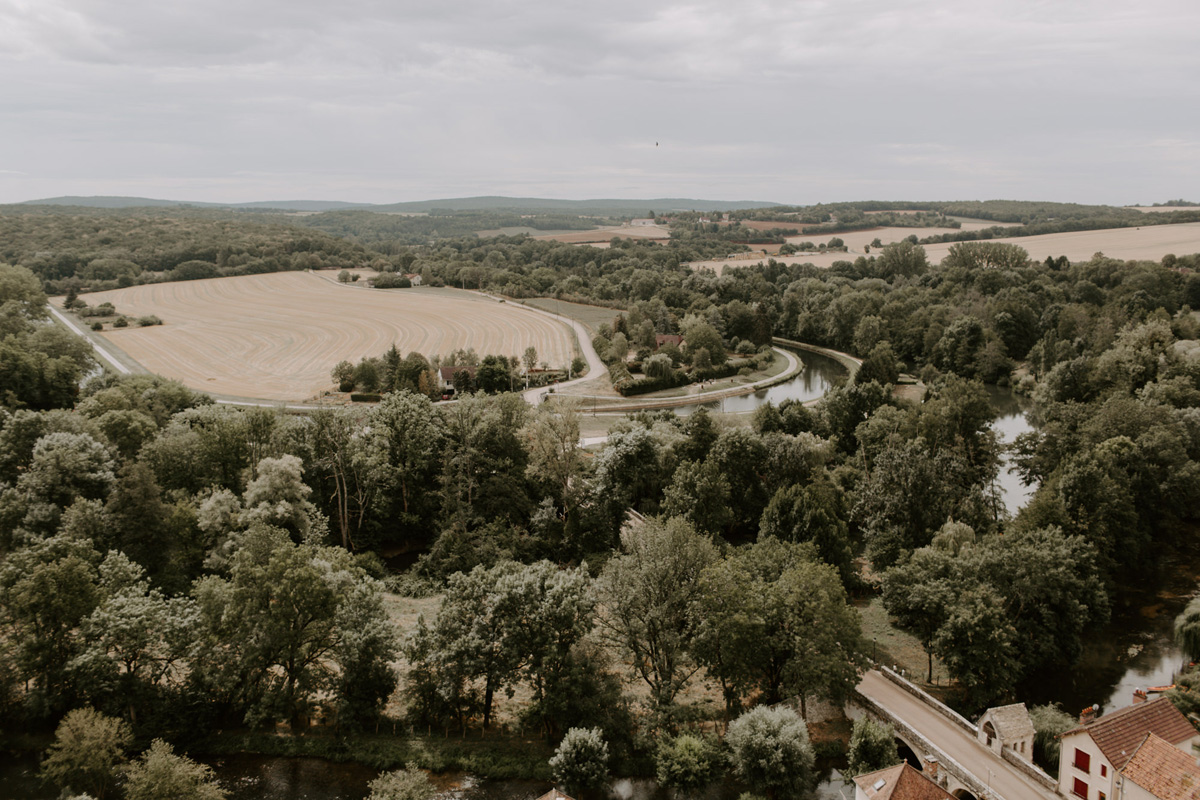 "I was very confused and thought there was no way he was proposing but I turned around and he was down on one knee. He knew getting engaged in our house together privately would be perfect and it really was."
"We got married just over a month before our ten-year anniversary, which was a big milestone."
I adore the quirky touch provided by the bride's DIY shoes; the addition of a velvet bow transforming a pair of New Look shoes.
"I was lusting after a pair from Emmy London called 'Florence' but I knew I wouldn't wear them all day (I ended up wearing my trusty Birkenstocks under my dress for dancing!) and I'm not much of a heels girl. I decided to DIY my own with a pair of pink suede block heels from New Look and some pink velvet. I loved making them."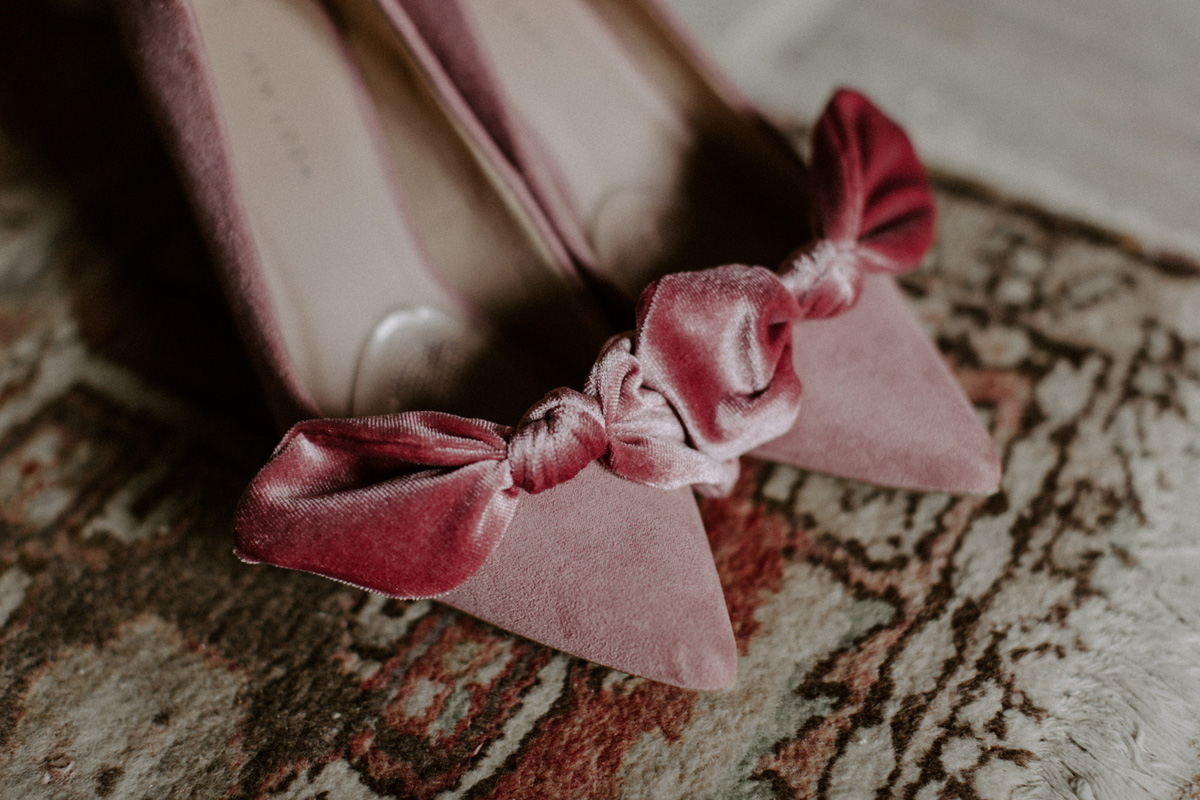 "To go with the velvet bows on my heels, I made a matching clutch bag and painted my new name on it. I didn't carry it round much but it had all my important bits for touch ups when I needed them."
"Matt gifted me a beautiful, knife edge, white gold bangle and matching half-hoop earrings on our wedding day, a nice touch as the profile of them matched his knife edge wedding band. I wore the bangle on the day."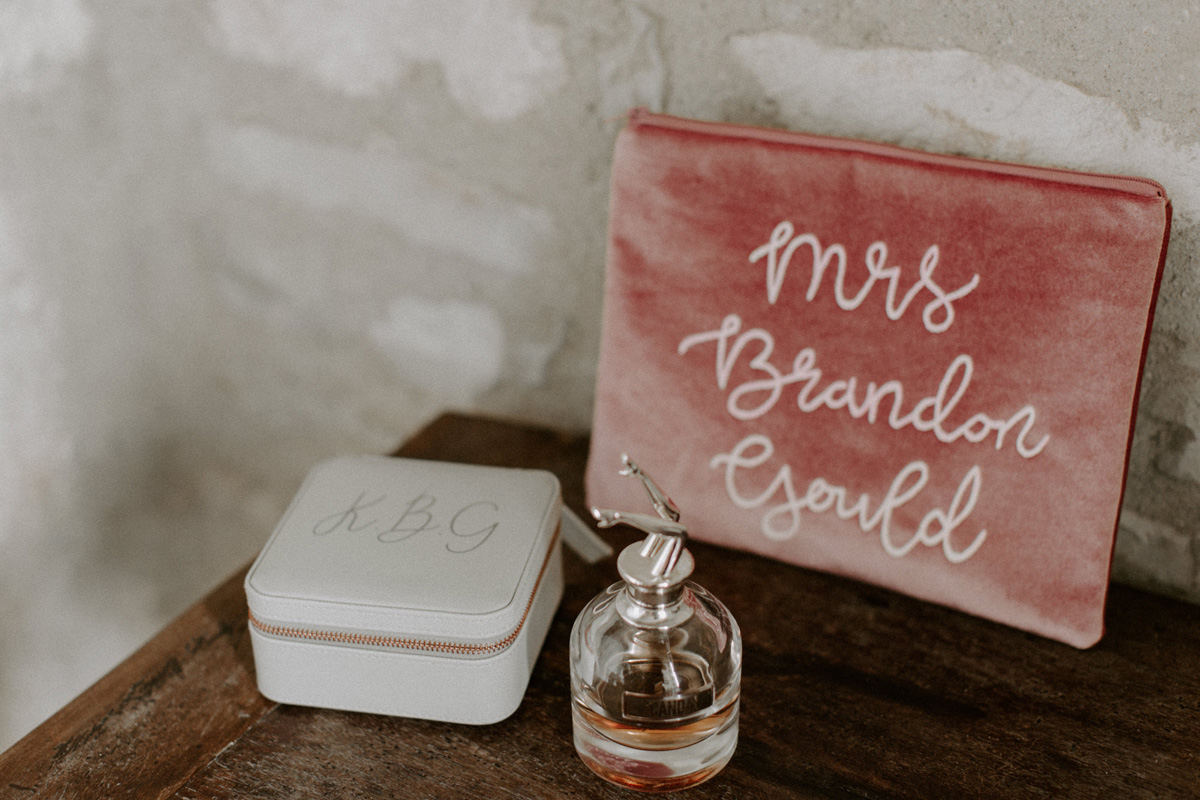 The bride and bridesmaids did their own hair and make-up, with Kirstie wearing her blonde hair in a gorgeous cascade of curls which are so romantic and carefree.
"Being in France meant it was harder to find someone I liked and would travel to the venue. I felt more comfortable doing my own and just spent a little extra money on some nice products to use."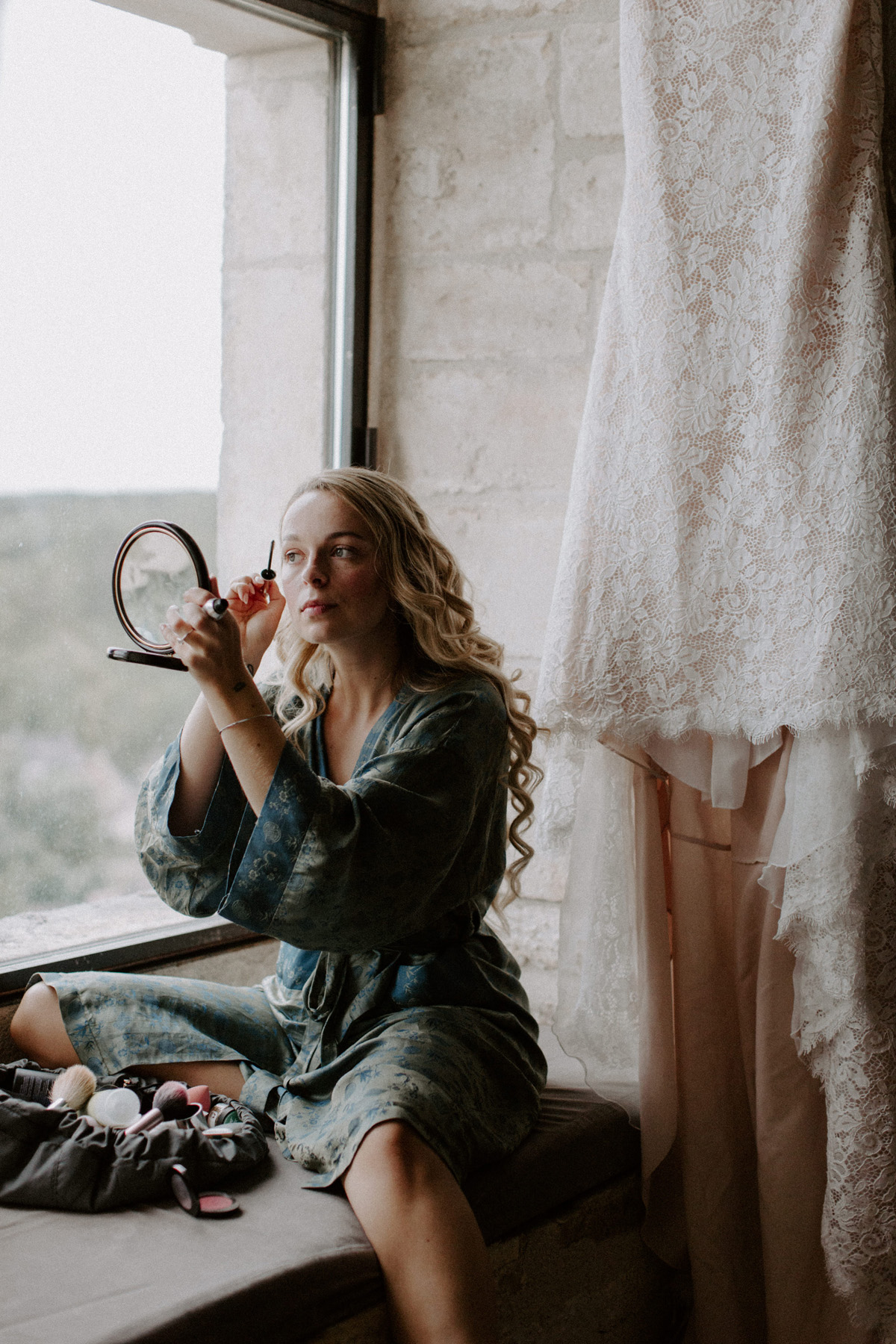 I think you will agree with me that Kirstie looks incredibly sophisticated and sexy in her strapless, fitted 'Eithel' gown from Pronovias. The plunging bodice neck and long train are just spectacular.
"I got my dress from Karen Forte in Bassingbourn. They had a huge range of dresses and the staff were so experienced that they helped me find a dress I loved that I never would have picked if I had been left to it. I thought a strapless dress wouldn't suit me at all, but I was proved totally wrong. I bought the sample dress from the store. It was new in and had only been tried on by one other bride, which meant I got it at a discounted price."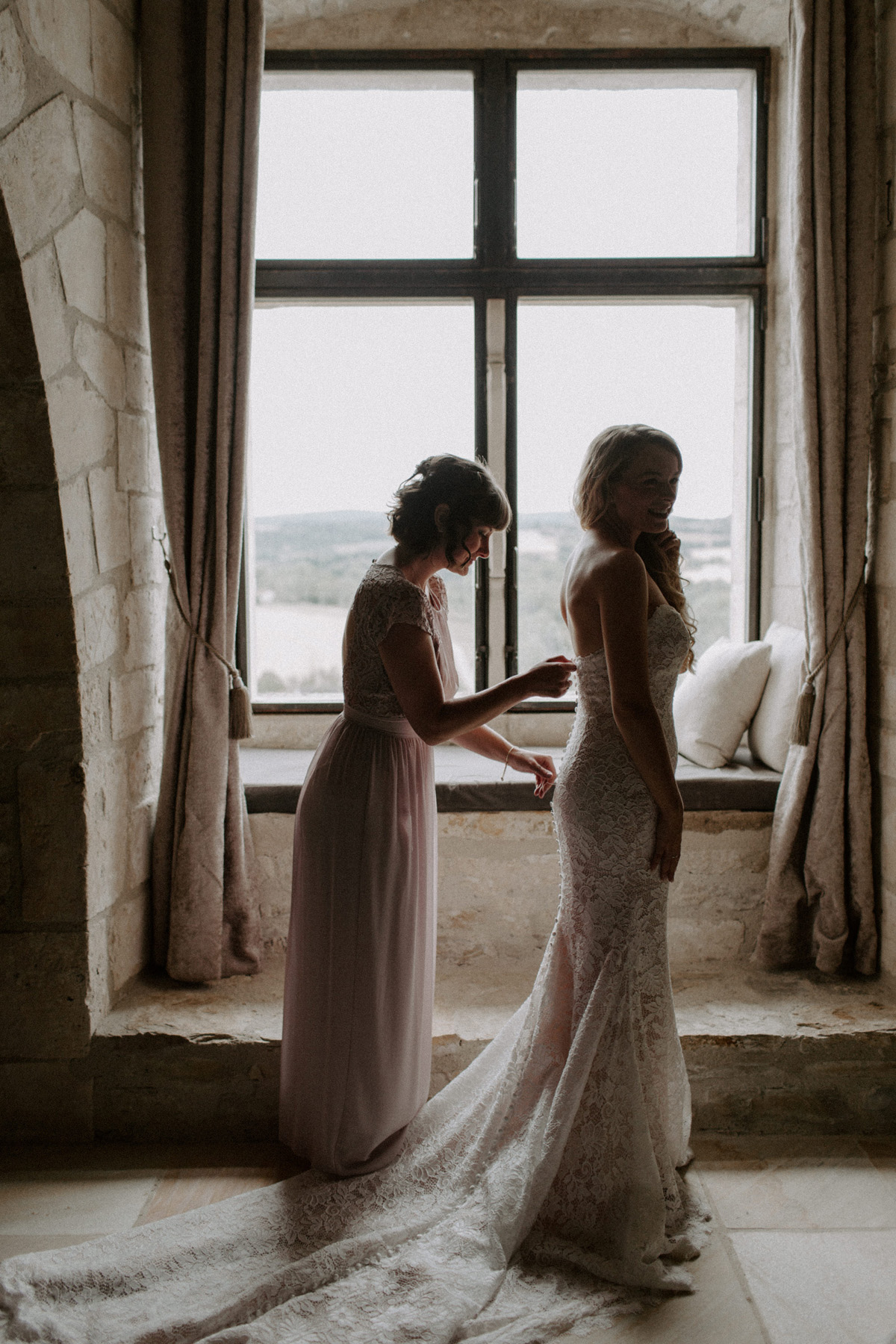 "I had some extra work done to the dress to have the train lined with the same nude fabric as the body as I thought it looked more seamless. I had multiple fittings as we got closer to the wedding, but they were great about fitting things around our travel plans."
"I had a day of dress shopping with my mum and bridesmaids where we went to a few different shops and boutiques. I had a feeling I was going to be really fussy, so I wanted to see a real range."
"It was nice to go to the fancier boutiques that were more trendy and have that experience. After a day with others helping and lots of compliments in almost everything I tried, I did still feel a bit overwhelmed."
"I had a couple of other places I wanted to try and decided to book appointments for them to go on my own, partly not to put the girls through another long day of dress shopping but also just to get some more shops 'under my belt' thinking I was bound to be indecisive."
"I thought it might be a bit sad going on my own, but it actually felt like so much less pressure and I found the dress that day with the help of a lovely lady at Karen Forte."
"I got my mum and one of my bridesmaids to come back with me a few days later for their seal of approval before I went ahead and they loved it just as much as me."
The final touch for the girls were the dreamy flowers, armfuls of natural foliage and cream and blue summer blooms.
"We went with a florist in Dijon called Pois de Senteur and Maude was wonderful at getting exactly what we wanted. We wanted a wild and green look with some soft blues and whites. She added specific flowers I had mentioned like eryngium and lots of eucalyptus. We met Maude on our planning trip beforehand and she had created a sample bouquet based on Pinterest images I had sent her."
"We changed a few things but she was so easy to work with and adaptable even with the language barrier. One of her staff kindly helped translate which made the whole thing easier. She was very reasonably priced, and the flowers were beautiful."
"Maude was brilliant on the day, setting up the long table garlands. We disassembled the table garlands in the following days and lots of people got to take some home to dry out – we have a fair few bunches around our house."
I love how the couple injected a touch of modernity though, especially with the choice of Matt's tailor-made, slim-fit navy blue suit, a bespoke piece made on holiday in Vietnam.
"Matt proposed just before a three-week trip to Vietnam. We knew from our research that Hoi An is well known for its huge array of tailors and we were recommended Bebe Tailor."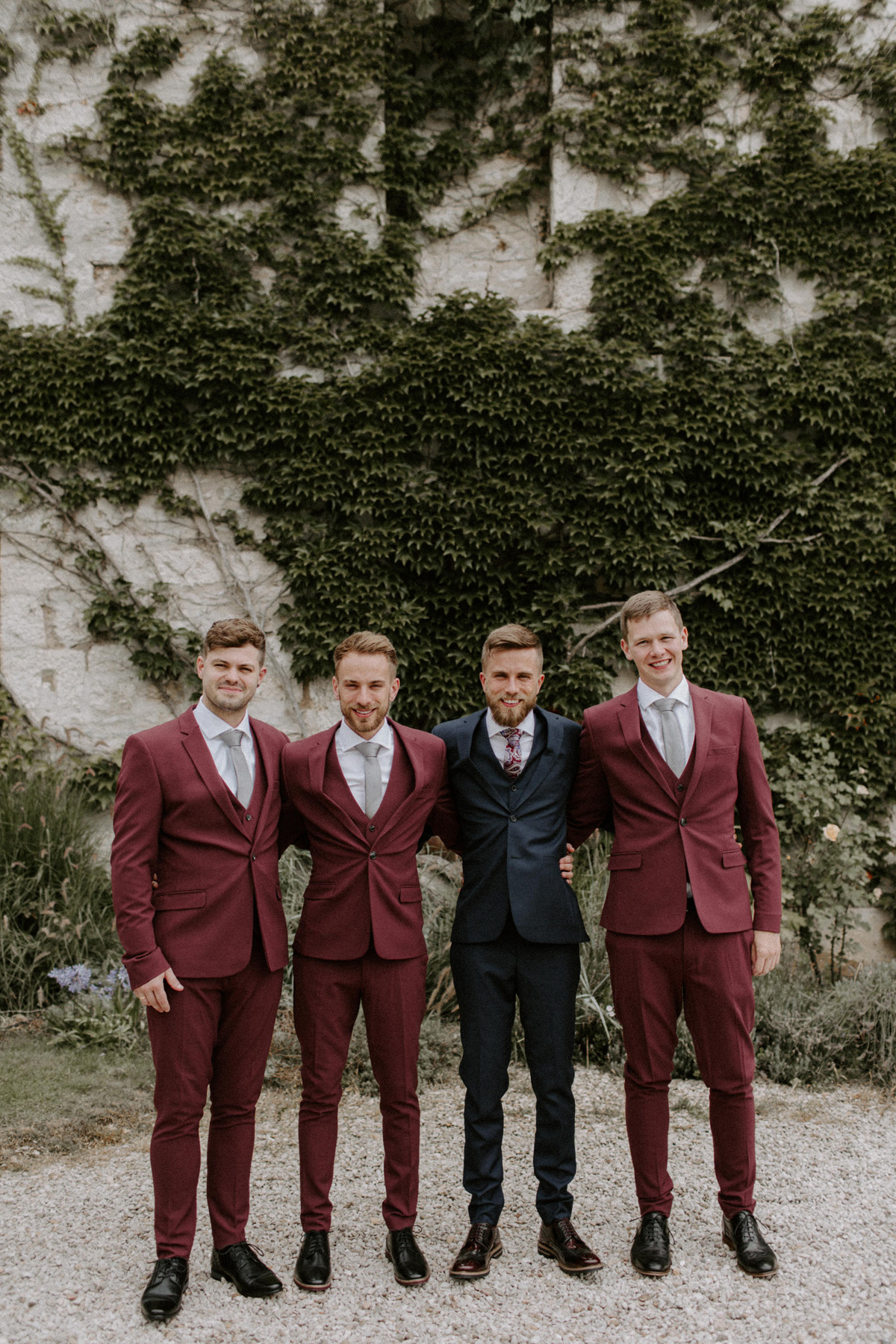 Even though we had nothing else planned for the wedding, we wanted to make the most of the opportunity for Matt to have a completely custom and tailored suit made that would be more luxurious than anything we would buy in the UK. Bebe's was great, very professional, great quality workmanship and they had Matt in for two fittings to ensure it was absolutely perfect. It was all made in the space of a few days."
"His shirt was from Charles Tyrwhitt, tie and pocket square were Notch and his shoes were Base London."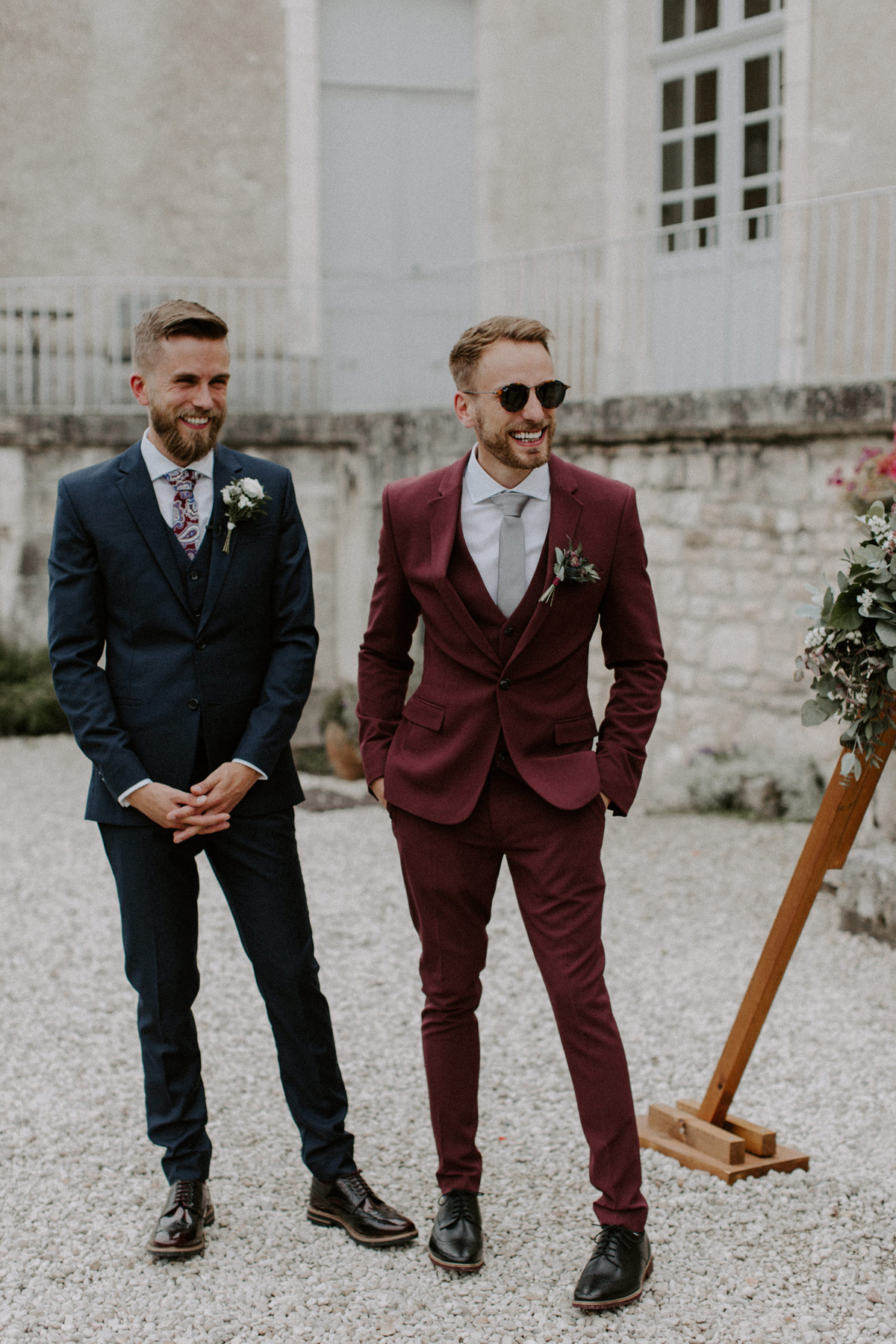 Matt and Kirstie legally wed the day before they travelled, meaning that they were able to make the French ceremony truly their own. Read on for details of how they did this and incorporated everything that was important to them.
"We got legally married the day before we travelled at a local registry office, with only my grandparents who couldn't travel to France and Harry for some practice! Our ceremony in France was purely symbolic."
Matt and Kirstie were able to wed outside against the backdrop of their hand made wedding arch. The aisle was created by the rustic chairs and Kirstie approached Matt as '(No One Knows Me) Like the Piano' by Sampha was played.
"It's actually a really sad song but the intro is so beautiful. It was really important to me that both my parents walked me out. They both mean so much to me and it felt important to replace the outdated act of my father 'giving me away'."
Read on for details of how the couple made their wedding ceremony truly their own.
"One of the great things about getting married in France was that we could have someone important to us officiate the ceremony. Our friend Harry performed our ceremony. He's the reason we met, our oldest friend and has always been there for both of us, so we knew it had to be him. It was quite emotional for all our friends and family as Harry has had some struggles since we have known each other. It meant so much for him to be in France with us, speaking in front of all our guests and marrying us."
"It was very important to us that we adapted as much of our wedding as we could to feel balanced and about equality – we left out patriarchal references in the standard ceremony wording and readings as these just didn't sit right with us. We decided to write our vows together. We went online and looked at lists of examples and chose the ones that fit us best. It was nice to read the same vows back to each other."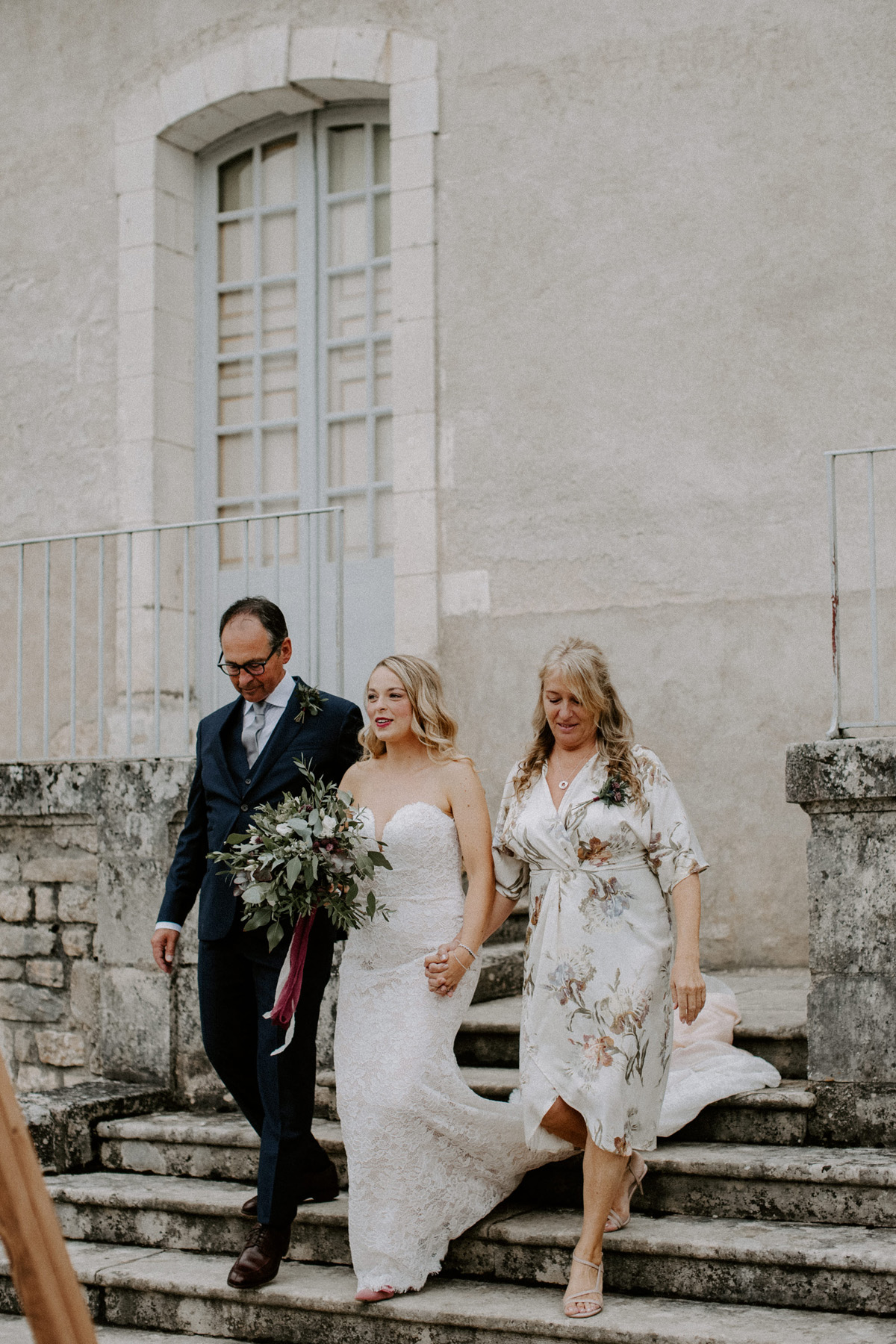 In addition to their vows, the couple included a hand fasting in their ceremony as well as some carefully chosen readings.
"We wanted something memorable, different and symbolic to show our commitment. It was pretty simple after a few practice sessions with Harry."
"We used ribbons placed over our joined hands to tie an infinity knot – we did get a little gasp as we pulled the ribbons and the knot formed. It was something to break the ceremony up from lots of speaking too."
"We had 'From Beginning to End' by Robert Fulghum and 'Always Love Each Other' by Larry S Chengges. So many of the readings we came across were too traditional, long, soppy or 'unrealistic' and didn't feel like us."
"The two we picked were short enough and felt like they fit our values around growing together."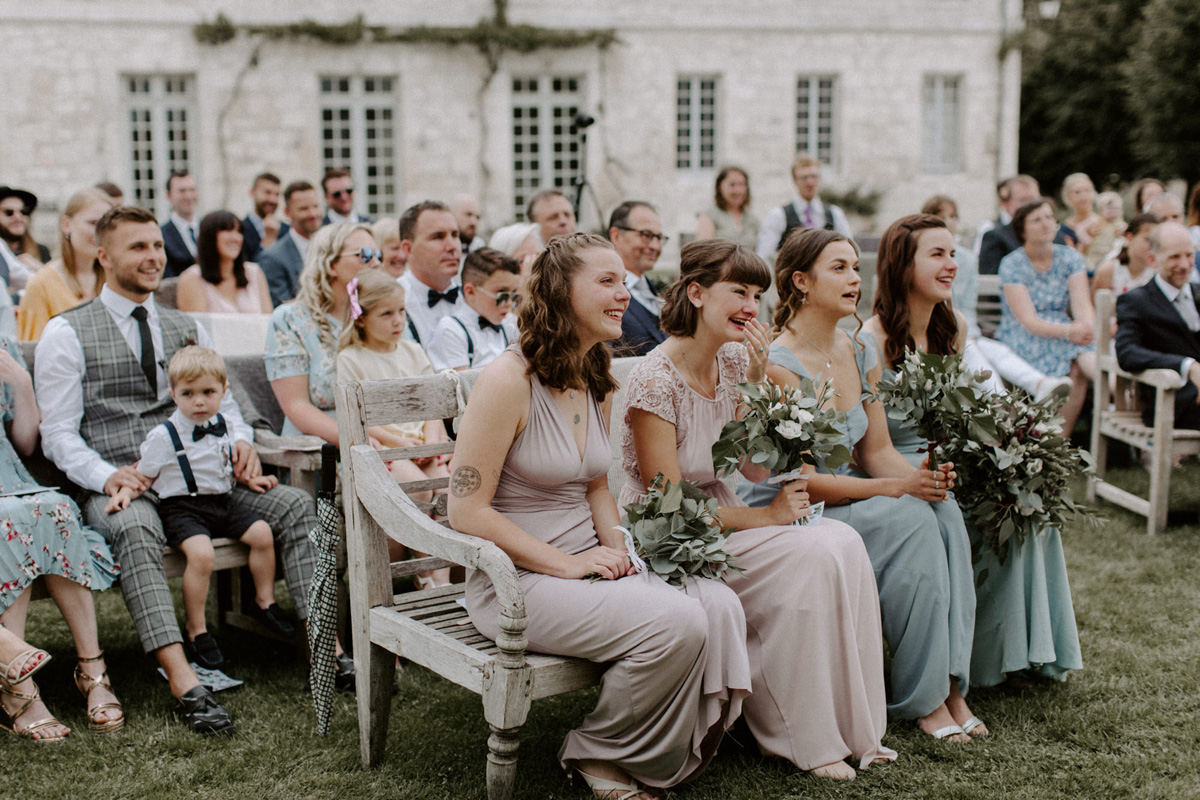 For wedding rings, the couple each chose one from Rachel Boston Jewellery in London to match Kirstie's engagement ring.
"Our rings were definitely something we splashed out on. Matt had my engagement ring made bespoke by Rachel Boston; a grey or 'salt and pepper' diamond which I had dropped many a hint about! Matt worked with Rachel to design the most beautiful ring so I was really keen to get our wedding rings from her too."
We came up with an ombre-style diamond wedding band that fanned out under my engagement ring. Rachel's process and her customer service were really faultless – she sent us a 3D mock up model of the ring before it was made which was amazing."
"We opted for a simple, white gold, knife edge band for Matt from her collection too."
"My favourite part of the day was the ceremony. We had a wobble with the weather and we almost had to move it inside but Grace and Mitch gave us expert advice that our outdoor plan would all work out and to trust that it would only be a short shower – which was true!"
"The wording and structure of the ceremony was something we worked really hard on to make it feel like us, and I felt like it was the crux of the day, the reason we were there! It was helped by the fact that Matt got a little emotional, which isn't very common, so it all felt so meaningful."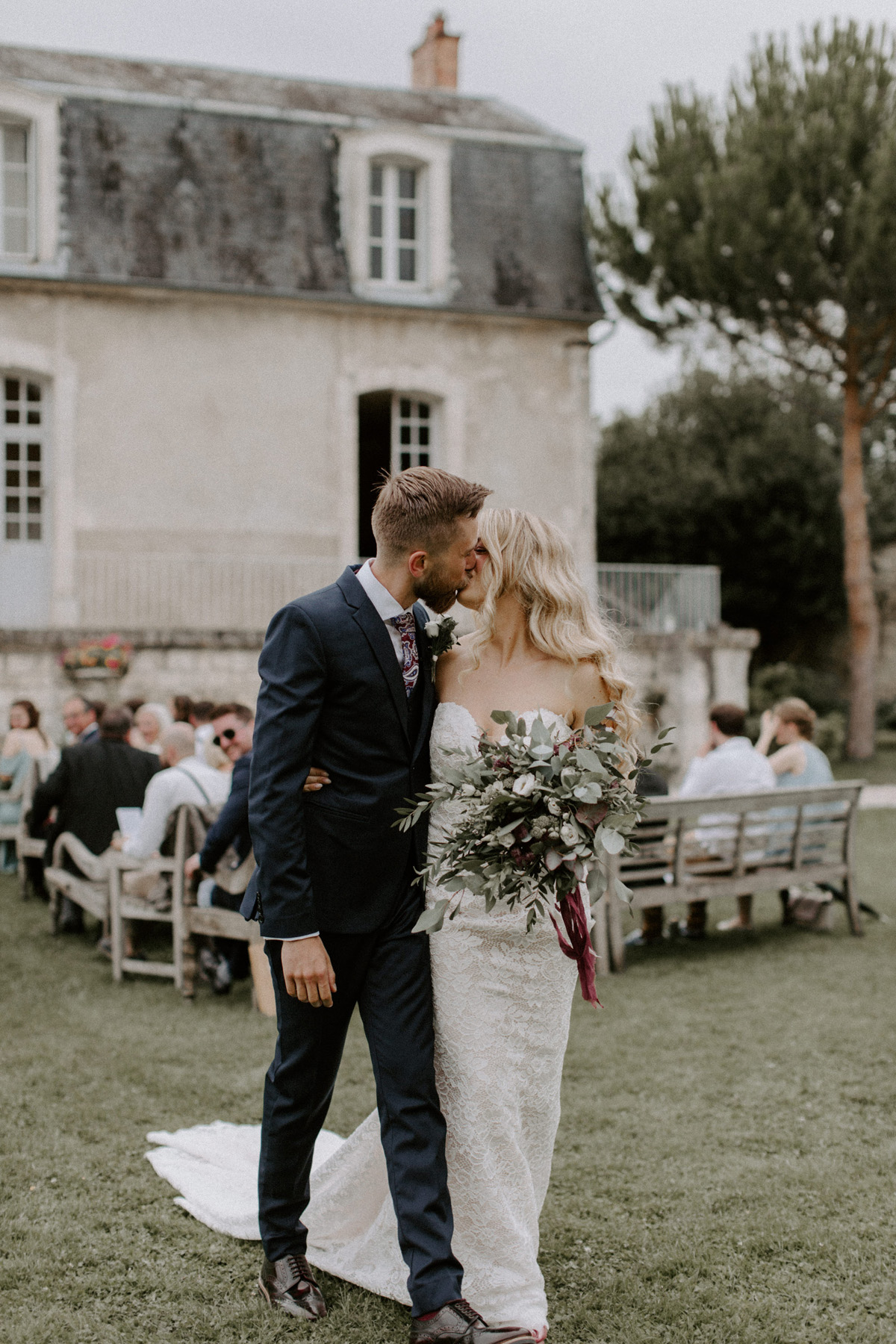 For the couple, choosing a photographer who perfectly understood their aesthetic was key, and they found this in duo Grace & Mitch Photo & Film. As you will see from Kirstie's testimonial, this pair come super-highly recommended.
"Apart from the venue, photography and videography was the most important decision in the planning process. We knew what type of look we wanted from our photos – relaxed but still very graceful – and we contacted a photographer we saw on a Love My Dress article."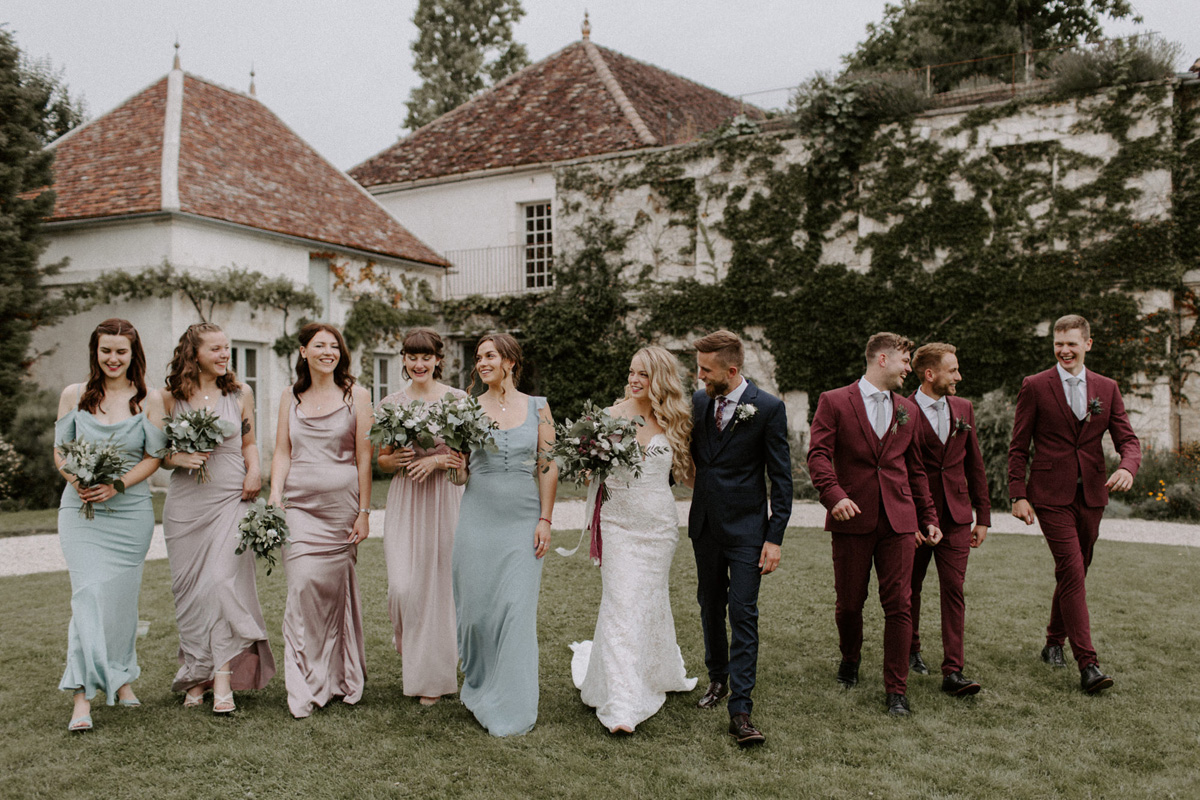 "As they were busy for our wedding date, they recommended Grace and Mitch. As soon as we saw Grace and Mitch's website, we knew we need not look any further."
"We even preferred their work to the original photographer, so it really felt like it was meant to be! We were so lucky they were available and up for coming to France."
"The whole process from our initial enquiry to how wonderful they were on the day, meant we couldn't have made a better decision than to choose them. They are the warmest and friendliest people and were such a pleasure to get to know."
"They made us feel totally at ease on the day despite only having met them in person the evening before, and really did feel invisible in the moments you needed them to."
"They are clearly pros when it comes to destination weddings and being adaptable. They even noticed our candles weren't lit before everyone started making their way for dinner, and rushed with a few friends to get them all lit in time."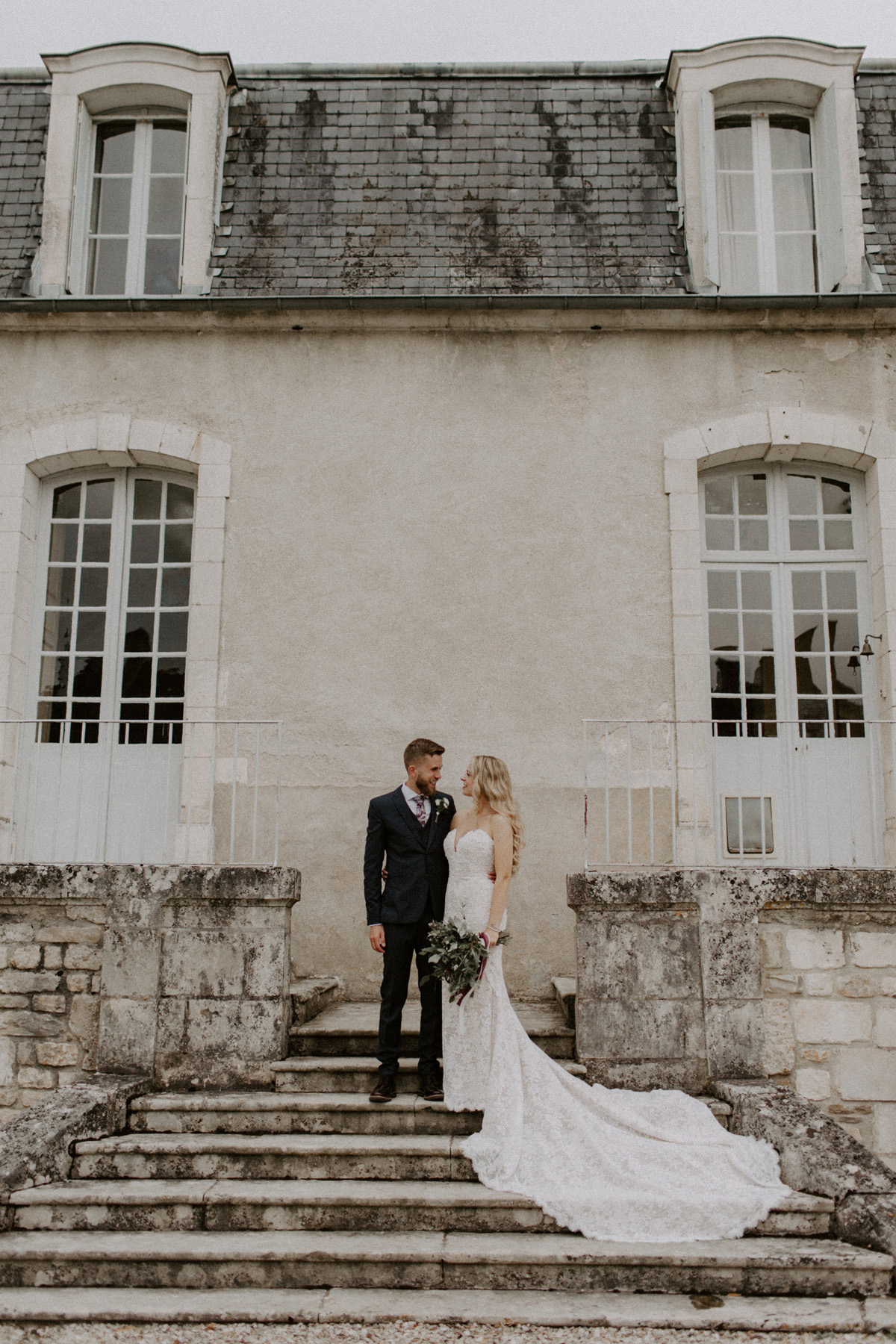 "They captured the day so perfectly. I felt like I was looking at someone else's wedding when we first saw the photos and film – in the best way possible – it felt like an amazing highlight reel or movie trailer."
"They sent through some sneak peek photos by the end of the week, just in time for us to look through once we arrived at our mini-moon Airbnb in Bruges."
"I would recommend them in a heartbeat to anyone planning a wedding, especially a destination wedding. They are friendly, flexible, professional and super-talented."
"I ordered an absolutely mammoth amount of dresses from ASOS and, after I changed my mind about colour schemes, we settled on a pale/summery mismatched vibe."
"The girls all came over and had a trying-on session together which was fun and one of my bridesmaids even sent us trying on videos all the way from New Zealand for us to help with hers."
"They bought their own shoes and I gifted them initial necklaces and dainty moon and star rings, which I also had and wore on the day."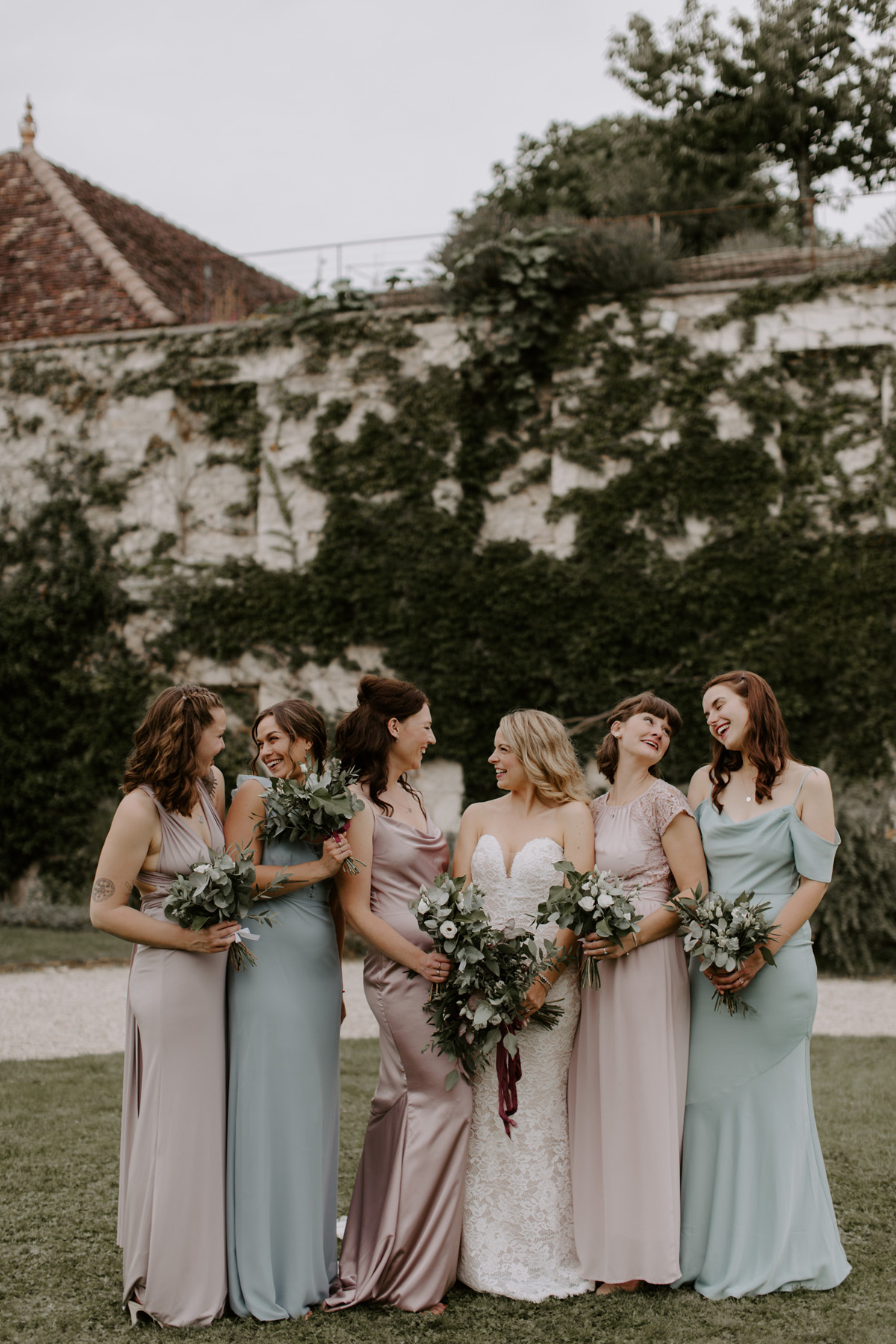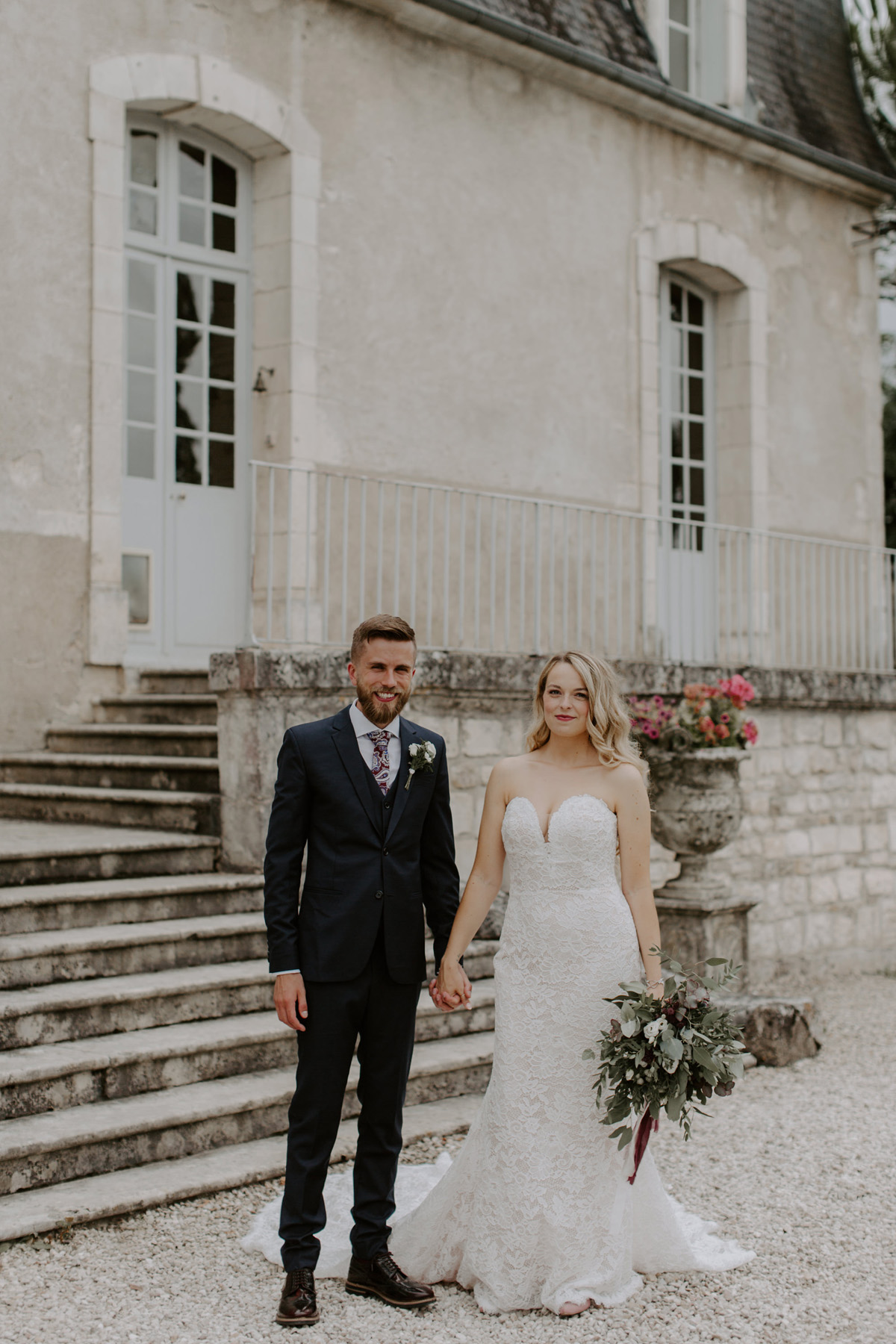 The newly-weds and their guests moved inside for the wedding breakfast, served up at tables that are so beautiful with their simple foliage runners, hand-made stationery and personalised wedding favours – these are such a great idea for creating a more eco-friendly wedding too.
"We decided to kill two birds with one stone with our wedding favours. I hand lettered everyone's names onto a white and blue enamel mugs as place settings. They looked very French and we asked people to keep them for their drinks that evening which cut down on the amount of single-use plastic we used across the day. I even did the kids their own using coloured water bottles instead."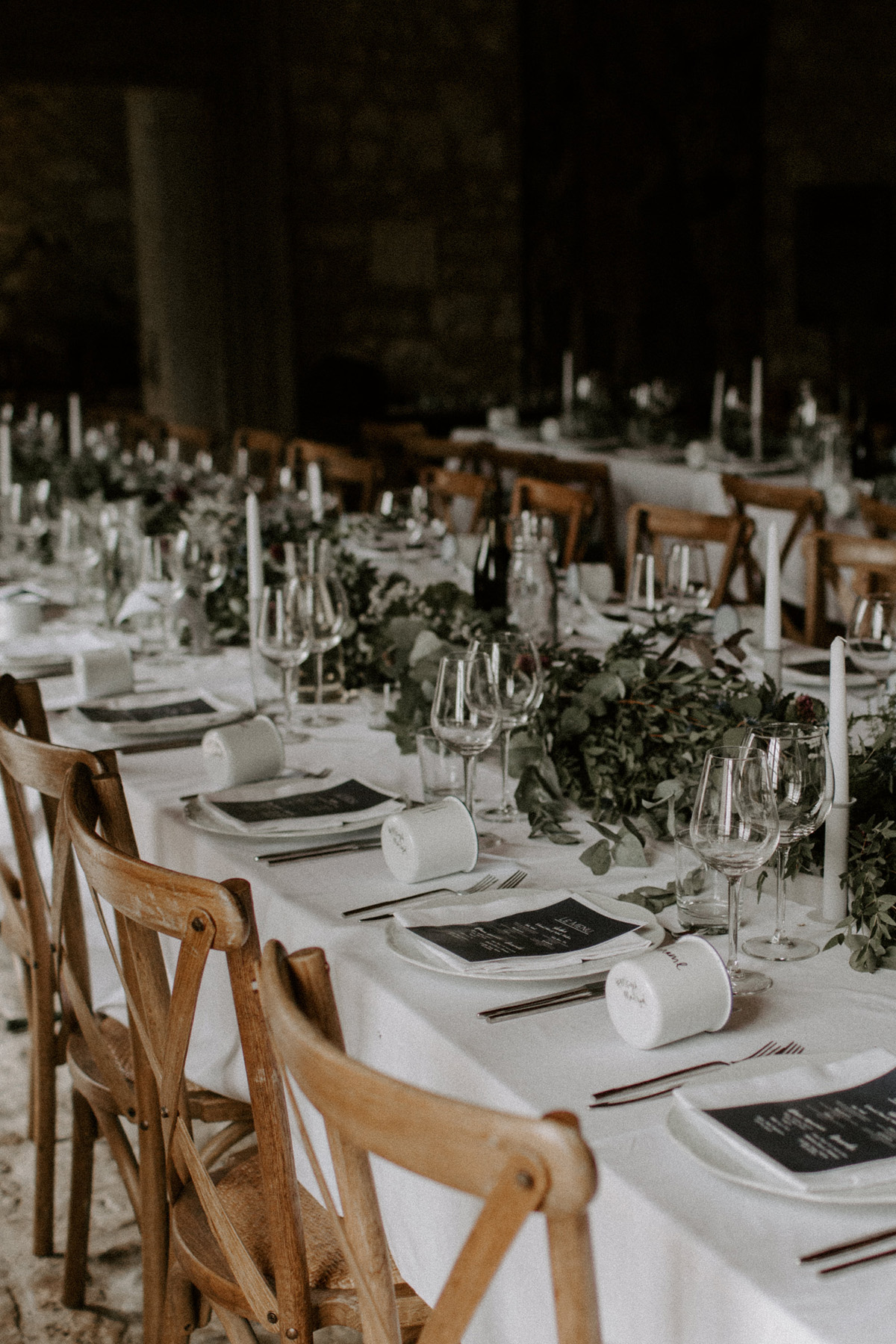 I love how DIY this couple were, with Matt creating the suite of wedding stationery and both of them getting crafty to add a touch of personality to their exquisite venue.
"This was something we always planned on doing ourselves. Matt is handy with graphic design and used to work for a print company so he designed all our stationery, from save the dates, invites and menus to the order of the day and the table plan. He pulled in some favours to get them printed so it ended up costing us nothing."
"We really wanted to keep the décor as simple and elegant as possible. The venue itself is so stunning that we didn't want to take away from that."
"We liked the idea of tying in some French touches, so we used a dark blue on all our stationery and signage. We hand made over a hundred paper tassels with the help of our friends and we even took on building our own wedding arch to assemble in France."
"I tried to make and craft as much of the décor as possible to save costs – table runners, candlesticks, signage, temporary tattoos etcetera."
"Coming from a Fine Art background and loving anything crafty, lettering the favours, hand painting the signs and hand dying the muslin table runners were all such a nice part of the process and made the wedding feel so unique to us."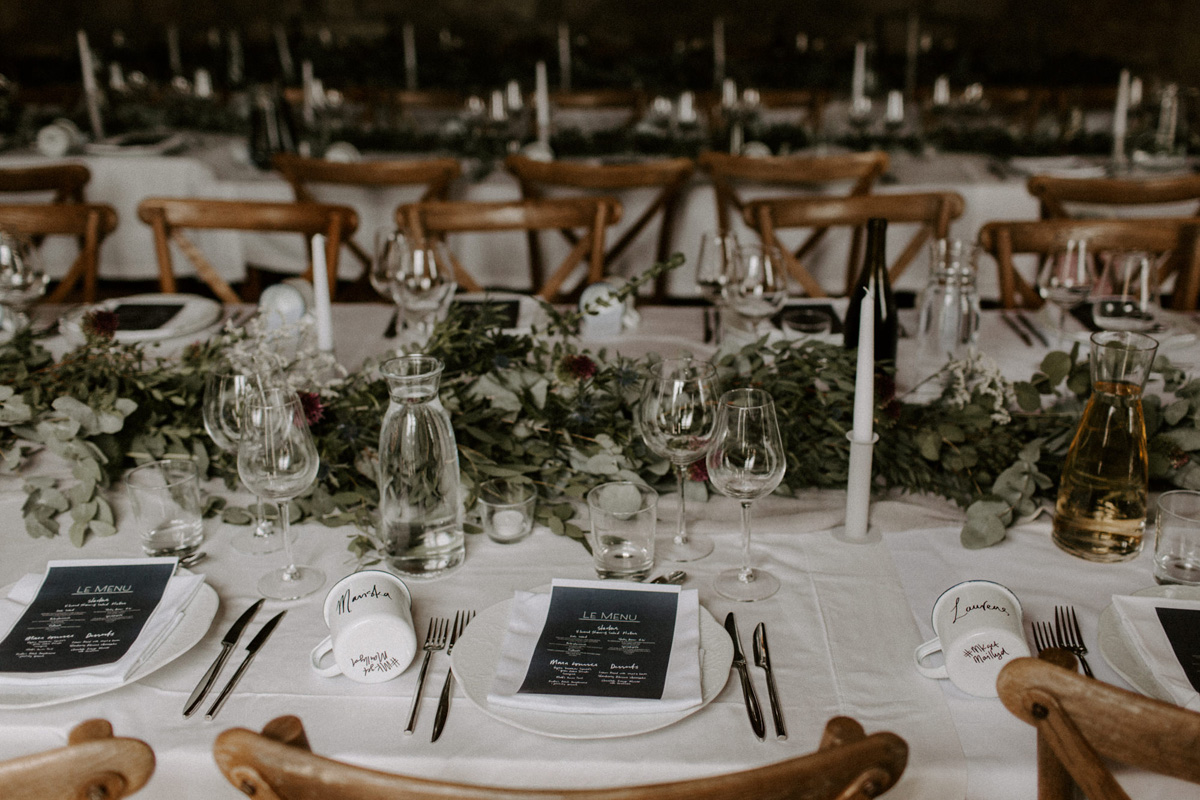 The wedding breakfast was a vegetarian, banquet-style feast.
"We chose local chef Katherine Frelon who is actually British but has lived in Burgundy for years. Katherine was splitting time between France and the UK, so we managed to take a cooking class she hosted at London Borough Market as an introduction."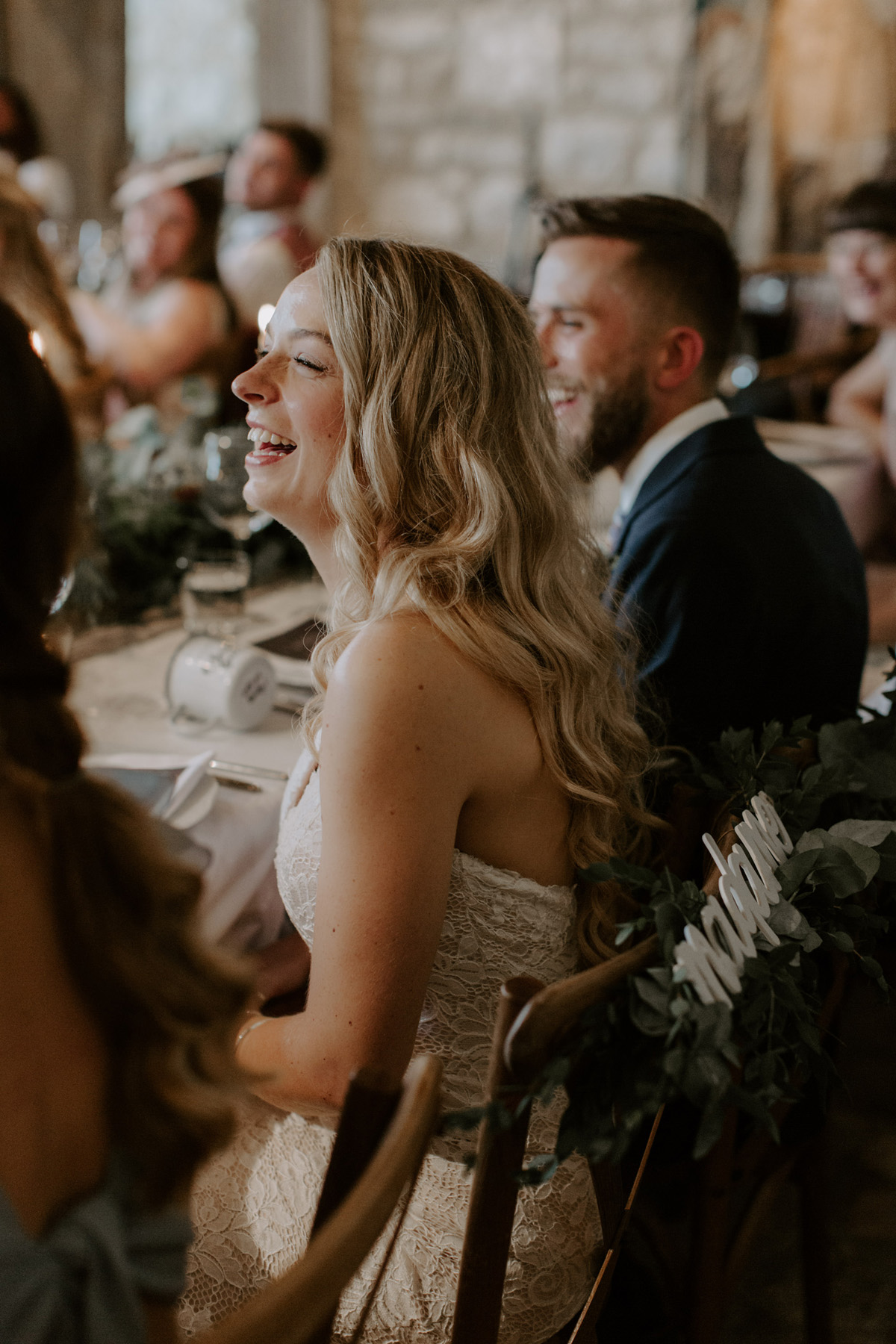 "We loved the food she taught us to make and the major thing was that she was totally up for a completely vegetarian wedding breakfast."
"Both being vegetarian, we wanted food on our wedding day that we were excited about, and more importantly that our guests would still be blown away by. Katherine hit the spot with that!"
"We had a slight mix up with choices which meant that Katherine actually made enough of every dish for all our guest in a kind of banquet-style feast. But, this meant everyone got to enjoy everything, including our vegan and GF guests."
"Despite the absence of meat, the food was one of the things our guests really commented on and raved about afterwards. She made an amazing watermelon sweet chilli dip that we had leftovers of with our pizza party!"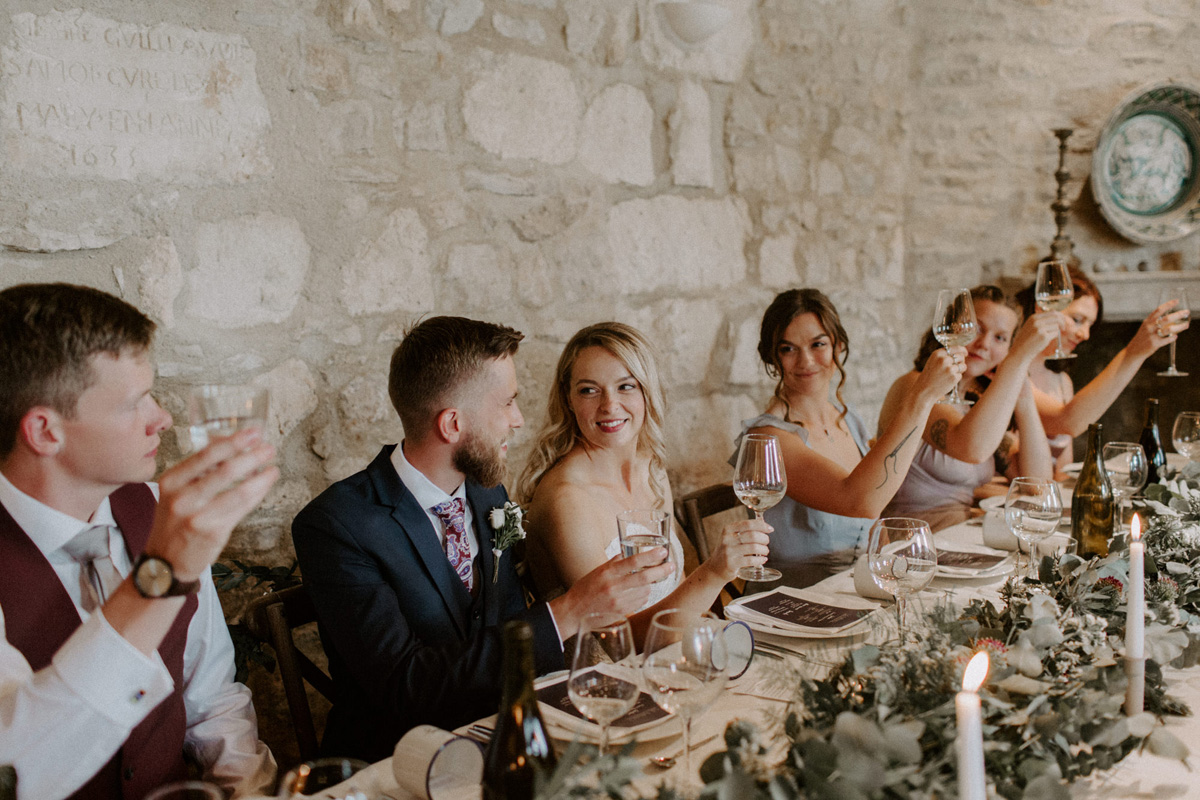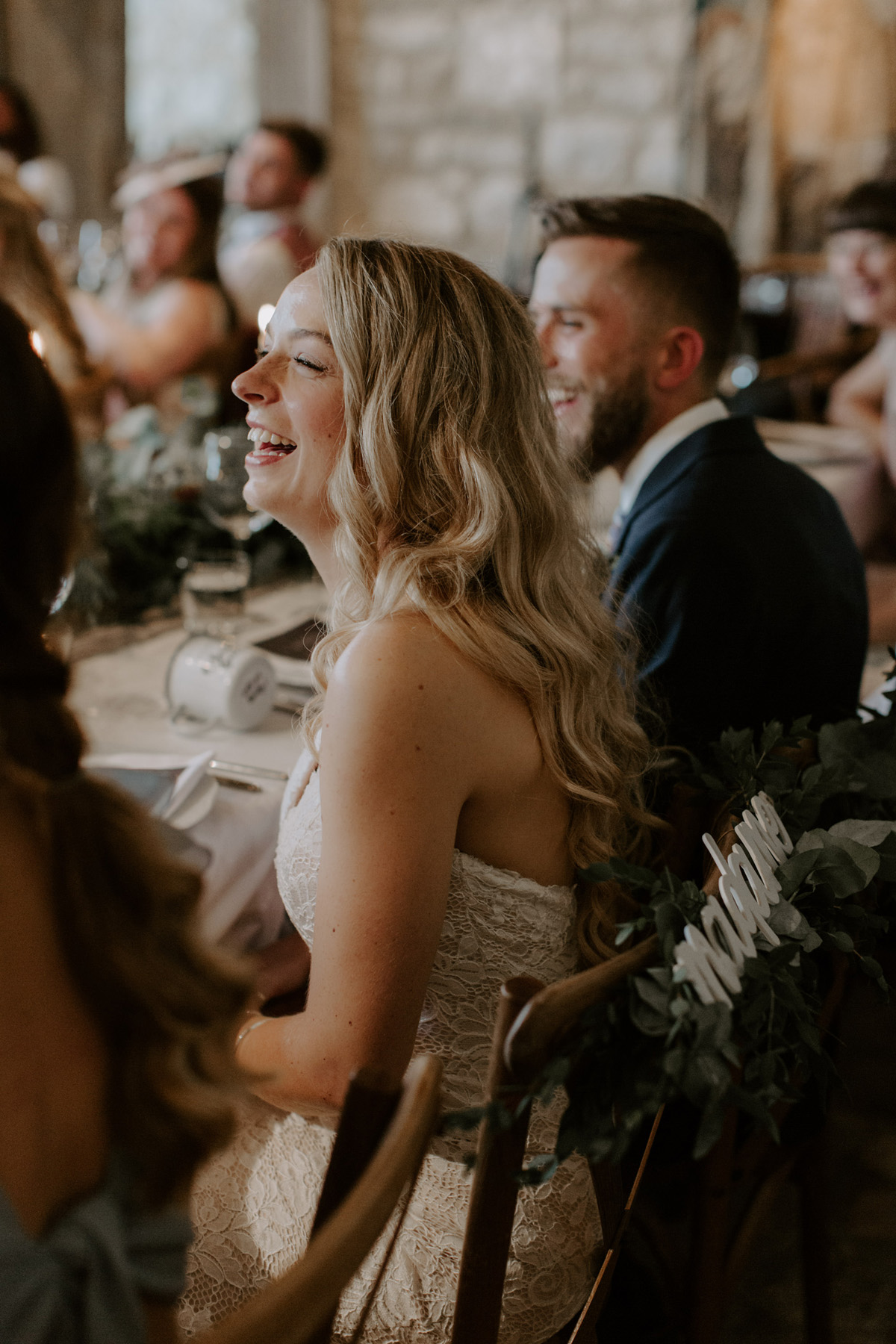 The four-tier, chocolate-collared wedding cake was carefully transported over to France by Kirstie and Matt in the back of their car.
"All of Matt's previous jobs came in handy as he used to work for a wedding cake shop, so we had our cake made here in the UK, by Colin at The Cake Hole, Hitchin. We knew his cakes were the best. In fact, both our brothers had him make their wedding cakes too."
"We had our air-con on full to make sure the chocolate didn't melt on our long drive to France! I don't think either of us got much of it but my nephew Teddy loved it so much he had it for breakfast the following day."
You'll see in these photographs a beautiful firework display, a happy accident which also resulted in some wonderful entertainment for the couple too.
"We originally planned on going full DIY with a Spotify playlist. However, a happy mix-up with the château owner, involving the village fair being moved to our wedding weekend right outside the gates of the venue, meant she kindly offered to pay for a band for the evening to apologise for the inconvenience.
"We booked Uptown Lovers following a lot of searching from Matt on a few different French websites. They were absolutely fantastic and learnt a couple of songs of our choice as part of their set. The trio got everyone dancing. Following the band Matt had meticulously put together a Spotify playlist for us and we used the venue's PA system for the rest of the night."
"With the fair being on, and the most popular day as Saturday, the day of the wedding was a stressful prospect when we were planning. We were really unsure of how much of an impact it would have. However, the guys running the bumper car ride were understanding when we explained we were having our ceremony outside and agreed to turn the loud music off for that part of the day. It actually ended up being a funny end of the night trip out to the bumper car ride in our full wedding get up, and a few goes round with our guests!"
"It also meant that the village fair fireworks display was on the day of our wedding! The view from the terrace of the château was like the display was solely for us and it really was a magical moment of calm at the end of the evening. The band and the fireworks were elements of our day we had never thought we would have, so they really made our day feel like it was on another level."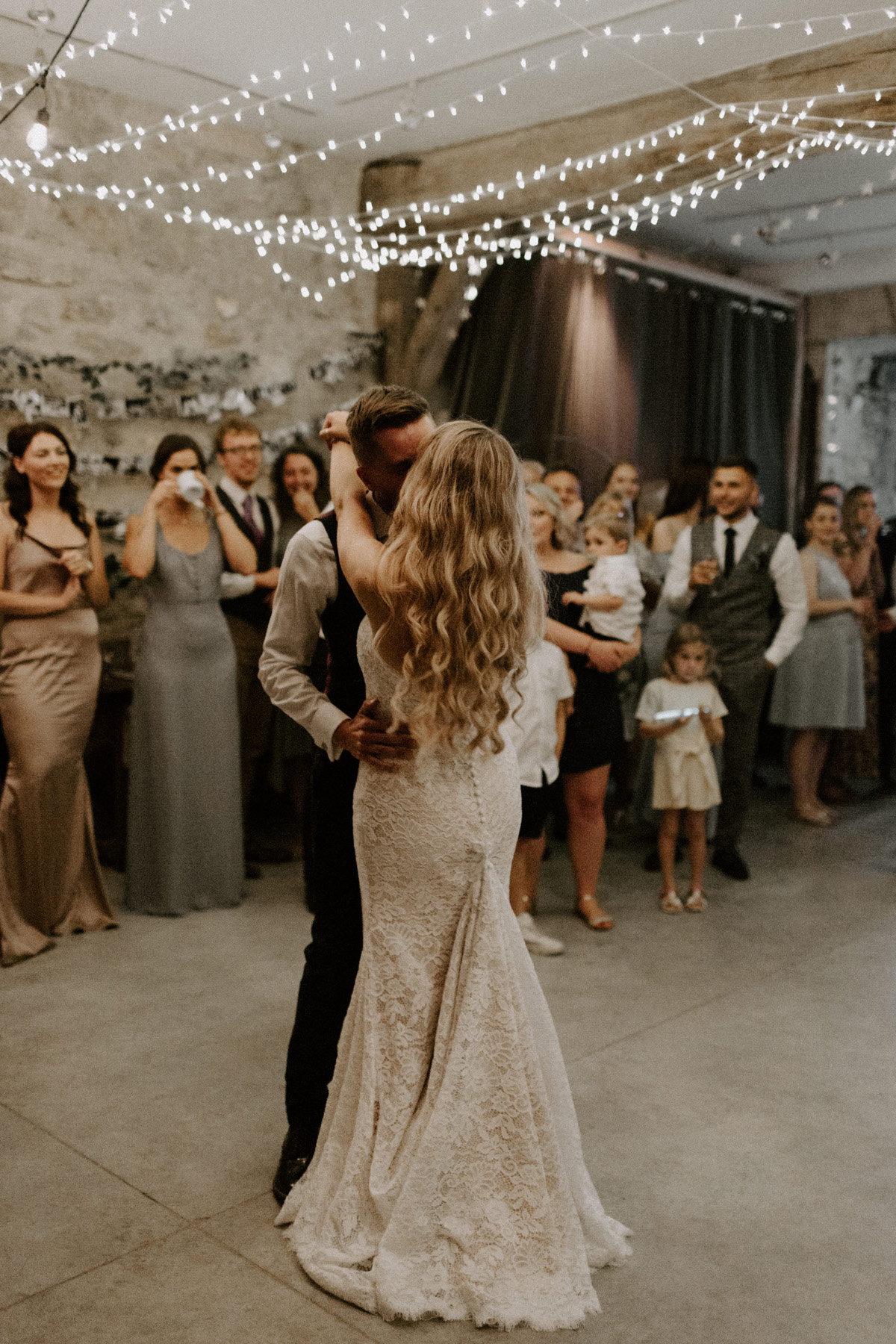 Words of Wedded Wisdom
"It's so true that the day goes so quickly. I feel like it flew by! Matt and I took fifteen minutes out together somewhere between the ceremony, photos and meal – just to sit somewhere quiet and be alone."
"I think it's nice to do that and have a breather, as the day can get so manic. It was a special moment to reflect on the importance of it all. "
Well Kirstie and Matt, I've just spent hours drinking in every element of your beautiful day. Thank you so much for sharing it with us, in particular the details of how you made your wedding ceremony so very personal to you.
I also extend thanks to Grace & Mitch for yet another exquisitely atmospheric and romantic set of photographs. Thank you and lovelies, we have been so fortunate to share Grace & Mitch's work before on Love My Dress, so please do head over here to see their work. And, if you're planning your own chateau wedding, we have many more celebrations here to give you joy and inspiration.
Ele xx