Please meet communications manager Georgie and content specialist Alex, who wed on 16 April 2021 in an intimate ceremony at Belair House, a Georgian mansion in West Dulwich, London with a larger reception afterwards on the terrace and in the gardens.
The day was designed to be simple and elegant, featuring Georgie's favourite flower, the peony.
Laura May Photography

+ Follow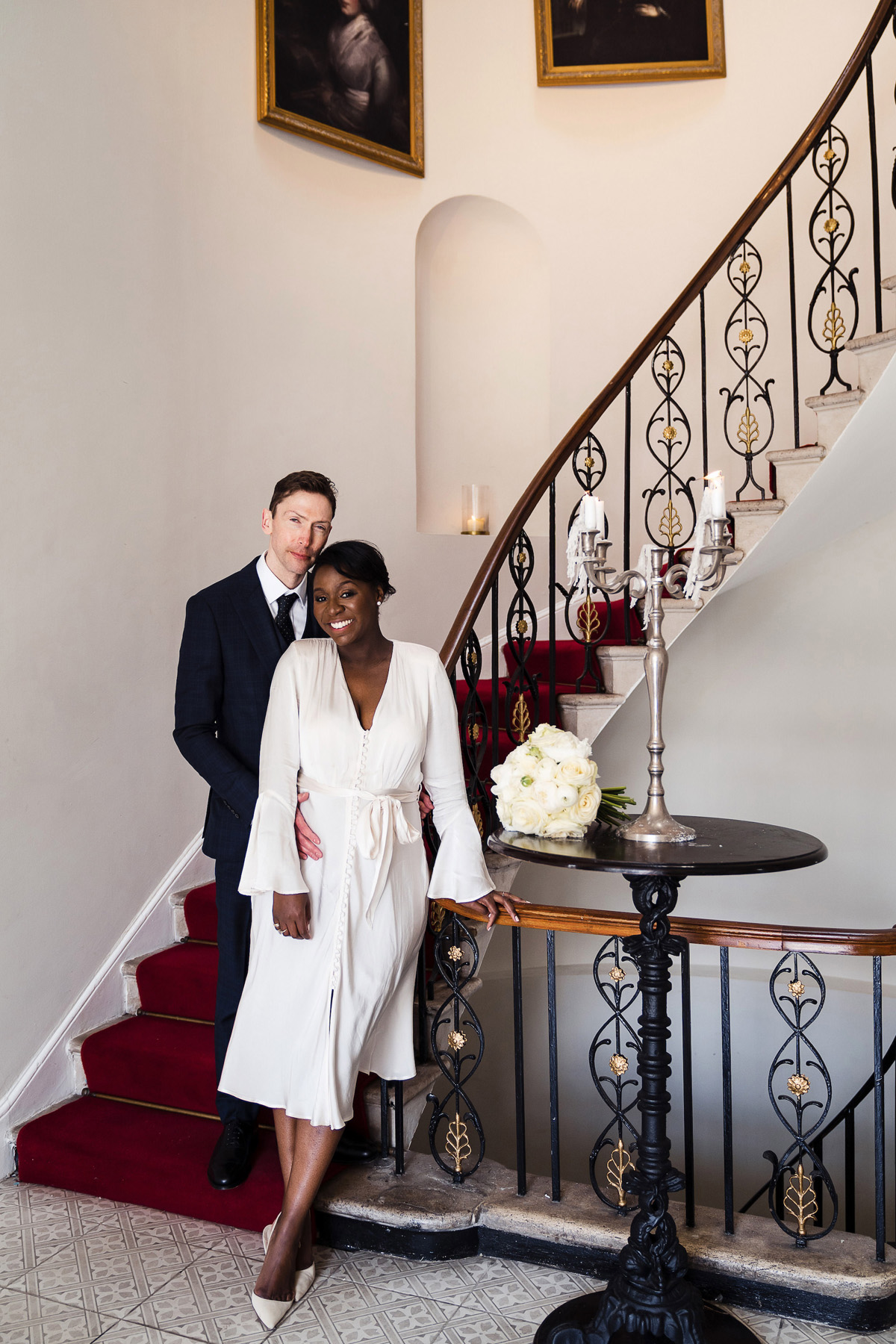 "Although it was a smaller affair than we had planned, it was the best day ever. It was all about our love for each other and although there were moments of stress in the lead-up, it was all relatively easy to put together."
"The small number of guests that we had all commented on how intimate and special the day felt."
"Although a big wedding may feel like what you want, you can have a big party at any time (which we will be doing next year). "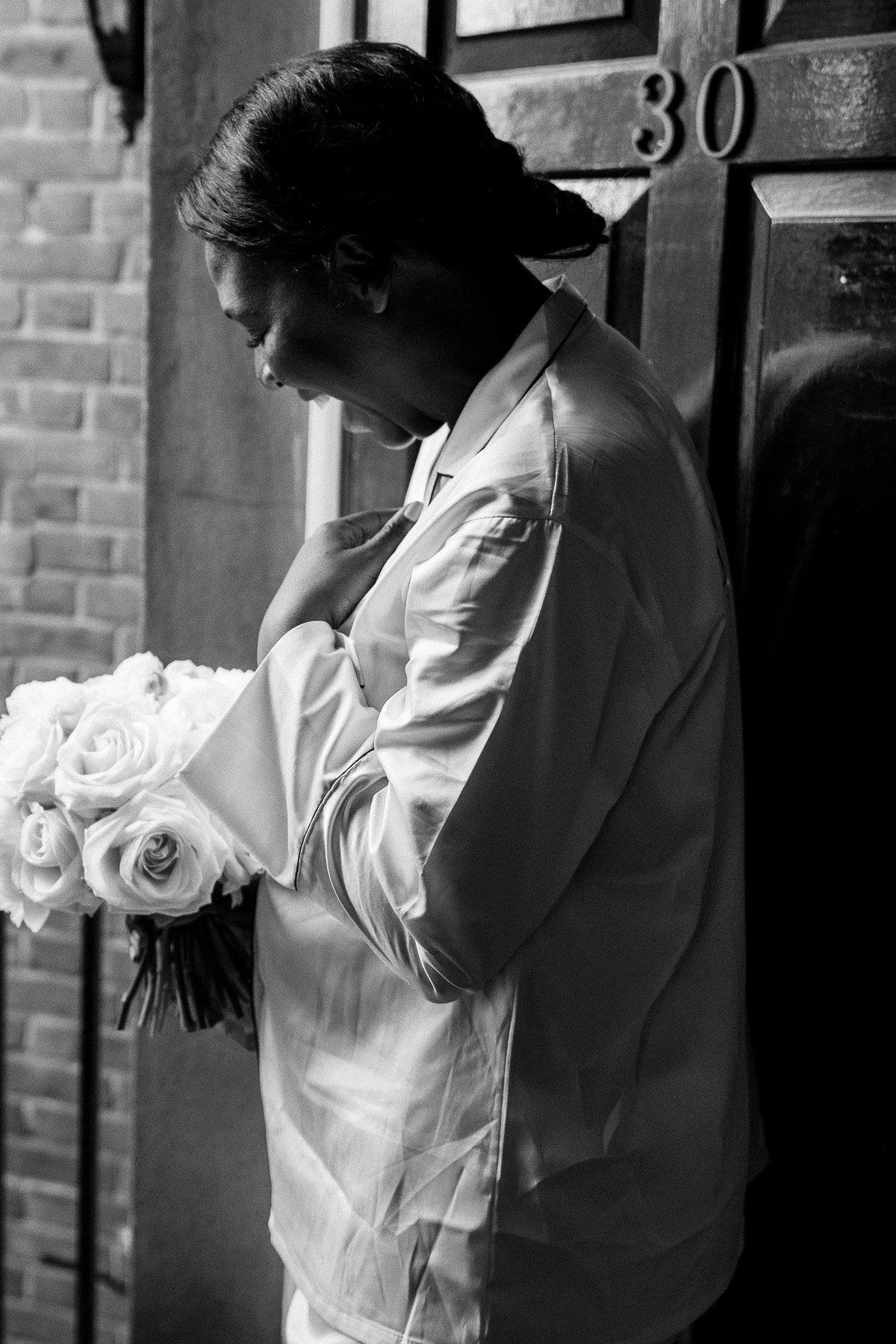 Tabs The Stylist styled Georgie's hair into an elegant down-do, and she added a handmade headband with mini birdcage veil from Etsy.
Her make-up was fresh and glowing, applied by Rosie Williams Make-Up.
Georgie's heels were from Manolo Blahnik and her perfume was classic Chanel No 5.
"It was a gift from Alex and the perfume that my father has bought for my mother for the last 40 years."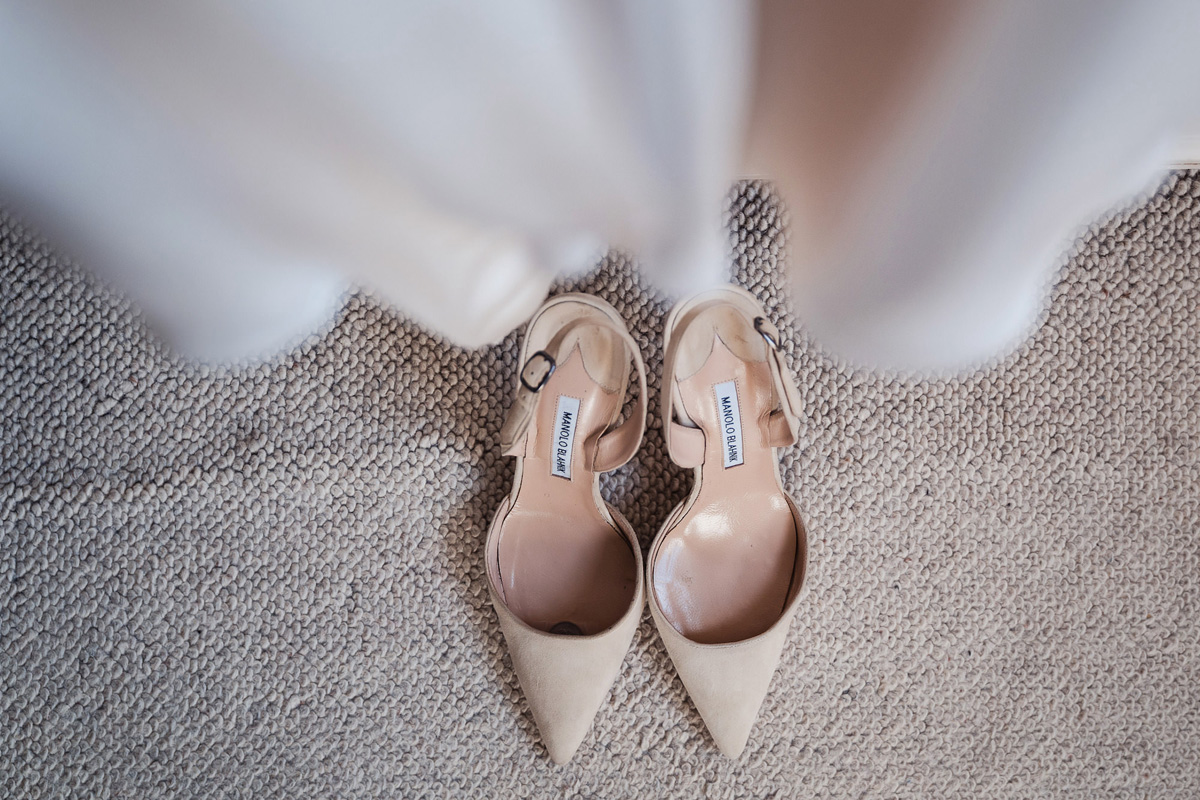 "My best friend brought her late mother's blue bracelet for me to have with me on the morning. I didn't end up wearing it as the clasp was extremely fragile but we put it out with the rest of my jewels."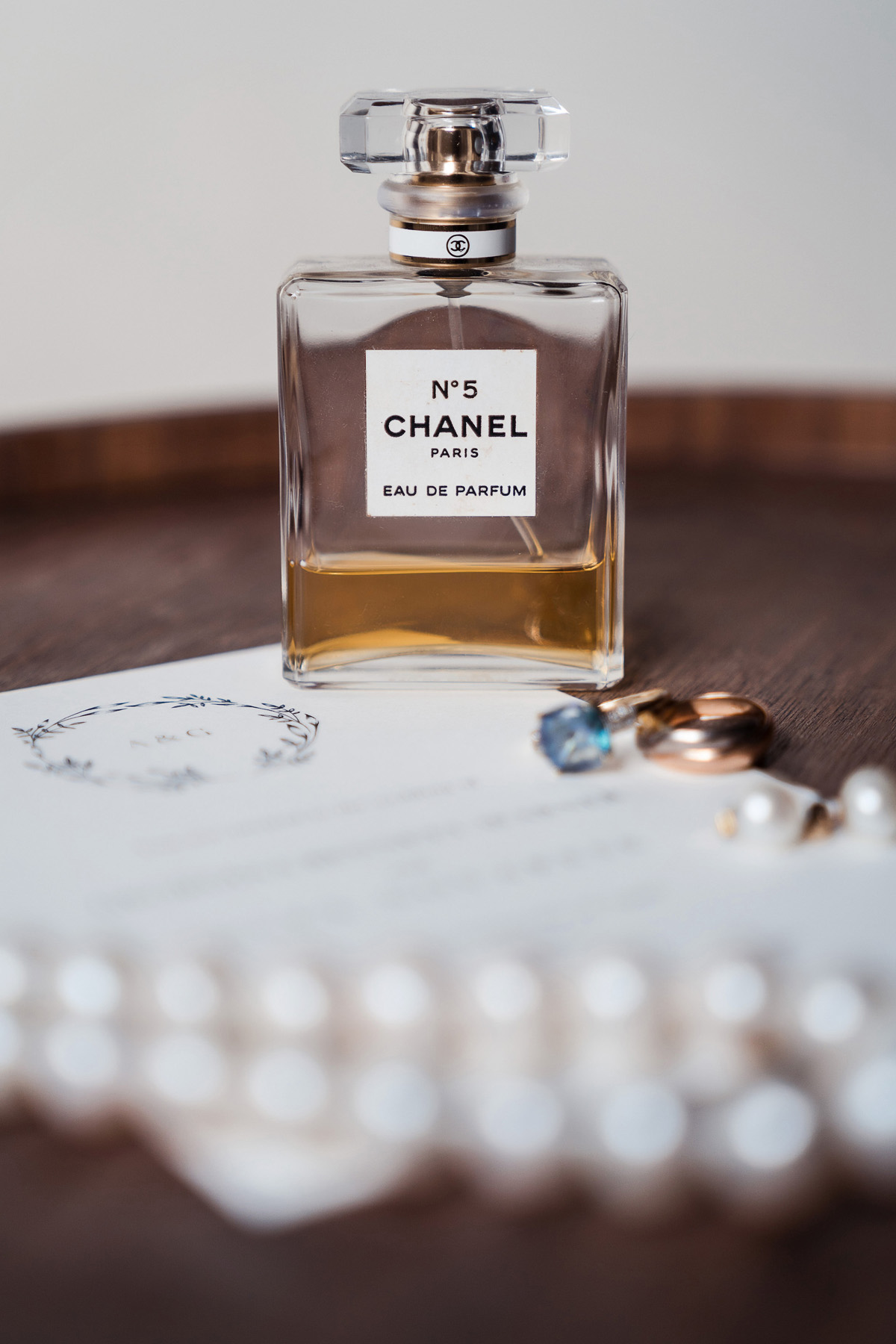 Georgie chose to wear a tailored bridal coat, a bespoke design created by her friend Rosie Armitage. She layered it over a fitted, buttoned gown from Ghost London.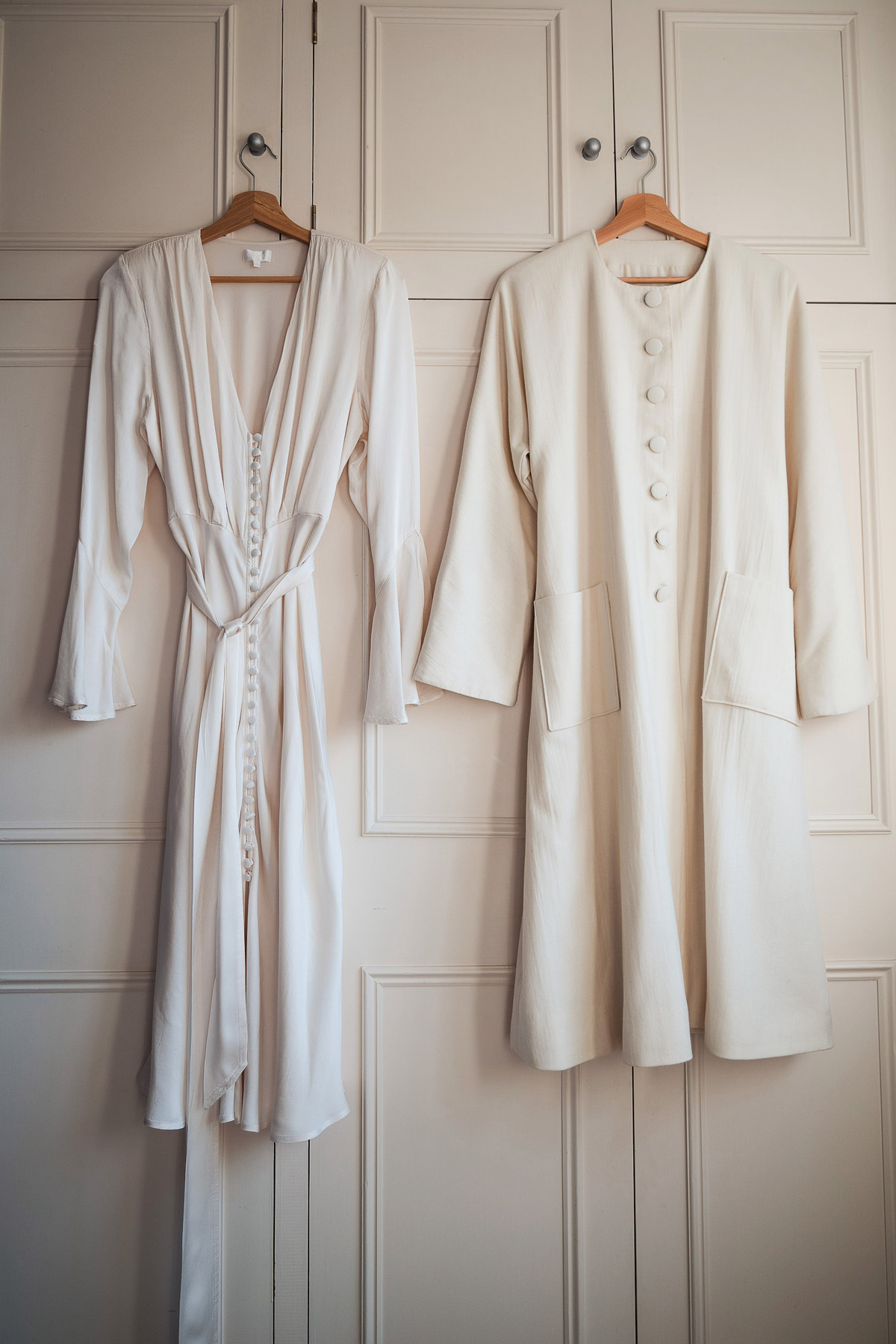 "Absolutely everything (except Alex's suit which was a purchase just before the first lockdown and hadn't been worn yet!) was bought online. Rosie is an old school friend of mine and we managed to get all measurements done through phone calls and photos."
"My dress was bought online four days in advance as I hadn't been able to find anything that worked with my coat. I had a flash of inspiration just before when I remembered that I had worn one of their dresses as a bridesmaid dress ten years ago."
"I loved my outfit. I always loved the look of Town Hall wedding outfits being more of a suit than a big puffy dress. I wanted a simple but elegant dress and a coat that I could wear again for special occasions (namely our son's Christening next year!)."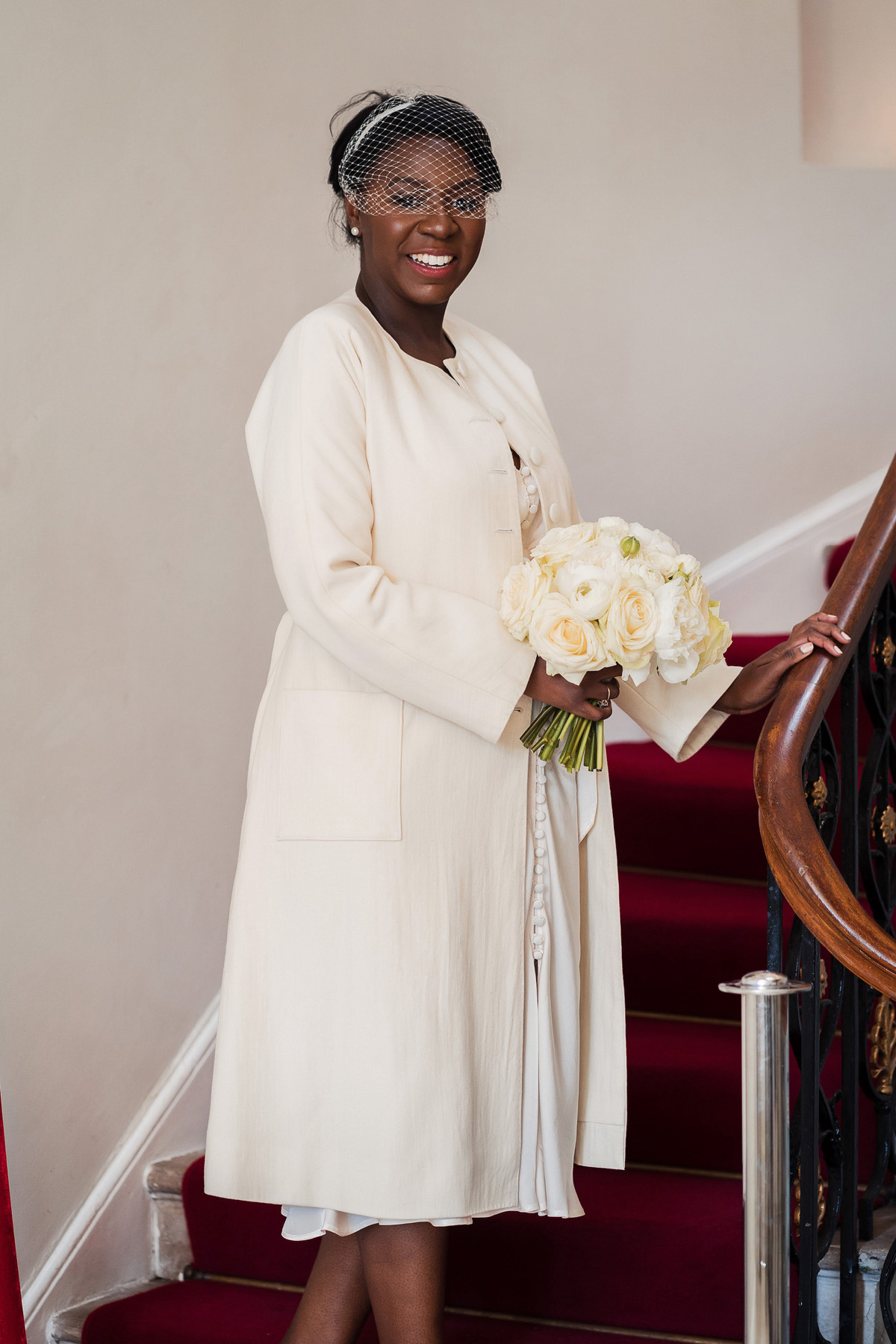 The bride and groom originally met through work, but only became a couple after bumping into each other at a mutual friend's leaving do three years ago. Sadly, due to the pandemic, their wedding was delayed a few times.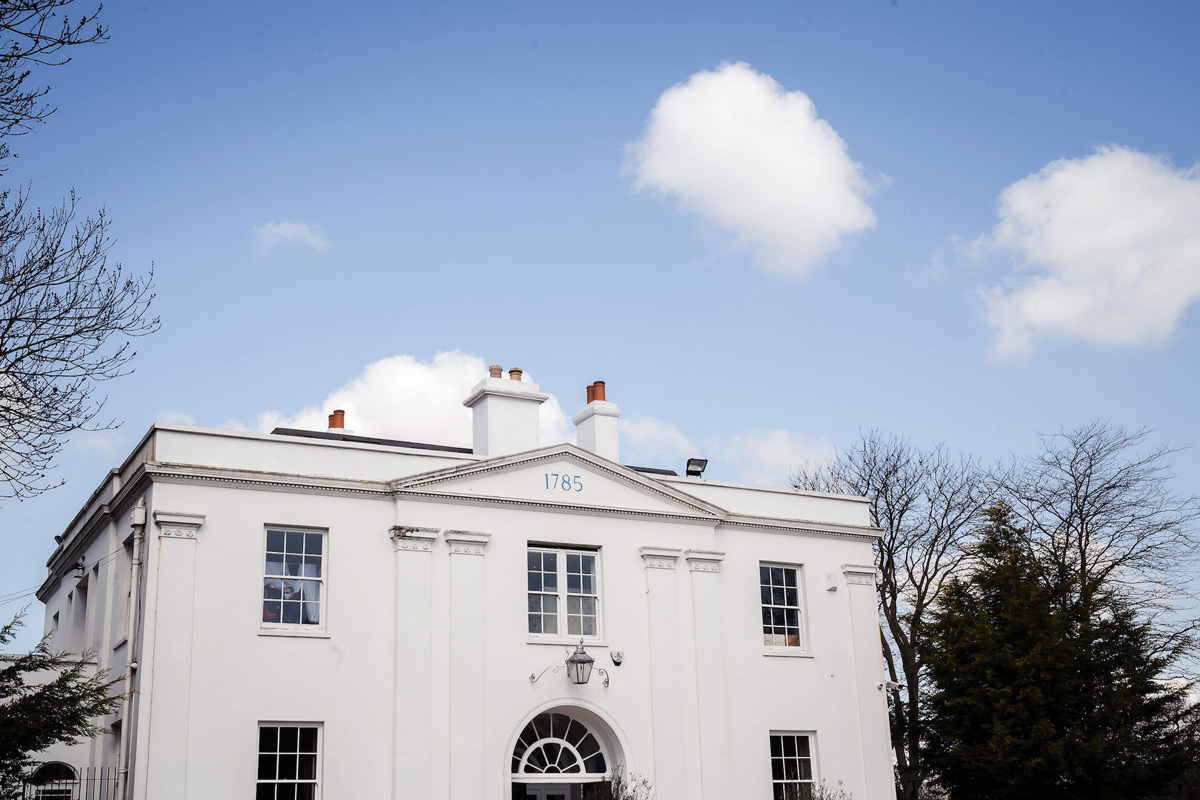 "Alex proposed last autumn over a weekend trip in the Chilterns. We were engaged for five months before getting married."
"We wanted to do something small and intimate and didn't want to wait."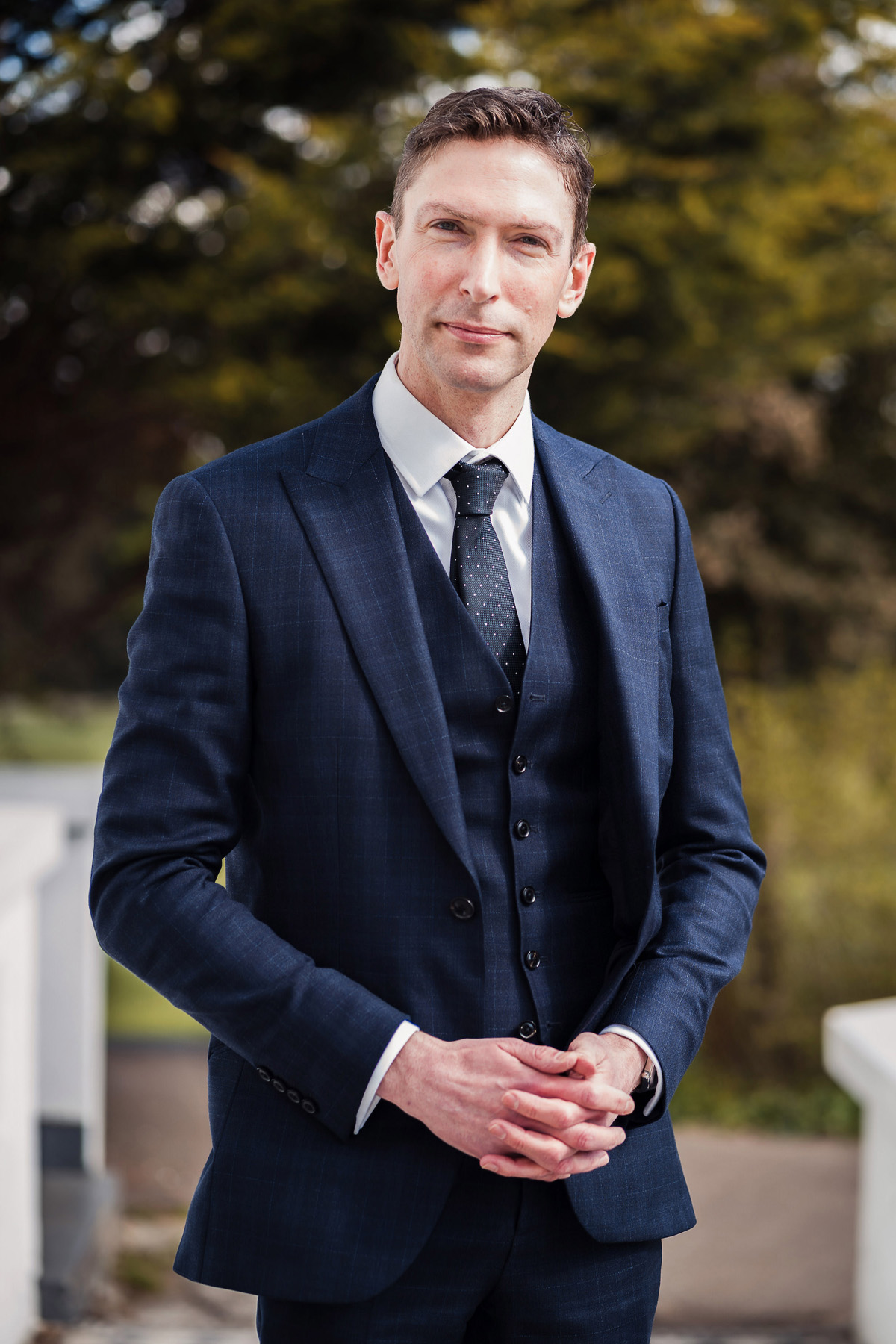 "We were convinced that there may be delays still this year too so just decided to get on with it. Having said that, we still had to change the date three times due to restrictions."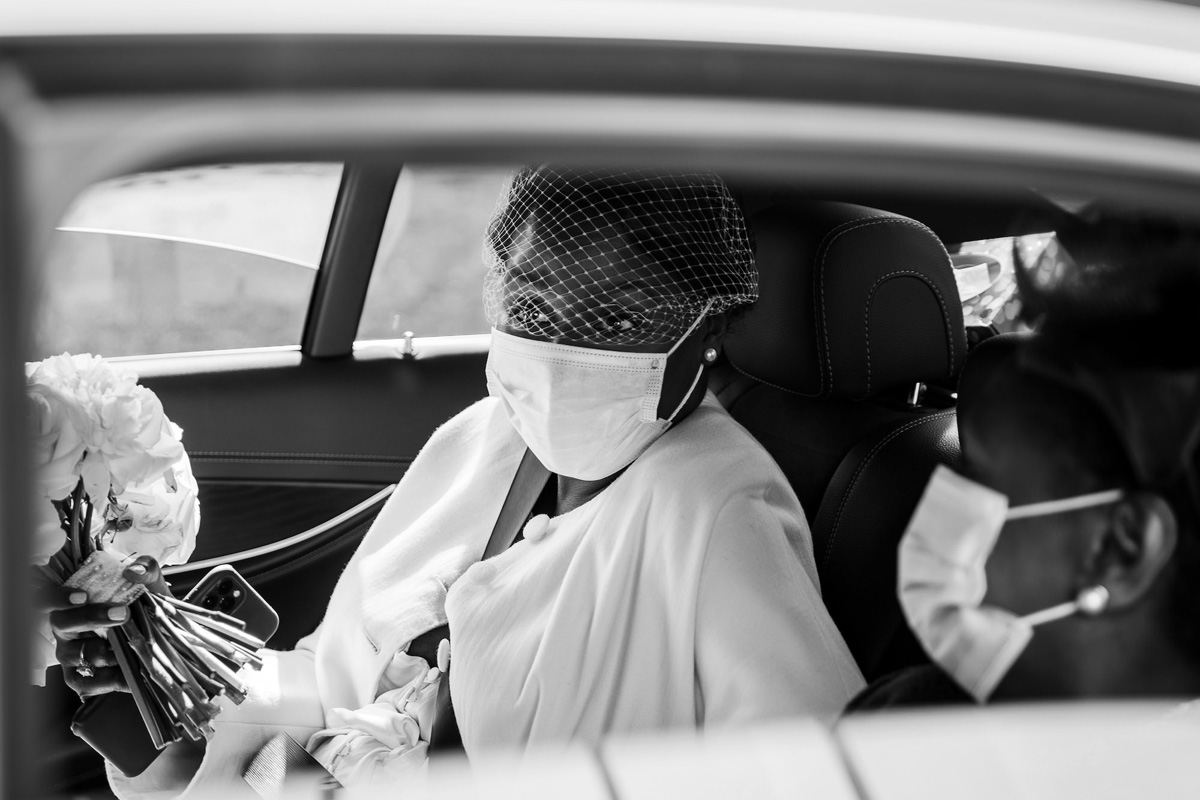 Georgie's finishing touches were a set of pearls from Michael Jones Jeweller, a gift from her parents, and a lush bouquet of fresh blooms and greenery from Floral Jems in East Dulwich.
"The theme (of sorts) was timeless elegance. I had visions of white peonies, roses and ranunculus and Jem was able to organise this."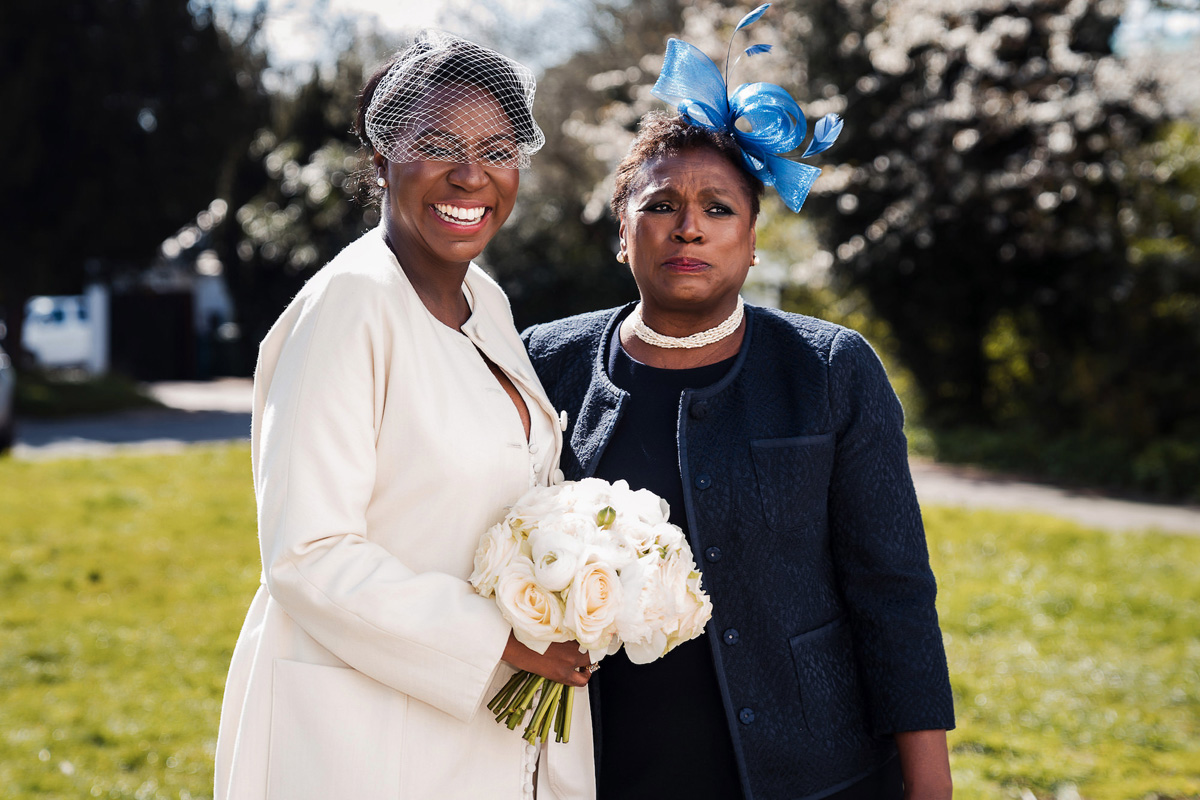 "We were very early in peony season and Jem went to such lengths to make sure that they opened in time; the flowers sat in a bath with lights on for a few days to encourage them along!"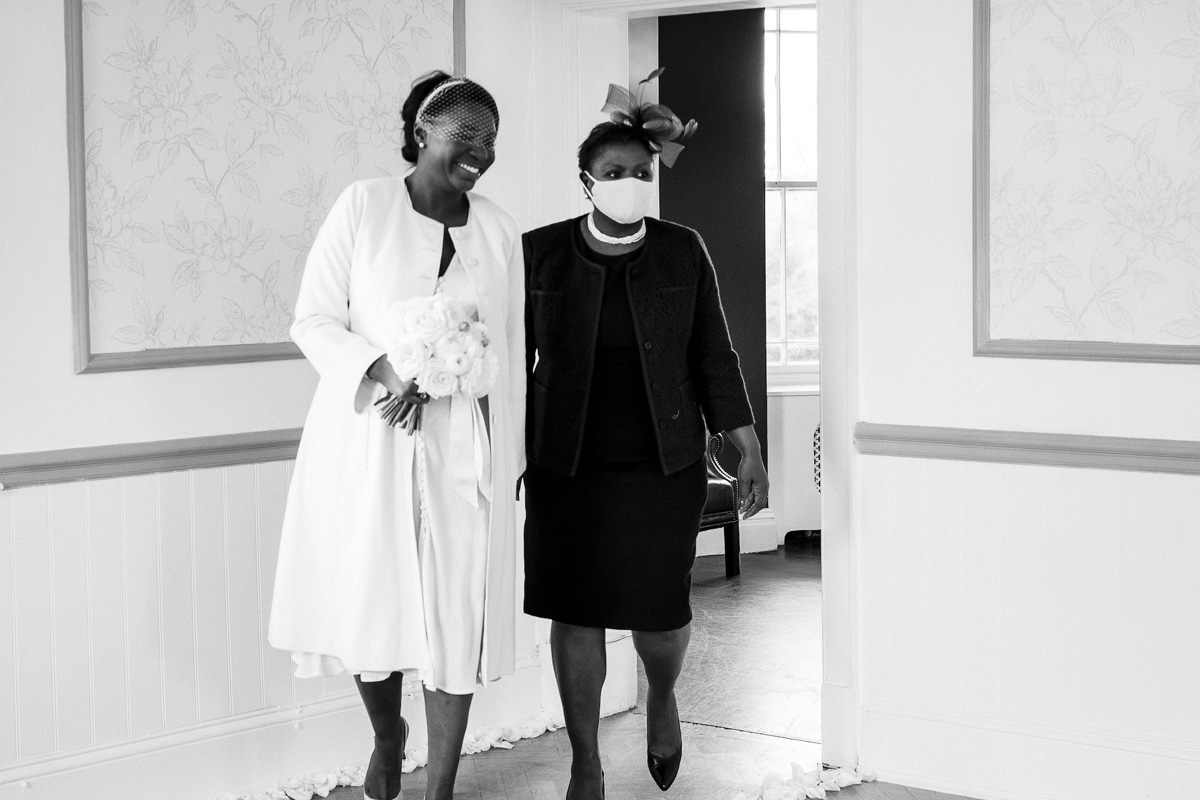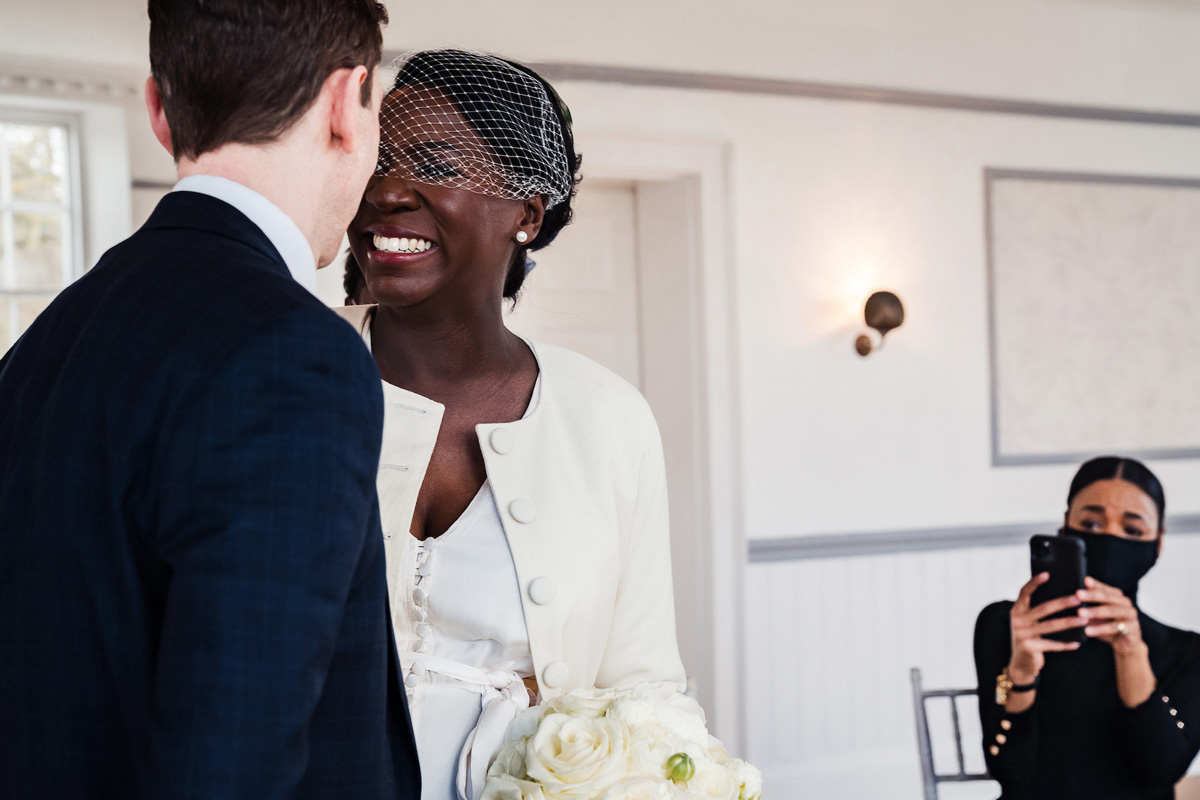 Alex dressed in a dapper, three piece Reiss suit and Loake shoes, along with Cartier cufflinks, a surprise from the bride on their wedding day.
"Alex's suit was bought just before Covid-19 hit. It hadn't been worn once due to working from home.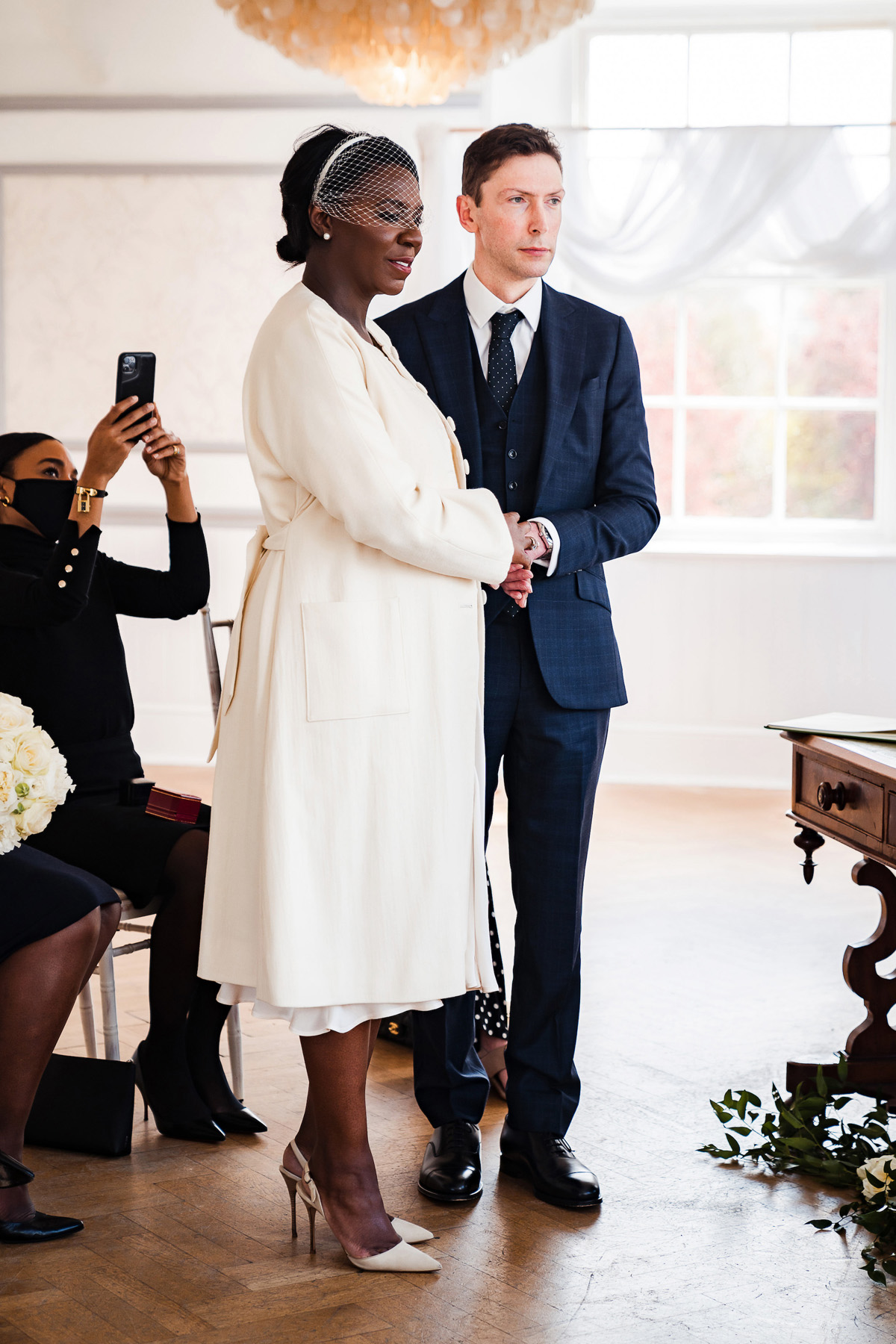 The ceremony was intimate with just a handful of guests present, but no less meaningful or special because of that.
"My mother walked me down the aisle to 'Grow Old With Me' by Tom Odell. Sadly, my father wasn't able to be there due to illness but it was an extremely special moment."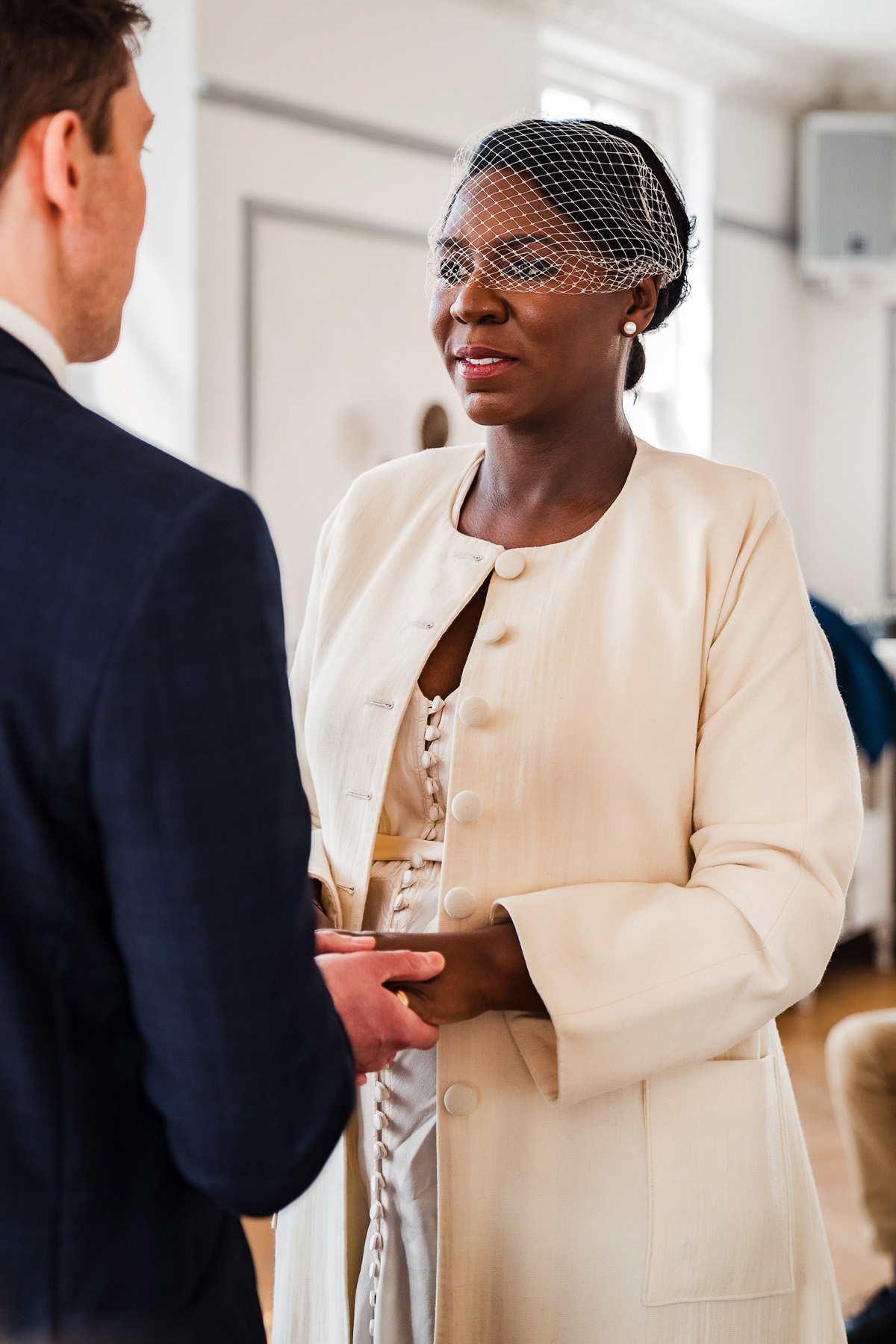 "Our ceremony was wonderful. There were only six people present and it was so special and intimate. We later had a few more people on the terrace outside from drinks which was amazing but the ceremony was unforgettable."
"My mother read an excerpt from 'The Art of Marriage' by Wilferd A. Peterson. We thought this was lovely advice and a lot like the kind of things that both sets of our parents had told us in advance."
"Alex is half-Italian so his mother read 'Due', a poem by Erri de Luca."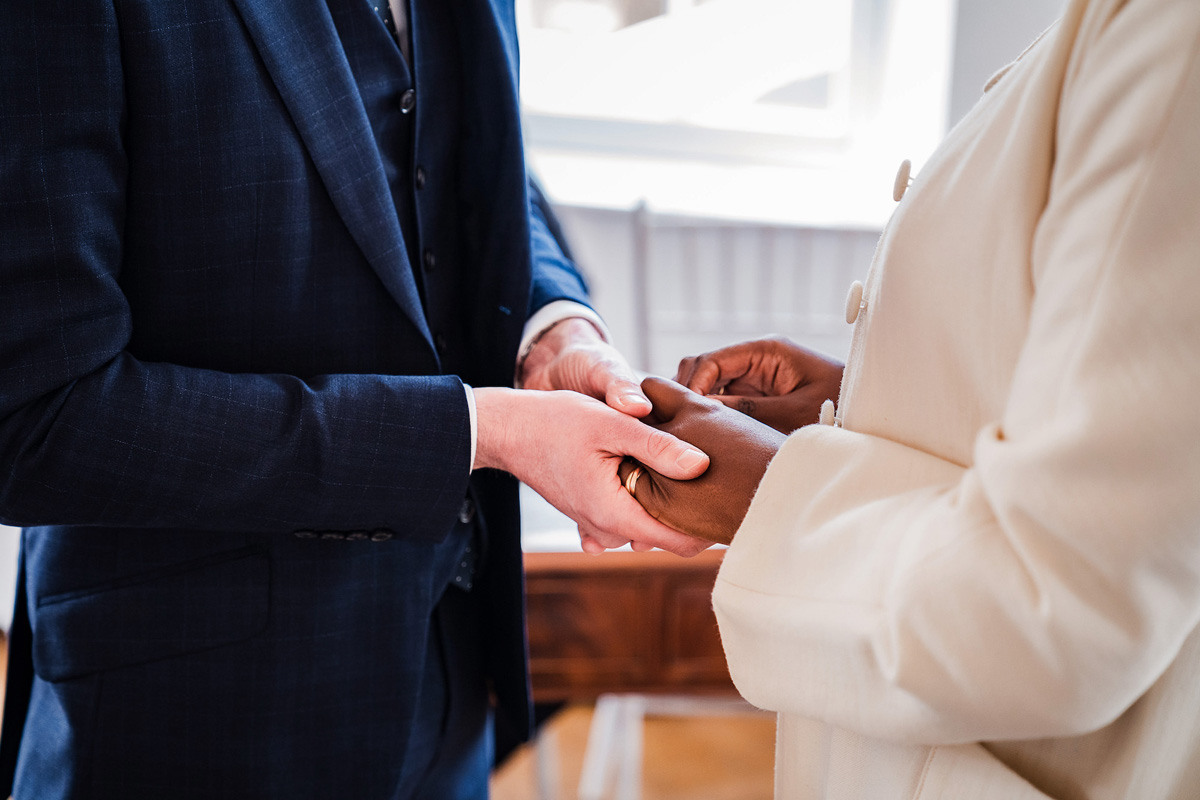 The couple's rings were from Cartier and Michael Jones Jeweller.
"My family has used the jeweller for many, many years and so it felt right to get Alex's ring from there. We had spotted my ring in Cartier some time before and thought it was beautiful."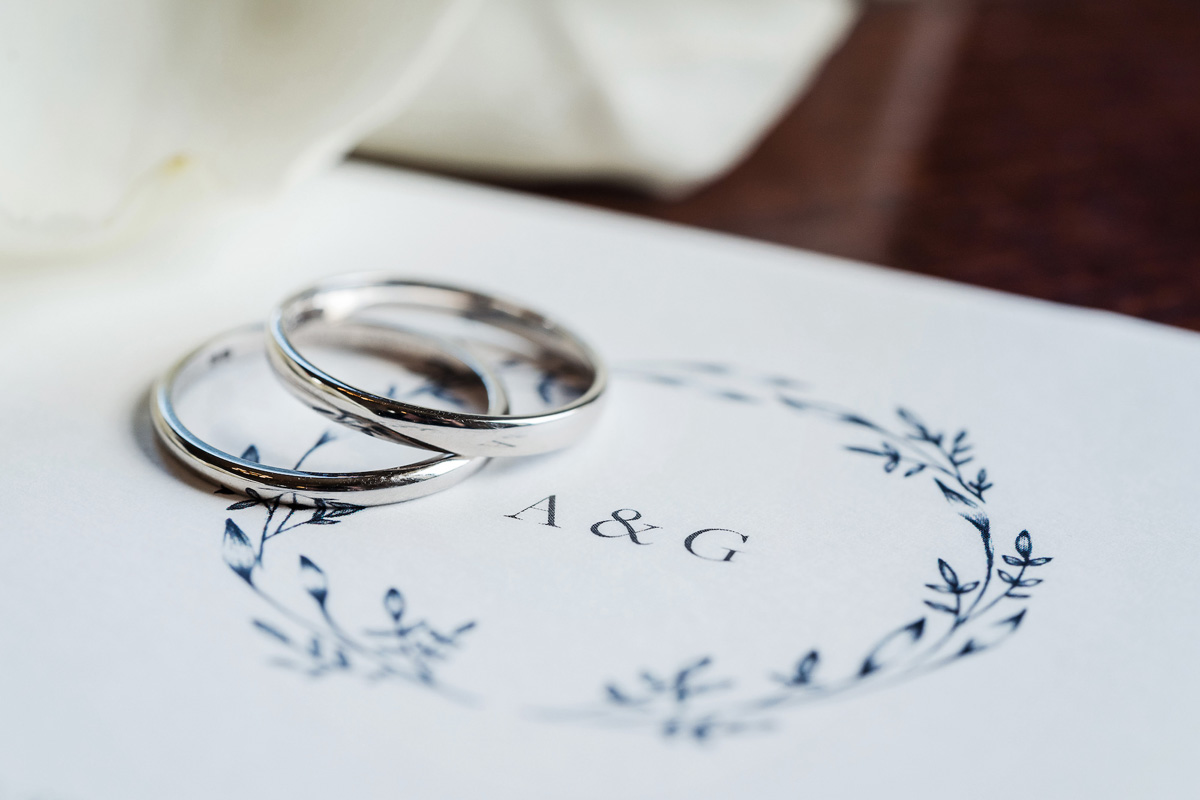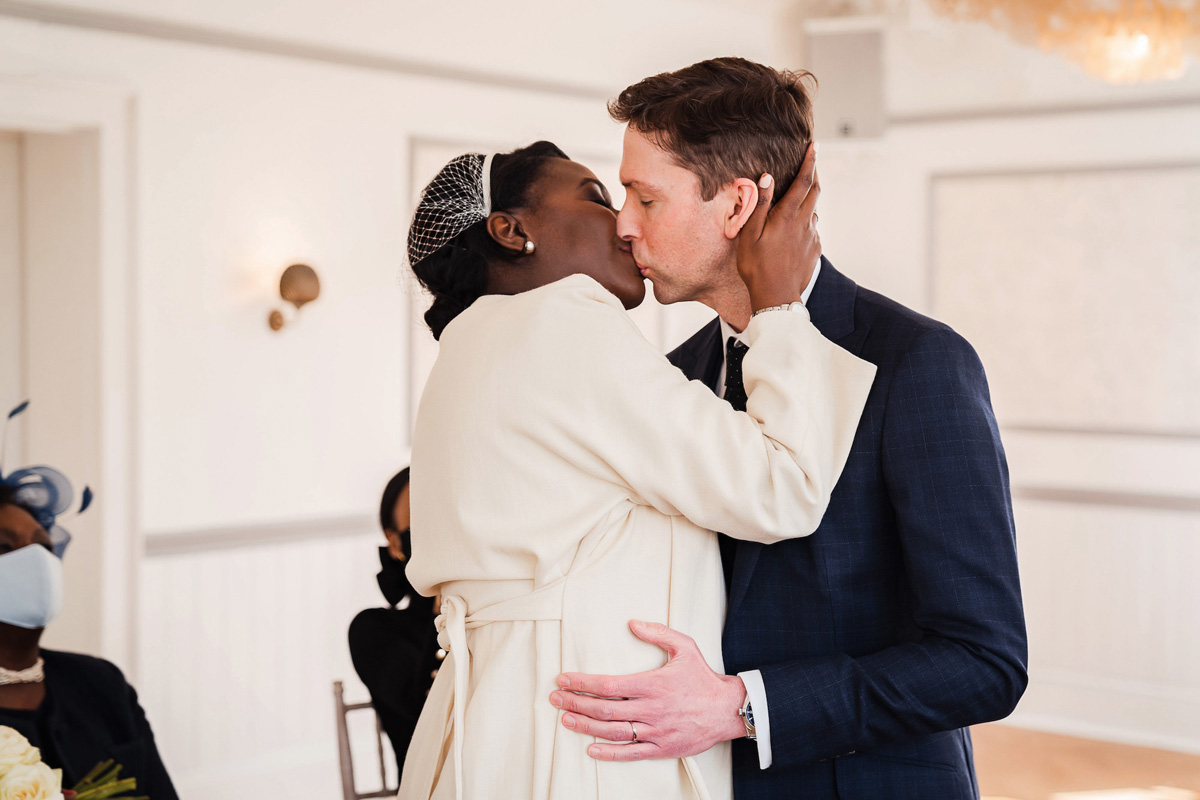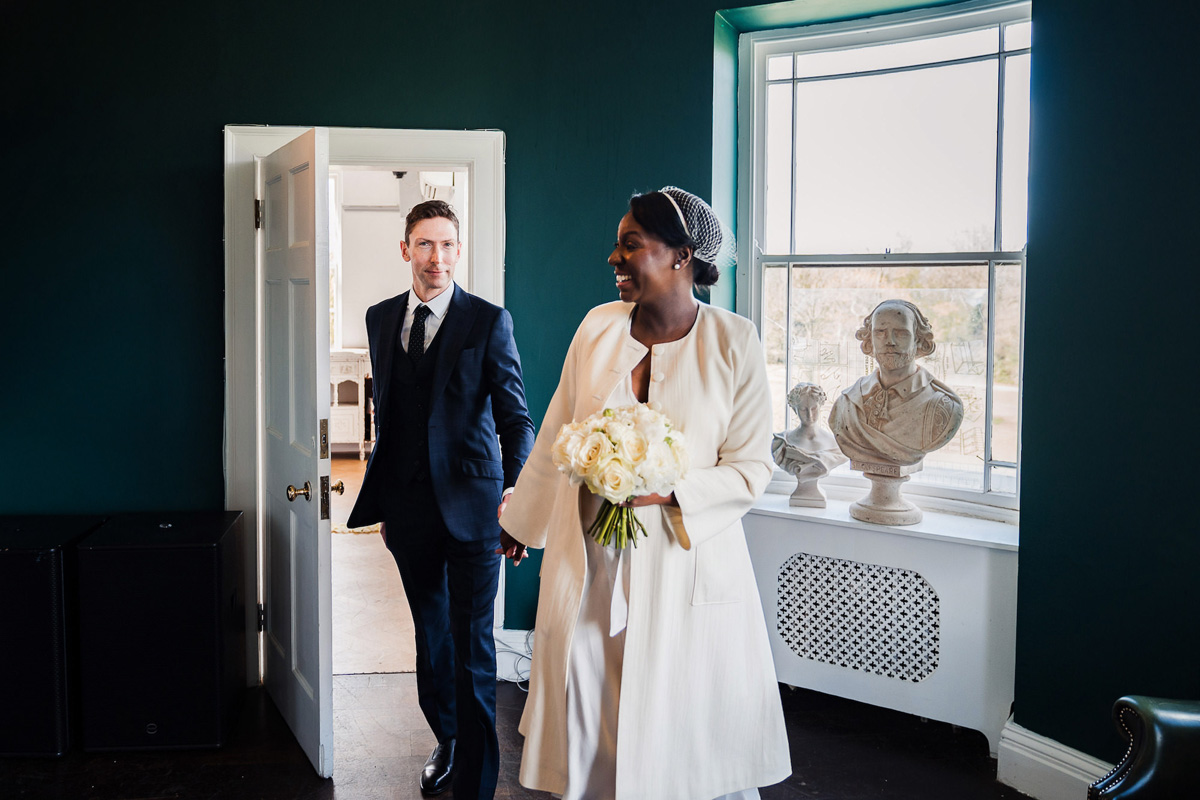 Photographer, and the couple's friend, Laura May Photography, created this beautiful portfolio of images.
"Laura Stanley is a great friend of mine. We never considered anyone else and she was absolutely wonderful. The perfect photographer who captured the essence of the day. We would recommend her to anyone and already have."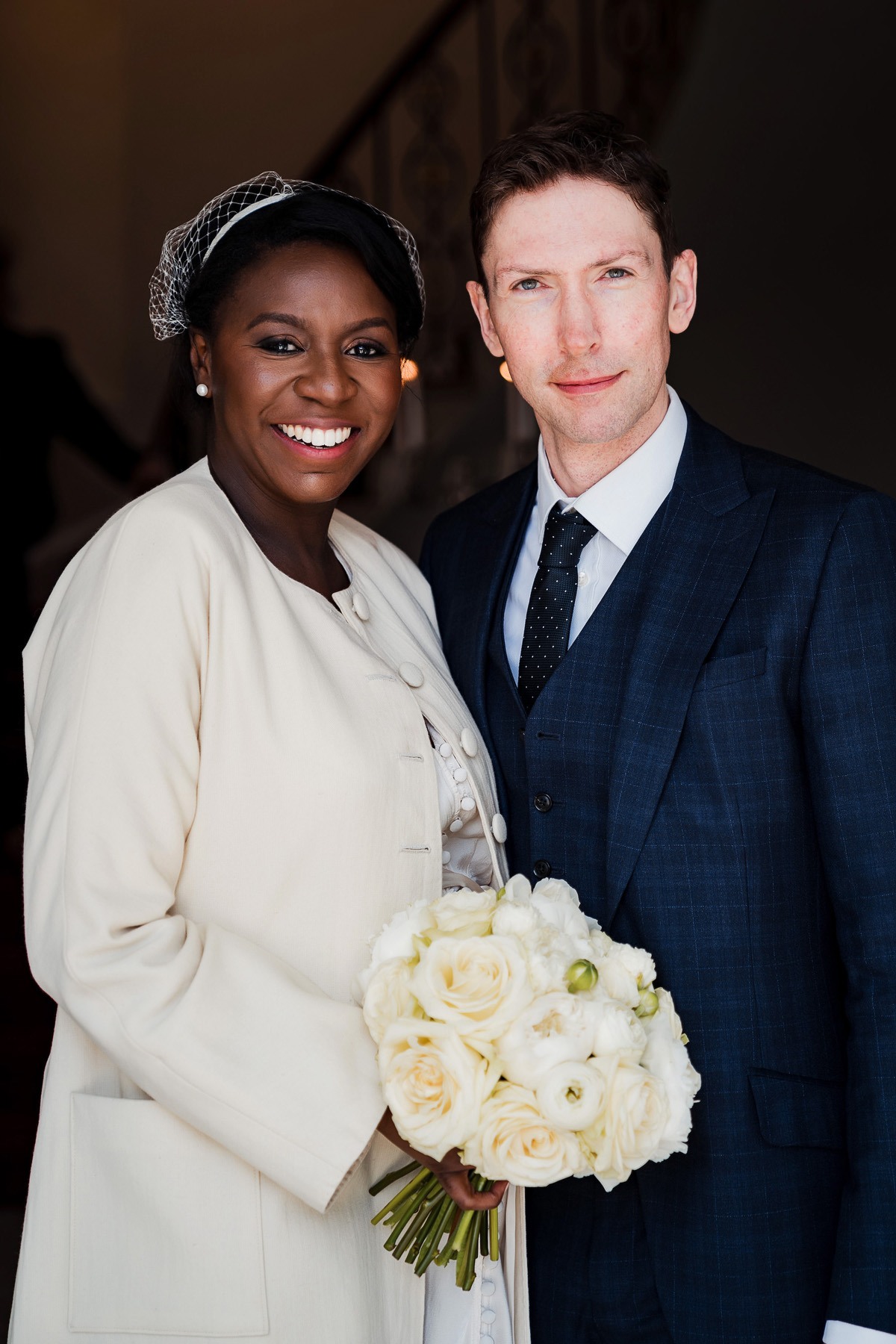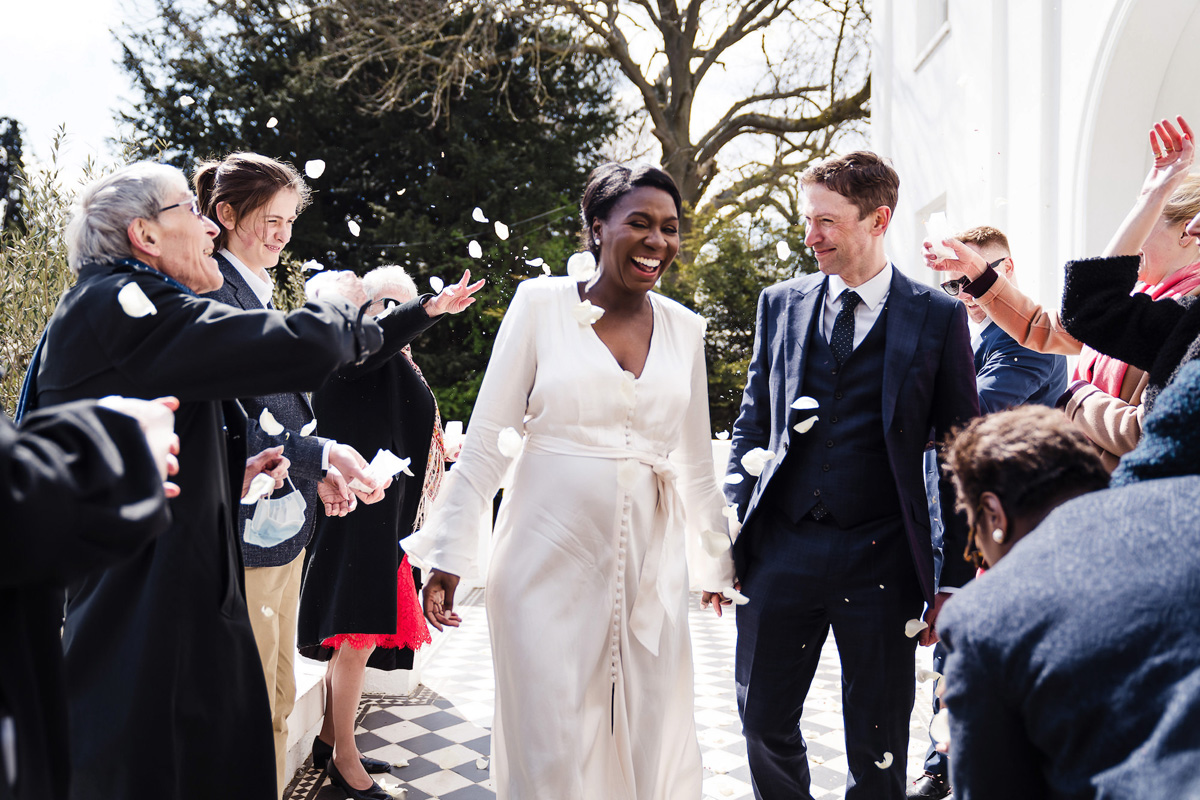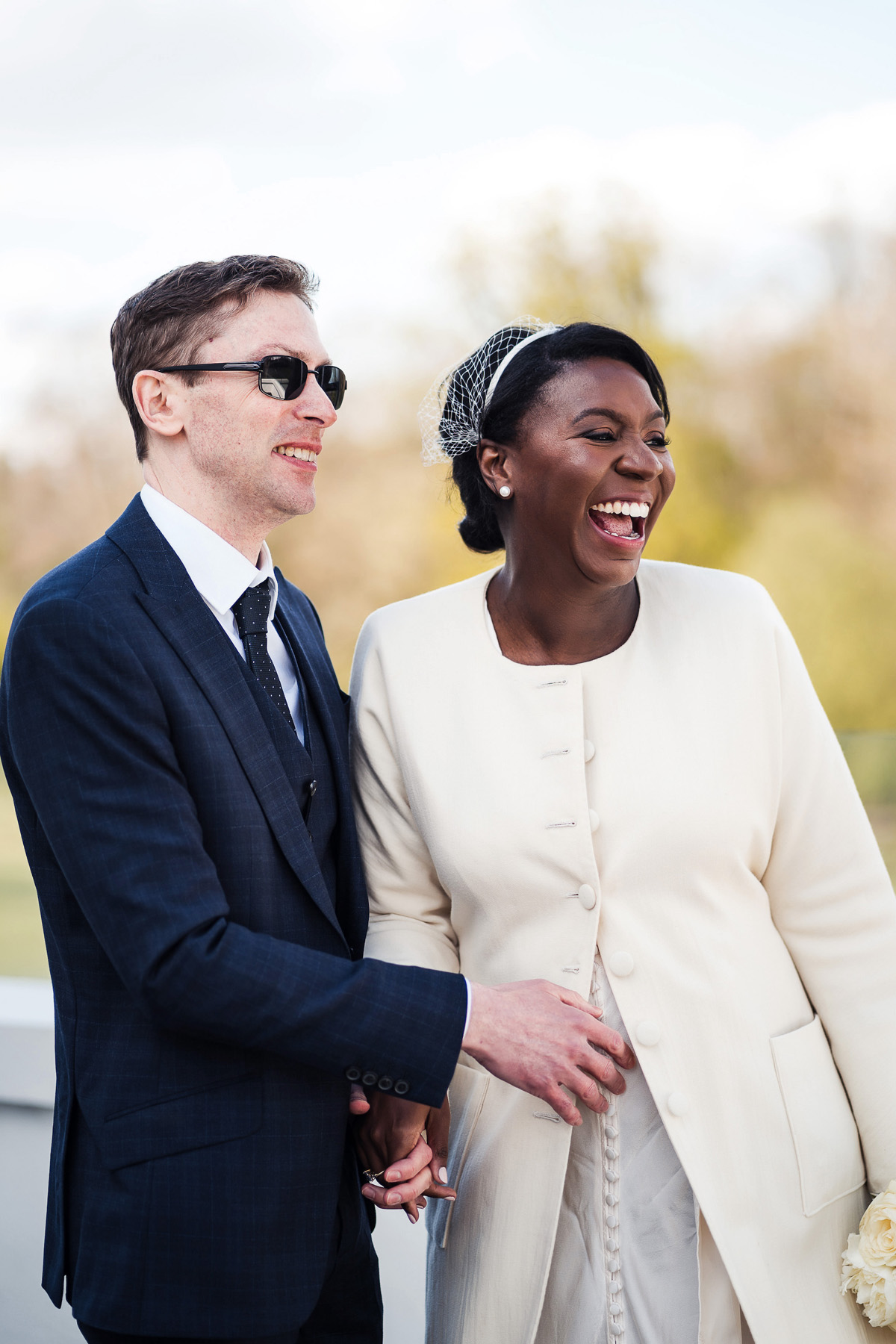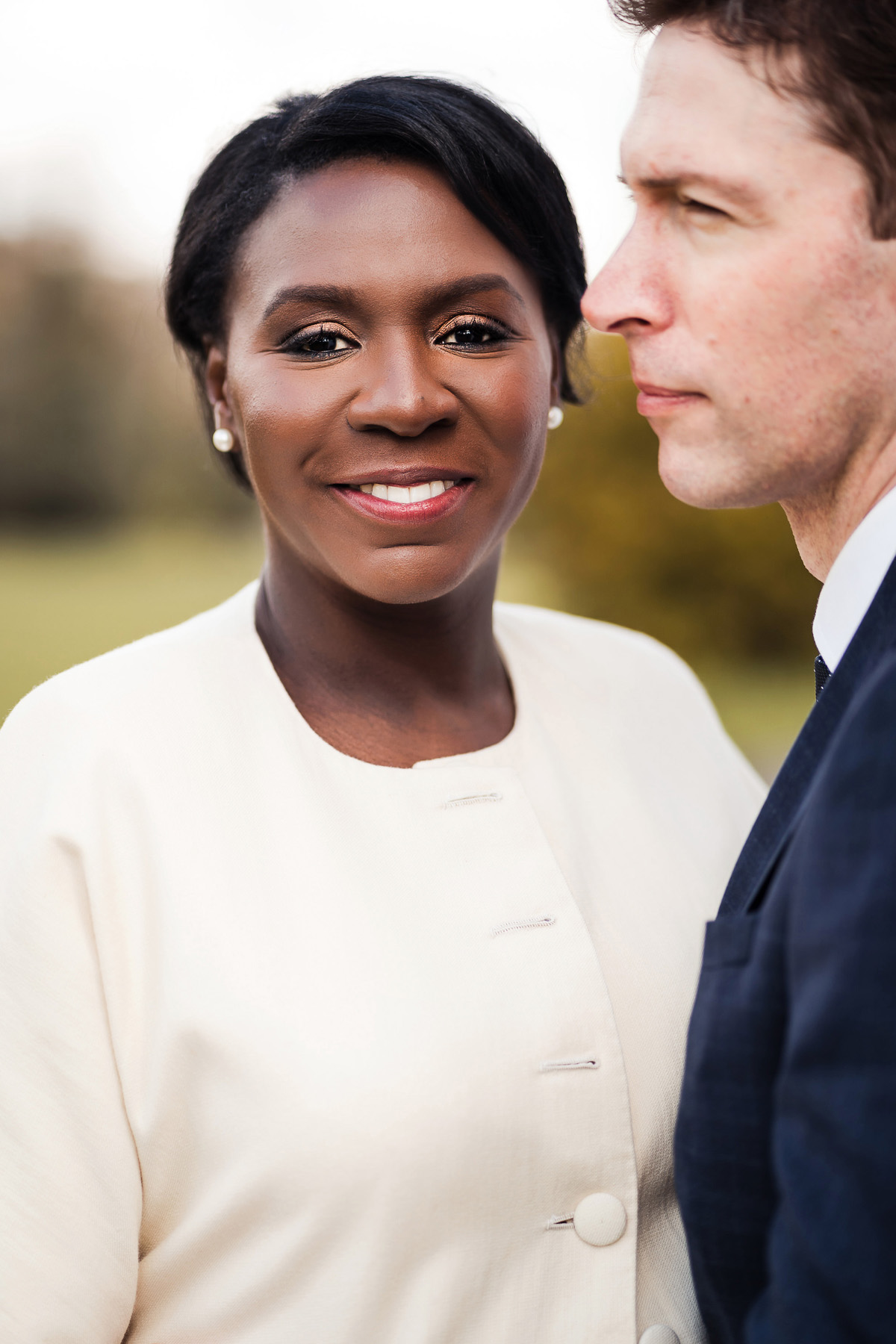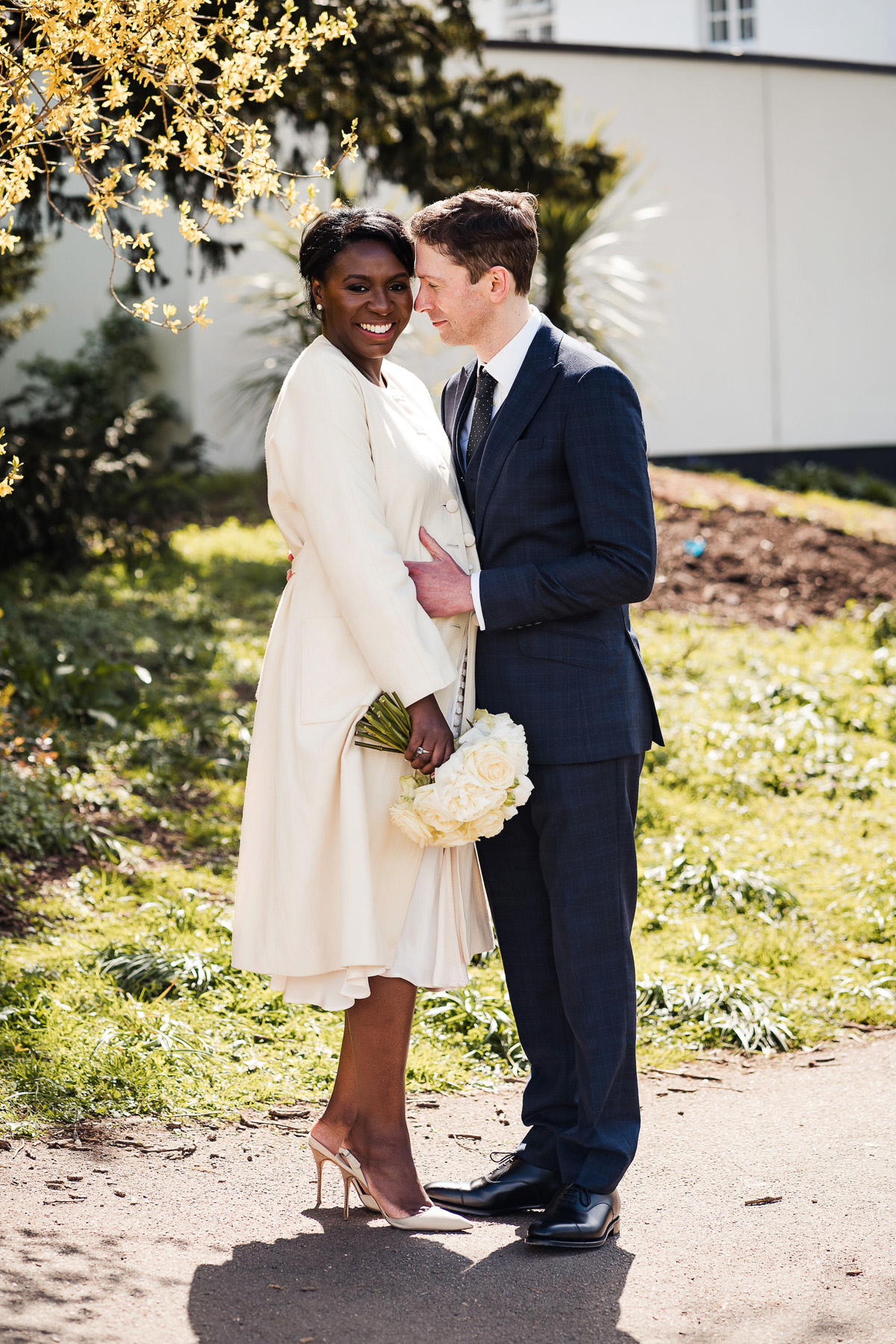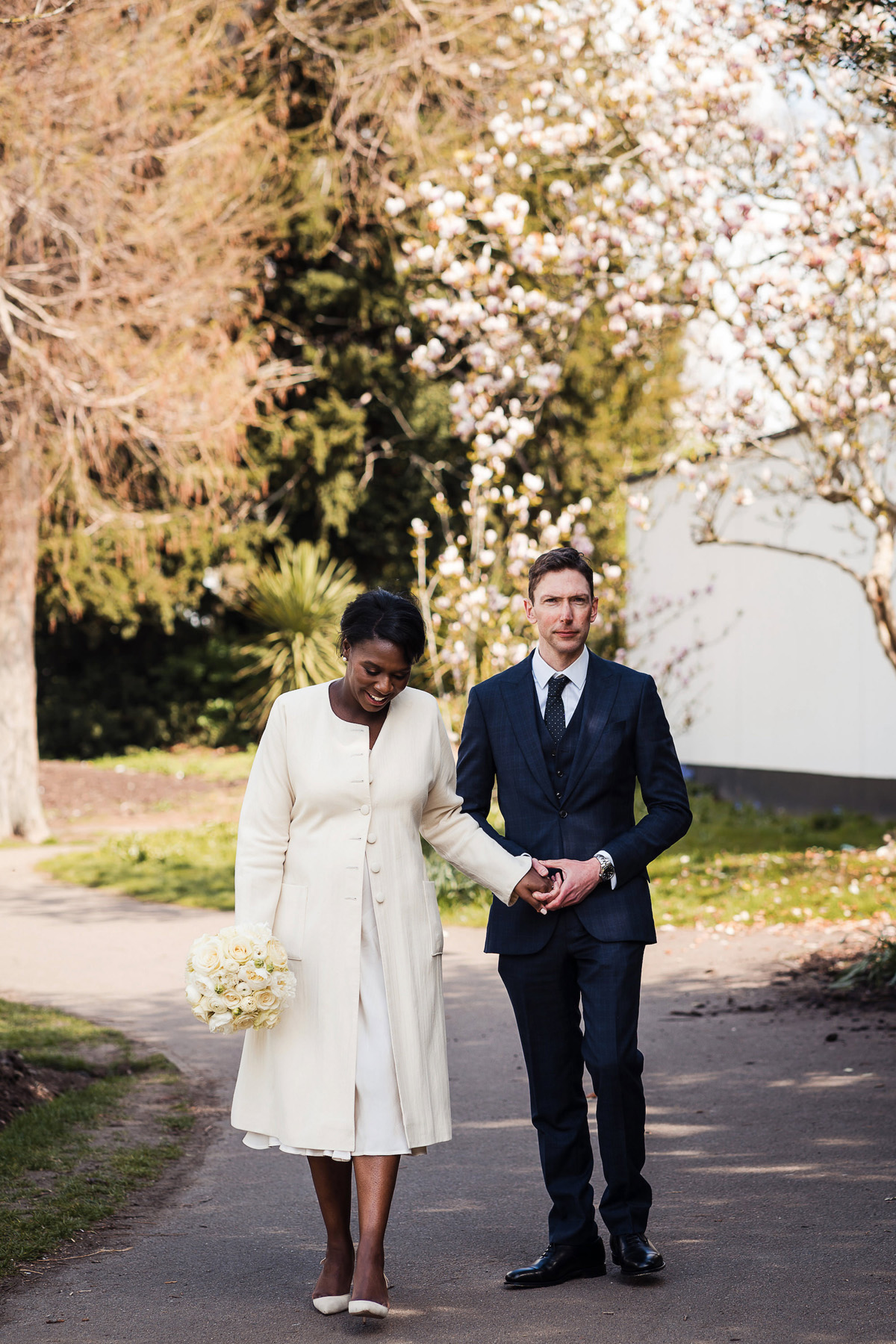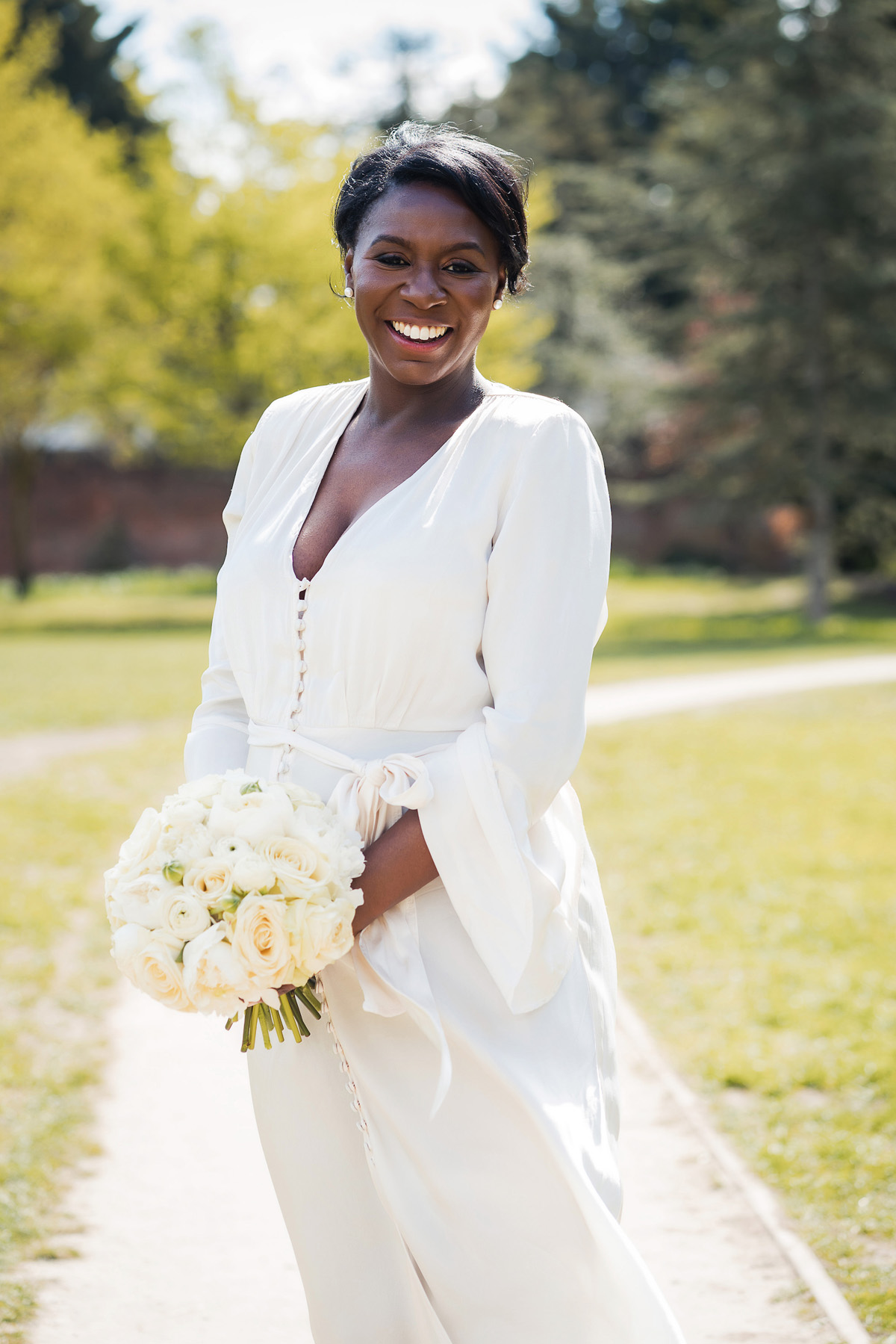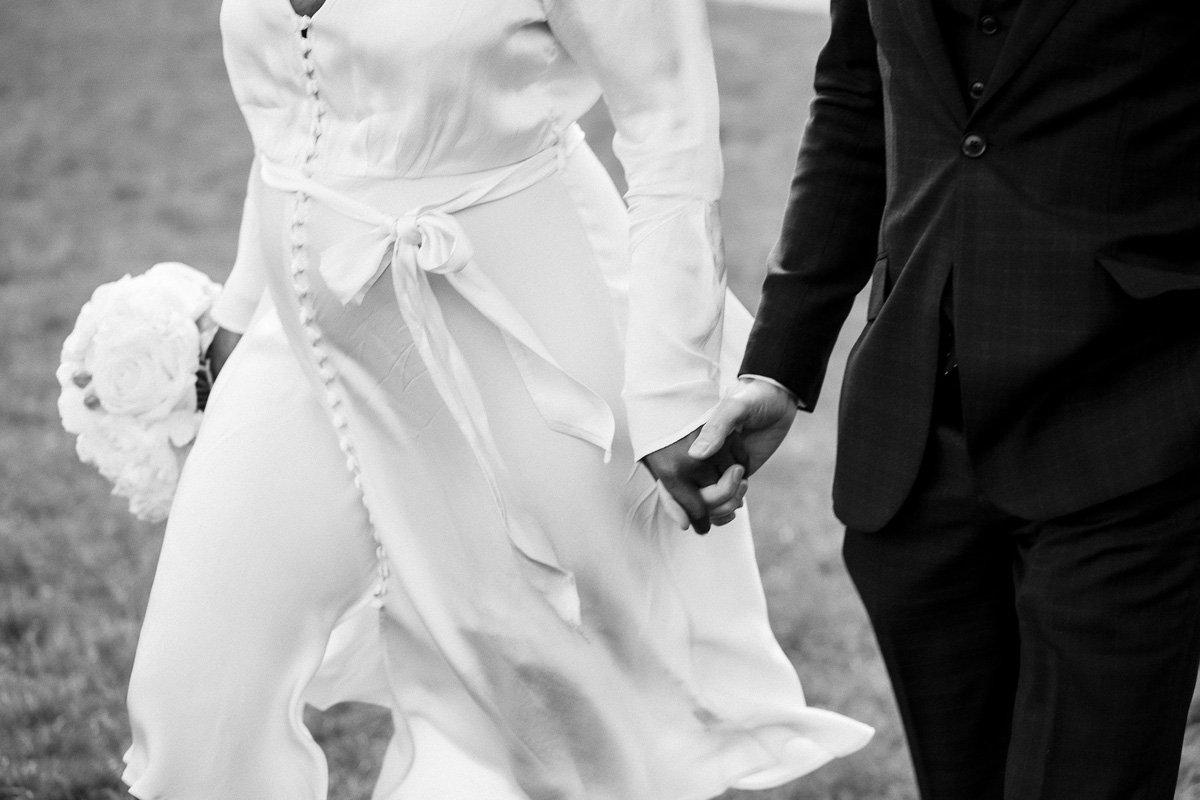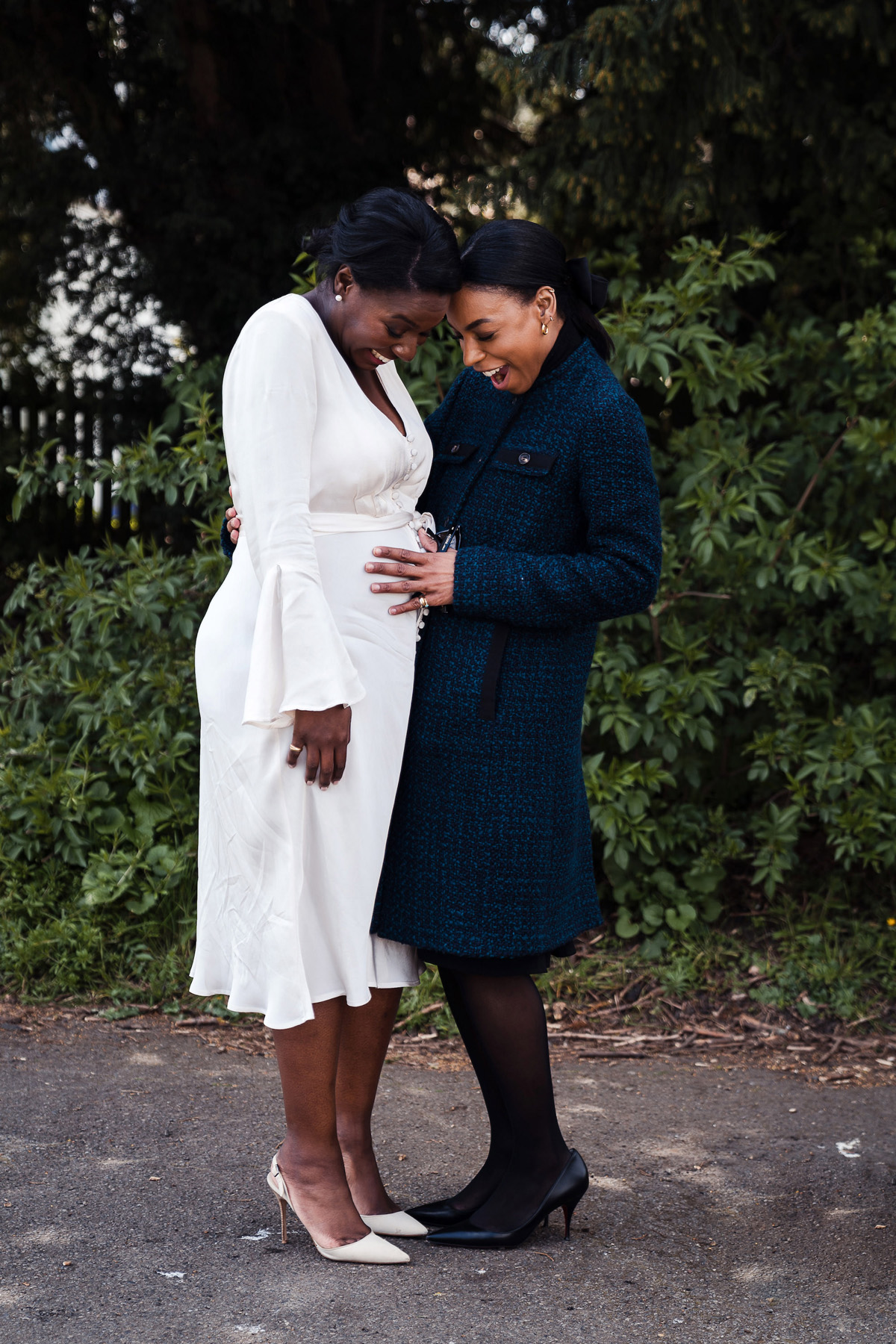 After the ceremony, the newly-weds headed out on to the terrace for a relaxed, outdoor drinks reception with more friends. The nibbles were provided by Belair House and the gorgeous tiered cake was created by Violet Cakes by Claire Ptak in Hackney.
"We had a two-tier lemon and elderflower cake."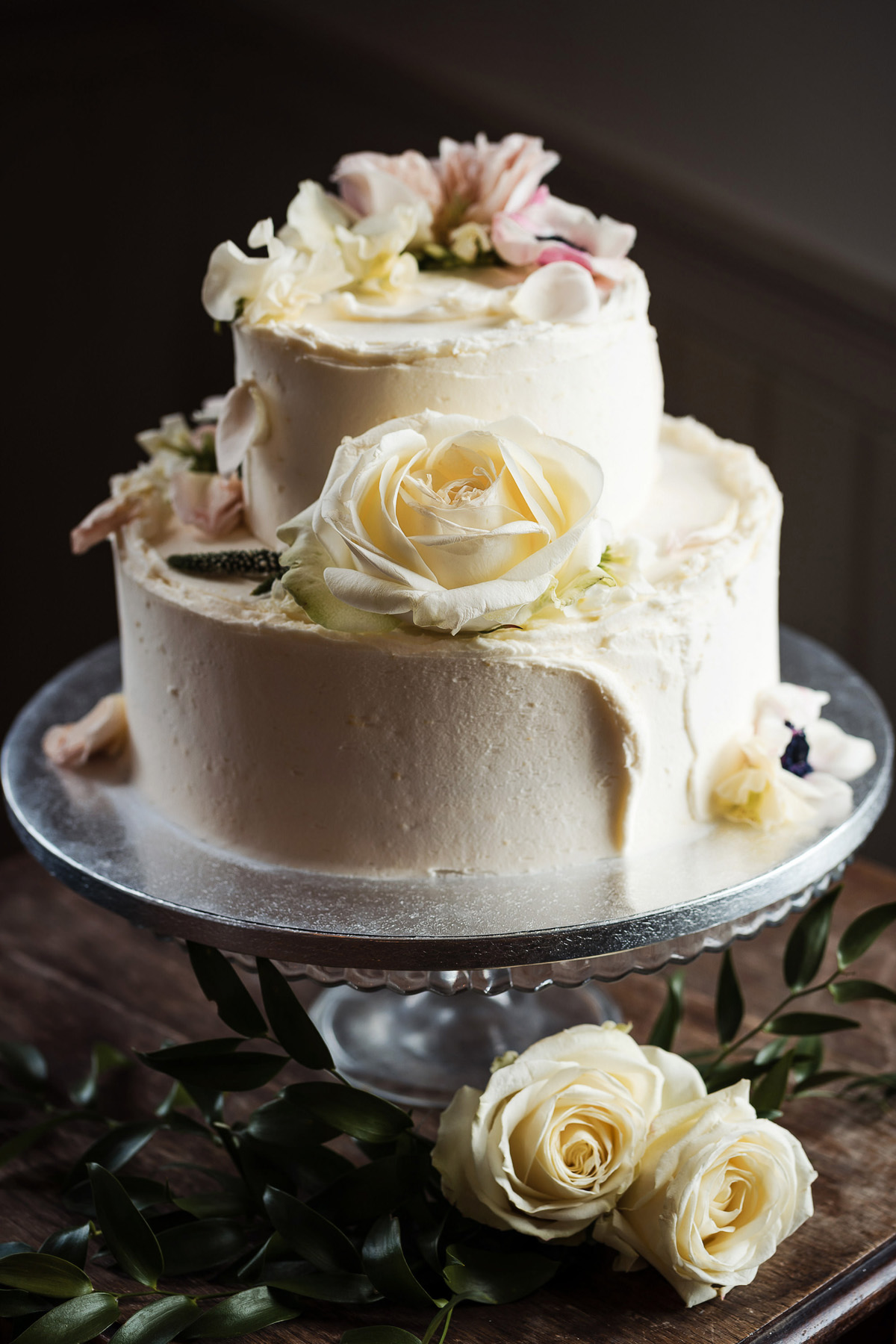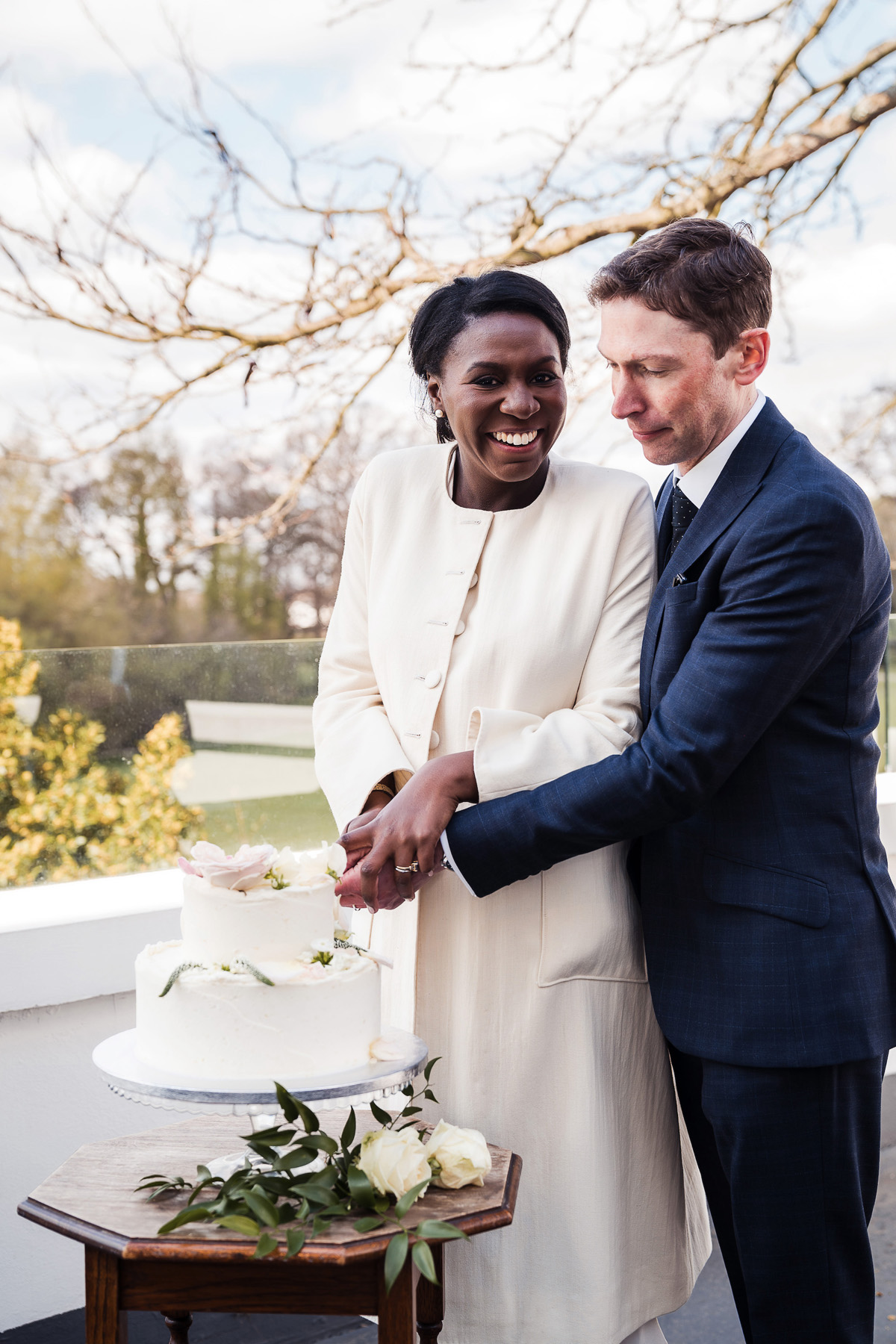 Words of Wedded Wisdom
"Try to keep in mind what the day is and will be about; you and your partner making this very special commitment. On the days where the stress threatens to take over, try to remember why you are doing this."
"Remember what the day is about and we can guarantee it will still be the most precious day."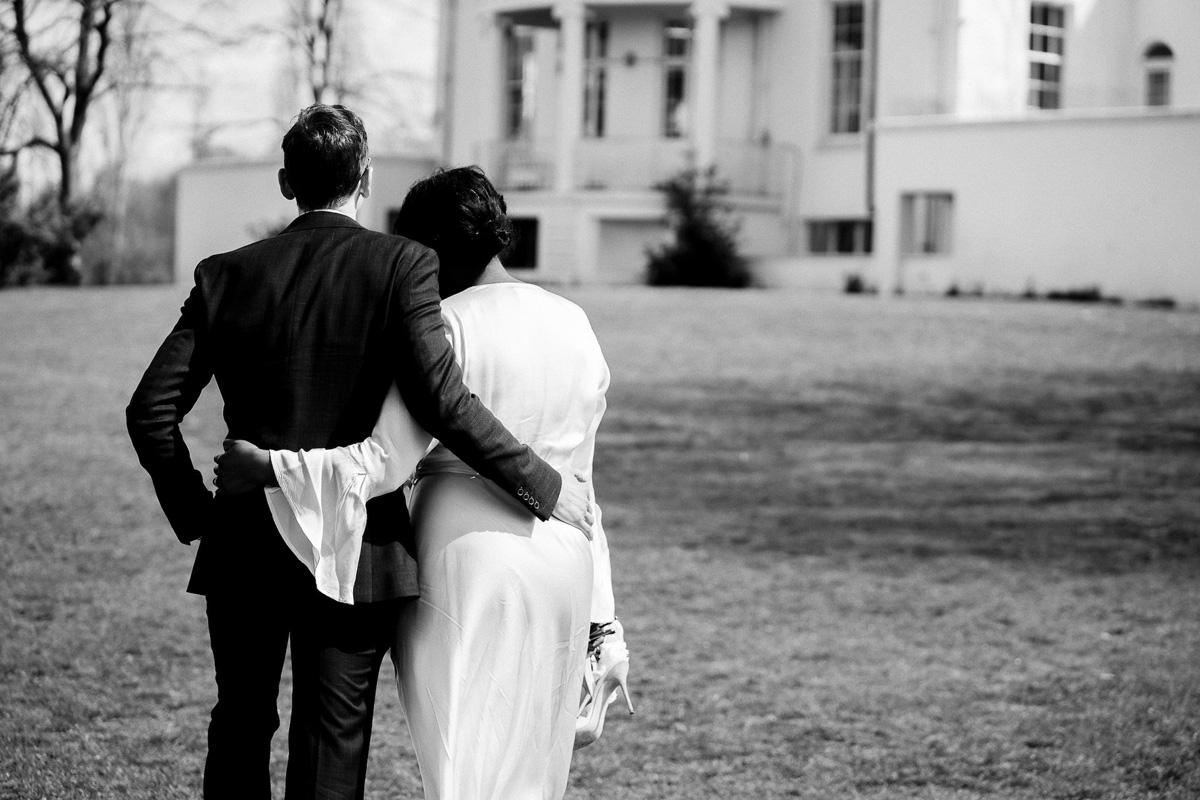 It's been such a privilege to have an insight into your intimate celebration Georgie and Alex; thanks so much for sharing it with us. I adored your coat and dress combination too. Thanks also, Laura May Photography.
If you're inspired by this intimate, micro wedding, there are plenty more to inspire you on Love My Dress here.
Ele x