On 23 July 2021 Sandy and Christine, who both work in finance, wed in a Catholic church ceremony followed by an 'English Garden Party' inspired reception at Cowley Manor, Cheltenham, Gloucestershire.
The soft colour of blue infused all parts of their day and Christine selected not one but two gowns for the wedding day, which had been postponed by just over a year due to the pandemic.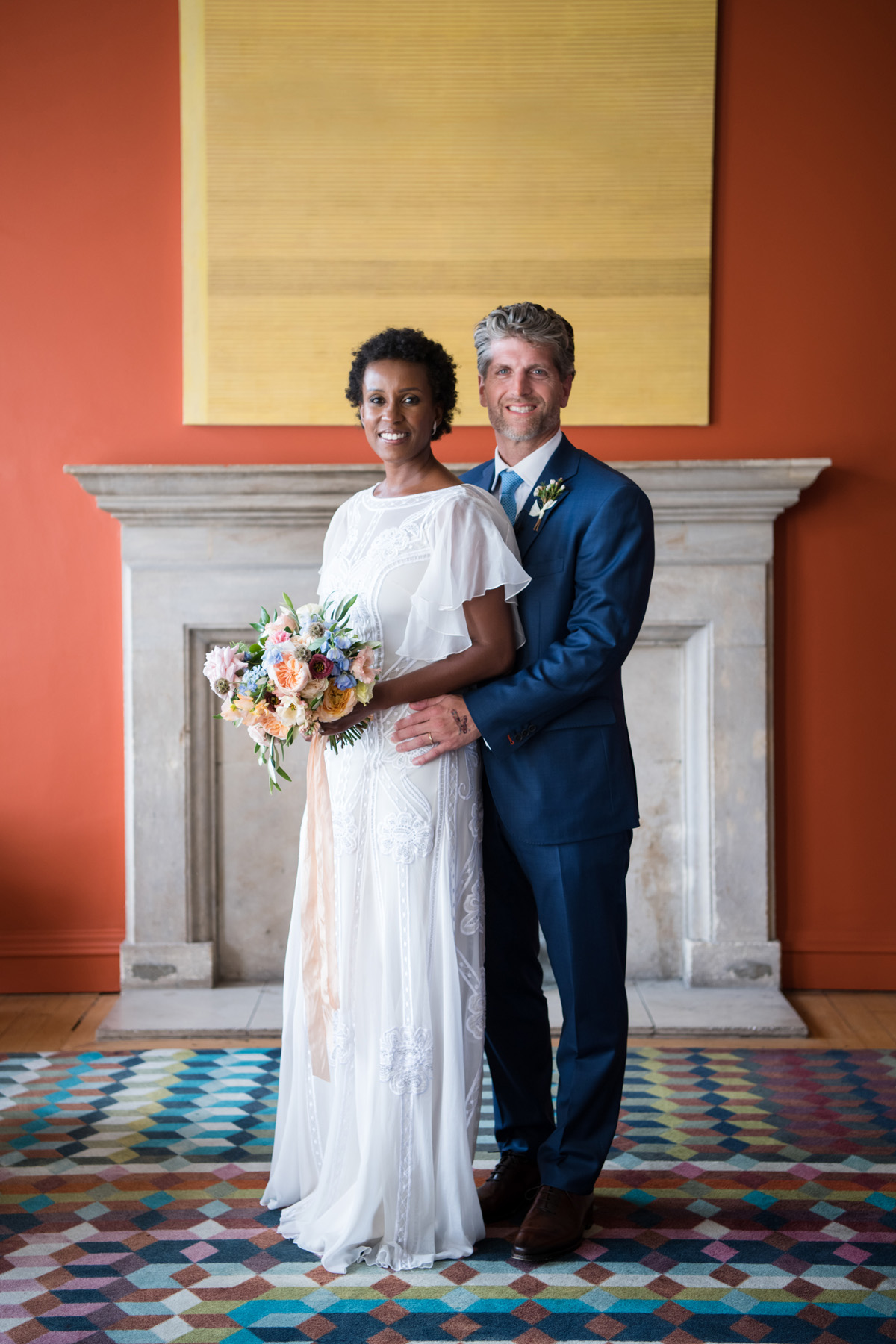 The couple asked wedding photographer Especially Amy to record their day in her signature, fine art style, infused with natural summer light.
Amy Murrell, the talent behind Especially Amy, is a much-valued member of our Love My Dress Wedding Directory and you can find out more about her on her listing.
"I loved Amy's approach to taking pictures. She has a discrete and relaxed nature about her that made us feel so comfortable and natural."
"I told her that I felt like we were having our friend take our wedding pictures. She also knows the venue very well so we were confident she knew the best places to capture great pictures."
Blue was a central theme for the stationery, designed by Paper on Pine and the wedding flowers, created by Flowers By Passion.
"We loved their flower creations from past weddings. The colours were partly inspired by Sandy's favourite colour blue and also mimicked an English garden in the summer time."
The couple were introduced to each other by a mutual friend in the States and were engaged for three and a half years before they wed.
"Our first date, in essence, was a blind date. I was working and living in New York at the time and Sandy was living in Philadelphia, working out of New York two or three days a week."
"The first date was scheduled to be just drinks but we got on so well that it became drinks, dinner, then more drinks."
Pauline Briscoe MUA applied her fresh, glowing make-up and the final touch was a spritz of Jo Malone Wood Sage and Sea Salt.
"It's the scent I wear most days out of the year so I went with it for comfort, really."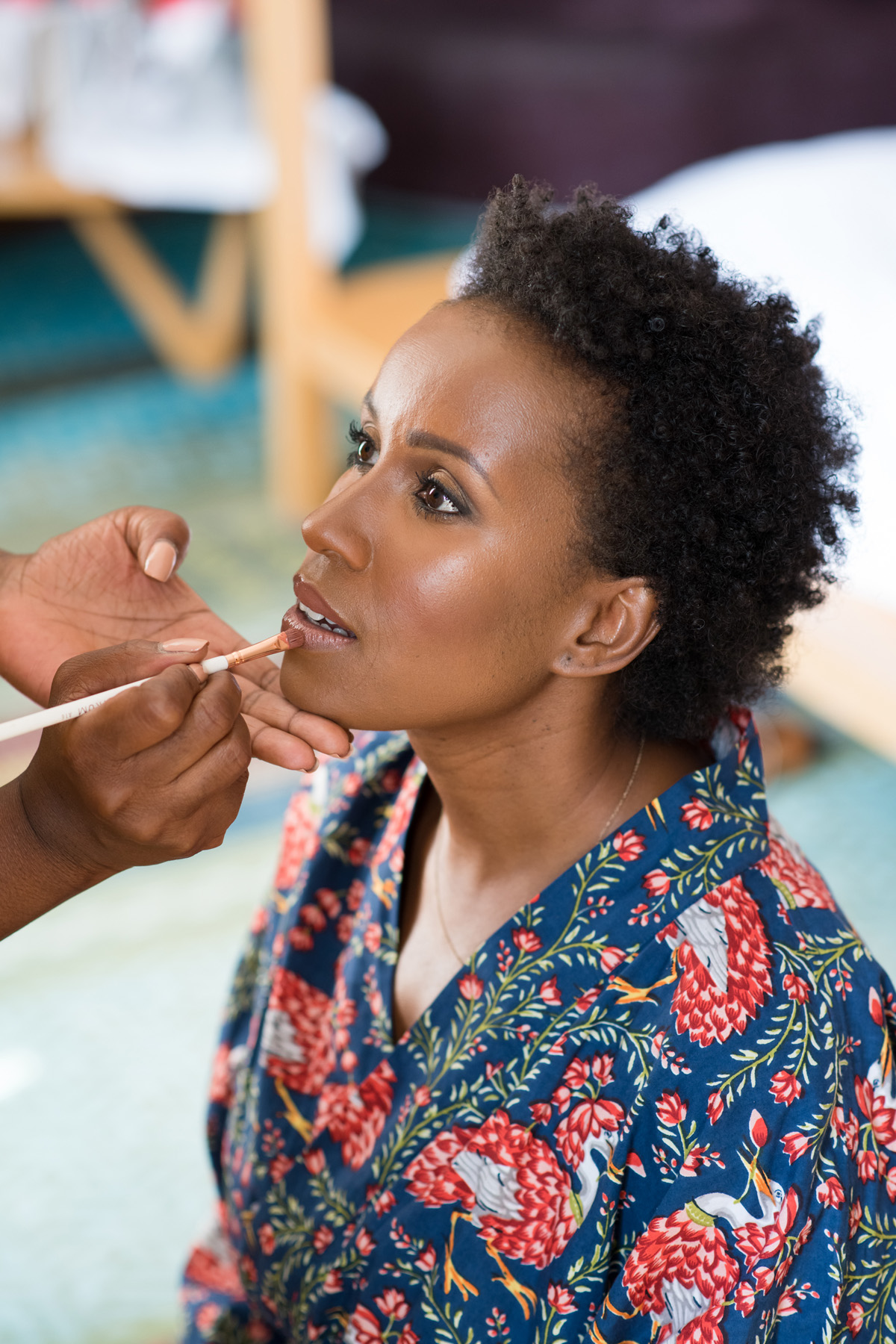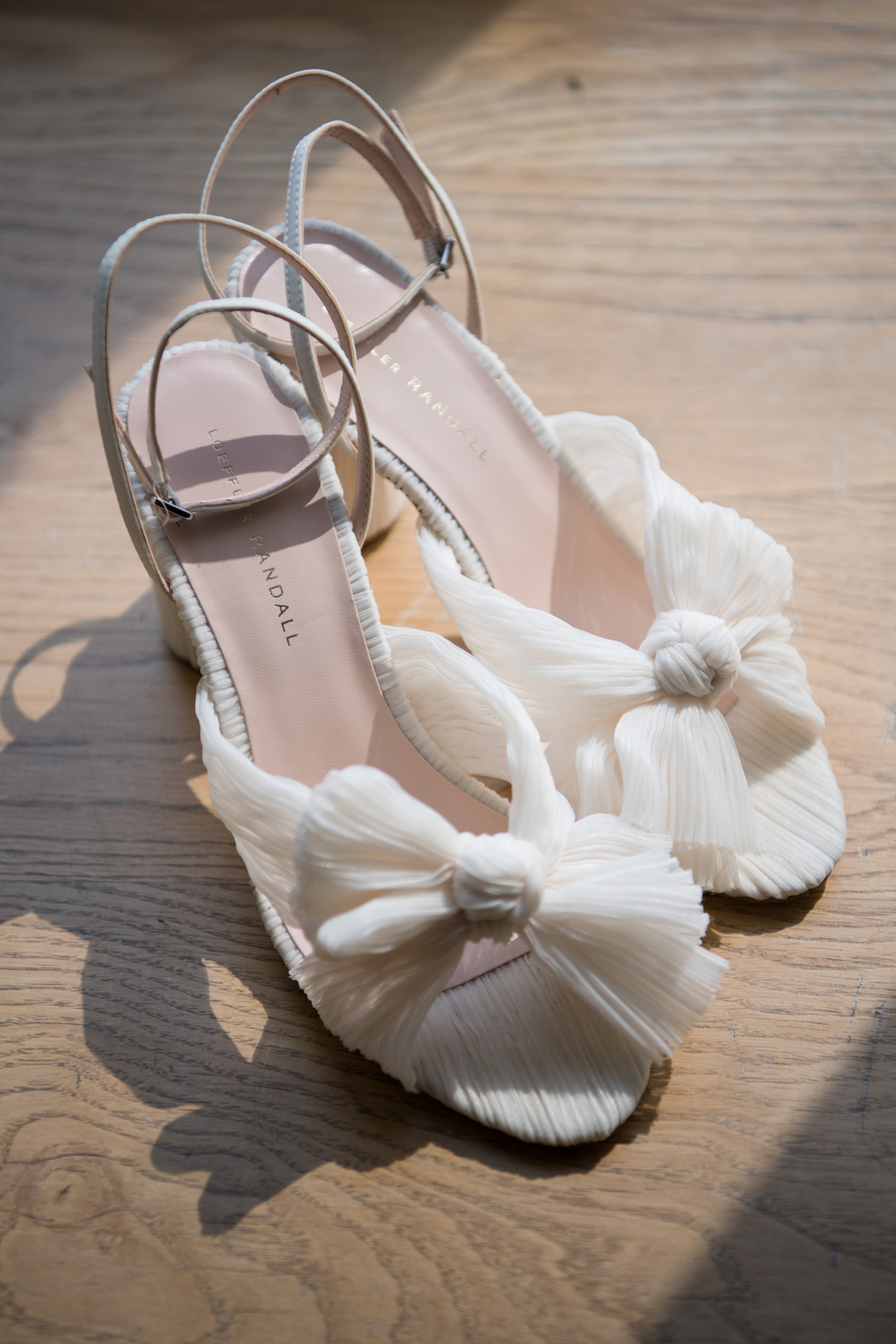 Her veil was an inexpensive find on Amazon and the bride slipped on a pair of Loeffler Randall shoes, complete with statement bows.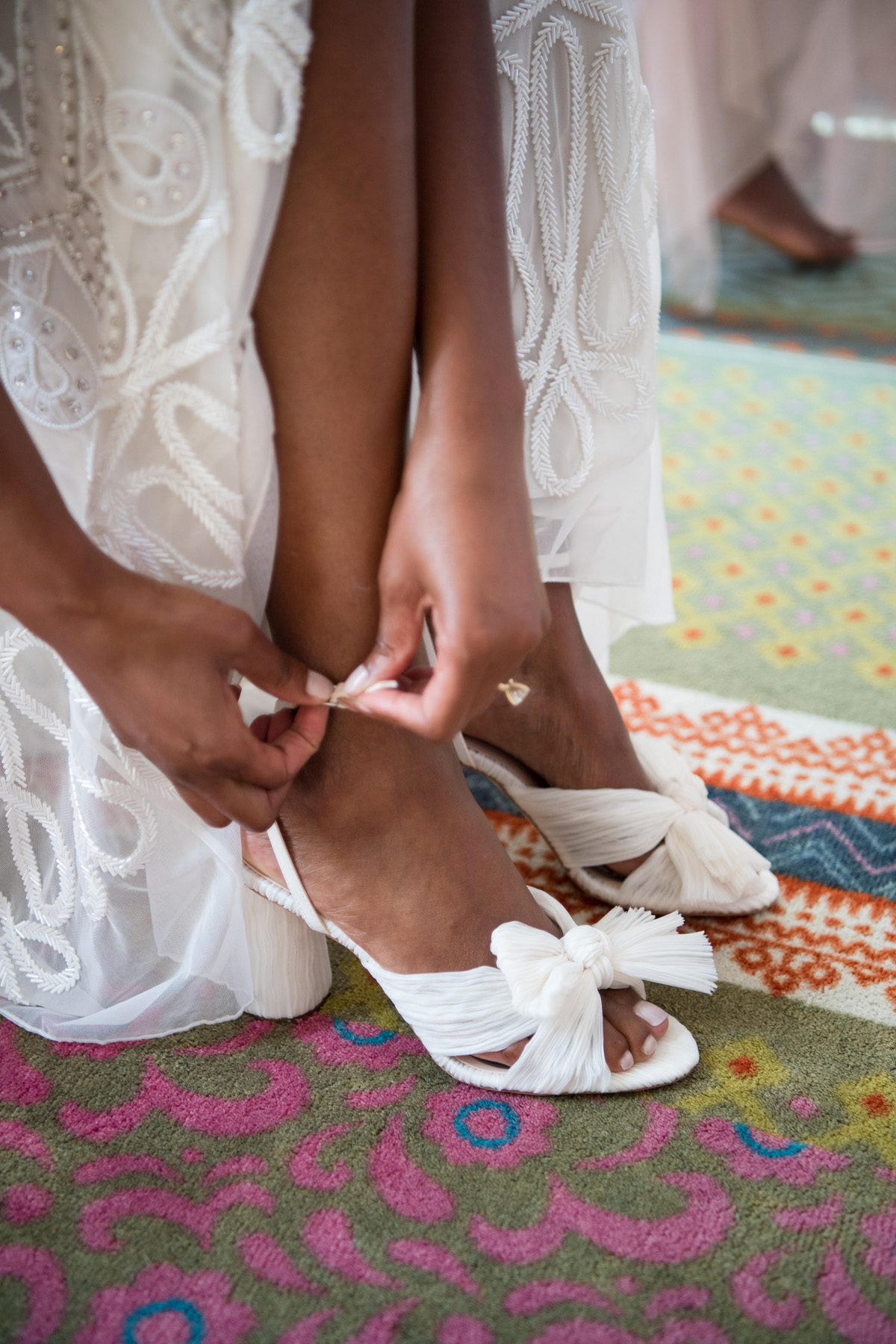 "Inspired by the expansive grounds of Cowley and Sandy's favourite colour blue, we chose 'An English Garden Party'-style wedding, ensuring blue was noted throughout."
"Our flowers have some blues in them and the stationery was printed in blue ink. I used Pinterest for inspiration."
"Our vendors were mainly recommended by our venue so I worked with them to create the day we wanted. I also used the vendors' Instagram pages which had very valuable content."   
Christine looks glorious in her pure white Temperley London gown with its sheer overlay and embellished batwing sleeves.
"I got my dresses from the Temperley London sample sale. Not many places in the USA stock her dresses so on a trip to London in 2019, I managed to snag these two. I loved my dresses the most."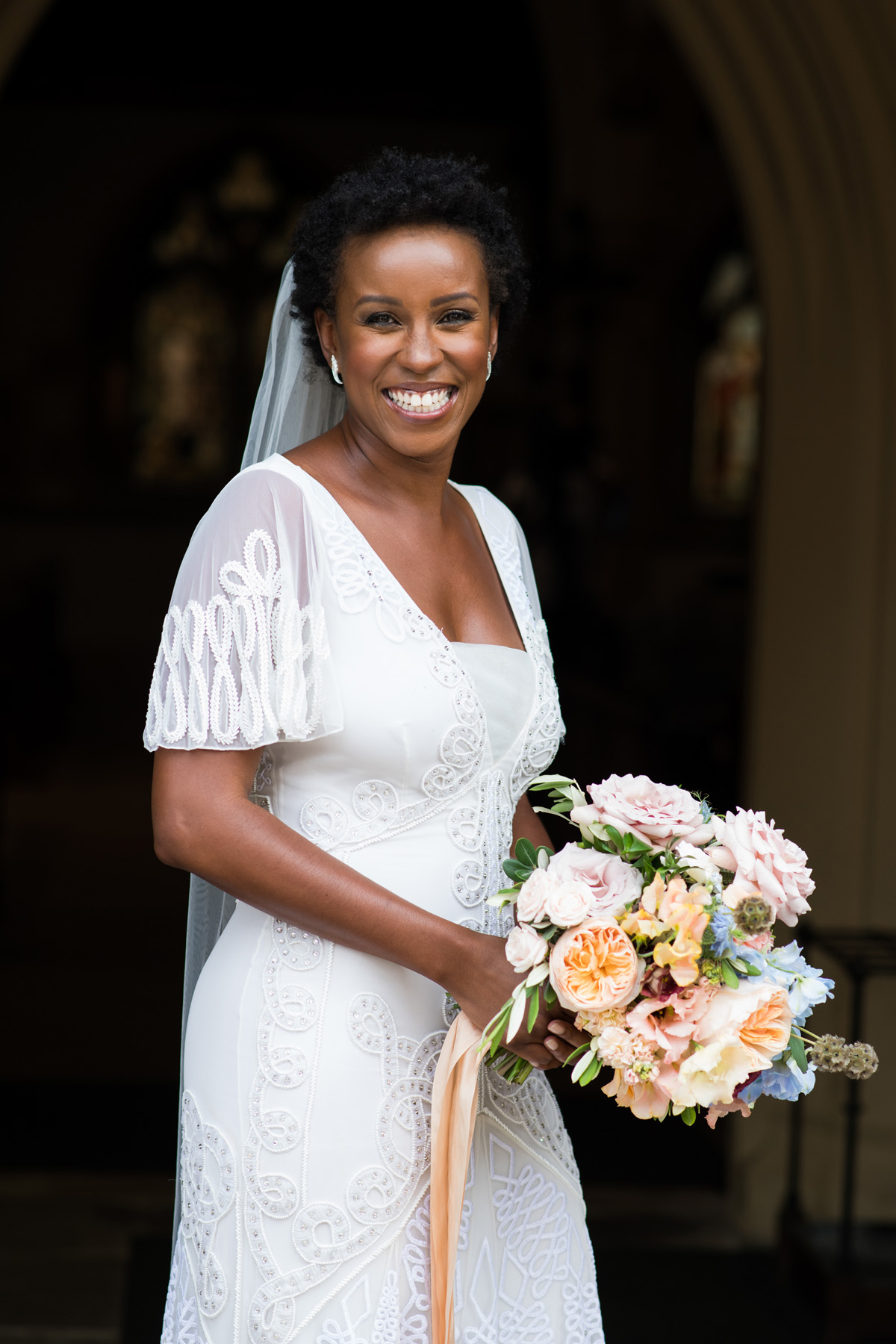 "I was always a big fan of Alice Temperley's bridal designs. They are delicate yet easy to wear."
"Flexible and forgiving in fit, which helped me a lot after having put on a few pandemic pounds. Her style of dresses suit a countryside setting very well so were very much at home at Cowley Manor."
She wore earrings by Patrick Mavros earrings, a Zimbabwean jewellery designer.
"I chose his crocodile earrings which represent my Zimbabwean Totem – the crocodile."
The bride walked down the aisle with her brother, Christopher Tome, as the church organist played 'The Prince of Denmark's March'.
"Fun fact, Queen Elizabeth walked down the aisle to this as well. Father Timothy Danaher, our priest from Philadelphia, travelled to the UK to marry us. He has become a friend of the family over the past years."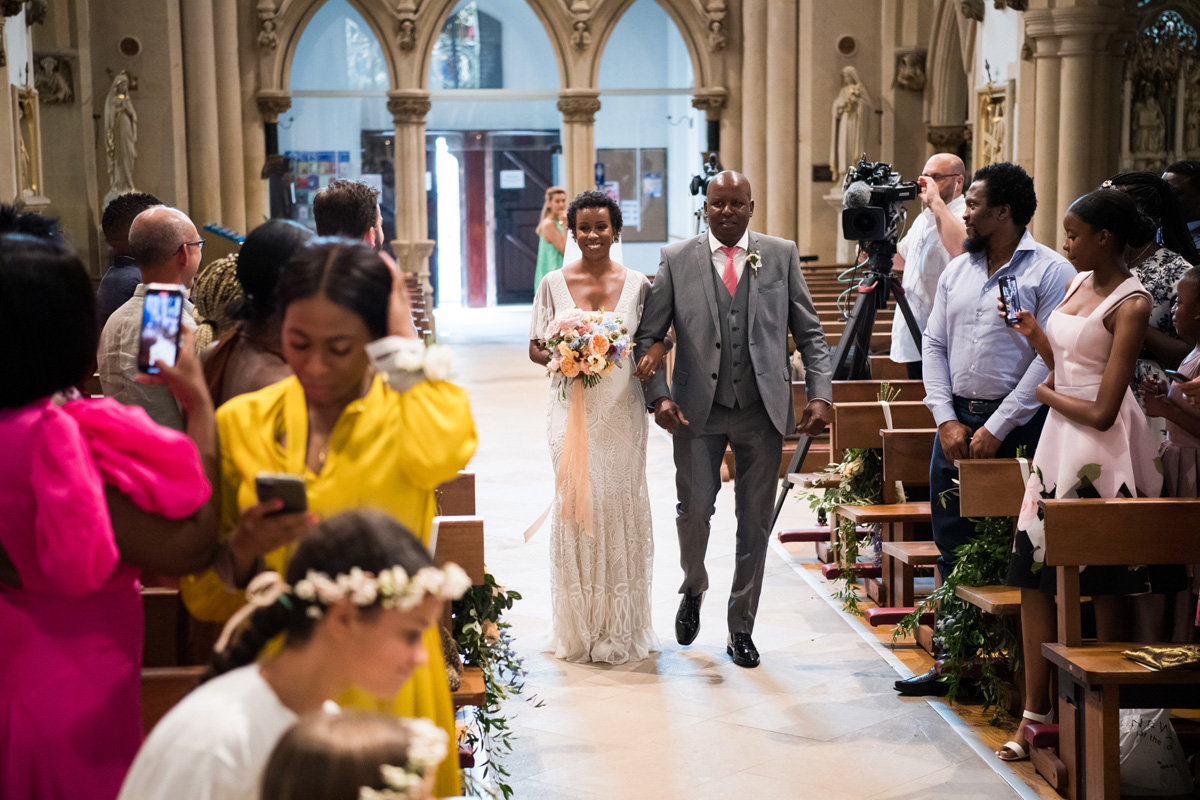 The couple exchanged the traditional Catholic church vows and had three bible readings; Genesis 2:18-24, Colossians 3:12-17 and Matthew 7:21, 24-29. Their rings were from William Schwartz Jewelry.
"Russell and his team at William Schwartz Jewelry in Philadelphia have been our jewelers for some time now so it was an easy choice to go with. We chose gold to match my engagement ring."
The groom wore a suit and shirt from Alton Lane, a bespoke suit company based in the USA, a Harvie & Hudson shirt and his grandfather's cufflinks.
"It's a company he has used in the past for other suiting so he felt confident in them doing a good job with his wedding suit, which they did."
As the newly-weds left the church together, they were serenaded by the bride's family.
"Outside the church, my relatives sang some Shona (a Zimbabwean language) wedding songs to usher us into our new life as a married couple."
The clear weather allowed Sandy and Christine and their guests to celebrate outside at Cowley Manor, enjoying the beautiful summer gardens.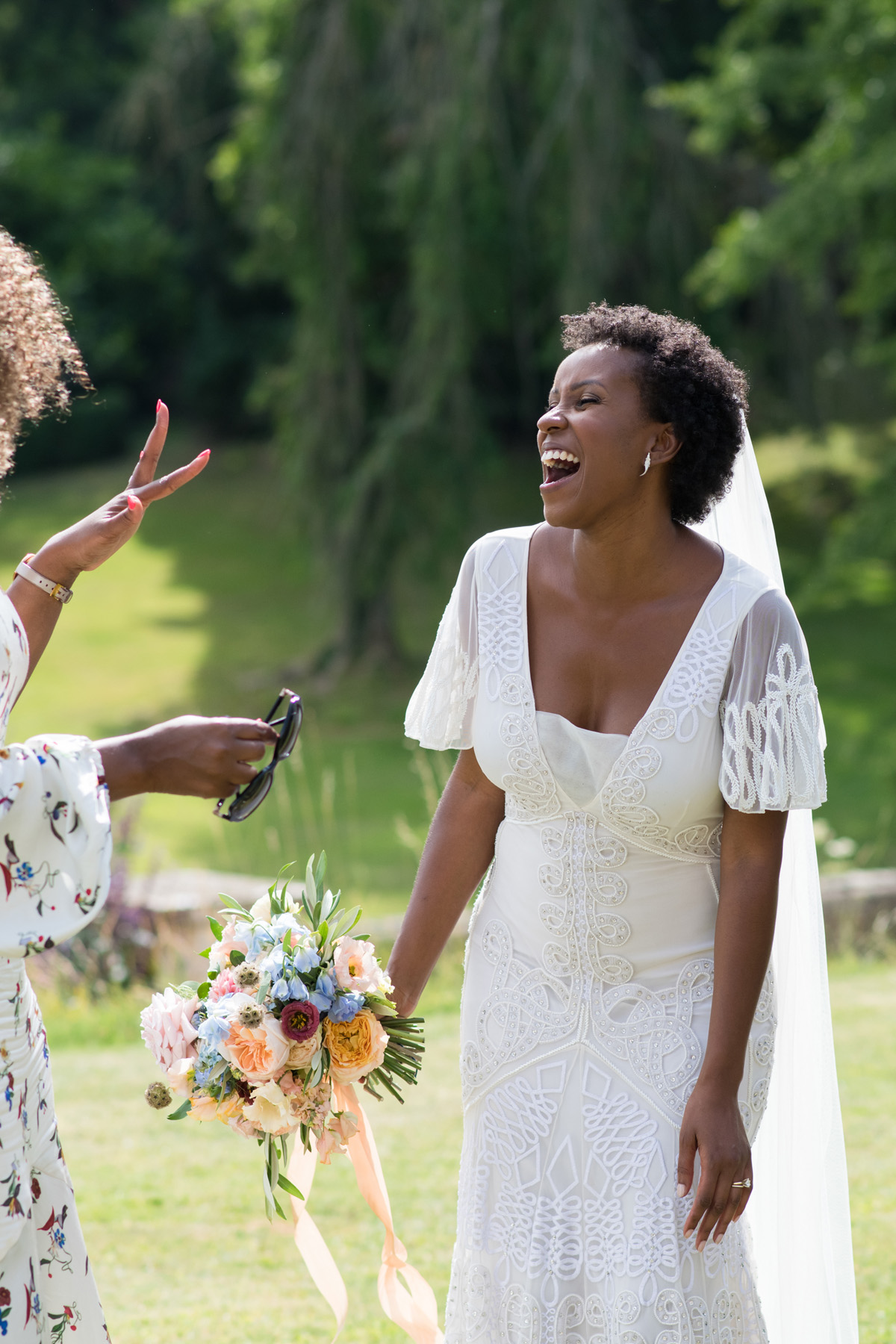 The couple had exclusive use of Cowley Manor for two days and hosted a welcome BBQ the day before the wedding for their guests.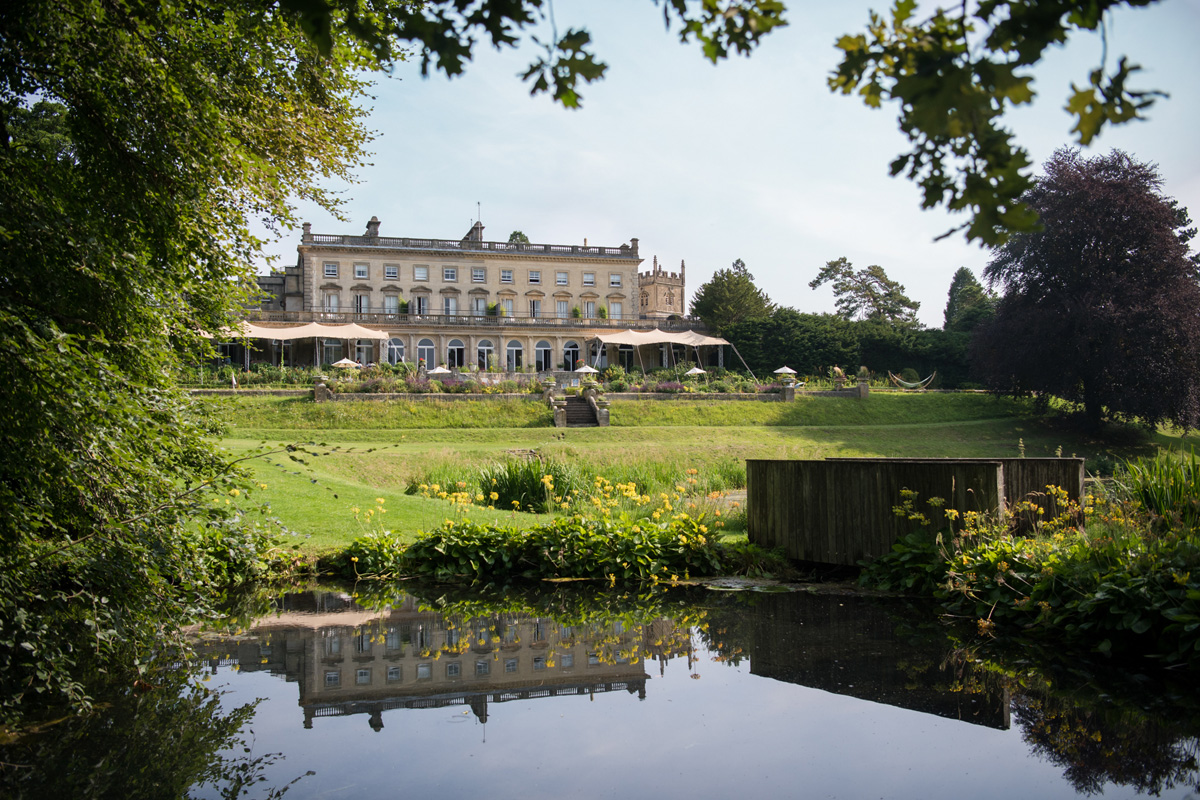 "It was themed red white and blue in honour of our American guests. We played games on the lawn and, at the end of the night, there was a trivia quiz on 'How well do you know America?'. Shockingly, the Brits won!"
The wedding breakfast, catered by Cowley Manor, was held inside and each guest received a cute gift bag.
"We bought Small 'Revelry Remedy' bags on Etsy and packed them with hand sanitiser, ibuprofen, band aids, safety pins and Vitamin C sachets."
"Our original wedding date was 3 July 2020. Due to the pandemic, we pushed the day just over a year to 23 July 2021."
"By the time we got married, the UK was just past 'Freedom Day' so we were allowed to have an unlimited number of guests and social distancing rules were not enforced."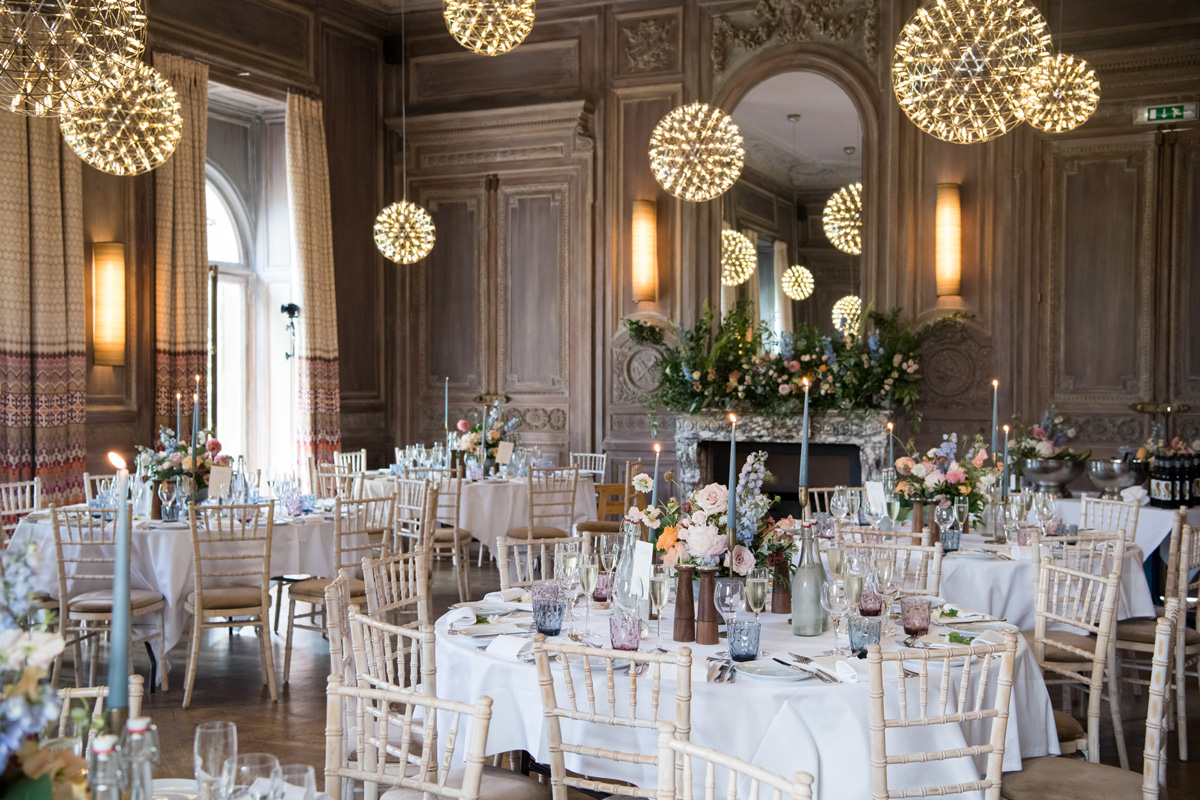 "The vaccination rates across the world were also at much improved levels by then so all our adult guests had received at least one jab of a vaccine, which provided some comfort for guests and us to enjoy the celebrations."
"The majority of our events were also outdoors which was helpful. Despite all this, masks and hand sanitisers were still provided to all as an extra measure."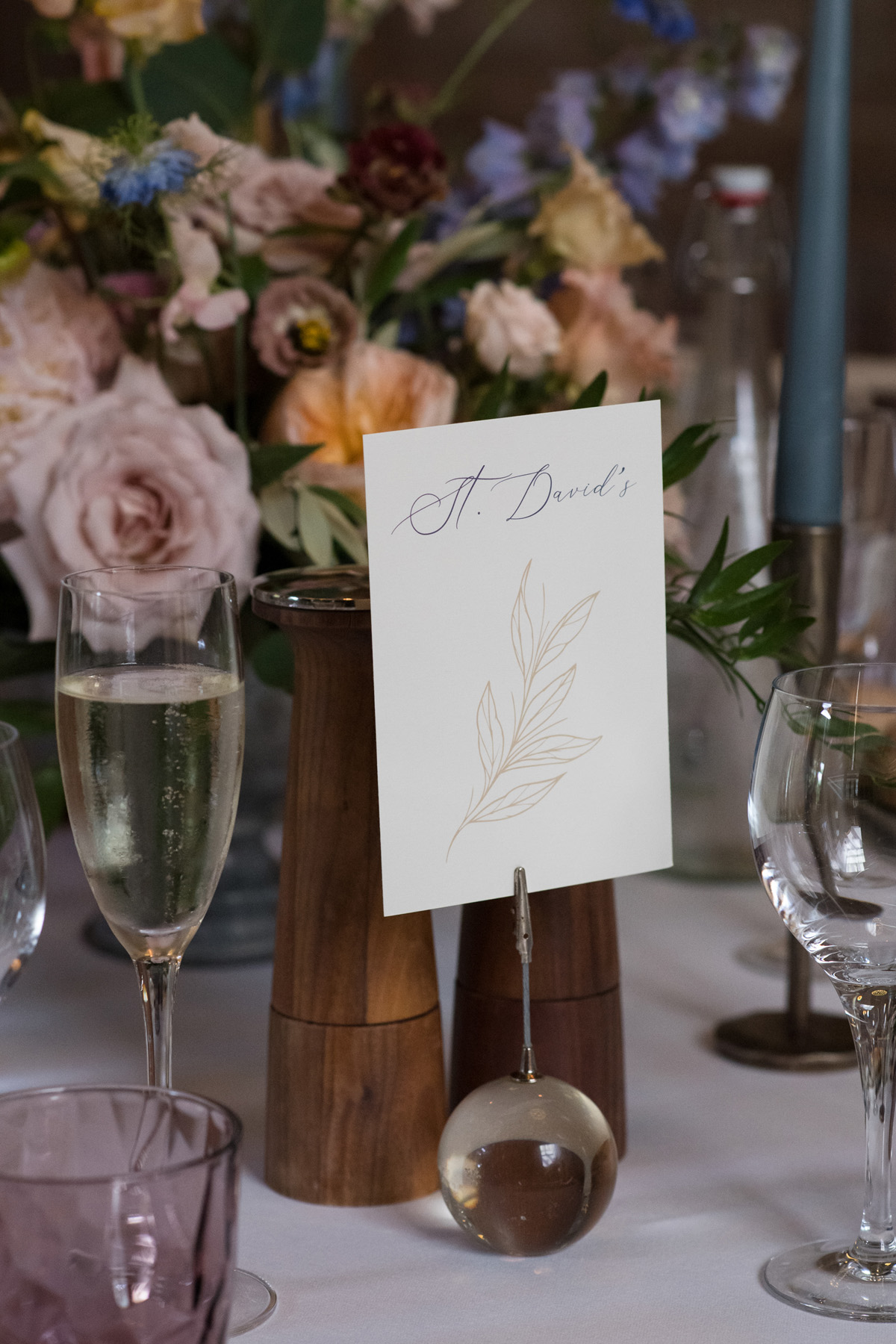 The contemporary, stacked wedding cake was by Vanilla Pod Bakery.
"Pia and her team baked a gorgeous Belgian chocolate truffle (top tier) and lemon drizzle sponge with lemon curd and fresh lemon butter cream (bottom tier) cake."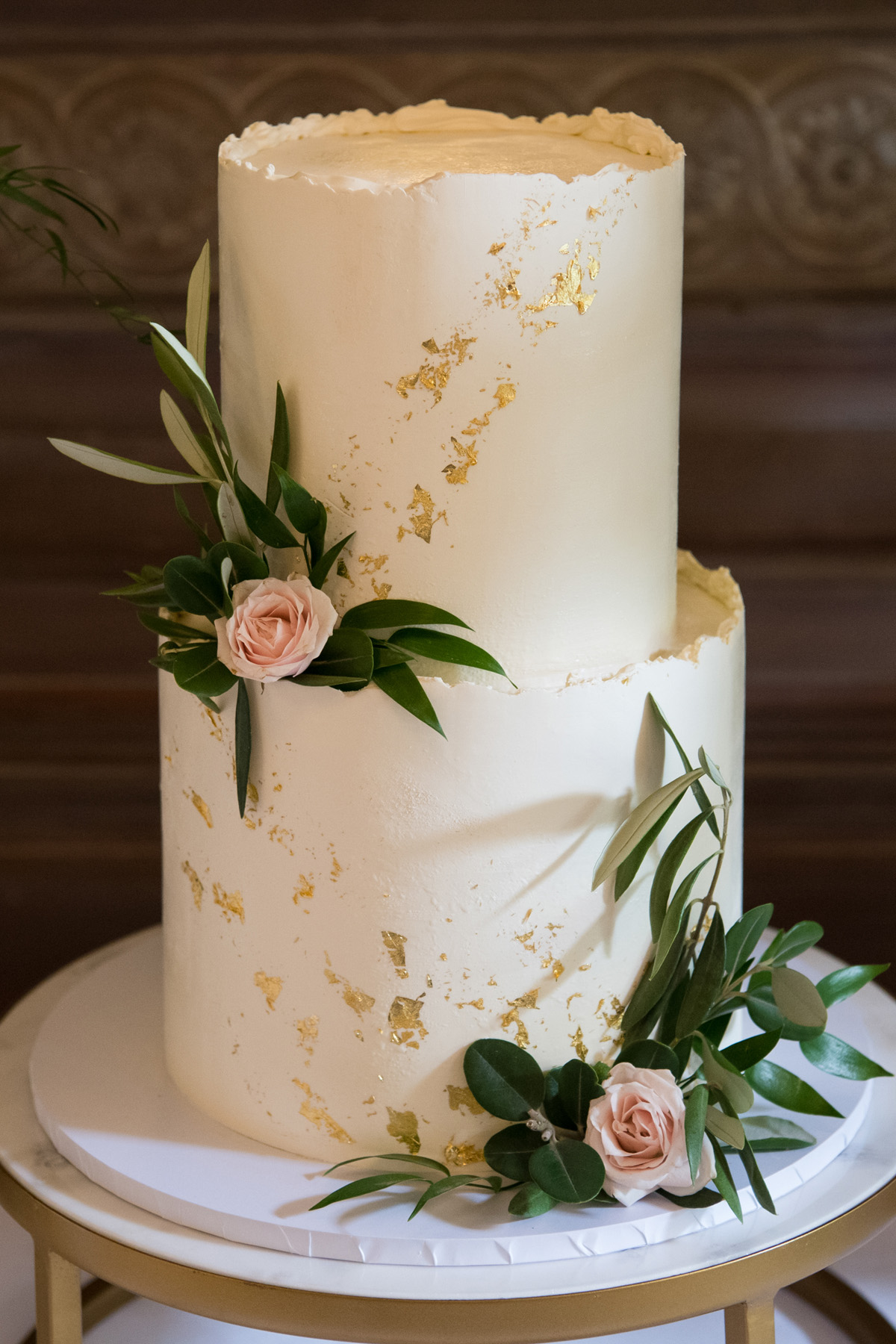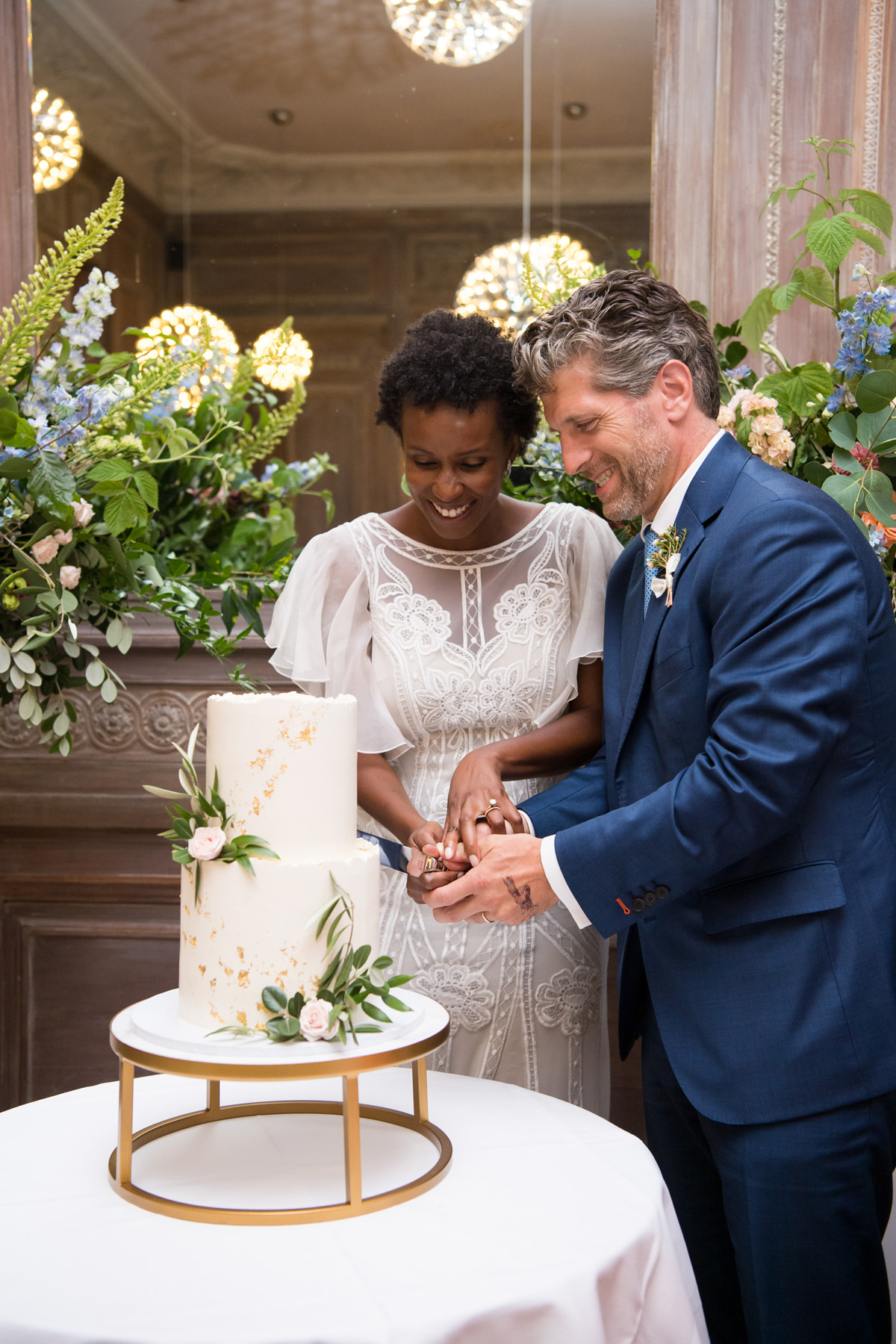 "It tasted just as good as it looked on the outside. The gold flakes on the cake matched the gold on our stationery and the flowers on the cake kept that garden theme and were provided by Flowers By Passion."
Later in the day, Christine slipped on her second gown ready for the evening reception.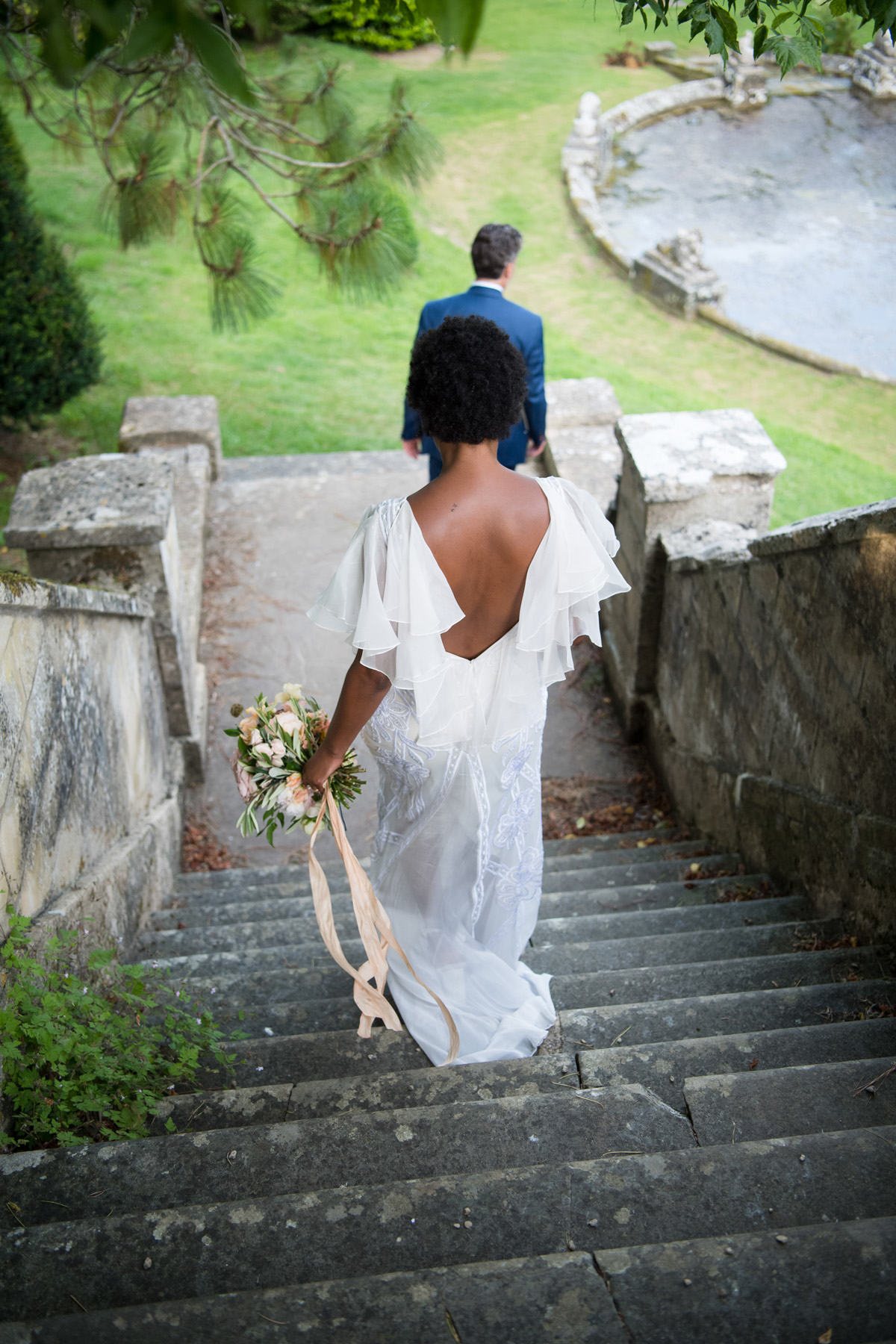 Sandy and Christine chose to have a videographer, Gary Barr of Gorgeous Films.
"Similar to Amy, Gary was super-discrete and easy to work with. He also knows Amy well so having the duo work together was seamless and they made a great team."
"We had a great band, Royal Beats via Eight Ray Music, who put on quite a show and got everyone on the dance floor."
"Our first dance was 'That's How Strong My Love Is' by Otis Redding. We both love Otis Redding and this song's lyrics just meant a lot to us and the strong bond we have as a couple."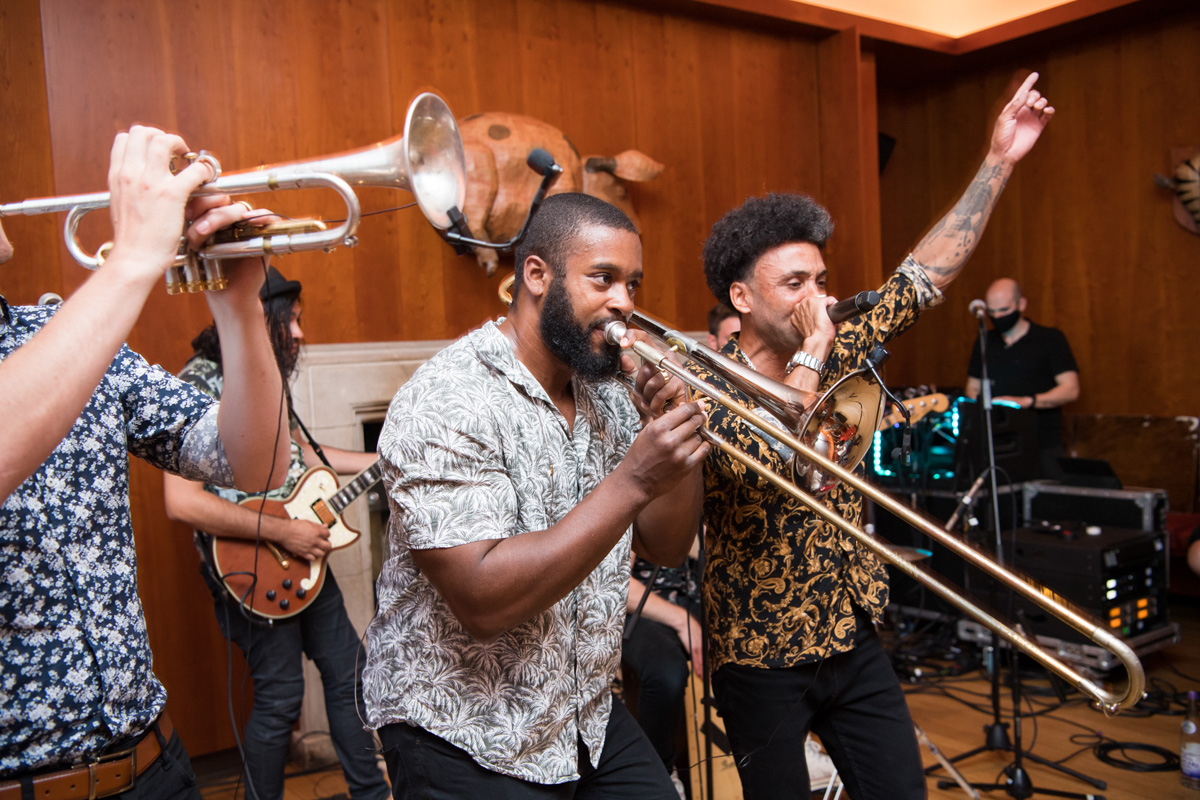 "The day went on so well, all without a glitch – at least to our knowledge. We had great vendors who did an impeccable job and the food and music (which I believe are key to a great wedding) were excellent."
"What could have made it better was having more of our family and friends there who could not travel due to COVID restrictions."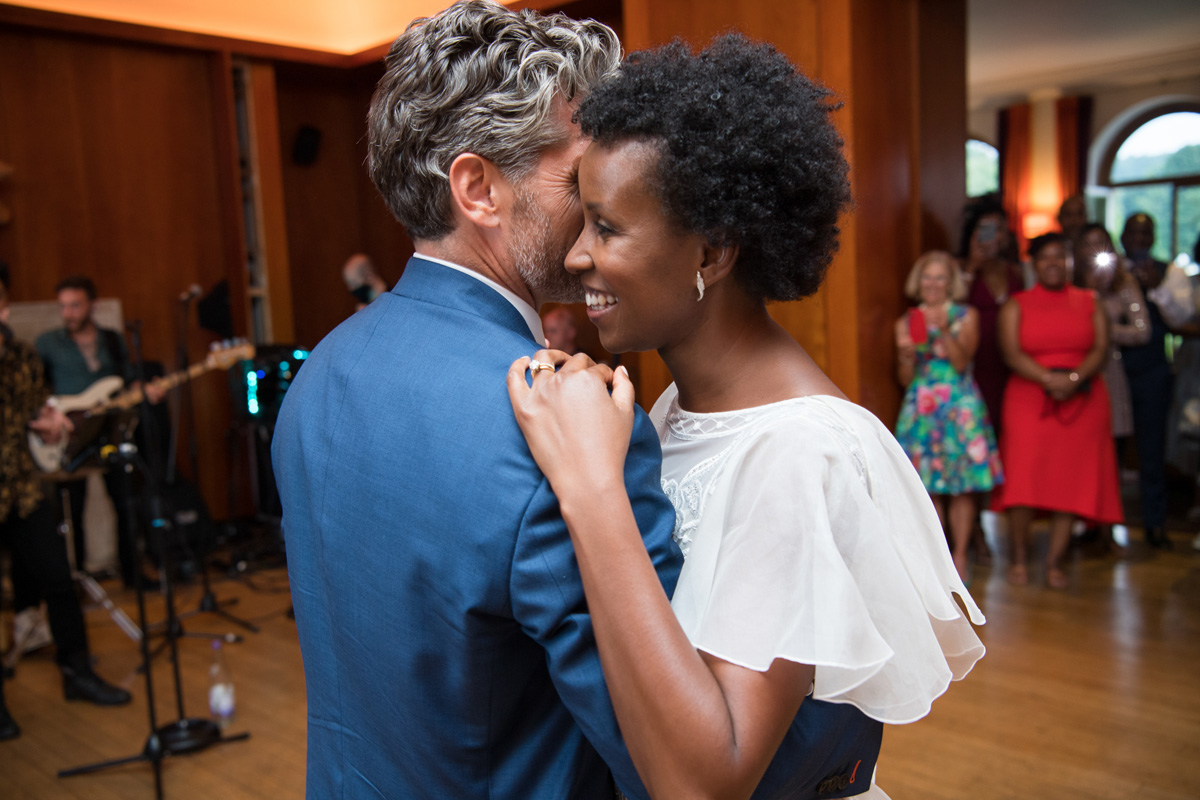 On the subject of Covid and weddings, Christine has the following thoughts.
"It might not end up being the wedding that you planned for – ours wasn't as we were missing so many key people – but it will still be the best day of your life and you will get to fulfil your ultimate goal of getting married."
"The benefit for us of a smaller wedding (from a planned 130 down to 75 guests) was that we got to talk to everyone."
"We intimately experienced every part of our wedding, we enjoyed the food and our guests were up for a big party so we danced out hearts out."
Words of Wedded Wisdom
"We tried to minimise complex details and events as we believed they would open up more room and opportunities for error."
"Sticking to our timings was also key and we had the lovely team at Cowley to help us manage that, as well as friends who we designated duties to coral the crowd where needed."
"We also made sure to eat and dance our hearts out. As simple as these things sound, they were the highlights of our big day."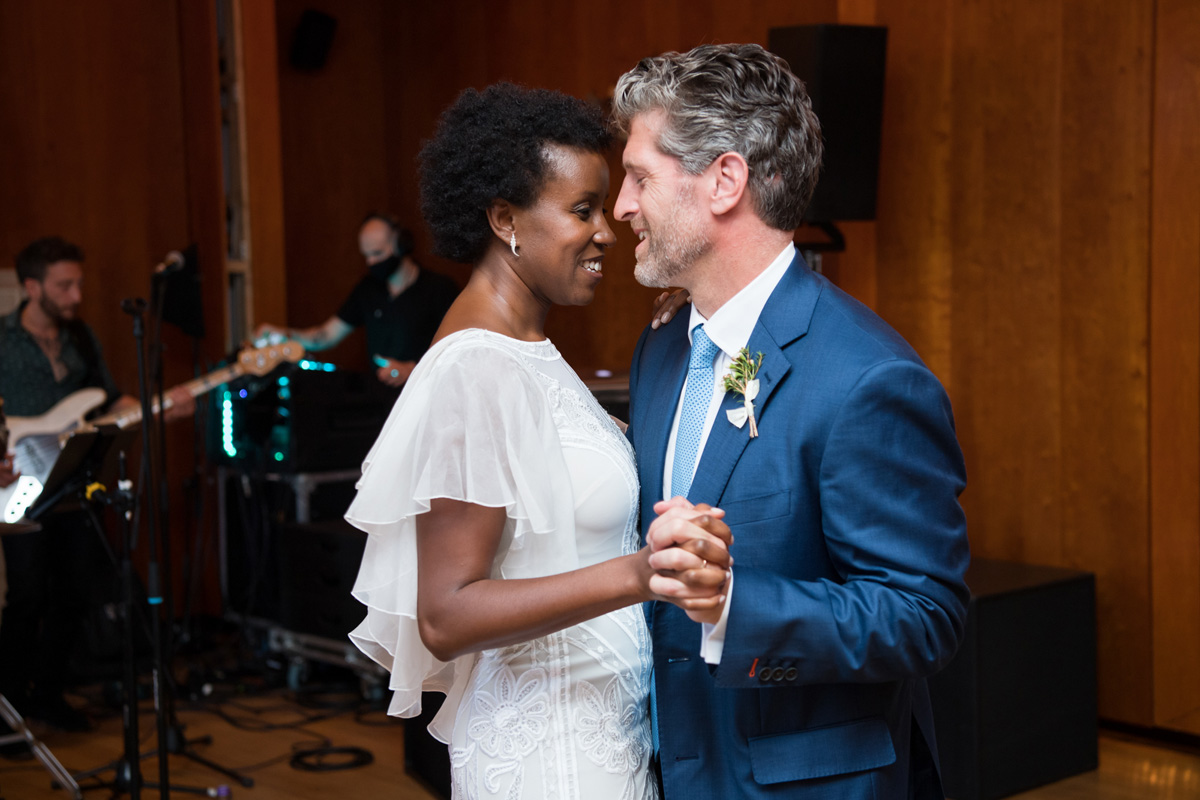 For more garden party weddings, see here.