Today's couple postponed their wedding not once, not twice but four times, eventually coming together for an intimate day with their closest friends and family in May 2021.
On 28 May 2021 art director David wed Emily, who works in automotive marketing, in a relaxed and intimate celebration at Lapstone Barn, Chipping Campden.  The day was simple and romantic, with romantic florals chosen to complement the beautiful interior of the barn and the surrounding Cotswold countryside.
Siobhan Beales Photography

+ Follow
It's so good to hear that the bride turned to Love My Dress for advice and support.
"We both loved Love My Dress, not just for the inspiration but all of the advice to help with planning, Covid support and seeing all of the real weddings to help us visualise what was the dream day for us."
Emily wore a bespoke necklace from Decadorn and some statement earrings from Latelita as well as a spritz of Chanel Coco Mademoiselle.
"It was important to me to find things that would have meaning and something I could keep and treasure. My 'something borrowed' was a beautiful diamond bracelet from my mum and I had my late gran's charm bracelet in my bag for luck. It felt important to have a part of her there with us on the day."
"Chanel Coco Mademoiselle has been my go-to scent for years; I couldn't imagine wearing anything else on my wedding day."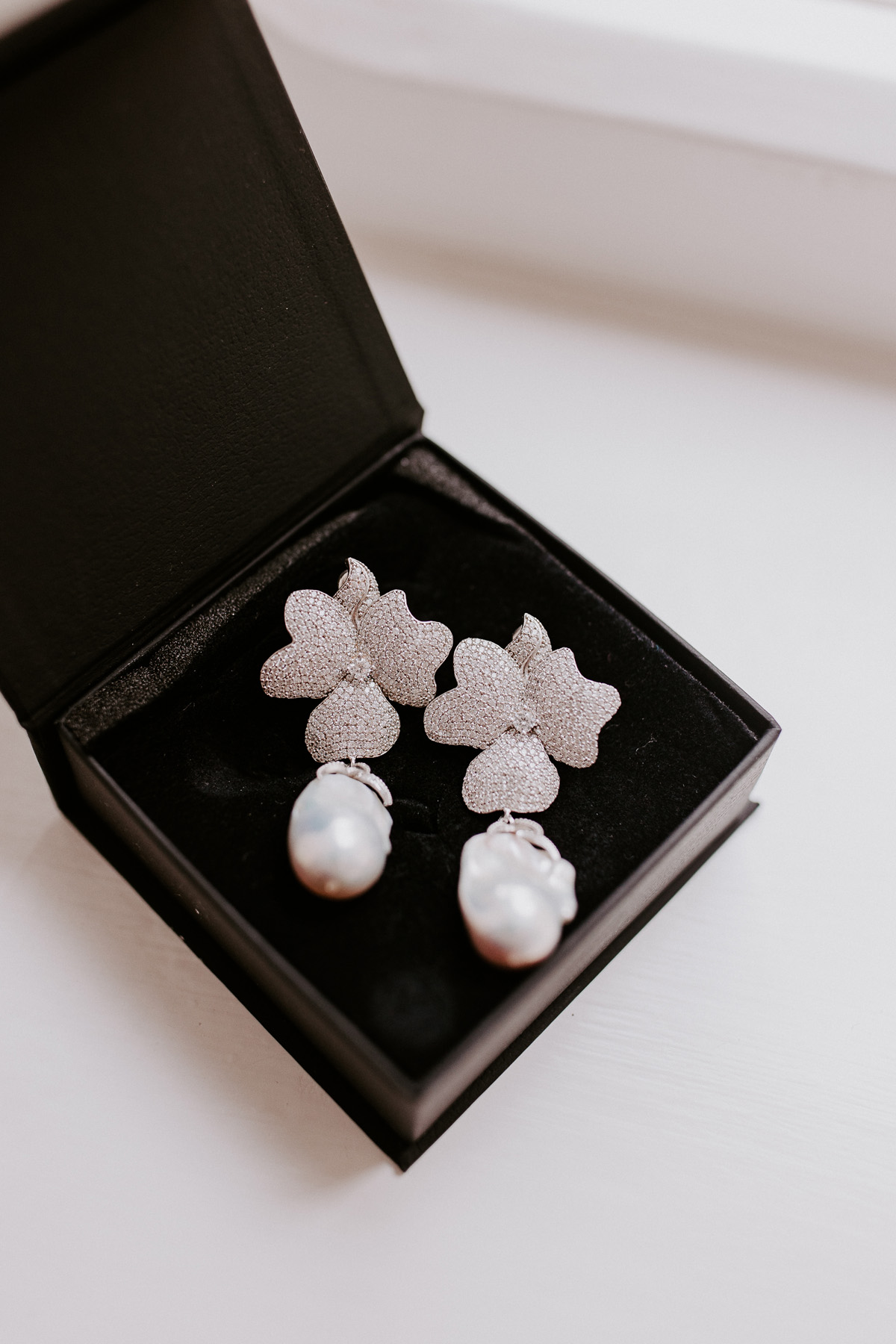 The bride wore a pair of ribboned Mint Velvet shoes and elegant Jesus Peiro ceramic and diamanté flower hair pins. Her hair was styled by Ben Jones from Massarella + Jones.
"Ben has been my trusted hairdresser for nearly ten years and I couldn't have imagined anyone else doing my hair. Not just an incredibly talented hairdresser but a wonderful friend, Ben very kindly closed his new salon for the day just to be there. As soon as he arrived in the morning he was a breath of fresh air. Positive and calming, he expertly worked his way through my mum and bridesmaid."
"We also had to change the plan for my hair at the last minute with the second dress, but I couldn't have been happier with it. It was very special to have him there and I'm forever grateful he could make it."
"Bryony Dalton MUA was a 'stand in' but in the most incredible way. Bryony is simply wonderful. She listened and understood what type of look I wanted in terms of make-up and frankly created magic."
"She's also a very lovely person to spend the morning of your wedding with and that's a big comfort."
The Barn is such a beautiful venue that the couple wisely chose to add just flowers to bring it to life.
"Katherine of Haze Lea Floral Design was our florist. We discovered the incredible work of Katherine from our trusty Instagram tag search."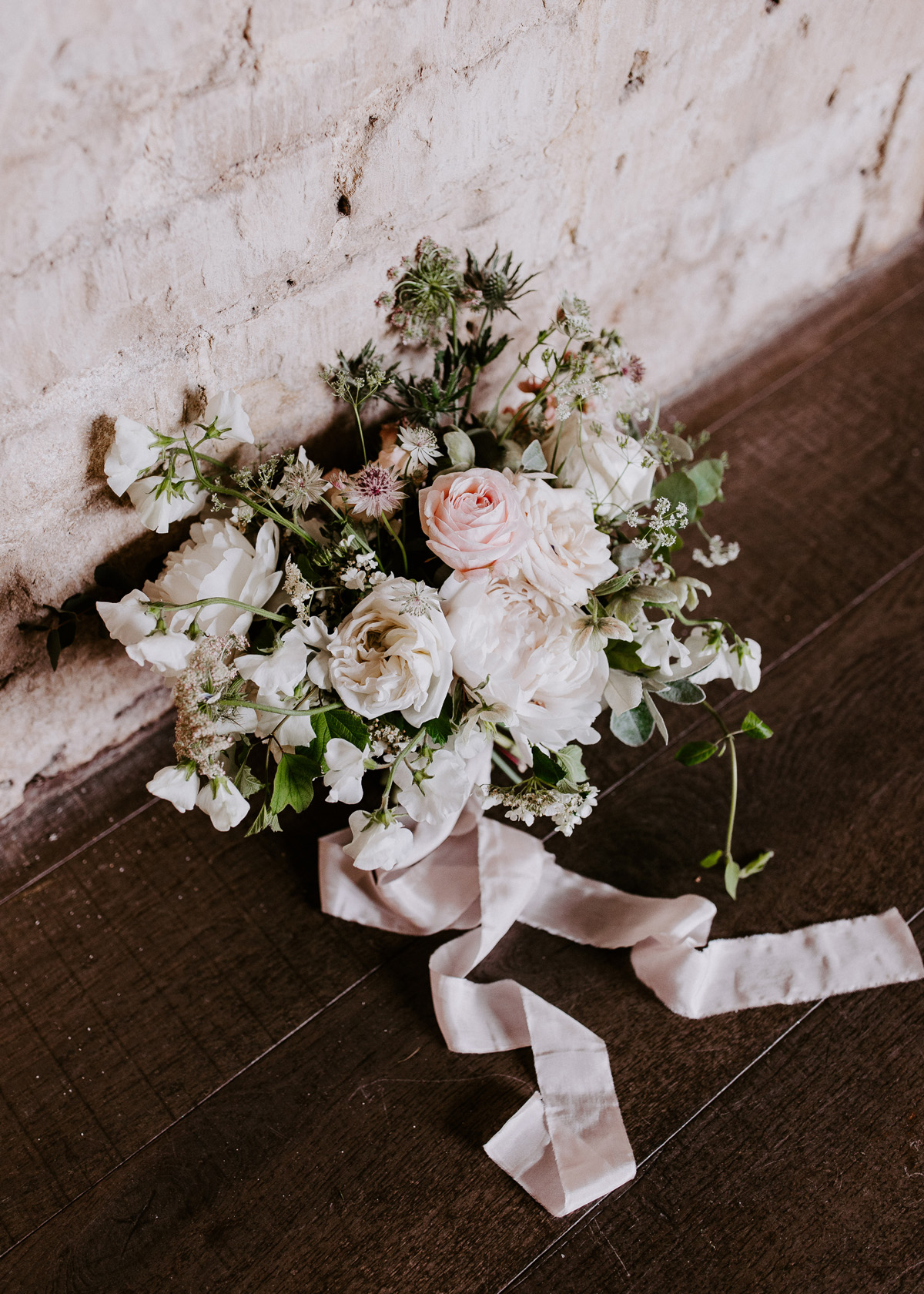 "Katherine has a way with creating floral installations and bouquets that are effortless, combining classic flower combinations but in a modern format that was perfection for us."
"She is also the nicest person on this earth so any contact with her throughout the process has been amazing, especially with all of the date changes."
Complementing the bride's gown, the bridesmaid wore an asymmetric maxi dress in palest pink from Undress via Wolf & Badger.
"It was important to me to have something really special and unique for my one 'adult' bridesmaid. We went more towards an 'evening wear' theme for the bridal party and although I'm biased, I thought her dress was absolutely perfect."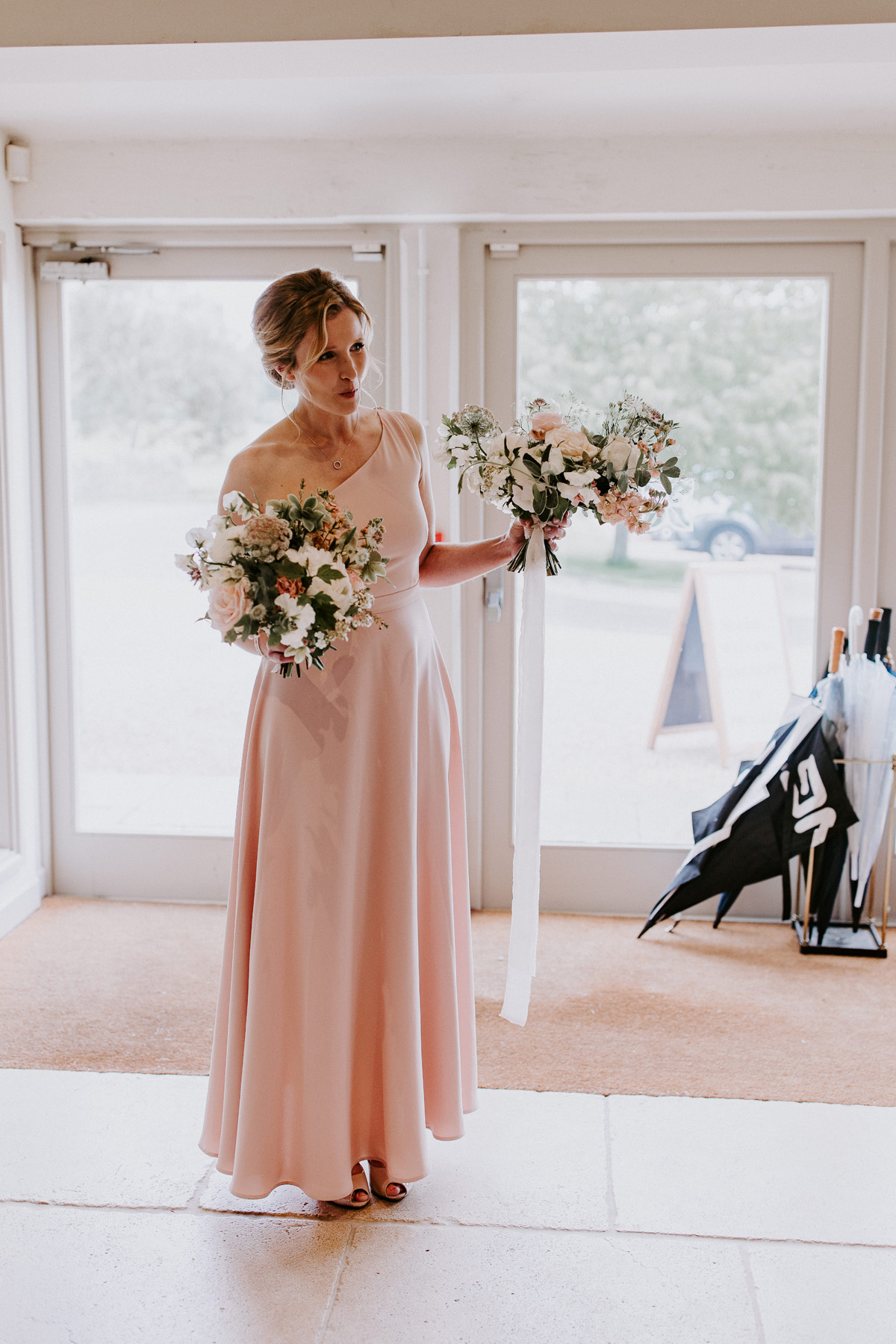 The couple first met online nearly eight years ago and were engaged in Stratford Upon Avon, where they live.
"On a very cold, wet and windy evening in November we went for dinner in town and David suggested we go for a walk on our way back to the car."
I (obviously) thought he was absolutely bonkers and honestly had no idea what was about to happen. My coat was broken, so all in all, soggy!"
"We walked to the bench where we sat on our first date in Stratford, and in the gushing water by the river, David got down on one knee and asked me to be his wife. That was back in 2018."
"We got engaged in November 2018 and the most important thing for us was a venue that would suit all of our friends and family."
"We looked at all kinds of venues – from country houses, contemporary galleries to farms and, last but not least. Lapstone Barn."
We were overwhelmed by its balance of beauty and charm. And at the time, space was a big thing for us. We were going to be having over 100 guests and didn't want to compromise."
"We absolutely didn't need to do that with Lapstone. What we didn't know at the time was that it would also end up being perfect for a more intimate day."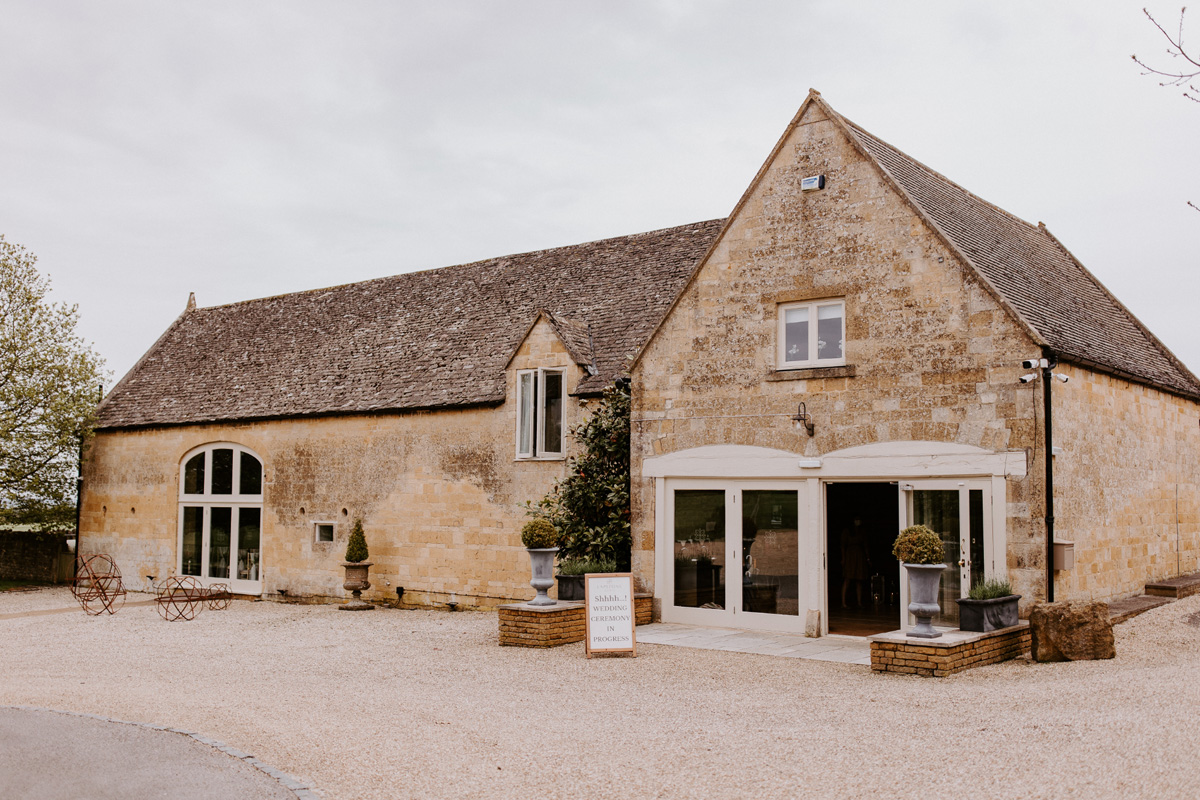 Like so many brides, the day was postponed due to the pandemic. For Emily and David, it also meant that they had to find alternatives to their original suppliers.
"We had originally booked Lapstone for 5 May 2020. We'd had all of the final run throughs with the venue and I was having my first dress fitting the night that Boris announced we would be going into the first lockdown."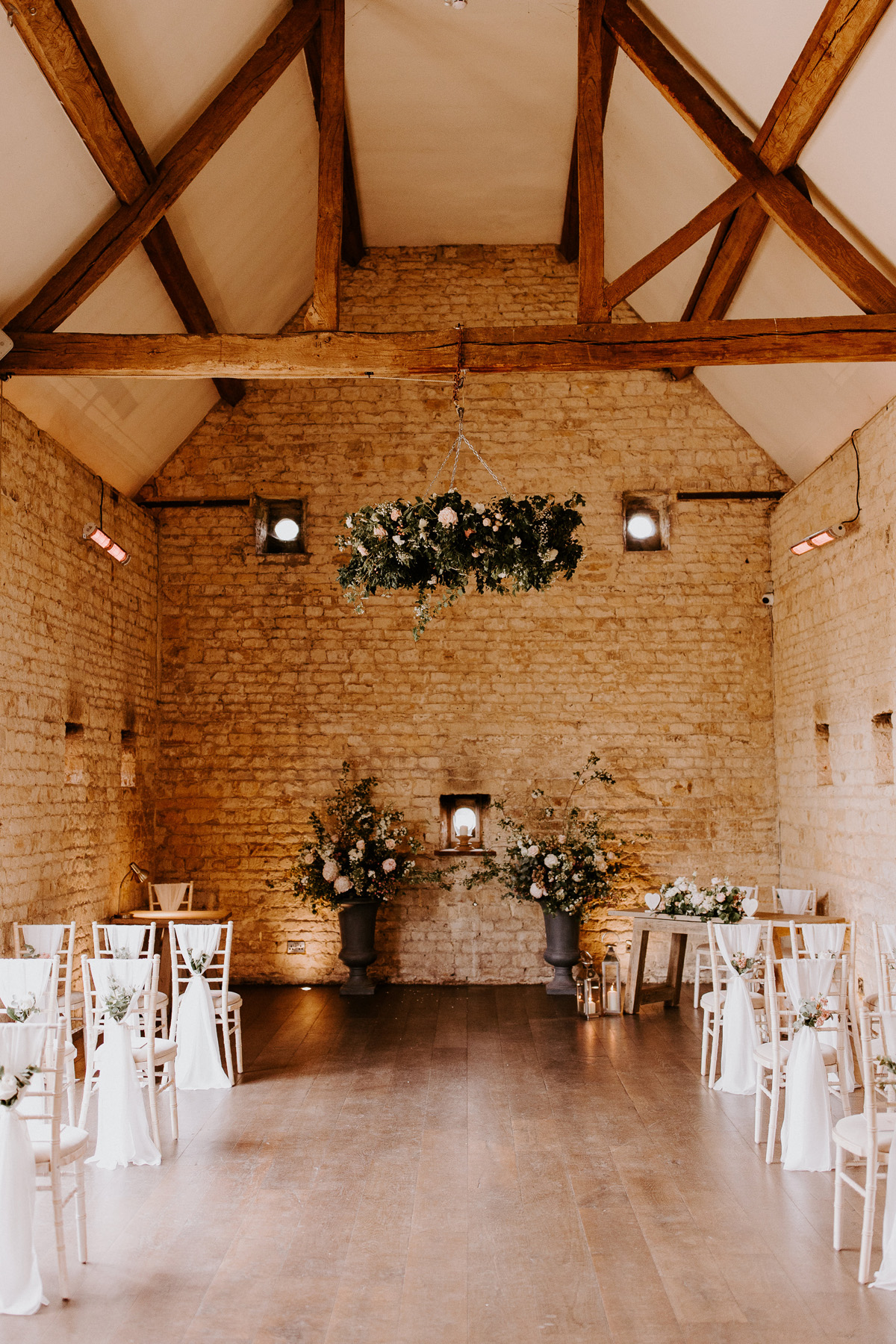 "We ended up trying lots of things; a registry and then a celebrant ceremony, moving the date to September, moving from September to early May 2021, then again to the end of May."
"Having been totally devastated the first time round, and so close that every minor detail had been planned, it felt like the end of the world. We quickly realised that we were in amazing company and this was affecting thousands of people. not just in the UK but all over the world."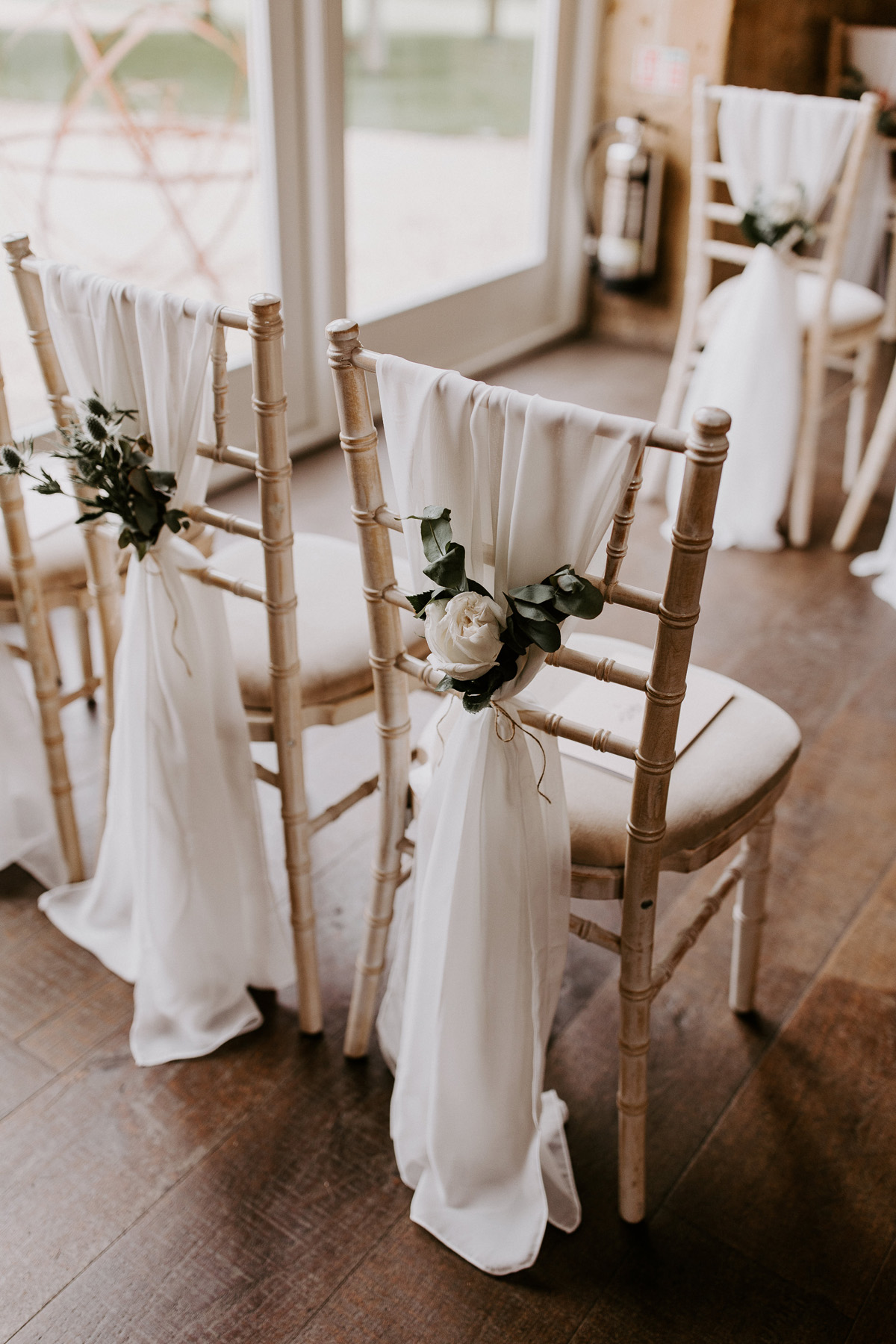 "Our venue, suppliers, family and friends were incredibly supportive all the way through. We did have to find a couple of new suppliers but everyone was so understanding."
In all honesty, moving it for the second, third, fourth time was much easier. We knew who we had to call, in what order and the more it happened the more seamless it was with everyone else. Moving towards the end of May, it was a restless wait to see what restrictions would be 'dropped' or not."
"One of the biggest criticisms I have is the lack of information supplied by the government ahead of the 'step' change points. Thousands of people and businesses are impacted by the smallest detail. We ended up having to lose our band which we were so looking forward to."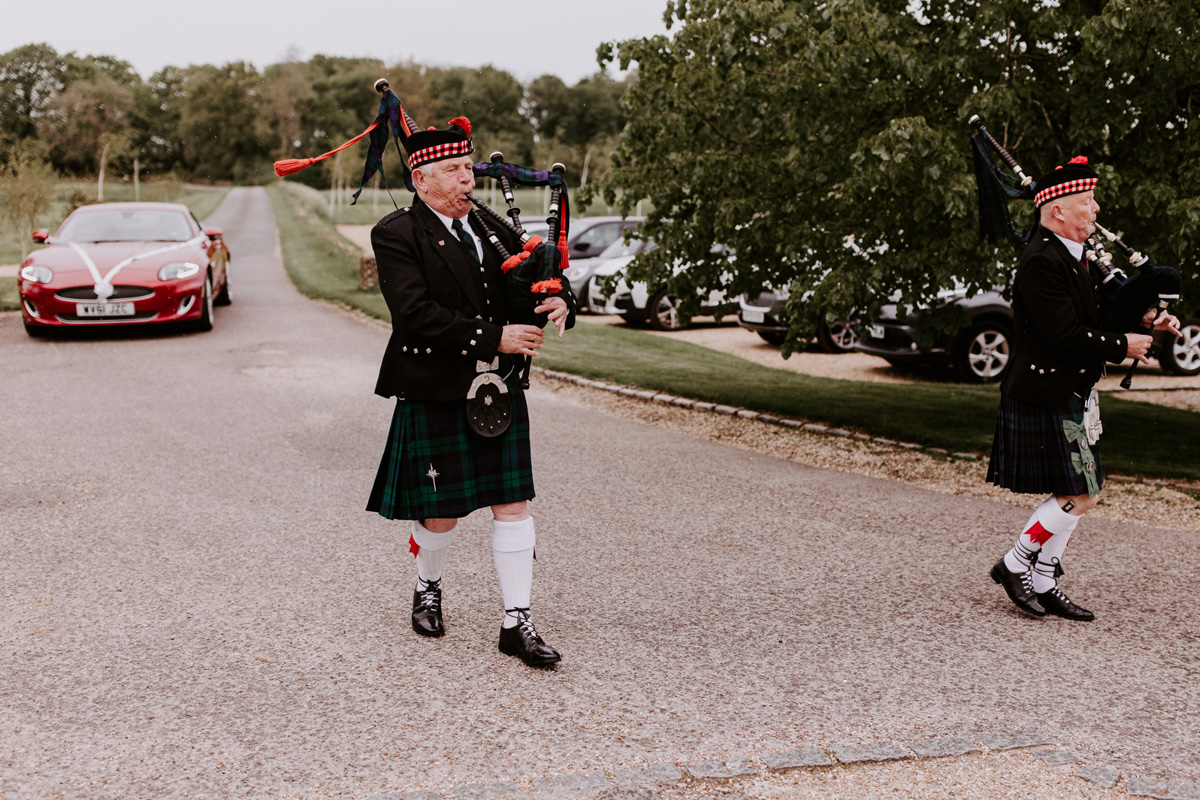 "We took the decision to cut our guest list from 110 to thirty and go ahead at the end of May for lots of reasons, one of which being that we found out we were expecting, with the baby due in September."
A lot of restrictions changed back and forth ahead of the wedding. The main thing was my dad being able to walk me down the aisle, mask free. Until a few days before the wedding it looked like that wasn't possible."
My parents were incredible, having daily calls with the council and the venue to try and get some further clarity (in writing) so that we could go ahead without concern."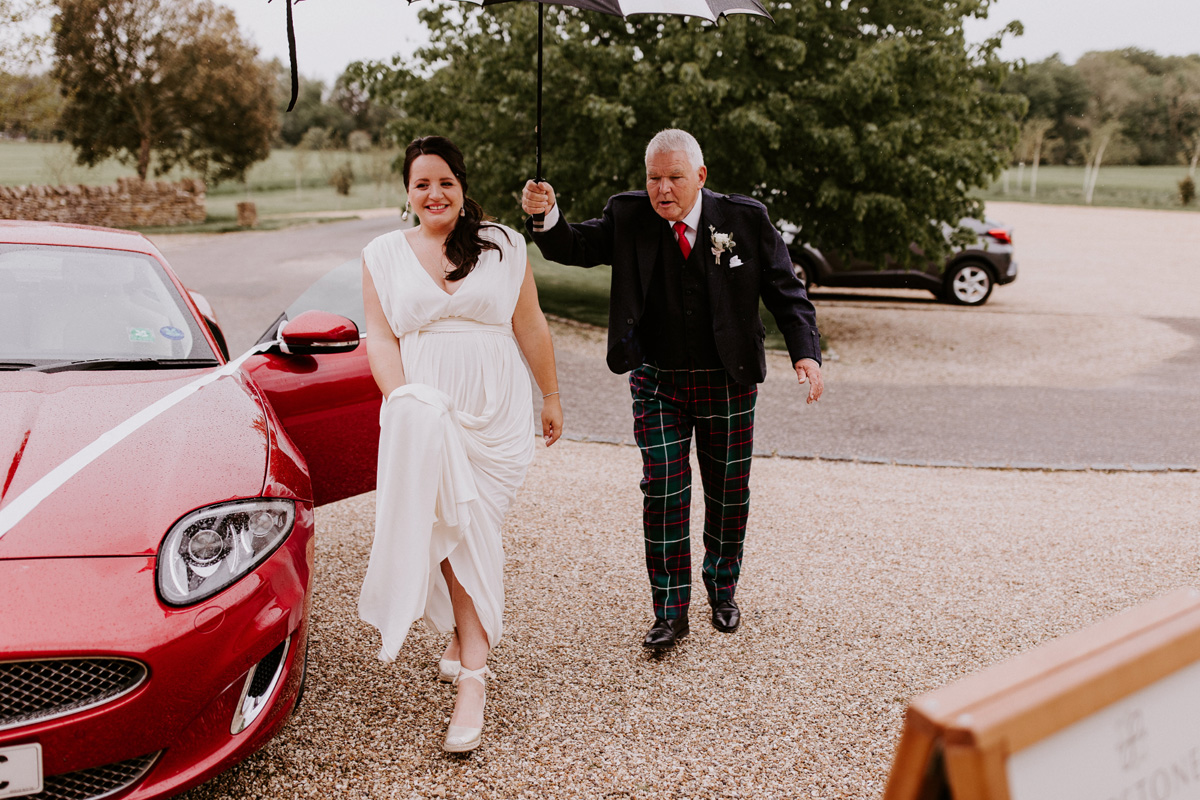 David, a talented art director, created the wedding stationery.
"He created a full project brief for me, complete with pitch document and numerous options to choose from. We then carried the theme across all of our wedding stationery."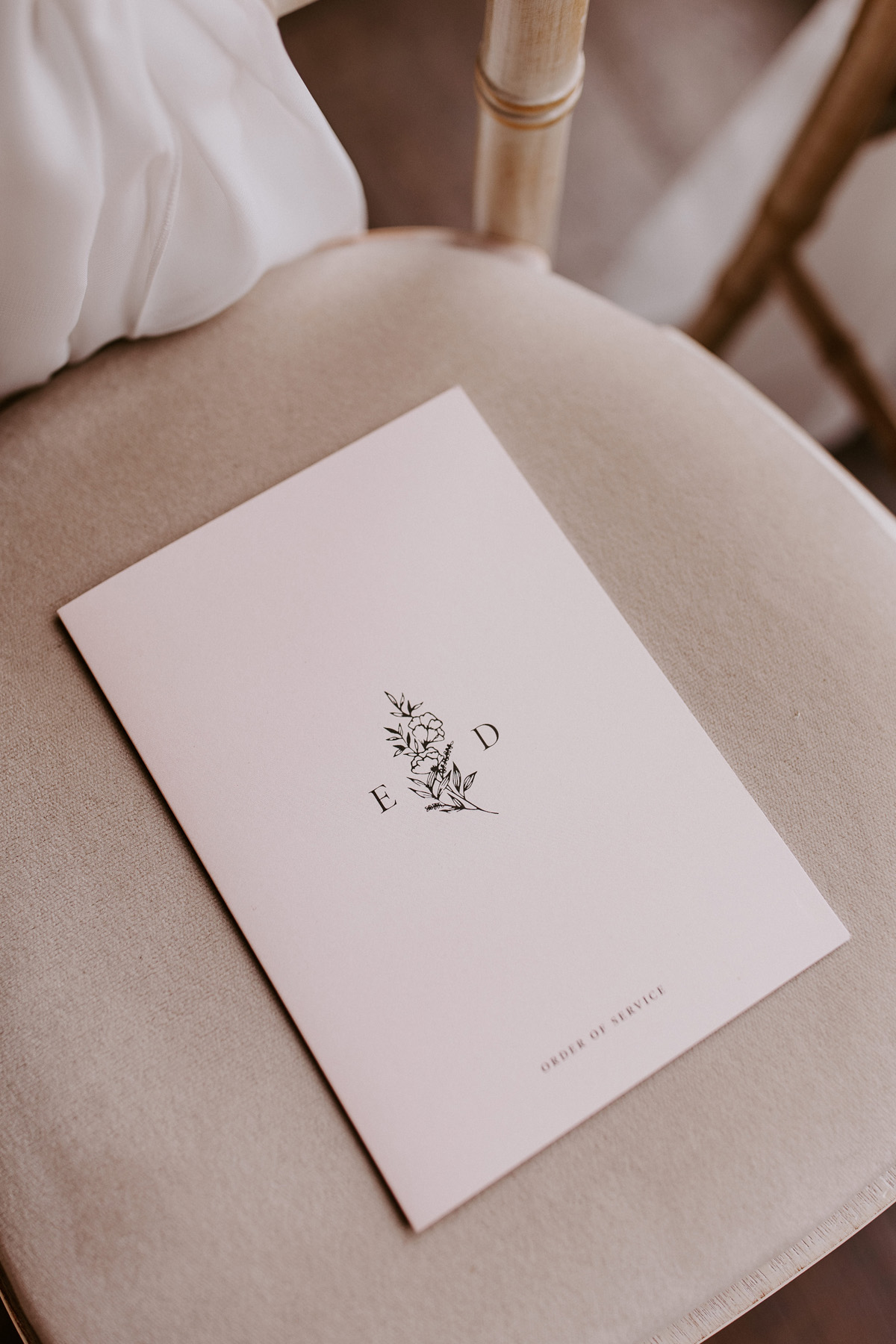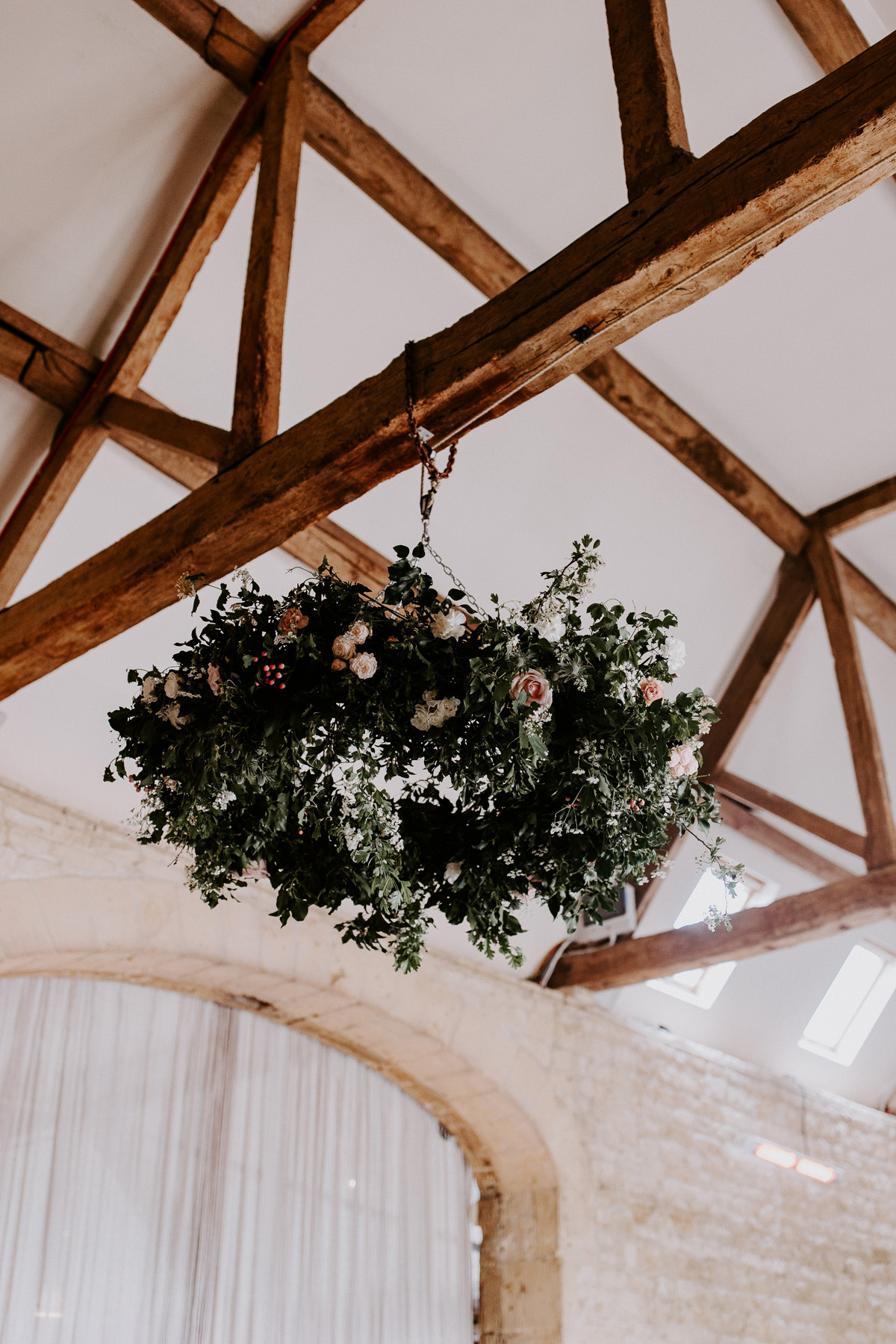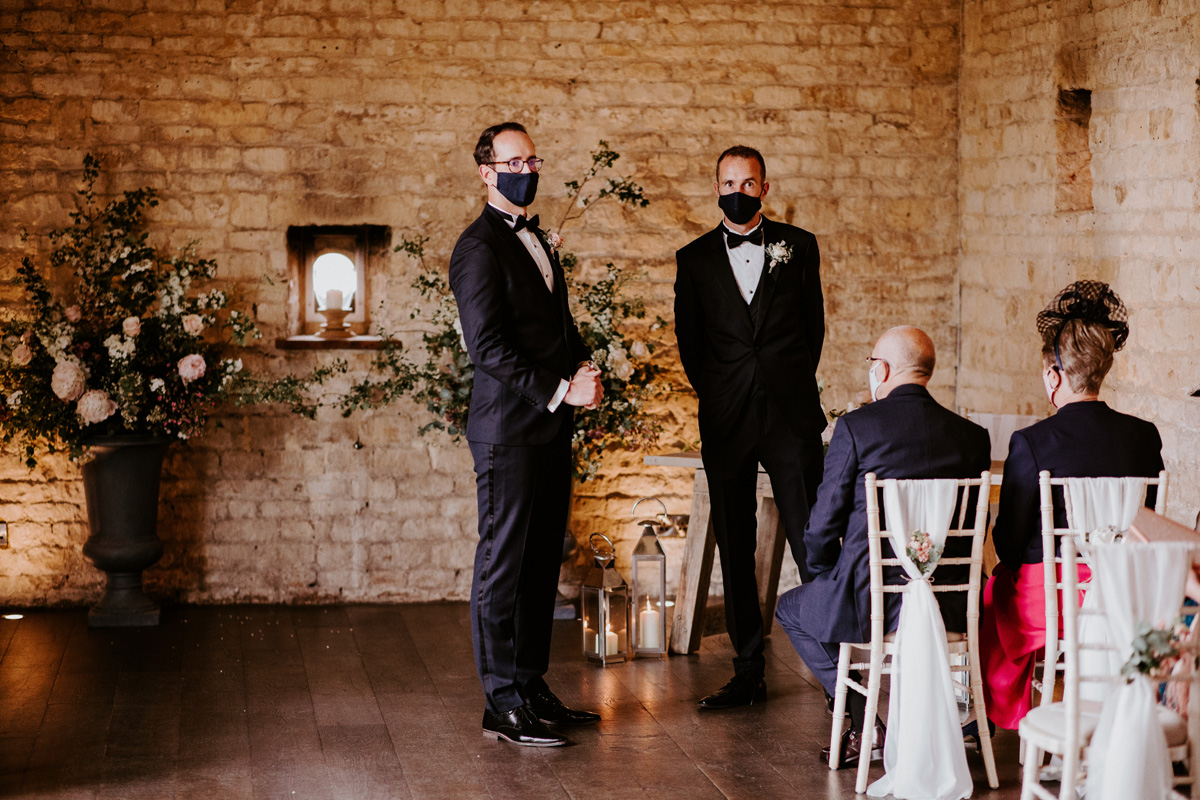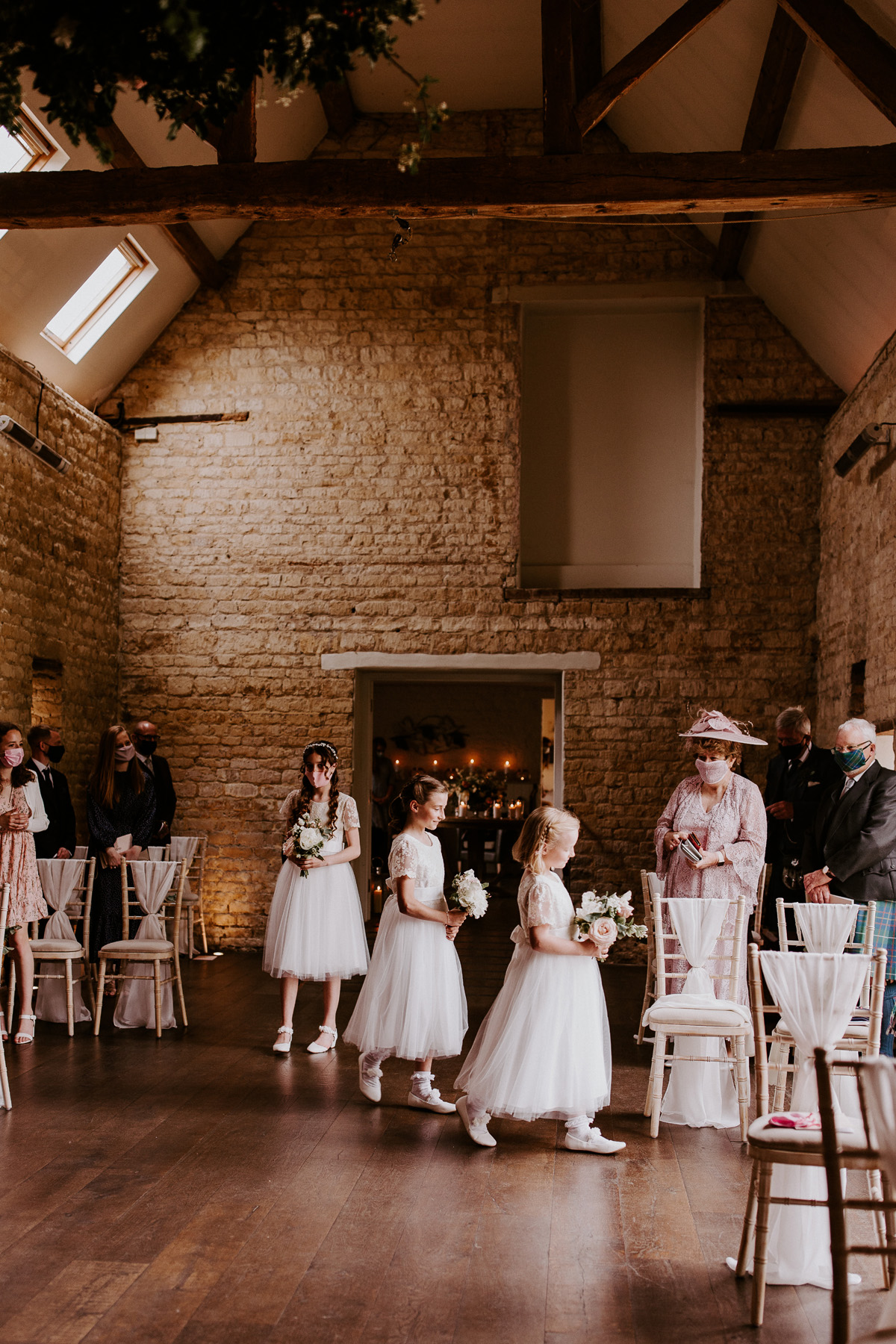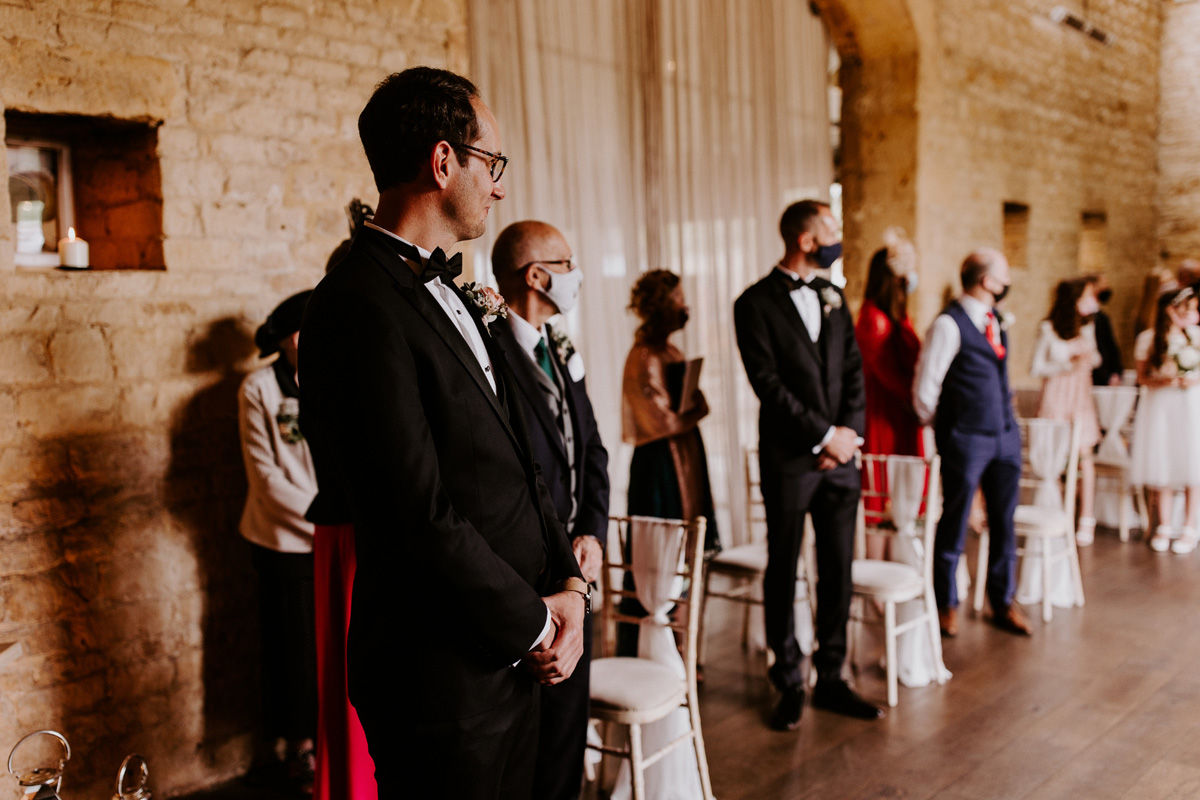 "I walked down the aisle with my dad on my arm – something that seems so simple but almost didn't happen. It was really important to my dad that he could do this and it was a compromise we luckily didn't have to make… in the end."
"We walked into the ceremony to 'Riptide' by Vance Joy, a song that has been special to us for a number of years. There was no question when we first started thinking about what we would have."
As Emily mentioned, she and David are expecting their first baby in September so she chose an alternative to her original dress to find one that would fit and flatter her baby bump. She chose this Grecian-style Oscar de la Renta evening gown at The Bridal Boutique in Warwickshire.
"Had I not been pregnant, my original dress would have been a beautiful Jesus Piero. Madi at The Bridal Boutique is absolutely fantastic – the perfect balance of welcoming, helpful and when required, direct."
"I had been to a number of bridal shops and nothing had been successful. Meeting Madi was a complete breath of fresh air."
"She is the ultimate professional and has the most incredible vision. The dress I'm afraid to say, is still packed away perfectly in its box."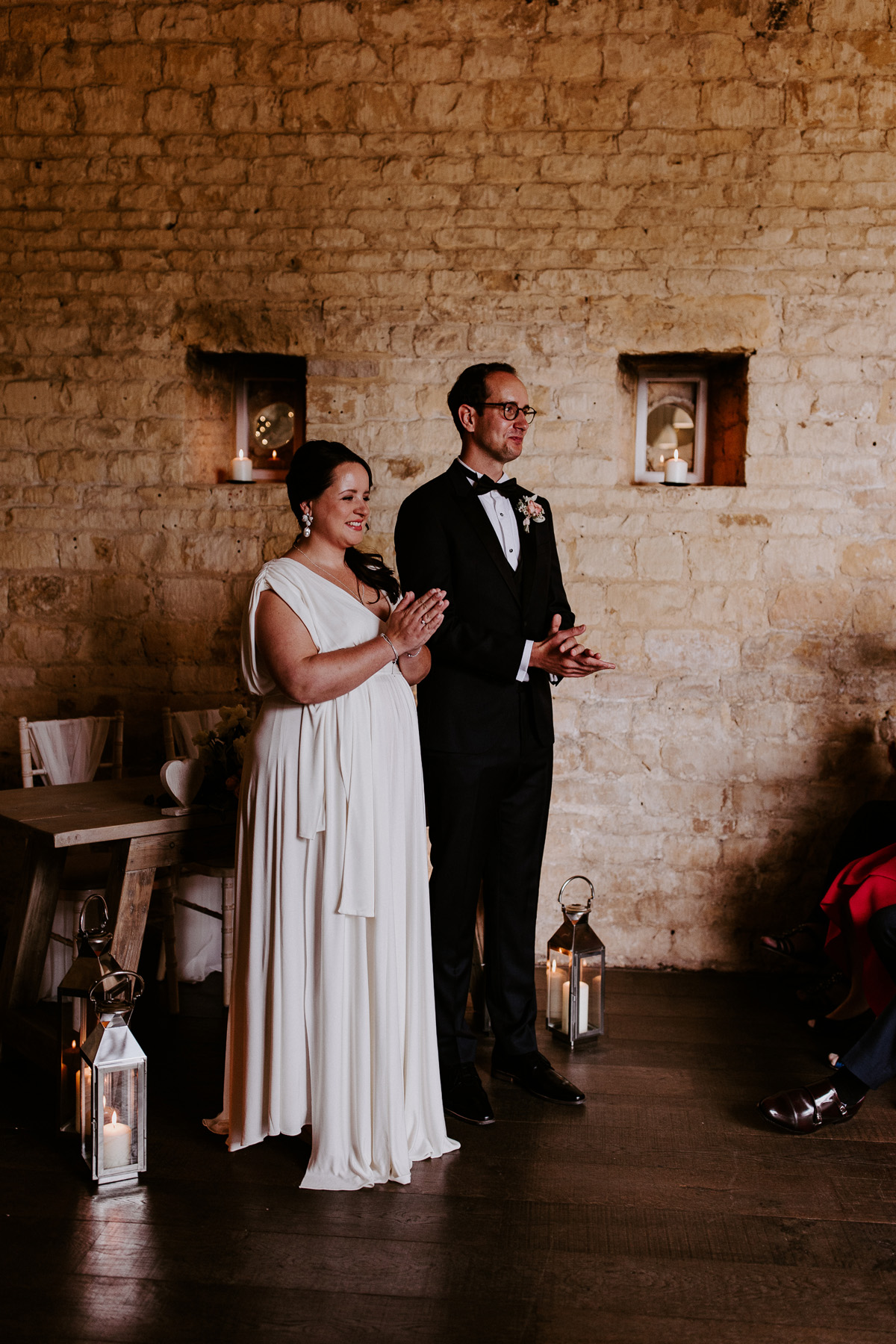 "Finding a second dress while pregnant was no easy task. Madi was also incredible there too; hugely supportive and helpful."
"I fell in love with an Oscar de la Renta evening dress that was altered by the amazingly talented Abi at Make it Sew in Henley in Arden."
"Abi worked utter miracles and lent her skills to my entire family to make sure we were all in a perfect fit."
"Although I was initially disappointed that I wouldn't be wearing the dress I'd dreamed of, being able to walk down the aisle in a flowing Oscar de la Renta was also a dream as I've been in love with the design house for many years."
I didn't want to feel or look like a 'maternity bride' and trawled through hundreds of dresses. The dress I went for was not maternity but was adjusted to fit – it made me feel like I was floating."
The marriage ceremony included two readings, one chosen to honour the bride's family's Scottish roots.
"We opted for 'I Promise You' by Myriah and then a more traditional Scottish poem, 'A Red, Red Rose' by Robert Burns."
Most special was who delivered them. Due to the late changes in guests, my bridesmaid and uncle did the readings and did such an incredible job."
"This was something that we almost had to remove but were so thrilled it was part of the ceremony."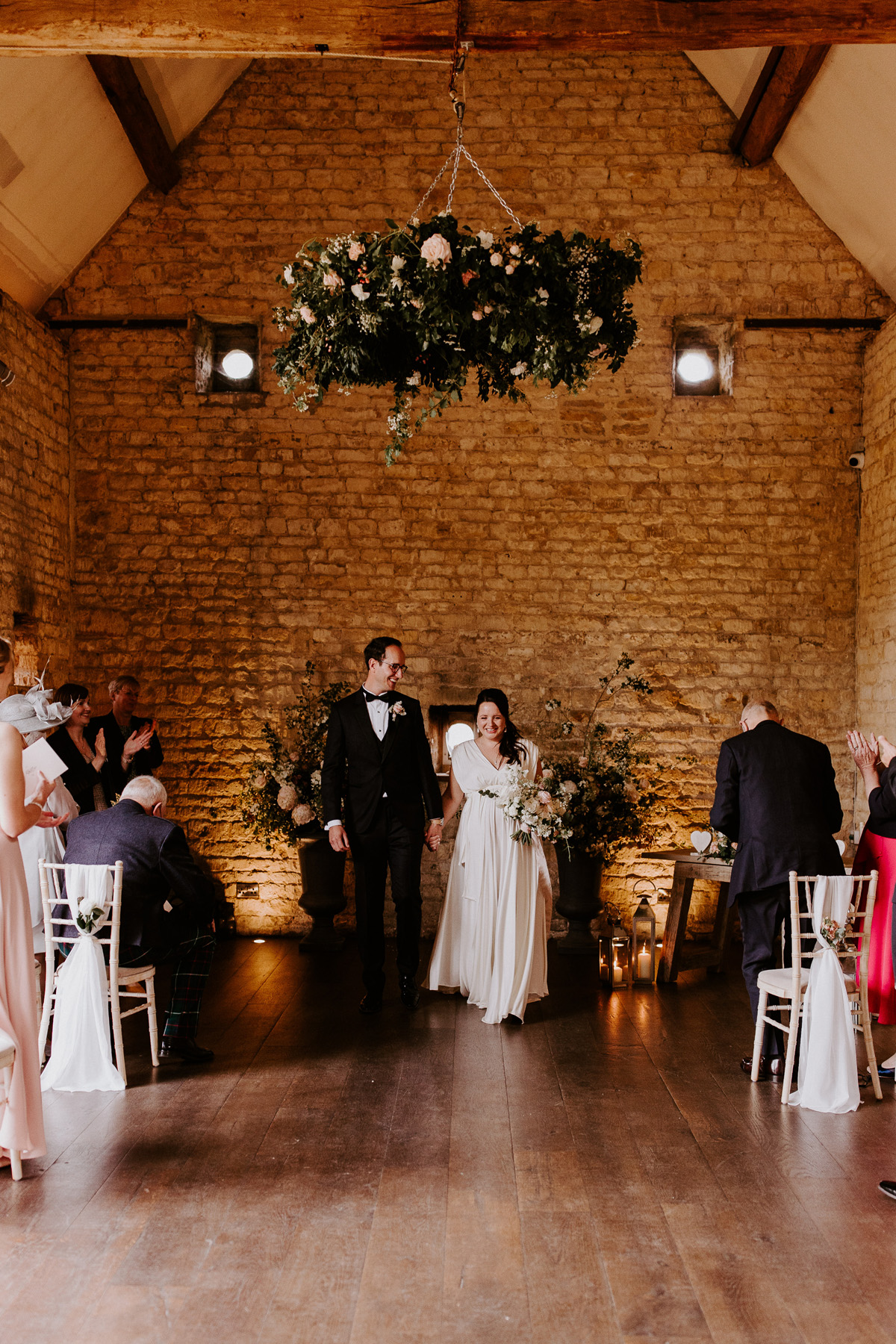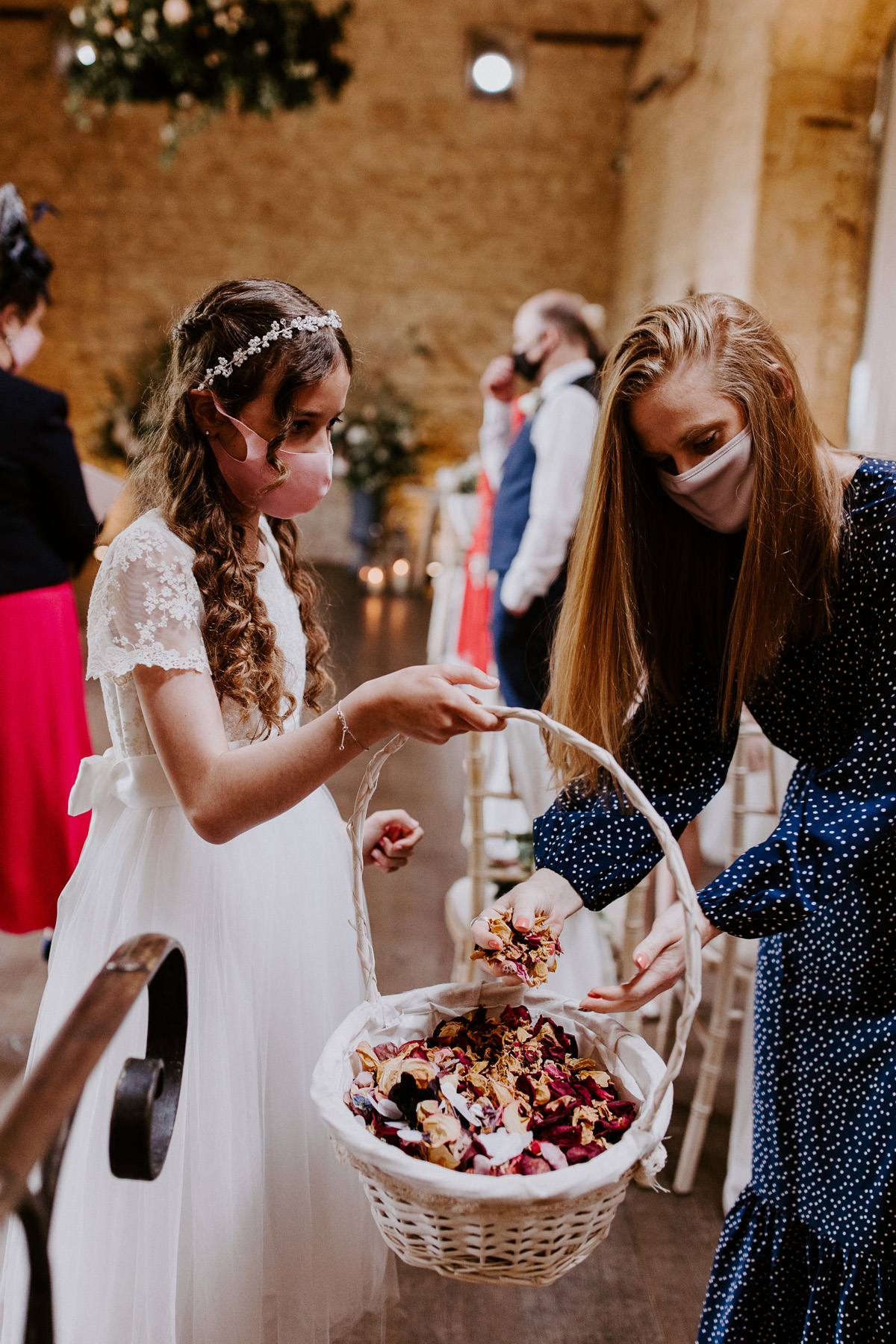 As the newly-weds made their way back down the aisle, they were showered with fresh confetti,
"One of the things we did was grow our own flowers to make our wedding confetti. It ended up being a very special blend with input from both sides of the family and even David's grandma."
"We had a lot to throw as we'd originally provided for one hundred people. It resulted in some amazing confetti photographs. We were covered!"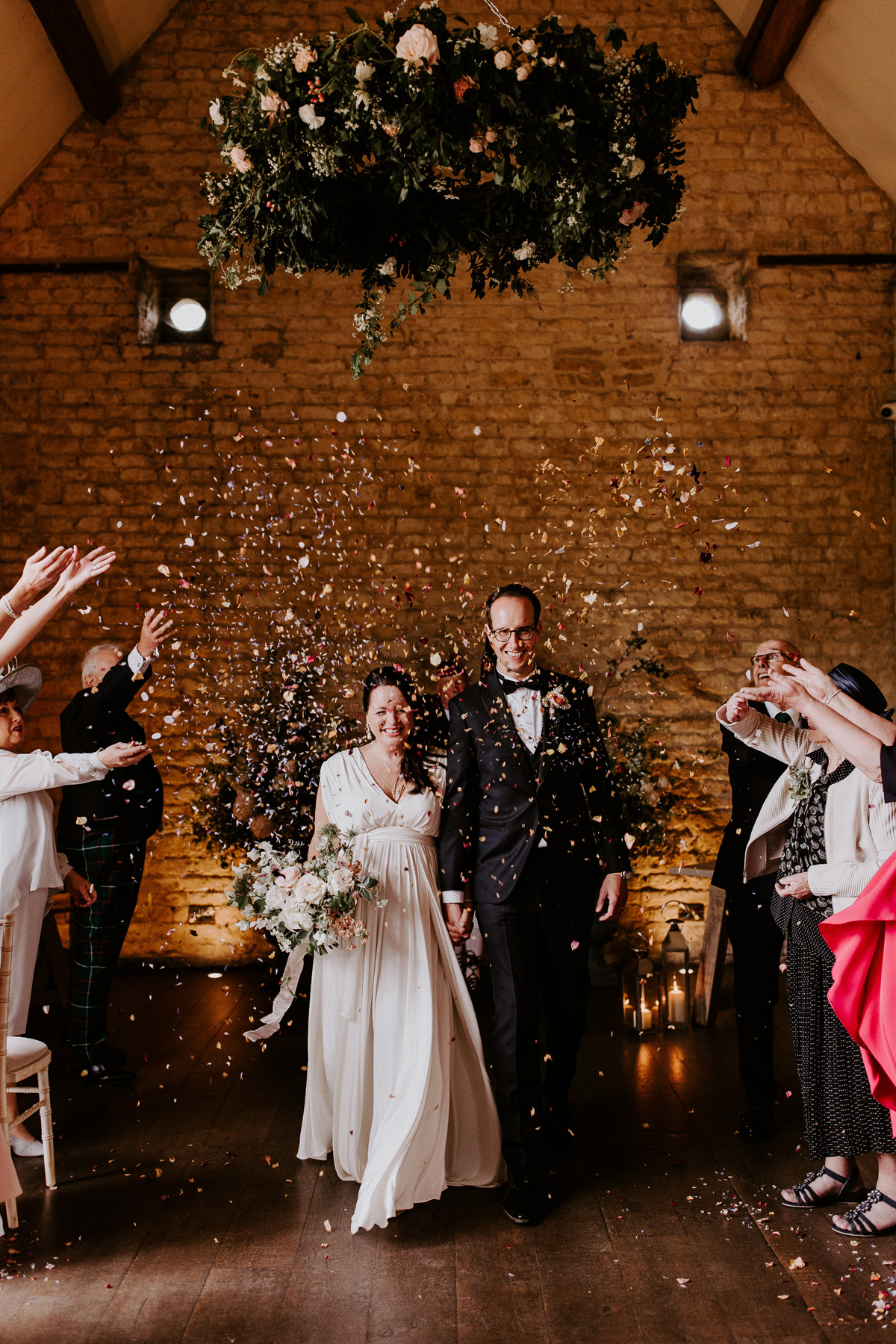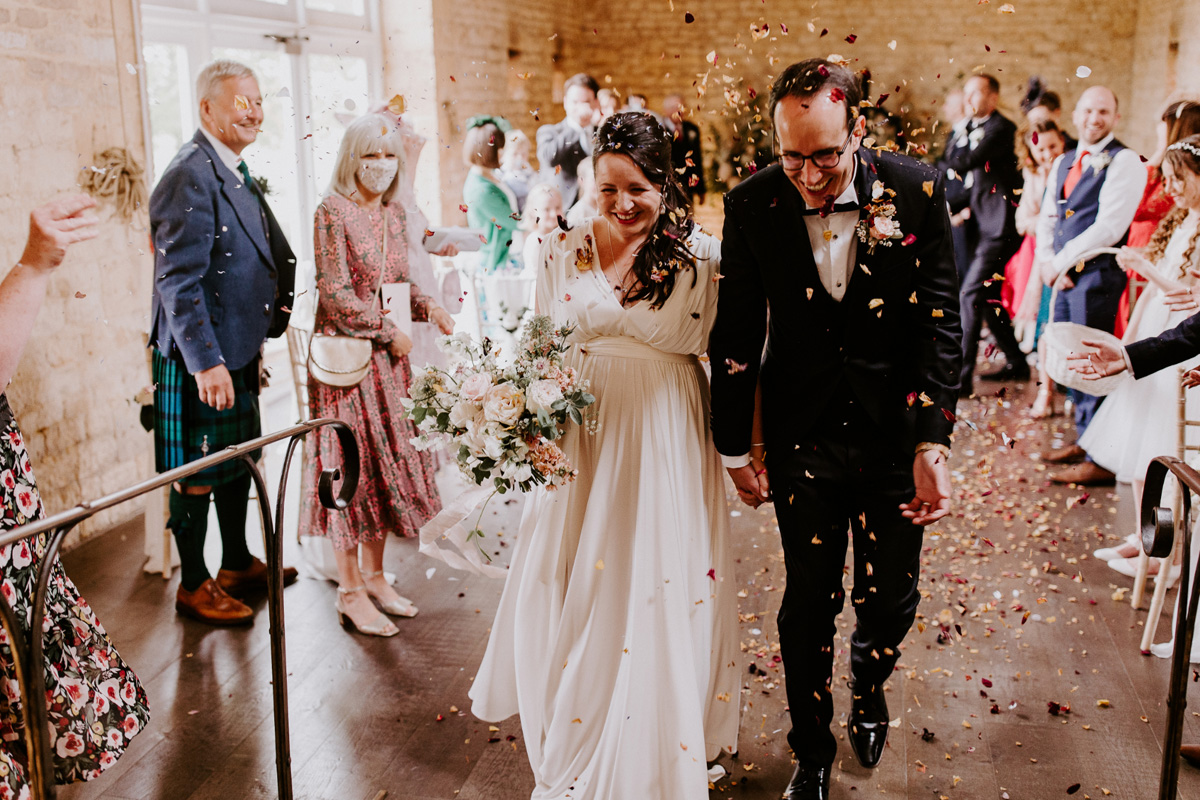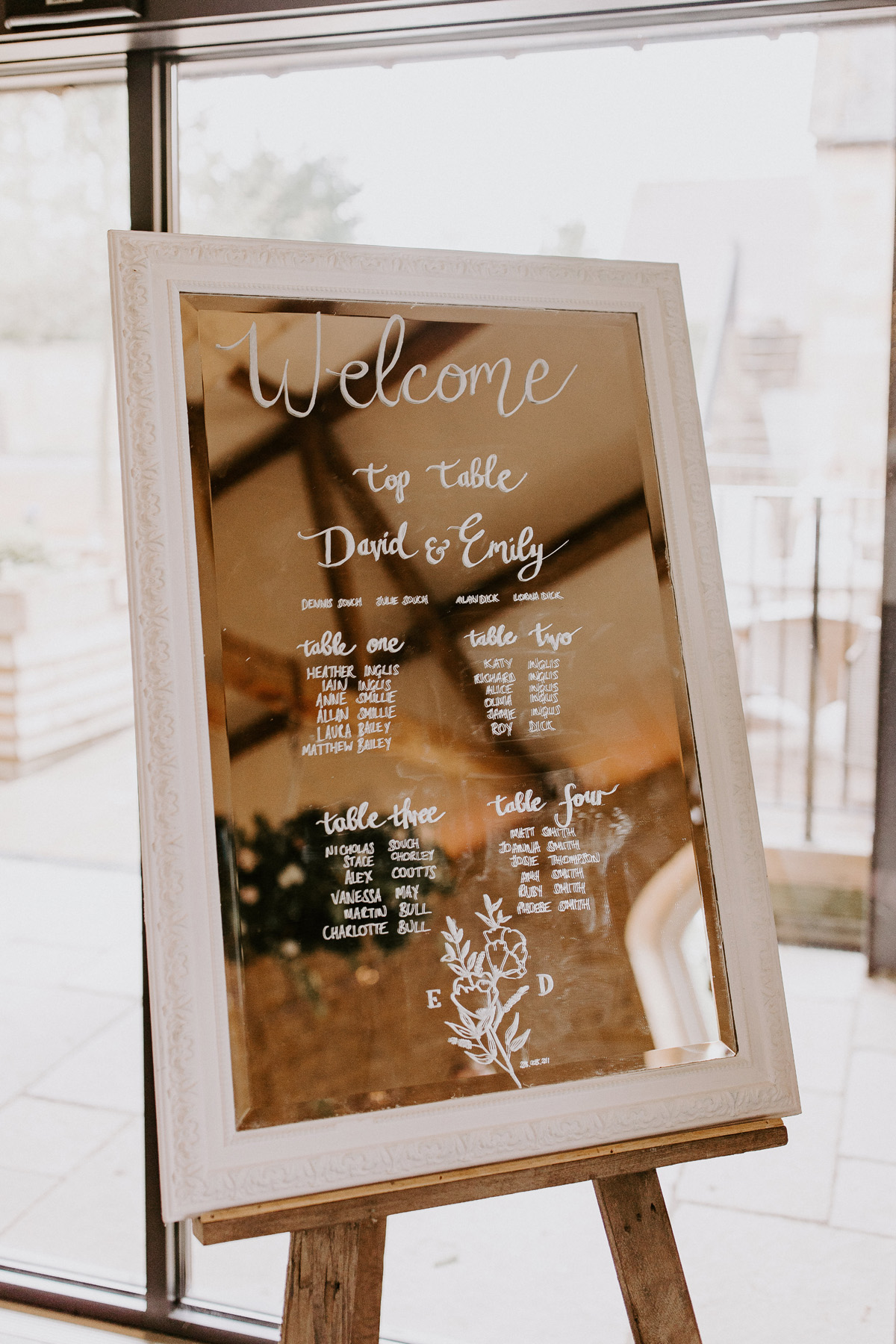 The wedding breakfast was served at four round tables, decorated with plenty of roses and some Scottish-inspired favours.
"We didn't go overboard with additional styling, choosing to go further with floral decorations and instalments to create the biggest impact."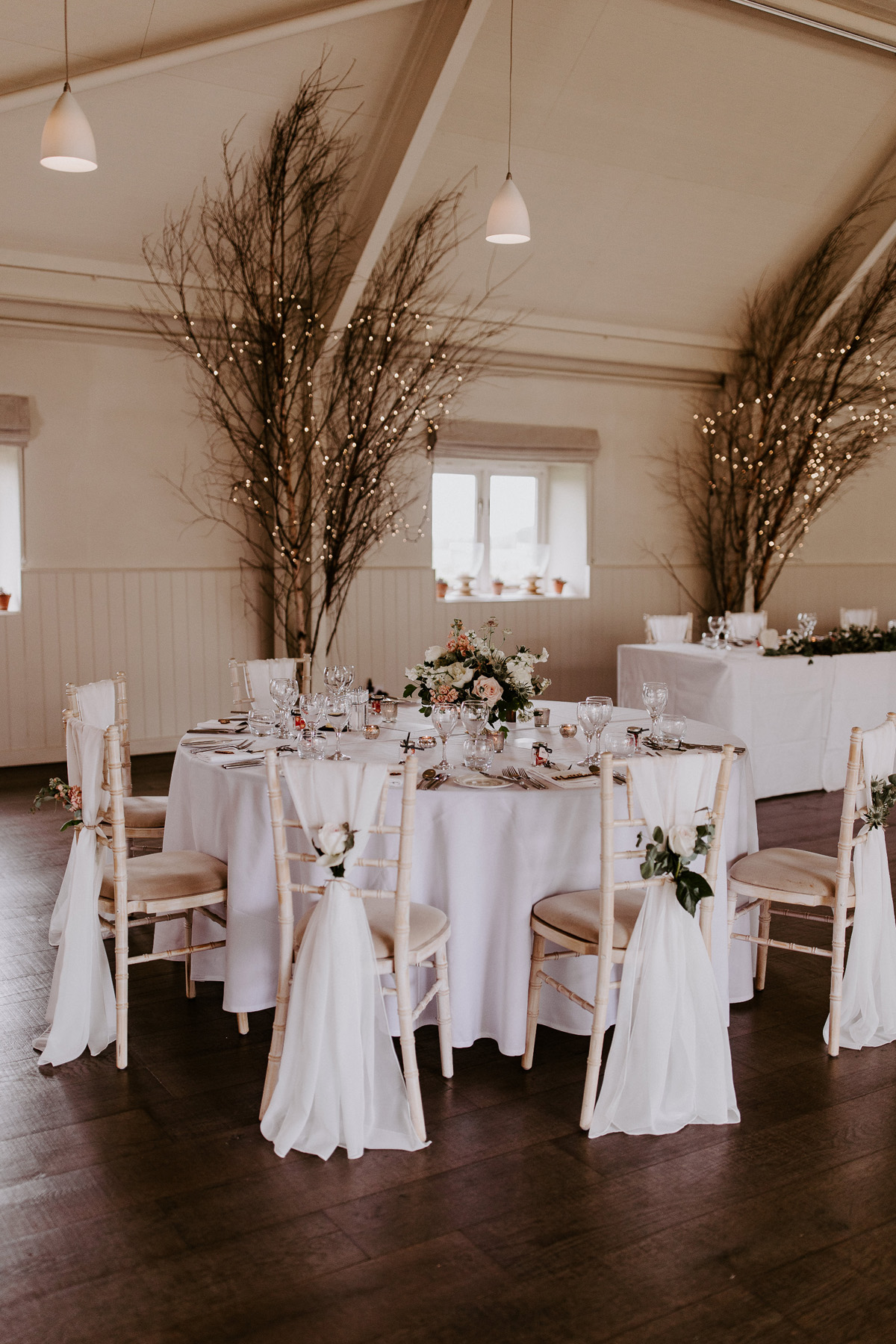 "We are so thrilled with how the venue turned out. I must say a massive thank you to the team at Lapstone who helped co-ordinate and set up on the day; a real dream team!"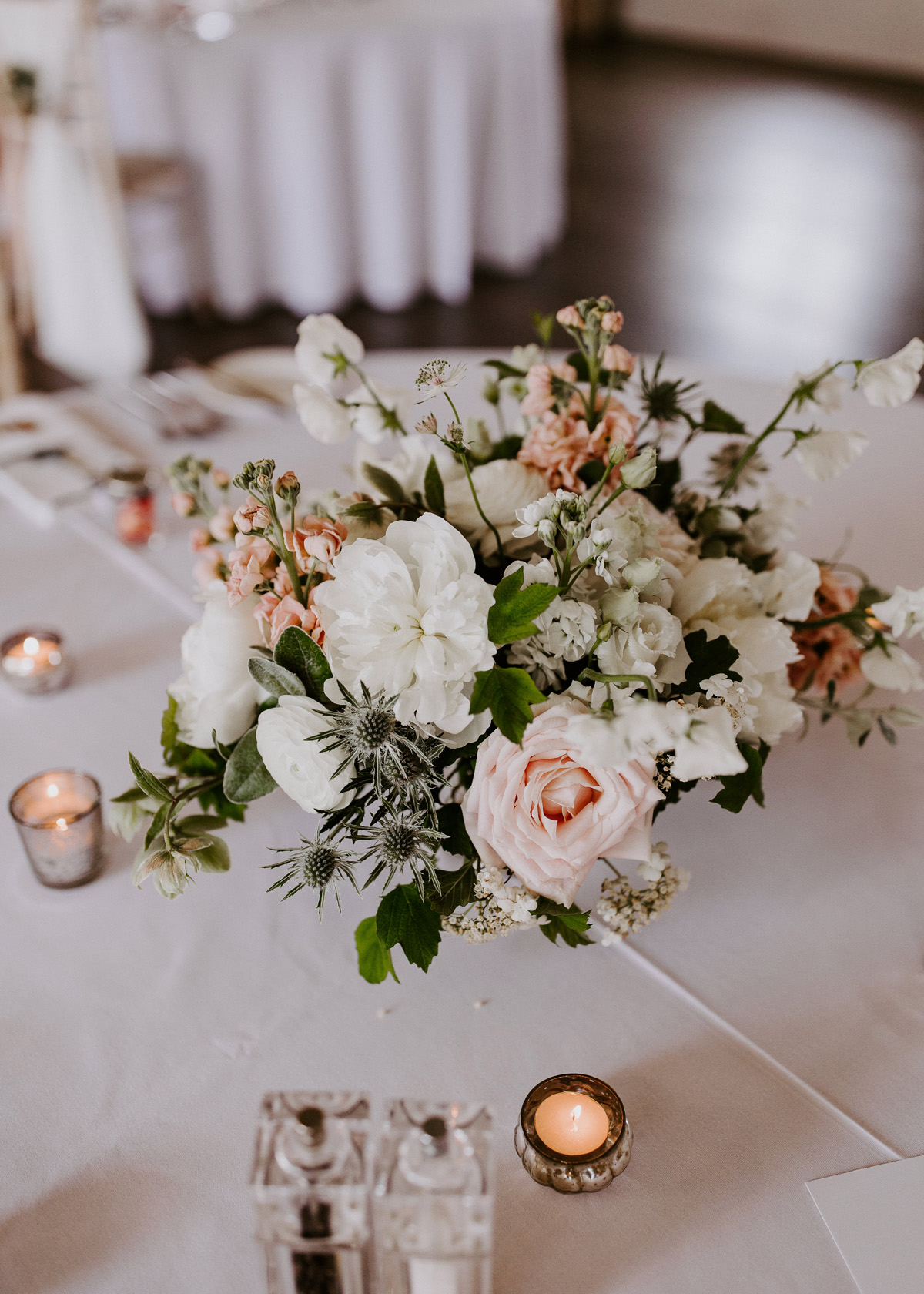 "It was important to bring a touch of Scotland to the wedding day as my family is from Scotland. What would be more fitting that a jar of Irn Bru sweets with tartan ribbon? We also sneaked in an order of Irn Bru, facilitated by Lapstone Barn."
"With a smaller number of people, we were able to add additional touches, like wooden cut name cards and posies of home-grown dried lavender."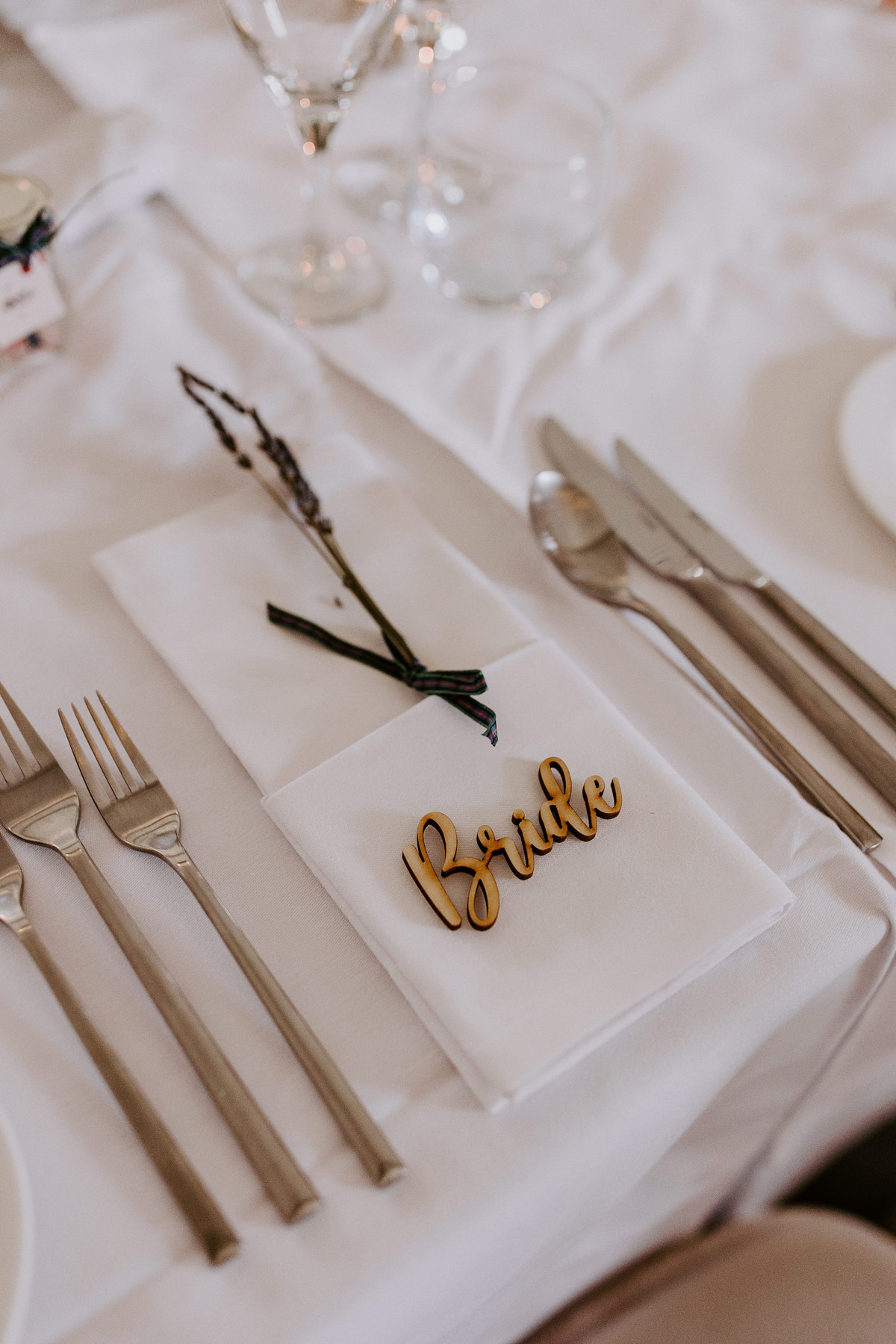 "My favourite part of the day was being able to look at our closest family and friends during the wedding speeches and be truly content that it felt like a 'real wedding'."
After all the planning, replanning, and planning some more, ultimately it didn't feel like a second best or something we had to settle for. It felt like the day it should have been."
The warmth, glow and interaction from the dinner was more than we could have hoped for… the speeches were good too!"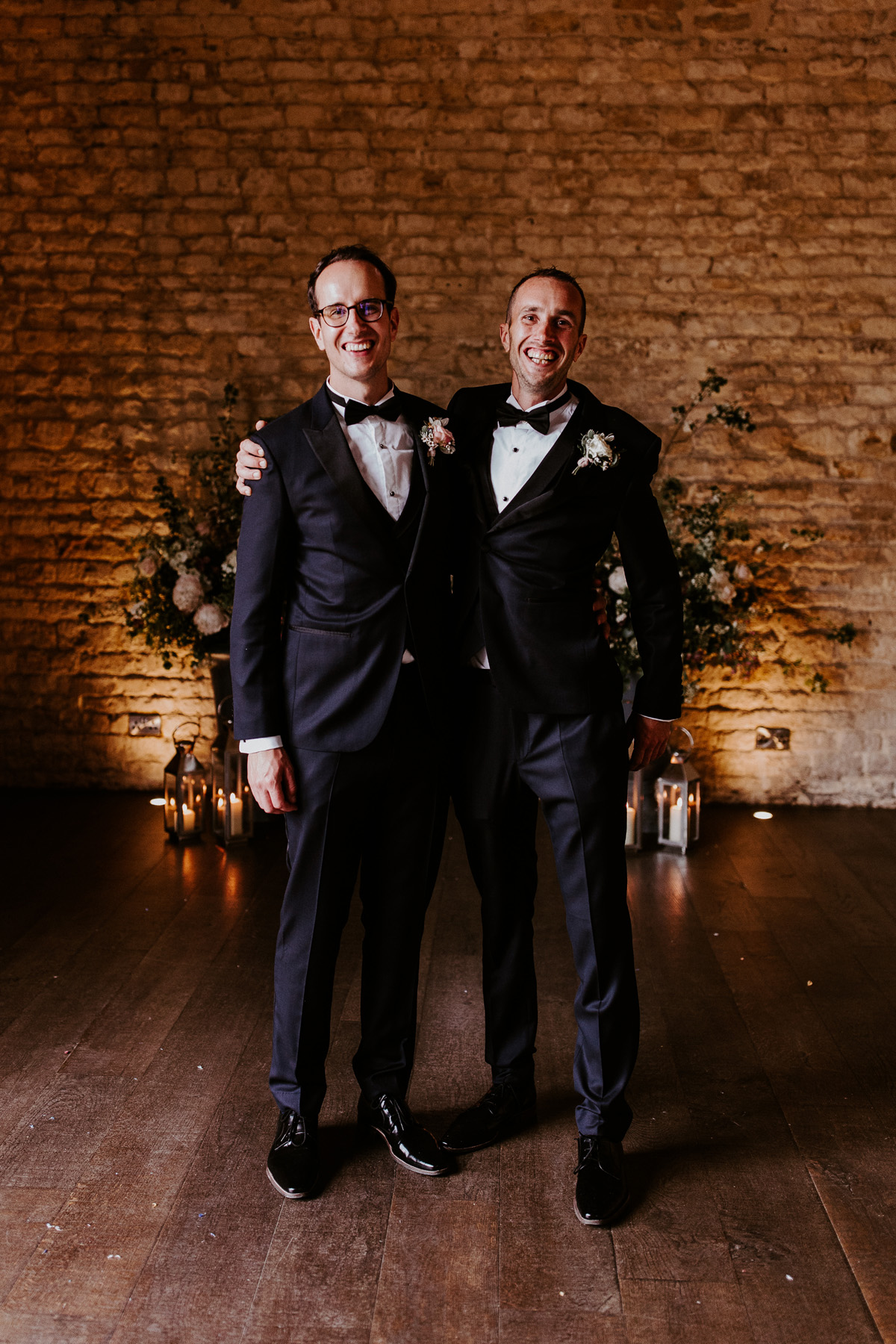 "I was also lucky enough to win a 'lock down' competition with The Luxe Collection, which enabled us to have a neon sign and some decorative items on the day, the icing on the cake for us!"
"They were also super accommodating with our date changes and we were thrilled with everything they provided on the day."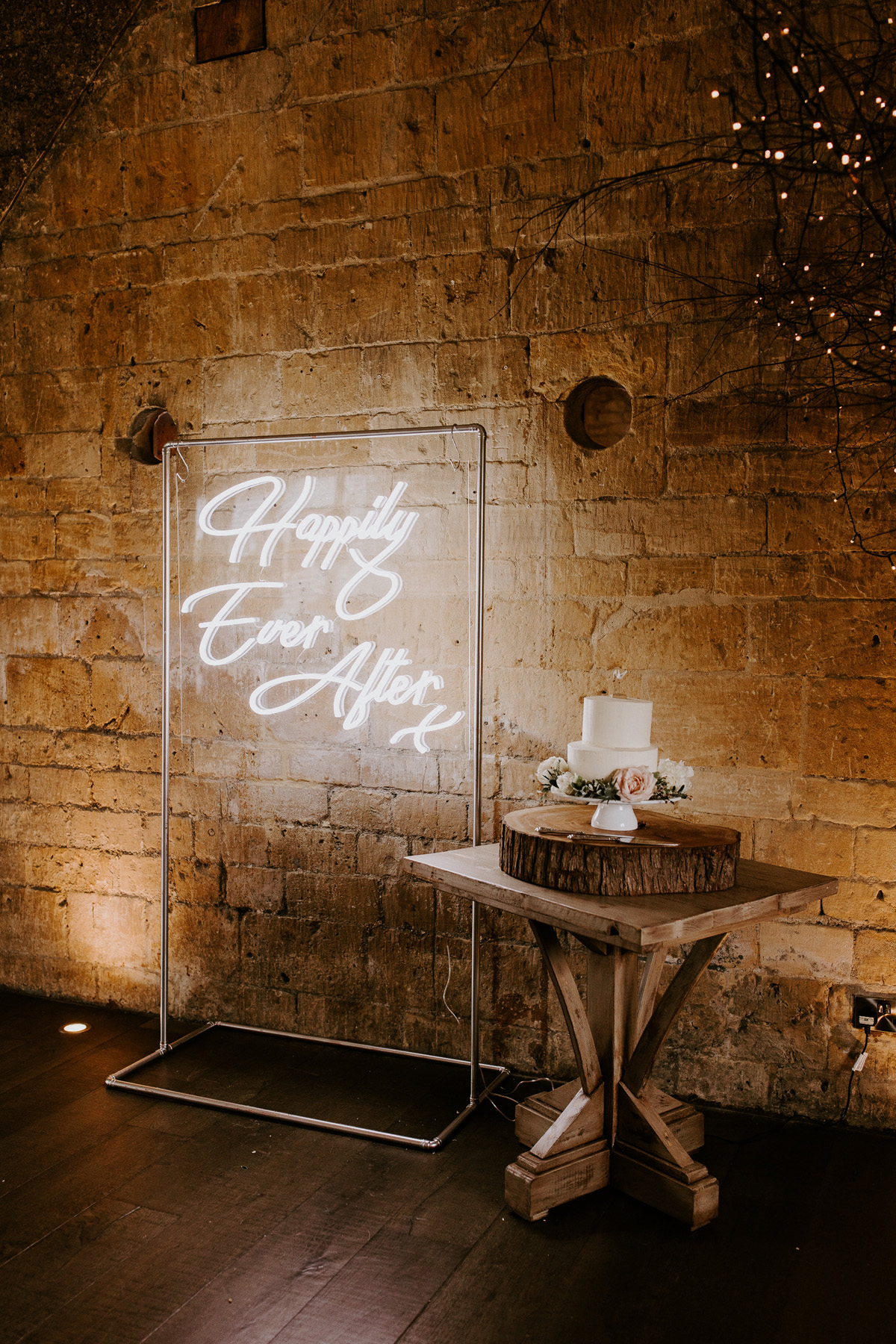 The change in date meant that their original photographer was not available, but Siobhan Beales Photography was recommended as a replacement. Her fine art style is just perfect for the bright Spring day.
"I approached our lovely florist Katherine who sent a list of people she'd worked with before. We fell in love with Siobhan's work straight away."
"We loved the way she managed to capture those hidden moments at weddings. Yes, there are the formal shots, but we wanted the images from the day to be 'easy'."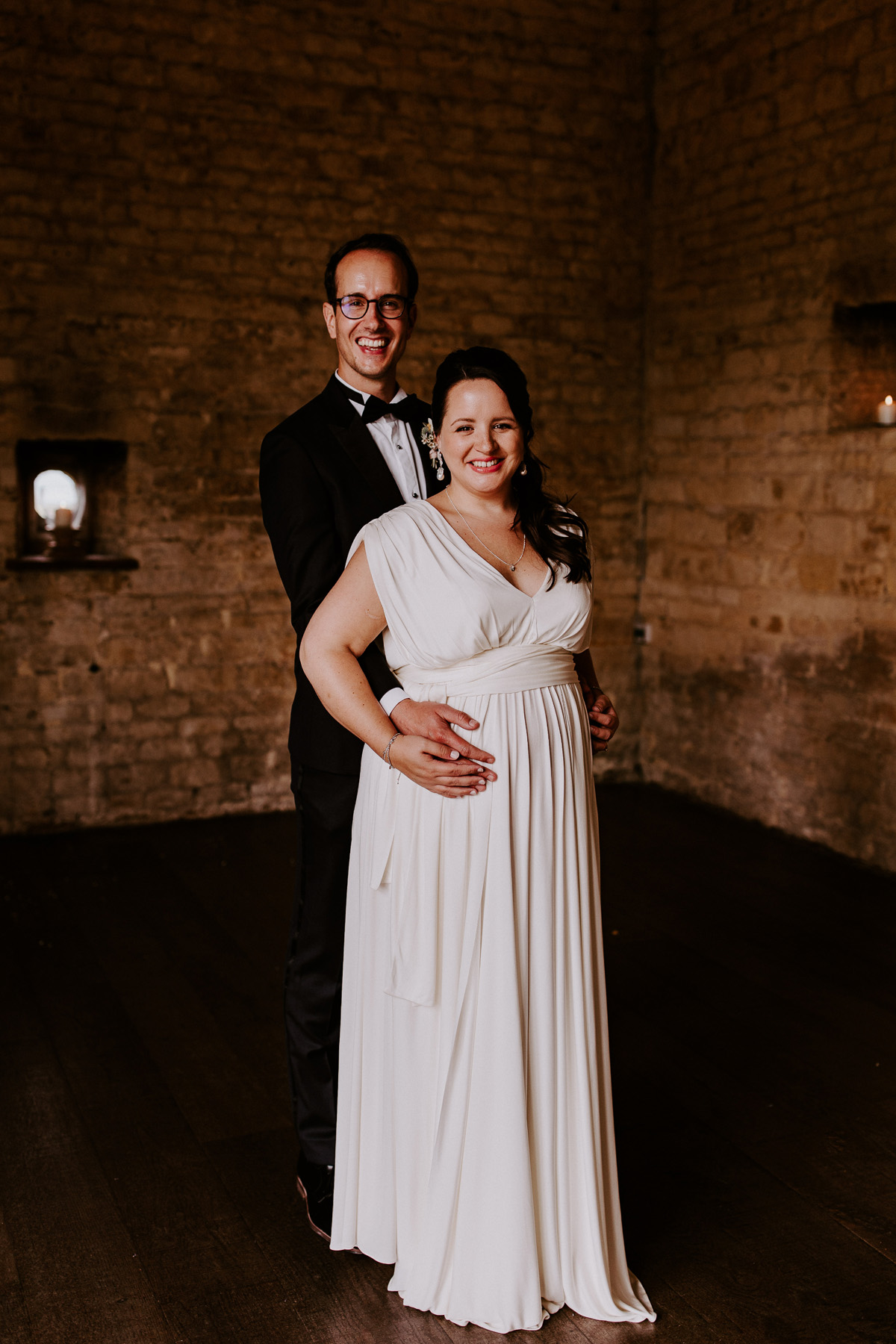 "Siobhan has this incredible talent of being able to capture moments on camera, remaining effortlessly hidden when needed but also interacting with guests to make them feel comfortable – which is not an easy task!"
"We've had so much feedback from guests and those who weren't able to make it that the photographs are utterly beautiful, and we are biased but we agree!"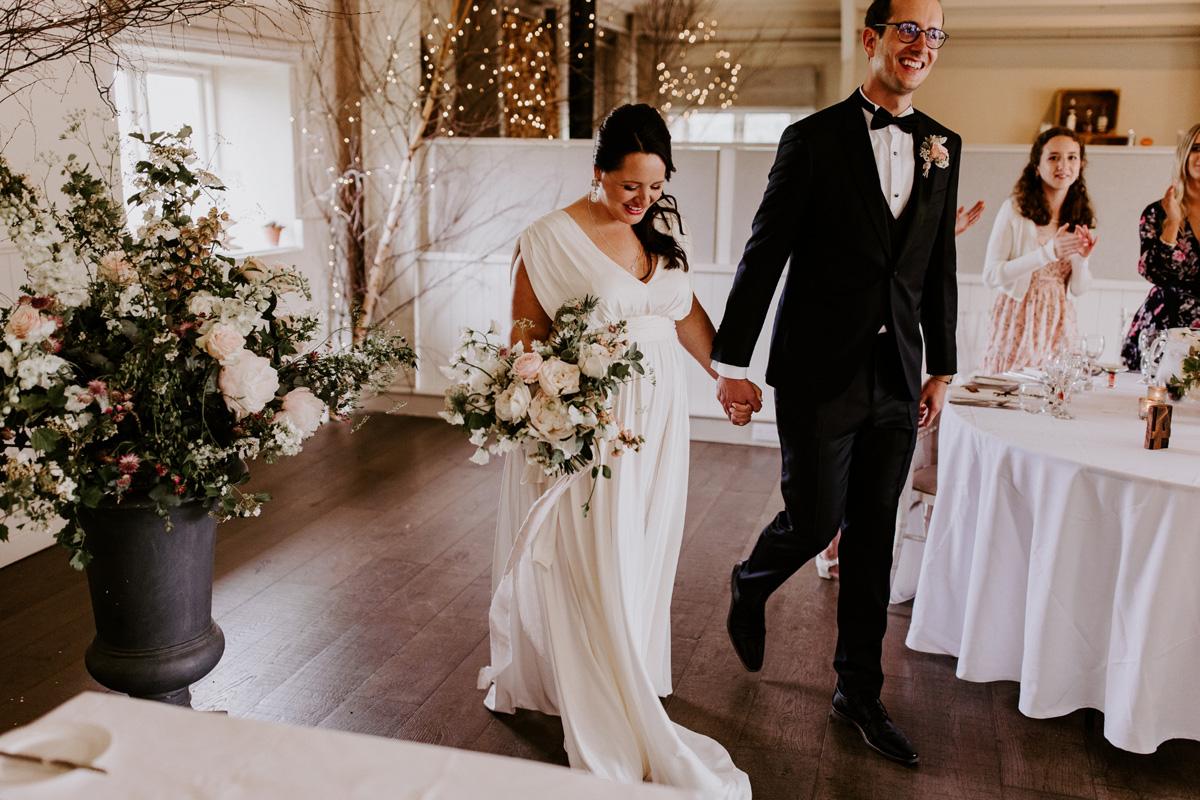 The wedding cake was created by the bride's talented friend Vanessa of Matilda & May. Look out for the special message hidden inside.
"Vanessa makes the most incredible celebration cakes, biscuits and wedding cakes. I was absolutely thrilled that she could make the cake for our wedding day and be there to celebrate with us as a guest too. "
With the reduced number, we went for a simplistic, two-tier cake with a twist. We opted for vanilla and lemon in but Vanessa was also involved with a very special, top secret project."
Our wedding cake was also the gender reveal surprise to our guests, cutting into the top layer to reveal a coloured section (and almost dropping it on the floor in the process!)."
"It was such a special moment and we couldn't have done it without her help and talent."
Words of Wedded Wisdom
"I think the most soothing thing for me was knowing that we were not alone. Any conversation with someone asking about the wedding was followed by a story of a friend, relative or even themselves who had also been impacted. A wedding is a truly special time, but for us it was also important for our guests to feel safe and comfortable. What I've also learned is that you really can't plan for everything. In fact, it made decision making a lot easier – it's amazing what took months to decide before ended up being resolved in a few minutes."
"We were most shocked about how much our wedding felt like a 'real wedding' and although it seemed impossible at the beginning, it was a fantastic day. Mostly, the incredible love, care and support we've had from our friends and family."
"It was devastating having to send out cards to say we were 'cancelling' the big day and opting for something smaller – but absolutely everyone was more than understanding, passing on their love and well wishes for the day. We'll find an opportunity to catch up with friends who weren't able to share the day with us, and it will be worth the wait… again!"
"Welcome advice but ignore opinion. Ultimately the day is for love and declaring you want to spend the rest of your life with someone. Where that happens, who with, or what you have on the tables or put up round the venue doesn't have anywhere near as much impact as you might think."
"Also, once you've moved a wedding once, you'd be amazed at how easy it is the fifth time round!"
Emily and David, I'm so happy that you two were finally able to marry and have the day you dreamt of. What a divine second choice of gown too!
Thank you so much for sharing it with us, and thank you Siobhan Beales Photography.