There is so much to love about today's micro-wedding; from the intense splash of red of the bride's shoes to the utter love and joy that jumps out from these photographs. Without further ado, let's meet the happy couple.
On 17 April 2021, landscape architect Roberta wed economist Ben at their simple, personal micro-wedding at Hackney Town Hall, London. The couple wanted their day to be sustainable, waste-free and very relaxed, only inviting their friends a week before via WhatsApp.
Jeremy James Weddings

+ Follow
"We are both pretty relaxed and, to be honest, didn't put a lot of effort in planning the wedding. We believe that weddings should not be excessive and we just wanted to do it in the simplest manner with the least amount of stress, to reflect our personalities."
"I also tried to be sustainably conscious where possible. When purchasing and planning, we wanted to ensure we can use things we already owned and not to buy something just for the day. We also tried to support local, small, independent businesses where possible."
The couple live in East London so Hackney Town Hall was a local choice for them, especially having had to postpone their original wedding due to Covid regulations.
"Our wedding was supposed to be in 2020 so we had to postpone it for a whole year. Fortunately, when we booked with our venue (Clapton Country Club), they required us to get wedding insurance. They were also very relaxed and flexible with us postponing the date."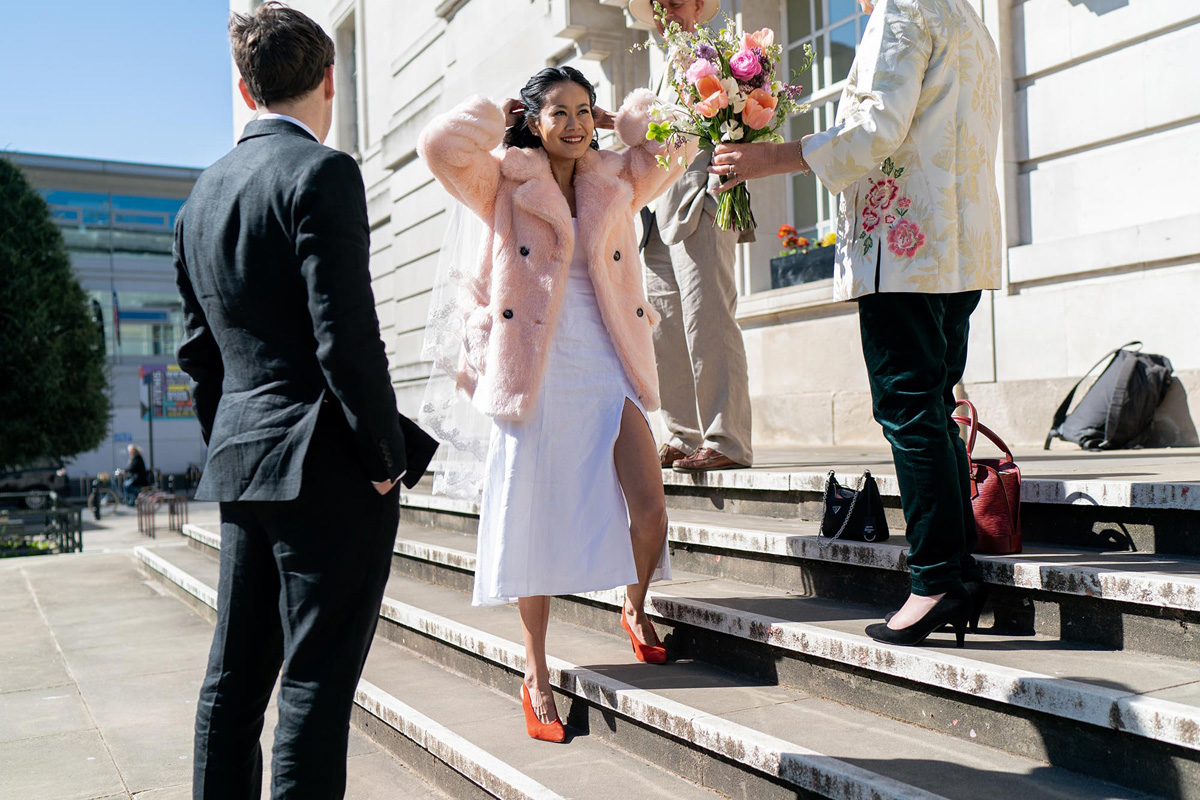 "Our wedding was the first weekend when the national lockdown was lifted and outdoor dining was allowed for groups of six."
"We only had six guests and our photographer Jeremy at the ceremony."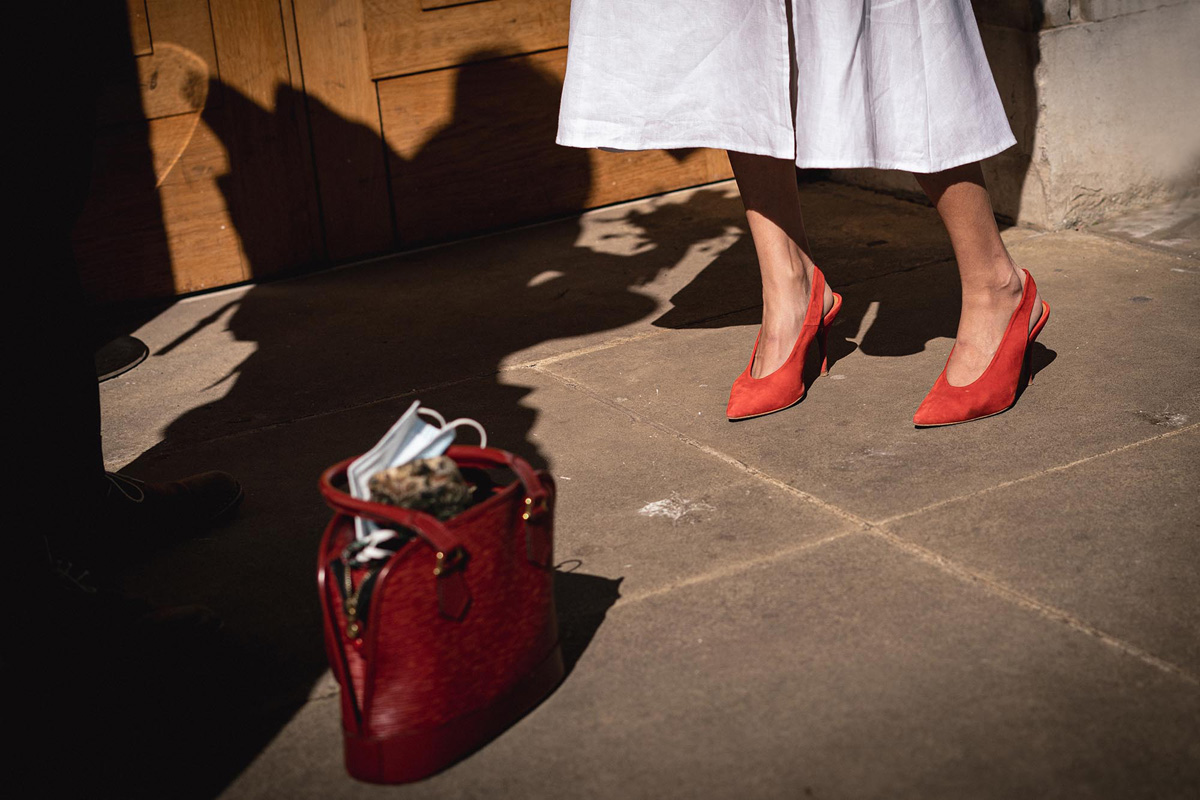 "It was very sad that my parents, family and our friends couldn't be with us on the special day as they live abroad."
"We were also not able to invite any of our family and friends locally, but we set up a Zoom for the day to ensure all our loved ones were able to join and be there with us virtually on the day."
"In the end, we had almost 100 people with us over Zoom which we both could not believe!"
Roberta wore her engagement ring, which came from Jessie Thomas Jewellery.
"At first I fell in love with their minimalist, modern and classic design. Upon further research about her brand, I loved that she is strong sustainable focus in sourcing materials. Recycled gold, responsibly sourced stones and the highest quality. conflict-free diamonds are used in their designs."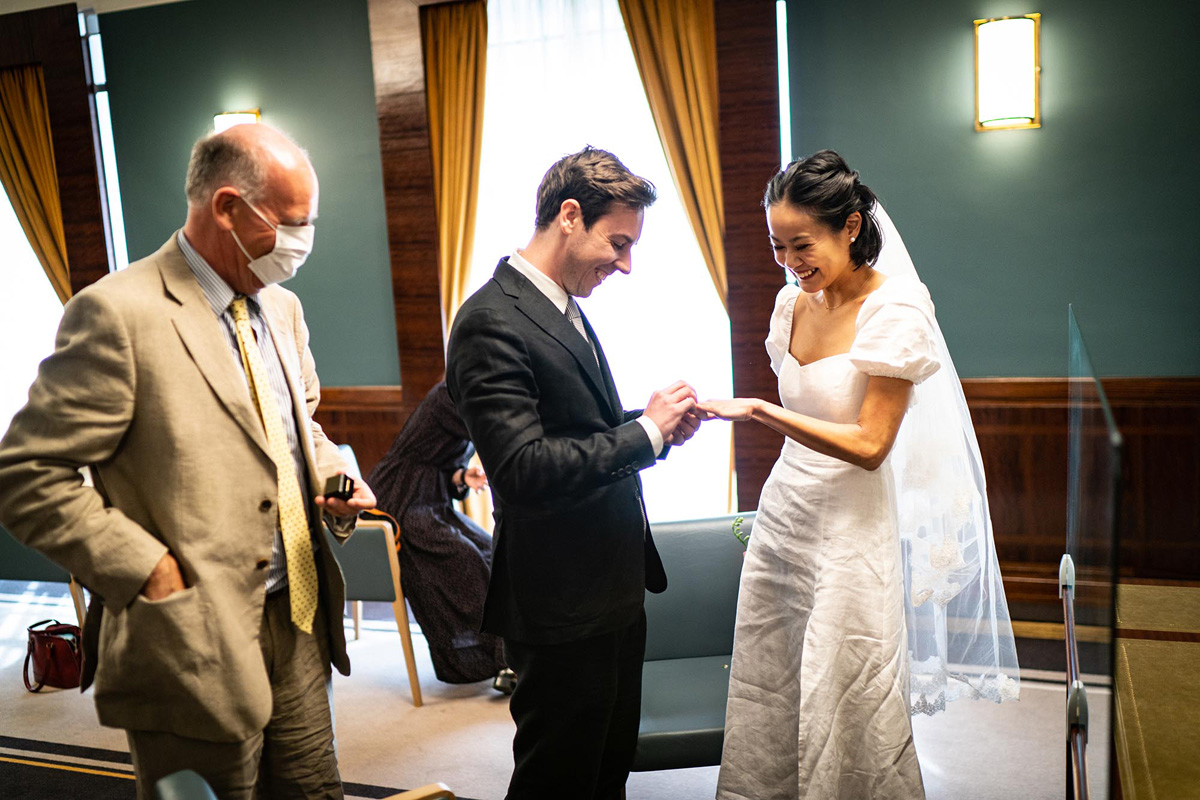 "We met in London on Tinder and had together for a year before Ben moved to Copenhagen for his PhD. We got engaged while living apart because despite the distance, we decided we want to spend the rest of the life together."
"Ben initially proposed unintentionally over Facetime. He proposed to me in person later with a necklace when we went on a road trip to Durham."
"We have been engaged for three and a half years before our wedding."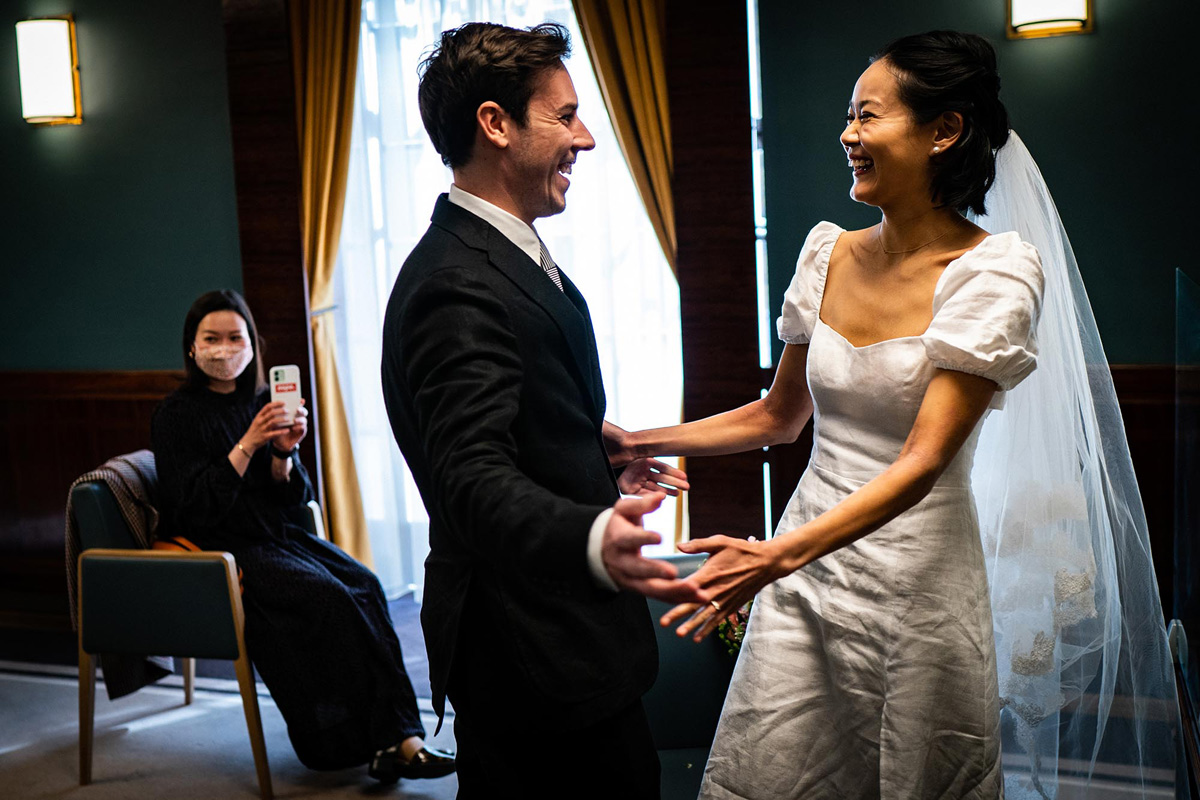 The couple travelled to and entered the Town Hall together, before being married by the registrars there.
"Given the limits to guests' attendance and that my parents were not able to travel, I didn't walk down the aisle."
"We had a quote from a reading written by my parents: 'Marriage is a love journey of joys and sorrows. Now you will be sharing them together'."
Ben chose to not have a ring but the bride received a bespoke signet wedding ring.
"We had it designed a crest to represent us.  I have also got another wedding ring which was gifted by my mother-in-law; it is a half eternity ring which my father-in-law proposed to her with. It is very special that she gave it to me."
"Many of our guests have told us they felt like they were there with us in the ceremony on the day over Zoom. Love and good wishes can travel miles across the screens."
The finishing touch for Roberta and Ben was flowers, created by Sally at Sweet Pea Rosa. I love the wild, vibrant bouquet that Roberta carried.
"I wanted someone local to me. I didn't have any particular theme or preference in mind, I just wanted what is seasonal. Sally did that as a bridal bouquet for me."
The bride added an intricate veil from her formal wedding outfit and added a pair of bright red, slingback Topshop heels which she already owned
"It was a bespoke veil with lace trimming that my mother and I picked out together."
"I did my own hair on the day and wore Frédéric Malle Carnal Flower. It is my fancy scent and a scent I wear only on special occasions."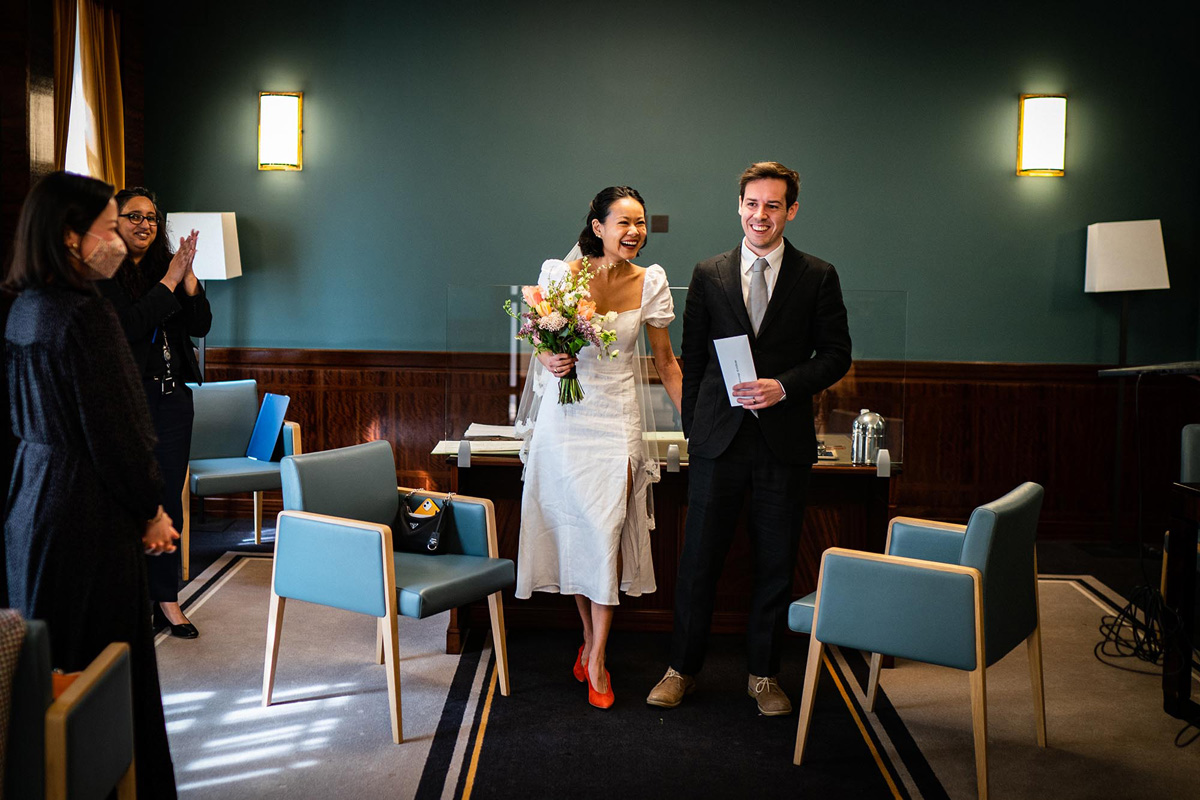 \
The couple were showered with confetti as they exited the Town Hall, and spent time together exploring the Hackney streets for photographs before heading to the park for an informal wedding picnic.
Roberta was keen to find a sustainably-sourced wedding gown and found her pretty yet low-key linen dress online. However, she attended an appointment at Mirror Mirror London to help her decide on style and cut.
If you'd like to find out more about this bridal boutique we are pleased to list them on our Love My Dress wedding directory here.
"I bought a formal wedding dress in Hong Kong from Rosa Clara but went with something casual for the registry office."
"I went for a fitting appointment at Mirror Mirror London to try out a bunch of dresses and find out what style I wanted. Shamel was super-helpful and provided me with loads of advice and ideas to find the perfect style."
"I would highly recommend going to an initial fitting appointment just to try on all the dresses because it is so different seeing photos online than actually having them on yourself."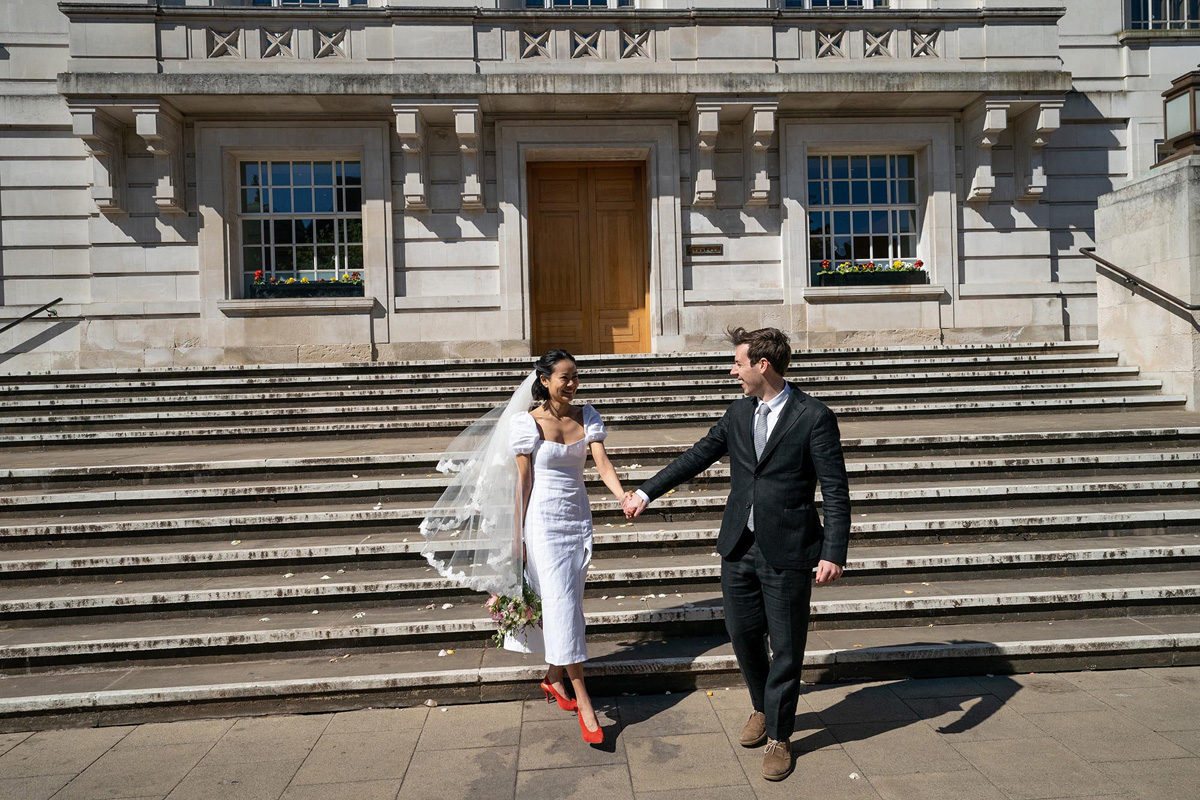 "I got a low-key, casual dress online from Reformation. Due to the restrictions, we planned to have a picnic in the park in the afternoon where our friends could come and say hello."
"So, I wanted a dress I could also wear to the park."
"I tried to look for a brand which has a sustainable focus and is 100% carbon neutral."
"I chose this particular dress because I know I will be able to wear it again in the future. I also chose a linen dress in particular to match Ben's suit, a small detail which I like."
"I didn't want to buy new items for the wedding so the rest of the wardrobe were items from my wardrobe. I guess my favourite would be the pink fur coat from Jakke."
"One of our friends baked us a delicious homemade wedding cake as a lovely surprise and brought it to the park where we had the picnic in the afternoon."
"We loved how causal and stress-free it was in the park. We brought bubbles and had all our friends there in small groups."
"Everyone brought some nibbles and drinks and we were able to speak and catch up with everyone. It was just cosy and lovely."
"Having postponed and completely changed the plans for our wedding, we both still had the best days of our lives."
"There were barely any costs for the wedding so we were way under our initial budget if we were to have a full-on party."
"We received a lovely video full of messages by our groomsmen and bridesmaids as well as family. It was super-special and we get to cherish and re-watch it anytime."
"We felt that if it wasn't for the pandemic, this wouldn't have happened and we are s0 grateful for the time and effort everyone put in."
"My bridesmaids had a proper dance in their video which cracks us up."
Jeremy James Weddings captured these beautiful sun-drenched photographs which made the most of the iconic East London streets. He has done such a great job at capturing Roberta and Ben's love and joy.
"We found Jeremy online as we wanted documentary-style photographs and wanted to capture moments of the day in the most natural form."
"Jeremy was super-nice and made us feel as comfortable as we can being photographed on a busy high street in Hackney. We both had such a good time on the day."
"We were so pleased with how the photos turned out and we felt that Jeremy had really captured the essence of Hackney for us."
"He picked out unique areas in Hackney which we had never even paid attention to and the wedding photos were full of character."
"We couldn't recommend Jeremy enough."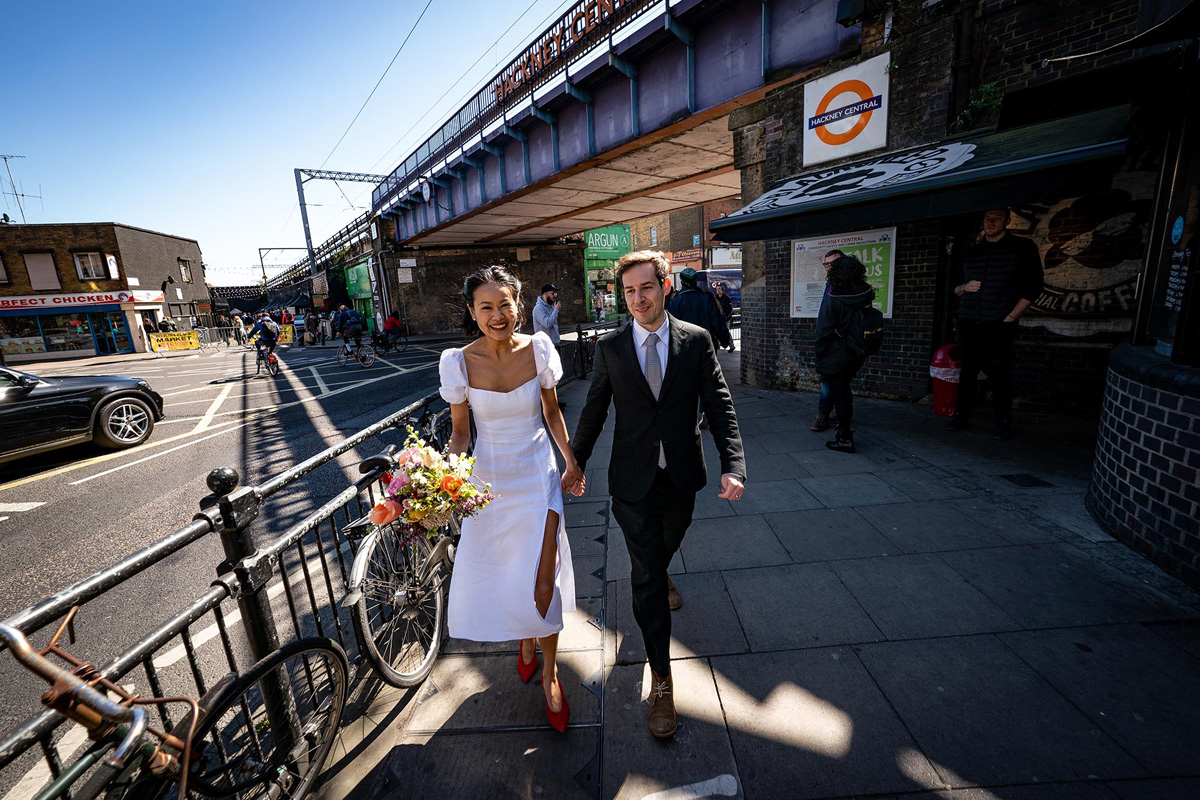 Words of Wedded Wisdom
"Don't stress about it and enjoy the day because it is amazing to get married."
Roberta and Ben, many congratulations on your marriage; I'm so glad that so many of your friends and family were able to join you virtually for your celebrations.
Thank you so much for sharing your day with us, and thank you Jeremy James for your wonderful photographs.
Ele xx