This lovely micro wedding that took place just days before wedding restrictions were fully lifted in the UK, was held at Pratis Barn in Fife – a beautiful listed building that provided the perfect country backdrop for this couple's special day.
Midwife Alyshea married her beau Thomas on 10th June this year.  These beautiful images were taken by Scottish wedding photographer, Lindsey of The Stag and the Doe.
The Stag & The Doe

+ Follow
Aylshea's dress was by Willowby by Watters, and discovered at a bridal boutique, now sadly closed.
"I always knew I wanted something a bit different and with lace. And a flared sleeve was a must. It's just me and my style and what I love. I did try on other styles and more modern styles but they didn't feel right."
"After seeing my dress, everyone commented on how it was made for me and that made me feel amazing."
"I just felt like a beautiful bohemian goddess in it! The sleeves and the tie back were my favourite parts."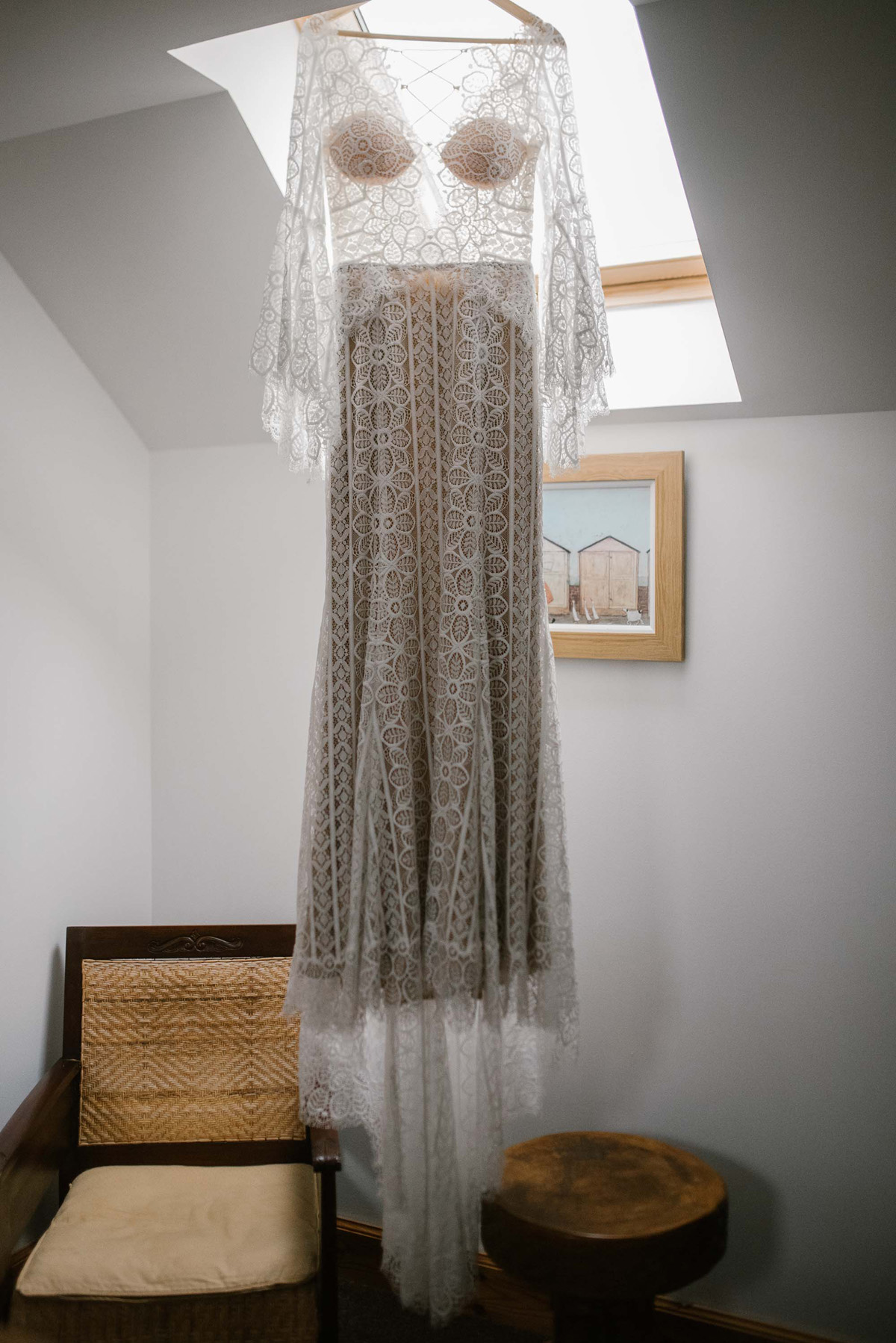 "I got my dress from Apple Blossom Time who are unfortunately no longer in business. It's such a shame as they were the loveliest girls and had the most stunning boutique."
"I always knew that I'd find my dress there! It was quite a stressful time as my dress had arrived in store in the November, and they went in to administration in the December."
"I was one of the lucky brides though as my dress had arrived in store and I'd paid the remainder, so when they closed I was able to pick it up."
"But on a positive note, I really did have a lovely experience there – couldn't fault the girls!! If they were still in business then I'd absolutely of recommended them."
"I can't keep heels on my feet for very long so didn't want to spend a lot of money on shoes. My little £12 nude pair from Primark were perfect though. Just what I was looking for."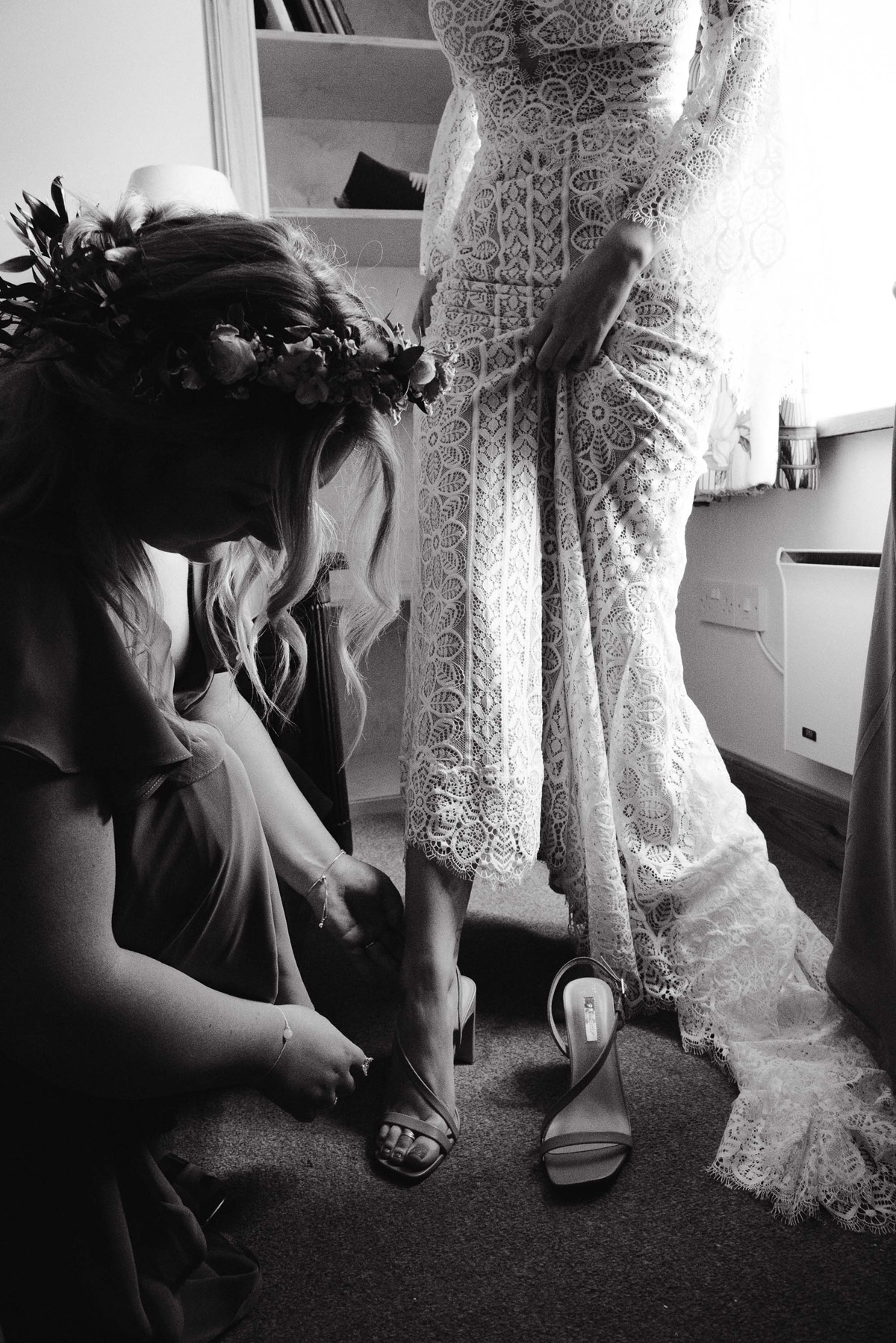 "I'm not a huge fan of perfumes that are too sweet or fruity. I  love muskier scents and had heard good things about Jo Malone's 'Myrrh and Tonka' from friends. It smells absolutely divine."
"I can't wait to wear it on our honeymoon and for date night etc and always be reminded about our wedding day."
"My moonstone necklace that I wore on the day. It was given to me by my bridesmaids. I love crystals and moonstone resembles feminine energy, a mothers love, strength and new beginnings. It's really special to me and really complimented my dress."
"I love natural looking bouquets; wildflowers, greenery and pampas grass. It fitted in with the boho theme of the day."
"My bridesmaids had floral hoops as well instead of traditional bouquets which I loved as it looked more unqiue."
"I love that Amanda grows her own flowers/plants. She also provided us with our stunning arch for the end of the aisle."
"We had a vintage Volkswagen campervan for the bridesmaids and flower girl and page boy. For myself and my dad we had a vintage convertible Volkswagen beetle."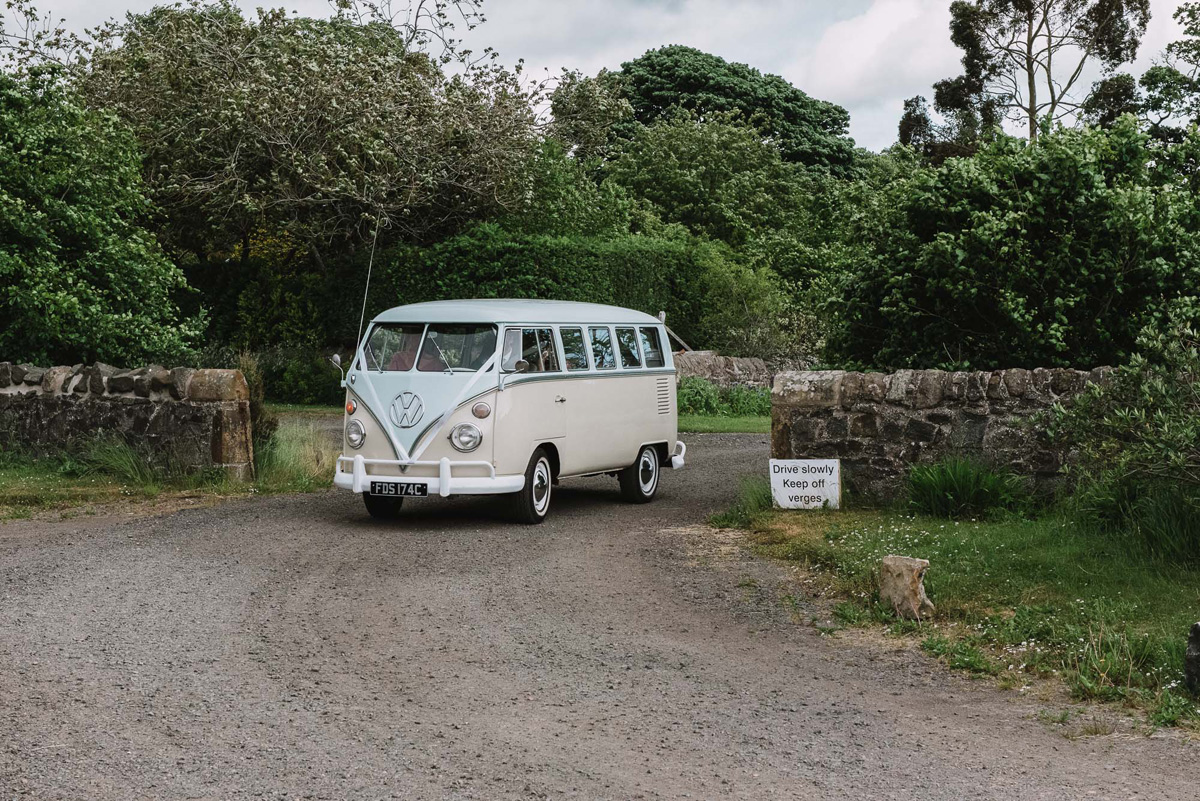 "We met through mutual friends at a house party when we were 16! So young. We were together for 6 years when Thomas proposed. He surprised me by flying home from Belgium (where he worked at the time) on our 6 year anniversary and proposed at my parent's house. We ended up being engaged for 4 years by the time we got married."
"We were originally meant to get married 08.08.20 but had to postpone due to Covid."
"Luckily, we managed to move our date and keep all of our original suppliers! We were originally meant to have 110 day guests followed by another 50-80 evening guests."
"On the day guests had to wear masks during the ceremony and at times during the reception (walking to the toilet etc). However, there was only 40 of us and the doors of the reception barn were open throughout so things were fairly relaxed. All staff wore masks throughout."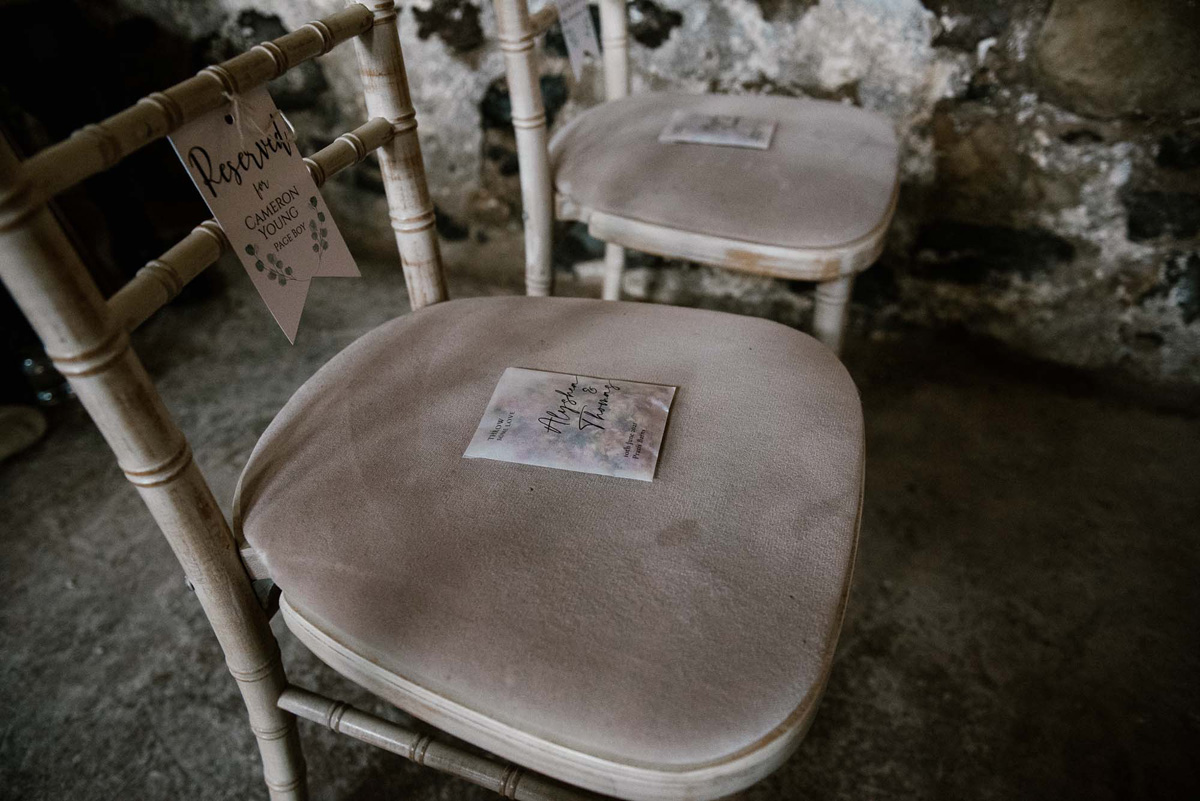 The bride's father, Gordon, accompanied his daughter into the ceremony to the sound of an acoustic cover version of 'Gypsy', by Fleetwood Mac, and Humanist Celebrant Neil Anderson led over the ceremony.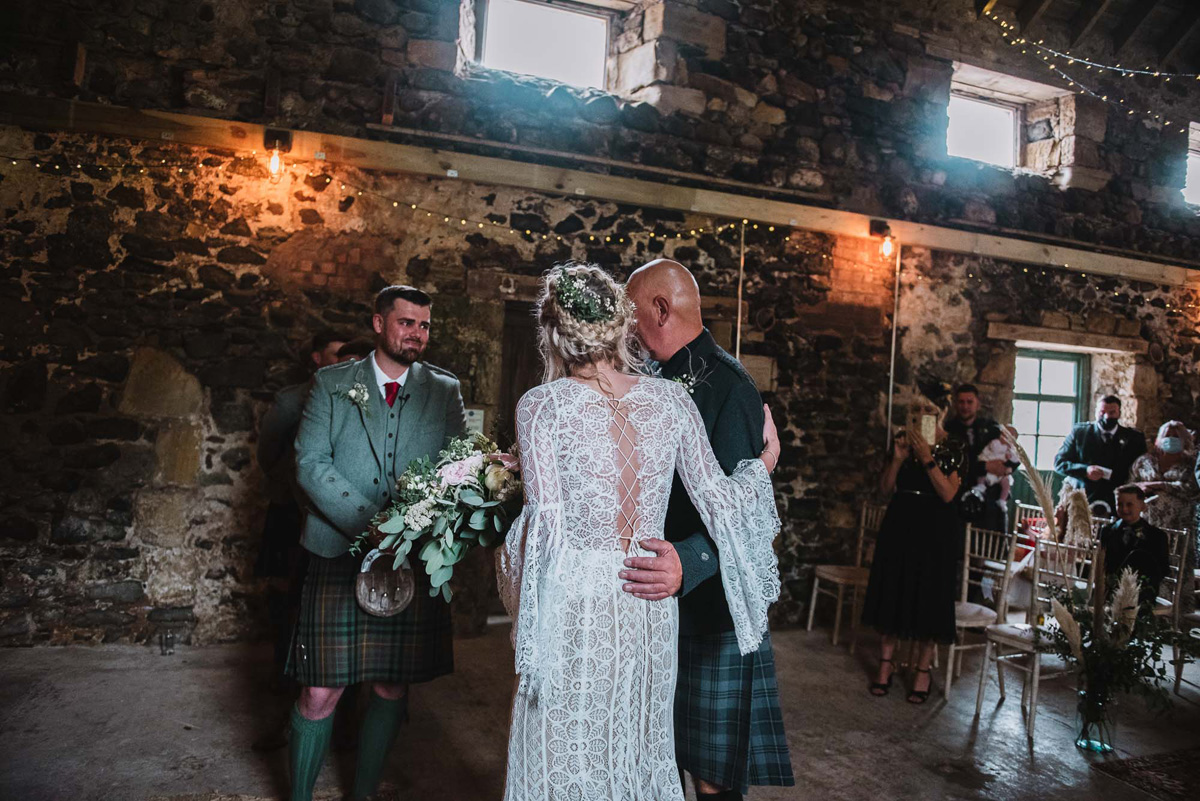 "We were shown examples of vows from Neil and found one that suited us so we tweaked it a little bit. We said the same vows to each other."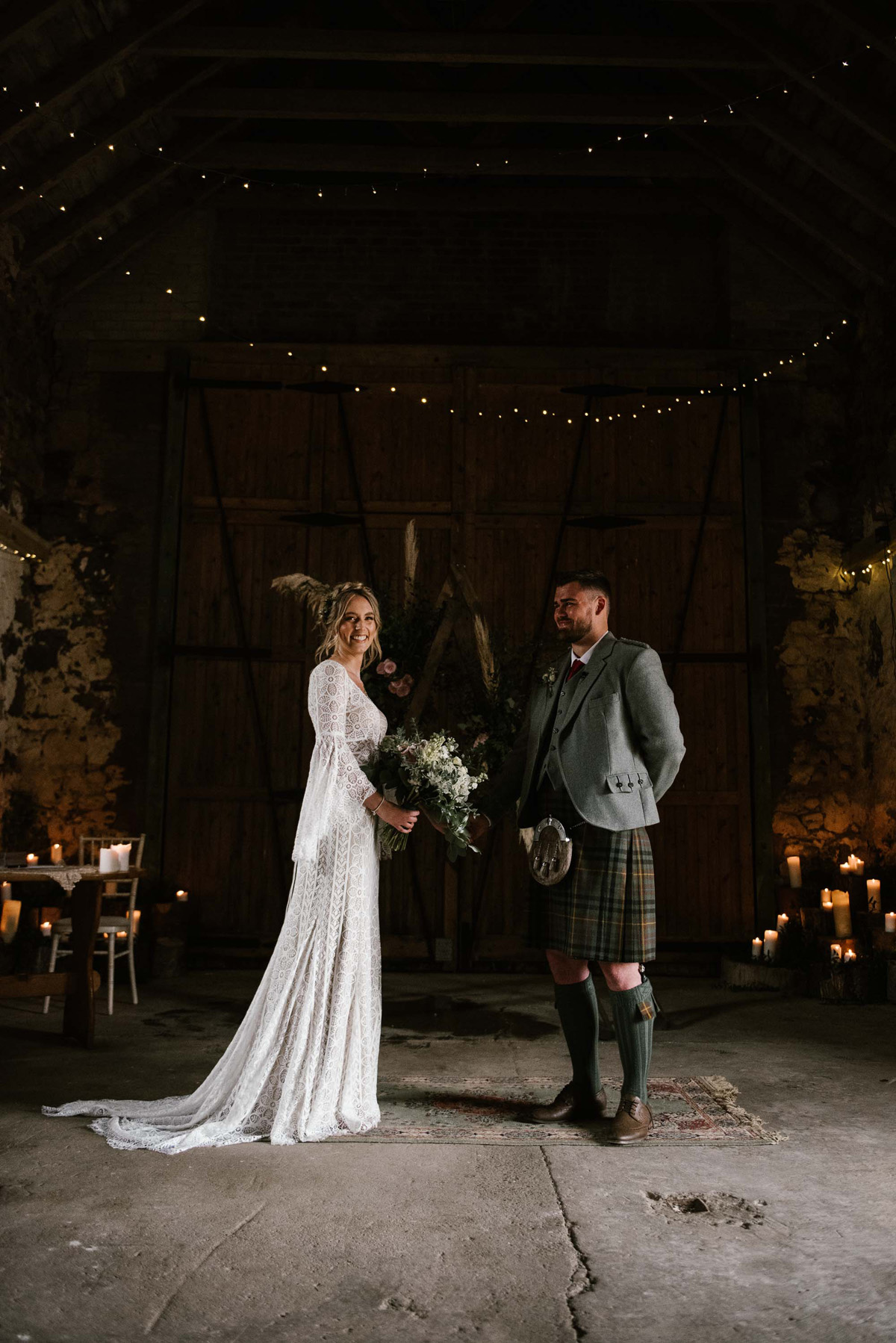 "For readings, I chose Johnny Cash – Happiness is You to be read by my Maid of Honour Trudi."
"I love Johnny Cash, so did my mum so it felt special to have a reading by someone that has meaning. We just tweaked a little bit in the last verse. Thomas didn't know what the reading was, it was a surprise for him."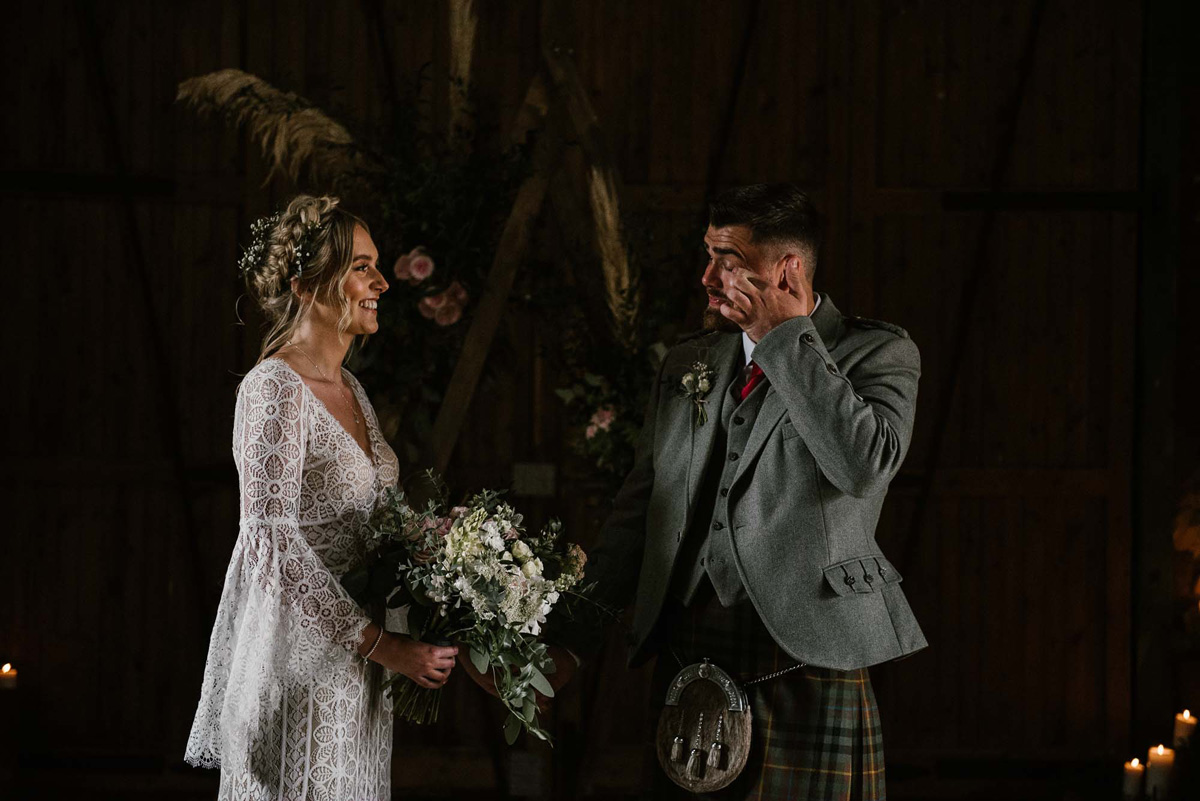 'My Rust Jewellery ring is a platinum floral engraved ring. My engagement ring is a plain band with one diamond so I wanted something a little different that would complement it. I don't tend to wear diamonds very often and the floral engraving suits my style."
"Thomas's ring from Revolution Jewelry, is a black zirconium and carbon fibre ring. He designed the ring himself online. He wanted something different and something strong because of the work he does."
The couple hired photographer Lindsey of The Stag and the Doe to capture their wedding.
"I stumbled across Lindsey's page and immediately knew she'd be right for us. Her photos are so natural and her attention to detail is amazing."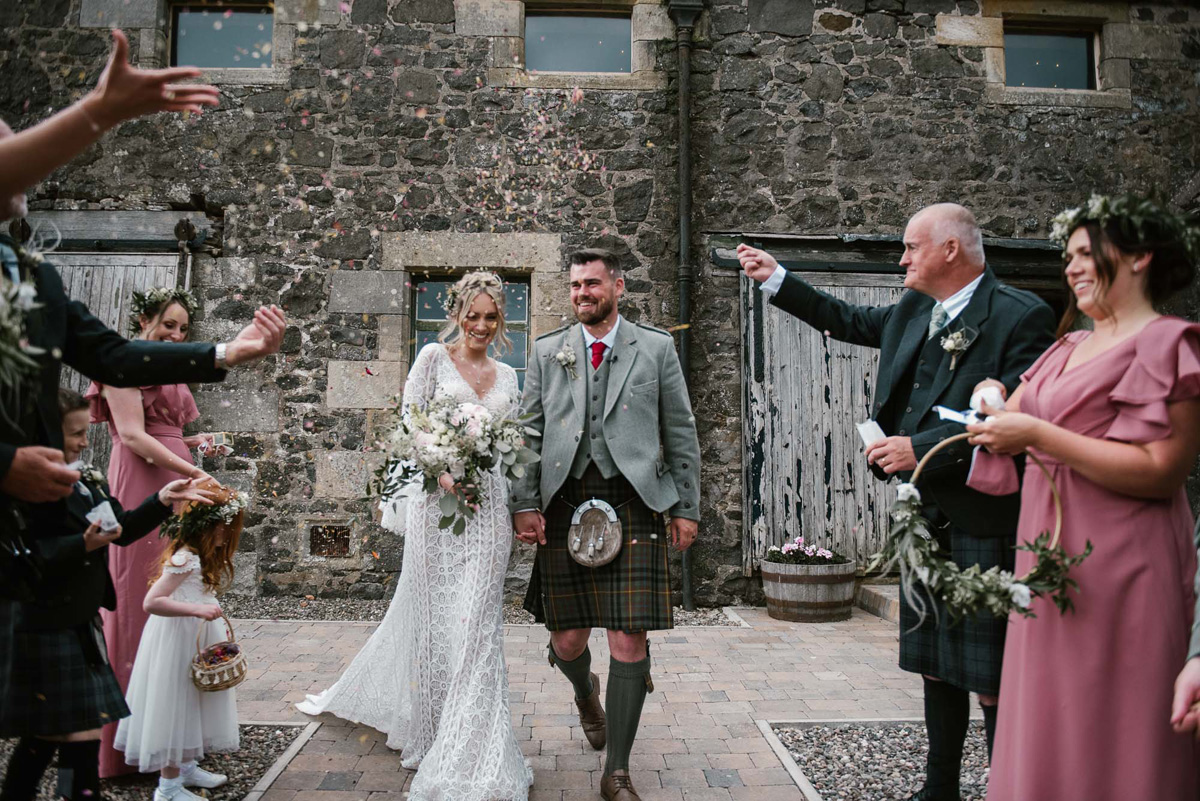 "On the day she was an absolute dream – fitted right in with everyone and made me and Thomas feel so at ease. It was just an amazing experience."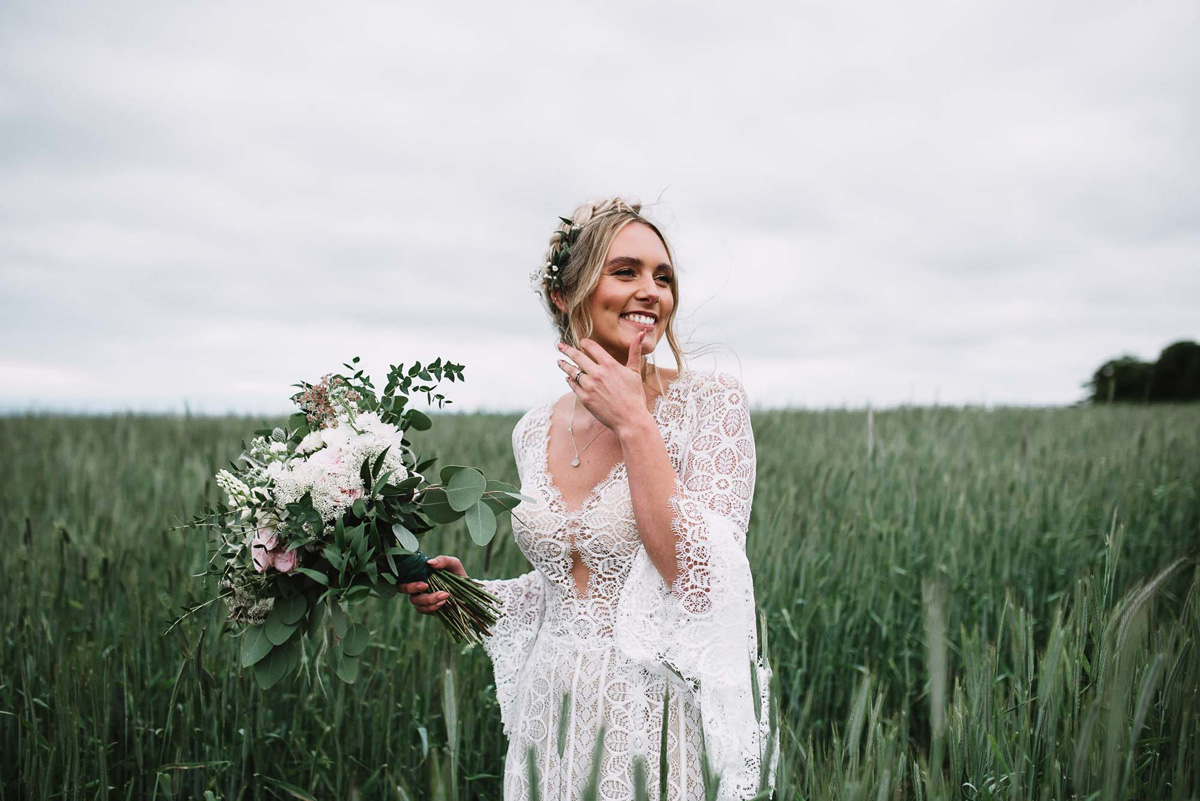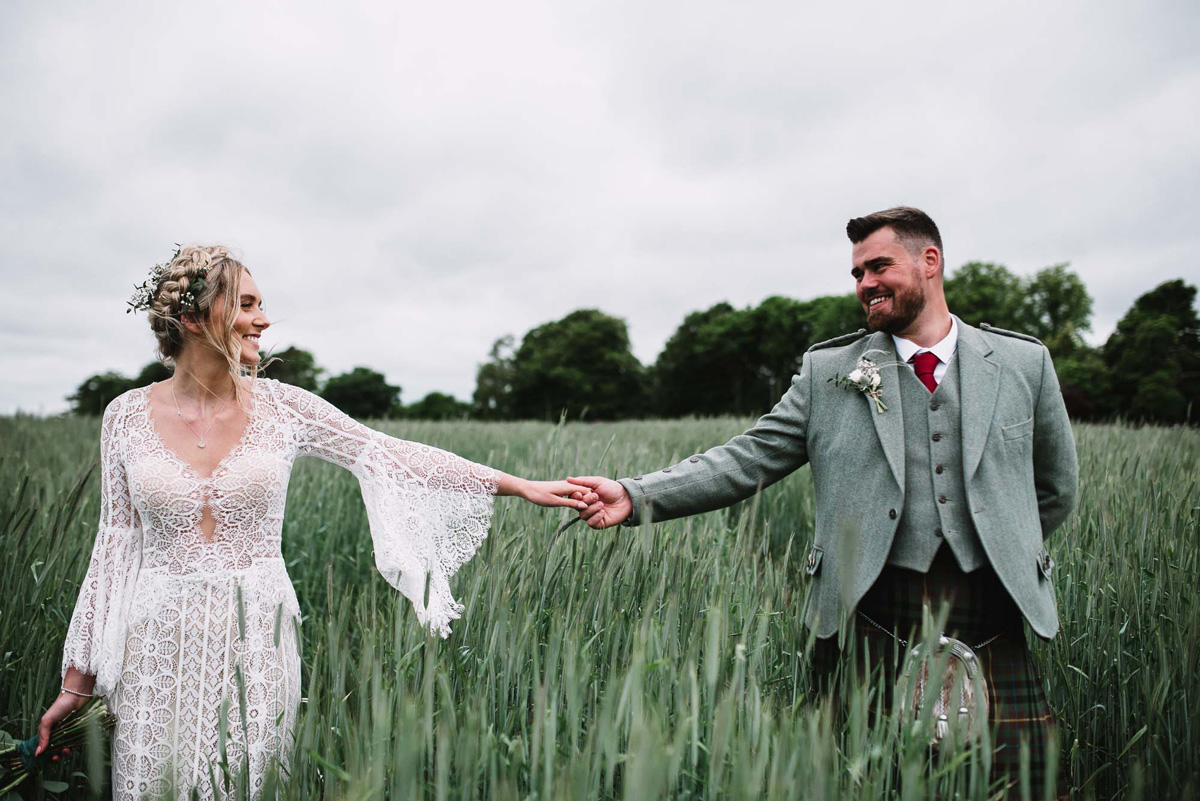 "Pratis Barn is a beautiful venue and so close to home. We wanted something we could make our own and we hadn't seen many people get married here at the time so it was lovely and different. And the views are just amazing."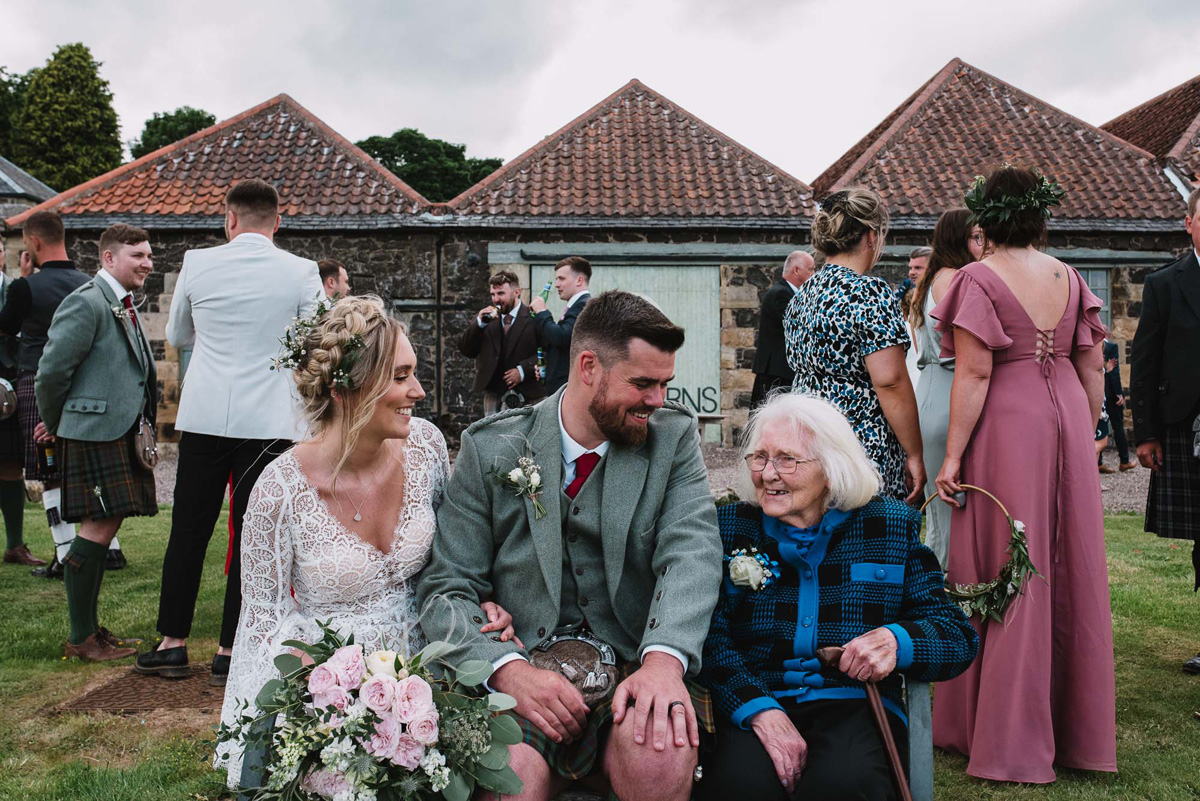 "For stationery, I did most of this myself by purchasing a design template from Etsy, editing them and my friend Leanne printed them for me on card that I had bought."
"I did the save the dates, invites, menus and song requests this way. We also purchased cards to give to some guests who we could no longer have due to the Covid-19 restrictions."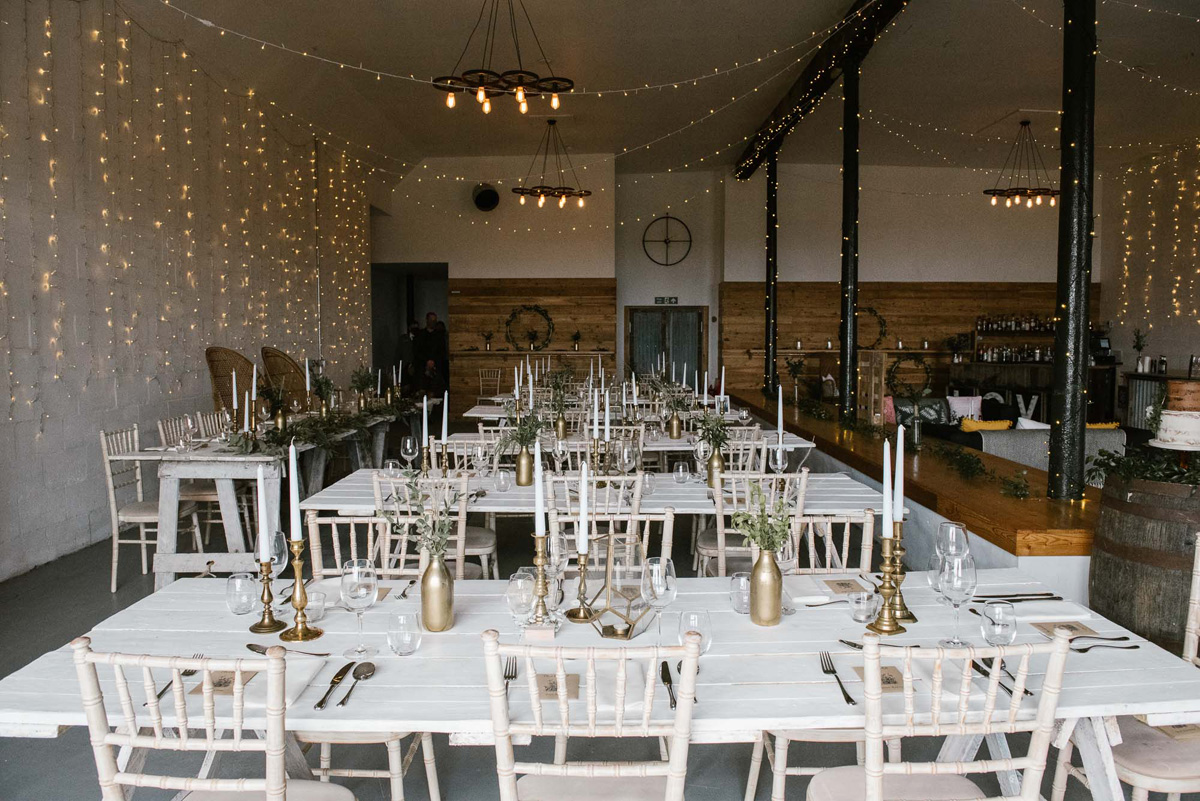 "We hired decor and props from Elaine at Fifty Six Events. She is fab and had lots of the bohemian props that we were looking for."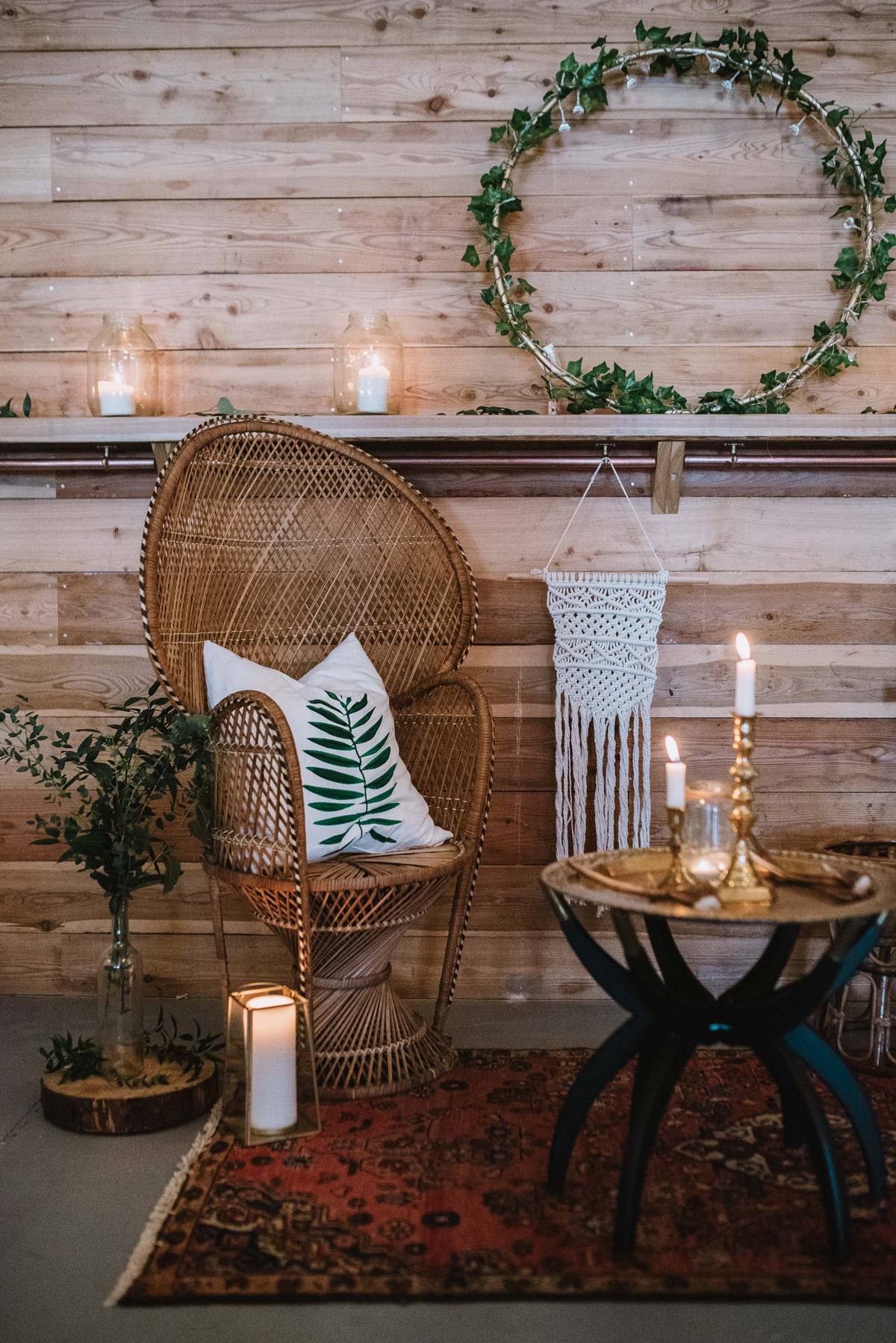 "She was always at the end of an email and gave me so much advice and styling tips, I am so grateful to her."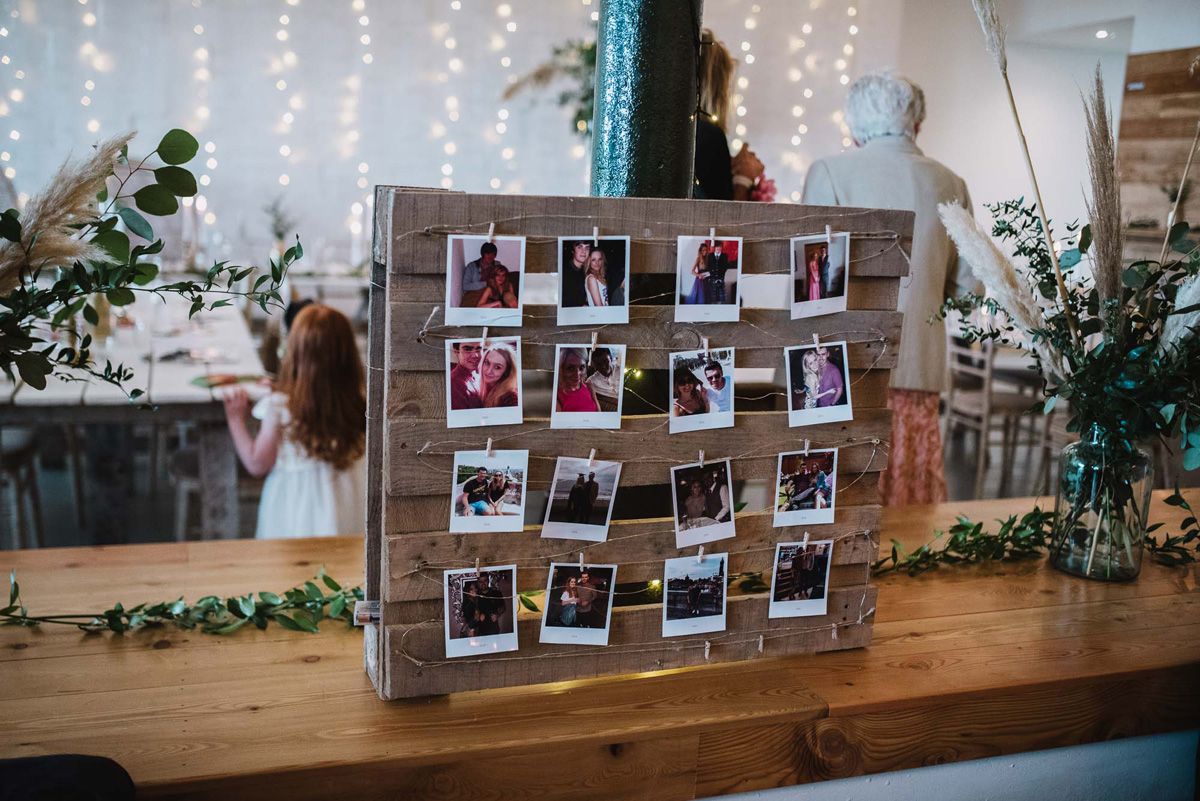 "We used peacock chairs for Me and Thomas to sit in at the top table. We also had a boho seating area which had a peacock chair and stools."
"We hired Persian rugs from Elaine and used them as aisle runners and also in the reception barn after."
"She provided macrame hangings and also light up LOVE letters which we used at the bar. Gold candlesticks and terrariums that were used for our tables. Lots of other little things."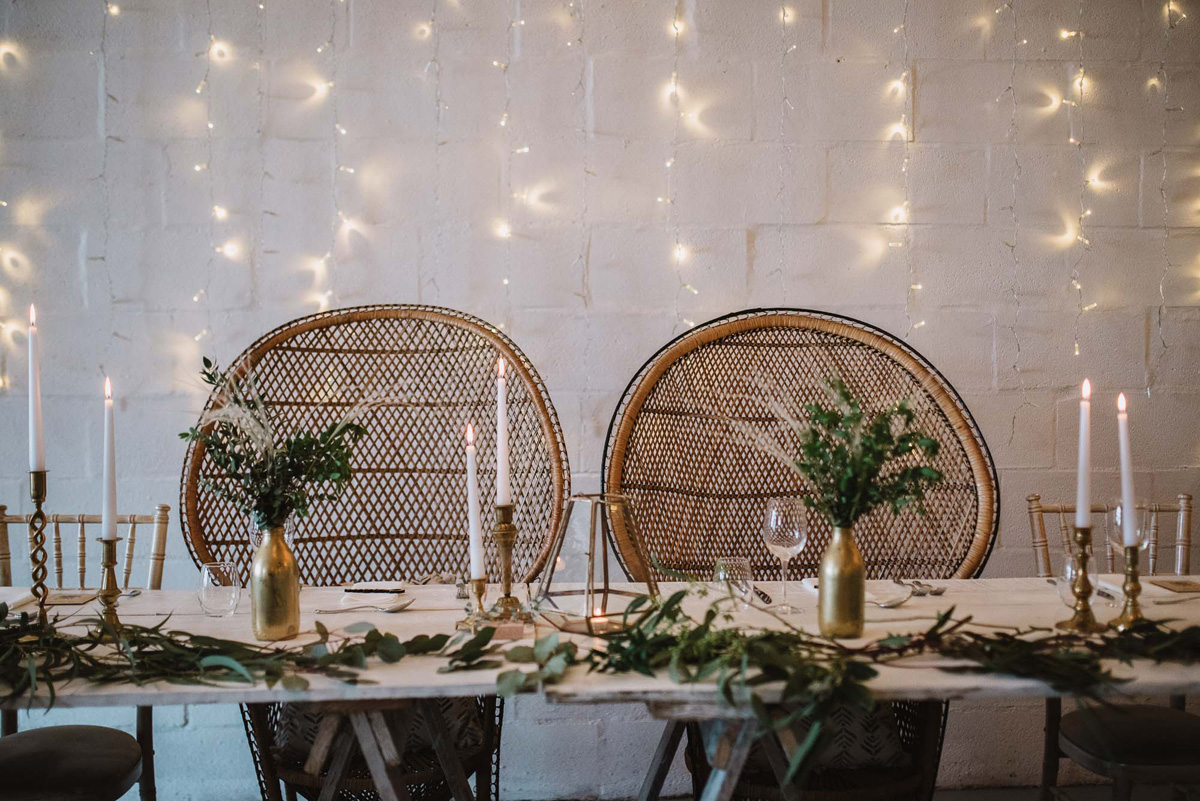 "For wedding favours, we gave out wildflower seed packets and also used these as name placements as they had our guests names on them."
"We wanted something that people could use and that was good for the environment."
"We had a two tier naked cake as we love the natural rustic look. The bottom tier was lemon sponge with lemon buttercream and the top tier was chocolate fudge sponge with salted caramel buttercream."
"It was decorated with a gold floral hoop to match with the bridesmaids. The flavours were easy for us to choose – something we agree on."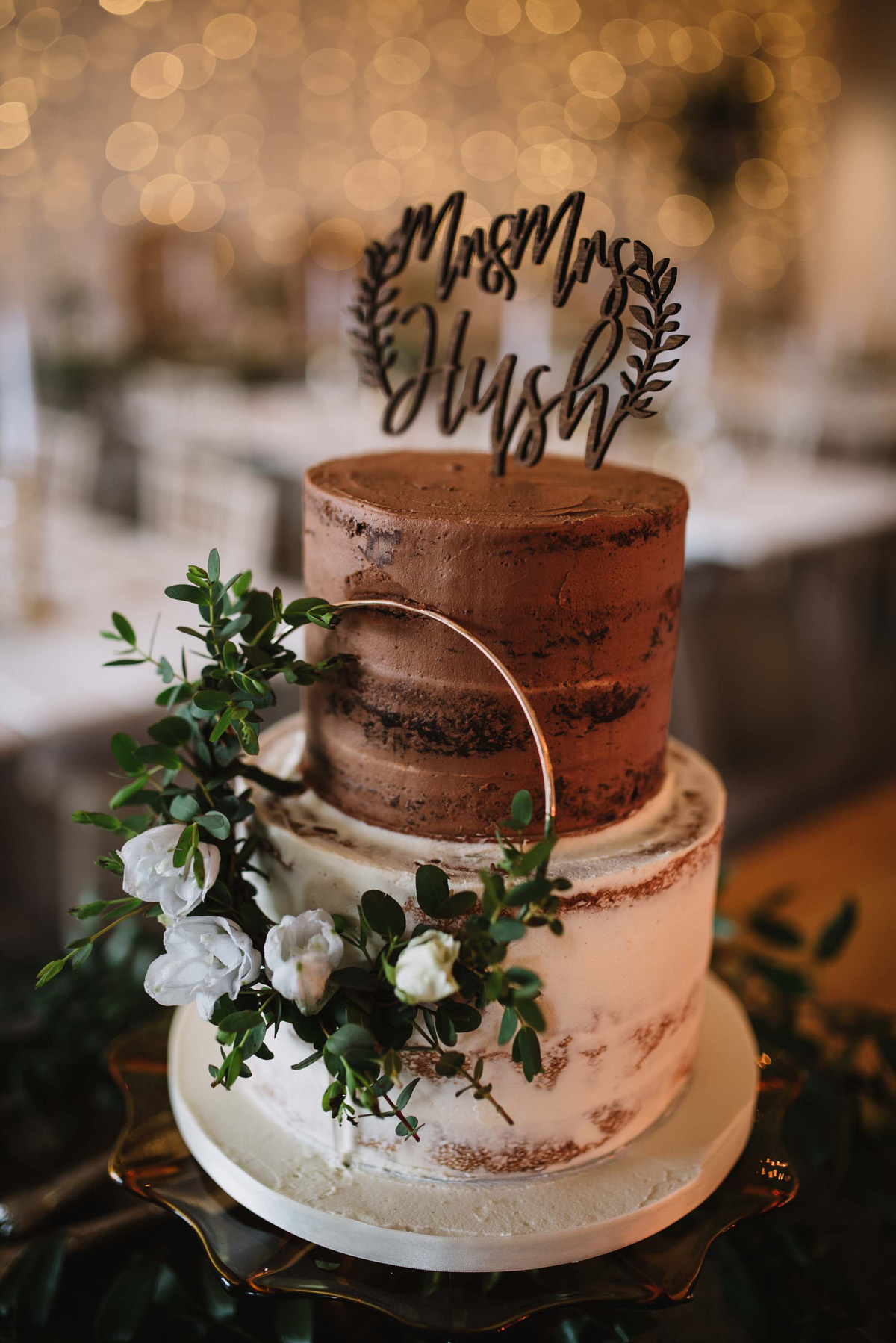 "We loved the smaller intimate wedding – it was so relaxed, there was less pressure and we could spend quality time with everyone there."
"Everyone was just so happy to be able to come together after such a difficult year and celebrate. We genuinely have no regrets and are just so happy we did go ahead – our day felt perfect."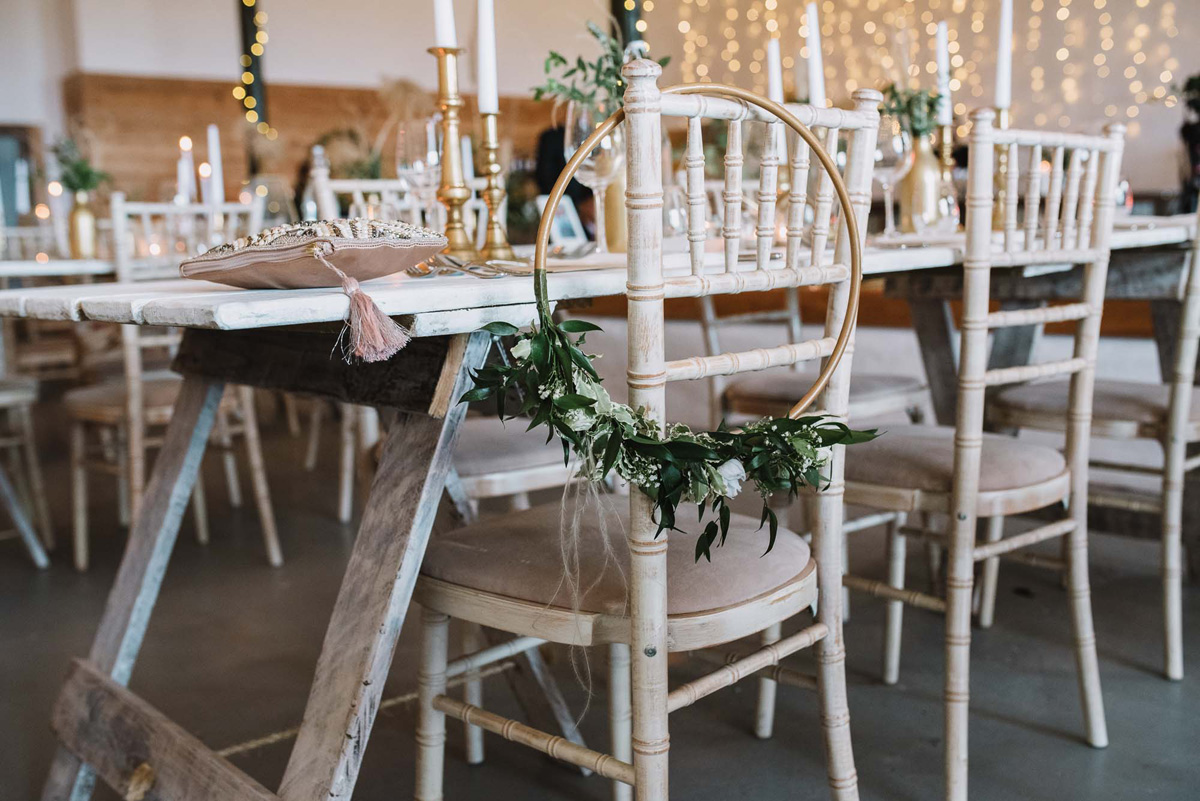 "Thomas and I are quite different and have different tastes – he very much let me take control of the style and vibe of the day."
"My personal style is quite 'boho' and 'hippie' – I love older music, especially the 70s so could incorporate this with the use of records for our guest book etc."
"We wanted everything to be quite natural and relaxed. I love darker, earthier colours so the bridesmaids were in a dusky pink."
"Thomas and I both like green so that was incorporated in to the floral arrangements and Thomas' kilt."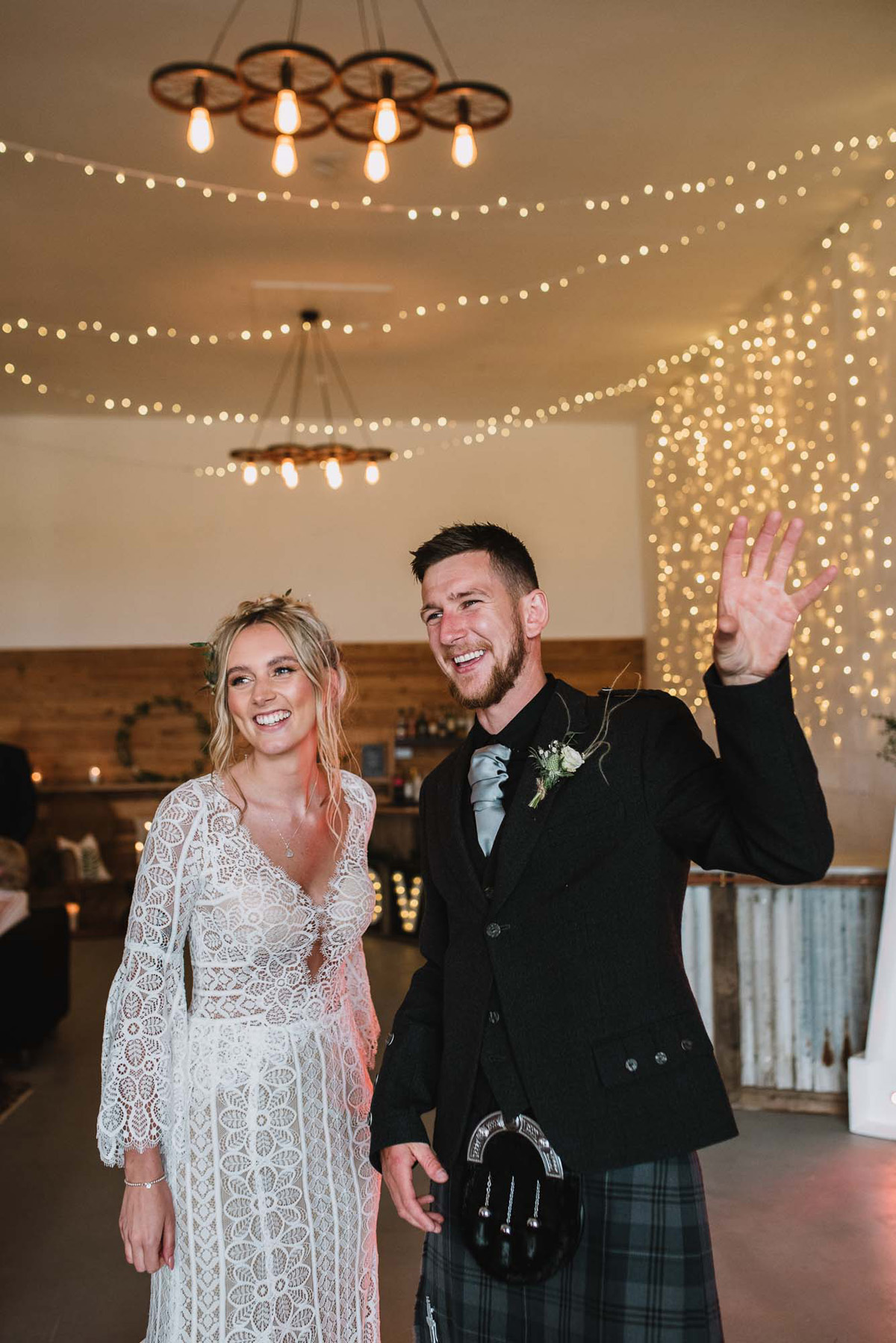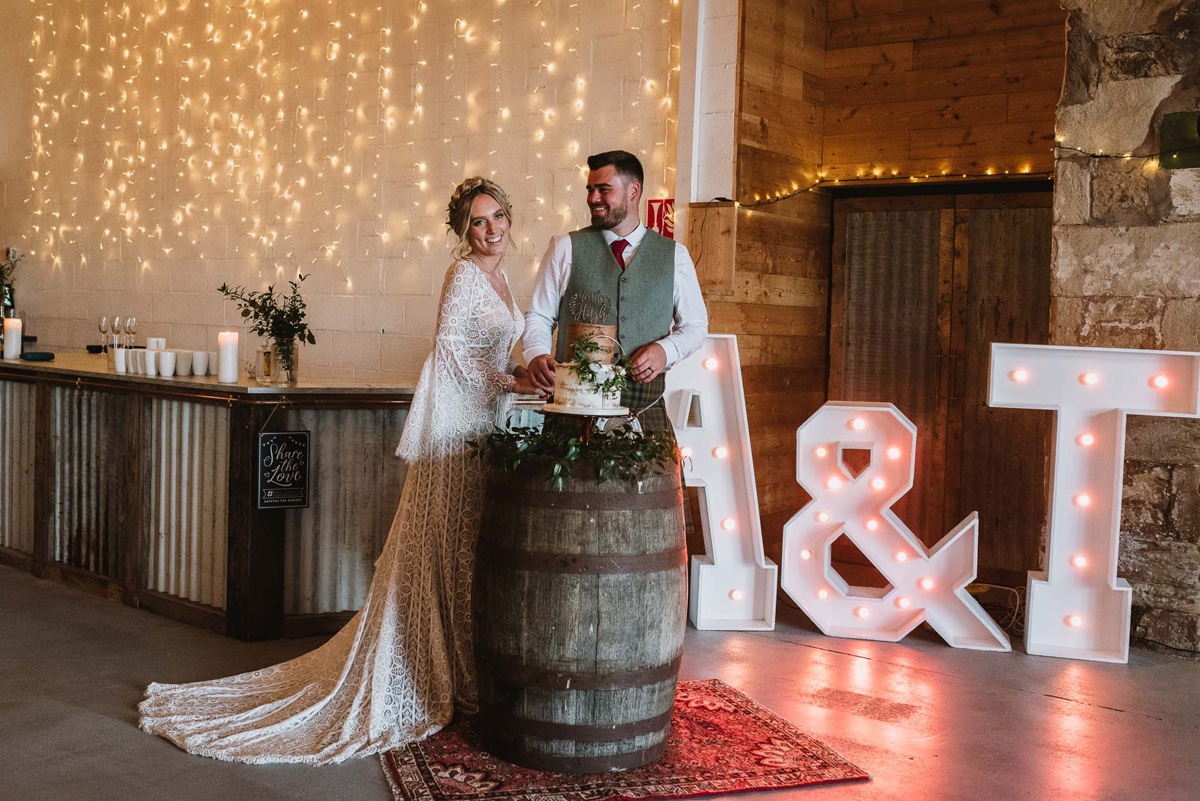 The couple took their first once to Coldplay's 'Magic'.
"Thomas and I have very different music tastes. I love everything old (60s-80s) and Thomas loves his modern music."
"Although we do share some similar likes and Coldplay is one of them. The lyrics are just amazing and makes me think of Thomas. It's not a traditional first dance song and knew it would be perfect for us."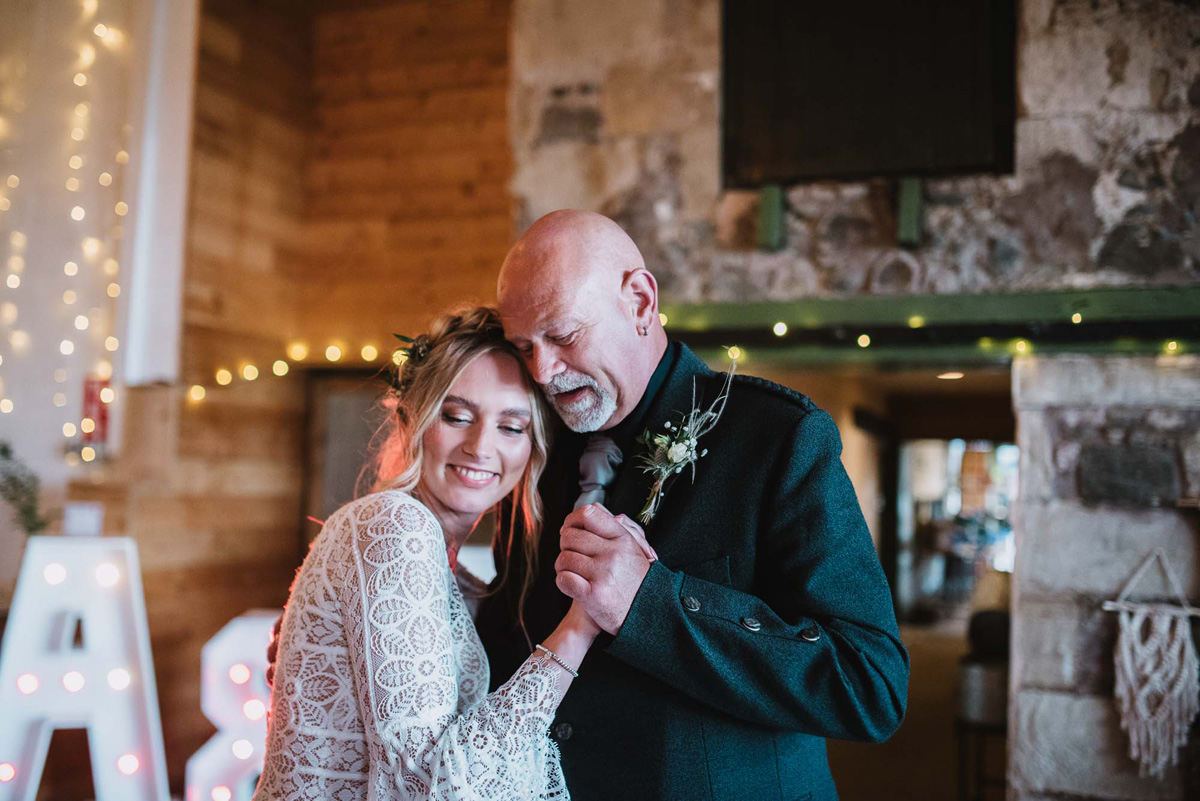 "My favourite part of the day is difficult to choose, because I loved absolutely every minute of the day. It might sound cliché but I really did love the time alone with Thomas when we were getting our photos done."
"It gave us a chance to reflect on the day so far and appreciate how amazing each other looked."
"I also loved the end of the night when 'Loch Lomond' was played (a Scottish wedding tradition!) It felt so normal given the circumstances and the room was full of love and happiness."
"Thomas says his favourite part of the day was when he seen me walking down the aisle. He felt tears in his eyes instantly but then couldn't stop smiling."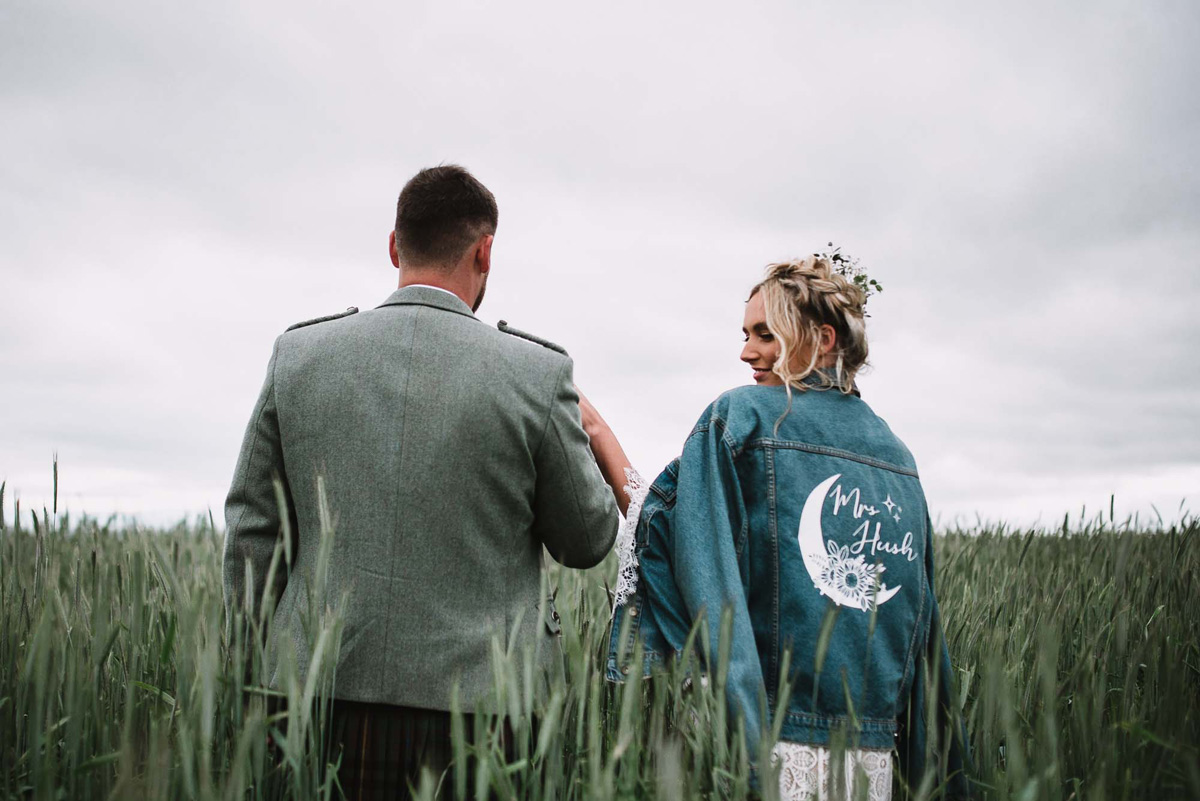 Words of Wedded Wisdom
"Try to enjoy and embrace the whole experience! Take it all in and try not to let the stress take over (easier said than done, I know). We booked things far in advance so our minds were at ease and we could save money in between."
"There is so much build up to the wedding and it is over so quickly, so it is so important to enjoy the planning stage – it's such an exciting time in your life that you won't get back!"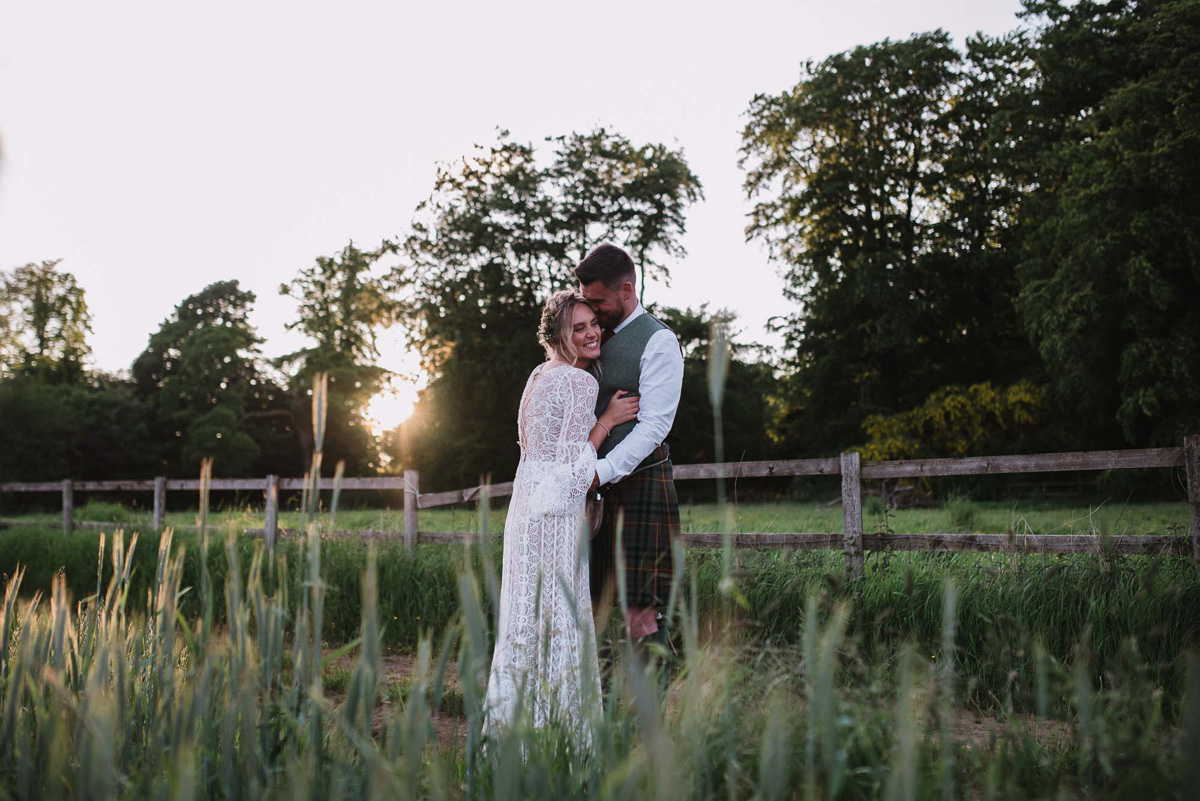 "Pre Covid we did have a budget but because we had to cut numbers and with us having a micro wedding, we saved quite a lot of money and our total spent came quite a bit below our original budget."
"Although we absolutely adored our intimate smaller wedding, if restrictions had changed a while before our day then we would possibly have chosen to invite a few more family and friends."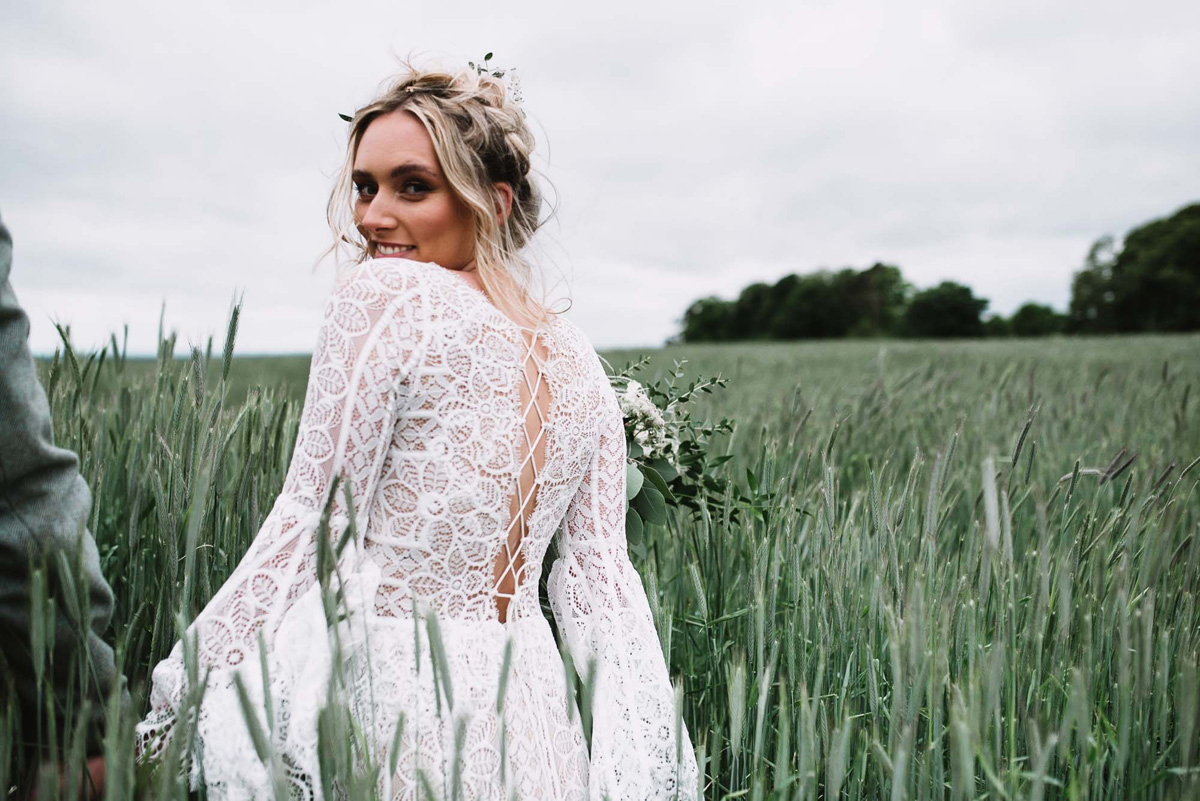 "Just go for it and you won't regret it! Our experience definitely made us realise what is important in life and that the most important thing was us marrying each other."
"As long as we were there, surrounded by our close family and friends that's all that mattered."