When the bride wears both Emilia Wickstead dress and Galvan London jumpsuit on her wedding day, Caro Weiss took the photos and the wonderful Gloam team styled it, it's pretty much guaranteed the images are going to be on the scale of epic.
Rachel and Josh tied the knot on 24th July this year, at The Engine Works in Glasgow, Scotland. They found both their photographer and wedding stylists through Love My Dress and we are SO thrilled that they did.
Caro Weiss Photography

+ Follow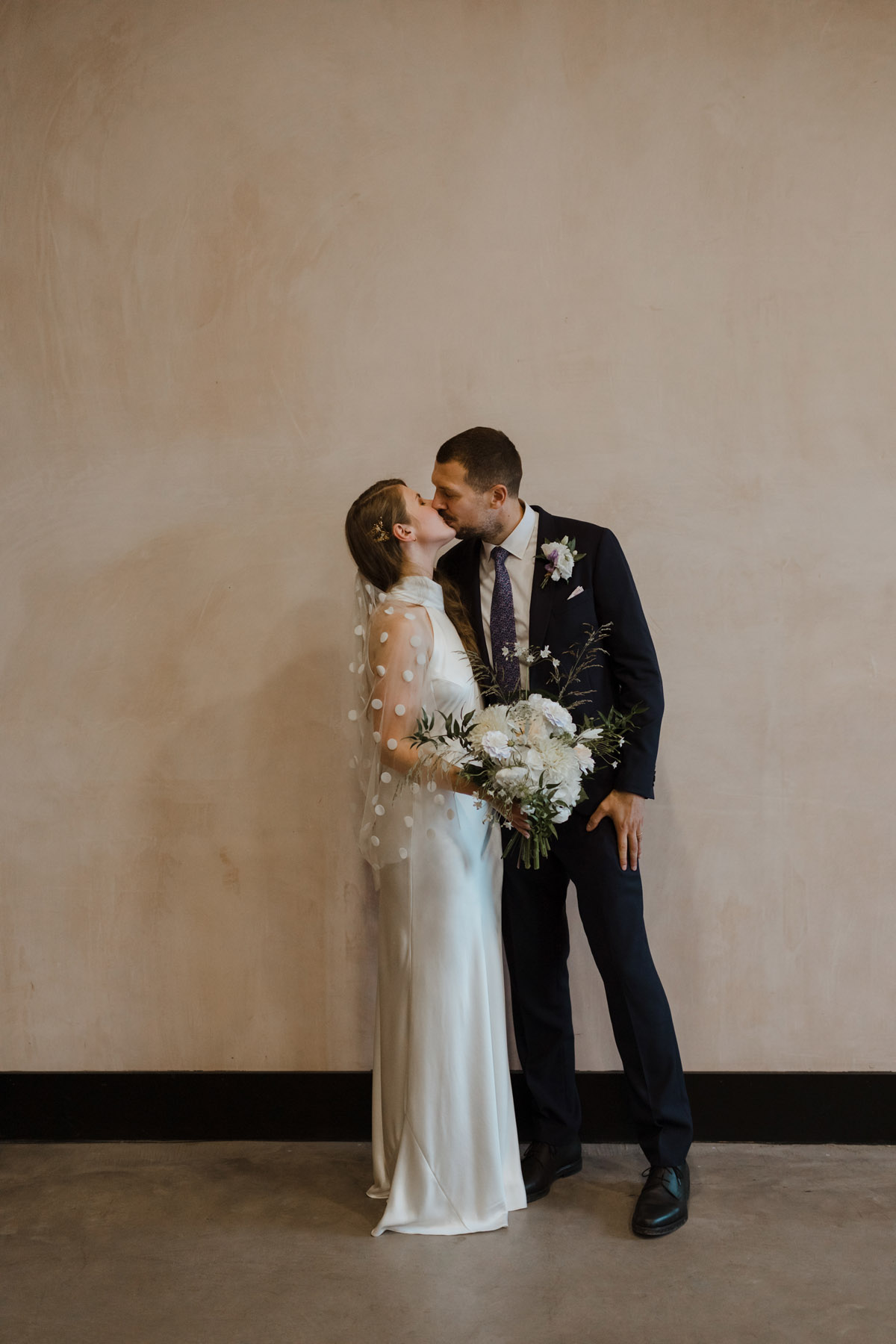 "We were both drawn to the earthy tones Gloam use so well. It was really important to us that the day felt intimate and relaxed and that people could enjoy themselves in a beautiful setting."
Rachel hired the bridal beauty talents of the AMM Team for the morning of her wedding.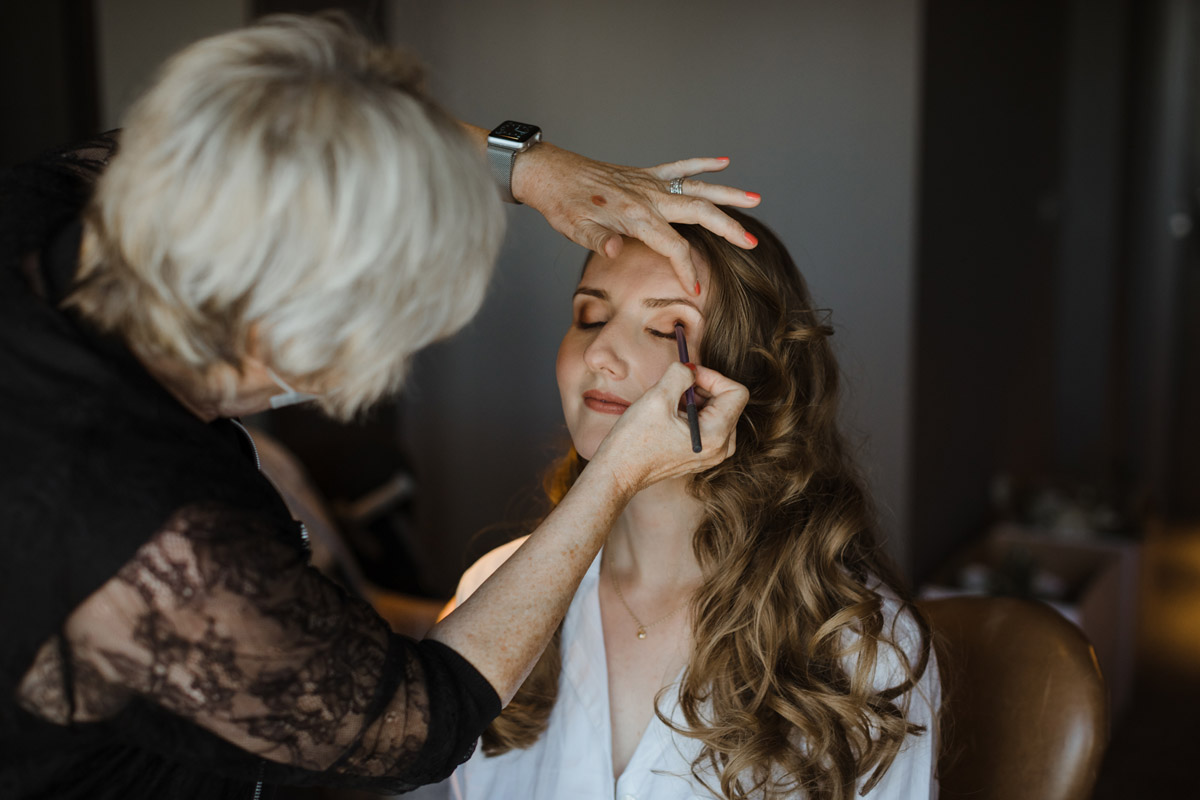 The bride wore two looks on her wedding day. A silk halterneck by Galvan London and jumpsuit by Emilia Wickstead.
"As I did my shopping in lockdown I bought everything online, through Net a Porter, MyTheresa and Matches."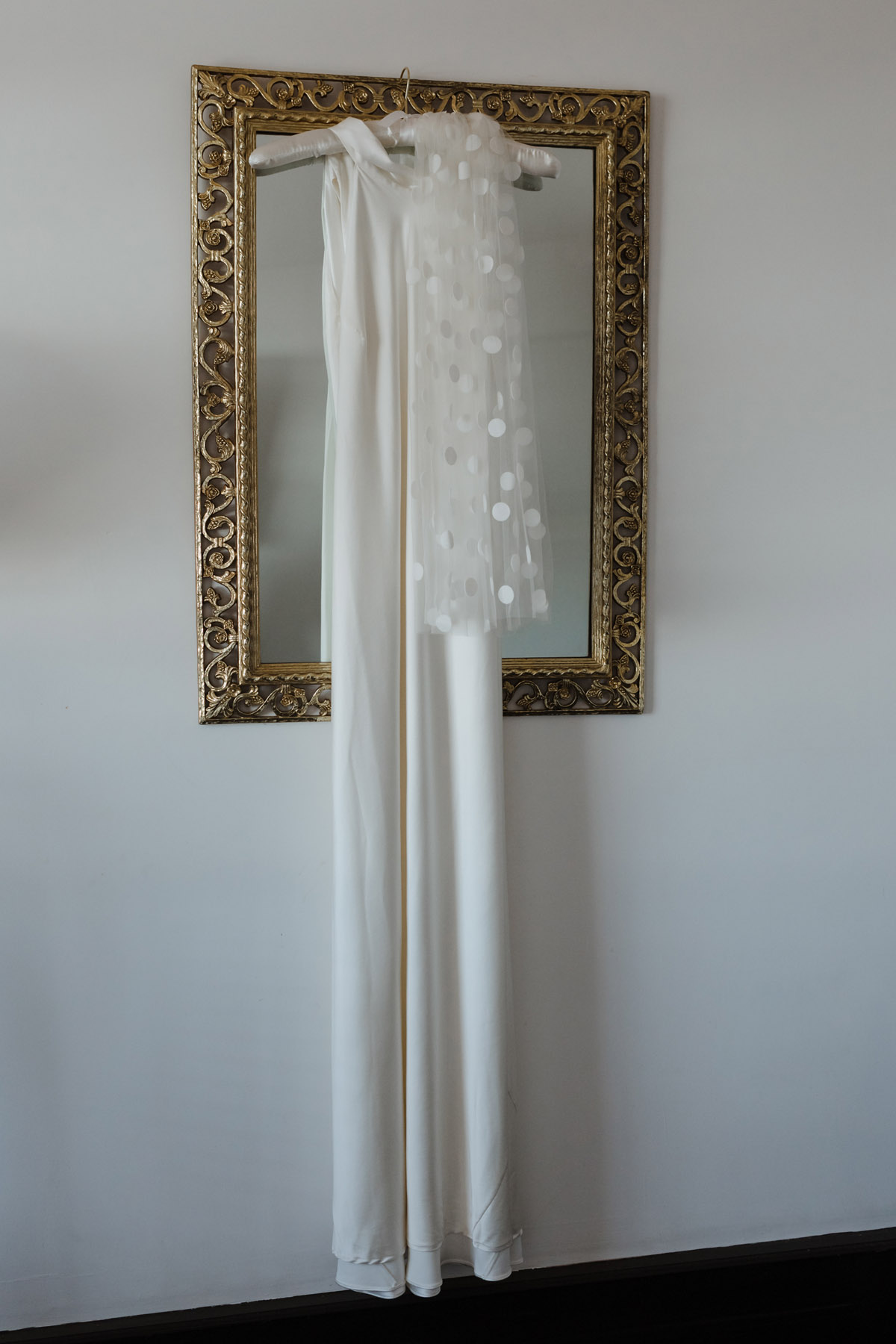 "Everything was delivered quickly and it was nice to be able to try things on at home without any pressure to make a quick decision. I also did try the jumpsuit on in the Emilia Wickstead bridal boutique and they were very helpful."
"But I would recommend trying things at home a couple of times, with different accessories to find something you feel great in. I've worked rt time in retail for a long time so was quite happy to try things at home."
"I knew that I would never feel like myself in a traditional bridal dress, I loved that I still felt totally like myself and I could eat and dance in everything I wore."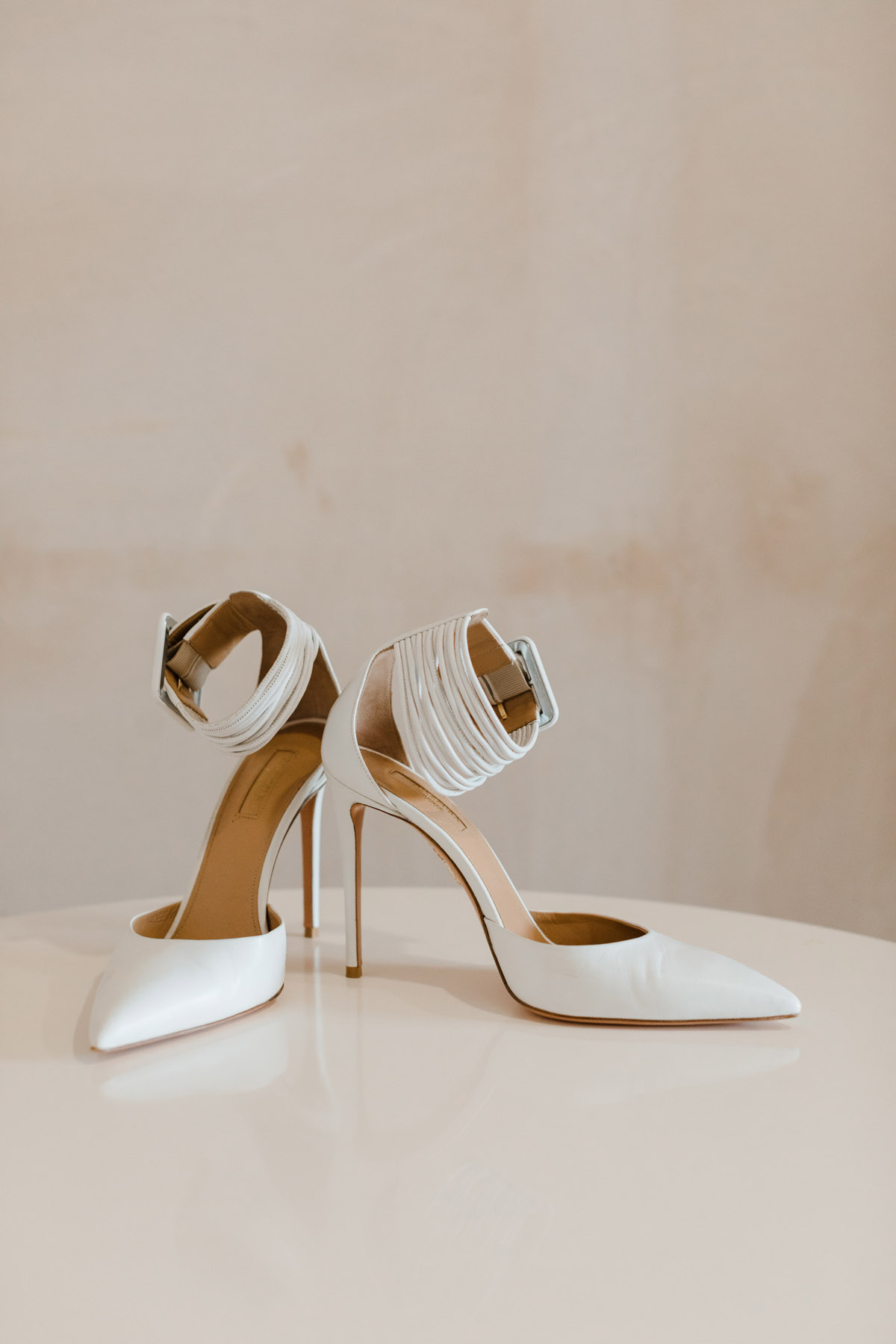 "Josh gifted me this necklace on the wedding morning. I also wore an antique bracelet from my aunt that was gifted to me on my 21st birthday."
"My veil was a fun accessory that my granny bought me. It was by AMM Falkner and was from her Zero Waste collection and I absolutely loved it."
"I had my white celine trio handbag which was very useful and a gold Galvan facemask!"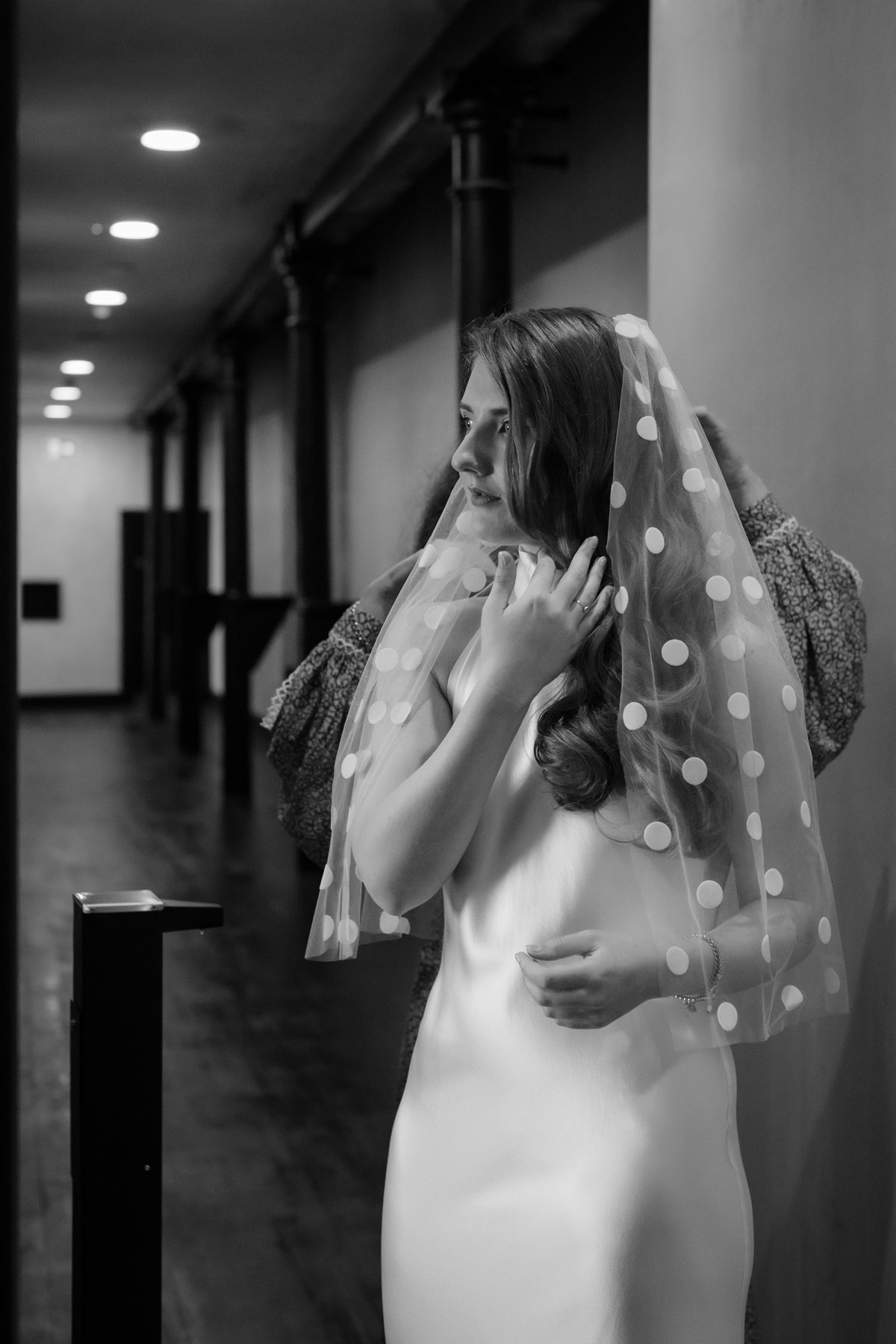 "The bride's sister Elspeth was her bridesmaid and she wore a Phase Eight dress. Elspeth also wore matching Lelet NY hair clips."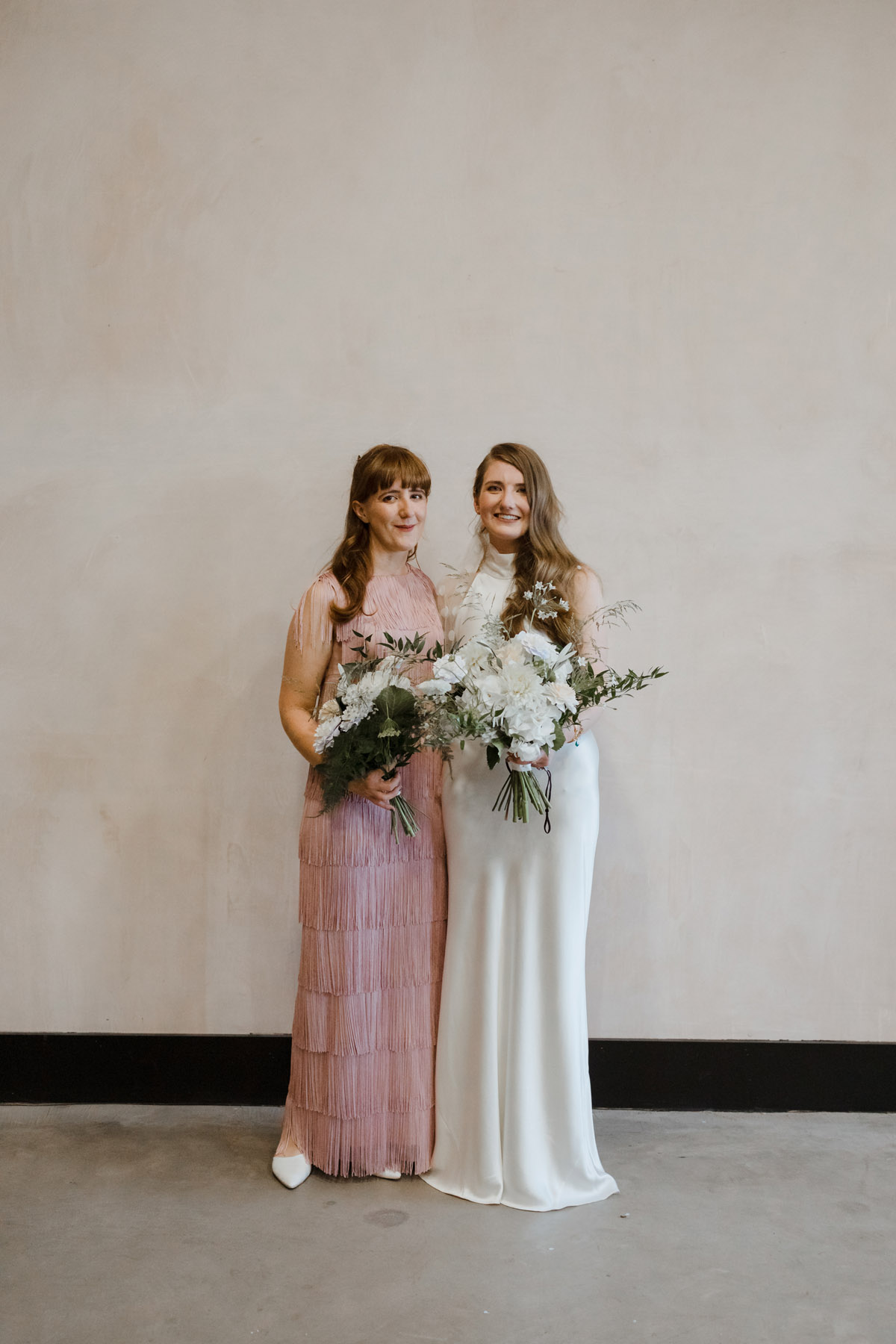 "Joshs' cousin Sarah is a paper engineer and she made a bouquet for me, so Blooms were able to incorporate the flowers into me and my sister's bouquets."
"Blooms has always been our favourite florist in Glasgow so it made sense to go with them for our wedding day. Gracie was exceptionally helpful going through all different options with us."
"She is so knowledgeable and really made sure everything was covered."
"This was a really special touch as it means I can keep them forever!"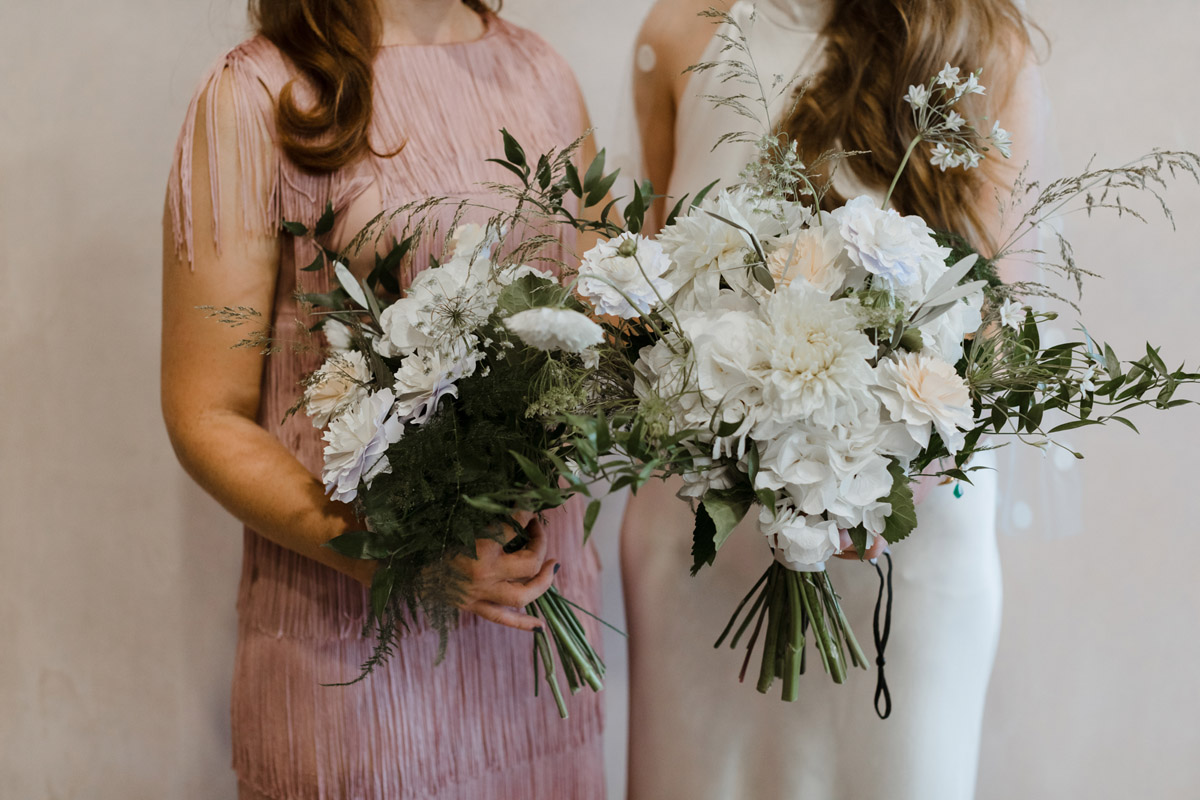 The bride's chosen personal fragrance for her wedding day was Chanel Madamoiselle Intense.
"I've always worn Chanel Madamoiselle so just wanted something a little more special. Josh wore Tom Ford."
"The Engine Works was the only venue we looked at and we instantly fell in love with it. Michael (who owns the venue) is so passionate about the restoration of the place."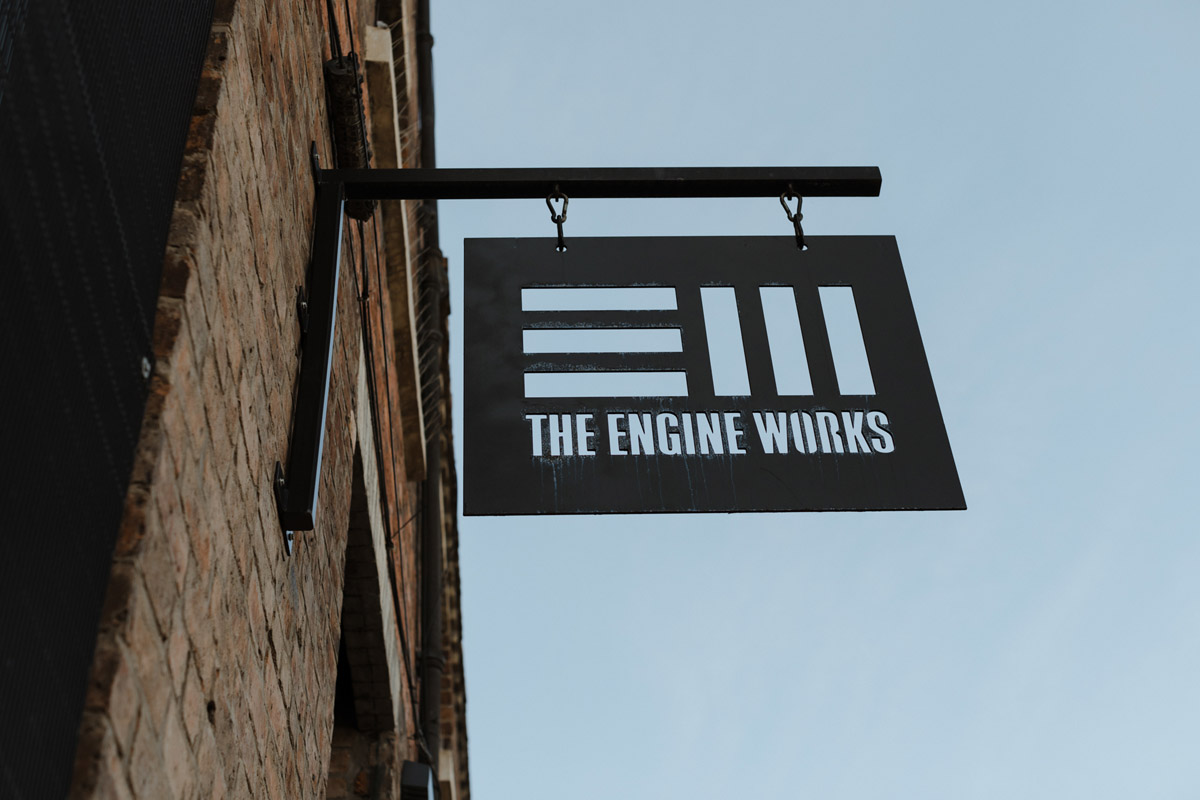 Planning a 2021 wedding had been no easy ride for this couple and like thousands of other couples, their plans were threatened by Covid lockdown measures and social restrictions.
"Somehow this was our original date (we booked the venue about two years ago). Our plans changed countless times – the Coronavirus guidance in Scotland felt very vague and it was hard to see big events taking place whilst the wedding industry had been so affected."
"We considered postponing as the restrictions changed so many times but in the end we are so glad we stuck to our date. Just try to focus on the reason you are getting married in the first place, everything will work out."
"Guests wore masks when moving around the venue and hand sanitiser was readily available."
"We love that from the outside it just seems like a normal warehouse, then inside is so spectacular."
"It has such history and character, we loved that it is a blank canvas so no two weddings there are the same.
"The location is great as so many of our guests were travelling from England, we wanted to have a city wedding so people can explore Glasgow and choose their own hotel."
"Gloam styled our wedding and were absolute super stars."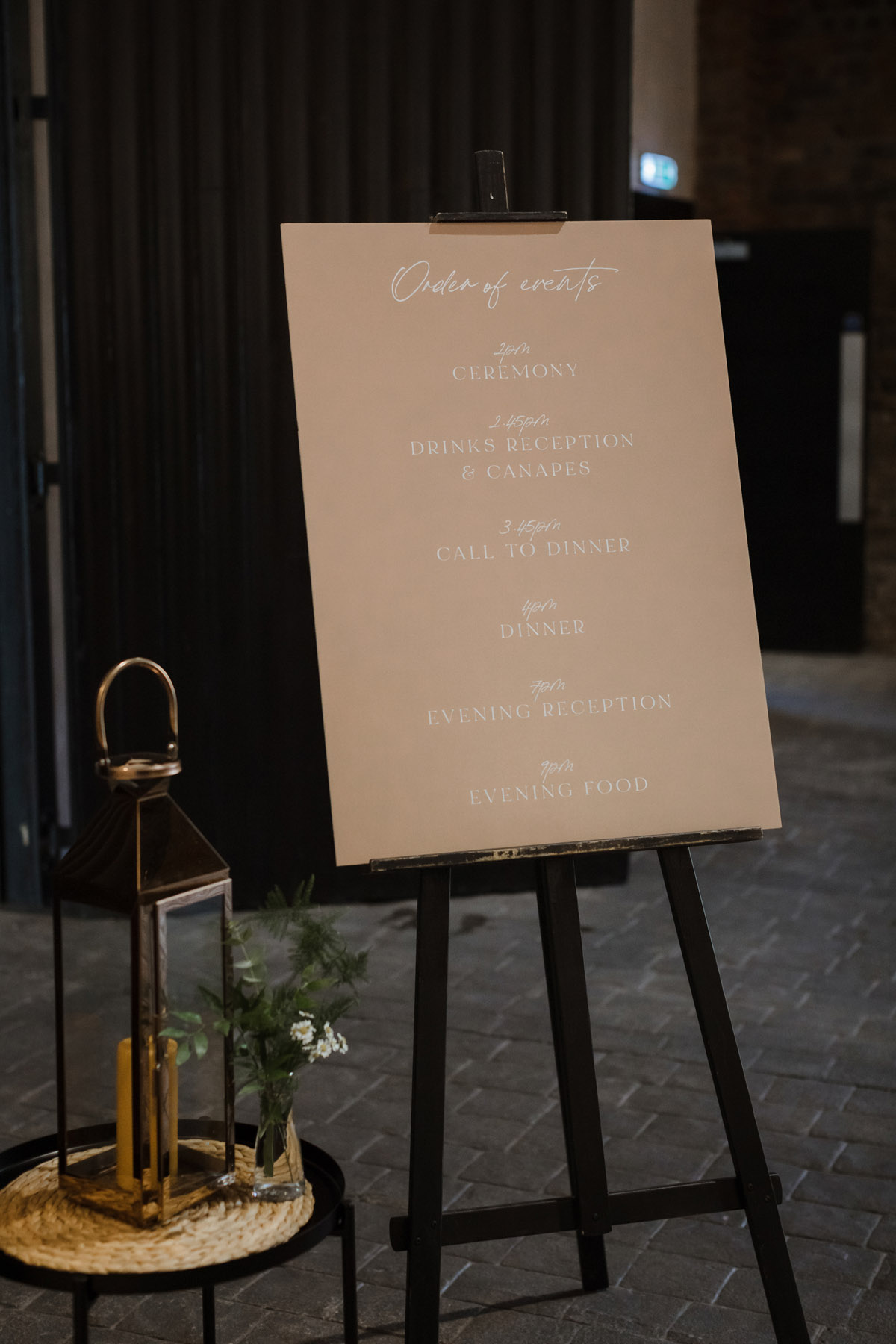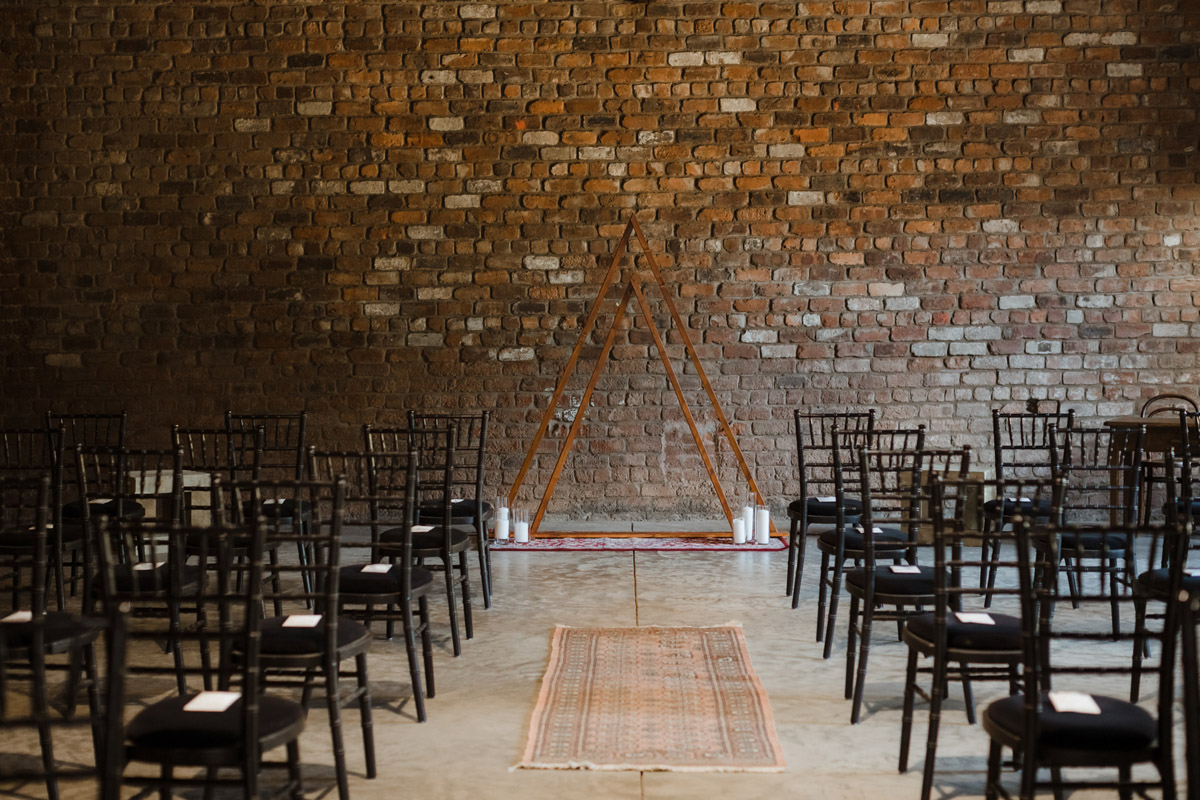 "Josh and I met online in 2014, when we were both living in Manchester. Josh proposed on our third anniversary when we were on holiday in Mumbai, we were out for a walk and he asked me to marry him outside the Regal Cinema."
"It was such a lovely surprise and of course I said yes."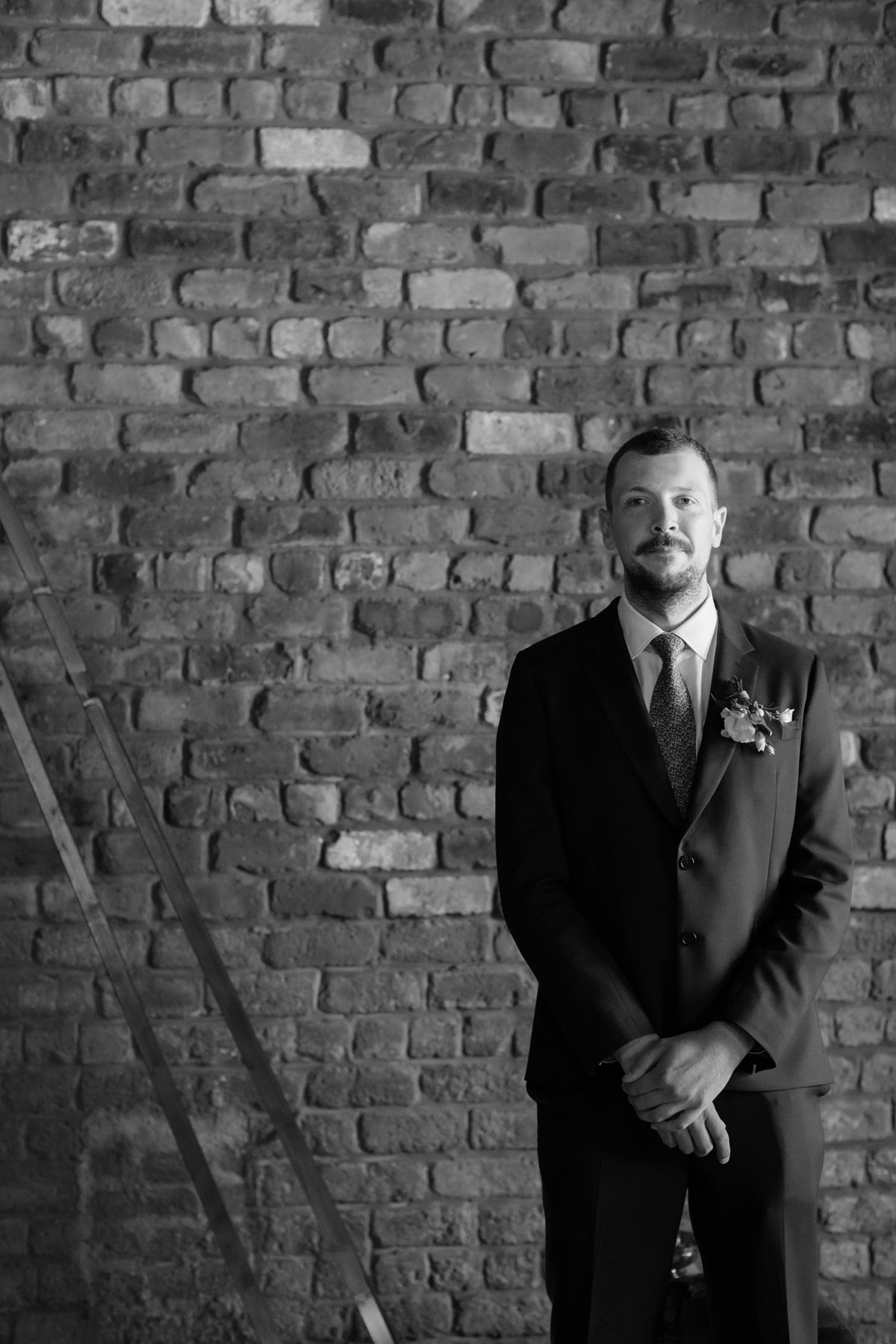 "We were engaged for about four years before we got married. We wanted to wait until I had finished my training to get married."
"Josh wore Paul Smith suit, shirt, bow tie and socks, Tom Ford pocket square and a Liberty Tie during the day."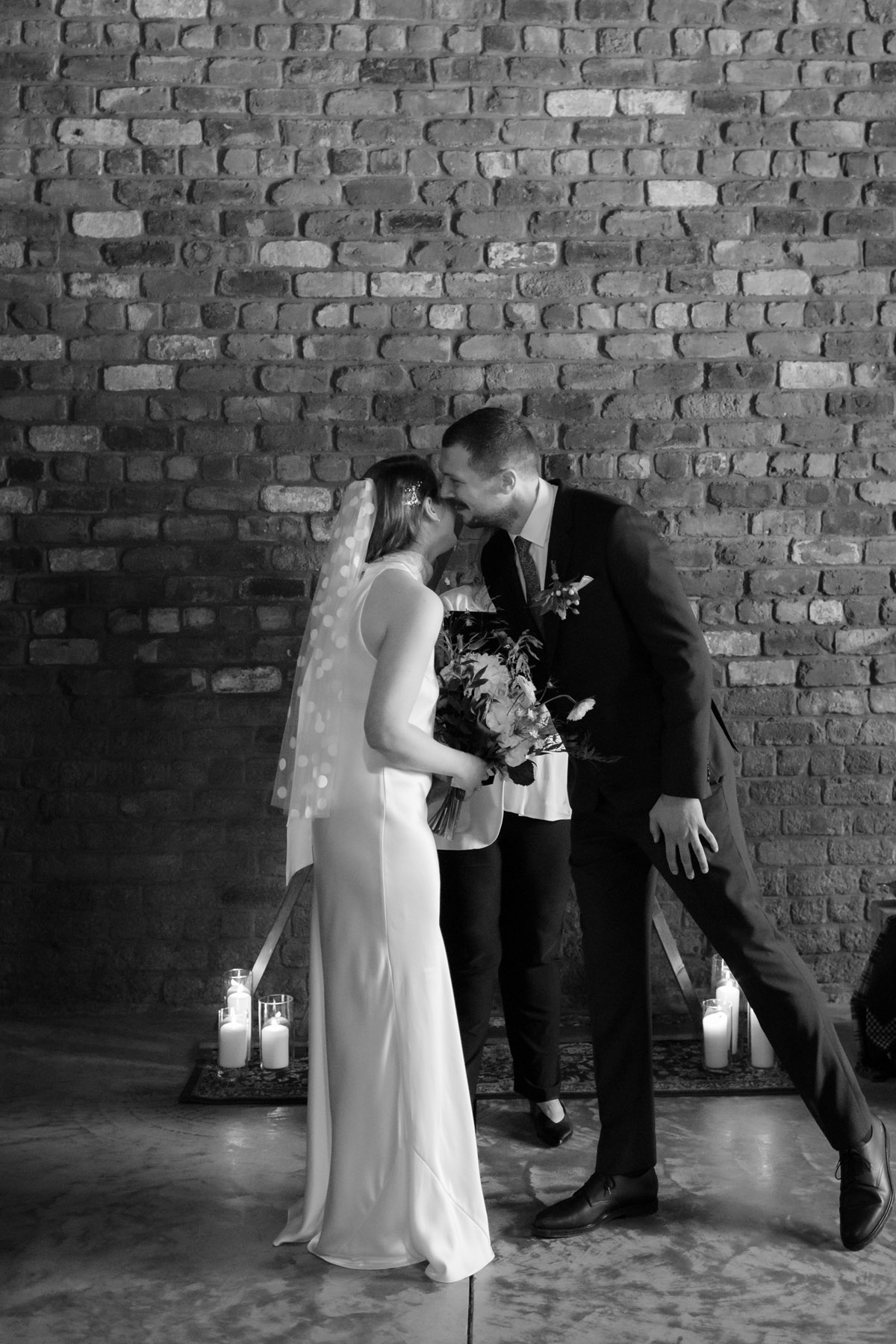 The bride's father Colin accompanied her into the ceremony to this soundtrack, chosen by Josh as he felt it was ceremonial and meaningful.
"We knew as soon as we met Sheila Scobbie, that we wanted her to be our celebrant. She totally put us at ease and really 'got' us."
"Everyone said how personal the ceremony felt and everyone had tears in their eyes."
"Our ring designers, Artemer, are a small family owned business and are where I have bought a number of pieces from in the past."
"They are so helpful and send over videos of any rings so you can see how they will stack together. We both like the yellow gold they use."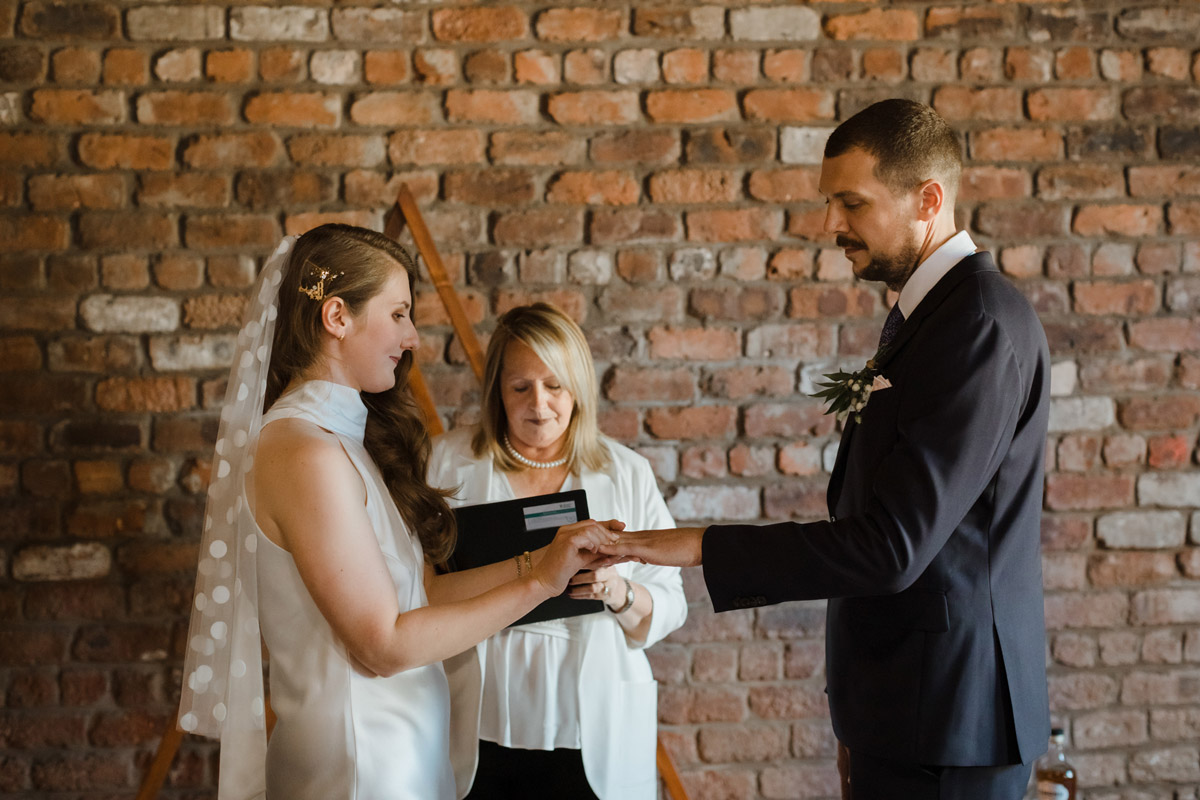 "We wanted to incorporate some Scottish traditions that you can do as part of a humanist ceremony. We did a handfasting with a piece of tartan from Rachel's dad's first kilt and some navy fabric."
"We also drank whisky poured by our dads from my parents wedding quaich."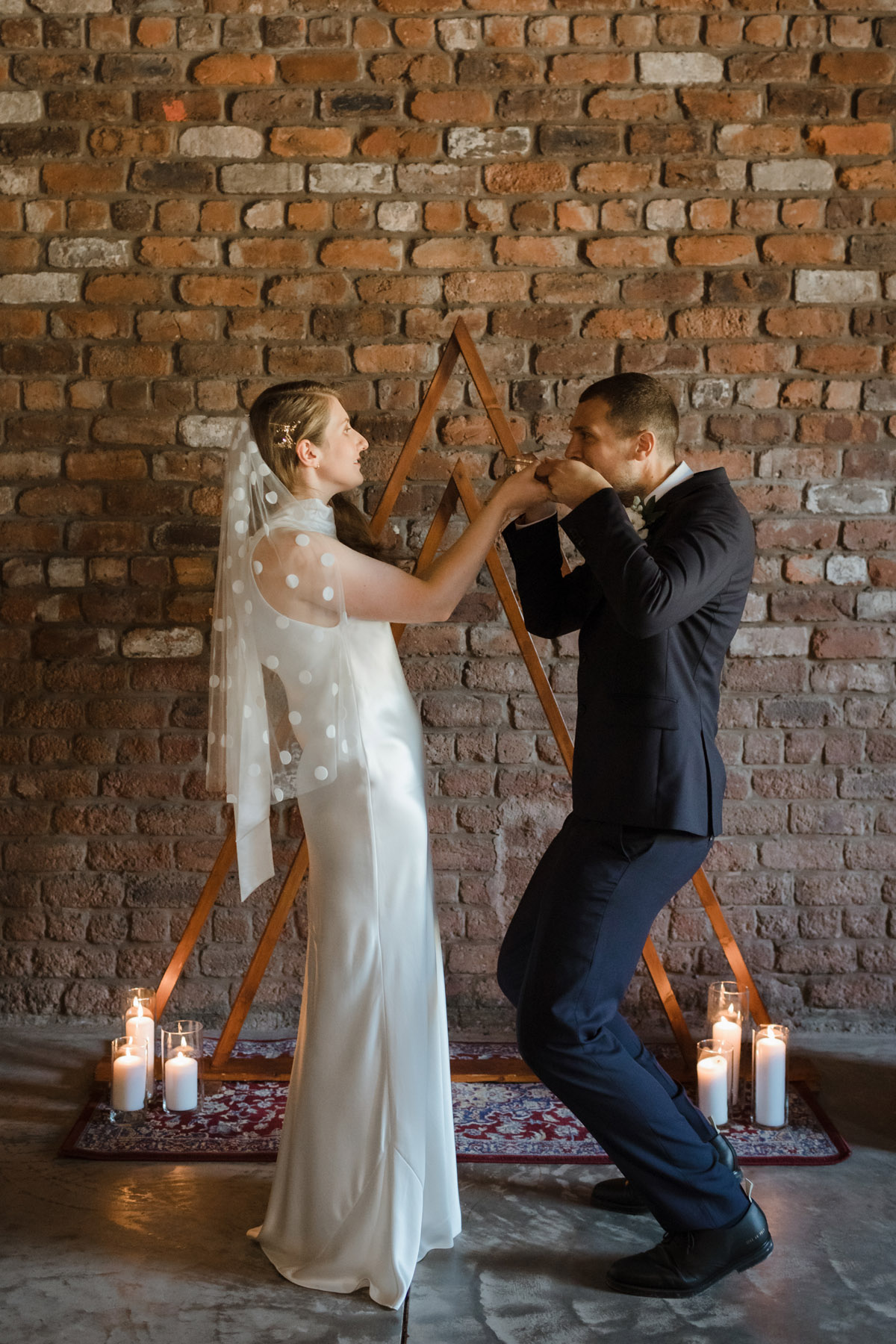 "We also decided to say 'We do', rather than each saying 'I do', and our guests said a Celtic blessing before we walked out too;"
Celtic Blessing
From this day forward
May the road rise to meet you
May the wind be always at your back
May the warm rays of sun,
fall upon your home
And may the hand of a friend always be near.
May green be the grass you walk on,
May blue be the skies above you,
May pure be the joys that surround you,
May true be the hearts that love you.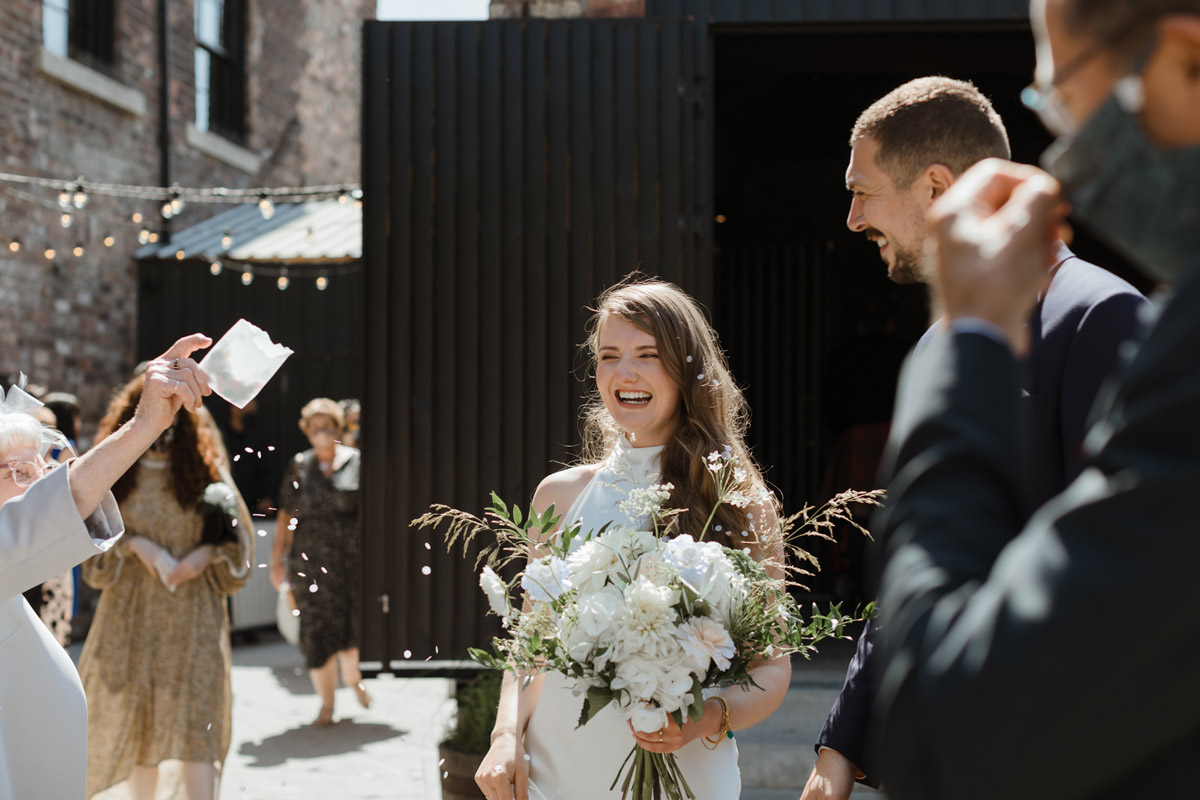 "Gloam created lots of intimate seating areas, we had a metal bath which we filled with ice and magnums of prosecco for the drinks reception."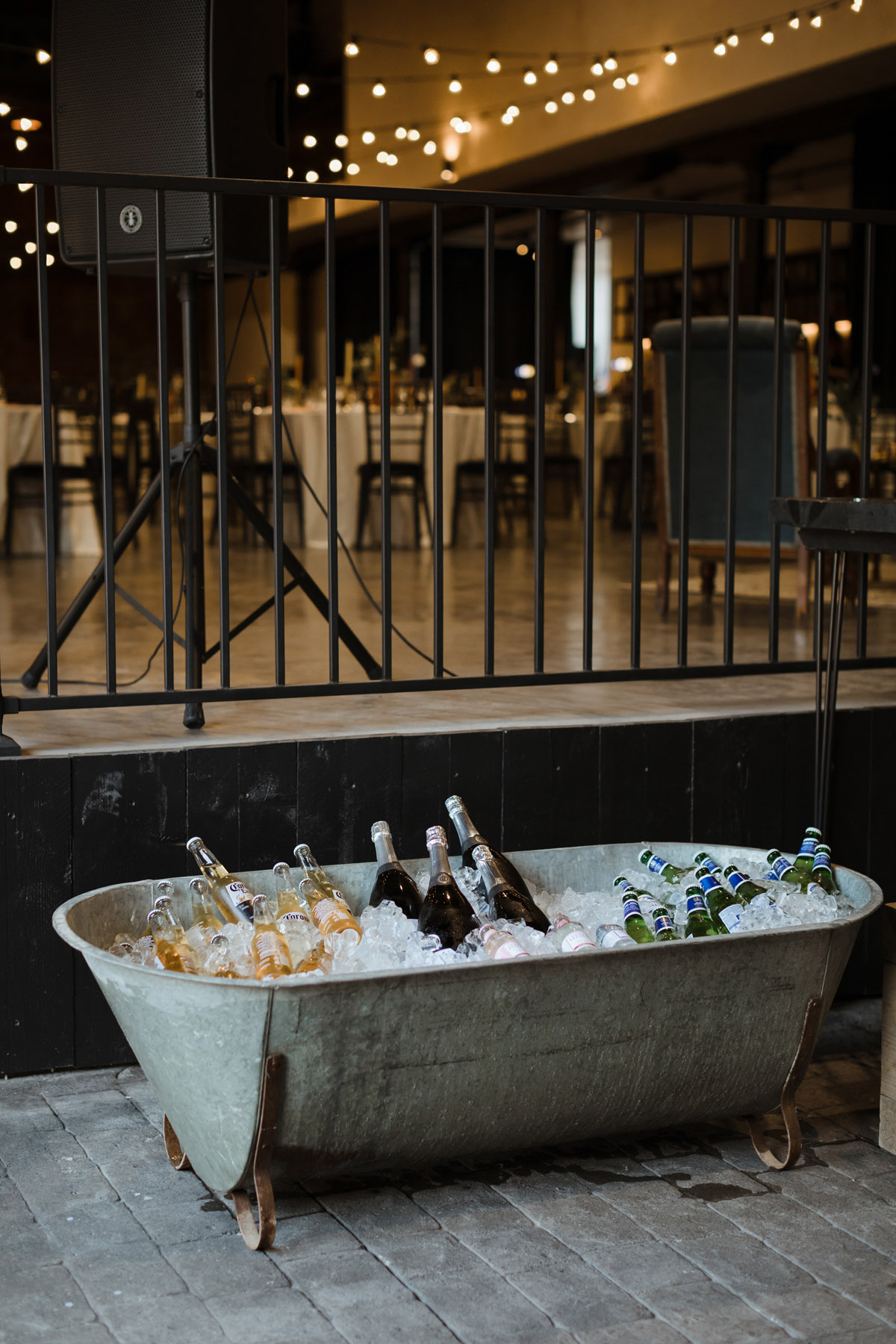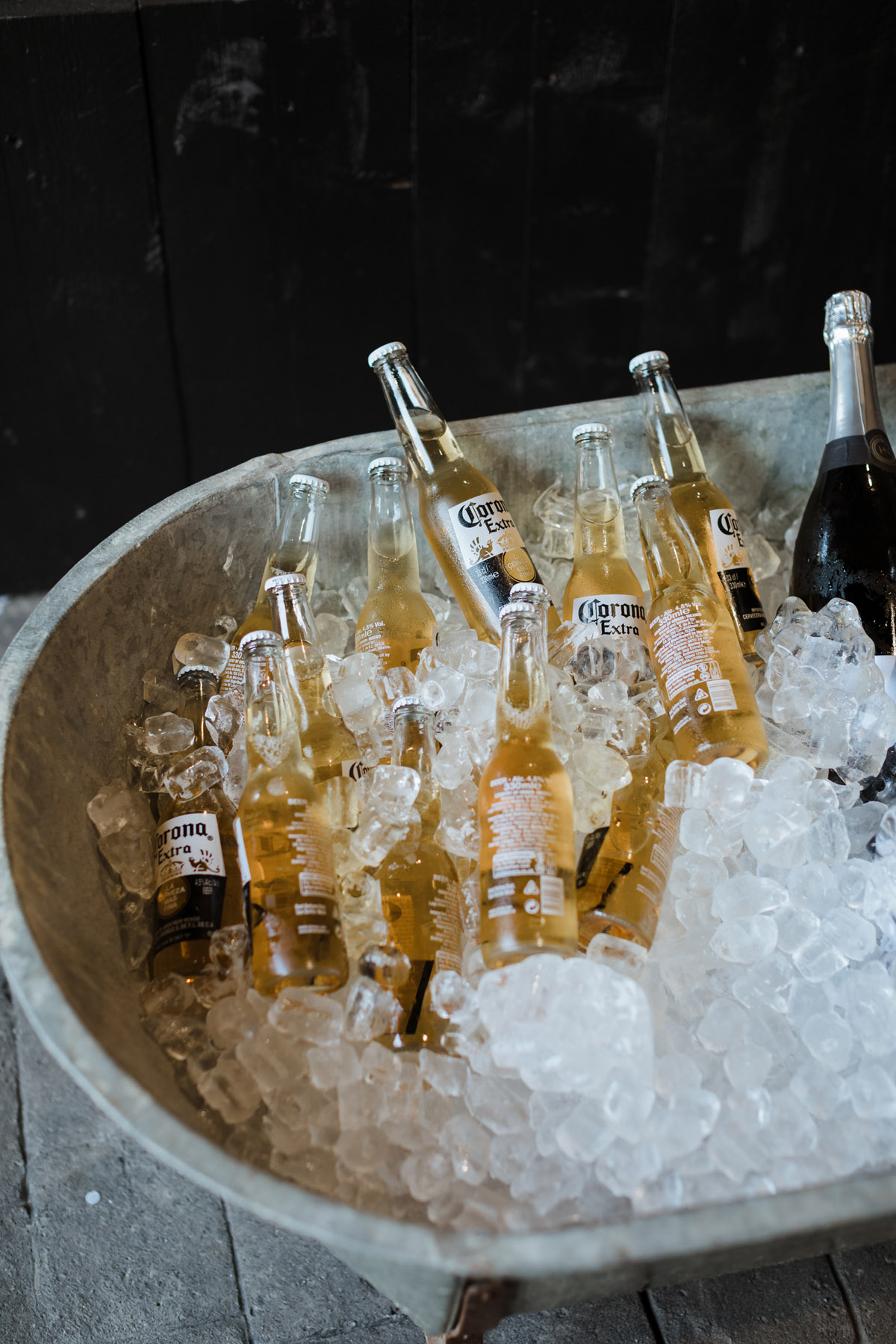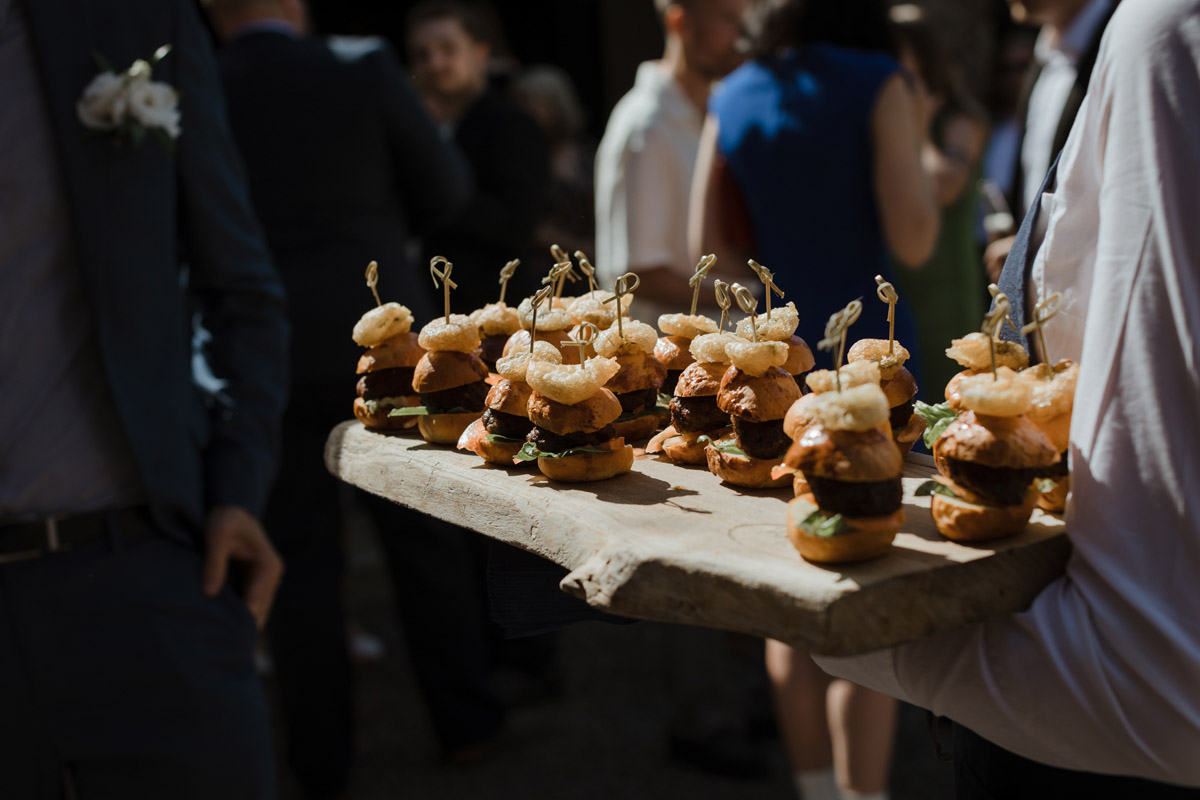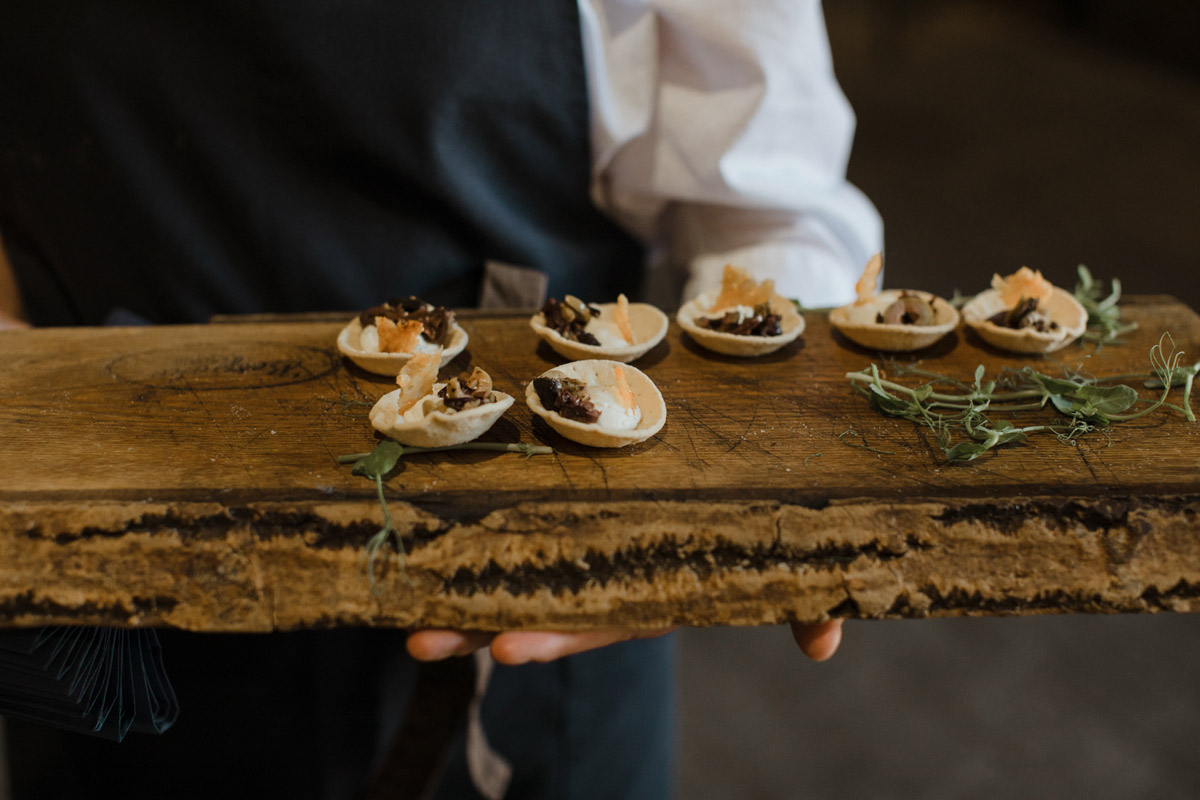 "We had a little minute to ourselves before the meal and both just felt like 'wow we've actually done it! we're married now!'."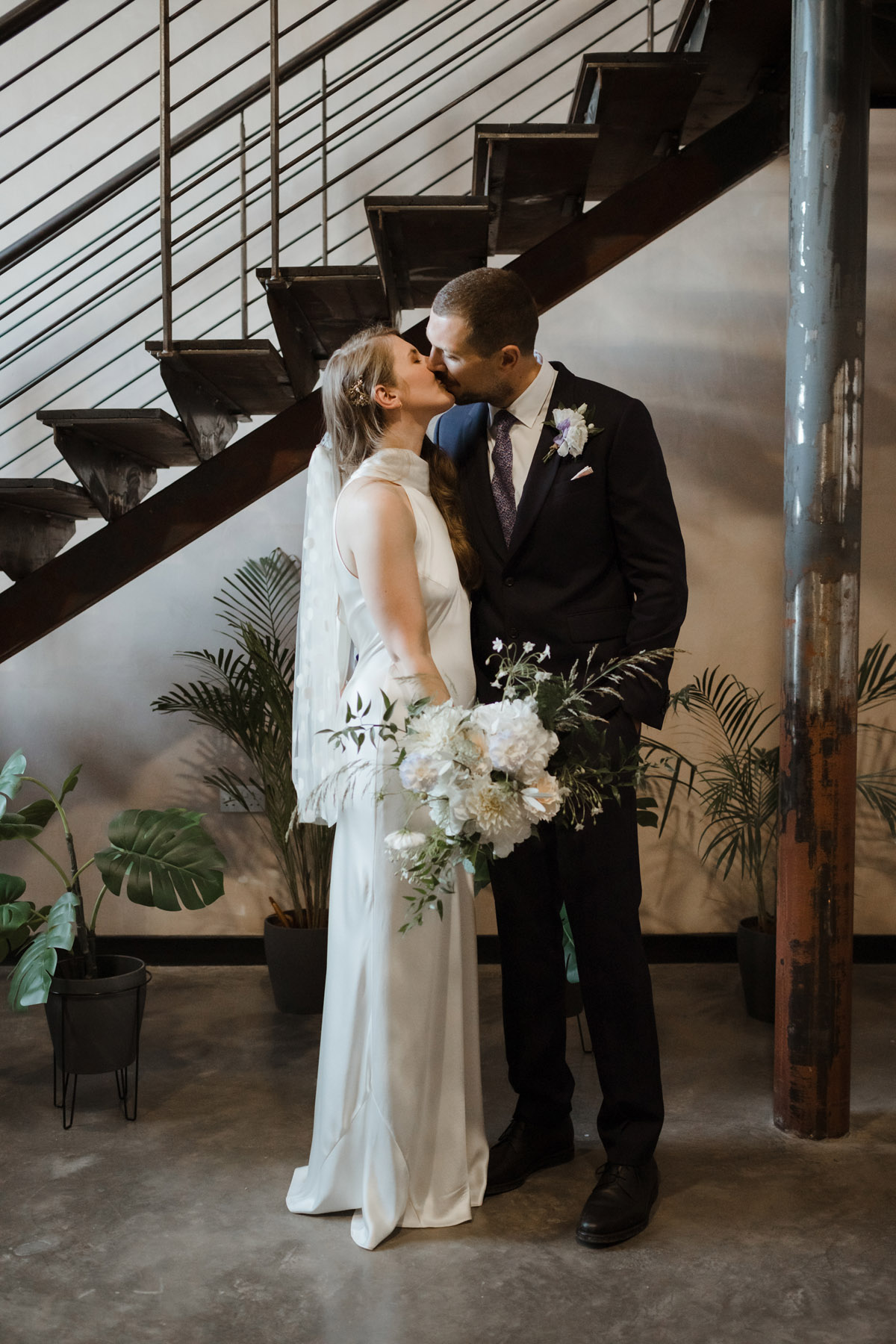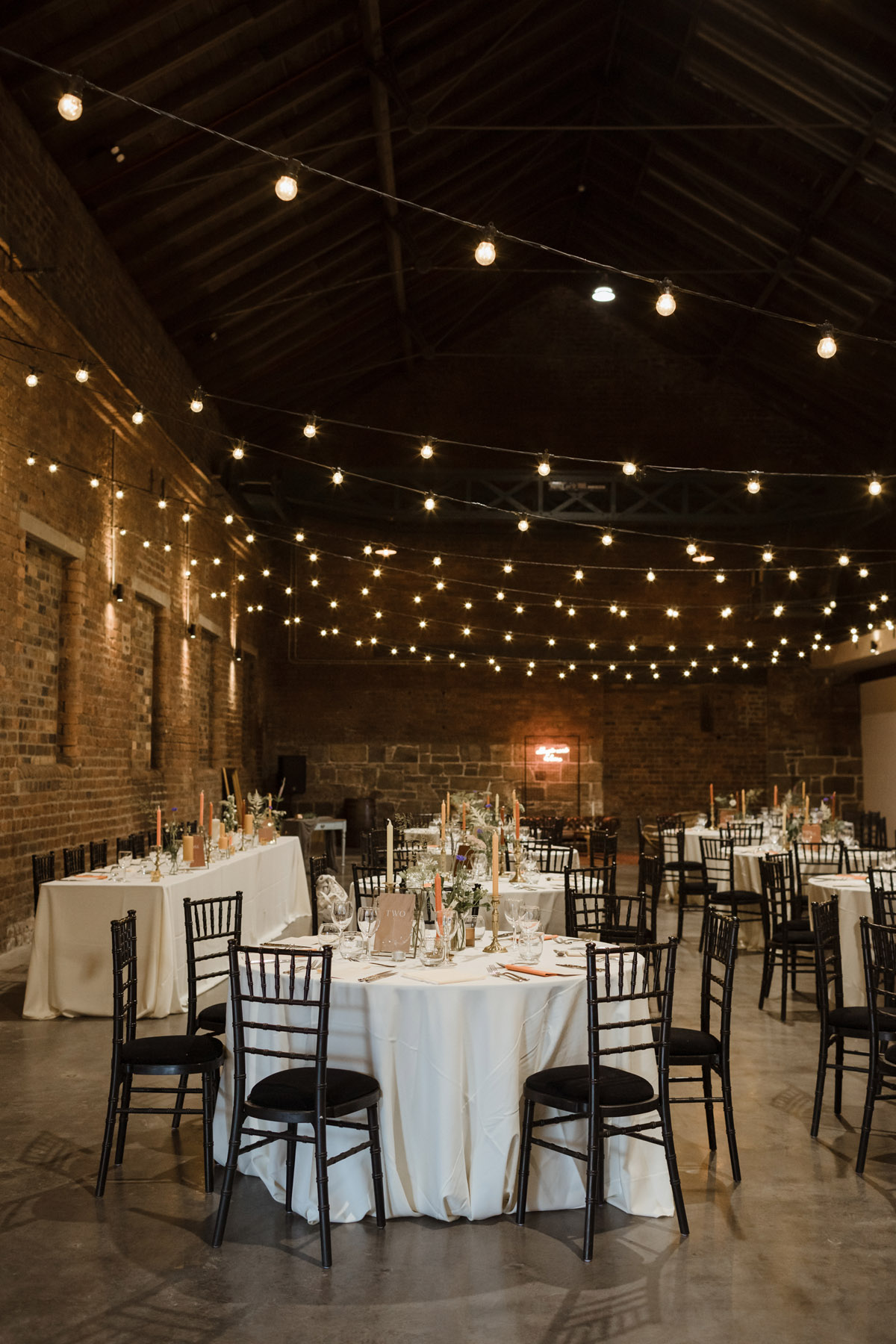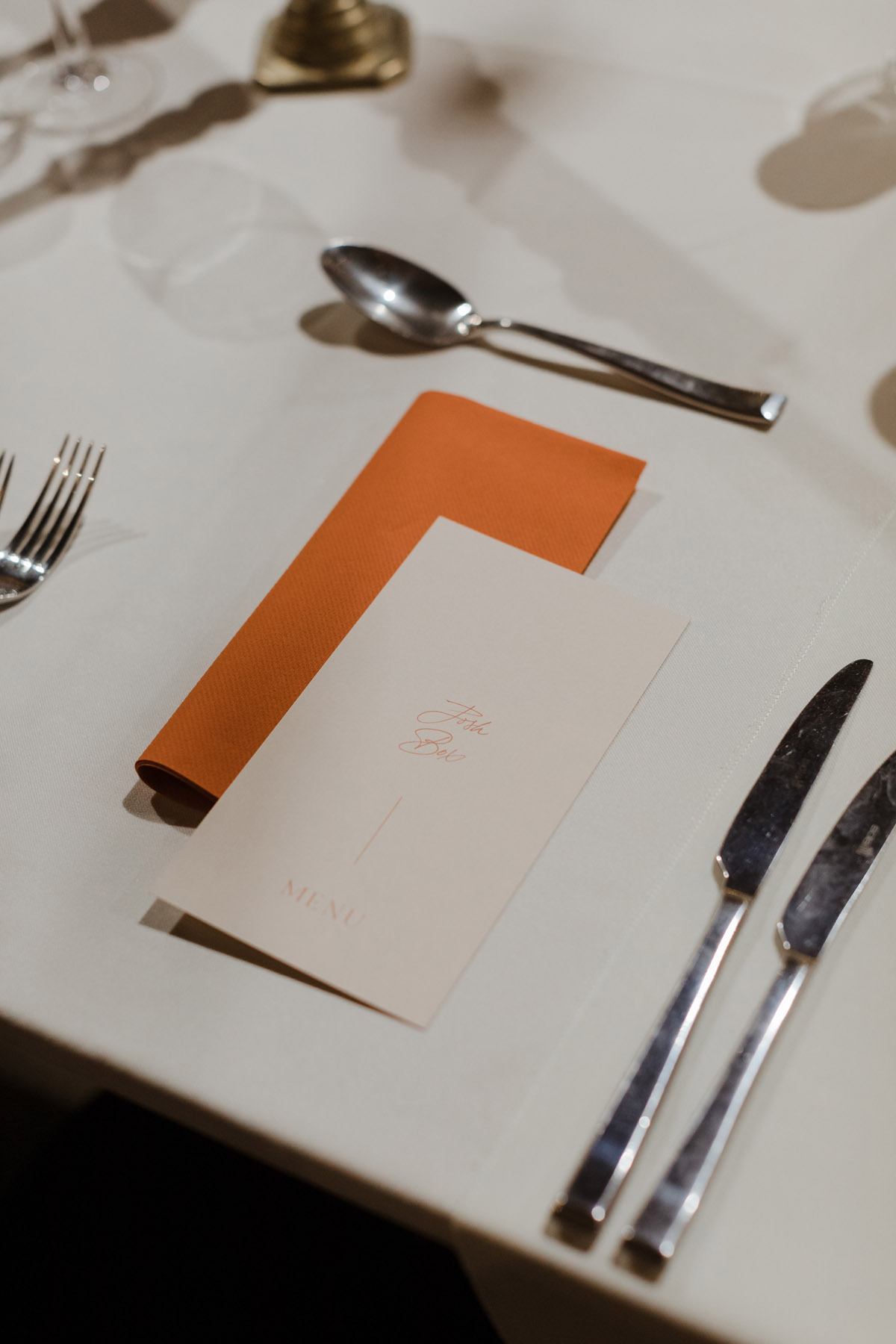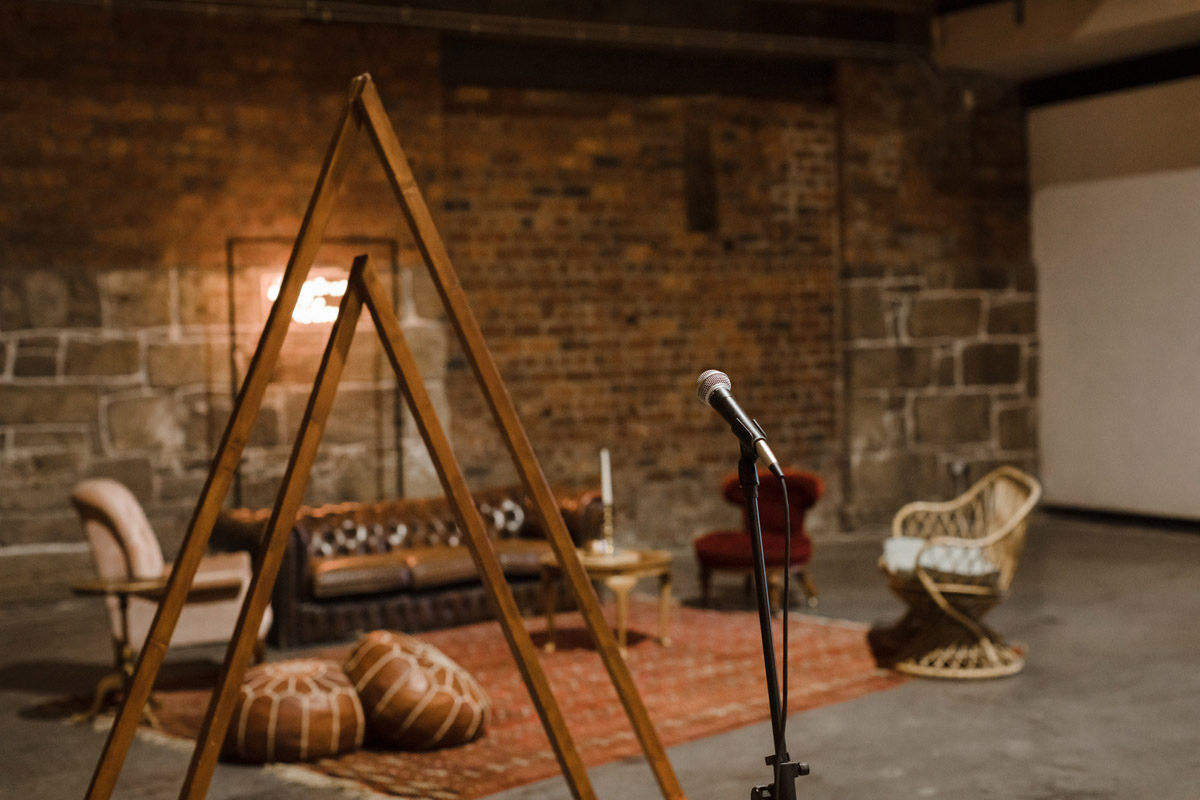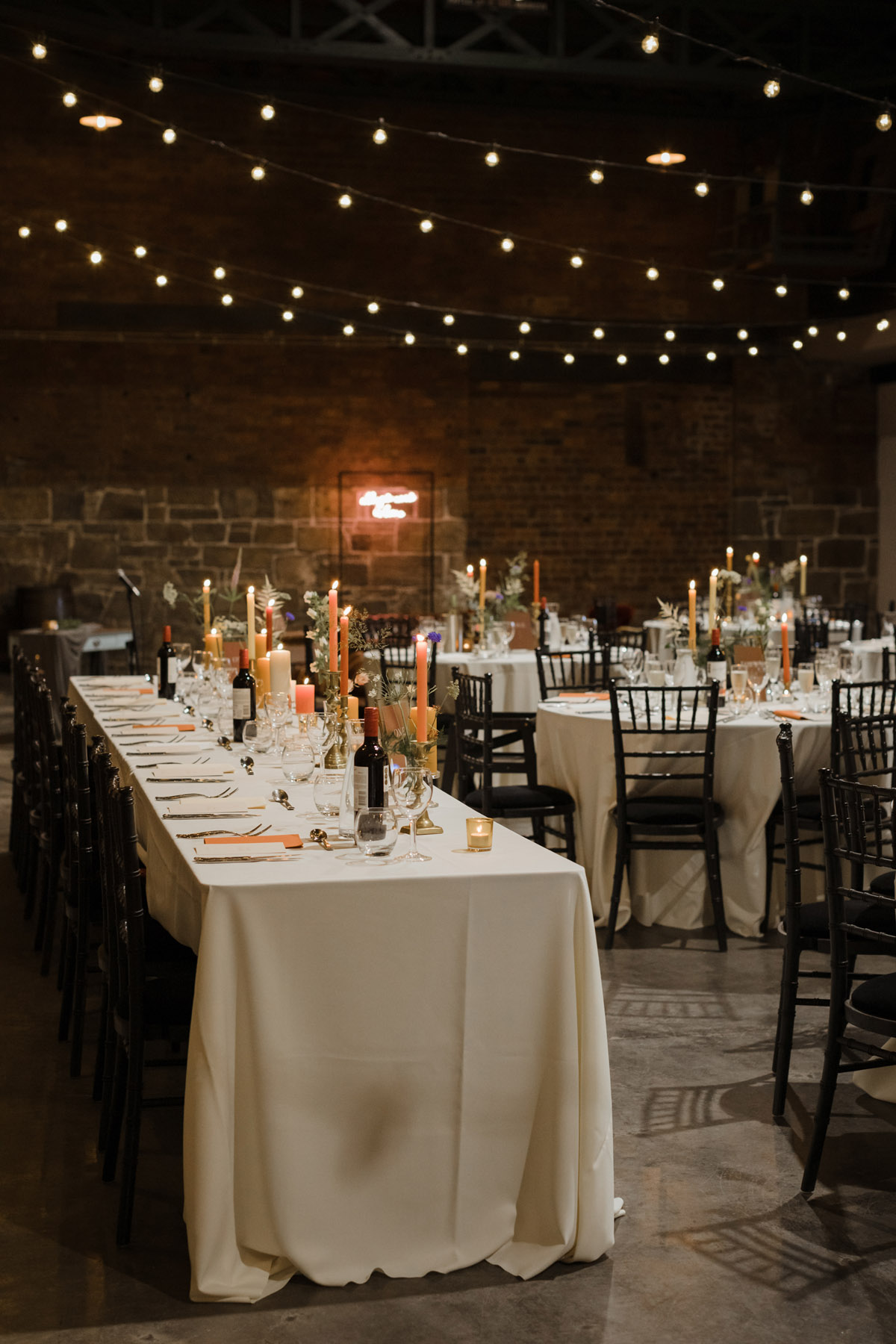 The couple ensured their guests were incredibly well fed and watered by  Bespoke Catering.
"Bespoke Catering were brilliant. Kelly runs such an amazing business."
"So understanding about all the changes in numbers right down to the wire."
"We had one vegan guest and they made special canapes and a full menu for them."
"My mum, auntie and sister all decorated our cake – they bought a cake in Waitrose, and cut it into a different shape then iced it!"
"I absolutely loved this as it was so special knowing they had done this."
"I honestly loved looking round the venue and just seeing our families and friends connecting after being apart for so long."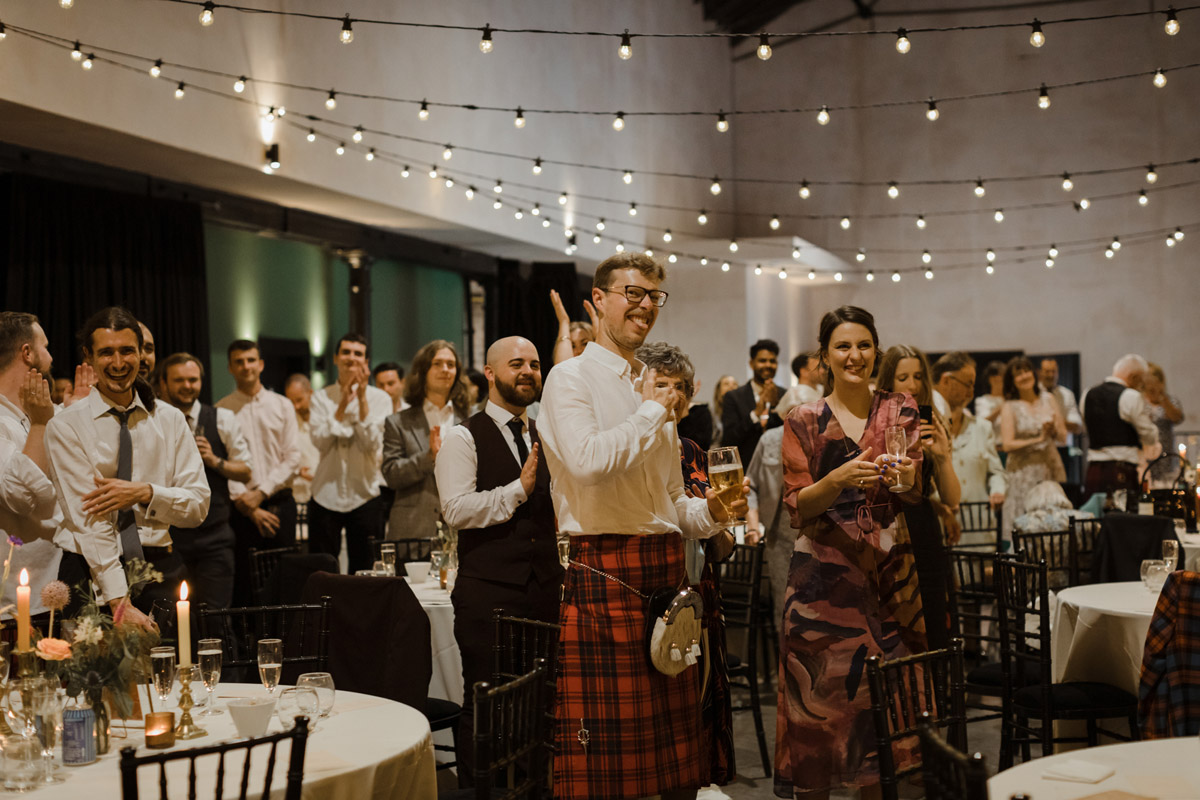 "Getting photos outside with Caro was really fun too. And dancing to the DJs. Couldn't choose one moment as honestly enjoyed every single second."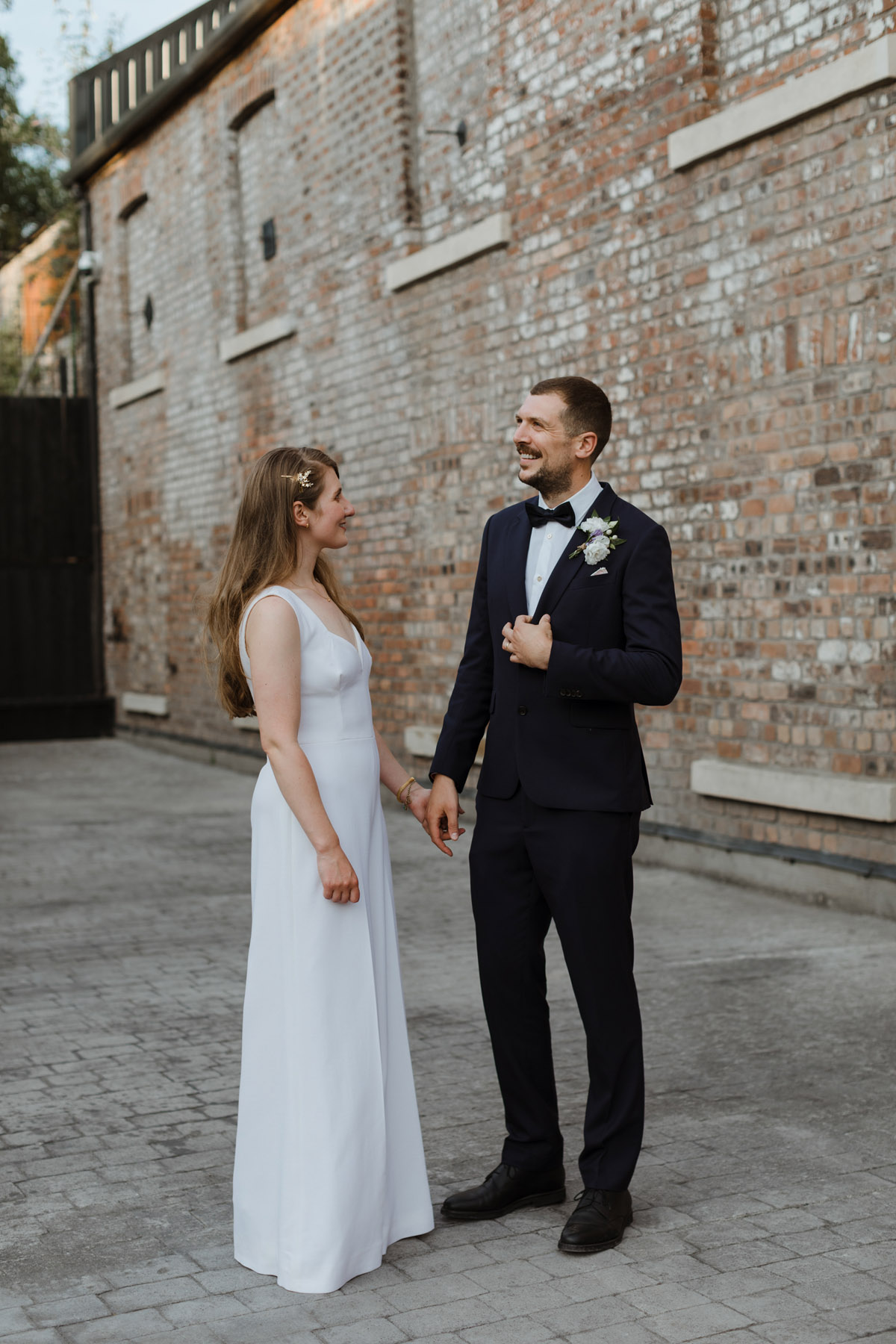 "The Anti Wedding Wedding DJs were brilliant playing outside so everyone could dance on the terrace then moving indoors when they had to. They totally got the mood right, everyone of all ages loved the music."
"Josh also did a surprise saxophone performance which I don't think anyone was expecting. It was really memorable." 
"I have loved photographer Caro's stylefor a long time and we actually tried to book her the same day as we booked the venue as she was the only photographer we wanted. She was actually originally booked on this date."
"We waited a wee while and chanced e-mailing again, luckily (for us!) the other couple had moved their date."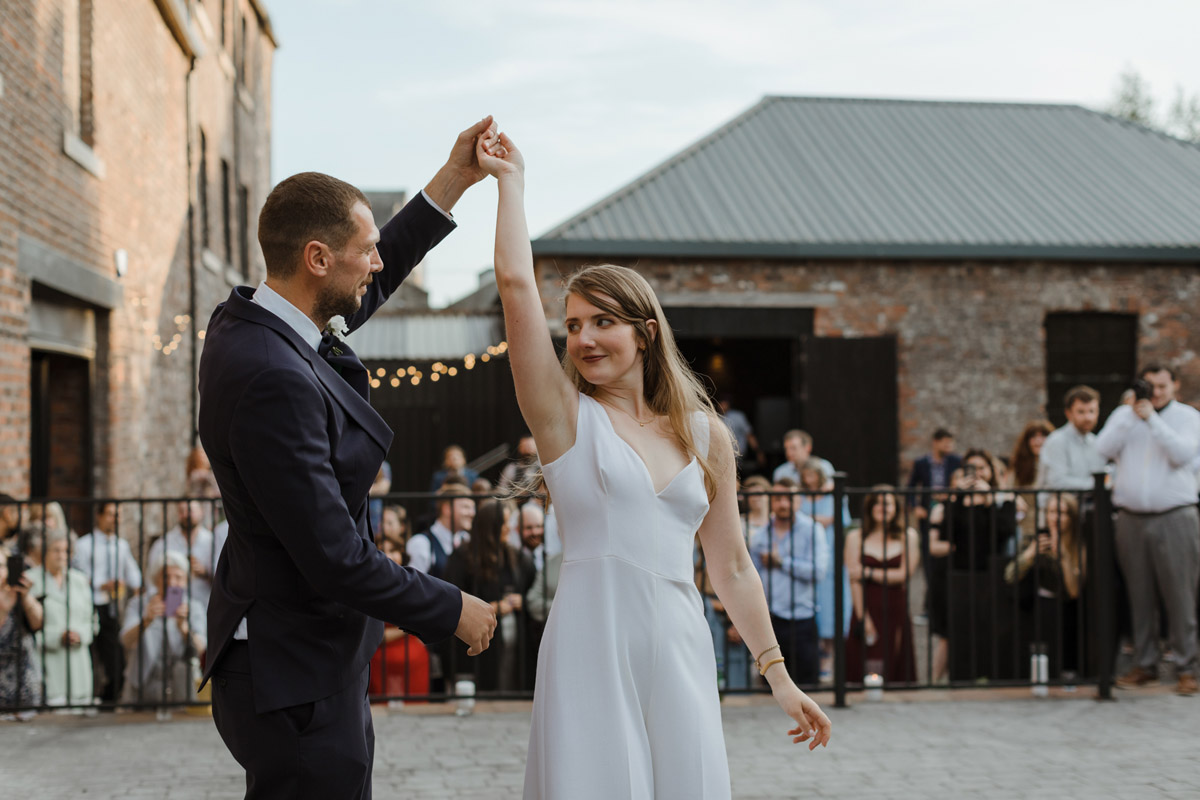 "Caro totally put us at ease, from the moment she arrived she just got on with things quietly capturing special moments."
"She was always there at the right moments but you wouldn't know she was there (in the best way)."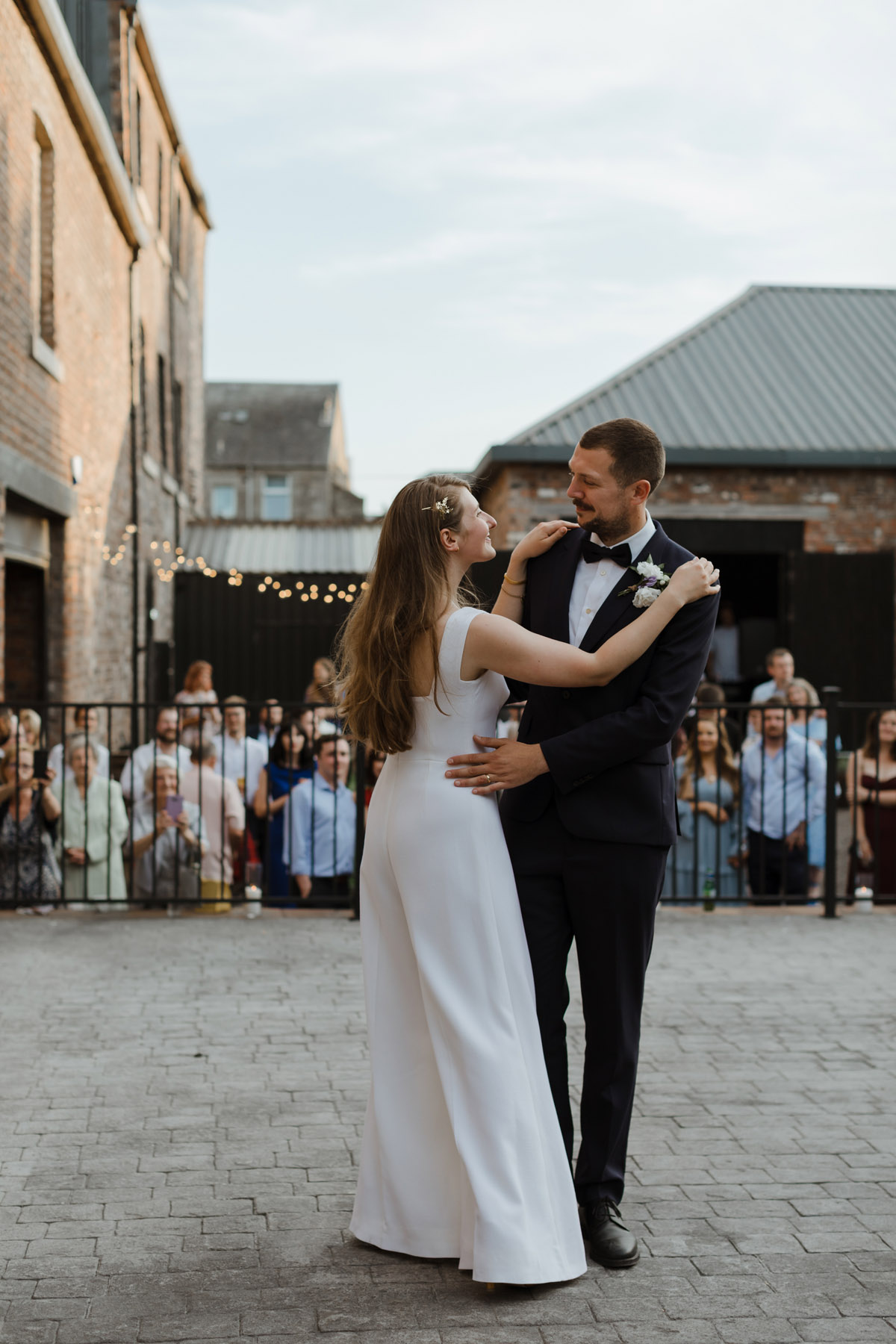 "Caro knew the venue so well and was just off capturing all the amazing moments. We would thoroughly, thoroughly recommend her."
"When our make-up and hair team arrived and saw our accessories she said 'I AM SO GLAD YOU HAVE BOOKED CARO!'"
"A friend filmed our wedding on my aunt's Super 8 camera, we don't have the film back just yet but it should be lovely."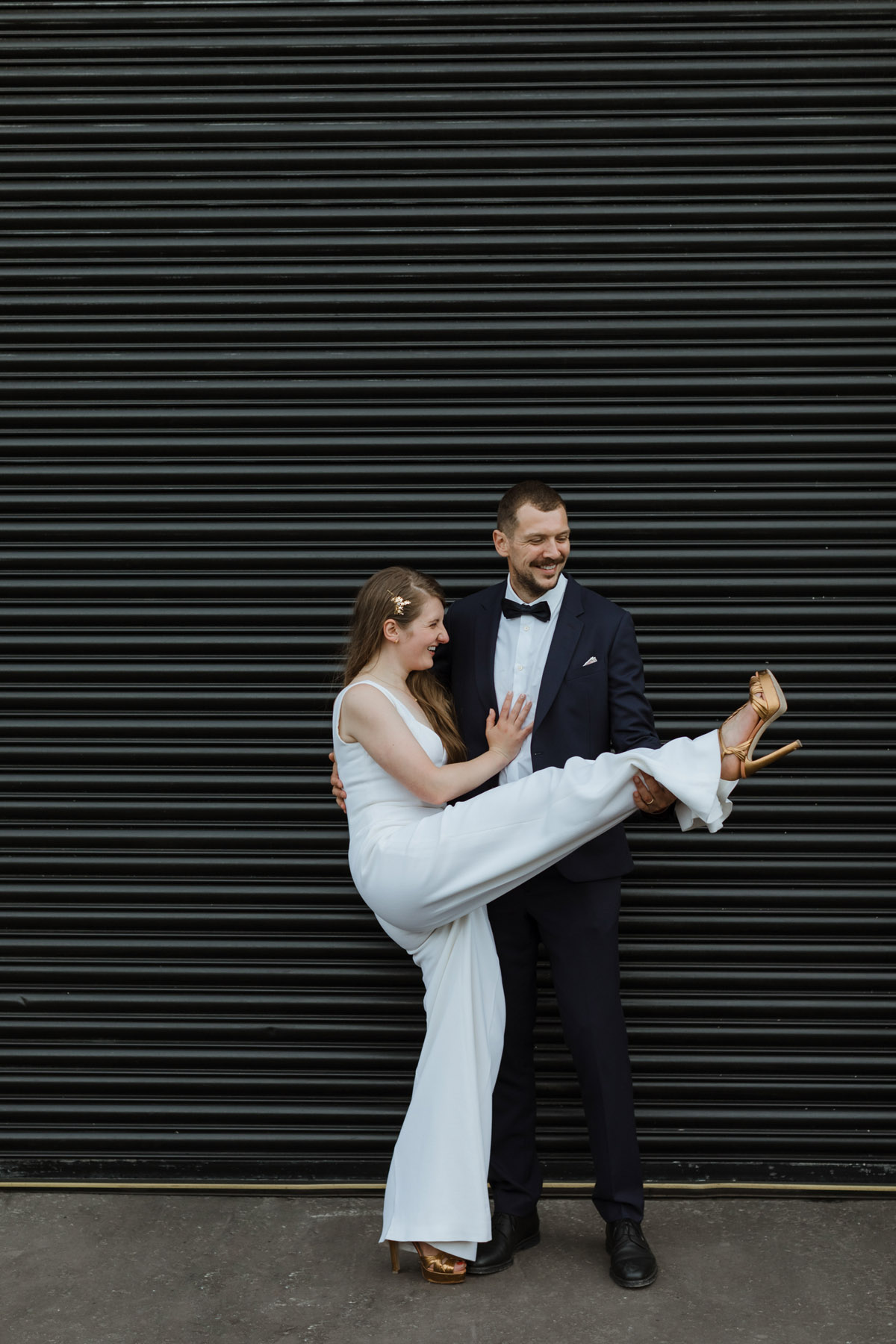 "The following day Joshs' parents hosted an impromptu champagne breakfast with both of our families at their Air BnB. Four generations of family together, was really special."
"Everything went so well. We spent a lot of time planning, but always focused on the big details not worrying too much about the minutiae and it all paid off. I was a pretty chilled bride apart from Covid!"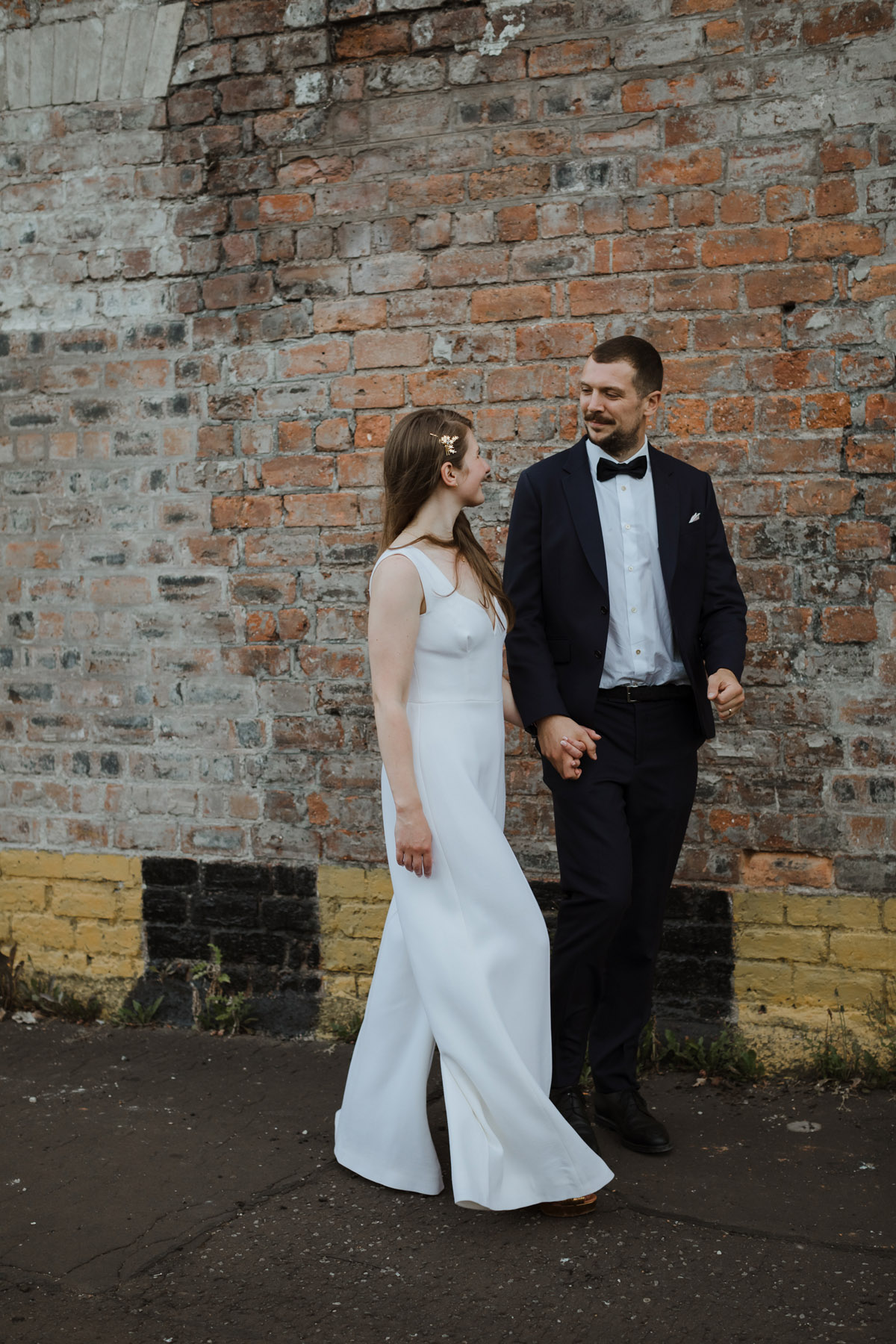 Words of Wedded Wisdom
"Honestly, get a good team of suppliers on board, do your research and find suppliers you love.
Speak to your partner about what you both want on the day. Agree what is most important and what details you don't mind about. Don't overthink it."
"Focus on the big important details because on the day that is all that matters. Get a good photographer that puts you at ease and knows the venue."
"Relax and enjoy it, take some time out just to let things sink in and try to chat to your guests. Also it's normal to feel nervous before it, but just remember why you are getting married in the first place."
"Over the past year What About Weddings, We Fell in Love and the Scottish Wedding Alliance have been invaluable. They have clarified all of the government guidance, and generally kept morale up when it felt that weddings were being overlooked."