If there is one bridal fashion brand with a concession on the high street we love, it's Ghost London.
Ghost's signature look is the bias cut dress – a particular way of cutting fabric that means it drapes and falls flatteringly around the body form. Bride Emeline wore a Ghost London dress on her wedding day to Tom, held at The Old Dairy in Clapton, back in December 2019 – when our world couldn't possibly have anticipated what was about to come.
Matt Ebbage Photography

+ Follow

This blank canvas warehouse venue was a wonderful setting for Emeline and Tom's non-traditional, sophisticated wedding with its dinner party vibe and intimate feel.
Emeline looks so sophisticated and sexy in her figure-hugging, halter-neck Ghost gown, which looks effortlessly elegant and so easy to wear.
"After visiting many bridal boutiques, trying on lots of different dresses and attending lots of sample sales, I couldn't find a dress that was in budget that I loved and so I started to look at designers I would normally wear."
"My mum suggested Ghost on the Kings Road as they have a bridal floor (which I never knew about)."

"It was a fab experience with champagne and trying on without the pressure of a salesperson in the cubicle with you."
"I felt very comfortable during the whole experience and bought two wedding dresses, one for the first day wedding and one for the second day continuation of the party!"
"I would absolutely recommend Ghost bridal to other brides."
Emeline was escorted down the aisle by both her dad and step dad, as 'Champagne Kisses' by Jessie Ware played.
"My dad walked me down half-way and then my step-dad walked me the rest of the way."

Tom and Emeline tweaked the registrar's standard vows to make them more personal to them as a couple and also chose three readings.
"'The Perfect Wedding Cake' was a reference to my love of baking and my side-business, The French Tartes."
"We chose 'Love is a Temporary Madness' because we liked how un-traditional this one was and our third reading was 'The Life That I Have'. This is my grandpa's favourite poem and so he read this one for us."

The bride and groom exchanged rings that they had designed themselves at Diamond Kingdom in Hatton Garden before walking down the aisle as bride and groom.
"The ceremony was the part I thought I was going to dread the most –  having all eyes on us – but actually you forget that anyone is around you and time seems to slow down. It was a lovely moment that I'll remember forever."
"I love that my dress was simple and elegant, that I could move around in it comfortably and that it was in my normal style without feeling completely different to something I would wear."
I love it so much, I've now had the bottom train removed and it can now be an ivory maxi dress for summer parties and events."

The couple met in London eight years ago on a blind date and after their engagement in October 2018, spent just over a year planning their perfect day.
"My boss (and Tom's previous boss) set us up. We met in a pub in Hammersmith and stayed for several drinks so it must have been a good first date."
"We got engaged in Tom's home county of Yorkshire on an incredibly rainy day on the Yorkshire Moors."
"Tom pretended we were visiting his parents for the weekend but actually took me to Swinton Estate and The York Arms (a Michelin starred restaurant with rooms) for the weekend."

The bride paired the gown with glam Jimmy Choo Ivette sandals, encrusted with crystals and slipped on a personalised Missoma bracelet with 'Love' written on it, a gift from her mum.

For extra bridal glam, she wore hair extensions for extra volume and created a gorgeously wavy, Hollywood-esque down-do using a GHD curling wand and lots of hairspray.
Finally, her pretty and flawless makeup was applied by Katie Mahon MakeUp and she wore Diptyque's Eau Rose scent.

In true dinner party style, Tom chose a dashing 'black tie' combo.
"Tom wore a midnight blue velvet jacket and a personalised shirt from Hackett, dinner suit trousers from Gant and a homemade guinea fowl feather lapel pin (which he had made himself for all the men in the groom's party)."

The bridesmaids wore a combination of midnight blue velvet dressed from Topshop and sparkly halterneck gowns from SilkFred, for a warm, wintry feel.
"My bridesmaids were free to buy and wear any shoes they liked. One of my maids of honour (I had two) was pregnant so I didn't want to force her into stilettos. I gave them all a personalised Azurina clutch and a MAC lipstick inside for the day."

Can you believe that Emeline put together her hand-tied bouquet of pink roses, reddish heather and emerald green foliage herself?
"We used foliage from Friend of Faux in the roof to create atmosphere and then went to the florist street vendor from Bermondsey the day before for bouquets."
"They were last-minute, only £20 each and absolutely beautiful."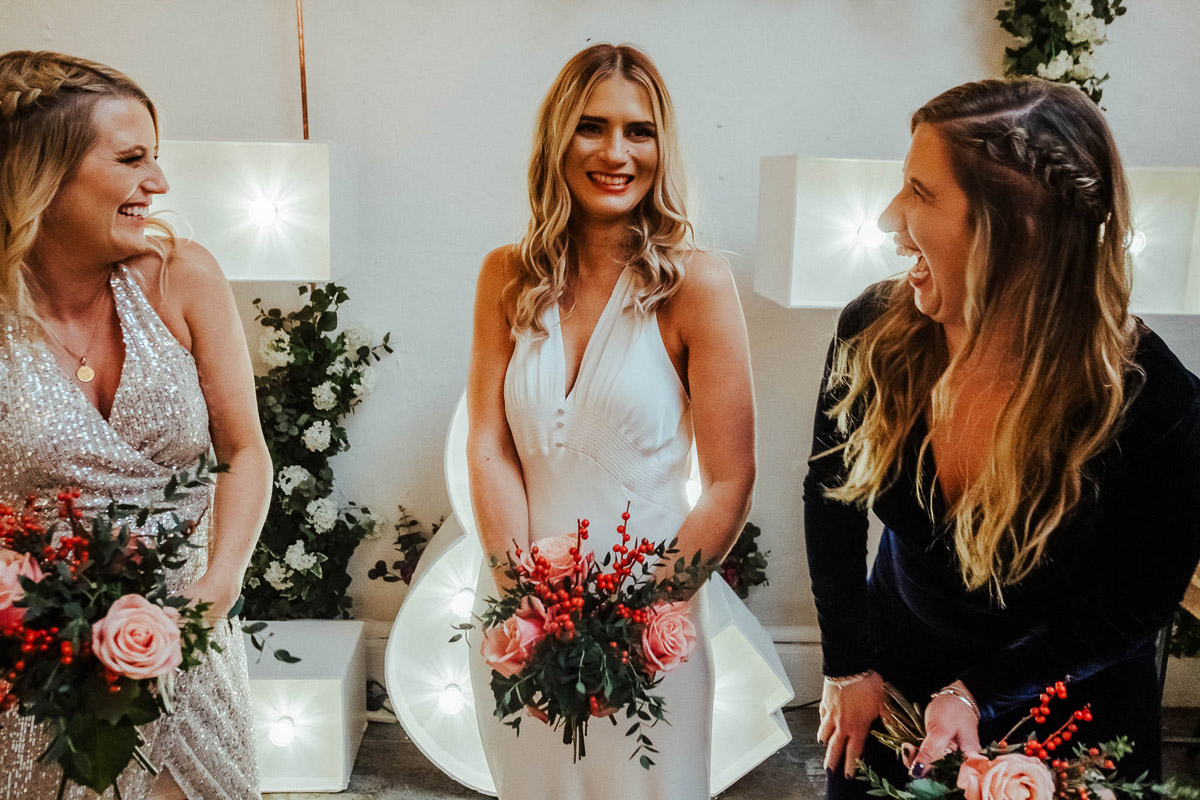 Recording every single detail for the couple in his signature vivacious and relaxed style was photographer Matt Ebbage.
"Matt is a friend of a family friend who was recommended to us. We loved his informal and cool style and the way he could capture moments perfectly without them being forced."
"Matt was great from the get-go, asking us for input in the type of photography we wanted and agreeing with us when we said we wanted to limit the number of formal family portraits that were taken."

The couple roped in the help of a friend to act as an on the day co-ordinator but planned the other details themselves to a very clear vision.
"We were inspired to do something completely different having been to a lot of weddings in that year."
"We really wanted to have an atmospheric dinner party vibe without the formalities and velvet curtain."
"We had a singer (Gui Rezende) during dinner I had both my dad and stepdad walk me down the aisle, we had a red carpet down the aisle, an antique post horn to blow before speeches rather than glass tapping and we had Tina Turner's 'Simply The Best' as our first dance to try and change things up a bit."
"We had an on-the -day co-ordinator, Cait Jefferson, who is actually a friend and midwife, and stepped in for the day."
The couple had chosen The Old Dairy's three day hire option, allowing them to continue the celebrations the next day with their loved ones and have plenty of time to decorate and set up the day before.
"We wanted to use faux flowers as we didn't see the point in spending a lot on flowers that only lived for the day."

"It meant we could display them the day before when we had the venue to decorate. For all flowers on the dinner table, we used fake flowers for ease and expense and decorated ourselves the day before the ceremony."

"We had a red carpet to walk down the aisle. The space was great as it had two rooms so we could easily transform the ceremony room whilst everyone mingled and had drinks in the first bar room."
"My sister-in-law Faye Chappell, who is a creative lead, designed the table plans, menus, invites and so on."

The sit-down dinner was provided by Big Dill Catering but the pretty, tiered wedding cake was naturally created by the bride, a baker herself.
"I made my own wedding cake as I have a little side business called The French Tartes, making wedding cakes and canapé tarts for events around London."

As the guests dined, singer Gui Rezende sang beautifully and then, after speeches and cake-cutting, it was time to hit the dance-floor.
"Our first dance was Tina Turner's 'Simply The Best'. It's our favourite song to dance to after a few wines. We've had a lot of fun dancing to it in the past so thought it would bring an element of fun to the party."

Looking at these pictures, you can feel the relaxed party atmosphere that began straight after the wedding ceremony, and continued over the elegant dinner party.
Before that though, there was plenty of space for the guests to mingle, chat and drink and for the newly-weds to have more photos against the fun 'E' and 'T' initials from Light Up Love.

Words of Wedded Wisdom
"I wish I'd listened less to others and worried less. I should have hired more waiting staff to help with the turnover after the ceremony and to hand out drinks. Oh, and ordered less wine. We drank only a third of what we had bought."
"When everyone says the week before the wedding is the most stressful, it really is! Don't leave everything to this week like we did!"
"Don't have too strict time schedules on the day. You just have to let it flow and not worry on the day."
"Enjoy every minute and take moments to appreciate everyone being in the same room. It only happens once, hopefully!"

Emeline, it's been such a breath of fresh air to share your day today. Congratulations to you and Tom, and many thanks from myself and all of our readers.
Thank you too, to Matt Ebbage, for your gloriously relaxed photography. Lovelies, for more winter wedding inspiration please do take a look at these Love My Dress celebrations, or to find out more about Matt Ebbage and his offerings enjoy this selection here.
Ele xx