We share all kinds of weddings here on Love My Dress, our beloved wedding blog, turning 12 years old in November this year! And I sincerely love them all, for the story they tell and beautiful inspiring images.
But there are some photographers whose work touches me pretty deeply and the absolutely wonderful, most incredibly talented Caro Weiss, is one of them. We've been sharing Caro's work since 2010. I sometimes have to pinch myself at the reality of that!
Caro Weiss Photography

+ Follow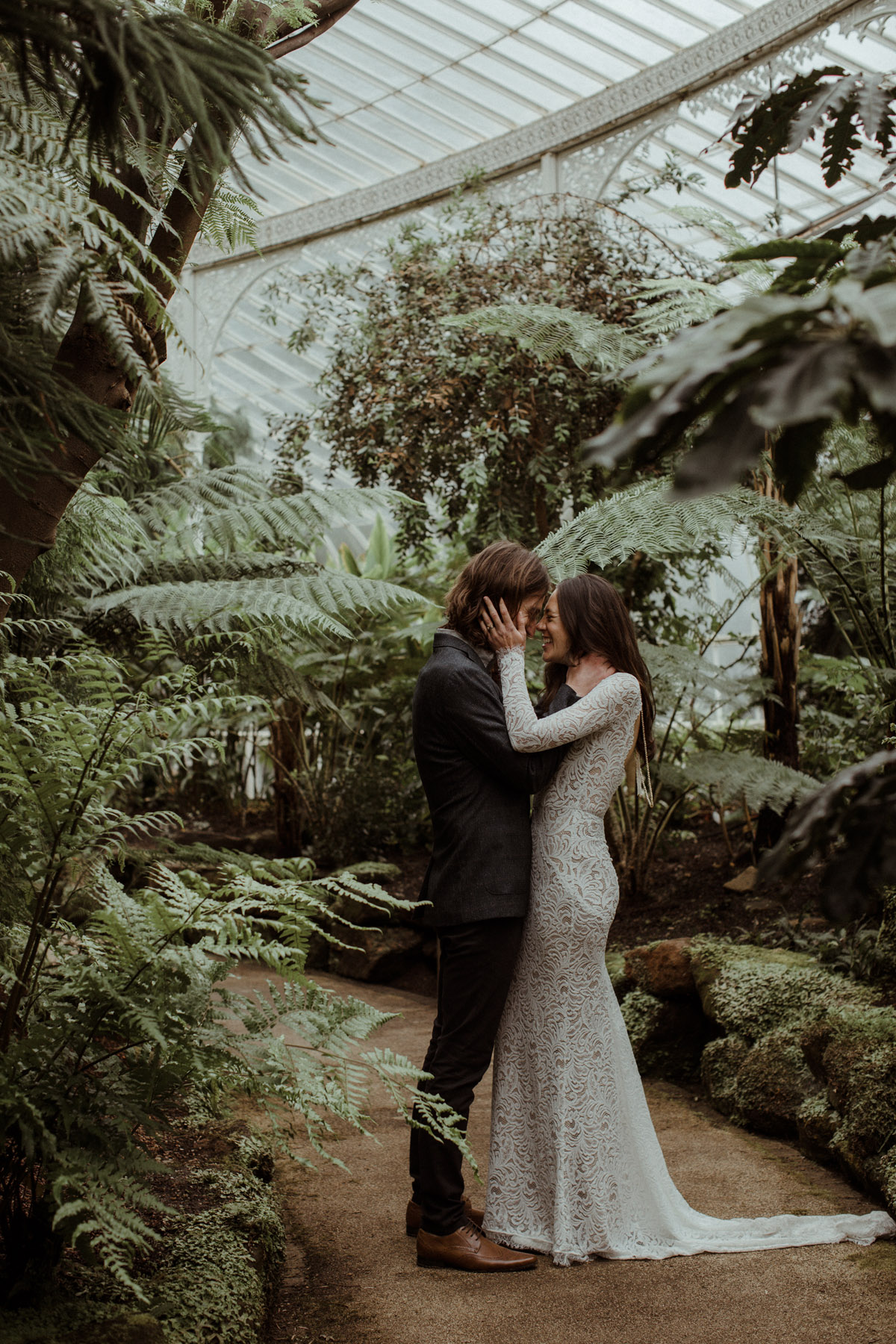 I've watched Caro hone her talent over this time and know, without even looking at the images, that when she gets in touch asking if we'd like to publish one of her weddings, that it's going to be very special.
This is the wedding of Antz & Catriona, which took place on 24th May 2021 and was captured beautifully by Caro. Their wedding was inspired by their love of nature, whimsical wildflowers and foliage and slightly bohemian, laid-back styling.
"I just did some light make-up myself as I very rarely wear make-up and wanted to look like me. My mum and I had our hair styled by Susan McGorm – we went to her boutique salon which was close by to our hotel. She did a beautiful up do for my mum, and I just chose to have some loose waves done. Again, I wanted to look like me."
"I loved my hair – Susan did a lovely job. It definitely looked better pre rain though – I was too excited to care if my hair was getting wet or not – so the photos probably don't do her work justice. Sorry, haha!"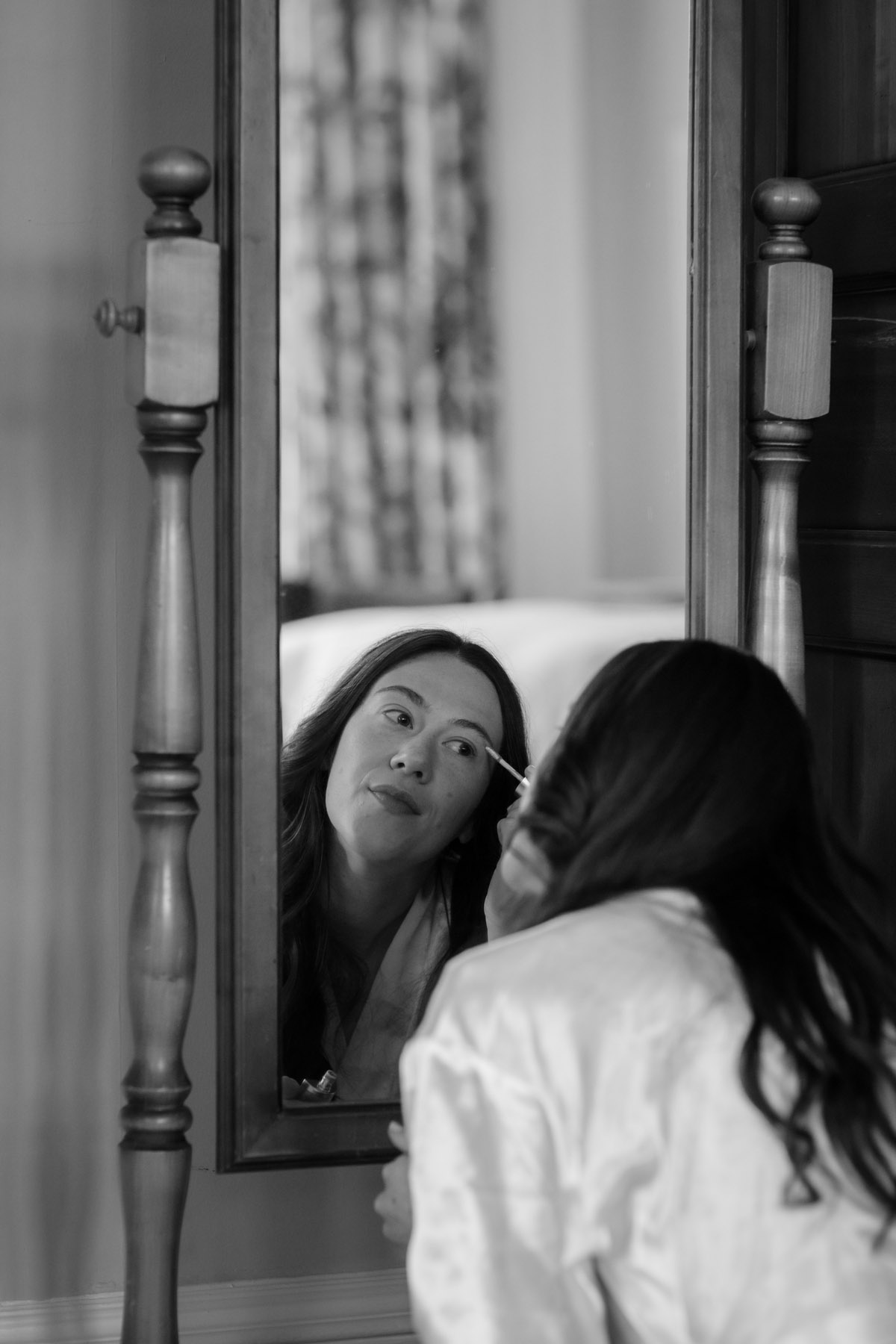 "Our florist was Lisa of Floral Menagerie and I couldn't recommend her more. My bouquet was the most beautiful thing I've ever seen – I couldn't believe it was mine."
"We asked for slightly wild and whimsical florals, with plenty of lovely foliage, to decorate the table and room at the Bothy. Given we had no colour-theme whatsoever, we just completely trusted Lisa's creative judgement. We were blown away with what she created for us – she even included some eucalyptus foliage in her designs to remind us of our time spent living in Melbourne. Our friends and family were amazed by how stunning the florals were."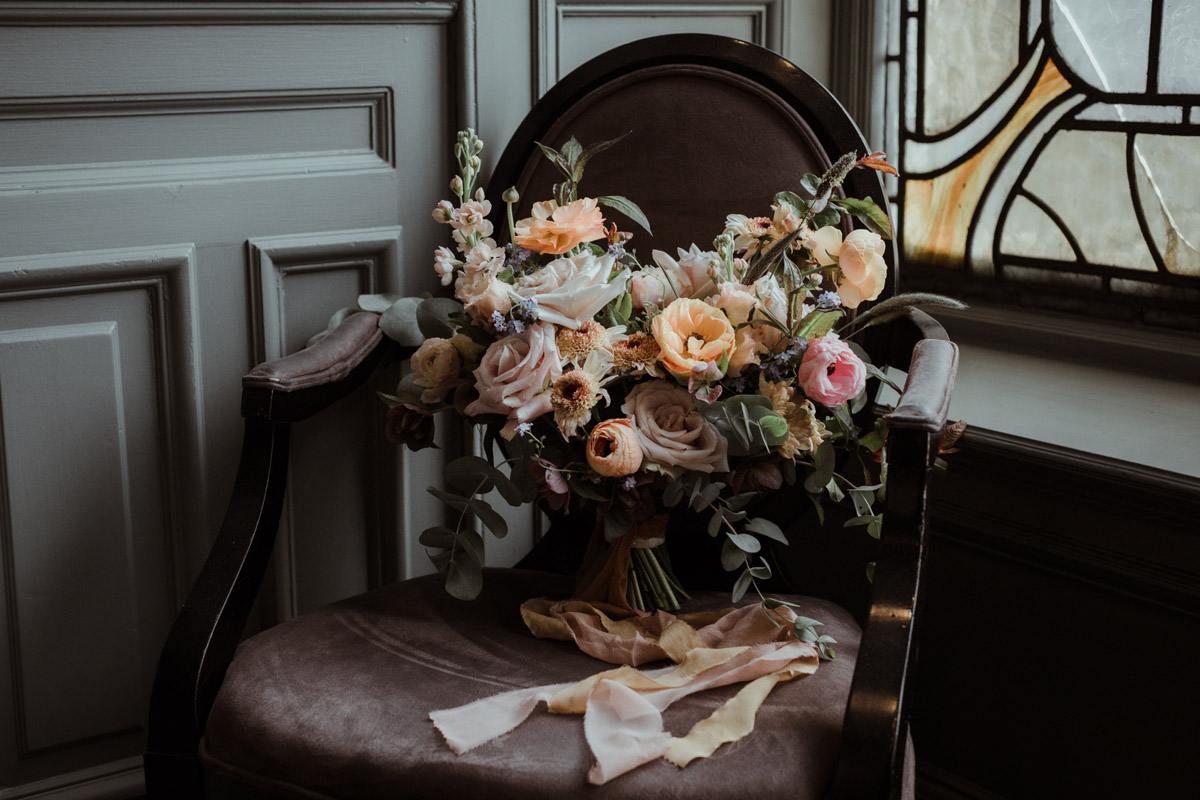 "We love Floral Menagerie's commitment to using seasonal, sustainable flowers in their designs."
"We gave our wonderful florist, Lisa at Floral Menagerie, a blank creative canvas. And we just wanted our family and friends to wear whatever they felt comfortable and amazing in. Mostly, we were guided by our desire for a romantic, cosy, relaxed and informal feel to our day."
"I chose my gold and pearl drop earrings and art-deco inspired backpiece from Grace Loves Lace when I had my dress fitting."
"When they made my dress they sewed in little eyelets for the backpiece to attach into."
"I purchased my dress from the Grace Loves Lace (GLL) showroom in Melbourne whilst we were living over there. I also visited their showroom on the Gold Coast. Both experiences were wonderful."
"The showrooms are stunning, they give you your own private, secluded area for your appointment and I was always welcomed with a chilled glass of fizz with some rose petals in it."
"Everyone I spoke with was super helpful and friendly including the after-sales team."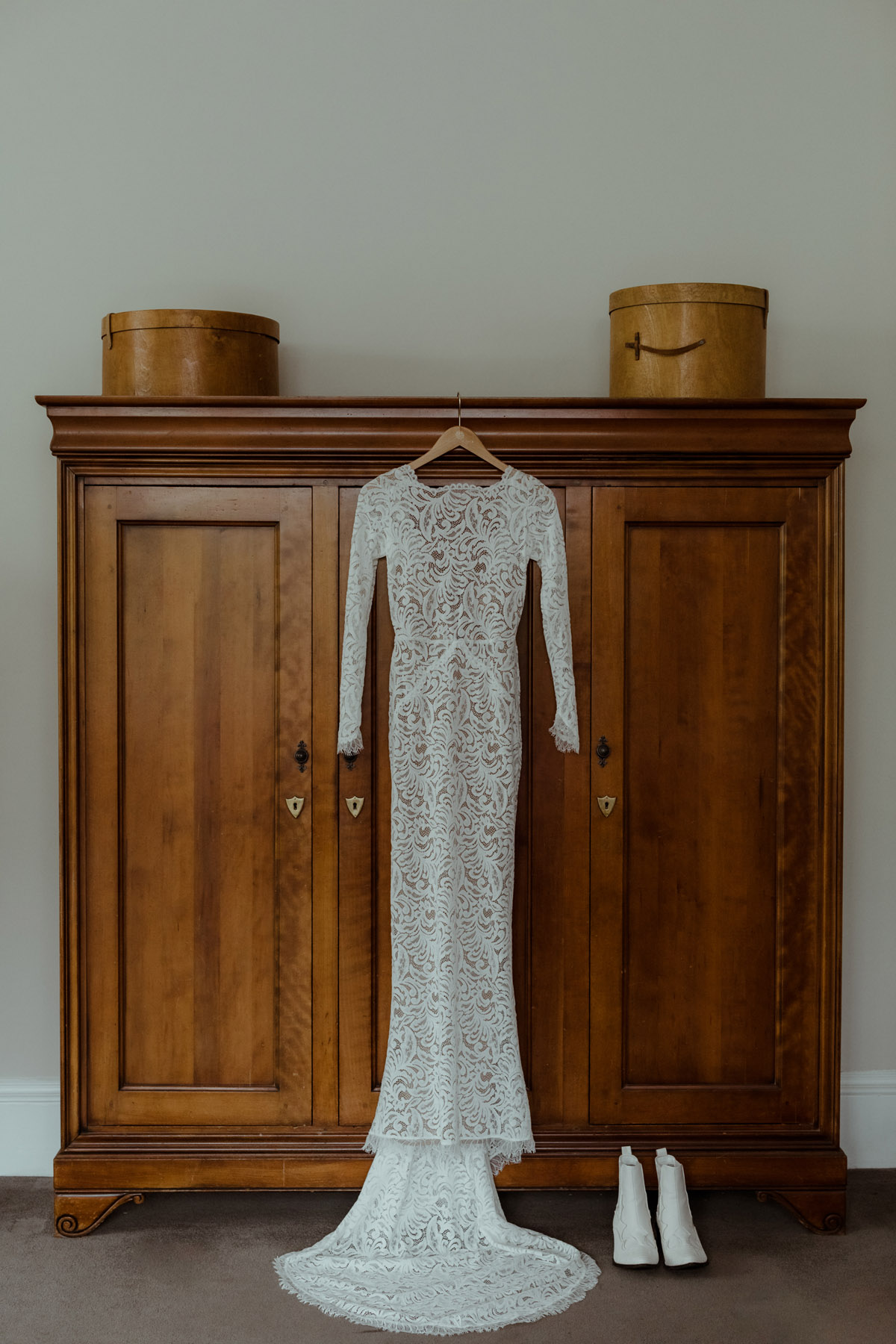 "They seem to have a good selection of sizes of each dress to try at their showrooms – so I was able to get a really good idea of what my own dress would look and feel and move like from all angles without having to pin it in place."
"Honestly, I couldn't recommend them more, they made the whole experience of choosing my dress so special and fun."
"Not only did I love my dress, I love the memories I associate with it too. Grace Loves Lace has a showroom in London too."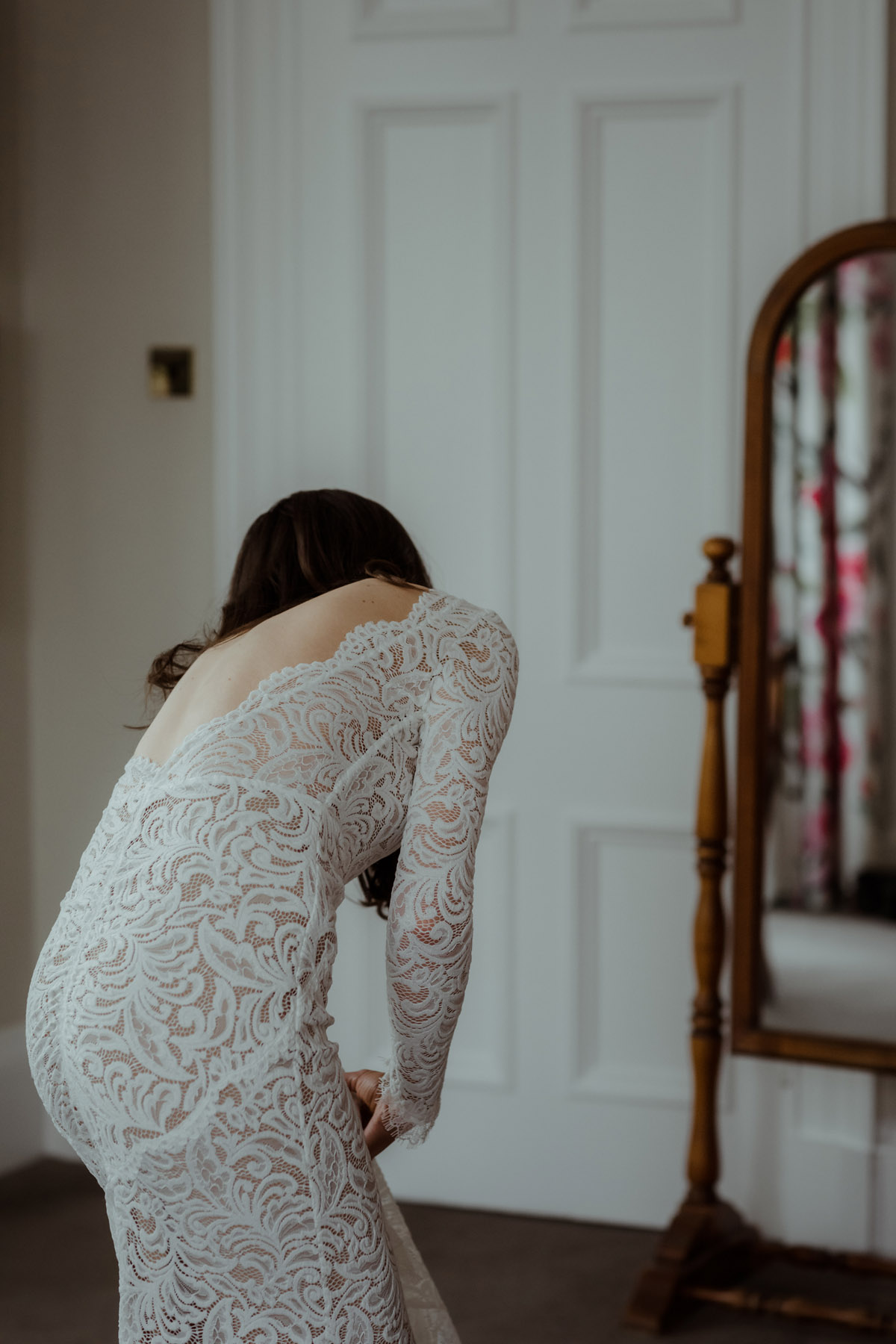 "I was drawn to 'GLL', as their dresses are so romantic, whimsical and stylish. I had never wanted to wear a traditional wedding dress – I often find then a bit too formal for my taste."
"It was so important to me that my dress was lightweight, unrestrictive and a pleasure to move in, so I loved how unstructured and comfortable the GLL dresses are."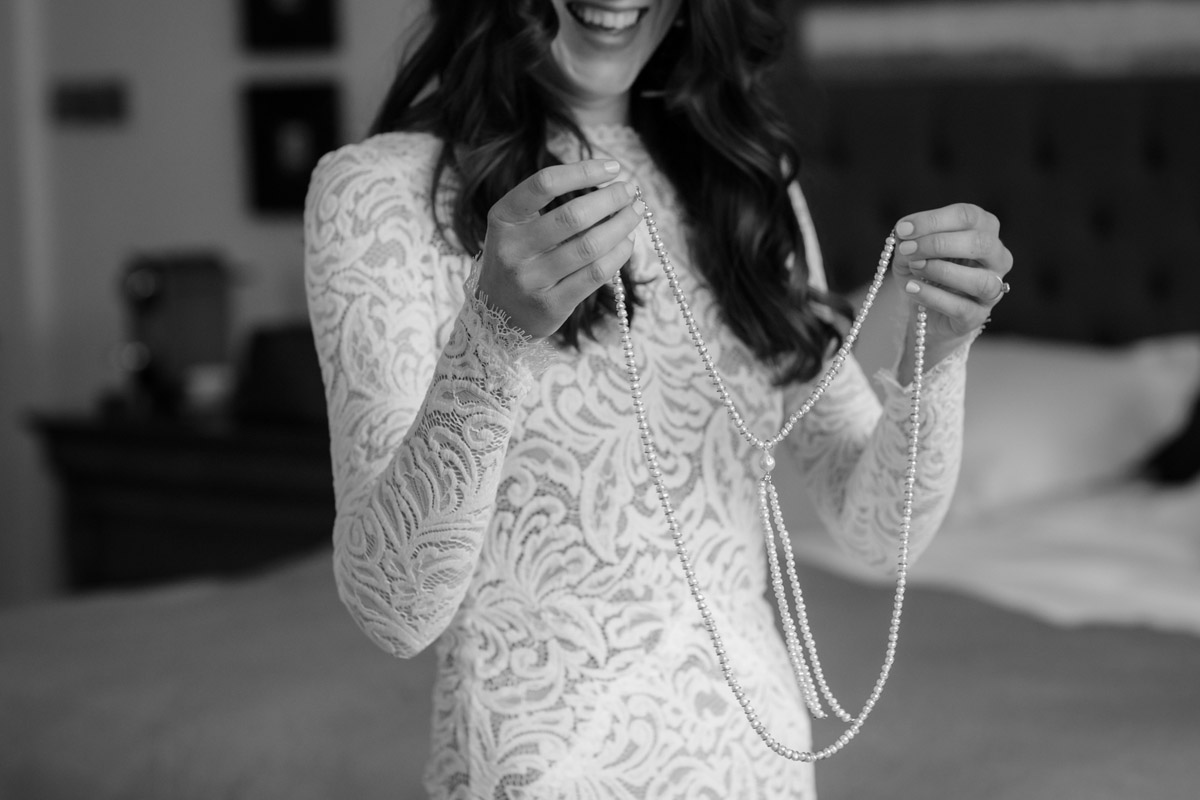 "I wore little white western-style ankle boots. I purchased them and my grey suede jacket from Free People."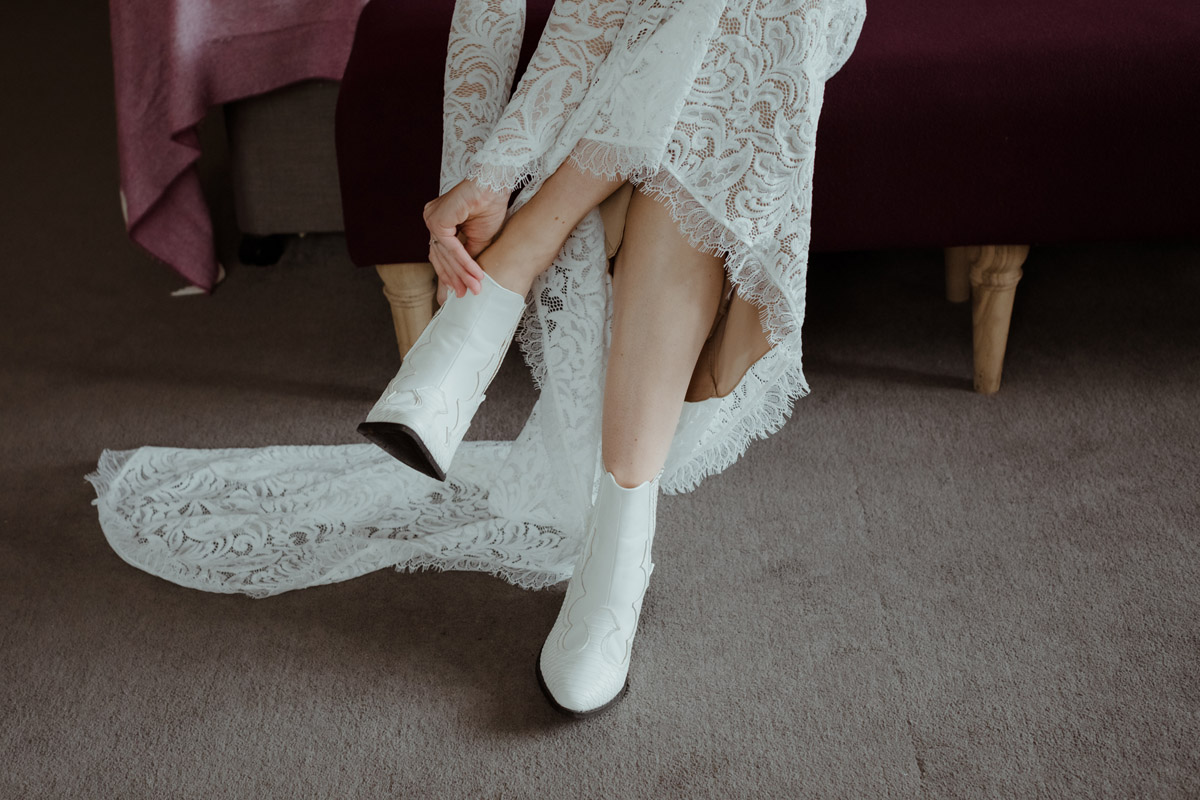 "Actually, my dad helped me choose 'the one' from the GLL collection. I was lucky enough to have my mum and dad over visiting us in Melbourne when I went for my first appointment to try on dresses – so they came with me, and we made a special day of it."
"It was my dad who saw a photo of my dress on the wall in the showroom and said he loved it."
"So, it was the first dress I tried on and nothing else I tried on after compared to it."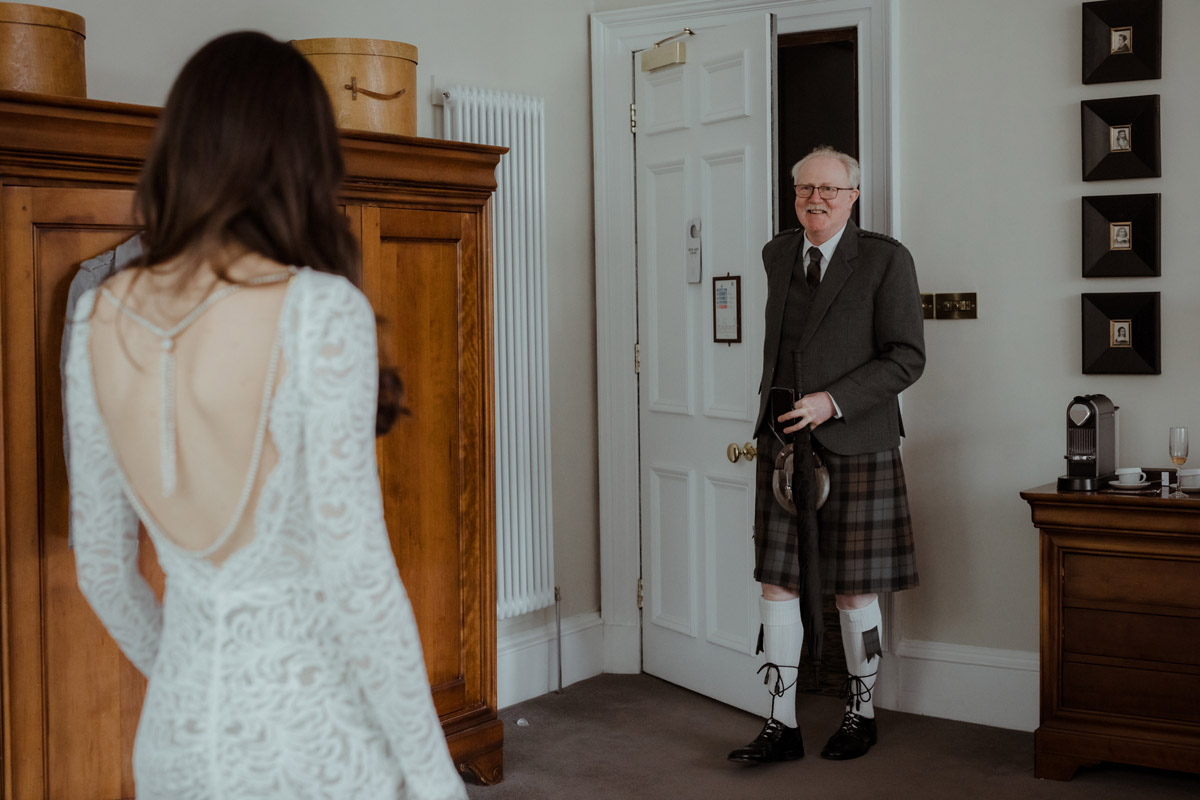 "I loved the detailed soft stretch lace and the warm nude lining that moulded to my figure and accentuated the right places."
"I felt the high neck and long sleeves made the dress elegant and timeless, whilst the low back added a bit of excitement."
"Antz wore dark navy chinos, a grey linen shirt and a textured dark blue/grey jacket with a subtle checked pattern through it. He had tanned shoes and belt."
"His whole outfit was from Next. We had to order it all online during lockdown without trying anything on together – so it all worked out really well considering! He looked completely amazing."
"Antz' brother ordered us our clear umbrella for the day – which turned out to be a very useful accessory in the end! He had it personalised with 'Antz and Catuna'."
"Our niece struggled to pronounce my name when she was younger and since then I've been known as 'Aunty Catuna', so it was a really cute nod to that."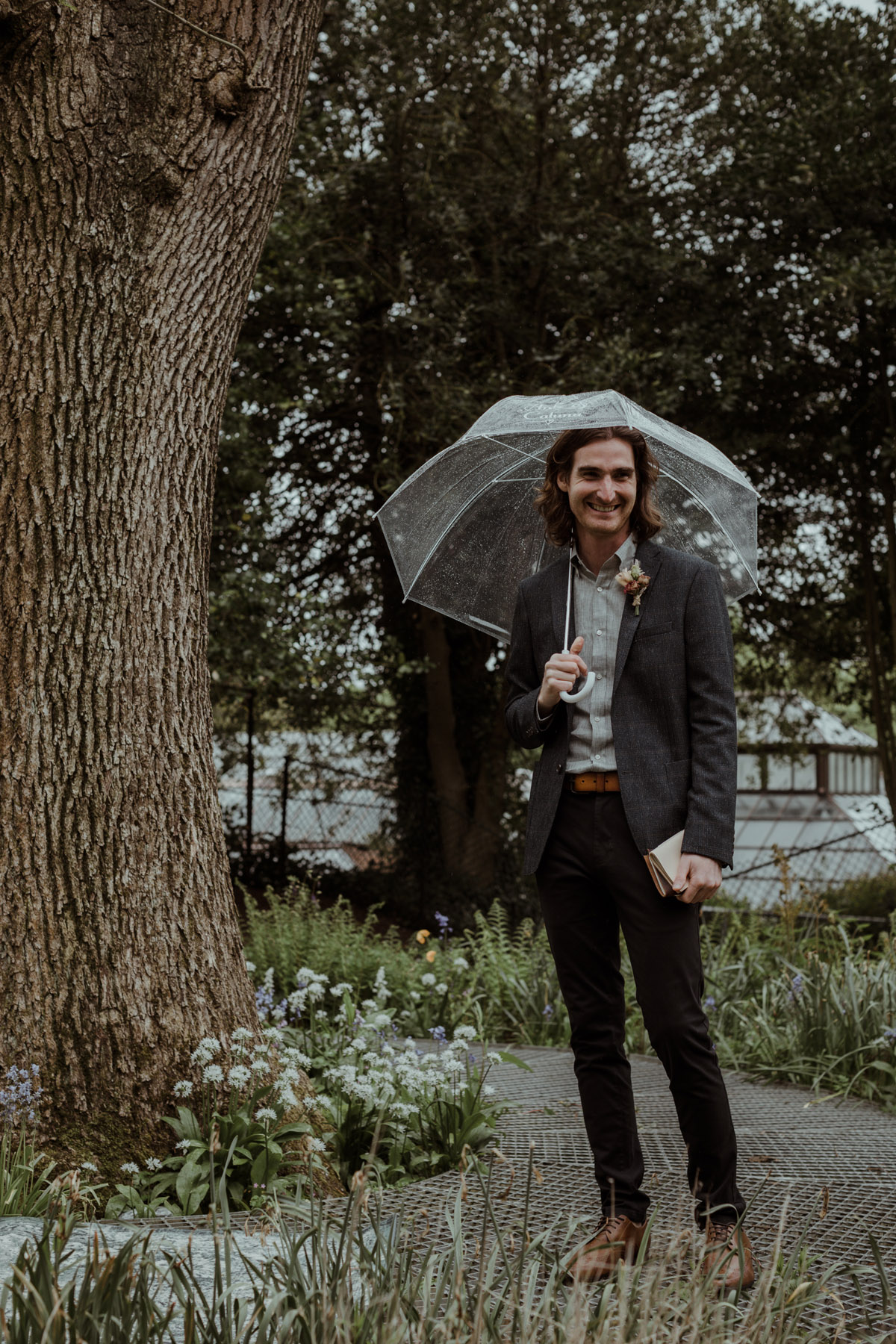 "My dad walked me into the ceremony area – and kept me dry under his umbrella. My friend had brought our vintage-style portable Marshal speaker and played 'Higher Love' by James Vincent McMorrow as my dad and I were walking in."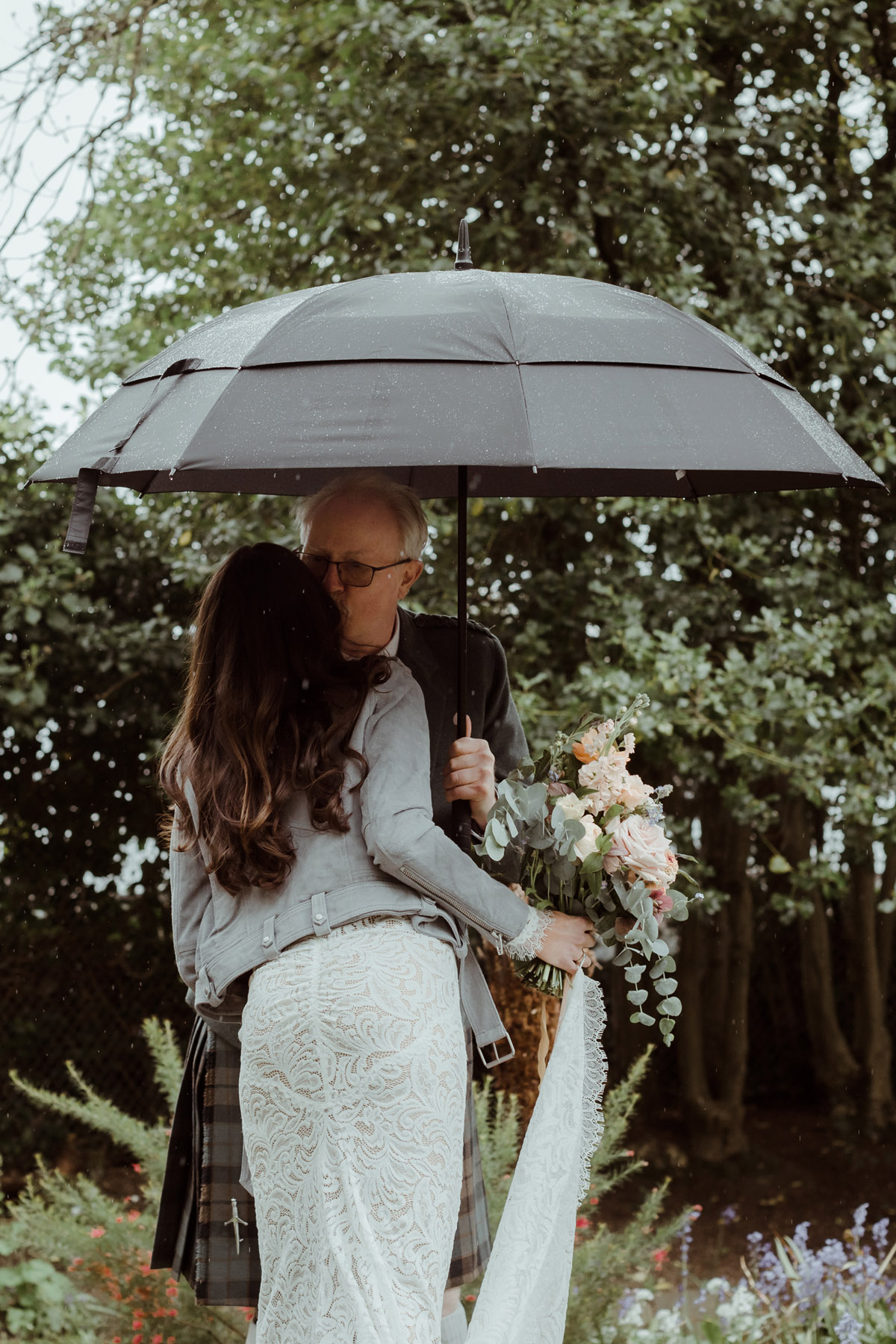 "We just called taxis on the day! I would have happily walked to the Botanic Gardens from our hotel as it was only a 10 minute away, but as it was raining, we opted to call a cab to drop us at the gate of the gardens for the ceremony."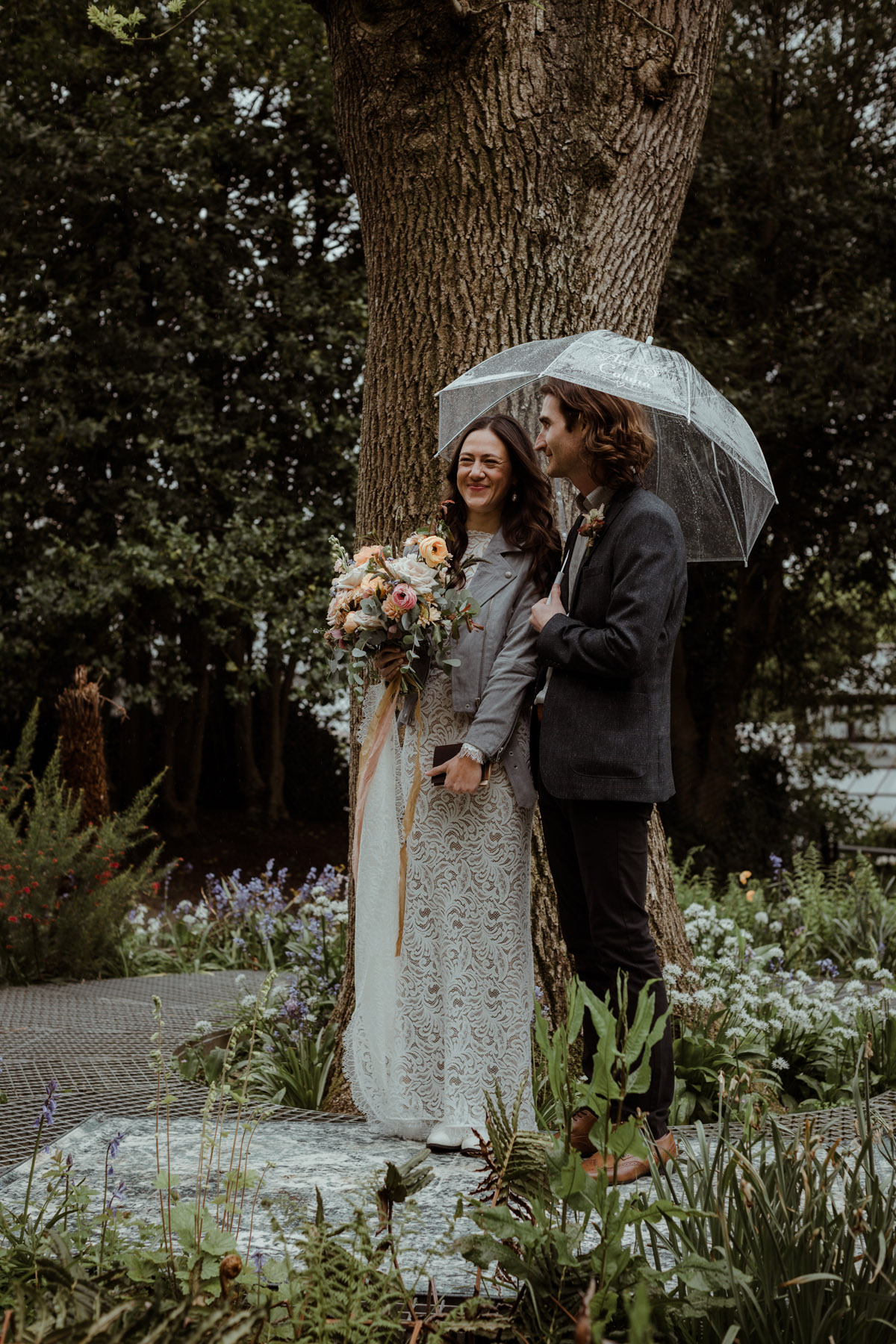 "Our ceremony was held outdoors in the Glasgow Botanic Gardens followed by a meal at The Bothy Restaurant in Glasgow's West End (Scotland). Glasgow is our home city, and we love the buzz of the West End and the cobbled alleyways around the venue."
"We decided to have the ceremony outside at the Botanic Gardens, which is just a couple of minutes walk from The Bothy, as we both love to be outdoors as much as possible and liked the idea of getting married with a backdrop of nature and seasonal flowers."
"We felt it would be a very relaxed and informal way to have the ceremony. When we were shown the little circular area of the gardens – which was hidden away from the main walkways and under a lovely big Ash tree – we knew it was the perfect spot."
"Furthermore, my grandma had decided she wouldn't manage to the full wedding due to frailty and her requiring assistance, but when we considered the idea of holding the ceremony outdoors, she felt she would be able to attend the ceremony in her wheelchair to see us getting married. So that was a big motivator – we wanted my grandma to be there if possible."
"Funnily enough, we remembered when we were completing our 'homework' for our incredible humanist celebrant Claire Digance, that we'd gotten locked in the Botanic Gardens one evening on a date, back when we first started going out."
"After quite a few failed attempts, we did eventually manage to scale the spikes to gain our freedom. It made us laugh to think that almost 12 years later we'd be getting married there."
"Humanist celebrant Claire Digance officiated over our ceremony and was truly amazing. She completely set the tone for the day to be relaxed, personal and great fun. She had everyone laughing and crying in equal measures. Our family and friends said they felt they'd been part of something very special and that they were blown away by Claire."
Due to covid we were only able to meet Claire via Zoom calls before our wedding, but each time we spoke to her we felt like we'd known her for ages, and we were talking to a good friend. She made us feel so comfortable and supported from the offset."
"We're not the most organised of people but Claire kept us right."
"She had us complete 'homework' so she could really get a sense of us as a couple and know our story. We found we really enjoyed completing and sharing our answers with each other. It was a lovely way of remembering everything we've gotten up to over the years and taking time to share with the other person what they mean to us – which we don't do often enough."
"When Claire sent us our ceremony that she'd written based on our answers we literally did a happy dance – it just sounded exactly like us. She nailed it."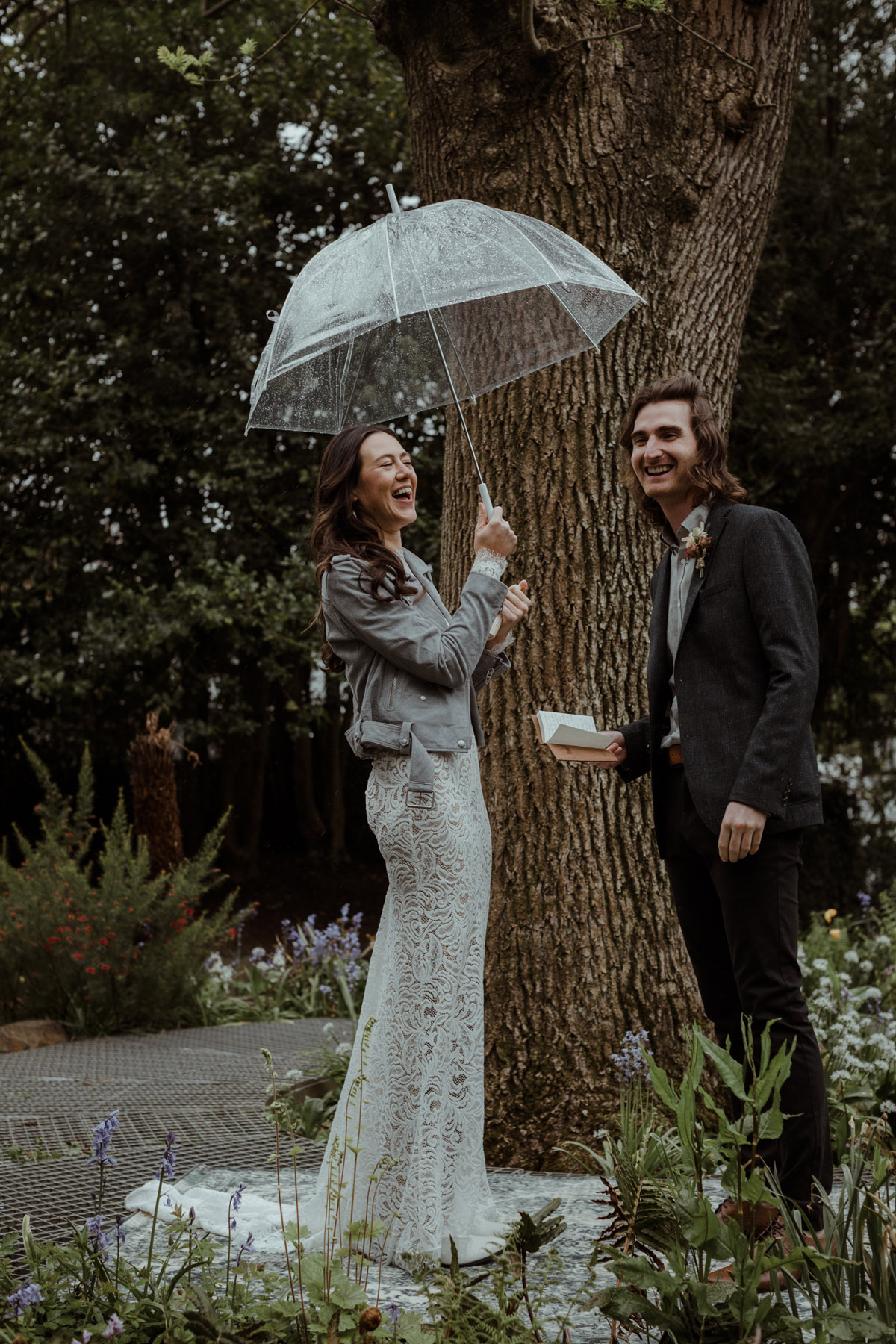 "We wrote our own vows and we're so glad we did. It was exciting, wondering what the other person had written and it was very emotional when we read them to one another. I definitely cried all my mascara off."
"Our friend did a reading which was a slightly adapted version of the song 'Home' by Edward Sharpe and the Magnetic Zeros. We listened to the song a lot over the years we travelled, and the lyrics always rang true for us. Our celebrant Claire also read the reading 'These Are the Hands' as we handfasted ourselves."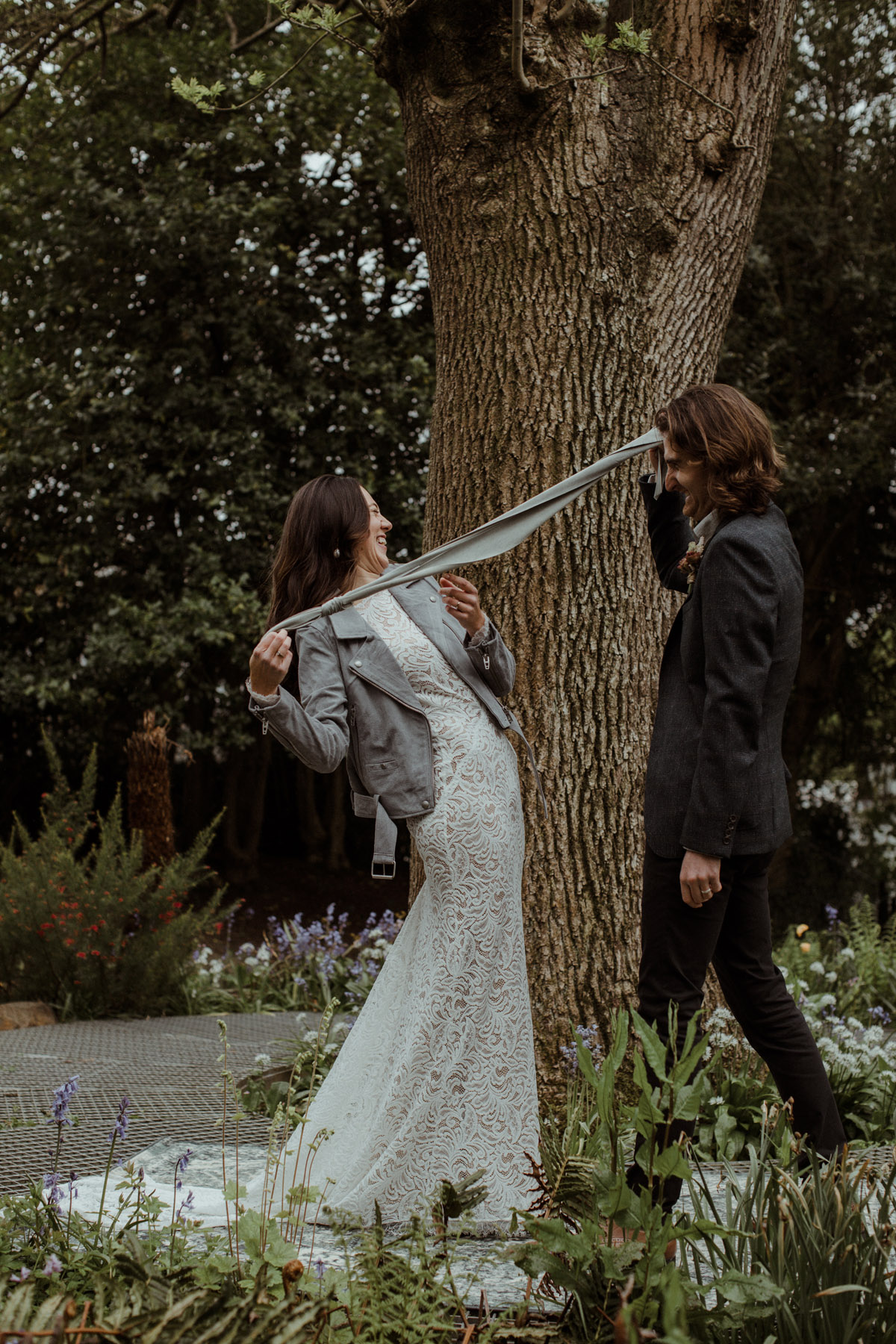 "We did the Scottish tradition of drinking from a Quaich during our ceremony. Traditionally you would share whisky from it, but we opted for Margaritas."
"Antz found time in the morning to shake up a cheeky batch of Margs and we poured that into the quaich all in the name of tradition. Basically, it was just a great excuse for a cocktail mid ceremony."
"We had our rings made by a local Glasgow jeweller, Blair & Sheridan. They made my engagement ring, which Antz and I designed together with them after he proposed, and we couldn't have been happier with it. So, it was a no-brainer to go to them for our wedding bands."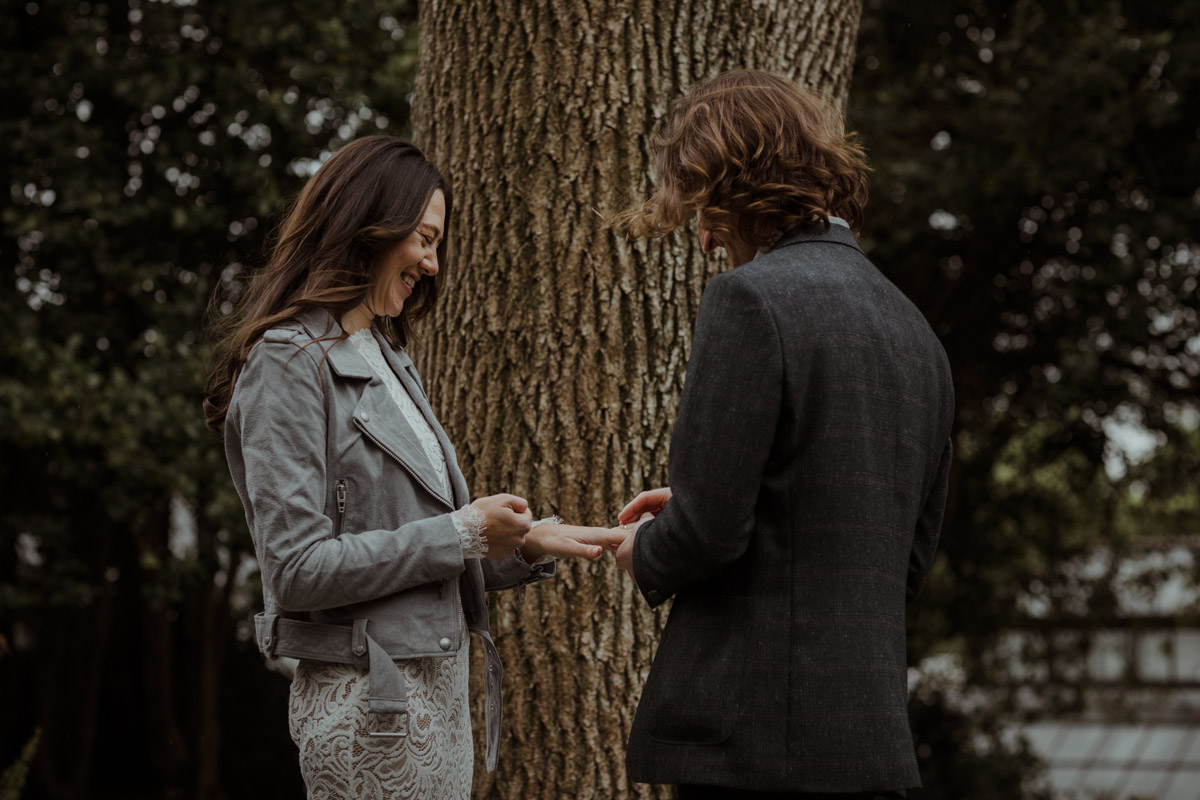 "Especially since they are such genuinely enjoyable people to hang out with! They spent a lot of time with us making sure they got our designs right for us and had us laughing at every stage."
"We loved the time we spent with them and wouldn't hesitate to recommend them to everyone looking for stunning, original, bespoke jewellery! The whole experience was wonderful."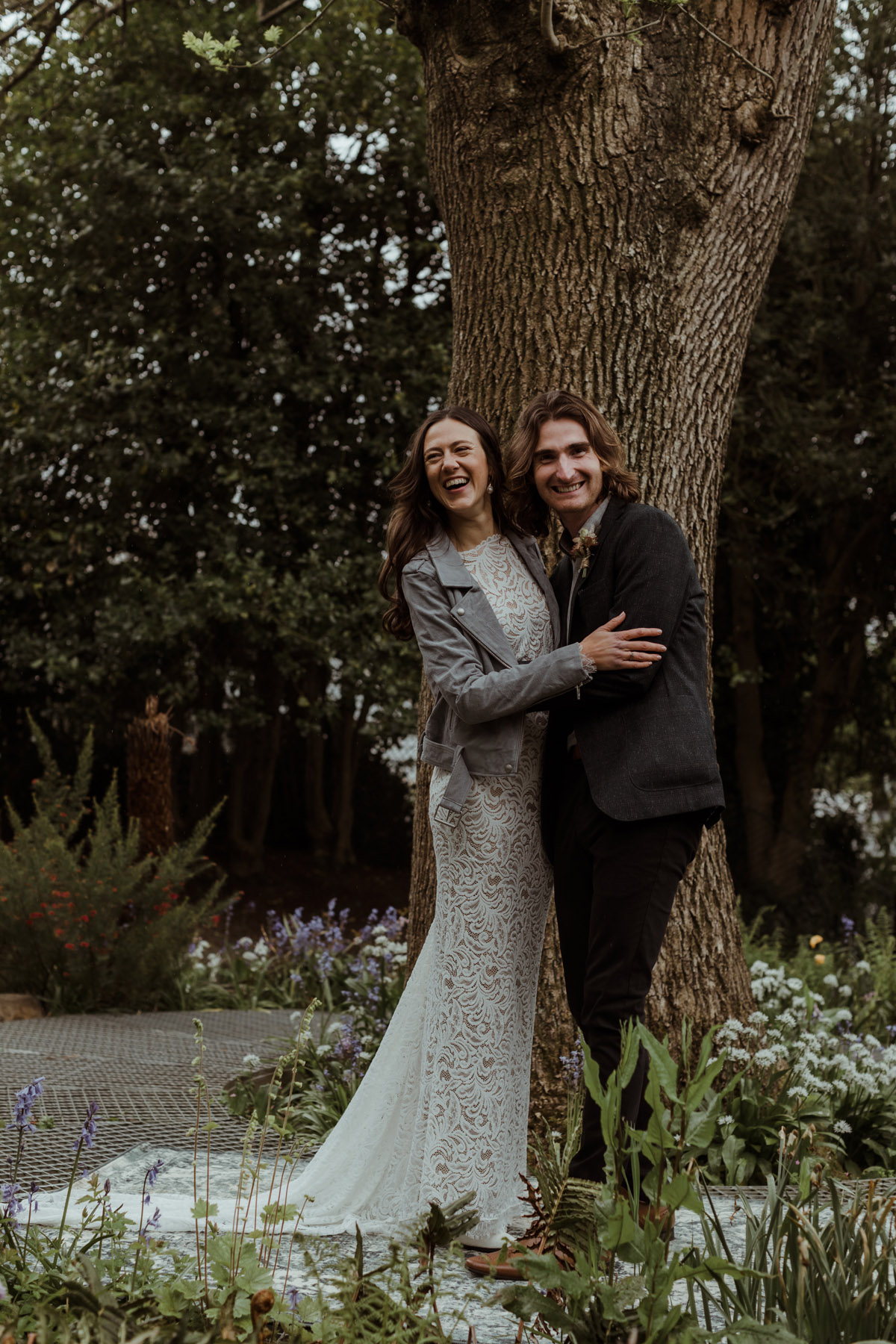 "They also have a very well-stocked bar which is an enjoyable bonus, ha! We asked them to put secret engravings in each other's wedding rings and, hilariously, we opted for the same thing."
"Antz guessed what I would choose for his, even though I thought I was being so original and pulling some long-forgotten comedy-gold out from our relationship archives! I guess he must know me pretty well."
"Also, at the end of the ceremony, when our celebrant announced us as being married and everyone cheered, she started playing Stevie Wonder's 'Signed, Sealed, Delivered' and we had a little impromptu dance beneath the tree before friends threw some petal confetti over us."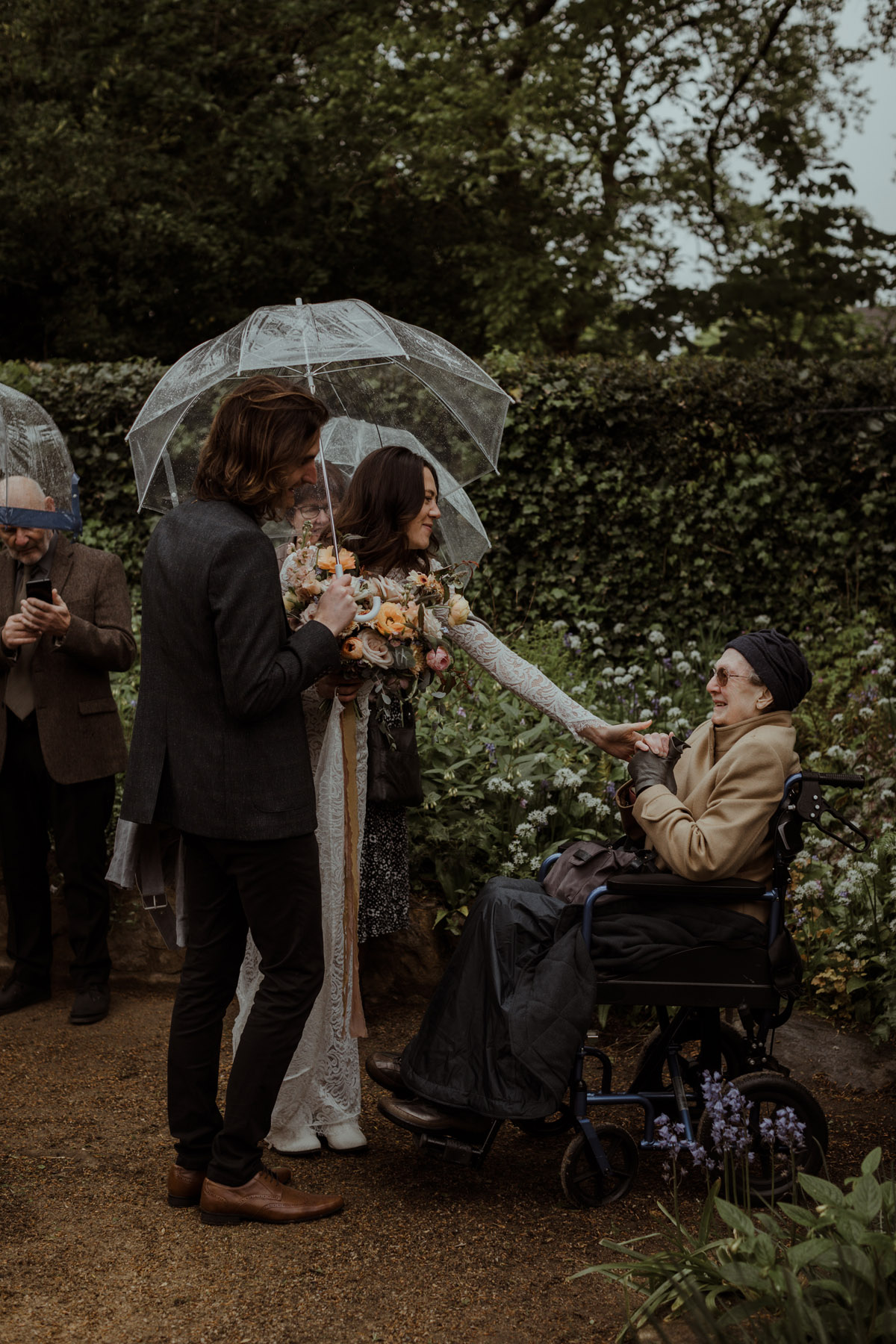 "We chose Caro Weiss as our photographer as she is the most incredible storyteller through her imagery."
"We wanted images that captured the real and special moments of our happy day – so we could treasure these memories forever."
"I couldn't recommend Caro more – we love our photos so much! She just completely captured the feel and essence of the day so perfectly – looking through our gallery is like getting to relive our wonderful day. The pictures are so full of love and joy and that's exactly how we remember our day."
"We're so thankful to have her beautiful images to look at in the years to come and take us back to it all."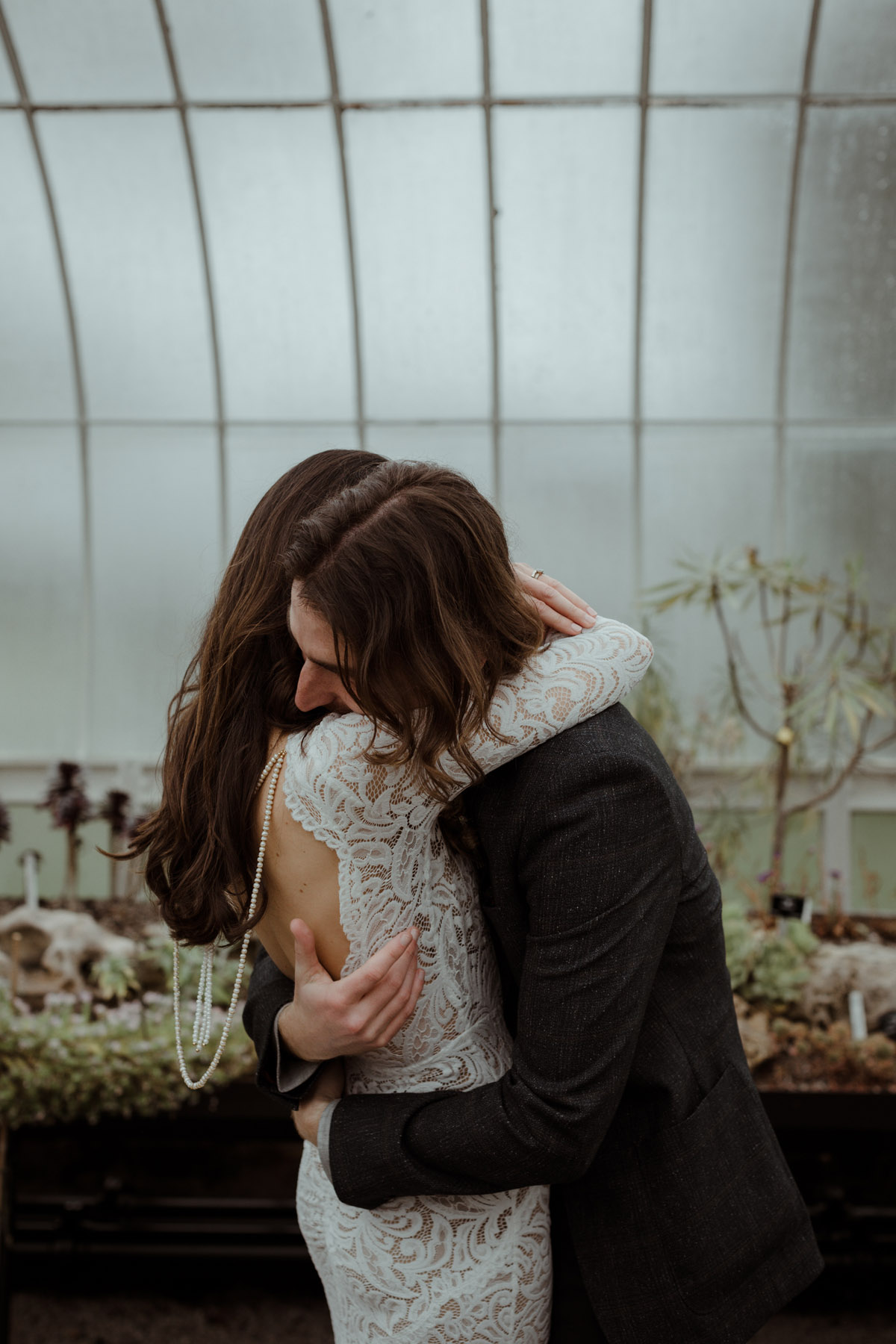 "It was an absolute pleasure to have Caro at our wedding – she made us feel so comfortable and supported and was lovely company. All our family and friends spoke of how friendly and awesome she was."
"We chose Sugar 8 to capture our day as Eileen blends footage shot on old Super 8 film and digital footage into her videos."
"We just love the unique romantic quality the old film brings! Her work is so special."
"Similar to Caro, Eileen specialises in relaxed and honest storytelling in an unobtrusive way."
"She made us feel so at ease on the day, kept us laughing throughout and made it all so fun. It was a total pleasure to have her with us."
"We can't wait to see our video once it's ready – developing the film means it takes a bit longer to produce our video."
"We have no doubt it will be worth the wait – and we love that we have another exciting thing still to look forward to."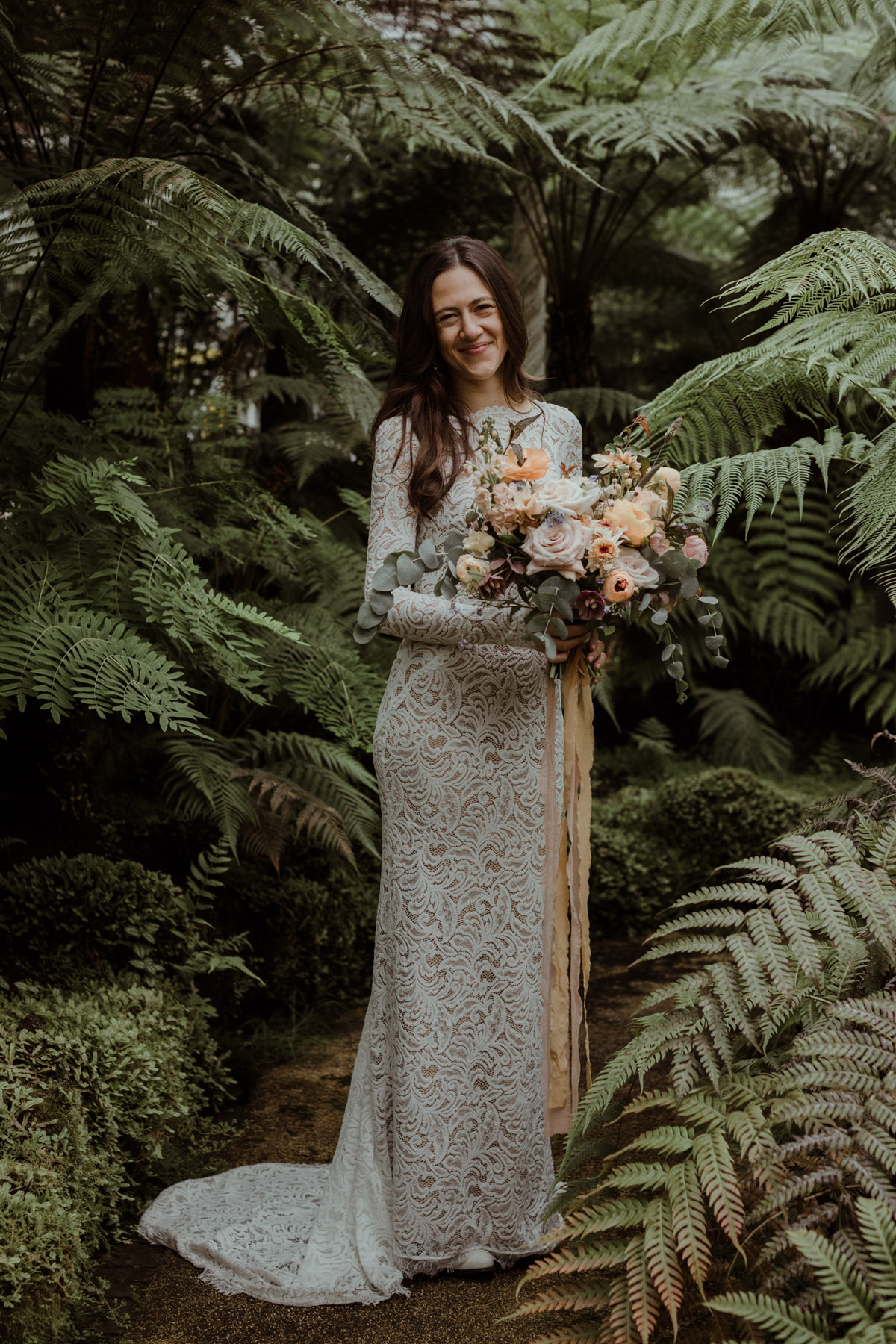 "We met when we were teenagers and had the same part-time job at the local Brewers Fayre pub whilst at school. Antz worked as a chef in the kitchen and I was a waitress. After about 6 months of sneaked snacks and dessert-based chat, we became inseparable and have been for the last 12 years."
"We spent our twenties studying and then travelling all over the world together on a shoestring budget. We've squeezed so many adventures and experiences into the last 12 years. We always talked about our future – and knew we would get around to getting married one day – but we were never in a rush."
"Antz asked me to marry him in early December of 2018. It was the perfect proposal for me – so chilled-out, private and sentimental. He woke me up one morning with a coffee and a letter to read in bed, in our first home that we'd just spent a year renovating together."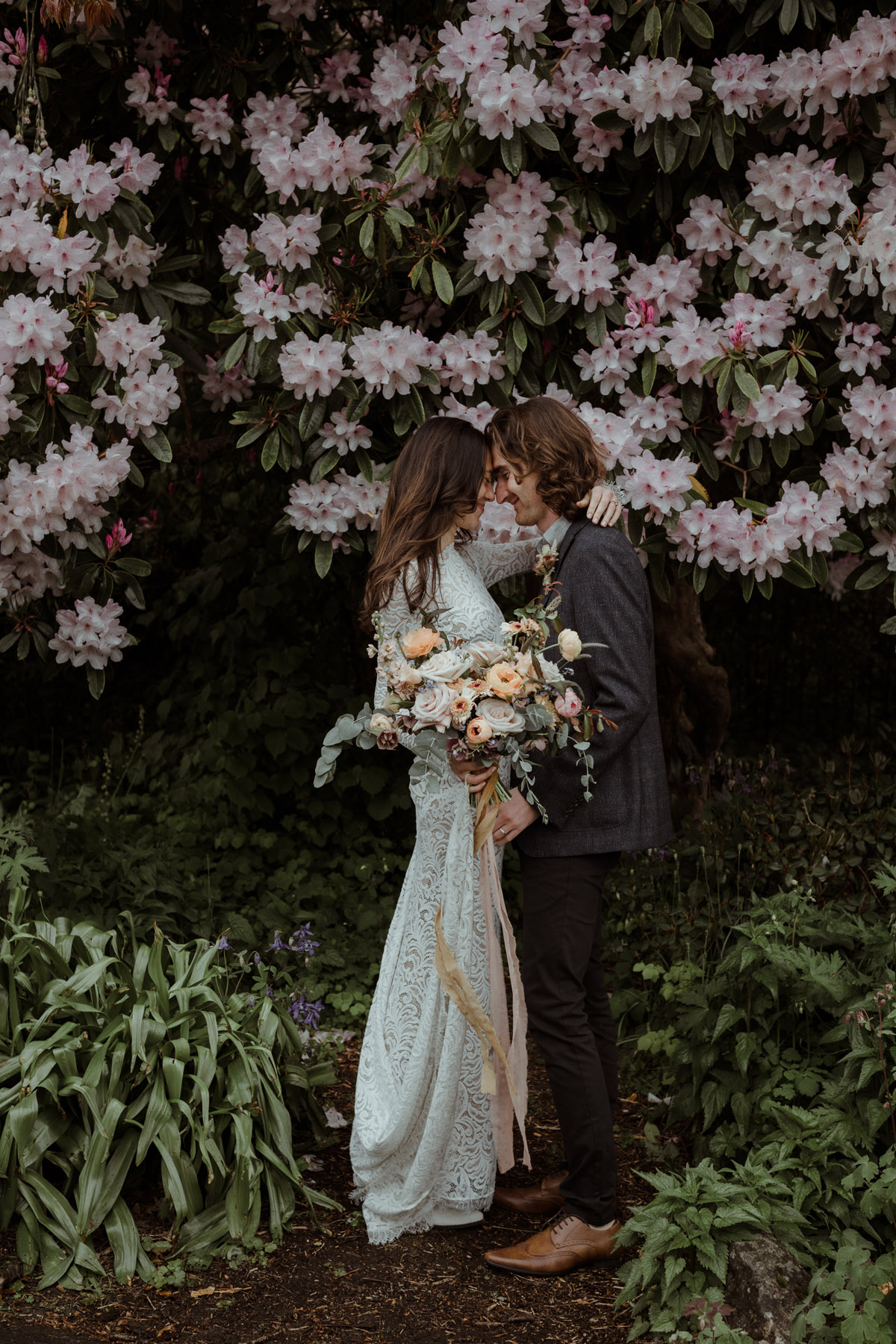 "He had come across letters that we'd sent each other years ago, near the start of us, and thought he'd reply now. At the end of the letter he asked me to marry him."
"We kept the news to ourselves for a few days as we were heading up to a cabin on the Isle of Skye which felt like the happiest dream. Just the two of us in a newly-engaged bubble, with the best food and wine and the joy of sharing our news in person with our families and friends when we got home."
"We didn't jump into full wedding planning mode -we just enjoyed being engaged and celebrating with our favourite people."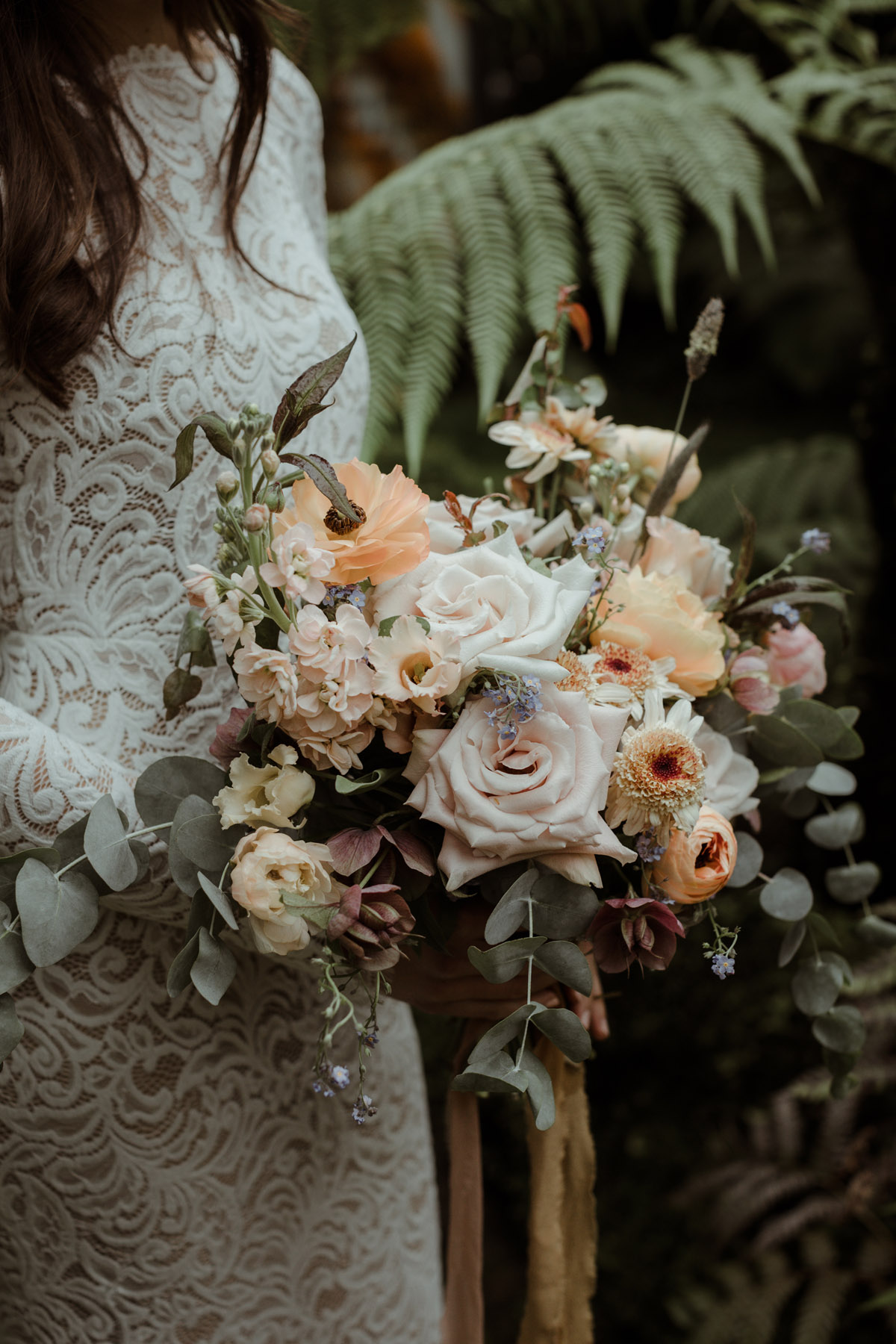 "We didn't really intend on waiting so long to get married after we became engaged either, but an opportunity arose for us to move out to Melbourne, and we jumped at the chance."
"So, we spent an incredible few years living in Australia and decided to wait until we returned home, and could be surrounded by our family and friends, to make any definite wedding plans."
Covid 19
"Covid meant that we organised our wee wedding very last minute. We returned home to Scotland from Australia in February this year and were met with the realisation that we may be waiting a long time to find availability with the suppliers and venue of our choosing, due to the backlog of weddings waiting to happen post lockdown. So, we decided to try to squeeze it in before most weddings really started up again."
"We planned it all in a few months which was very exciting really – it all felt so real."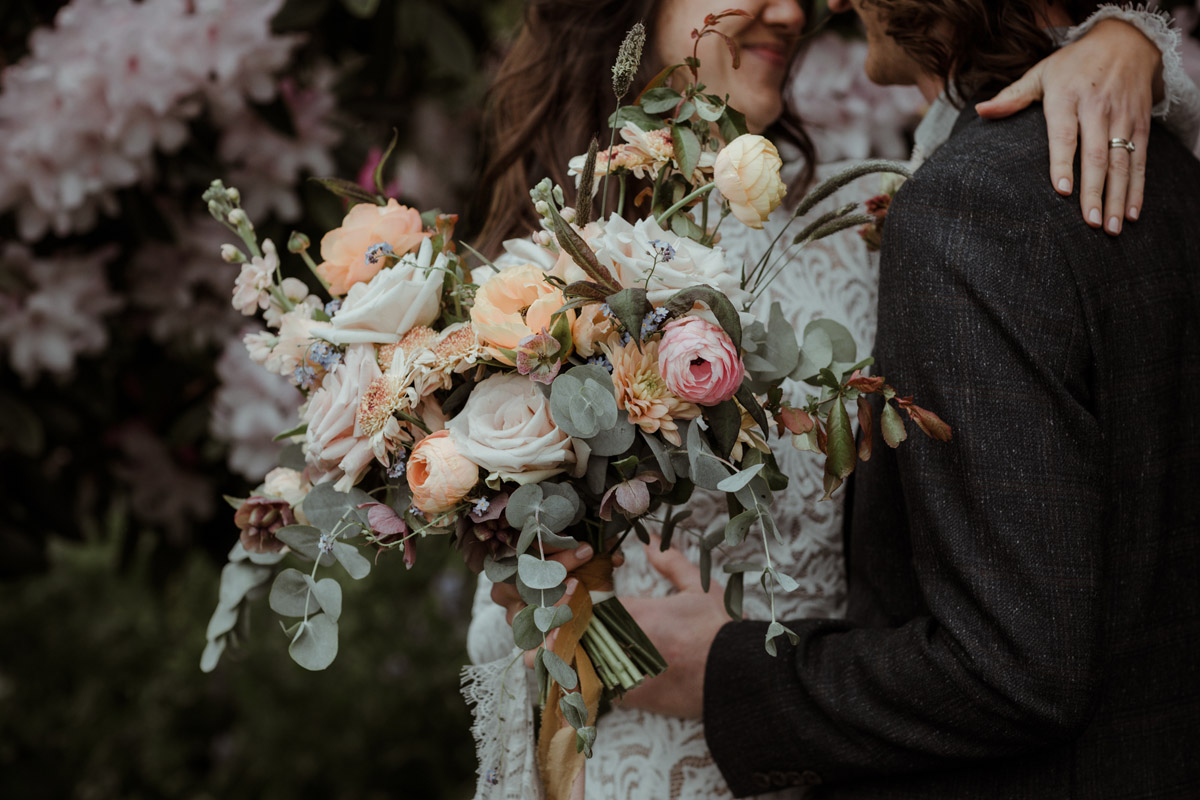 "It definitely wasn't without its stresses though – trying to anticipate when restrictions might ease enough for us to have our day and then hoping that nothing changed for the worse as our date edged closer. But we went in with our eyes open, knowing that we were opting to get married during a global pandemic, and that we'd need to be somewhat flexible with our expectations. I think it was easier for us for that reason, more so than for couples who had planned their day pre-covid, because we had realistic parameters for what our day might look like, and we were ok with that."
"In non-covid times, I would have likely gotten ready with my beautiful mum and lovely friends on the morning of our wedding. But I decided just to get ready with my mum so as not to breach covid rules. And it was a meaningful time for us to spend together, just the two of us. We treated ourselves to a stay in a stunning suite at the One Devonshire Gardens in Glasgow's West End the night before and it felt so special, exciting and relaxed getting ready there together. I wouldn't change it."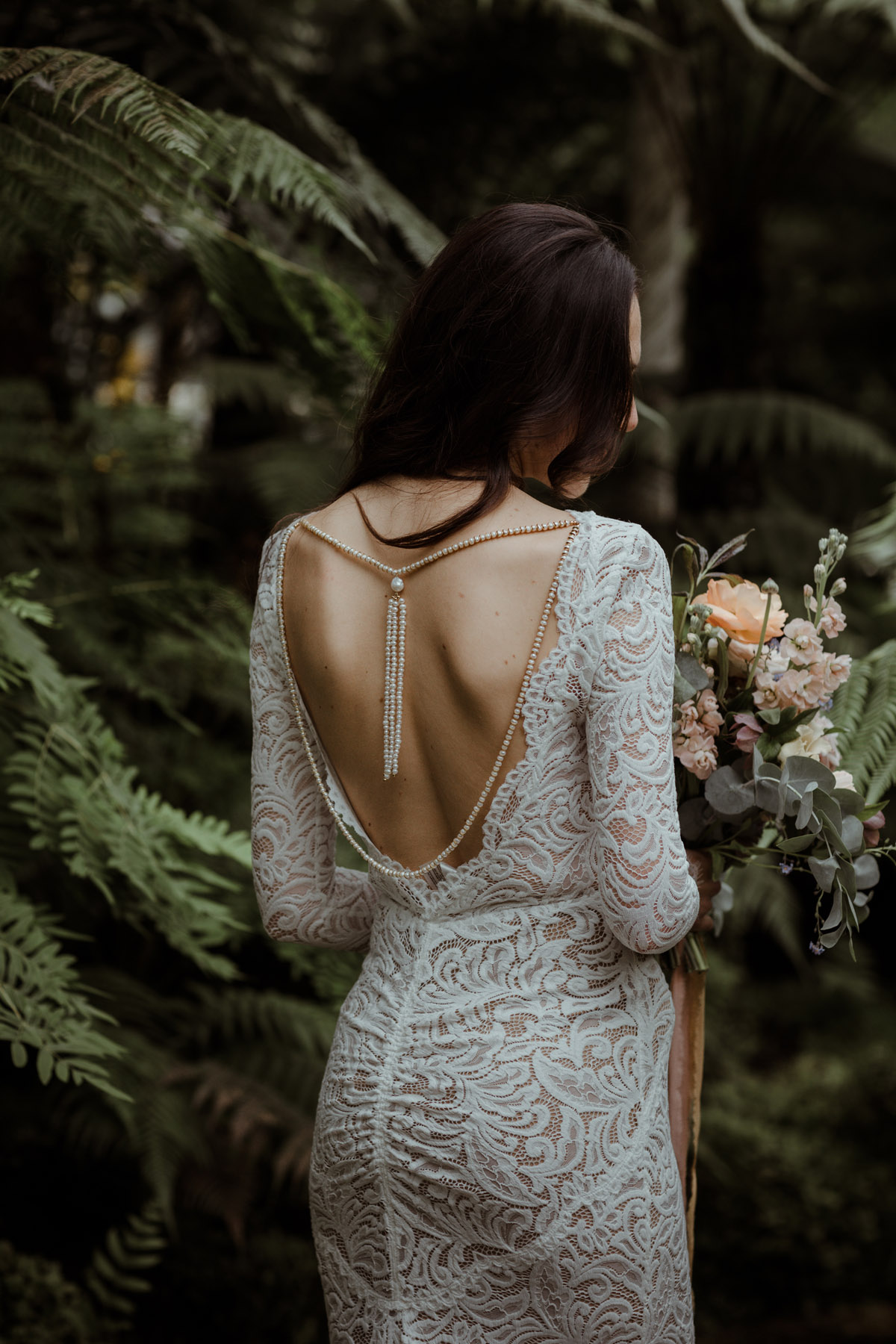 "As we went ahead with having our wedding outside, despite the rain, our guests didn't have to wear masks. We did have a wet weather contingency plan to hold the ceremony in the Kibble Palace greenhouse but decided to brave the drizzle."
"We loved being able to see our favourite people's faces and reactions during the ceremony."
"At the restaurant following the ceremony, we were seated at our table for the toasts, meal and drinks, so masks weren't an issue."
"We were honestly barely aware of covid during our day – it was such a welcome and needed respite from it all for everyone."
"We went through periods of wondering if we were doing the right thing, if we would regret not holding off until we could have the 'perfect' day without restrictions, but ultimately, I don't know if you'll ever be happy if you're chasing the 'perfect' day."
"When we felt stressed or worried about what our day might look like we would remind ourselves – if nothing else, we're getting married on this date! And it really was the best day ever because of that!"
"After 12 years together, we thought the actual getting married part might feel a bit like a formality, but we were both so surprised by how much it all meant to us and how it all felt like a wonderful, joyful dream. So, I guess I'm trying to say, try not to worry about it too much as it will be a bloody excellent day marrying your love, regardless of what else happens."
"Getting married is such a high so try to let go of any expectations that aren't serving you and and enjoy it for all that it is."
"We found that the small-ness of our wedding made it feel so personal, emotional, relaxed and fun."
"We chose The Bothy Restaurant for our reception as they have a lovely, cosy private dining room upstairs which seats max. 24 guests so we were able to have the relaxed and intimate celebration we wanted, and the venue wouldn't drown our wee wedding of 16 people."
"The private dining room is great and looks beautiful with hanging lights, a rustic original fireplace and exposed stone – you could honestly do nothing to the room, in terms of additional decorations, and it would still be stunning."
"Most importantly, we'd eaten at the Bothy several times before and always loved the food. This was really important to us – we wanted it to be a great meal, with lots of menu options for us and our guests to choose from and with a good wine and cocktail list, and a nice real coffee for afterwards too."
"Since we weren't having a 'party' as such we wanted to make a real celebration out of the meal and drinks."
"They have an extensive whisky selection, which we knew some of our family and friends would enjoy choosing a dram from."
"We didn't have much stationary, other than some simple place cards for the table. We chose gold calligraphy on lovely handmade forest green paper and ordered them on Etsy."
"One of my beautiful best friends and very talented baker made us our vegan lemon cake as our wedding gift."
"It was simply decorated with vegan buttercream and gold leaf and was the most delicious cake I've ever eaten."
"Our florist arranged for some fresh florals for the top of the cake, and we had an 'About Damn Time' topper to make fun at the fact it took us 12 years to get around to getting married."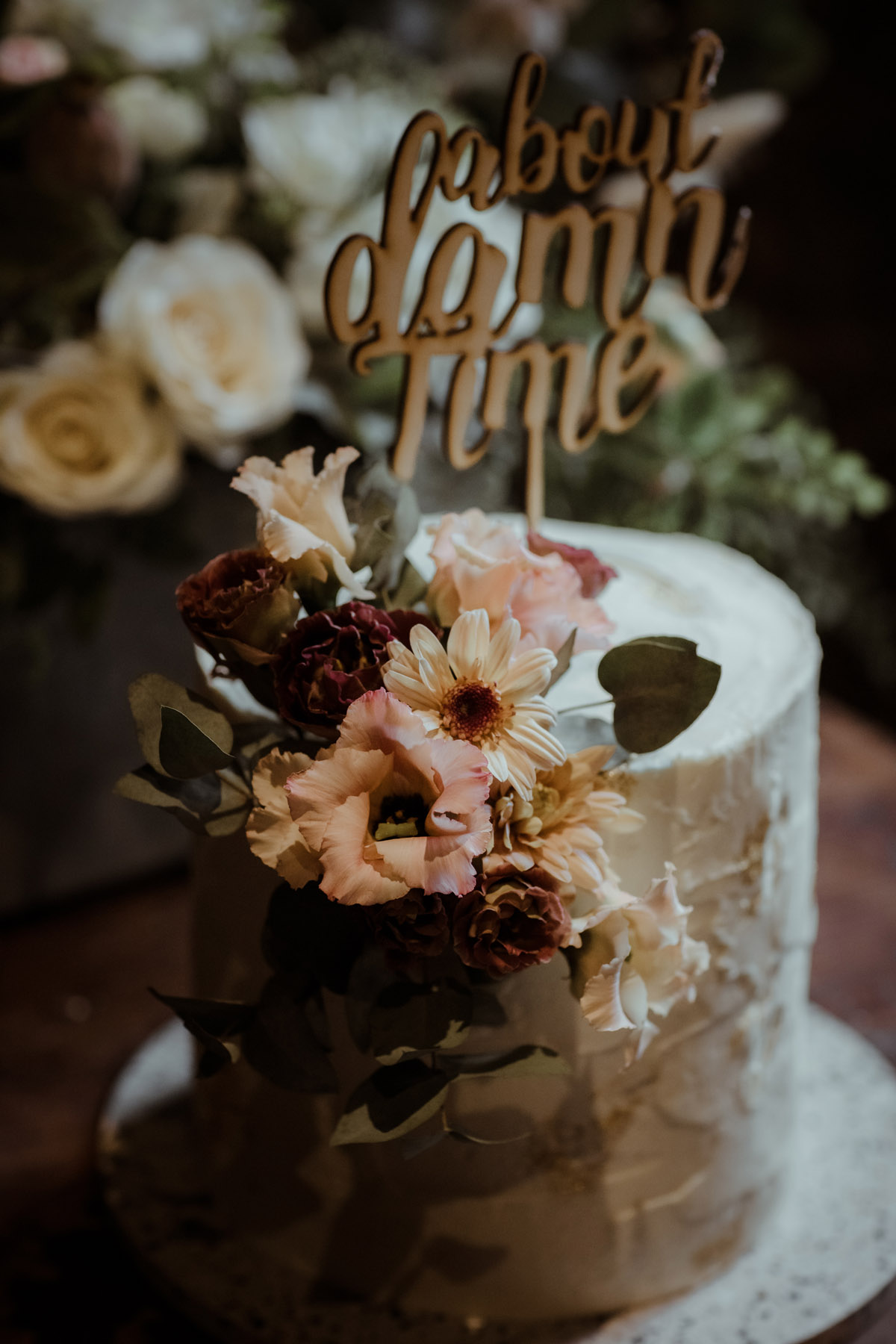 "We loved the idea of letting the beautiful wild florals speak for themselves, so we didn't want any other fussy décor other than some candles."
"We imagined having some tapered dinner candles interspersed among the florals and foliage along the table."
"Our florist offered to take care of the candles for us too, so we didn't have to worry about a thing! She did a stunning job and the table looked even better than we'd imagined."
" The only other thing we got was a vintage-style rug to place at the foot of the tree we got married under."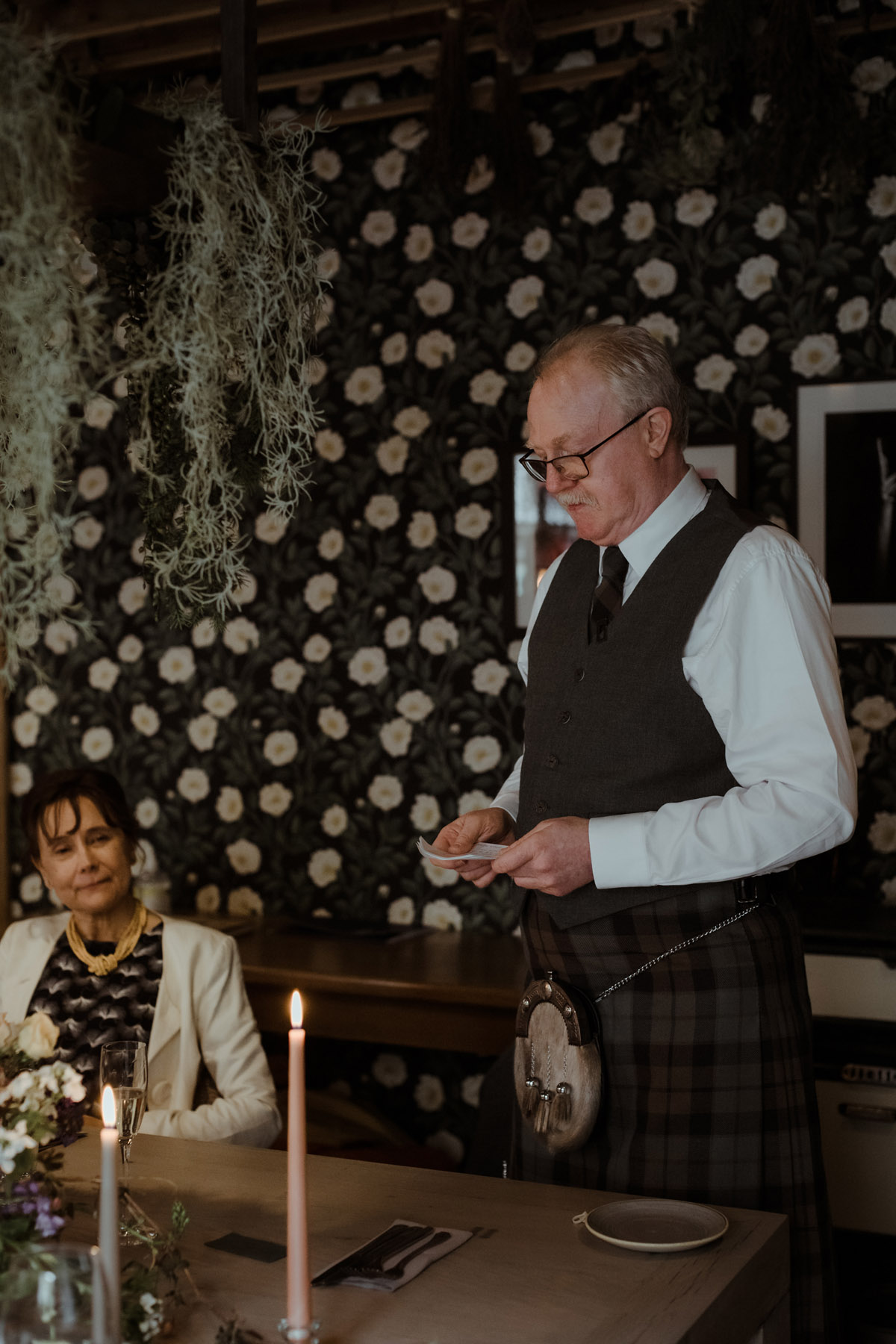 "I have a few favourite moments from our wedding day; my very favourite was seeing my dad's face when he saw me ready in my dress – he looked so emotional and happy."
"He came to the hotel to pick my mum and I up and we'd factored in enough time for us to have some champagne together before leaving for the ceremony."
"Our photographer and videographer headed to the Gardens before us, leaving my mum, dad and I drinking fizz."
"That time together, just the three of us like it was when I was growing up, felt really special. We were so excited for the day ahead."
"Another favourite memory was just before my dad and I walked into the ceremony area. I thought I would feel nervous and anxious at that point – but I realised I just felt so excited. I couldn't wait to see everyone and for it all to start!
Having such a small wedding meant we were so close and comfortable with those who were there, so we could be completely ourselves and just enjoy every minute."
"We're not the most organised, and consequently hadn't considered what we'd do with our rug after the ceremony had finished. Actually, we were on such a high, we didn't even acknowledge it and walked away."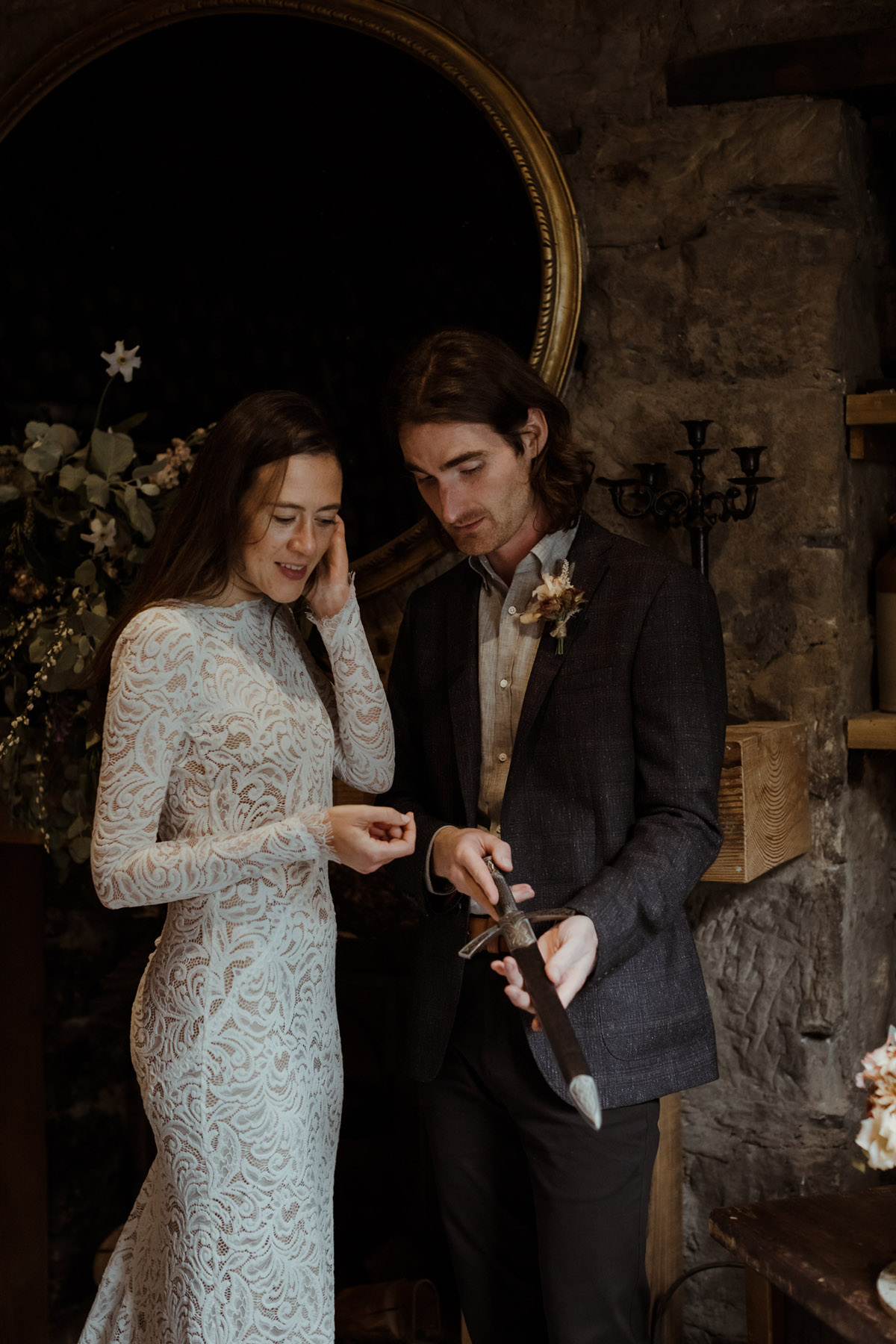 I remember turning to see one of my best friends crouching down and rolling up this big rug in her glam outfit, heels and a raincoat and casually throwing it over her shoulder. She had arranged with her partner for him to collect it."
"It sticks out at us as a favourite moment as it made us laugh a lot and we just feel so bloody lucky to have these people in our lives."
"Lastly, we loved the incredible toasts. We decided not to have formal speeches as we just wanted everyone to be able to relax and enjoy themselves without worrying about a speech. But a few of our people were keen to say a few words as we all sat around the table before our meal."
We were blown away by the lovely things that people said and felt so loved."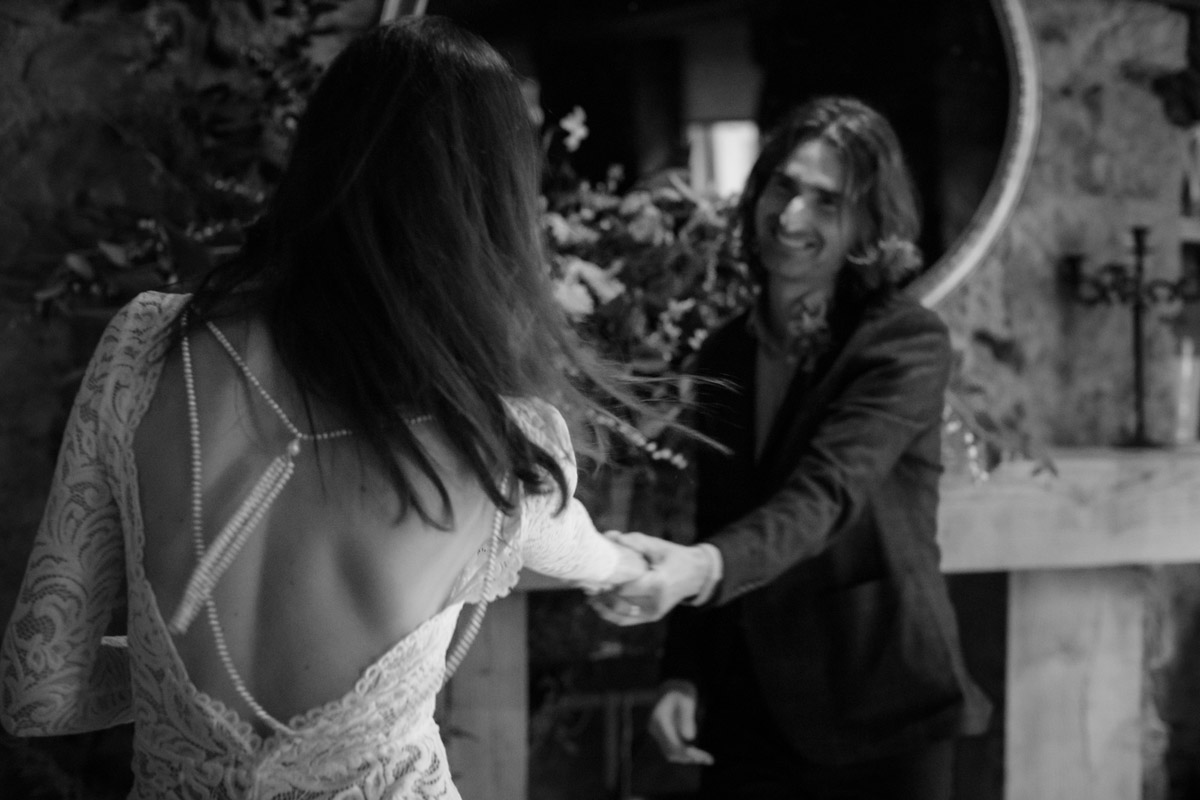 "Our first dance song was (Your Love Keeps Lifting Me) Higher & Higher by Jackie Wilson as it's true and we just really love to dance to it."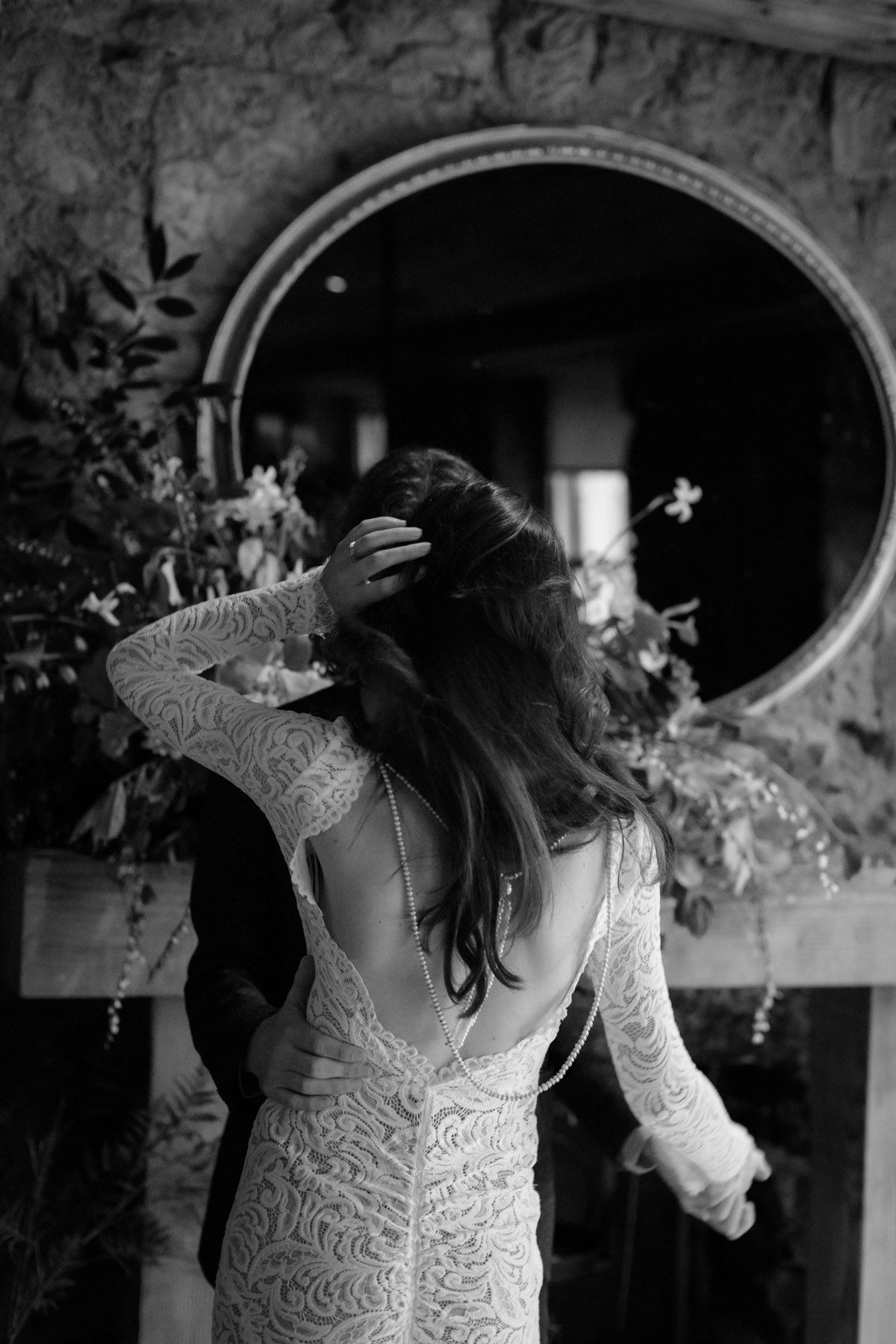 Wedding Budget
"We did go slightly over our original idea of our budget – but we did so by choice. We decided that since we were having such a wee wedding, one of the benefits was being able to treat our family and friends and to splash out on some things that we wouldn't have been able to with a bigger wedding."
"We opted to have Champagne rather than Prosecco, chose our favourite wines to serve with the meal, and opened a tab for after-dinner whisky and cocktails."
It all added to the celebration of the day – and there's nothing better than an espresso martini with your friends after a good meal."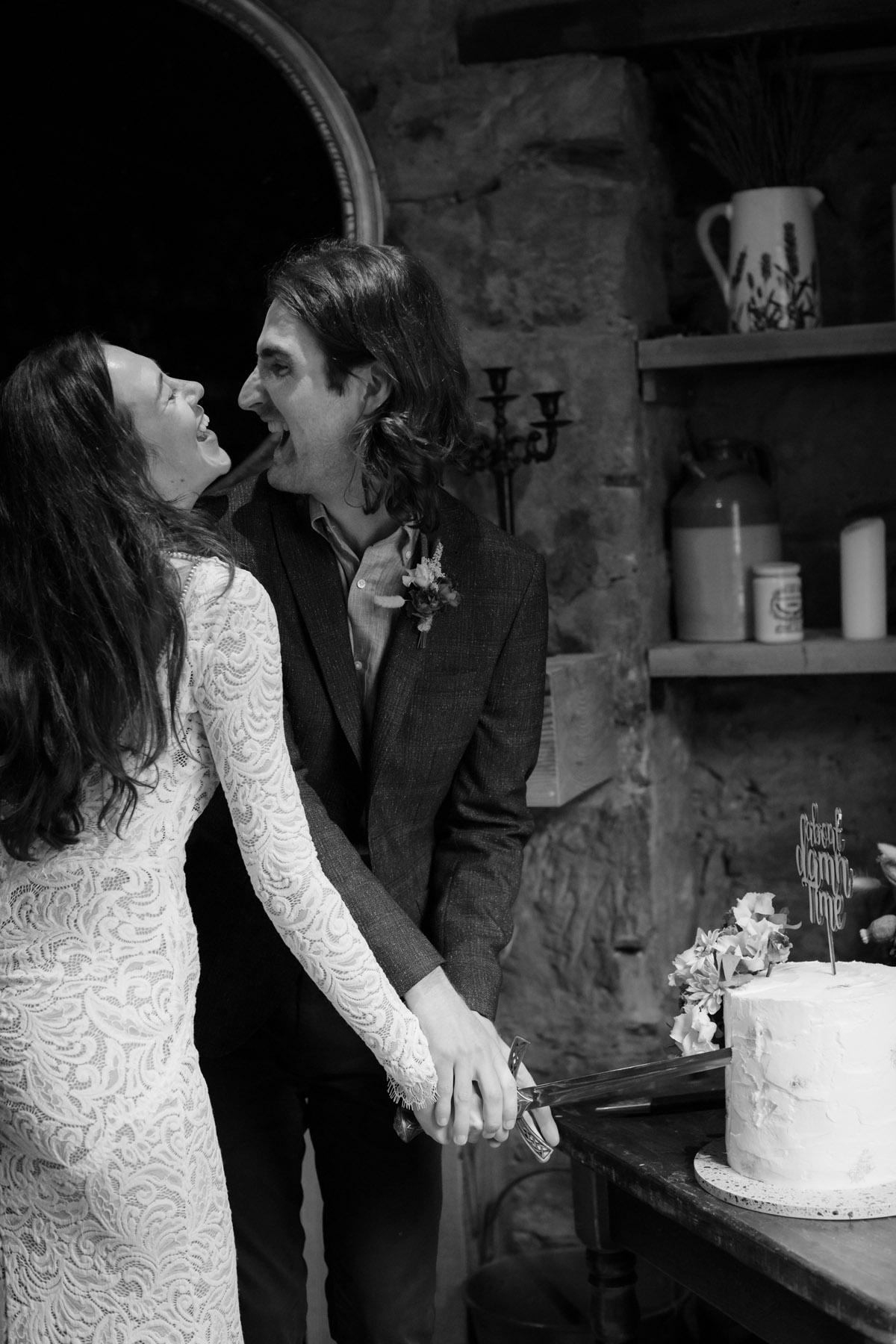 Words of Wedded Wisdom
"Make the day your own. Think about what makes you happy in life and incorporate that into your day. Don't stand by any traditions or wedding norms that don't hold meaning for you. My mum and I went for a walk on the morning of the wedding and stopped for coffee and breakfast in a café as we love exploring all the little independent eateries in Glasgow's West End. It was what we love to do so we made some time for it in our day."
"Things have a way of playing out wonderfully even if they don't go ideally or perfectly to plan. It rained the entire time during our outdoor ceremony which wasn't what we were hoping for, but our family and friends said the rain made it more romantic and magical – that we looked like we were in our own little world standing so close to one another under our umbrella. We barely noticed the weather to be honest and didn't care if we got a bit wet, we were just so happy!"
"Also, at one point someone started cutting down trees in the distance and the noise travelled to us whilst Antz was reading his vows to me. As a result, our family and friends couldn't hear some of his vows – but again they said it didn't matter – as they felt they were witnessing a really intimate moment and could see my reaction to his words. And again, we barely noticed! So not everything will go perfectly but it will still be the perfect day."
"So, try not to stress, and make sure to enjoy it all. We're super jealous you still have yours to go."
"Oh, and try and get awesome suppliers like we did who you trust to do an awesome job and who'll support you throughout. Weddings should be fun not stressful. We couldn't appreciate our wonderful suppliers more."