It's always a treat to share Paulo Santos Photography's work on Love My Dress and this is no exception.
Paul's style combines an intuitive approach to photojournalism with timeless and atmospheric portraiture. He was the perfect choice of photographer for Hollie and Matt, who wed on 29 June 2021 at Stone Barn near Cheltenham in Gloucestershire.
Paul Santos Photography

+ Follow
The couple, who both work at record labels, originally planned to host a destination wedding in Tuscany. However, in line with Covid restrictions, they re-planned their day in the UK and brought all the summer Italian vibes to the beautiful Gloucestershire countryside.
"We were initially due to get married in Tuscany but moved to the UK owing to Covid restrictions. Stone Barn stood out immediately. It felt Tuscan but in the beautiful Cotswold countryside. We also liked their in-house catering more than other options."
It's so good to hear that Hollie found Love My Dress a source of inspiration and support through the wedding planning process, especially with the impact of the pandemic.
"I visited Love My Dress religiously throughout the planning process. What I love about Love My Dress is that even if you aren't a future bride or couple planning a wedding, you could spend hours on the website and Instagram just getting lost in the beautiful world of weddings and everything that goes along with it."
"I particularly loved the Wedding Planning section of the website. I didn't feel so alone in the process, particularly having opted to not work with a wedding planner."
"I have to mention the phenomenal work done by Love My Dress and others surrounding the What About Weddings campaign over lockdown."
"Without all your work I'm not sure our wedding would have gone ahead in the way it did. The tireless campaigning along with the constant information sharing really helped calm us down over those crucial final weeks."
"I have endless respect for every single person working in the wedding industry for what they've been through and can only thank everybody we worked with, or who helped us from both near and far, throughout the planning."
Quelle Bester was the hair and make-up artist for Hollie and her bridesmaids.
"Quelle was amazing. We spoke at length before the wedding and on the day Quelle arrived at the crack of dawn to get set up. She made the getting-ready process so much fun and fulfilled my desired look absolutely perfectly
Matt and Hollie met whilst working on the same music team at Spotify.
"We were both in different relationships at the time and our relationship began as friends, then best friends, and then we fell in love pretty quickly after."
"Matt proposed on 21 July 2020 at a very special place to us, Villa Lena in Tuscany (where the wedding was due to take place)."
"He had been carrying the ring around for a few days with no actual plan for the proposal but in the end, he popped the question at 7am at the top of a steep hill surrounded by the Tuscan hills with not a single soul around. We kept it a secret for a little while and just embraced the moment before anybody else knew."
"It was so incredibly special. Instead of celebrating that day, we went on a 25 mile cycle which was pretty much entirely uphill and, being in pandemic-era, no shops, cafes or restaurants were open and we didn't bring any supplies. At least I had a beautiful ring to look at on the bike! We celebrated later that night back at Villa Lena and gate-crashed a very serious-looking party for local politicians and made it our own engagement party."
"We were engaged for just under a year by the time the wedding took place earlier this summer."
xxxxx
The bride wore a sexy, open-backed gown, fitted perfectly to her figure, from Made With Love Bridal. It is the most gorgeous blend of classic and contemporary and we are so happy to support this fabulous designer on our Love My Dress Wedding Directory and I invite you to find out more about them on their listing here.
"I got my dress from Ivy & White in Lisburn, Northern Ireland. I'm from Northern Ireland and was really hoping to find my dress somewhere at home so that my sister and mum could be with me."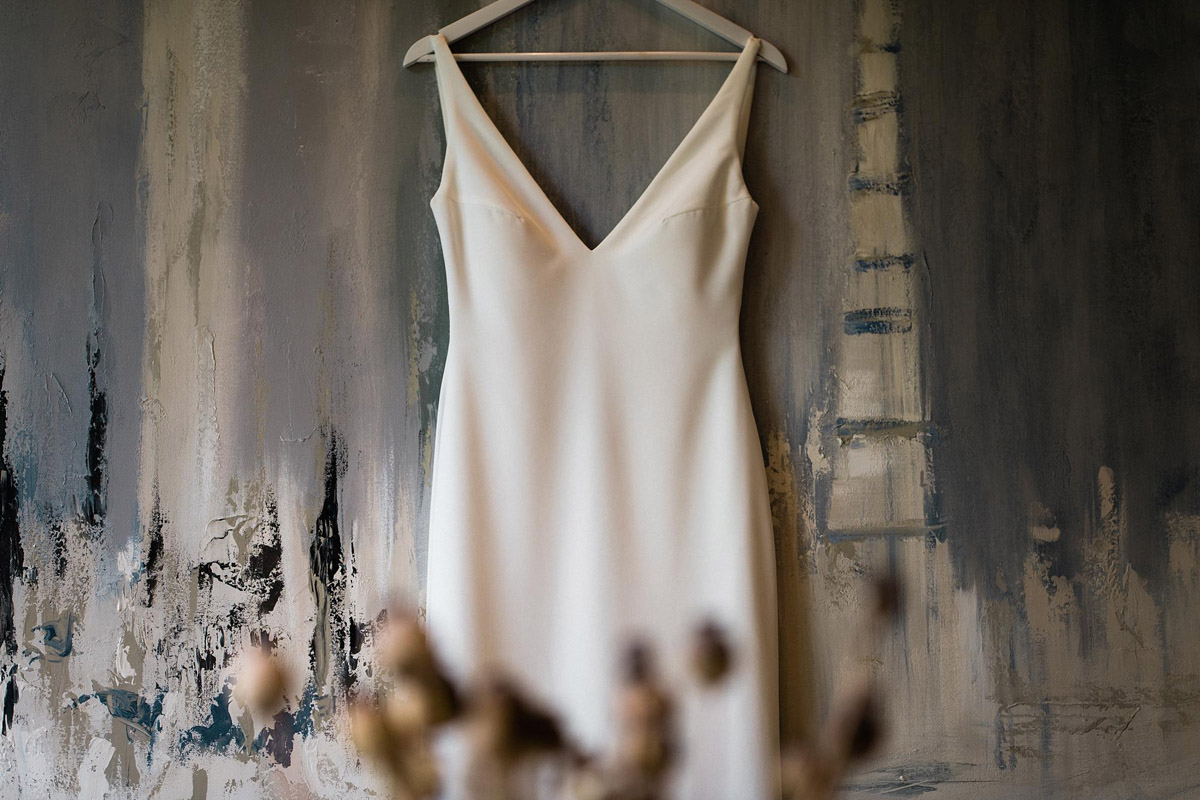 "I already knew I liked Made With Love dresses and found out Ivy & White stocked them along with plenty of other cool, contemporary bridal brands."
"I had heard awful stories about brides-to-be visiting stores which only allowed you to try on one dress and bring nobody along with you for the experience."
"However, Kerry at Ivy & White was incredible. We spent the most wonderful morning with her, trying on as many dresses as I liked, drinking champagne and generally having the experience I'd dreamed of."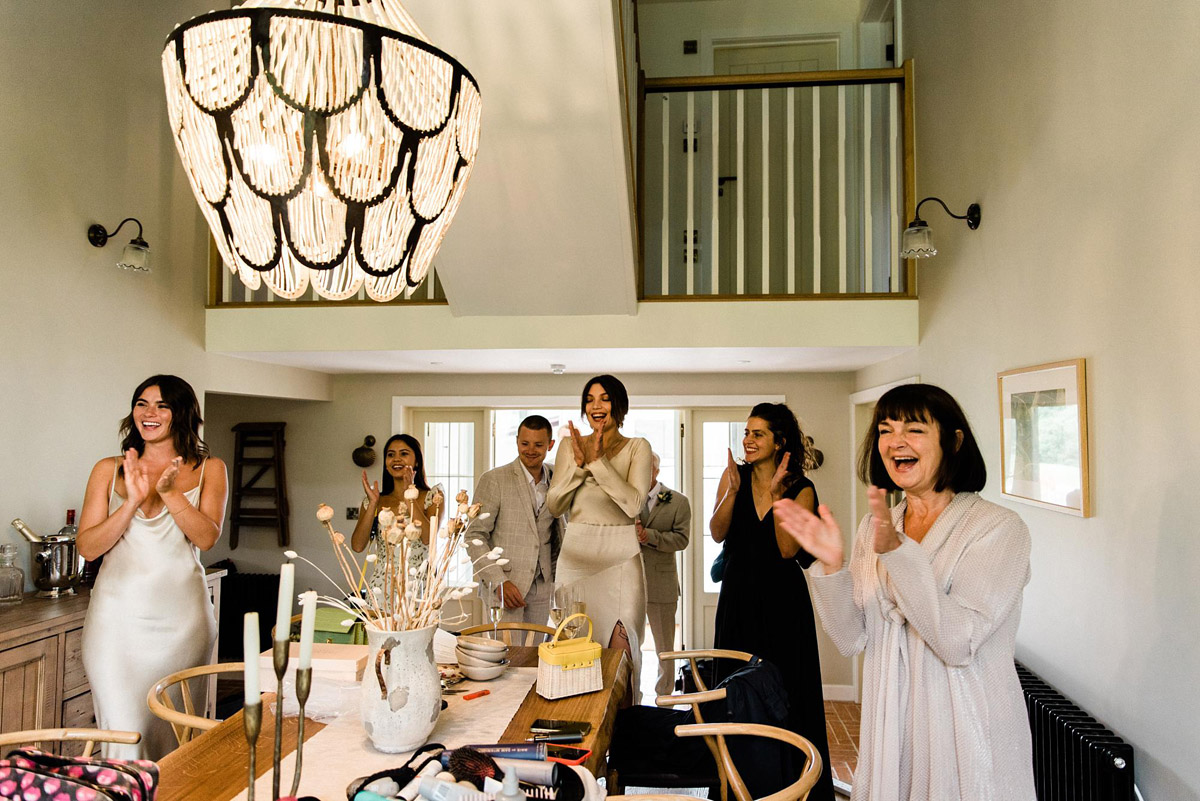 "When the dress and my veil arrived with her earlier in the year, Kerry shipped them to me in London with a gorgeous wee gift and note inside too. I cannot recommend her enough and encourage all Northern Irish brides to visit her gorgeous shop in Lisburn."
"I picked the dress with Tuscany in mind. I wanted something simple and timeless but not plain and found it quite hard to get the balance right. I loved the low back and simple but timeless design at the front of the dress. The train blew me away."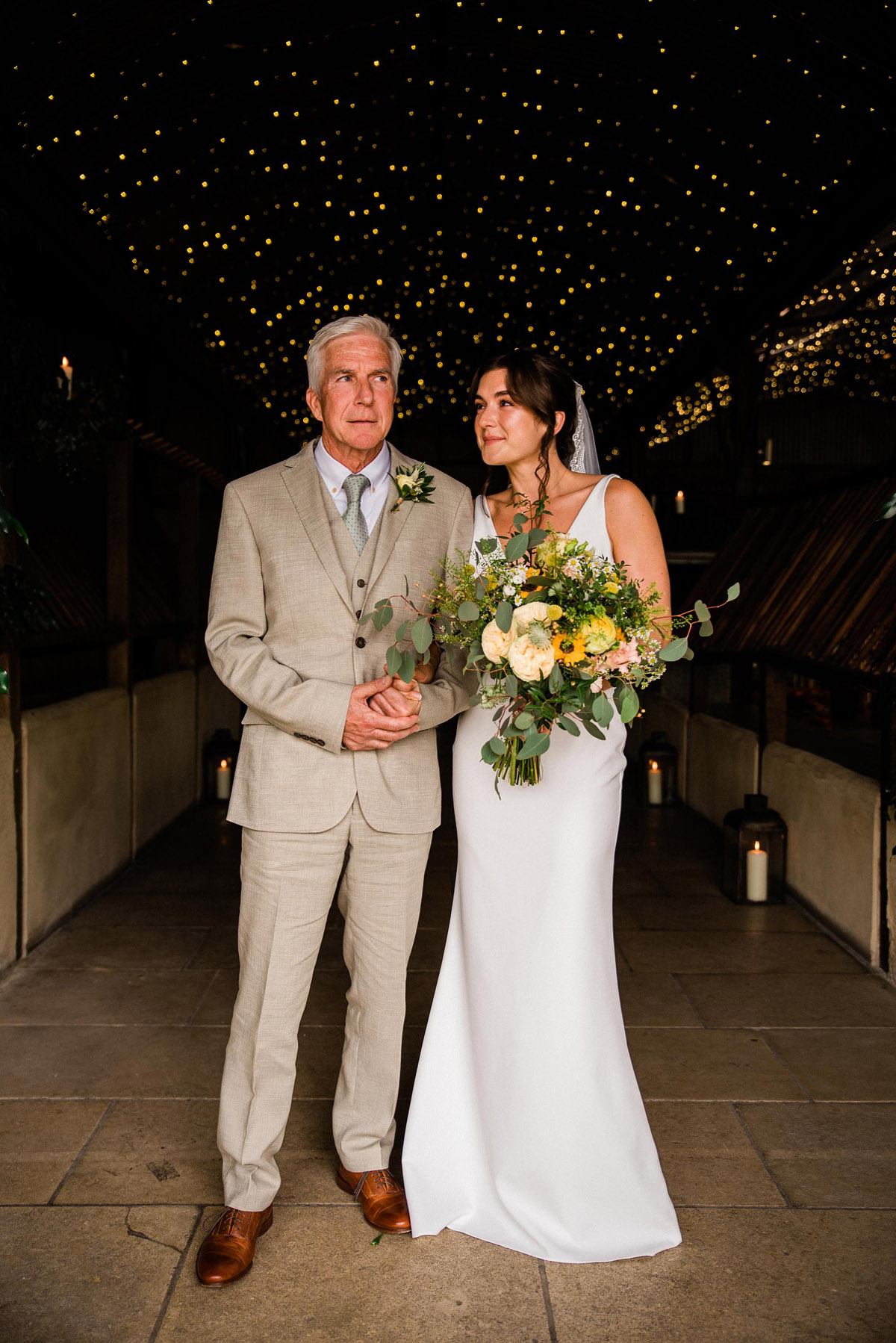 Hollie's veil was also from Made With Love Bridal and had a beautiful lace trim on the edges.
"Given my dress was quite simple, it really pulled the whole outfit together."
Over to Hollie to explain more about their decision to relocate the wedding and plan during a time of many, changing restrictions.
"While our original date of 1 September 2021 wasn't affected directly by Covid, we made the decision in early 2021 to not move further with our planning of the wedding in Italy due to increasing worries surrounding travel, and the vaccine drive in Europe which was not advancing at the same pace as the UK."
"This was before the Delta variant so in hindsight, I'm so pleased we moved the wedding when we did. We also wanted to spend the next few months of planning with excitement rather than dread and worry. This didn't exactly happen but we were so lucky to be able to go ahead with our day in June."
"We did not pick 29 June for any particular reason – in fact it was a few days before the announcement that all restrictions would be lifted on 21 June was announced."
A worrying few months ensued; watching case numbers increasing yet again, we weren't hopeful the day would go ahead."
The news came that all restrictions on guest numbers would be lifted, but other restrictions would still be in place. Given how new this information was to our venue, it took them a while to carry out all the necessary health and safety assessments before they were able to confirm our guest numbers."
"In the end, we only had eight days to go before we got the go-ahead for our original guest list of 70 people."
"Stone Barn were incredible and worked so hard to ensure we had all the up-to-date information as soon as they did."
They were clear and reasonable and made the stressful process as easy as possible."
On the day itself, things felt a little different and of course we had wished the restrictions weren't in place but it didn't change how we and our guests enjoyed ourselves at all – whether that was sitting around tables outside for the reception or dancing on the not-dance floor with masks on."
With family in Northern Ireland and Kent, getting them together and celebrating was so important for the couple.
"Before and after the day itself, we booked a beautiful home near the venue called Anthology Farm via Unique Homestays. From the very beginning of wedding planning, we wanted to ensure the wedding was just as much a reason to bring our closest family and friends together as us getting married."
"My family is in Northern Ireland and Matt's in Kent. We haven't been able to spend a huge amount of time together, especially in Covid-era so it was important to us to put them at the centre of our day too."
"With Anthology Farm, we had the most idyllic five days together in the most beautiful surroundings, celebrating the day before the wedding and having wedding number two the following day at the farm."
I love Matt's choice of suit, a summer, Italian-style combination of a crisp white, open-necked shirt and light beige linen suit from Hawes and Curtis.
The wedding ceremony was held in the open-sided Stone Barn, decorated with greenery and candles. The bride walked down the aisle with her dad Al, as Vivaldi's 'The Four Seasons: Spring 1', recomposed by Max Richter, played.
"A registrar from Gloucestershire Council officiated our ceremony, with both of our mums as witnesses."
Capturing every moment of the celebrations in his timeless style was Paulo Santos Photography. We love his artistic and atmospheric approach, and you can see more of his work on his Love My Dress Wedding Directory listing.
"I found Paulo Santos via Instagram while on the hunt for the perfect wedding photographer. We loved his style of timeless and elegant photos which felt candid and relaxed, as well as contemporary and unique."
"As soon as I got in touch, Paulo called me to find out more about our wedding and Matt and I as people."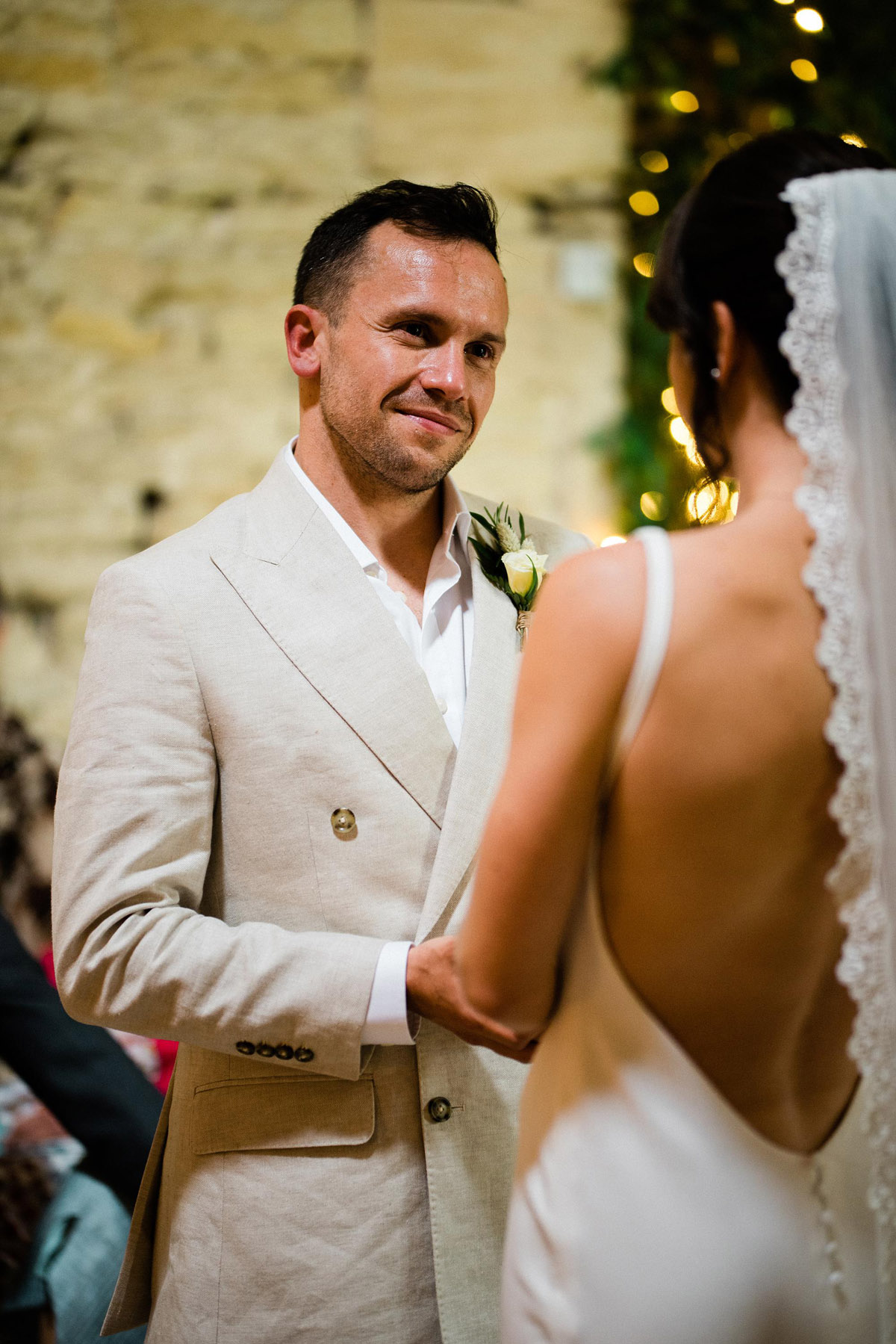 "While this seems an obvious thing to do, I was struck by how few photographers actually wanted to speak personally to get a feel for us and what we hoped to get from a wedding photographer."
"We were struck by his kindness and friendliness even on one phone call and knew he was our photographer."
"We had a brilliant, in-depth phone call with Paulo a week or so before the wedding which not only made us so excited about the day but he went through every single moment and eventuality, answered questions, and helped us understand how he would best make use of our time and space available."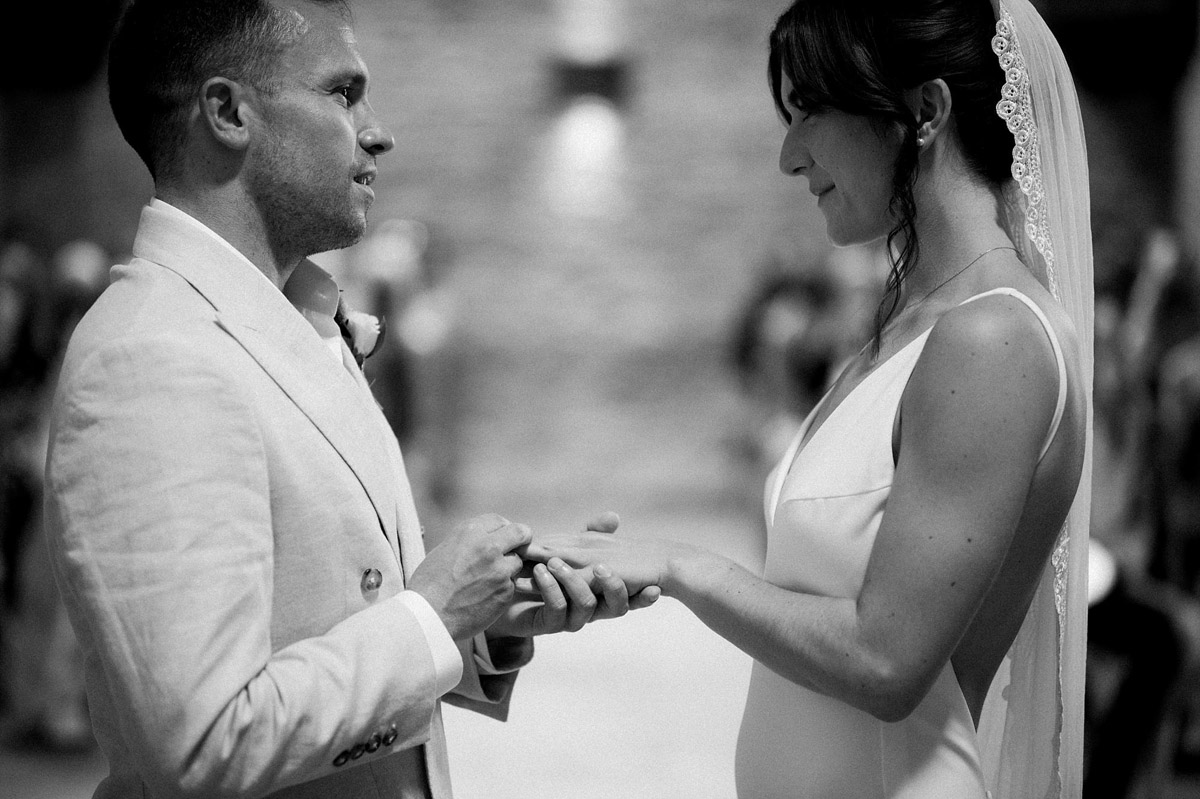 "On the day itself, Paulo was just excellent. He arrived at the house in the morning and immediately we felt at ease around him."
"All our family and friends commented on how great his company was and how he didn't in any way feel like an imposition."
"At the venue, Paulo really worked his magic and was always at least ten steps ahead of what was happening, knowing exactly when to grab us and what secret little spots around the venue and the grounds would be best for the photographs."
"He made us laugh, put us at ease and made the process so enjoyable."
"Myself and Matt, along with our families (and all of their friends) were blown away by the photos Paulo took."
"He captured every moment and emotion so beautifully and we have all relived the day through the images over and over."
"We cannot recommend Paulo enough to all future couples on their wedding day."
The simplicity of the bride's gown was echoed by the bridesmaids', who wore a selection of gowns from Bec + Bridge.
"Two of them were rented from Hurr, the excellent fashion rental platform. A fun fact about that: we had an issue with one of the bridesmaid's dresses a couple of days before the wedding which the team at Hurr kindly sorted out for us instantly on a Sunday."
"They gifted us some additional dresses for the rest of the wedding week, which meant I wore a stunning dress by the Own Studio for the Wedding BBQ the following day."
"All the girls wore their own shoes and accessories on the day."
The girls carried wild, undone bouquets of summer blooms put together by Beth at Go Wild Flowers.
"She is based not far from the venue in Cheltenham and had provided the flowers for many weddings at Stone Barn previously so we were confident in how well she knew the venue."
"I told Beth I didn't have too much direction but loved the neutral, earthy, dusty pink and yellow tones with wildflowers, grasses and some dried elements."
"Beth also decorated the big metal hoop on the ceiling of the barn with stunning green foliage and some little white flowers dotted through. It looked amazing on the day."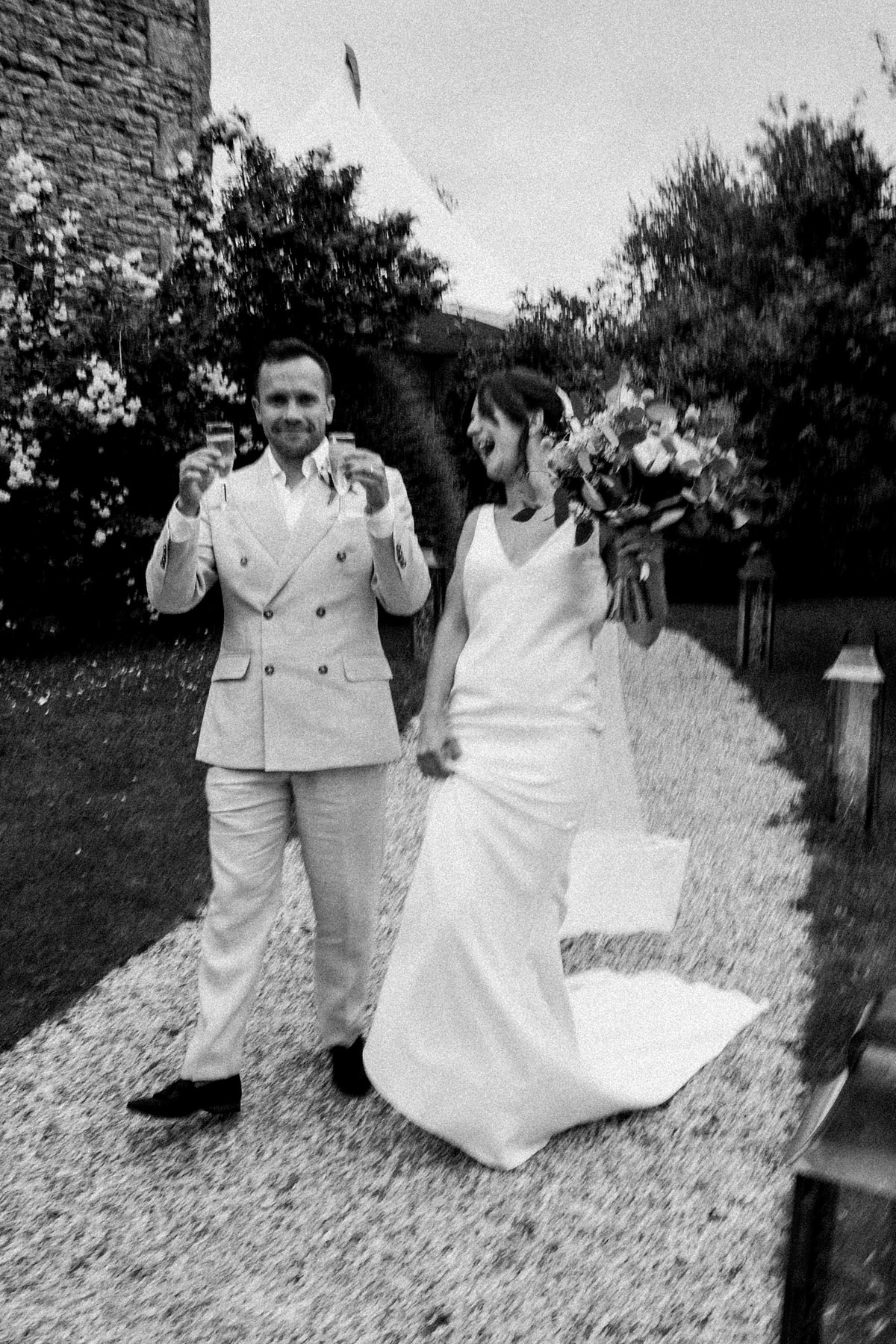 After making the decision to move the wedding from Italy to England, the couple wanted to embrace the Tuscan feel in their colour scheme and decoration, to beautiful effect.
"Our florist, Beth at Go Wild Flowers, encapsulated this brilliantly. Owing to Covid, we didn't have the chance to visit her workshop to envisage what the flowers would look like on the day."
"However, I gave her fairly loose directions of lots of nudes, dusty pinks and yellows, wild flowers, grasses and some dried elements – which she executed perfectly. I've never seen such beautiful flowers."
"An incredibly creative and talented friend of ours started a dried flower boutique, Budsa, over lockdown and we knew right away we wanted her to provide the decoration for our tables at dinner."
"We filled bud vases of varying sizes with small bunches and dotted these around the tables along with sage green table runners, and our place holders and table names were decorated with olive branches – all in keeping with the Tuscan theme!"
The wedding breakfast was catered by the in-house team at Stone Barn whilst the cake was by Bakes by Olivia.
"Our tables were decorated by Annie at Budsa, a new dried flower boutique born in lockdown. Annie worked alongside my brief to Beth of neutral tones and dusty yellows to create the perfect little buds to dot around each table."
"I came across Bakes by Olivia on Instagram and loved her style of cakes. We went for a colour scheme of pastel pink, mint green and cream for the icing. It was a two-tier cake, big enough for me to eat the majority of for the remainder of the week."
"It's impossible to choose a favourite moment but I might have to say the speeches, mainly my dad's and Matt's. I cry every time I think about them."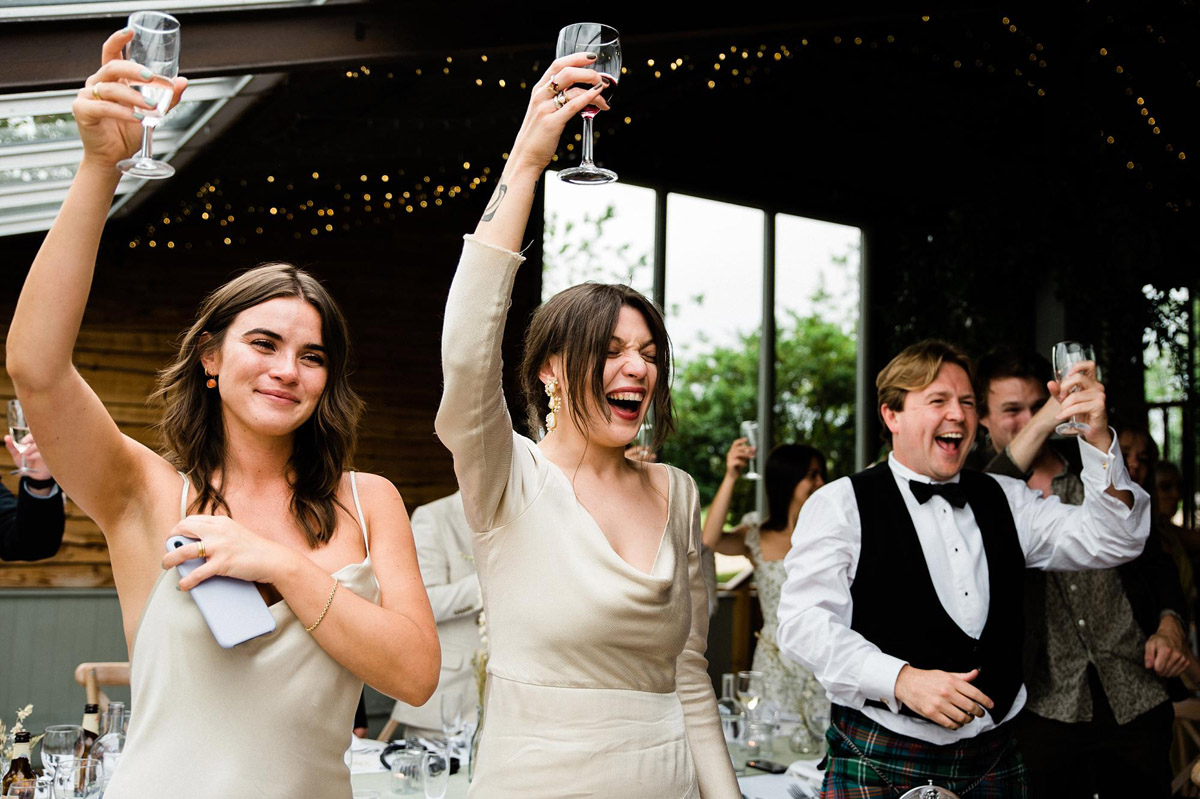 The bride wore very simple satin, low heeled sandals and her everyday scent, Molecules, as well as some personal pieces of jewellery.
"I wore a necklace which was designed by my late pop-pop for his wife, my mama, for one of her birthdays many years ago. It was a beautiful 30s-style pendant with sapphire and diamonds."
"She left it to my mum and I wore it on the wedding day. It was my something old, something borrowed and something blue all in one.
"My wonderful sister, and maid of honour, got me a beautiful pair of pearl earrings as a wedding gift which I also wore – my something new!"
"Like every day, I was wearing a Tiffany bracelet given to me by my now parents-in-law, Chris and Helen, as an engagement present."
Later on, the couple took to the floor for their first dance.
"SG Lewis was our DJ for the evening. Our first dance was '8 Circle' by Bon Iver, one of our favourite songs, followed closely by 'Mamma Mia', obviously!"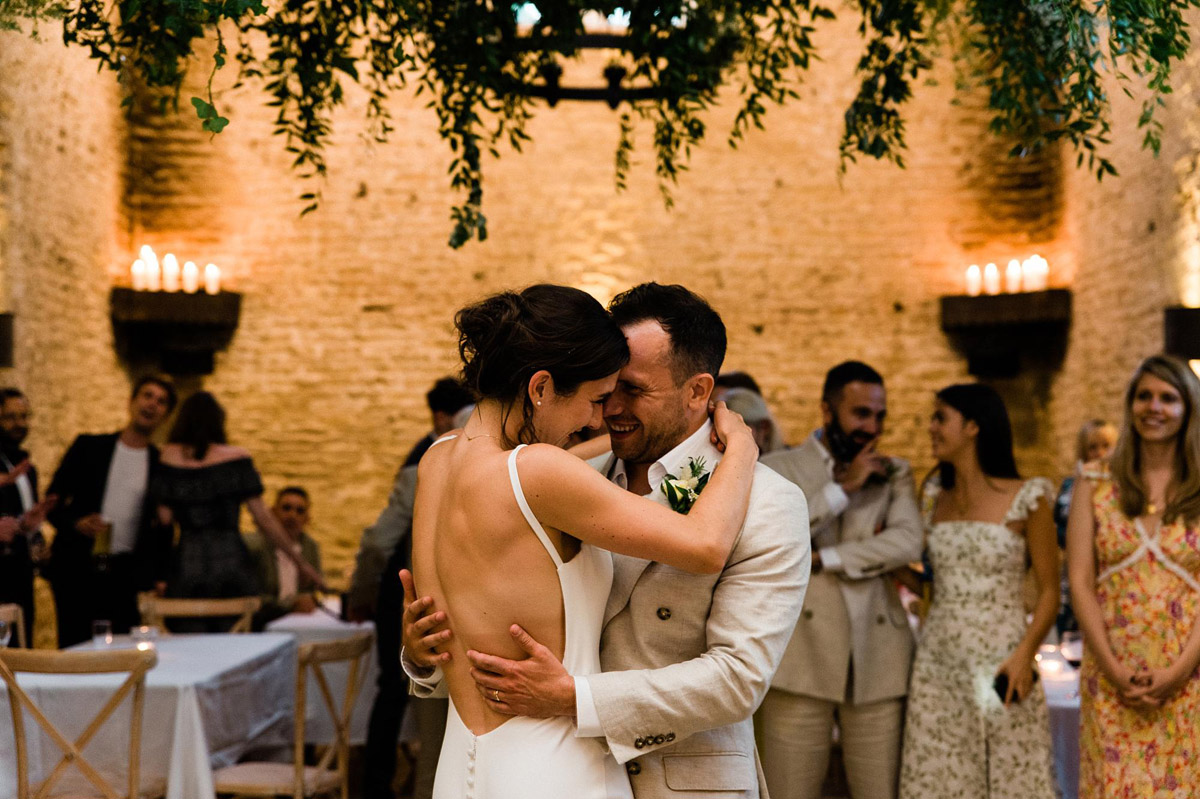 Hollie has some excellent reflections and advice for other couples affected by Covid.
"Whenever you do get married, no matter what rules and regulations surround your day, I promise you will have the most incredible time and won't think about Covid once."
"In the month leading up to our date, I think the rules changed about six times and we were so worried how our day would look and feel in reality but I'm so glad we didn't delay it by a year, which really was an option. We don't know what will happen next year and we had the opportunity to do exactly what it was we wanted to do – get married!"
"For the sake of a less restricted dance-floor, it didn't feel worth it to delay things by a year. We went with it, hoped for the best, and it was perfect. I wouldn't change a thing."
"In hindsight, I wish I had been kinder to myself (and Matt) and enjoyed the planning process more, rather than getting stressed at every opportunity wondering what might or might not happen. Although it's very easy to say now the day has past, I regret not taking stock of every precious moment but spending 90% of the time checking the news, and not sleeping at night!"
"Make sure you take care of each other in the process. Hopefully we're at the end of this weird time in our lives but it has been so challenging at the best of times, never mind when you're both planning a wedding."
Words of Wedded Wisdom
"Remember why you're doing this. At times, I found myself caught up in the detail and I worried too much about what other people might think or how they'll feel on the day. Ultimately, you're getting married to the love of your life and even if you were to get married in a bare field in the pouring rain with none of the extra lovely fun things, surrounded by your family and friends I'm sure you'd still have the most magical day."
"My best friend and bridesmaid, Colette told me one night (probably after a lot of wine) while I was deep in the stress of final touches, 'Absolutely nobody gives a s**t about the napkins at a wedding' and she was right."
"When it all gets a bit much, and you've been planning the most special day of your life for so long, everything feels critically important but just try to enjoy those precious moments."
"One of my favourite planning moments was when we had been given the all-clear for our guest numbers. We opened a bottle of wine, put on our wedding week party playlist and sketched out our seating plan on a huge sheet of paper (TOP TIP – write your guests names on little thin post it notes, so you can move them around while you work out the seating plan!). We felt like we could finally get excited for the day and it was such a special moment. Make those count."
Hollie and Matt, it's been such a privilege to get this insight into your beautiful, heart-felt wedding day, so thank you so much for sharing it with us.
Paulo Santos, it's wonderful to see your work, and I look forward to seeing more on our pages soon.
For more classic and elegant weddings, please follow this link, to get inspiration for your own day.
Ele xx