Some of the most delicious weddings we've shared of late have been marquee weddings at home, and on 17th July this year, that's exactly how couple Verity and William tied the knot.
After exchanging vows at the St Mary the Virgin Buriton church in Hampshire, the couple retreated to the family home, surrounded by loved ones, to celebrate in sunny style. This wedding is all kinds of laid back yet effortlessly spectacular magic. The bride wore a head-turner of a huge bowed gown and the incredible Maja Tsolo was trusted to document the day in her usual, gorgeous visual style. Enjoy darlings…
"Our wedding had many traditional elements, church ceremony, marquee etc. but we tried to make it as individual as possible. Will's parents have a beautiful garden which was a wonderful backdrop for the reception."
"Our theme was sort of country garden, elegant. It was a lovely setting and we wanted to make the most of that."
"Amazingly, the colour palette and patterns all worked really well together, definitely this was good luck rather than good management."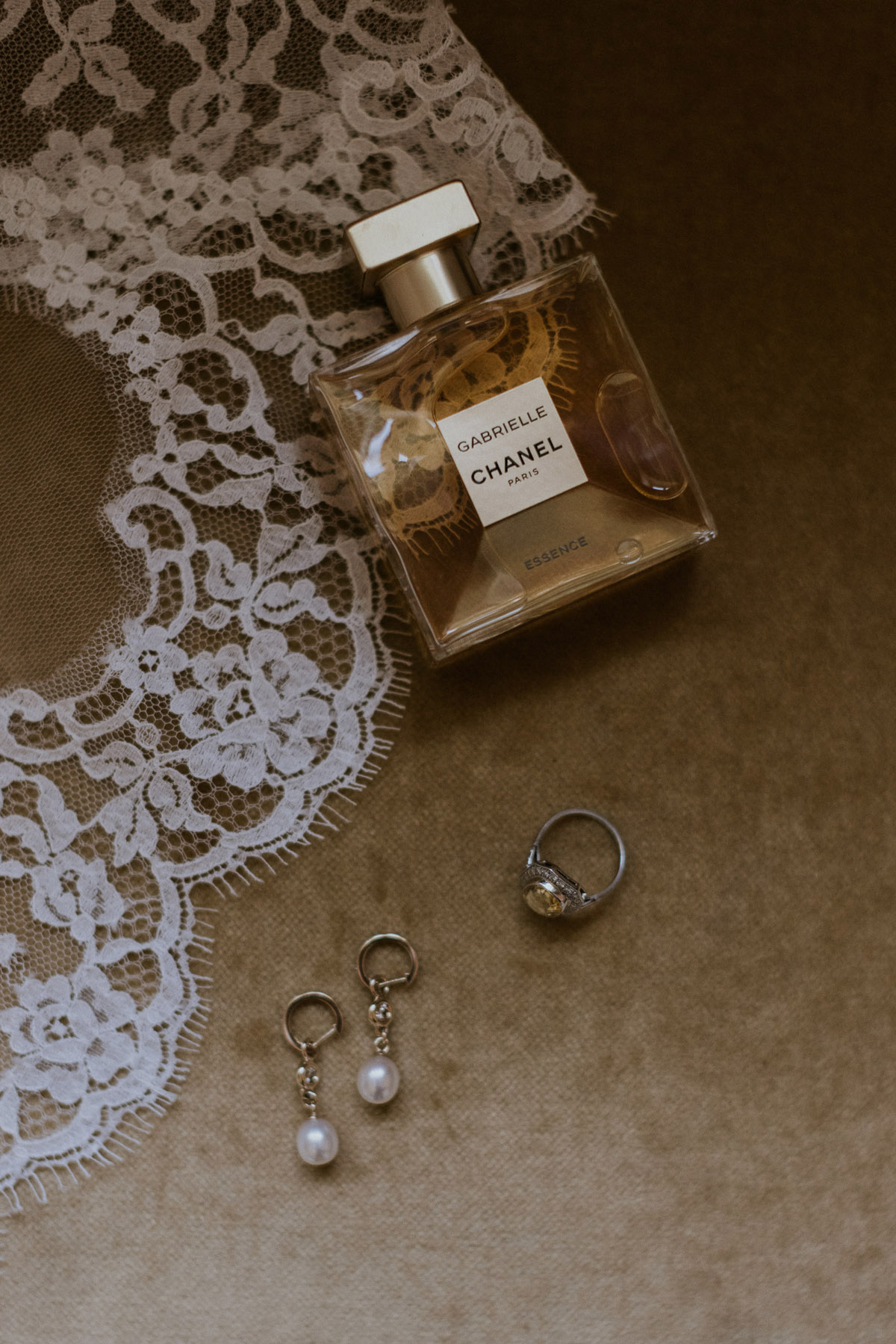 Hair and makeup was provided by stylist Simone Beyleveld at The Bridal Stylists. I love how Verity's hair was gathered into a super chic and elegant low bun.
"I wore Chanel Gabrielle on the day. Chanel is one of my clients at work and they had gifted the perfume. I hadn't opened it yet and it felt like a good excuse."
"It's a beautiful, timeless scent that is easily my favourite now that I associate it with such happy memories."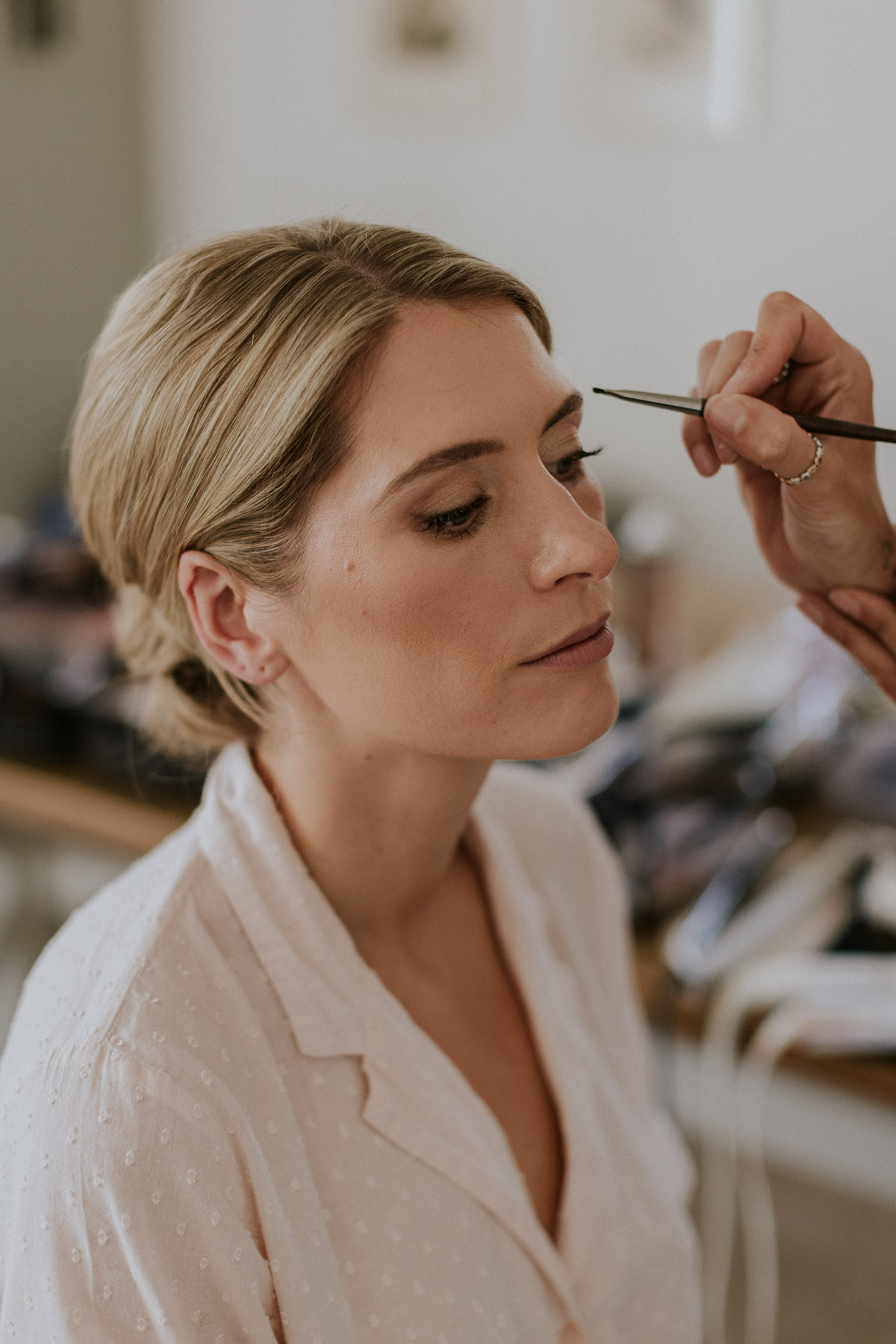 We need to talk about Verity's gown – a perfect mix of understated and overstated all at once. An incredibly flattering, low back dress with the most fabulous oversized bow.
The dress was 'Aiden', from the Madi Lane Bridal collection, which Verity discovered at the Angelica Bridal boutique in North London.
"Angelica Bridal were wonderful! It was the second dress shop we went to and I knew 'Aiden' was the one, I think at the time I was worried there might be something better and there wasn't!"
"They were lovely and helpful and gave me the best advice that I should think about my venue as the dress needed to work with the venue and after that, any more modern/slinky dresses I tried on I knew wouldn't work in a country church and garden marquee wedding."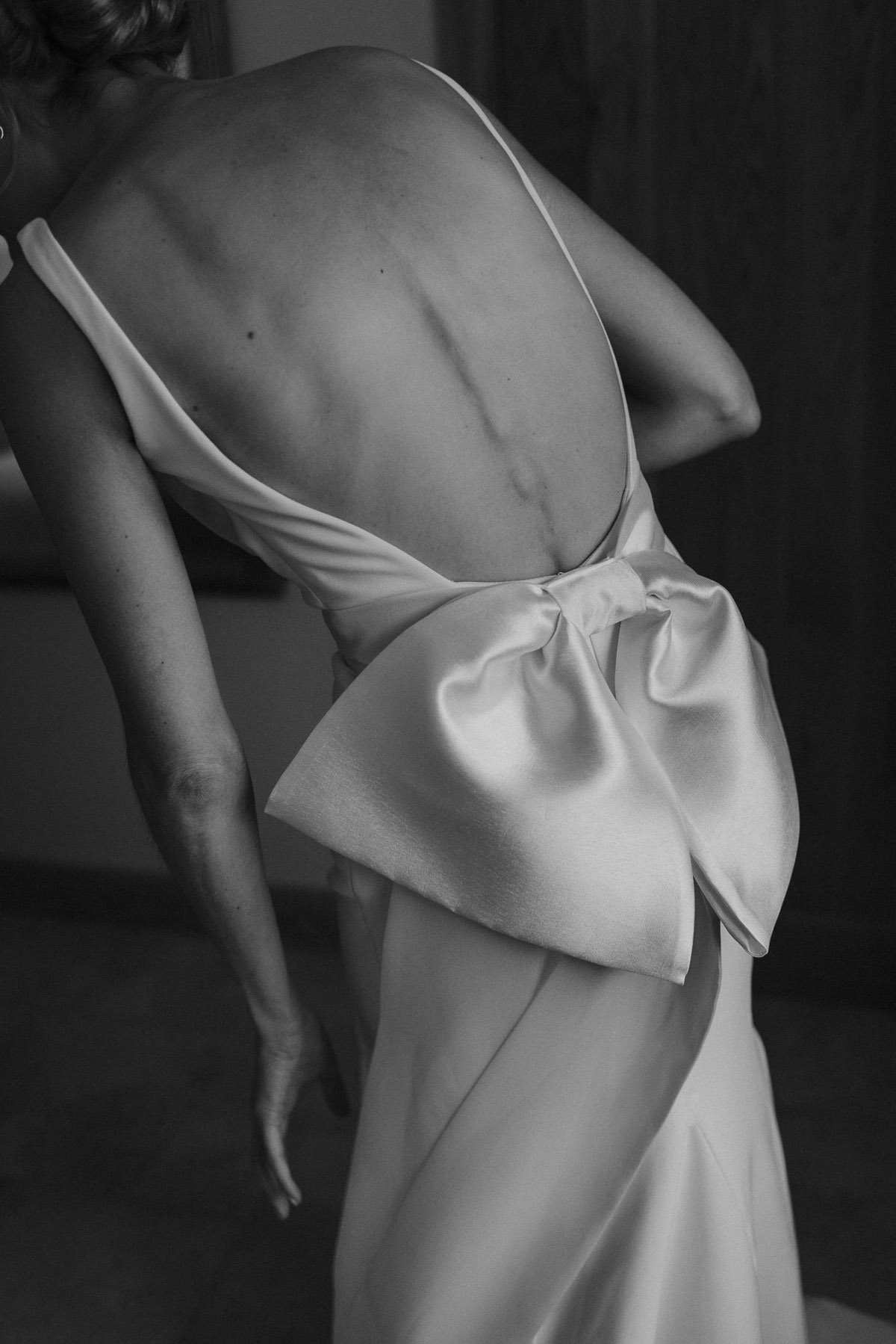 "I had to confirm and order my dress over Facetime in the January 2021 lockdown, I was Facetiming the shop and taking my measurements using a ribbon and a tape measure. It certainly wasn't how I imagined buying my wedding dress."
"I wanted something timeless but fun, I knew I didn't want anything a-line or princessey, William had also said that he preferred something more slim fitting. I loved the neckline of the dress and the fact that it was fitted but still comfortable."
"The train was beautiful, but cumbersome! Even when bustled it was still a decent train and I never imagined how heavy that would be to walk around in."
"When I tried on the dress initially I loved the simplicity of it, but knew I wanted to put my own stamp on it, adding the bow was a fun and whimsical touch, on the day everyone kept telling me how much they loved the bow."
"My something borrowed was my veil – I was Maid of honour for one of my Bridesmaids and she kindly lent me her cathedral length veil with lace edging that looked beautiful with the simplicity of my dress  
"I wanted to be comfortable on the day and I didn't want a pair of white shoes I would never wear again so I bought so suede coral sandals from A Piedi which I've had a lot of wear out of since."
"I had my Oma (German grandmother) pearl and ruby brooch attached to my bouquet, it was lovely to think that she was part of the day."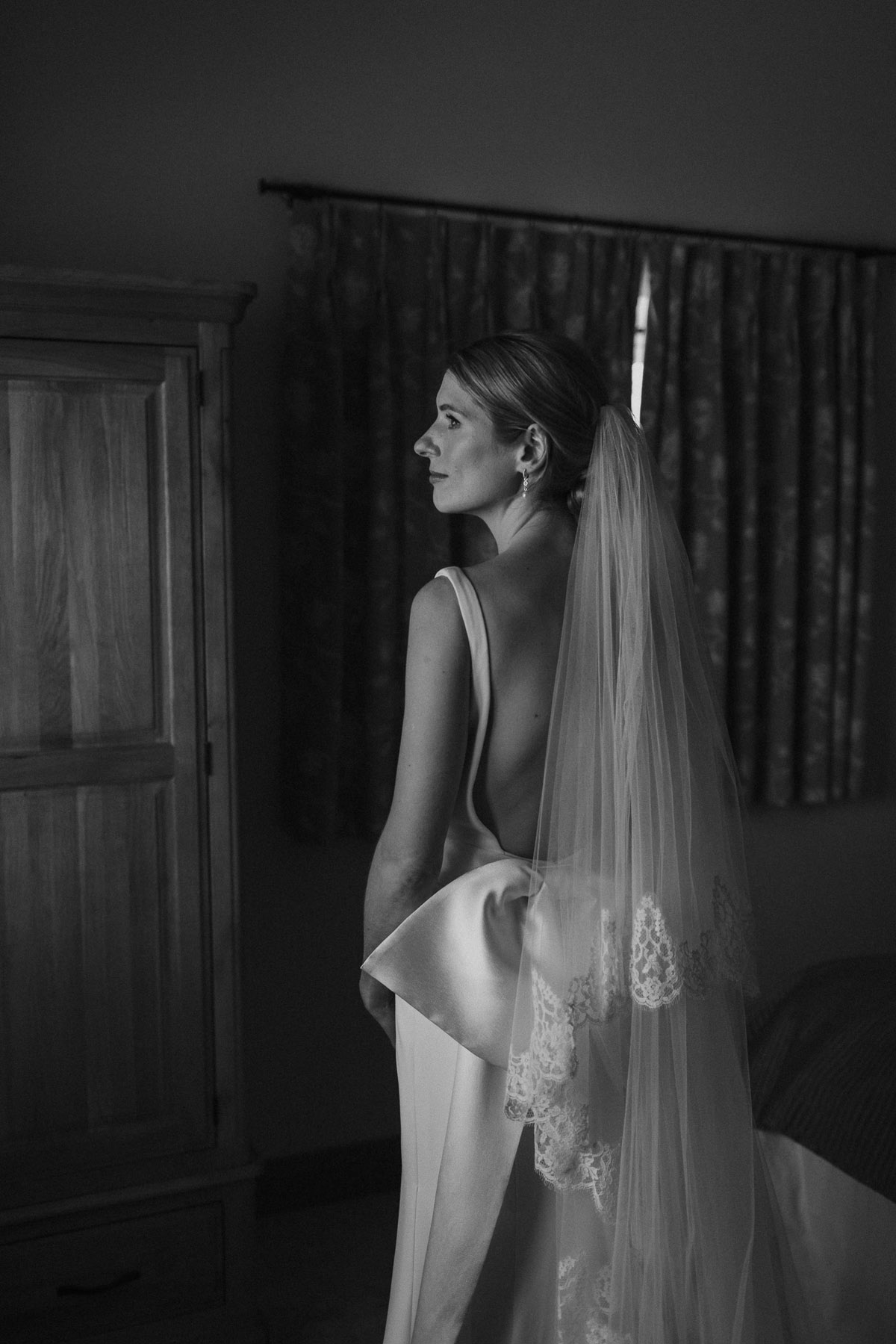 "I had four bridesmaids, all totally different styles and tastes so I let them pick their own dresses."
"I didn't want to dictate what they were wearing so gave a few guidelines: not full length, had to be patterned, not red, but apart from that left it up to them."
"They wore dresses by Ghost, Self Portrait, Rixo and Damson & Madder."
"William and I met at Leeds University when we were 19 years old, we were friends first, but got together in the January of our second year."
"I've been hassling Will that he needs to propose for a while, but when he finally got round to it a few months after our 8 year anniversary it was perfect."
"He had all these grand plans, but the pandemic and the early 2020 lockdown got in the way. On a lovely sunny Sunday in April Will asked if I wanted to go on 'holiday' to the garden for the day, we drank rose, had a BBQ, listened to music and just enjoyed the sunshine and each others company, Will then got down on one knee under the flowering wisteria in our back garden and proposed. It wasn't what he had planned, but it was completely perfect."
"We were engaged for about 15 months before we got married which was a good amount of time for planning."
"We were engaged in April 2020, at that point in time we never could have imagined that the pandemic would last as long as it did."
"We planned the wedding thinking it would all be over and eagerly anticipating all the Summer 2020 weddings that would inspire our Summer 2021 wedding."
"Of course, all those weddings were cancelled and we started January 2021 thinking the outlook was bleak."
"Seeing friends go through numerous date changes, and the stress and heartbreak made us resolved in our decision to get married on the 17th of July no matter what."
"In January of this year, we emailed all our suppliers saying that the 17th of July was our wedding day and we were going ahead, be it with 6 guests or 160."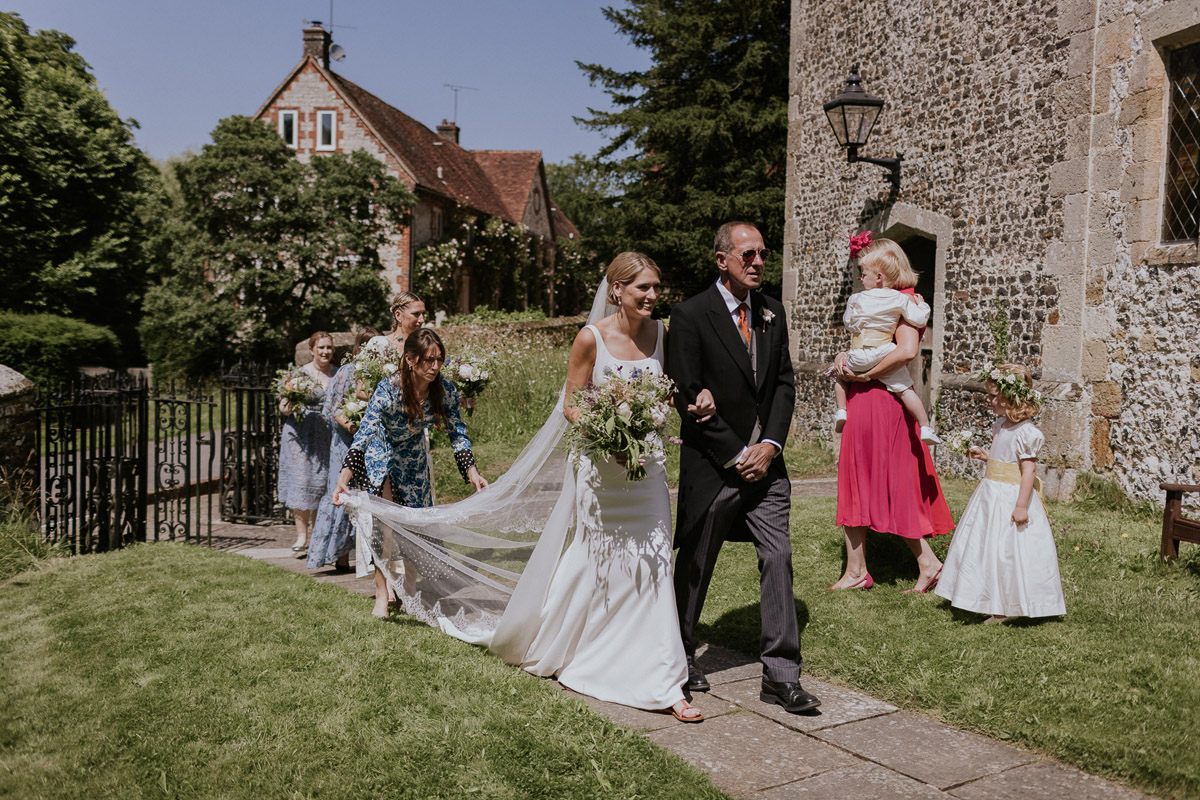 "We had to move our wedding ceremony outside as we couldn't fit all the guests socially distanced in the church, this turned out to be a blessing in disguise as it made the whole ceremony so unique, the church said they had never had anyone married in the church yard before."
"It is only because of Covid that we were able to have most of our ceremony in the church yard, if it was during 'normal' times, this out of the box thinking wouldn't have been necessary."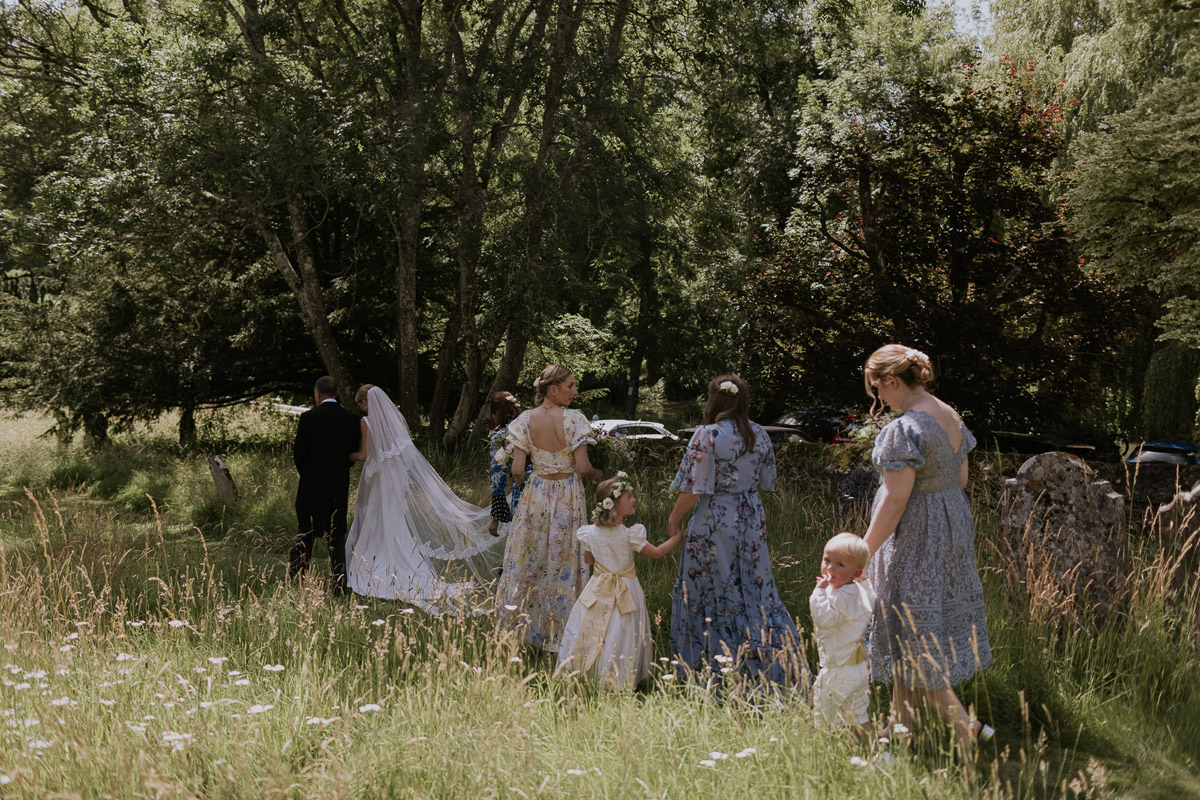 One of the most special parts of our day was the ceremony, so even though it wasn't what we originally planned, and as cliche as it sounds, it was even better."
"Don't be afraid to go back to the drawing board, make changes and adapt."
" A family friend, Rosemary Jenkins, went above and beyond the call of duty! She was at the church at 7am on Saturday morning creating the arch around the south door."
"As the weather was so warm she said didn't want to do it the day before in case they wilted, the flower arch was the most beautiful I've ever seen!"
"The brief we gave her was seasonal wild flowers, as if you had just picked them from a meadow. She used spray roses, stock, hydrangeas and gypsophila amongst others."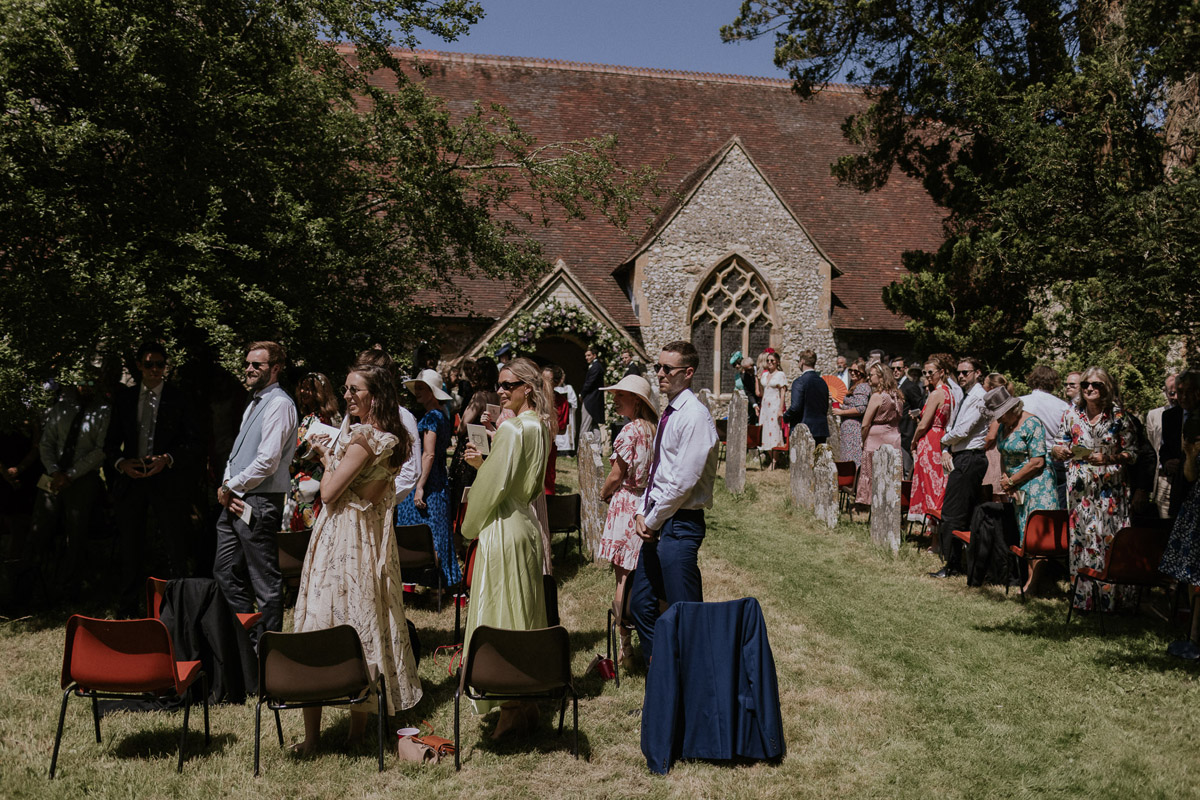 "My father walked me down the aisle which was through the churchyard and gravestones."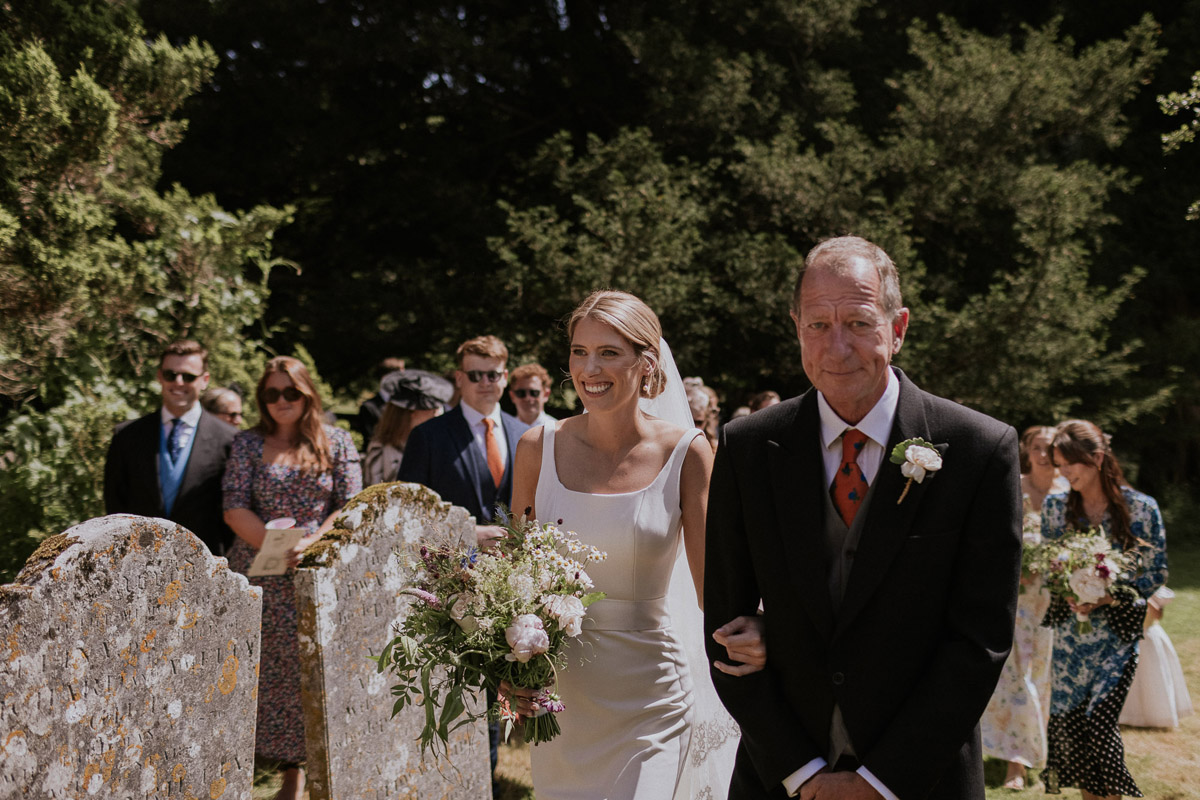 "Due to covid restrictions (we were the last weekend before all restrictions were lifted, so one of the last covid weddings) we couldn't have all our guests inside the church and we couldn't pick and choose between them, so with our very understanding reverend we devised a plan where we would move around the ceremony so we could have the congregation sat in the church yard watching most of it and then we with just our families would say our vows inside the church so it was legal."
"It was amazing to be able to have the best of both worlds and was really special and intimate to just say our vows in front of our immediate families."
"Our organist brought his portable organ, (who knew that was a thing?!) and played the Arrival of the Queen of Sheba as I walked down the aisle/ between the gravestones. During the signing of the register a family friend sung Edelweiss from The Sound of Music and Moon River."
"William has known our Reverend Judith Bee for most of his life, she was wonderful and so accommodating with our request to move the ceremony structure around and have it half inside and half out."
"We said the traditional wedding vows as part of a Church of England wedding ceremony.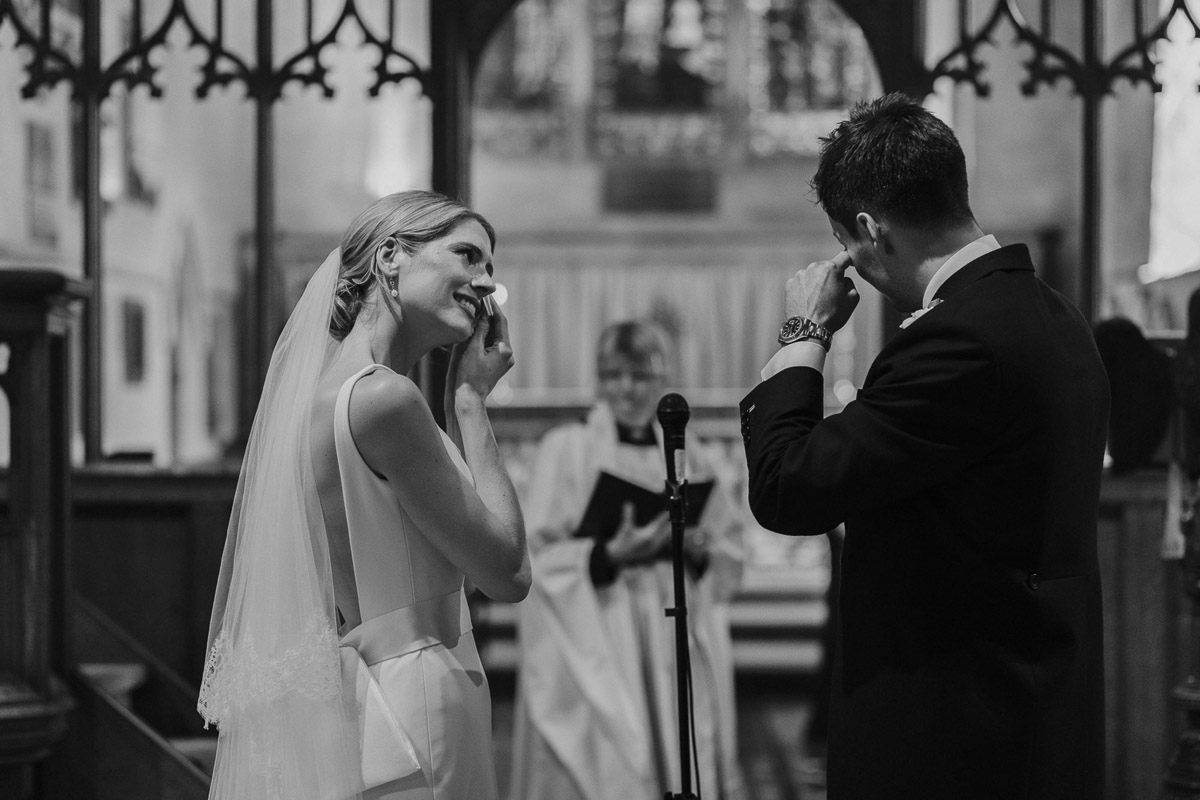 "My younger sister read from 1 Corinithians 13, it is a popular reading, but definitely popular for a reason. And our master of ceremonies did a second reading which was a passage from Persuasion by Jane Austen."
"I chose the Jane Austen passage as I wanted something unusual that I had never heard at a wedding before. I studied English Lit at university so there was pressure to pick something a little bit more unusual."
"The passage in question is all about a hazelnut being a metaphor for constancy and loyalty in love – I'm sure it must have seemed a little strange to some."
"We were blown away by photographer Maja Tsolo's pictures – she captured so much of the emotion and atmosphere of the day."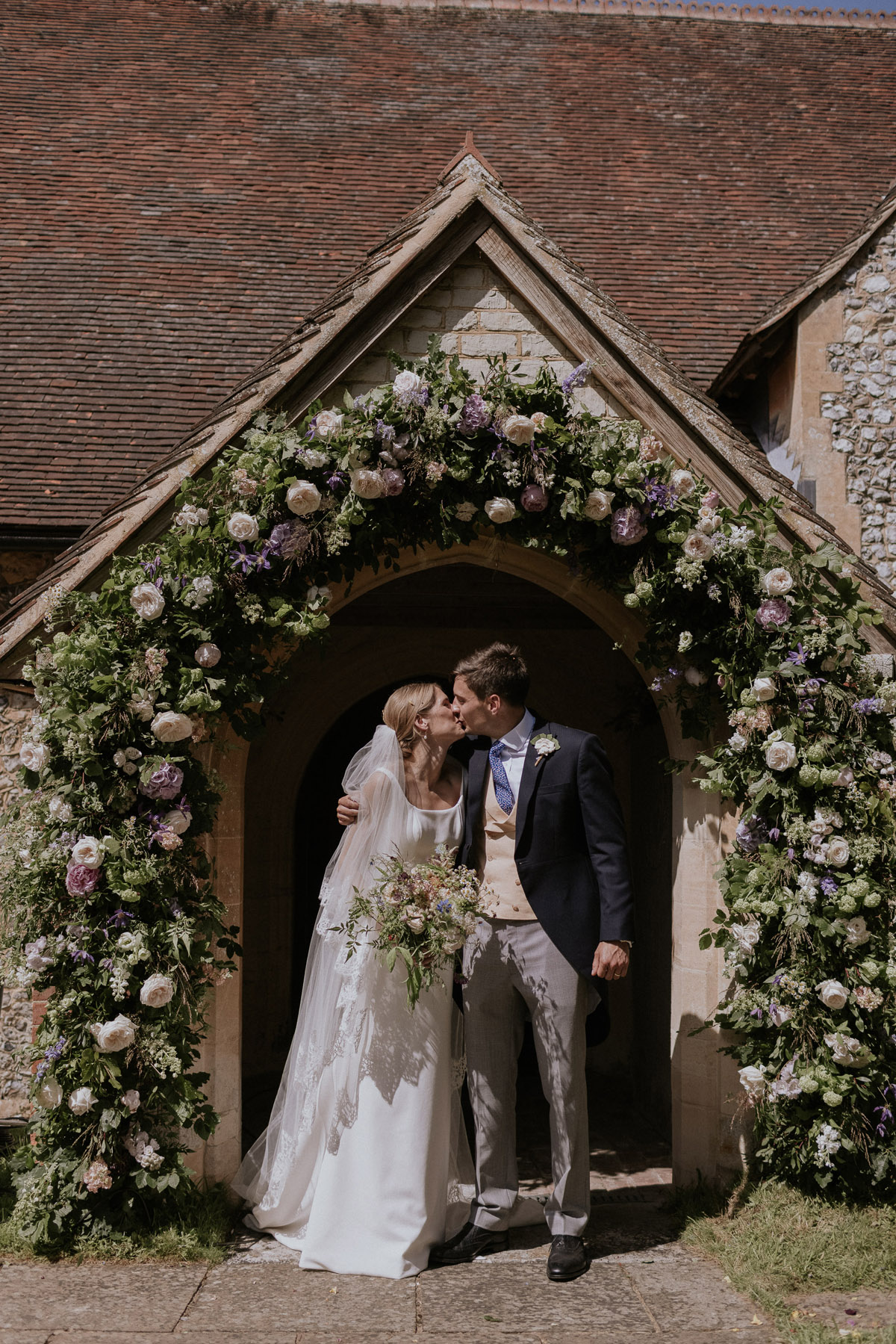 "It was a really sultry July day when we got married and looking at the photos you can almost feel the heat, it's amazing!"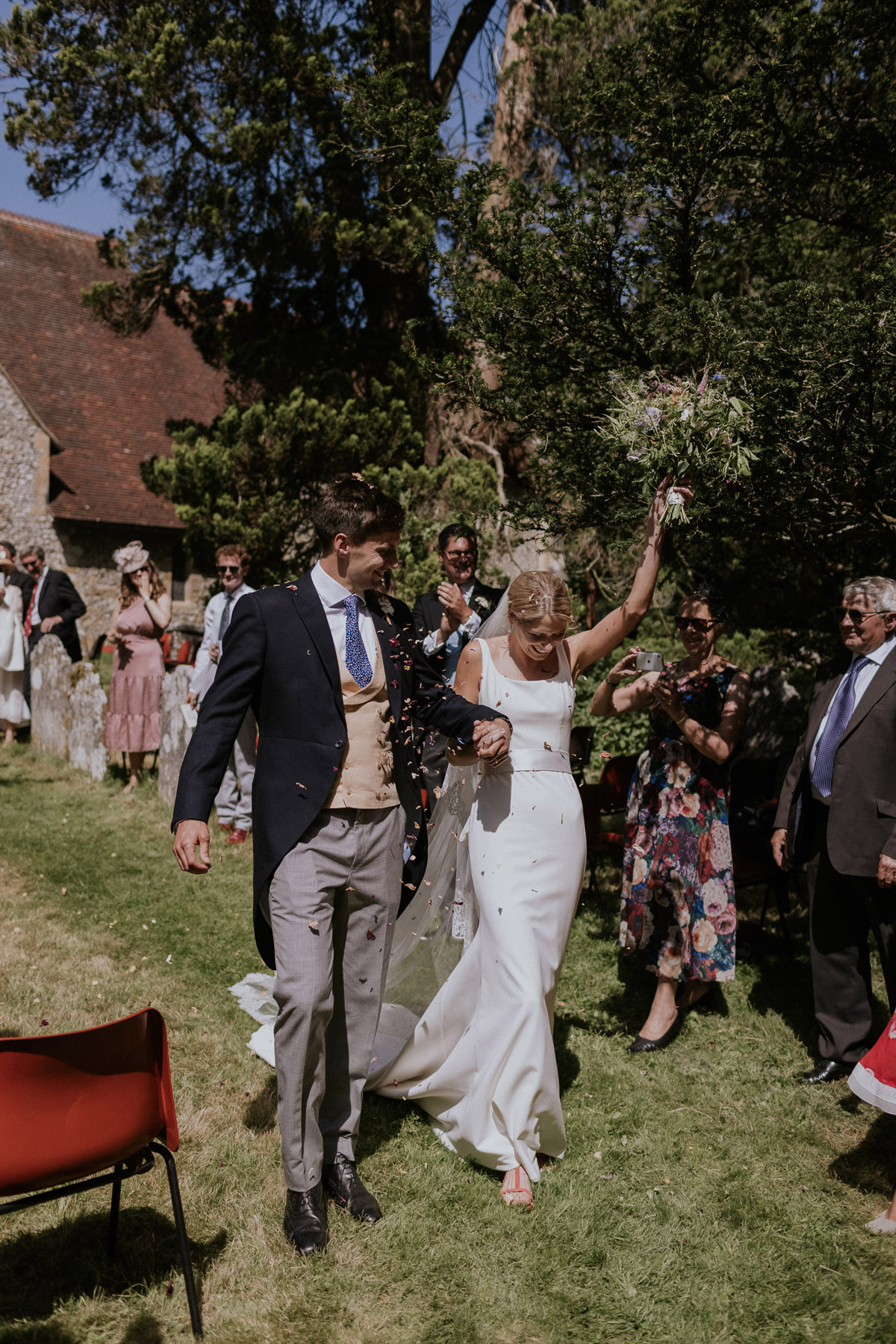 "Maja captured us looking so natural in our couples portraits, nothing looks staged and we look just like ourselves."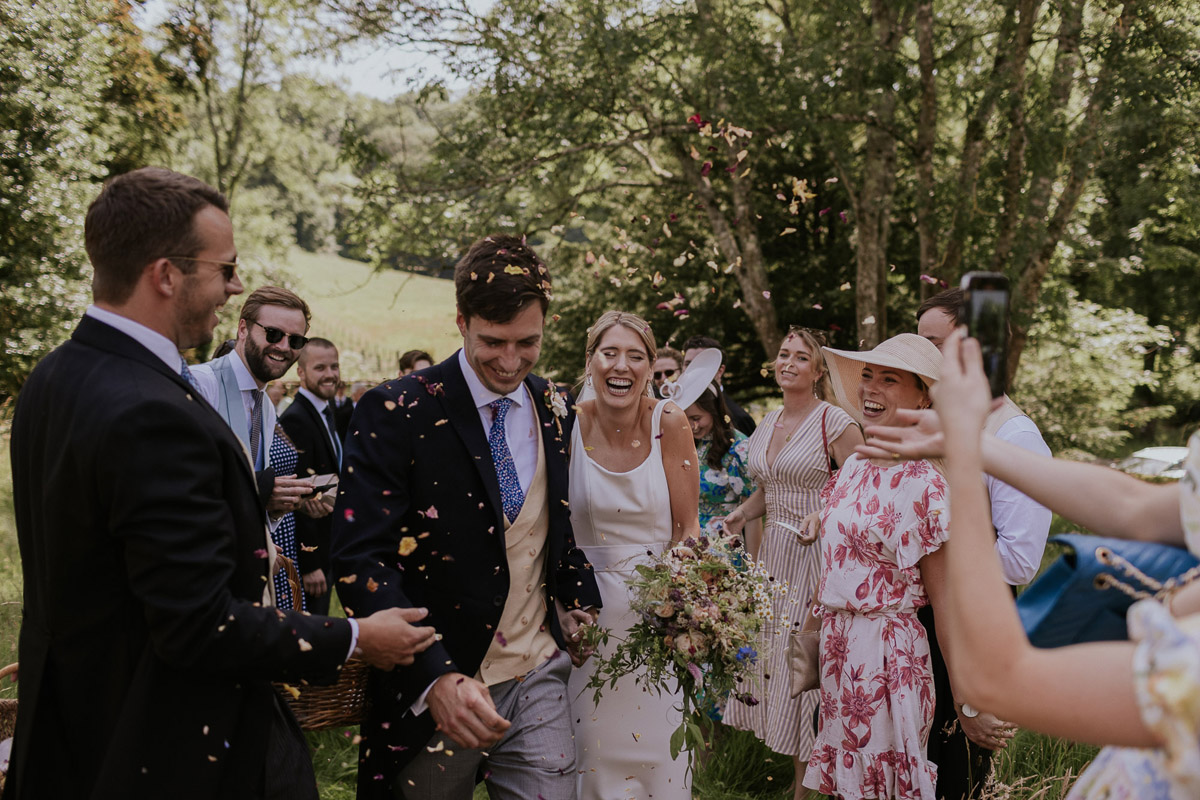 "My dad's vintage Fiat was the ultimate prop for photos and I love how these pictures turned out."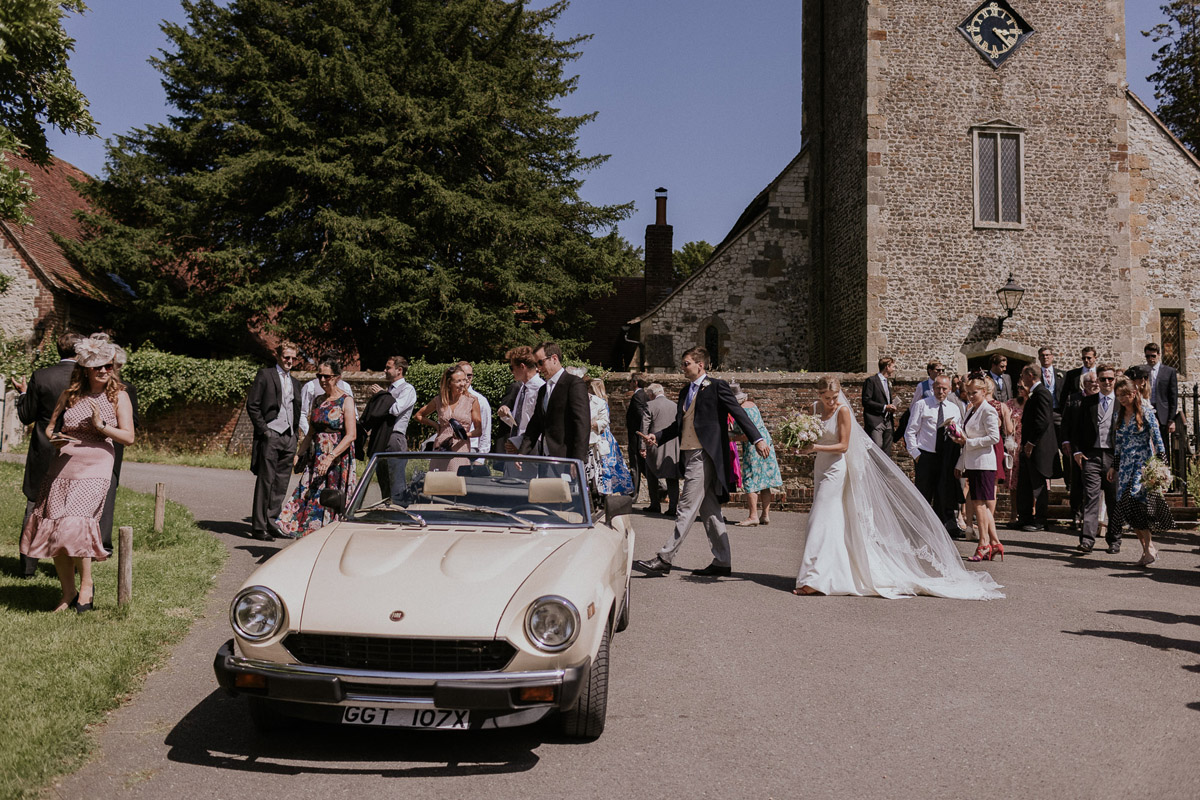 "William gifted me a pair of custom Tessa Packard earrings for the wedding day which had been made from inherited jewellery I didn't wear any more."
"The earrings featured diamond hoops in yellow gold with detachable diamond and pearl drops."
"I love them so much as I can wear the hoops every day and I've already worn the pearl drops to countless weddings this Summer."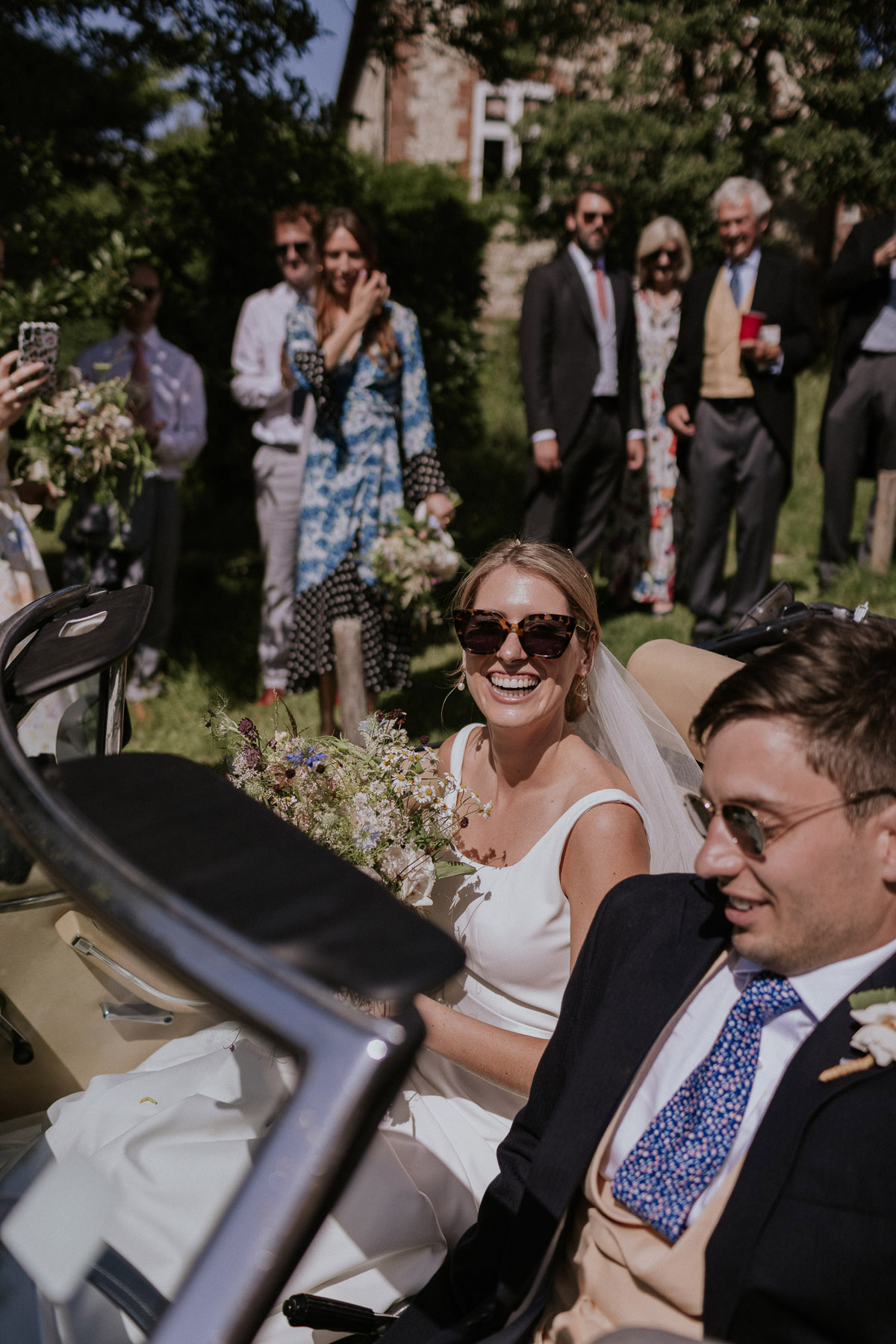 "The ceremony was so special because it was so novel to be outside in the church yard, but our favourite part of the day was taking photos in a field of camomile straight after."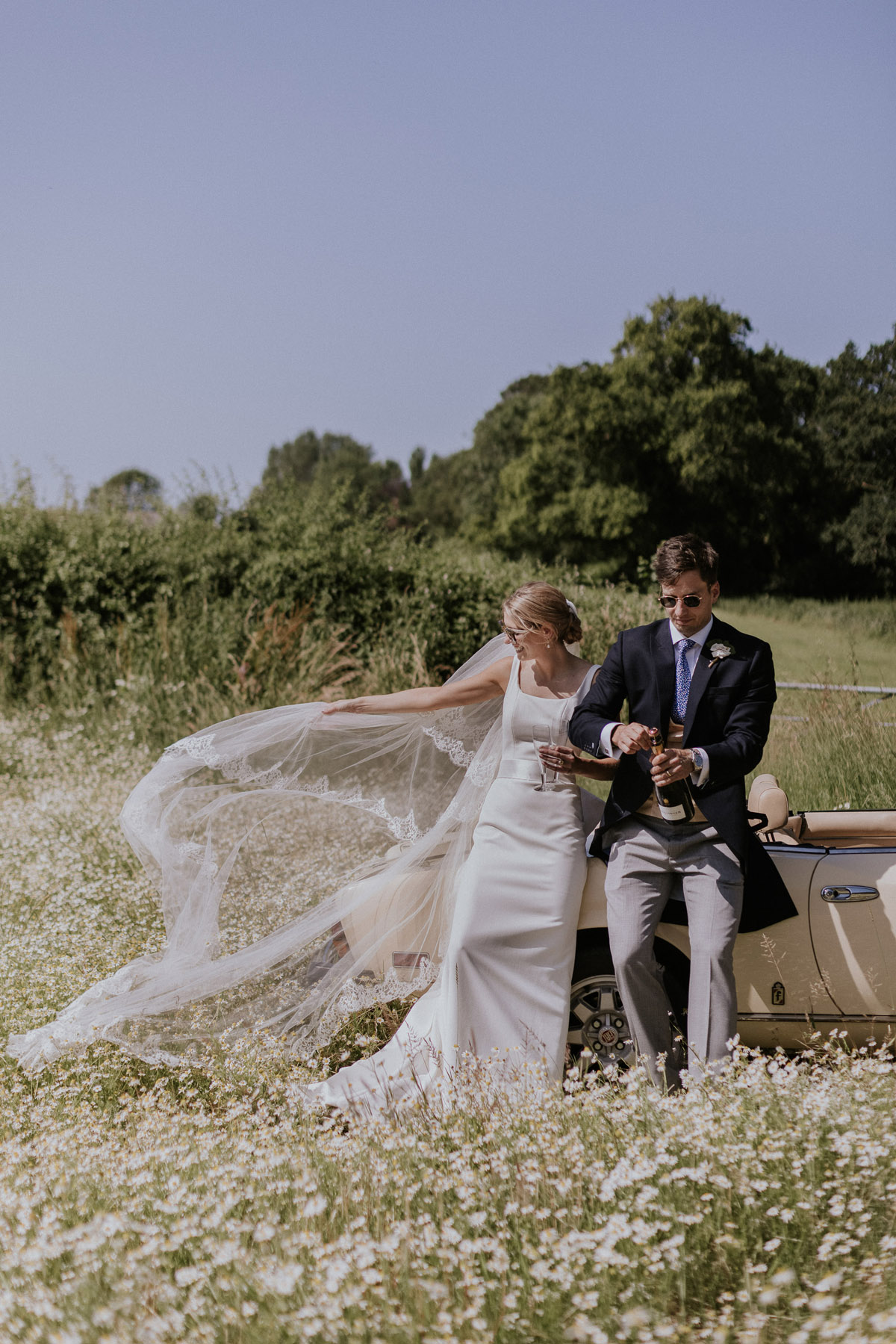 "It gave us some alone time, a chance to process what just happened and bask in the happiness of a newly married couple."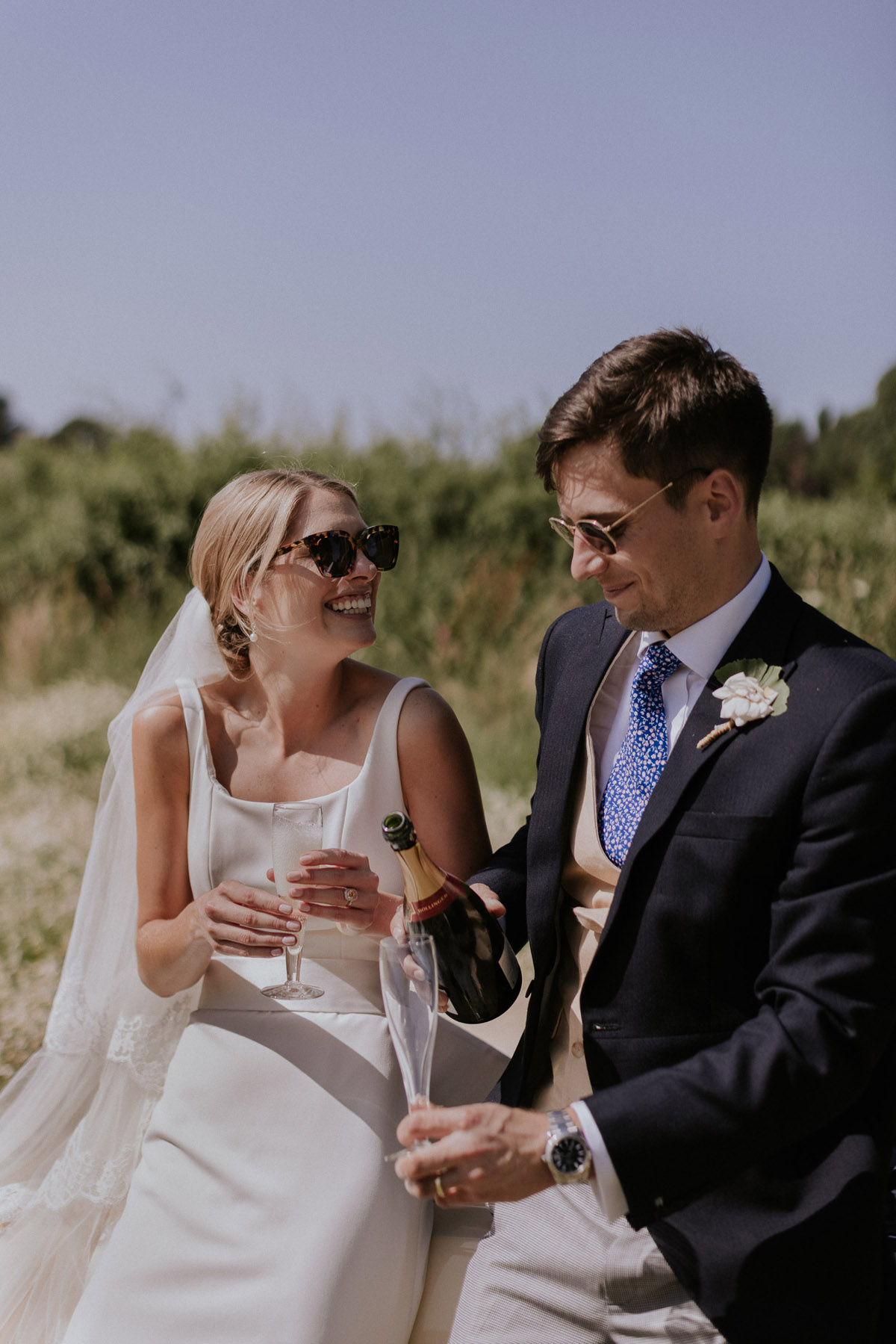 "We said to each other we would be happy if the day ended then and there because it couldn't possibly get any better."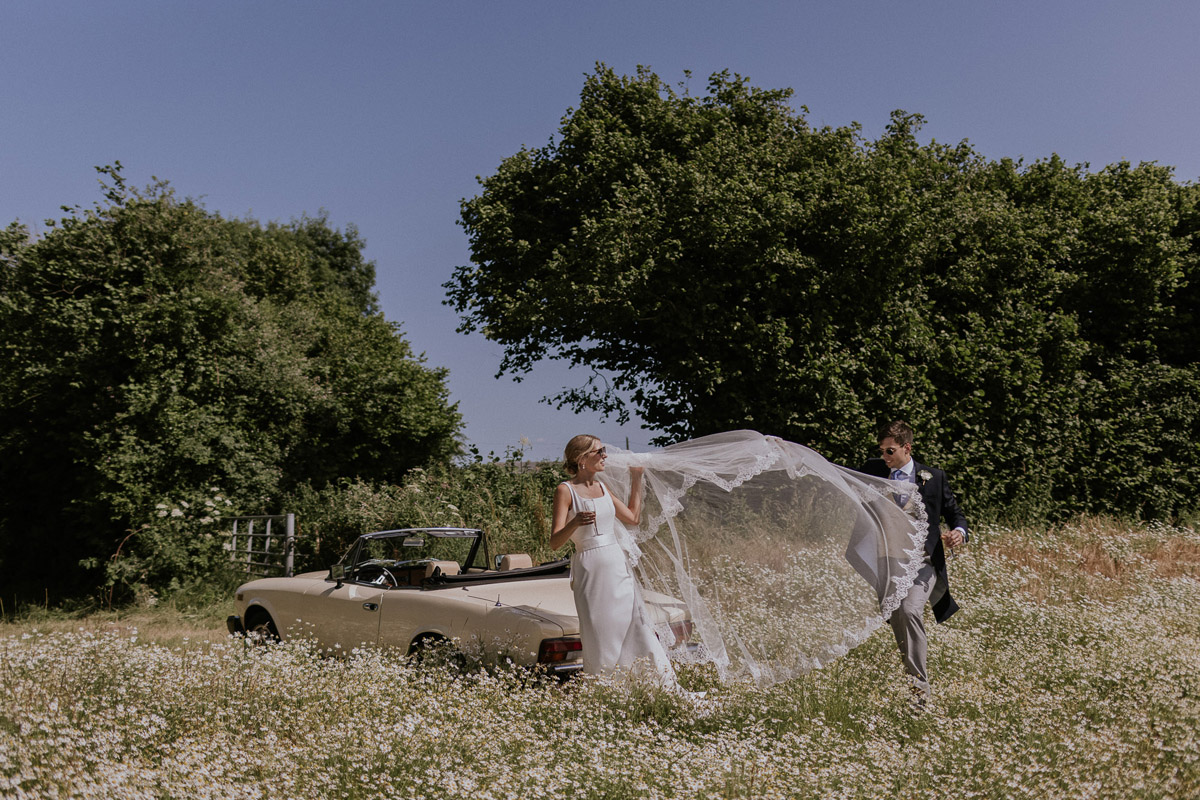 "My engagement ring is an antique Ceylon yellow sapphire set in platinum from Berganza @berganzalondon in Hatton Garden."
"We both chose plain 18ct gold wedding bands which we had engraved with each other's initials."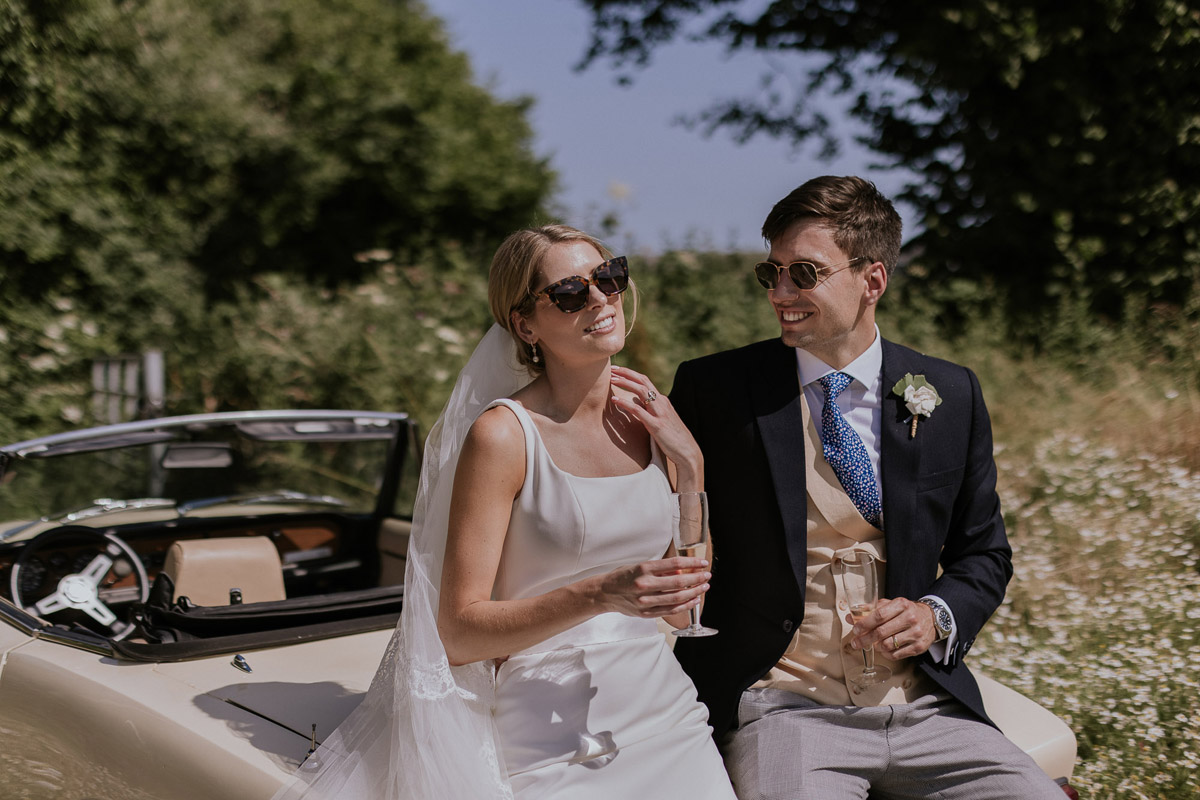 "We wanted something timeless and that wouldn't compete with my engagement ring."
"We bought them from E. Katz and Co which is one of the oldest, established jewellery shops in Hatton Garden."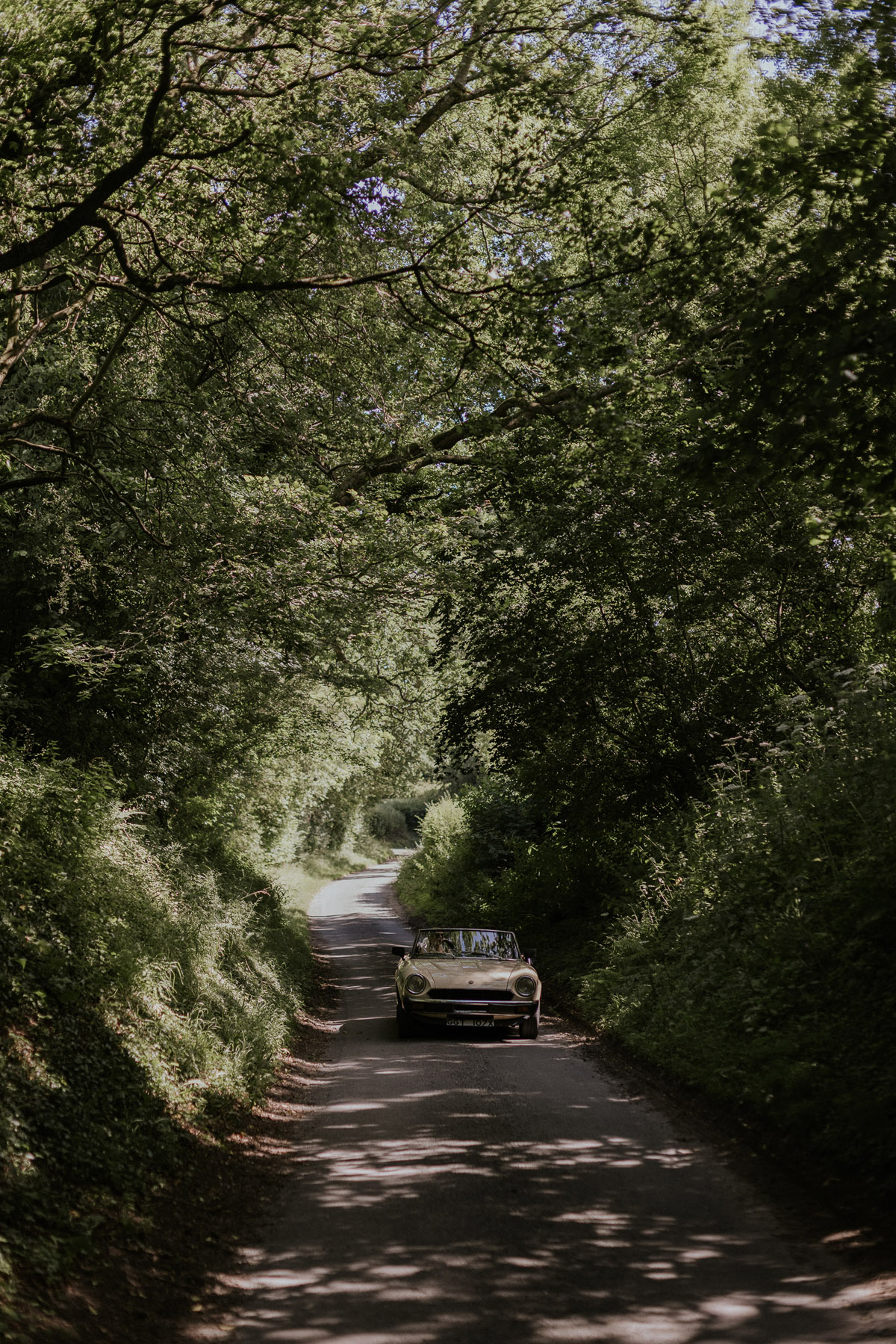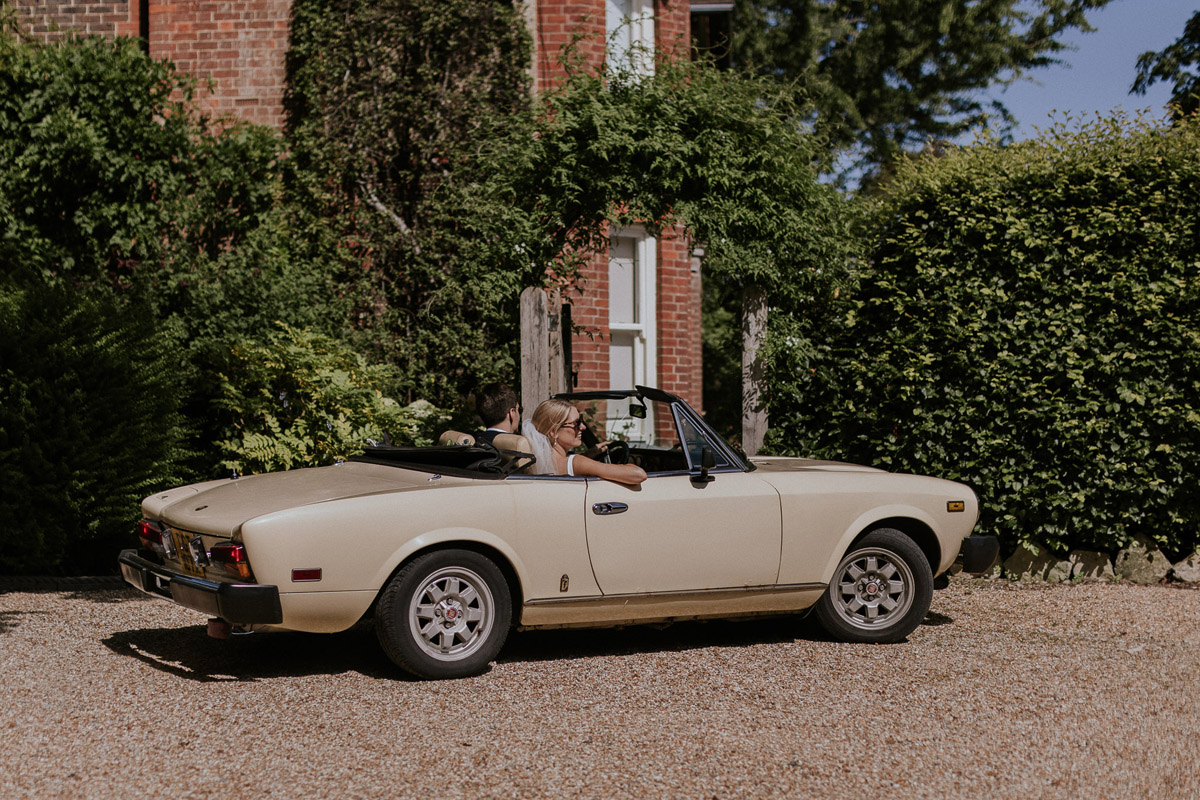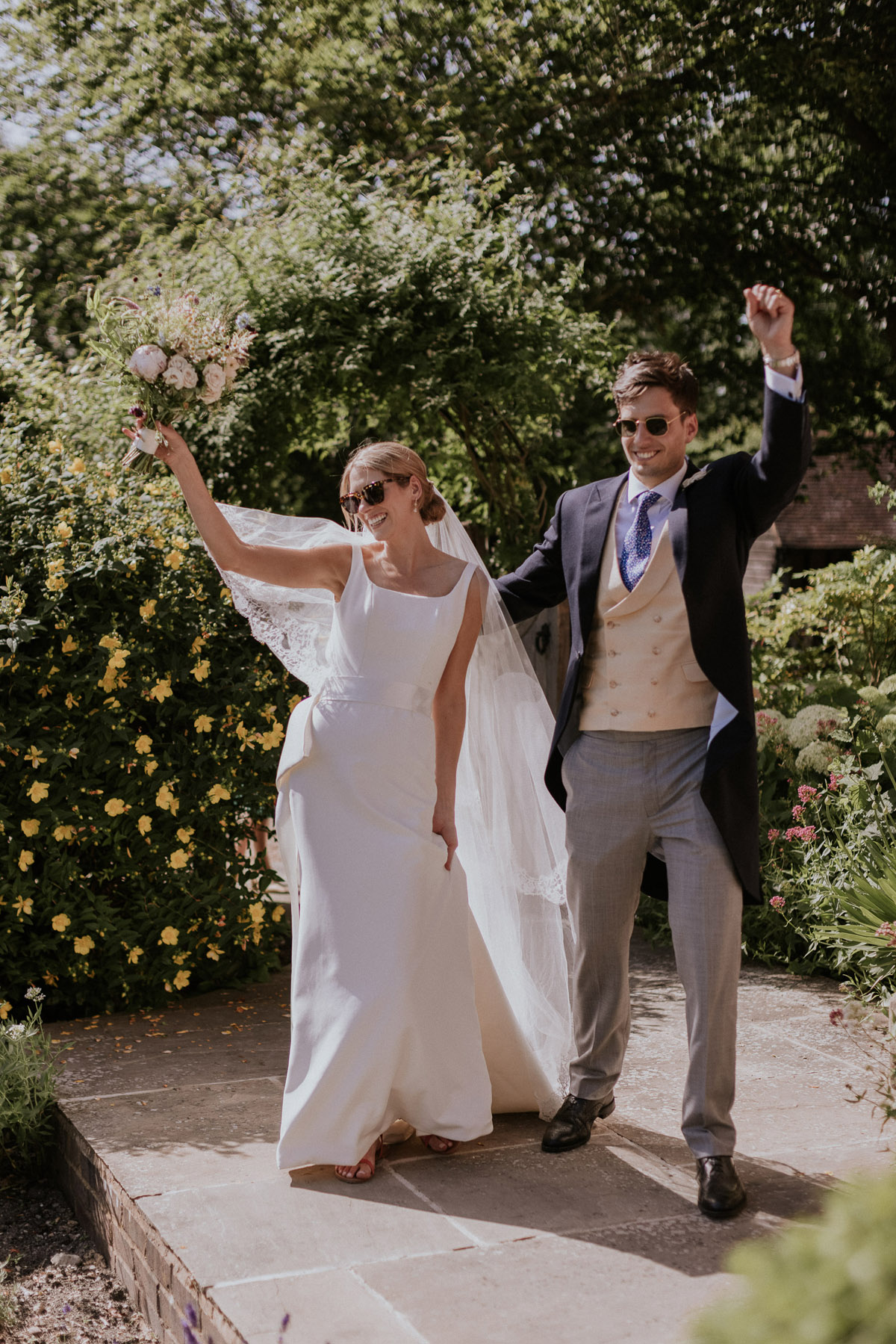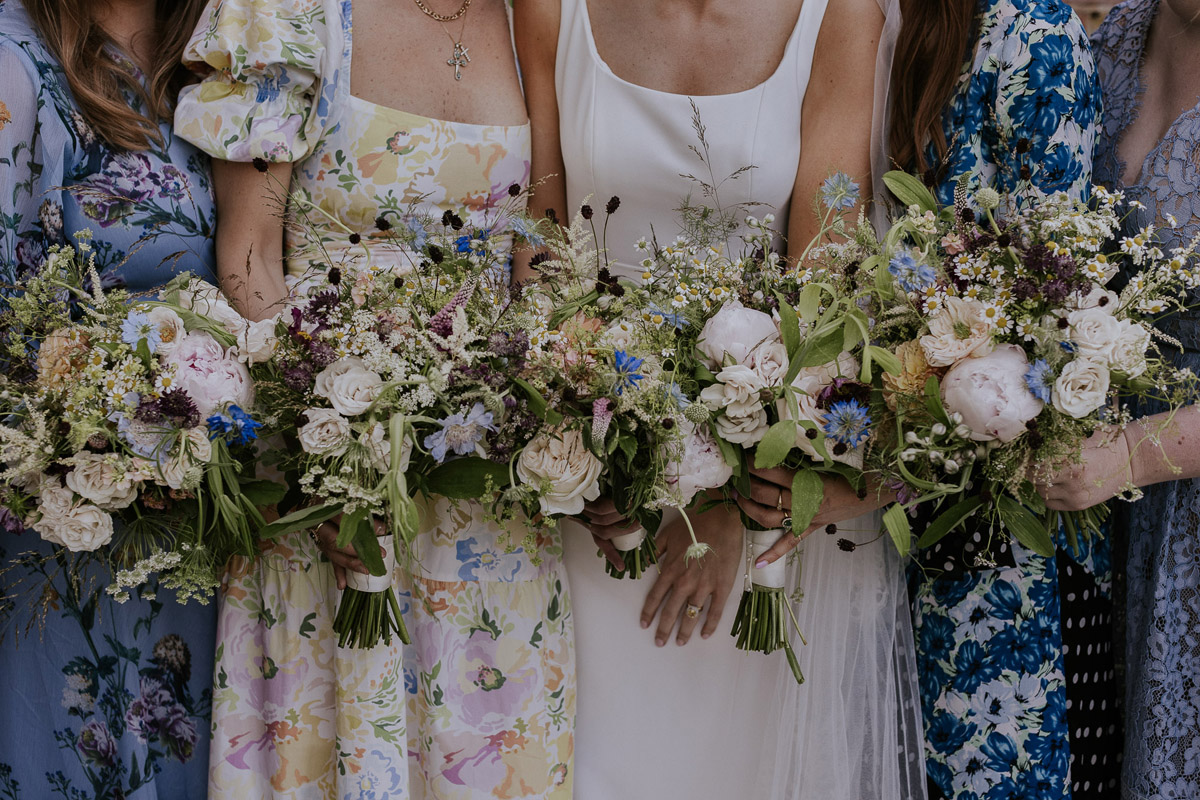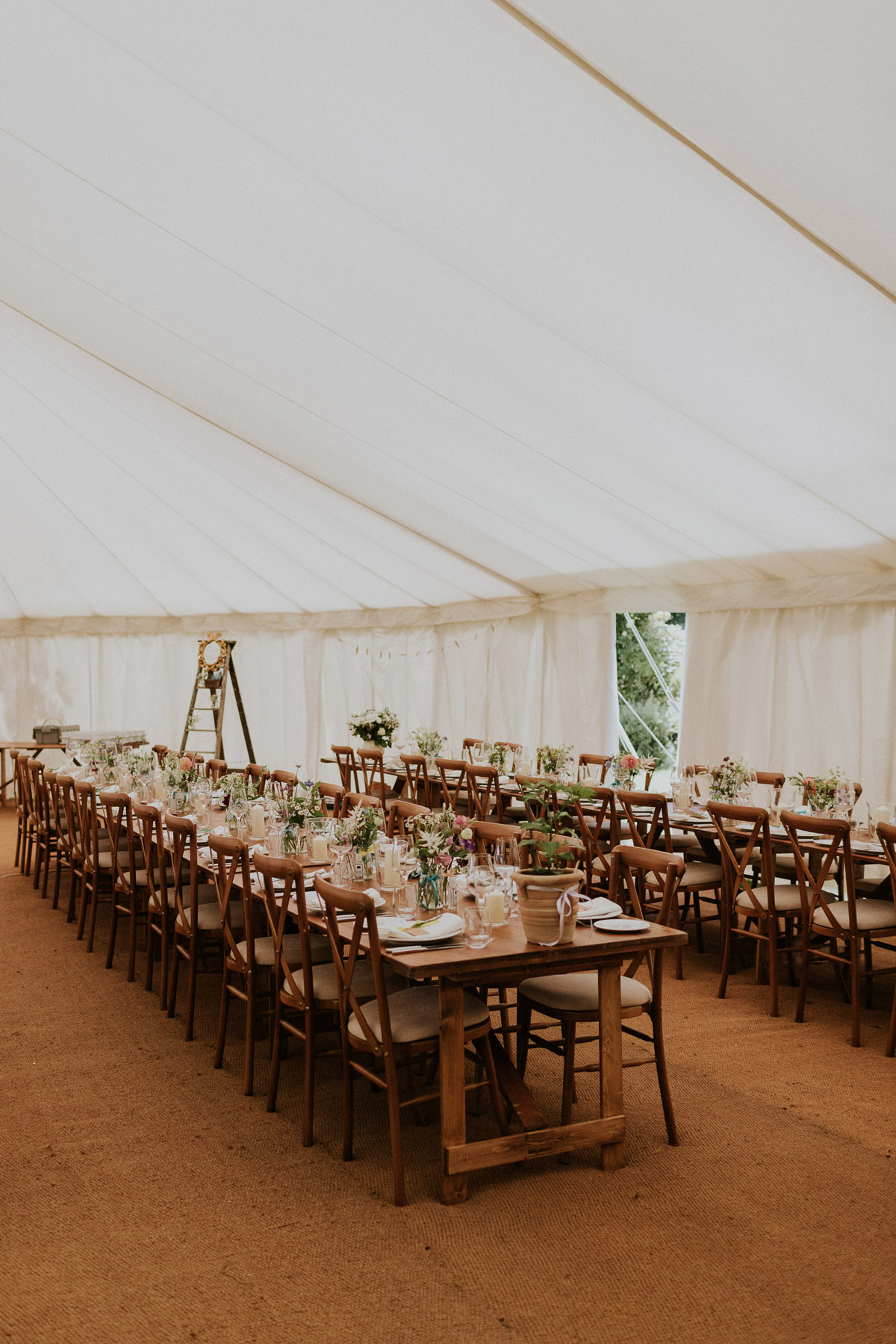 "Petaprint in Petersfield printed our invitations and order of service and were wonderful and very patient."
"Our very talented friend Henry at Fat Old Sun designed us a beautiful wedding crest, featuring all our favourite things and all the things which define us as a couple."
"We had this printed on the invitations, order of service and as a large decoration in the marquee."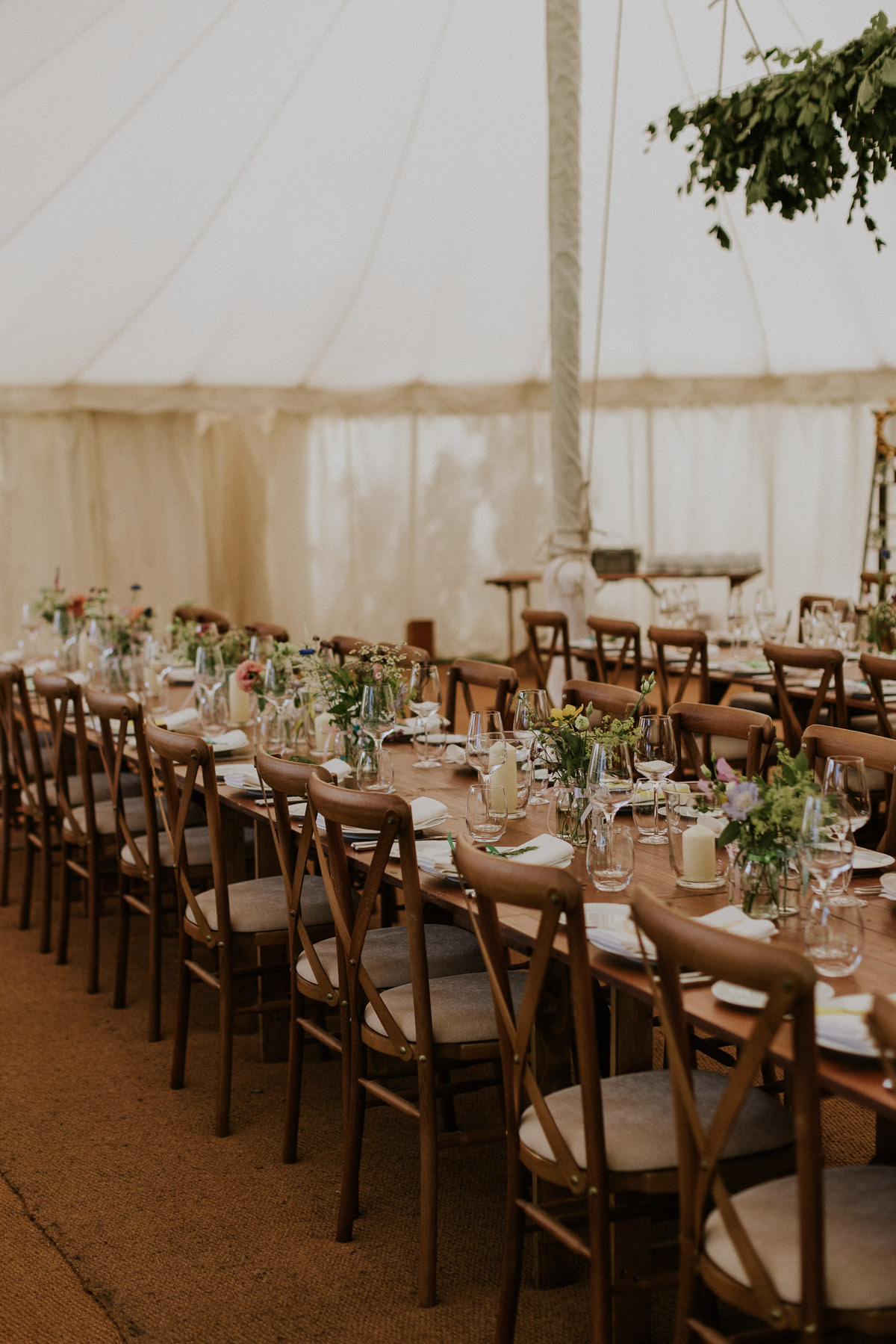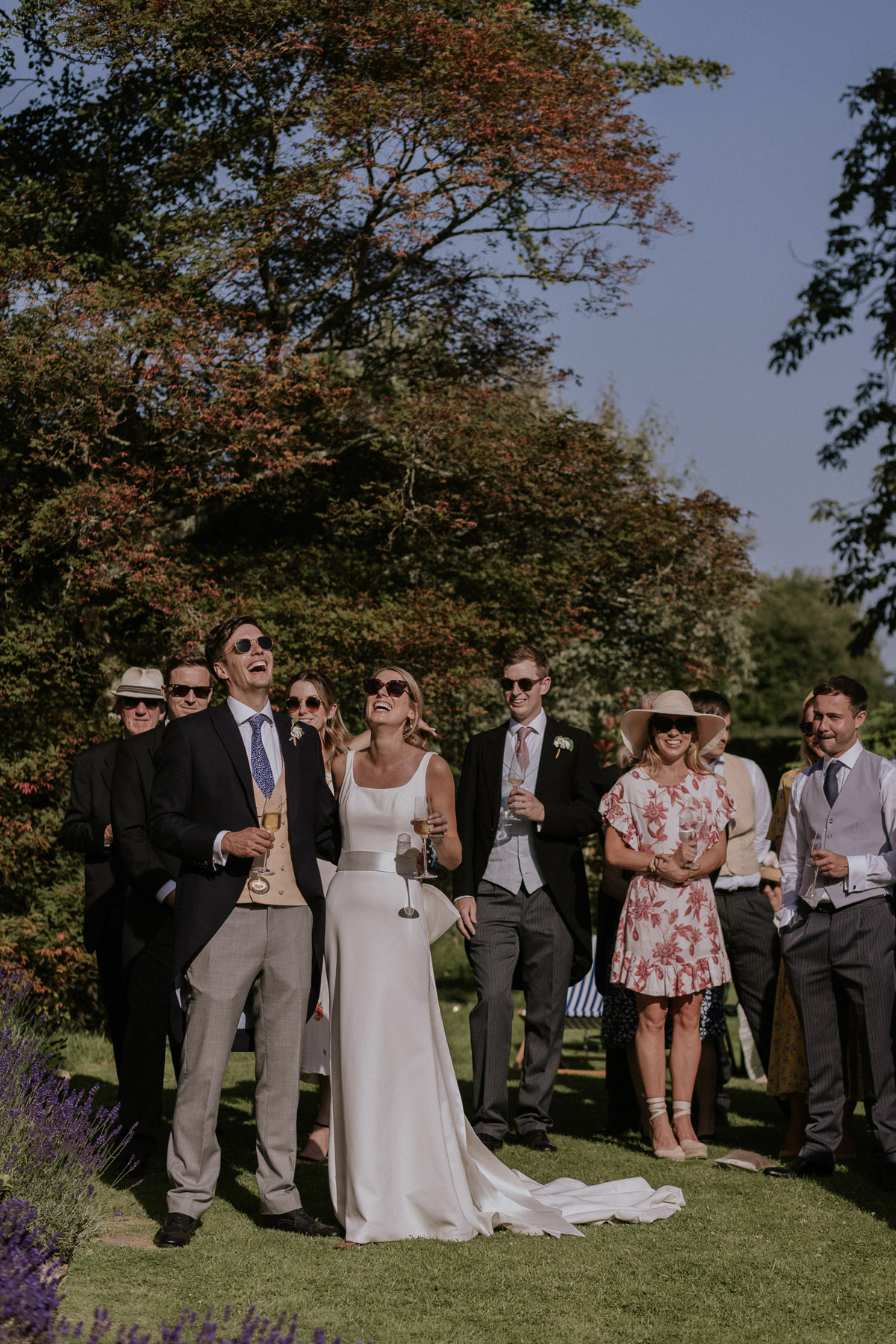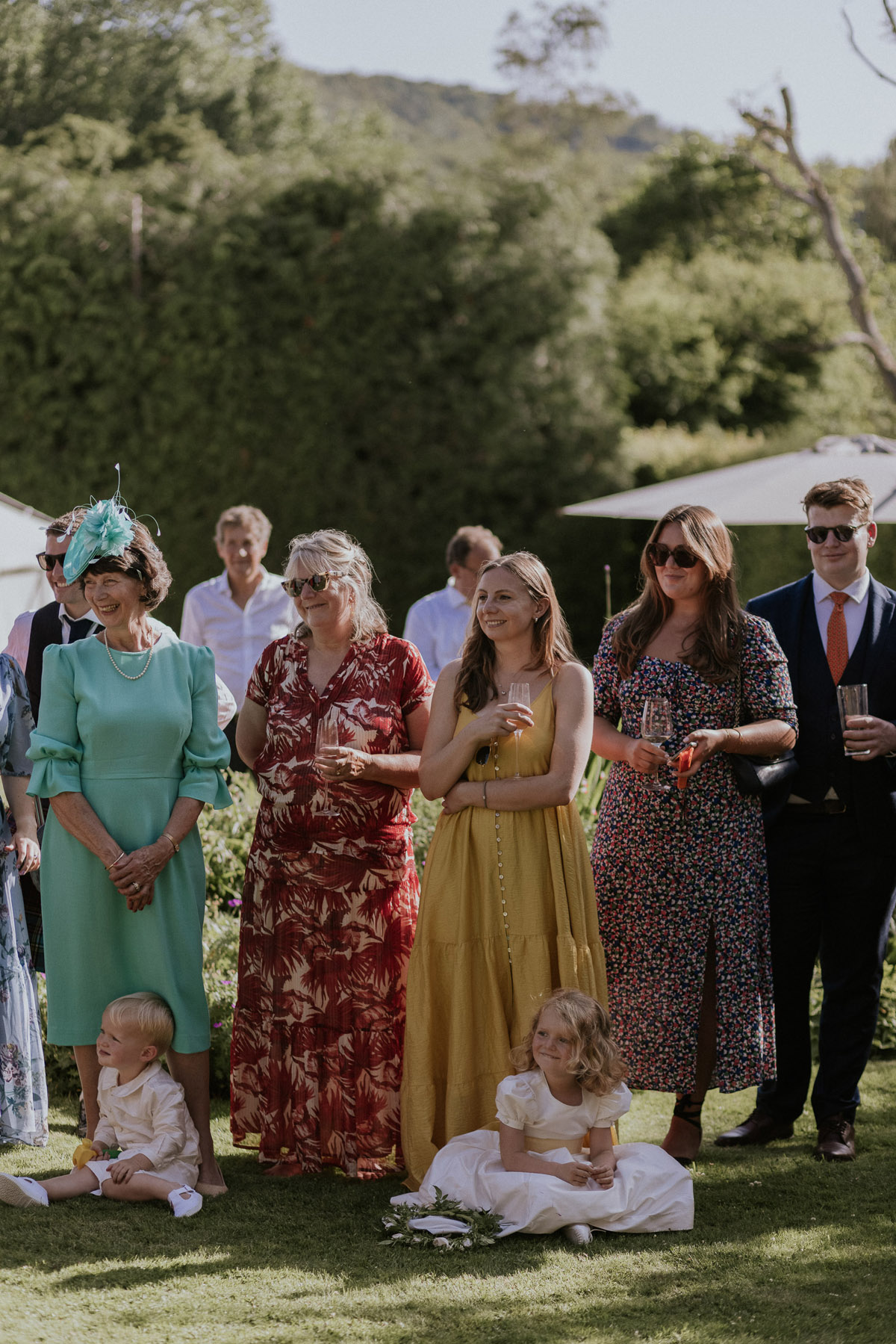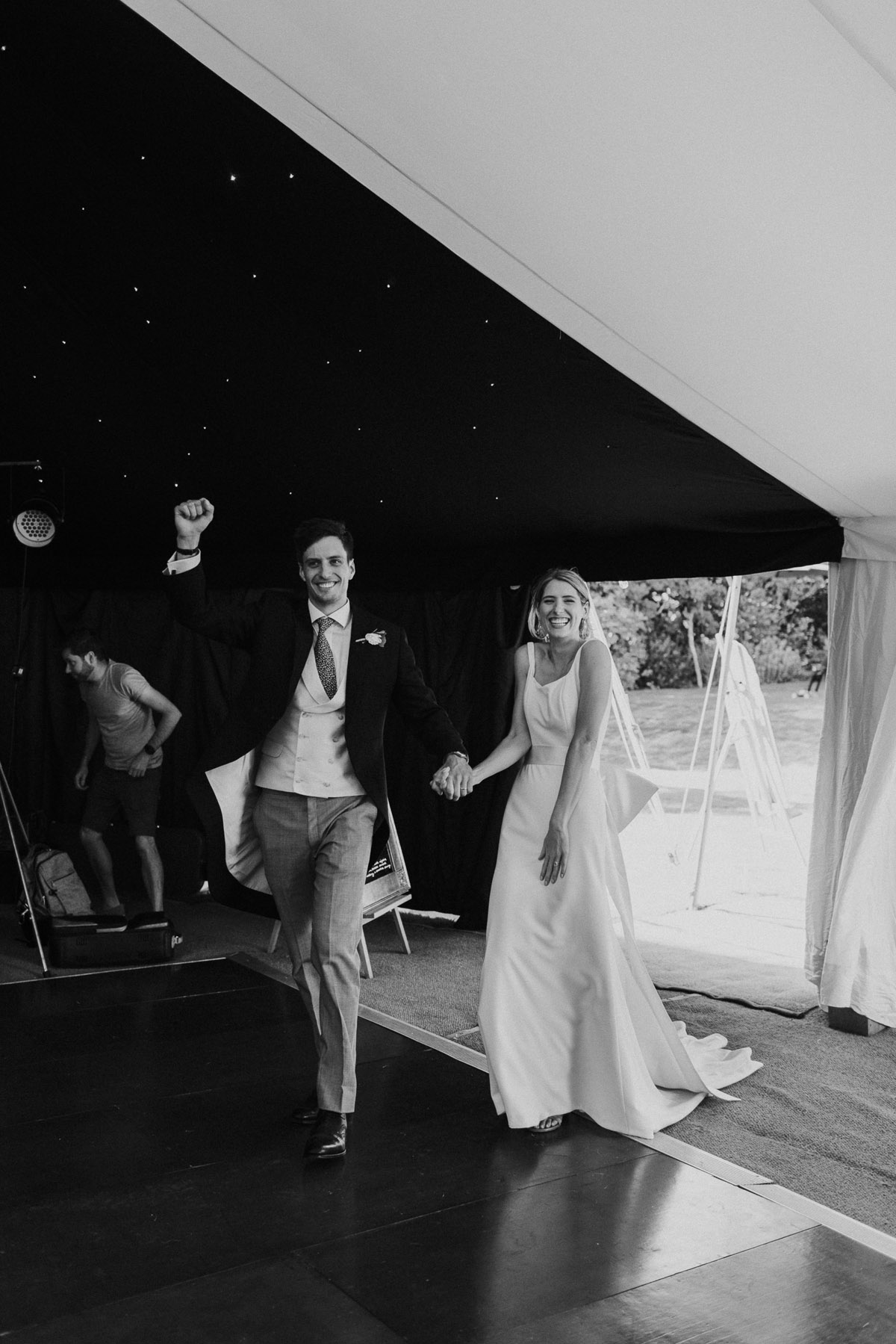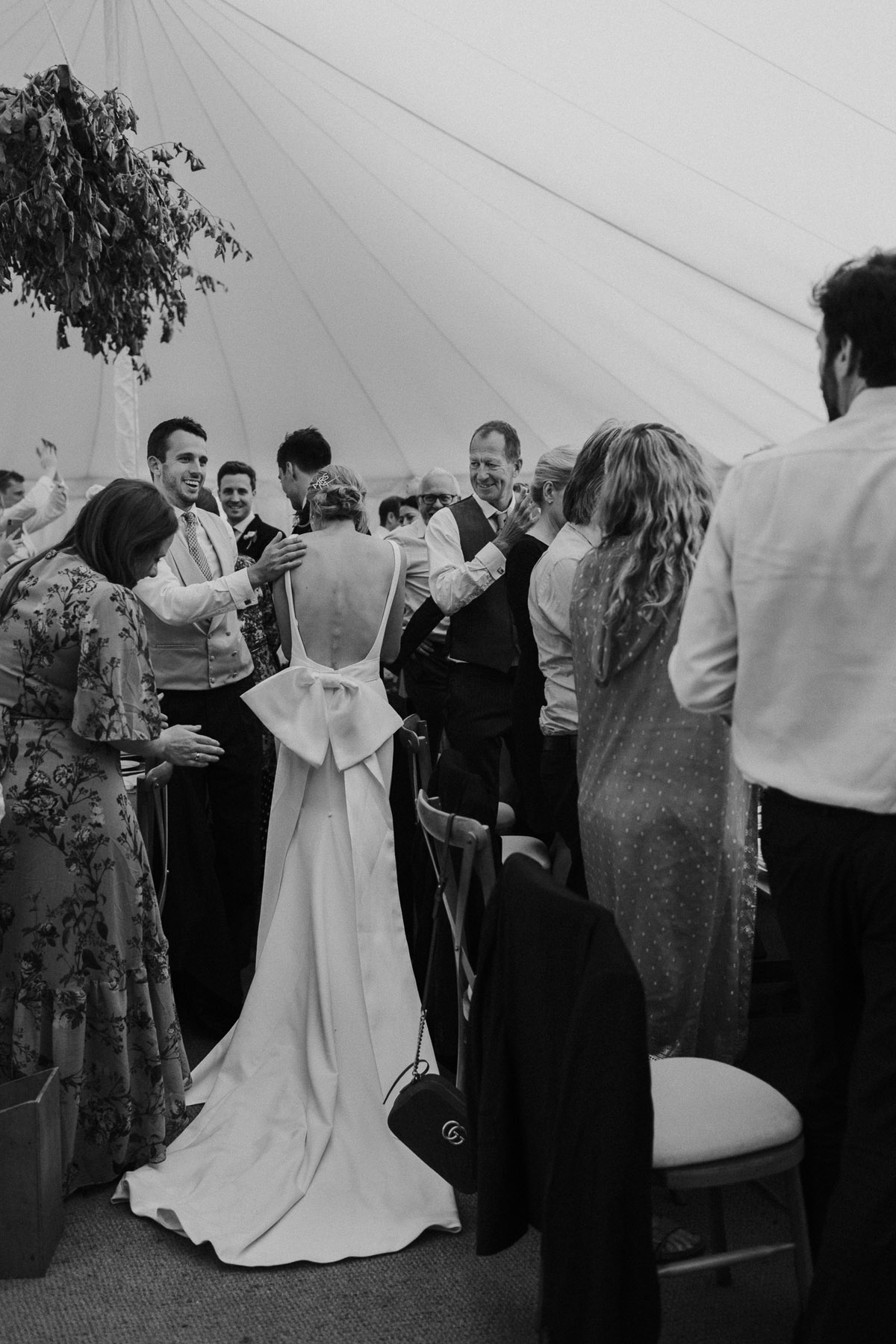 "William doesn't love cake and I insisted on a pick and mix bar so we went for a cheese cake instead of a wedding cake. We bought this from The Cheese Shed."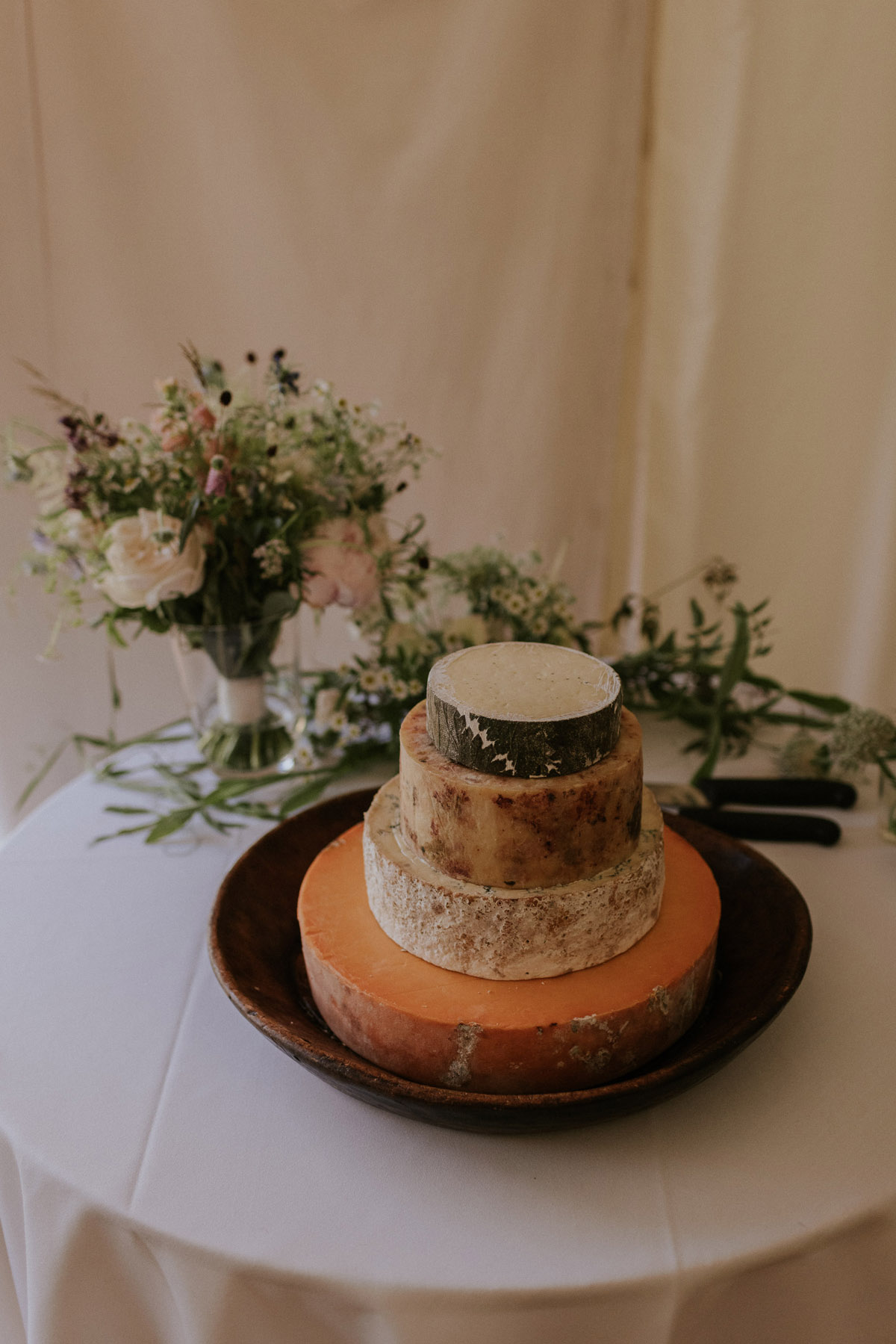 "William wore a custom morning suit from Dress2kill, Sam Rowley who helped us was amazing and the whole experience was a real highlight of the wedding planning process for both of us. "
"William didn't want a really traditional morning suit, so we went for a really dark, navy blue dress coat and trousers (which Sam recommended for his colouring) and a sand coloured waistcoat."
"William wore a Liberty print tie from Liberty that I gifted him on the morning of the wedding and a Rolex Oyster Perpetual Datejust I had given him 6 weeks earlier for his 30th birthday."
"He wore shoes by Loake and he wore Ralph Lauren socks which he also gifted to his ushers."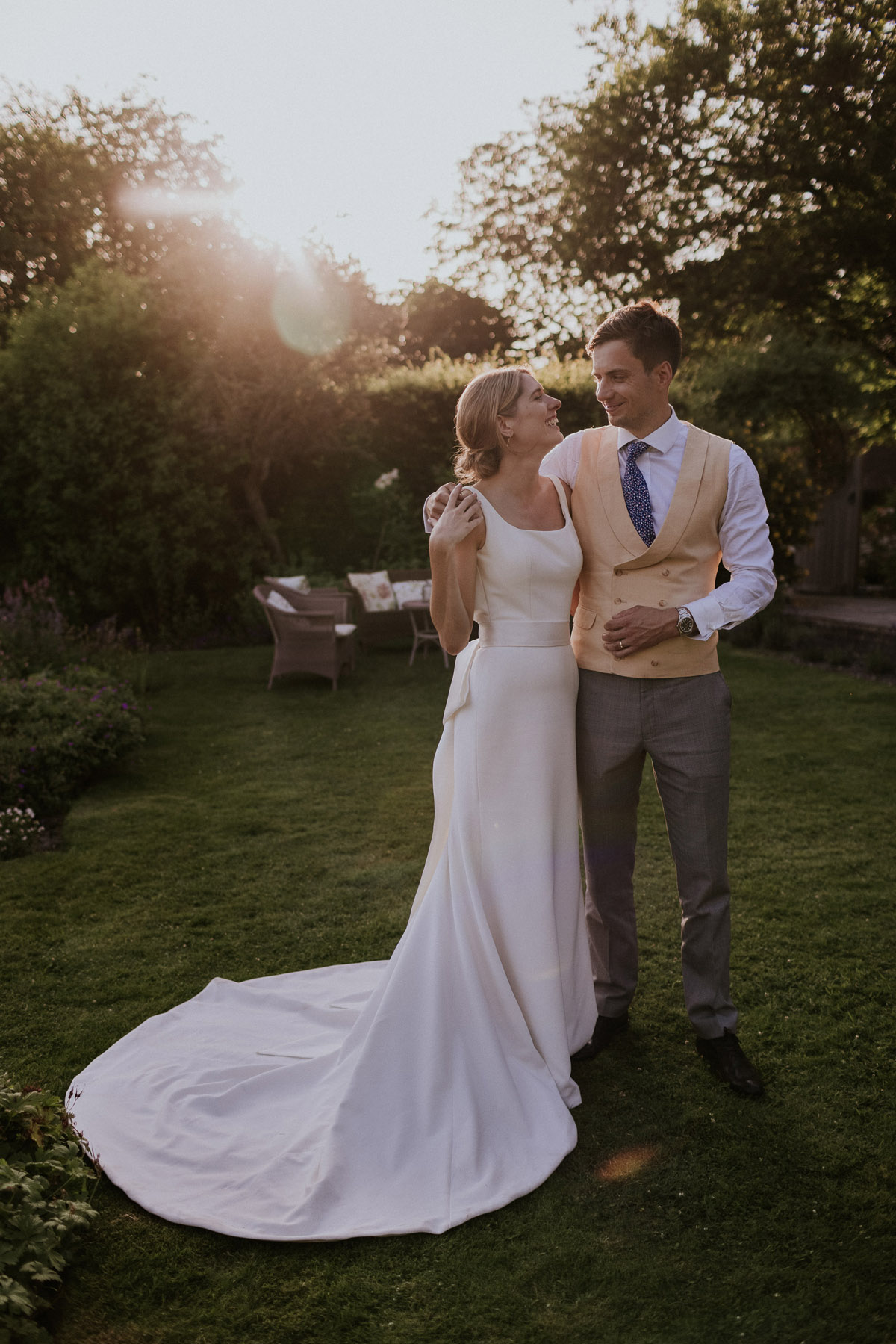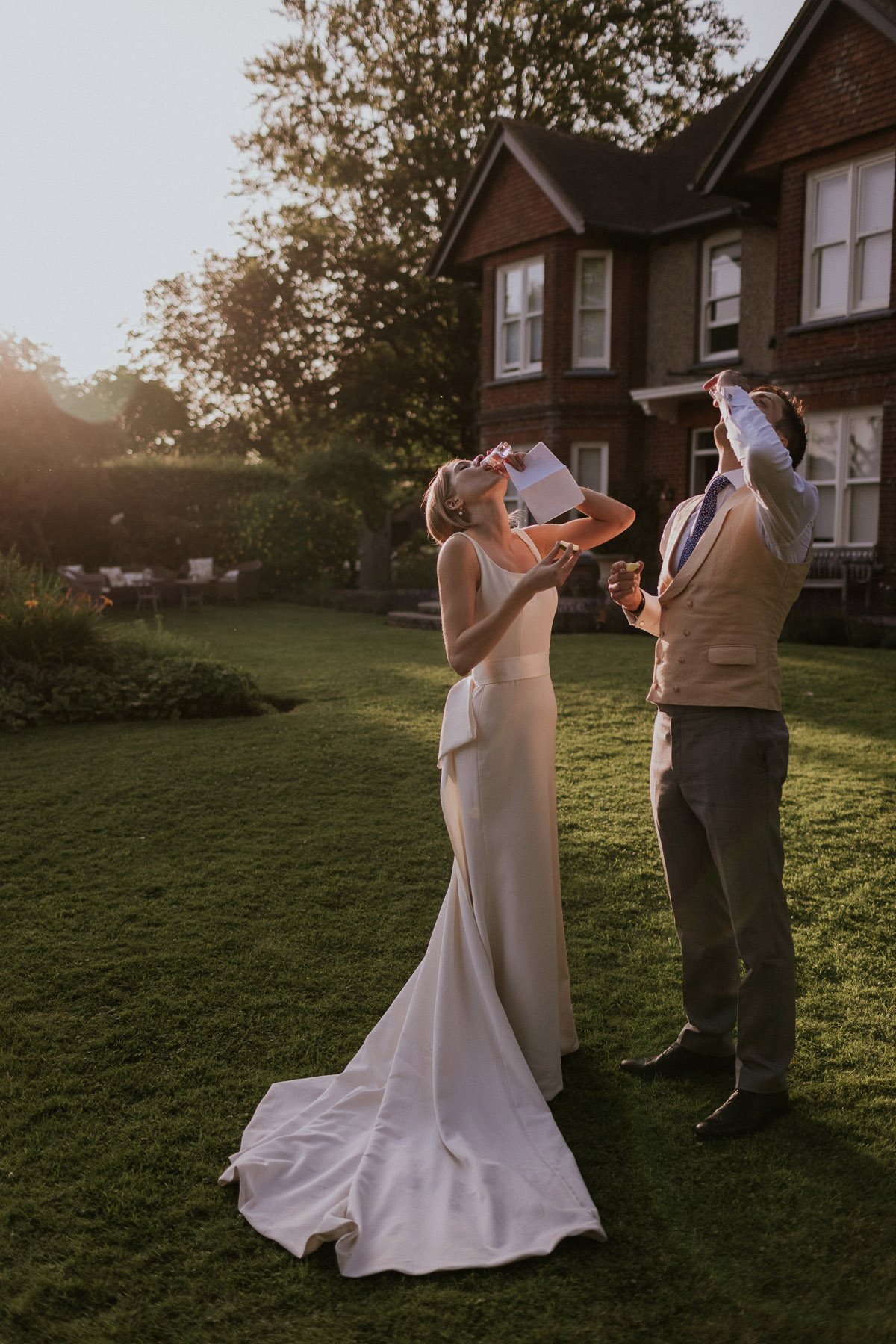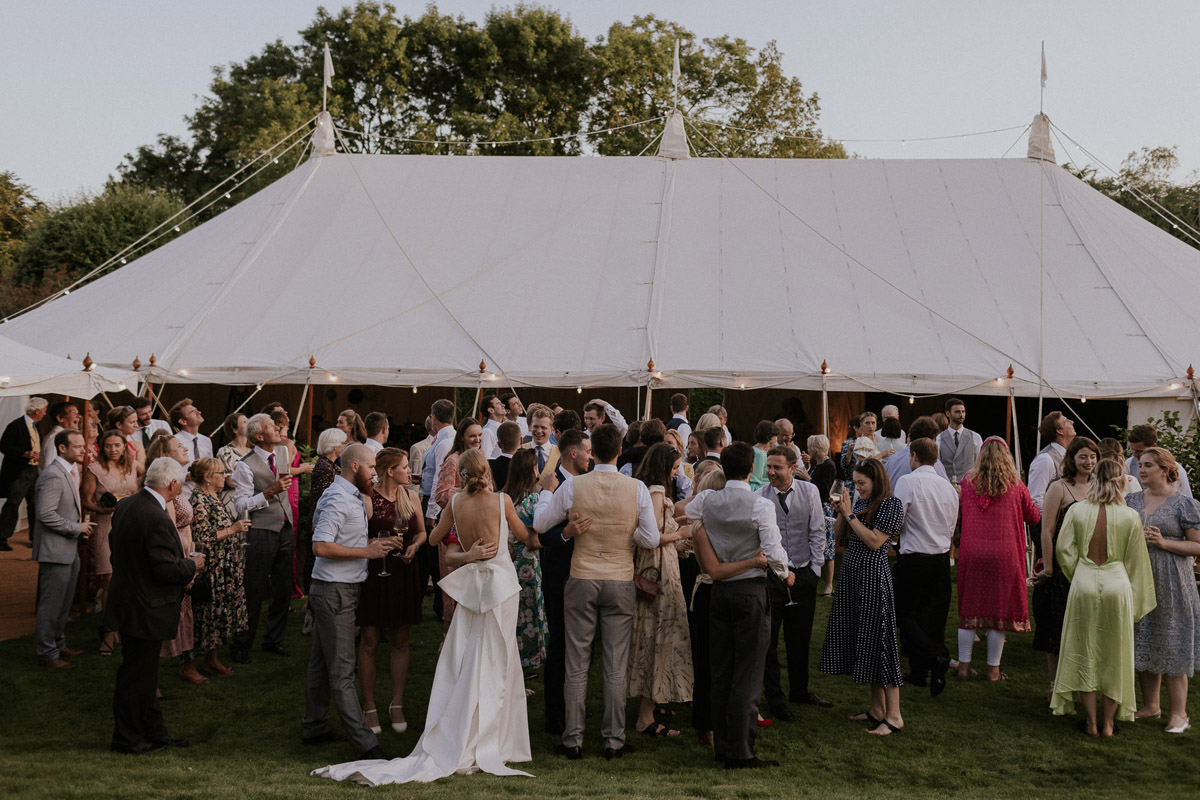 "One of my bridesmaids gave me some hairslides saying 'Mrs M' so that I had something for my hair once I had taken my veil off."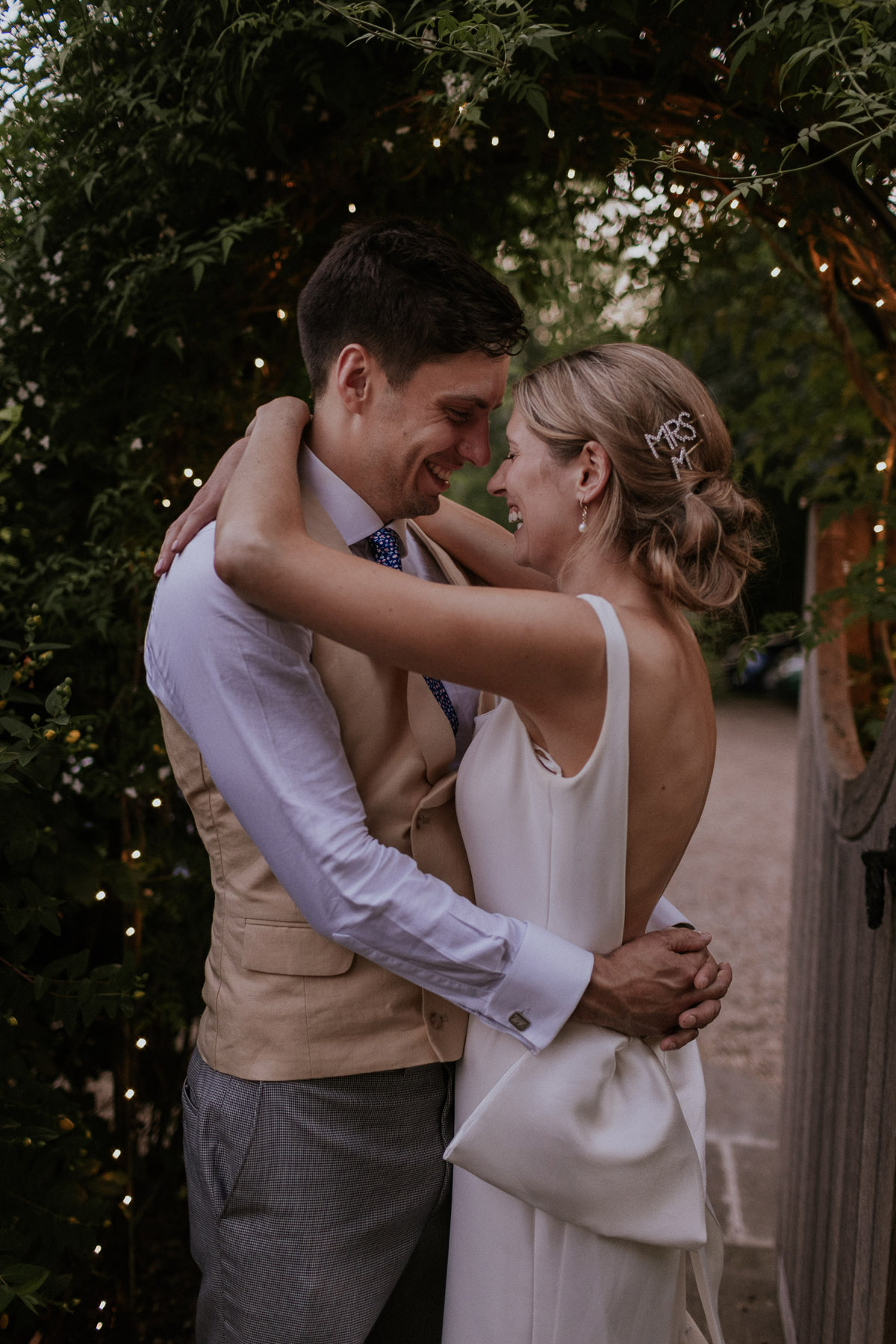 The couple took a traditional first dance to Thinking of You, by Sister Sledge.
"We love disco more than any other music and the sentiment of this song is just perfect. We wanted something to get everyone on the dancefloor, the ushers also let off confetti canons during the chorus of the first dance which was amazing and got the party started."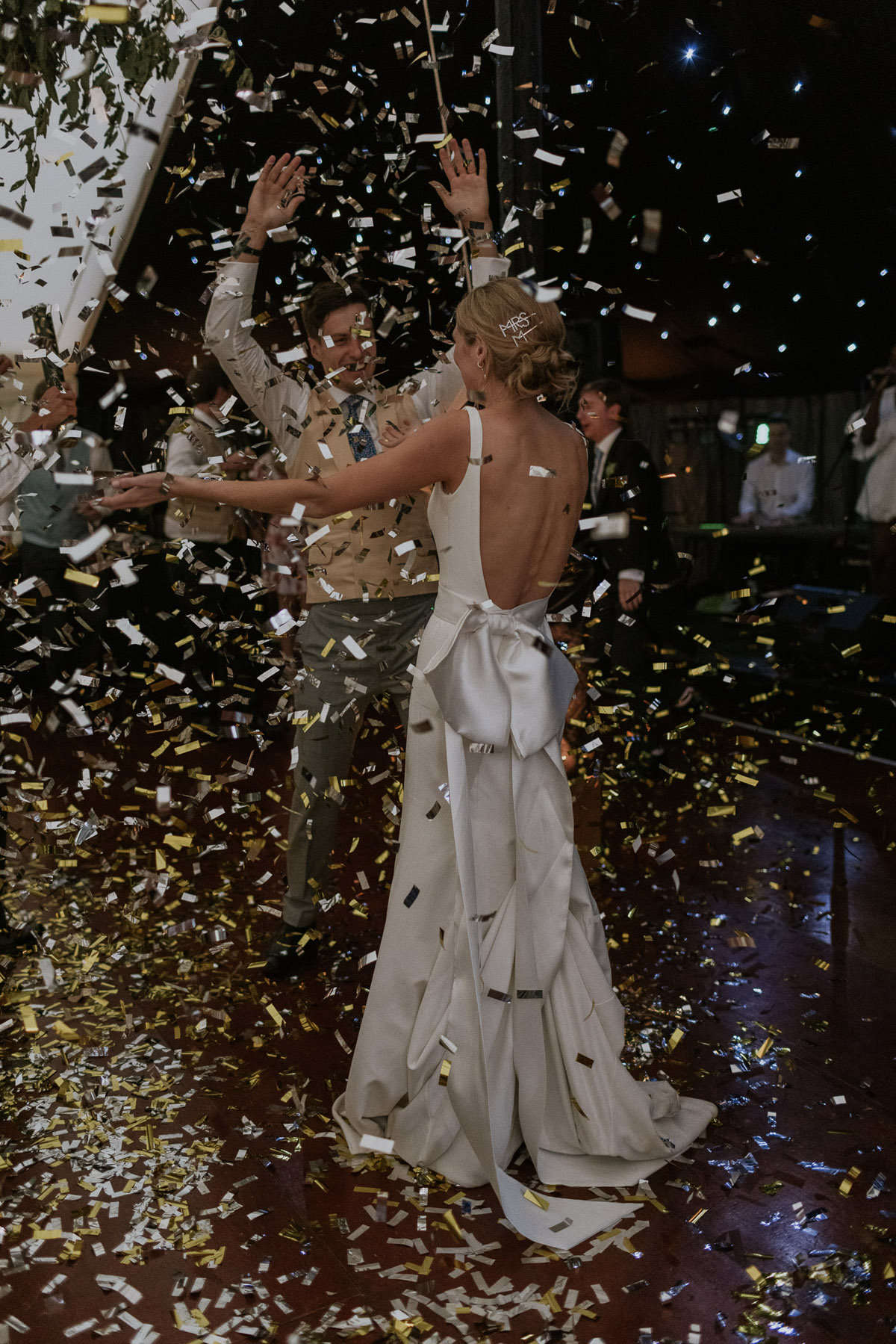 "Instead of leaving the party, William and I decided to glamp in the garden with some of our closest friends."
"Beautiful Belles provided the accommodation, our honeymoon suite Bell tent was pitched by the vegetable garden and our guests were in the paddock, it really added to the overall look of the garden and reception."
"Beautiful Belles were amazing to deal with and we would highly recommend."
Words of Wedded Wisdom
"Two pieces of advice; Make a very detailed day of timeline, share it with everyone (suppliers, bridal party etc.) but go into it knowing you won't stick to it and that's ok."
"It is your day, but it's also about managing the expectations of your family (especially if they are contributing financially or with their time and support).
"Finally, make sure you communicate the roles, responsibilities and expectations of family, suppliers and wedding party before the wedding."
"You can't communicate enough! It will save you from any tension or misunderstandings on the big day."
"Everyone talks about a rain safe plan, but we needed a sun safe plan. With hindsight we should have found some umbrellas to give some needed extra shade."
"Our parents were very generous, we didn't have a set budget and haven't exactly worked out how much everything cost! I think it's best not to know as I'm sure it was more than what we thought it would be."