Come with me today to the rolling Howardian Hills of North Yorkshire for the timeless and elegant country house wedding of tennis loving sweethearts, with lovely details courtesy of various talented and kind family members, from the wedding dress to the stylish transport and delicious cake.
On the 20th July, pre-Covid, Emma who works in the NHS and Adam, who is a tennis coach, celebrated their marriage in the Grade I listed splendour of Tudor country house, Newburgh Priory in Coxwold, North Yorkshire. Images by the wonderfully talented photographer Tony of Photography34 – more on this shortly…
Capturing Emma and Adam's day in his signature heartfelt and candid way was Tony of Photography34, who we're proud to include in our directory of trusted suppliers.
"We chose Tony after viewing some of his work online and loving the style and colours that he used. Before the wedding we did a photo shoot in Staithes, where Adam proposed."
"It was lovely to go back, and the photos that Tony provided for us were very special and made us really excited for the wedding photos. Funnily enough we met Tony face to face for the first time at a friend's wedding earlier that summer!"
"On the day Tony was fantastic, he was not intrusive at all and family commented on how hard working he was."
"He was flexible in terms of staying late into the day to capture important moments, even after the incredibly long speeches!"
Emma's lilac and purple toned bouquet included roses and lisianthus alongside lots of other wonderful blooms and foliage.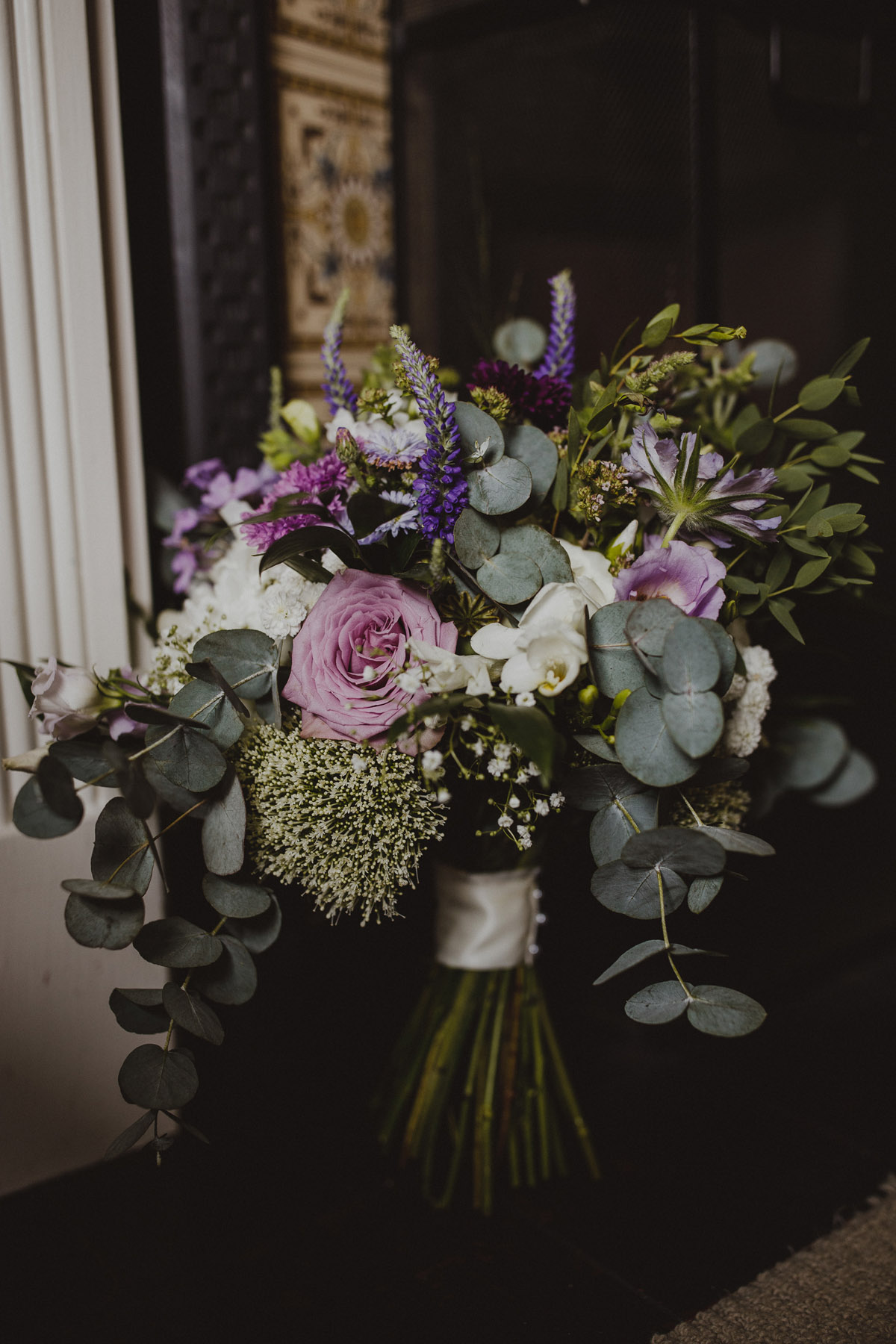 "Our florist was Judy Wright from The Plantsmiths. To be honest we were pretty clueless about flowers, all we knew is that we wanted some purple featured somewhere."
"When we met Judy she took us round her garden where she grows her own flowers, and we picked out colours and flowers that we liked."
"Judy created a wonderful example bouquet on the spot." [Sadly unable to find any website or further details for Judy].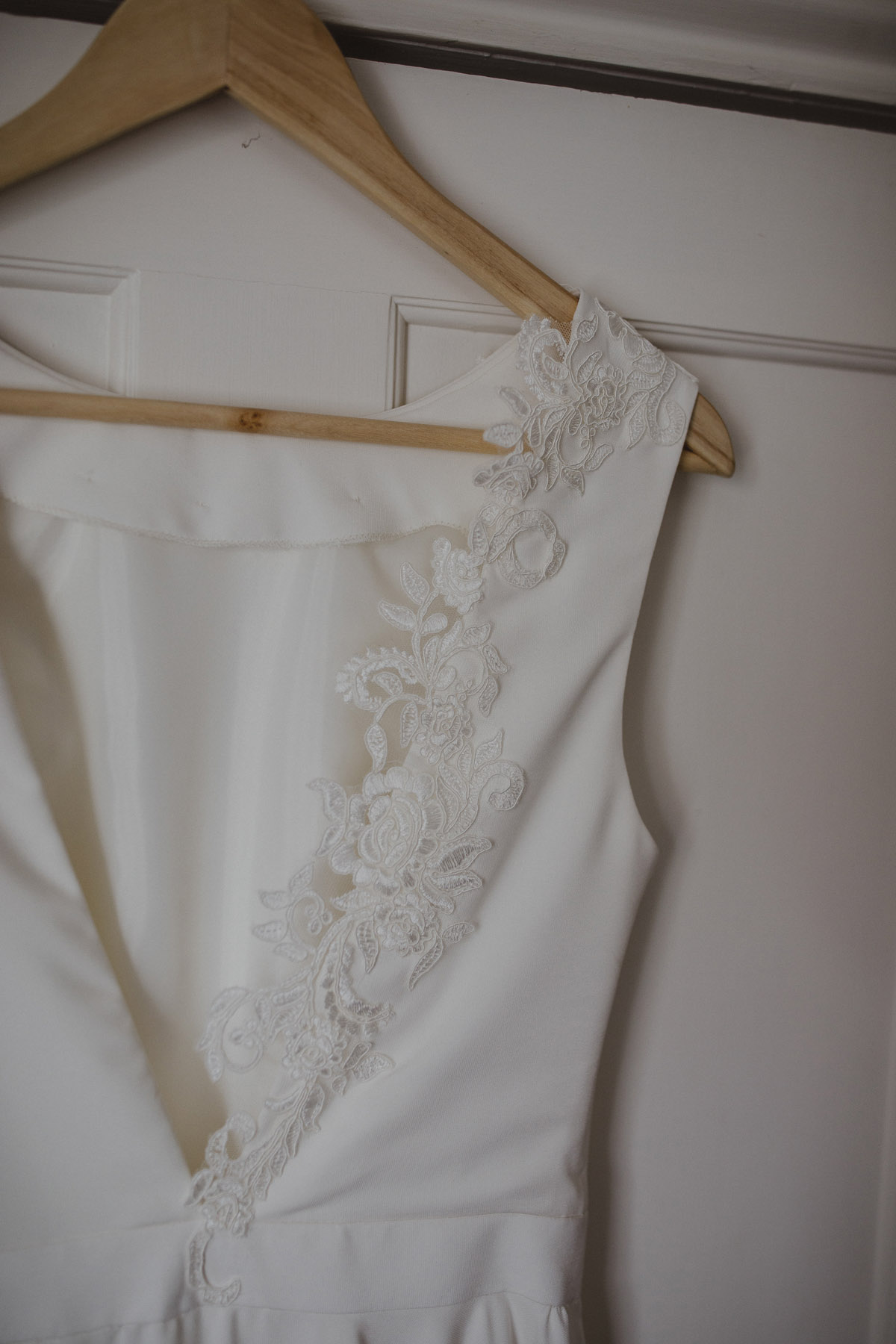 "I chose wedges from ForeverSoles on Etsy as I didn't want to spend the whole day digging myself out of the grass!"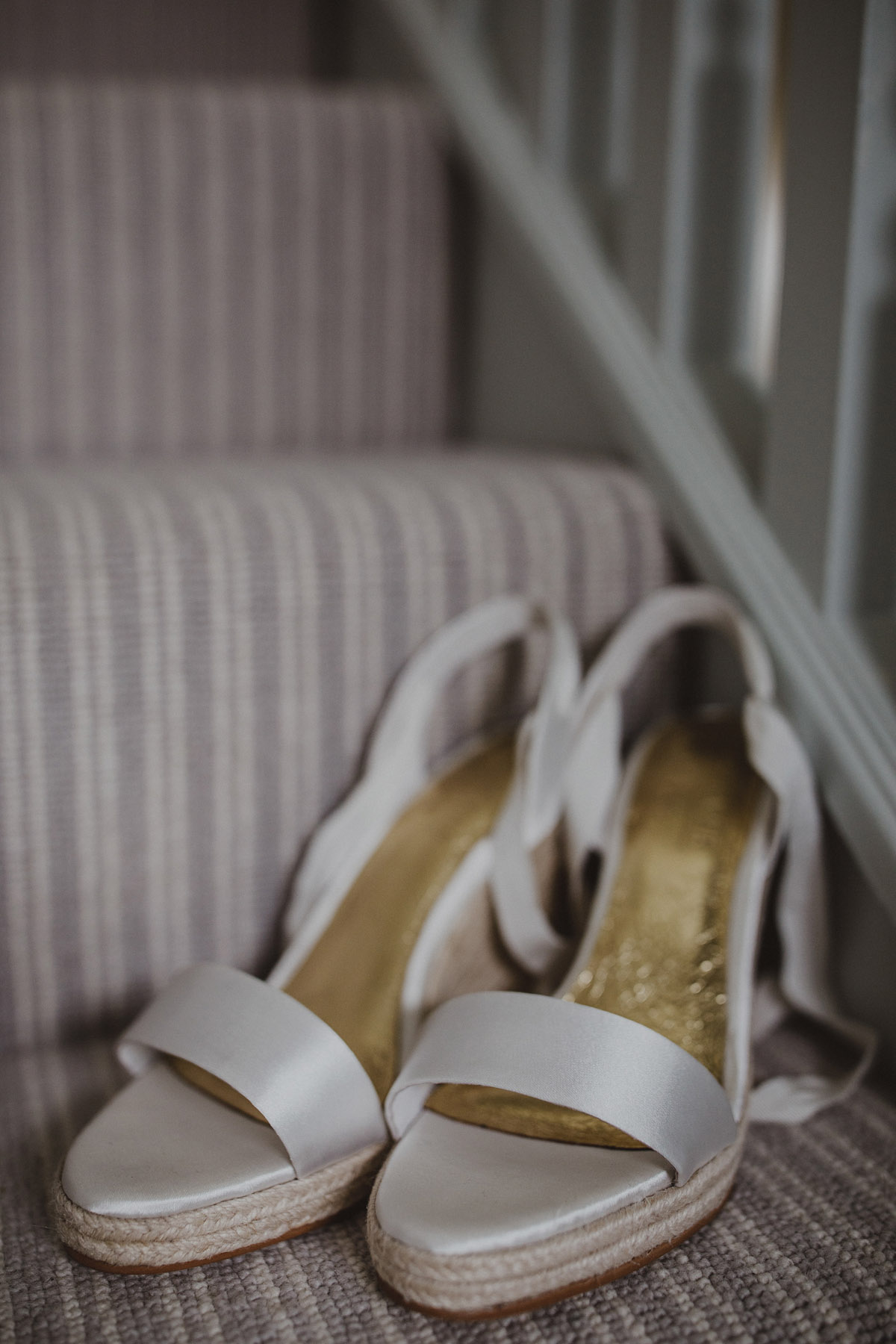 Emma's beautiful dress was an exquisitely made creation by her amazingly talented Mum, and I just love the low back with botanical inspired appliqué lace, and the softly draped train.
"It was very special to be able to wear a dress my Mum had made on the day."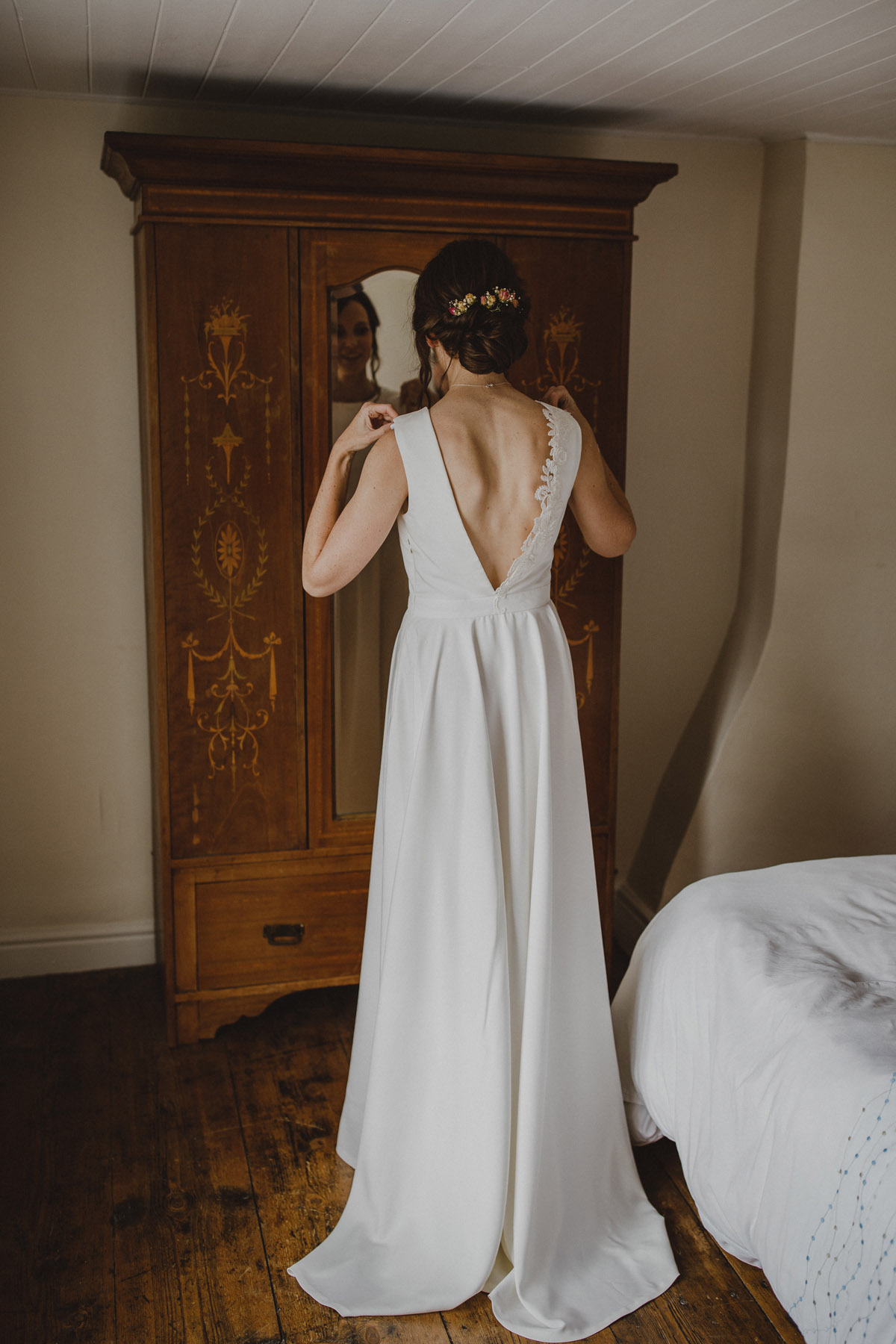 "The process was great too, as it meant that we got to design something exactly the way I wanted it, and it was lovely to spend the time together."
"My Mum has the patience of a saint, and that was needed considering all the alterations she made to the dress!"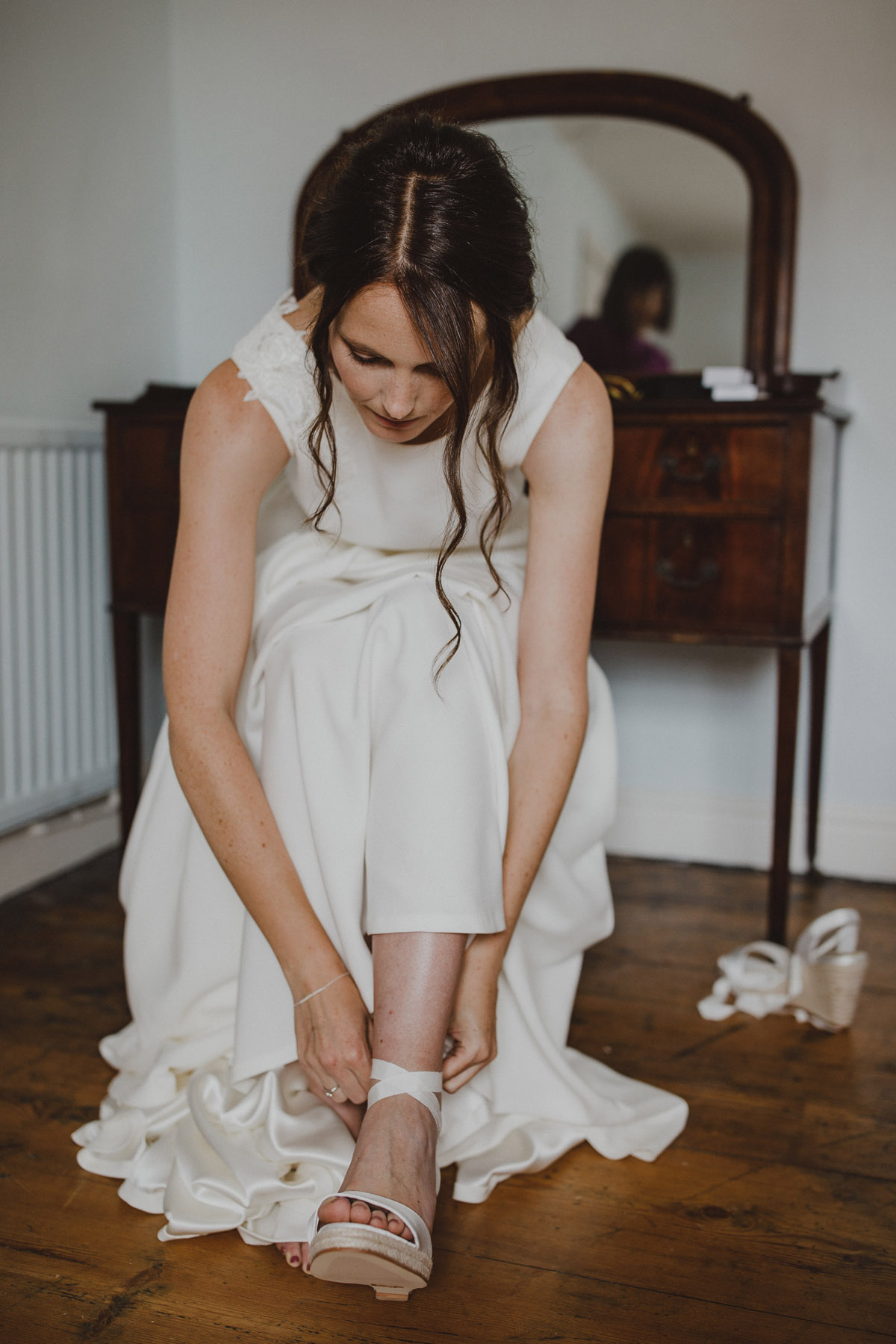 In her romantically styled hair by Lauren McRae, Emma wore a delicate comb of dried spray roses and gypsophila, borrowed from her bridesmaid who had worn them at her own wedding the month before.
Elegant bridal make-up came courtesy of Cat Johnson.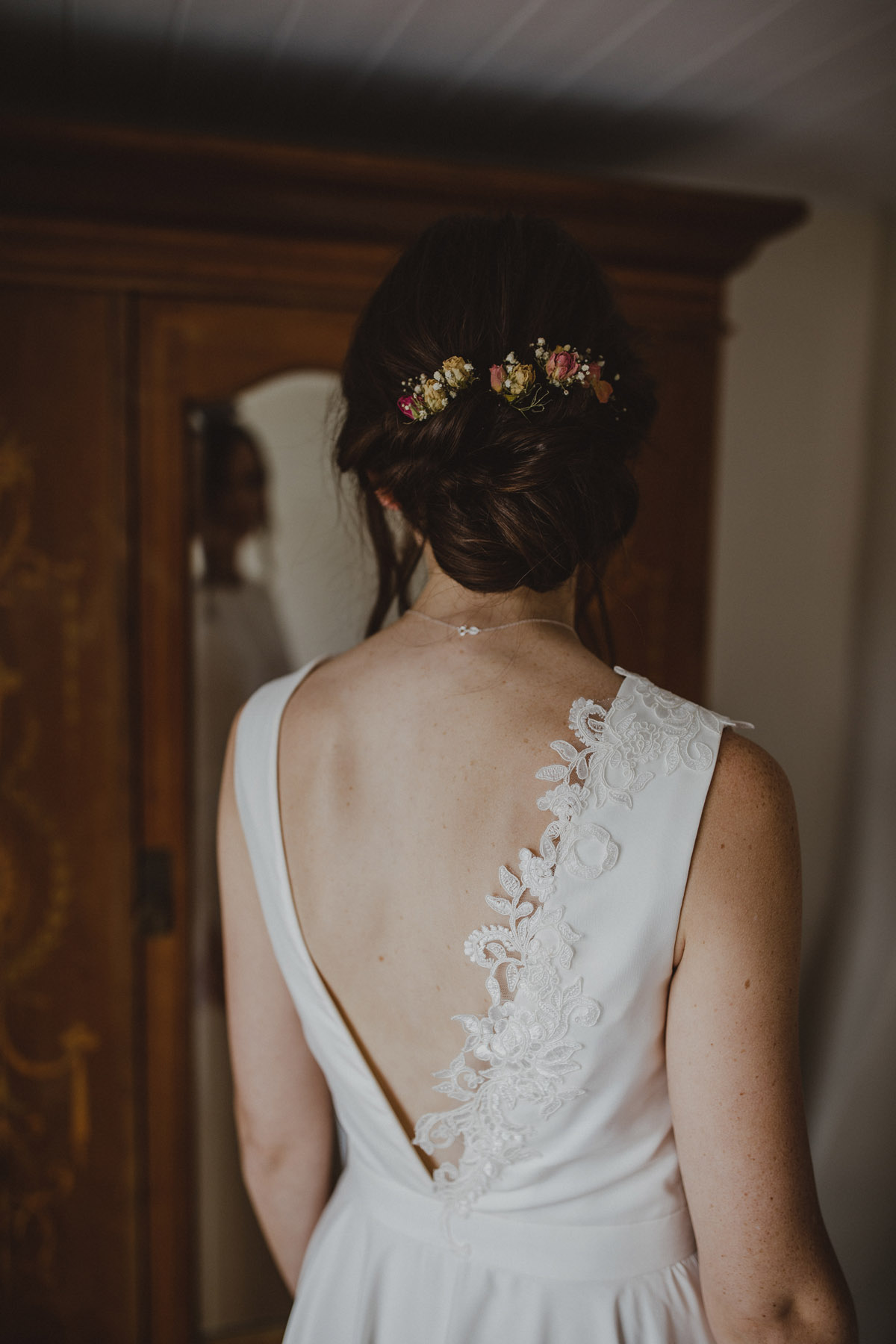 For her bridesmaids, Emma opted for a deep forest green shade, and they each chose their own style of dress from website Matchimony.
"We chose Newburgh Priory because of the stunning house and grounds. It was the first venue we visited and as soon as we arrived we knew it was the one for us."
"It was important to us to have flexibility and choice in terms of suppliers so that we could customise the day."
"We were also keen to support an independent, family run business. It is wonderful to have a venue that is close enough to home that we can visit and reminisce about our wedding day."
"We even went back to pick out our Christmas tree!"
Wedding transport came in the shape of a wonderful vintage Citroen restored by Emma's uncle and driven by her aunt, with restored upholstery also by Emma's aunt, and ribbons tied to the bonnet that matched the bridal gown – how lovely!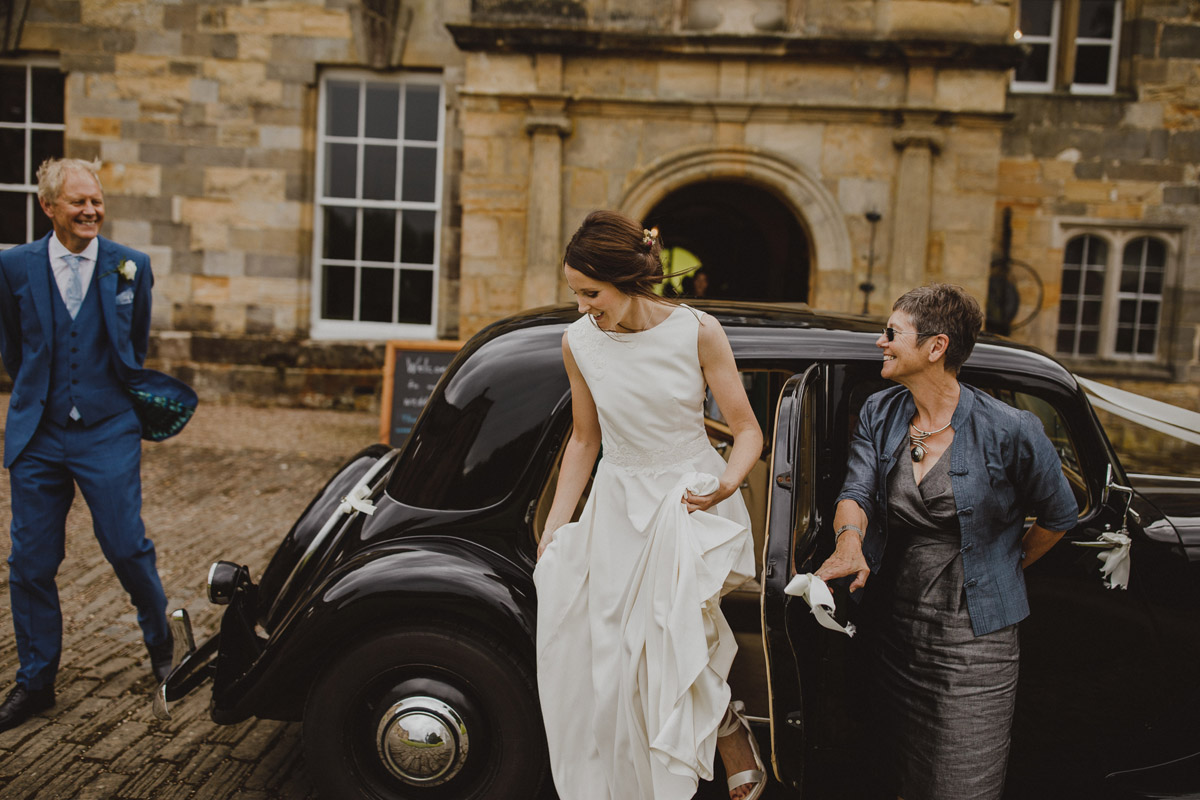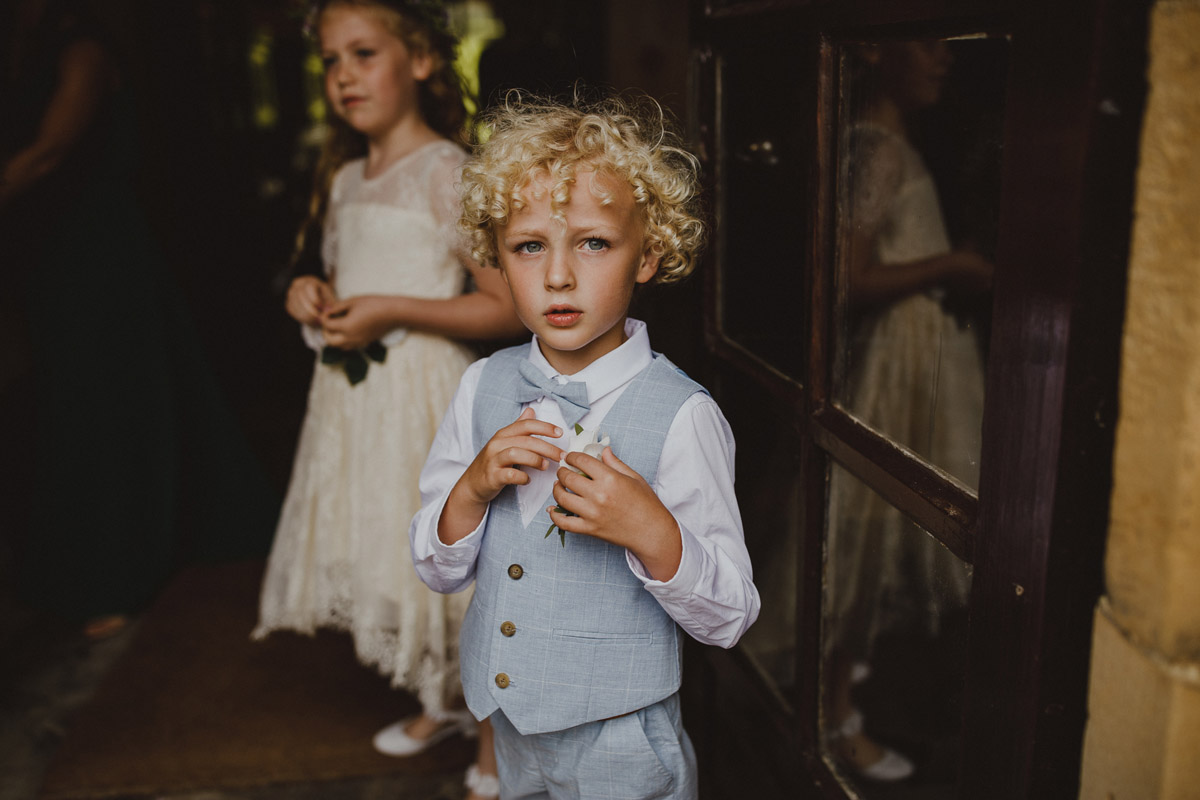 "Adam got his suit from Moss Bros. after looking in many other retailers. He bought the wedding suit and then the groomsmen hired something that looked very similar."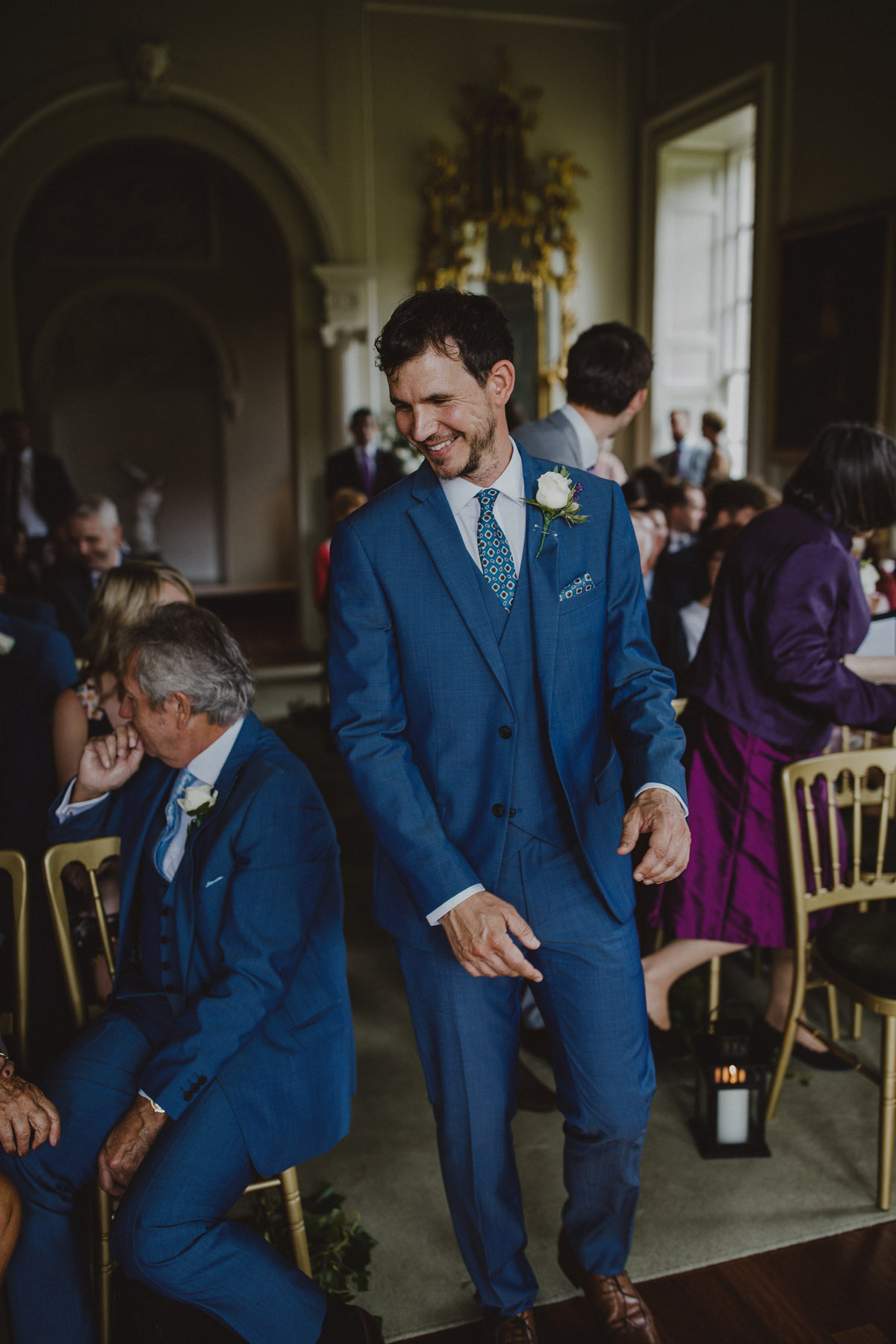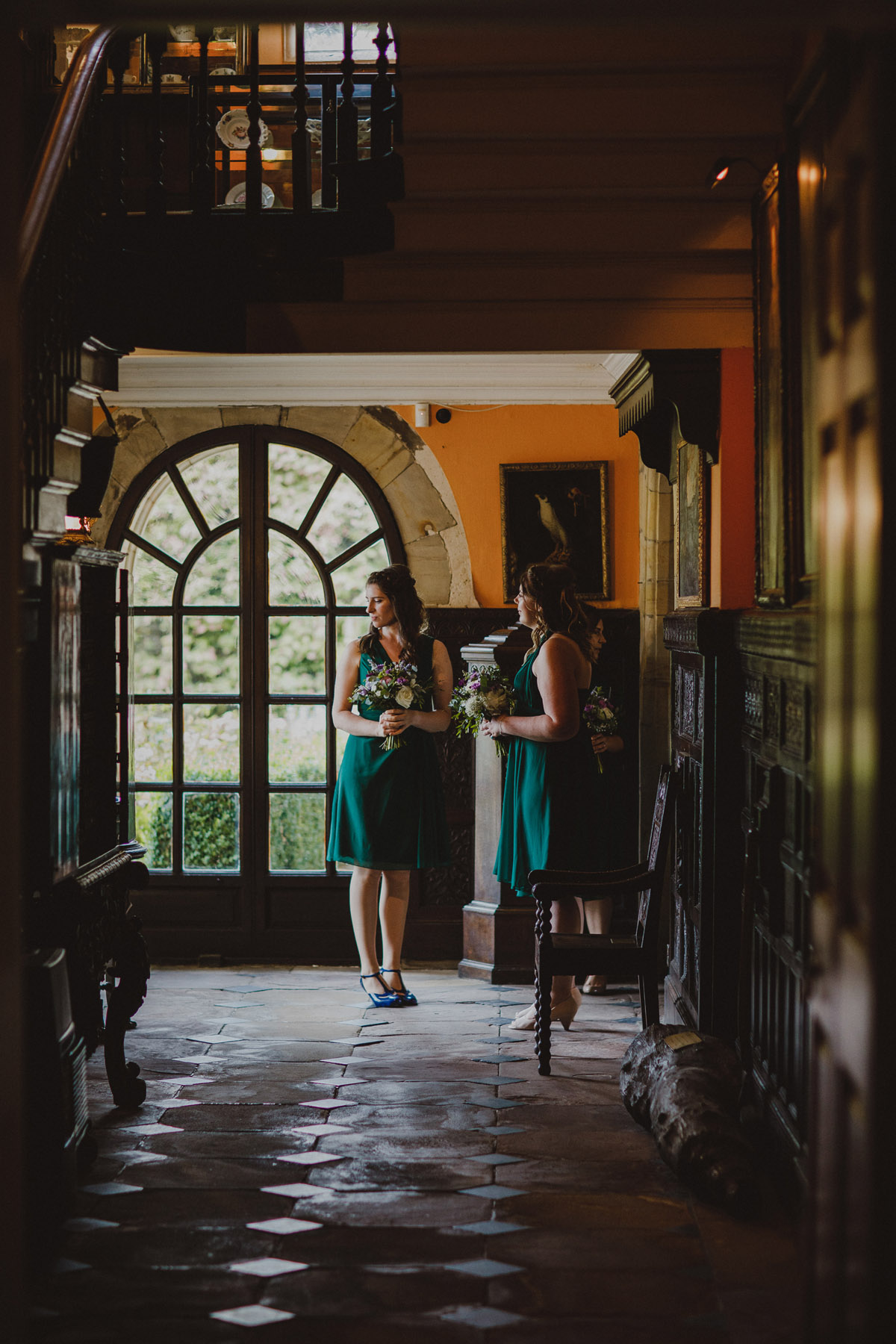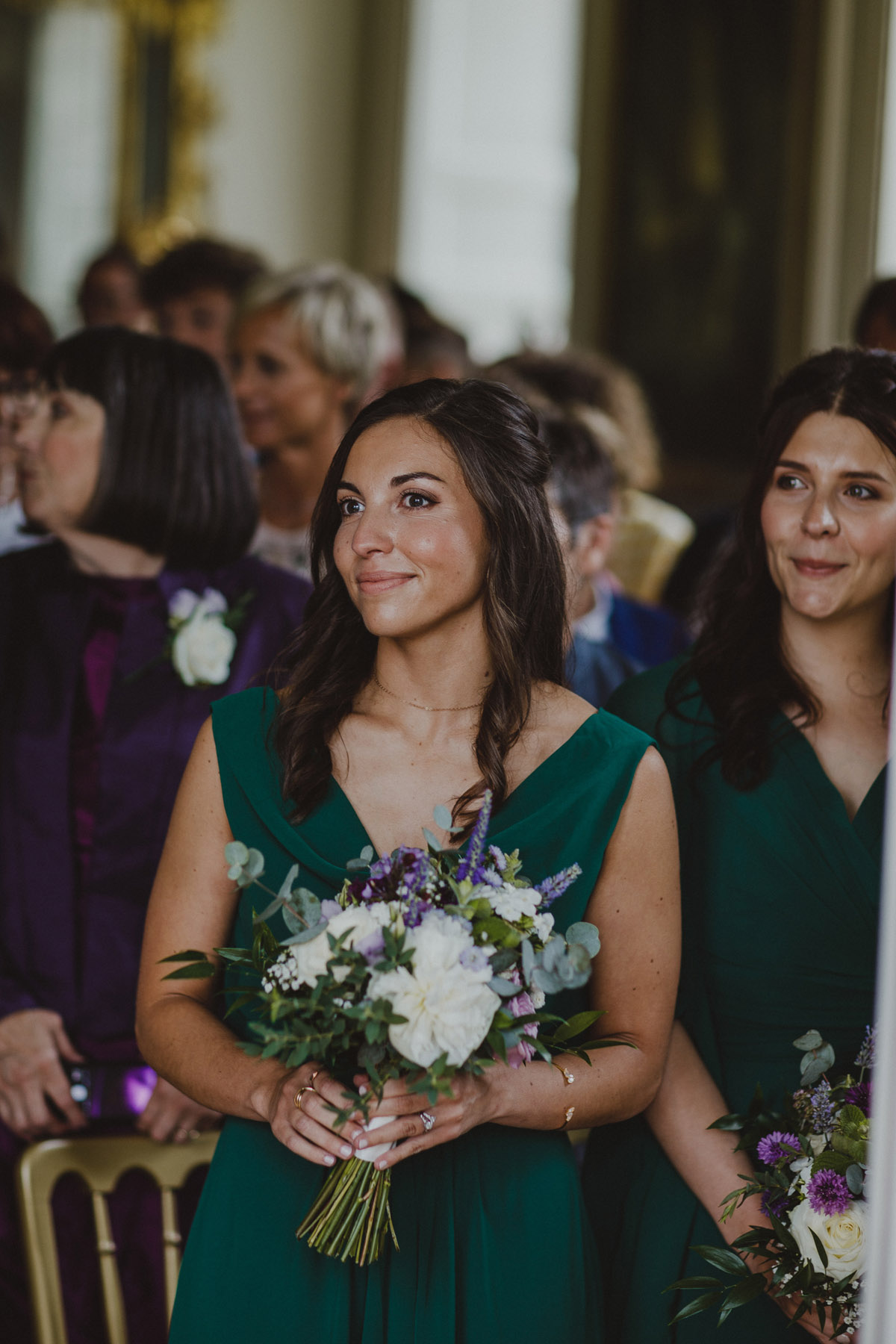 Emma chose 'To Build a Home', by The Cinematic Orchestra as she walked down the aisle together with her Dad to begin the ceremony.
As the couple made their vows, they placed bands onto one another's ring fingers – chosen at jewellers Ogden of Harrogate, where Emma's engagement ring also came from.
"We chose one reading by Charles Darwin, read by Emma's brother."
"It was a list of pros and cons for marriage which was found written in Darwin's notebook."
"We chose it because we didn't want anything too cheesy and it made us both laugh out loud when we first read it!"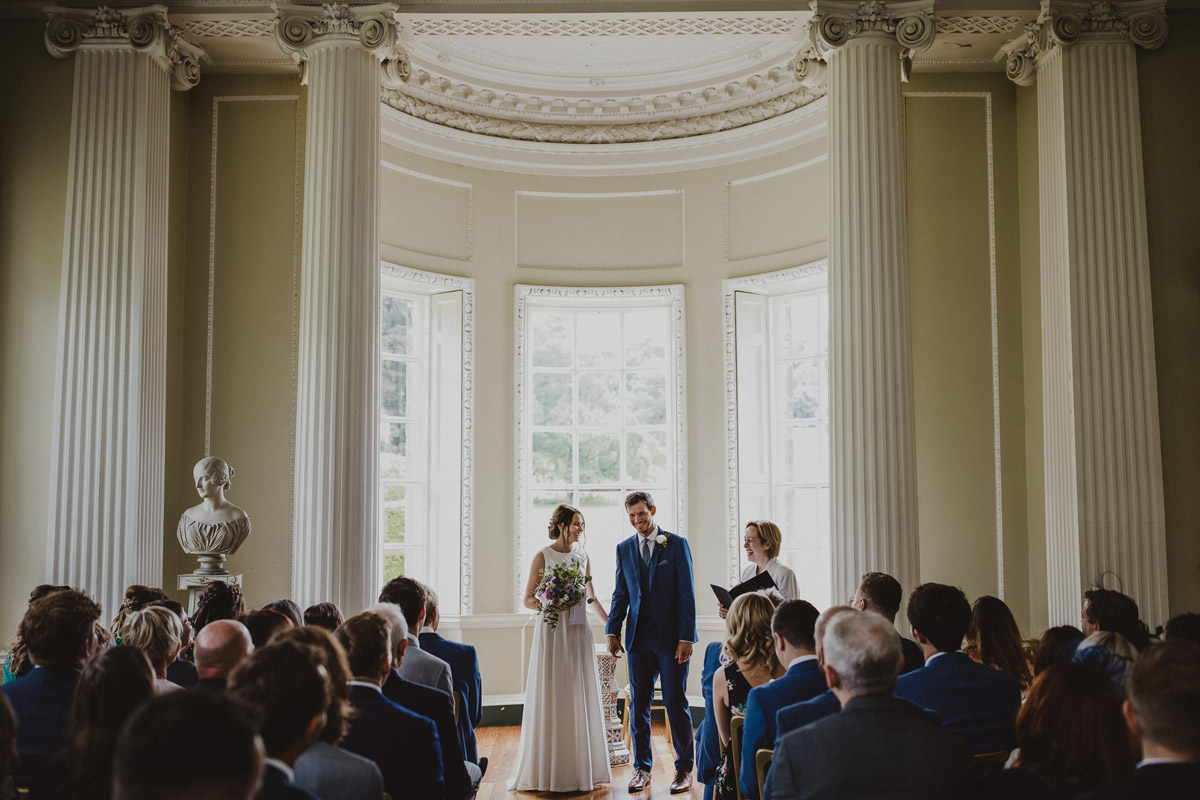 Loved ones assembled outside to congratulate the newly married couple and fill the air with dried flower petal confetti before heading back inside the Priory for delicious drinks and canapés.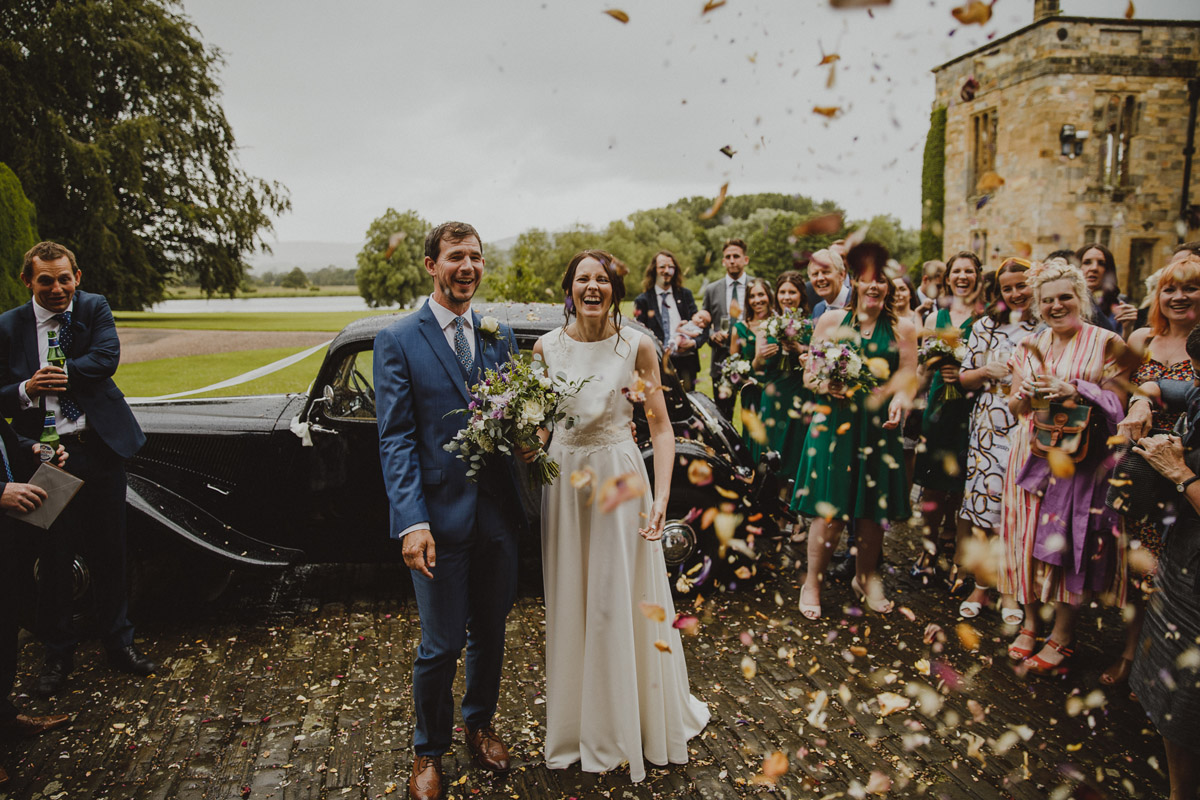 "We really wanted to ensure that we had a relaxed wedding that we and our guests could thoroughly enjoy. It was also important to us to make use of the fantastic views and environment at Newburgh Priory."
"We wanted people to spend as much time outside as possible, whether that be having a drink or playing one of the garden games."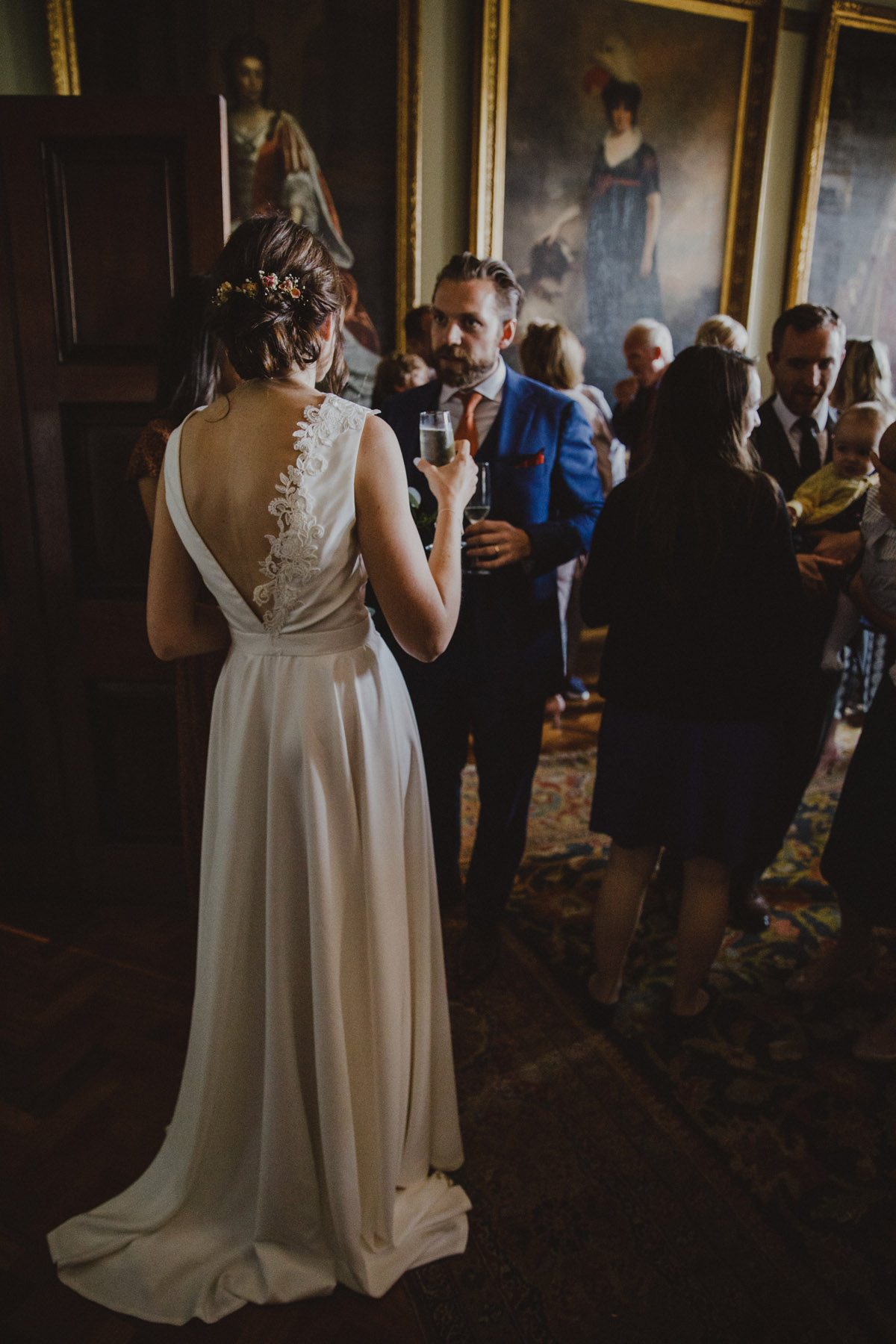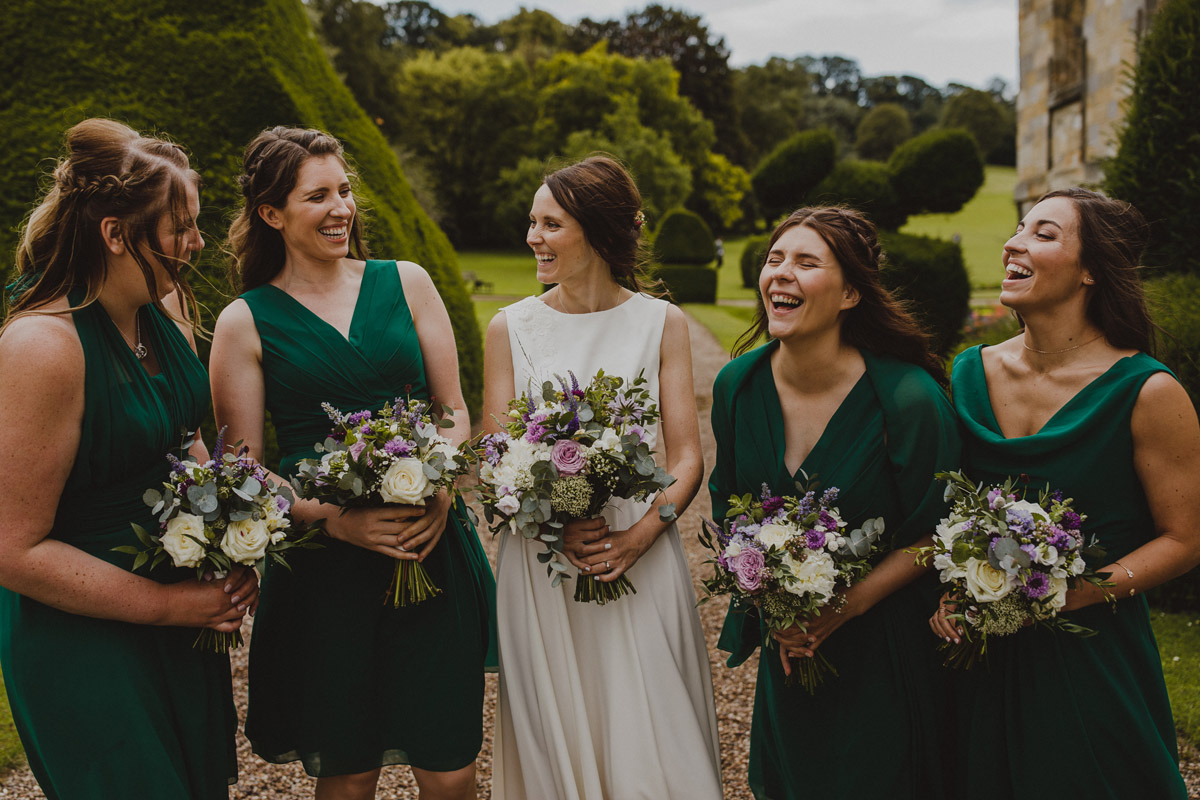 In the garden was the beautiful reception marquee. The couple chose a clear-sided pole marquee from Your Marquee, and had a brilliant experience.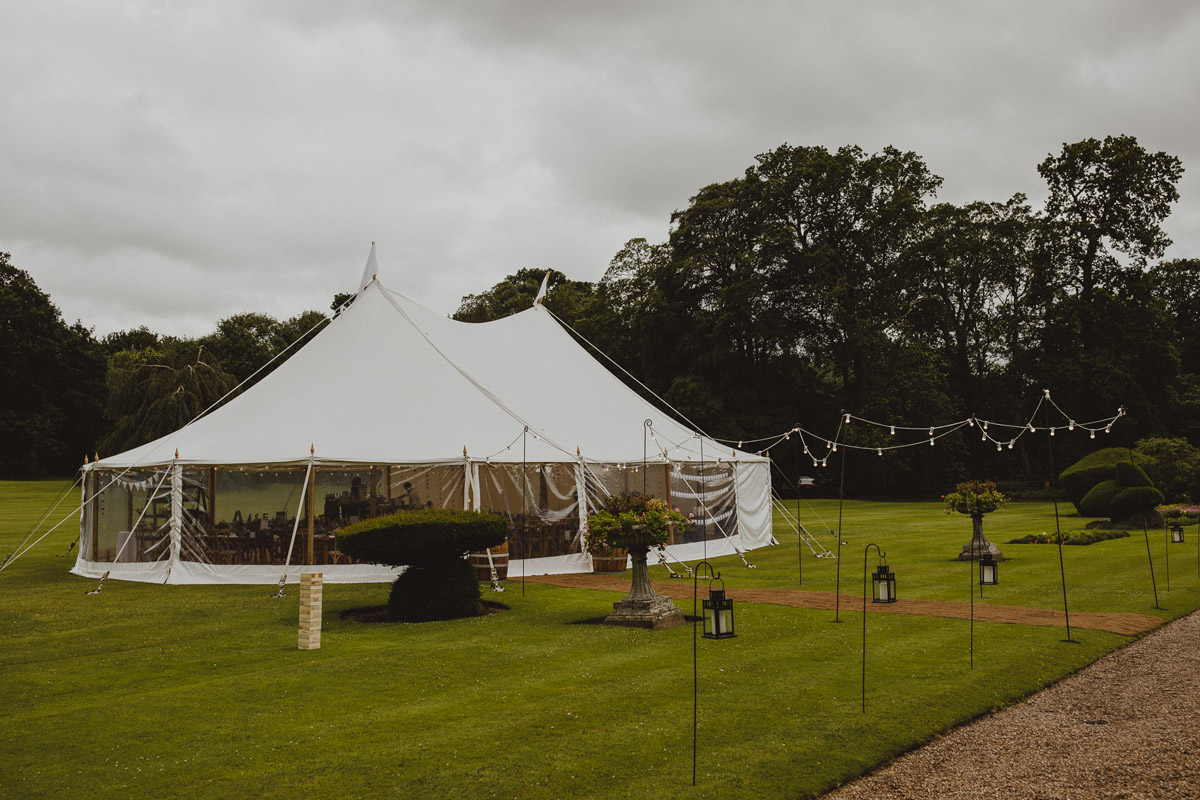 "We were thrilled with the final appearance of it. Henry at Your Marquee guided us through the process and was fantastic in terms of providing ideas and details."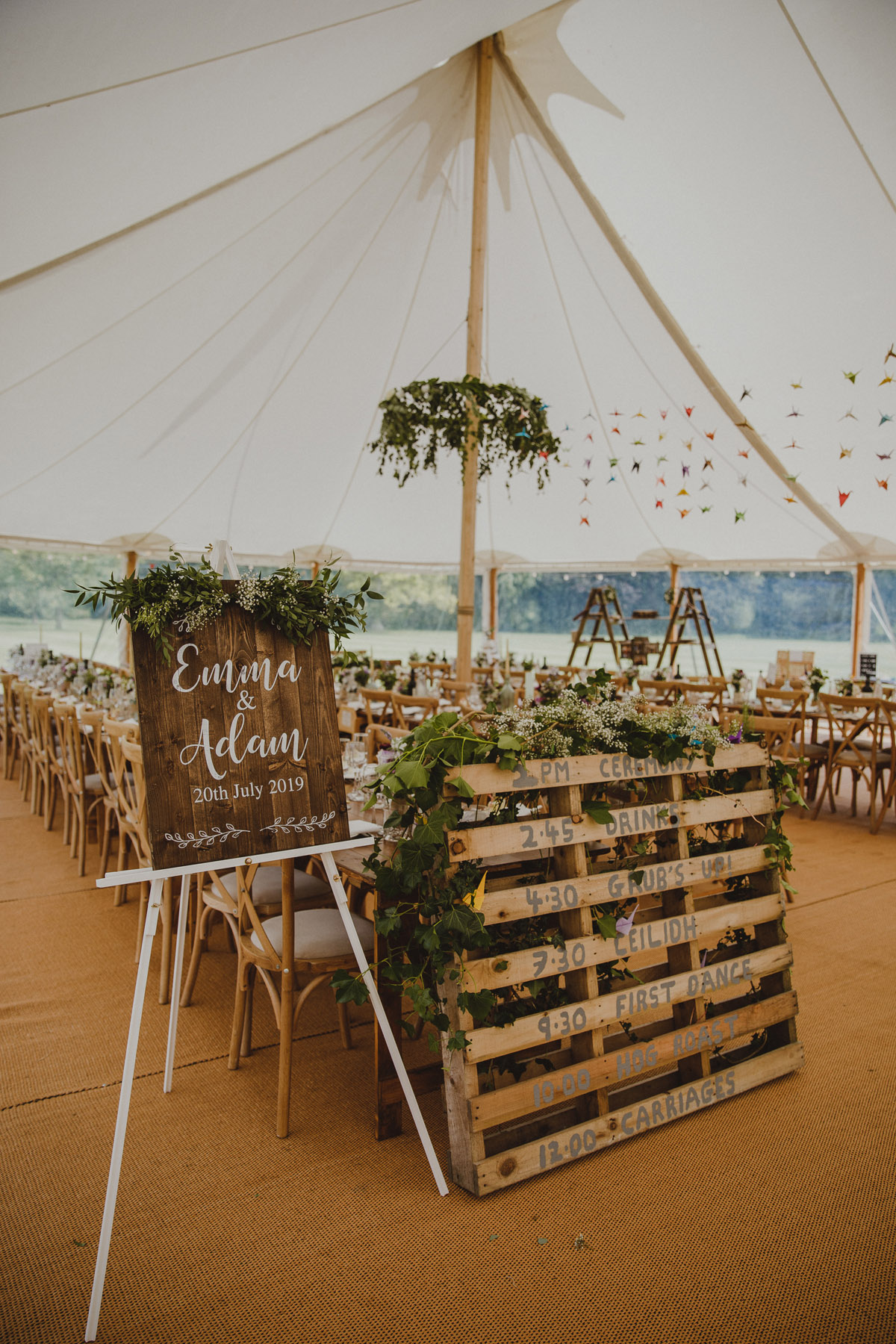 "Emma and her sister made over 1000 origami paper cranes that we used to decorate the marquee."
"We had so many that we ran out of places to put them!  We also had photos of relatives' weddings, recent and old."
"We also had Polaroids displayed that featured all of our wedding guests."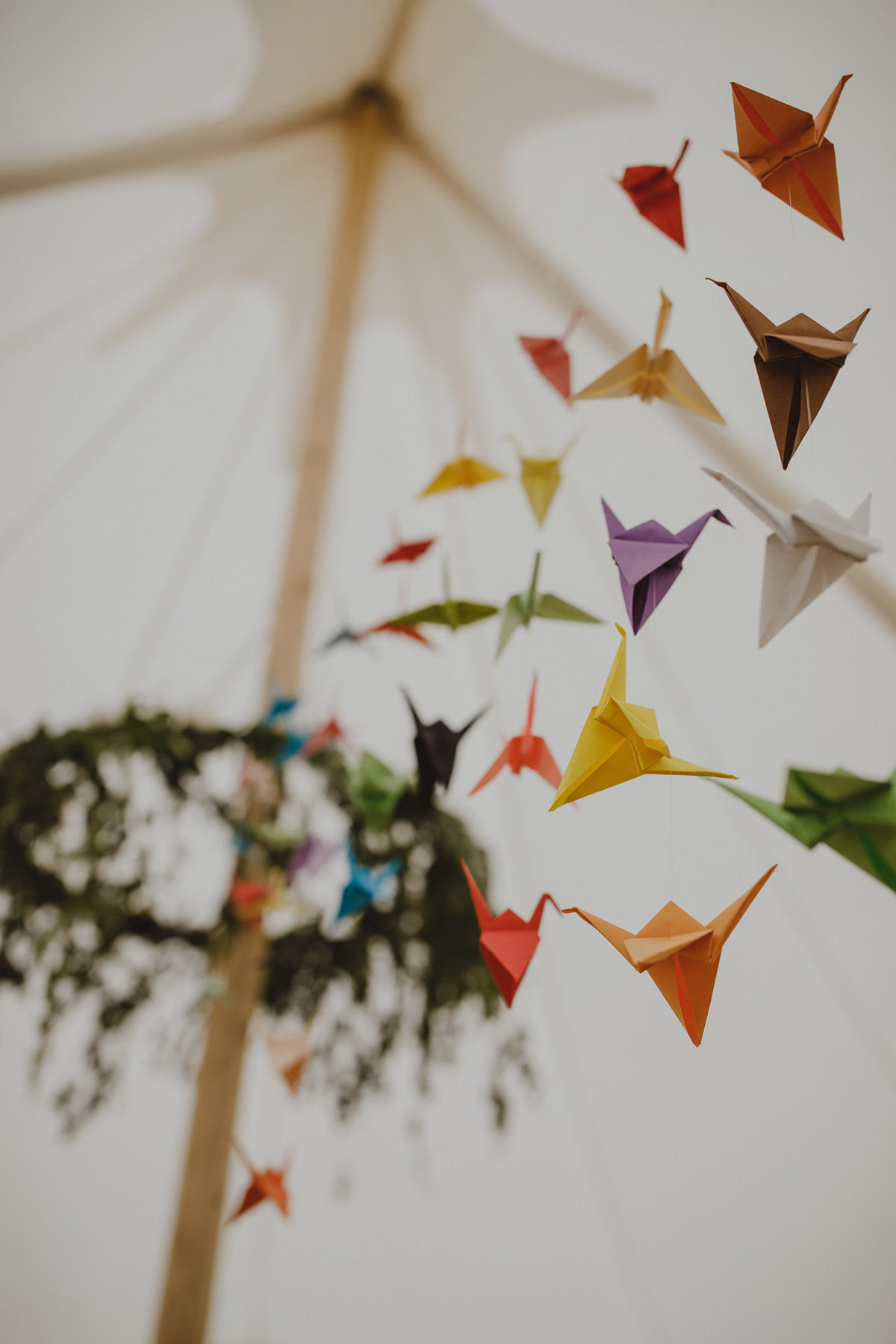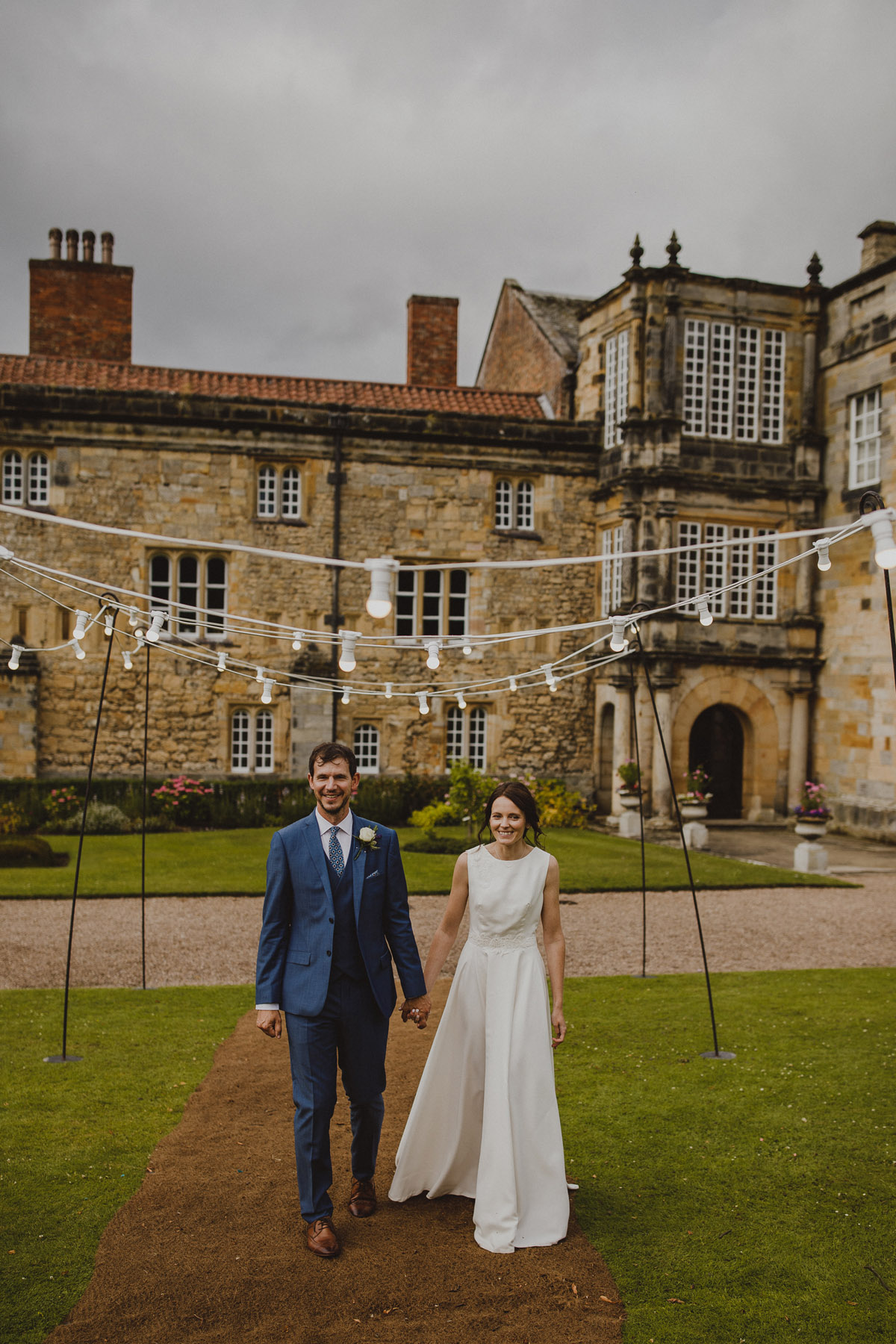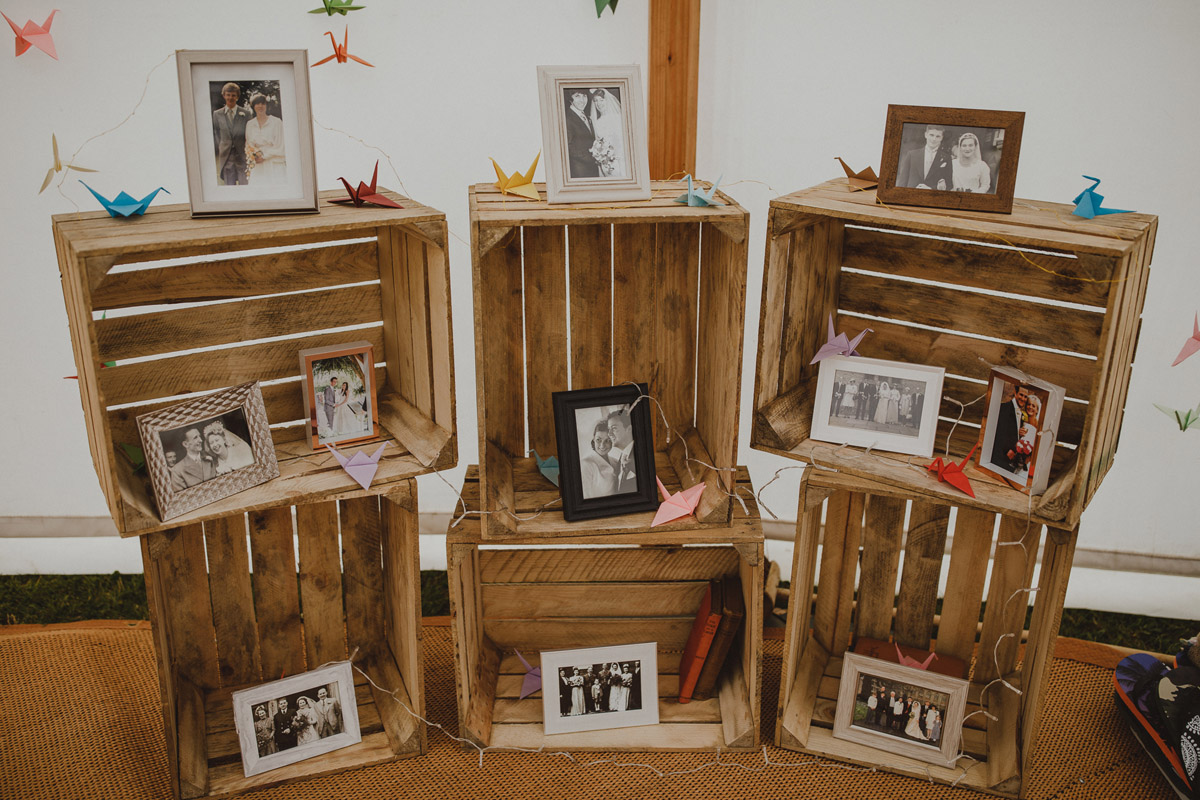 Emma and Adam had given their florist Judy some antique wooden tennis racquets to adorn with flowers – which she did beautifully along with floral hoops, table posies of wildflowers and mint, and glorious garlands decorating the top table and wooden pallet order of the day.
Stationery was by Dearly Beloved Design, and guest favours were bottles of homemade Limoncello. The spectacular wedding cake was made by Emma's sister-in-law.
"This was another lovely personal touch. She made all three tiers; a fruit cake, raspberry and white chocolate, and lemon. It was decorated with some flowers and we were surprised with a personalised wooden cake stand."
"On top of the cake sat Emma's Grannie's silver vase that had topped Emma's parents' and brother's wedding cakes previously."
Everyone sat down to a wonderful meal from Homegrown Hospitality and there were drinks provided by Yorkshire Bartender, too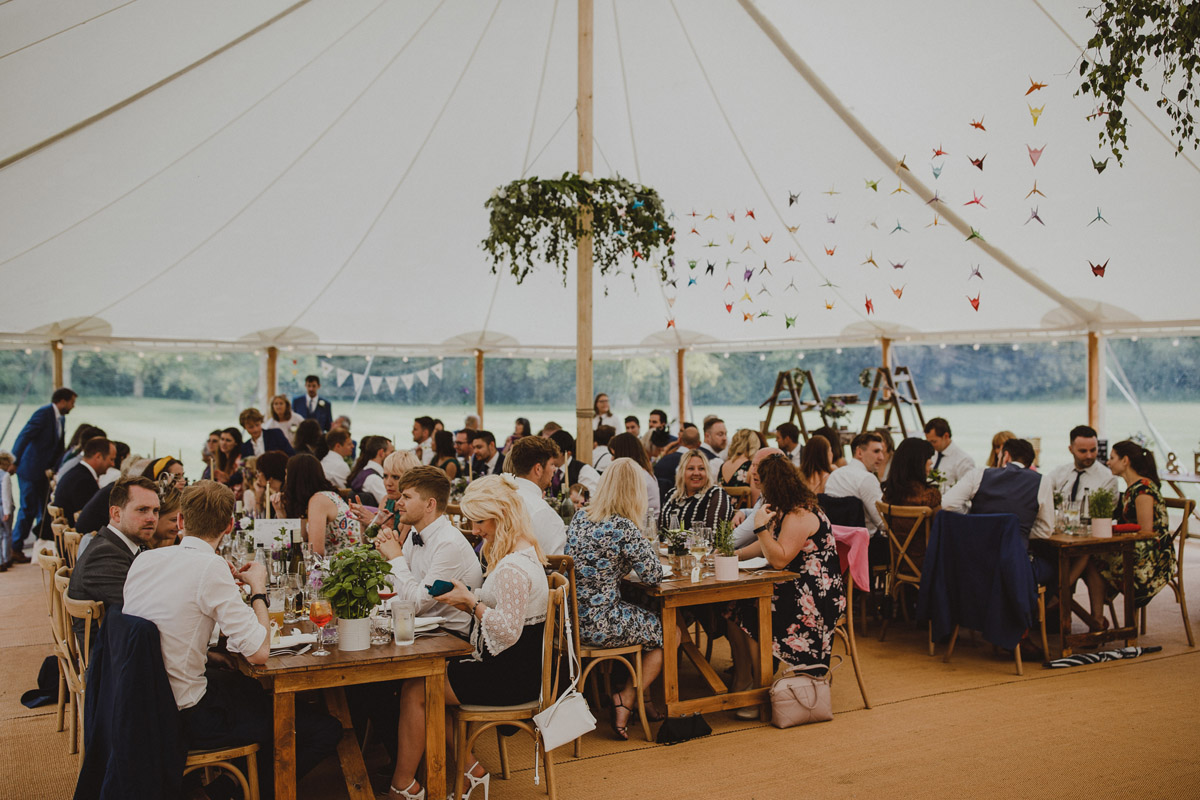 Adam explains that "Emma and I met through the tennis teams when we were both studying at the University of Leeds."
"We still play tennis together now as husband and wife. We were engaged for approximately 18 months before our wedding date."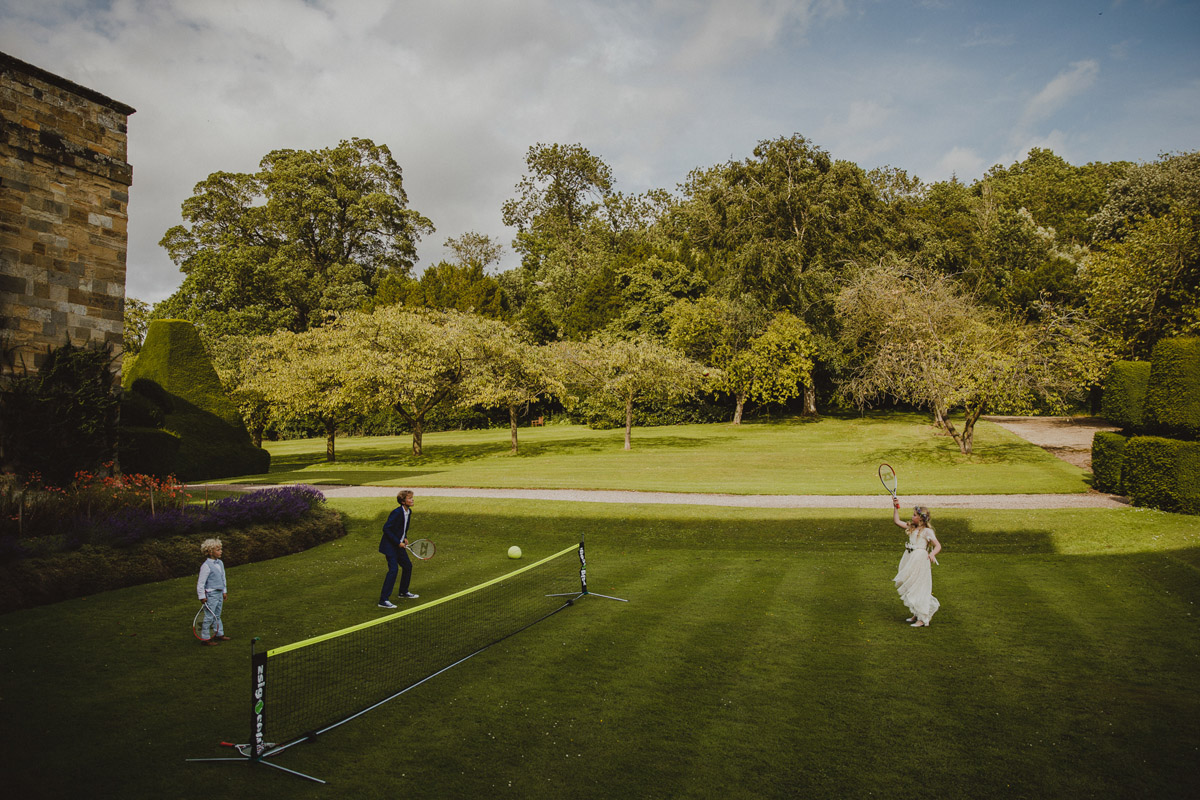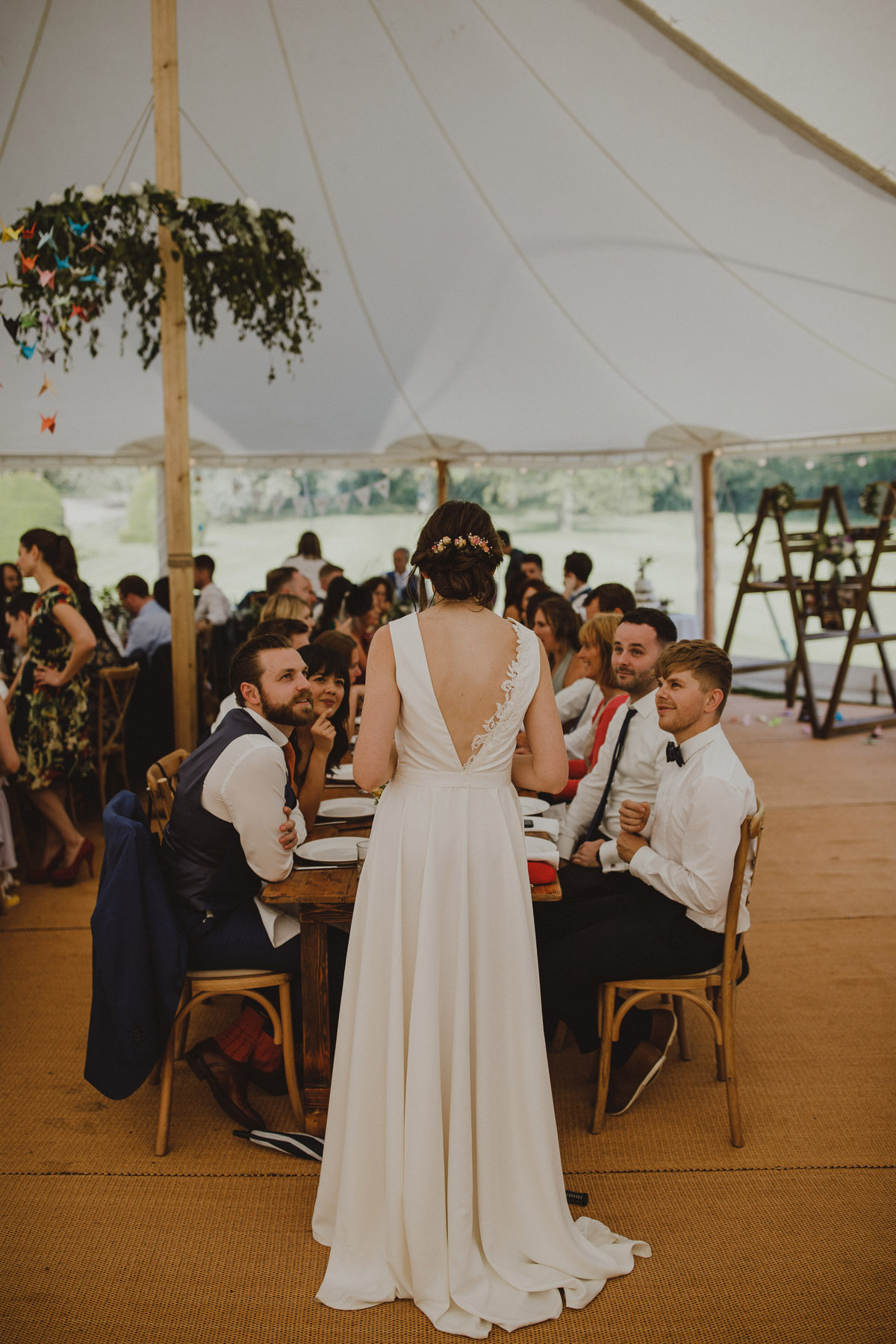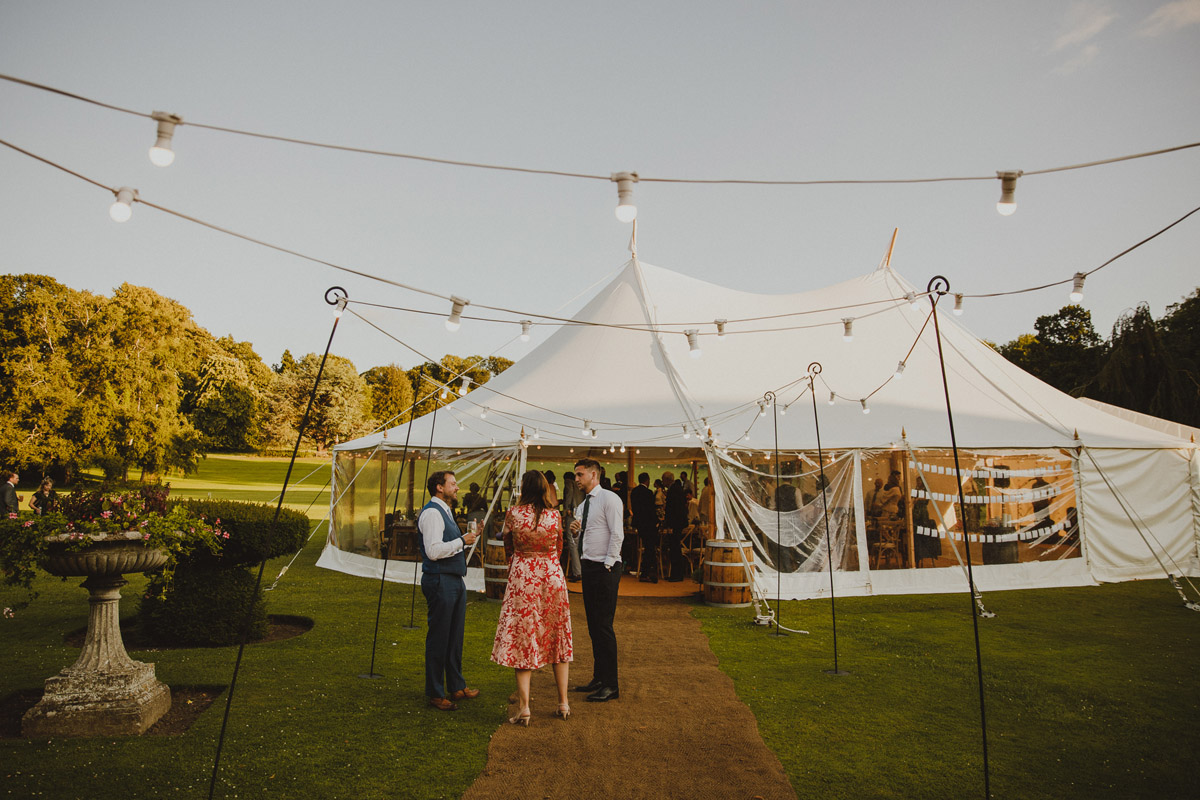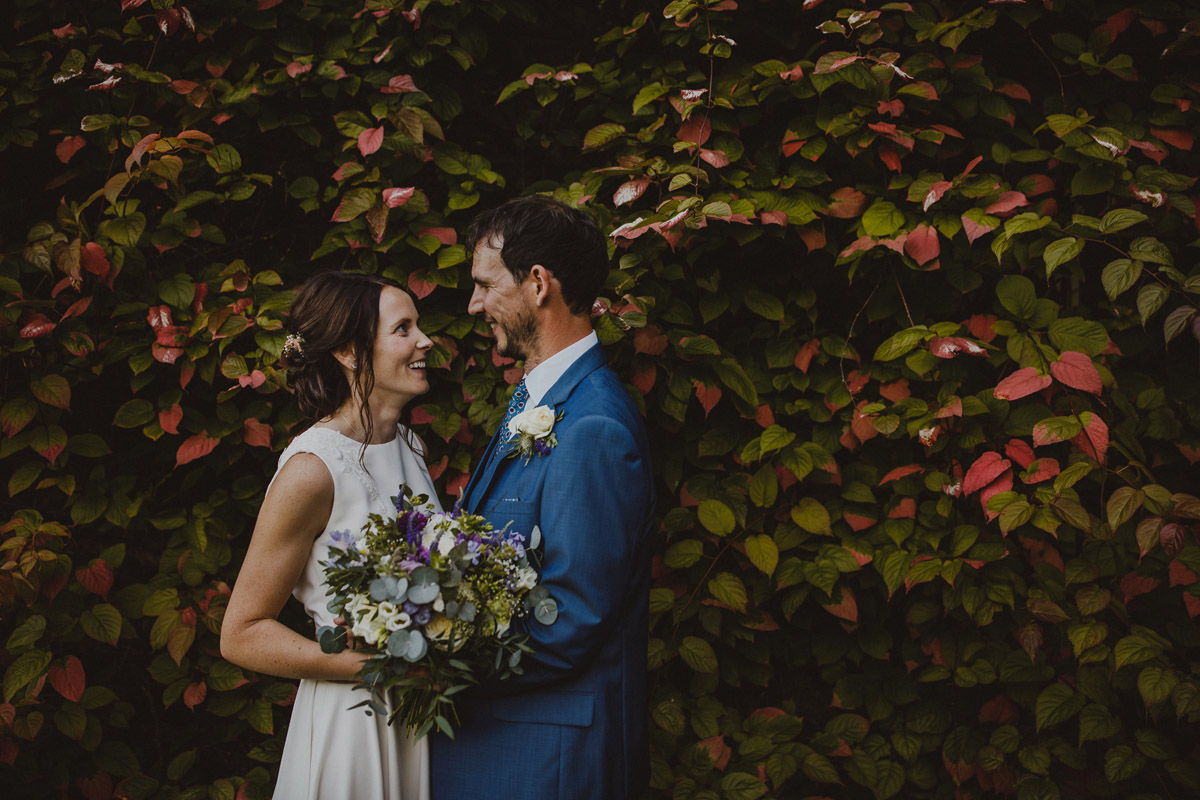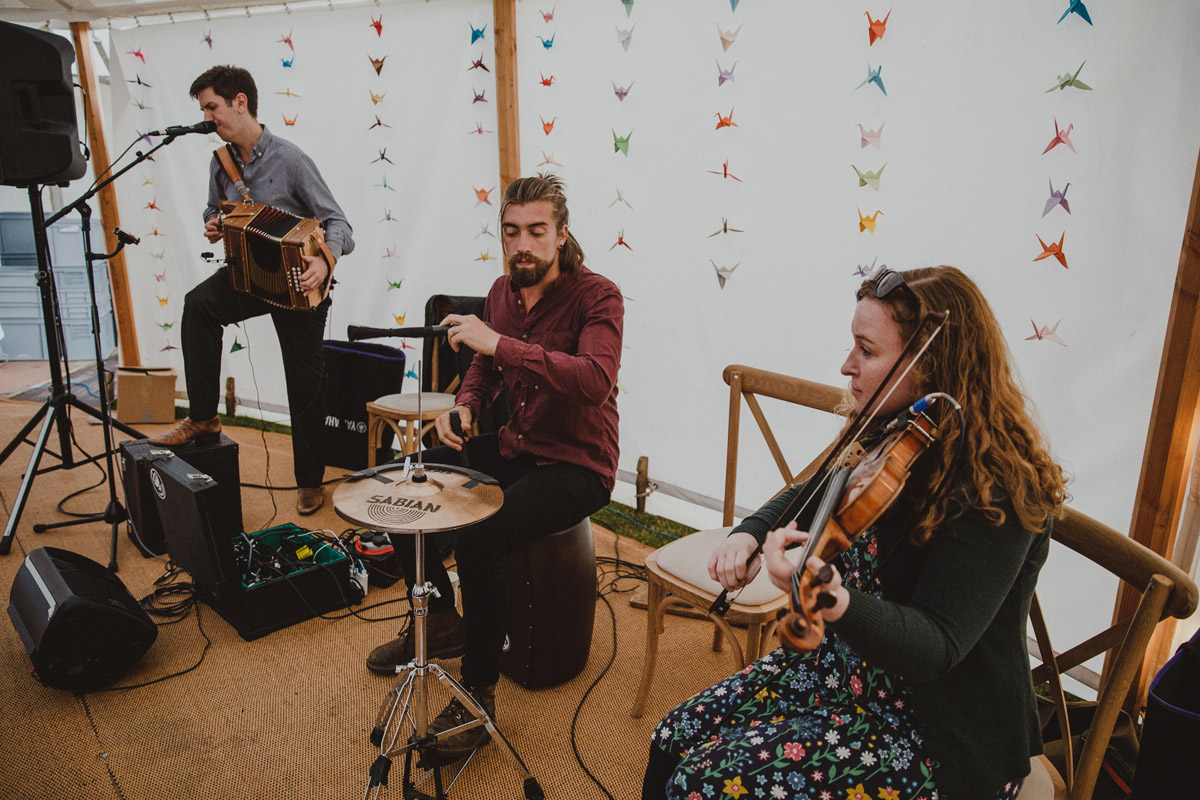 Pretty ivory dress for the couple's niece and flowergirl were from Zulily, and their nephew and page boy wore a pale blue waistcoat, trousers and bow tie with a white shirt from Marks & Spencer.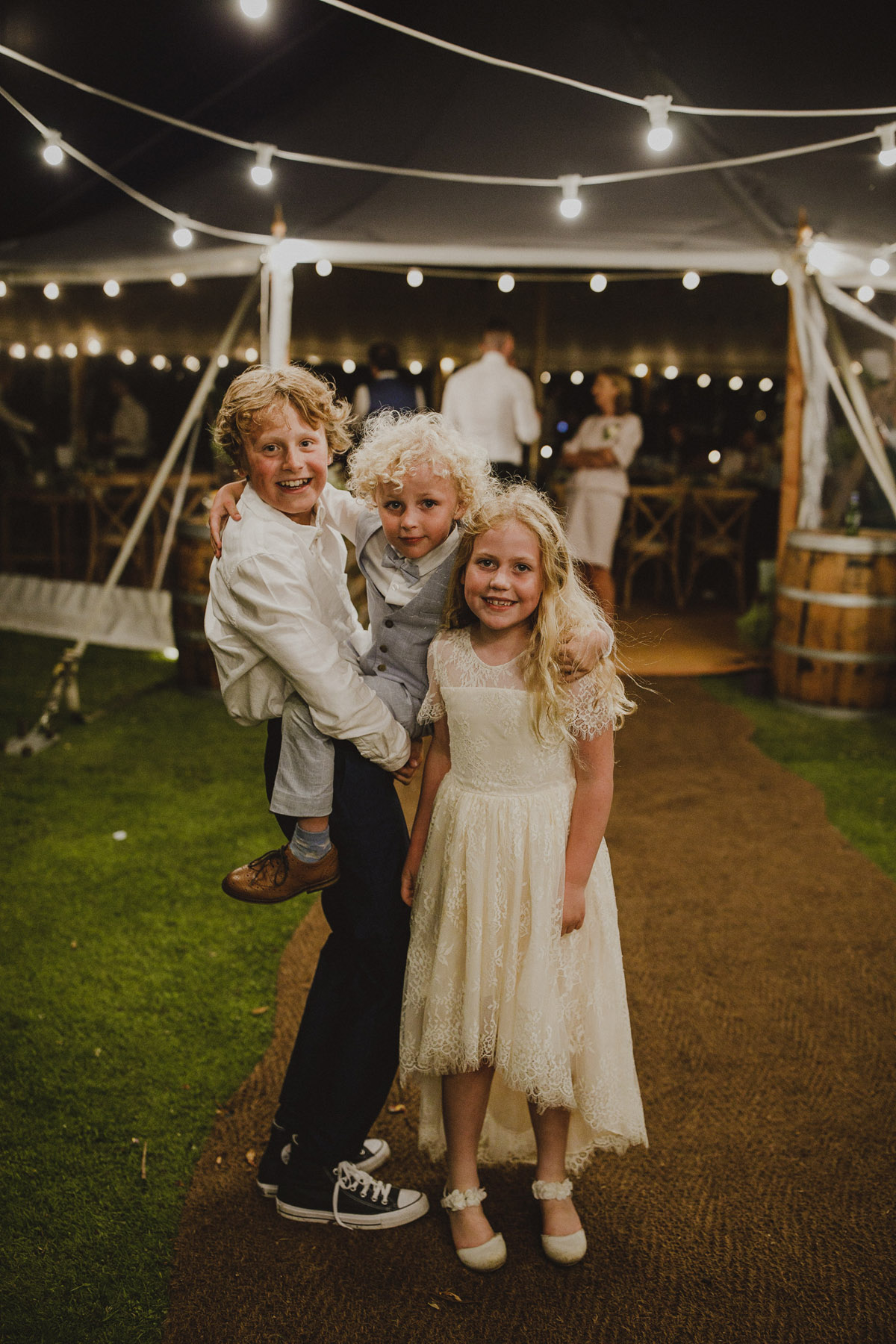 After the speeches, Emma, Adam and their guests headed out into the summer evening for drinks, lawn games and hog roast, and when the time came for their first dance together, the couple chose The Waterboys' song The Whole of the Moon, sung by a covers band they both like, Frightened Rabbit.
The evening's entertainment was ceilidh fun from Yorkshire ceilidh band The New Fox Band.
"Apart from the obvious (marrying the person you love) our favourite part of the day was having so many friends and family from different parts and times of our lives come together to celebrate such a big moment with us."
"It was such a happy, joy filled occasion. One moment that stands out is seeing our friend, who had an injury that should have kept her from the dancefloor, drag a chair onto the dancefloor so she could have a seated boogie!"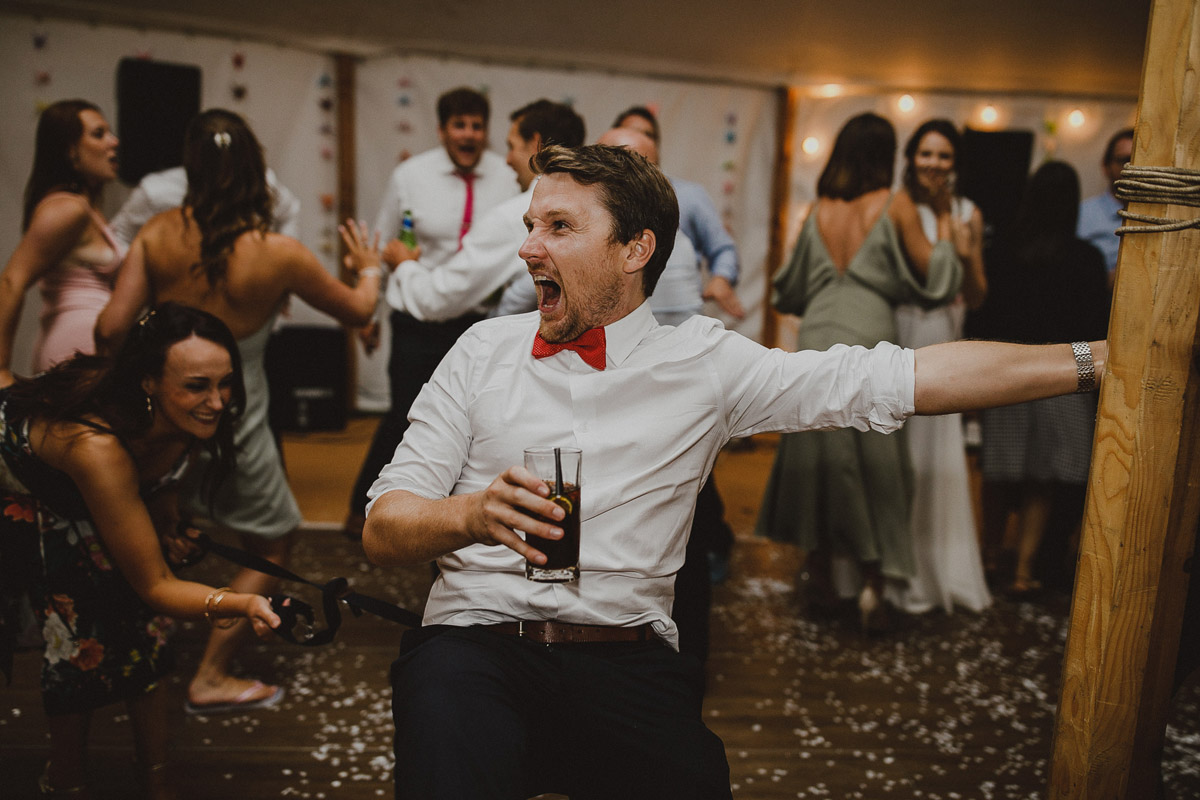 Words of Wedded Wisdom
"Although you may worry and stress about the planning and preparations for the wedding day, know that it will be ok, you will have the best day ever, even if a few things don't go 100% to plan."
"Make sure that you get to spend some time together as a couple, try and grab a few moments to yourself. Also, make sure you get to enjoy all of the fabulous things that you organised. You will be so busy throughout the day, talking to guests, taking photos, that it would be easy to miss some things. We still regret not getting chance to devour any of the puddings!"
Huge thanks to you both Emma and Adam, and congratulations, too. It's been a joy to share a day filled with so many personal touches. Many thanks to Tony at Photography34 for capturing it all with such style.
Love,
Laura