It is difficult for me to articulate in words how I feel, as a wedding publisher, seeing so many beautiful weddings filling my social feeds right now.
But I shall try, through sharing the truly beautiful wedding of Assistant Marketing Manager Lucie, and her love Joe, who, after postponing their wedding twice due to Covid, finally got to the knot on 14th July 2021 at the Oak Tree Barn in Tonbridge, Kent.
https://youtu.be/brc2Iiw-p1k
After having to postpone their wedding twice as a result of the Covid pandemic, this lovely finally celebrated their commitment to one another in the sublime outdoor surroundings of this gorgeous Kent based countryside wedding venue.
The day was full to the brim with elegant rustic style and all tied together beautifully through the use of navy blue, cream and earthy green tones.
Photographer Michelle Cordner has done the most incredible job capturing the joy, emotion and love present on this day and our much adored and recommended supplier, Emma Beaumont, designed this gorgeous, ruffle sleeved gown for the bride.
I can imagine a few tears were wept on receipt of these incredible wedding photographs. Also, take a look at this sublime venue, the Oak Tree Barn – the setting and spaces are an absolute dream.
Oak Tree Barn provides exclusive use for full wedding weekends and has been sensitively renovated with weddings very much in mind.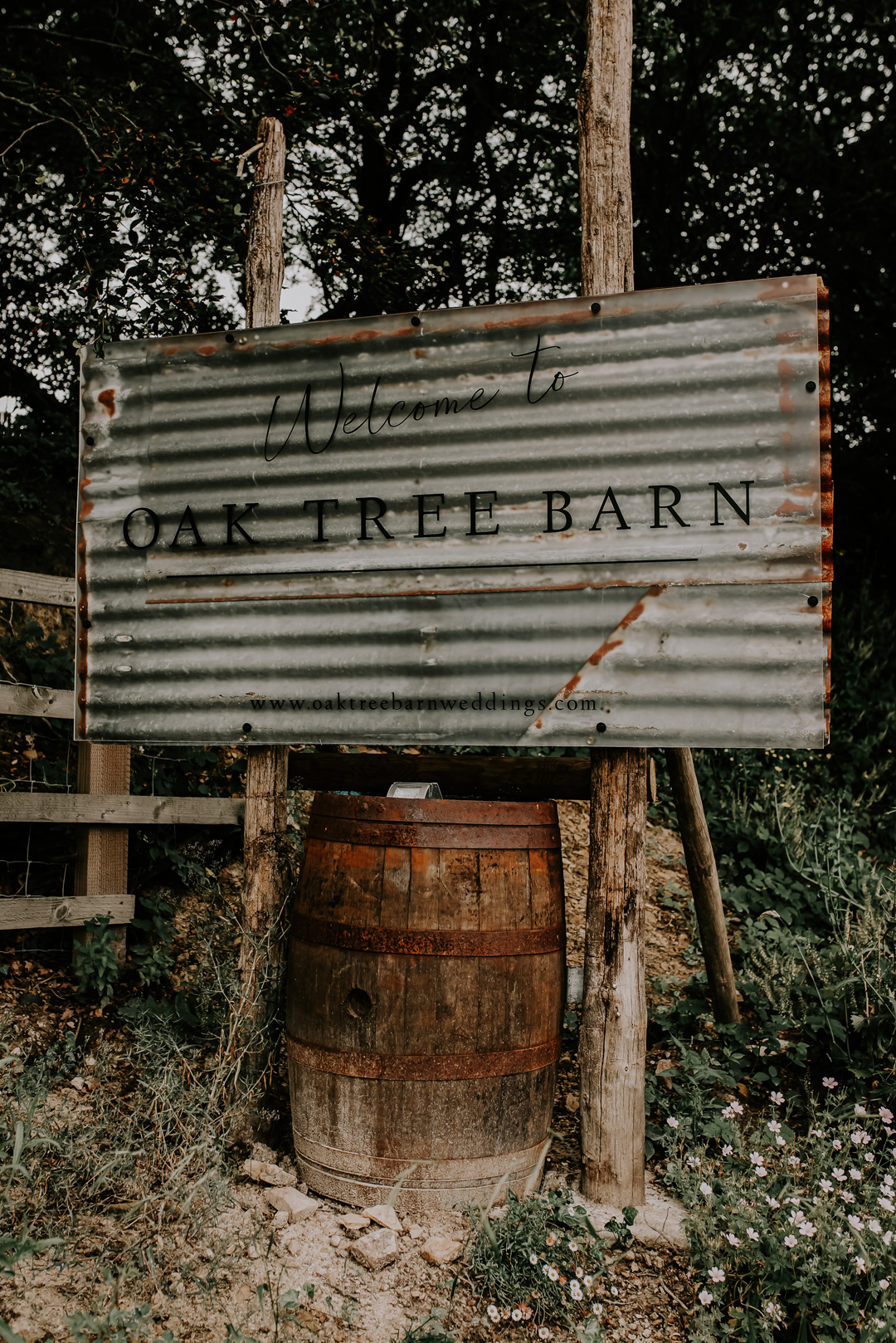 There are many beautifully considered gathering and celebrations spaces both inside and outdoors.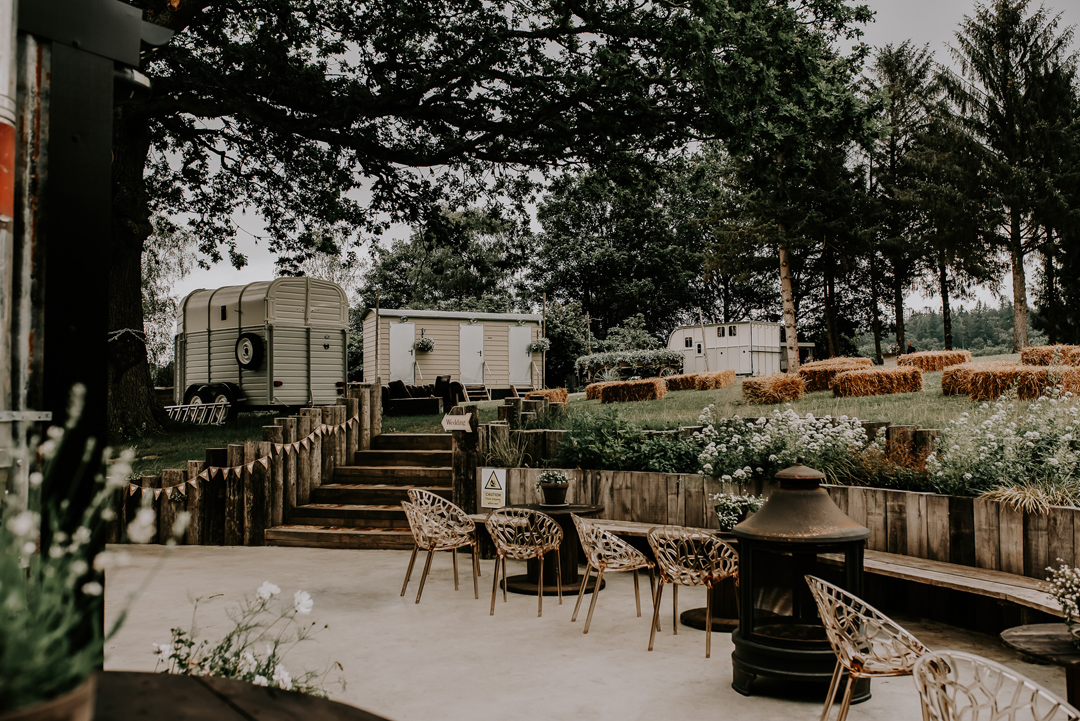 Lucie wore the most exquisite Emma Beaumont dress and for those of you not in the know but reading this now, Emma Beaumont is one of the most talented independent couture designers in the UK.
If you're looking for an incredibly special wedding dress, created on an entirely bespoke basis, we highly recommend her.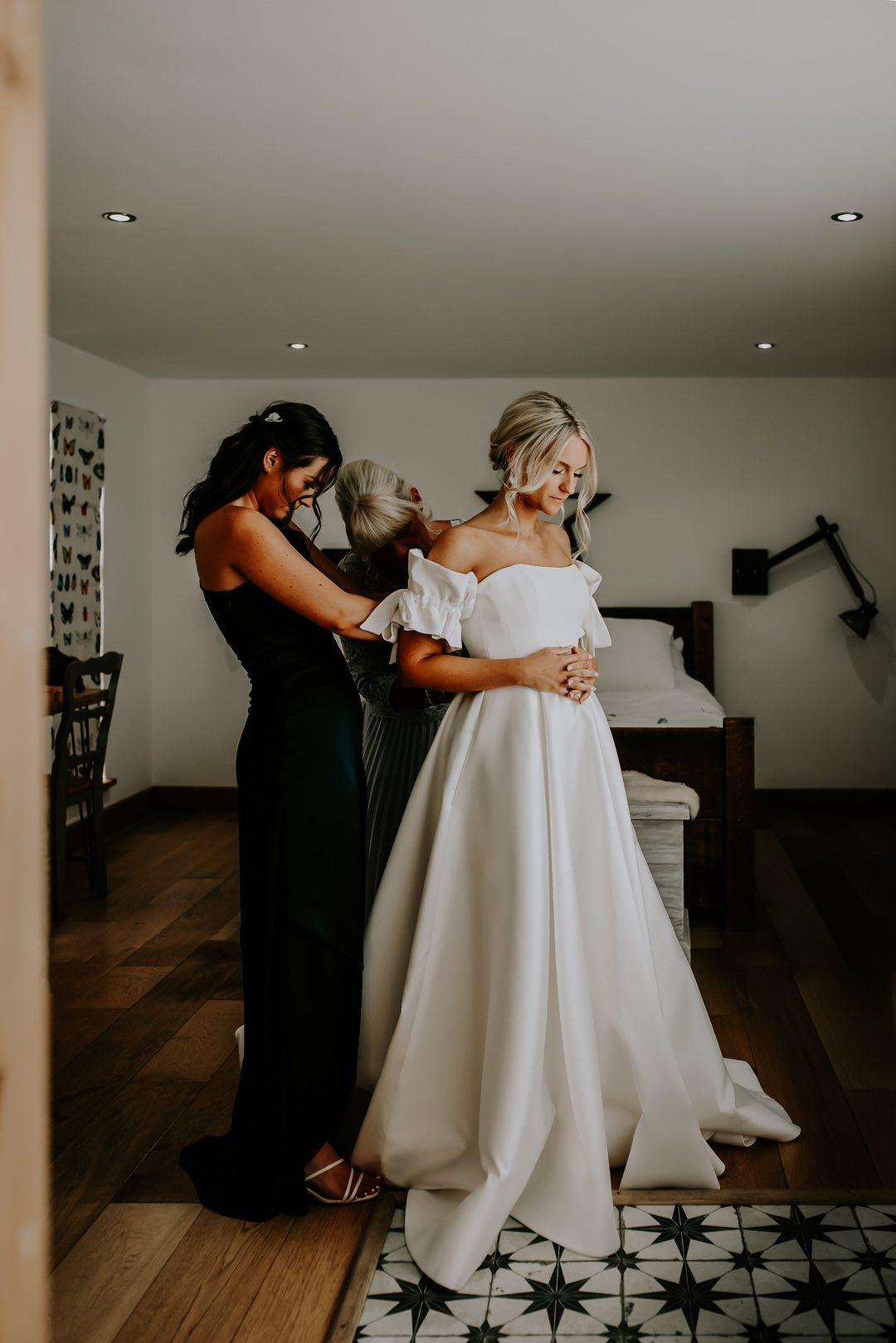 Lucie's bridesmaids wore asymmetrical gowns from ASOS – you will find very similar gowns on ASOS by specialists bridesmaids brand TFNC, right here.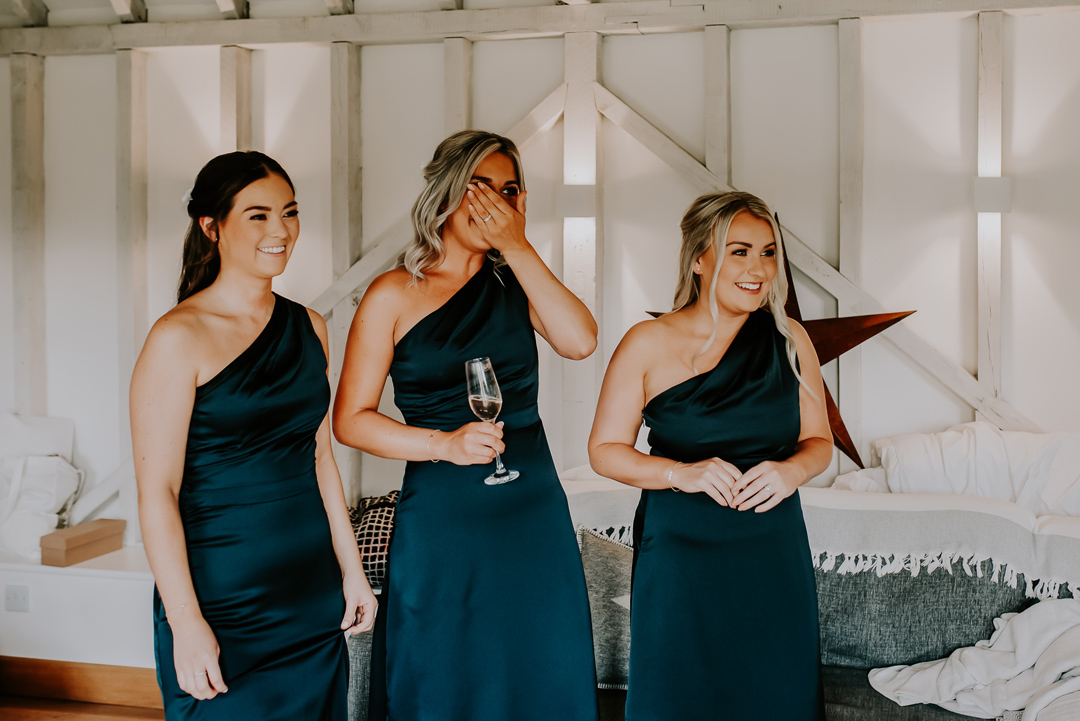 I adore this sequence of tender moments of the bridesmaids and father of the bride seeing the bride in all her resplendence, just wonderful…
"If I had to pick my highlights of the day, it was when my Dad saw me for the first time – and when Joe saw me walking down the aisle."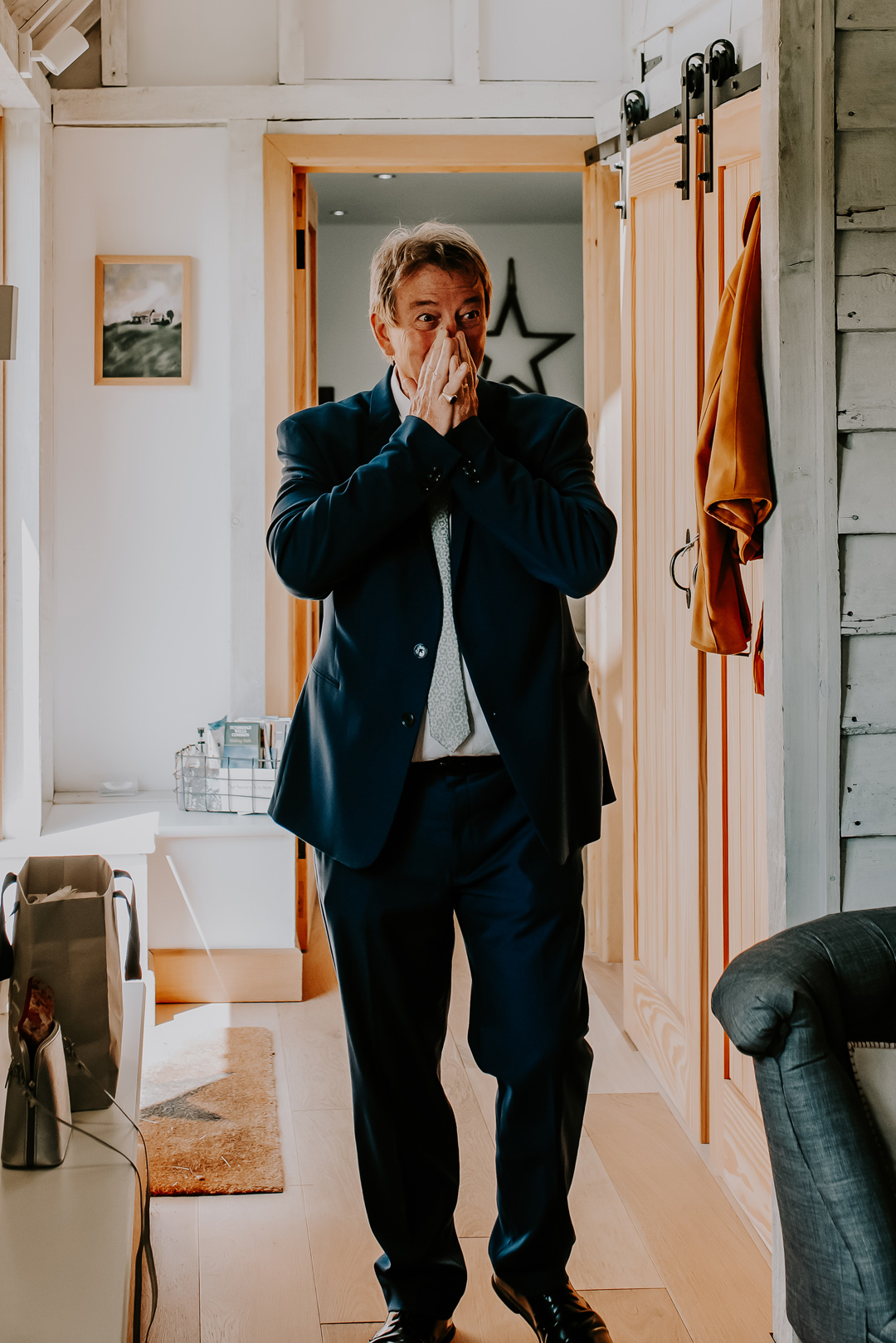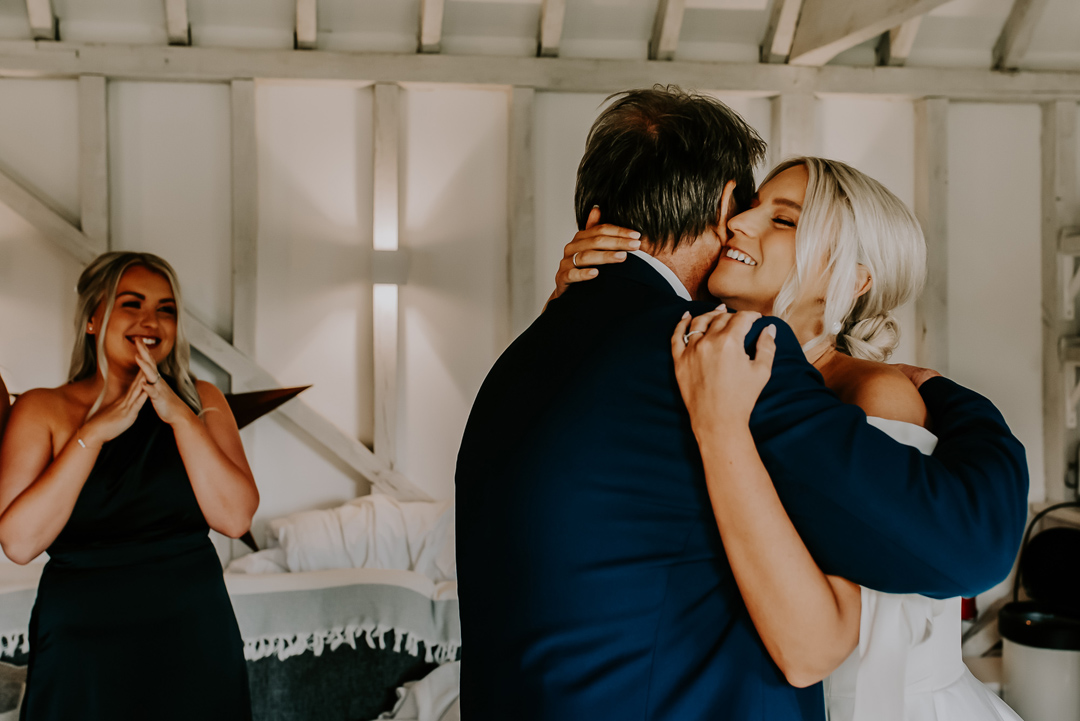 Lucie hired Westersham, Kent based floral designer and florist, Posy & Wild, to provide her beautiful peachy blooms.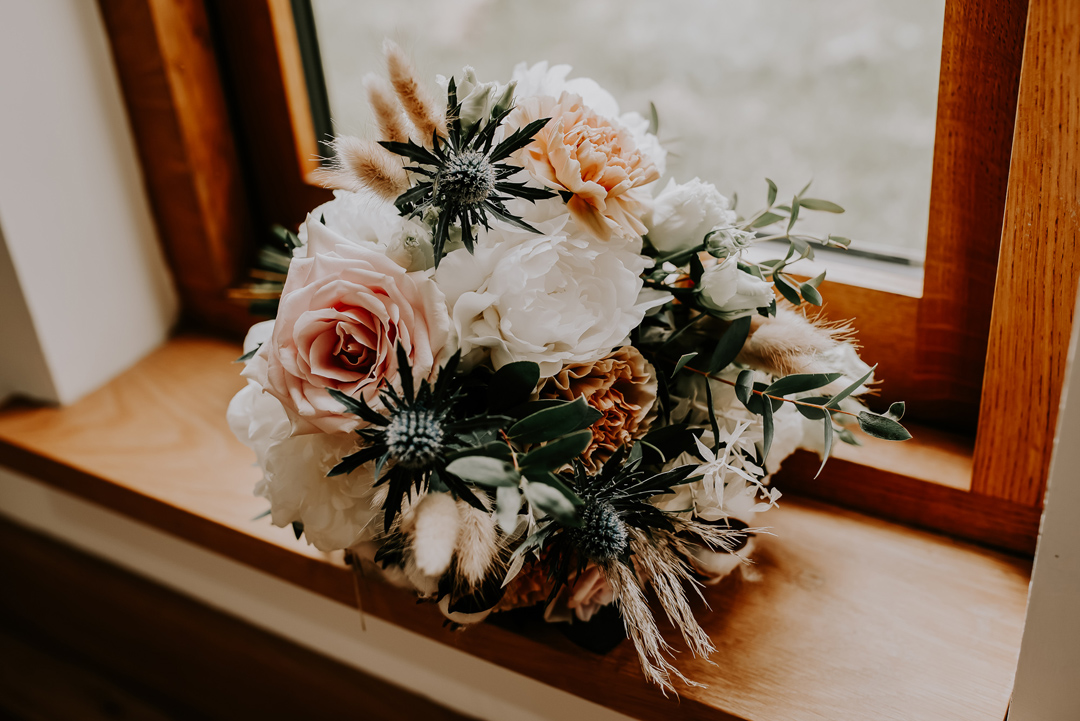 After surprising her with a vintage car, Lucie's father accompanied her into the ceremony at Kent Registry Office, to the sound of 'Can't Help Falling In Love' by Kina Grannis.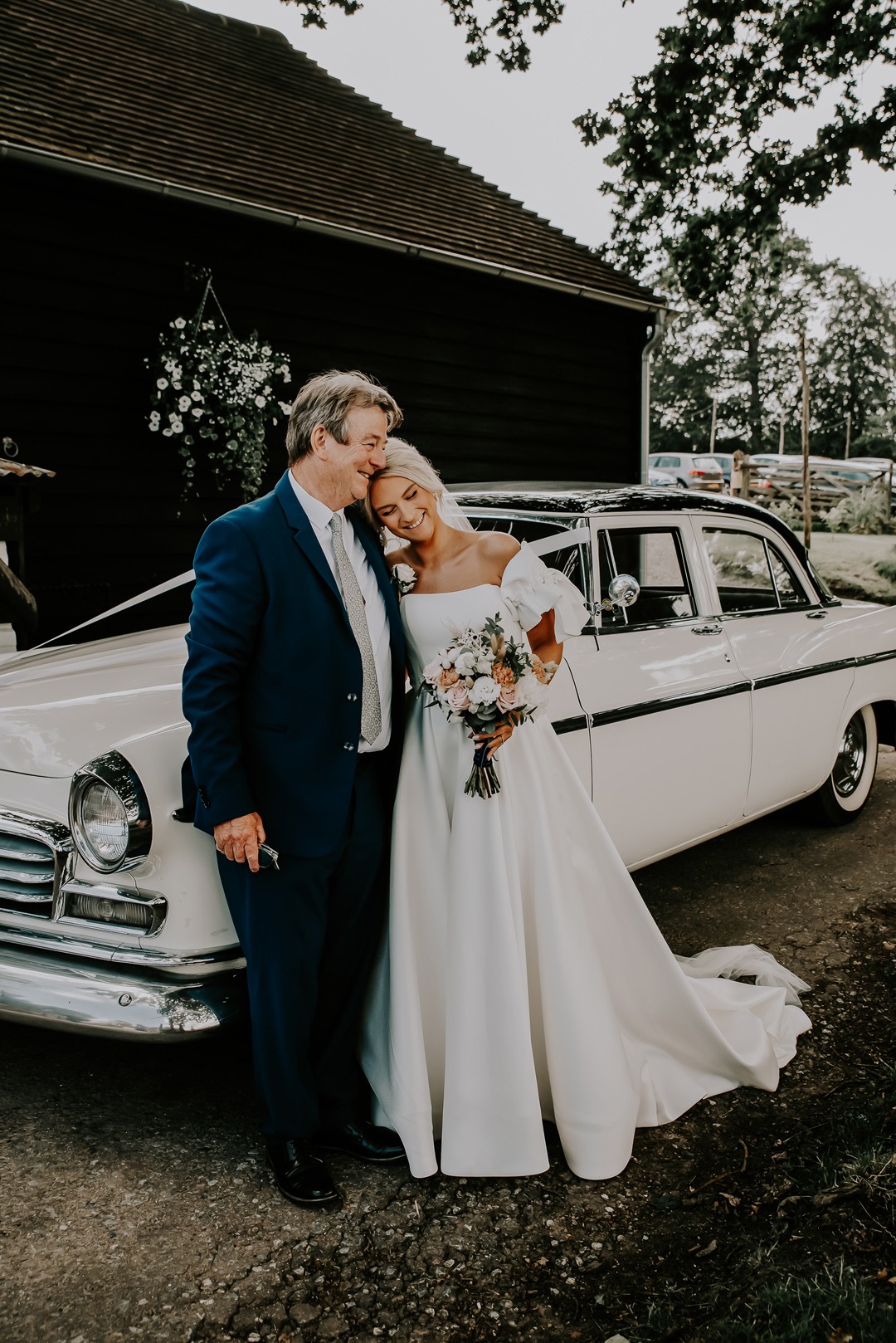 "We also had guitarist Will Scott playing as our guests waited for the ceremony to begin, and for the drinks and canapes after the ceremony."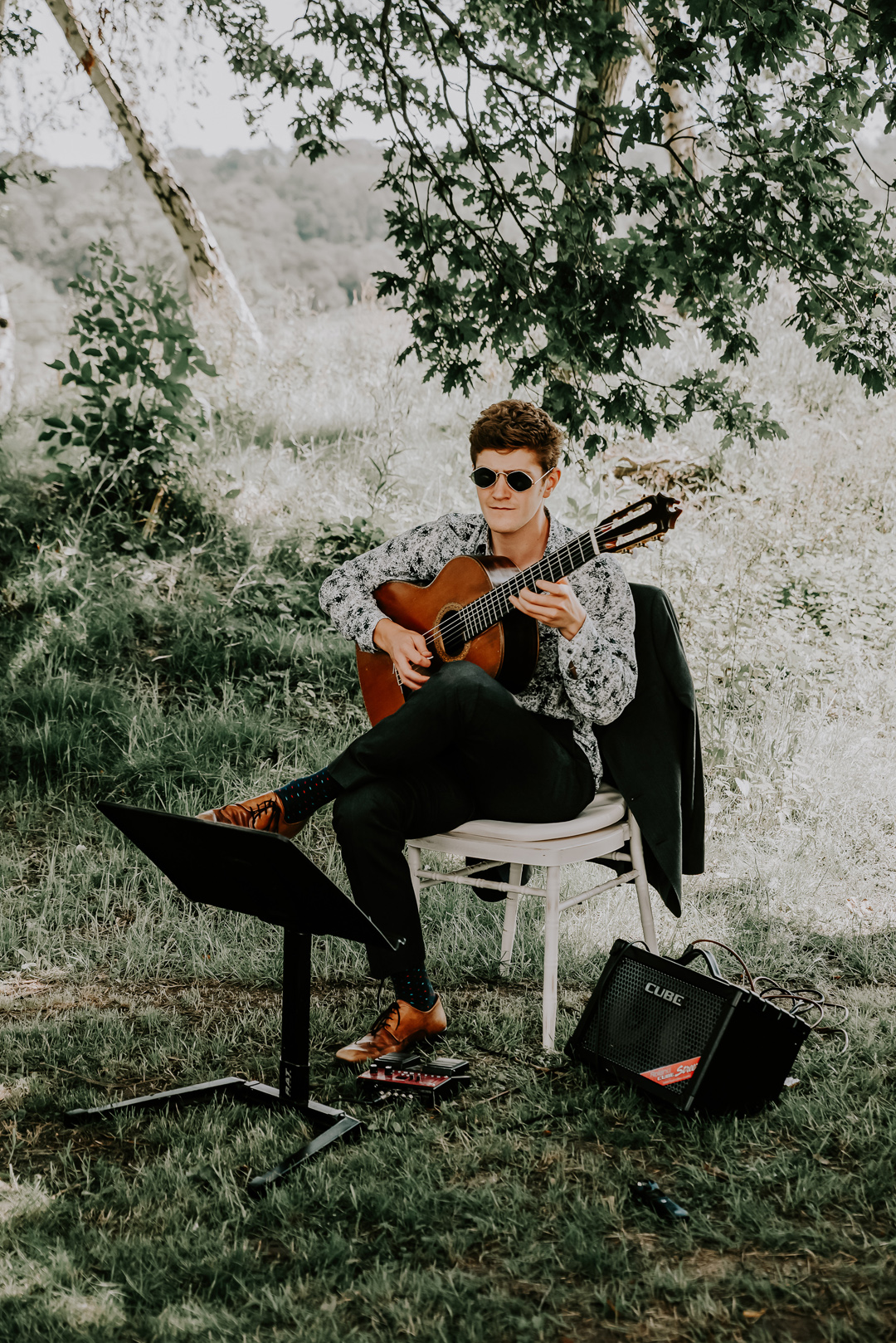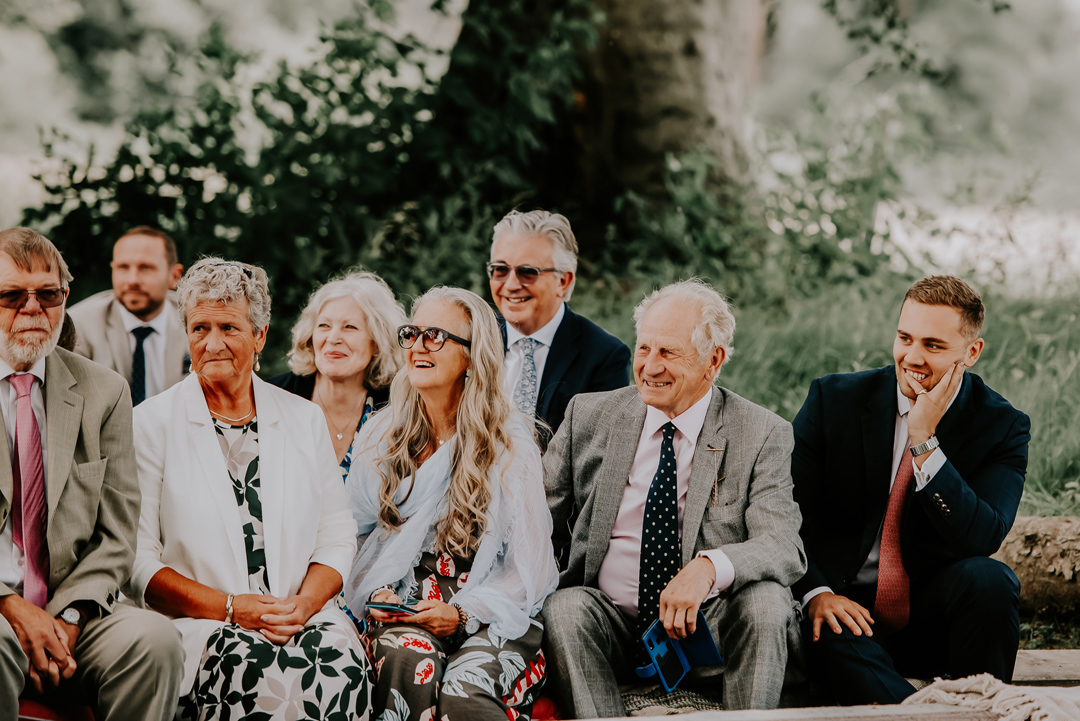 "Joe and I met through working in a retail store when we were home for the summer after university"
"Joe proposed in Portugal, which is our favourite place and somewhere we go on holiday every year."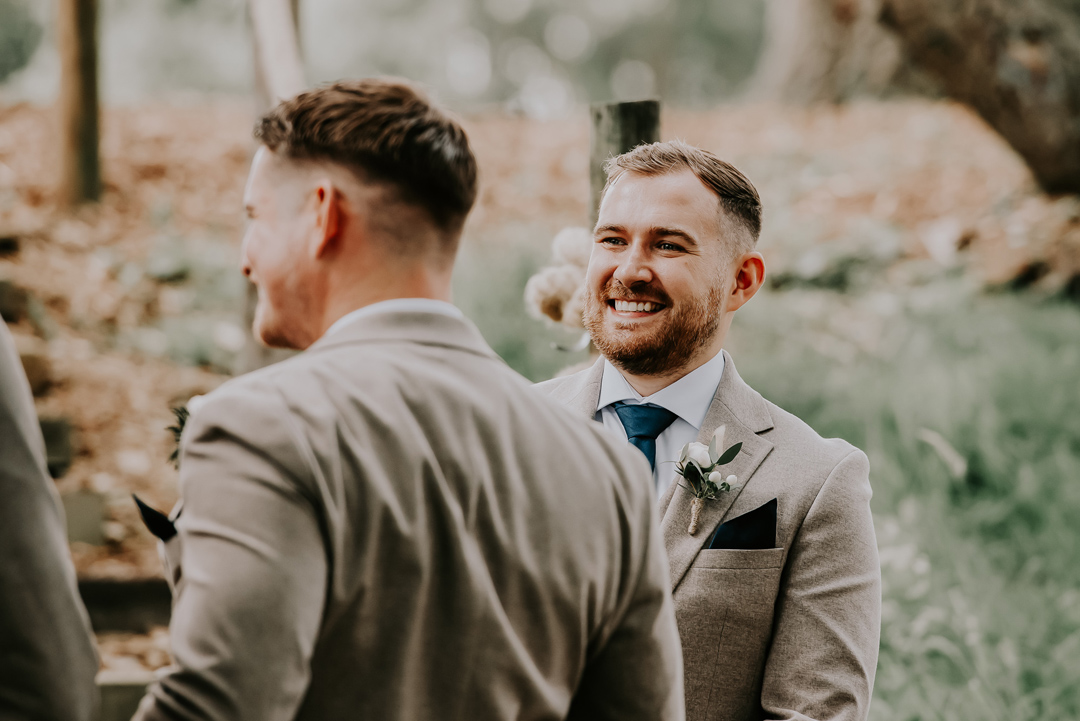 "Joe proposed in-front of my family, and had also organised champagne at a beautiful hotel and a perfect dinner on the marina!"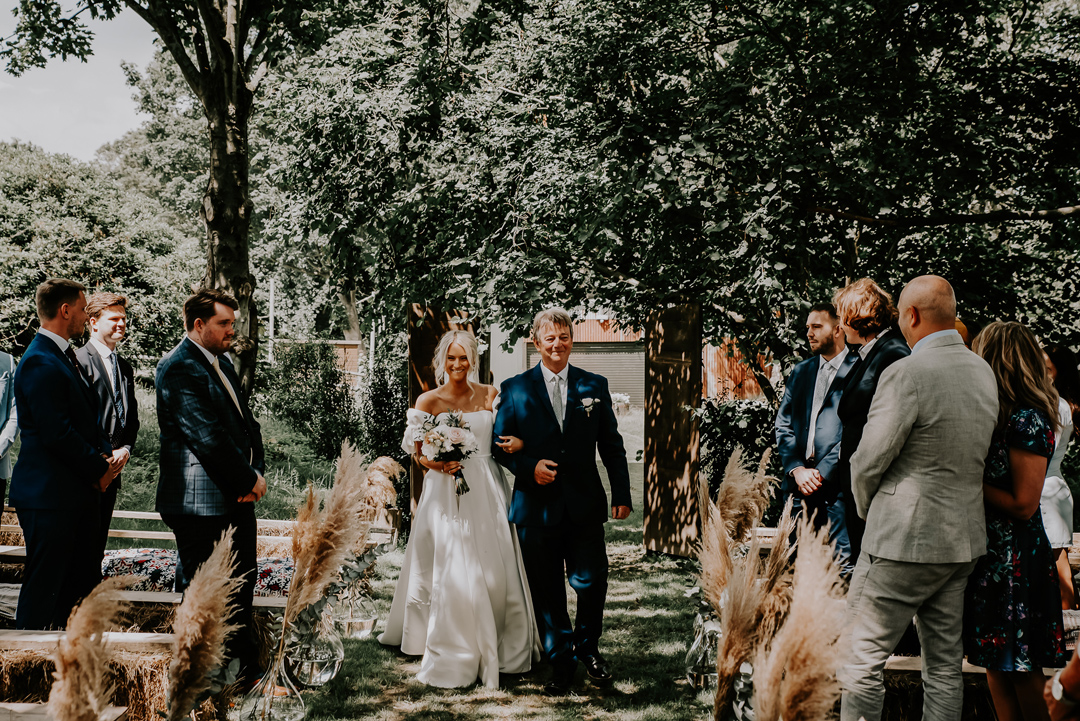 "He also then surprised me by taking me to a beach restaurant where my friends were hiding to surprise me. He also planned a surprise engagement party once we returned home."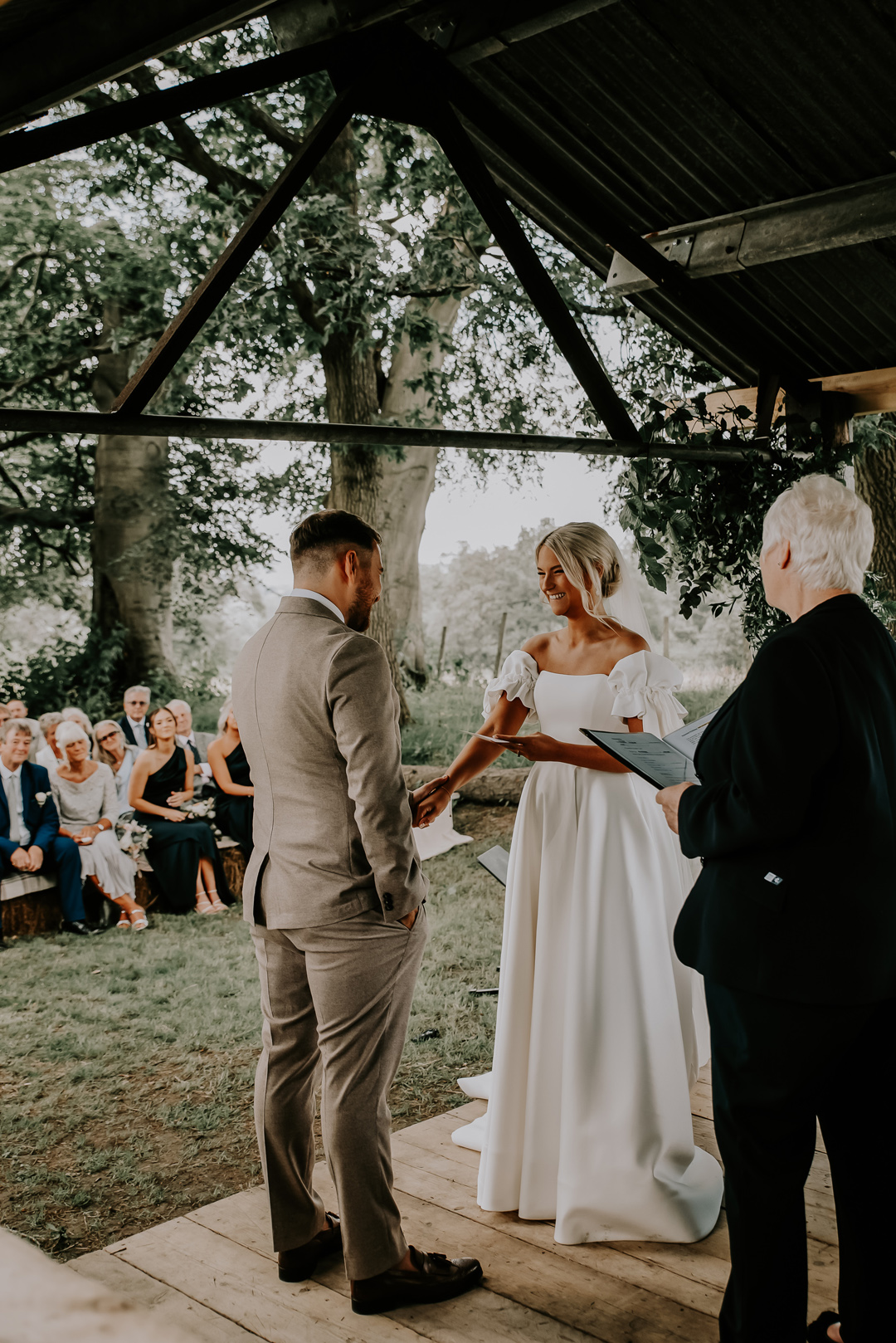 "We were engaged for 3 years due to the pandemic – we were supposed to get married in June 2020 in Portugal."
"We finally were able to get married a year later than planned in the UK – which turned out to be the perfect day."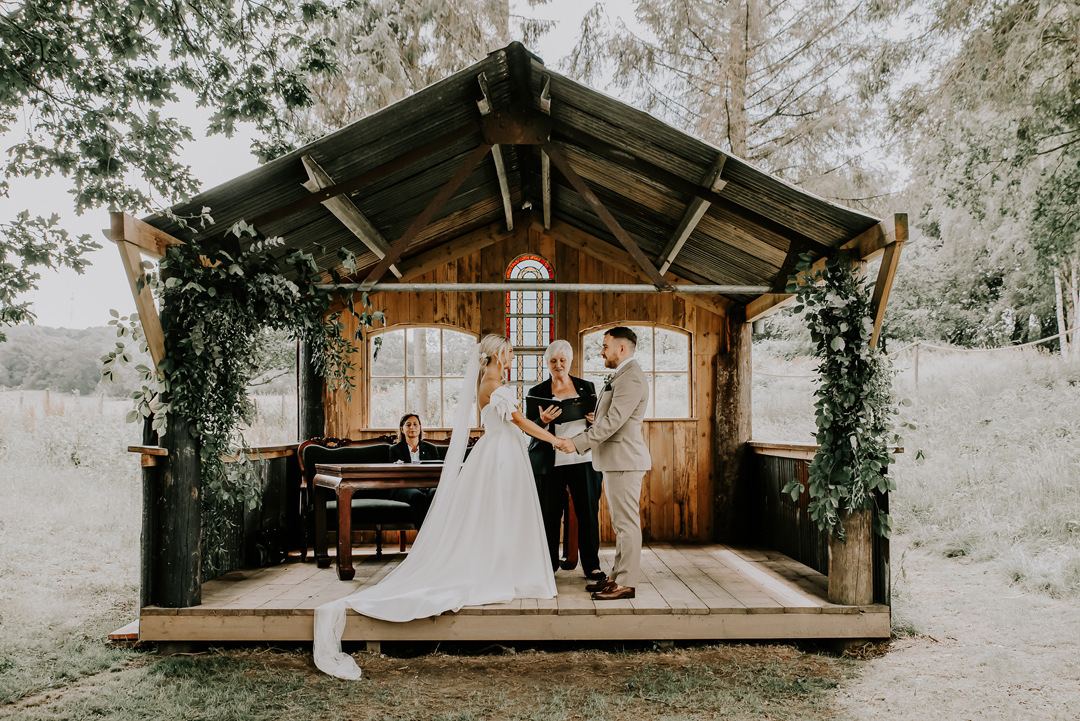 "One disappointment we had (even though it seemed as it should have been allowed) was that our family/friends could not do readings during our ceremony, even though we were fully outside."
"We wrote our own personal promises and read them to each other during the ceremony.""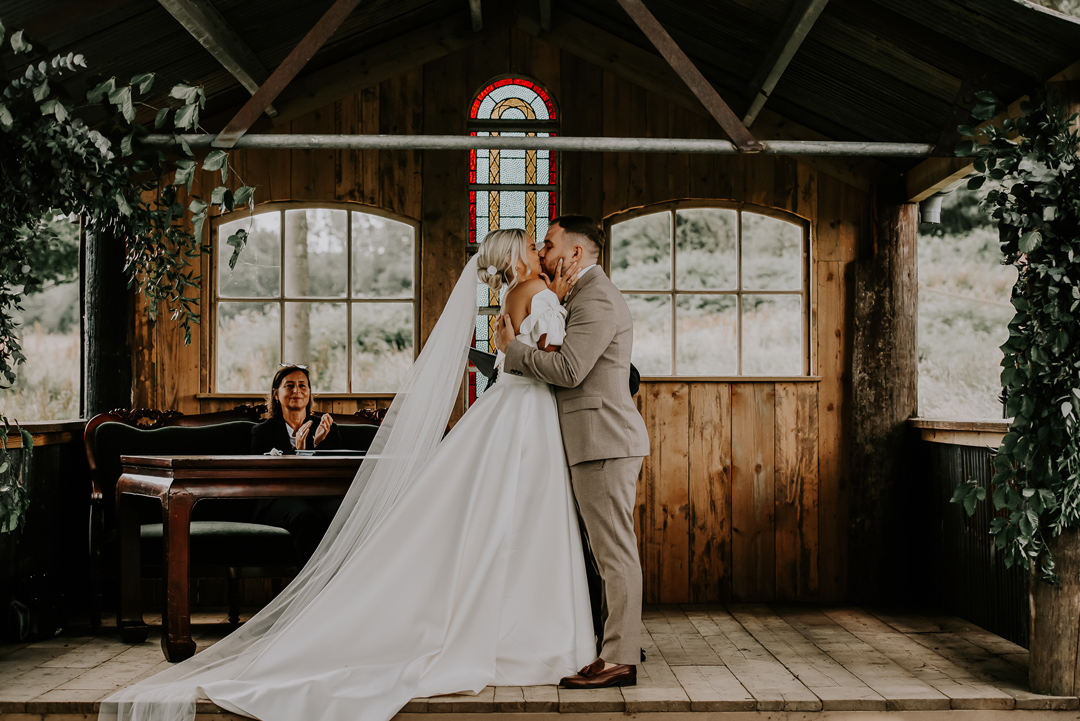 "Neither of us knew what the other was going to say, which made them even more special."
"We sadly weren't allowed to do readings. Our friends Hannah and Ollie wrote their own, and surprised us when they read this to us after the wedding and presented it to us in a frame to keep."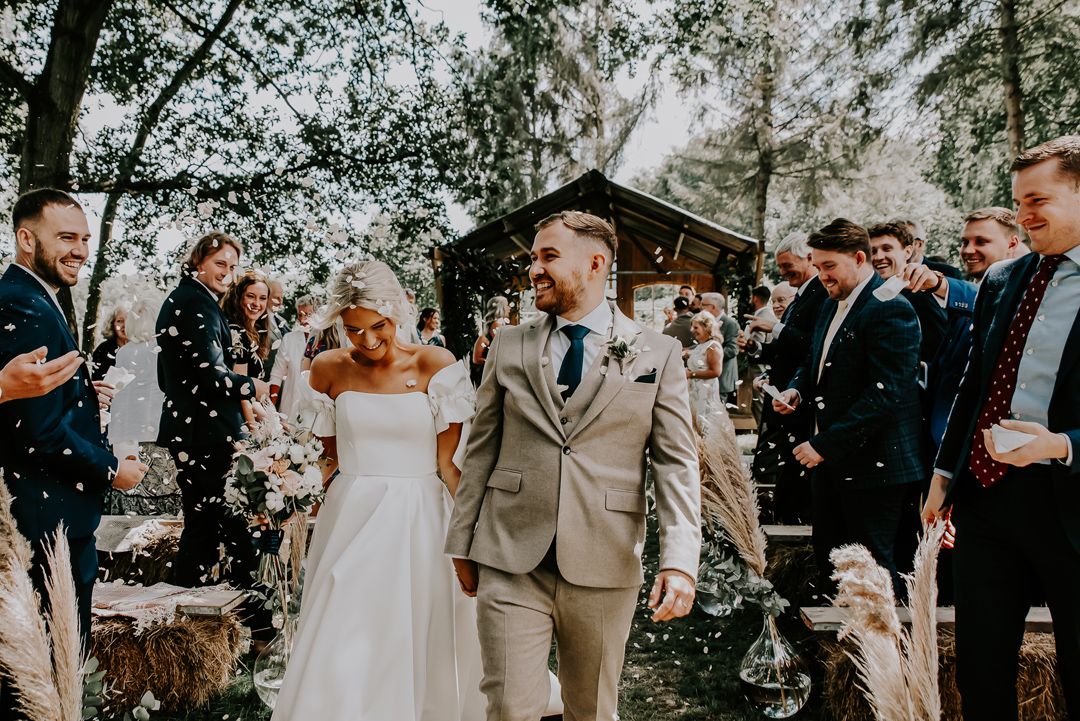 "We were lucky that our wedding fell after many restrictions had lifted, however the majority of our day took place outside, and we weren't allowed a dance-floor."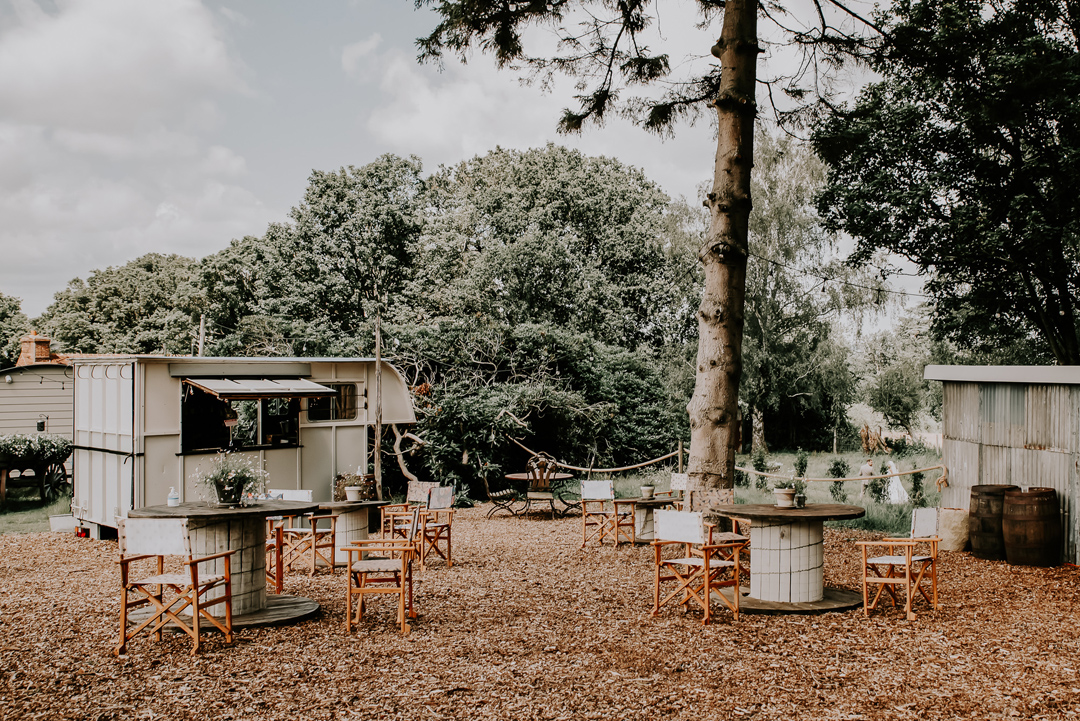 "Leading up to the day, the weather was very sketchy, however on our day the sun came through for us and it was perfect."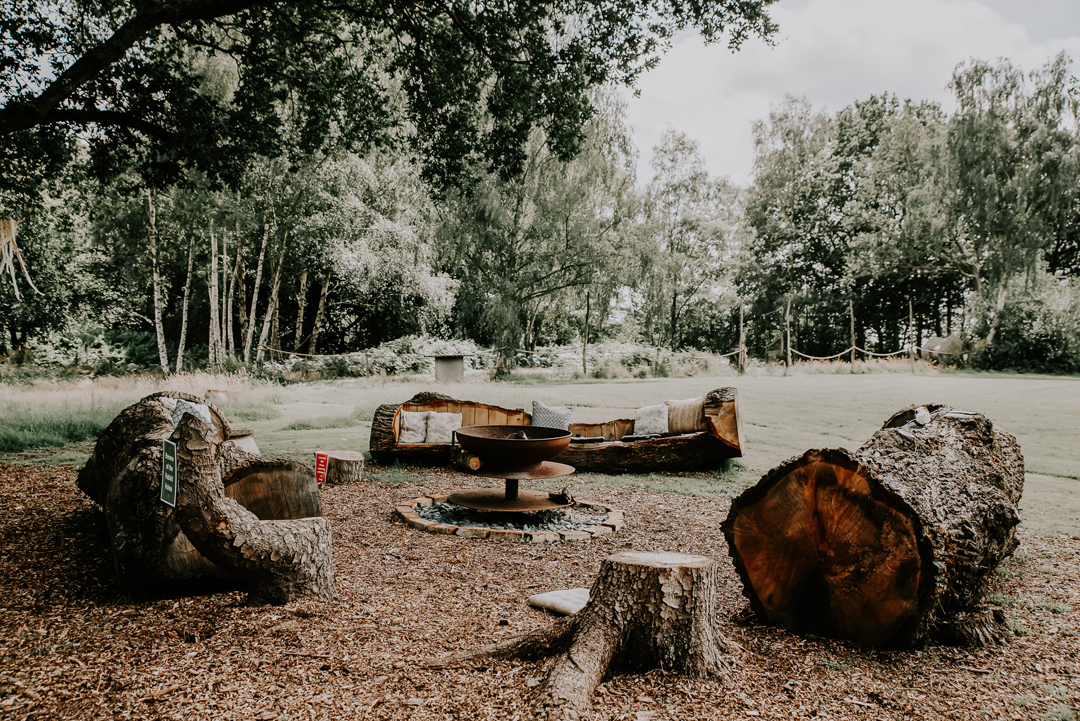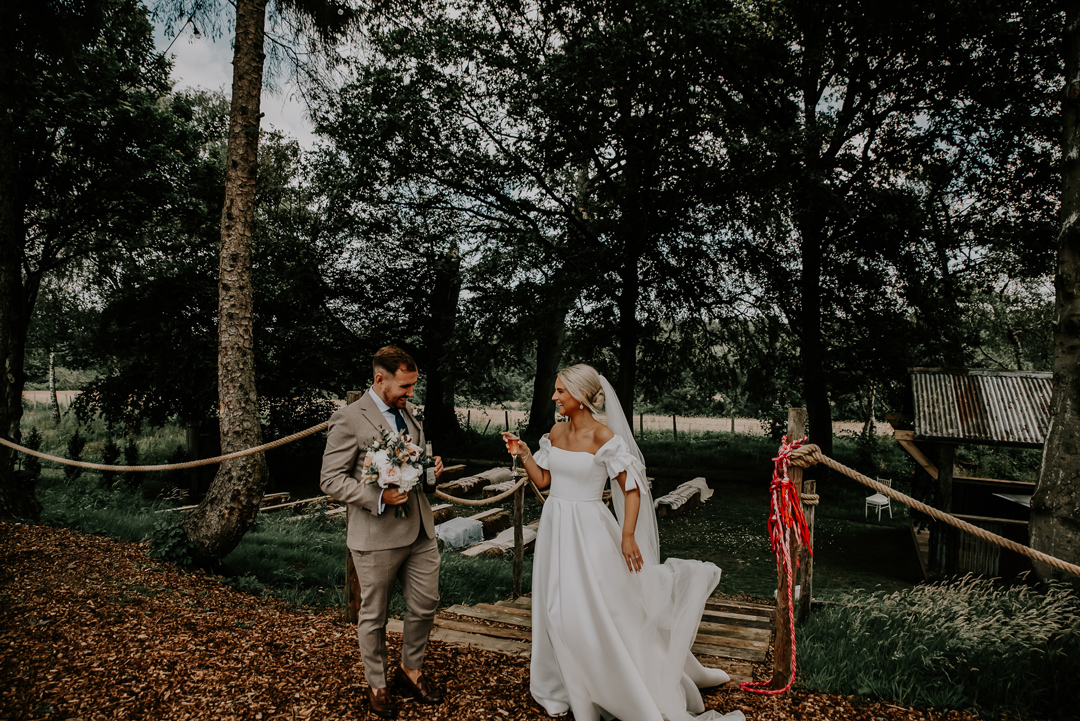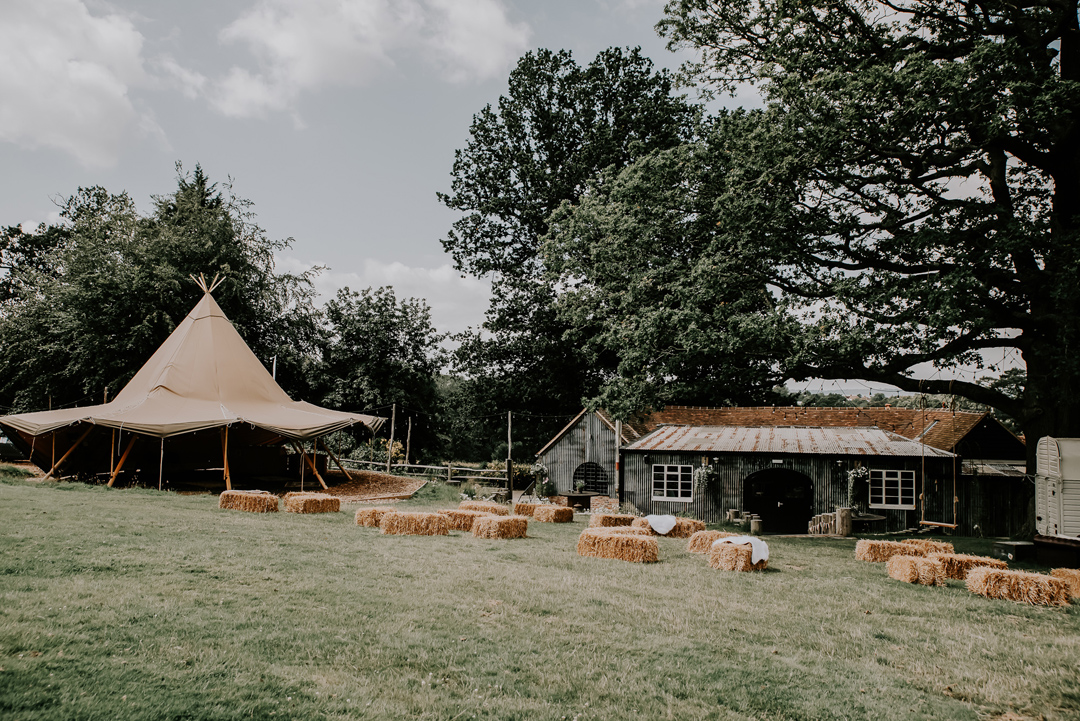 "We couldn't recommend Michelle Cordner Photography any more highly! She was amazing throughout the day."
"Even staying longer than planned to capture sunset pictures."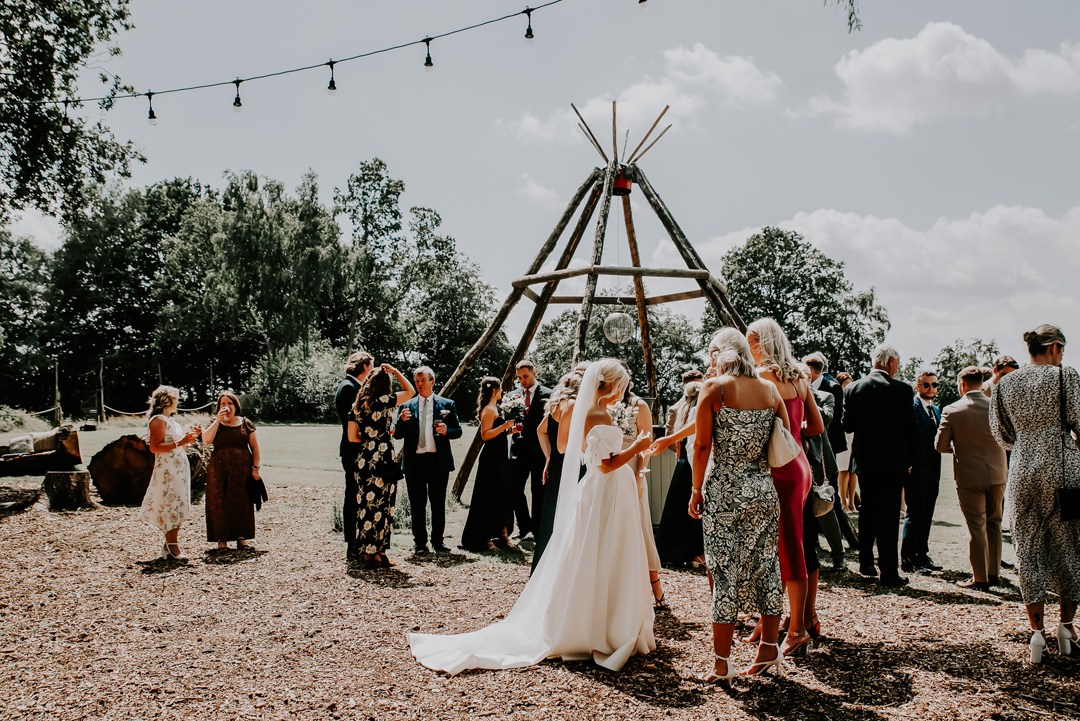 "We are over the moon with the final photos, and can't believe how many amazing ones she captured."
"She also was so discreet throughout the day, never did we notice she was there during the ceremony, speeches etc."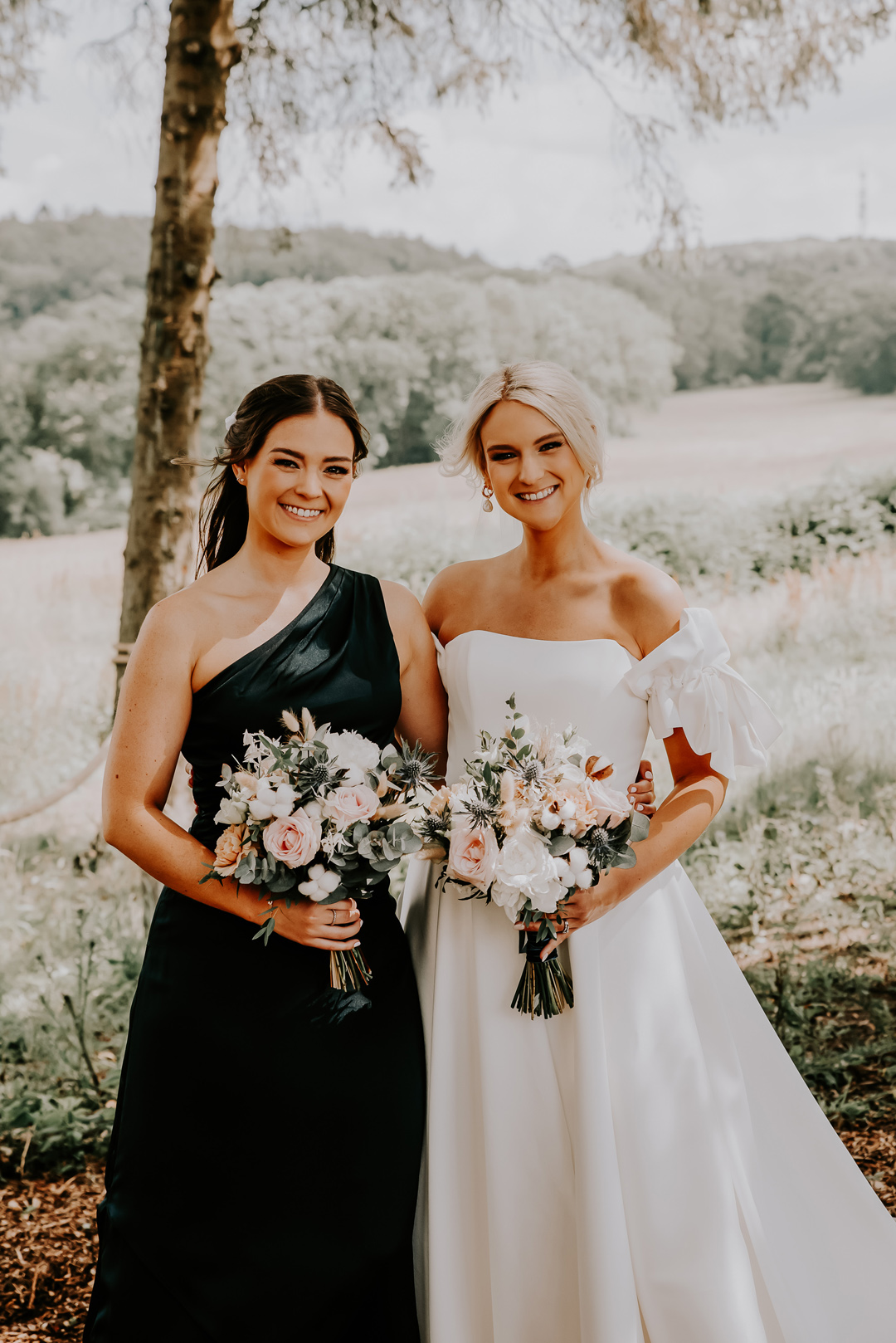 "Michelle was so understanding and patient during the whole of lockdown, and couldn't have been kinder or more flexible to what we were wanting."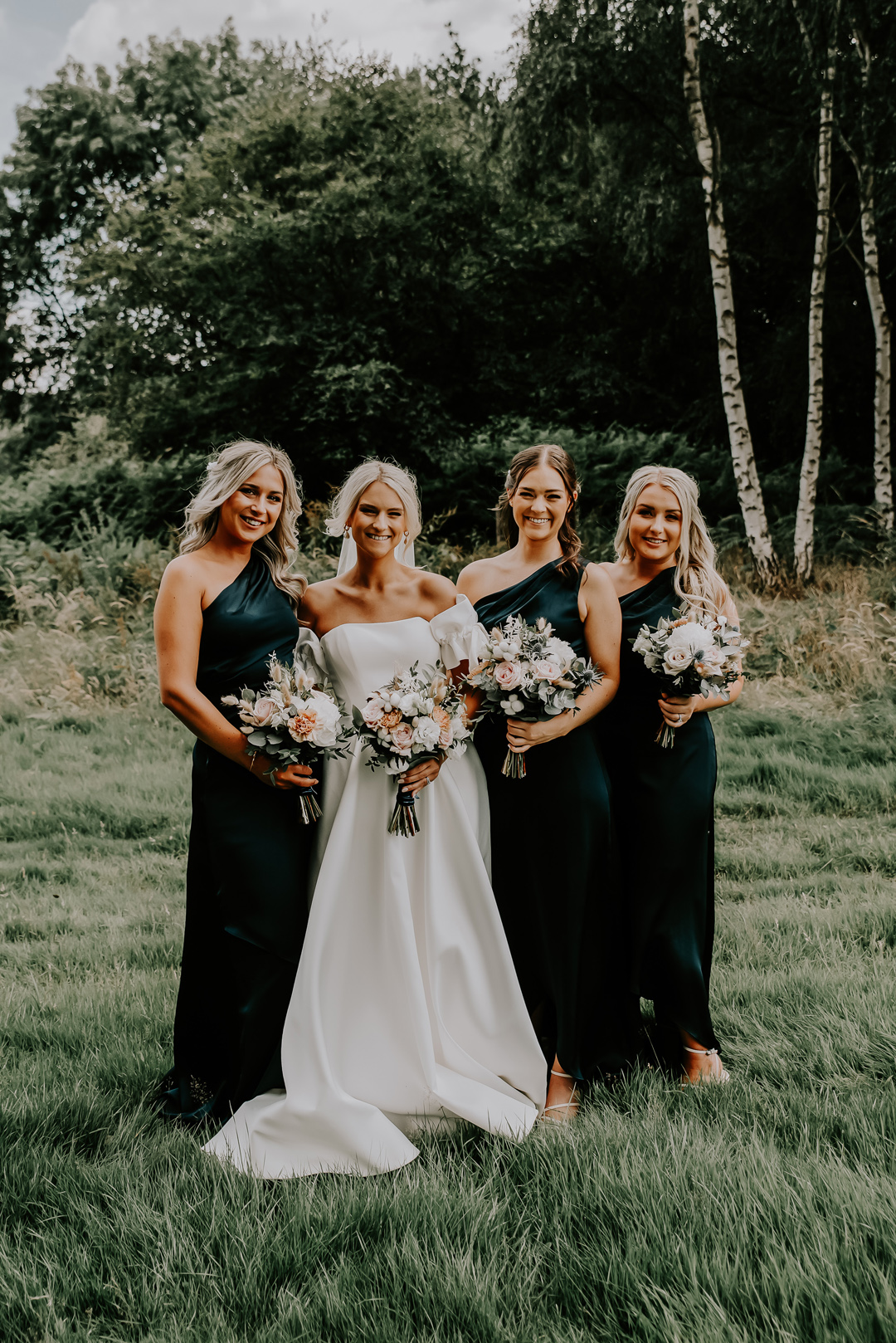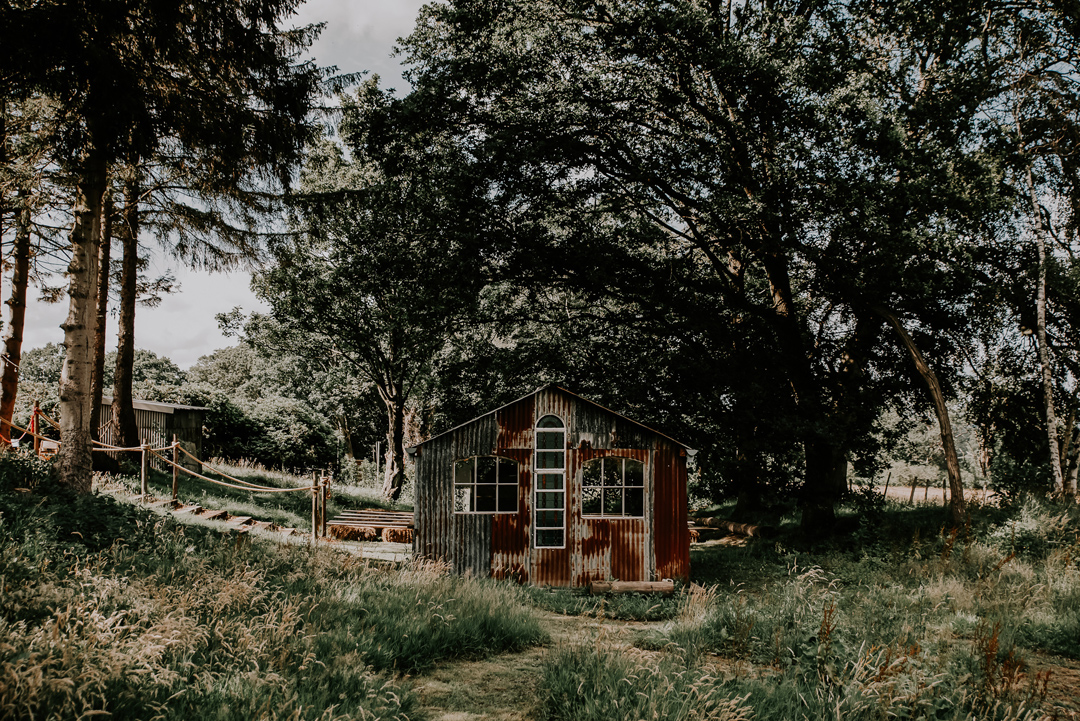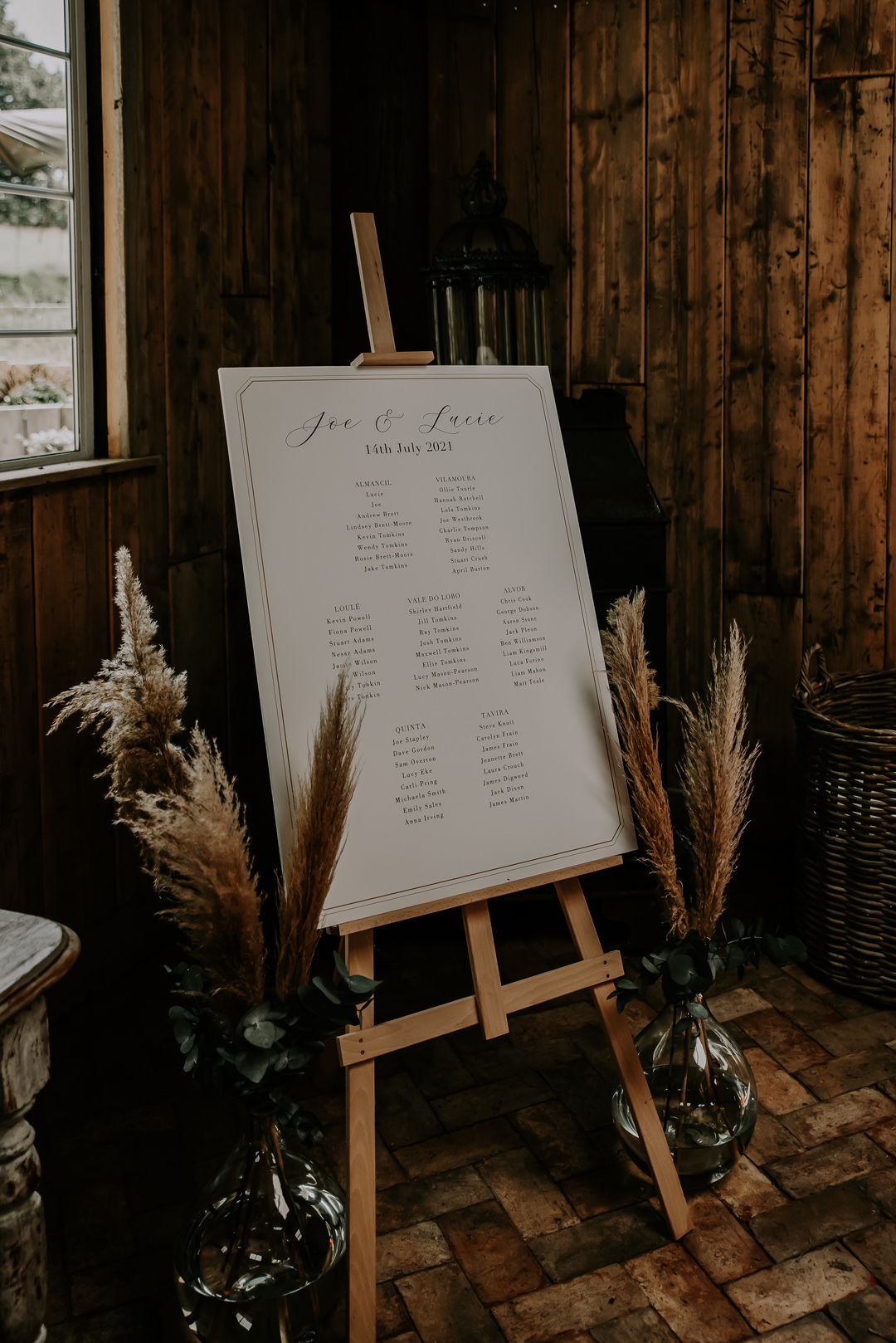 "Our venue was already beautifully decorated with lights, we didn't need to provide much decoration of our own, which was so helpful."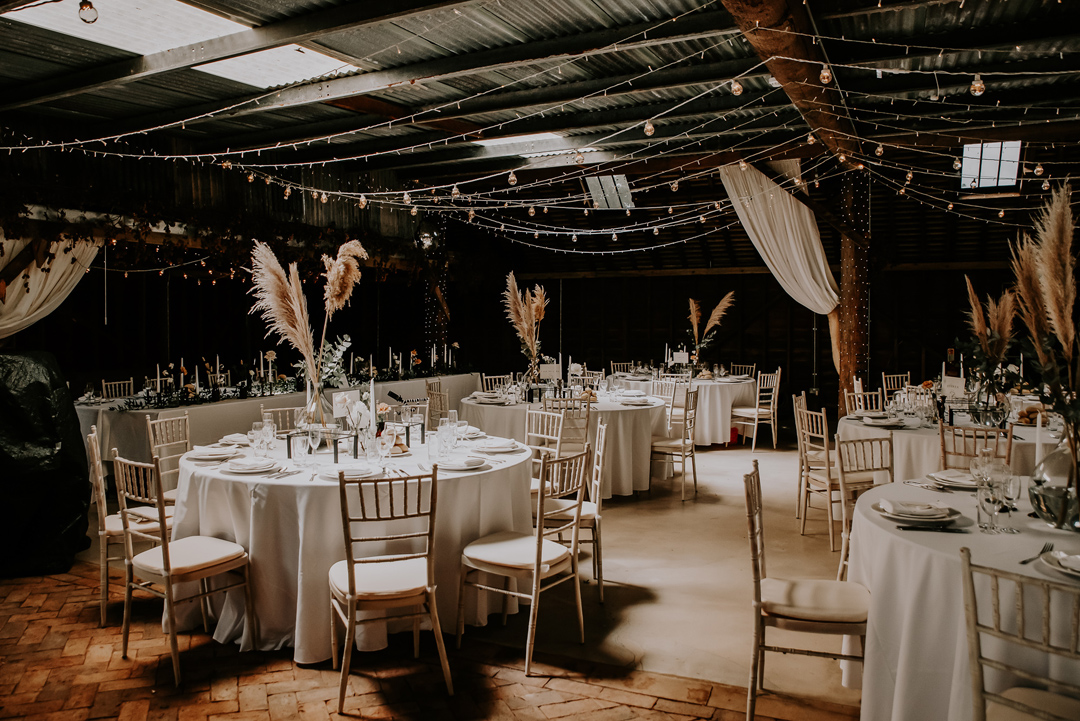 The couple provided their guests with the sweetest, personalised clay name tags from Etsy designer Holly Emily Designs, as 'wedding favours'.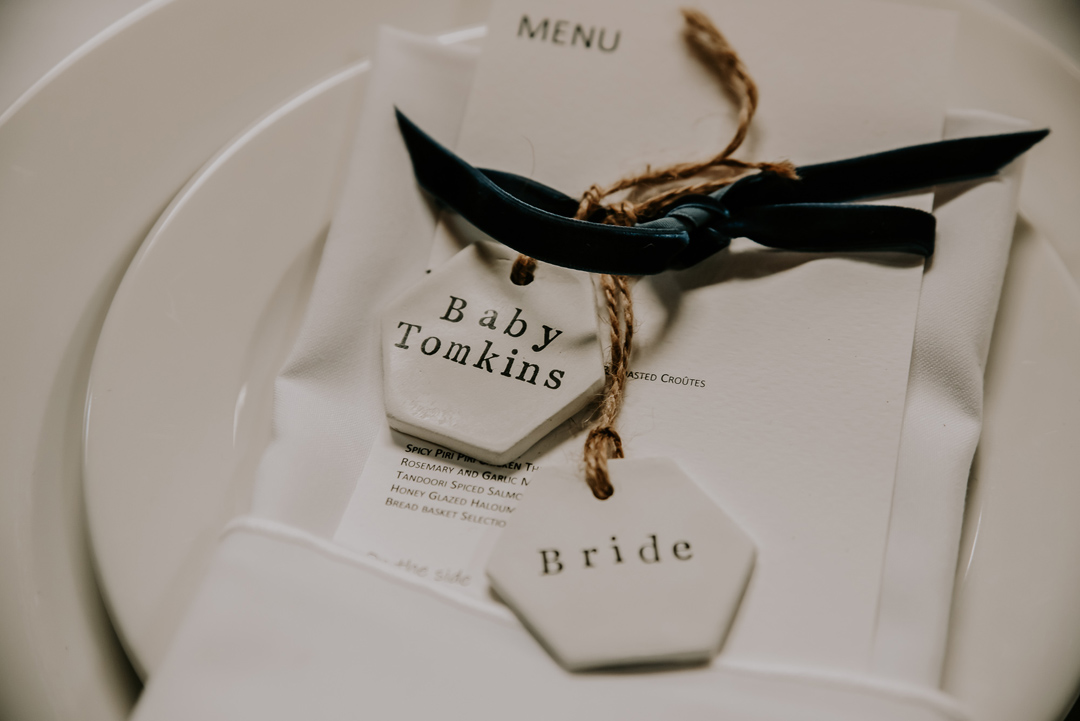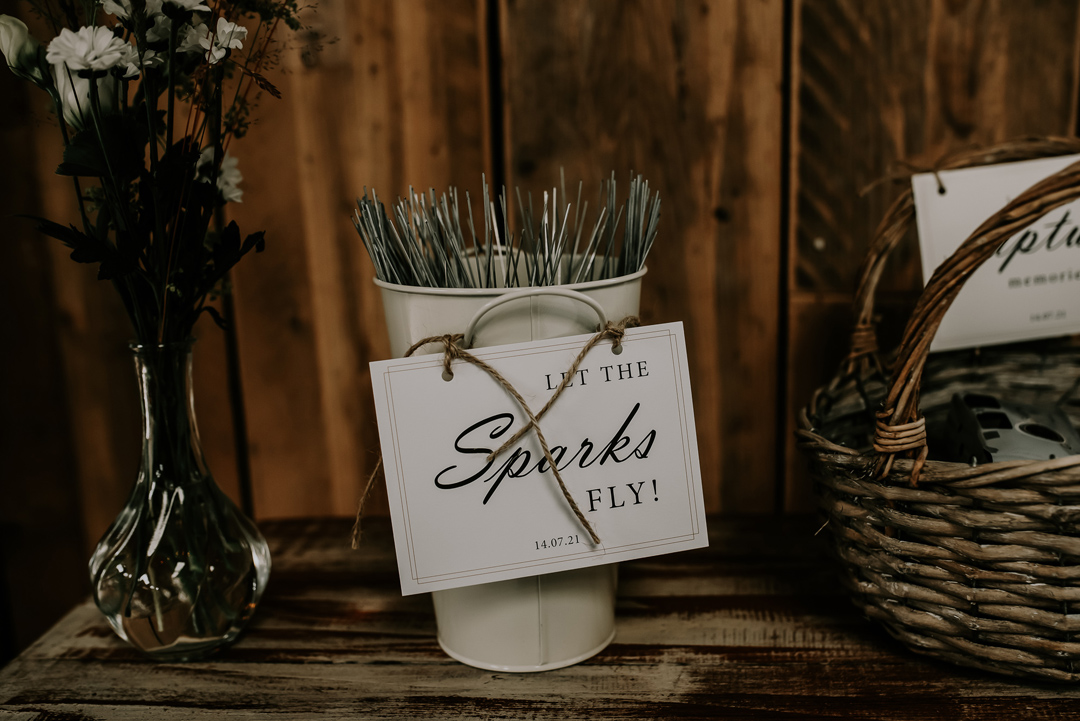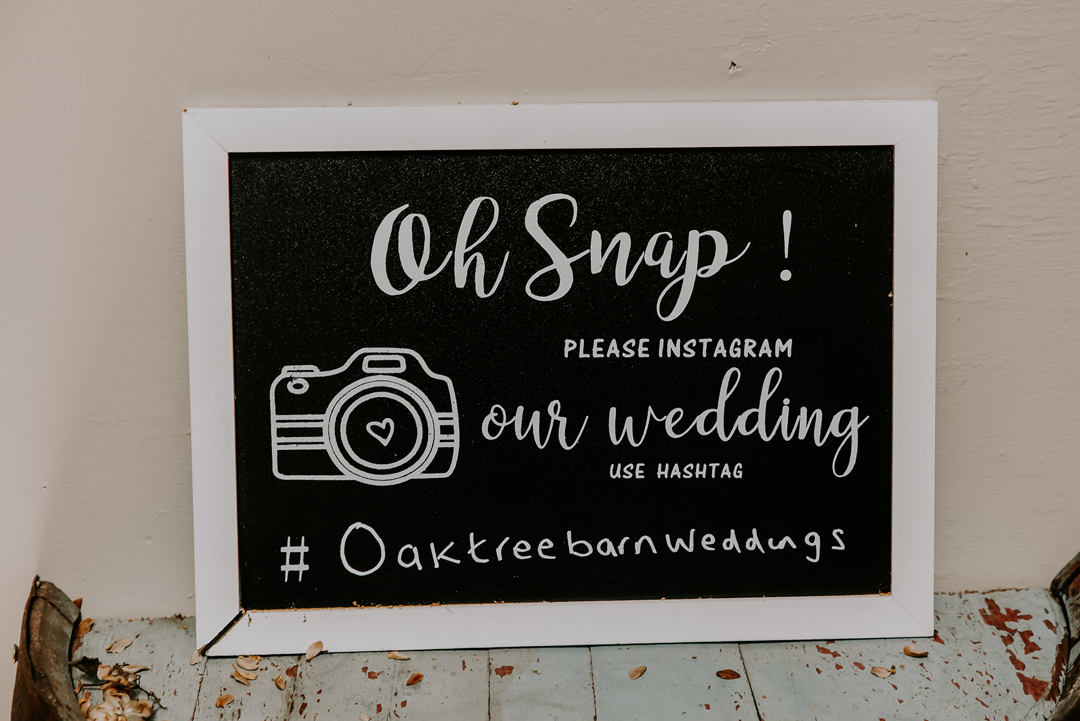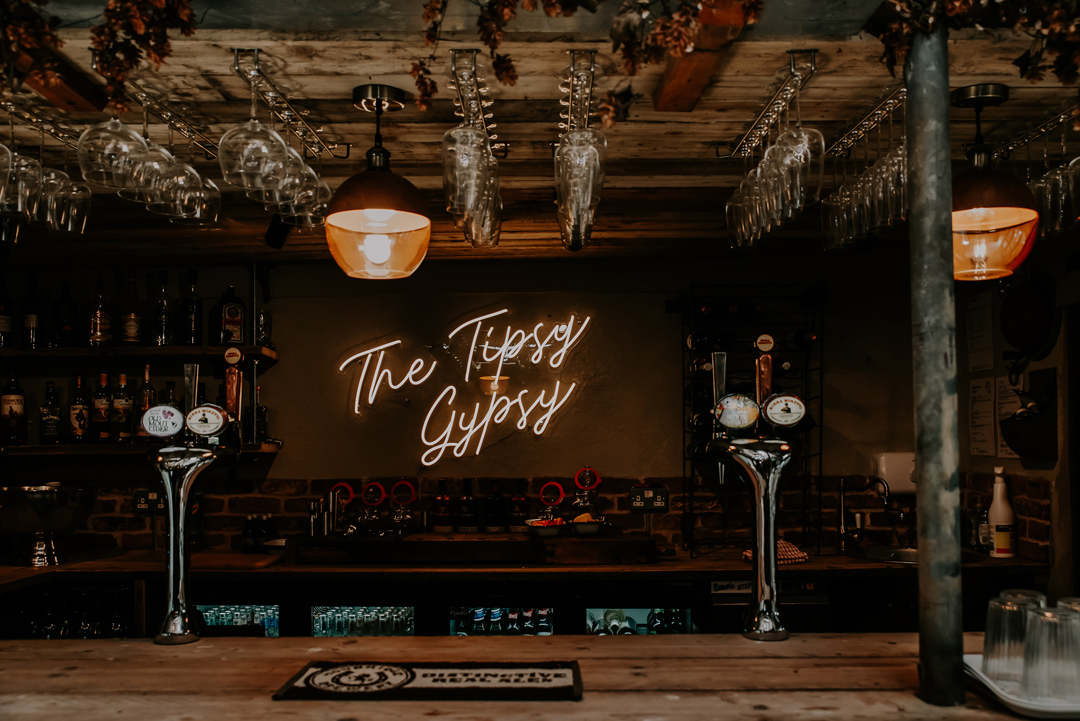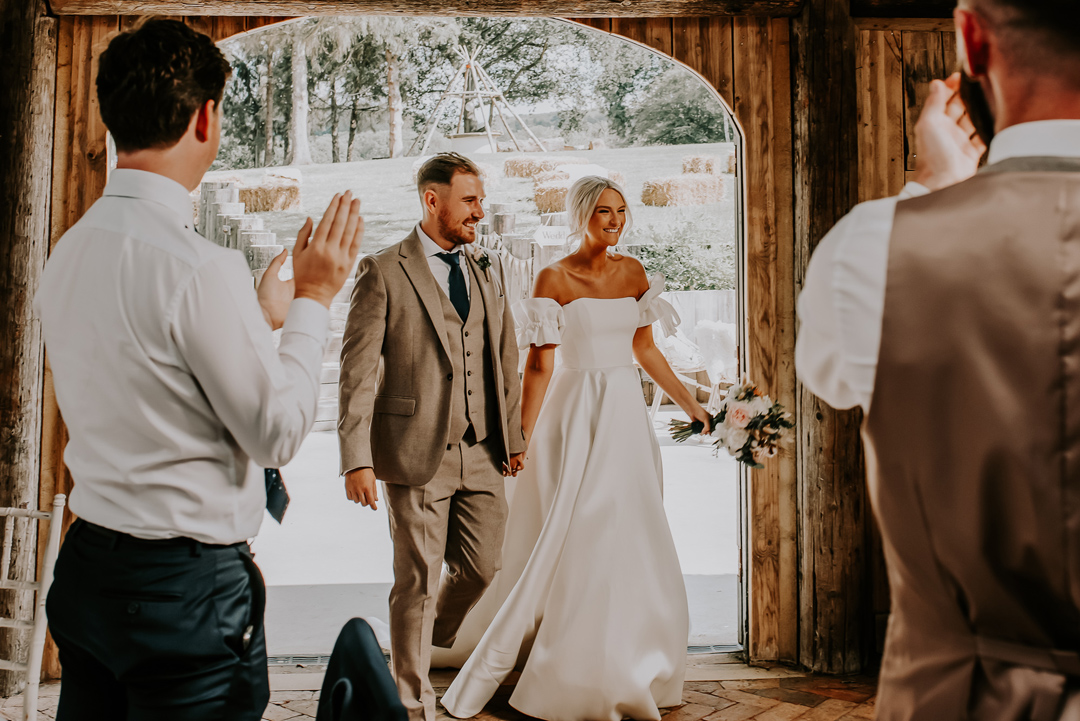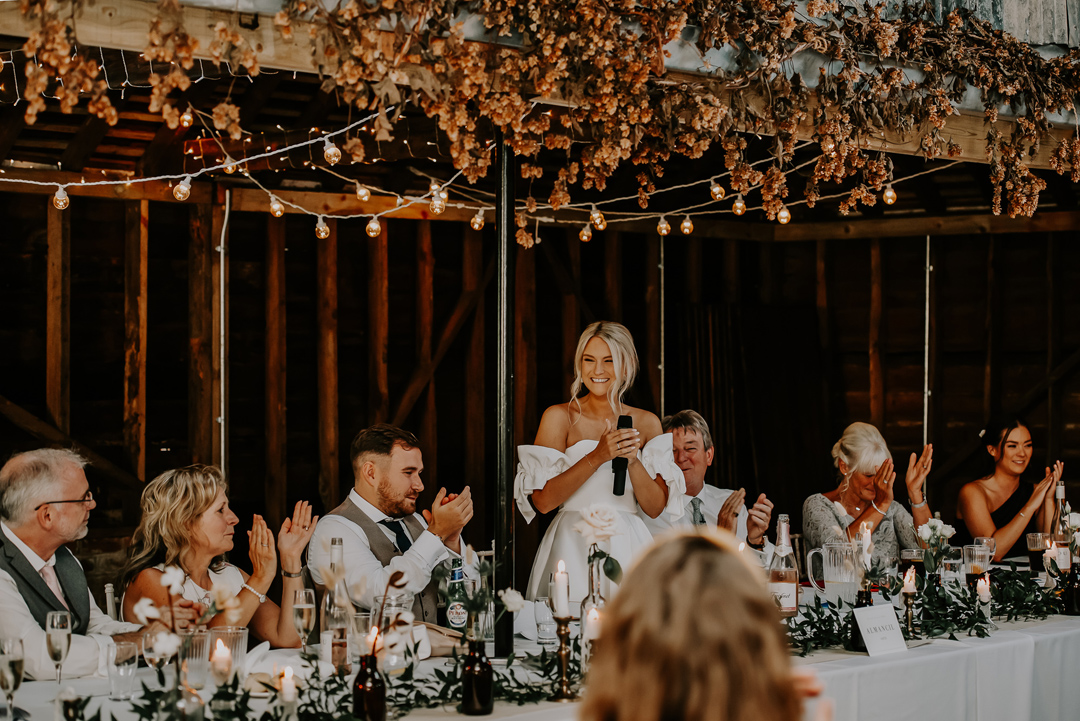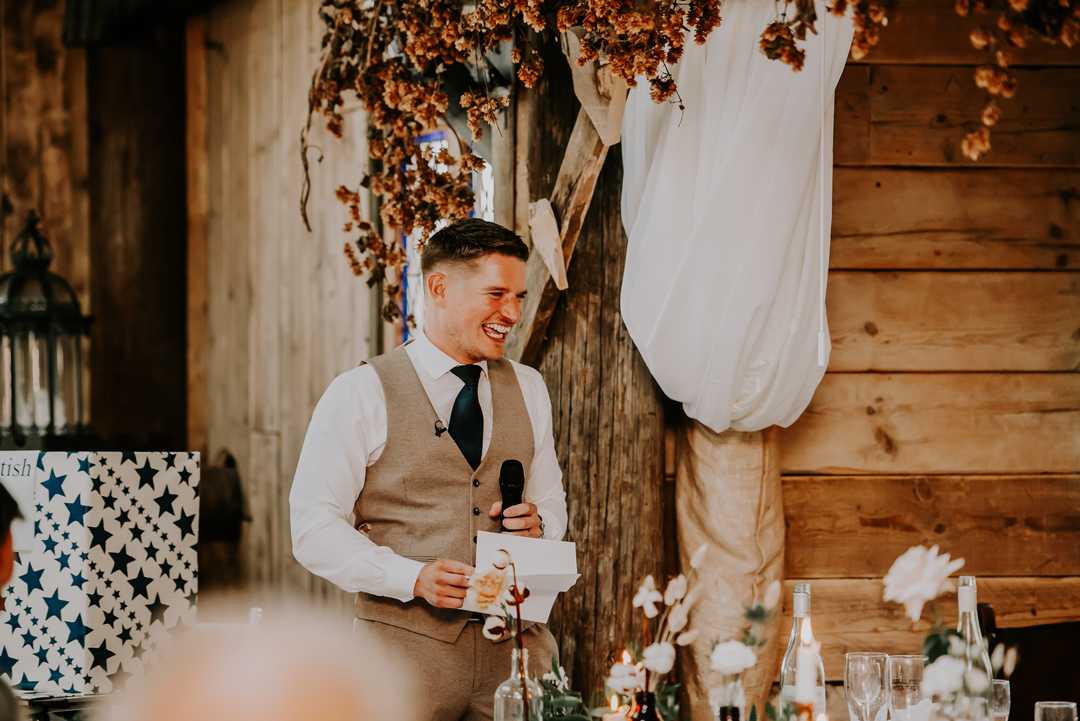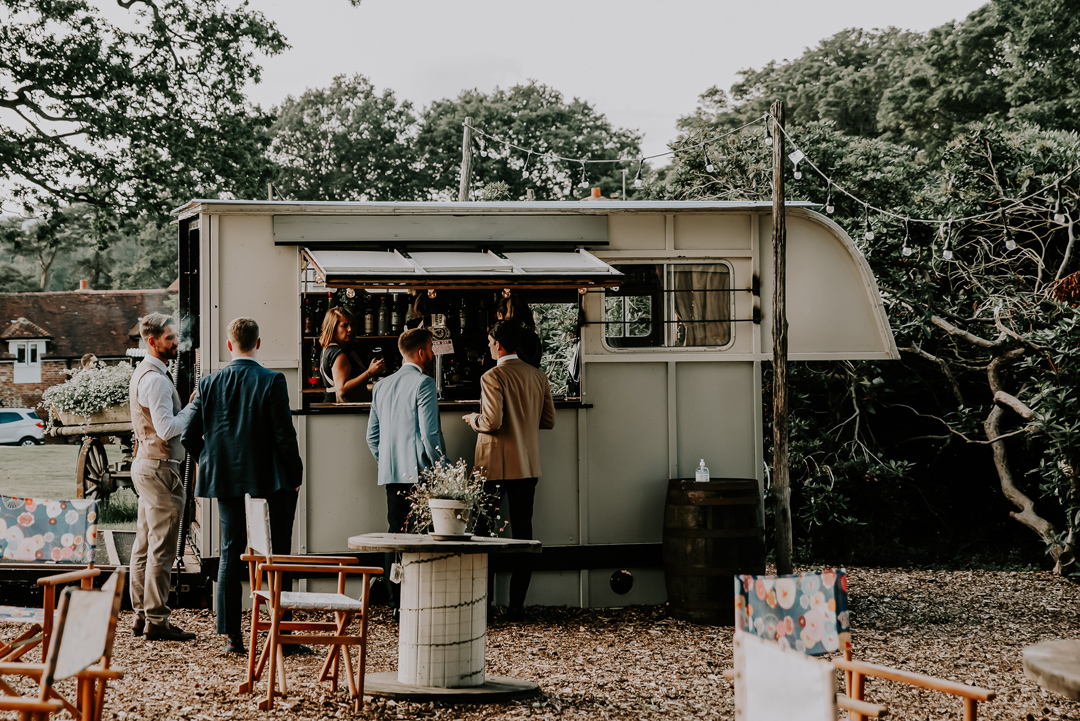 "Due to covid, the experience of having my dress made was very challenging, especially as I found out I was pregnant during this time."
"The team did an amazing job refitting the bodice of my dress to fit my growing bump."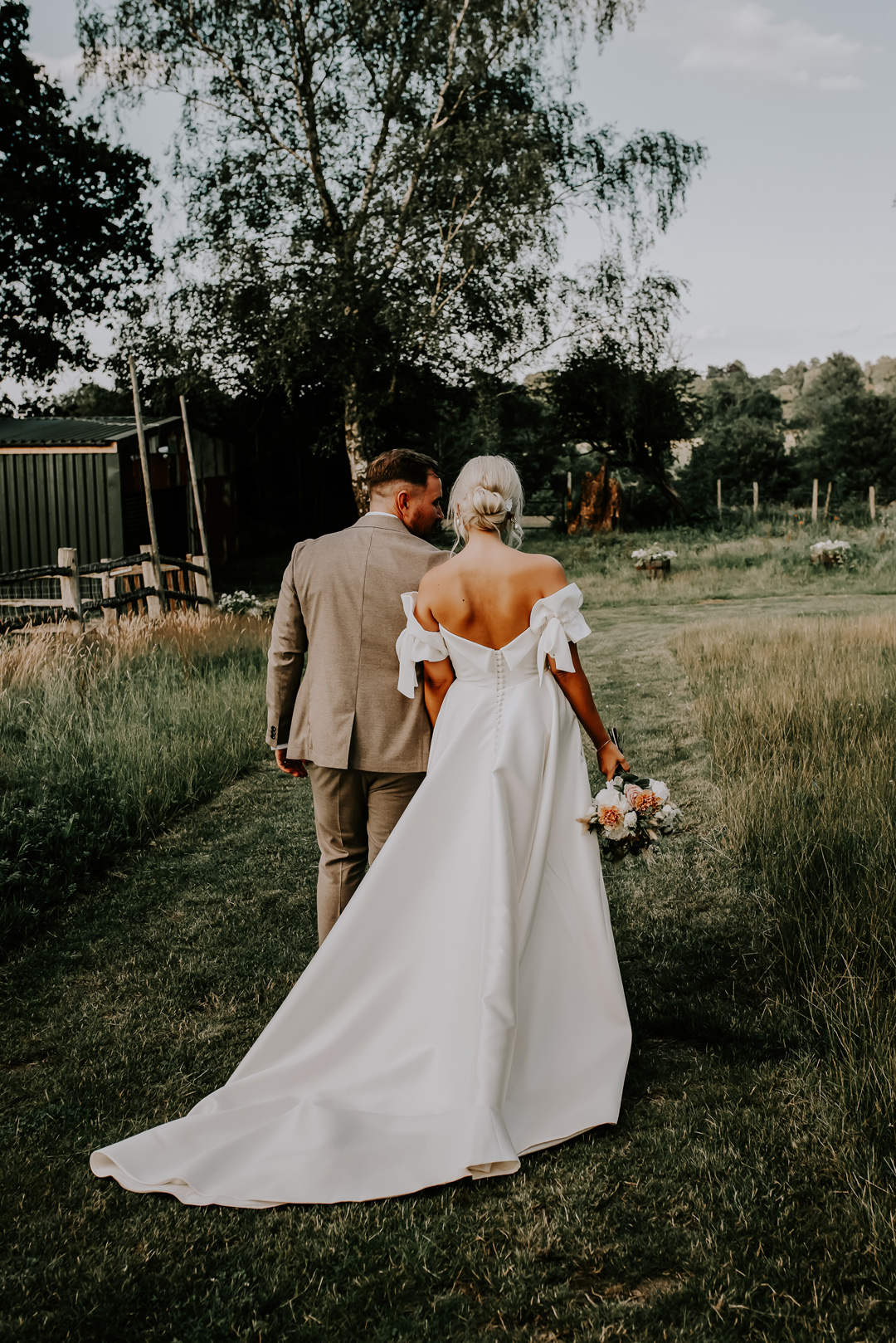 "I would definitely recommend Emma to other brides. The work she and team put in, especially for Covid affected brides was amazing."
"I couldn't have asked for a better dress, and she helped me realise my dream dress for my special day."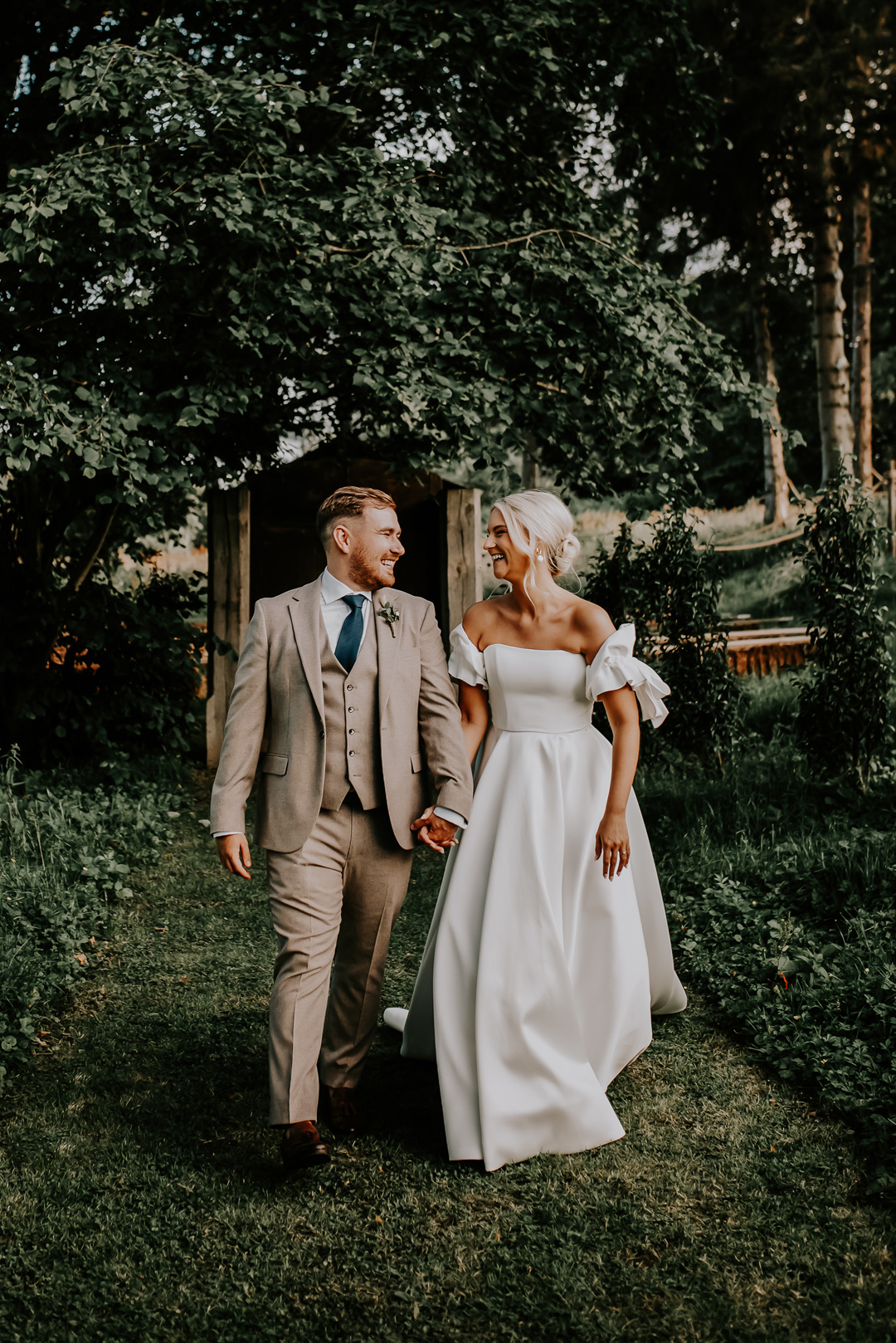 "I loved that my dress allowed me to feel my best on the day, as well as allowing me (and bump) to be comfortable.
"I made sure myself, bridesmaids & mum all had matching bracelets, and hair clips to tie our outfits together."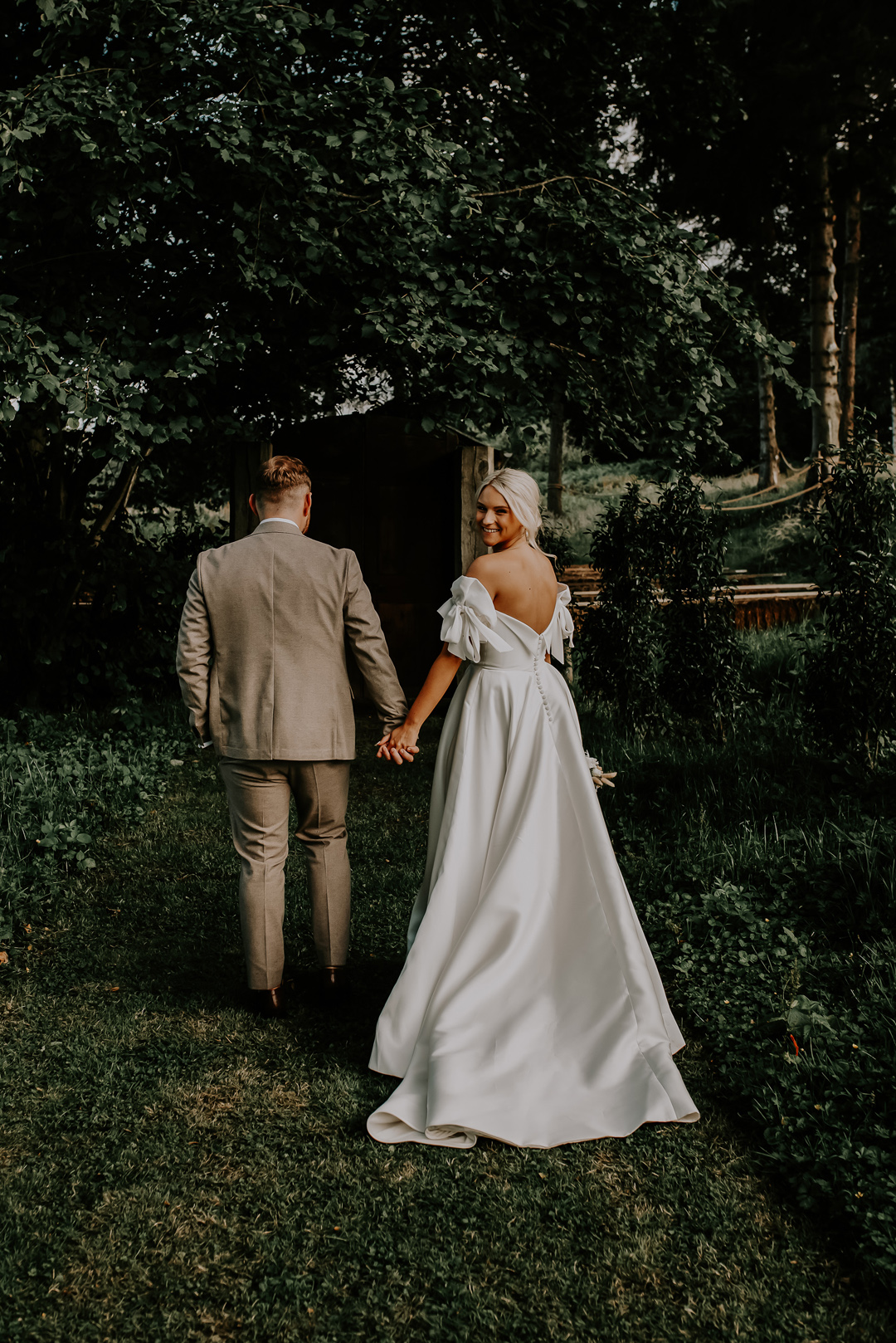 "I also made sure to give my dad and Joe special cufflinks with the wedding date engraved."
"My veil was kindly gifted my Emma and her team – it was cathedral length and very classic. As my dress was dramatic, I wanted to keep the veil subtle and to compliment the dress."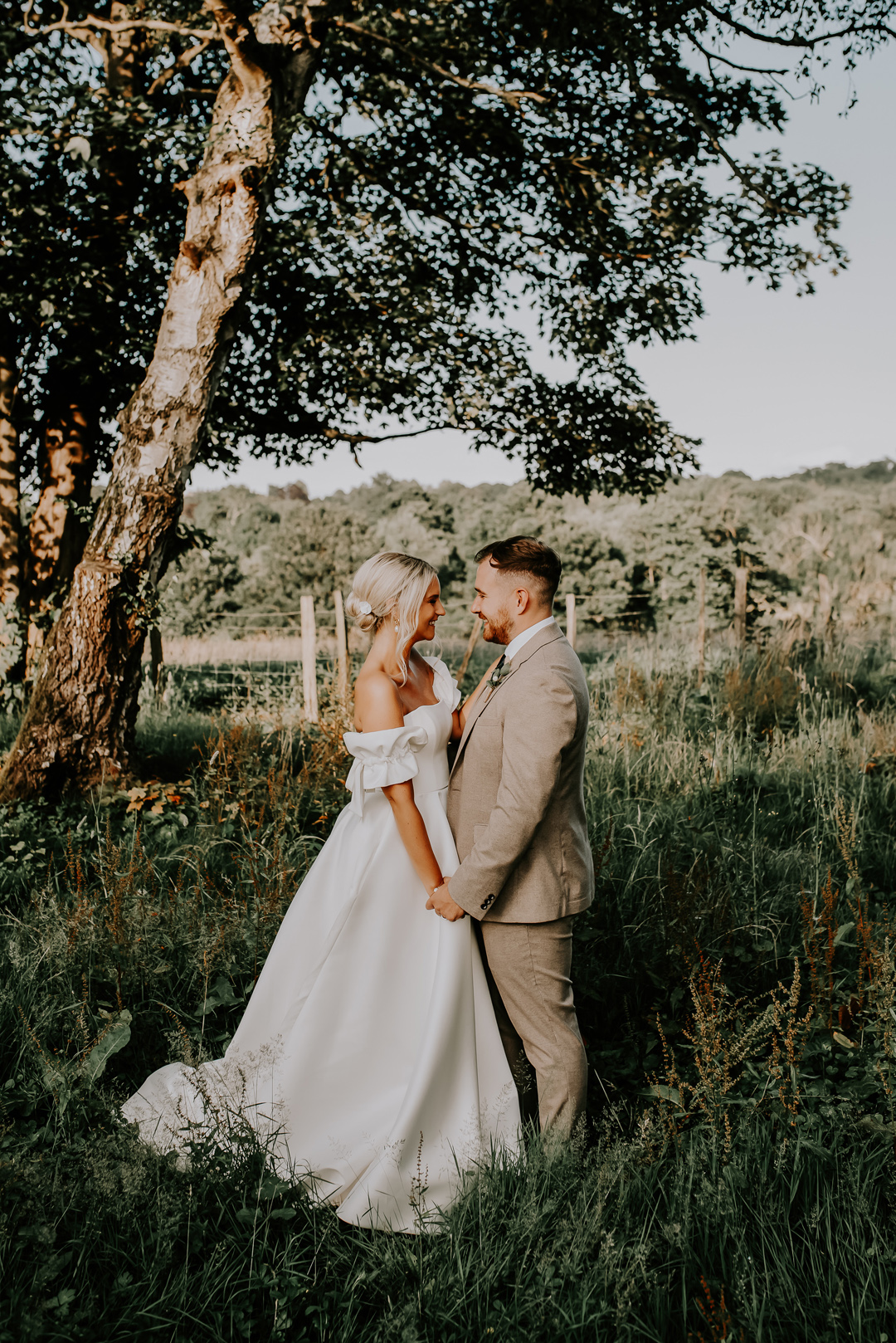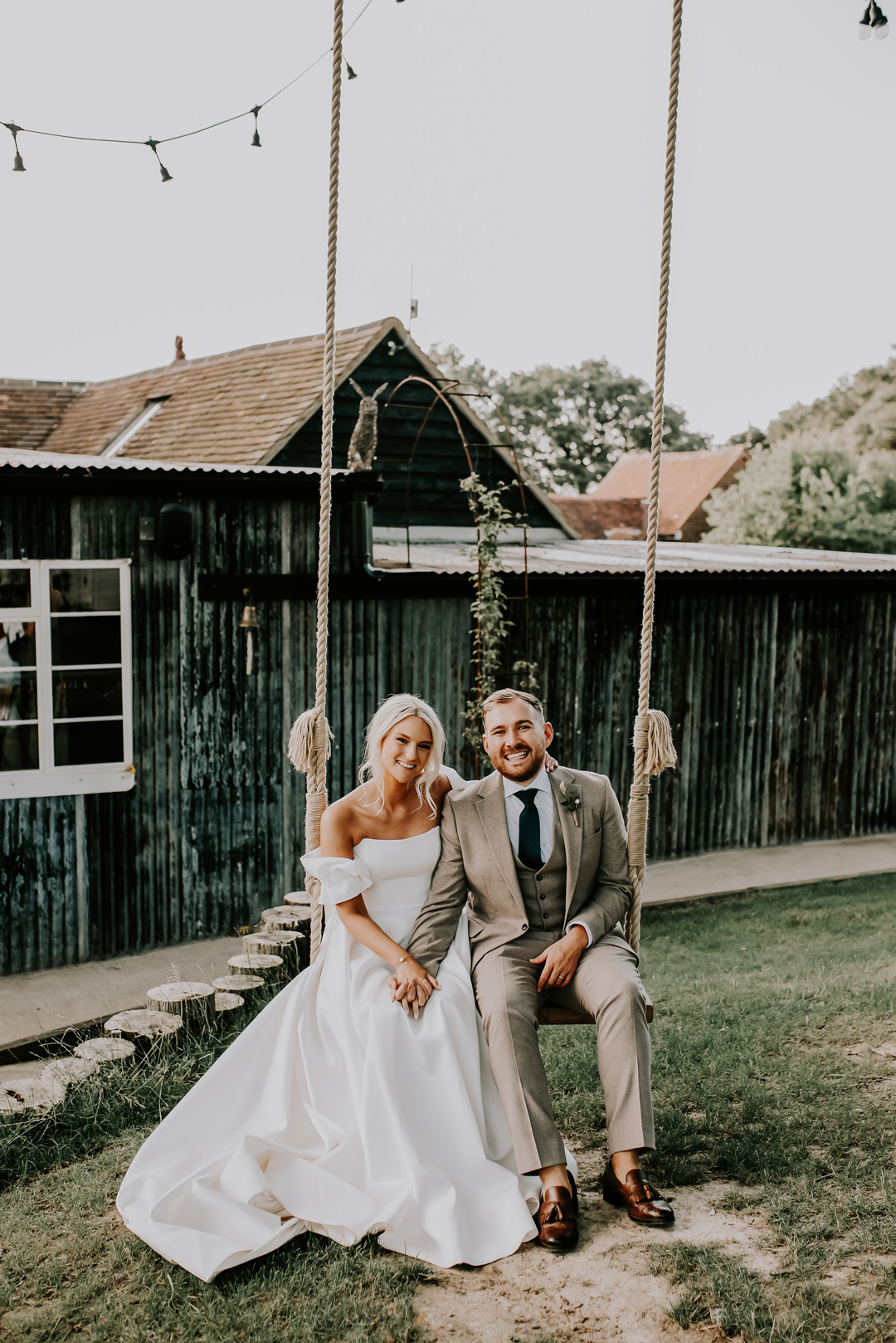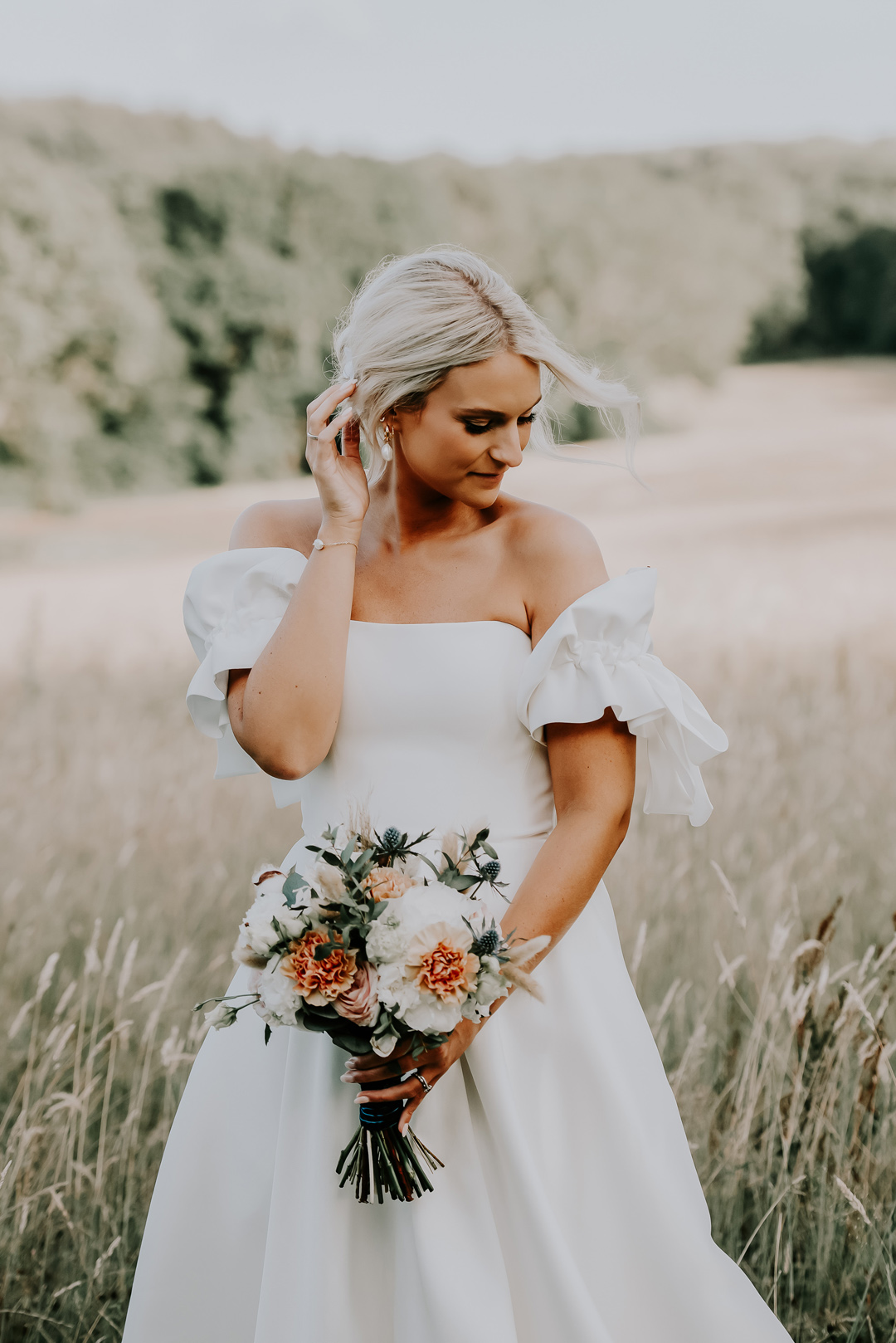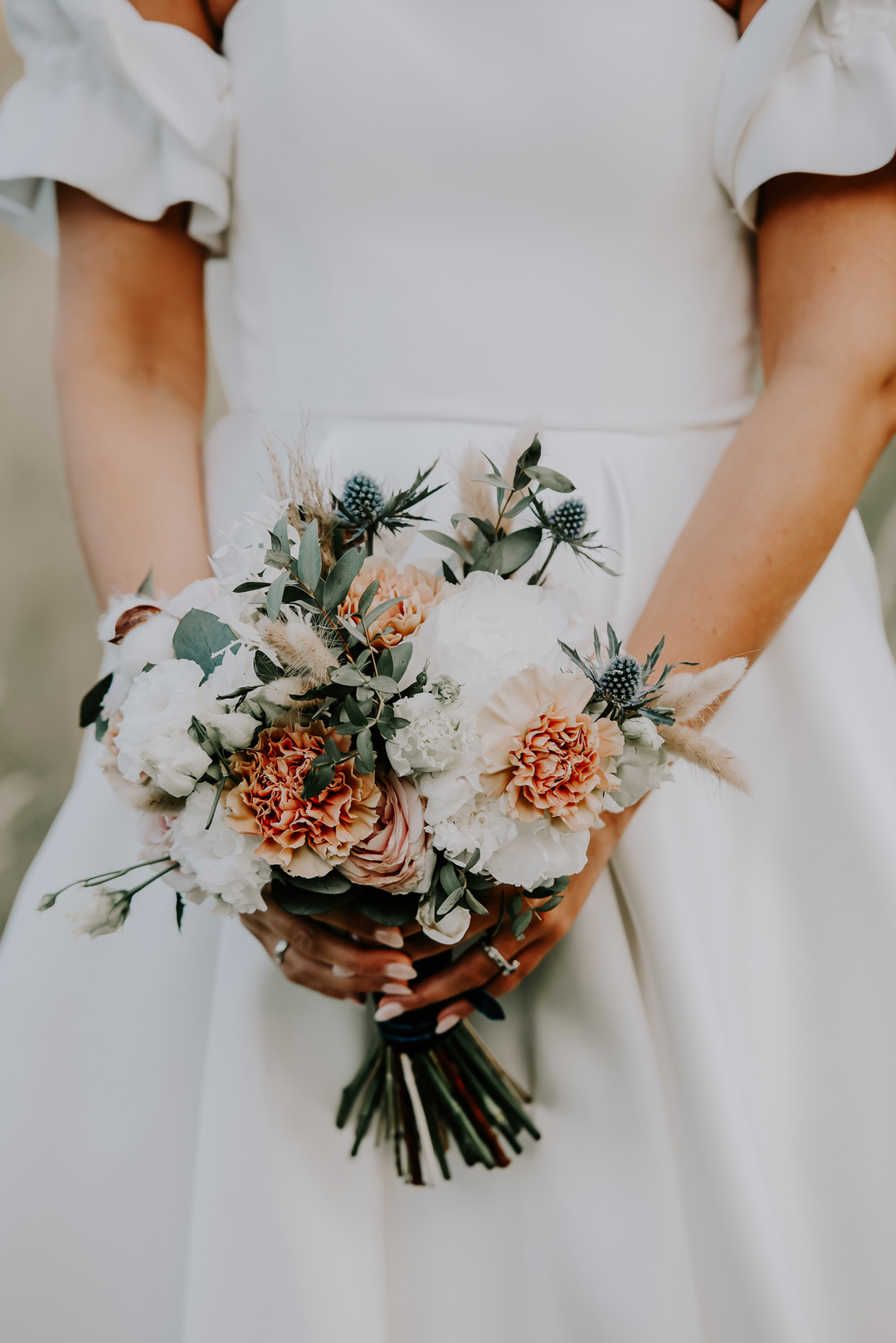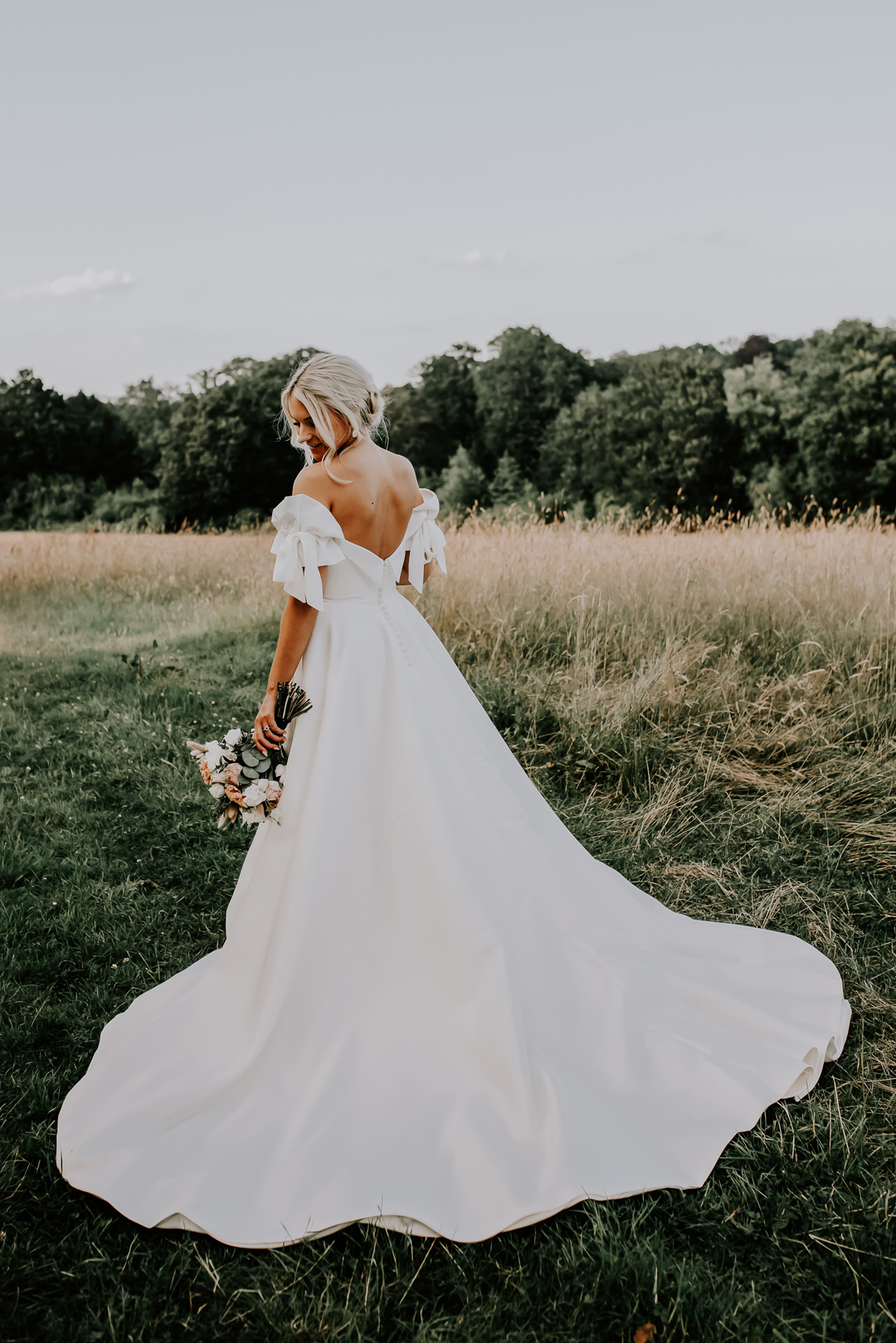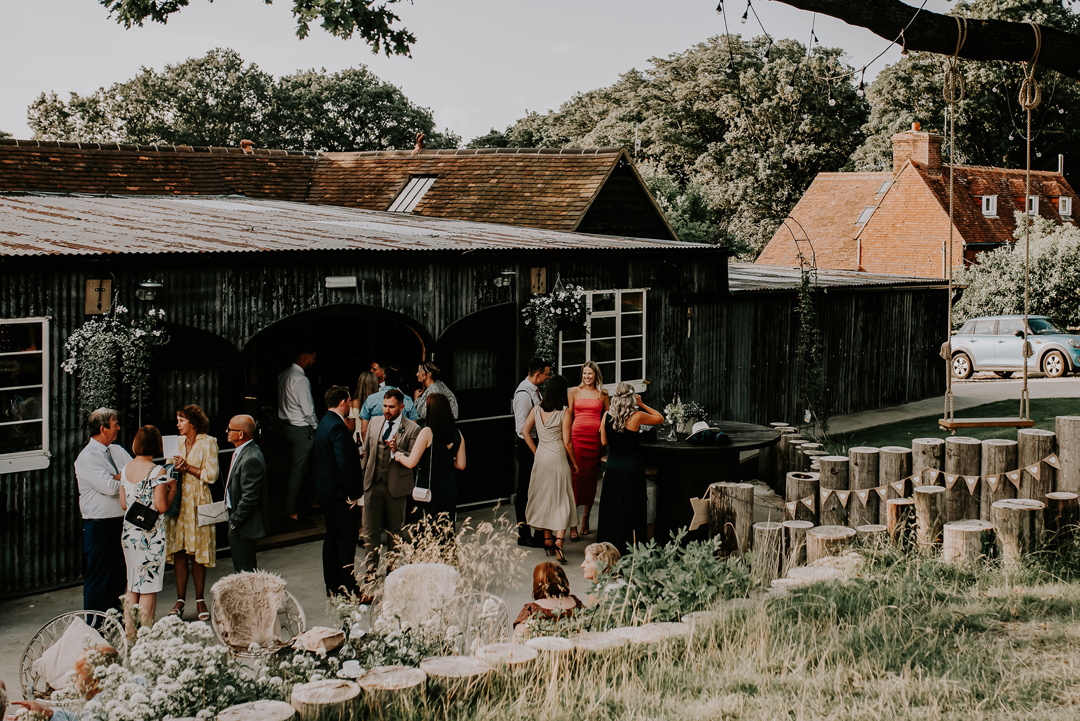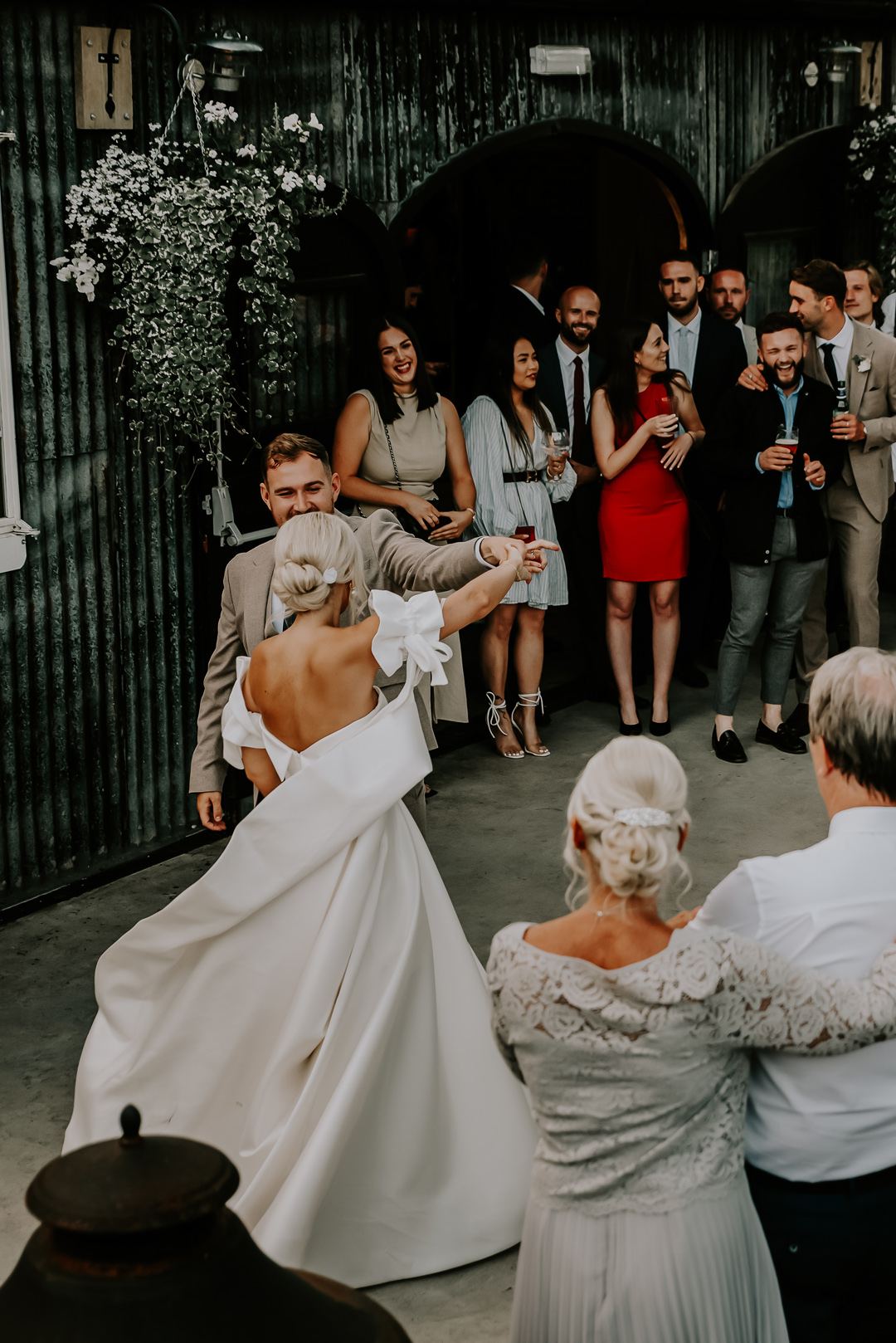 Words of Wedded Wisdom
"I would say, think about the details, as they make your wedding unique and special to you."
"Make the most of the times you get together just the two of you throughout the day."
"Don't stress about things you can't control e.g. the weather."
"Make sure to work as a team, don't let the stresses of planning a wedding take away from the reason why you are getting married."
"If we could go back, I would have done more with the flowers, as they felt quite sparse on the guest tables."
"I did a speech, and I would highly recommend it to other brides."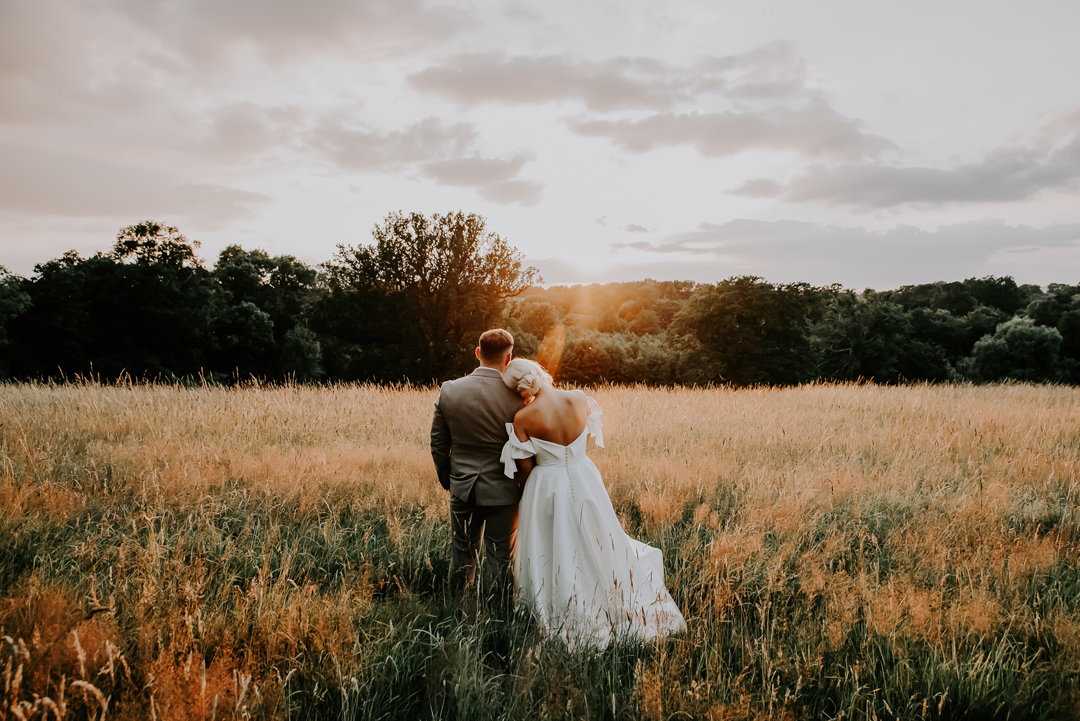 Such a beautiful, love filled day.
Brides – you can see much more from designer Emma Beaumont on Love My Dress here.
And you will also find more gorgeous wedding photography and real wedding stories from Michelle Cordner here.
Lucie wore a collection of accessories including a hair clip and bracelets she discovered on Etsy, earrings from ASOS, Astrid & Miyu and Etsy and a Tiffany ring that Joe had gifted her on their first anniversary of meeting one another.
Fallen So Young – Declan J Donovan
Cliché but we loved all of it!
Joe: absolutely loved his brother's best man speech.