What could be better than a light and airy historic wedding venue, fresh, autumnal flowers in bright orange and white and a cool, sexy, wide-legged jumpsuit?
This is the non-traditional wedding of physiotherapists Gemma and Andy, who married on 10 September 2021 at Becket's Chapel, a part of The Halls in Norwich. They walked through the city streets after for a wedding breakfast at Farmyard, finishing up with a funky evening reception at The Fat Cat & Canary, Andy's local pub.
Georgia Rachael Photography

+ Follow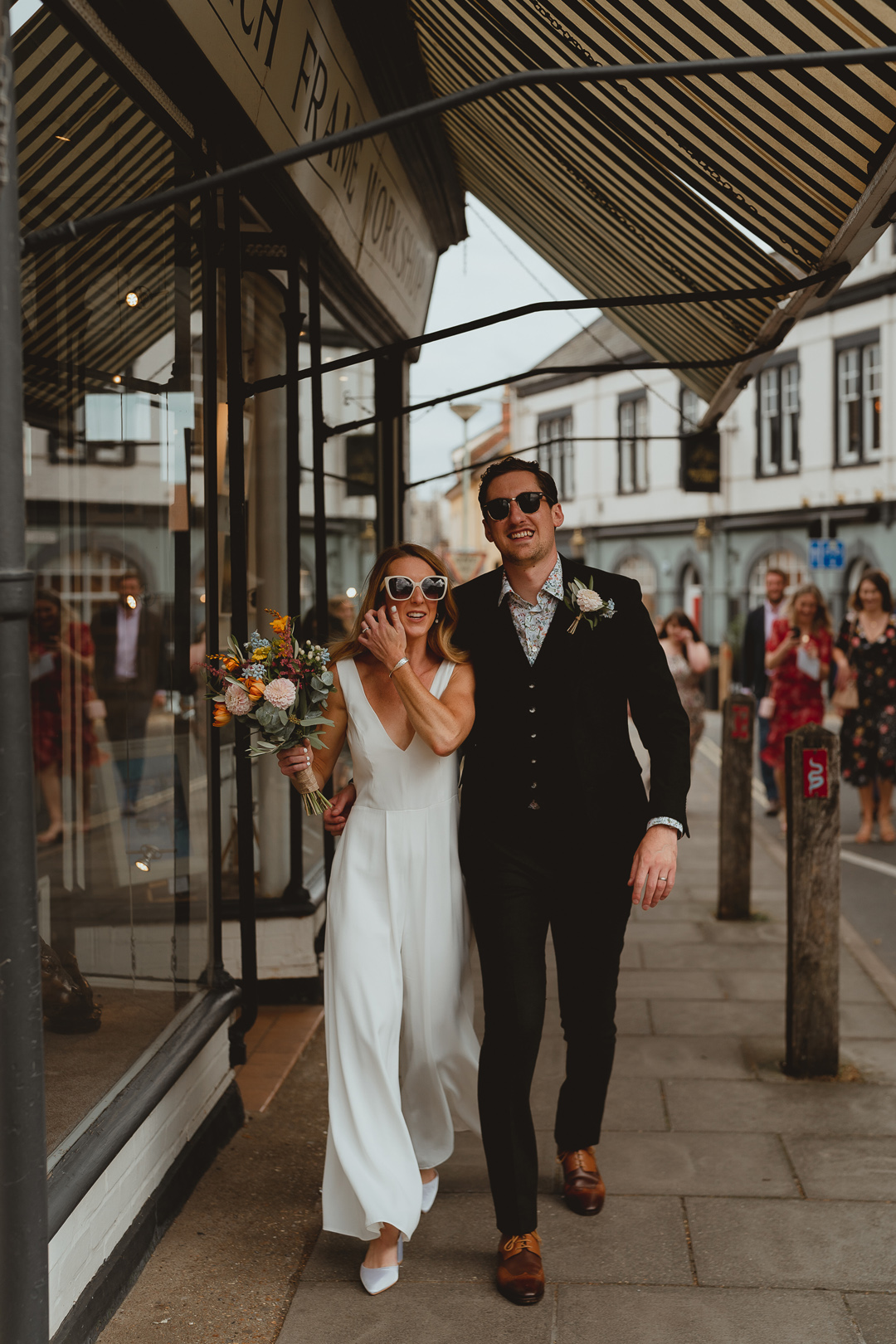 On hand to record every gorgeous element and emotion of the day was photographer Georgia Rachael.
We are delighted to support her through our Love My Dress Wedding Directory and I'd love for you to enjoy more of her creative, modern work on her listing.
"We chose Georgia due to the relaxed style of her photos and also how she captures moments rather than pictures. I could not recommend her enough."
"We are so happy with our photos and feel like she captured our day perfectly. We had so much fun and she made our day so easy. We both don't particularly like our photo being taken but never did it feel awkward and we had so much fun. I can't wait to get back in her Fiat 500."
Gemma added pointed, chunky block heels from ASOS and a statement bangle from John Lewis.
"I wore a fairly chunky bracelet which I love and will wear regularly with everything now. I wore Swarovski earrings which matched my engagement ring. I wanted a little bit of sparkle for the day which was enough to make me feel super-glam."
Lewis Tubby Hair styled the bride's hair into relaxed but glam waves and Melissa Abel Makeup Artist created a flawless make-up look. She wore classic Chanel perfume.
"My mum and I have the same taste in perfume and she bought this for me the day prior. It stayed on all day."
I absolutely adore Gemma's bridal style; a slinky and sexy 'Carson' jumpsuit from Charlie Brear.
"I found Charlie Brear through Love My Dress. I loved her simplistic lines, as I have a very unfussy style generally, and it was the only jumpsuit I could find that I loved."
"I purchased the jumpsuit from a small shop in Bungay called Bud and Boe. Unfortunately, they have now shut down due to Covid but I couldn't have recommended them enough."
"Natalie picked alternative pieces that couldn't be found elsewhere in Norfolk. As soon as I found she had the Carson jumpsuit stocked, I took my mum and was sold immediately."
I love that the jumpsuit theme continued with the outfits for the flower girls, aged two and four, who wore the cutest little jumpsuits from Next.
"I am a bit of a tomboy and don't feel comfortable wearing dresses very often – I live in gym gear and jeans! I do, however, love wearing jumpsuits and felt immediately comfortable wearing the Carson."
"I knew it would be perfect as I wanted to feel really comfortable and make sure I could nail every move on the dance floor too."
Perfectly offset by the clean and simple jumpsuit was the vibrant bouquet of seasonal wildflowers which had a 'just picked' feel.
"Our florist was Libby Ferris Flowers whose shop is just outside the city centre."
"As we opted for a non-traditional theme, I asked for wildflowers of all my favourite colours. The colours went so well with the whole day."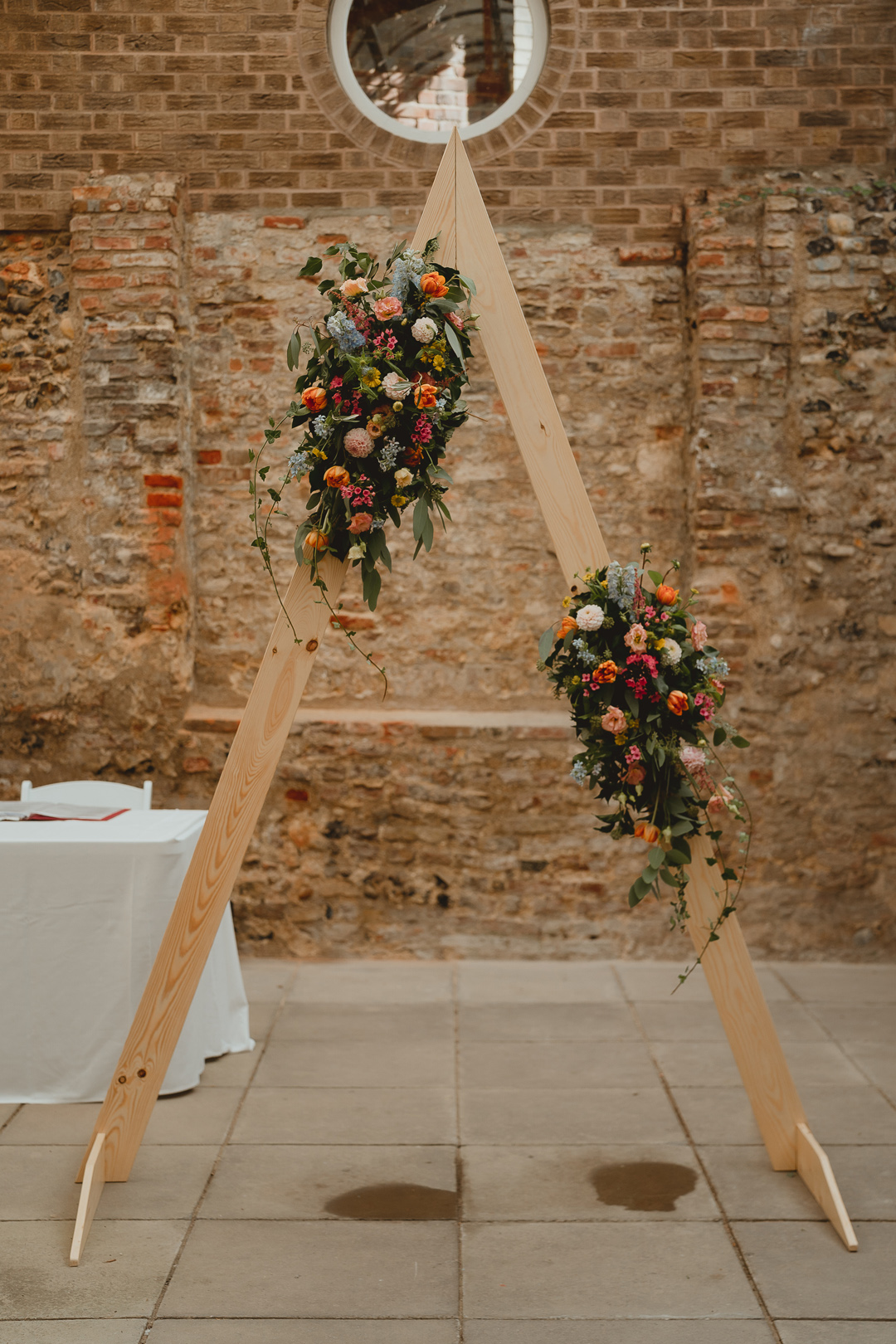 Andy also opted for a cool and funky vibe in his floral shirt from Paul Smith and dark khaki suit from Moss Bros.
"His shoes were from Hand Dyed Shoe Co. run by his friend Simon Bourne in Durham and Leeds, as seen on 'Dragons Den'."
Gemma walked down the aisle of the chapel with her dad to Jessie Ware's 'Champagne Kisses'. The Chapel had been simply dressed with bright streamers and flowers.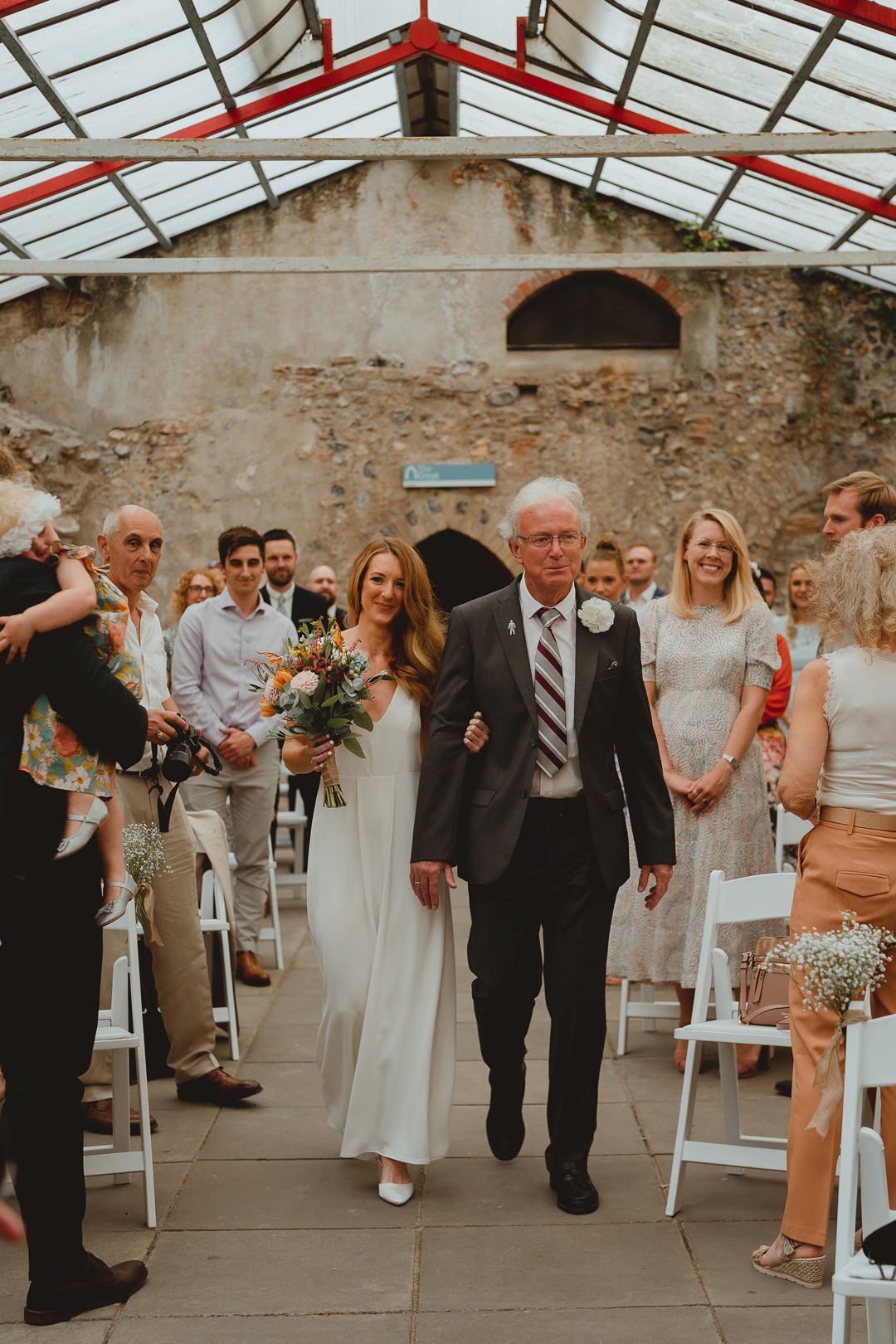 The bride and groom wed in a civil ceremony and exchanged rings from Winsor Bishop.
"Both my engagement ring and our wedding rings are from there. They treat you like royalty and we love knowing that we can go back there if there are any problems with them too."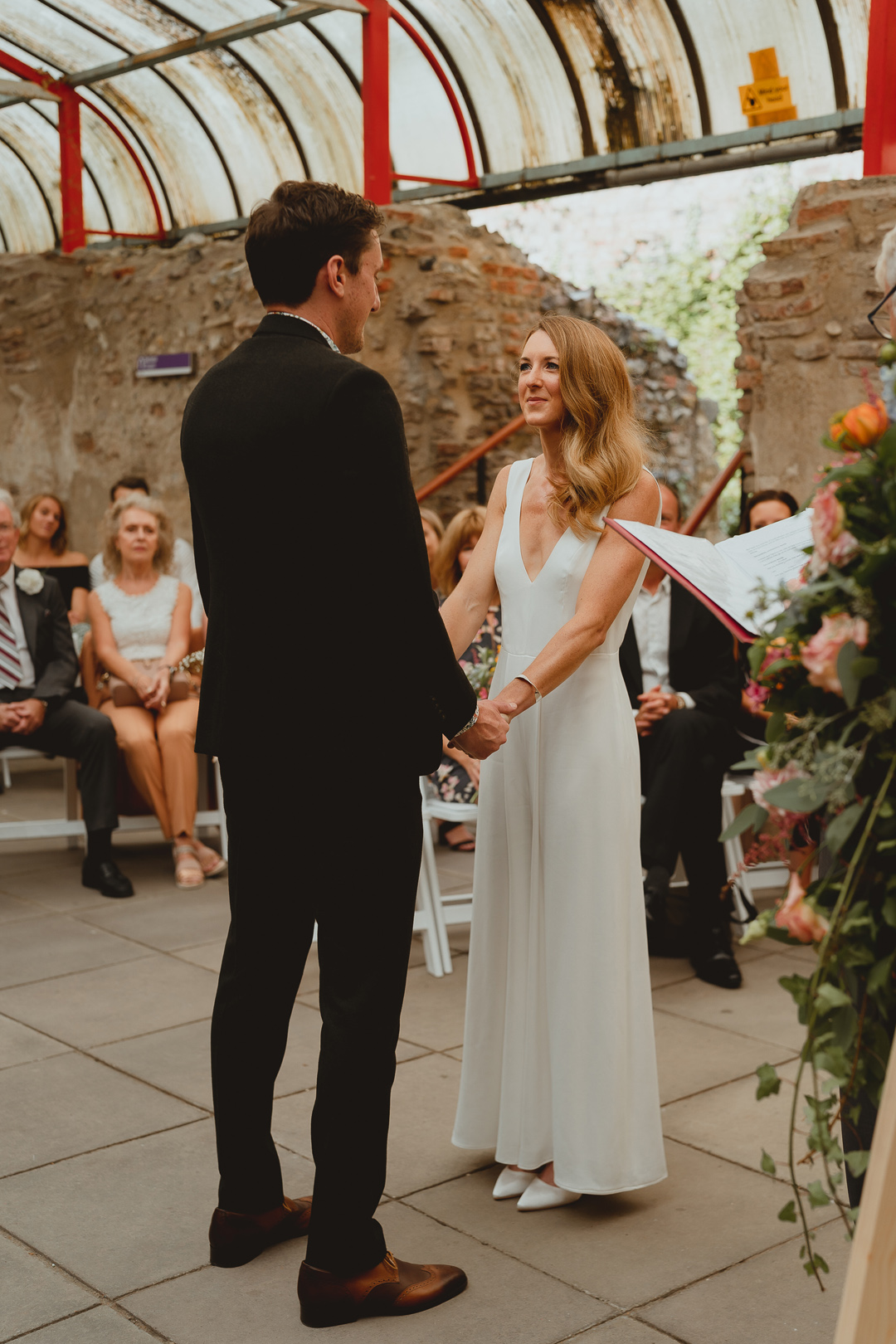 "Andy's dad built an arch to decorate the ceremony venue to have as a backdrop for our photos."
"It was a lovely touch and worked really well with the flowers attached."
The couple emerged from the ceremony into a shower of confetti before leading the way through the city streets to Farmyard, the destination for the wedding breakfast.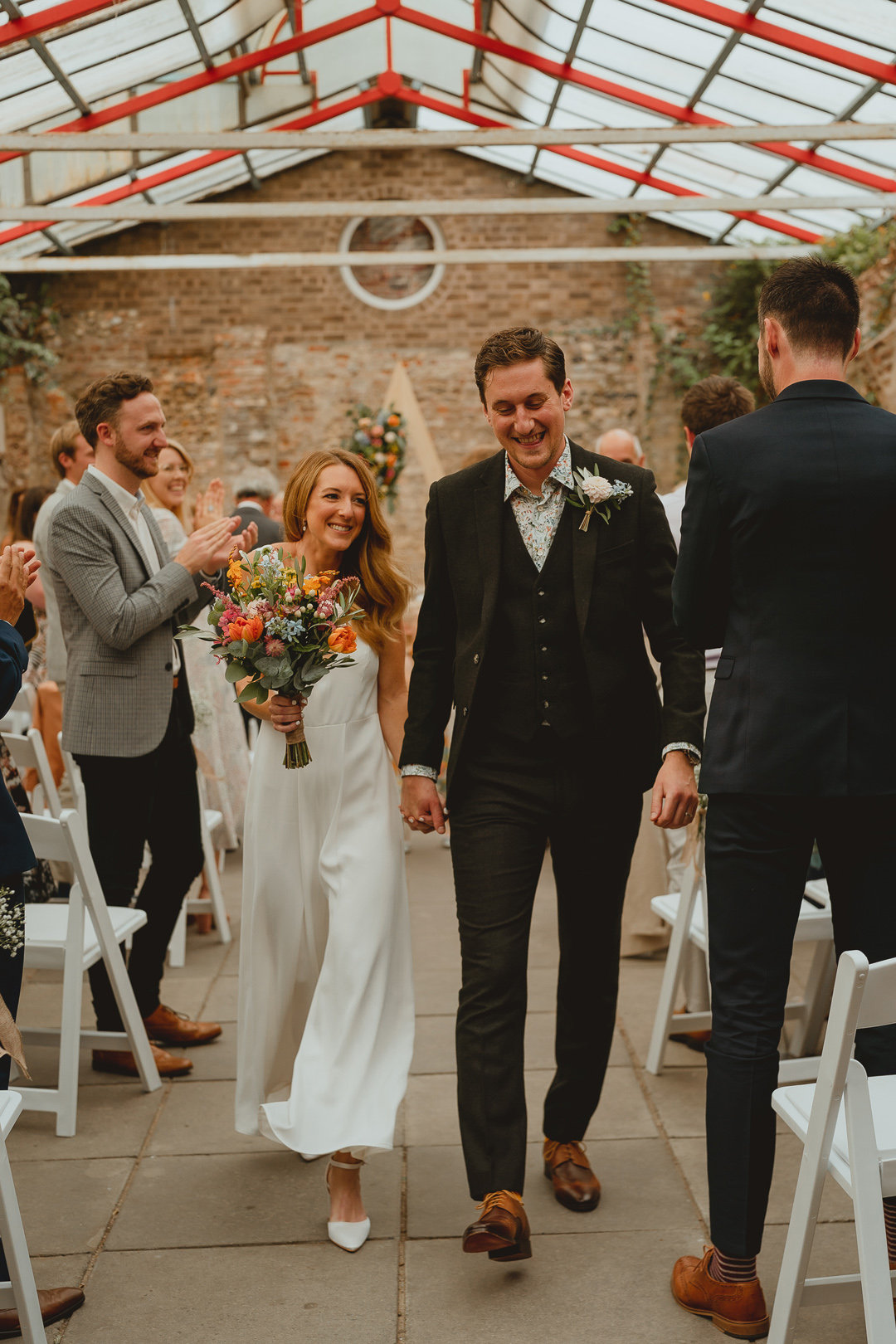 These joyful photographs are my absolute favourites from the day; so full of love, vibrancy and movement.
"Our best moment was seeing each other down the aisle. We loved the walk from the ceremony to Farmyard and absolutely loved spending time with everyone and enjoying the food there."
"There were no wedding favours but we had a margarita shot after dinner as a token of our favourite cocktail."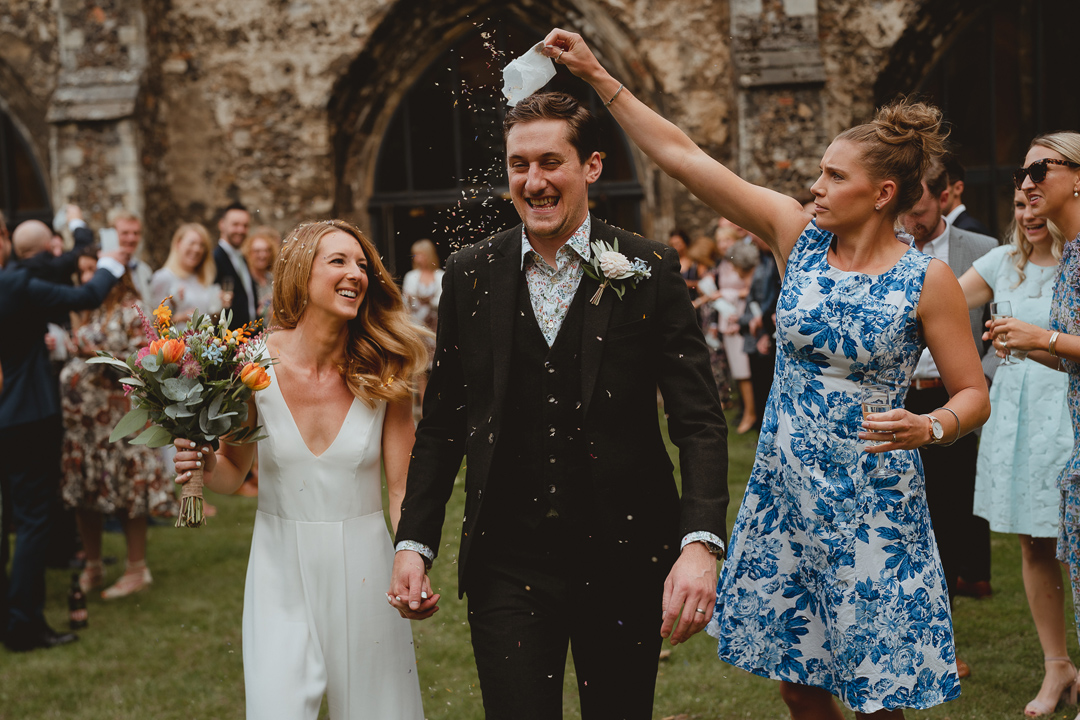 The couple met five years ago through their work as physiotherapists.
"It was much to our boss's dislike. We have so much in common and had both come back from travelling, there was no way we weren't going to get together."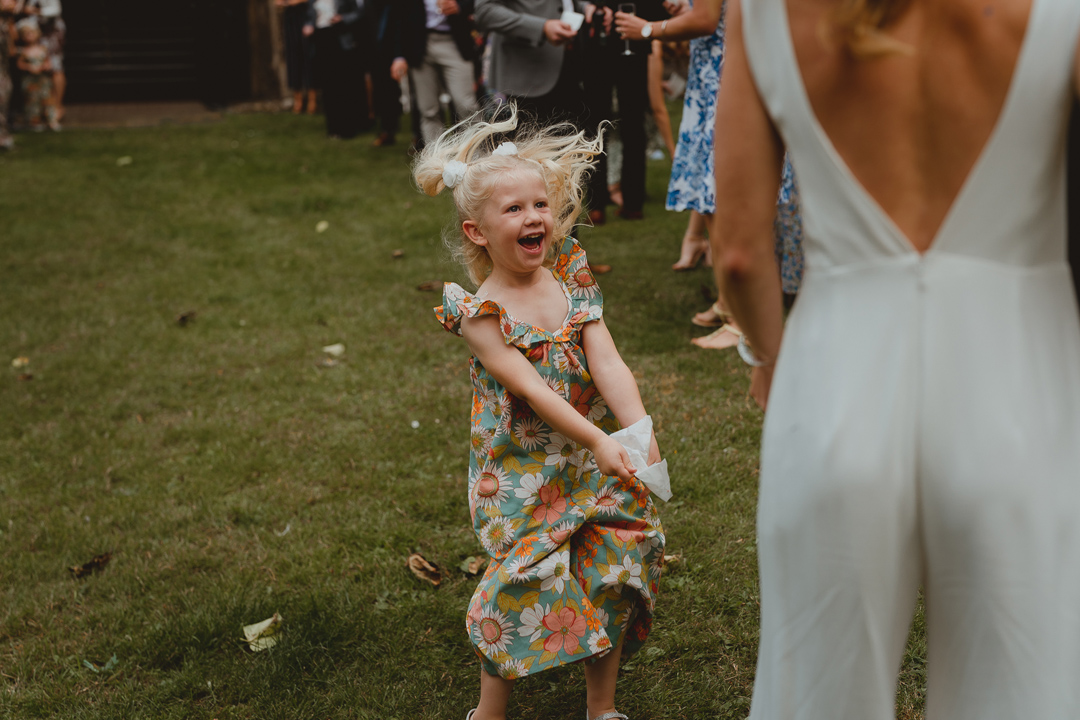 "We had been engaged two years before our wedding and we got engaged on the coast in Southwold."
"We are both non-religious and our inspiration was a non-traditional wedding."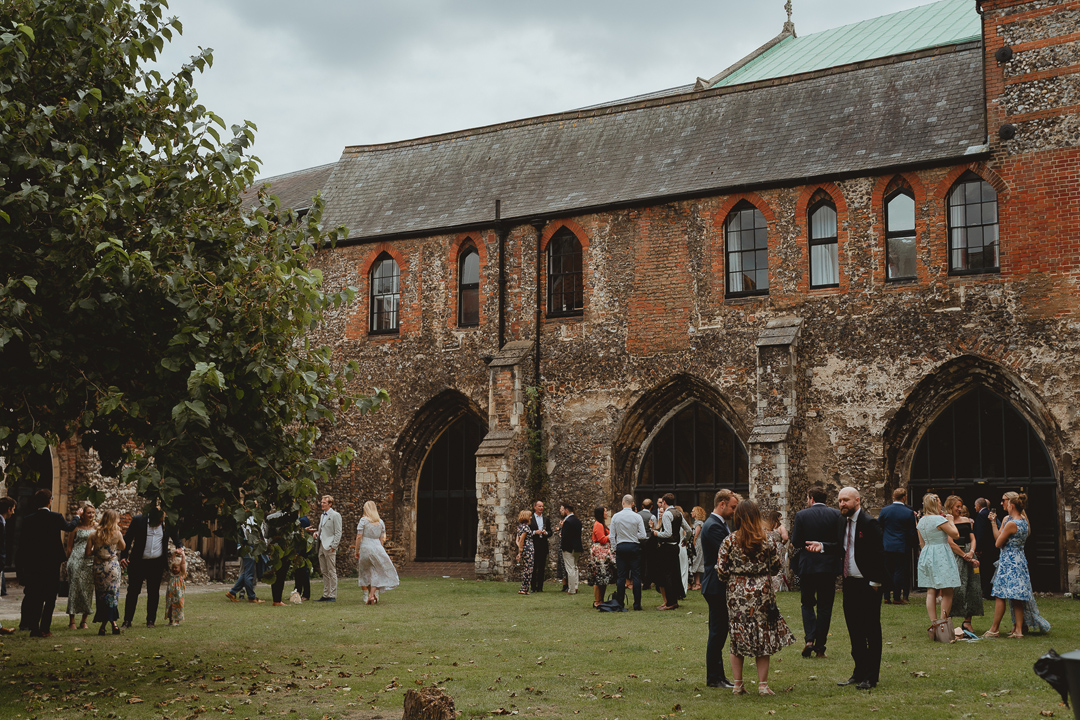 "We wanted everyone to have a really casual day, to enjoy amazing food and to have a boogie on the dance floor."
"I asked for a bright, colourful bouquet of wildflowers which the florist got spot on and which went really well with the décor of Farmyard."
The couple had planned to wed in June 2021 but delayed by three months to avoid any Covid restrictions. Gemma has some advice for brides in a similar situation.
"Have the day that you know you both would enjoy and stick with your instincts."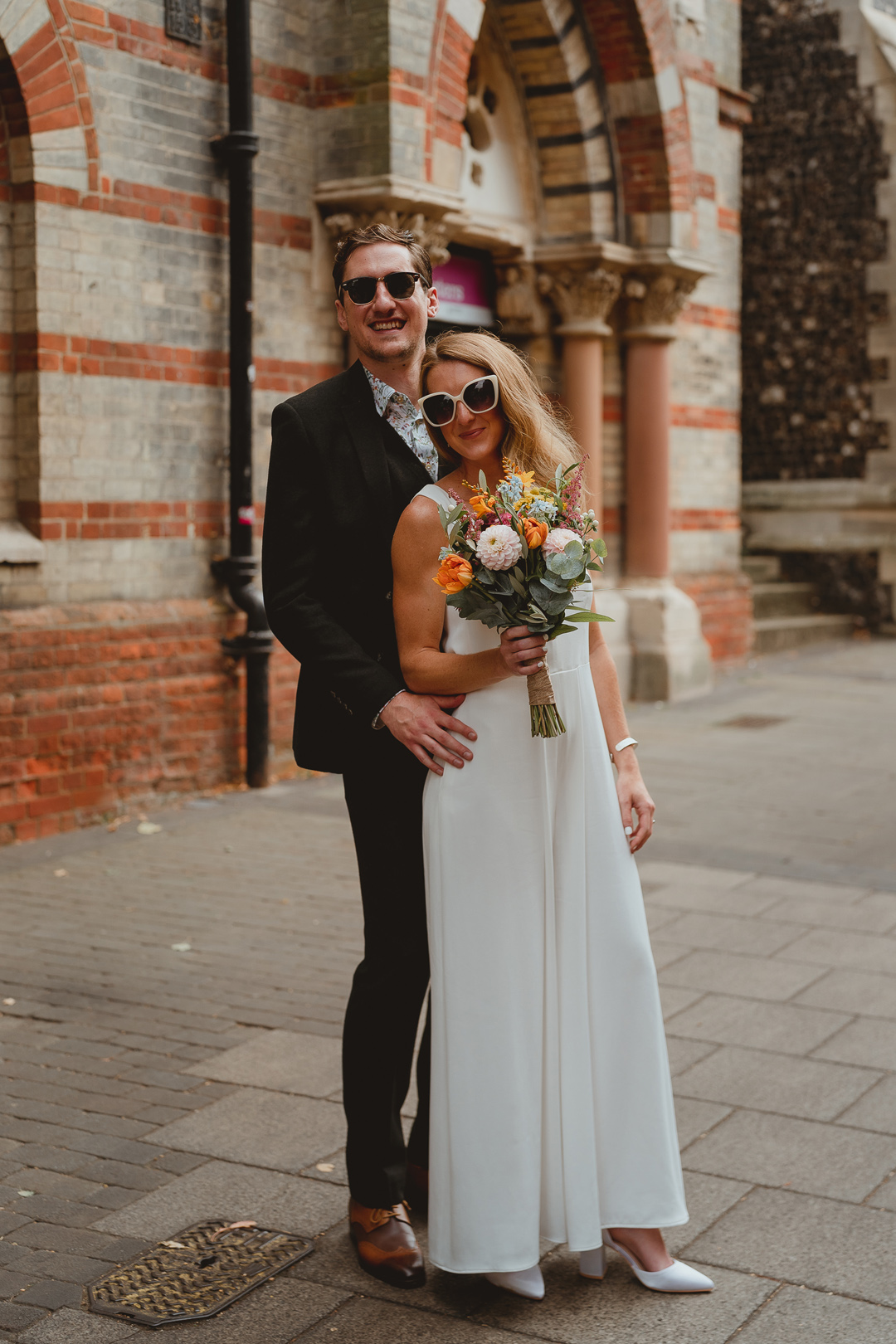 "Stay positive, everything happens for a reason! Nobody was bothered by the change of evening venue at all. So long as you have all your family and friends you want there, nothing else matters."
"We have grown to love the beautiful city we live in after both travelling the world."
"We chose The Halls due to its amazing lighting, central location in the city and because it's a lovely clash of new and historic architecture."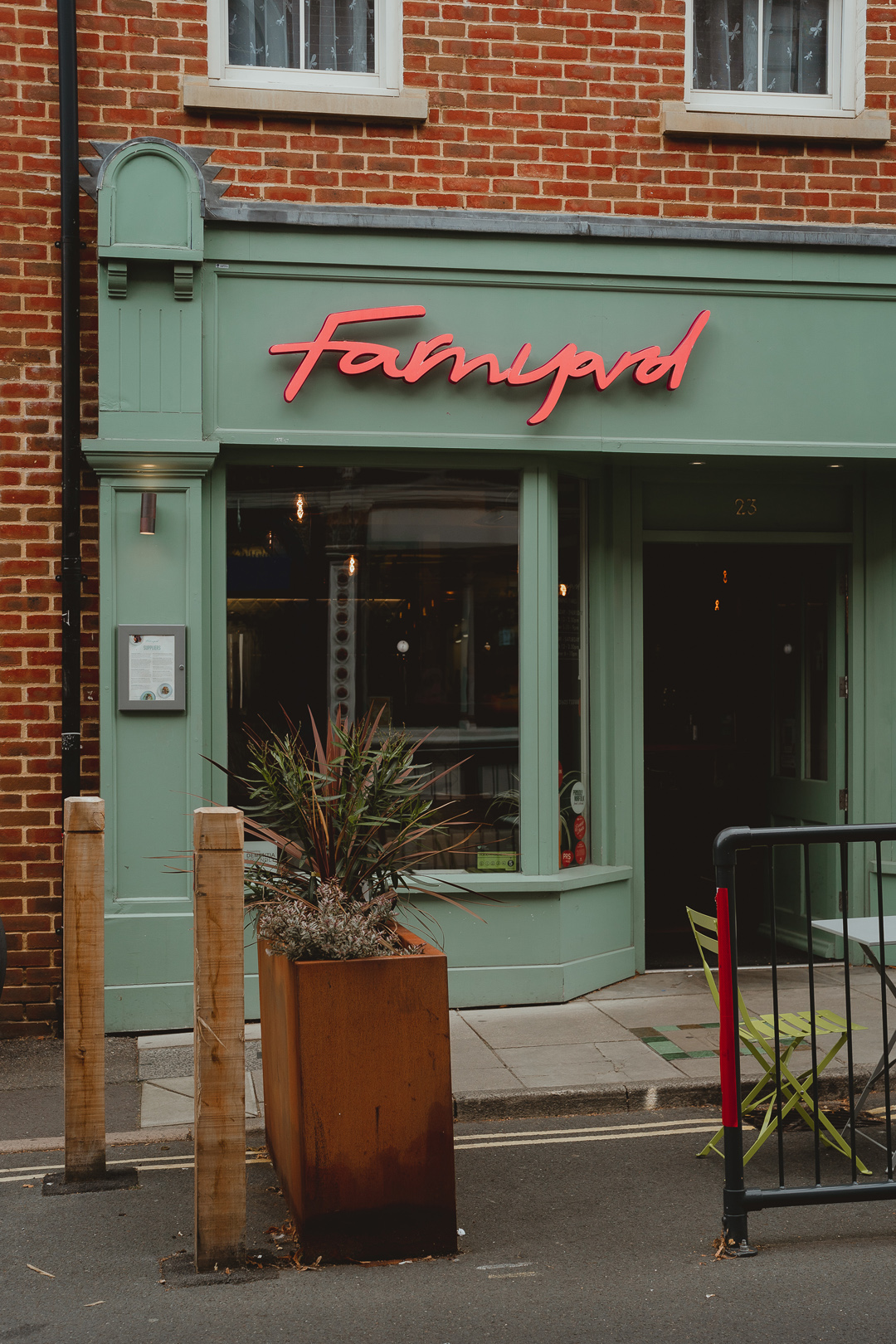 "We chose Farmyard for our reception food and dinner venue due to its central location in the city and because we fell in love with this restaurant the first time we ever went."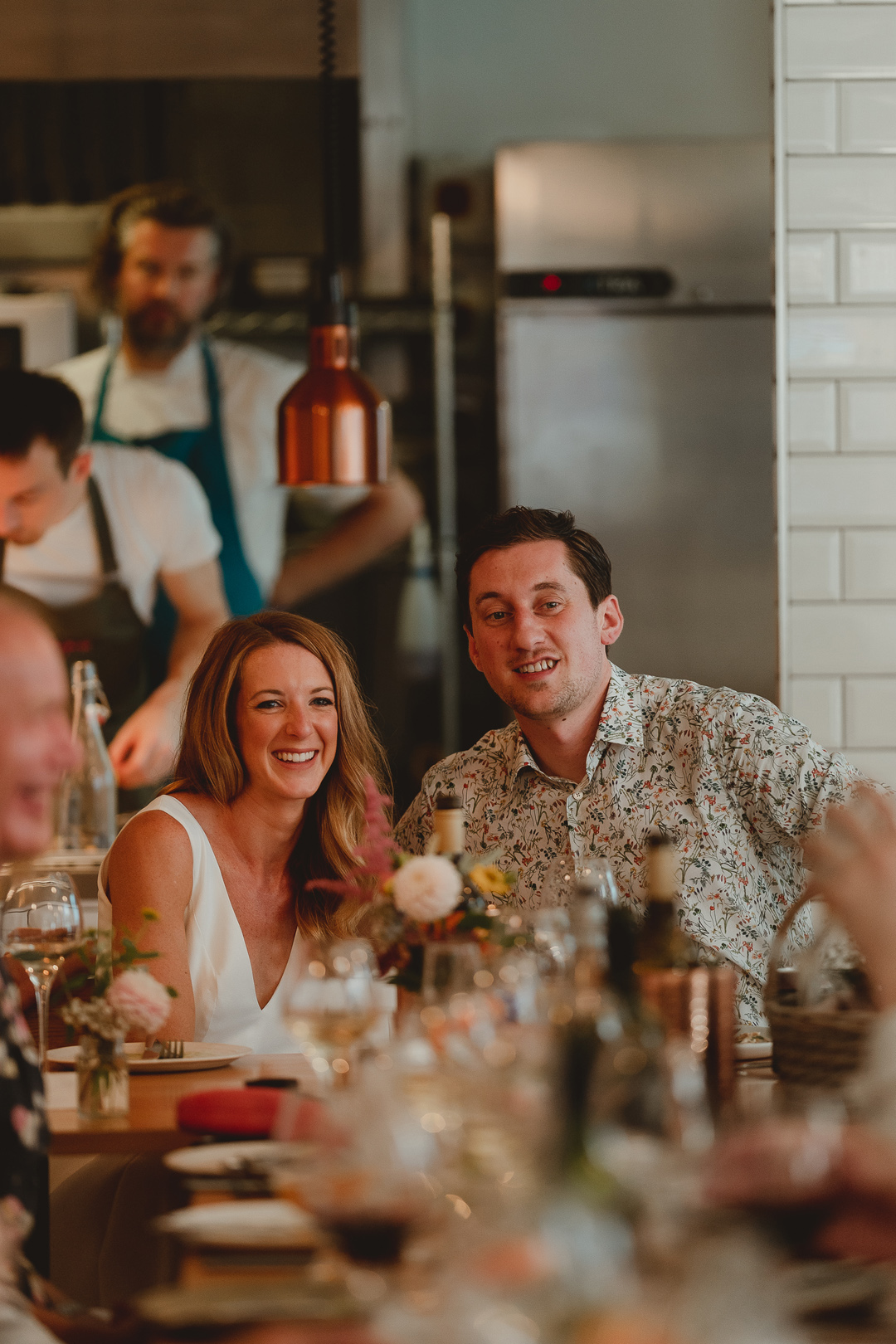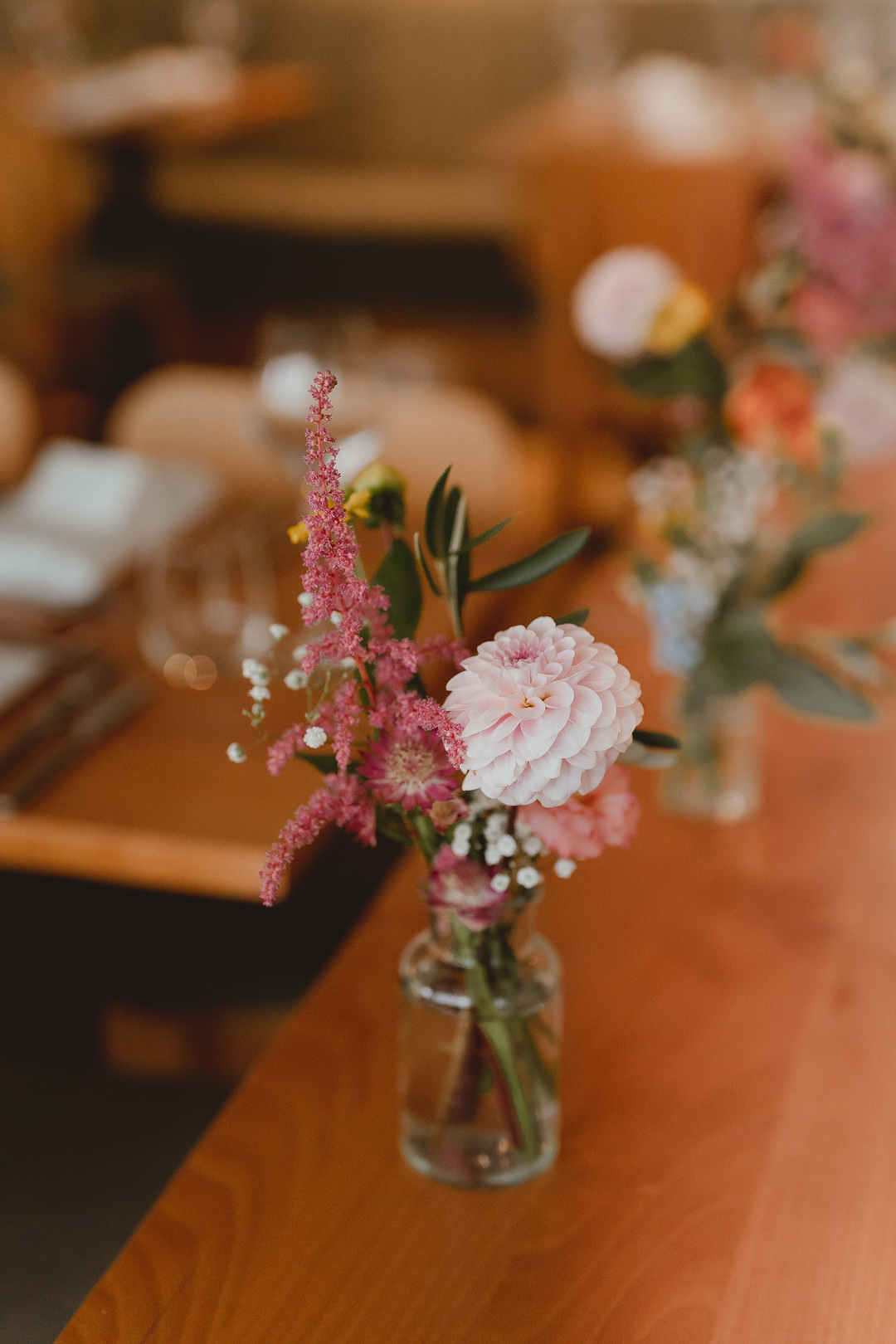 "The food is locally sourced and the décor is simple but stunning. The staff (especially Becky who is the main event planner and usually works at the sister restaurant at the Dialhouse) were absolutely spot on and we loved every second."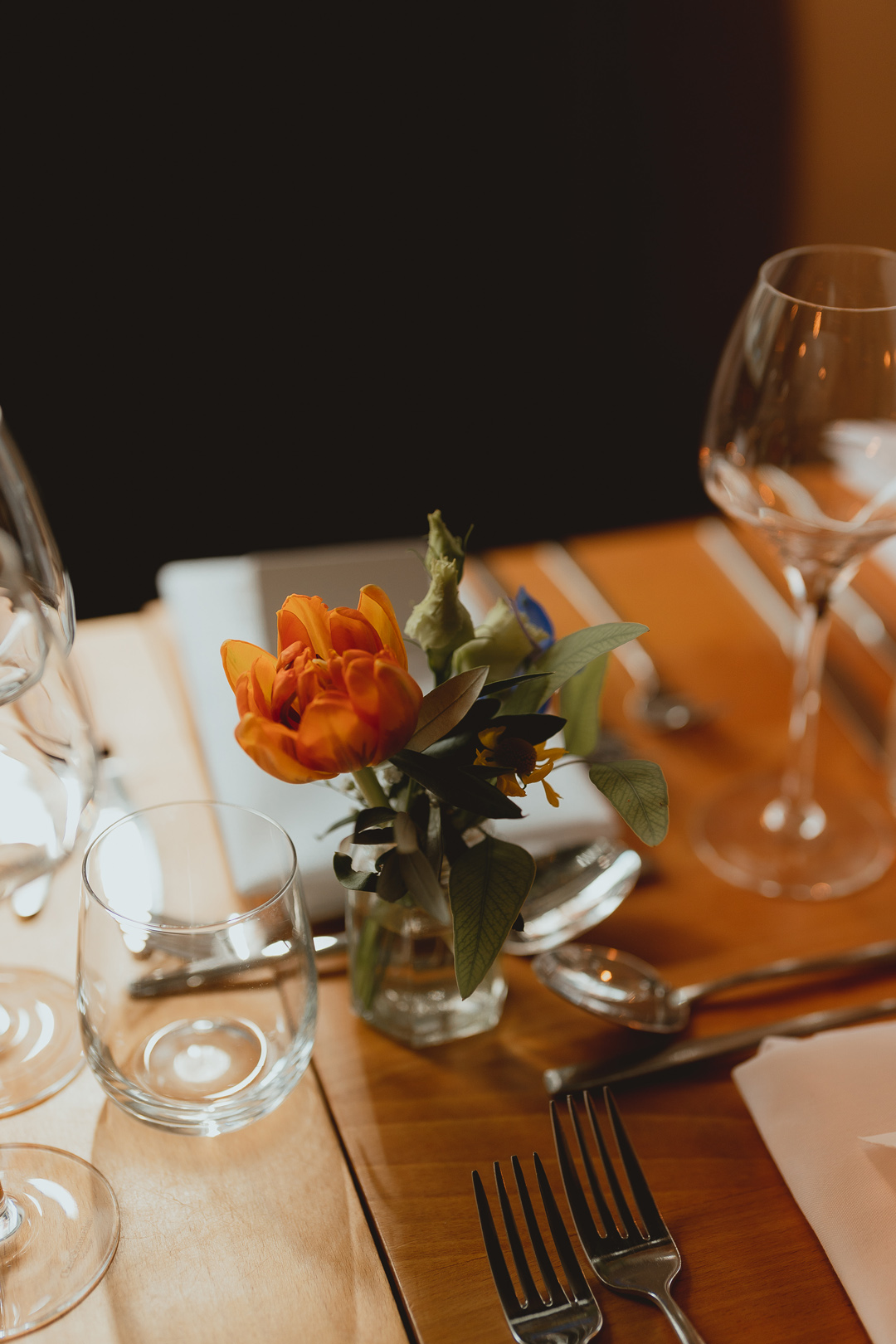 Due to Covid, the pub due to host the evening reception cancelled 24 hours before so a hasty search was made for an alternative venue.
"Thankfully my partner and his friend pulled some strings at his local before he watches NCFC, which happened to be The Fat Cat & Canary."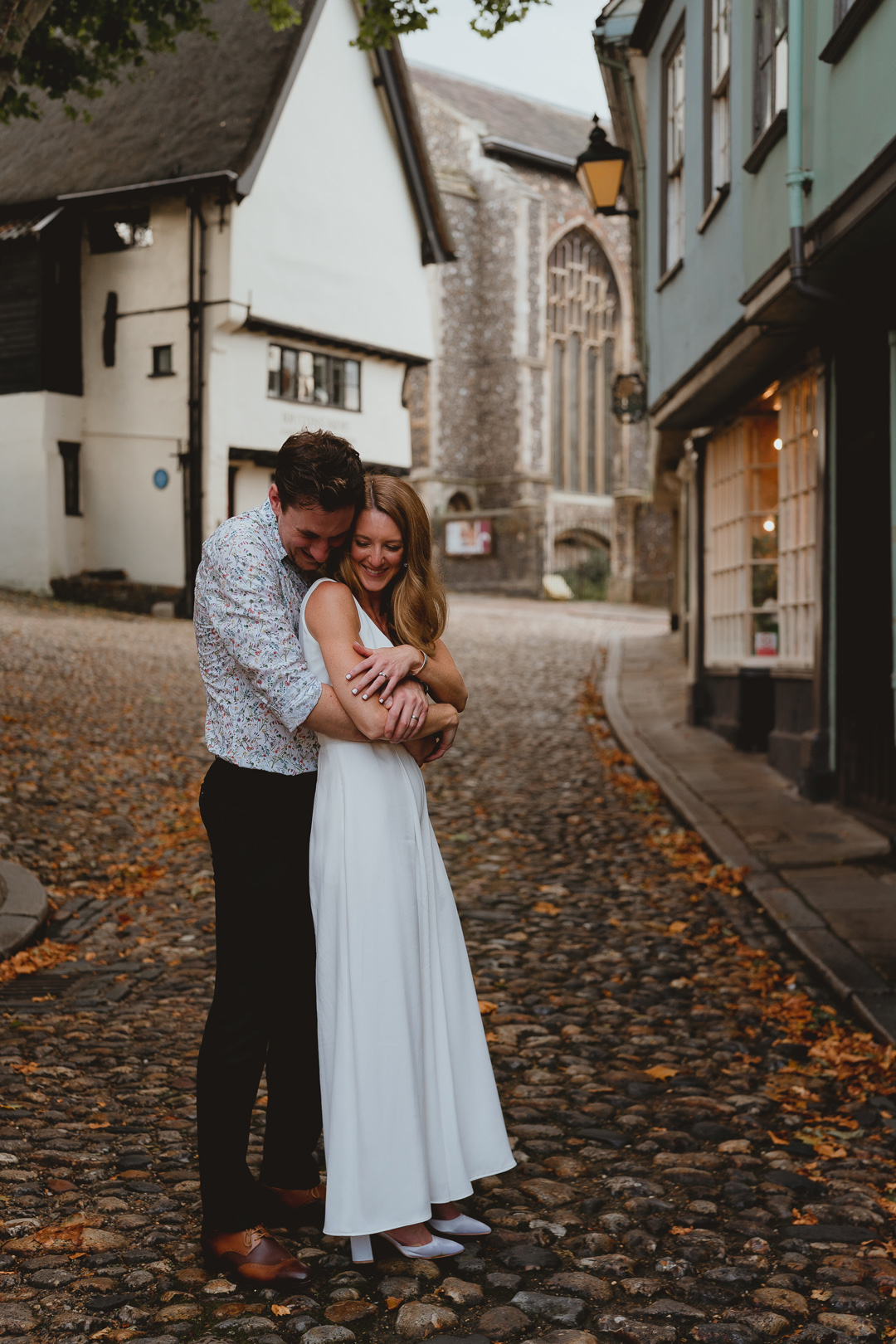 "We always love the atmosphere in these pubs and they always have great local beer."
"The pub worked so well as a wedding venue and the staff were incredible at such short notice."
After dinner. the newly-weds and guests made their way to The Fat Cat & Canary for their casual evening do.
"Our evening food was run by Blue's NR3. These guys can't be recommended enough. They were happy to come to us even with our change of evening venue and everyone absolutely adored the food."
"We had street food-style picky nibbles including fish and chips with curry sauce, bao buns, pork rib tacos and sweet potato and coconut croquettes with katsu sauce. We will definitely be using them again in the future."
"Instead of a wedding cake, we had brownies for the evening which everyone raved about!"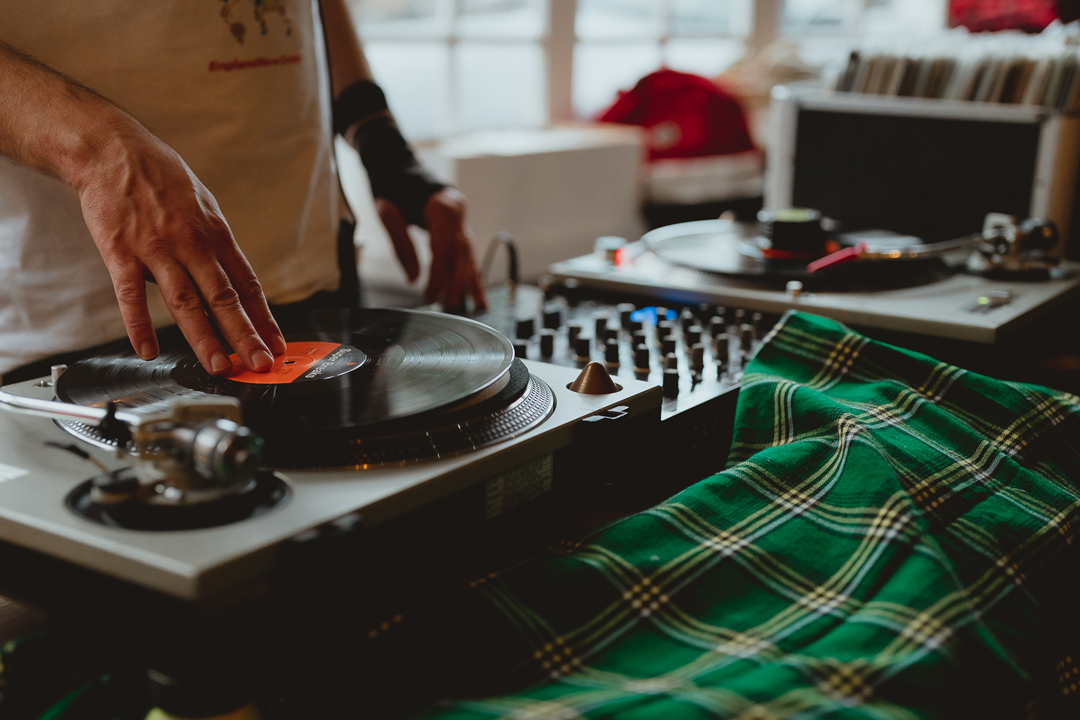 Music for the dancing came from DJ Jake Thelick.
"We didn't have a first dance track as we were both on the dance floor when we got to the pub anyway!"
Words of Wedded Wisdom
"Enjoy every part of the day and try to take in as many moments as you can. Pick a day that you know you would enjoy yourselves and not for anyone else."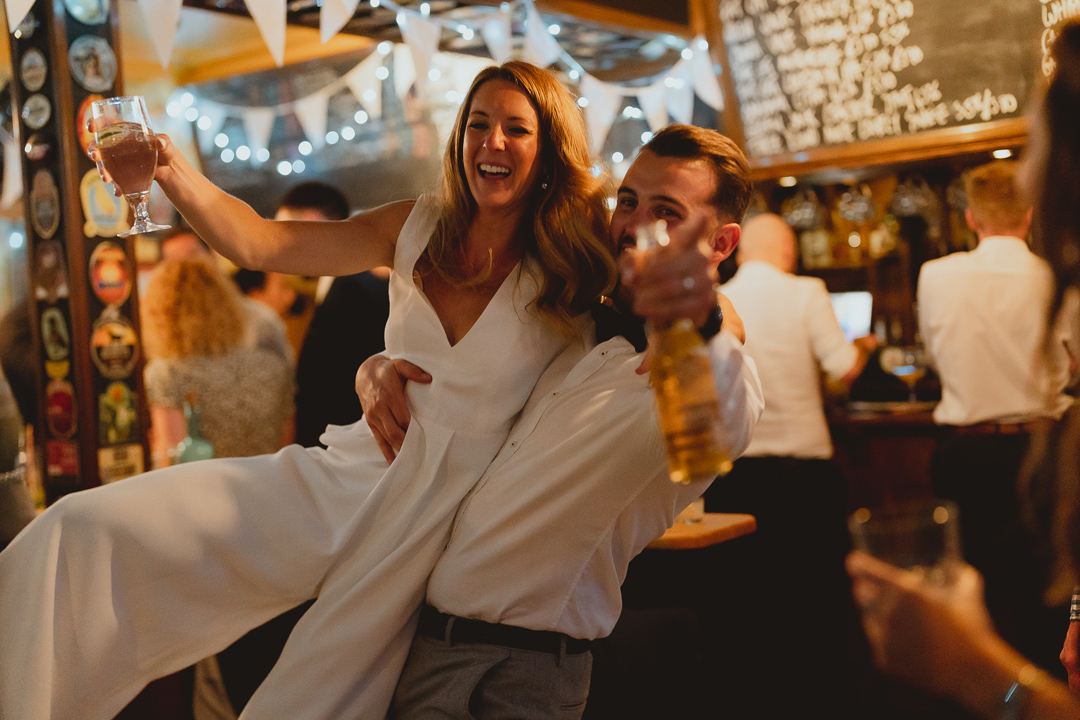 Congratulations Gemma and Andy; what a gorgeous, fun day and thank you so much for sharing it with us. Thanks go to Georgia Rachael Photography too.
It's been such a pleasure to see your work again. For more of Georgia's fresh, modern photography do take a look at these celebrations or for inspiration for your own non-traditional celebration, enjoy this selection.
Ele xx