Imagine being invited to a housewarming party to discover that, in actual fact, you're attending a bouji post-lockdown wedding.
That's exactly the surprise that Tina and Michael's guests received, on 10 July 2021, when lawyers Tina and Michael decided to tie the knot.
The couple headed to Stoke Newington Town Hall for a small legal ceremony with their immediate family and best men. Following the ceremony with a lunchtime celebration at The Prince, Stoke Newington, they then headed home to surprise their housewarming guests with a pop-up garden wedding. The day's vibe was modern and minimalist, super-relaxed and informal, with a cool, garden party feel. Tina wore a Retrofête dress from Net-a-Porter and our recommended supplier and mega talent Paul Santos captured these beautiful images.
Paul Santos Photography

+ Follow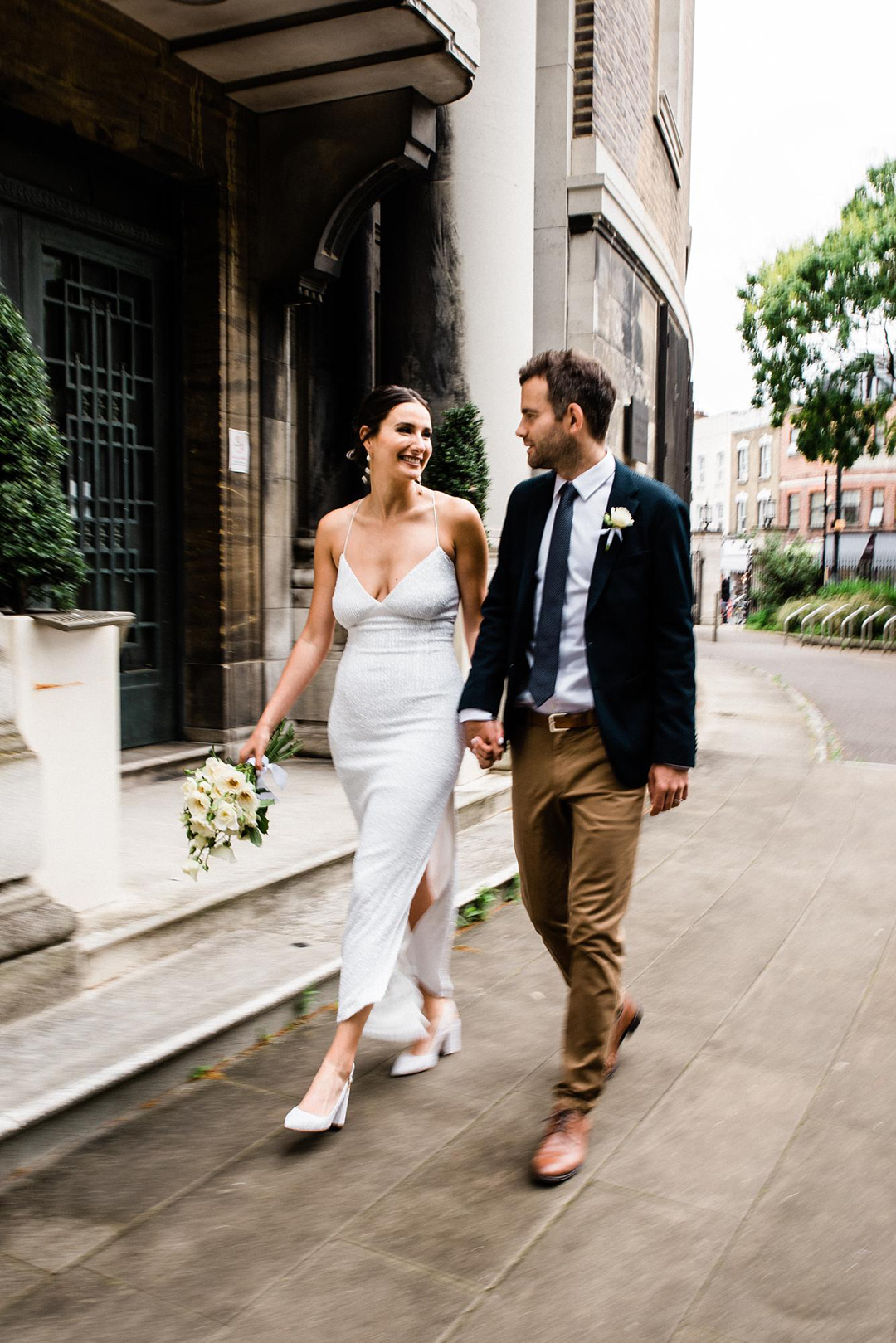 The couple met at work in April 2015 on Tina's first day at her new job having just moved to the UK from Australia.
"We started out as colleagues, then friends, then officially got together in March 2016. The engagement occurred at home on 10 June 2020 – a 'lockdown engagement' – which was originally planned to have been somewhere exotic. In true lawyer fashion, we both joined a conference call shortly after."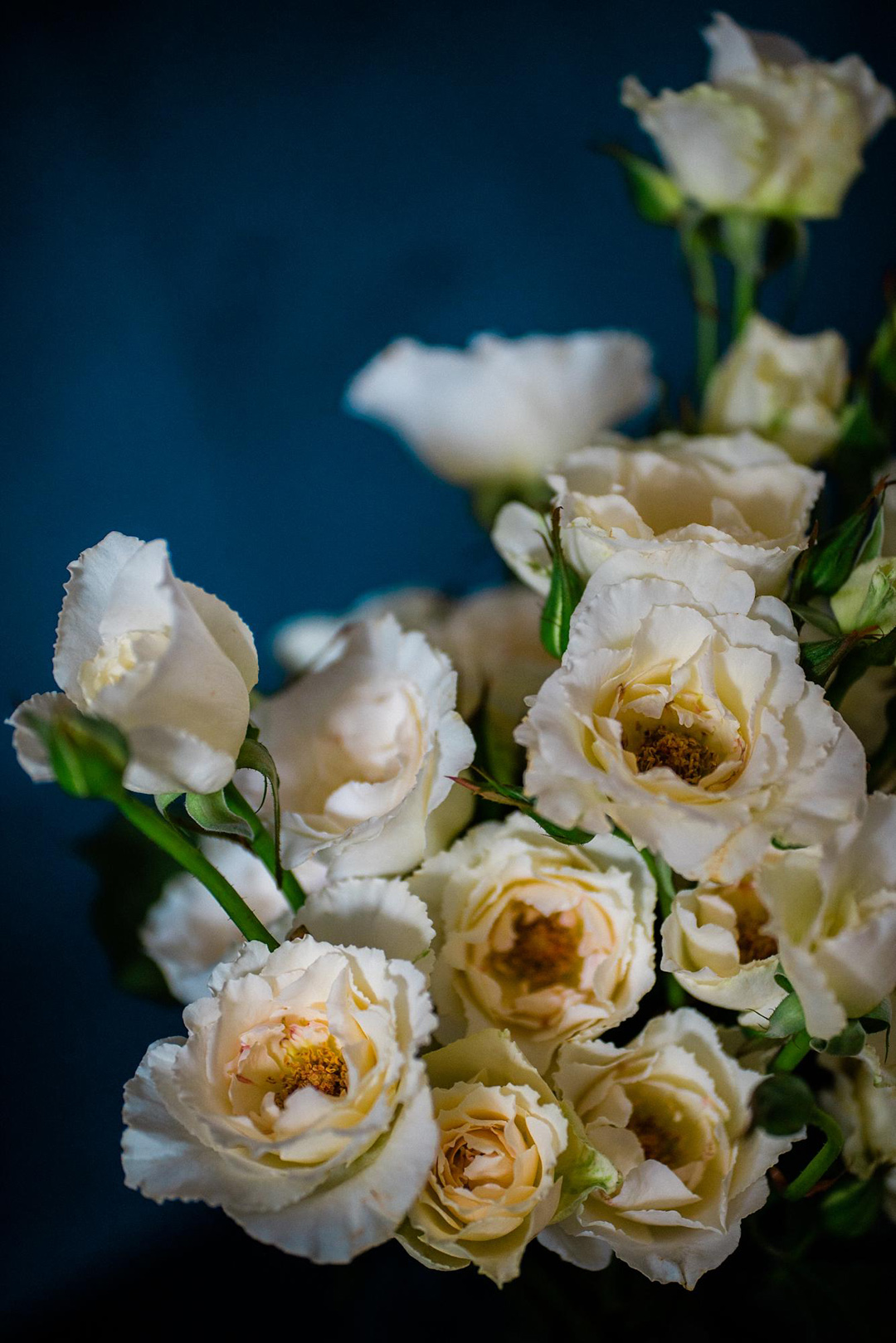 The bride had originally planned to wear a gown by an Australian designer before deciding that a minimalistic, asymmetrical gown from Retrofête's brand tag of 'Welcome to the Party' was the perfect option for the relaxed, cool party.
"My dress was purchased through Net-A-Porter which is always a fantastic experience and super-quick for the six-week deadline."
"When I started looking for more traditional dresses in December 2020, I attended Halo & Wren and Made with Love Bridal."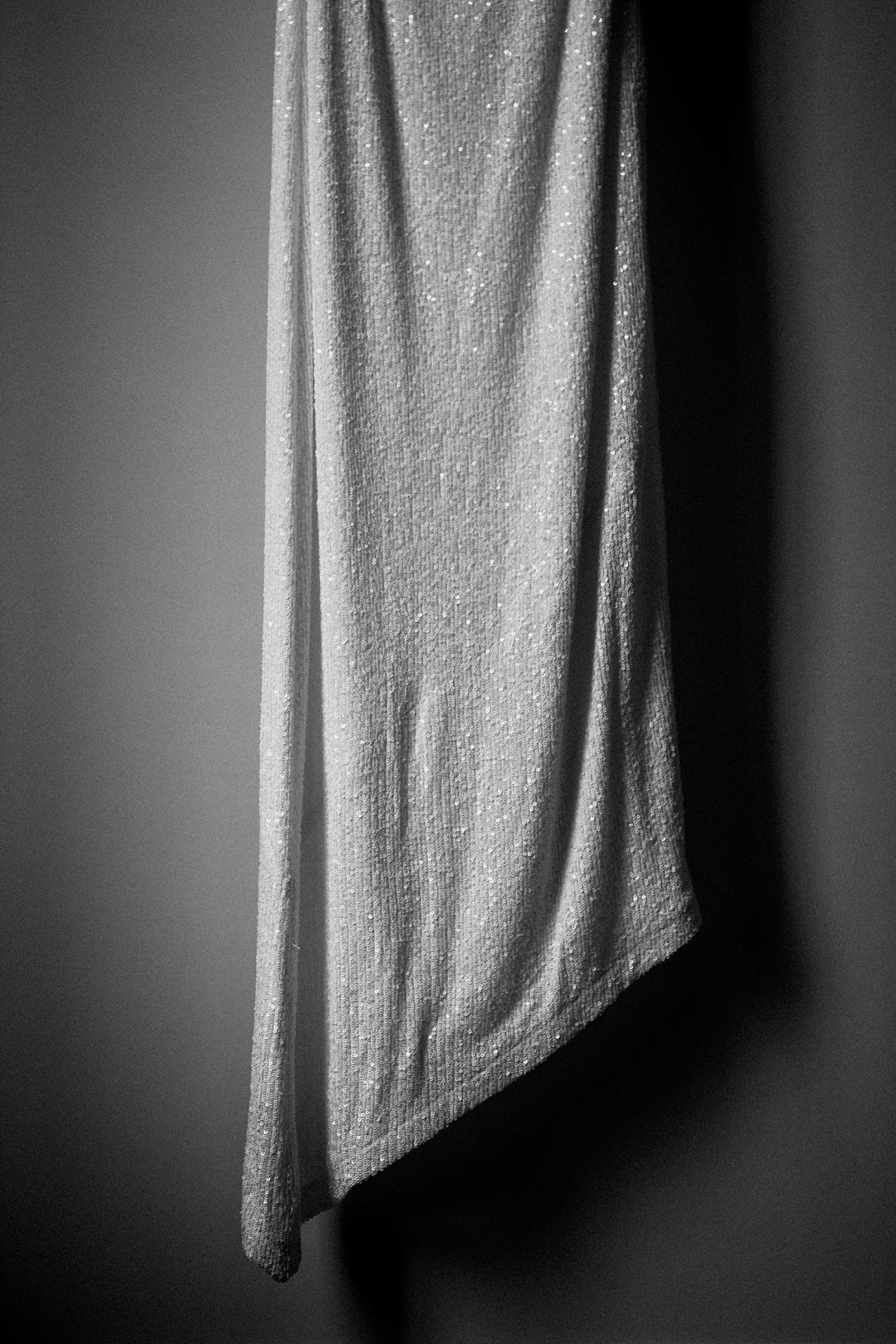 "Both boutiques were absolutely fantastic and made me feel extremely comfortable, especially as I always wanted a non-traditional/non-romantic wedding style."
"There was zero pressure to order a dress despite only having 6-7 months until the wedding date and I am extremely grateful for that."
"Not ordering a dress out of panic or fear was the best decision as the Retrofête dress was the perfect dress for the surprise wedding."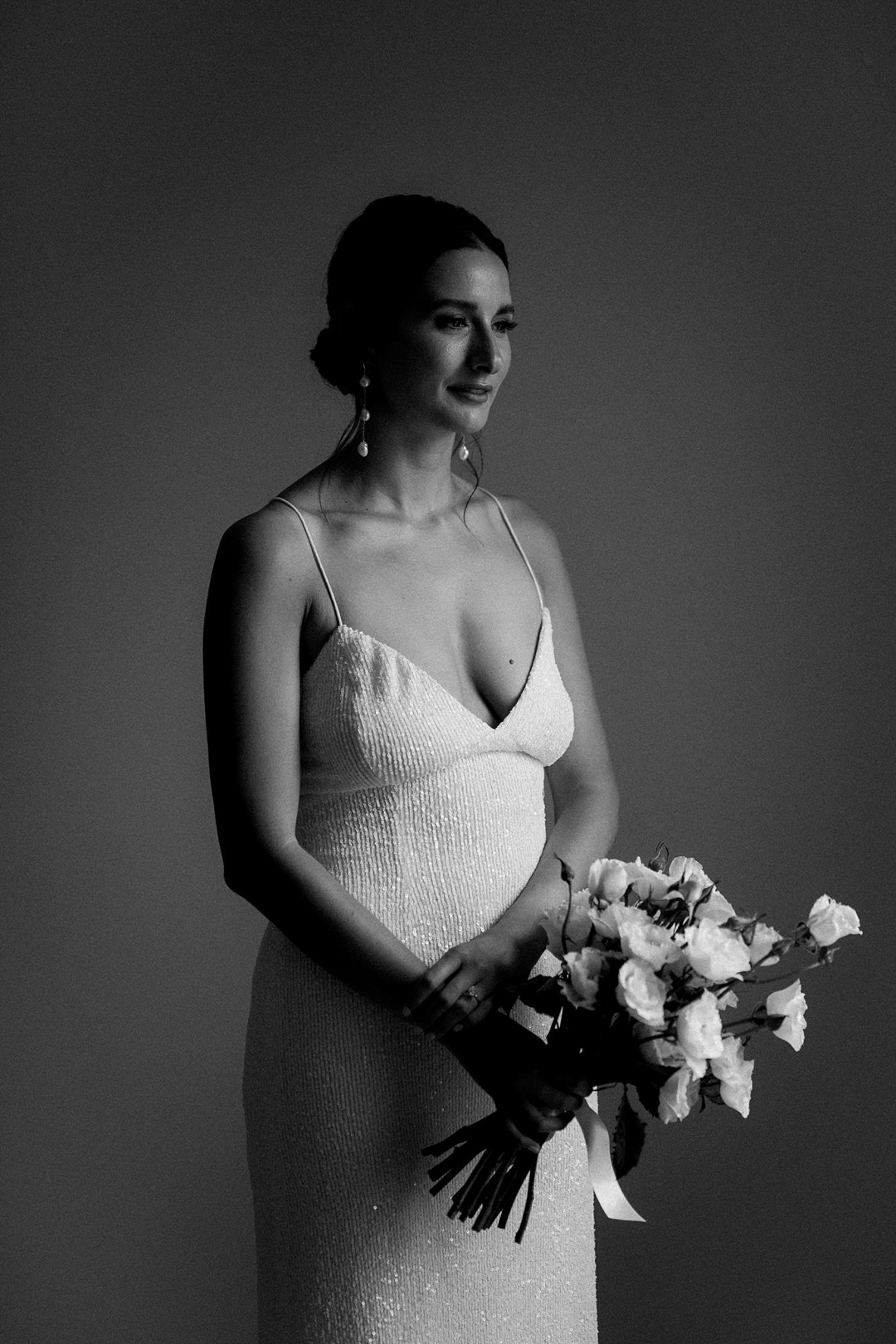 "I chose this gown because it was going to be more of a party than a wedding. A simple white party dress that did not look 'bridey' but was smart enough to feel 'special' was perfect."
"The moment I tried it on I knew it was the perfect dress for the day we were going for."
The bride's hair was pulled back into a sleek, low bun by Victoria Ralph Hair.
"Victoria completely nailed my look. I wanted my hair up but did not want a bridal look. It's true when they say that Victoria is for the 'cool bride'."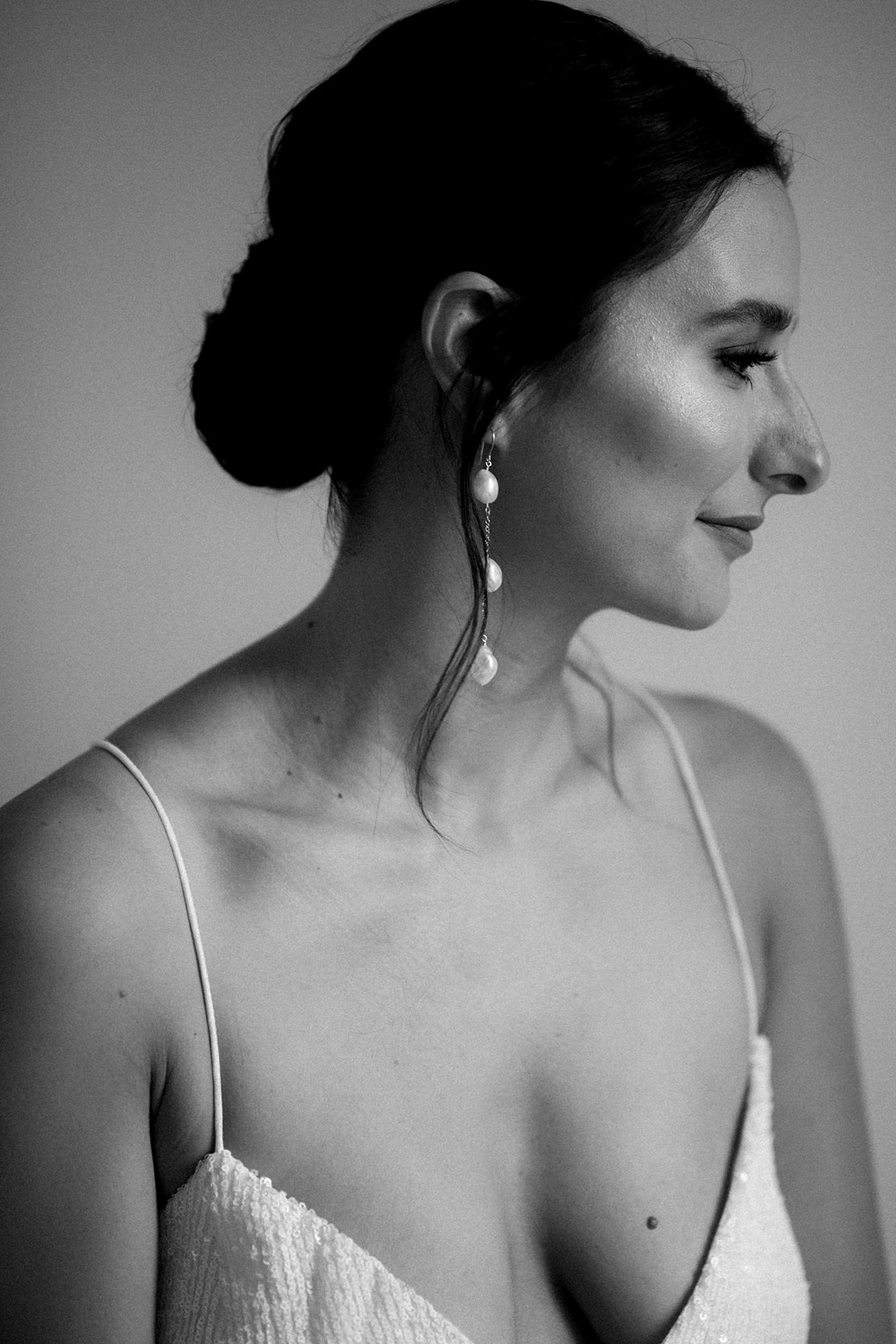 Tina found her make-up artist, Laura Kate Artistry, through Portraits Bridal, another of our Wedding Directory suppliers.
"Laura completely nailed my make-up. I wanted a fresh look that wasn't too done but wanted to feel special. She is an artist with her make-up skills."
"I am so grateful that both Victoria and Laura were able to squeeze me in at 6.30am and then rush off to other weddings. Getting phenomenal hair and make-up artists with six weeks' notice was a real challenge but these two were complete life savers!"
"I have never felt more beautiful than on this day and that is thanks to both."
"I knew my hair was going to be up and the dress was a low cut so long, hanging earrings were just perfect! Friends have since asked to borrow them for their 'something borrowed'."
"My perfume was Gucci Flora. My mum put me on this scent when I was a teen."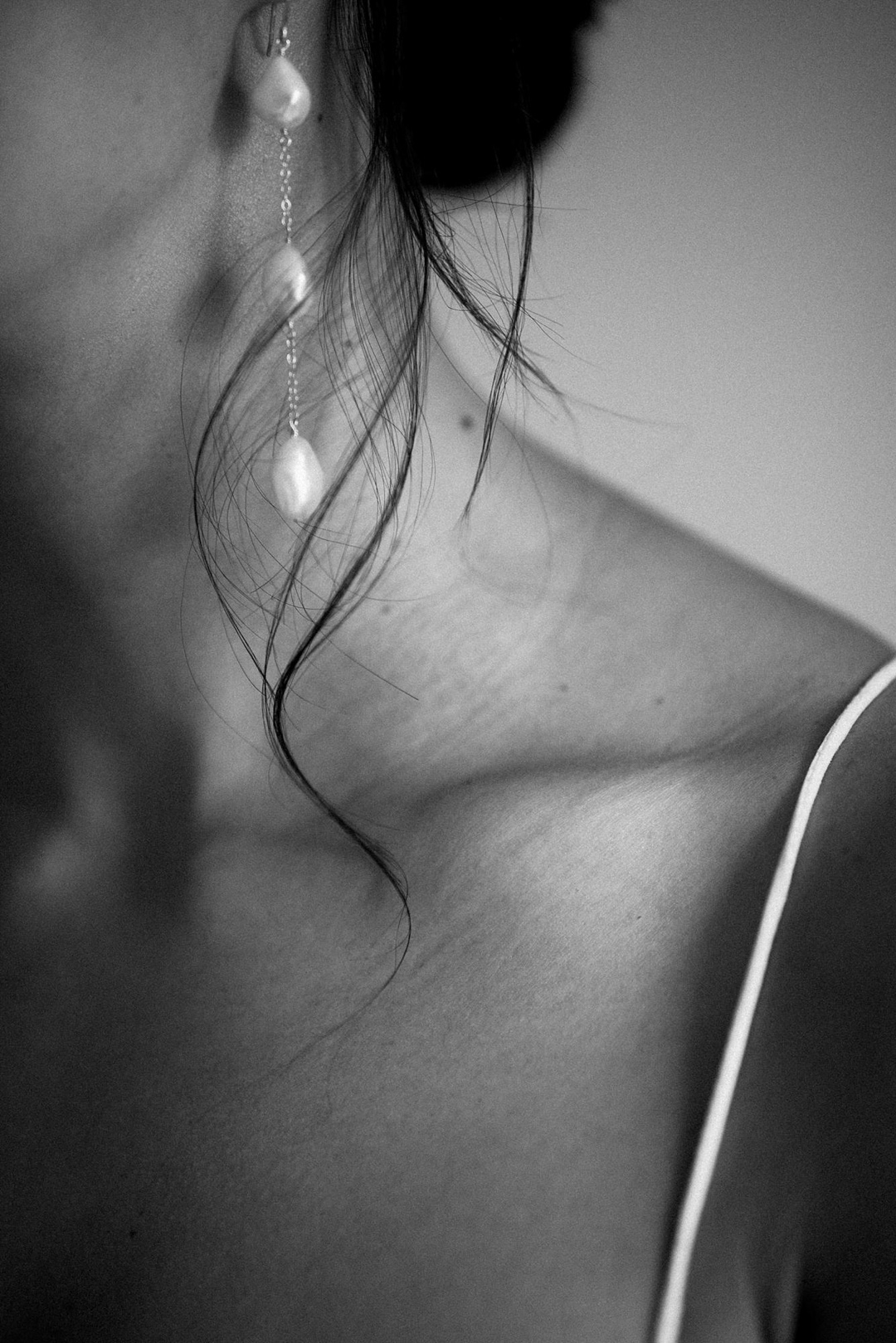 She slipped on a sparkling pair of block-heeled Charlotte Mills 'Jill Pearl' shoes and modern, dangling earrings from Kiri & Belle.
"Shoes was the hardest for me as my dress was not all floor-length so my shoes would be visible. After so much searching, I found Charlotte Mills through an Instagram stalk and the shoes were perfect."
"The textured shoes matched the dress like they were made to be worn together and the chunky heel was exactly what I needed for a garden wedding."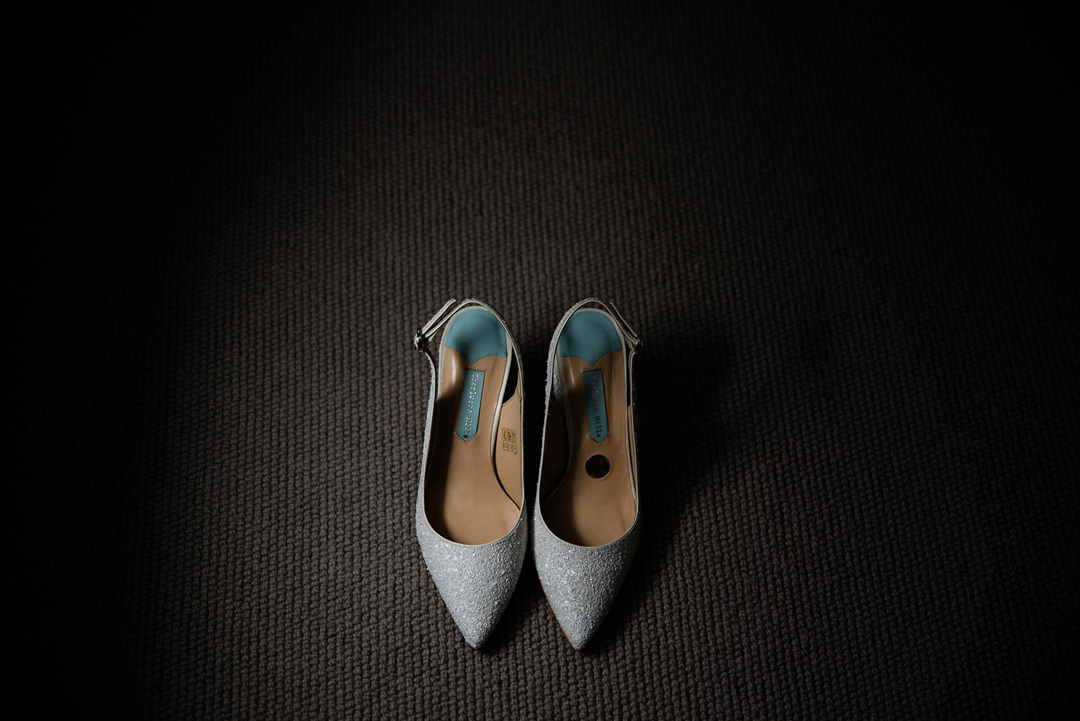 The couple got ready together at home. Michael selected separates from Hugo Boss, all purchased from Selfridges.
"It took longer to find than mine! Given the feel of the day, we wanted a relaxed yet timeless combination and his outfit was perfect."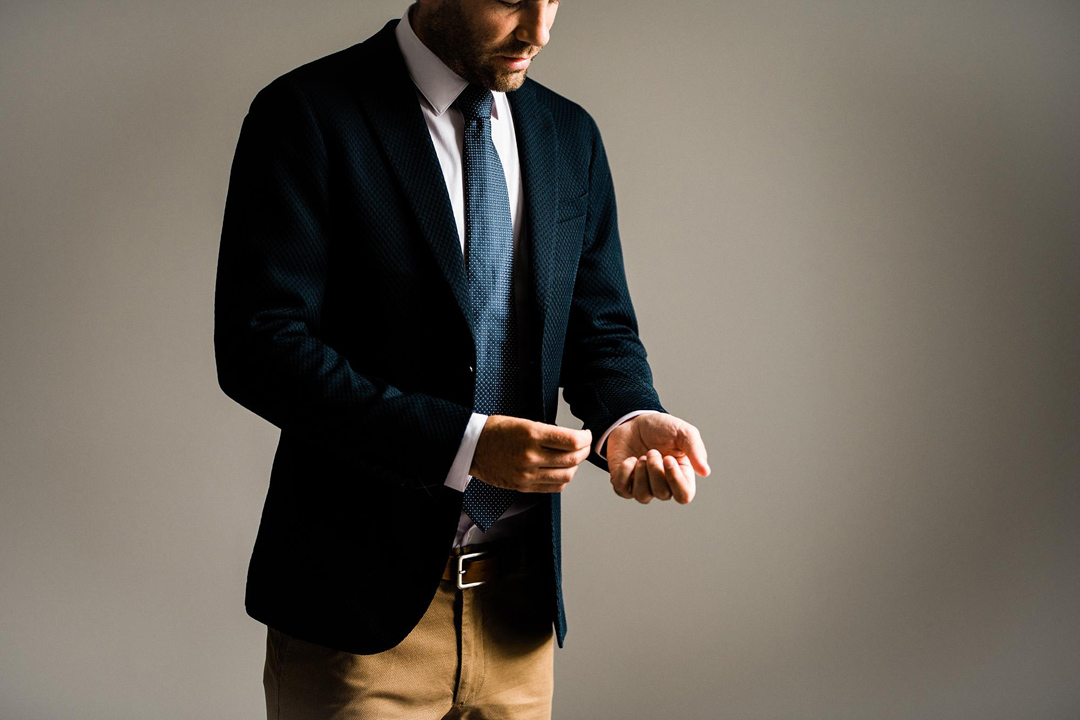 Tina has more detail about the logistics of rearranging their original plans and planning a completely secret wedding, all during a pandemic.
"We had originally planned to have a church wedding followed by a ceremony at Shoreditch Studios with 150 people. However, we had not done any prep other than securing Chris as our planner, Paulo Santos as our photographer and a venue."
"When the Australia travel ban/international ban occurred, we decided to postpone and look for other dates. After much back and forth, and realising that even if we postpone, certain of our close family/friends would still not be able to make it, we decided to completely change the plan."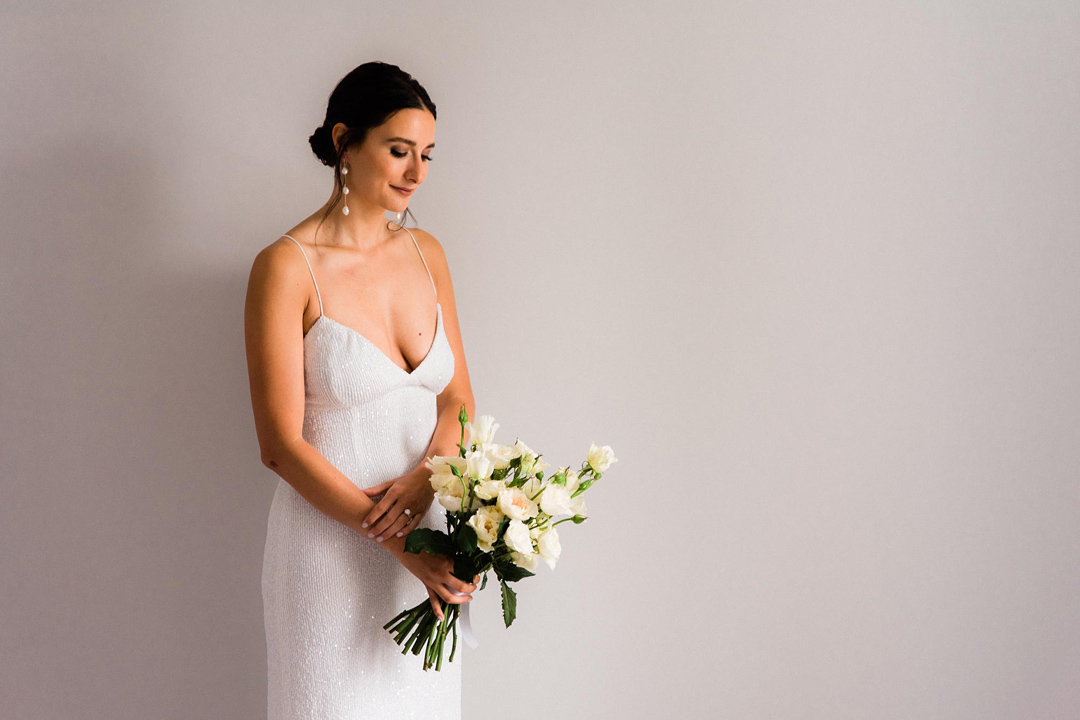 "We decided to crack on with a complete surprise wedding at home, with 6-7 weeks to plan everything including getting a dress, booking the registration for marriage, rings, catering, hair, make-up, celebrant etc. Our reason to keep it a surprise was so that no-one had any expectations of the day."
"That way we could completely mix it up and make it non-traditional. The plan is to do something equally as informal in Australia when restrictions allow."
"This way there will be two informal weddings, rather than a formal wedding in London and a 'less special' day in Australia."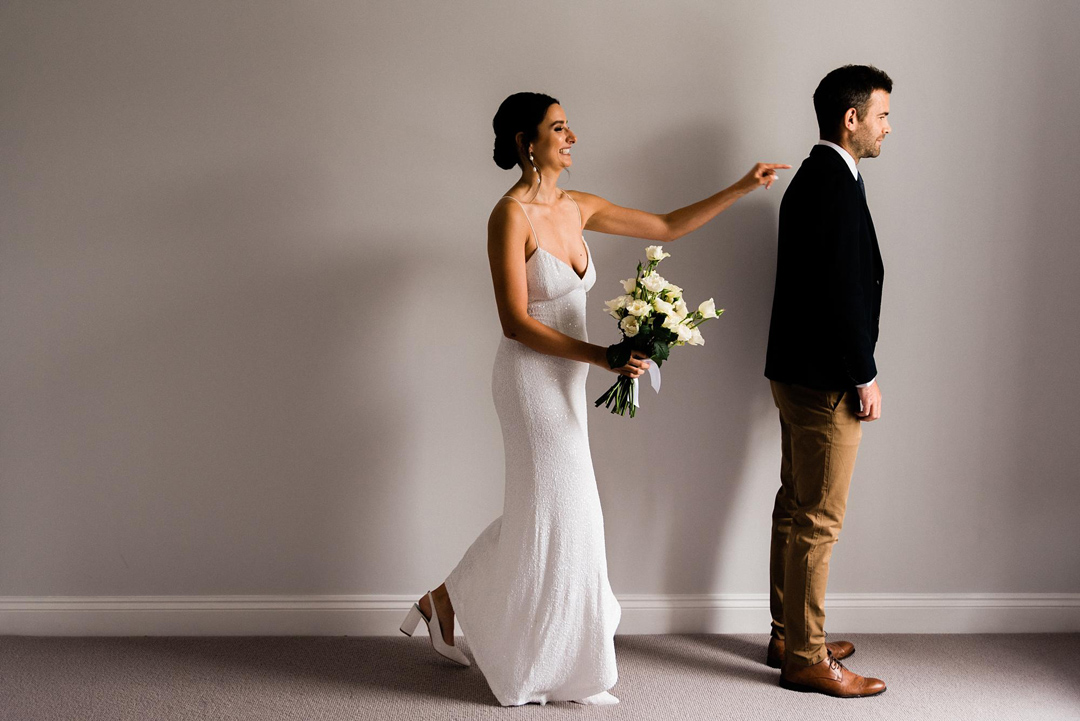 "We were lucky that the restrictions for our wedding date permitted unlimited numbers for private garden weddings provided you could conduct a Covid analysis and put appropriate measures in place."
"Our party was held completely in our garden for around 75 people, so this proved to be quite easy to satisfy."
"We also imposed other Covid-safe suggestions such as ensuring there were multiple access to bathrooms, no one was inside etc."
"The horrible rain that London had been suffering from all of July dried up in the two days before and we were very lucky."
"The back and forth decisions on whether to proceed or postpone can be absolutely exhausting and emotionally draining."
"Every time Boris or Australia made an announcement, it added to more anxiety."
"We had also thought that as a Covid engagement, we would be lucky enough to escape all the restrictions and that Summer 2021 would have been a safe bet. Gosh, were we wrong!"
"Once we sat down and truly asked ourselves what we wanted from our wedding day, we were able to realise that we are not traditional people and did not care for formal celebration."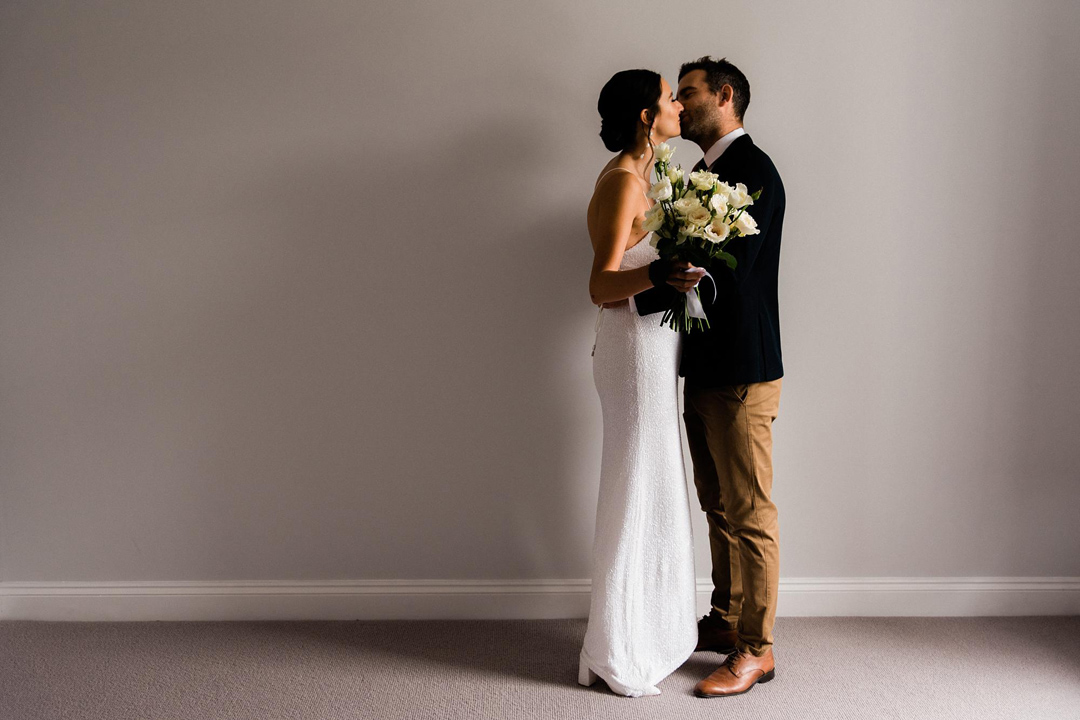 "It was about the two of us getting married and when the timing is right, we can celebrate with the people closest to us. Provided the legalities were done, we could have a number of other celebrations once the timing fit."
"This is why we decided on the plan to get married at the local town hall surrounded only by Michael's immediate family and his two best men, then invite our friends around for a 'housewarming/bouji garden party' and reveal to them after an hour that we'd got married in the morning and make some very non-traditional vows to put on a bit of a special moment for our guests."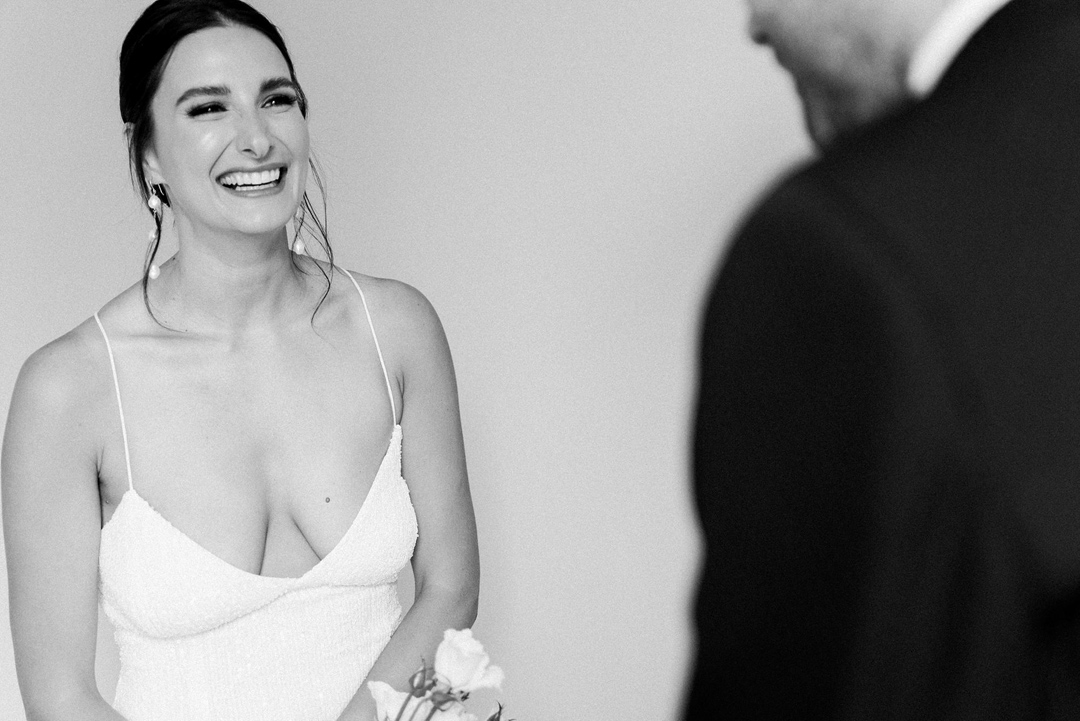 "This informal approach made it much easier for me to get married without my family especially, which was originally the 'non-negotiable' for all plans."
"I did not wear a formal wedding dress, got ready with Michael in the morning, did a private 'first look' at home, walked into the Town Hall together and did the reveal together."
"My parents were Facetimed and showed all videos throughout the day. The best gift was having my family provide no pressure and be very happy that we were finally getting married."
"Whilst they were gutted, their support made the decision much easier and even more excited for the second celebration in Melbourne one day."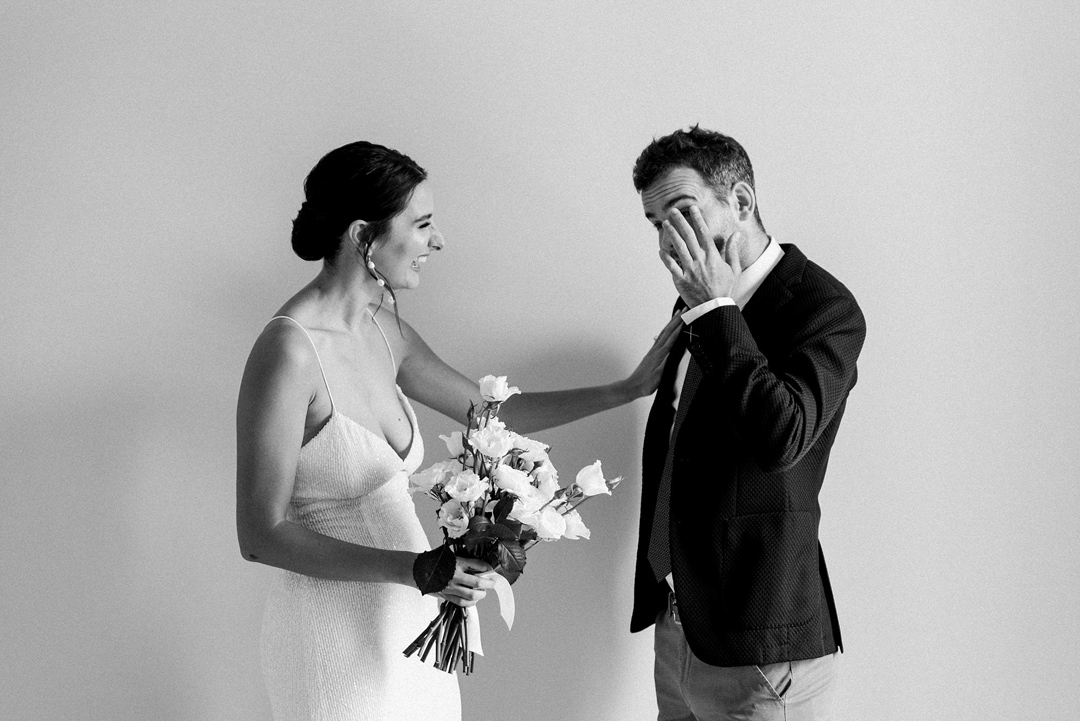 The bride and Michael enjoyed a first look before heading to the Town Hall together.
"We pre-booked black cabs to take us to the Town Hall and to the pub. We then walked home from the pub. The entire day's events did not leave N16."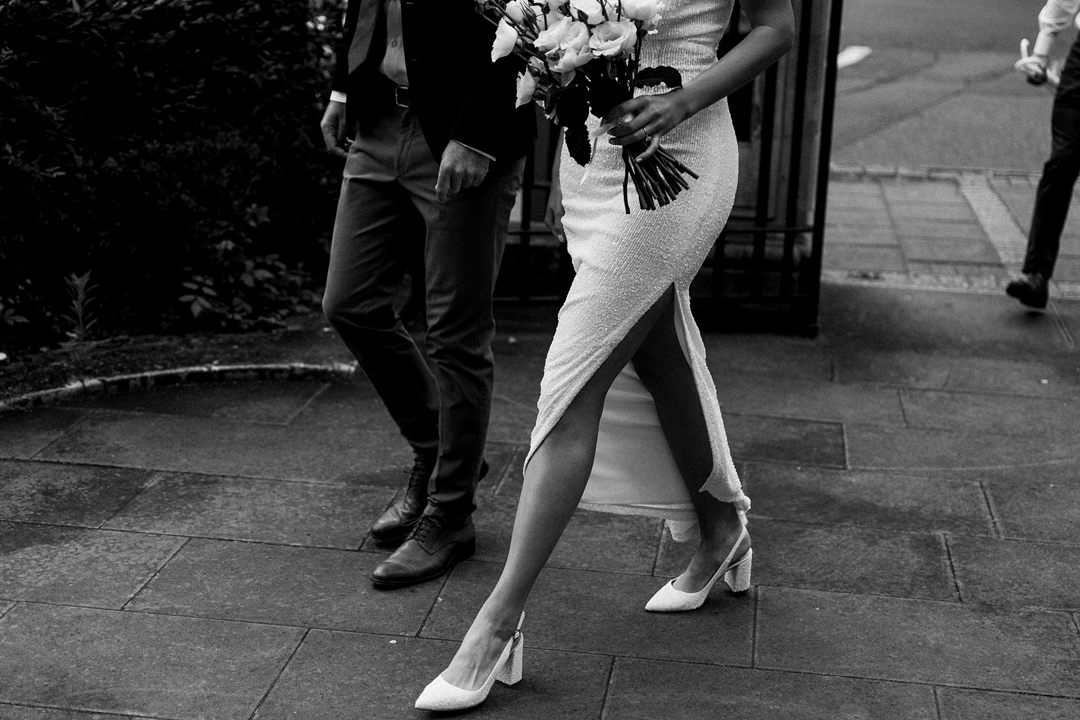 "At 11am we went to the Stoke Newington Town Hall together accompanied by Michael's immediate family and best men, a total of nine guests.
"We walked down the aisle together and did a very quick legal ceremony."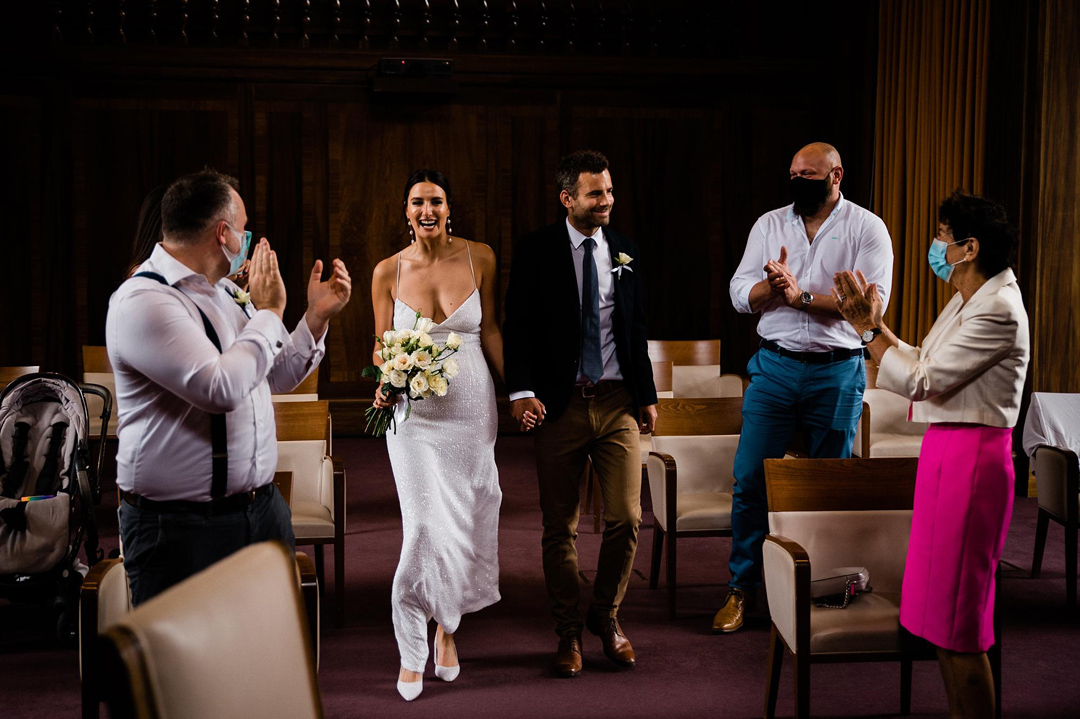 "As such, there were no music or readings or special vows. This was done by the registrar appointed by Hackney Council."
"Given that we were going to do another ceremony later, our aim was to do this as quickly and simply as possible so that we could take photos, get to the pub, go home and change before guests arrived at our house at 2pm."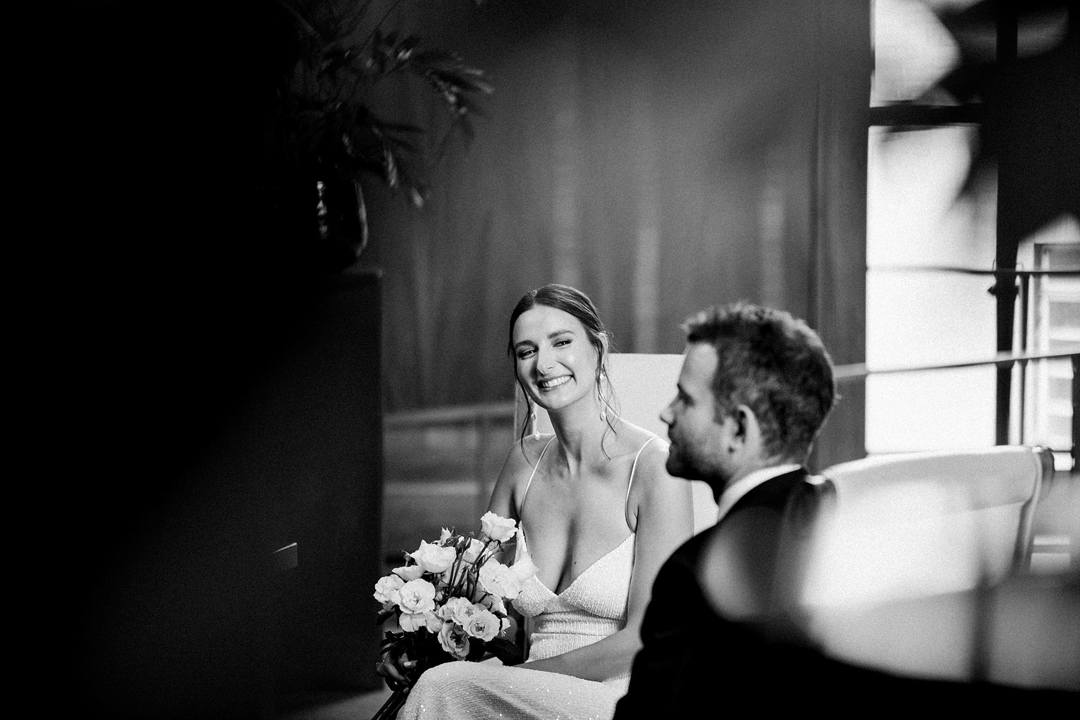 The rings, both engagement and wedding bands, were bespoke designs, hand crafted by New York Jeweller Aaryah.
"Michael was recommended them as they are the jeweller of friends of ours. Having seen our friends' amazing rings, Michael knew he wanted to use them when the time came."
"Given they are NYC based, all consultations were done virtually with photos and videos, and the experience was seamless."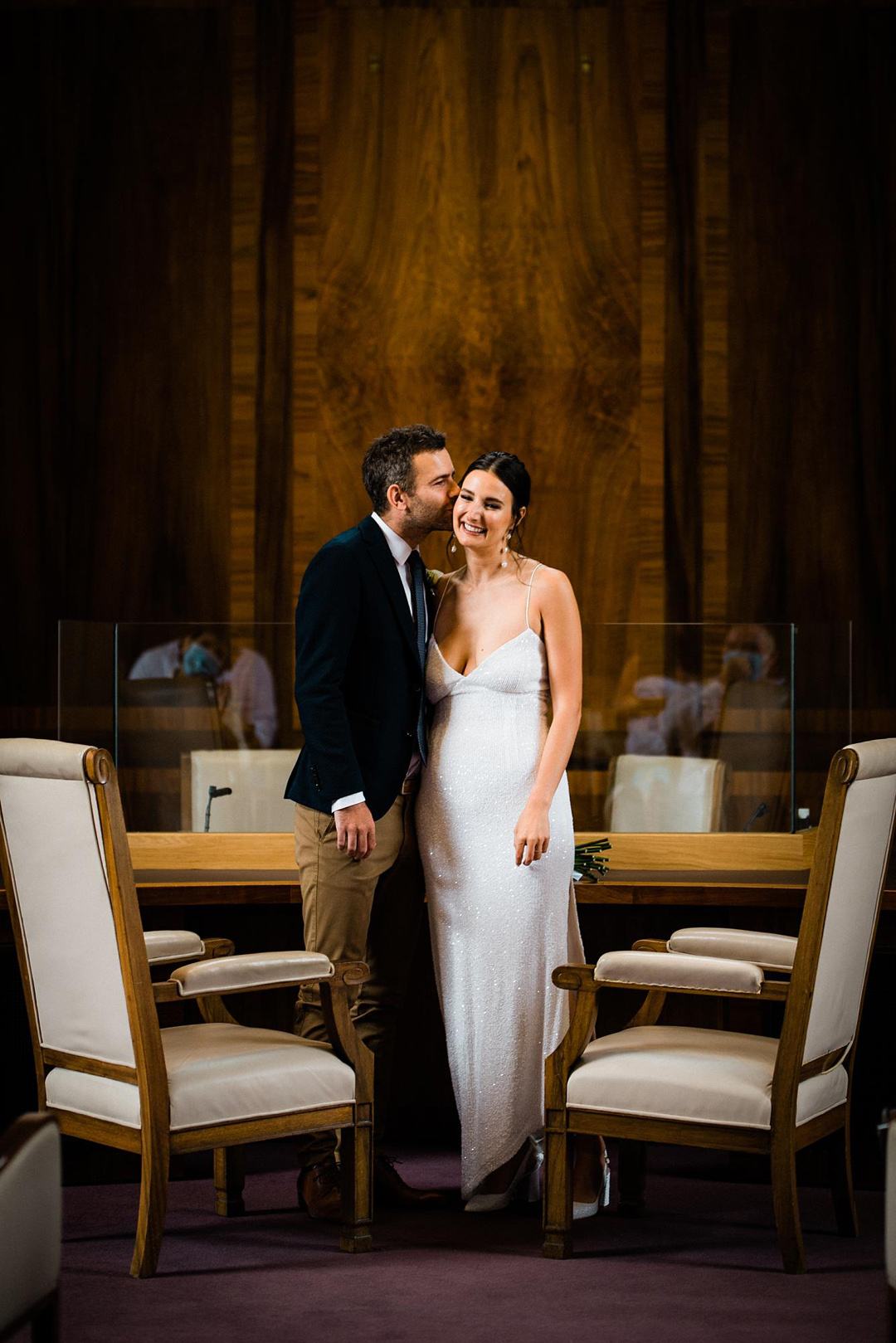 "Michael went for a classic platinum band but I wanted something classic yet different to match my solitaire engagement ring."
"Aaryah made a custom, defined diamond band that sat perfectly with the high setting they had made for my engagement ring."
"We cannot wait to extend our jewellery collection with more purchases from there."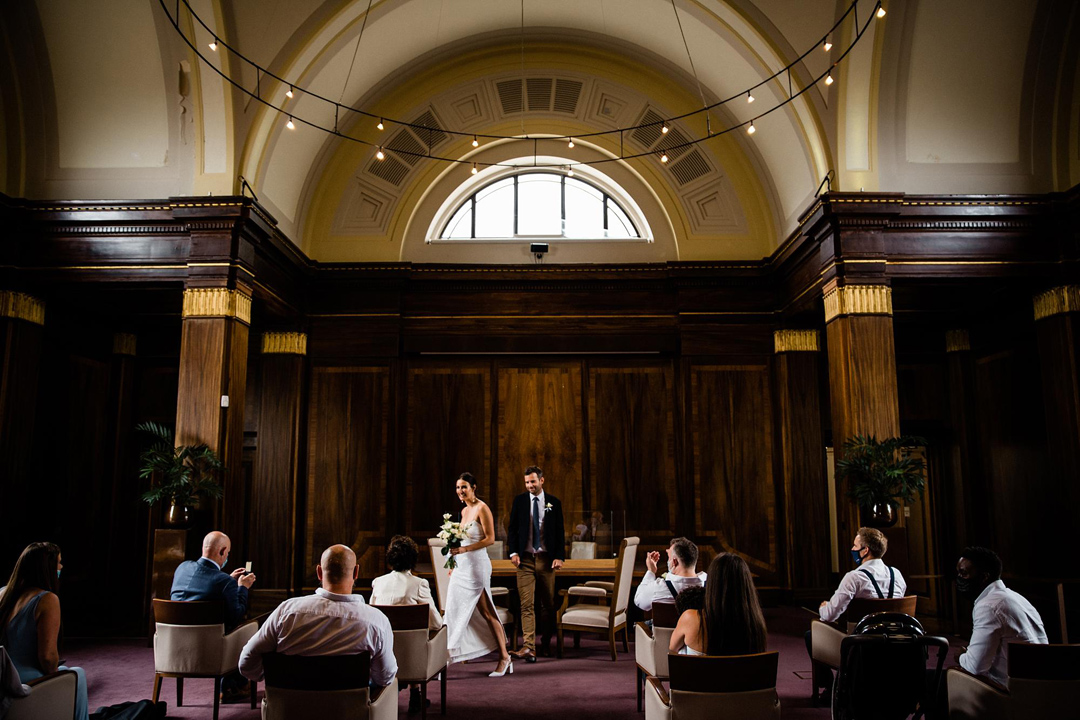 The couple had planned to have a church wedding followed by a big reception. However, given the lockdowns in the UK and Melbourne and the ongoing uncertainty about international travel, the pair had to ditch their plans and come up with a unique idea.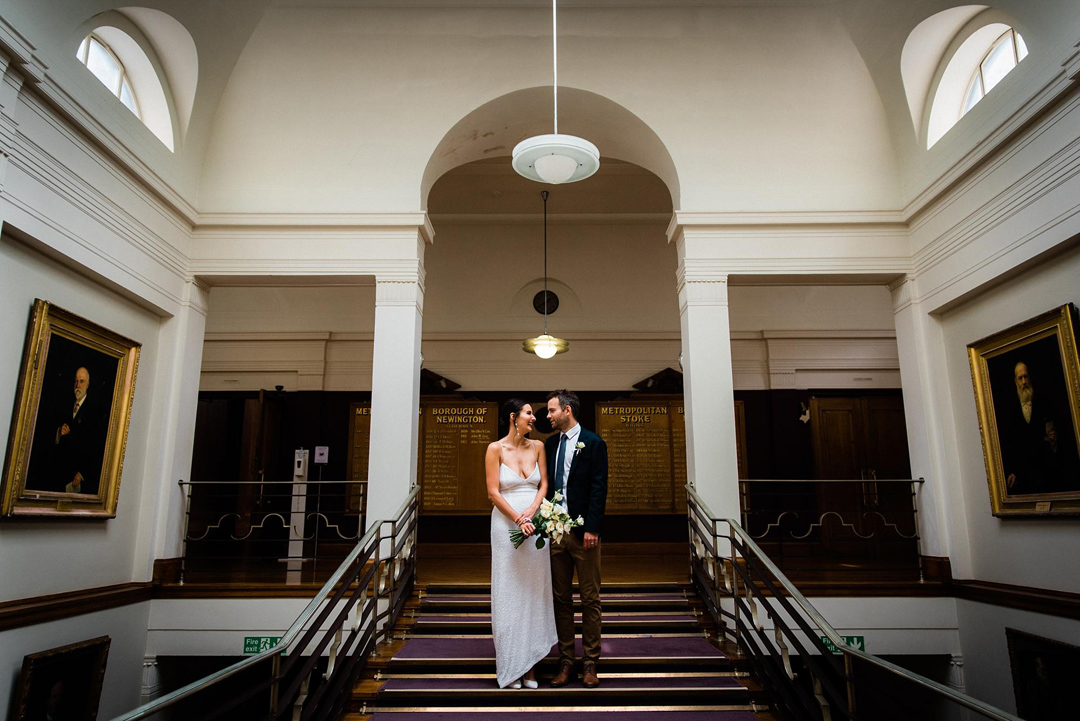 "Our engagement was exactly thirteen months to the wedding date. We chose 10 July 2021 as it had a similarity to the engagement date and had no Euro finals on that date!"
"It also felt like a perfect date to fit in with summer trips from Australia and at the time, all of the OS contingent had confirmed as they were so desperate to be out to travel."
"Once we realised that there was no clarity with Australian travel and that all our close friends in London were keeping 10 July free, we thought about just cracking on."
"However, given that my family could not be there, there was a desire to ensure that it was super-informal so that it would feel like they were not missing out on big moments."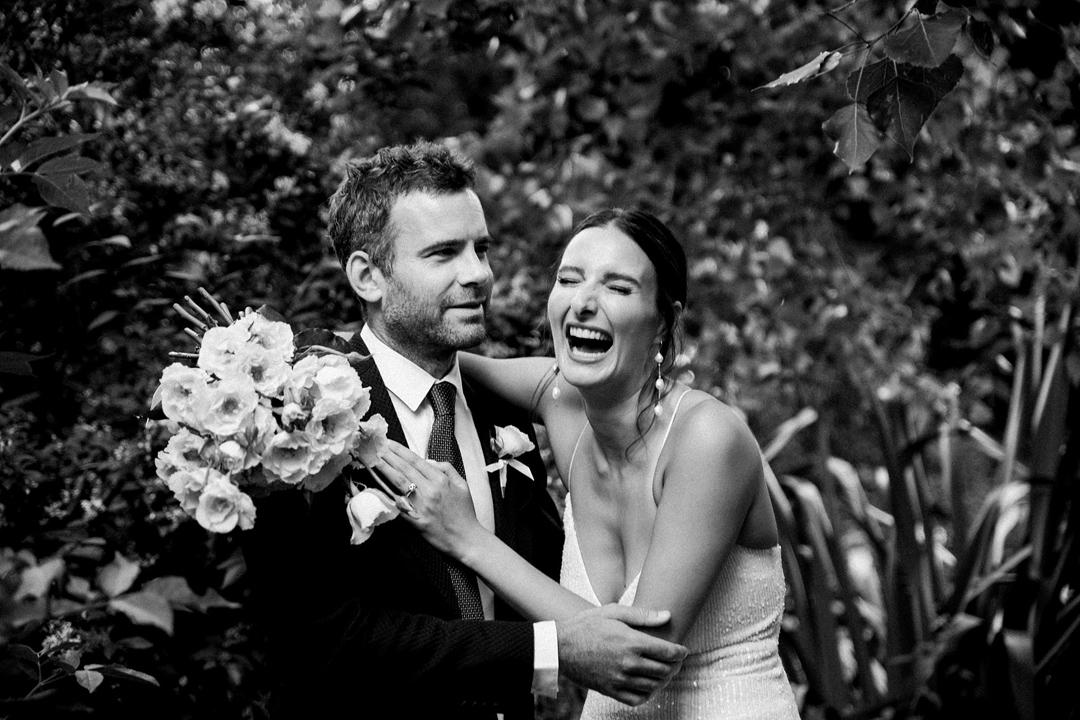 "From there, the idea came for a surprise 'pop up garden' wedding at home with our London-based friends only."
"This way both sides did not have their entire guest list and it was more of a surprise party, which still fit our 'urban party vibe' theme from the original plans."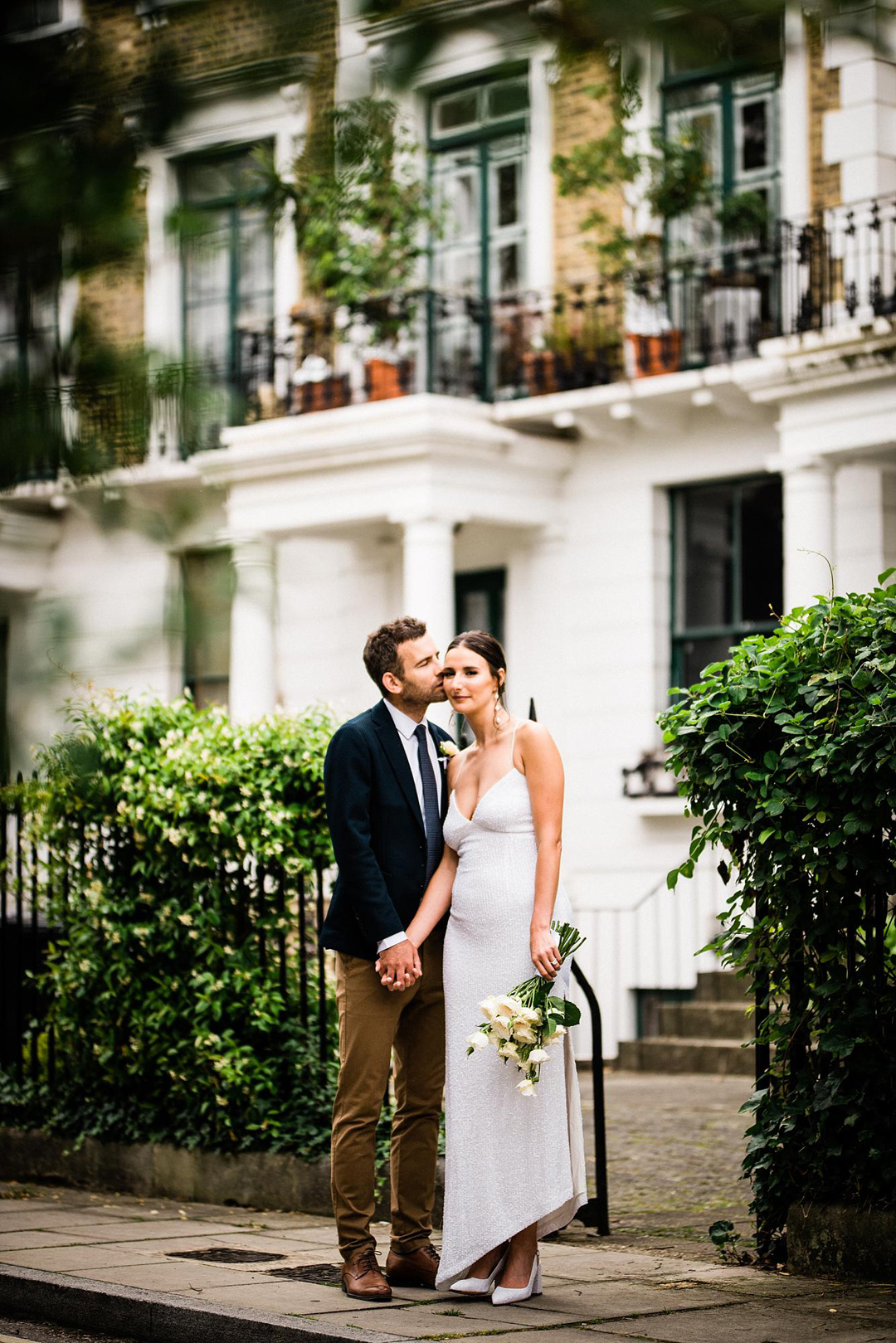 "We loved the idea of a surprise wedding. We told our friends that we were hosting a housewarming and surprised them with a 'reveal' after about an hour with a celebrant and my entrance in a white dress."
"We wanted to keep it really relaxed but wanted it to have a cool, pop-up outdoor day party/garden party vibe. Our music was very much influenced by Ibiza tunes."
"Many friends said that the set-up looked like a rooftop bar or a venue you'd get in the Hamptons or Mykonos which was music to our ears."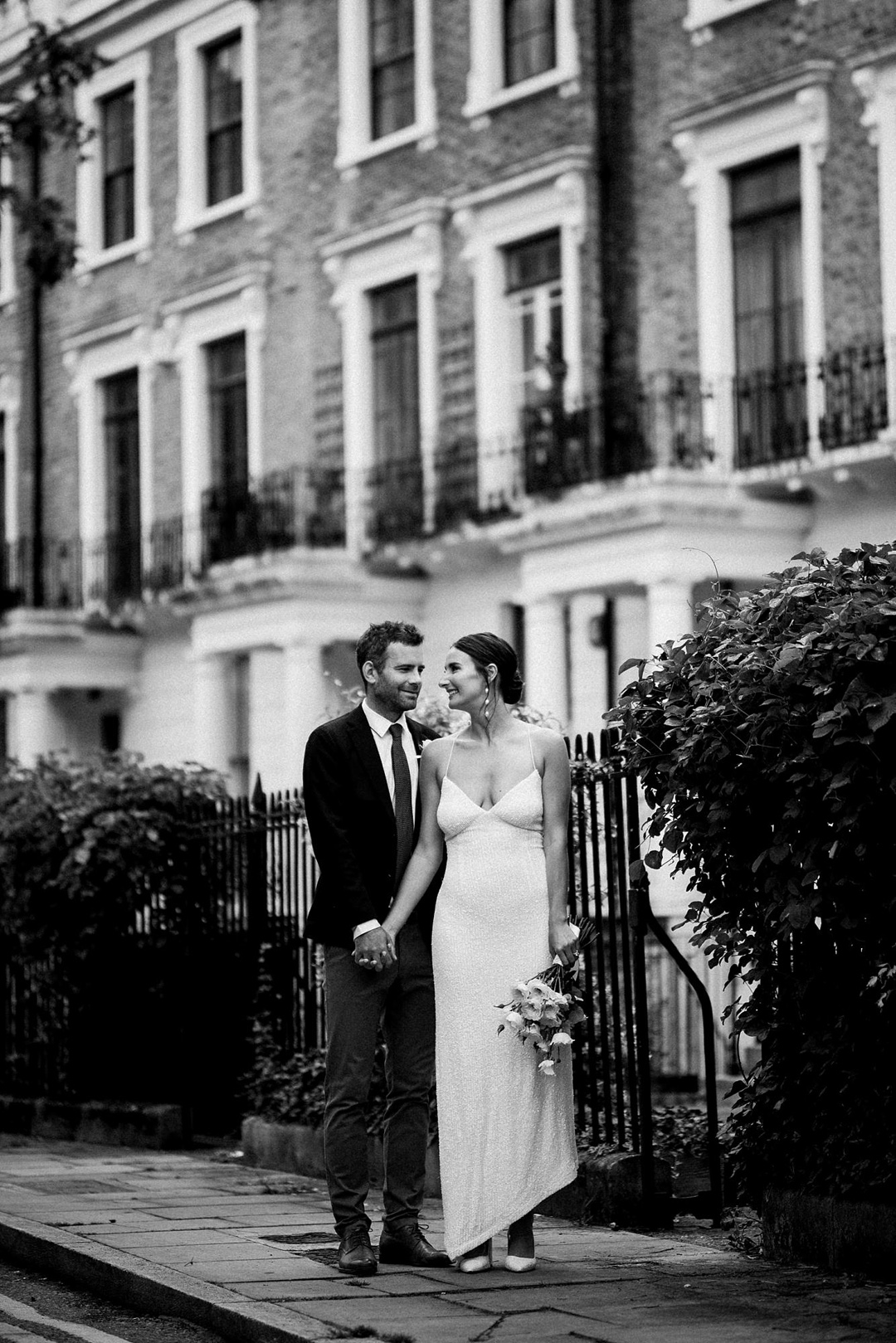 The day was captured in all its glory by Paulo Santos Photography. Paulo is a much-loved supplier on our Love My Dress Wedding Directory so please visit his listing to find out more about his artistic, atmospheric portraiture.
"Paulo was the only supplier we had secured in June 2020 and gosh, we were so lucky we did!"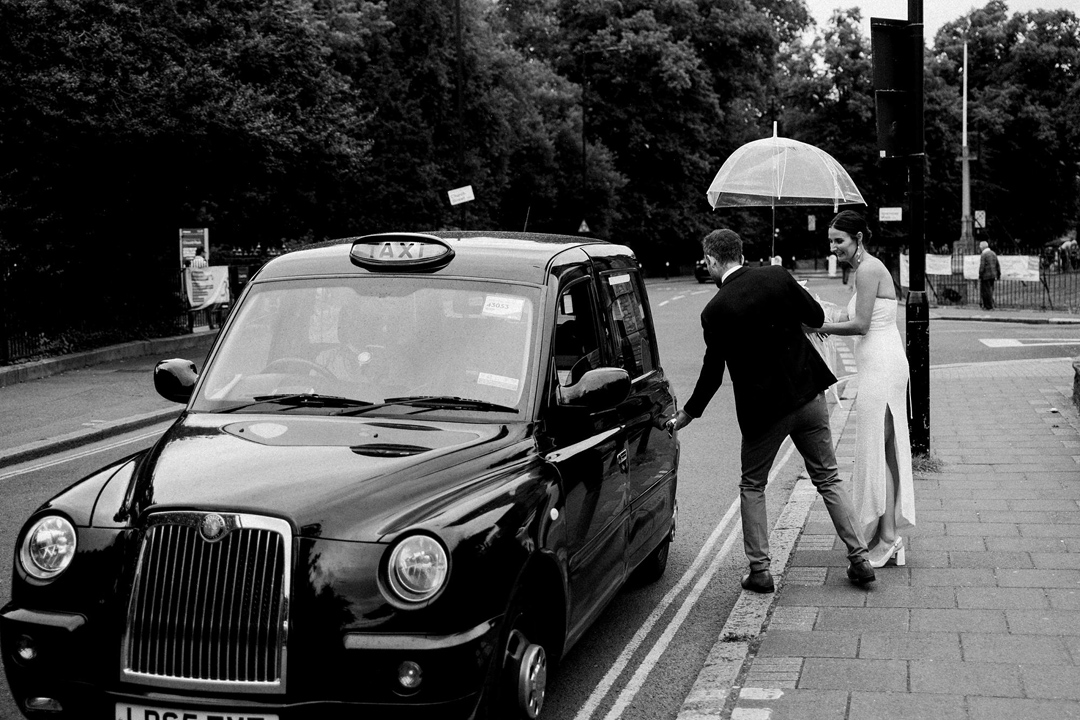 "We were blown away by Paulo's portfolio and his photos spoke to us. They were relaxed, not posed and captured the feel of each day."
"The icing on the cake was when we rang Paulo and felt instantly relaxed with him."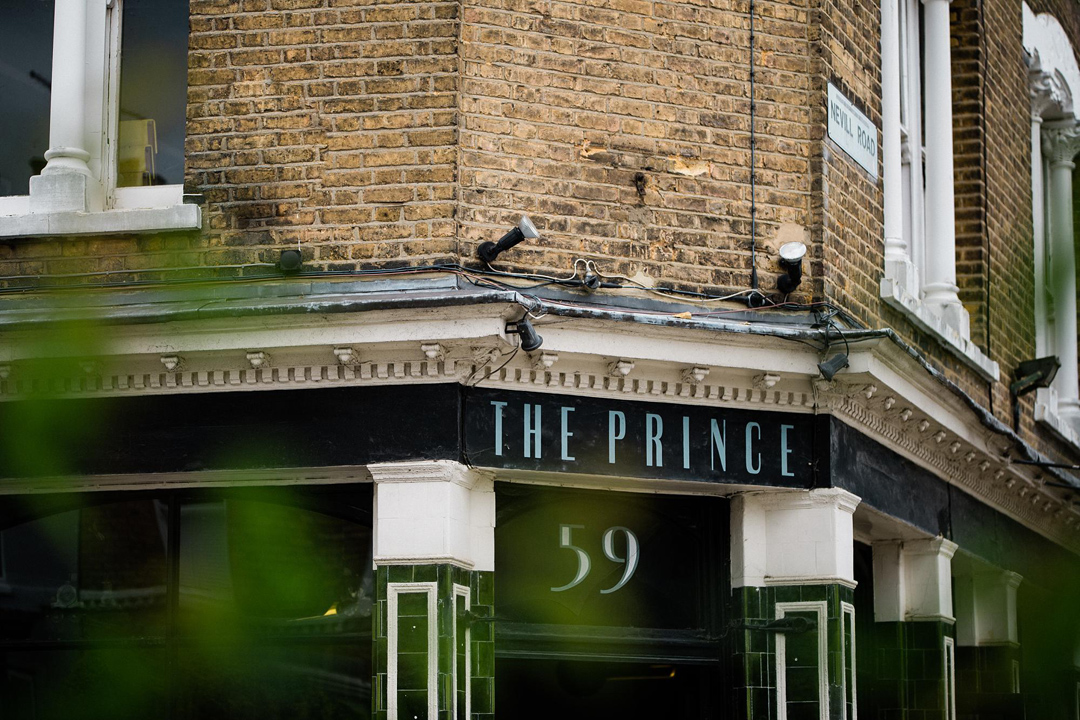 "Michael is not one to enjoy photos so we knew that Paulo would make him enjoy the process and take phenomenal pictures."
"There are no words to describe how amazing the photos are."
"We were completely overwhelmed by our family and friends wanting the pictures for themselves, as Paulo took not only stunning pictures of us but of all our guests too."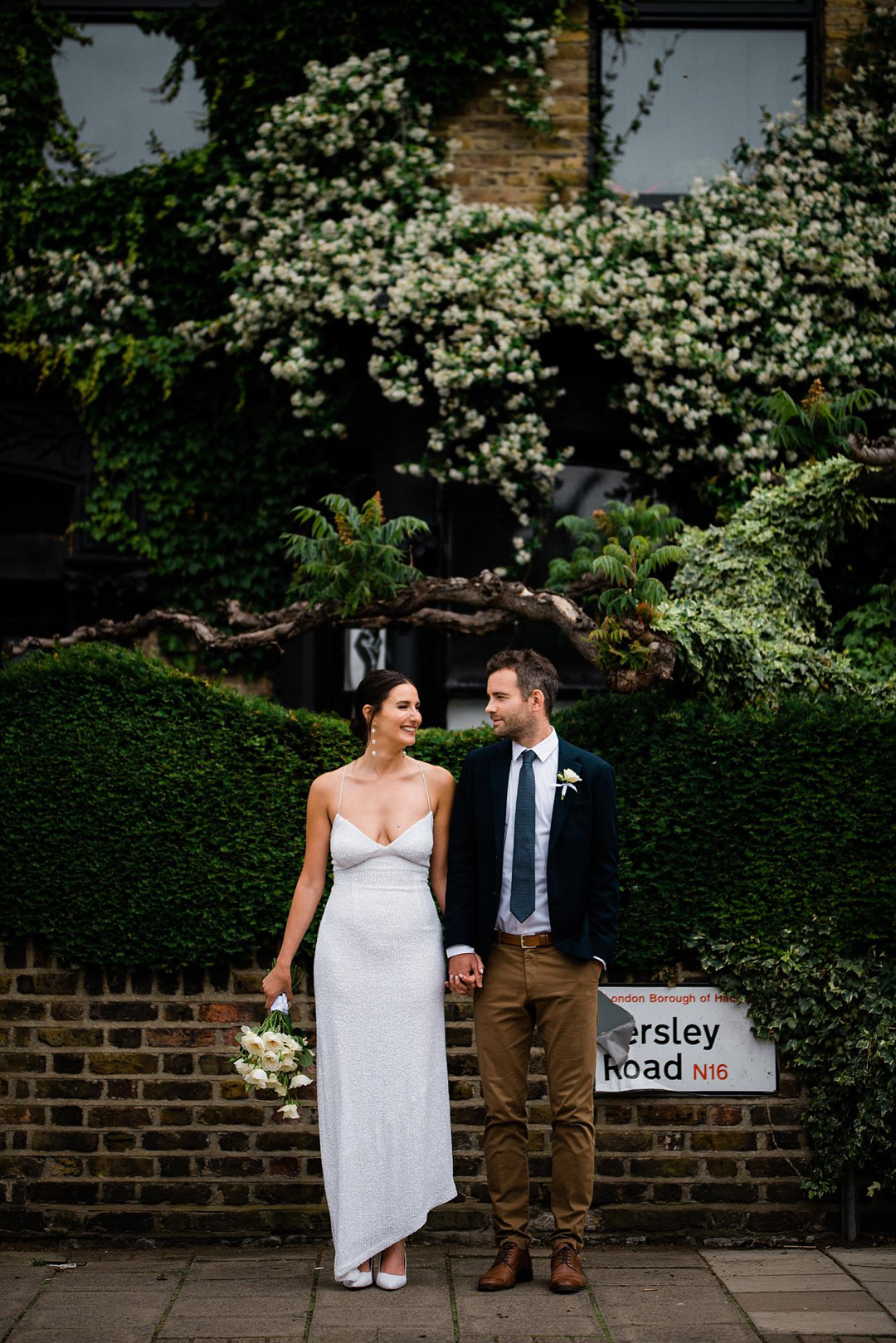 After celebratory drinks and lunch at the pub, the newly-weds and their small group of guests walked back to the couple's home to get ready for the third part of the celebrations. Michael and Tina had worked with Chris Adnitt from The Wedding Arrangers and Carla from Still Life Flowers to help them co-ordinate, plan and style their party, which was held in a marquee in the garden from Casablanca Marquees.
"Carla was able to turn an empty London garden into a chic outdoor space that looked like a bouji bar. Carla was recommended by our planner Chris Adnitt and the moment I viewed her portfolio, it was a no-brainer. Carla is more than a florist – she is a complete designer and her non-traditional and urban London styles were exactly what we needed. Our guests could not believe how Carla transformed our garden."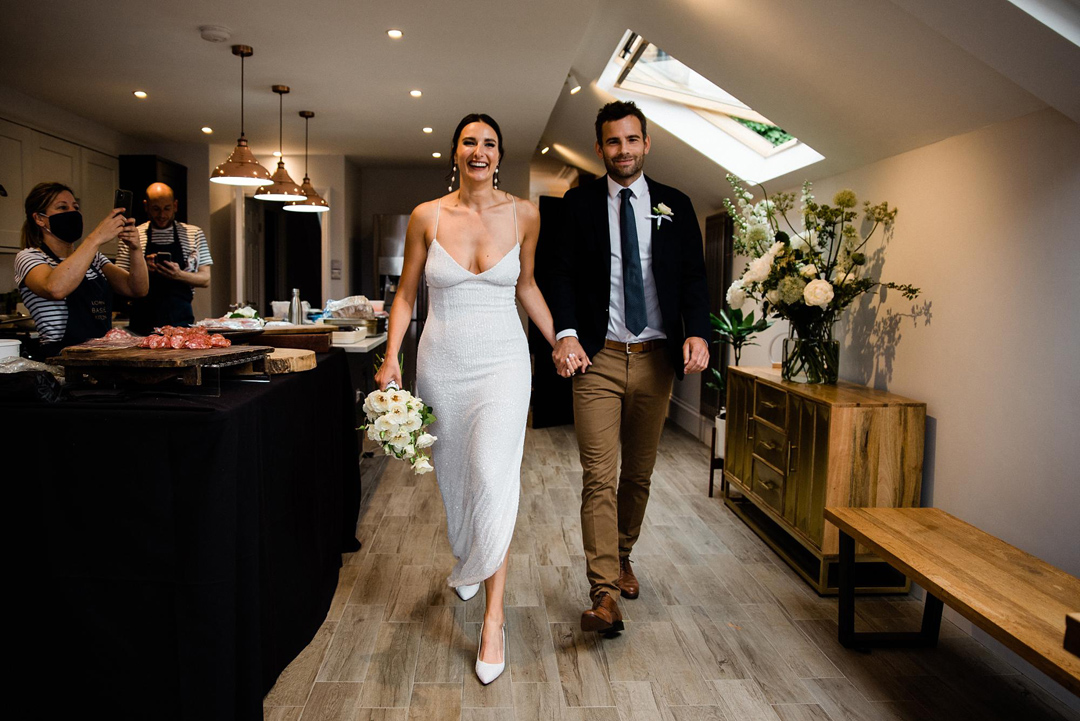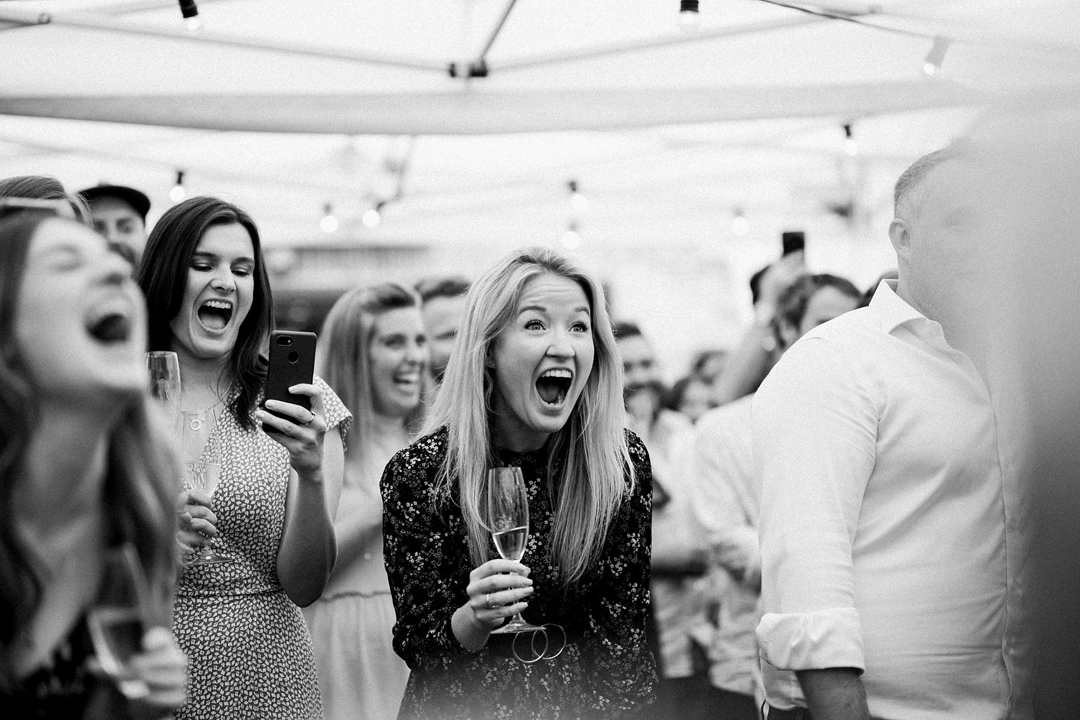 "The most amazing lighting and sounding, including festoon lights and spotlights in the flowers and hanging flower wall, were provided by KSS Audio. The design and layout were supervised by Chris."
"Allens Catering Hire provided the kitchen and glassware hire and Rustic Hire provided the stand up tables, seating, crates and the cushions for our man-made bench, all creatively organised by Chris Adnitt."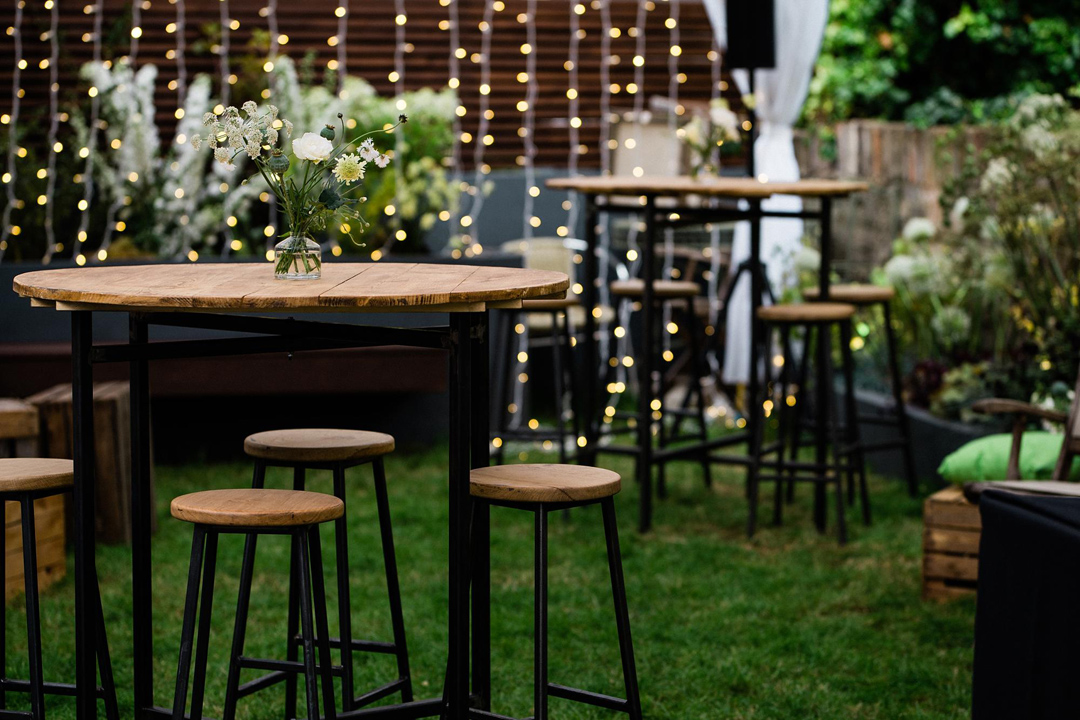 As the wedding was a surprise, Tina wore a relaxed black Bimba y Lola dress for the arrival of the guests.
"At 3.45pm, once all our guests had arrived, Michael and I snuck upstairs to get changed back into our wedding attire. Music was blasted so loud to create confusion with the guests and, after one minute of music, we walked out together hand in hand! Everyone was shocked, cheering and crying!"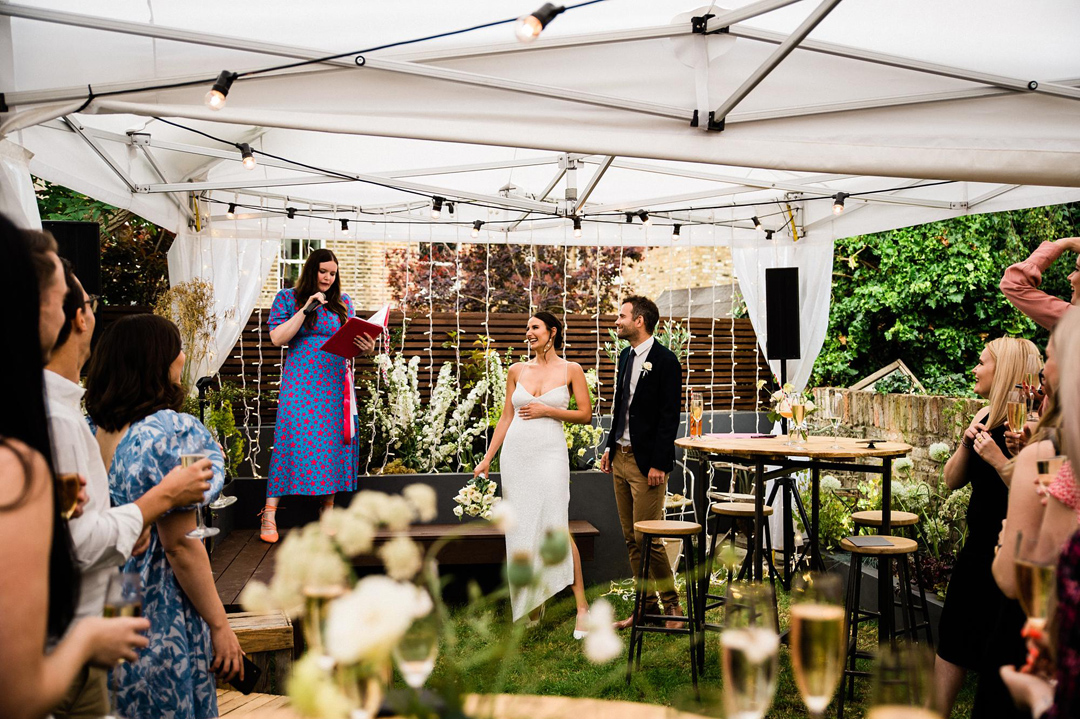 "I have never viewed a wedding portfolio before where there were so many of the guests and the day captured – exactly what we wanted."
Tina carried a simple but striking bouquet of white roses from Still Life Flowers, with a sweet tribute to her family included.
"I wanted a symbol of her family there and wanted the 'something borrowed'. I had my mum's engagement ring tied to my bouquet."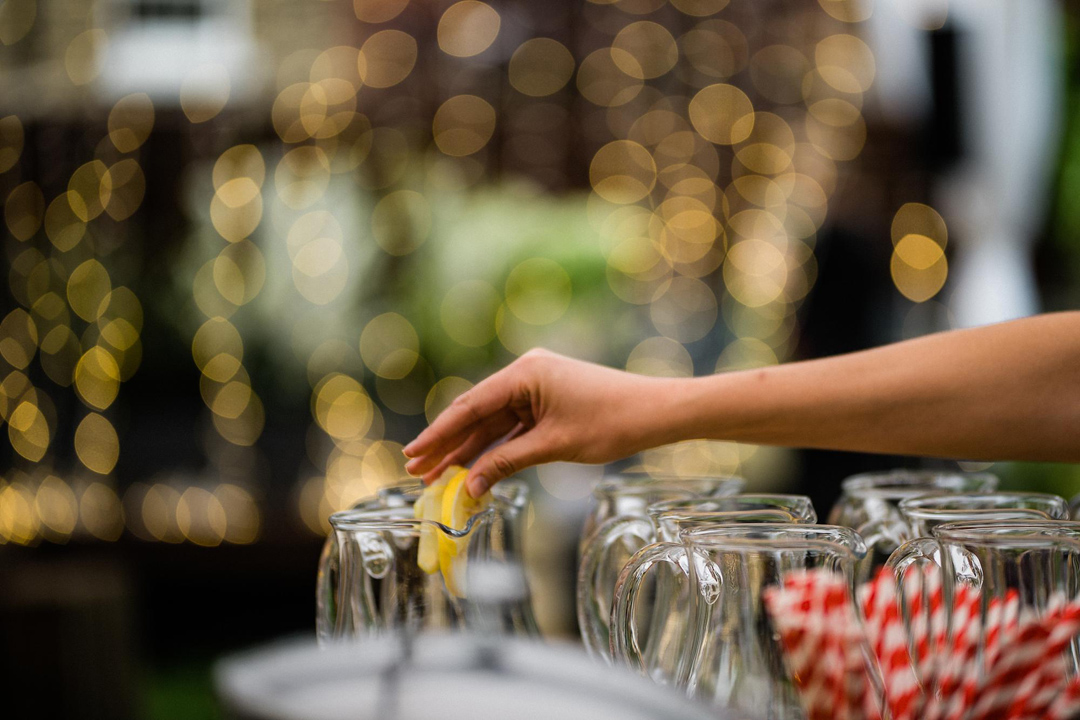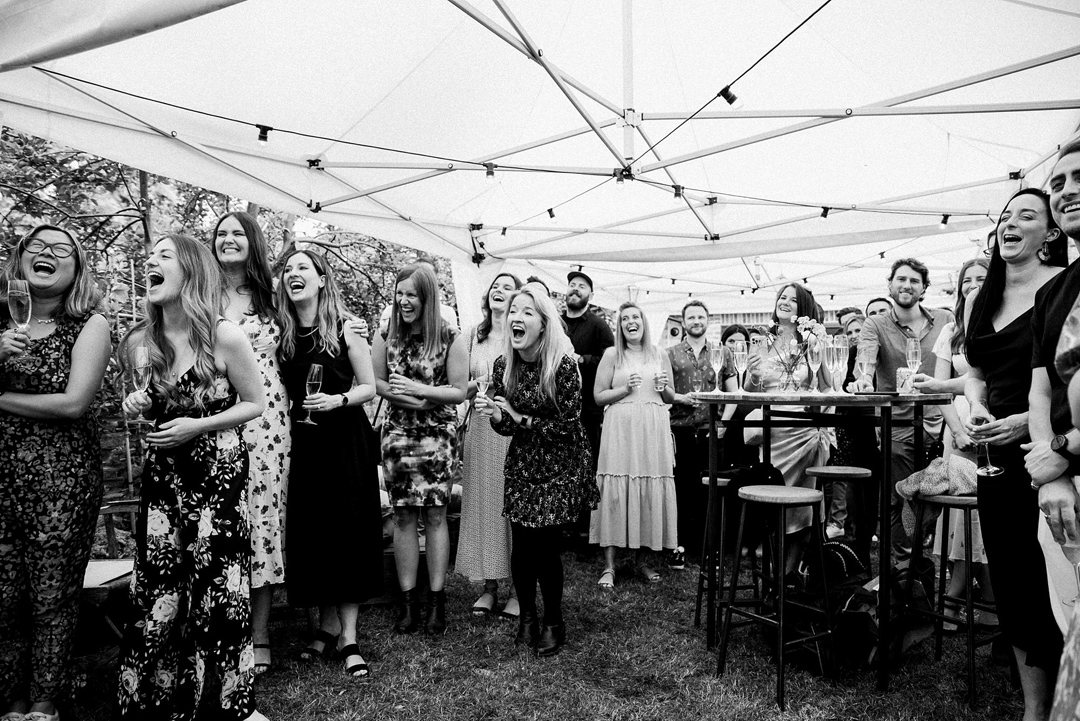 Their second wedding ceremony was led by Bex the Celebrant and included a ribbon tying.
"Our marriage was already legal but wanted our guests to have a special feel for the day and see the 'I Do' moment."
"We were recommended Bex the Celebrant by our planner and she was the icing on the cake to bring the entire day together. Through a simple brunch meeting and a few Q&A responses, Bex was able to put together the best ceremony that properly captured us and the day."
"We wanted it to be entertaining and include lots of laughs (and roasts) of the two of us to fit in the party-style vibe."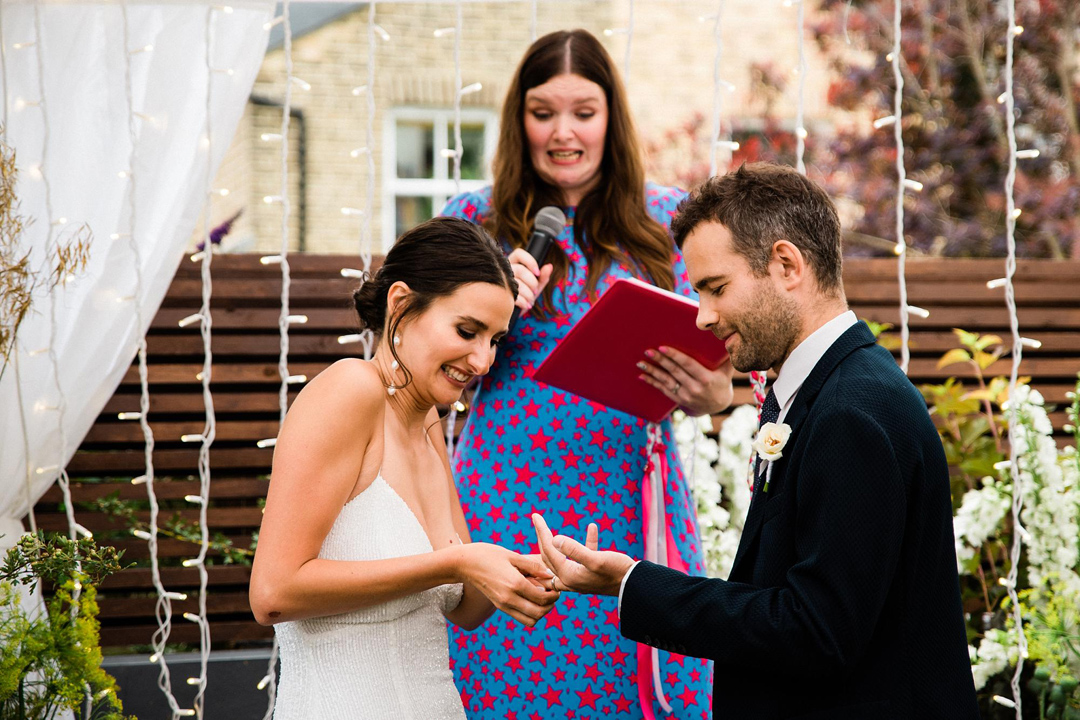 "Bex was absolutely perfect. She arrived early and mingled with guests, posing as a colleague from work. Then as we made our entrance through our garden, Bex positioned herself at the front to welcome everyone with the words 'Surprise Bi*ches!'."
"Bex's ceremony was perfect – it included lots of laughs, shots, all whilst the guests were sipping on my favourite champagne."
"Feedback from guests was that Bex was amazing and truly unique – they could not believe we'd only met her once as she captured us as a couple and individually so perfectly!"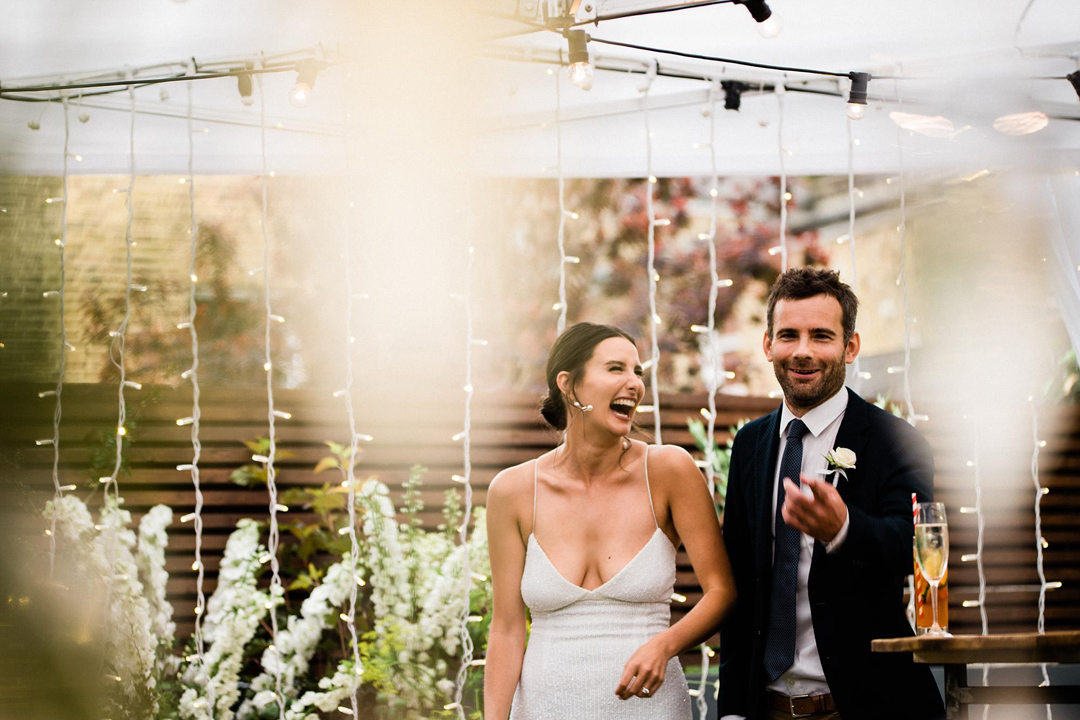 "We did not make tailored vows but customised our 'I do' promises. As the legal part was done, we could be very creative and sarcastic in our vows."
"Bex suggested that we not tell each other our customised 'I Do' promises, so we were equally as shocked as our guests that we'd both included the same swear words."
We included a ribbon tying ceremony to officially 'tie the knot' with the help of Bex. We also got everyone to take shots."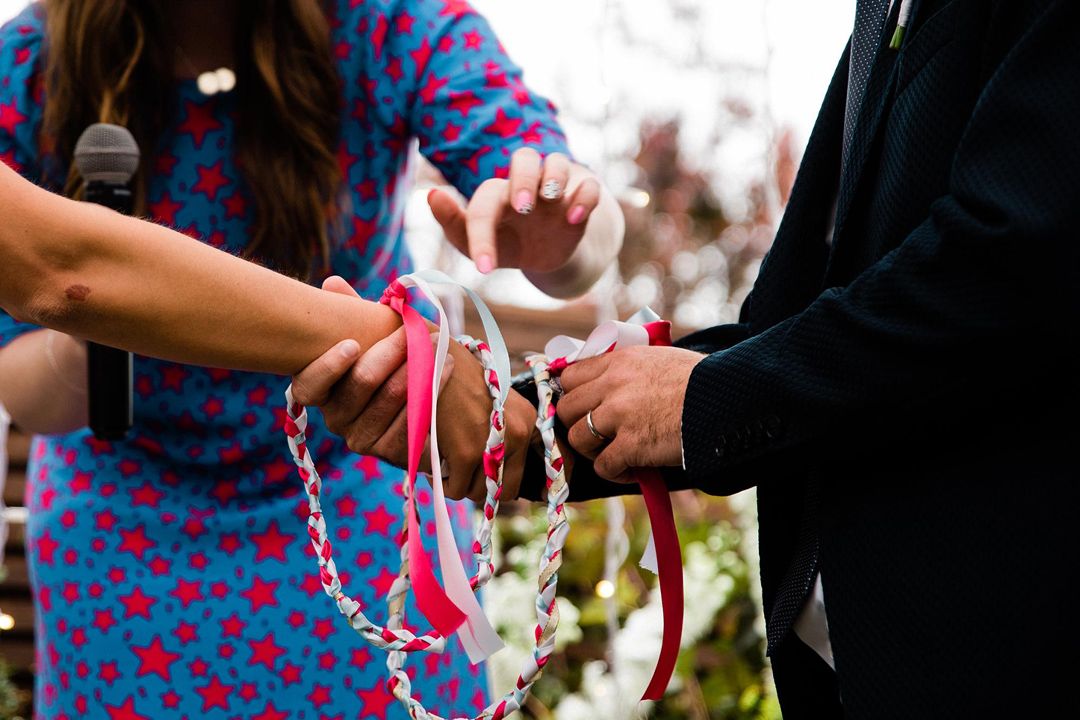 After the ceremony, it was party time, with a huge array of food and drinks to fuel the dancing.
"Monica from London Basque Kitchen is phenomenal. The one brief that we had given Chris was that we wanted lots of very good food and booze – these were our absolute non-negotiables. We wanted our guests to feel that there was never-ending supply of both and wanted it to be great quality."
"Obviously catering for a house-party, BBQ-style wedding is very difficult but Monica nailed it. Give that we are travellers, we wanted to take our guests on an international experience. Our canapés were a mix of Asian and classic English pub food and they were huge: I'm not talking a mouthful, I'm talking massive sliders. Starters were amazing Italian-style antipasti platters and fresh breads. Mains were Mediterranean pulled beef and crispy chicken, all accompanied by a huge selection of international sides such as sweet potato, salsa, salsa verde, Greek salads and more. For dessert Monica made sticky toffee puddings, mini pavlovas and chocolate tarts."
"The food display did not end there! At 10pm Monica and her team cooked up two massive paellas – traditional and vegetarian. These were absolutely smashed by the guests at this point and leftovers consumed through the night!"
"All of the food was accompanied by perfect summer cocktails, a fabulous wine selection and spirits. Chris' team from The Wedding Arrangers had the most phenomenal staff who were able to work through our house – far from the usual venue. Guests raved about their impeccable service. The bar and booze were provided by From Behind This Wall."
"Michael and I last minute organised a rainbow cake from The Hummingbird Bakery to be delivered as we did not want a traditional cake or cake cutting ceremony. However, we forgot to tell Chris our planner about it and we completely forgot it was left in the fridge. Luckily, our guests were filled with all the amazing food so it went unnoticed. It meant we had leftover cake for the week after to enjoy."
Music was key for the party's atmosphere, with lazy garden party vibes reining.
"Chris had hired an amazing sound system and played our own Ibiza chill-out music. As the night went on, the music got more hardcore (and louder!) and people danced."
"We did not have a first dance as we scrapped all traditions due to my family not being there. However, once everyone had taken 'a shot because we'd tied the knot', Justin Bieber 'Baby' was played loud while everyone ran up to us to congratulate."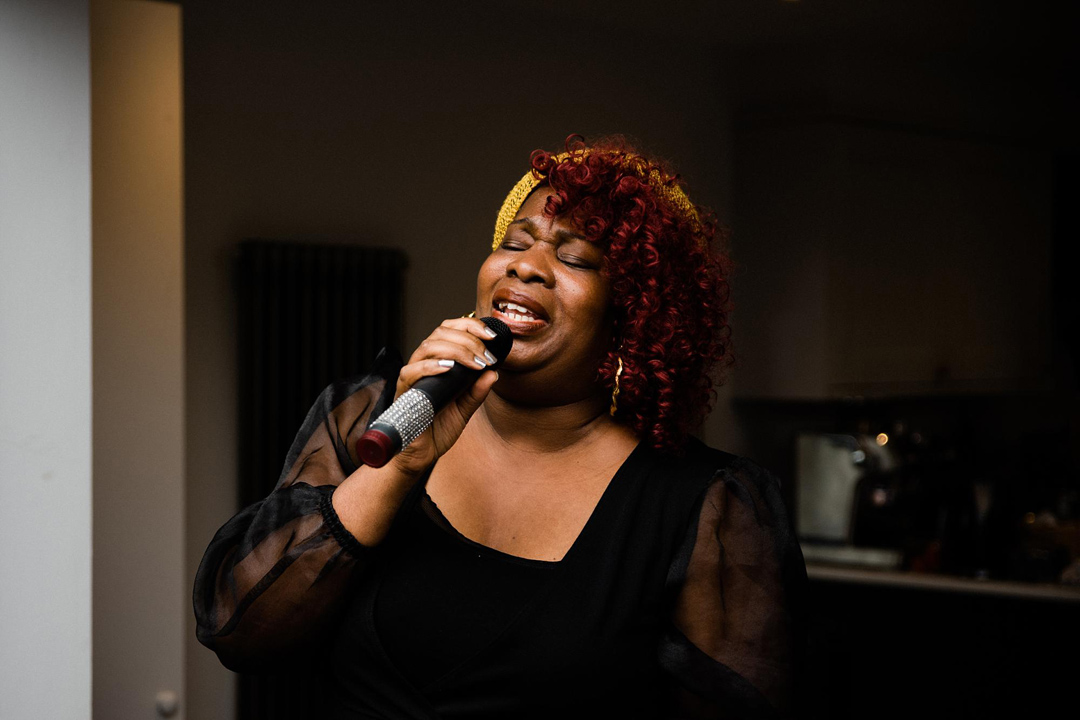 The couple have so many favourite moments from their three-party day.
"Coming out and surprising everyone was obviously a highlight but the whole day was just so unique, not traditional and so 'us' and that is our favourite part."
"The day flowed absolutely perfectly, which is a phenomenal achievement for all our suppliers given they had very little time to arrange everything."
"We would not have changed a thing. We absolutely loved our suppliers and are so grateful that they were able to put our surprise, pop-up garden party wedding together in six weeks."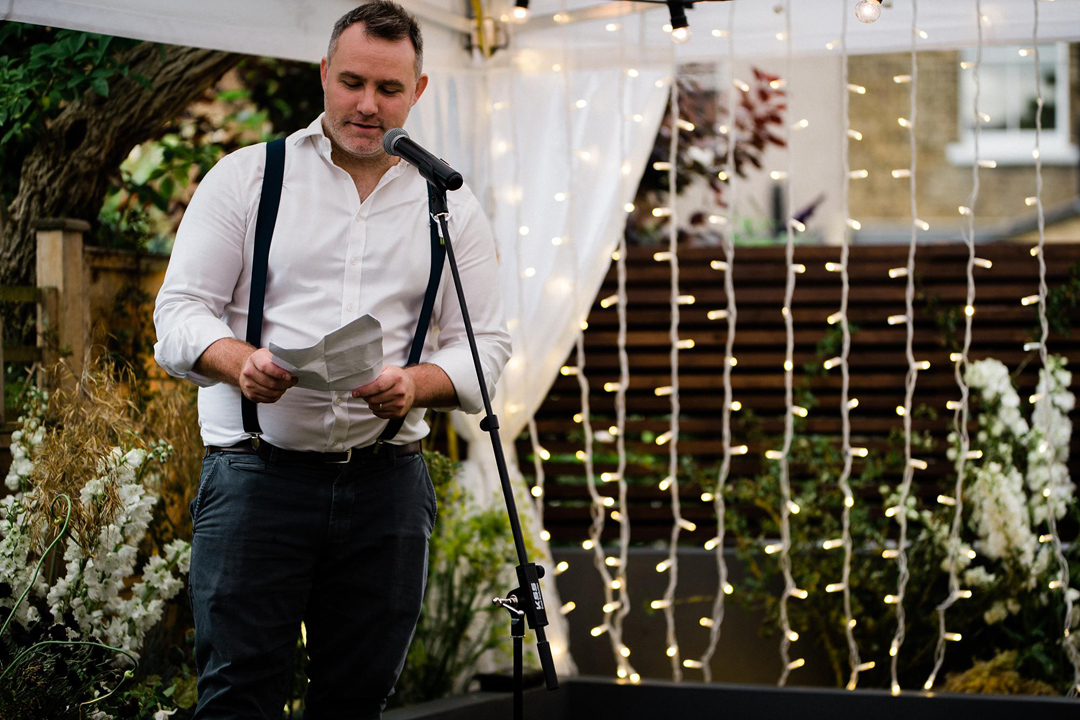 "It was a last-minute decision to provide hangover kits for the guests. 'Hangover survival kit' bags were ordered off Amazon and we filled these with a range of items such as rehydration packets, mints, paracetamol, chocolates, lollipops, tea bags and coffee pouches for guests."
"We were told these were very much appreciated!"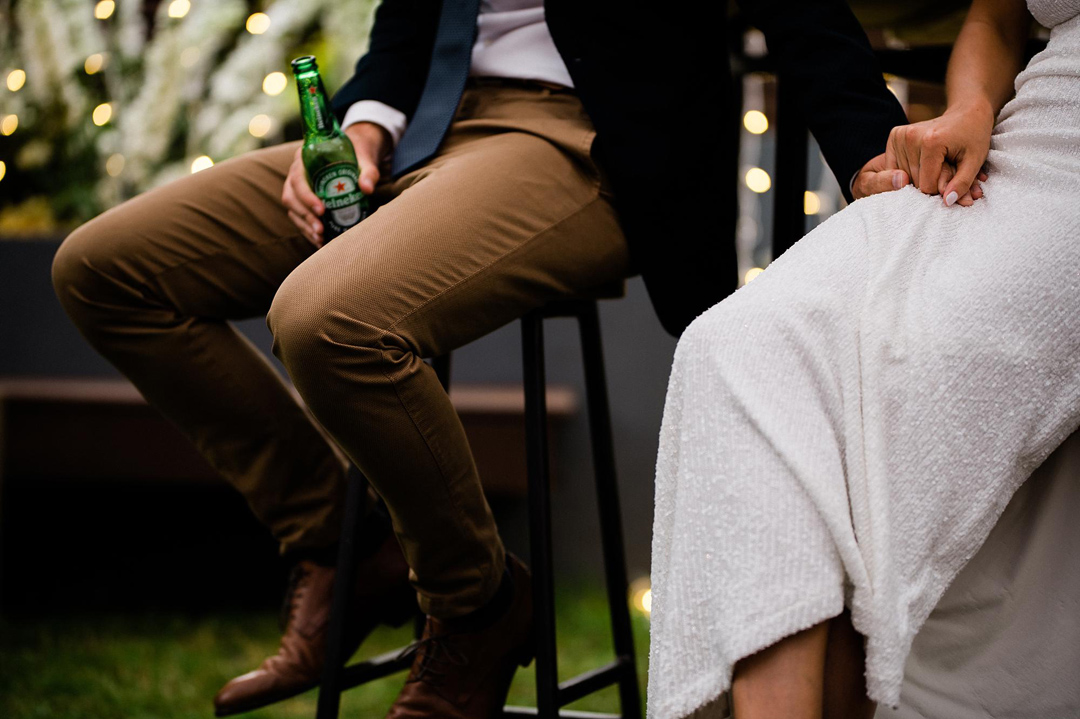 Words of Wedded Wisdom
"Do what you want! Your wedding doesn't have to have all the traditional elements if you don't want it to."
"This is about you guys as a couple, so do what is important to you."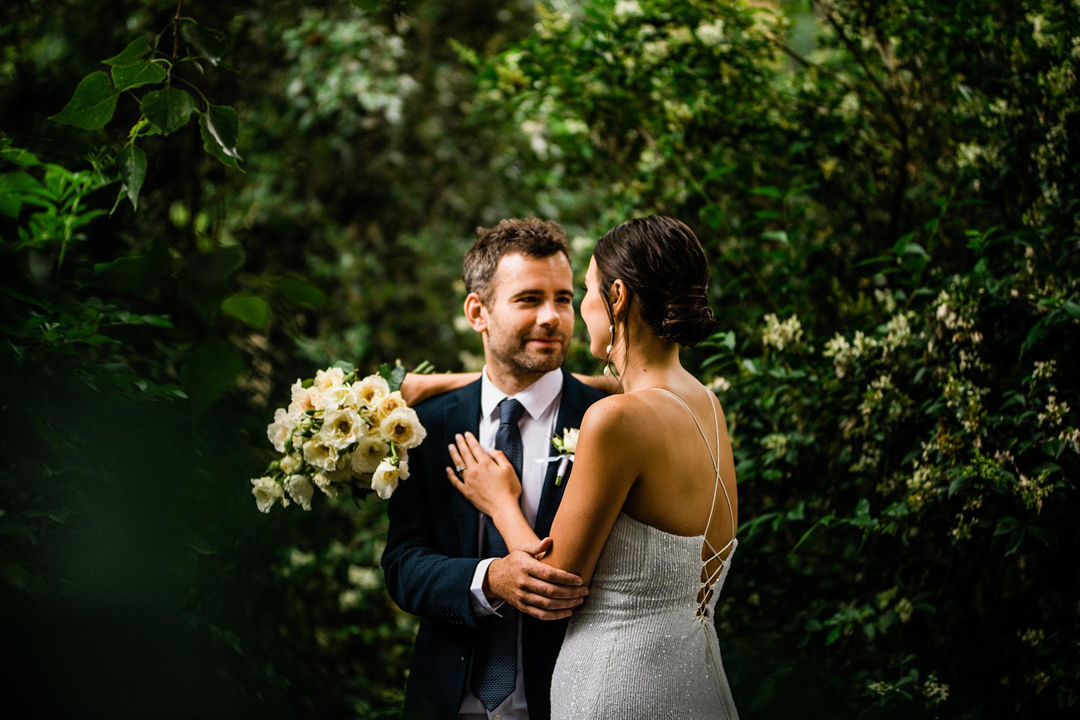 Oh my gosh, this sounds like the best day Tina and Michael. Thank you and congratulations to the both of you, and I hope you have a wonderful second celebration in Australia when the time comes.
Paulo Santos, what a pleasure to feature your work once again. Lovelies, for more non-traditional wedding inspiration, browse through this Love My Dress selection here.
Ele xx