This beautiful, intimate wedding that took place in Belfast, Northern Ireland, is that of our dear friend and former Love My Dress writer, Caoimhe.
Caoimhe, a counsellor, wed lawyer David on 11 September 2021 at Belfast City Hall. The couple's ceremony was followed by a laid back meal at one of their favourite city haunts, Home Restaurant. 
Caoimhe wore a minimalist gown, gently tied at the waist, by the fantastic Rewritten. We just love the pops of early Autumn colour and lovely, family wedding vibe of this day. Enjoy.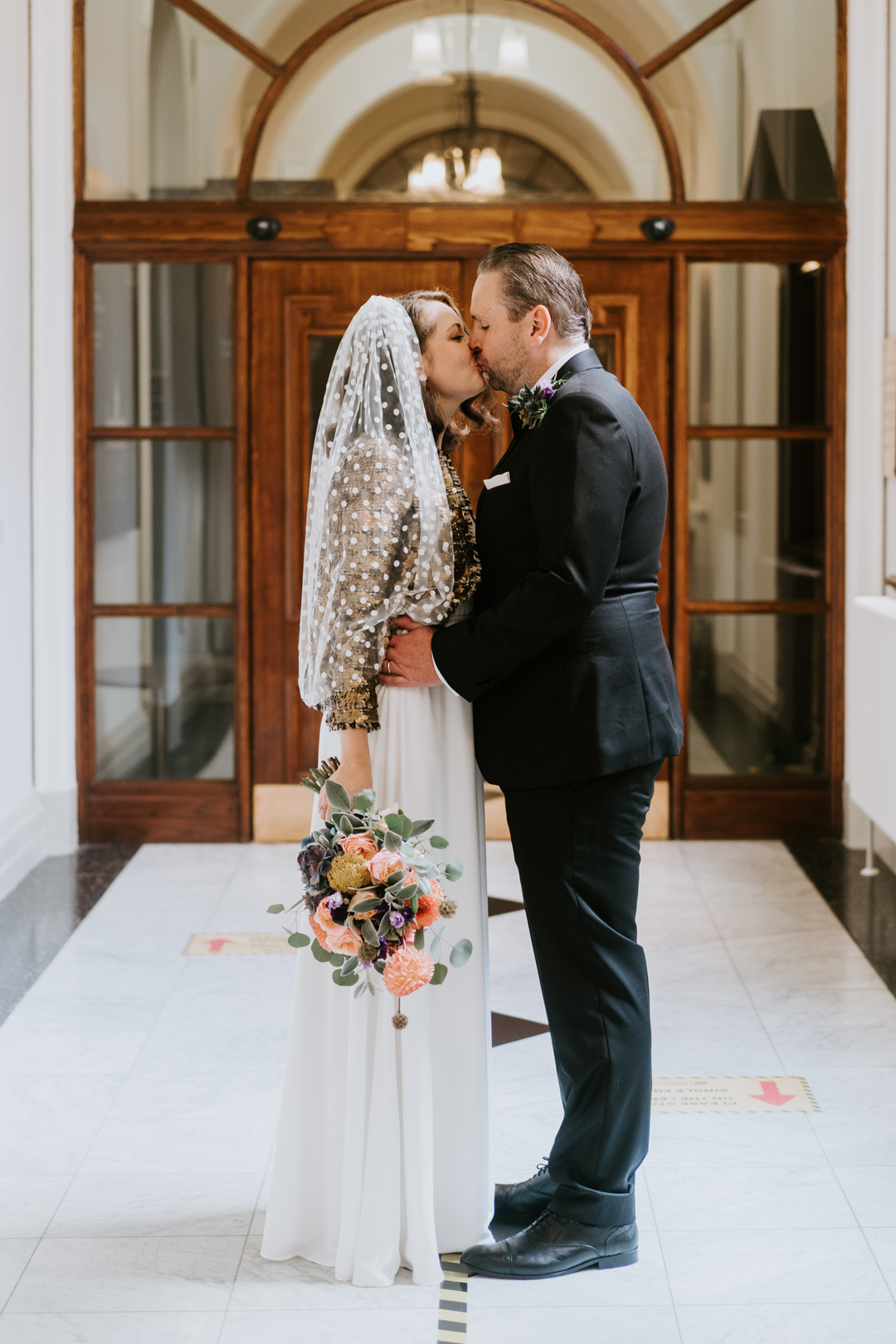 "We chose the date by looking at Saturdays on a calendar and realising that 11 September was my grandparents' wedding date so it felt the perfect fit."
"After that we made decisions as and when they were needed, an approach that worked really well for us."
"We quietly planned the wedding in around eight months, telling our guests a few months before as we weren't sure how restrictive the pandemic would be to our plans."
Caiomhe selected her elegant, floor-length Rewritten gown from Archive 12 Bridal Boutique in Belfast, loving its modern and laid-back vibe.
Rewritten is a much-loved member of our Love My Dress Wedding Directory so please head to their listing for more about their story and collections.
"I've been following Archive 12 for a long time. Claire stocks the most beautiful dresses and I always knew I'd go there for my wedding dress when the time came."
"When we started planning the wedding I felt that I wanted a simple dress to fit the city hall and city vibe of the wedding."
I also didn't want to splurge too much on my dress so when I saw that the Rewritten dresses come in Ivory I decided to try them using the Archive 12 'try at home' service (we were in full lockdown at the time)."
"I felt so comfortable in the Vienna dress. The fabric has a beautiful weight to it and it had wonderful movement. It also had the simple vibe I was going for."
"I couldn't recommend the service in Archive 12 more. They were so helpful and Sarah was brilliant when I went to collect my dress and try it on for the first time with my veil and shoes."
"Planning a wedding for September in Northern Ireland, the weather could have gone either way so I was intent on finding a gold jacket to wear over the dress."
"Cutting it fine, I managed to get one the week before. It's a gorgeous sequin and bouclé short jacket from Zara, sourced on eBay. Thankfully it fit and I loved how it looked with the dress."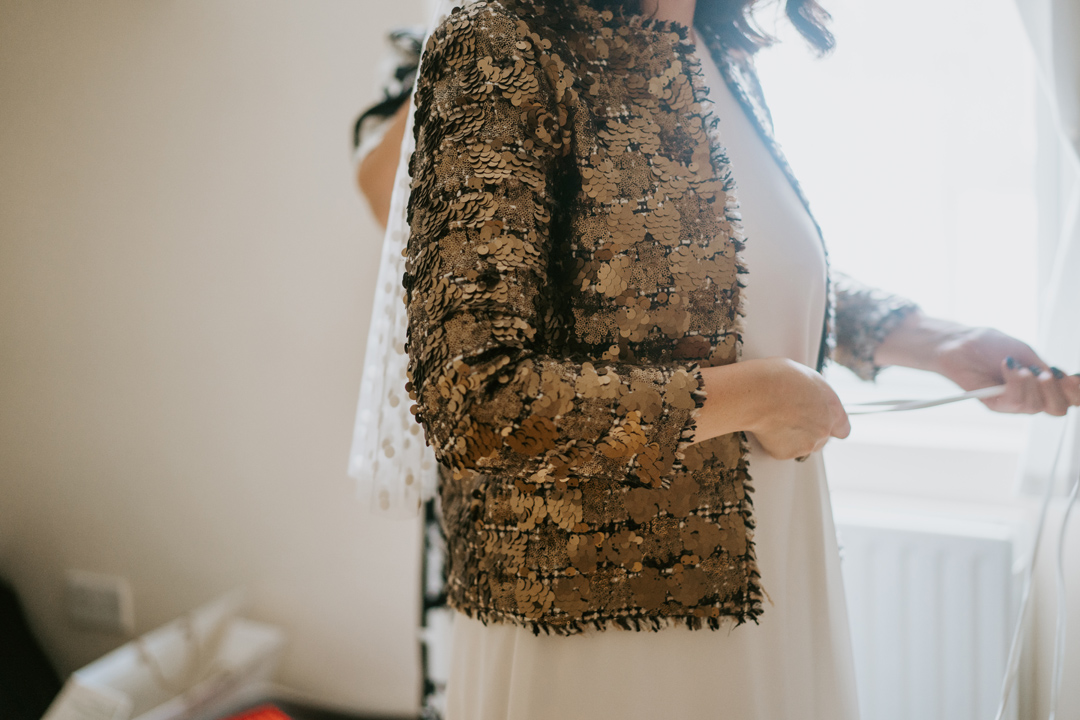 Caiomhe's bob was styled into romantic waves by Hair by Sam & Co and her make-up was fresh and pretty, with a vibrant coral lipstick. It perfectly matched the coral in her bridal bouquet, which was put together by Vicki at Berry & Buds.
"I also wore beautiful earrings by Blue Meadow, also from Archive 12 and Chanel No 5. It was my granny's perfume so it seemed fitting to wear it."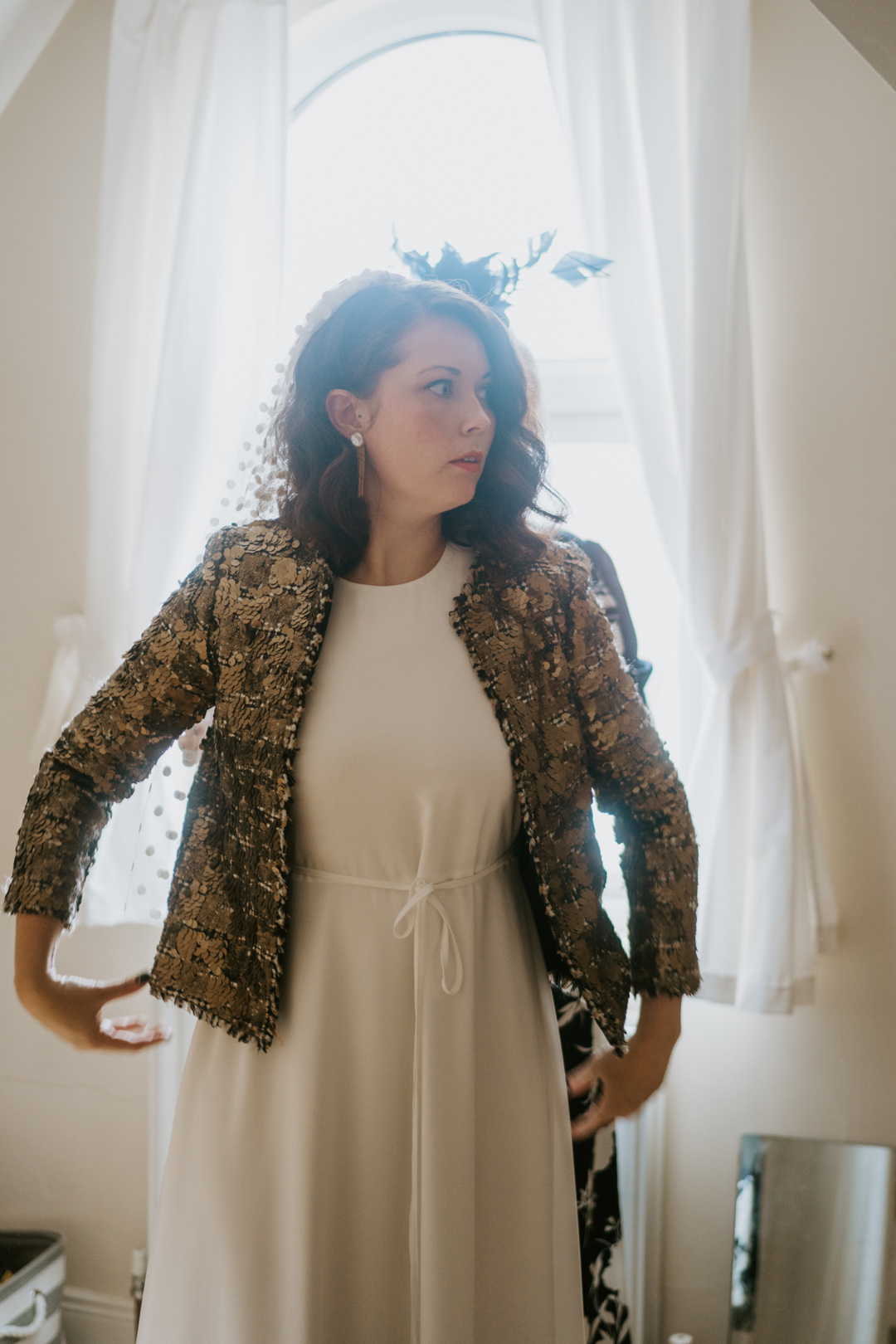 "I've been following florist Vicki of Berry & Buds for a while on Instagram and when she started a floristry business I absolutely loved her aesthetic."
"When I contacted her with my ideas she was so receptive and enthusiastic. She was lovely to work with and I felt very at ease with the floral arrangements in her hands."
I was blown away when she arrived at the house with the flowers and bouquets. They were beyond my expectations and we got so many compliments from our guests."
The bride selected a statement, waist-length, spotty veil from Ann Marie Faulkner and navy block heel sandals from New Look.
"I wasn't sure I'd go for a veil but I saw this one and loved it so much."
"The length was perfect with the dress and it was gorgeous in the photos so I'm really glad I went for it."
The bride and groom met at university in Leicester fifteen years ago and were engaged six years later.
"A wedding was always in the plan but we weren't sure how or when. Our son was born in 2016 followed by our daughter in 2019 and we felt that the time was as right as it could be."
"We loved the idea of a small, intimate wedding. Our families had not met previously so we decided to invite just 22 guests, primarily our close family and a couple of our oldest friends, so that everyone would have a chance to get to know each other properly."
"We started planning during the pandemic and were very mindful that we would not be fully aware of how tight restrictions would be until very close to the wedding."
"With that in mind, we kept the guest list small so that we wouldn't have to make cuts."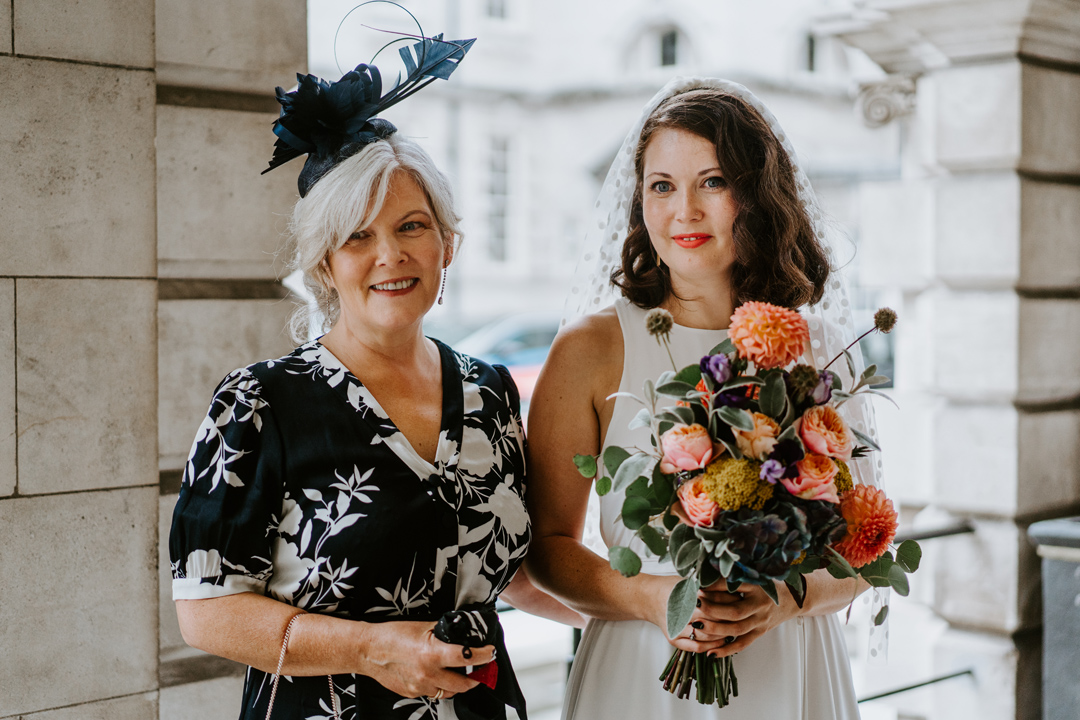 The bridal party travelled to Belfast City Hall in a Belfast taxi and Caoimhe entered with her mum and daughter.
"My mother accompanied me down the aisle – it was a really special moment for us both walking in with my daughter Liadán between us."
"We walked into the ceremony room to 'Cosmic Love' by Florence and the Machine."
Caoimhe's bridesmaids wore navy blue, pleated dresses from ASOS with gold heels, also from ASOS and jackets from H&M for warmth.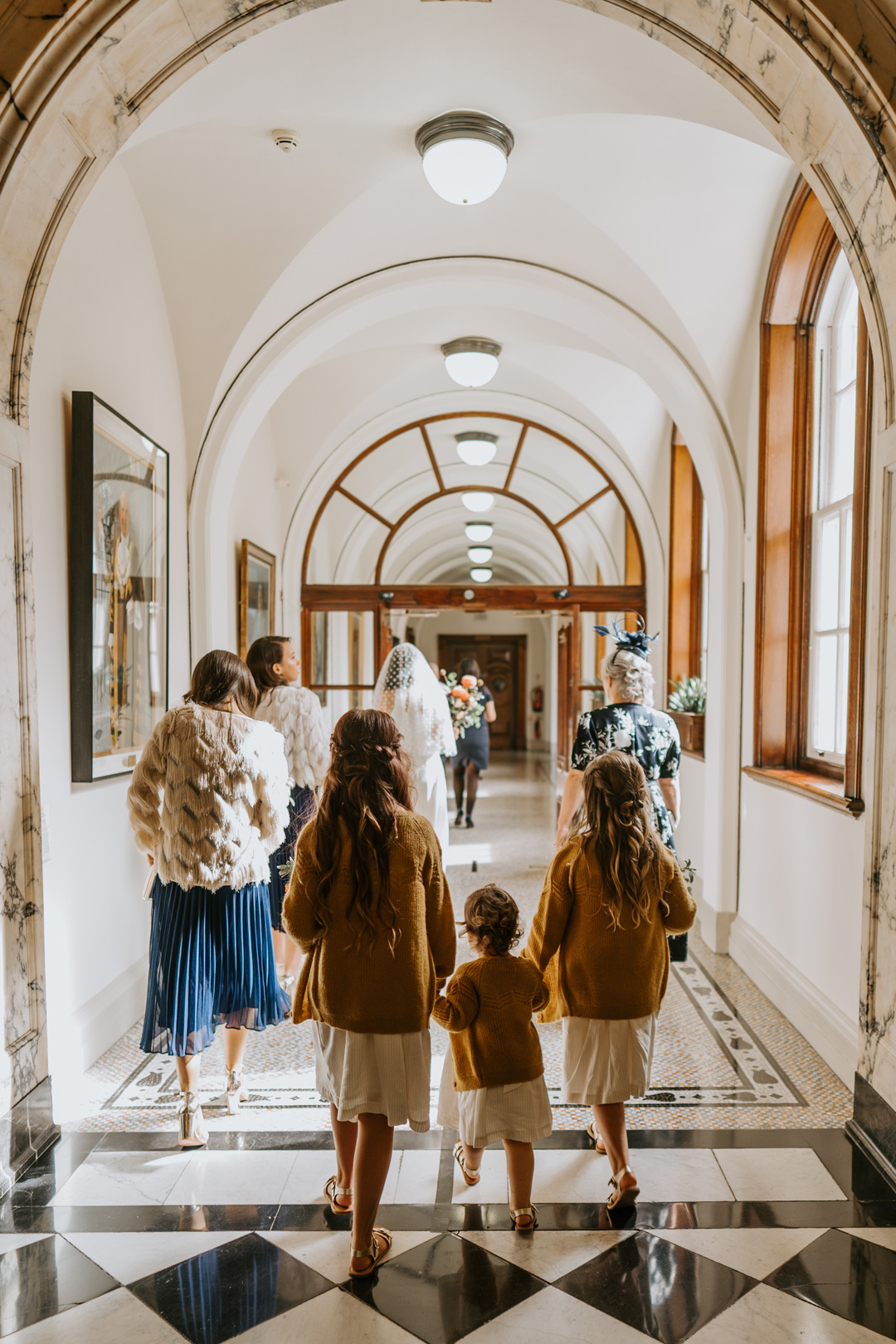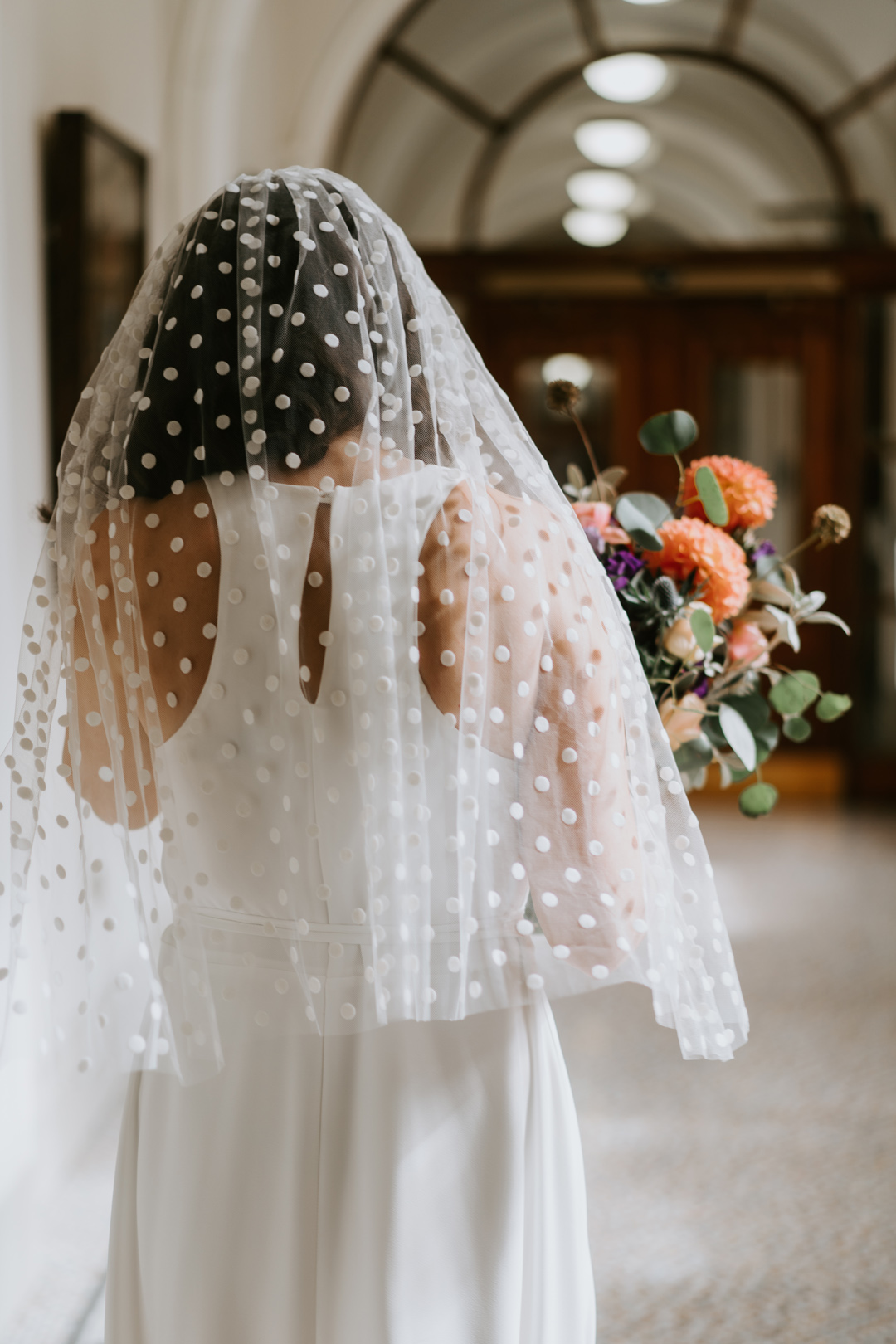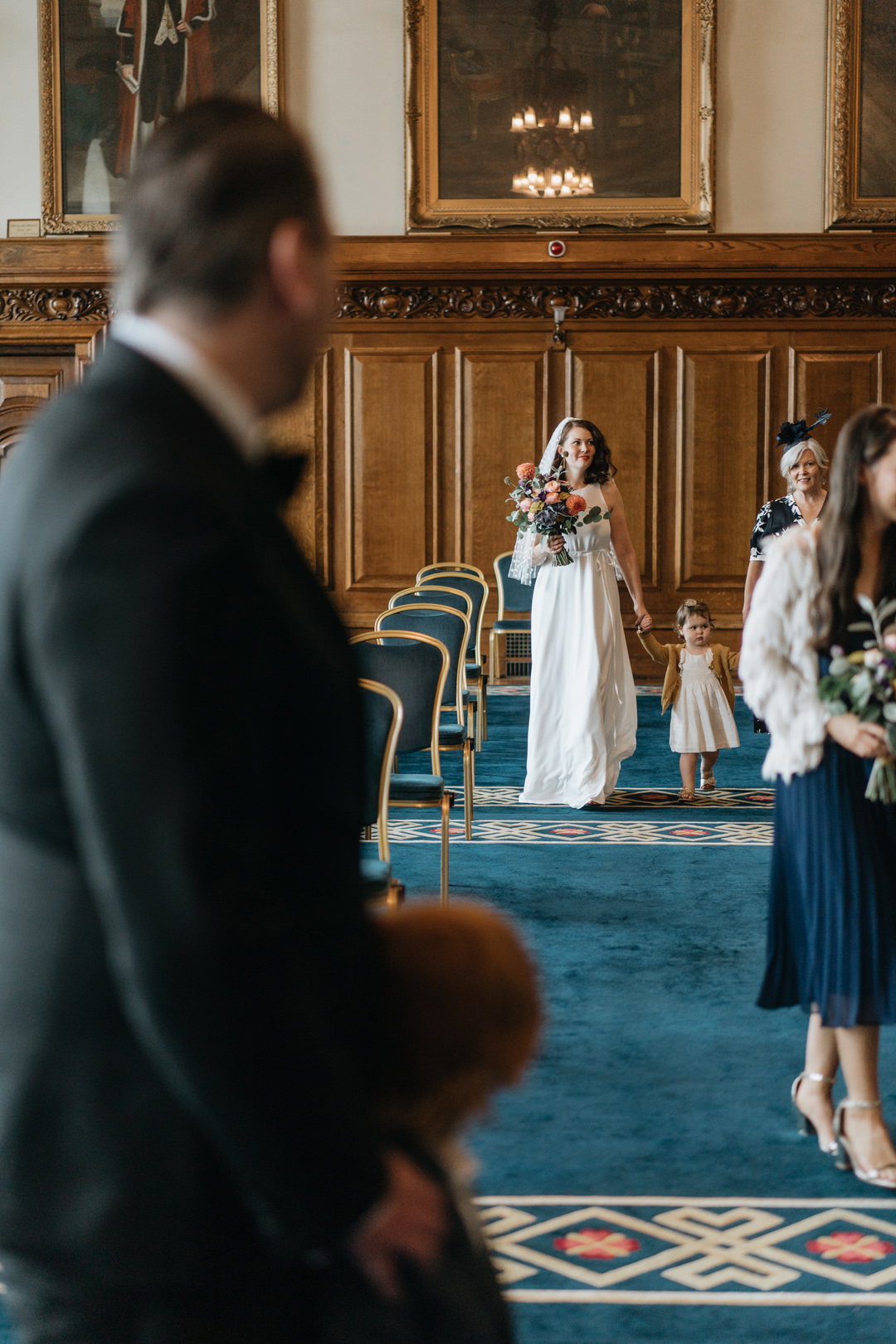 "Belfast City Hall was our first decision because it's our local registry office and we felt it was convenient for our guests as well as being a stunning building."
"We chose not to write our own vows, opting for the standard civil ceremony vows."
"The reading we chose, recited beautifully by my sister, was 'Scaffolding' by Seamus Heaney."
The flowergirls wore mustard yellow Cyrillus cardigans over their pretty white dresses, also from Cyrillus, along with Monsoon shoes.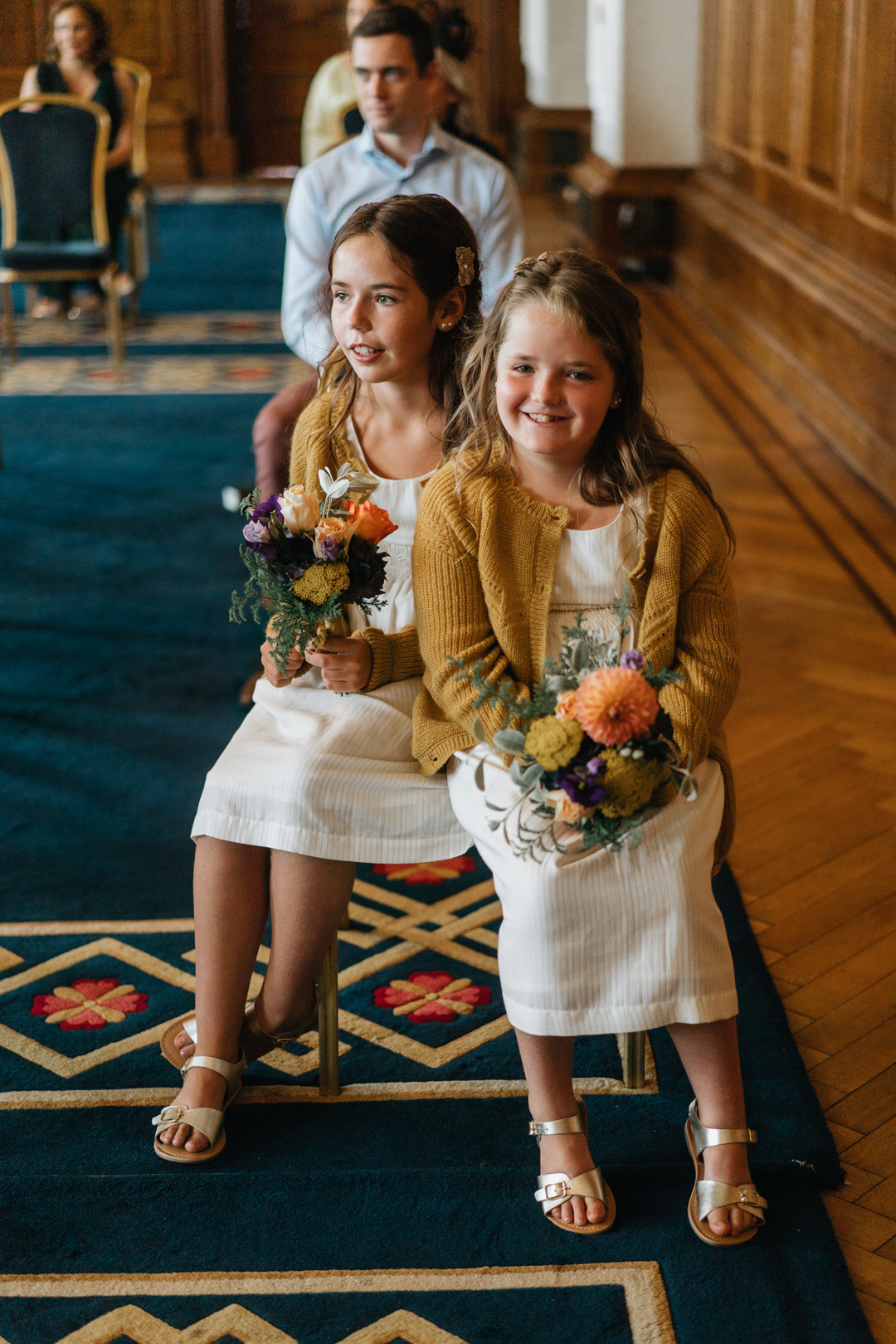 "It's a short poem that we felt reflected how our relationship has developed over the years we have been together."
David and Caoimhe exchanged matching plain gold bands with their wedding date engraved inside from Wedding Rings Direct.
"The service was brilliant. We got rings to try on for size at home and our order arrived very quickly."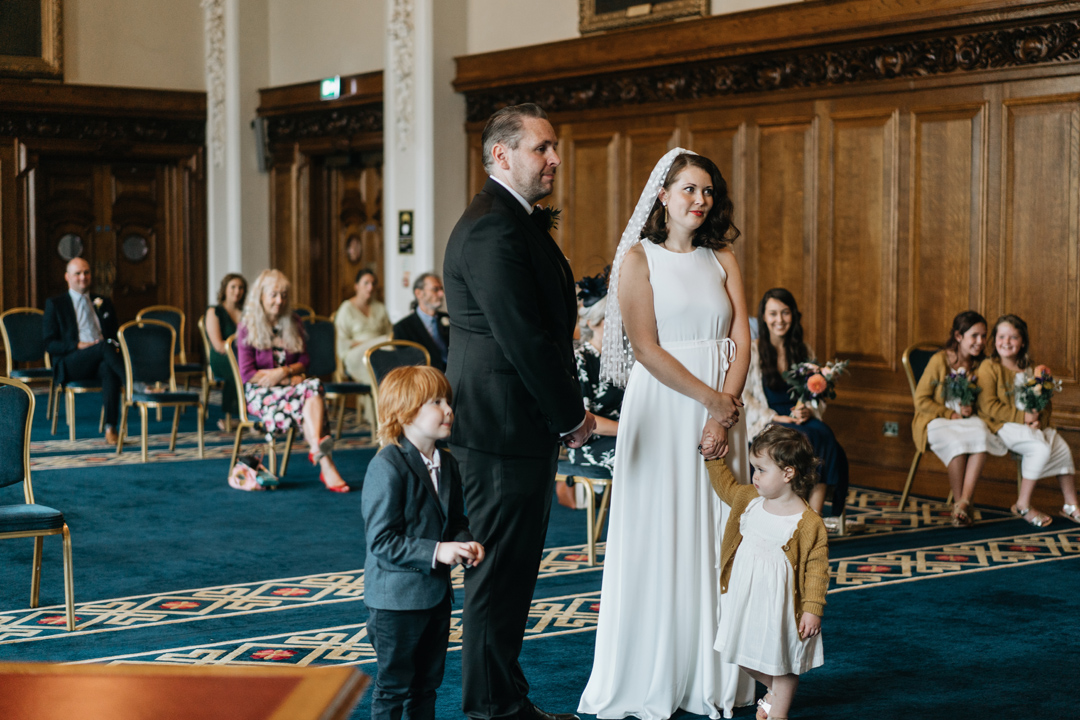 "We loved the ceremony. There was so much love in the room and it felt so special to be standing there in front of our families saying our vows to one another."
"It was so lovely to be celebrating a happy occasion in an otherwise strange year."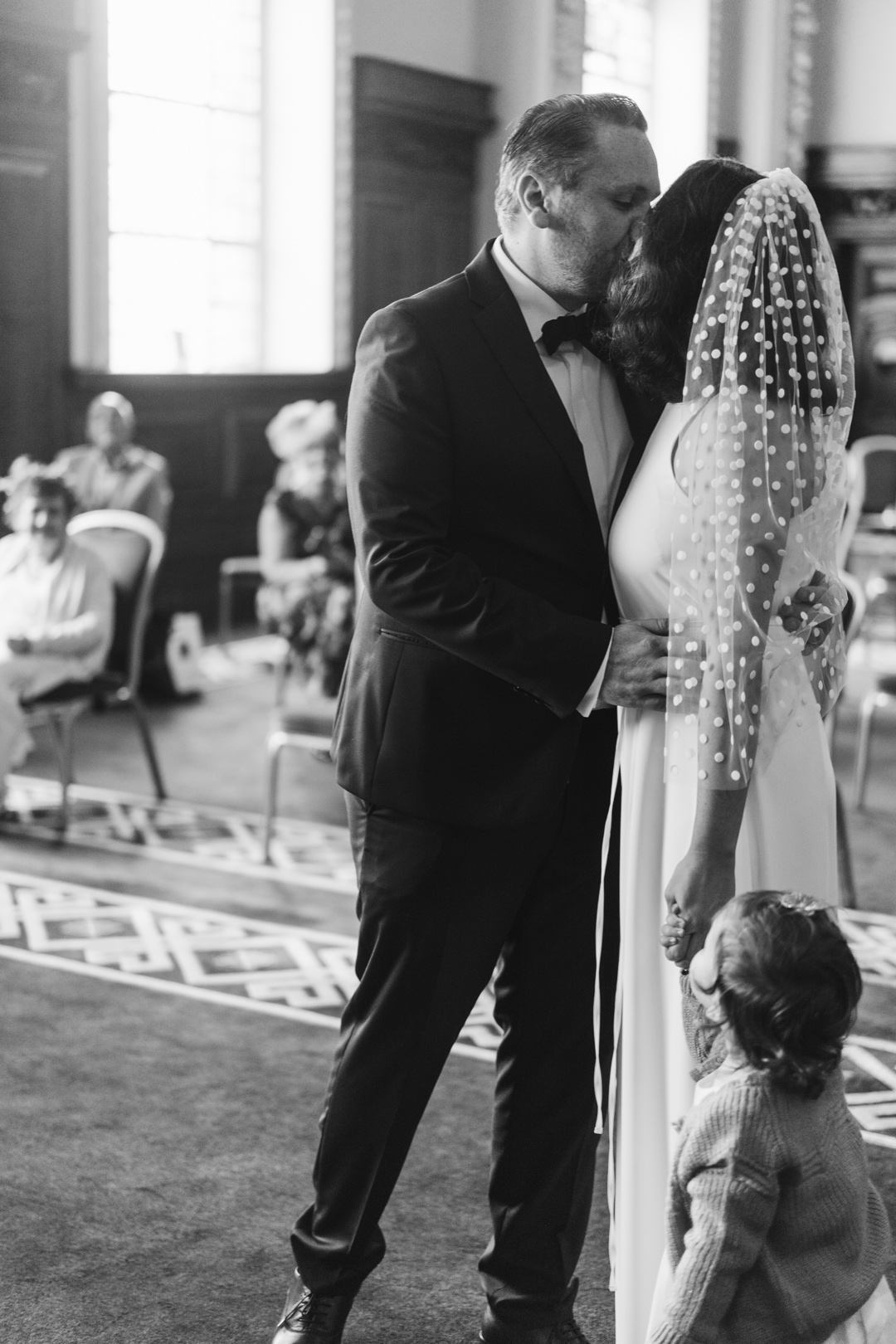 The couple selected photographer Steph of X+O Photography, whose intimate and colourful style was the perfect fit for them.
"We booked our photography quite close to the wedding. I really wanted to get it right so kept putting it off with the added complication of only wanting the first half of the day to be documented."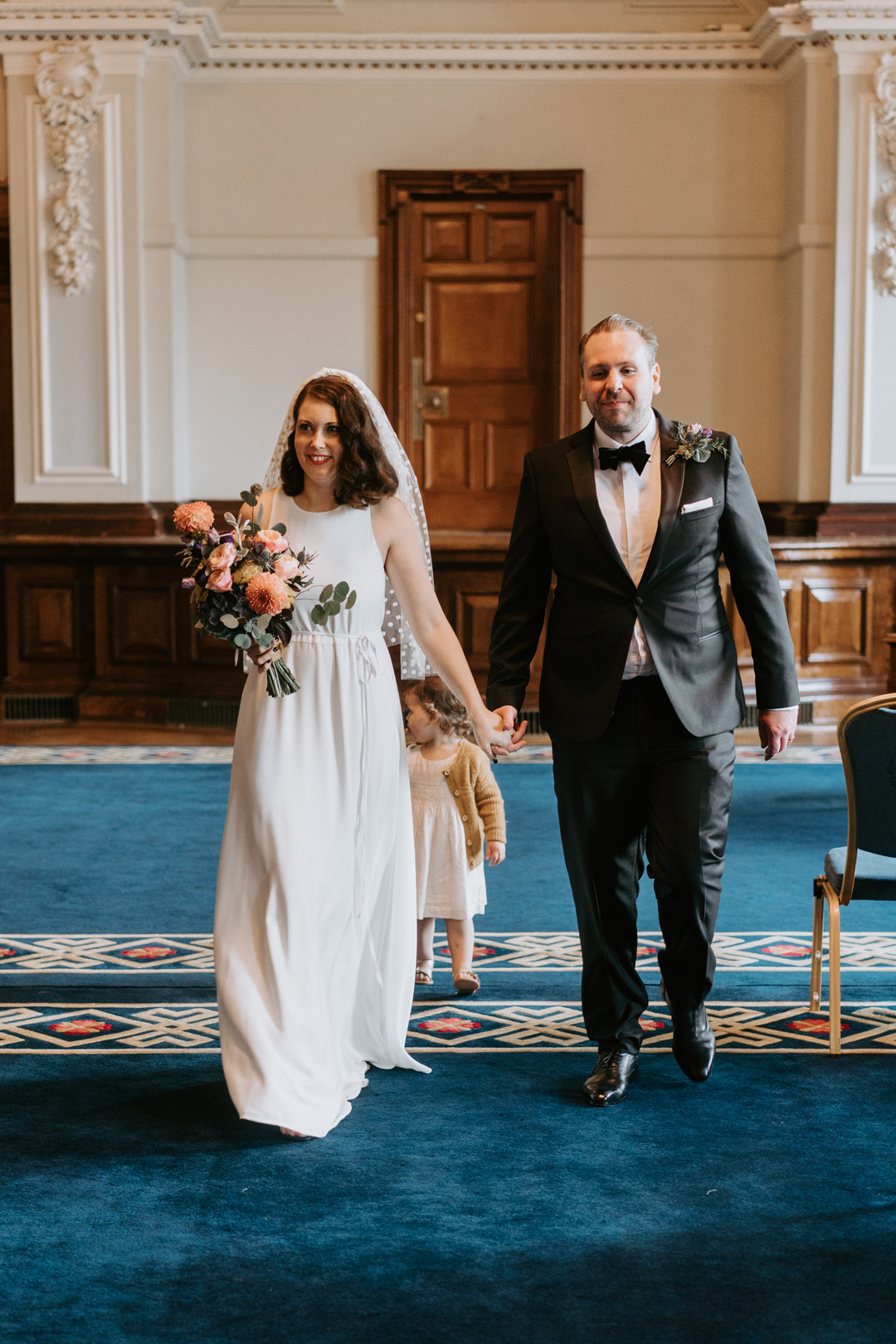 "A couple of photographers I contacted didn't do half days. As soon as I saw Steph's work I loved her style; it was exactly what I was looking for."
"She was so enthusiastic and friendly when we spoke and she instantly put me at ease."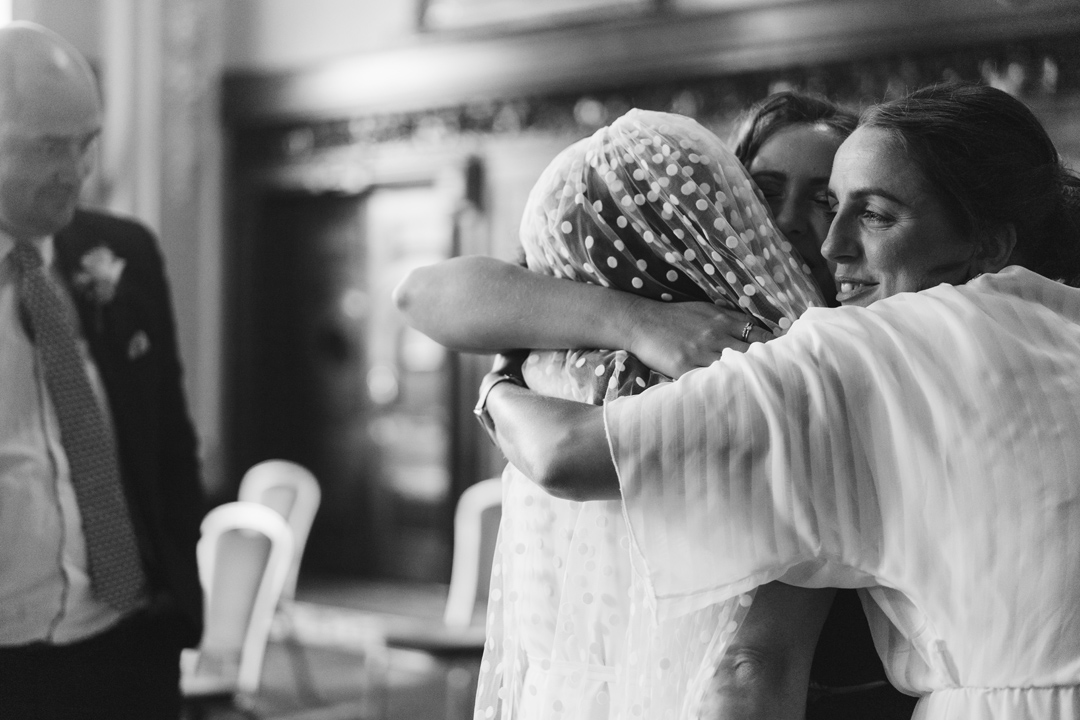 "It felt a perfect fit from the off so I'm really glad I didn't commit to another photographer."
"On the day, Steph was so lovely and our guests commented on that too."
"She was professional, taking the time to make sure she got all of the family shots I'd asked for and made sure she got all of the little details too."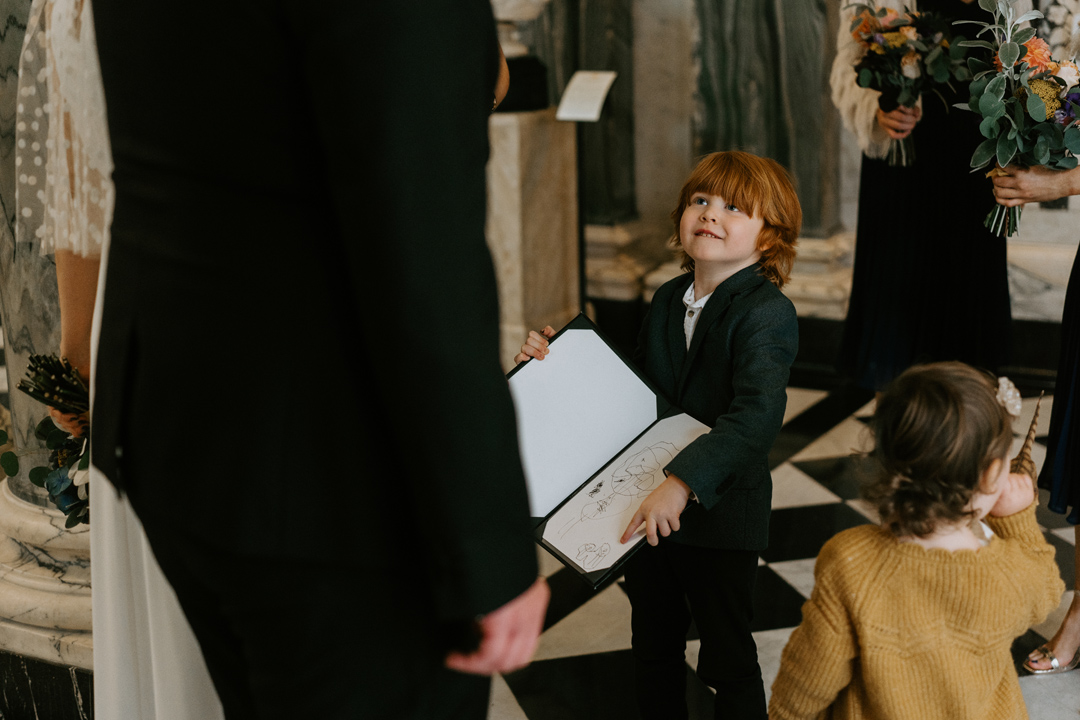 "We felt so comfortable with her and when we got the photos back we were so delighted with every single one."
"She captured us and our families perfectly and we would thoroughly recommend her to anyone."
The newly-weds and their guests gathered for some lovely group shots, and some contemporary portrait shots outside, before taking the short walk to Home Restaurant for lunch.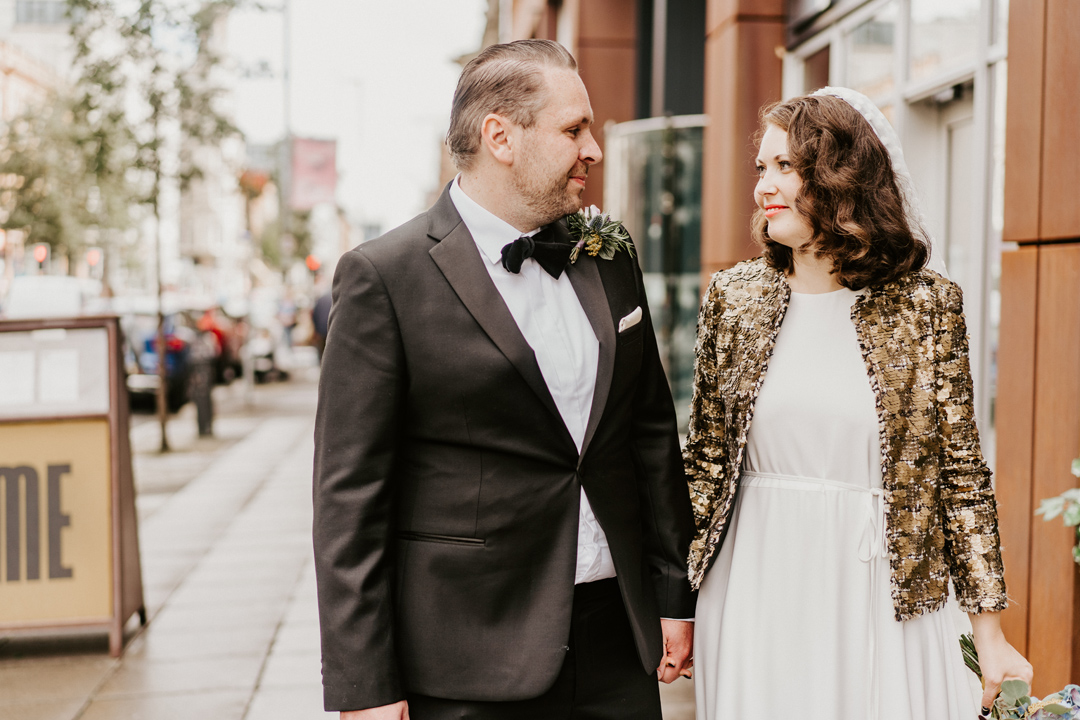 David chose a smart black tuxedo from Ted Baker, with Barker shoes and a tied black velvet bow tie from Mrs Bow Tie. The couple's son was page-boy, looking so adorable in his grey H&M suit and white Converse shoes.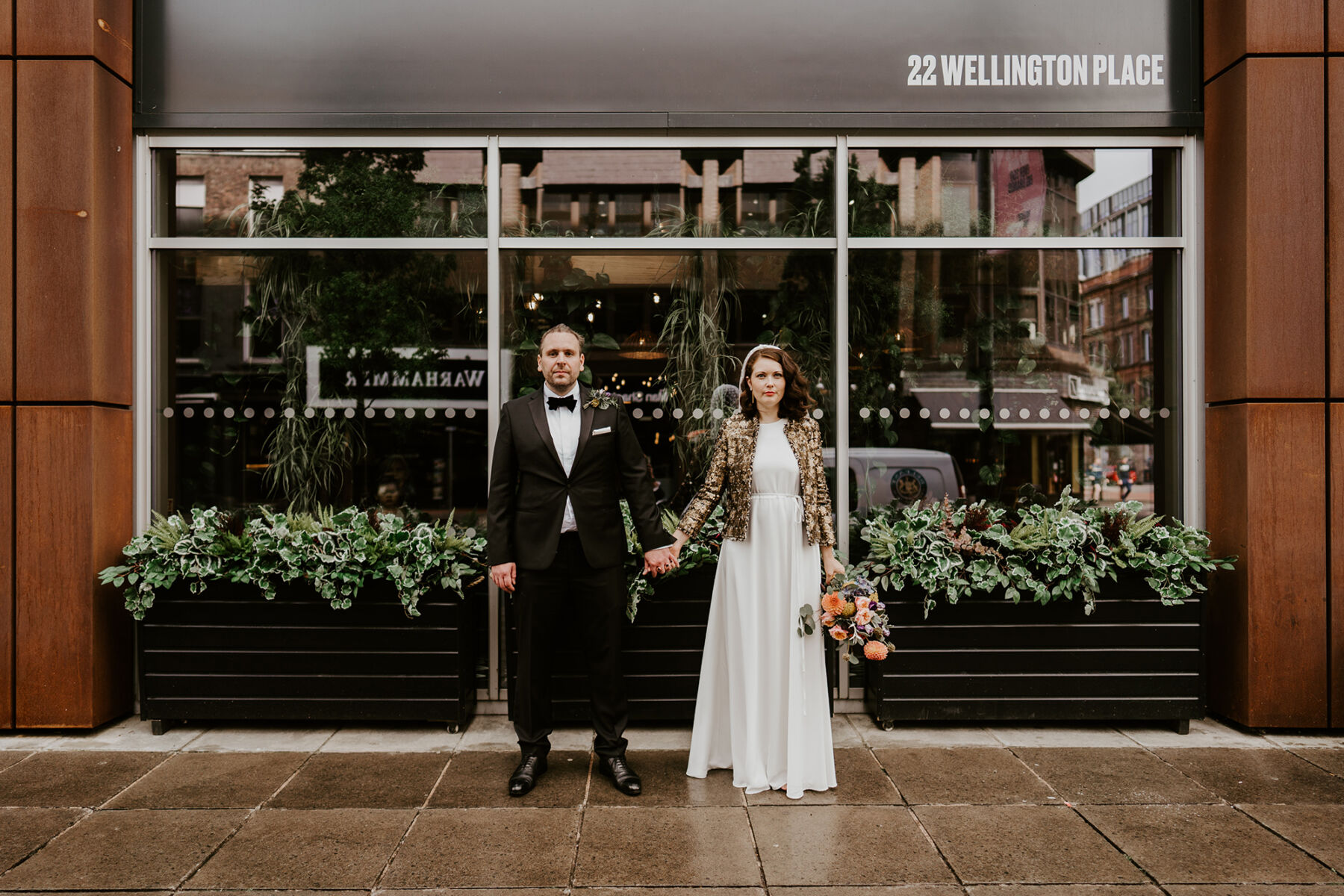 "Our main aim was to have a family-focused, laid back wedding. Home Restaurant is our favourite restaurant in Belfast."
"The food is delicious and it has a very laid-back vibe. The staff were amazing and we were so happy with absolutely everything on the day."
"They really went above and beyond to make it special for us."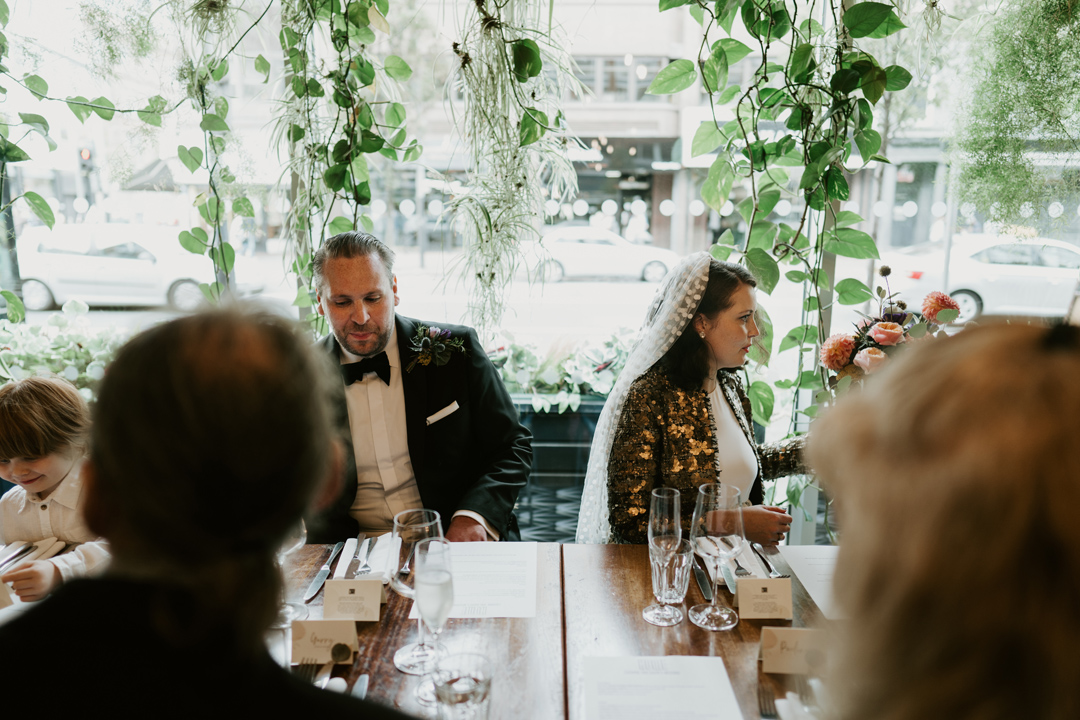 The dining room was simply decorated with fresh flowers and wedding stationery from MyecoDesigns.
"We decided to give a donation to Choose Love as our wedding favours."
"We wrote a blurb on the back of the place cards giving a little more information about the charity and the work they do. It seemed to go down well with our guests."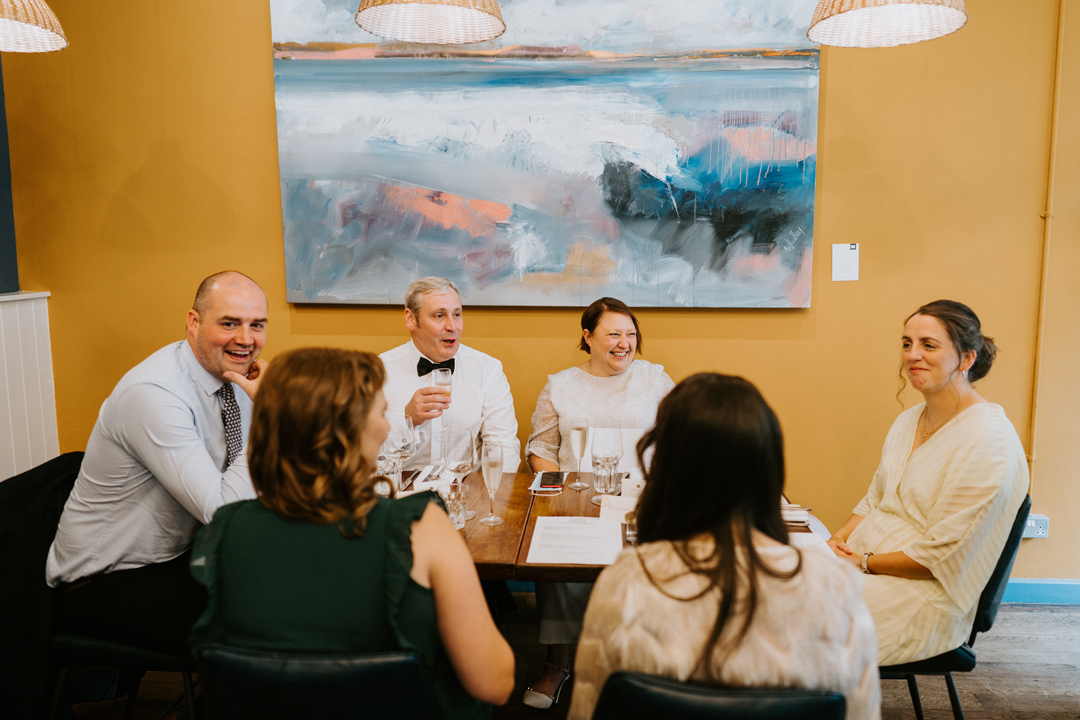 "We chose Home Restaurant because they would be able to accommodate the required amount of tables with social distancing and would also be able to make necessary changes should restrictions ease without us getting too involved."
"As it turned out, the limits on tables increased the night before so it didn't feel too restrictive on the day."
The three-tier, naked cake was a French Village creation, adorned with a topper from La Fille Créative.
"We have had many cakes and pastries from French Village over the years so we knew it would be amazing. It didn't disappoint and it was so beautiful."
"Planning a small wedding meant we could be flexible with our budget. We splurged on food and wine but didn't have to spend so much on other things because our guest numbers were low."
Words of Wedded Wisdom
"The best advice I would give to couples planning a wedding is to do it exactly how you want to. Don't worry about what other people think your wedding should be."
"We chose a couple of things that we felt were most important and built the day around those things which worked really well to keep the planning on the right track."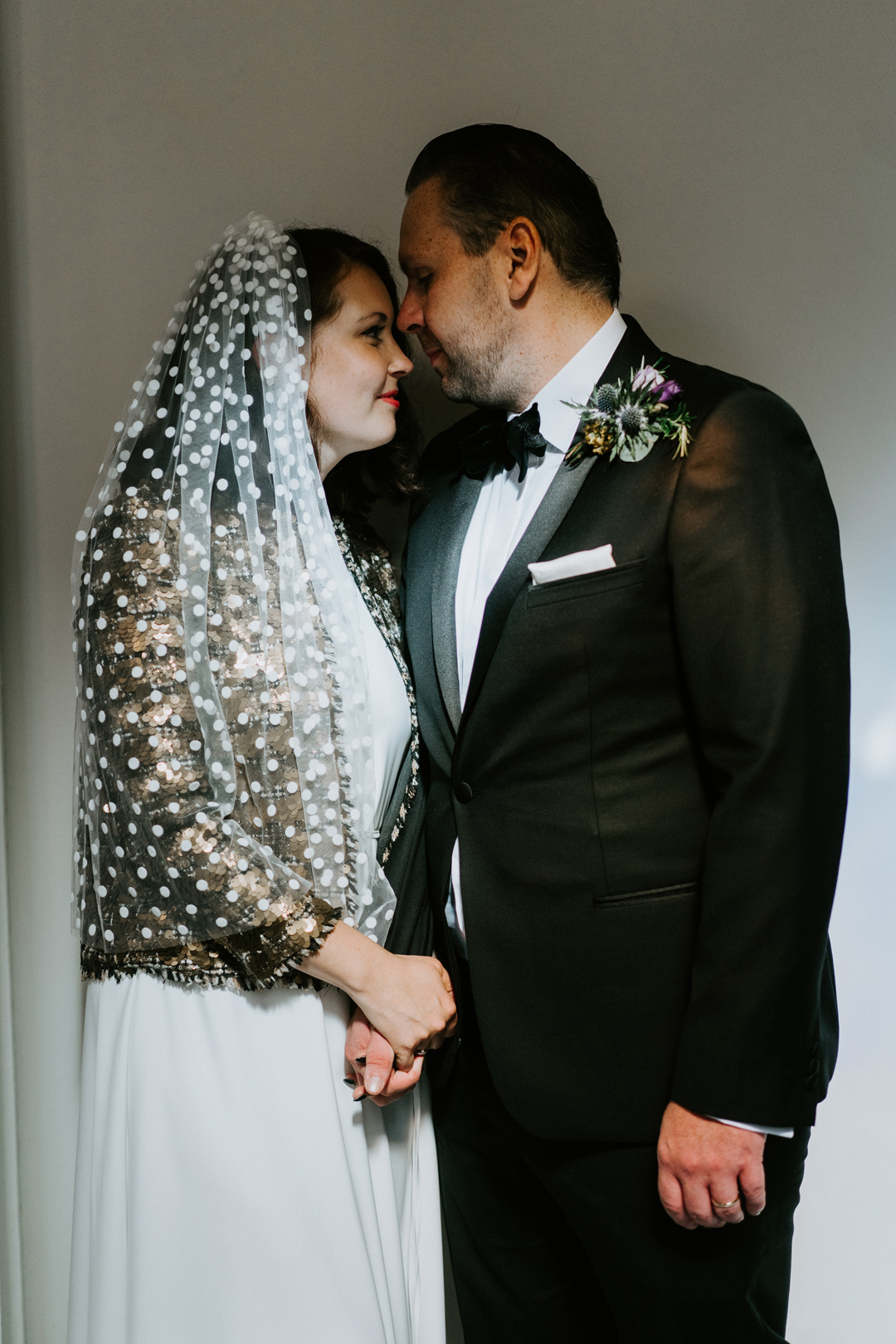 Caoimhe and David, so many congratulations on your marriage. Thank you to you and to X+O Photography for sharing your beautiful photographs with us.
For more City wedding inspiration, why not take a look at these other weddings on Love My Dress?
And to see more gowns from Rewritten, we have plenty of beautiful weddings here.
Ele xx