Black tie, city weddings are always so glamorous, and today's wedding is a feast for the eyes. Let me introduce Rebecca and Paul and their summer wedding in London.
The Ned, London was the venue for the wedding of senior creative strategist Rebecca and associate tax director Paul on 15 July 2021. Having originally planned a chateau wedding in Paul's native France, the pandemic meant the couple had to rearrange, choosing a civil ceremony at Old Marylebone Town Hall before heading to the stylish The Ned hotel in their home city of London. They added pops of burnt orange colour to their sassy and sexy, intimate day with thirty guests, all in black tie.
Paulo Santos Photography

+ Follow
The bride chose her fitted, long-sleeve 'Lou' gown from Bo & Luca at The Wedding Gallery (no contact details), altering it to remove the train and make it more slinky and sexy. I love the elegance combined with its sassiness.
"The Wedding Gallery in Marylebone sadly didn't survive the pandemic. I went there as I'd seen a few Bo & Luca dresses that I liked online and they were the only UK stockists."
"It was quite a full-on experience as the venue was enormous and very glam, but Huwaida (my bridal stylist) was super-lovely."
"After a disappointing transferral process between different seamstresses as a result of The Wedding Gallery closing and their seamstress no longer working with individuals, I found Fran Rios through the recommendations in the Love My Dress private Facebook group for brides."
"She was really lovely, warm and got my vision and I'd 100% recommend."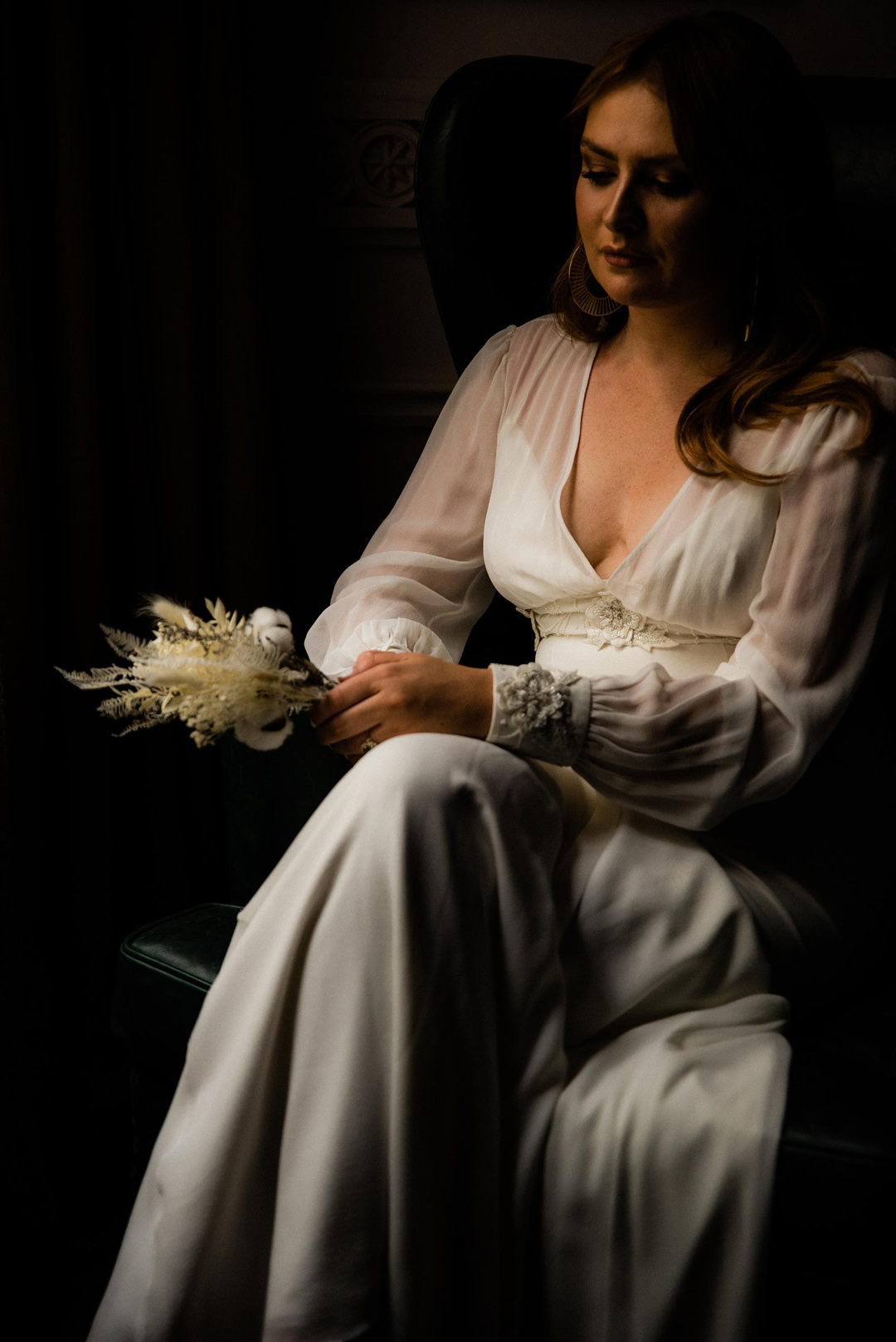 "I bought the dress back in 2019 when the original plan for a wedding weekend was afoot. I'd envisioned a jumpsuit and maybe a 60s-style swing dress being part of my wedding weekend wardrobe."
"For the main dress, I'd always wanted something with sleeves, something modern and a slinky column skirt, maybe with a slit for the legs. I wanted to feel sassy and sexy and the Lou dress really gave me that."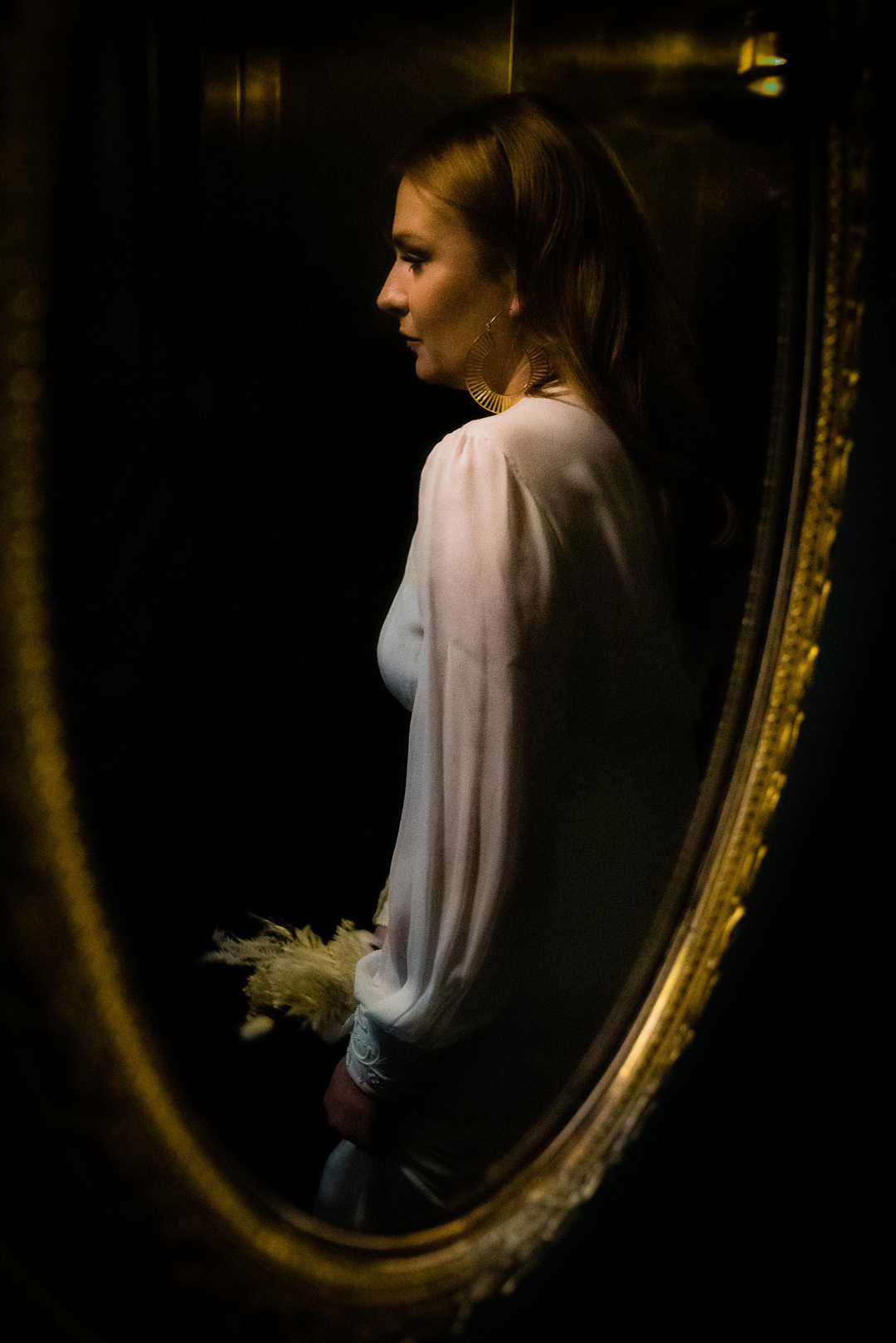 Tying in with the warm orange of the dried flowers, Rebecca slipped on Gianvito Rossi Bebe Suede platform sandals in burnt orange, bought from Mytheresa.
"I love big chunky heels and wanted a pop of colour. They were amazingly comfortable. I wore them all day and night and got so many comments."
The bride accessorised with statement gold earrings and her proposal ring, a black diamond solitaire from Wolf & Badger, and engagement ring, from Rachel Boston.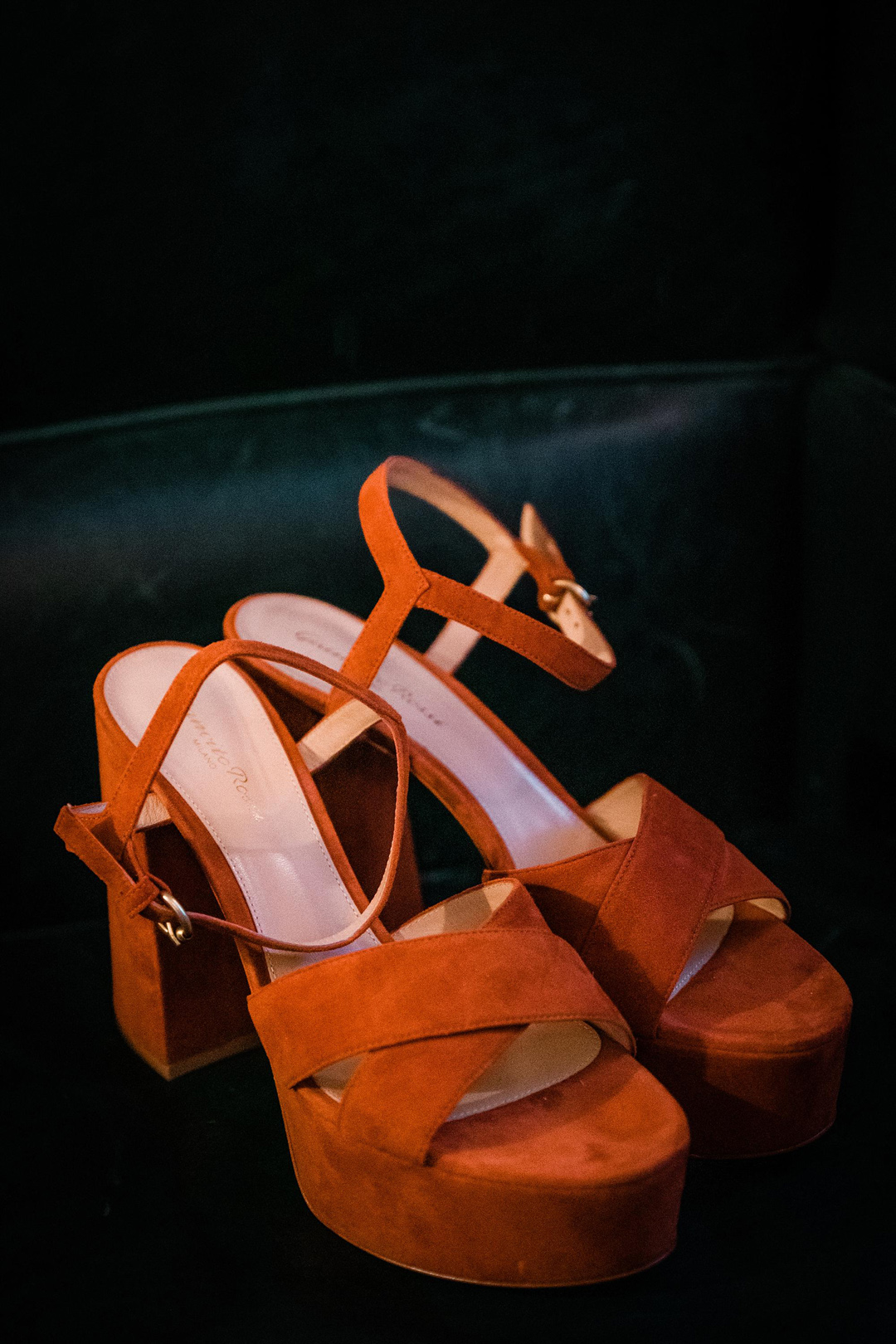 "My engagement ring was designed with Rachel Boston, using a salt and pepper pear cut diamond with a halo of thirteen white diamonds from my mum's eternity ring, with a gold, knife-edge band."
"I wore a pair of enormous earrings from Astrophilia – a small shop I'd found on Etsy a week before."
"We wanted to wear the perfume we wear daily rather than something that didn't feel like us. I wore Tom Ford Noir de Noir and Paul wore Le Labo Santal 33."
Rebecca found her hair and make-up artist, Natalie-Danielle Hair & Makeup, through the Love My Dress Wedding Directory. She wore her auburn locks down and had glam, smoky-eye make-up.
"Talie-Danielle helped me look so amazing that Paul cried when he saw me for the first time as my dad walked me down the aisle. He never cries!"
"Like a lot of brides in the run-up, I had a few doubts about the dress as I got nearer – especially as if a city wedding had been the original plan, I would have gone for the jumpsuit or swing dress!"
"But come the day, I felt amazing – it was something so different from what I wear in my non-bride life and I had so many compliments."
"Everyone said it was such an unusual and incredible dress, with all the beautiful embellishment and Paul cried on first sight will always make me smile!"
The groom set the tone for the day in his Moss Bros tuxedo, with a bow tie and black tie shirt from Hackett and patent shoes from Gieves & Hawkes.
"It was the result of a last-minute dash to Westfield as the suit he'd planned to wear from The Kooples couldn't be worn."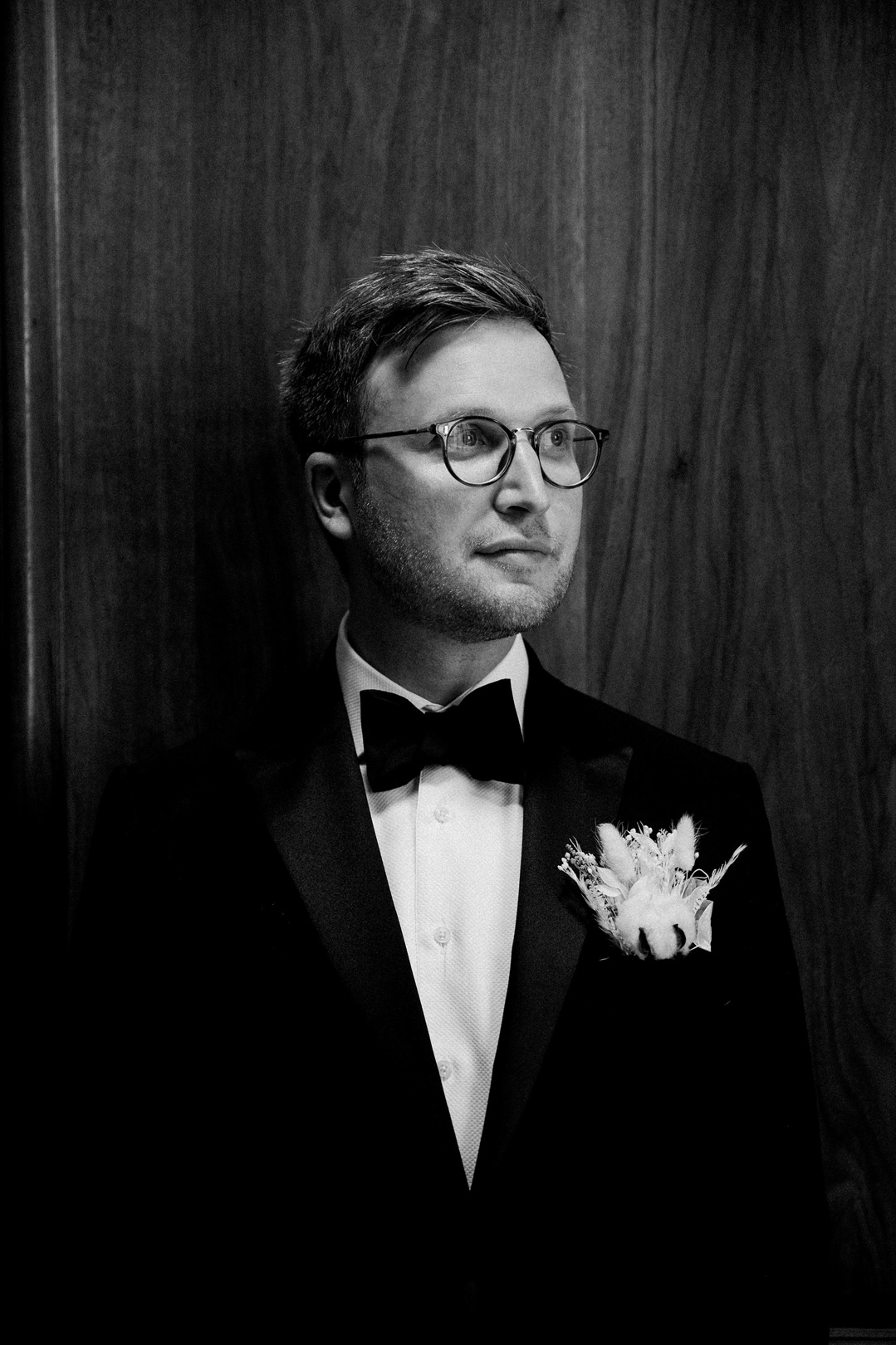 The bride got ready at The Ned, then hopped into an Addison Lee car to travel to the ceremony venue, Old Marylebone Town Hall.
"I got ready at The Ned with my mum and one of my friends. My dad joined us for some pre-ceremony champagne then he and I left for the ceremony in a pre-booked Addison Lee."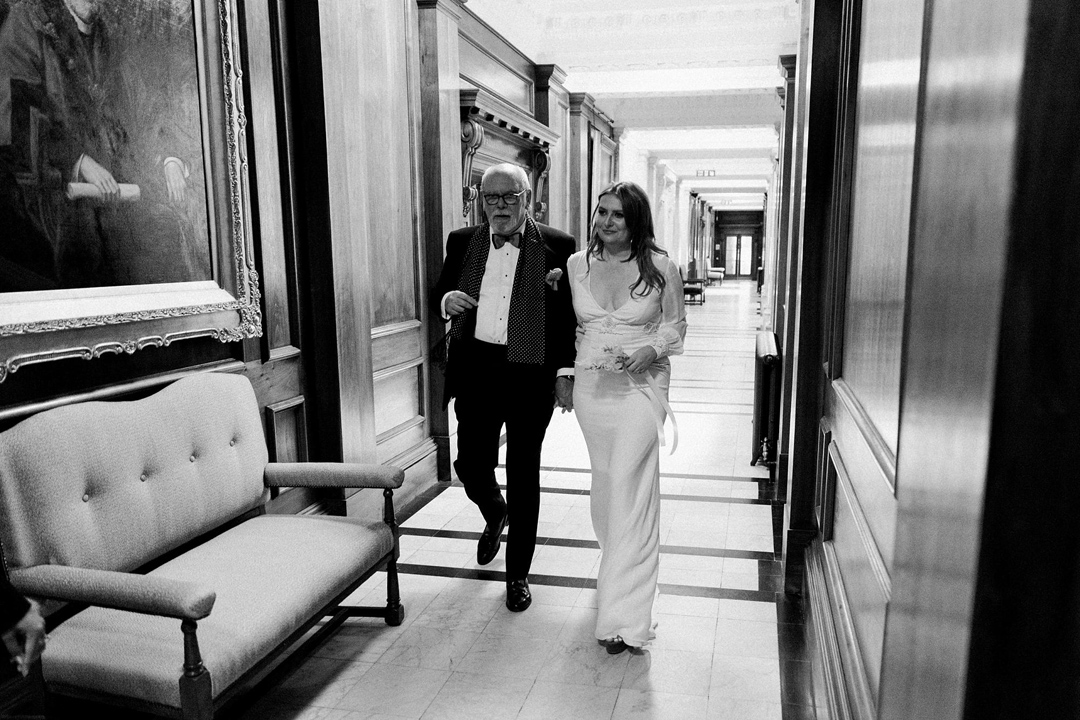 "It ended up getting stuck in traffic on Oxford Street, leading to me getting more and more anxious about being late and debating getting out and running in my massive heels and dress! In the end, we arrived in time and I had just enough time to compose myself!"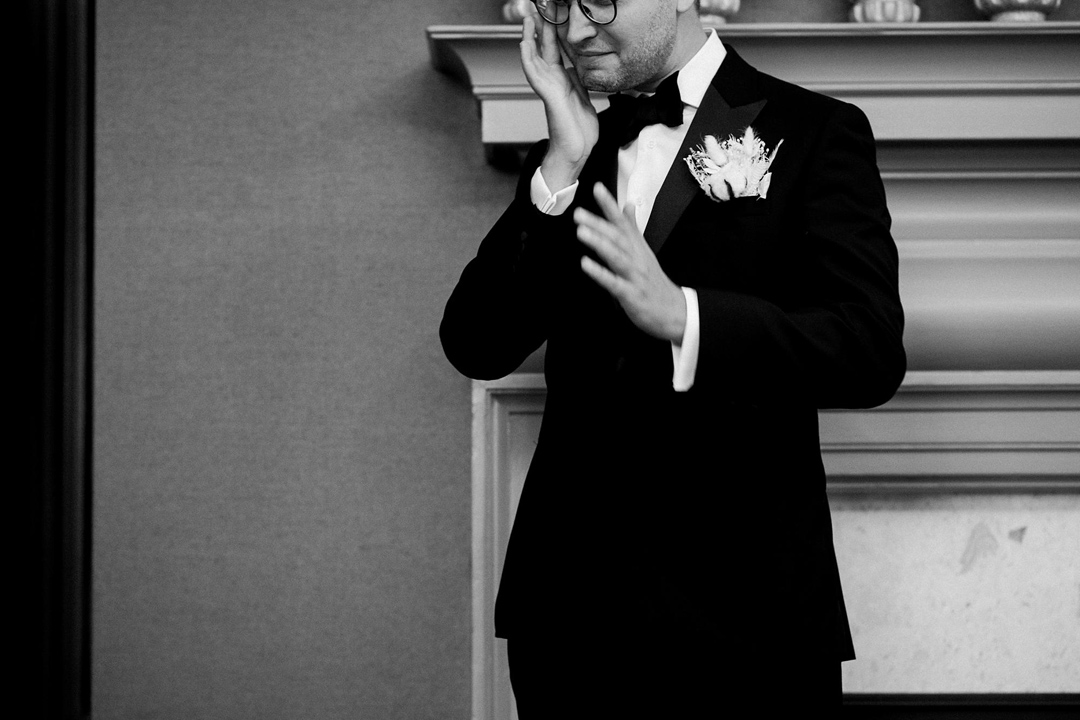 Rebecca and her father walked down the aisle to 'Feeling Good' by Nina Simone before she wed Paul with the ceremony led by Nick, a registrar at the Town Hall.
"Paul had originally planned to walk down the aisle to it with his mum but as Covid put paid to that plan, I stole the song and walked into the room to it with my dad, just as the 'I'm feeling good' chorus kicked in. I like to think that it was a particularly poignant moment for us both."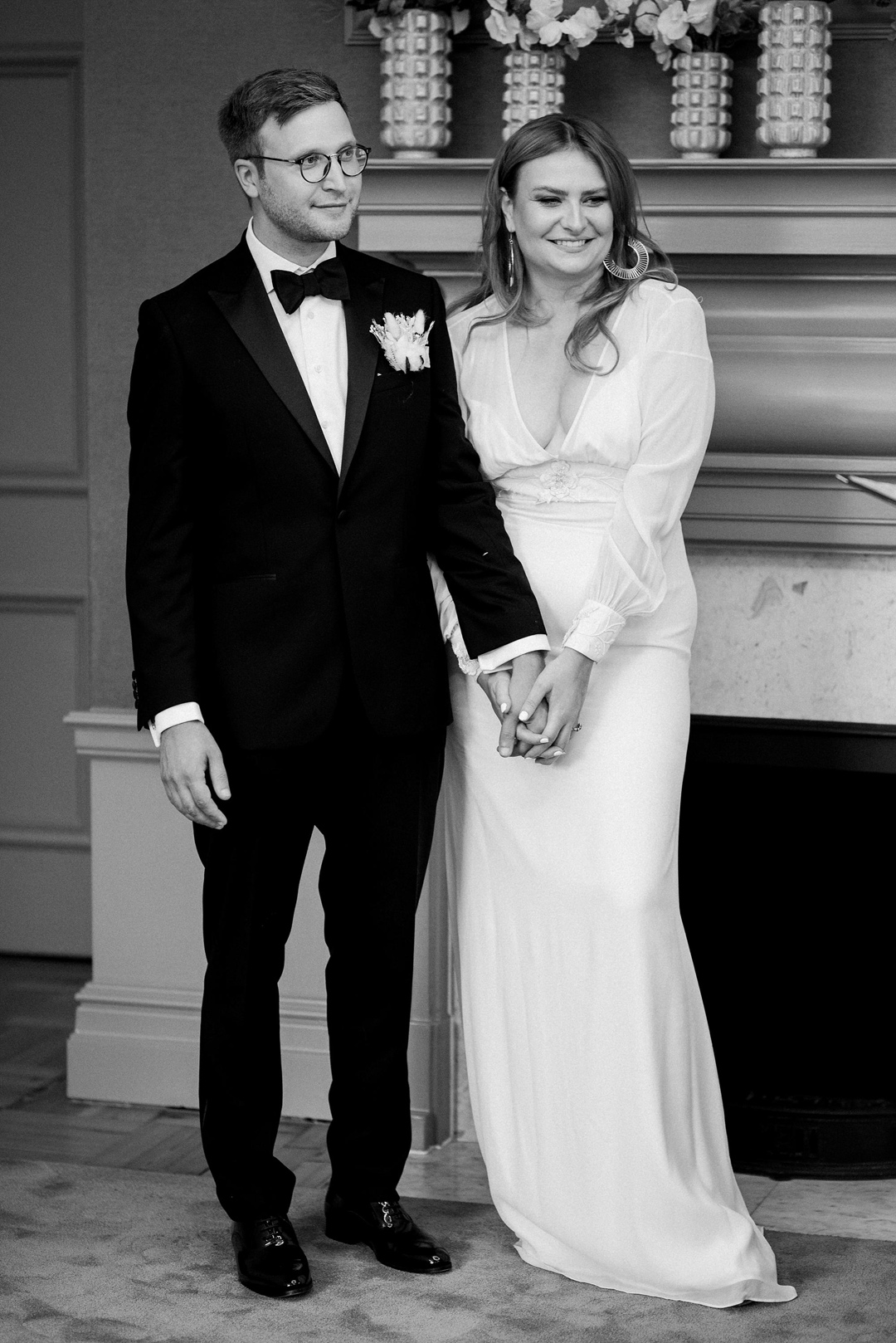 "We used the 'Modern' vows, one of the options provided by Old Marylebone Town Hall. I'm planning to write a set of additional vows for the wedding anniversary celebration we have next year, incorporating lessons and promises from 'one year in'."
"Our wedding rings were from E Katz & Co in Hatton Garden; both gold, mine with a knife-edge band, his with a traditional D."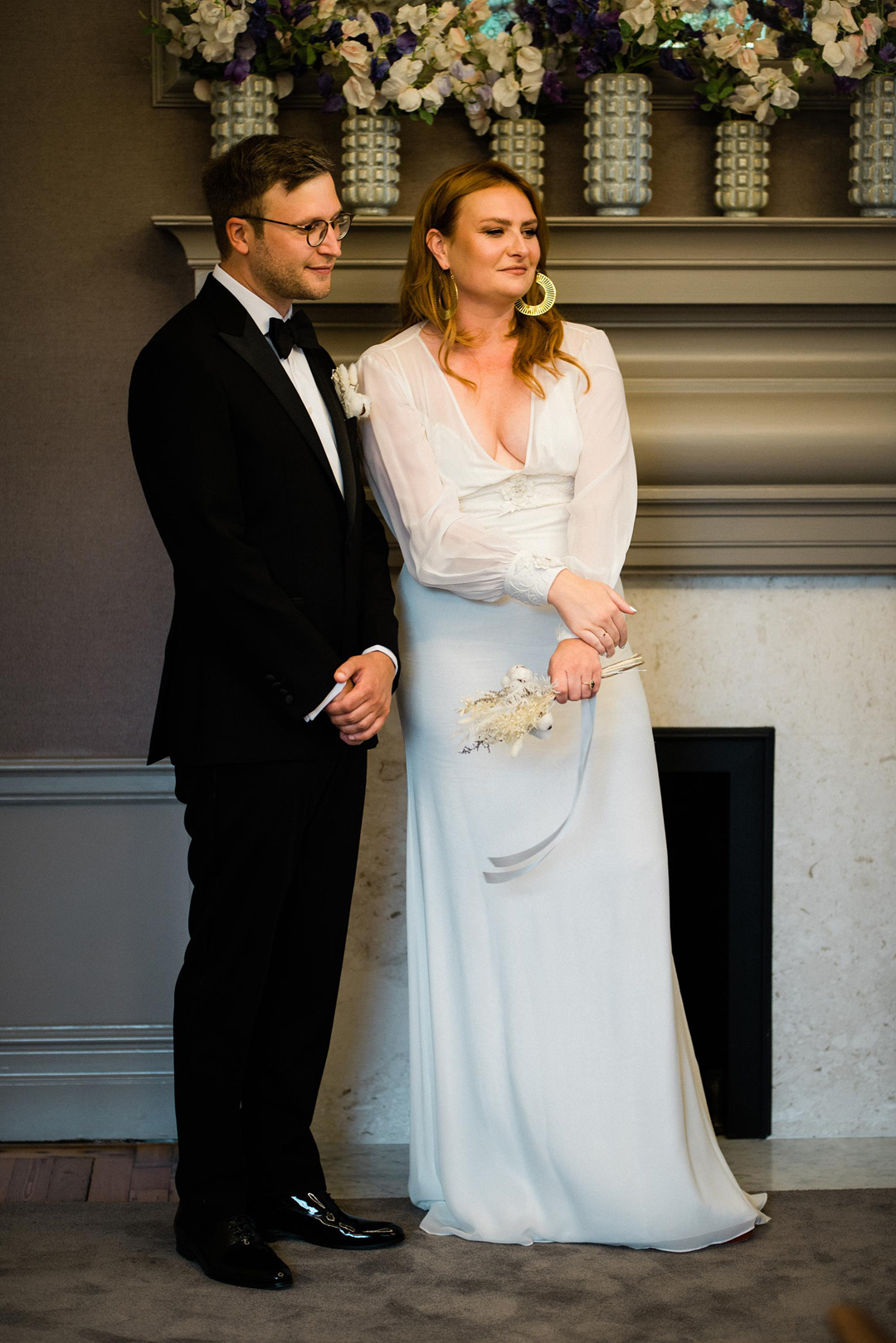 Rebecca and Paul matched on dating app Happn back in January 2016. and Paul proposed whilst holidaying in Belize in February 2019.
"We'd spent an amazing two weeks trekking in the jungle and through caves, visiting jaguar sanctuaries, driving golf buggies through colourful towns and were about to move onto our final destination of a private island out in the barrier reef."
"He'd been planning to propose while we there in Ranguana Caye but after an amazing catamaran day trip to Caye Caulker a couple of days before, where we'd snorkelled with sharks and rays in a marine reserve, saw manatees, and drank frozen margaritas from tables set in bright blue water, he got too excited and proposed."
"We ended up celebrating again when we reached the planned destination!"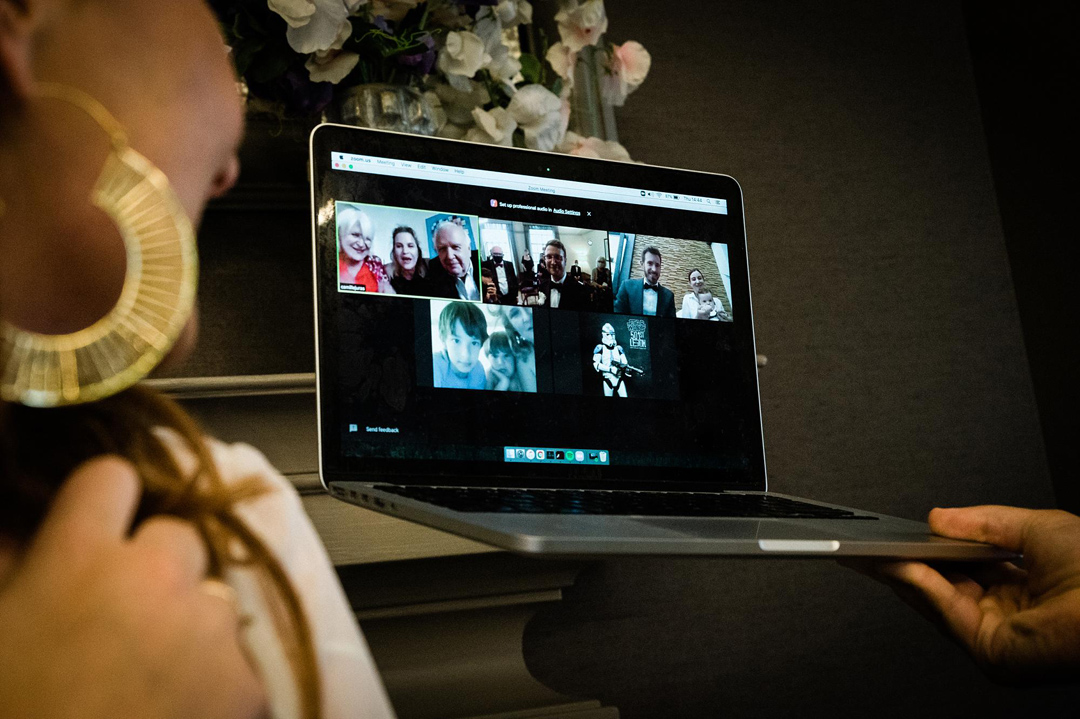 The glam vibe was captured to perfection by Paulo Santos Photography in this set of exquisite, artistic and atmospheric shots. The couple found him via Love My Dress (and you can see more of his sublime work here).
We are delighted to list Paulo as a member of our Love My Dress wedding directory, on which you can find out more about him.
"After our original photographers had to pull out three weeks before the big day because of the Covid travel restrictions, we tried not to panic."
"I'd seen Paulo Santos's photography on Love My Dress and The Lane and loved his contemporary yet classic documentary style."
"Amazingly, he was still available for our new Thursday date. We had an amazing intro call where we discussed what we were looking for and the sensitive family situation we were going through and he outlined what to expect."
"In the run-up, he was super-communicative and responsive and felt such a safe pair of hands that it was a no-brainer, even helping us organise the schedule for the day and make sure everything was timed to perfection."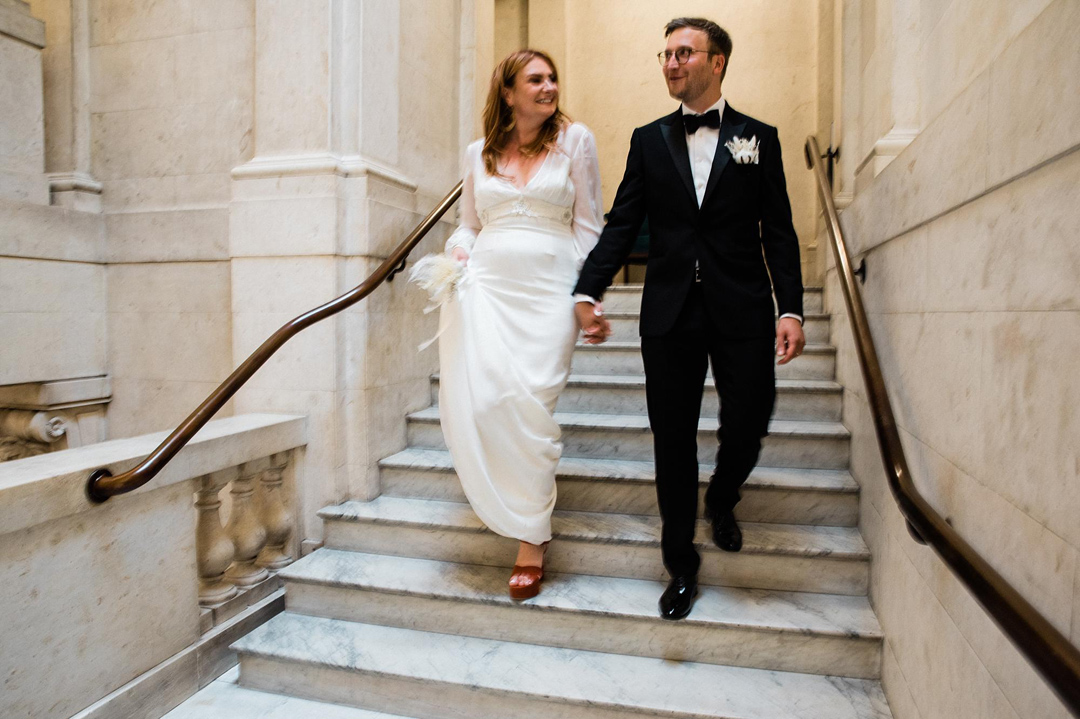 "On the day, Paul was an absolute pillar of calm energy and laughs, simultaneously everywhere yet not obtrusive at all. He was shooting at our venue for the first time and captured the drama, the grandeur, the intimacy and the intricacy of all the details."
"Receiving the photos, we have been absolutely blown away by all the fantastic moments Paul captured so beautifully; the amazing little details, the emotions, the stories, the glimpses of looks and smiles, the intimacy of our special day and just how absolutely stunning everybody and everything looks."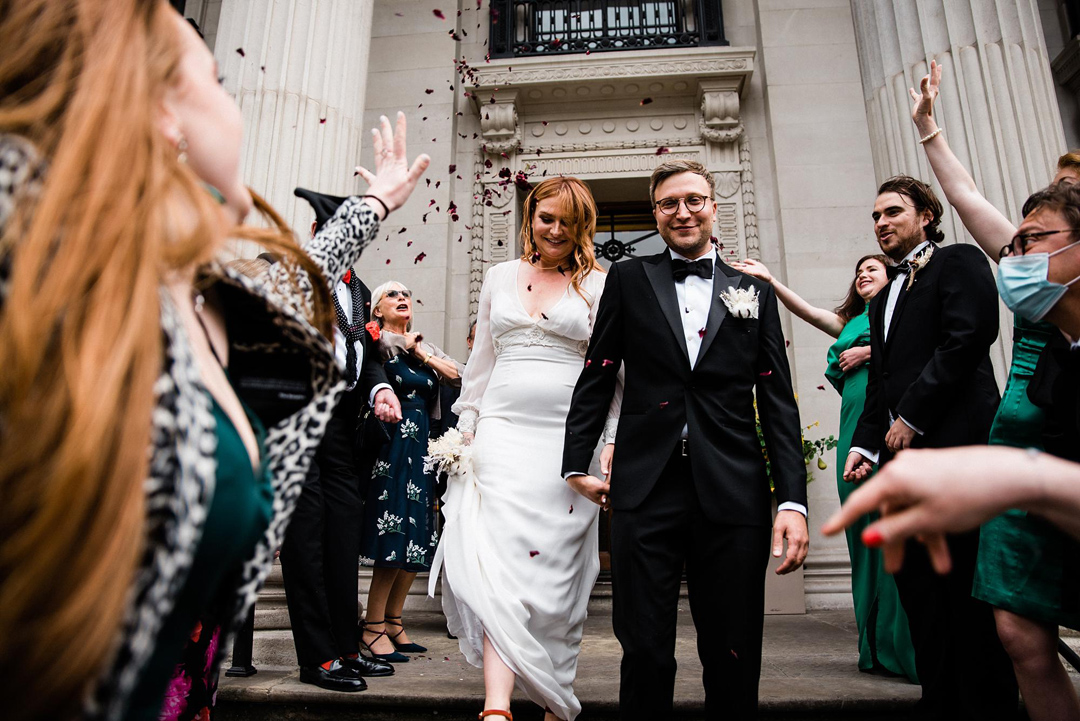 The couple wanted their day to feel intimate, stylish, sexy and sassy. It's great to hear that Rebecca found support and inspiration through the Love My Dress private Facebook group, which I urge you to join if you're not already a member. She also followed Love My Dress for wedding ideas and styling.
"I would religiously read all the real wedding features, looking for inspiration on what other couples had done, suggested and found. I also kept a Pinterest board, divided into different sections for decor, wear, beauty, and used that for both inspiration and to shop through."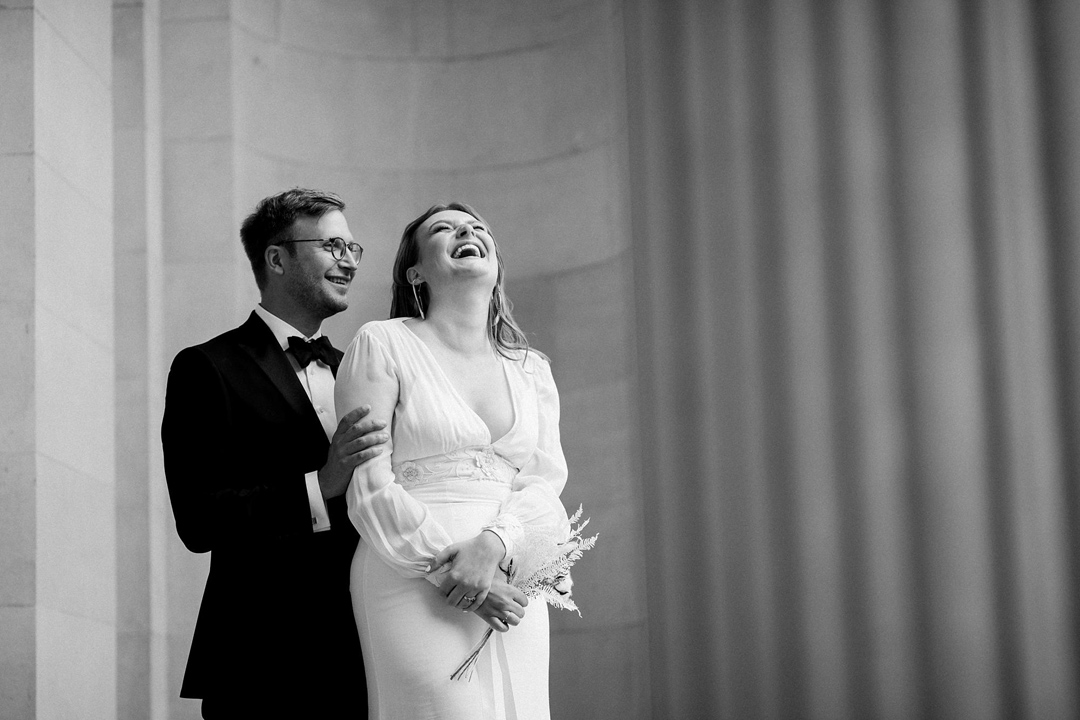 "The wedding directory was also super-useful during the last three months when I had to replan everything in the UK at the last minute."
"We knew it would be the first time a lot of people would be able to get together so we wanted a real celebratory vibe that captured the energy of London without the cliché. We wanted everyone to feel glamorous! We asked for black tie and everyone really pulled out the stops."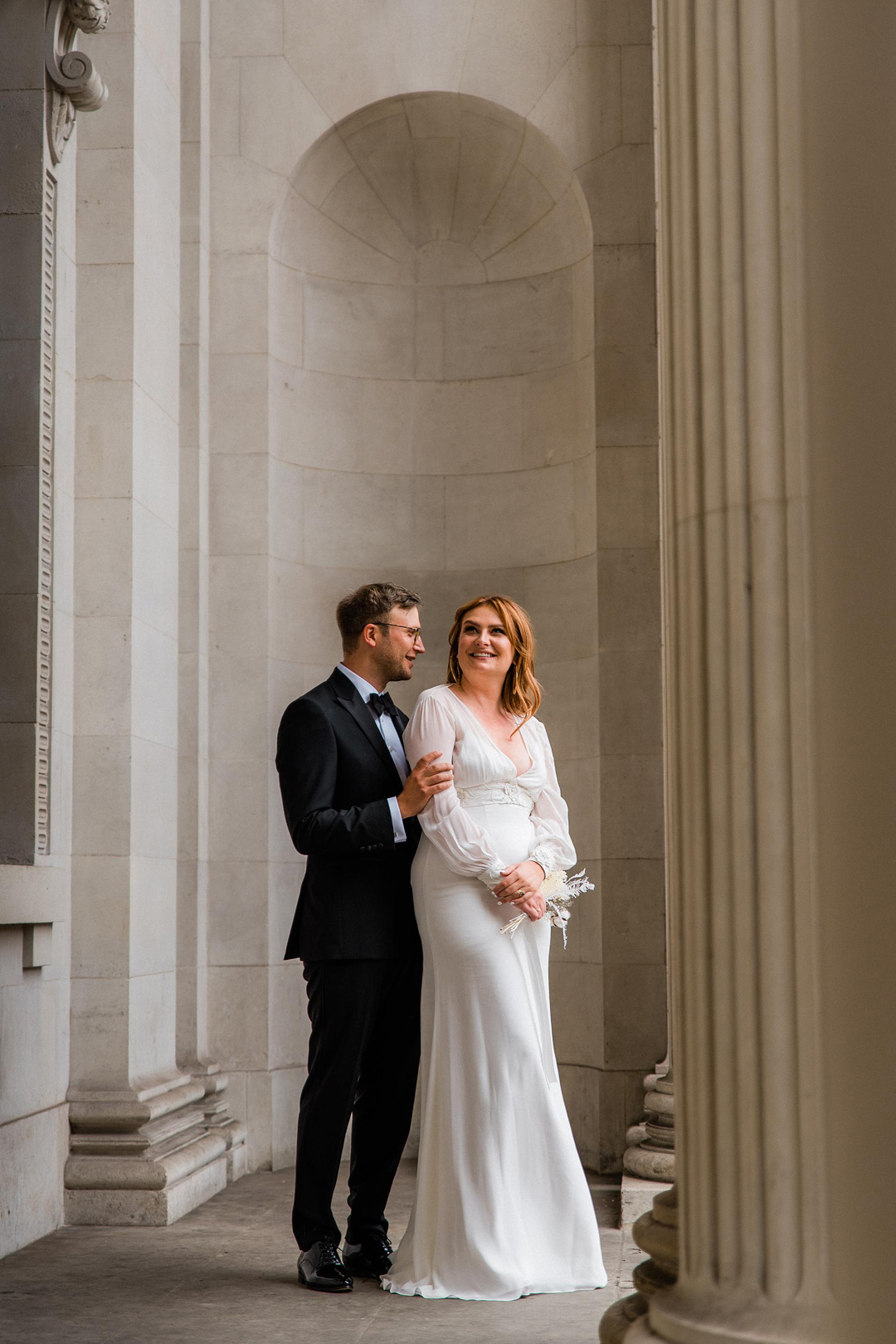 "Our wedding was originally planned for a long weekend in a castle with up to 200 guests in July 2020 in the famous wine region of Alsace in France. Come March 2020, we decided to push it back a year to give the world a chance to recover and all our guests to be able to come. In December 2020, we heard our venue had closed."
"Cue panic. It was difficult to find a venue that suited our style the first time round. Now it was even more competitive so we decided to think outside the box. In January 2021, we booked a beautiful art museum in the region – without me even seeing it – and planning resumed with gusto."
"Roll on March 2021 and with restrictions still in place, we had to make the difficult decision to cancel our French wedding."
"We still wanted to get married this year – without having to mess people around yet again – so this meant we had to be creative. It was impossible to find suitable legal ceremony times on a Saturday (as we'd originally hoped for) around the weekend we planned."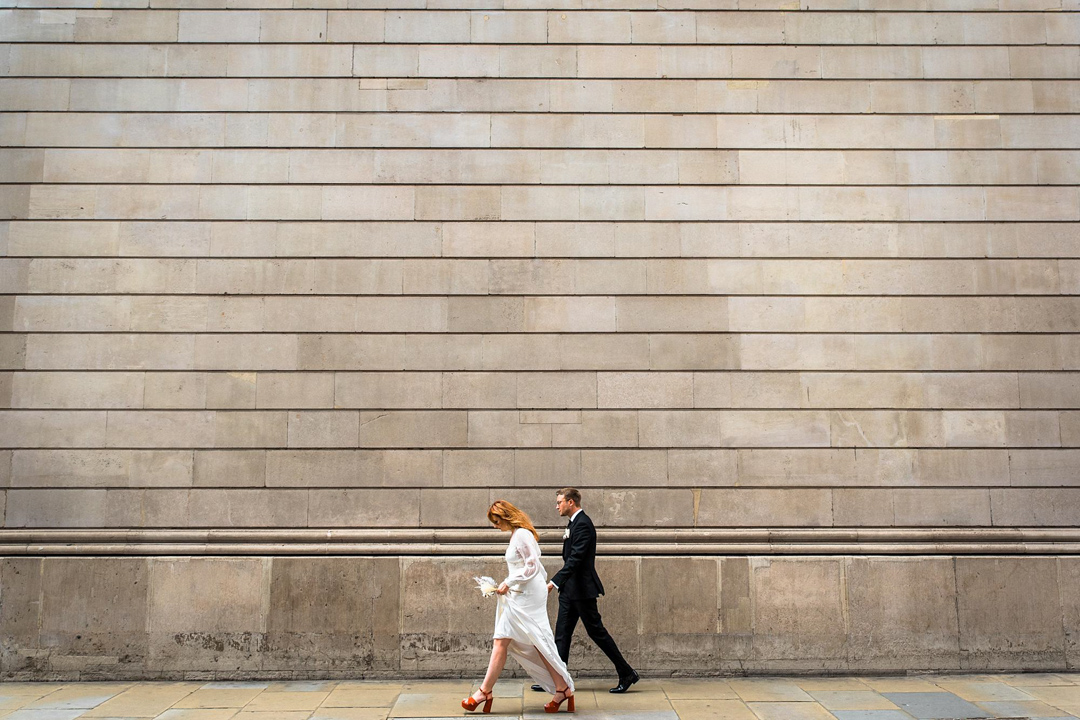 "Rather than push the date way out, we booked a slot in Marylebone on a Thursday. It turned out to be a real blessing as it also opened up a whole world of reception venue possibilities."
"Trying to find a wedding reception venue in central London, with outside space and exclusive hire on a Saturday after just having reopened because of the pandemic was nigh impossible so having a Thursday date meant we had the pick of the town. But, it did mean we then had to replan a whole wedding in three months."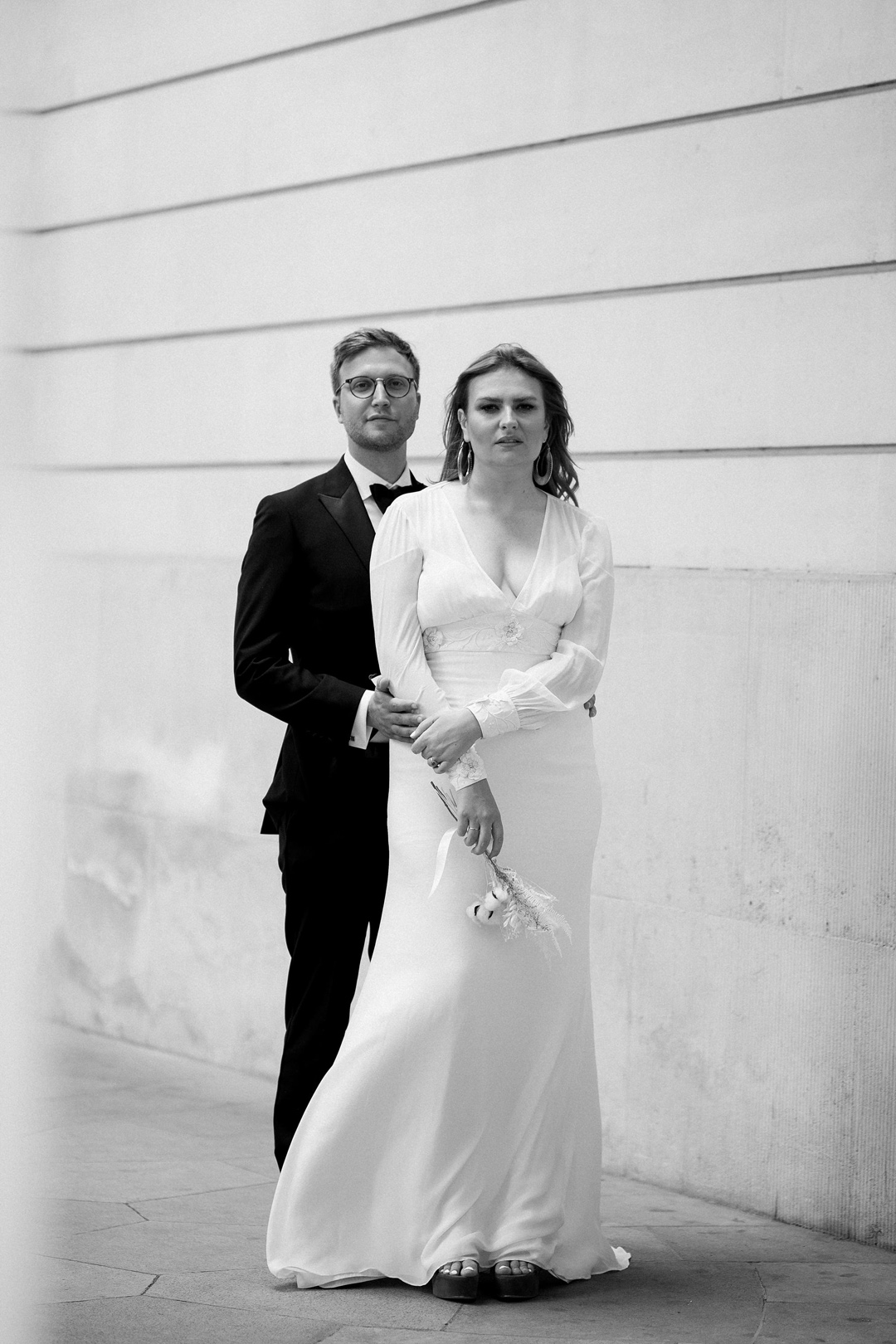 "When it came to finding a venue, we wanted something in London. It's the city where we met and built our life together – something stylish, and somewhere a bit special."
"We also decided to drastically cut the number of guests to 50 which gave us a more manageable number to work with at such short notice."
"On the day itself, we were only 30. None of Paul's family or friends from France and beyond could come because of the travel and quarantine restrictions."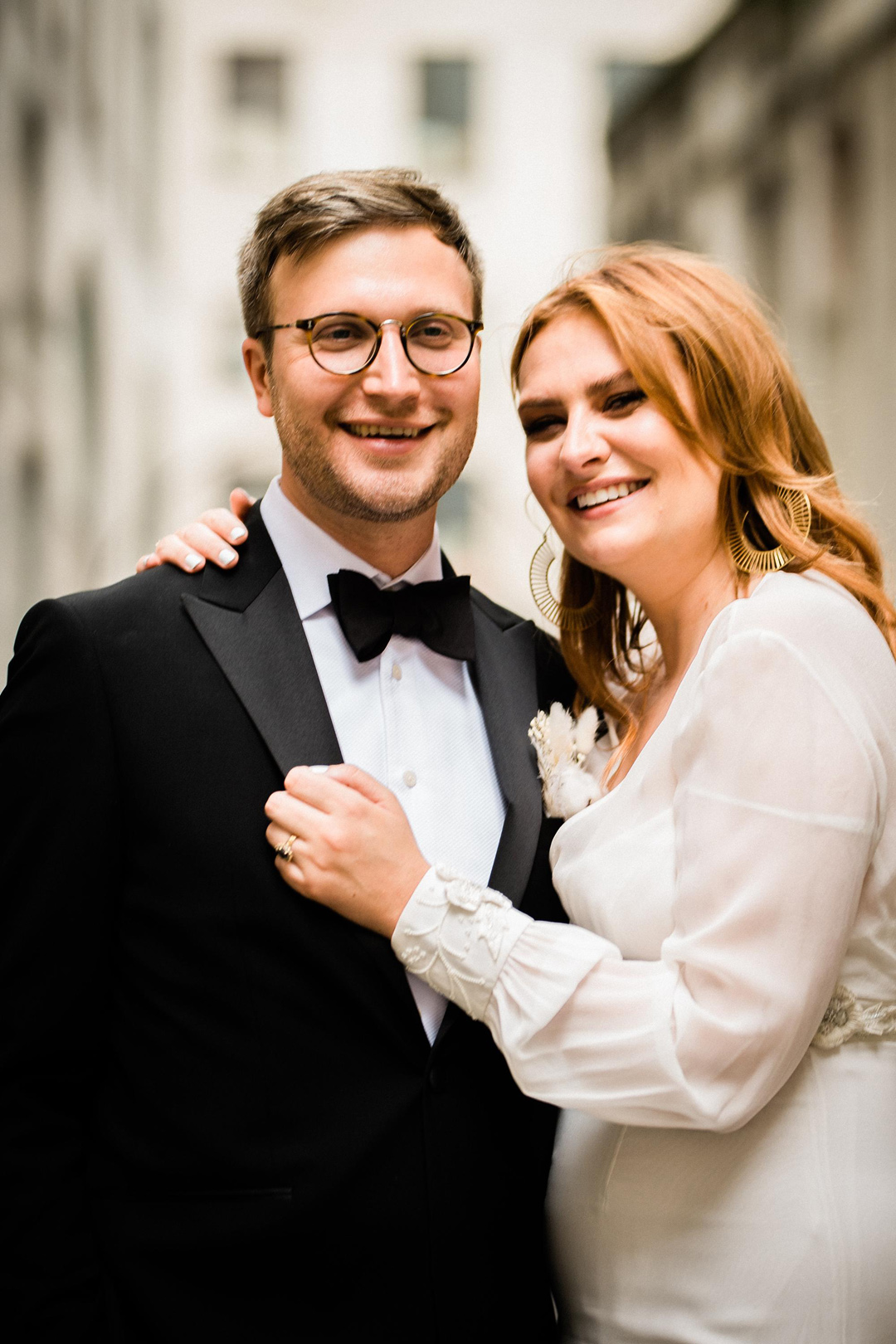 The Ned provided the dinner, starting with a selection of canapés served outside before the sit down meal
"Canapés were served on the outdoor terrace overlooking St Paul's. Sadly, these had to be pre-plated individually rather than the usual presentation."
"We had bottles and bottles of Nyetimber sparkling wine, red and white wine, and free-flowing picantes, pisco sours and negronis all night."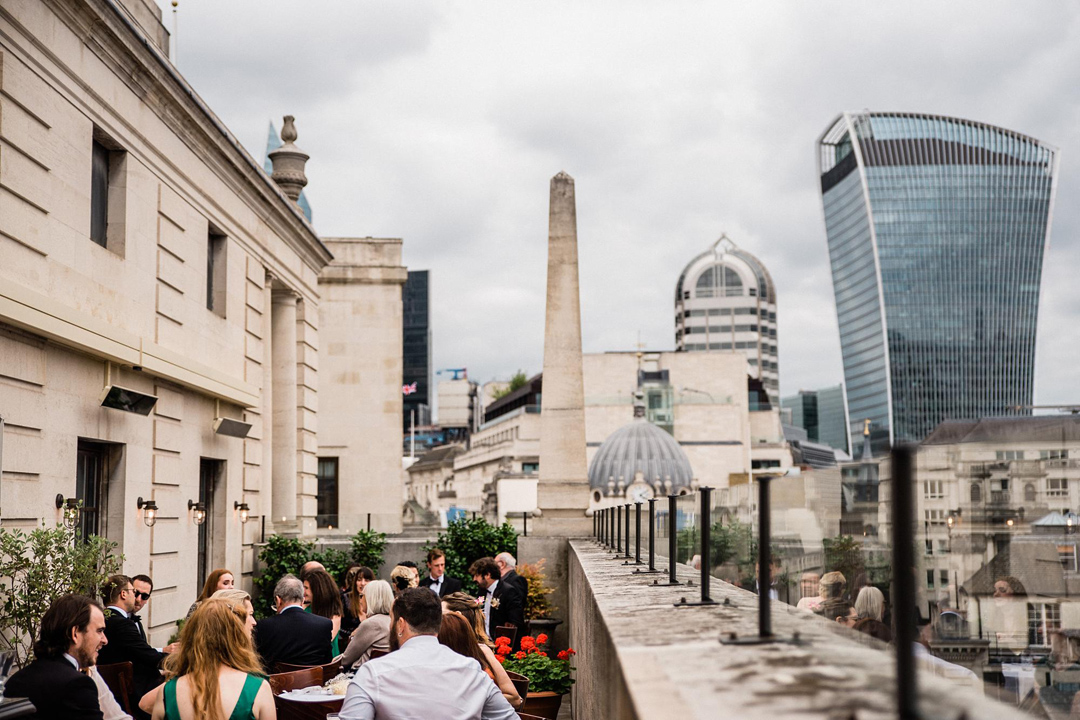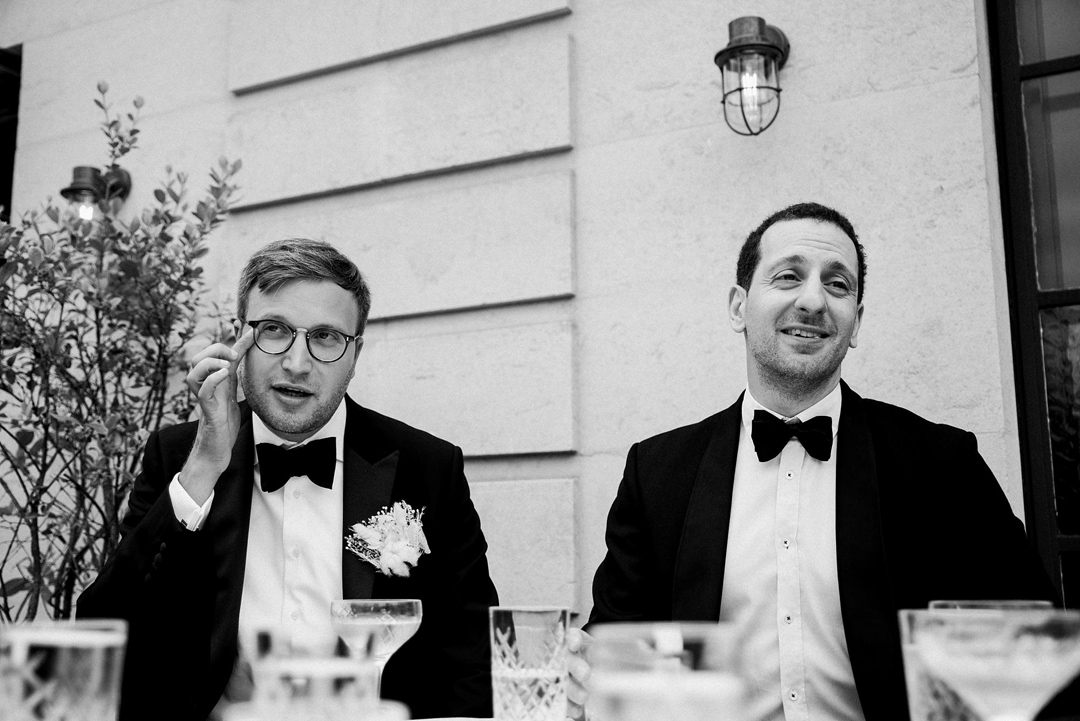 The dining room looked impeccable dressed with flawless glassware and cutlery. The bride got creative to make the wedding stationery.
"The Ned were really good at accommodating the necessary changes for Covid."
"We ended up moving to a bigger room, The Tapestry Room, where we had lots of room to spread out, while being able to all sit at a long table."
"The drama of The Tapestry Room was enough décor, with its high, high ceilings, diamond chandeliers and impressive panelling."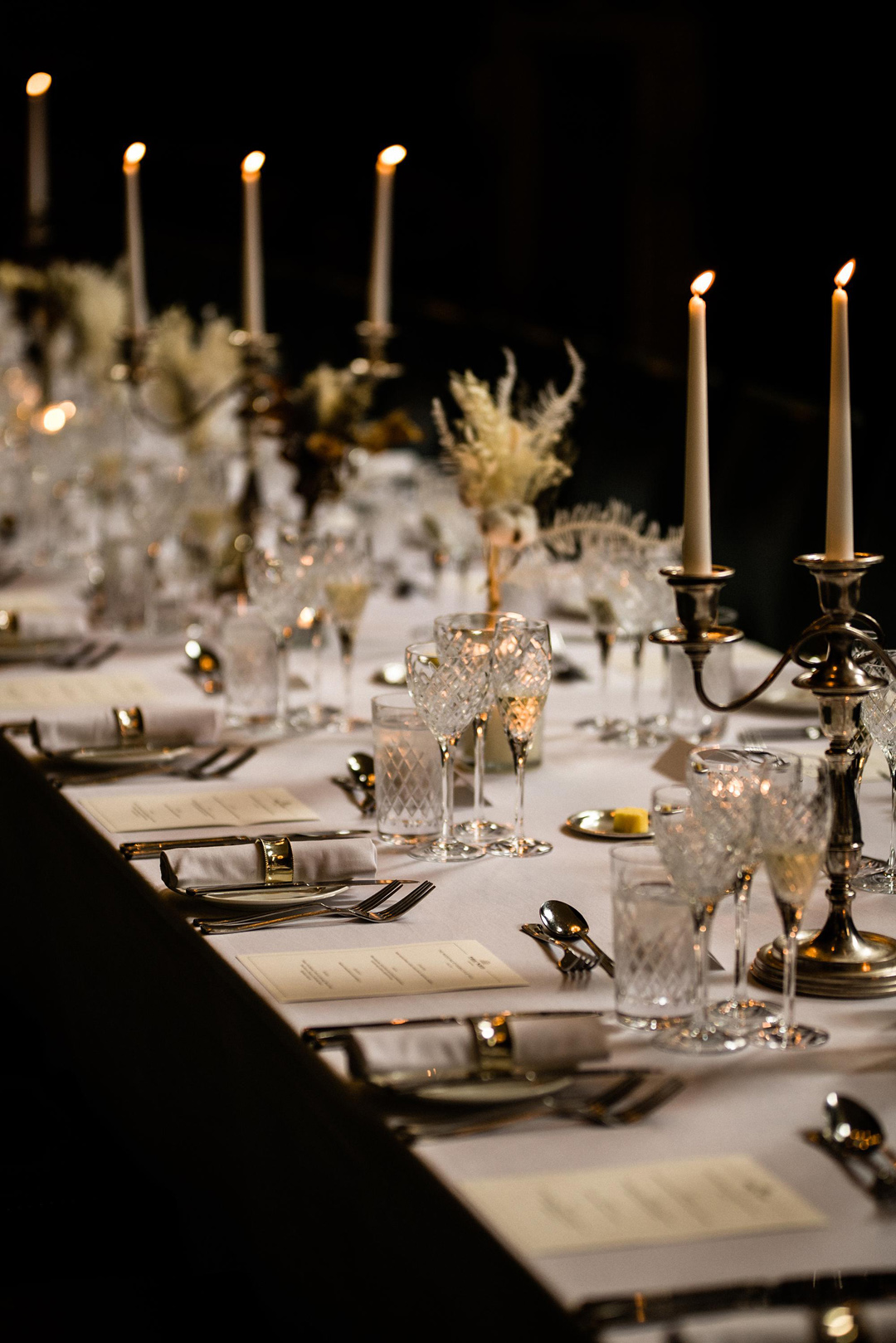 "The Ned arranged a selection of leather sofas for a chill-out area at one end of the room, while we congregated primarily around the single long table bedecked with all the gorgeous, cut glass glassware, the dried flowers in bud vases, flickering candles in candlesticks and some pomegranate scented candles we dotted along the table (which we still burn now to remind us of the day)."
Dried flowers were key to the intimate, glam look and the bride worked with Shida Florist to create this modern yet romantic look.
"I'd been pinning lots of eucalyptus and cream rose runners for the castle wedding. When we booked the art gallery which had a beautiful Art Deco feel, I'd then been drawn to a more minimal, dried style with splashes of colour in bud vases to add drama."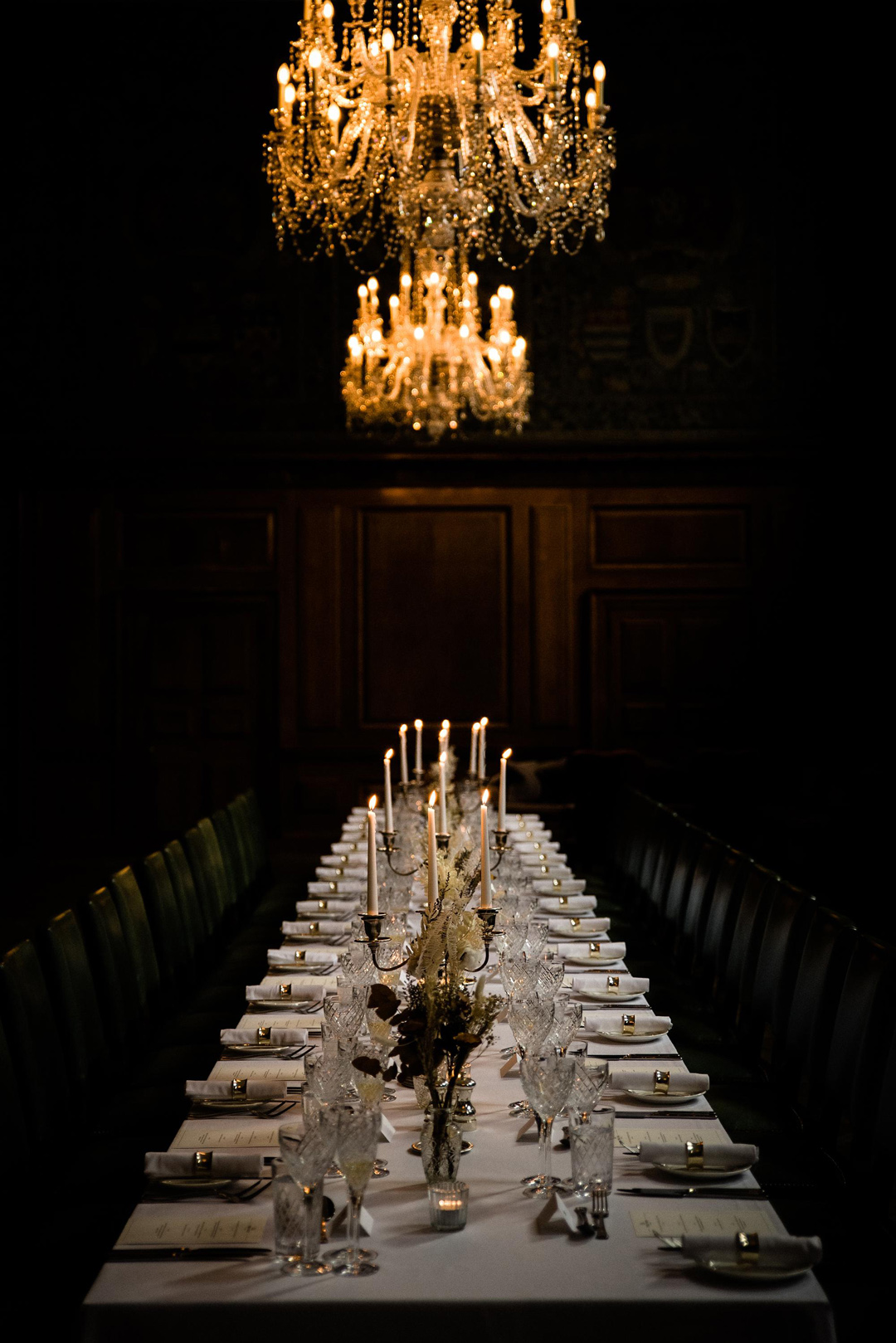 "When it came to finding the flowers for the wedding at The Ned, I knew what I was after and I just needed to find who could help. One of my friends mentioned she'd been sent a bouquet of dried flowers from Shida Florist and recommended I check them out."
"I sent them an email with some vague requirements, a request for a tight budget and indecision between their white and burnt orange styles. Helen, their Head of Design, was so helpful and accommodating. Together we agreed on mixed posies of both colours to arrange in the bud vases along the long table we'd planned."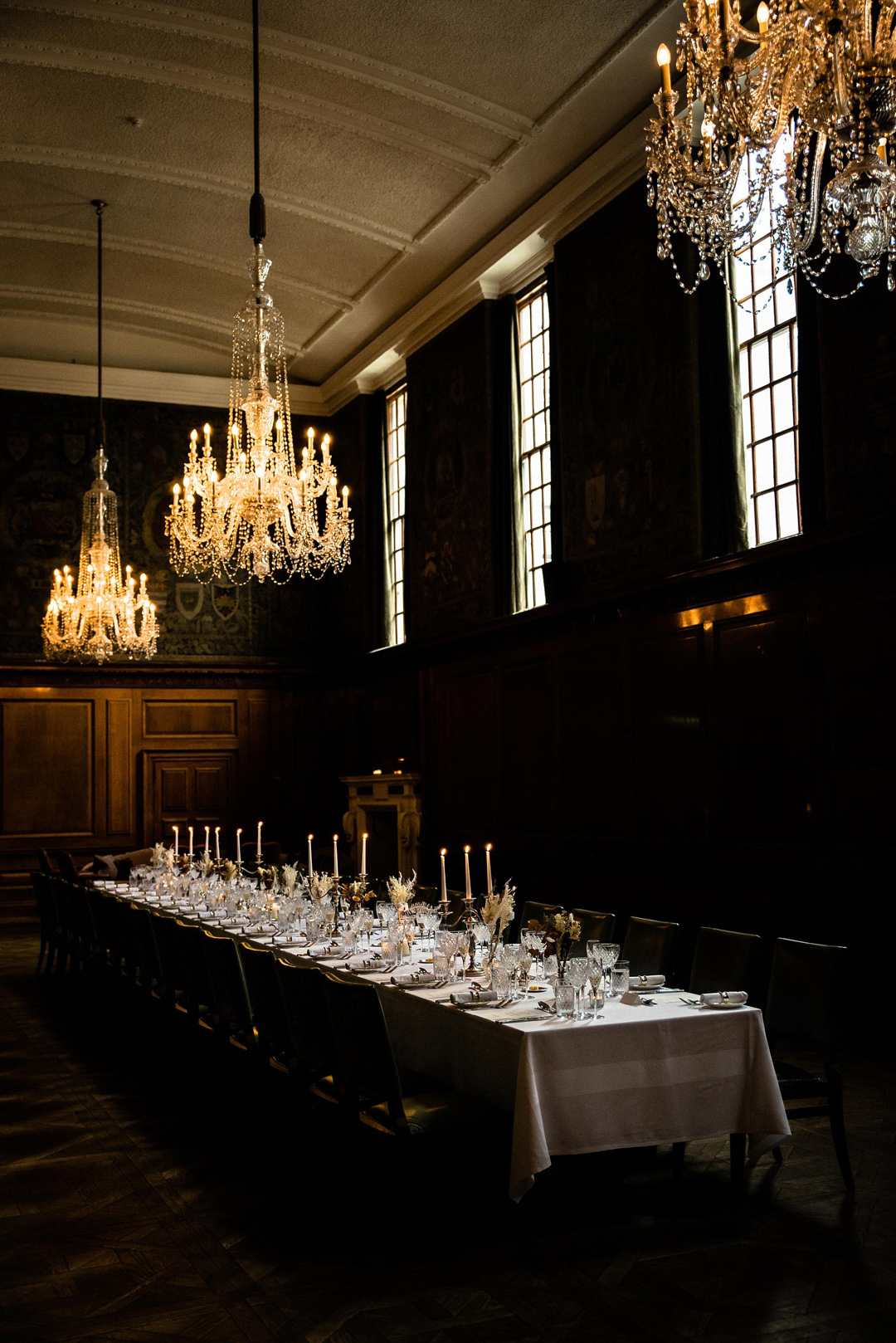 "We decided to place them ourselves on the day so they were delivered already arranged and wrapped. I then ordered sets of inexpensive cut glass bud vases from Etsy."
"I ended up using two of the posies as a last-minute bouquet – I should have ordered a proper one really! We received so many compliments from the guests. Now they are all arranged throughout our house as long-lasting reminders of our day."
"I designed the table plan myself (printed by The Ned). With everything changing right up until the last minute, we couldn't risk getting something designed that would be wrong on the day."
"The Ned printed the food menus. I hand-wrote the place cards the night before."
"I'd wanted to get them printed but with everything changing, it was safer not to. I picked up some note cards from Liberty the day before so guests could leave us a message on the day."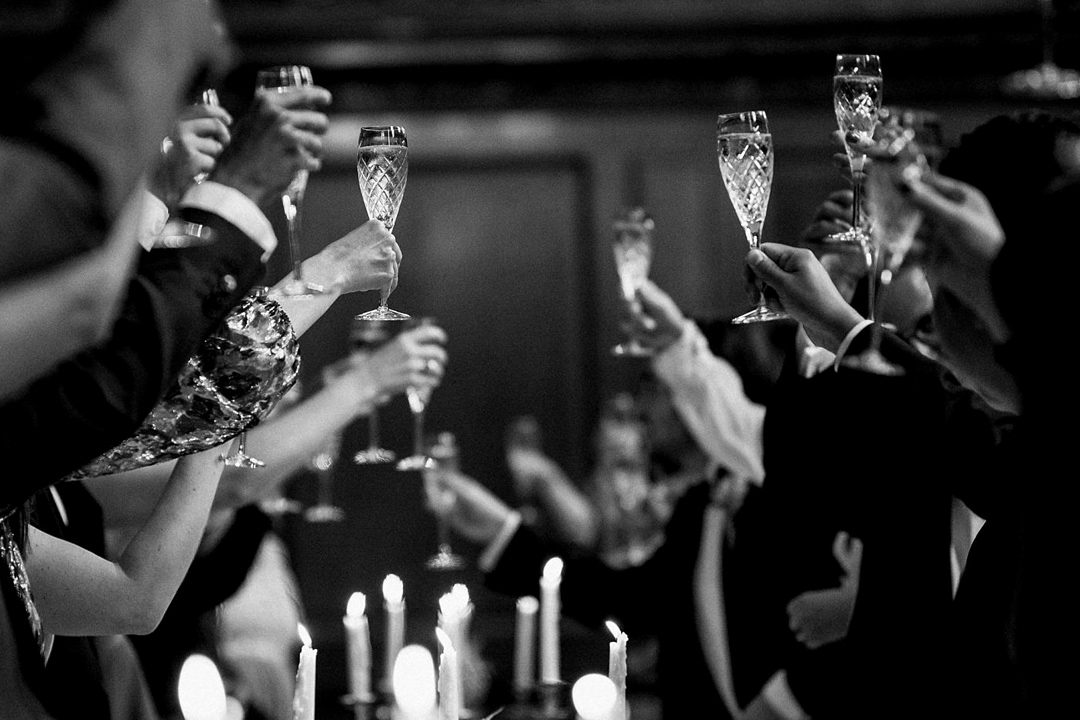 The dinner was accompanied by speeches from the wedding party.
"We kicked off with my dad, the groom, me, the bridesman and then the best man, with three or four videos from friends and family who couldn't attend shown too."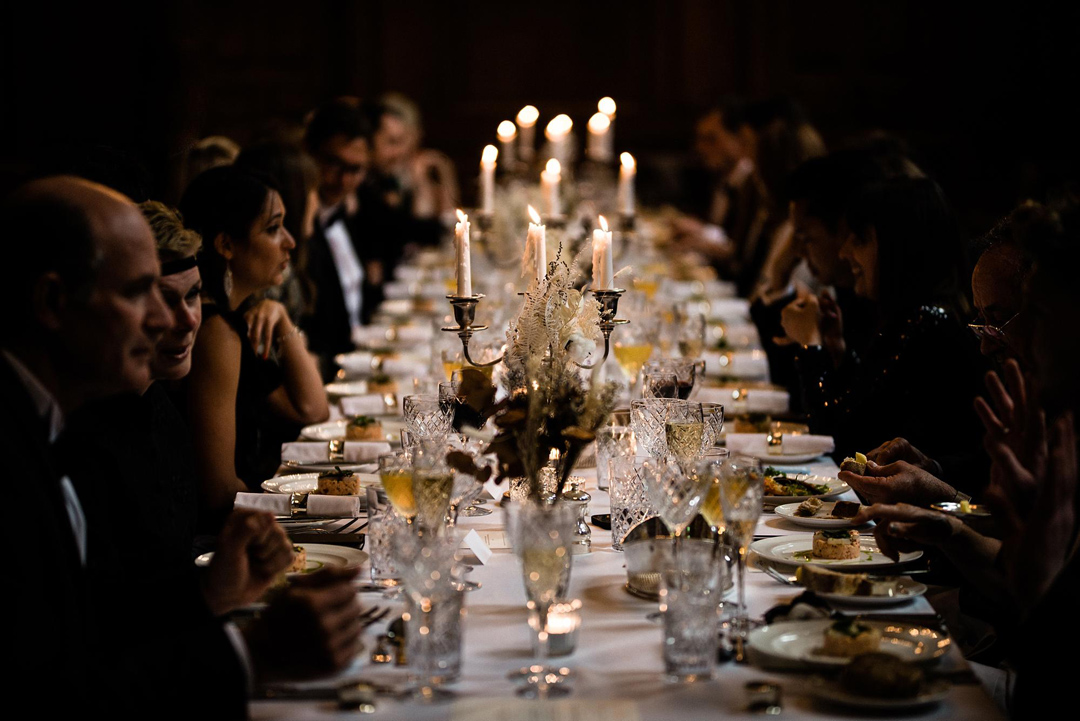 The couple had prepped playlists, played over The Ned's speakers, for the evening party, after a first dance to 'Ain't Nobody' by Chaka Khan.
"Paul and I aren't fans of acoustic music and we are always the first ones on the dance-floor, so an upbeat song was a no-brainer."
"It had been our first choice for a long time, even if I considered others in the run-up but in the end, it had to be that."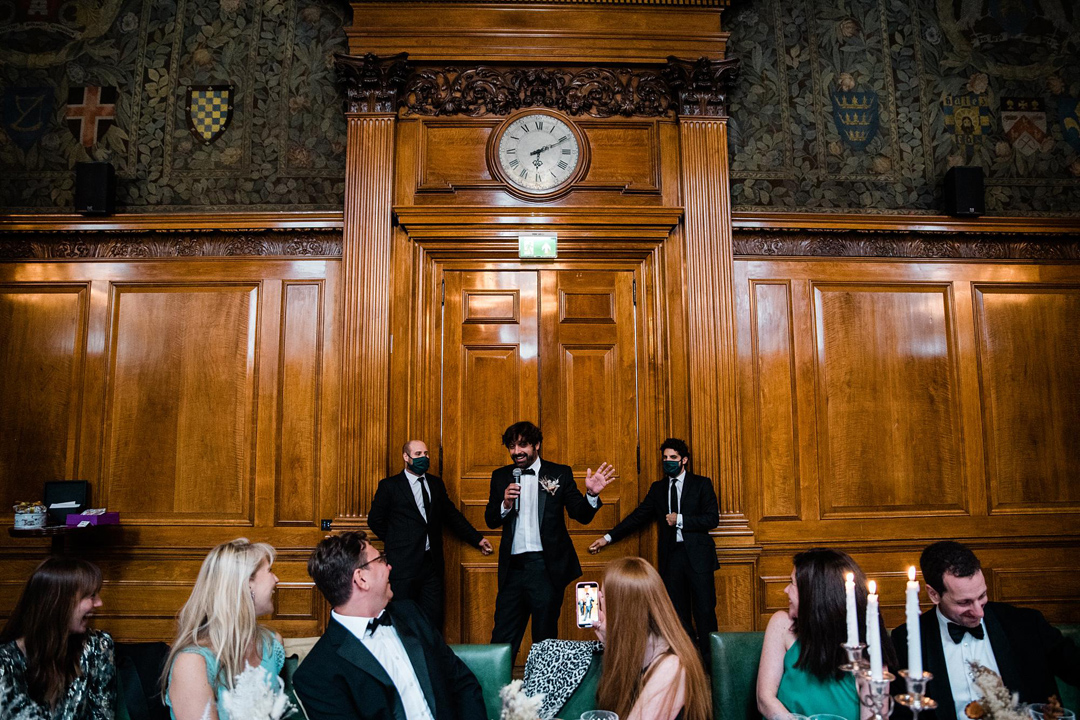 Rebecca had two girl friends in her bridal party, rather than official bridesmaids.
"I had a bridesman (who gave a speech) and the girls both inadvertently coordinated and wore green."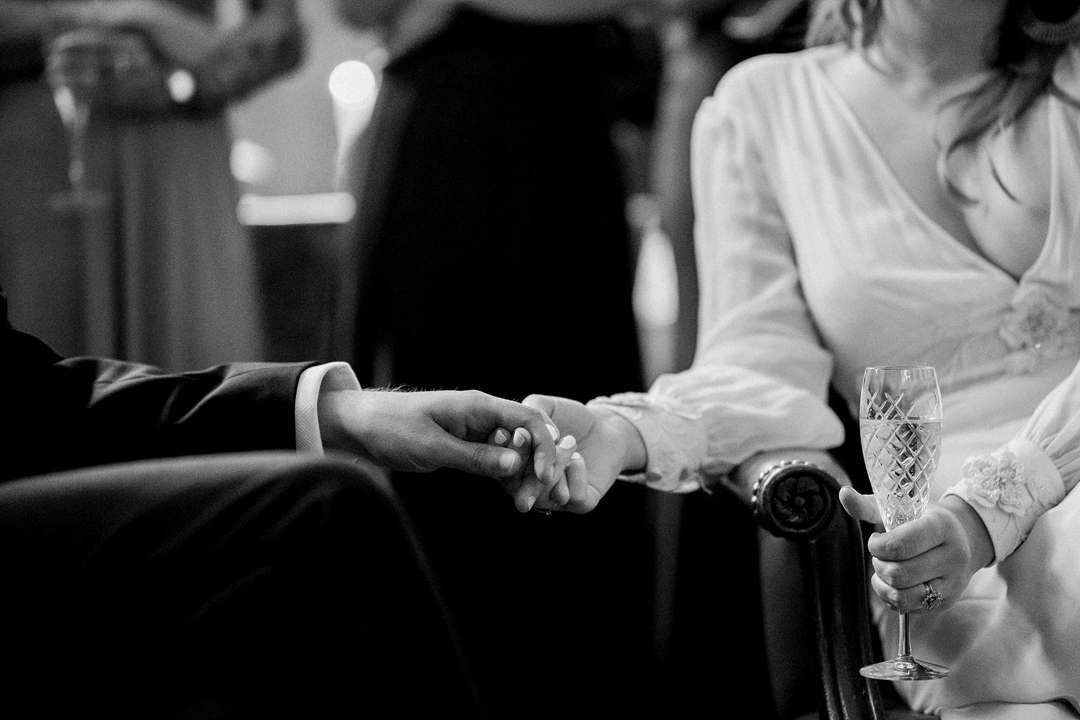 Rebecca has some wonderful memories of her and Paul's day to share.
"Seeing Paul well up when I walked into the room at the Town Hall, seeing our wonderful guests looking incredible in black tie and making our arrival into dinner to rapturous applause."
"Our first dance and getting everyone up to join us and Paul's Pavlovian response to someone putting Ginuwine's 'Pony' on – if you know, you know!"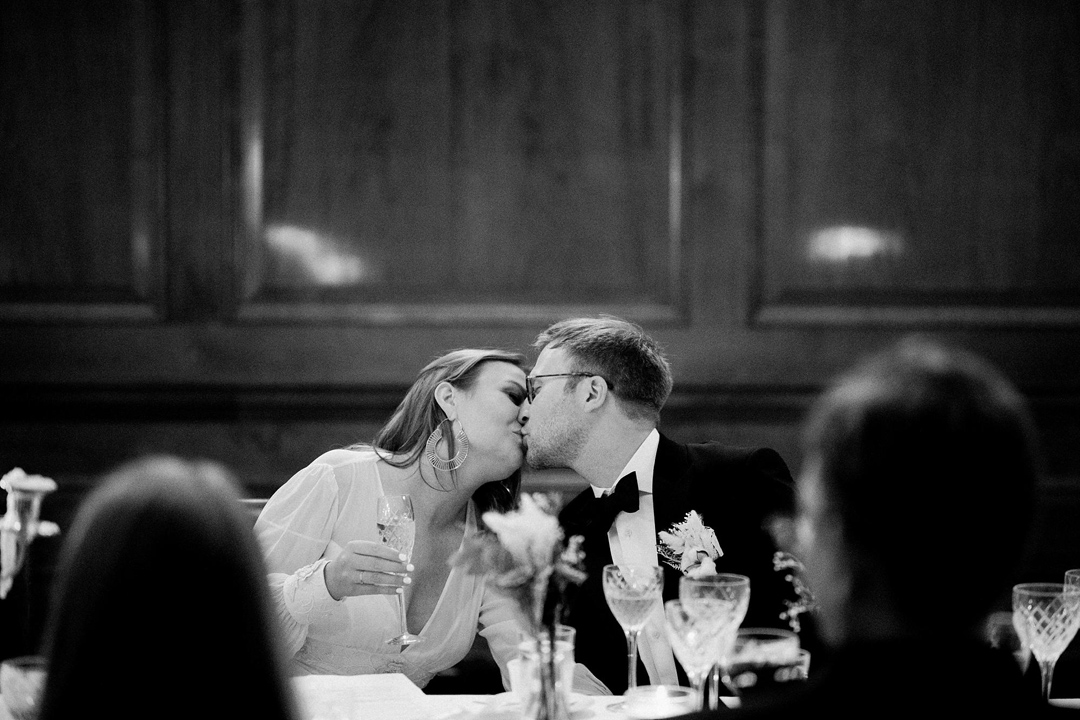 For couples affected by the Covid pandemic, Rebecca has the following advice.
"Try not to sweat the small stuff. It's easy to say in hindsight, but it really does come together!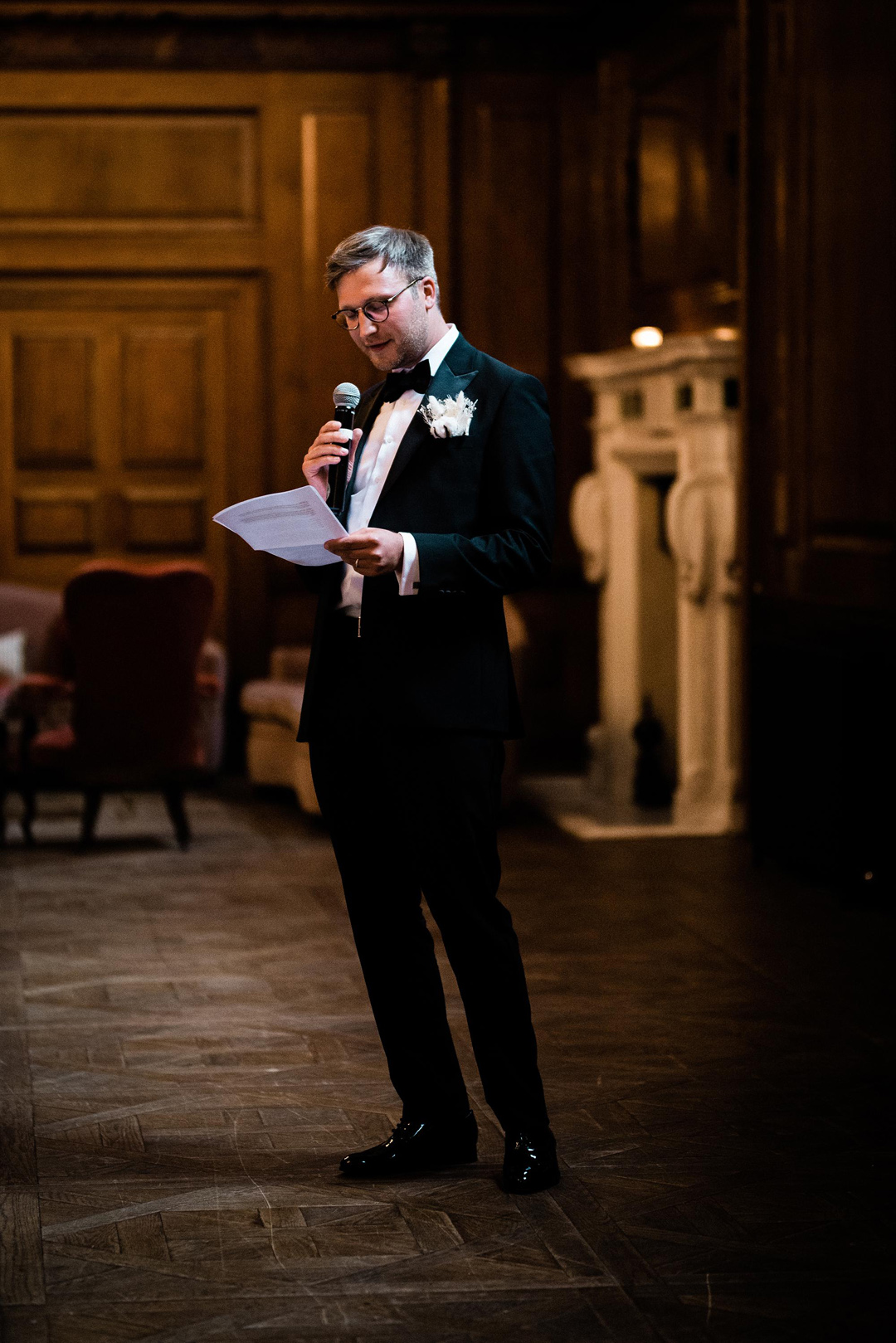 "Don't be scared to be flexible around your date and try having it on a Thursday or Friday."
"It meant we had much more choice and we essentially had a four-day celebration rather than two."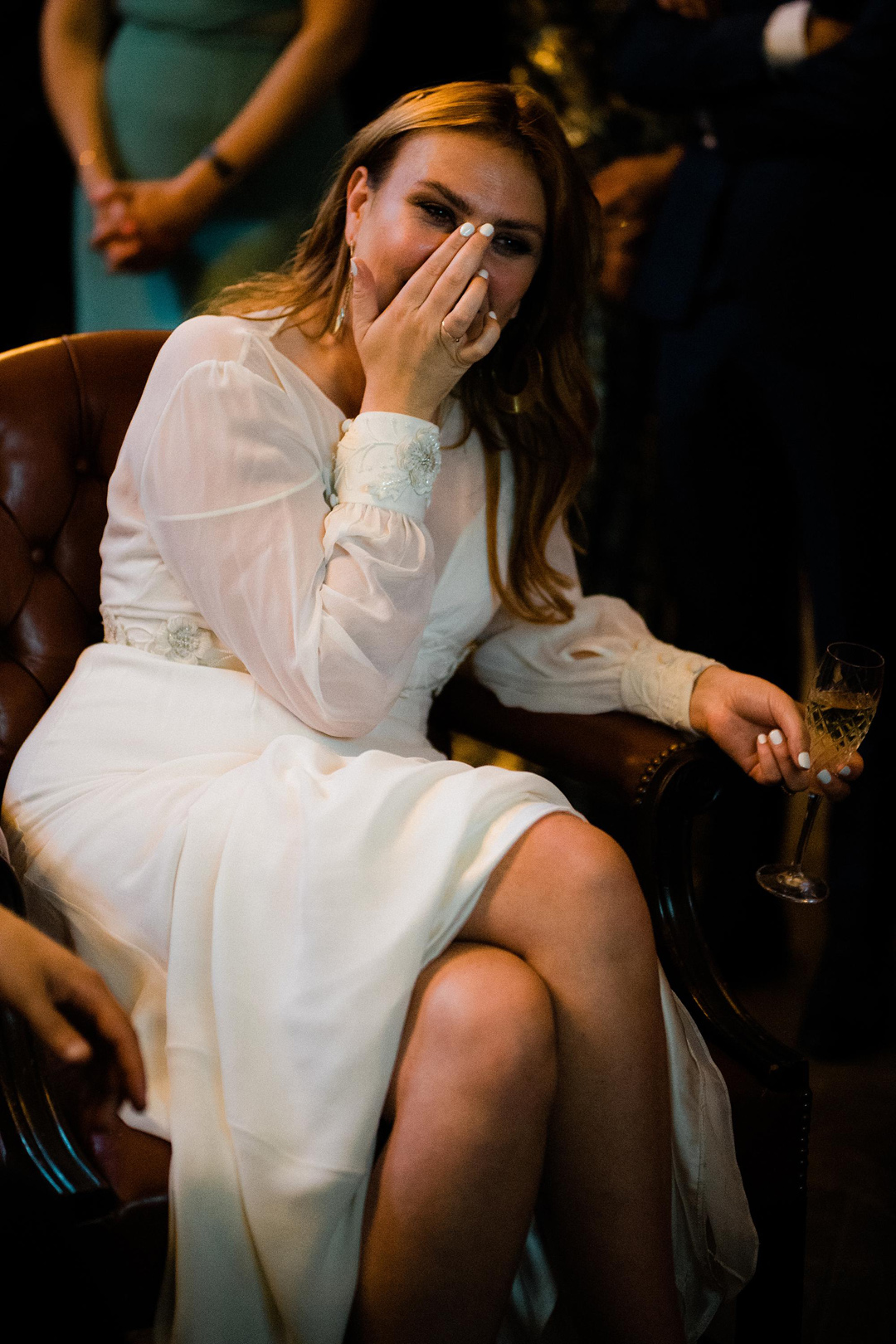 "Consider finding ways absent loved ones can be a part of the day. We Zoomed the legal ceremony and were able to have friends and family watching us exchange our vows."
"They'd also put together videos for us to watch at the reception – embarrassing stories, hilarious moments, moving speeches. It added another really lovely element to the day."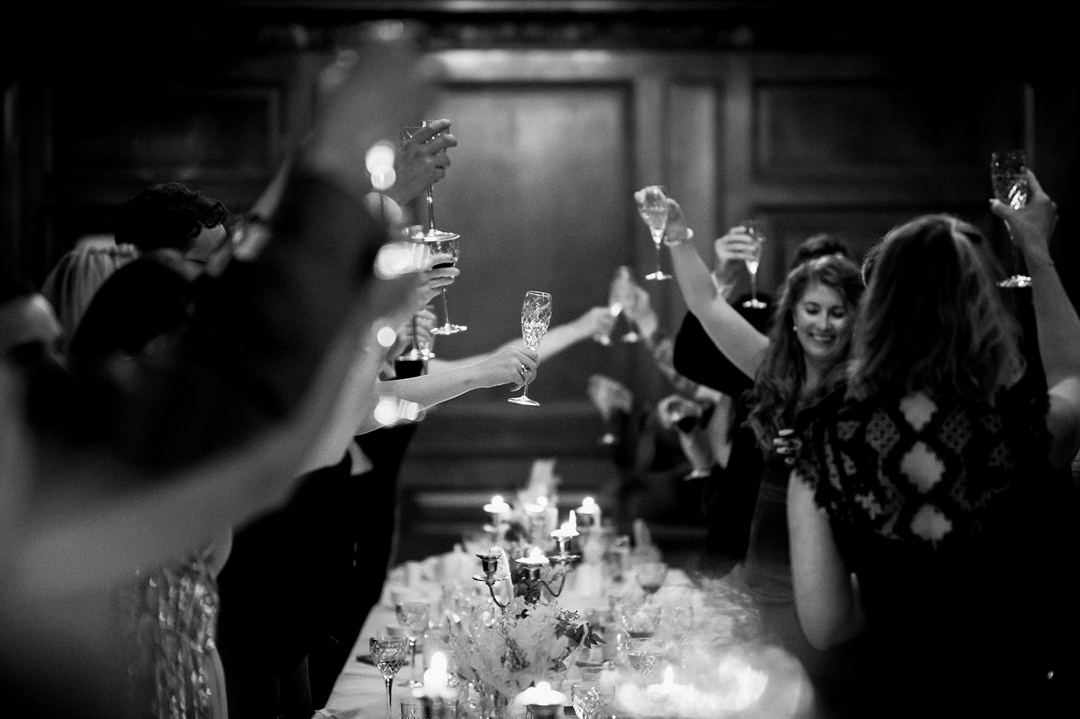 "Try not to get disheartened if people can't attend. When our guest list shrank from 200 to thirty, we wondered if we were doing the right thing."
"But finally getting married and celebrating with a few people was so, so magical and special and now we're excited to celebrate with everyone in the future."
"It's another excuse for a party and an occasion to dress up, but with less of the stress of an 'official wedding'- bonus!"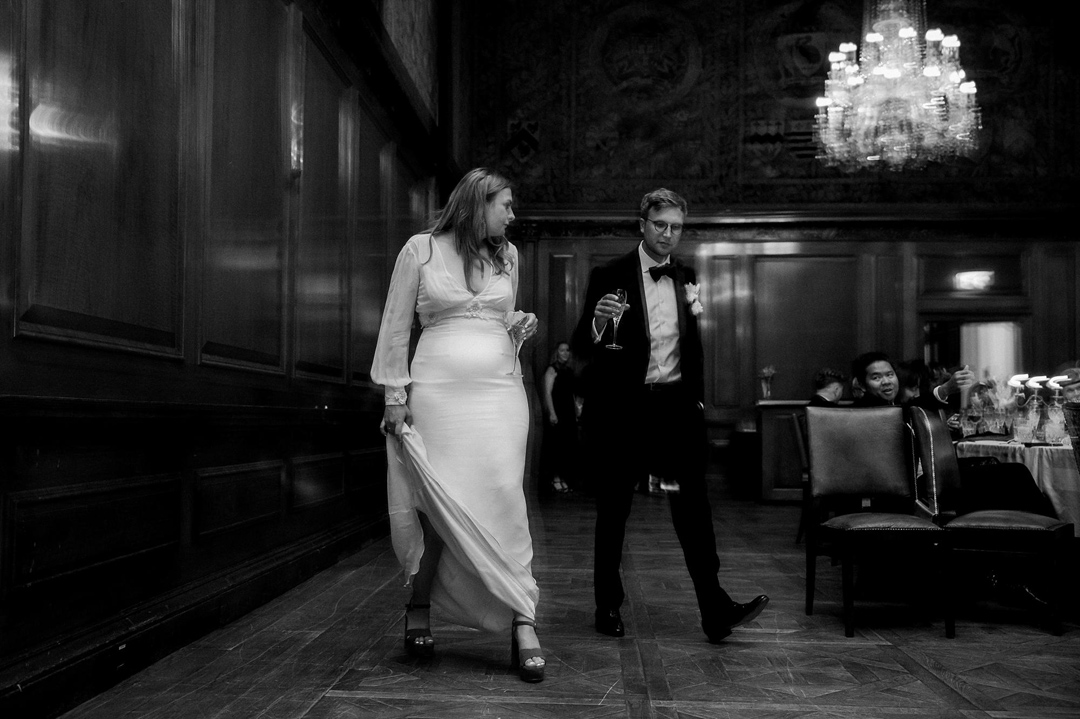 Words of Wedded Wisdom
"As everyone always says, enjoy it. It really is such an amazing, exciting, romantic moment that might have been a long time coming."
"We'd spent so many hours excitedly talking about how it might go on the day, some stressful moments having to adjust to important people no longer being able to attend and terrible family news, but nothing can compare to how good it feels, how happy everyone is for you, and how loved you feel. It's worth every moment."
"For some reason, we didn't set a budget when we started – not ideal when you end up planning three weddings and expenditure keeps creeping up! We do have a spreadsheet of what we've spent across all the plans, and we're hoping to use some of the credit we have with French suppliers for a party next year."
"When it came to sorting our London wedding, we were exhausted and wanted something that wasn't going to add too much onto our spreadsheet."
"The Ned was a really great choice as it was a minimum spend based on the number of guests, which meant we were able to fill our boots and enjoy ourselves, rather than have to navigate what we might have to leave out."
"When our guest numbers dropped at the last minute, they also reduced the minimum spend and when it came to the final payment, we were really pleased to see we'd broken even, thanks to all the free-flowing booze."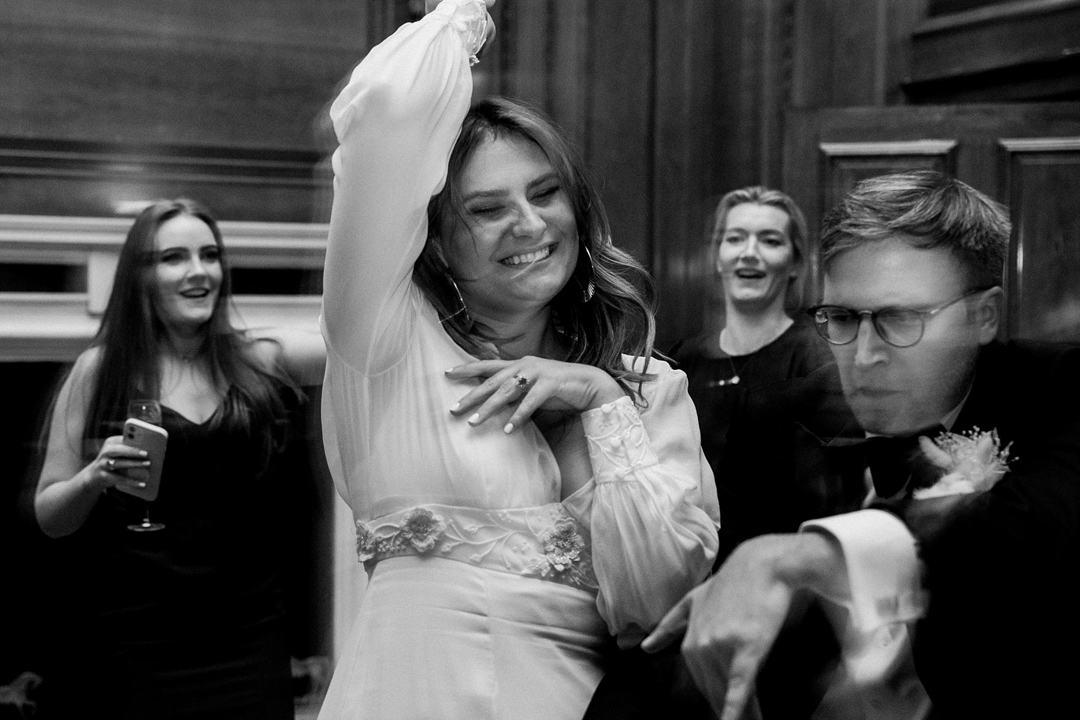 Rebecca and Paul, thank you and congratulations. We really value your words of advice and are so pleased that Love My Dress was instrumental in finding some wonderful suppliers.
Thank you Paul Santos; it's a real pleasure to share your work.
For more city weddings, enjoy this selection.
Ele xx