Today's wedding was an intimate city affair, a riot of springtime flowers and the most luxe, gold gown of silk.
On 21 May 2021, Penny, who works in marketing, married Lawyer Ajay, at a civil ceremony in Old Marylebone Town Hall, London, followed by a relaxed and intimate dinner party at London restaurant Carousel. The day's style was modern and fresh, with an abundance of pretty seasonal flowers to soften and romanticise the industrial restaurant space. Images by Wolf & Co Photography.
Wolf & Co Photography

+ Follow
Gemma Thompson Makeup Artist did the bride's hair and make-up, fixing her hair into a simple chignon.
"With the help of an assistant she also did my bridesmaids, mother of the bride, sister and sister-in-law. It was an early start and a busy morning!"
The bride's fragrance was Byredo Mojave Ghost.
"I wear this every day and love it. I wanted to feel like me but 'mega' so I sprayed it liberally and used the matching body lotion."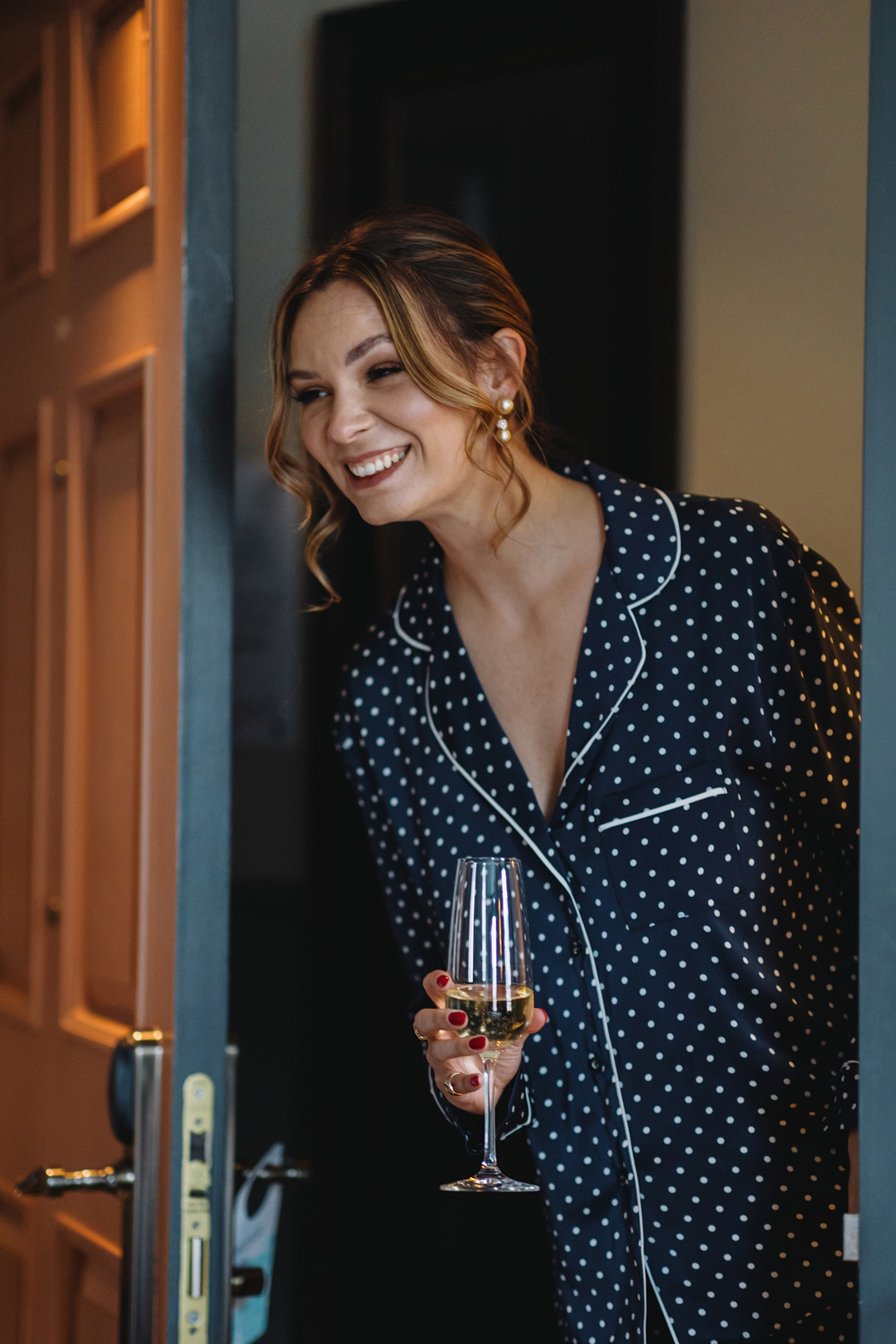 "Because we were such a small wedding, I didn't want the bridesmaids in the same dress as that would have meant half the party were matching."
"The girls also have such a different sense of style I didn't want to shoehorn them into something that made them feel uncomfortable but rather let them express themselves a bit."
"They choose their own with the brief that they told me the colour (we collectively agreed on a vague colour palette) and didn't wear pattern. I then used the flowers to pull everything together."
"They wore their own jewellery and I bought them each engraved bracelets from Edge of Ember that matched the colours of their dresses and reminded me of my engagement ring."
The bride had a clear idea that she wanted to wear a silk dress in a golden colour, designing her figure-hugging beauty of a gown in collaboration with Lourens at @No26 in North Walsham, Norfolk.
I love the fit and flare of the gown's train and its beautiful gathered bodice and off-the-shoulder sleeves.
"Lourens has a small but beautiful boutique called @No26. I went to him with loads of visual references, including one of a cantering golden pony, and he got it straight away! I didn't want to wear white or ivory but wanted more of a gold and I knew I wanted silk so it moved in a certain way."
"He made it happen within a very, very tight time frame. He is such a skilled dressmaker and was relentless in trying to make it perfect. I couldn't have been happier with the result."
"It was all about the fabrics and how they moved. My dress felt so great to wear and I loved that it was one of a kind created by me and Lourens."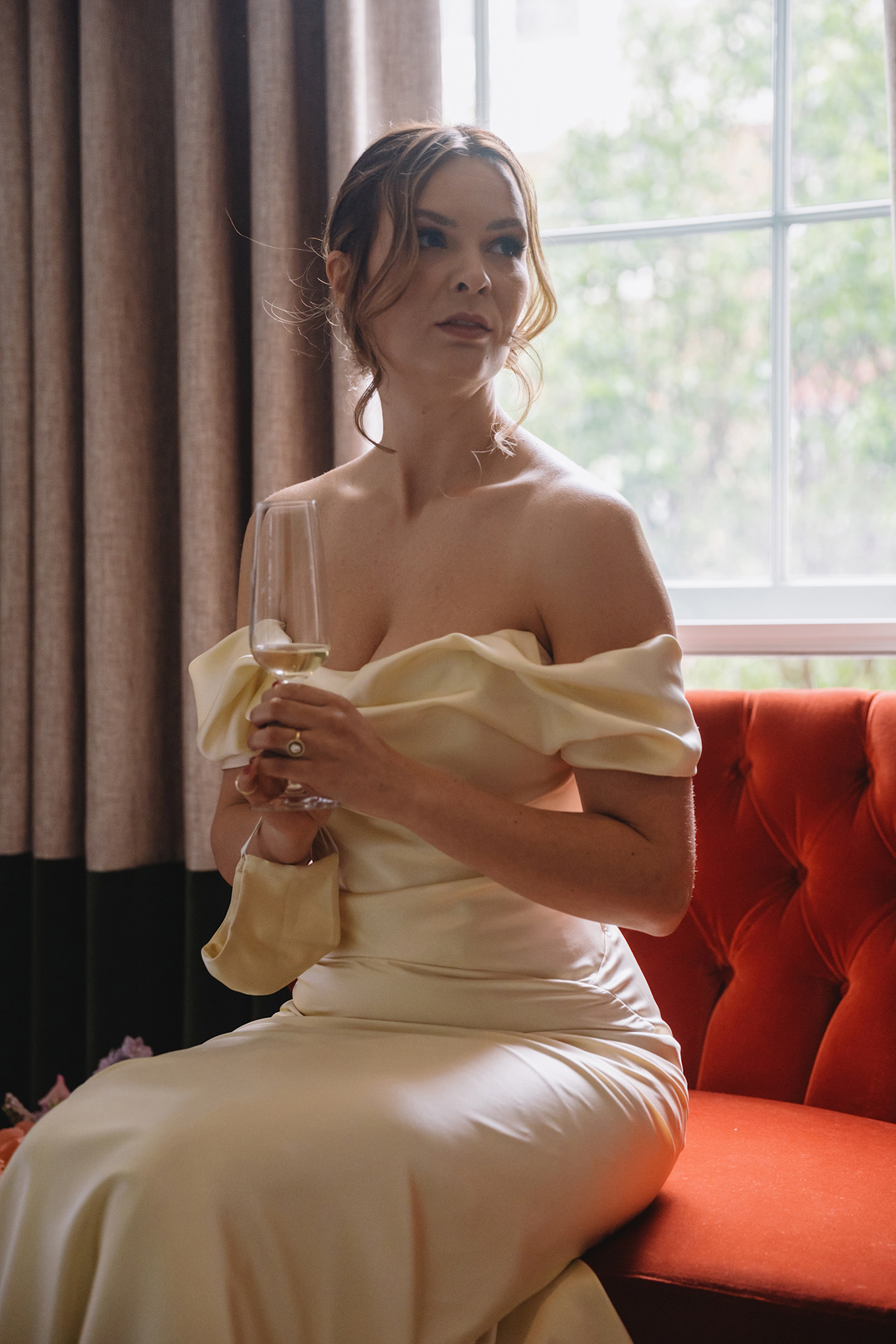 "Despite it being May, it was freezing and rained all day, so I wore a Jenny Packham ostrich feather bolero over the top which moved so beautifully with the silk of my dress."
Penny wore black Aquazzura sandals and pearl and diamond drop earrings, borrowed from her mother in law.
"I kept accessories quite simple and wore my usual jewellery with an extra bit of sparkle courtesy of a diamond ring my mum gave me which belonged to her godmother."
Penny and Ajay worked with the Carousel team to plan and style their day, placing fresh, early summer flowers at the heart of the look.
The couple had known each other for years through mutual friends before getting together in Summer 2018.
"Ajay's best man's wife and I are good friends. Around Christmas 2017 Ajay and I kept seeing each other at parties and would always gravitate to each other, drinking in the corner and probably talking nonsense."
"We didn't get together until the summer of 2018 but quickly became inseparable. We got engaged after about 18 months in January 2020 and had planned to marry that July."
"We didn't want a long engagement and were excited to get married quickly. Obviously, that didn't work out but, in the end, even a global pandemic couldn't keep us apart."
The couple's original plan, of a very small ceremony at the Town Hall followed by a countryside celebration was changed and postponed thanks to the pandemic.
"We'd always intended to have the official part of the wedding at Old Marylebone Town Hall but, while we knew it would be lovely, this had felt like the 'admin' part of getting married; we were just going to have my maid of honour and Ajay's best man there."
"The plan was to have a much bigger celebration a few weeks later with all the bells and whistles and our family and friends gathered together in a marquee and under the stars at my parent's house in Norfolk."
"Both occasions were meant to happen in Summer 2020 but Covid had other ideas so we rescheduled the Town Hall to later in the year and the party to summer 2021, never imagining we'd still be restricted."
"We had to reschedule our dates seven times – it seemed every time we chose a new date more restrictions were implemented or another lockdown was announced."
"It was disappointing but it led us to our dream day which was so far removed from what we'd originally imagined. It wasn't far into 2021 that we realised our summer party was in jeopardy. By this point we'd lost the enthusiasm for it and really began to think about what was important which was actually pretty simple; gathering together our loved ones and beginning the rest of our lives together. We decided to make more of our Town Hall ceremony followed by a celebration for as many as we could gather."
"The new restrictions were due to ease on the Monday before our wedding which allowed us to have a wedding of thirty, so we were very reliant on the phased reopening going to plan."
"/;/The week before, the government announced we were all on track but then the Friday before announced a press conference for the evening to discuss the new (Delta) variant potentially compromising this. By that point, we were committed to going ahead on our date, even if it ended up being just the two of us!"
Whilst Ajay made his way to the Town Hall on foot, the bride hailed a cab from Home Grown, where she had stayed the night before and got ready.
"We weren't very organised but, given we were in central London, knew hailing a cab wouldn't be an issue. The first one we hailed was a beautiful old style 'black cab' in white."
"I'm not sure I'd ever seen one before and I've never seen one since except when we were leaving the Town Hall to go to the reception and another white one appeared, this time with 'WED' as part of the number plate – that has to be lucky, right?"
Ajay wore a modern suit in soft blue from Hugo Boss, along with a white Eton shirt and floral Liberty tie.
Around the time the couple wed, Covid regulations were changing constantly, so Penny was overjoyed to be able to walk down the aisle with her father.
"It was unclear right until the last minute if we could do a 'walk-in' but luckily I was able to have my dad walk me down the aisle. It felt so special and that moment we had together before we went in was a time I'll cherish forever."
"We love the Cinematic Orchestra and found a mix of 'Wait For Now' which featured a harp. The first time I heard it I was stopped in my tracks."
"All our guests had to wear masks in the ceremony and sit socially distanced. That was quite strange as we were in the biggest room at the town hall, the Westminster Suite, which normally seats 100. Our pictures show this but we kind of love it because it reflects the reality of the time we were living in."
Ajay and Penny wed in a civil ceremony and exchanged rings made by old colleague.
"I made it very clear to Ajay that I'd want to design my own engagement ring so he procured the stone and I designed the ring. I knew I'd want something that wasn't traditional but was still classic."
"I had an idea in my head so contacted an old colleague who I worked with at De Beers Diamond Jewellers to see if he could help me find someone to refine the design and make it."
"He wrote back immediately to say that he'd just set up his own company and would love to work on it with me."
"We started with the round brilliant diamond at the centre and created a halo of black resin and micropave set in gold. It's different and maybe not to everyone's taste but I love it! He also made our matching plain gold bands which are a perfect pairing."
"There was no particular reference or style inspiration other than what we love. We kept it true to our taste so it felt 'us' and I think it worked out well. Lizzie Thorne was recommended by Carousel and I felt that she immediately got what I wanted."
"The flowers were important to soften what is a beautiful but quite an industrial space and to pull all the colours of the bridesmaids' dresses together."
"She very sweetly accommodated a request for 'something blue' at 8pm the night before when I realised I hadn't got that sorted. May was the best time for flowers and she used all the goodies – peonies, sweet peas, delphiniums and she saved the last of her anemones."
"We wanted to keep everything in walking distance from our flat in Marylebone and the Town Hall. It's our neighbourhood, where we spend most of our time, and feels friendly and familiar."
"We'd been to Carousel a couple of times and had a few of their takeaways in lockdown and had always loved both the food and the space."
After the ceremony, the newly-weds spent some time together to let the day sink in and to get some beautiful portrait photographs, a moment which Penny has chosen as a favourite.
"The time after the ceremony where we had a moment together alone and all those little moments we made for each other during the day where we made sure to reflect on how magic everything felt."
The celebrations kicked off with a drinks reception at Carousel before the guests sat down to dinner, respecting Covid restrictions.
"We had a reception outside in the garden at Carousel which meant we could stand up and mingle."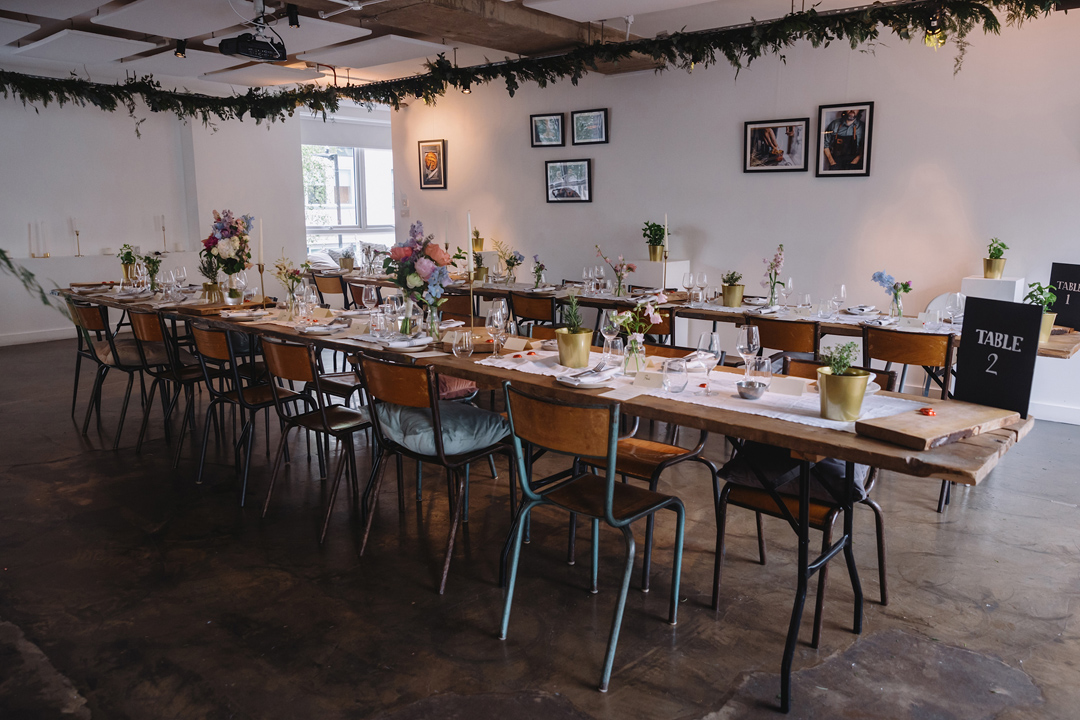 "Upstairs, where we had dinner, was inside and a bit more restricted but the team there made it work."
"Everyone was respectful and it didn't spoil the day at all."
As readings weren't allowed at the Town Hall, the couple included one in their dinner celebrations.
"We kicked off dinner with a reading by my niece and nephew from 'The Velveteen Rabbit'. It is the sweetest piece of text and they read it so beautifully together."
"This was followed by speeches from the father of the bride, bride, groom and finally, best man, between courses."
"Carousel created the most amazing feast of family-style sharing plates to start with burrata, homemade bread and seasonal salads followed by roast chicken and a selection of sides. It was all carefully sourced, perfectly prepared and beautifully presented."
Penny and Ajay worked with the Carousel team to plan and style their day, placing fresh, early summer flowers at the heart of the look.
"The team at Carousel was amazing and literally handled everything. We sent them over mood boards and they bought the aesthetic to life along with their florist, Lizzie Thorne Flowers. They handled the running of the day and all the prep in advance seamlessly."
"The only hairy moments were due to lack of clarity on Covid rules and the evolving measures as we came through the various phases, but that was beyond anyone's control so we just had to relax and not lose sight of this day being about our love and our loved ones."
Osman of Wolf & Co Photography captured the day on camera, recording so many intimate, unexpected moments.
"We found Osman on Instagram and immediately loved his images which struck a great balance between romantic and whimsical, and strong and architectural."
"For a city wedding he felt like the perfect choice to really celebrate the surroundings but put us at the centre of it."
"He was such a delight to have there on the day; he made me feel really relaxed, was unobtrusive yet still managed to capture all the special moments."
"Our guests loved him."
"We got our cake – red velvet – from Luminary Bakery which is a social enterprise based in Camden working to empower women. It was delicious and looked fab."
"Eating the final piece the next day at home, together on the sofa as newlyweds with a cup of tea and a glass of Champagne, was also a bit of a highlight."
Words of Wedded Wisdom
"Don't forget it really is about you, your partner and your love. Weddings can get political and expensive; it's easy to get caught up in drama so surround yourself with those who are happy for you and mark the moment together."
"Hopefully we're now out of the woods with Covid impacting celebrations but what we'd both say is that it led us to a day that was exactly as we'd want it but far removed from what we'd imagined."
"It was near our home where we have made so many memories together and with most of our nearest and dearest. It was intimate and magical and, after a year apart, everyone there was so delighted to celebrate with us."
Sending so much love and congratulations to you, Penny and Ajay, and thanks for sharing your day with us.
Thank you too to Osman of Wolf & Co Photography for sharing your wonderful photography; I hope to see your work again soon on our pages.
For more spring wedding inspiration, why not enjoy these Love My Dress weddings?
Ele xx