I'm whisking you away to the rolling, green hills of Tuscany, Italy today for the most beautiful wedding arranged by Wiskow & White, a fabulous duo who create exceptional celebrations in Italy.
Please meet creative copywriter Justine and recruitment director Matt, who wed on 24 September 2021 at the enchanting Villa il Pozzo, Certaldo, near Florence, Italy. The wedding, which took place over four days, had a vibe was stylish, elegant and romantic, featuring plenty of festoon lights and flowers to let the beauty of the venue and landscape shine.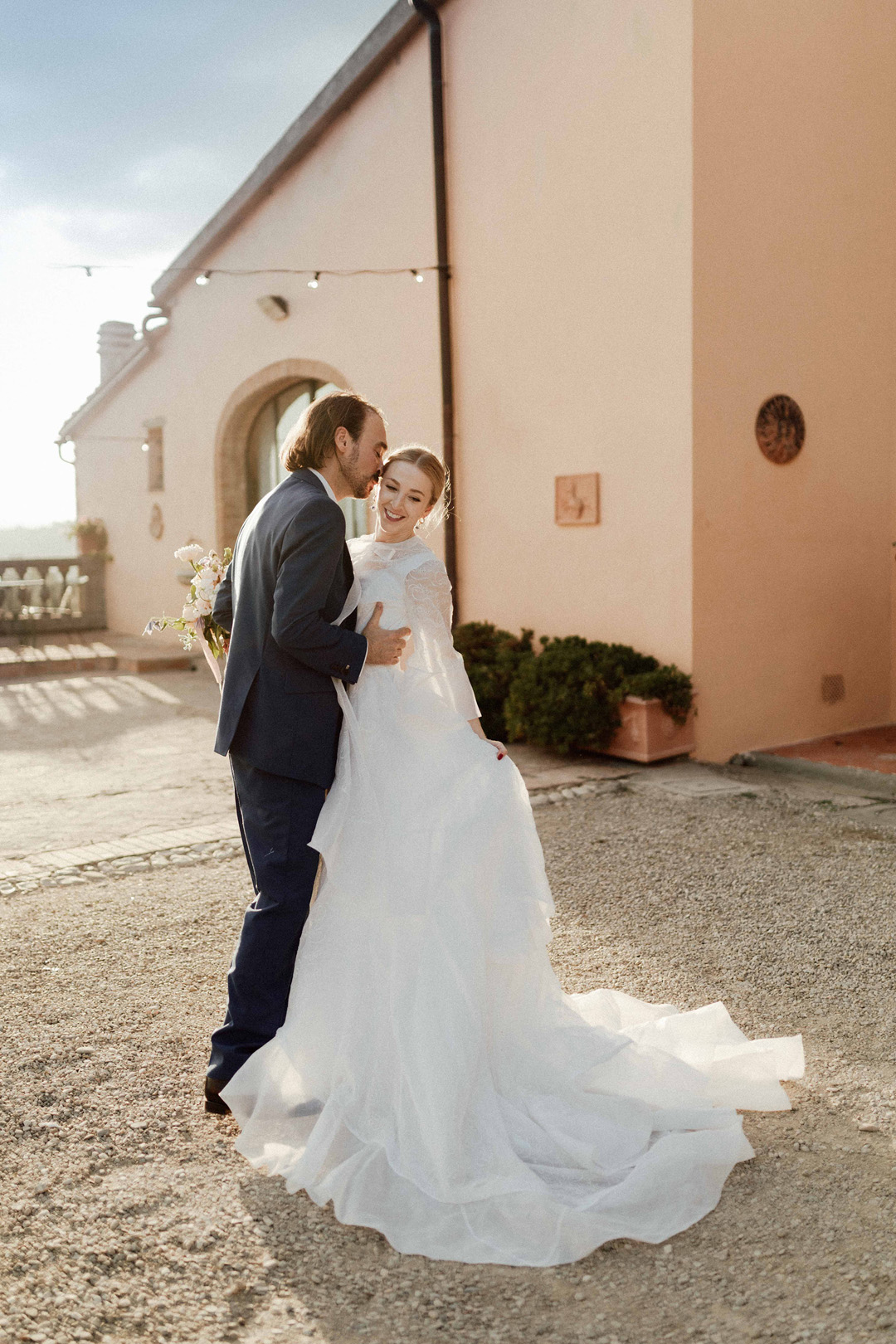 The couple planned their day with Wiskow & White. Lucy and Danielle create the most beautiful and stylish weddings that celebrate the uniqueness of both the venue and the couple they work with, and we are delighted to list them on the Love My Dress Wedding Directory here.
"We had viewed about nine villas over four days back in January 2020. Villa il Pozzo was the last one and a 'wildcard' that our planners showed us and it blew us away."
"The views were like nothing else and the villa had so much character, it was an instant yes."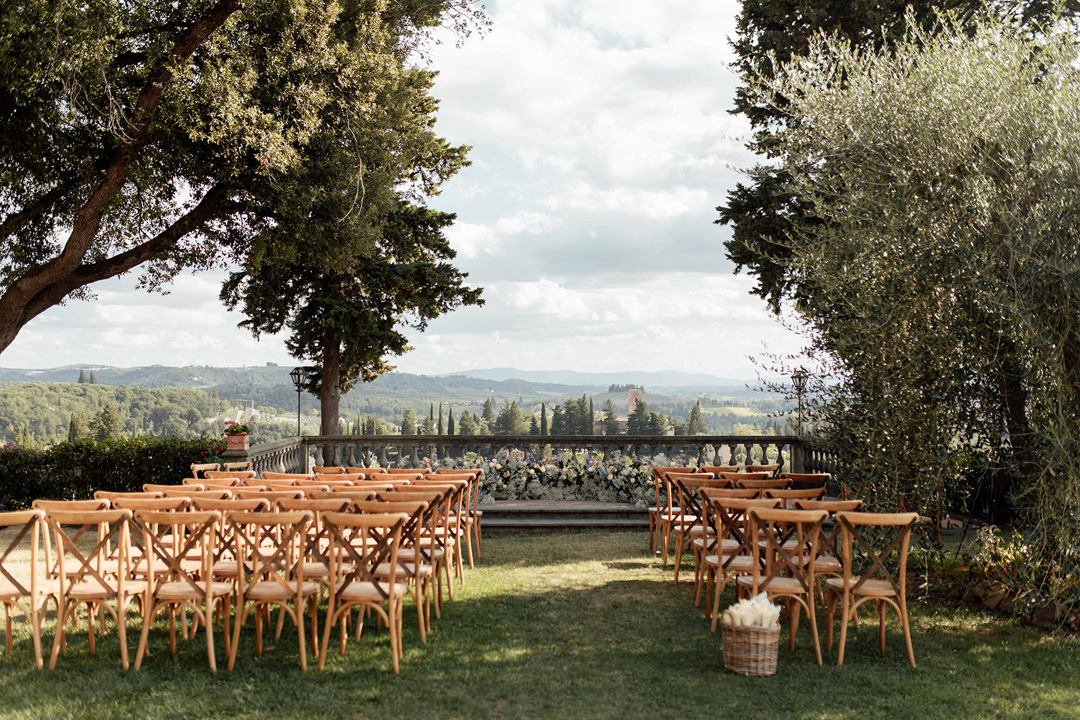 The bride selected a full-skirted dress with layers and layers of flounces for a romantic feel."
"I was astounded to find that this piece with its cool, floor-length cape, which feels so contemporary and modern, is actually a vintage gown with alterations by Sewn Right."
"I looked at a lot of dresses over the years and, short of a few couture beauties that were massively out of my budget, the ones I responded to were vintage."
"I liked the idea of making memories in something with its own history, plus it offered me the chance to customise my dress."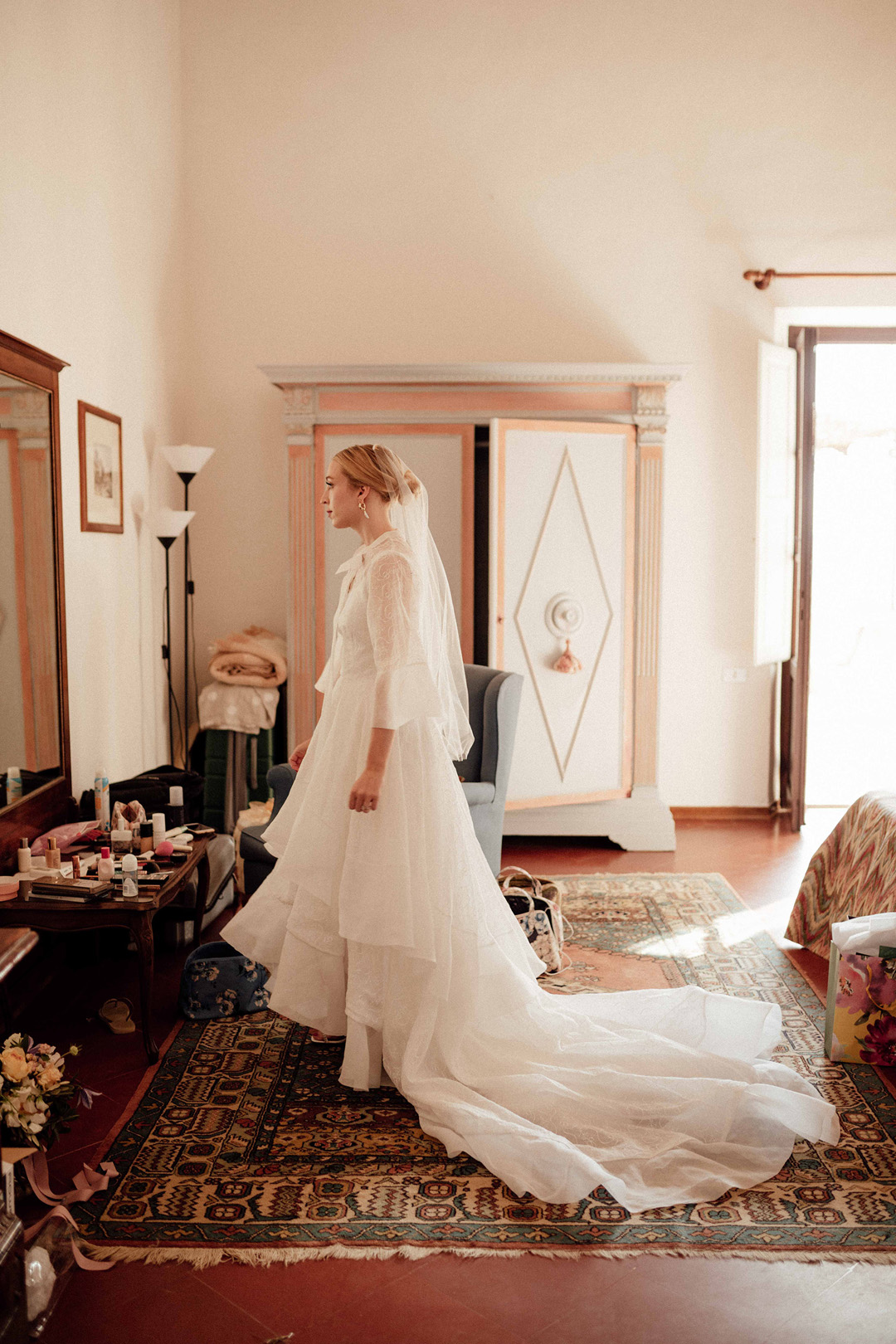 Justine added a simple tulle veil by BlossomAndBluebird via Etsy. If you like this, please take a moment to visit their Wedding Directory listing here.
The bride's shoes were Jeffrey Campbell Shoes and she wore dangly earrings from Shrimps.
"I loved the hint of blue and got the most compliments on the earrings, only second to the dress. I also had a special sapphire pin given to me by my now mother-in-law. I had it pinned in my dress on the day, which was something only we knew about but felt special."
Justine applied her own make-up and styled her hair into a chic low bun.
The wedding ceremony was held on the outdoor terrace, overlooking the glorious Tuscan hills, with the ceremony area surrounded by masses of flowers in soft, pastel tones.
Justine was walked down the aisle with her mum and dad beside her, to 'Comptine D'un Autre Été' by Yann Tiersen from the film 'Amélie'.
The wedding service was led by Justine's uncle.
"There were no modern religious aspects to our ceremony although, in addition to the vows we wrote, our celebrant did a handfasting."
"We wrote our 'formal vows' together, deciding on promises we knew we would like to make to each other. We then each wrote personal vows to the other that didn't have a particular structure."
"Matt's parents each did a reading and it was a lovely way of involving them. We had 'I Like You' by Sandol Stoddard Warburg and 'So Much Happiness' by Naomi Shihab Nye."
"I found my ring on eBay. It's a vintage, 18 carat band with a 0.25 carat diamond embedded. My husband chose a new, plain gold, 18 carat band from Lawsons Goldsmiths in Henley-on-Thames."
"Our favourite part was our ceremony. It was the part that was most personal and vulnerable (and therefore made us both the most nervous) but it was magical."
"Having every eye on you is a lot but so worth it when you're sharing such meaningful things with each other. It's the whole point really!"
The couple were engaged in July 2019 and originally planned to marry in July 2021, but had to push back their day by two months because of the Covid pandemic.
"We met on a Bumble date when we were both living in Calgary, Canada. After a year of dating, we moved back to the UK and got engaged in July 2019."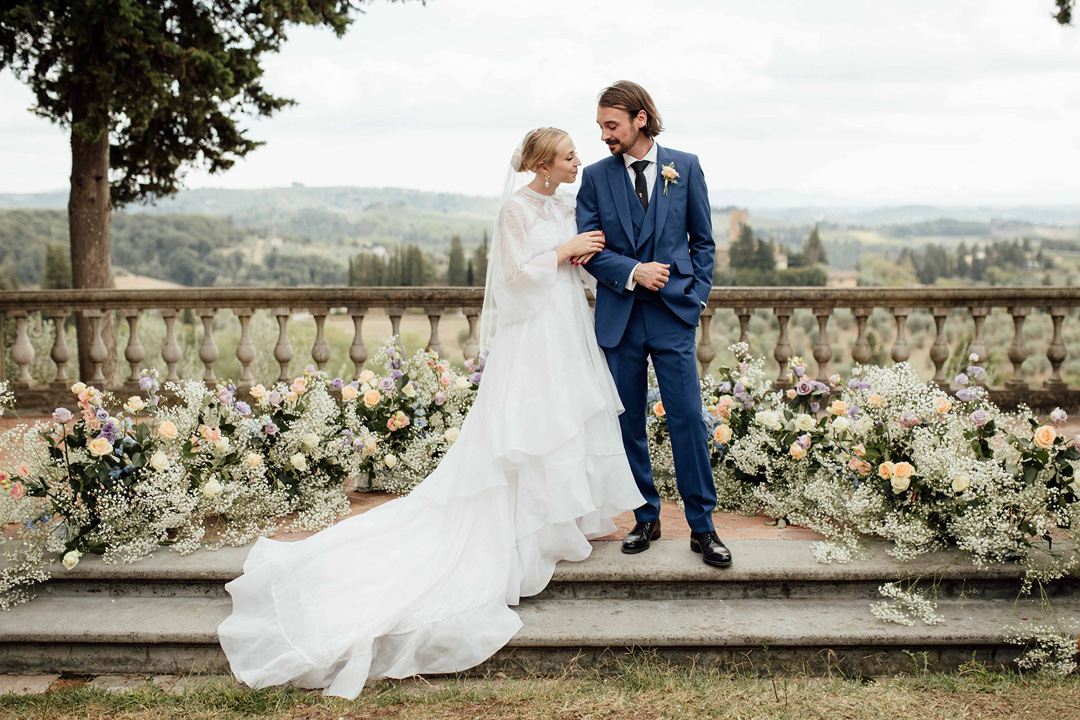 "We had an original date of 9 July 2021, which we had to abandon. The only option we had with our venue was for September instead."
"We had literally hundreds of lateral flow tests at the villa and asked our guests staying there to test daily, as well as all guests staying elsewhere to administer their own before attending a wedding event (we had four days of festivities)."
"We did feel positive about people having to test negative to fly into the country, so that was added peace of mind."
Following the ceremony, the guests and their newly-weds relaxed by the pool and in the grounds during the aperitivo.
"We had a trio of musicians for the aperitivo – accordion, trumpet and guitar. We created a playlist of Italian classics for the dinner and had a DJ for dancing."
The wedding dinner from Lodovichi Catering (no contact details) was an al fresco, candlelit affair – these photographs from Studio Chloe David are so magical and romantic.
"We had many vintage, glass decanters and custom, floral tablecloths."
"We designed the stationery ourselves and had them made by a few different suppliers – just anyone we found who could get it as close to what we envisioned as possible."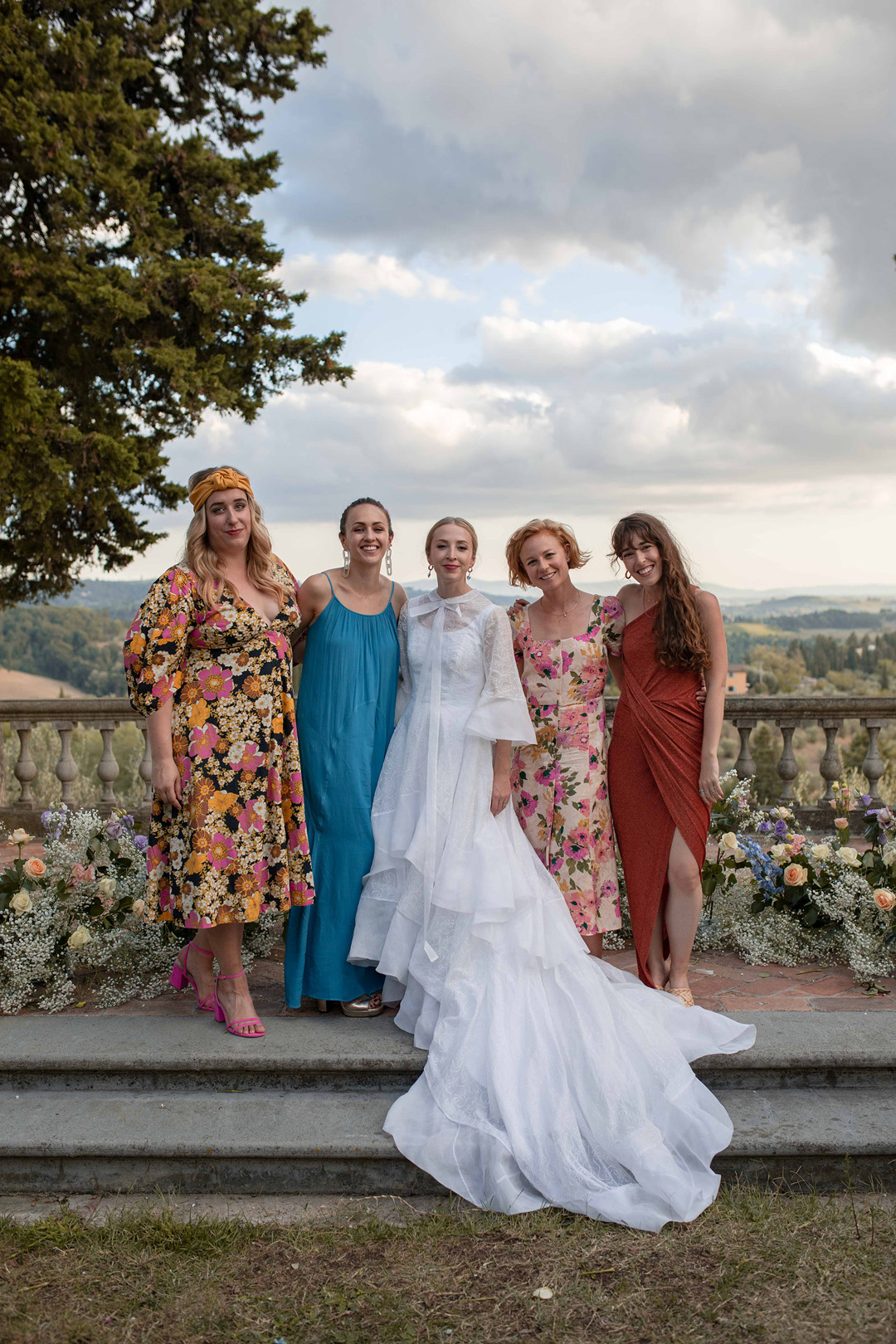 Capturing the day was photographer Studio Chloe David, whose light and airy photographic style is a joy to behold.
"Chloe was amazing. She was super-relaxed, made us feel at ease and the pictures that she took are all beautiful. We couldn't be happier with her service."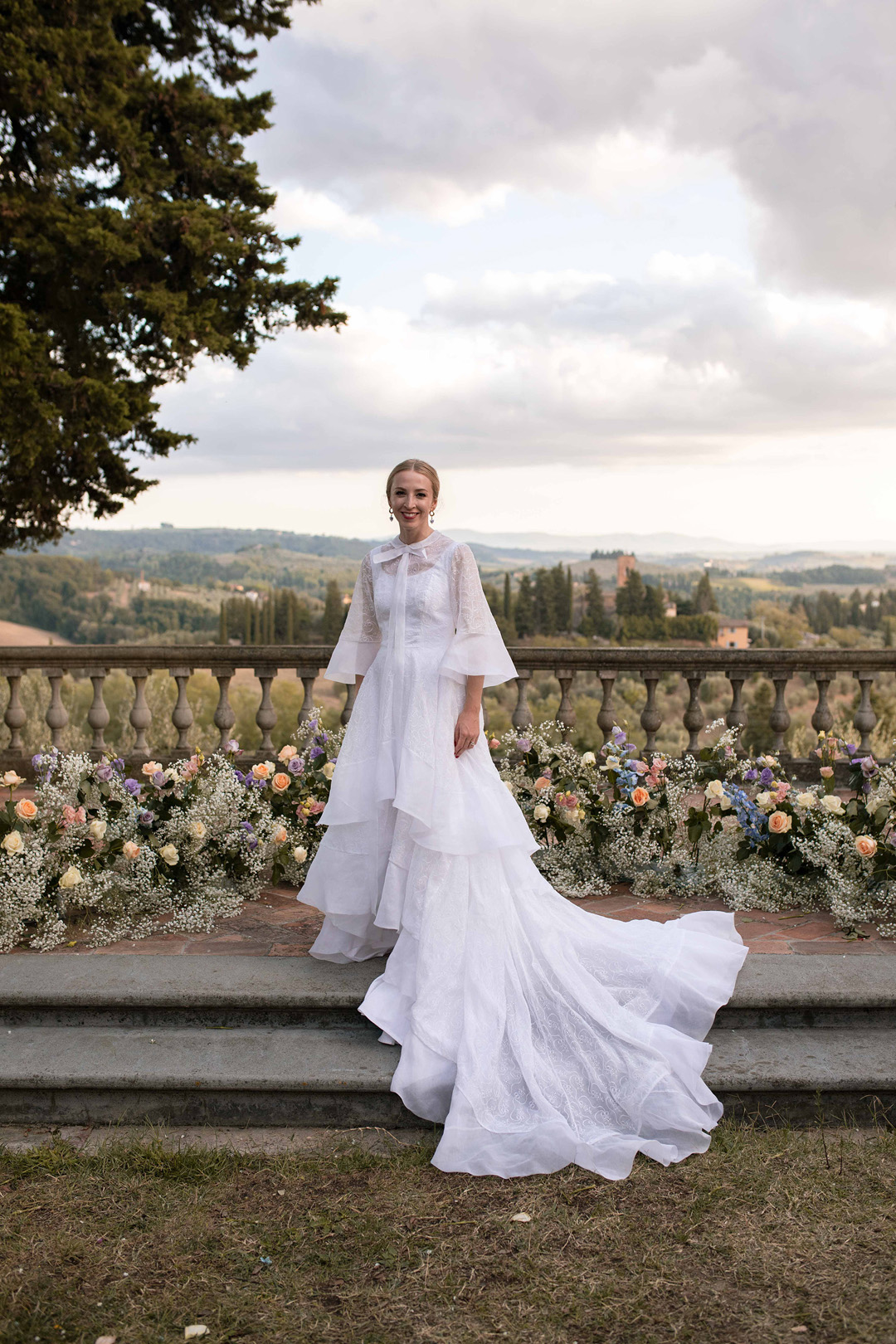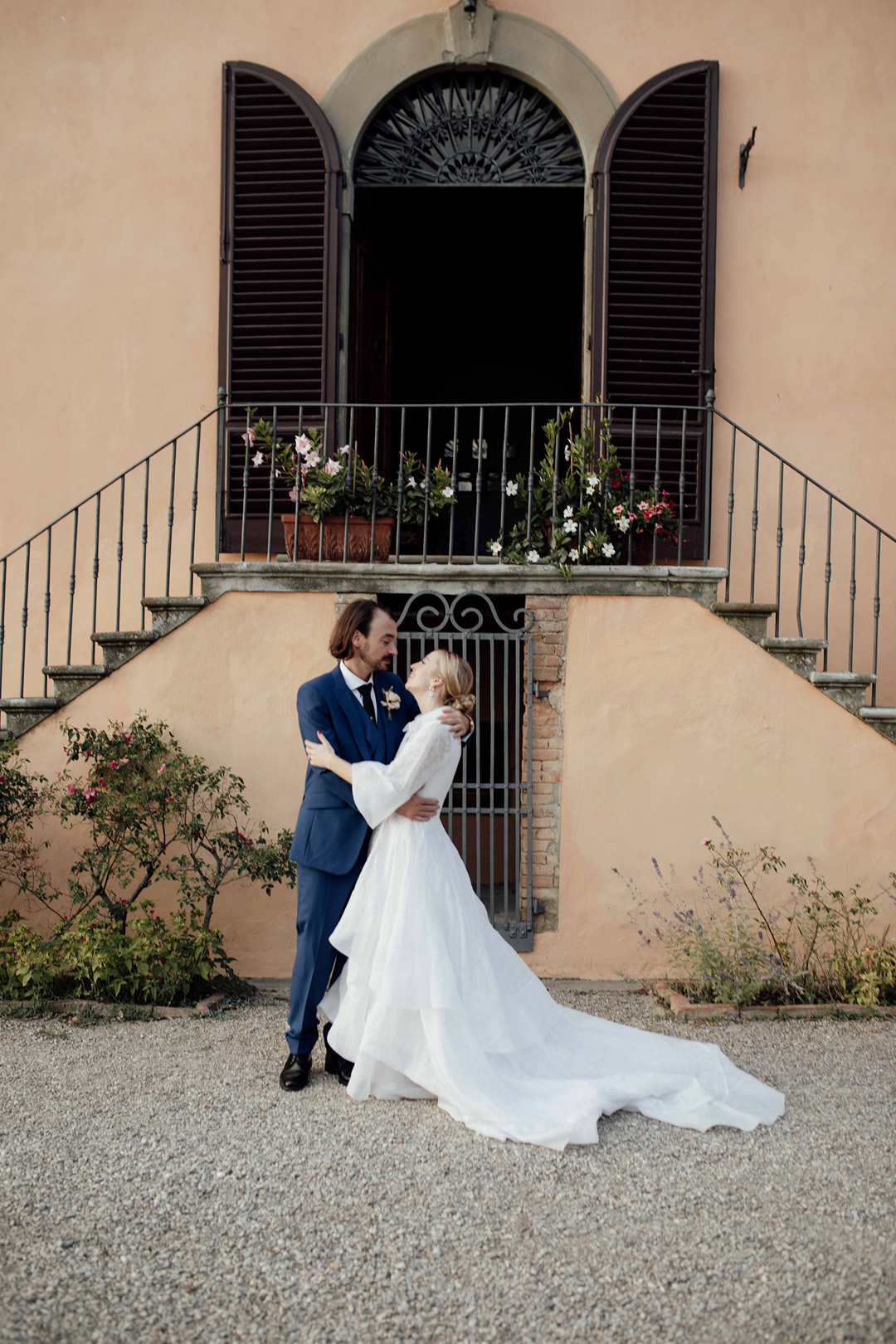 "The classic Fiat 500 that made an appearance at our wedding was a last-minute surprise!"
"Our photographer and videographer spotted it on the grounds as it belongs to the winemaker at the villa."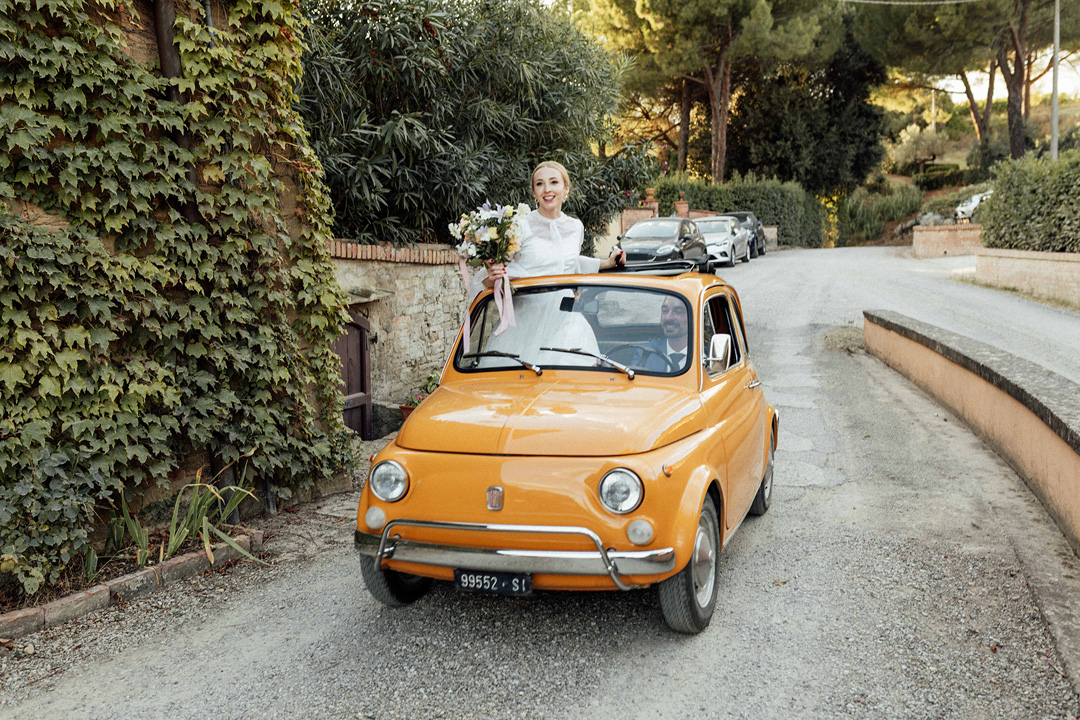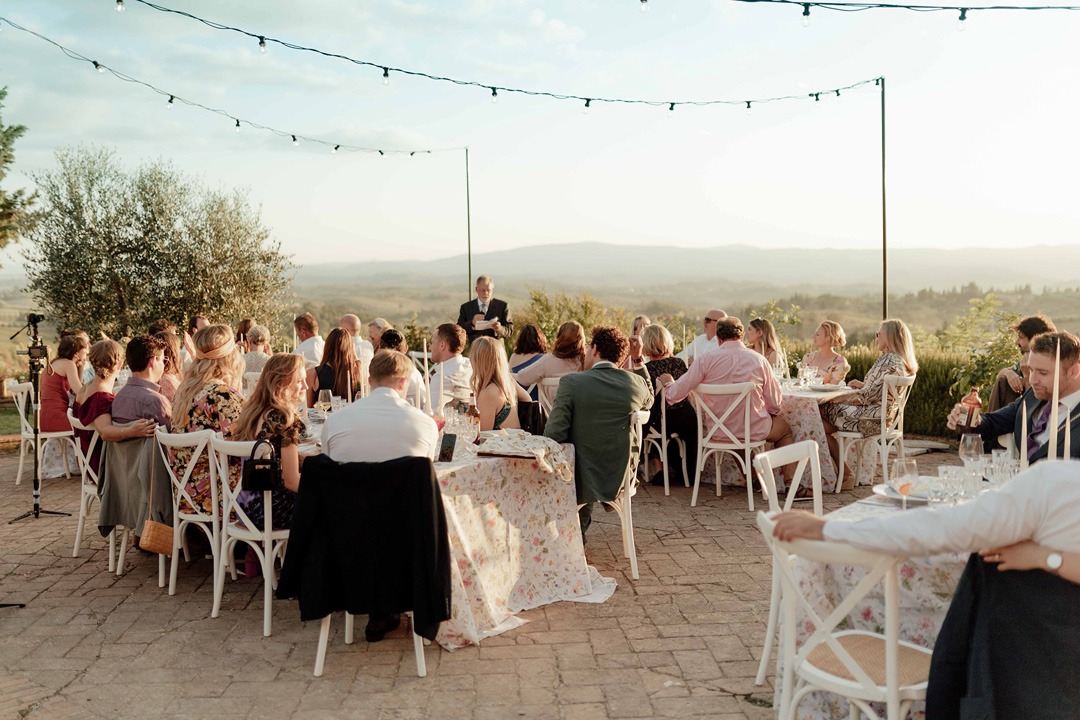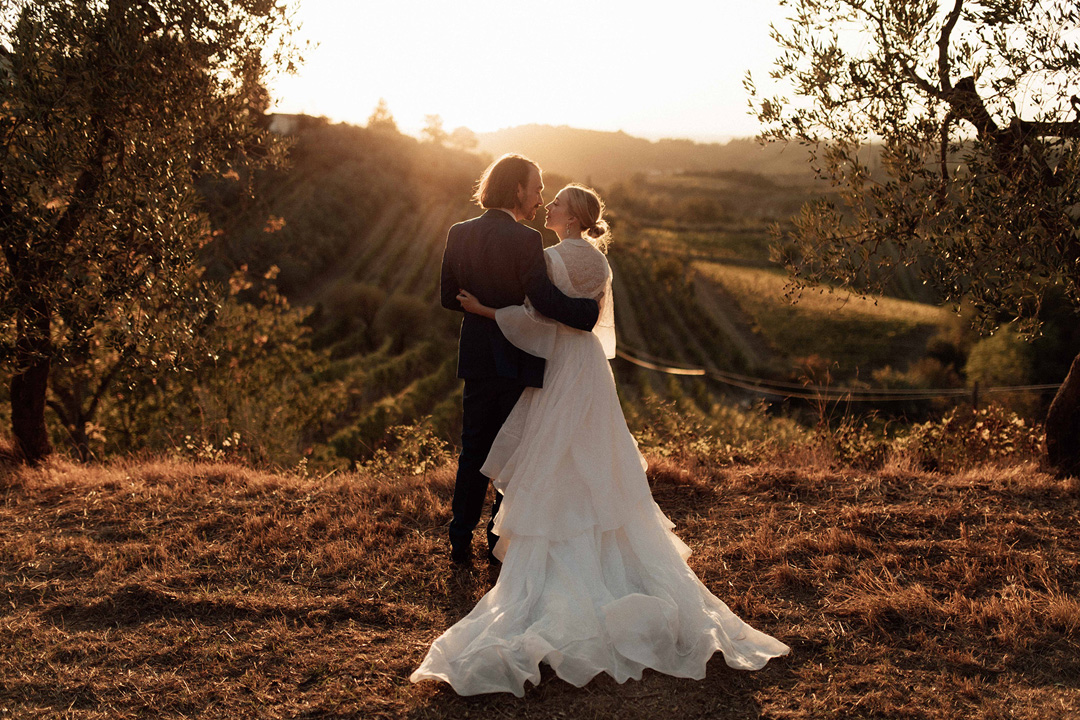 The groom wore a formal three-piece blue suit from King & Allen Bespoke Tailoring, with a vintage tie pin featuring a gold koala with opal. Matt added a fresh, cream buttonhole, styled by Flowers Living.
"We went with them by recommendation of our planner."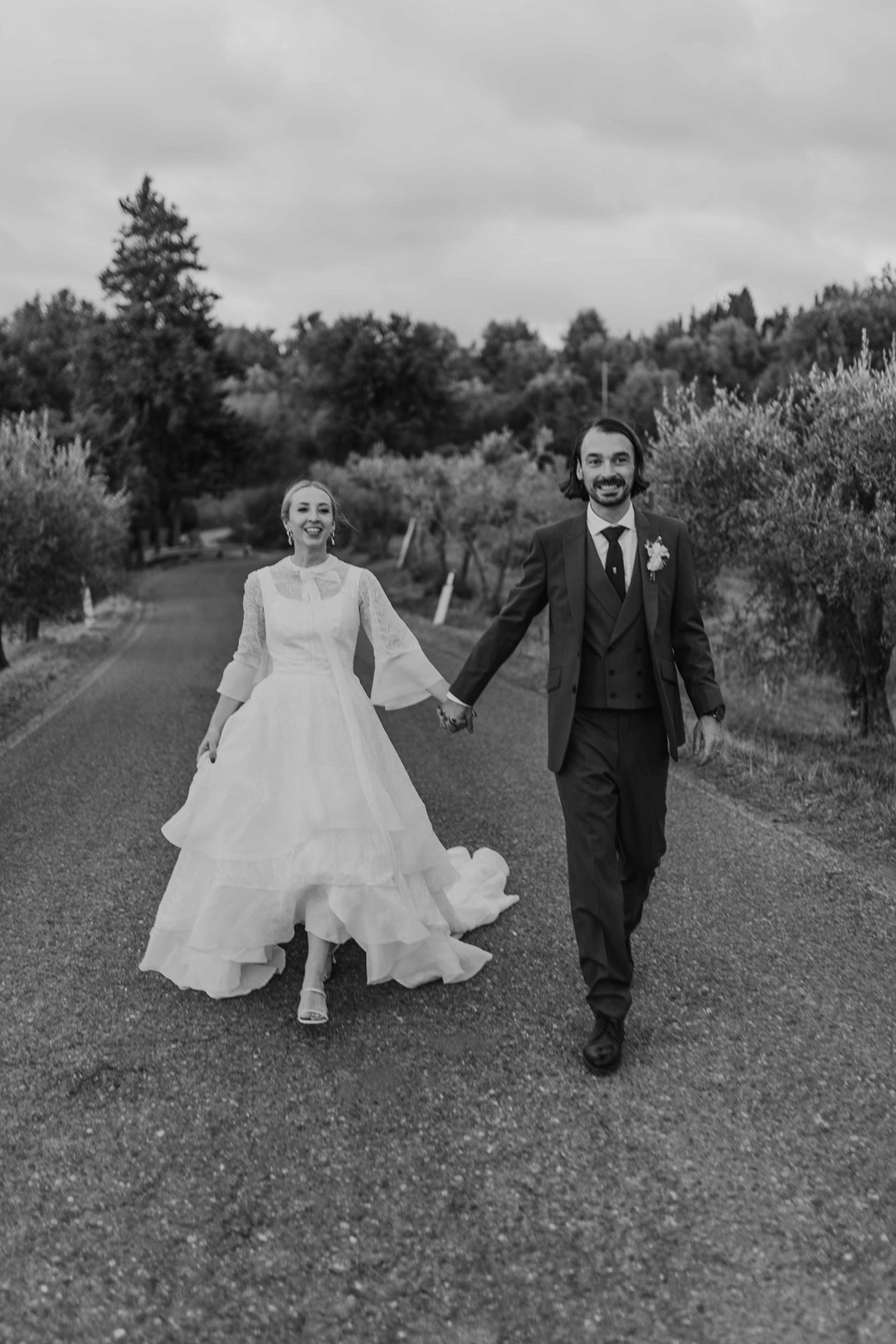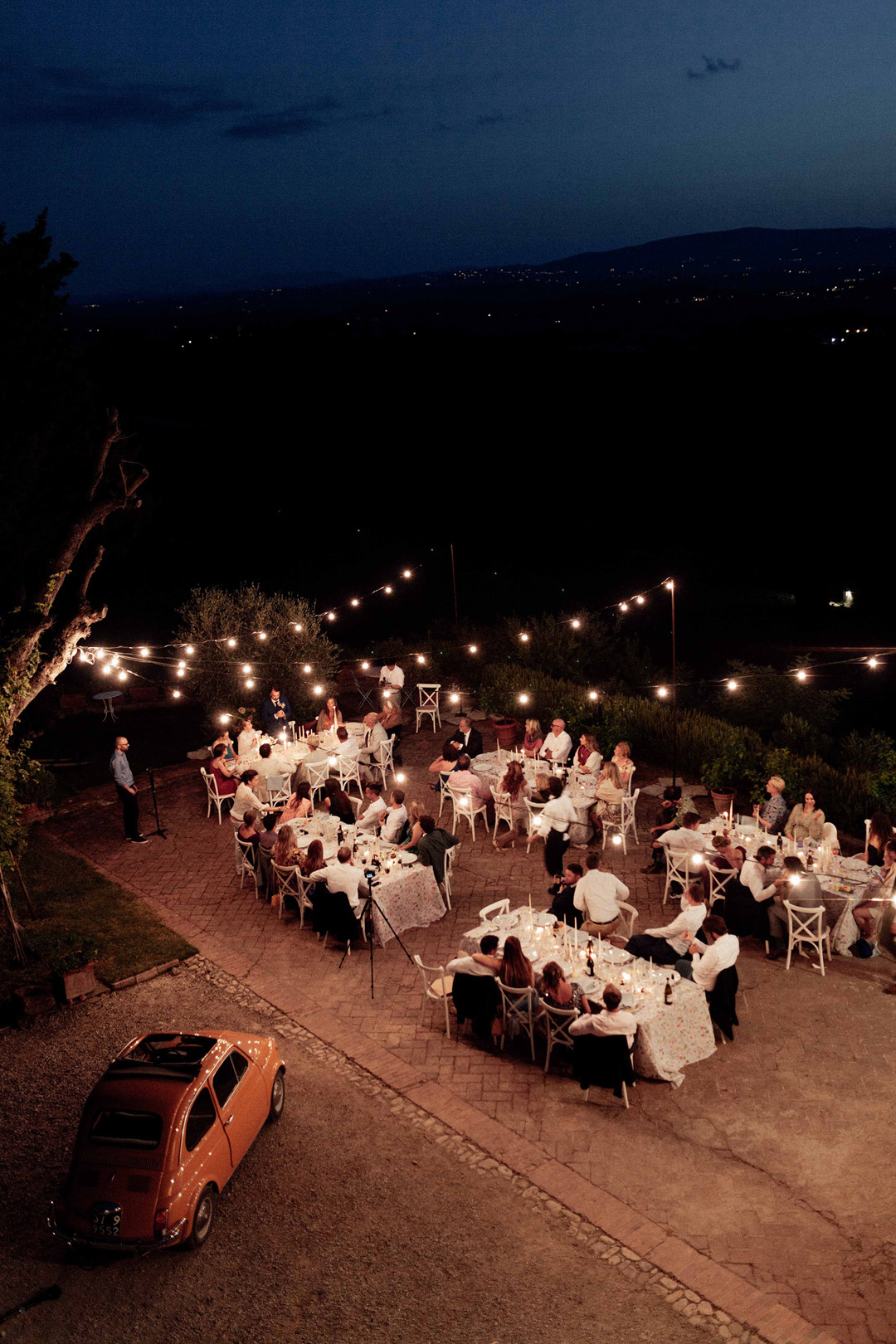 After dinner, the newly-weds cut their wedding cake, a traditional Italian millefoglie.
'We loved the classic Italian wedding cake."
Then, the bride slipped into a cute mini dress from Self Portrait for the evening party.
"Our first dance was 'Right Down The Line' by Gerry Rafferty."
Words of Wedded Wisdom
"I suppose that weddings are intense, emotionally messy affairs in almost all cases. It's practically unavoidable so try to hold it all lightly."
"Stay focused on your partner and the real reason you decided to get married in the first place."
"Had Covid not derailed certain plans or delayed the wedding we were on track to be within our budget! We were not quite on the money after those adjustments though."
"Stick to your vision! If Covid means that you won't have the wedding you dreamed of, then don't rush it. You only get one shot at it, so make it count."
Justine and Matt, so many congratulations on your marriage and thank you for sharing your wedding with us. Sending so many thanks to Studio Chloe David as well.
For more destination wedding inspiration, please enjoy these celebrations.
Ele xx