If you're planning an outdoors wedding in the summer, this celebration is sure to give you plenty of inspiration. Elegant and simple, it made the most of the beautiful Hertfordshire setting.
This is the wedding of maths teacher Flossie and trainee patent attorney Cameron, who wed on 24 July 2021. Following a Church of England service at St James Church Muswell Hill, North London, the couple hosted an English Country Garden inspired, lakeside marquee reception at Brook Farm, Cuffley, Hertfordshire.
The day and its pretty, pastel colour palette was photographed by Zach & Grace in their signature, light and airy, romantic style. We are so delighted that Flossie and Cameron discovered this talented duo through Love My Dress and are proud to recommend them as a supplier through our wedding directory.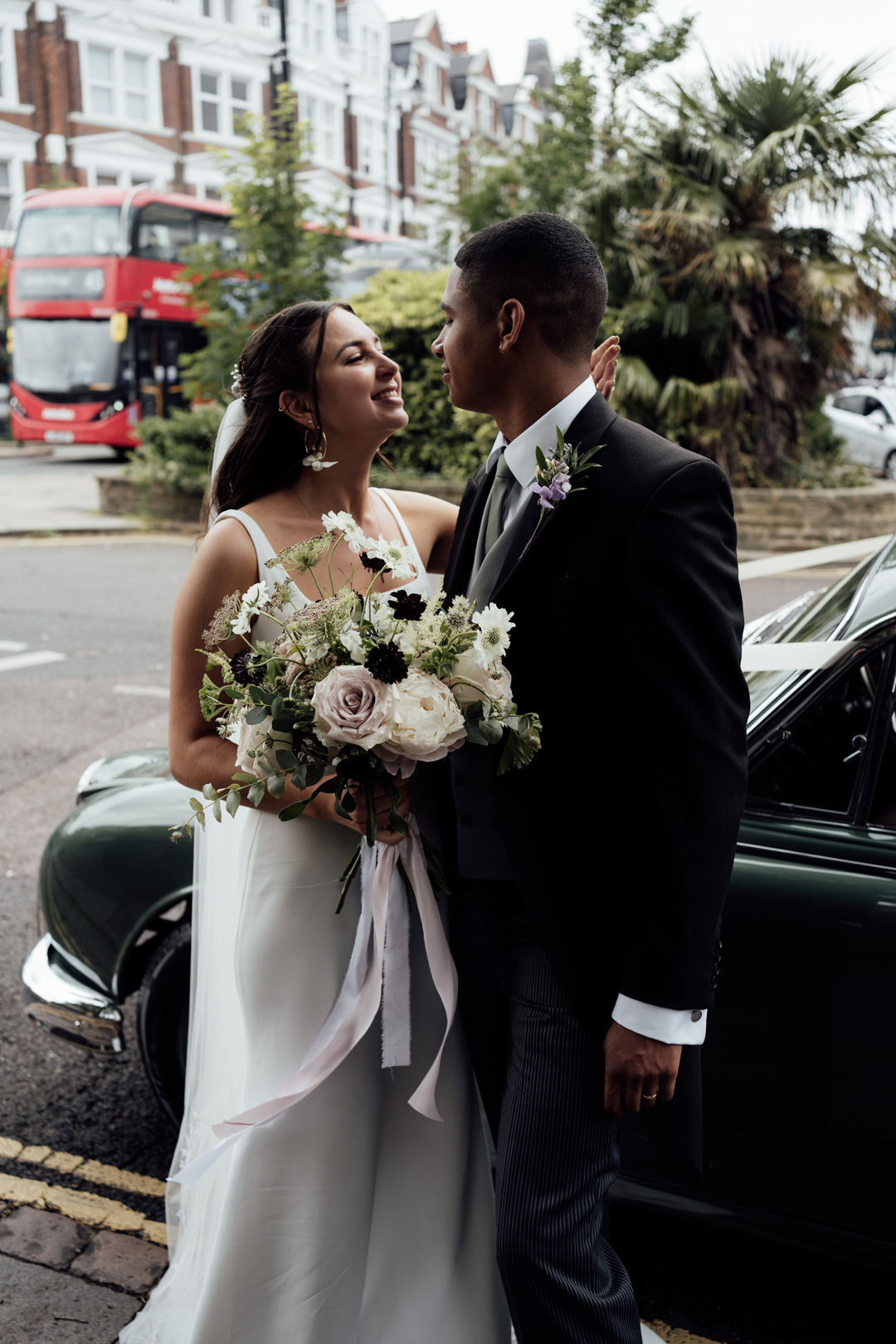 "I would 100% recommend Zach & Grace – I'm hoping to get them to capture more of our big life events in the future."
"I loved the romance they captured and the relaxed feel. They were the most lovely, friendly duo that felt like friends on the day."
The bride's hair and make-up were styled by Brides by Rose and an assistant from Natasha Wiggins Makeup.
"Cameron got me a gold bracelet with interlinking rings symbolising forever. I also wore my cross necklace to symbolise my faith. My earrings were floral hoops from Alabaster Dream."
The bride was the epitome of elegant simplicity in a pure white Stephanie Allin gown from Morgan Davies Bridal.
"I went with the dress I wanted to buy in mind, having had four months of lockdown to search for dresses online."
"I had already bought my veil too. Laura helped me choose out some others just to try for fun."
"It was a lovely experience; they let me take my mask off so I could see the look in full."
"I saw some embroidered veils and thought it was unusual but beautiful so I wanted a more simple dress to accompany the veil."
"I loved the square neck of the dress and low back and I loved the silhouette the dress created."
Flossie's statement, embroidered veil was from TARA Bridal on Etsy. The veil was held in place with a floral haircomb from Alabaster Dream and she wore her usual perfume from Jean Paul Gaultier.
"My shoes were blue and borrowed from my mum, originally from Dune London."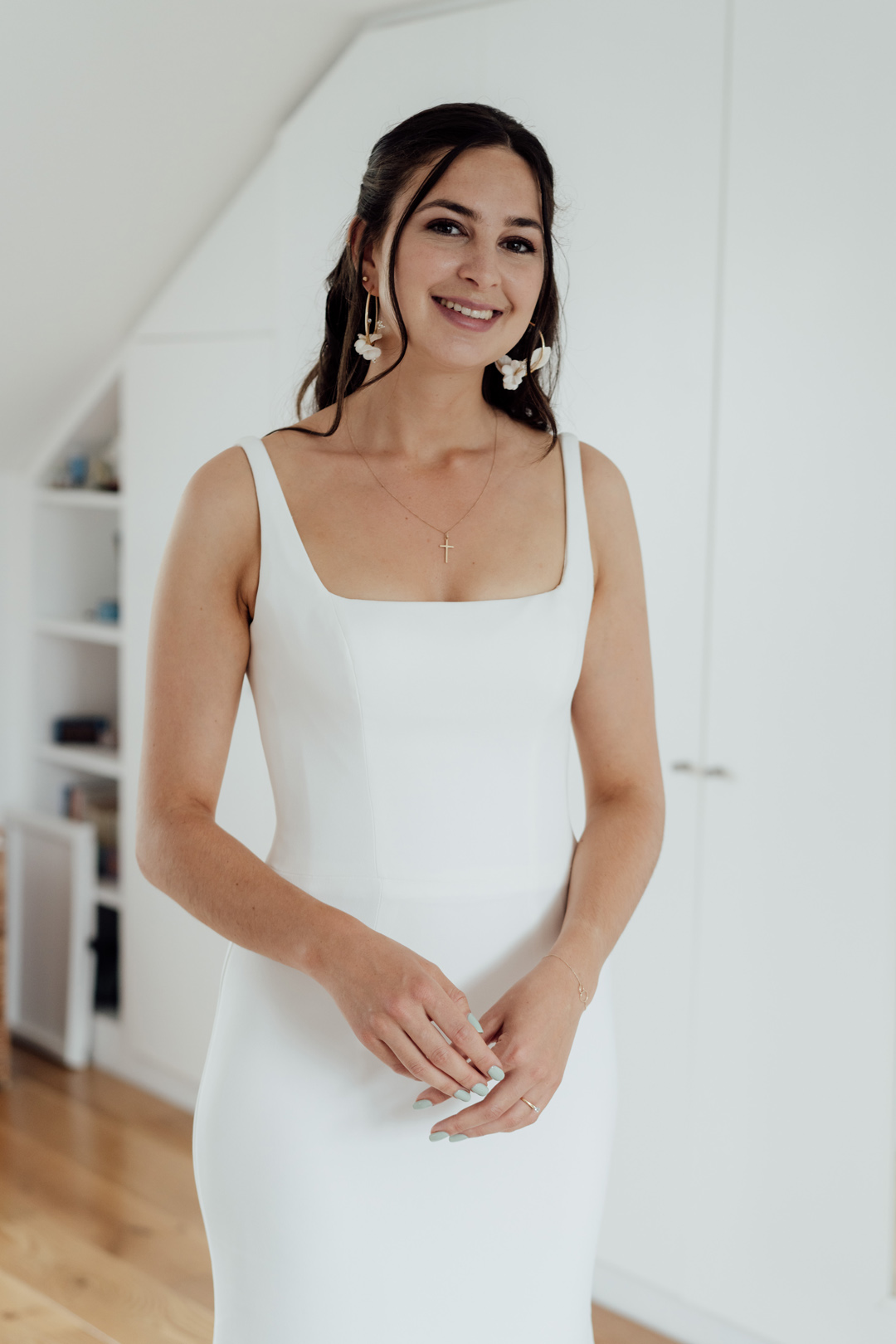 "We wanted to get married at a church as we both have a Christian faith and attend a church in Bristol regularly."
"I loved the English country garden vibe so I wanted to have a smart marquee in nice grounds with pastel tones."
"We went with sage green and dusky pink for a lot of our decoration."
"We both grew up going to St James Church in Muswell Hill and it was a short walk from my parents' house."
"We wanted an outdoor marquee reception and found Brook Farm's website and fell in love with the pictures; it was like nothing we had seen before."
The bridesmaids were in elegant ASOS gowns in a mix of styles, but all in sage green.
"They bought their own neutral shoes and jewellery."
With his morning suit, hired from Moss Bros, Cameron wore Atticus cufflinks engraved with the couple's initials and wedding date.
The bride walked to the church, which she entered with her father to 'The Arrival of the Queen of Sheba'.
"Cameron and his groomsmen prayed before the ceremony which was a really special part of the day."
"I walked to the church with my sisters and my dad then dad walked me down the aisle."
The service was led by a vicar from the couple's church in Bristol and featured the Church of England vows.
"We had three readings; '1 Corinthians 13:1-8' read by a friend, 'Psalms 121' read by Cameron's uncle and 'Love Is A Temporary Madness' from 'Captain Correlli's Mandolin' by Louis de Bernières, read by my bridesmaid and cousin."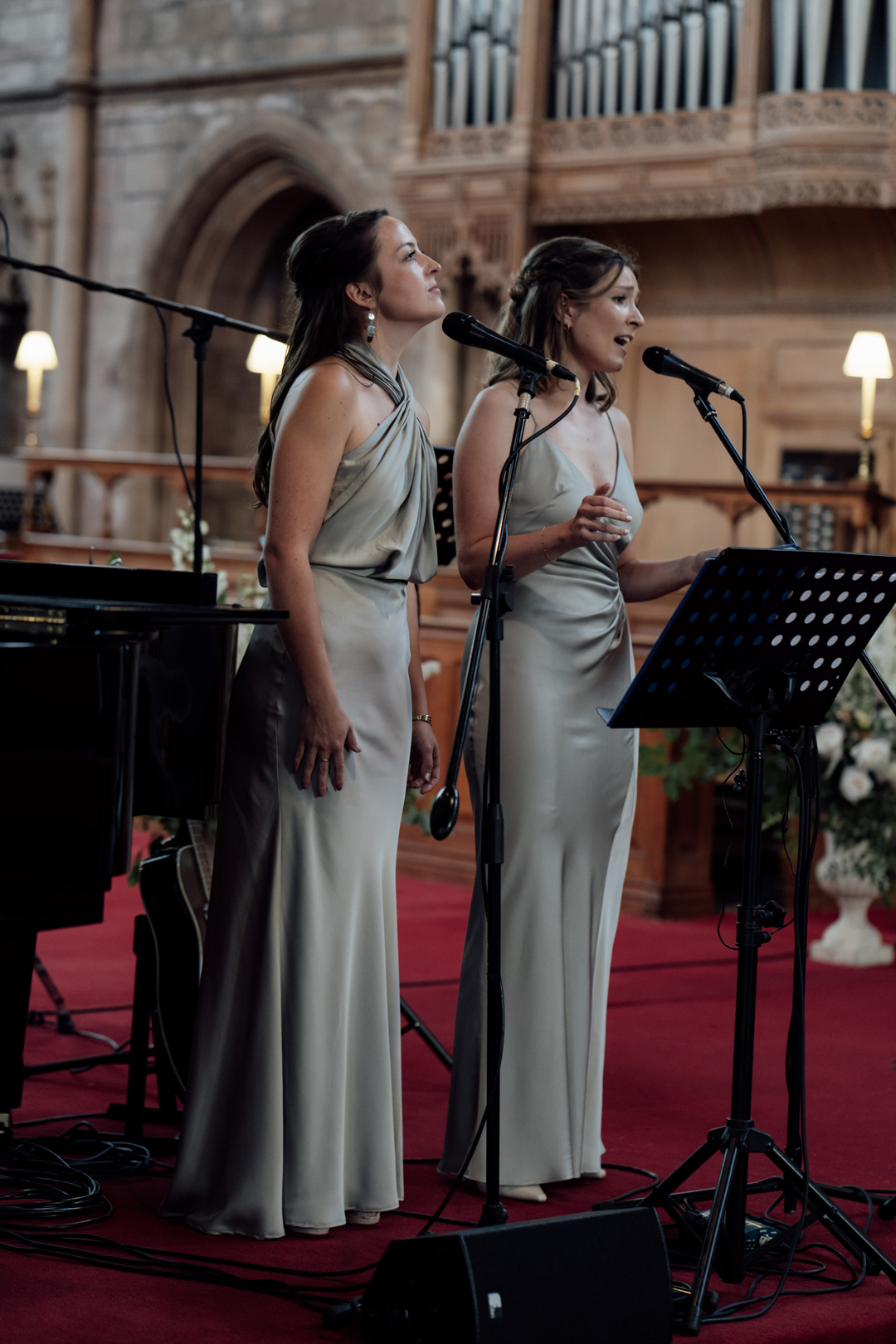 "We chose these readings because the Corinthians passage defines love and our vicar's address was all about how to apply the elements of love in marriage and what it looks like to be patient and kind."
"We chose 'Psalms 121' as it reminded us that God is never far from us – whatever situations we face in marriage, he is watching over us."
"We chose 'Love Is A Temporary Madness' as it highlighted that love isn't a feeling but a choice every day."
Cameron and Flossie exchanged rings from Beaverbrooks, where her engagement ring was also from.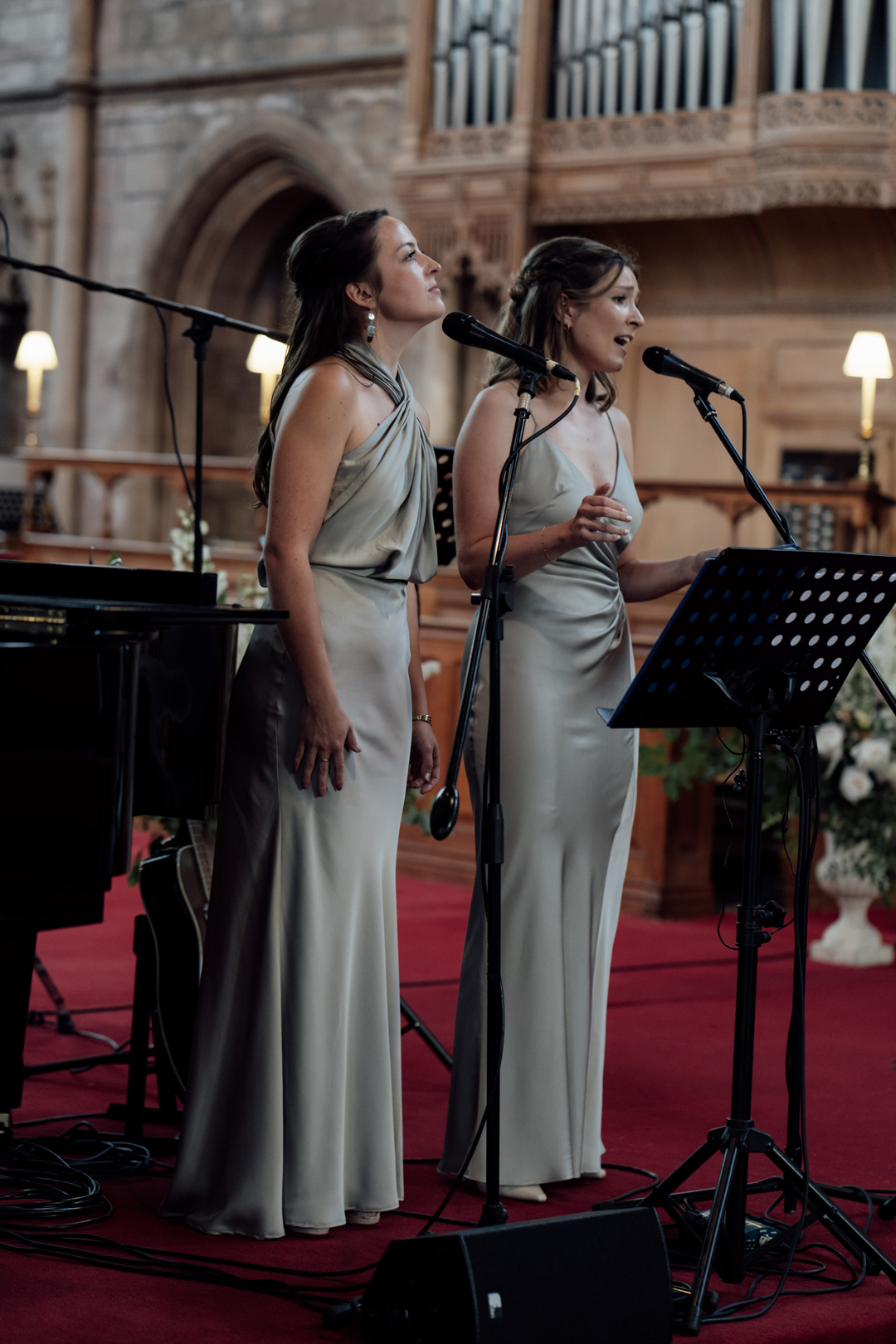 The bride and bridesmaids carried full, summery bouquets from Blue Sky Flowers, another talented wedding supplier who we are delighted to have discovered that Flossie discovered on Love My Dress, and who we are also incredibly proud to recommend as a supplier, through our Wedding Directory.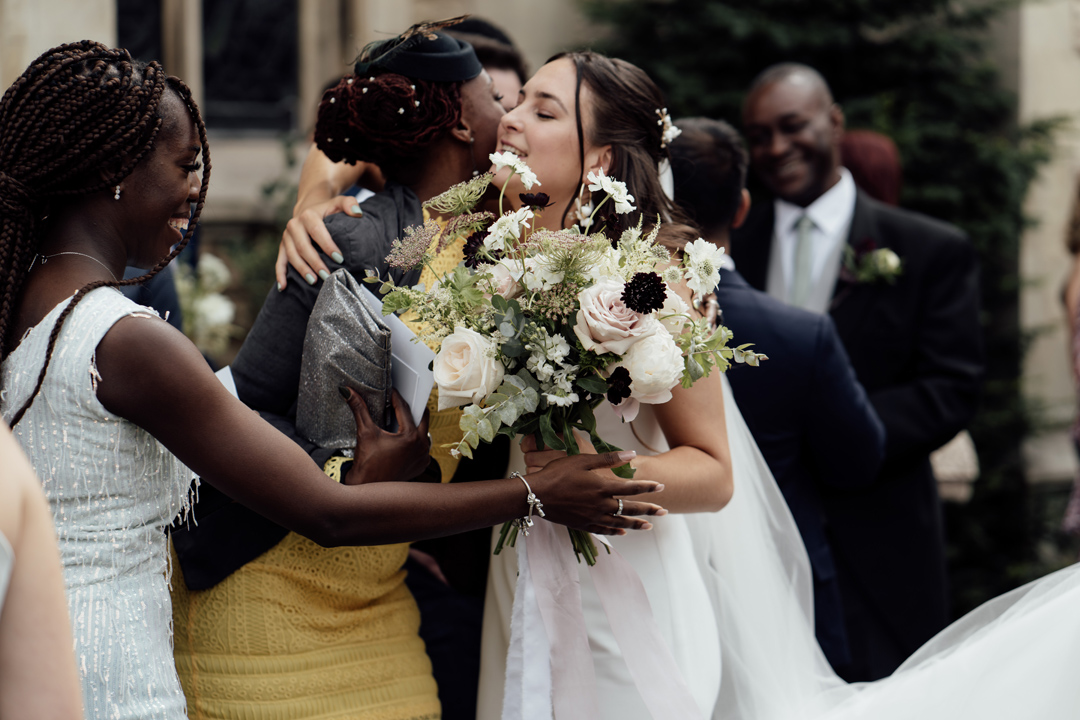 "I loved the natural slightly wild look of Liz's flowers. I wanted an English Country Garden feel and that's exactly what Liz did for us."
Cameron and Flossie first met at primary school before becoming reacquainted at university.
"We have been together since then. We got engaged in South Devon."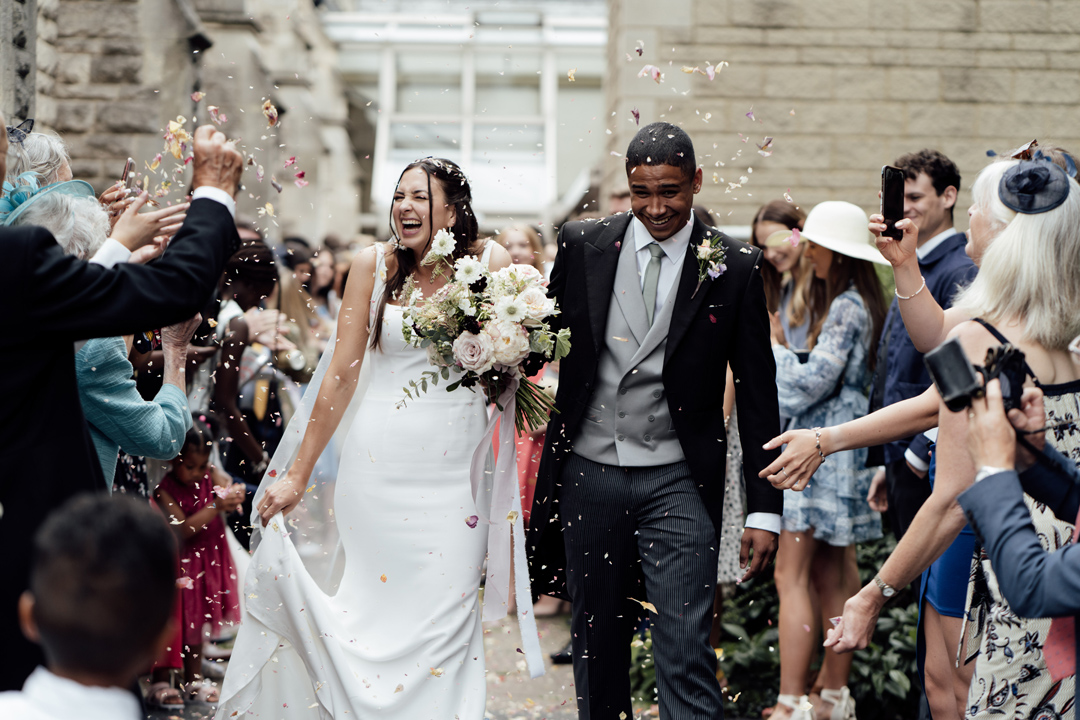 "My parents have a cottage in East Prawle and we were doing alphabet dating where each date is centred around a letter."
"It was Cam's turn to do an 'E' related date so we went to East Prawle, he made us poached eggs and then we did a walk around the estuary with chocolate eclairs."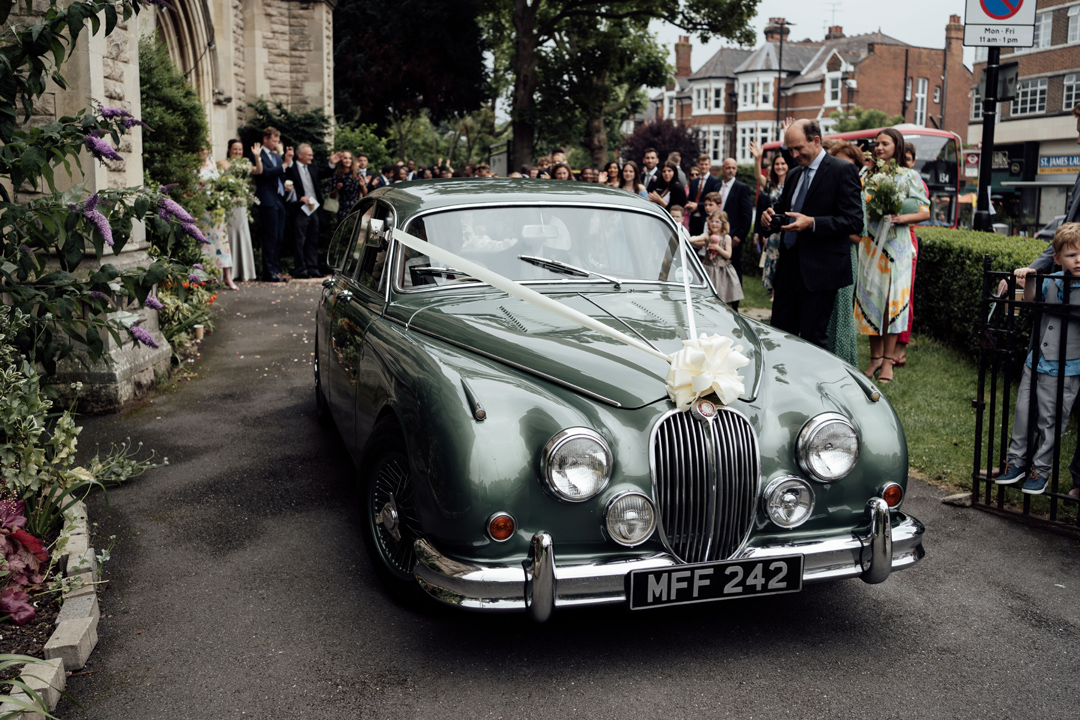 "We sat down on a bench to enjoy the eclairs and take in the view when Cam said he had one more 'E' related thing. He got down on one knee and pulled out a ring!"
"That was December 2020 so only seven months prior to the wedding."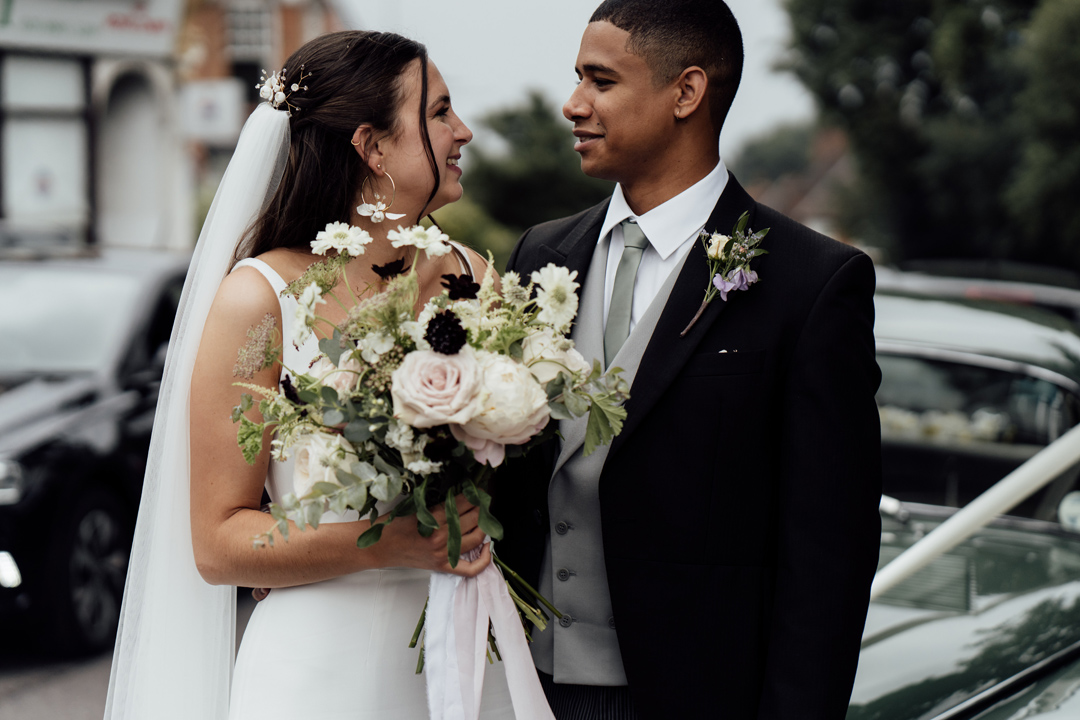 "We knew we wanted to be married quite soon and have always wanted a summer wedding so we pushed ahead for summer 2021."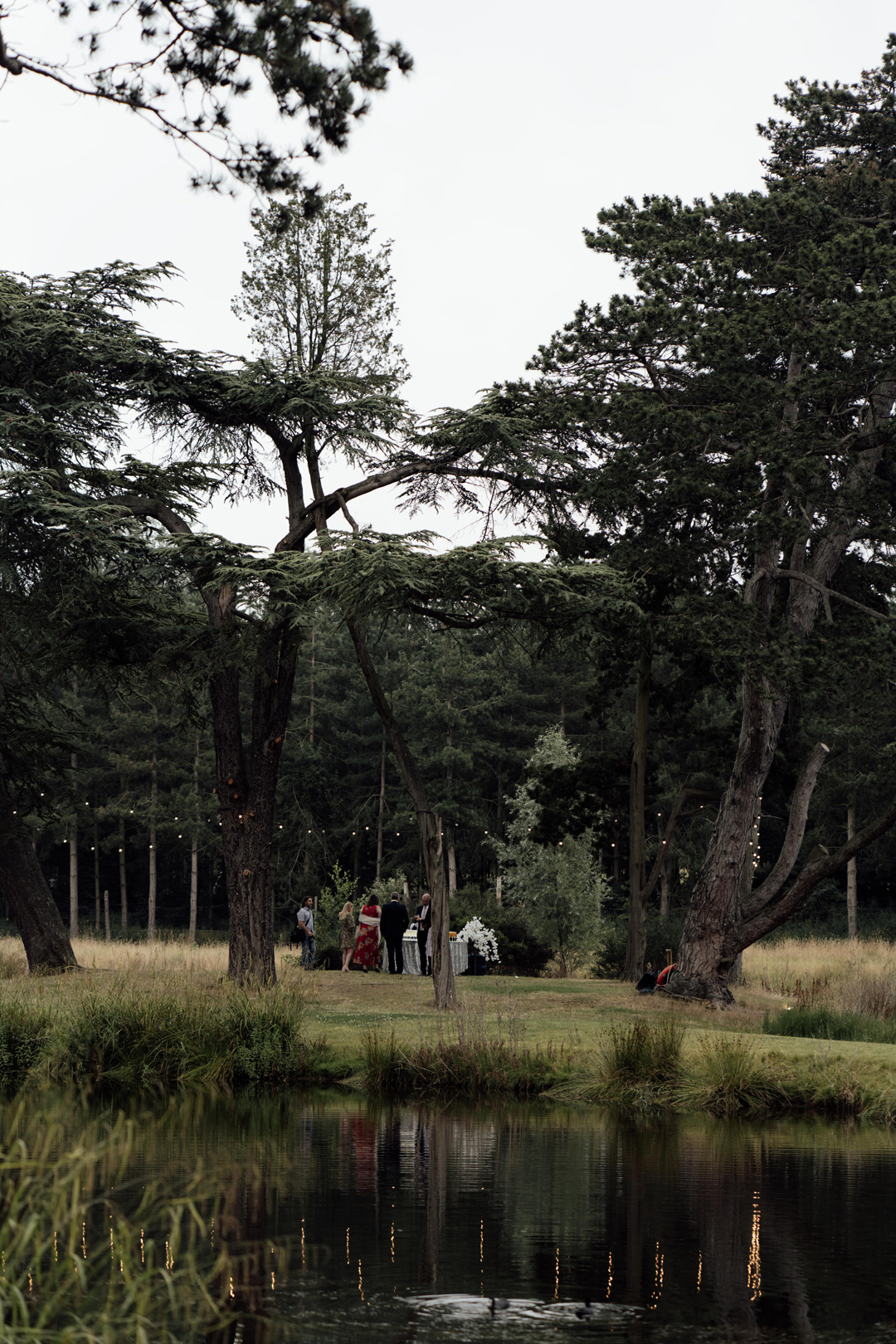 "Thankfully, all restrictions were lifted the Monday before our wedding so we could sing at the church and have all the guests we wanted."
"The church encouraged mask wearing but apart from that we had no restrictions."
Brook Farm made the most idyllic setting for the marquee reception, with its grounds offering beautiful vistas for portrait shots.
The guests and newly-weds travelled there in transport provided by Premier Carriage and Goldline Executive Travel.
The marquee from Boutique Marquees was beautifully decorated with flowers and foliage, with modern calligraphy adorning the stationery from Rosemood.
"I created the table plan and place cards myself."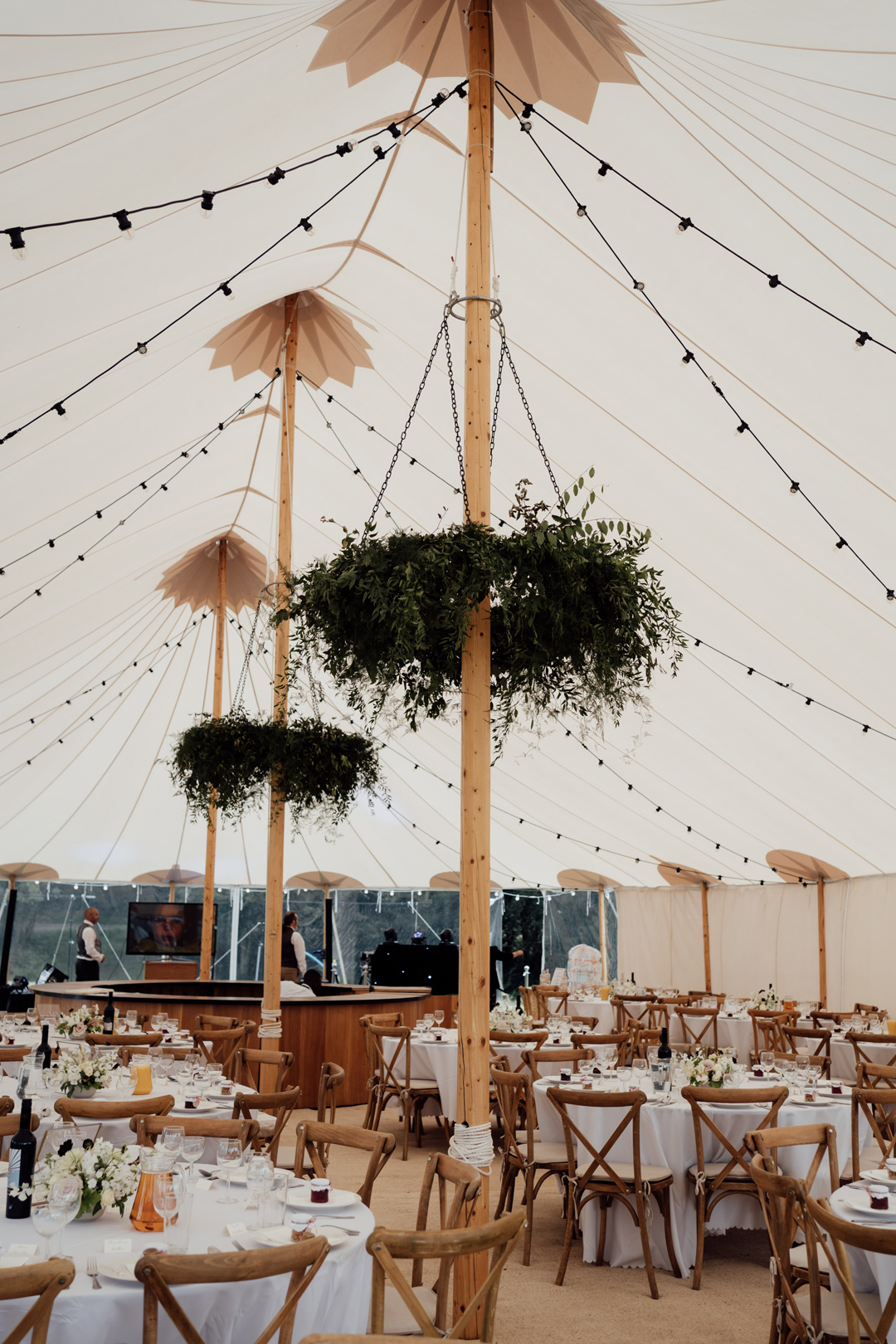 "We had a farmhouse table for our guestbook which I decorated with framed photos from our pre-wedding shoot with Zach & Grace."
"We also had a chest full of children toys and activities for the little cousins. We had some outdoor games too like croquet."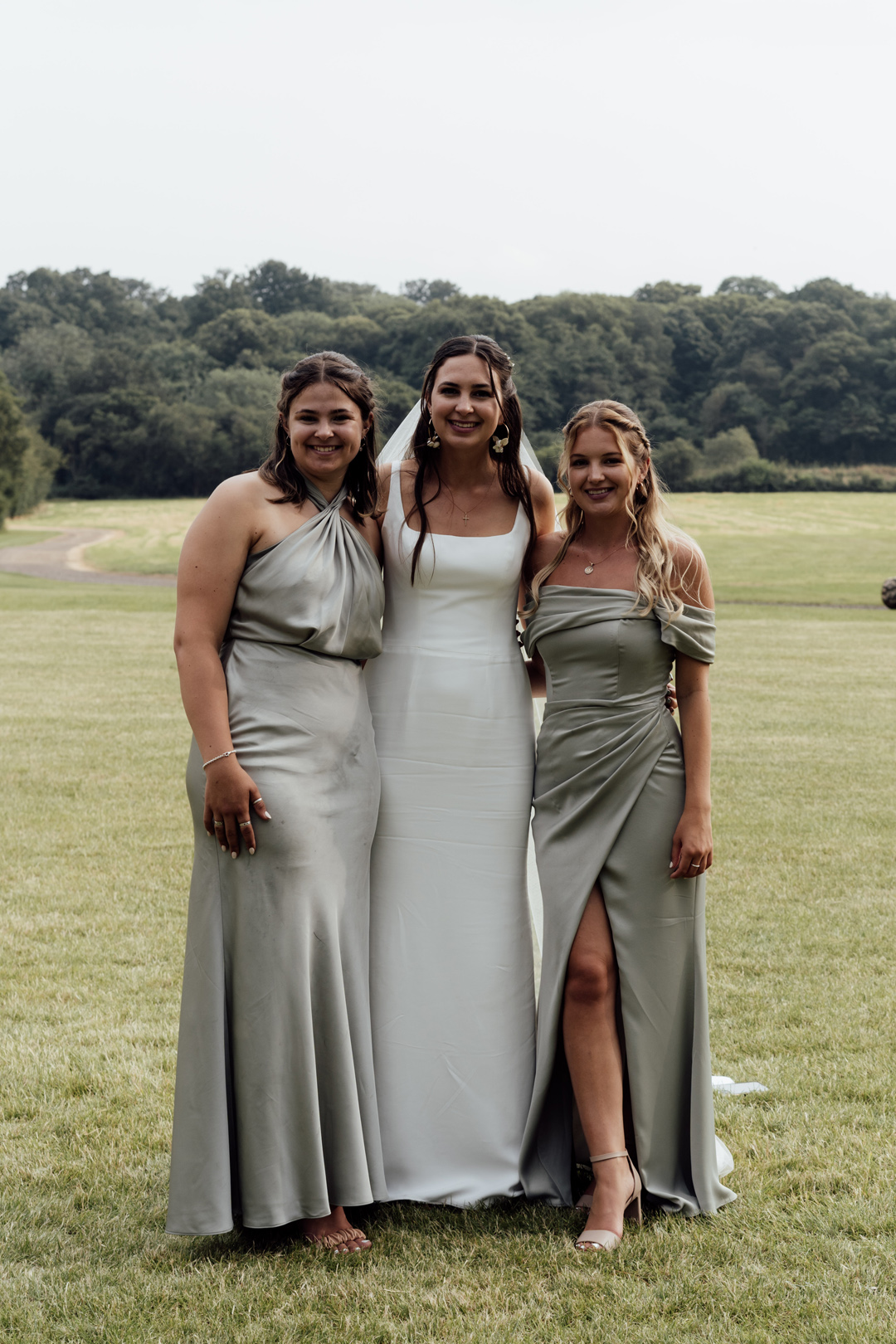 The wedding breakfast was from Deluscious Catering and the favours were home-made treats presented in jam jars.
"My mum made strawberry jam for half and we also had chin chin (a Nigerian sweet snack) for the other jars. My mum cut all the linen tops and bought ribbon from Kentish Town."
"My sister made our wedding cake! It was her first time making one and she did an incredible job."
As night fell, the guests relaxed by the lake on rustic hay bales or took to the dance-floor to music from Matt Walters and Corabar Entertainment.
The first dance was to 'Stay With Me' by John Legend.
"I don't think I have a favourite part of the day. It was all so much better than I could have imagined and I had the biggest grin on my face, which you can probably see in most of the photos!"
For couples affected by Covid, Flossie has the following advice.
"When it comes down to it, your wedding is about celebrating your love with your closest family and friends."
"We were lucky having all the guests we wanted but we were prepared to have a smaller wedding and it can still be the best day ever."
Words of Wedded Wisdom
"Enjoy the build up! The weeks before the wedding are all part of the experience. Try to enjoy them with your family and friends rather than feeling super-stressed up until the day. I really enjoyed doing the favours with my mum and doing the DIY parts."
"Delegate everything on the day. I gave the ushers and bridesmaids little to-do lists with timings so they knew what was going on and could help the day run smoothly."
"I loved looking at other real weddings for inspiration on Love My Dress – I favourited hundreds of links relating to the flowers or décor or dress."
For more brides in Stephanie Allin gowns, please visit this selection. If you love this English countryside inspired celebration, we have more to enjoy here.
Ele xx