Euridge Manor and its beautiful grounds were the venue for the summer wedding of Rachel and John.
Their day was a pure celebration of the English countryside, using masses of soft, colourful flowers, hanging foliage and the romantic glow of candlelight for a magical feel. It's so good to see so many of our wonderful Love My Dress Wedding Directory members' work in this wedding, including Sassi Holford, Kate Edmondson Bridal, Hermione Harbutt and Freya Rose London.
Please meet Rachel, who works in music artist management and John, a tea and coffee buyer, who chose Wiltshire's The Parish Church of St John The Baptist in Colerne and Euridge Manor for their classic yet contemporary wedding on 11 September 2021.
Rebecca Goddard Photography

+ Follow
Using lots and lots of flowers and trees for a soft, romantic daytime look that complemented the beautiful country house and its grounds, by night the vibe was more intimate and exotic, with vibrant colours and Moroccan tables.
"We live in London but knew we wanted an English countryside wedding. My parents have a house in Wiltshire so we have a strong connection to that part of the country. I didn't want to compromise on a venue purely for a location so I was extremely nervous about finding one in Wiltshire."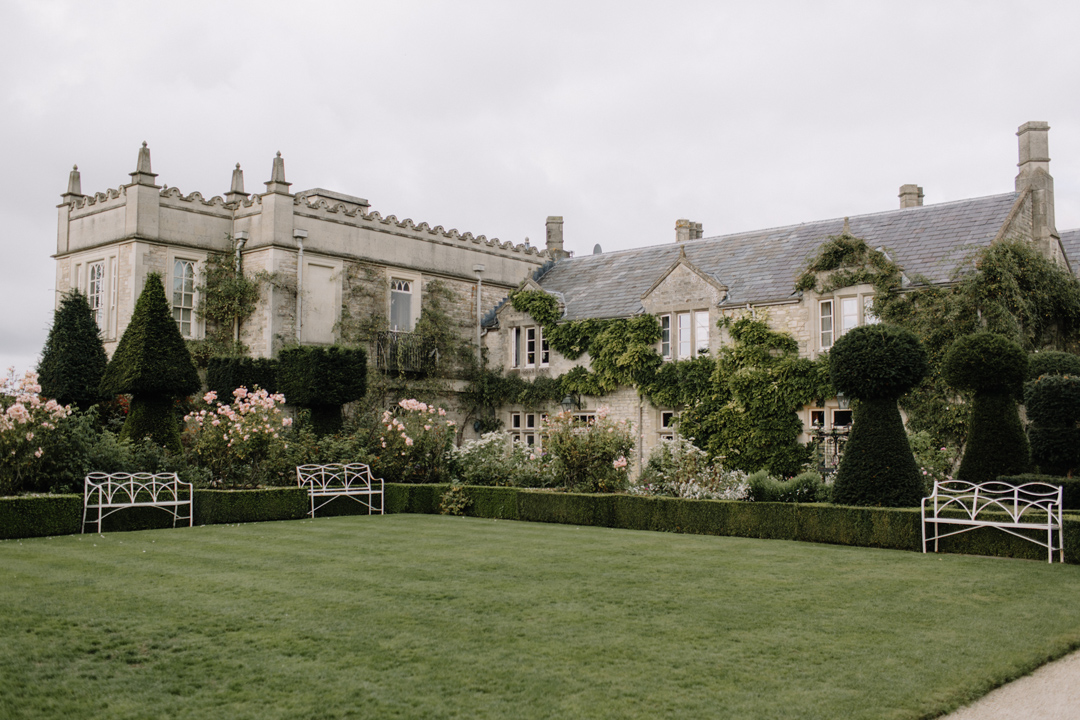 "We viewed some hotels in the area and I just didn't get an overwhelming sense they were for us. I became resigned to the fact that perhaps you never get that magical lightbulb moment with a wedding venue until I stumbled across a picture on Euridge on Instagram."
"When I saw the image of the lake with the tunnels of the house, I thought something must be wrong and this was actually a picture of an Italian villa."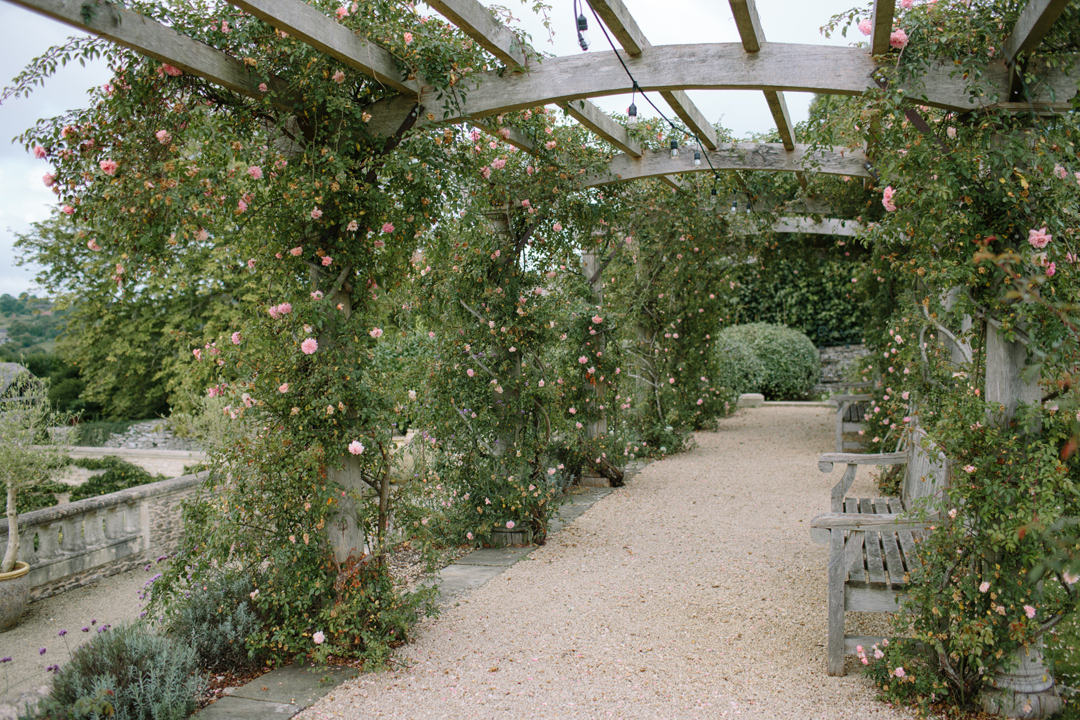 "I found the website and I could not believe this was indeed in Wiltshire. We viewed it as soon as we possibly could. I braced myself for the pictures being deceiving but it is honestly more beautiful than pictures could ever make out."
"It is the most breathtaking venue with constant surprises and locations around every corner. There are almost too many good photo opportunity spots."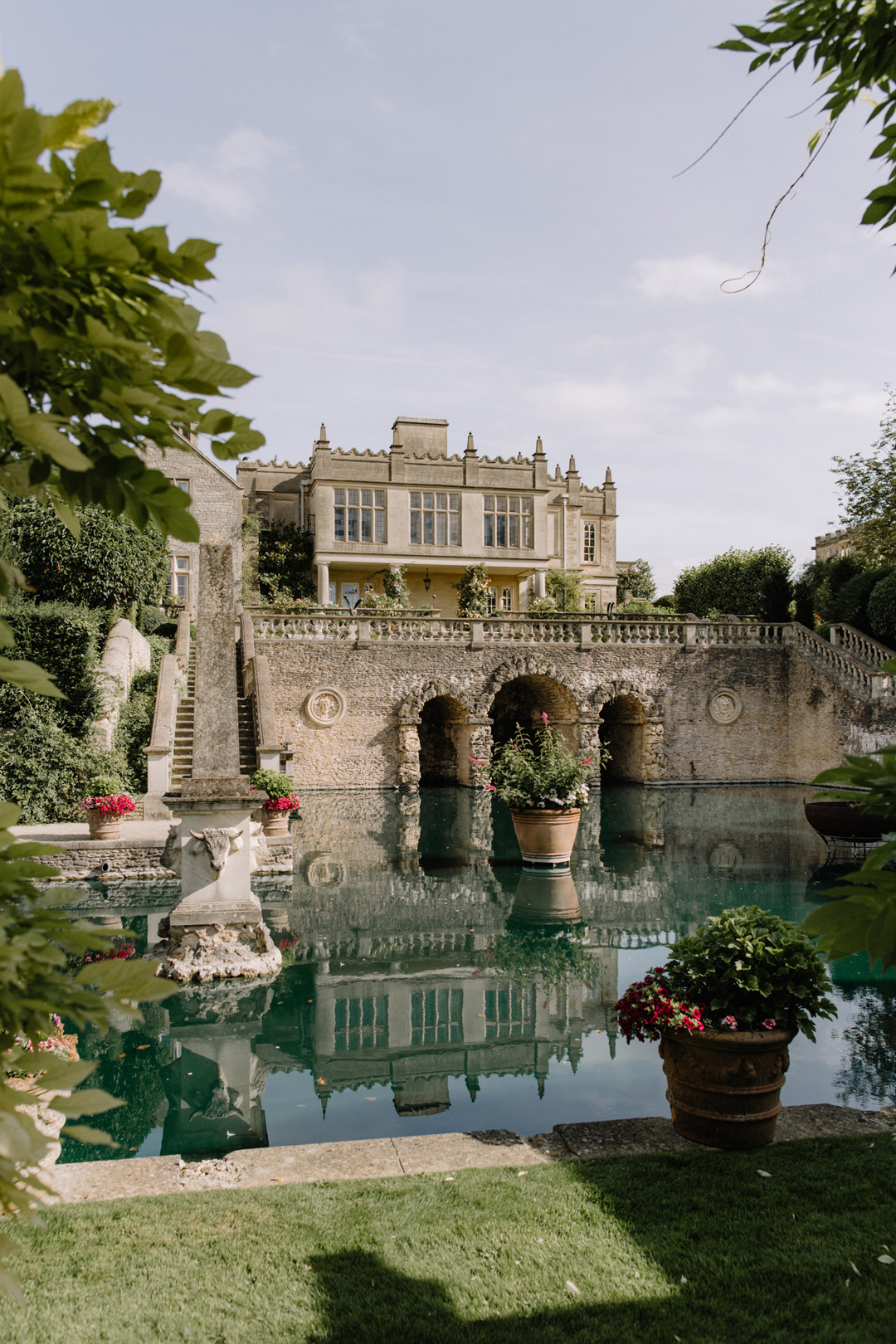 It's so good to know that Rachel found plenty of ideas of inspiration on Love My Dress, as well as the designer of the two beautiful wedding gowns she wore during the day, Sassi Holford and Kate Edmondson Bridal. We absolutely adore Sassi Holford and her exceptional designs, so please visit her Wedding Directory listing for pictures of her gowns and more information.
"Love My Dress was an endless source of inspiration in terms of the gorgeous blog posts and images which gave me lots of fantastic ideas but my main gem of a supplier who I found was Kate Edmondson."
"I had also been eyeing up Sassi Holford for a while but Love My Dress definitely confirmed my decision to try on some Sassi dresses."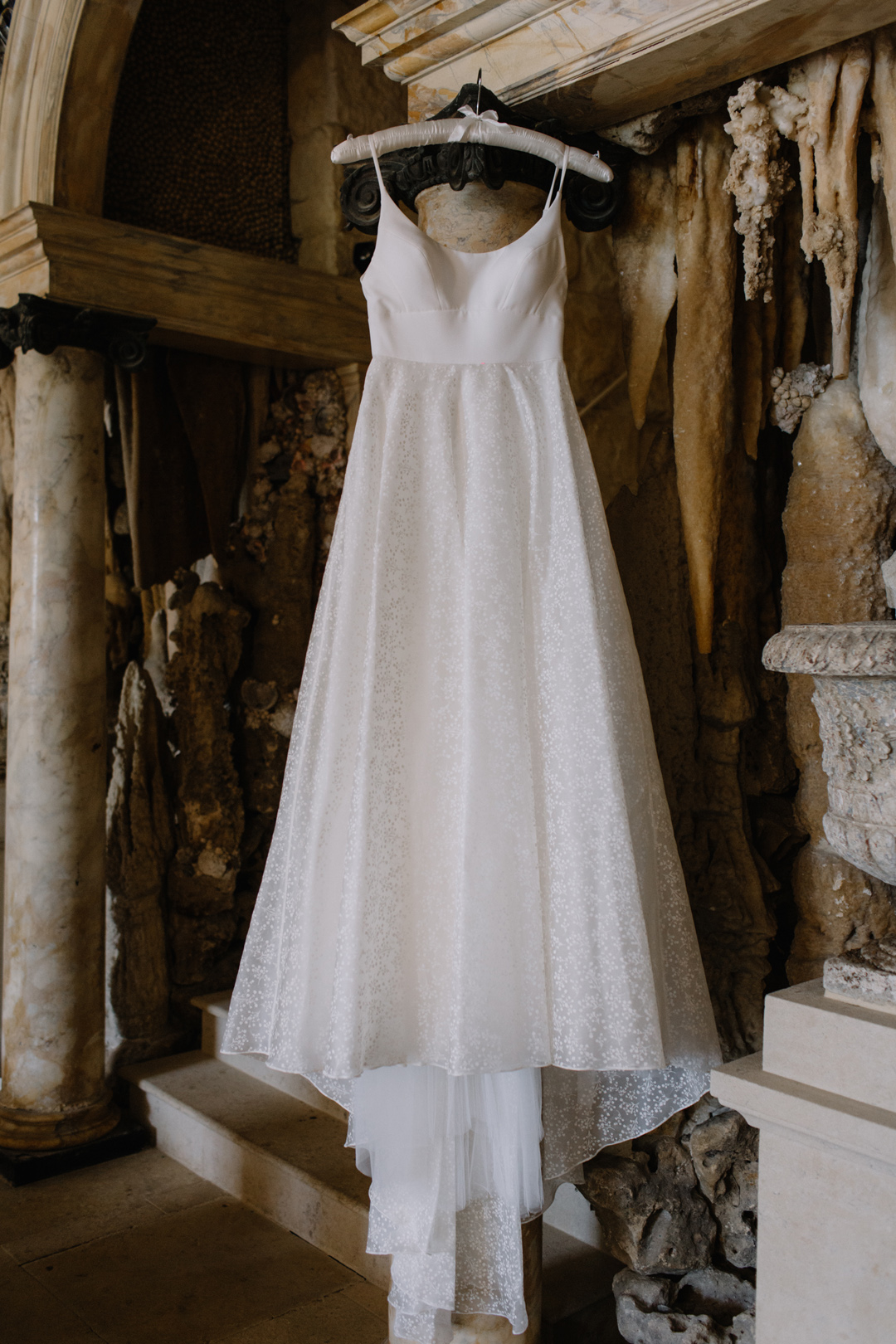 "I went dress shopping after having booked Euridge, showed dress shop assistants the venue and they made excellent points about how certain dresses would look perfect within the setting."
"I bought my 'main' dress from the Sassi Holford London store. It was important to me that my mum loved my dress. She has helped invaluably with my wedding and so I wanted her to love it as much as I did. I had been eyeing up 'Ottilie' on Sassi Holford's Instagram and couldn't believe it when my mum walked in and picked it out for me to try too."
In the daytime, the bride wore 'Titania' earrings from Hermoine Harbutt, another of our much-loved Wedding Directory suppliers.
"She does the most beautiful jewellery. I knew I wanted a clean neckline with my Sassi dress so decided to go more statement with the earrings. I saw these and fell in love! The stunning pearl flowers were just perfect to match the subtle flowers on the Sassi skirt."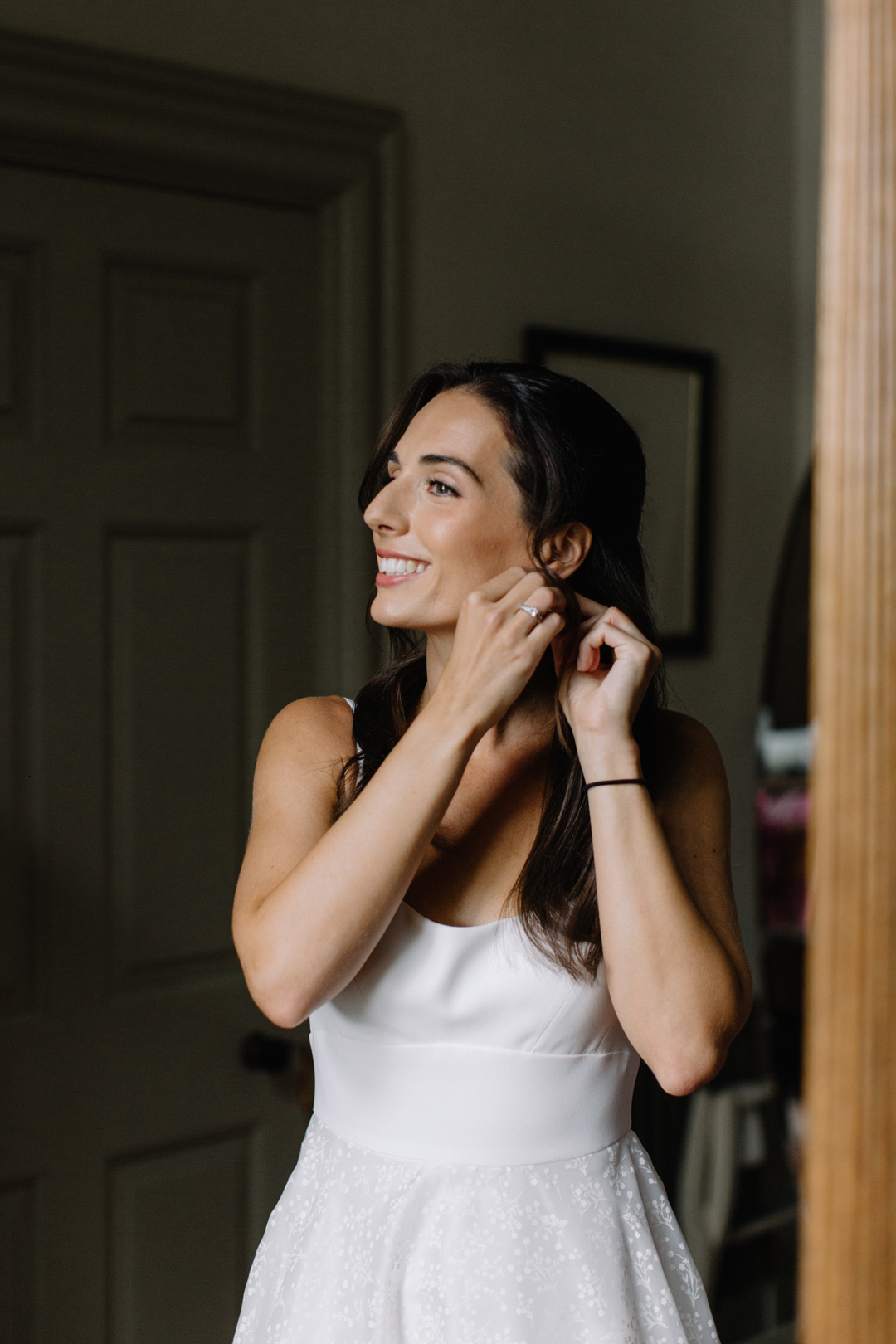 Rachel added a cathedral length veil, from The Couture Veil at Sassi Holford and 'Soraya' shoes from Freya Rose.
We are delighted to list Freya Rose London on our Wedding Directory so please head to their listing for more details of their beautiful creations.
"They were the most epic shoes ever. The Sassi store told me to check her out when I asked for recommendations and I couldn't believe my eyes."
"They're like works of art! I really wanted shoes that I would wear again and I definitely will with these."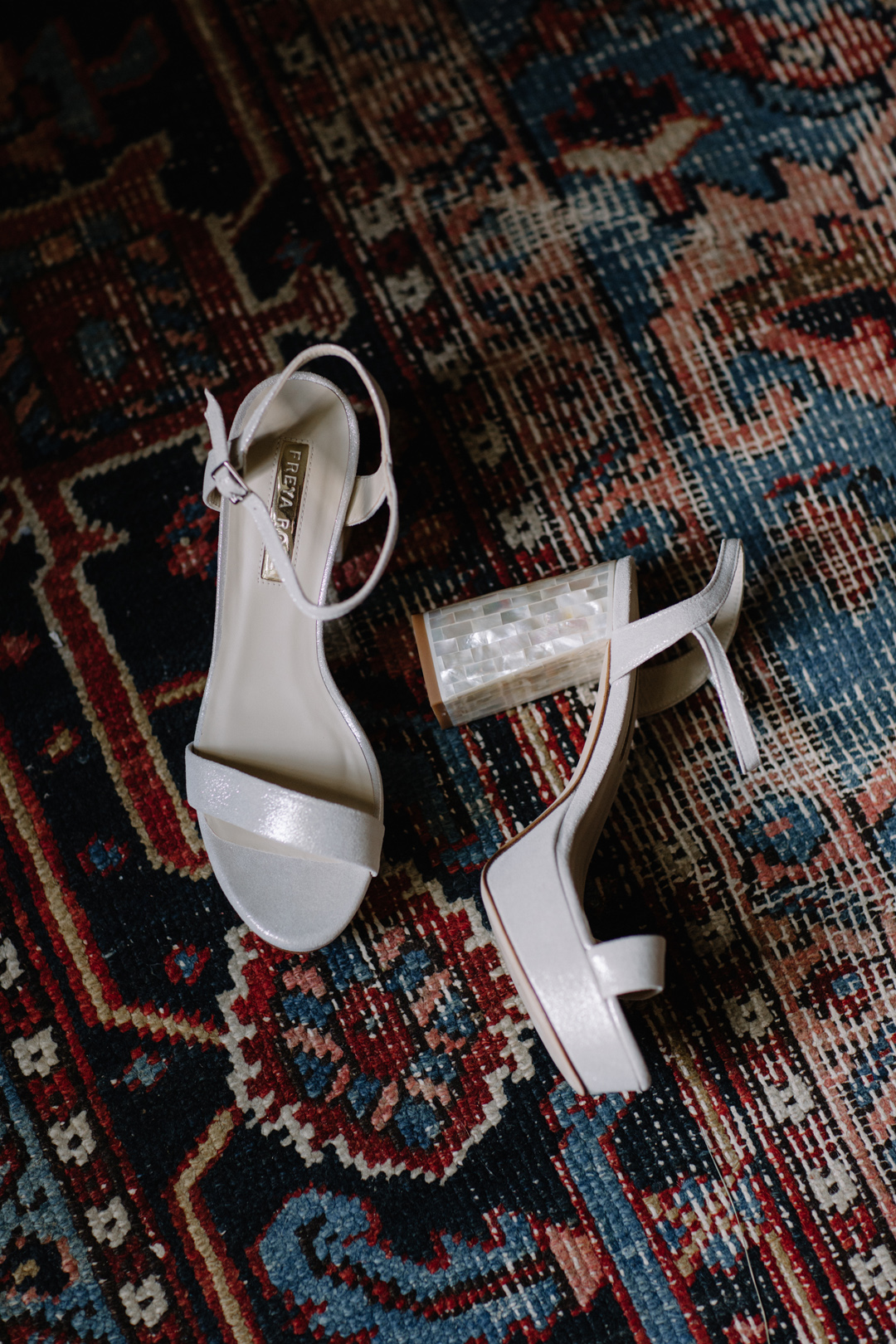 "We loved the organza print with the flowers on and it definitely fit my 'traditional with a modern twist' brief! It was so exciting to have Sassi herself do my hem fitting – what an honour!"
"I never thought I would do an A-line dress. It really is true for brides to try all different shapes and styles as you might be surprised! I thought the dress was perfect for a country manor house wedding and I could not have felt more wonderful in it."
"It loved the way it moved and wasn't stiff whilst still giving the bridal, A-line look. The relaxed spaghetti straps and low back gave a bit of flirty youthfulness to an otherwise classic look."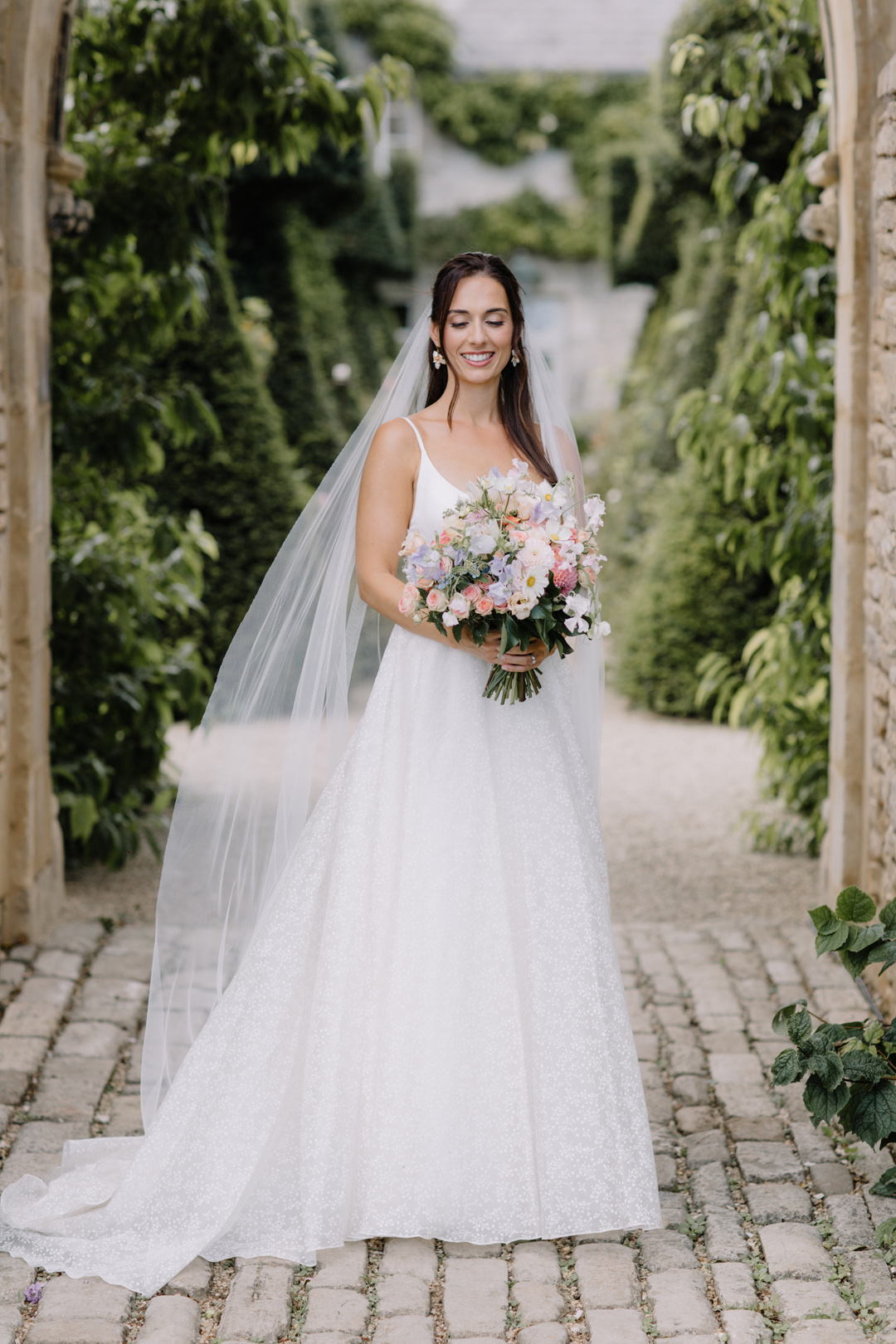 Rachel's six bridesmaids kept it super-classic with Ghost London 'Sylvia' gowns in Oyster.
"They somehow fitted all different body types amazingly and the girls seemed to genuinely love them."
"I think doing mis-match bridesmaids is a more popular and modern thing to do these days but when dresses are as beautiful as this, I think you can't go wrong with matching."
"I let them choose their own shoes, but most went for a nude Dune London heel."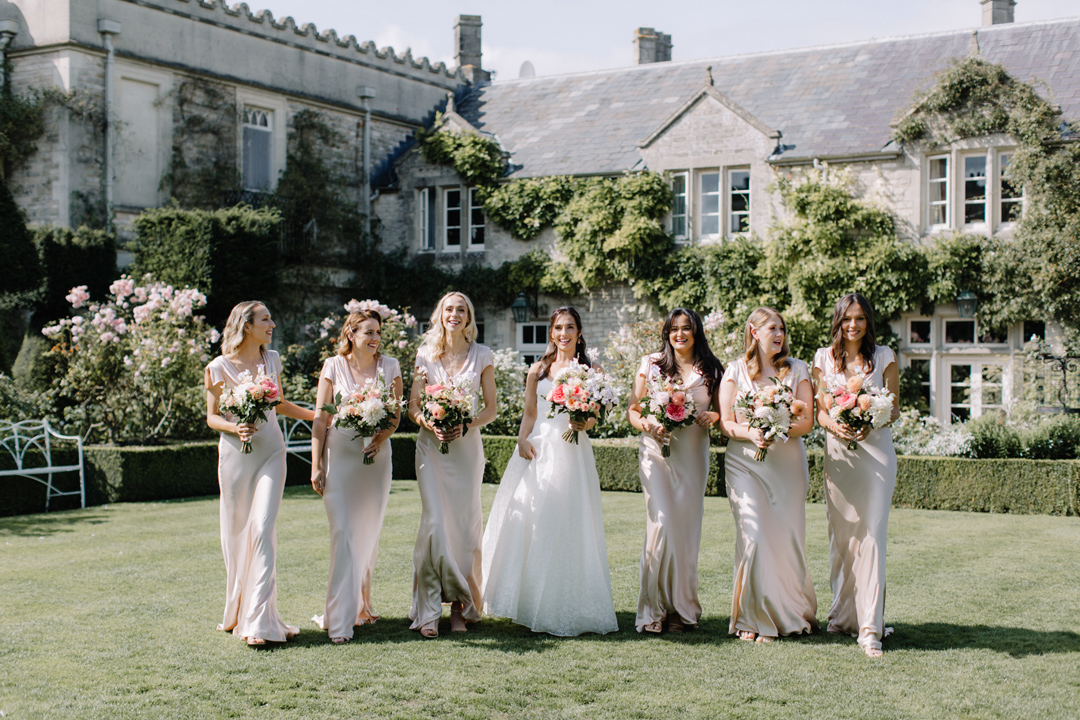 John chose a classic groom's outfit, a three-piece morning suit hired from Buckleigh of London.
"'Amazing old school suit hire and fantastic service."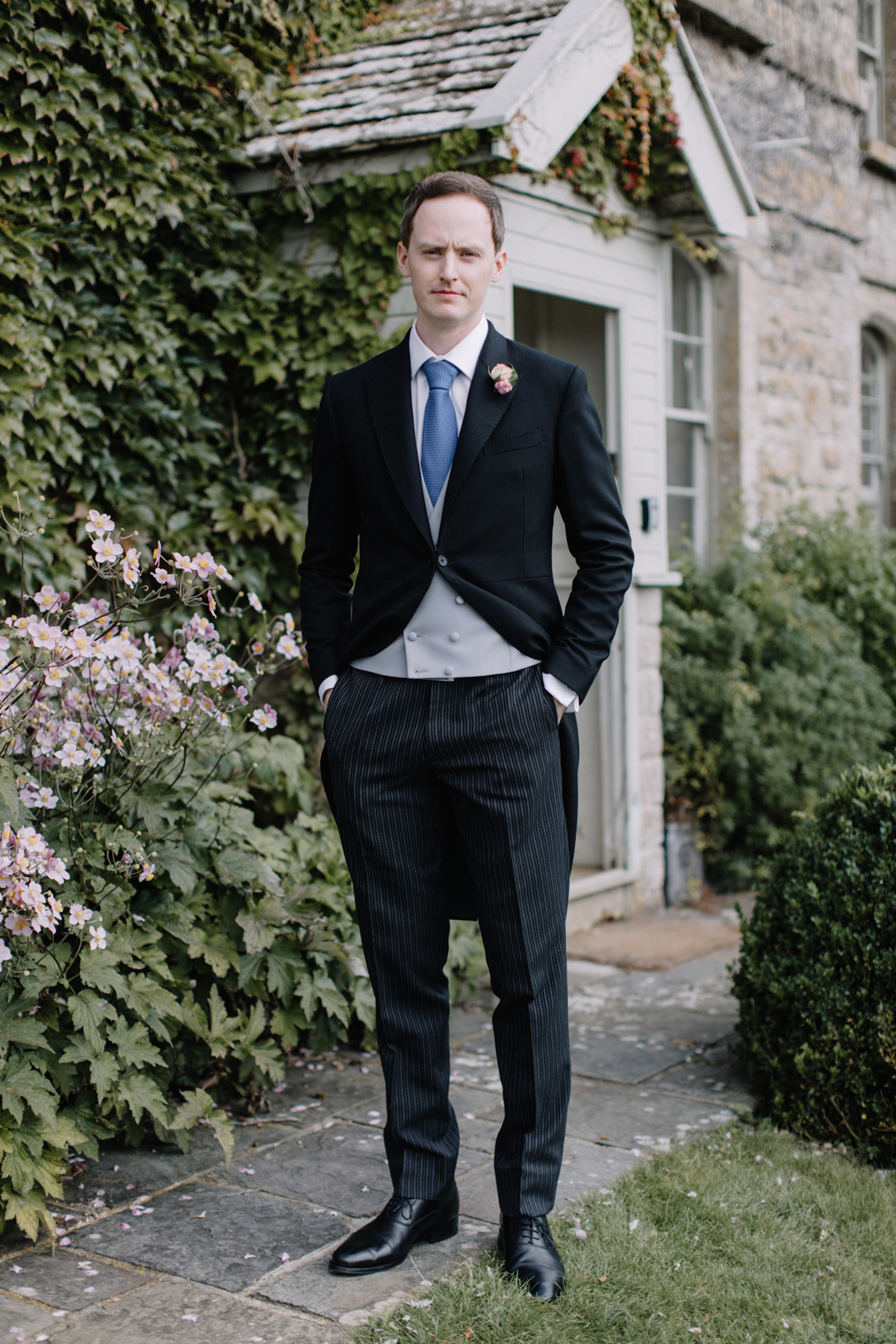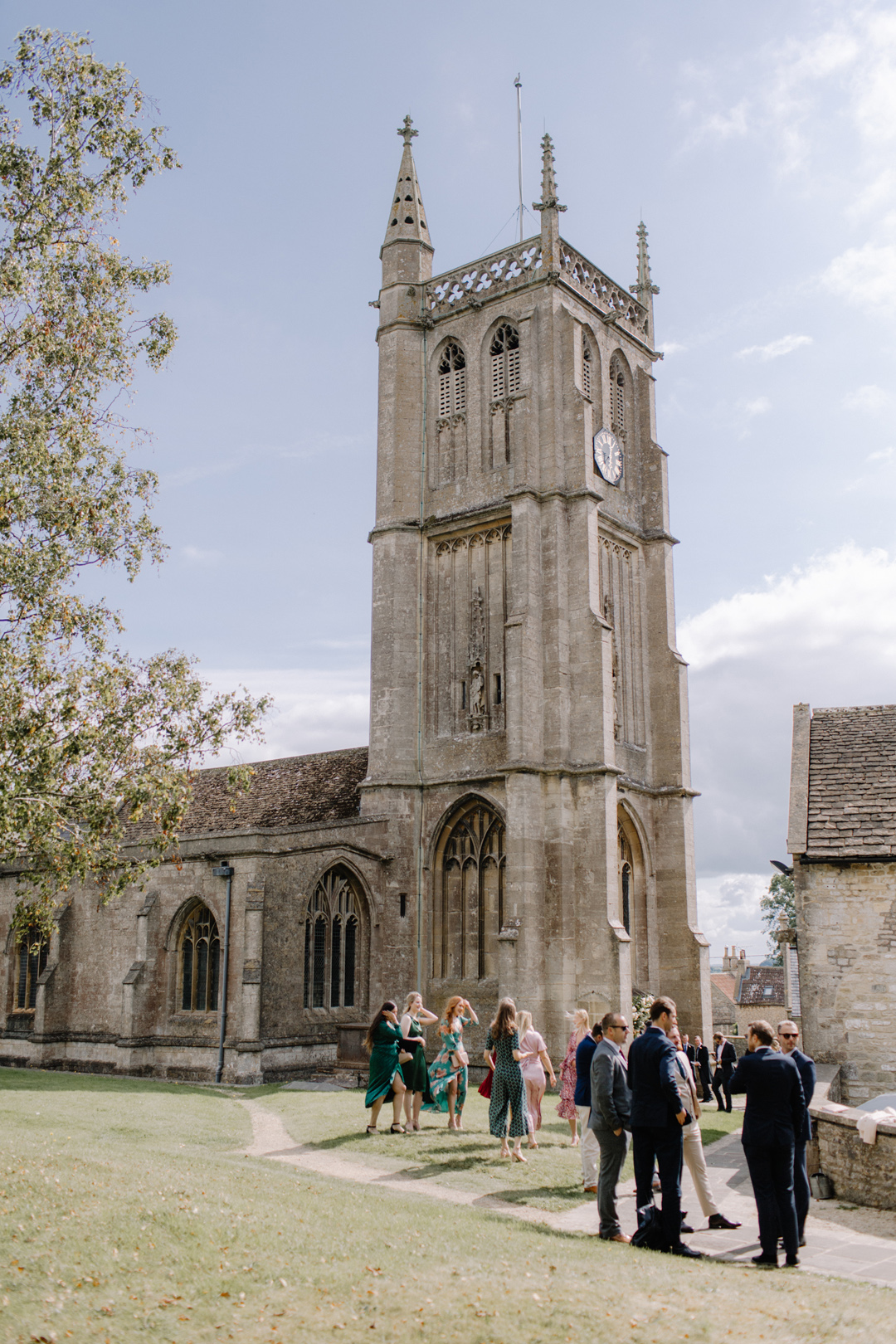 Atelier Emmanuel created the exquisite floral arrangements, including the incredible, colourful arch around the church's door.
"Emmanuel was so fun to work with. I was largely guided by the amazing creative vision of him and the Lillingston team but we quickly all aligned with ideas and knew we wanted lots of colour whilst remaining totally romantic."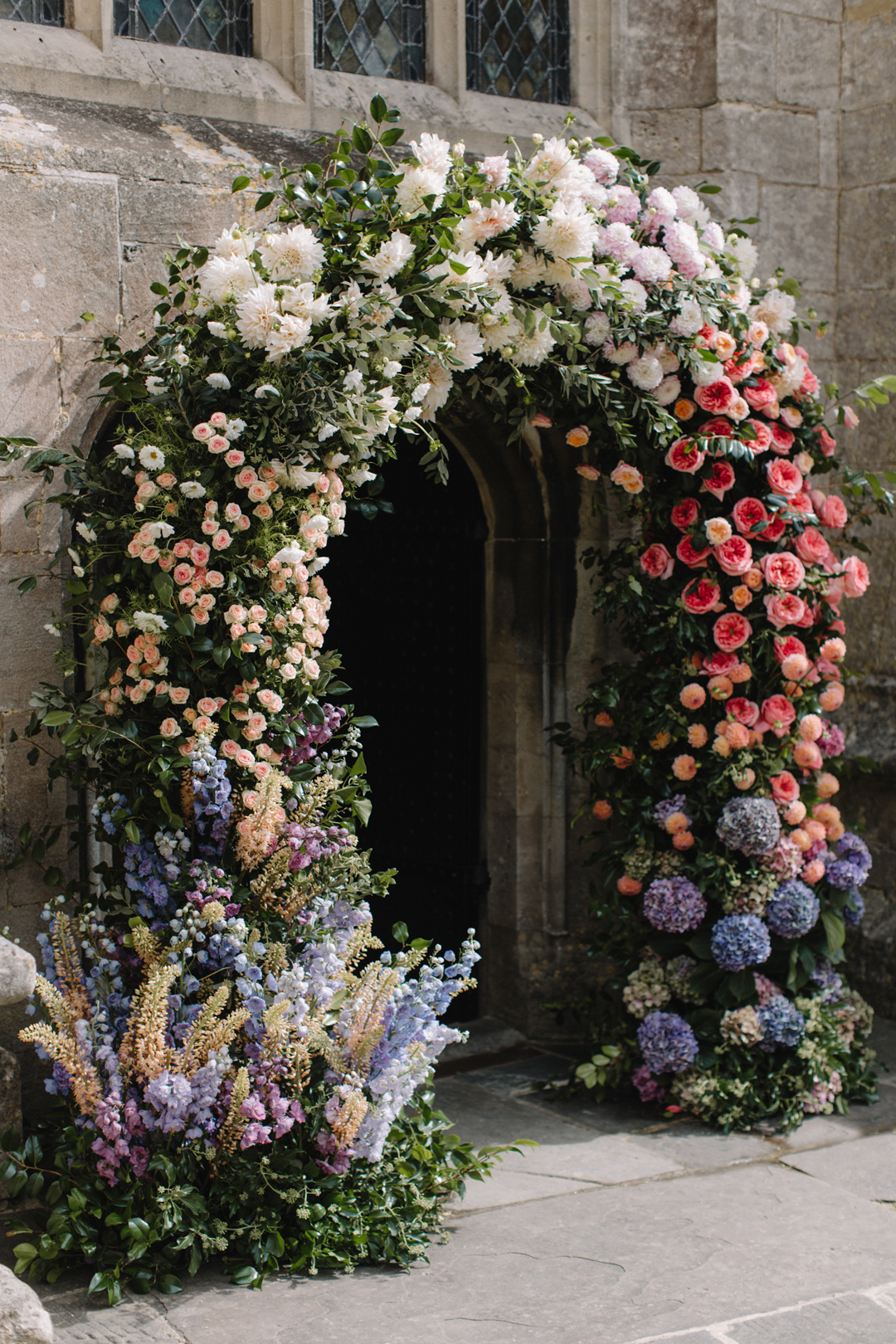 "I had always dreamed of a flower arch at the church and after postponing multiple times Emmanuel said we needed to go for a real statement piece, and I think he certainly nailed that!"
"The flowers were one of my favourite things about the wedding. They were beyond my wildest dreams; fun, joyful and vibrant."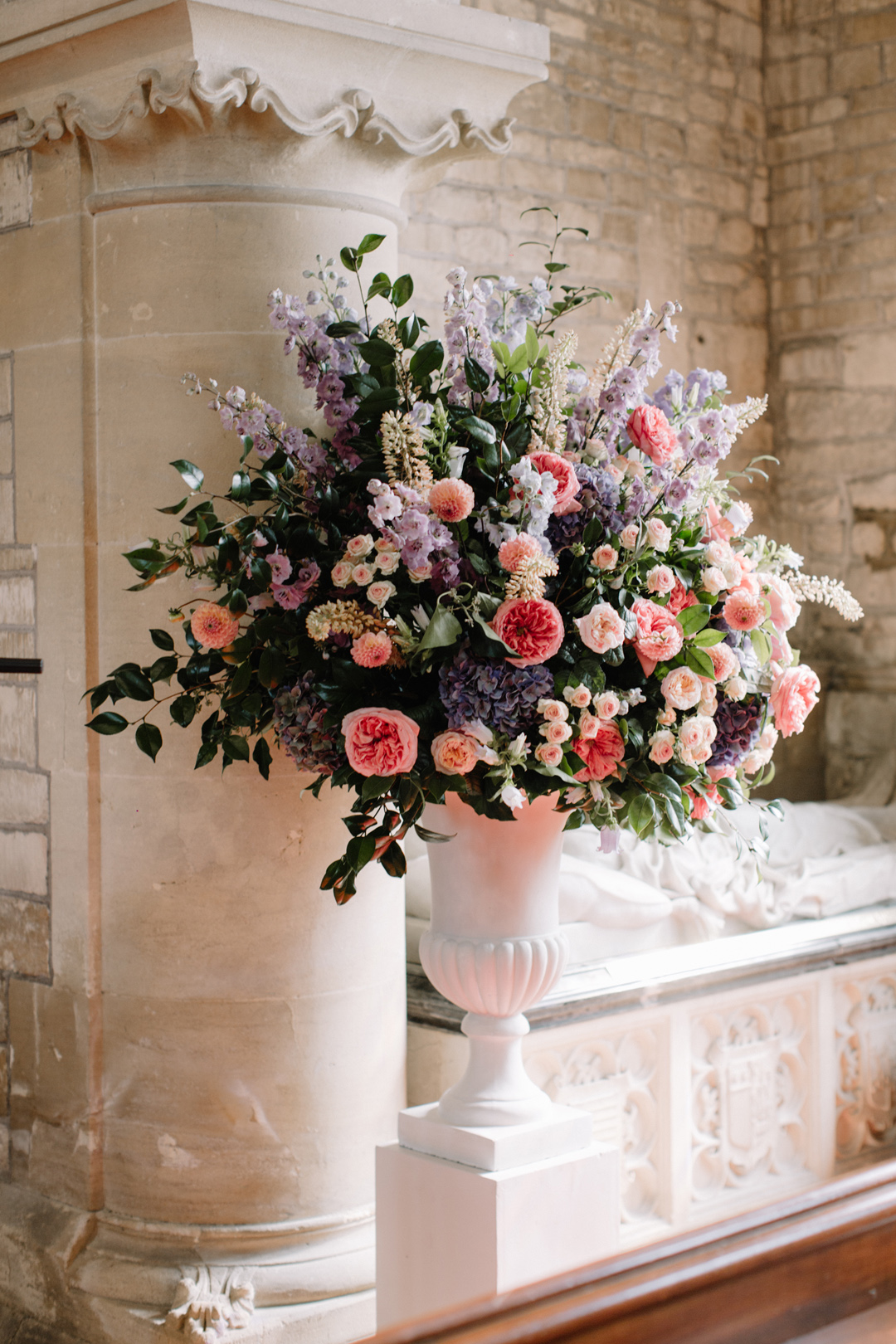 John and Rachel wed in the church local to Euridge and the bride entered with her father. The ceremony was led by Reverend Dr Janet Anderson Mackenzie of The Parish Church of St John The Baptist in Colerne.
"The trumpet voluntary was played on the organ and we also had a trumpeter."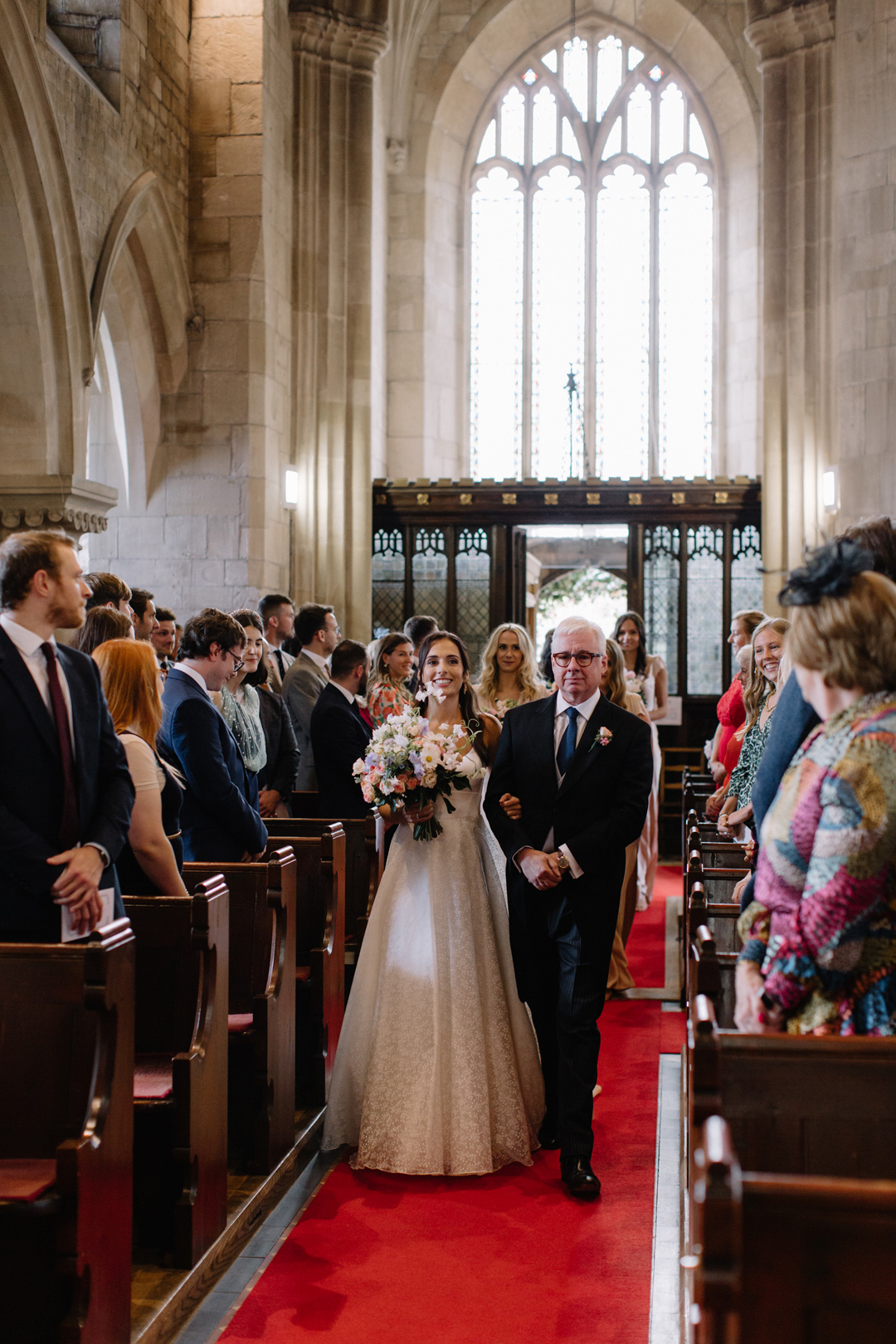 "It was a standard Church of England wedding ceremony and the hymn singing aspect was so important to me in particular and I was SO happy to be able to have those."
"When we signed the register we had the most amazing choir, Sansara, sing a specially-arranged version of The Carpenters' 'I Won't Last A Day Without You'. Guests commented on how much they enjoyed this. I was actually jealous I couldn't sit and watch them as I was signing the register at the side of the church."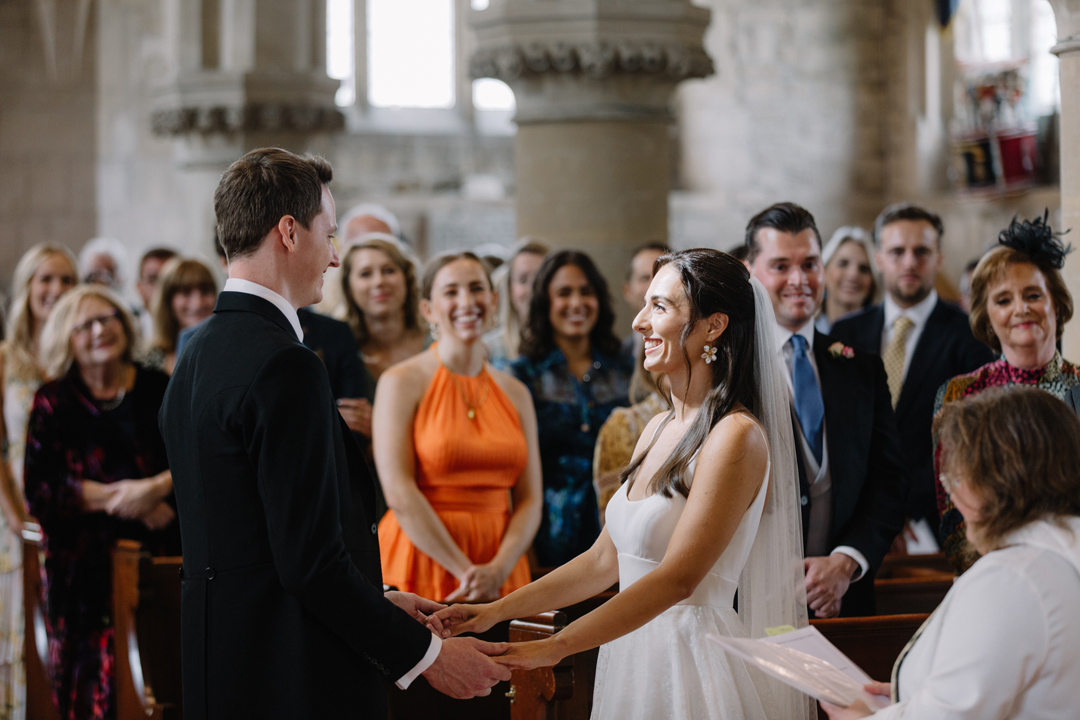 "For readings I chose the extract from 'Everything I Know About Love' which I saw suggested in the Love My Dress Facebook group."
"It is easily my favourite book and Dolly is my favourite author so I reminded myself of it and knew I had to have it."
"It completely sums up mine and John's relationship."
"It is such a beautiful reading which manages to be sweet, serious and humorous, all in one."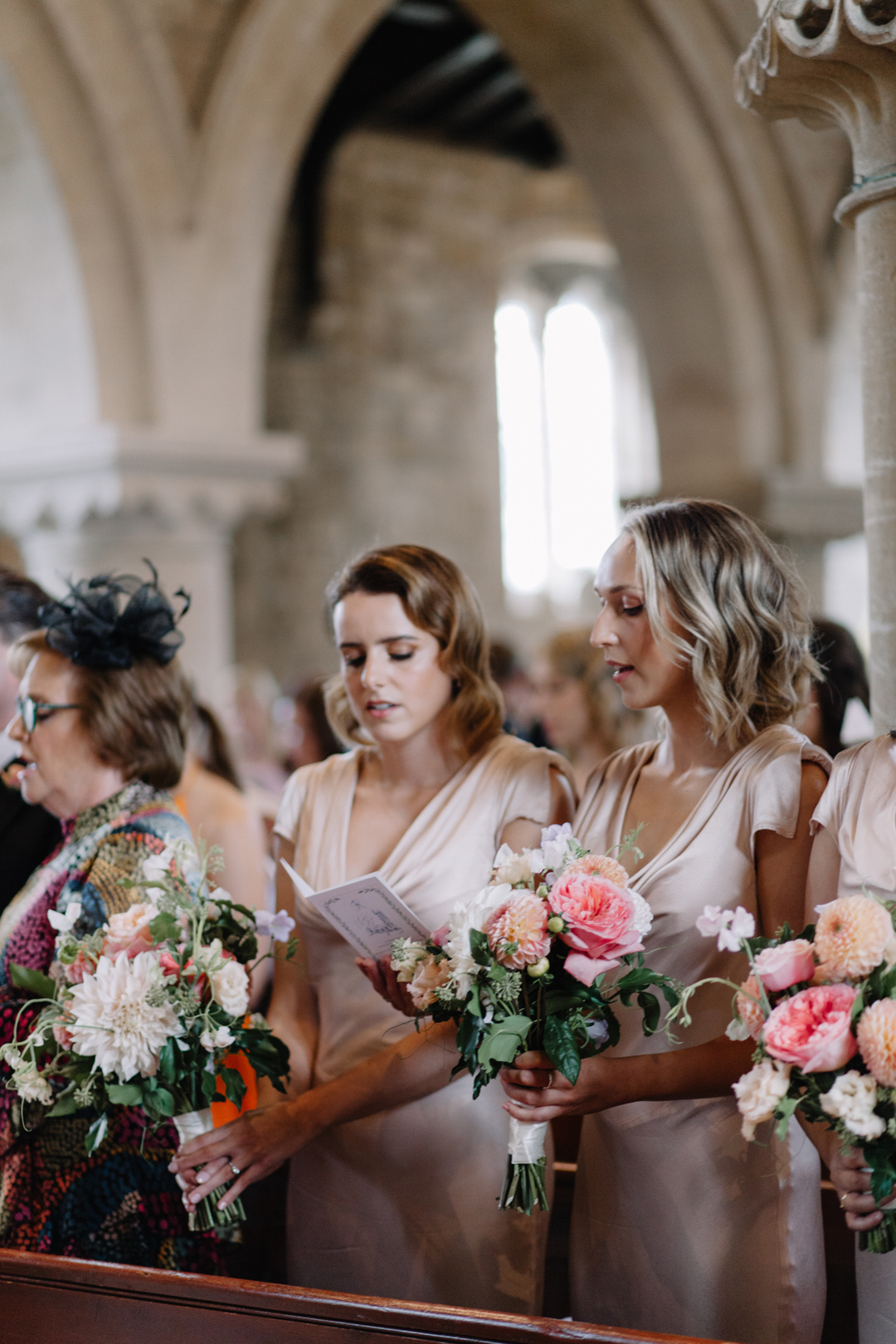 The couple exchanged rings from Rachel Boston London.
"I found her when googling 'interesting wedding bands' as wanted to see what was out there. She does such cool stuff."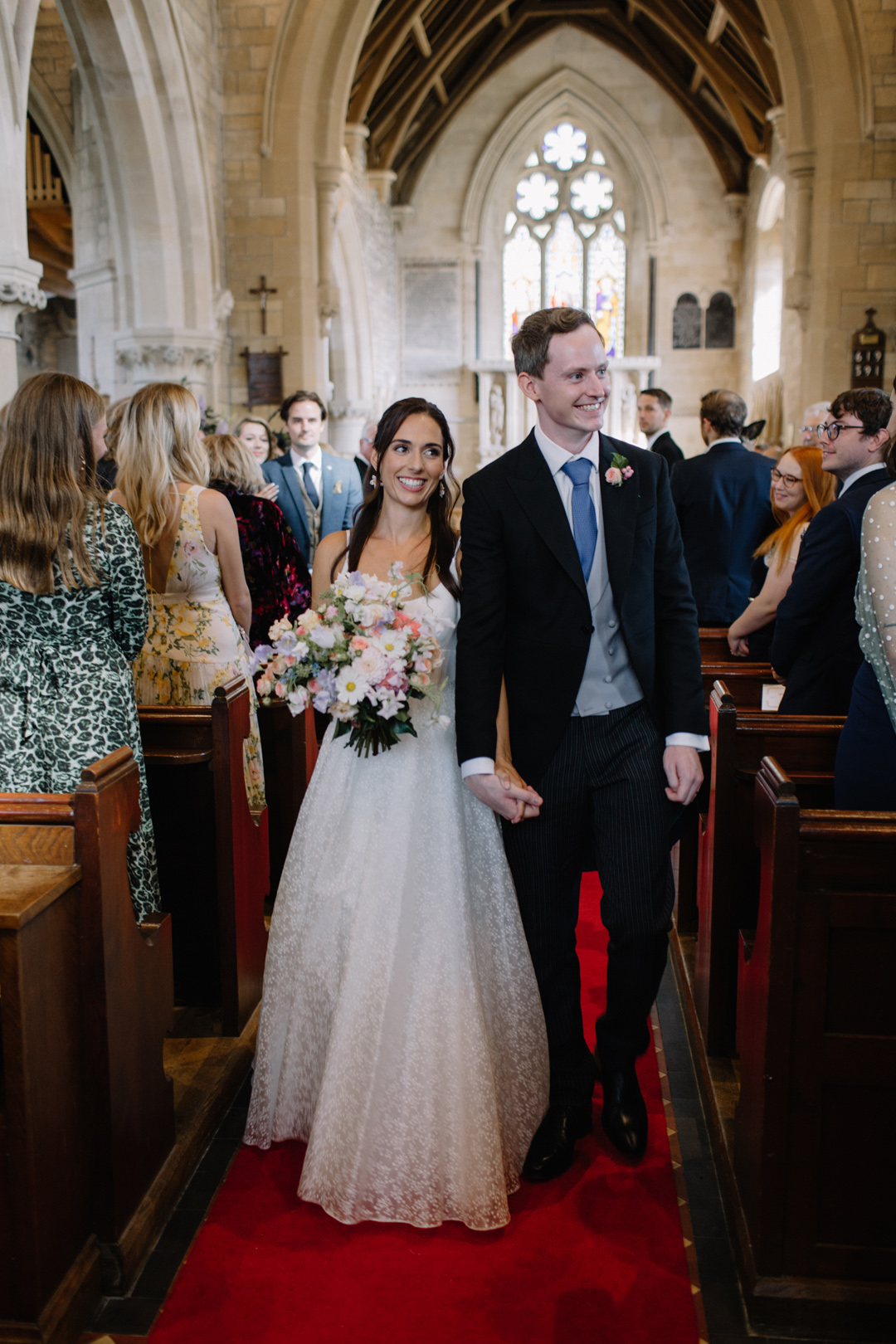 For Rachel and John, 11 September 2021 was their third date, postponing due to the Covid pandemic. Like many others, Rachel drew support from the What About Weddings campaign.
"We got engaged in March 2019 and planned our wedding for September 2020. We moved to April 2021 assuming Covid would be a thing of the past."
"I have never been more stressed and upset for a sustained amount of time than in the months leading up to the April date."
"I would obsess over every news article, despite weddings barely being mentioned, which would then manifest in deep rage for an industry being totally ignored and betrayed."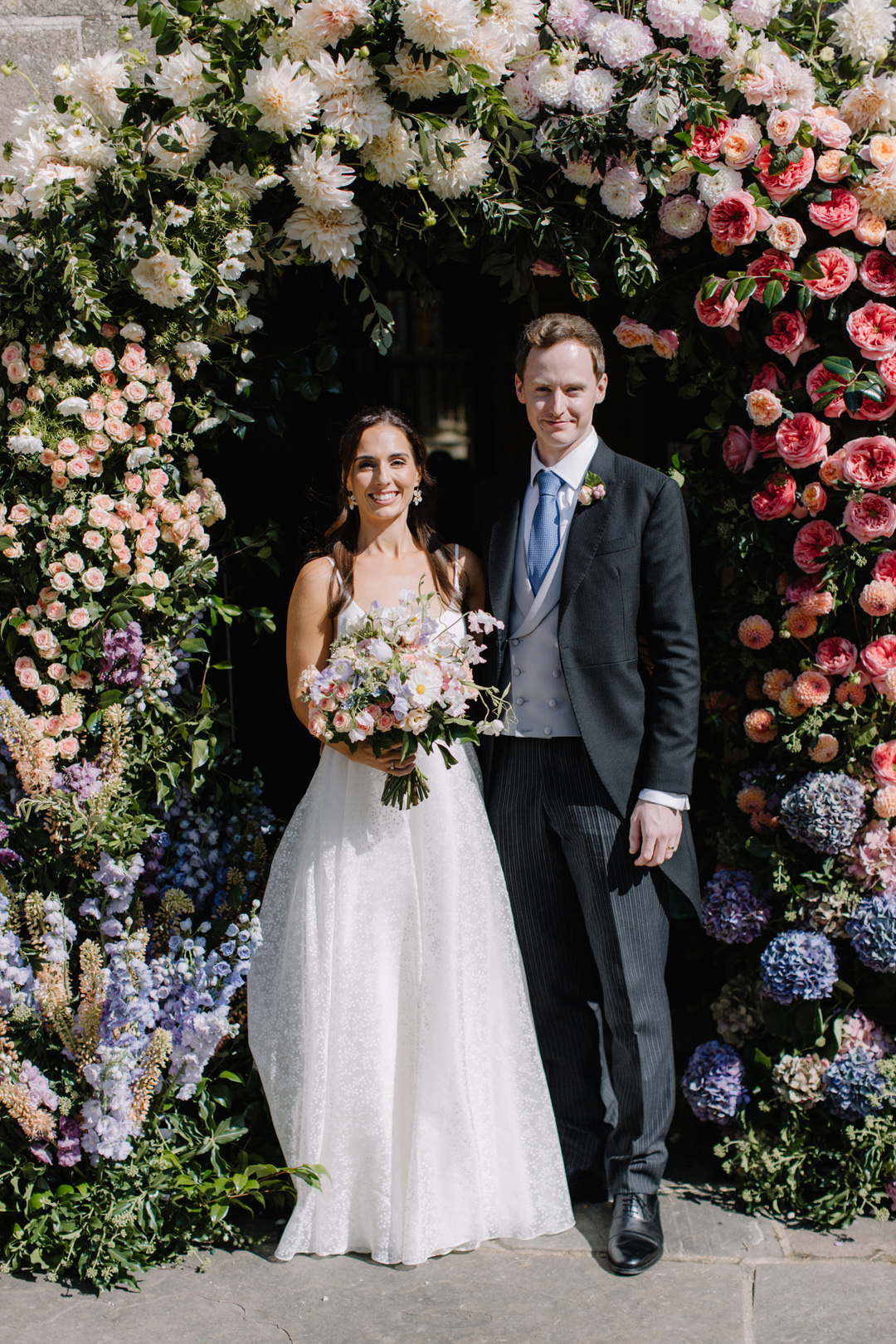 "The What About Weddings campaign was the only thing that kept me sane. Sadly, even dear friends couldn't console my anxiety as, unless you were a Covid bride and had to postpone, you simply wouldn't understand the heartache and stress."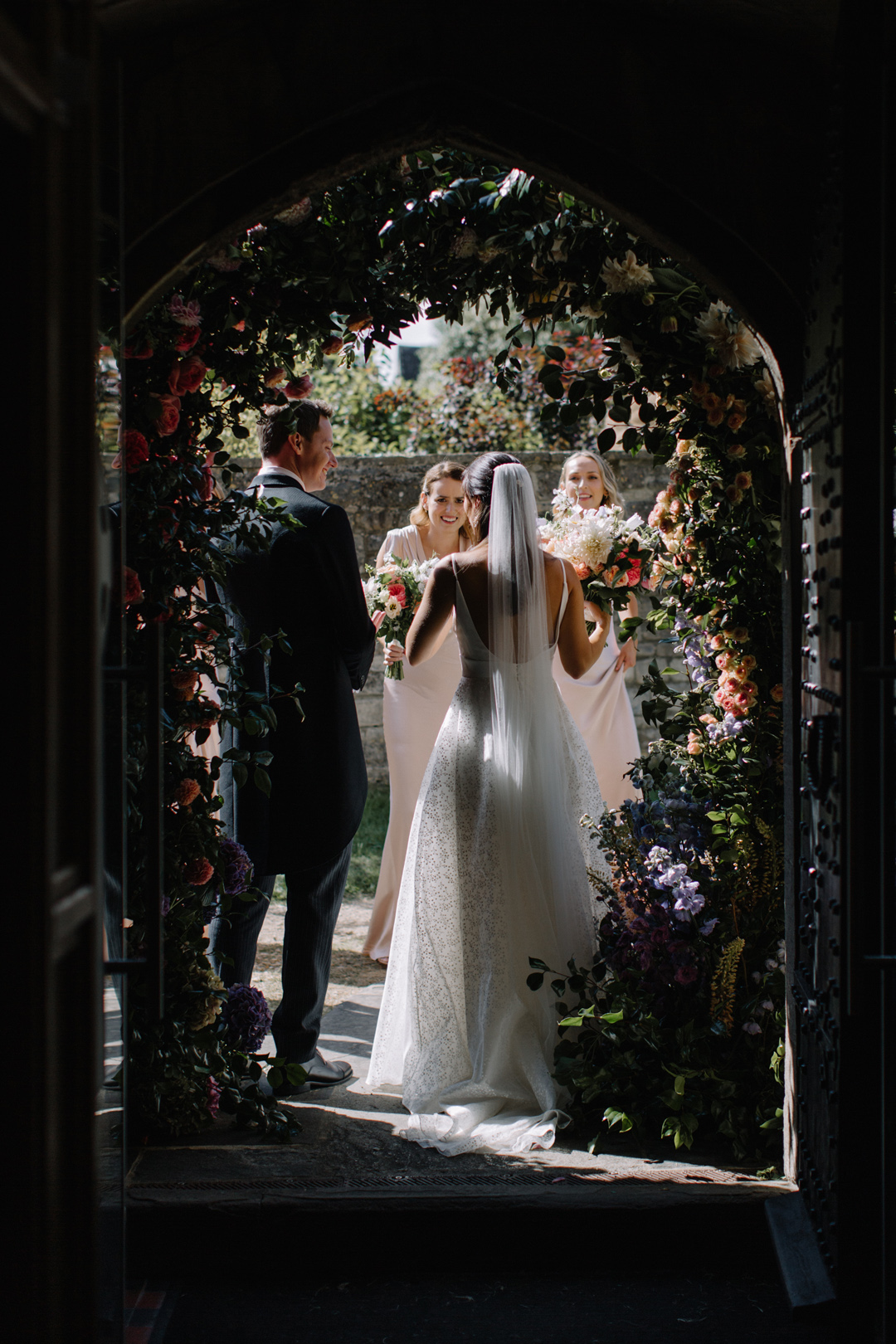 As well as What About Weddings, Rachel drew endless support from our private Love My Dress Facebook group.
"I absolutely loved the Facebook group! The thing that sets Love My Dress apart from other blogs is the genuine sense of community it creates. The support the Facebook group provided throughout Covid was invaluable. I didn't have any other friends going through Covid postponements, so to have people to talk to in the same position and learn about what they were doing to tackle it was amazing."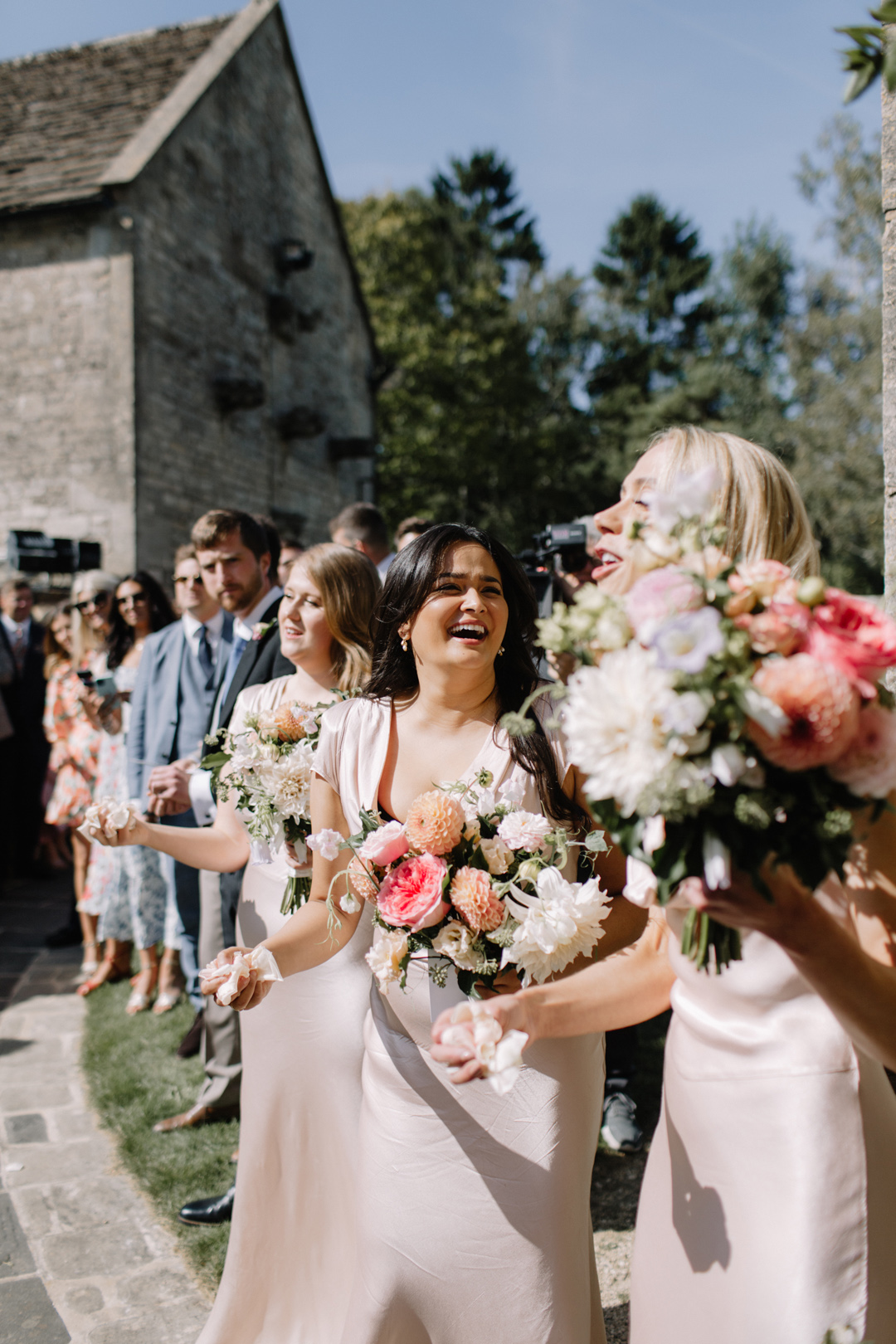 "When it became clear that April would not be restriction free, we moved to September 2021. I have the upmost respect for brides who went ahead despite restrictions."
"We said to ourselves that if September wasn't 'free' we would not move again because we really had reached our capacity for how much we could sustain stressful wedding postponements."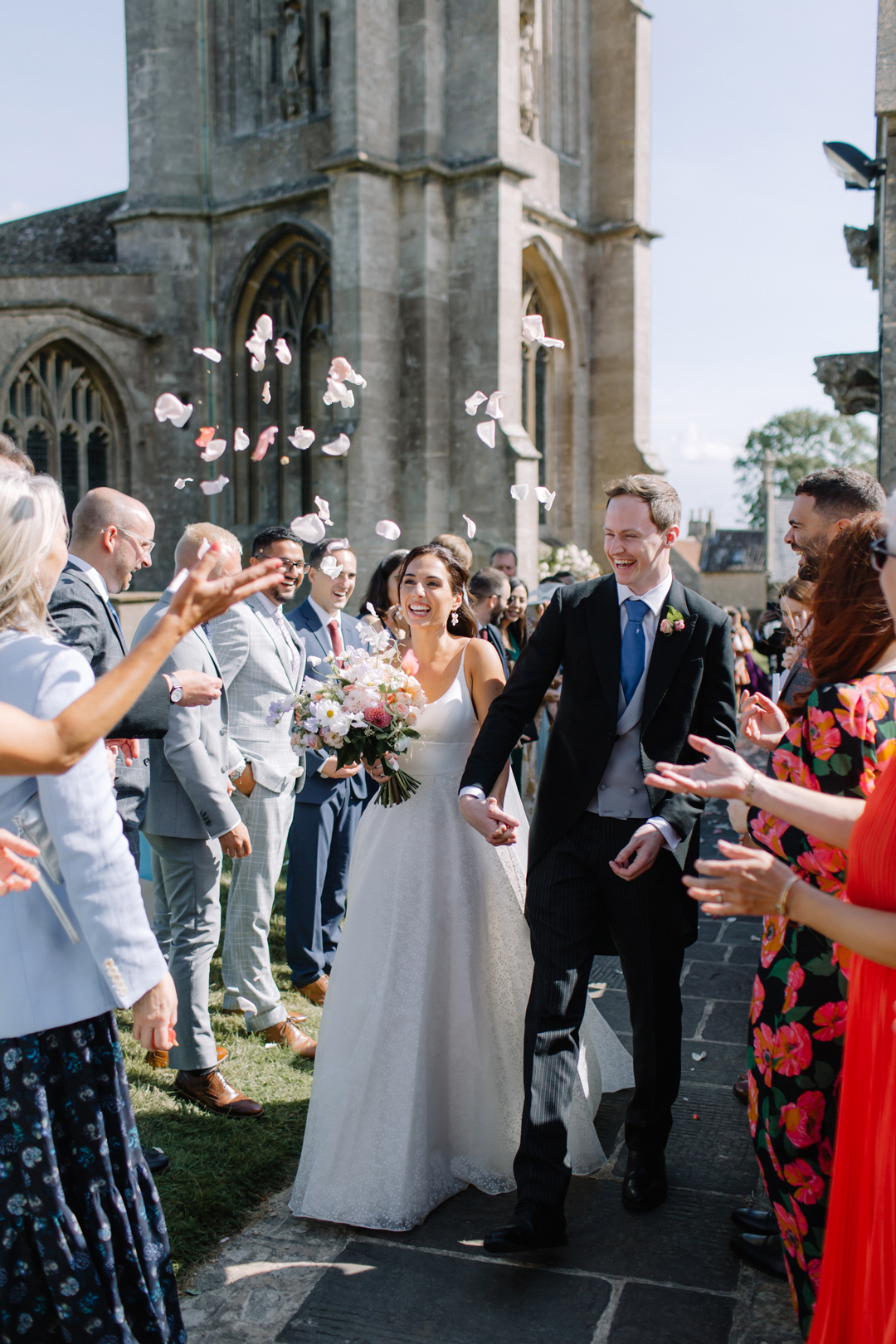 "Lots of people told me the wait would be worth it when I was at the height of my stress and anxiety with Covid wedding planning and I would get really irritated by it as I just didn't believe that a single day would end up being worth it."
"All I can say is it really and truly is. I would do it again in a heartbeat if it meant I could re-live my wedding day again."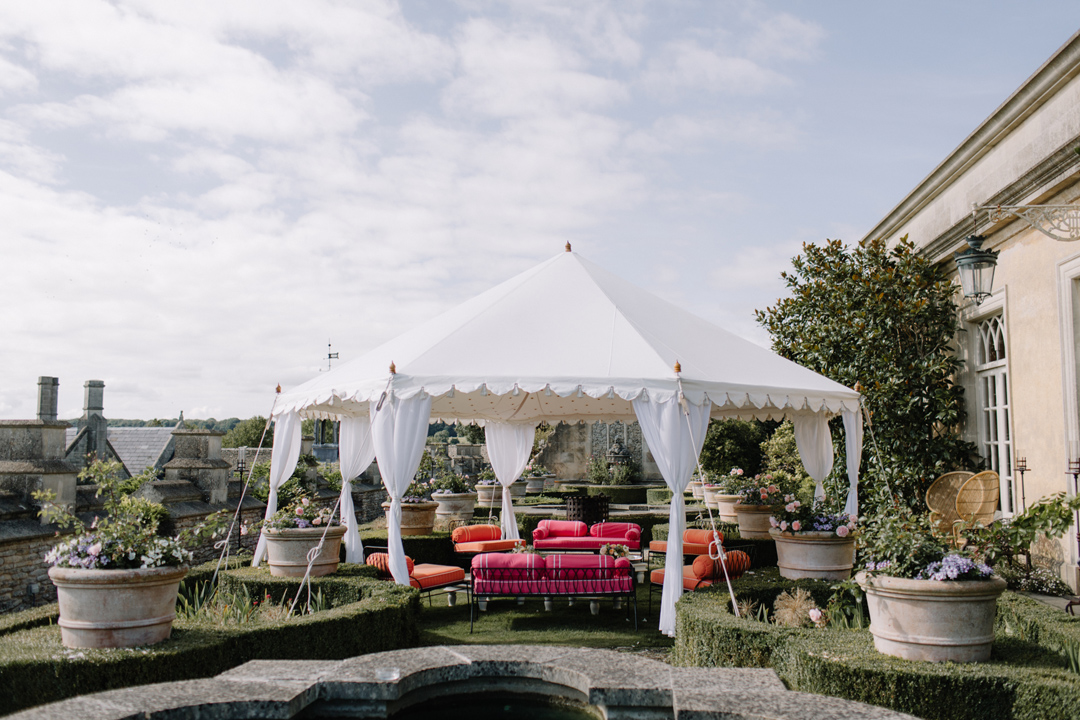 "My mum, who was my absolute rock throughout wedding planning (don't mess with a mother of the bride desperate for her daughter to have her big day!), and I have reflected since and we both agree it actually made it better."
"Everyone was so up for it! They were also delighted for us, having witnessed all the date changes."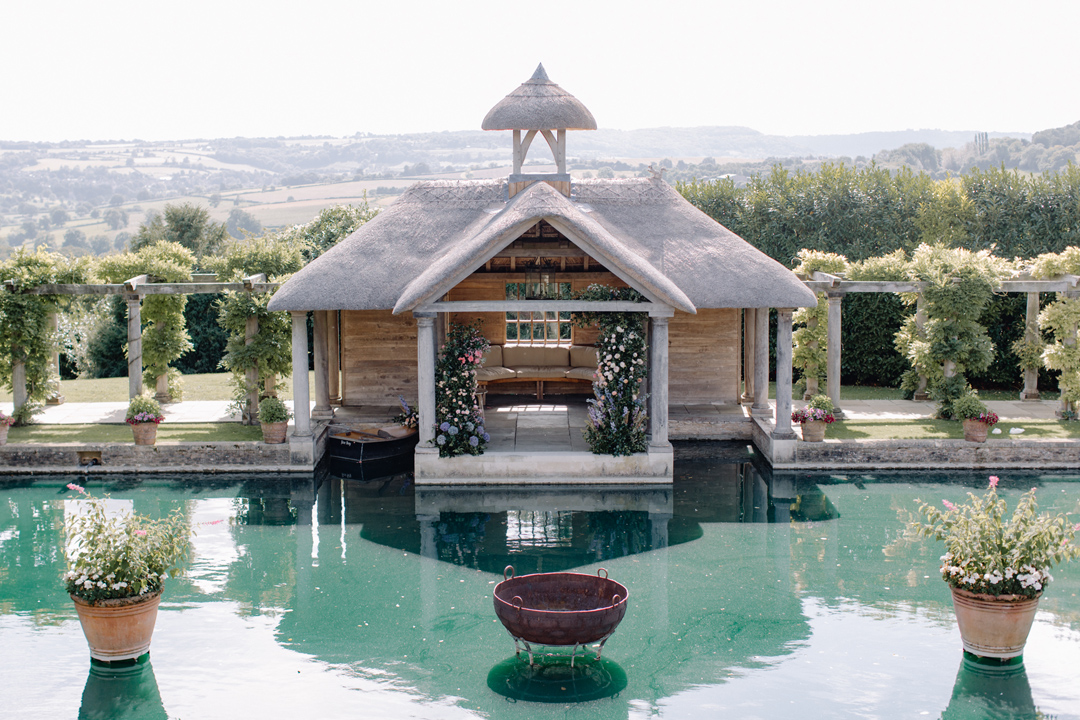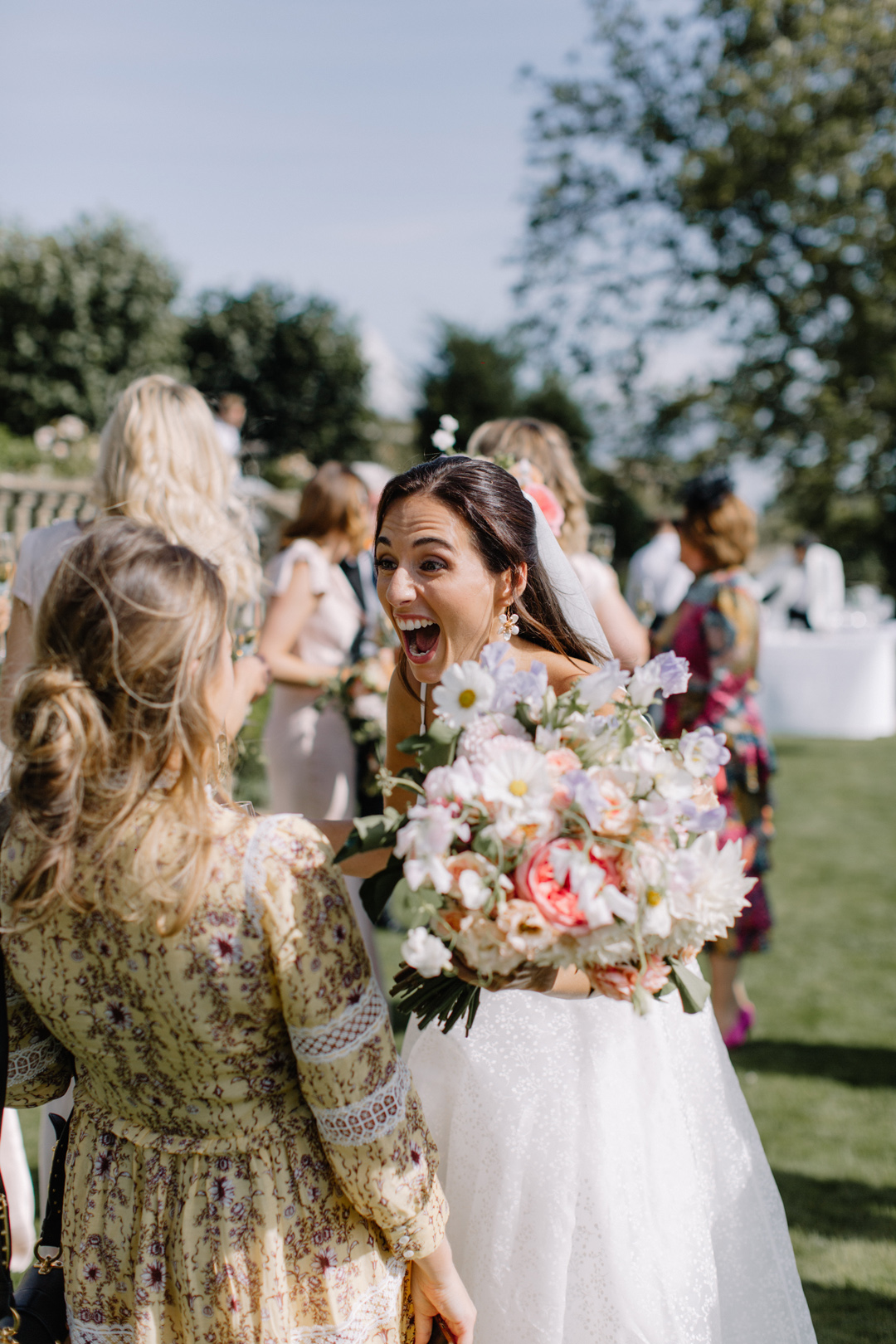 "I really think it made the atmosphere even better and I would tell any Covid brides to remember this and realise our days are more special because of the journey we went on."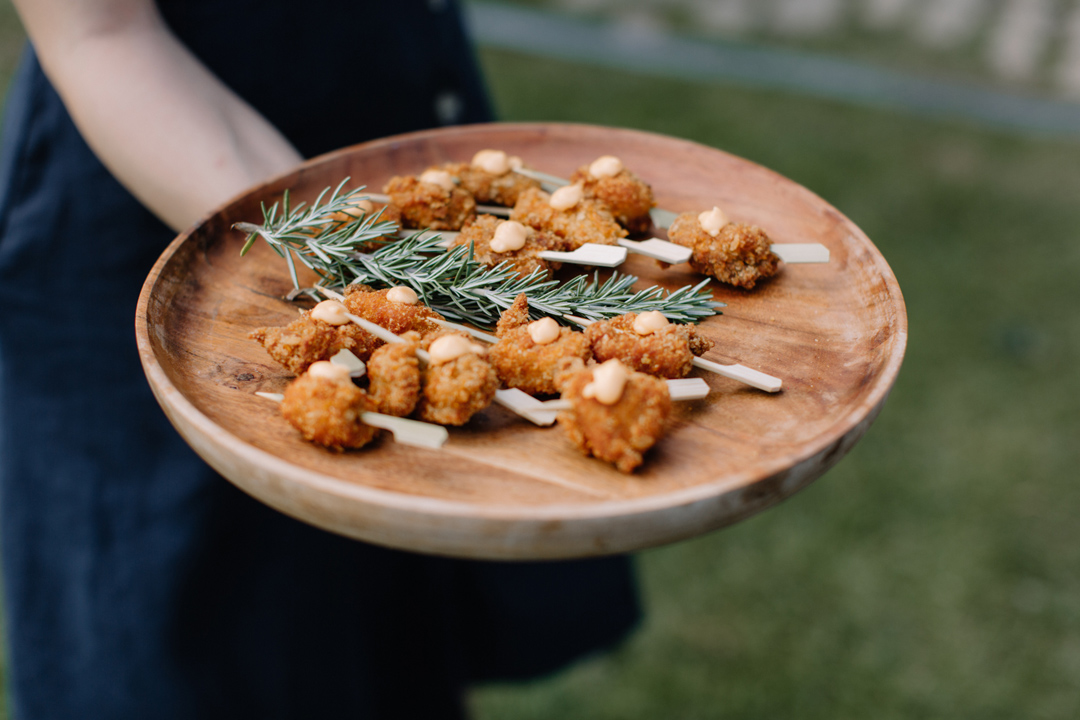 John and Rachel both went to university in Liverpool and met through a shared love of music.
"Whilst he doesn't do it now (other than the occasional house party of a friend), John is a fantastic DJ and as a student, set up a very well-loved and successful student club night."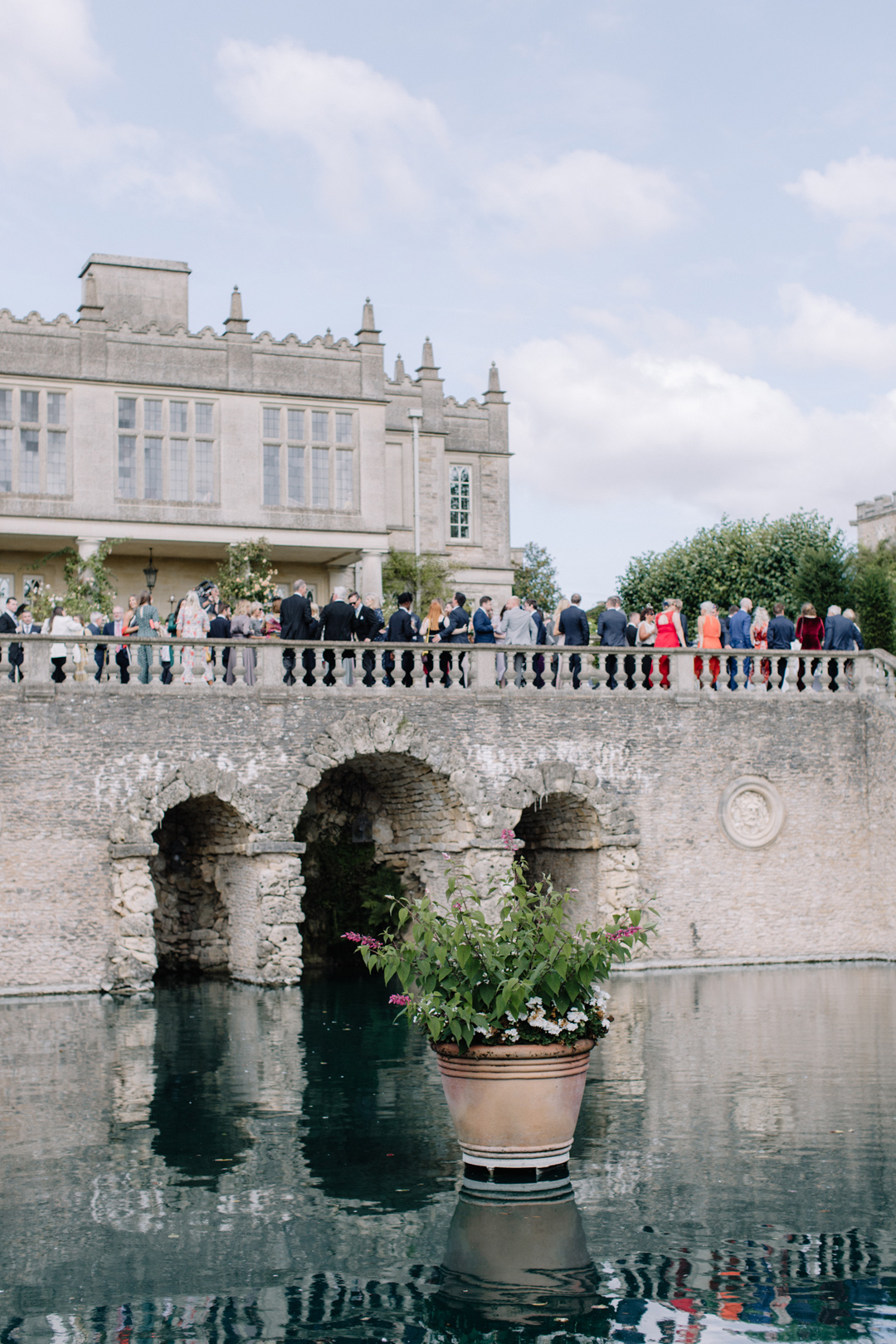 I was a fun-loving student, always up for a dance so was a regular attendee and would often post pictures of my friends and I there."
"John ended up getting in touch to see if I wanted to sell tickets and so we ended up meeting and talking through that. He likes to remind me he was technically my boss for a while."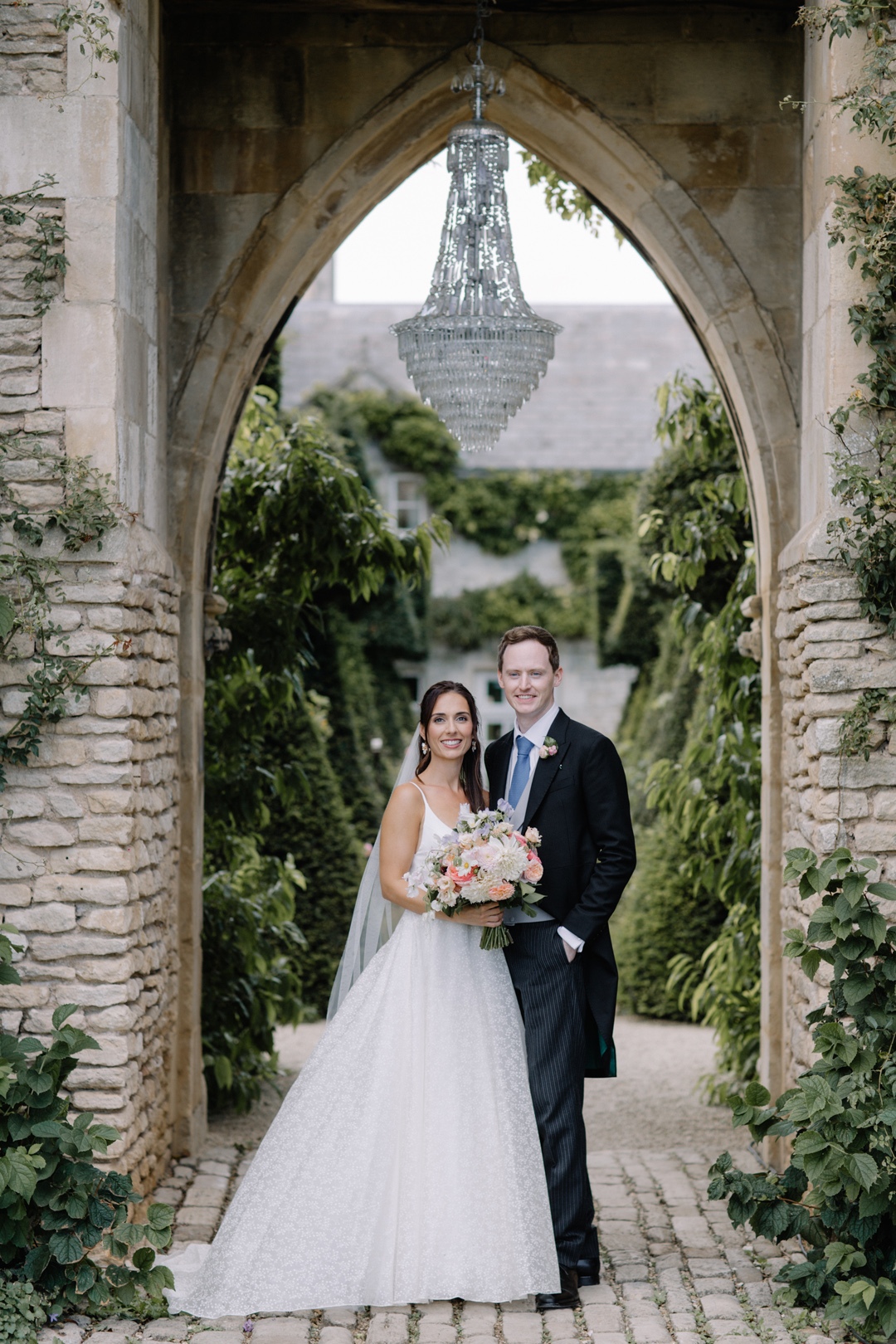 Rachel and John selected photographer Rebecca Goddard Photography to capture every single, romantic moment of the day.
"I found picking a photographer one of my hardest decisions when I realised that the photos are one of few things that serve as a lasting reminder of the day"
"I found Beccy through the Euridge Instagram account as she had shot a wedding there before."
"I was struck by her clean and crisp, colourful images which is what I wanted but what she also does is take the more natural and 'cooler' editorial shots. She was the perfect combination for me and I was so happy when she was free for my date."
"She was such a warm and delightful person to have around, with such a fun spirit and she even put John at ease (he hates having his photo taken!). I would recommend her in a heartbeat!"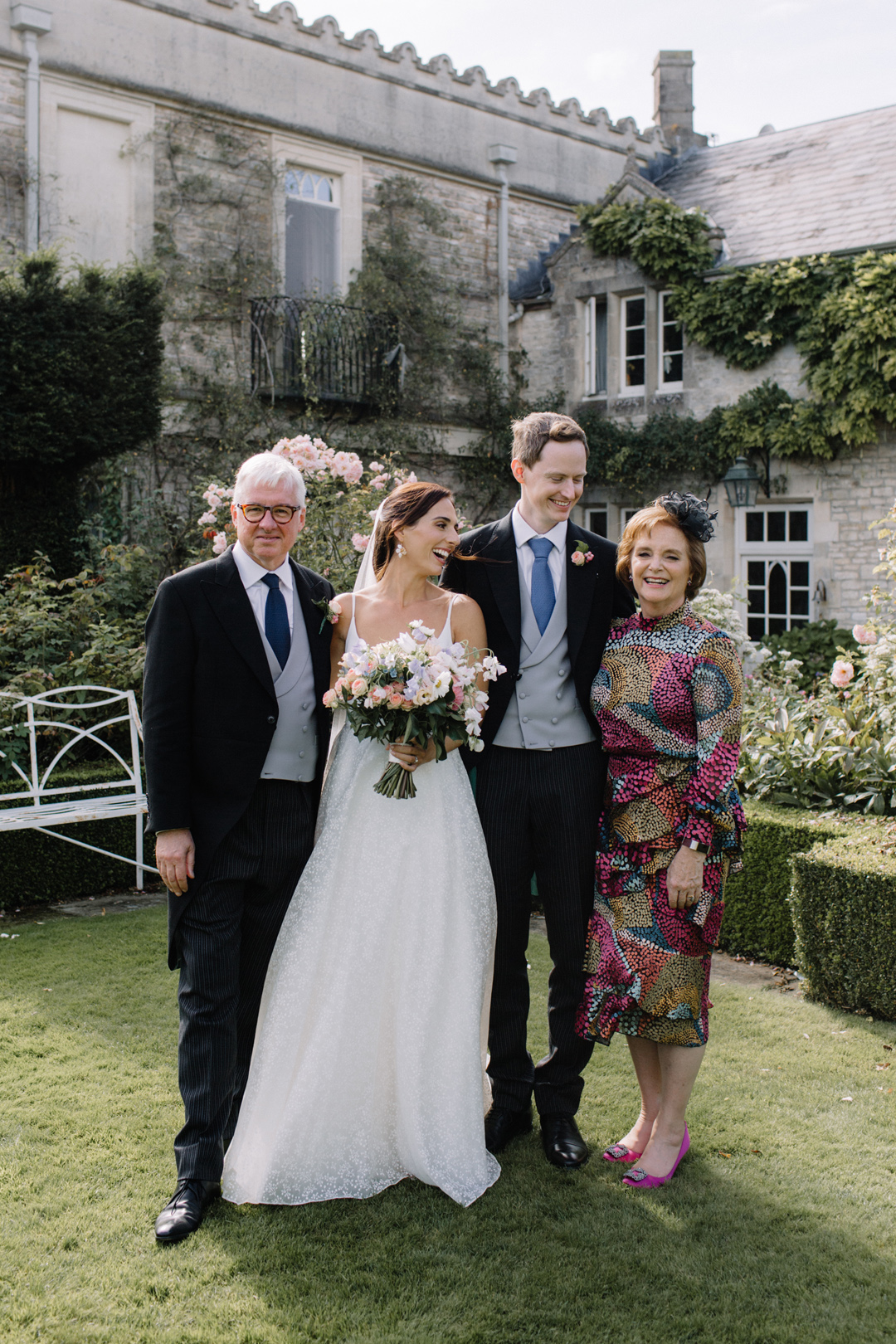 The wedding was also videoed by Gerry Lewis Productions.
"Such a lovely team! They were like ninjas; we left the church first and they managed to be there before us to capture our arrival at the venue. They create really heartfelt and poignant videos."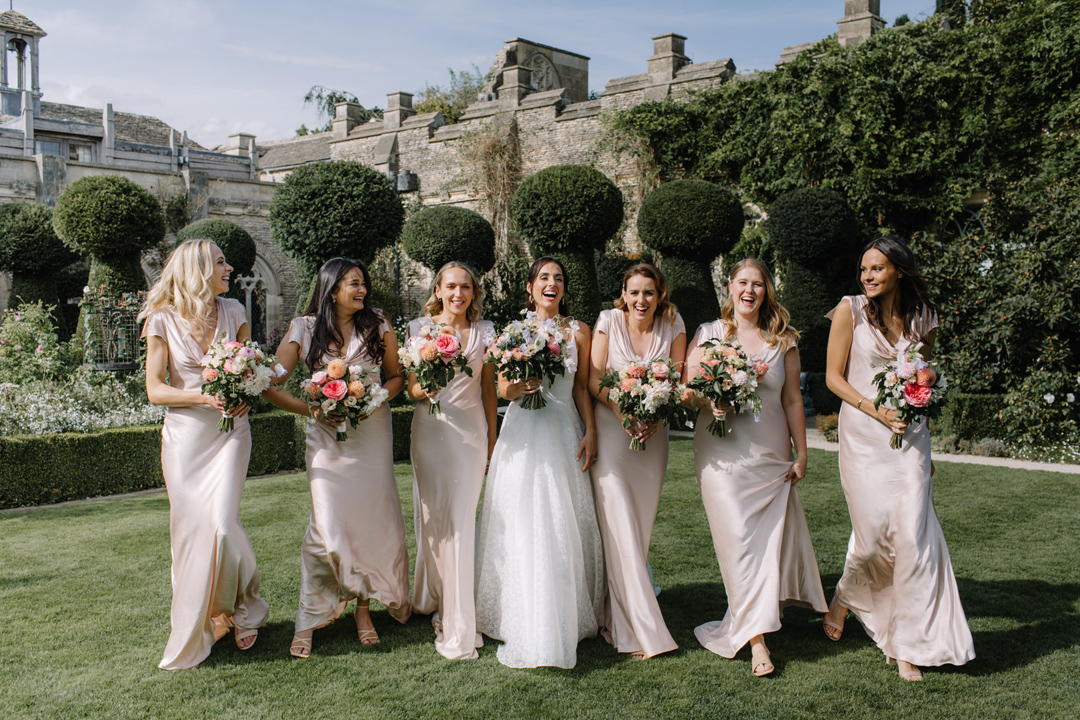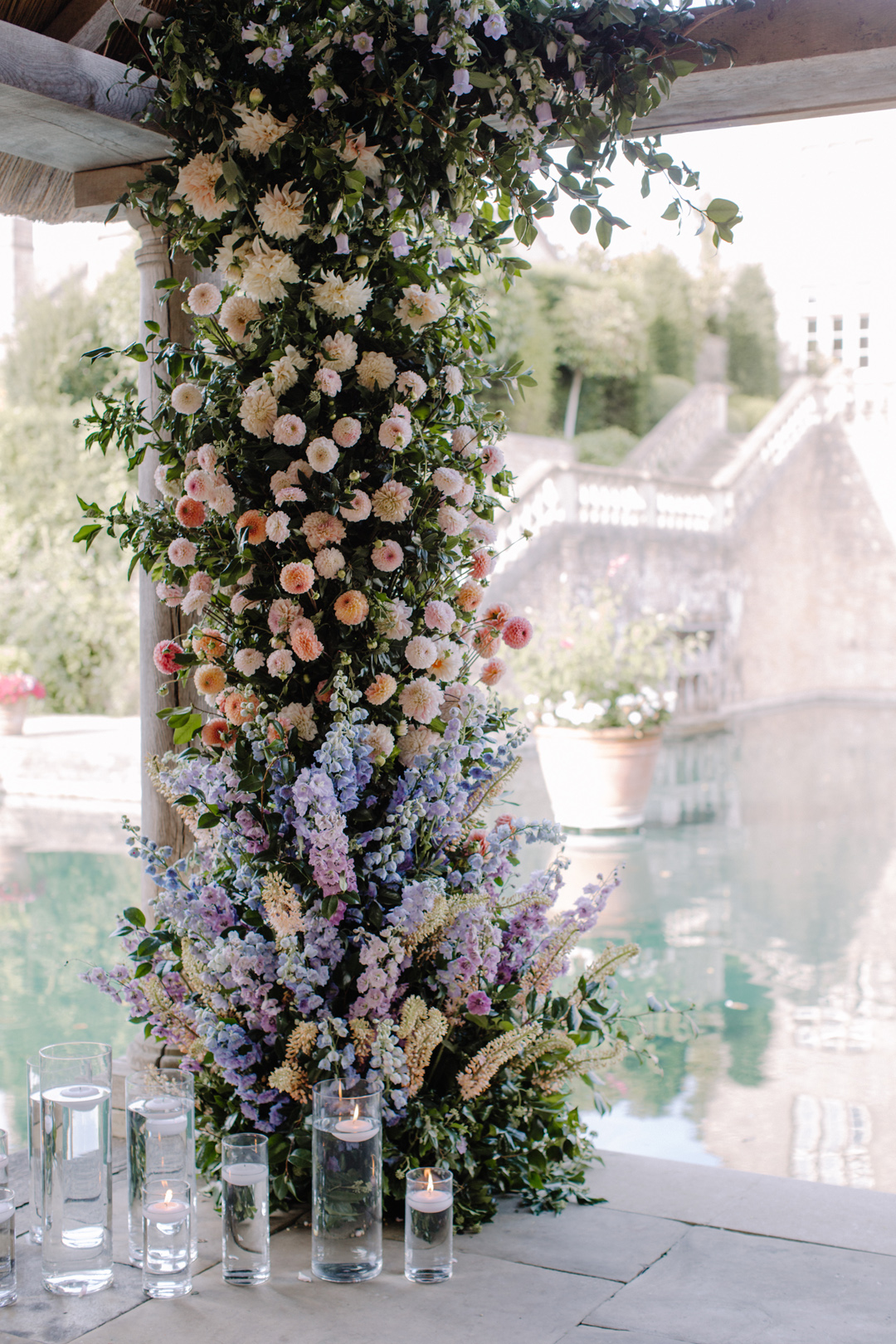 "In the early stages of wedding planning I really lacked vision. People would ask me about colour schemes and themes and I would become very confused."
"I remember chatting to my florist and we agreed on lots of bright, vibrant colours but on the lighter and brighter side rather than deep and autumnal."
"We also knew we wanted a church wedding at a nearby church so this was a factor too. I began to call my wedding 'Traditional with a modern twist'. It took on the old school, traditional format but with so much youth and vibrancy injected into it."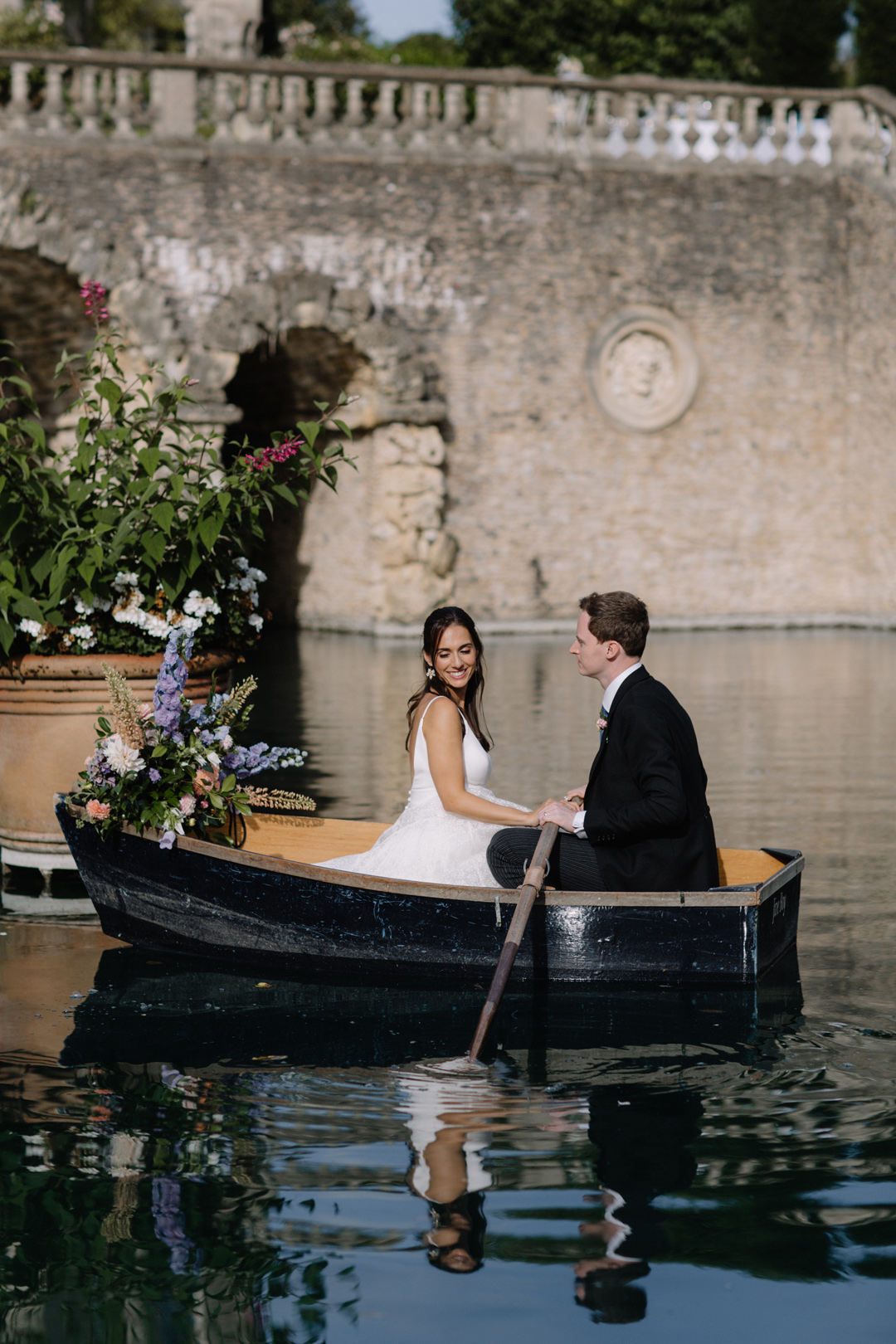 The bride was made to look and feel her best by make-up artist Kelly Dawn and Viktoria S. Toth Bridal Hair Stylist, adding 'Margot' hair pins from Eden b. Studio into her pretty down do.
"These women are completely amazing. Where possible, I would encourage brides to set aside as much as they are comfortable with on hair and make-up."
"I think it's easy to dismiss as unimportant but, in my opinion, if you don't feel amazing then the day could be tarnished somewhat, and you may not be as happy with the photographs."
"Aside from being highly skilled in their craft, they were so fun to have around at such an important part of the day! I will always remember my wedding morning fondly with all of my favourite ladies chatting away to them."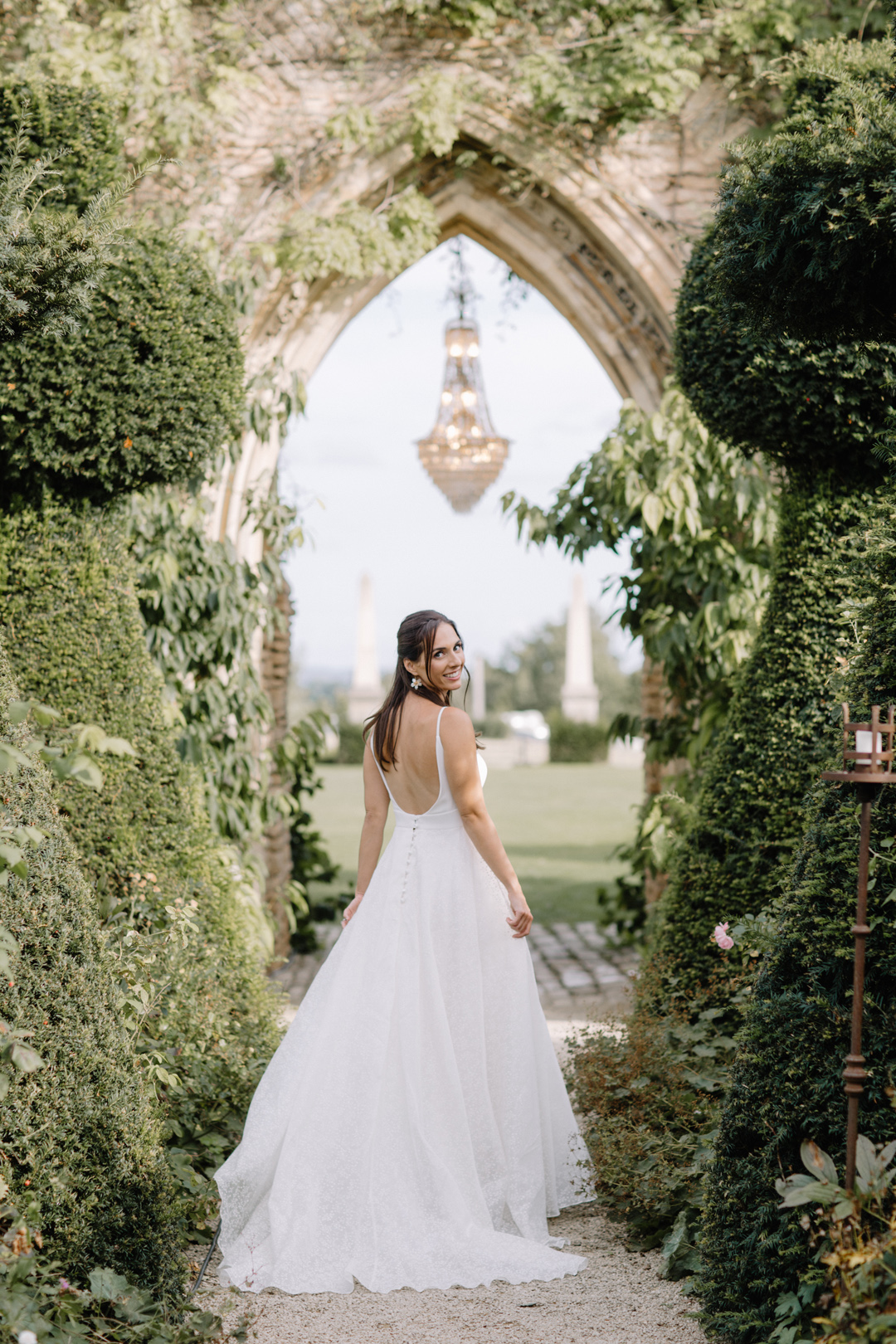 "Viktoria nailed the soft and romantic hair style in the day and then we even changed it up with a fun 'party ponytail' in the evening."
"She even helped my bridesmaids and I with a tik tok in the morning to pass the time (and ease the nerves). She makes the most amazing Instagram Reels – I watch the one of my day all the time."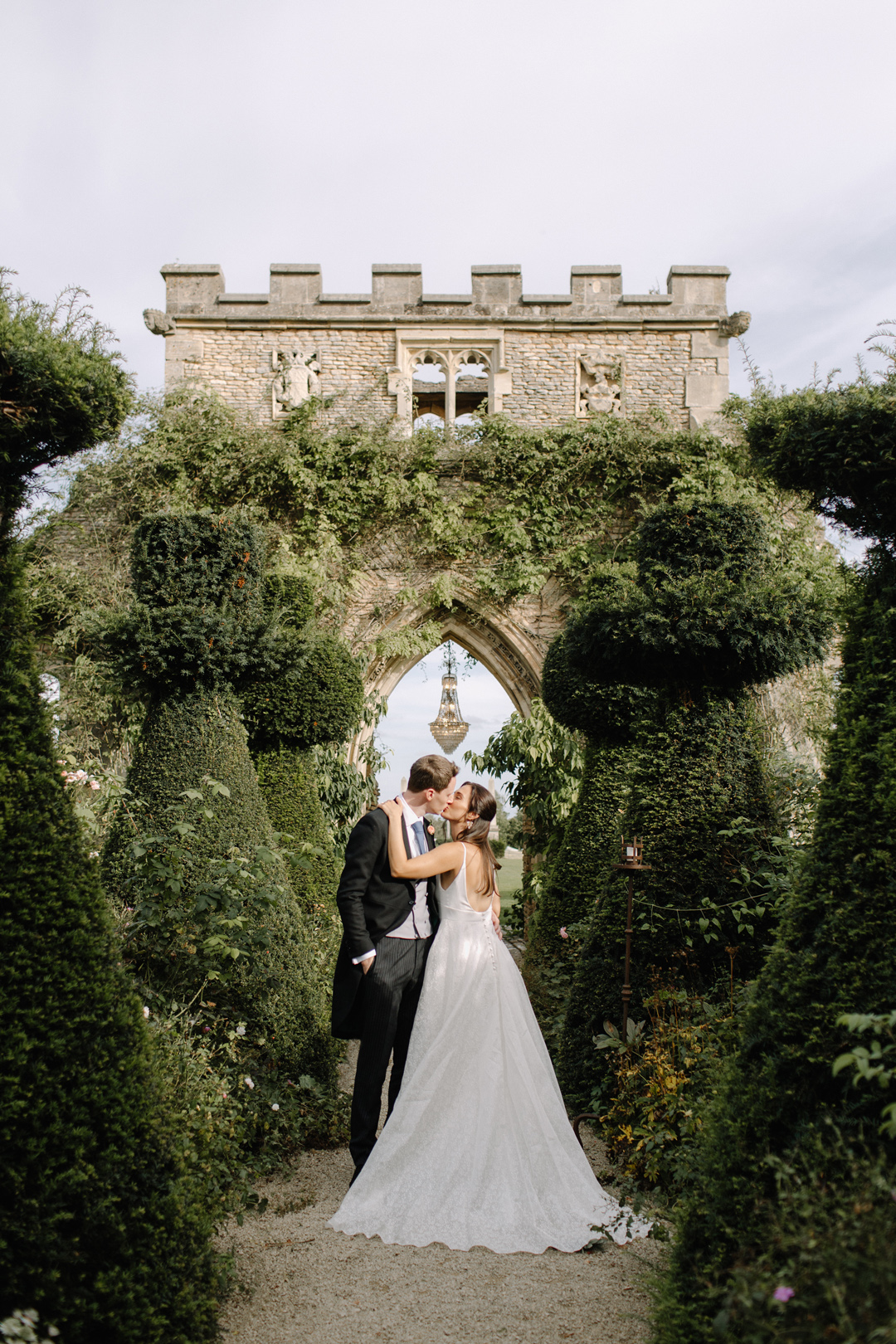 With such a sunny September day, the guests and newly-weds were able to fully enjoy Euridge Manor's unique, Italian-esque grounds with live music from Hot Club Cats via Rattle & Shake before heading in to the ballroom for the wedding breakfast from Spook London.
"Susannah Garrod did bespoke illustrations that ended up being used throughout the day, starting with the most stunning invitations."
"Lillingston had said the invites really set the tone for the day and drum up excitement and they were so right – receiving messages of excitement once people received them was so fun."
"We then used Susannah's beautiful illustrations on escort cards, menus etc. I have framed her original illustrations and hung them on my wall as they are so beautiful."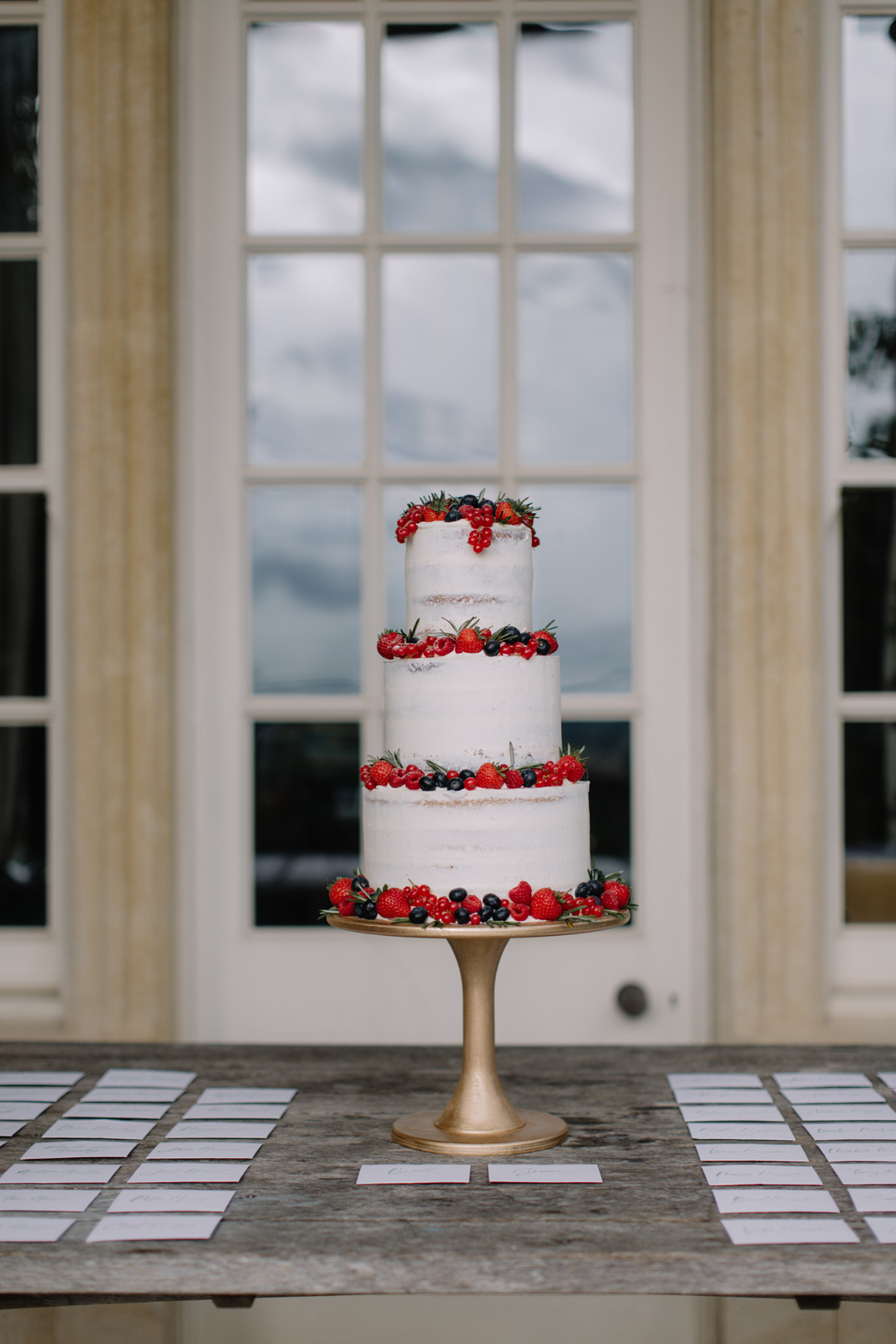 Event planners Lillingston worked with the couple to plan and style their day and flowers were an essential part of its vibe.
"The day's flow is entirely to the credit of Lillingston. There were so many compliments we received after the day but the line about it having been planned so meticulously and the 'flow' of the day kept cropping up."
"There were a couple of things like the timing of the drinks reception and the spacing out of speeches that Lillingston advised on and they were totally right to do so because the day was much better for it."
"I know it is a luxury having a wedding planner and one I am extremely grateful for, but I would say if brides are able to budget for one but consider them an unneeded expense I would encourage them to think really hard and seriously about it."
"Having a planner allowed me to relax and totally enjoy my day and be fully present. That's in addition to all the obvious points about their creative skills, ideas and supplier recommendations."
"I really didn't want the beauty of Euridge Manor to be taken away with loads of furniture at the drinks reception so we kept that simple."
When we moved to the ballroom for the wedding breakfast, Emmanuel and Lillingston had styled the room with rows and rows of florals on the long banquet tables and foliage in the chandeliers."
"The stage for the band was at one end but Emmanuel had put birch trees either side. It was magical."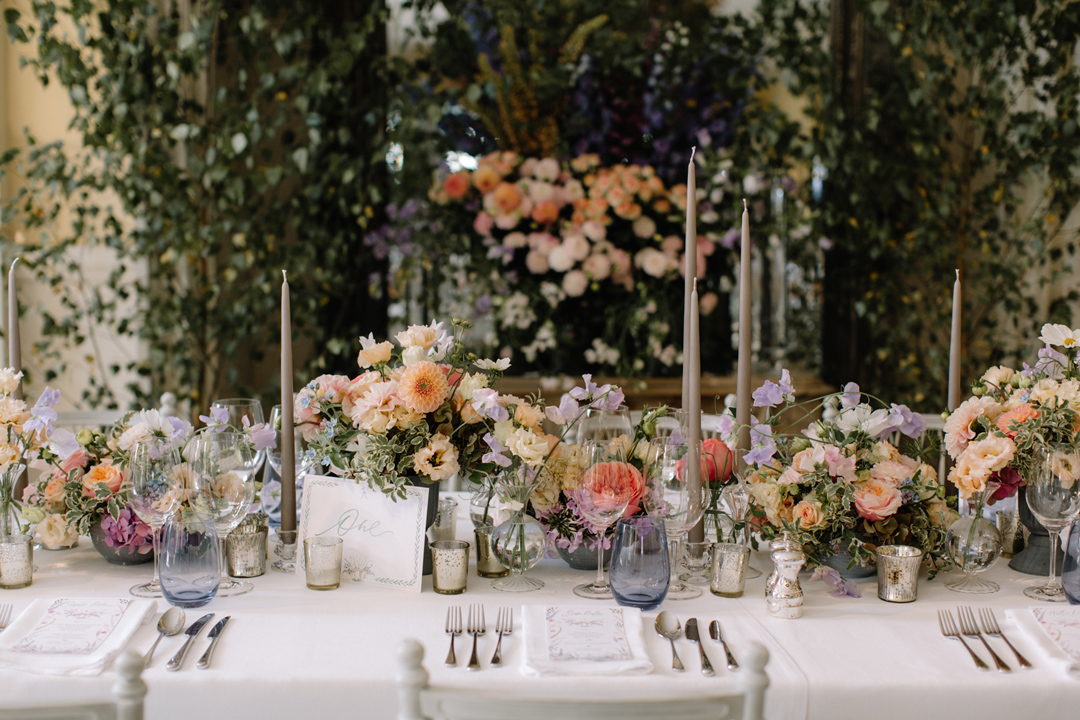 "Spook are absolutely outstanding. To cook at the standard they do en masse is no small feat."
"I was also drawn to them because of their stance on sustainability – they only use local, seasonal produce and even create 'waste snacks'."
"You know your caterers are good when on your honeymoon you keep saying how no meal has been better than your wedding breakfast!"
They also served the most incredible cocktails with barmen in white tie suits – it felt very glam."
"John and Rachel selected a three-tier, semi-naked wedding cake."
"I found Cherish Cakes by Katherine through the Euridge Manor recommended supplier list. It was simple but so beautiful and delicious."
After the wedding breakfast and as night fell, guests moved upstairs into the Orangery for the nightclub dance party, whilst Rachel changed into her second dress from Kate Edmondson Bridal, ready for dancing.
"Raj Tent Club and Virginia's Vintage Hire provided the furniture. Raj Tent Club provided a stunning tent on the balcony off the Orangery which served as our dance-floor; the perfect time-out spot in between dancing!"
"We had bright orange and pink cushions and Moroccan mirror ball tables."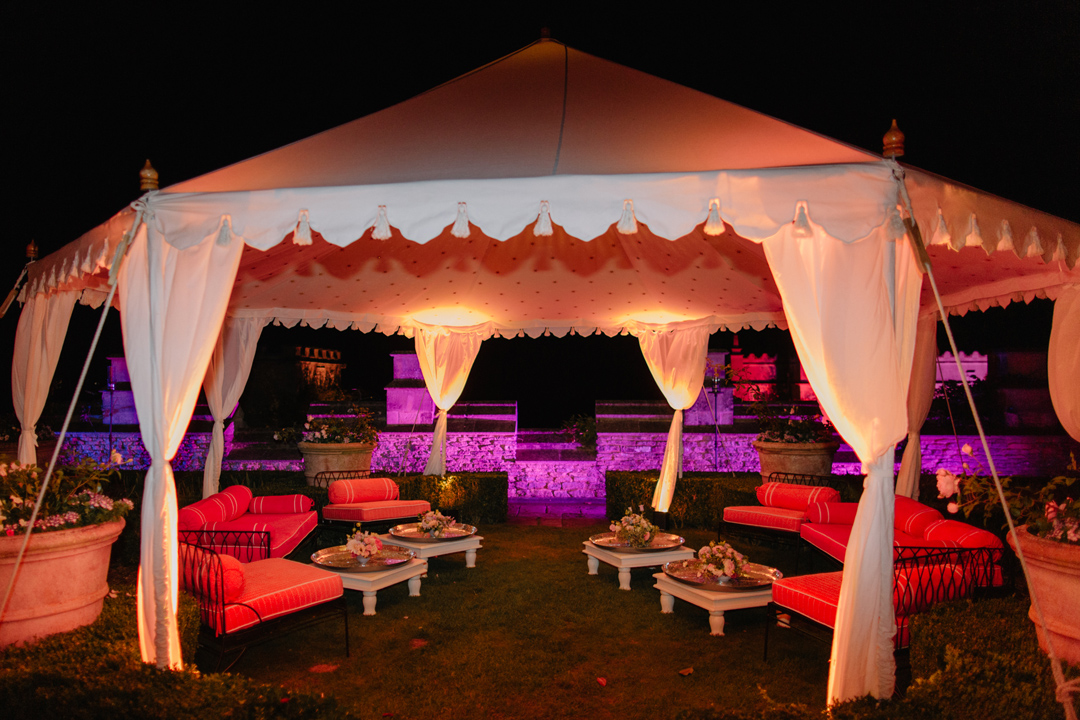 "Lightech Ltd provided absolutely incredible lighting and production throughout but particularly in the Orangery."
"We created a type of 'grand reveal' as we led guests upstairs through Euridge's grotto into the Orangery which Lightech managed to make into an actual night club!! The sound system was also amazing."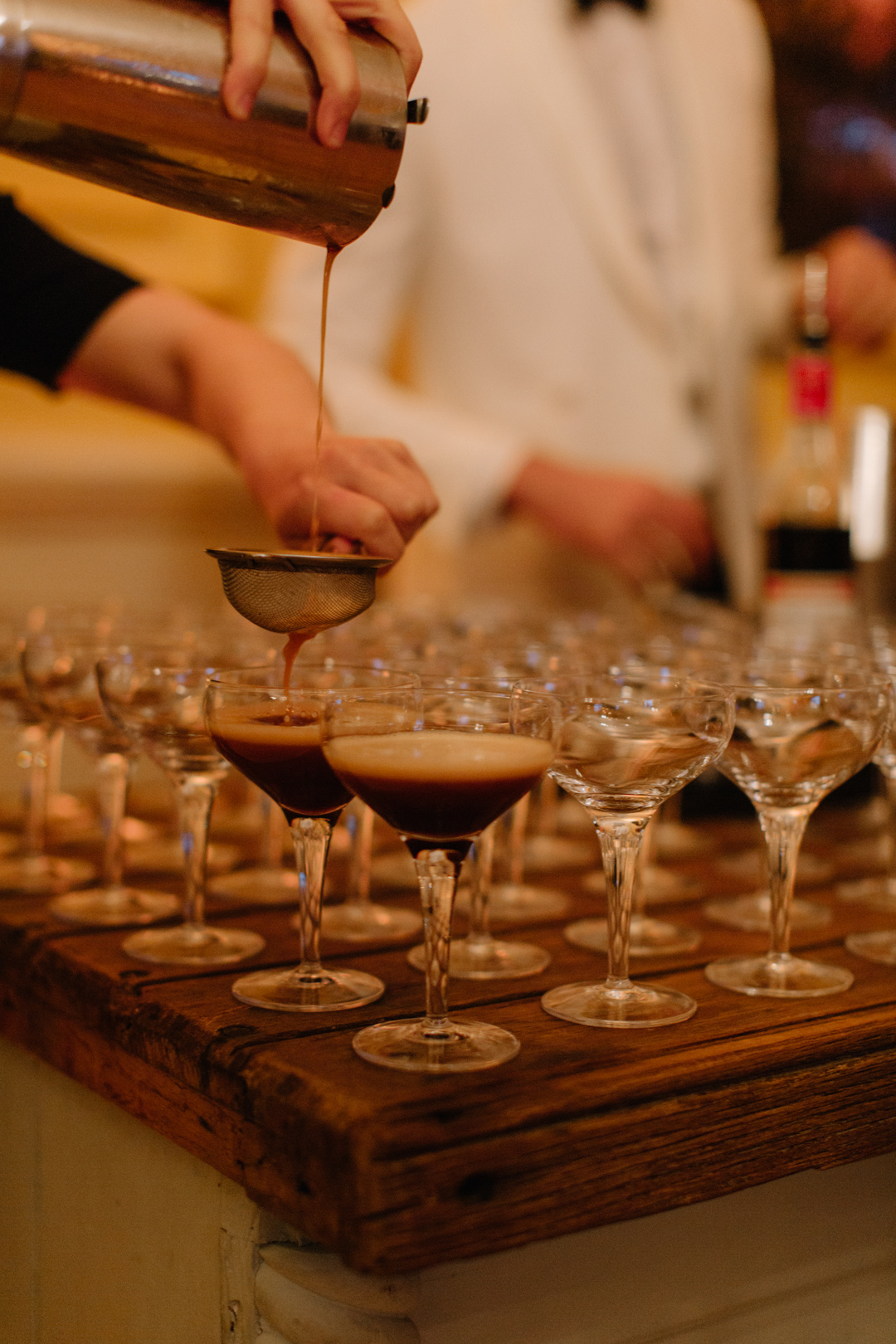 "In the midst of feeling very sorry for myself, I decided that postponed brides deserve a second dress for the stress we had endured. I had another year to wait despite having planned it all already so was looking for another project to occupy myself with and hopefully re-ignite the wedding excitement that Covid had stolen from me. Dancing is very important to me and I wanted to be comfortable so Kate and I designed a mini dress to dance away in."
"The process was so much fun. I went to Kate with lots of images and we picked elements from each and tied them together. I loved witnessing a dress from sketch to calico to the end result and Kate is a generally lovely person so I would really look forward to my fittings with her. I would recommend her in a heartbeat and I'm grateful to the Love My Dress styled shoot feature which led me to her."
"For the evening dress, I wanted something really fun. As we knew it would be evening time when I put it on, I thought this would be the moment for some subtle sparkle – she had exactly the fabric. Everyone kept saying it was so 'me' which was such a compliment! I loved the big puff statement sleeves (Kate encouraged me to go for those and she was so right), and the bow on the back."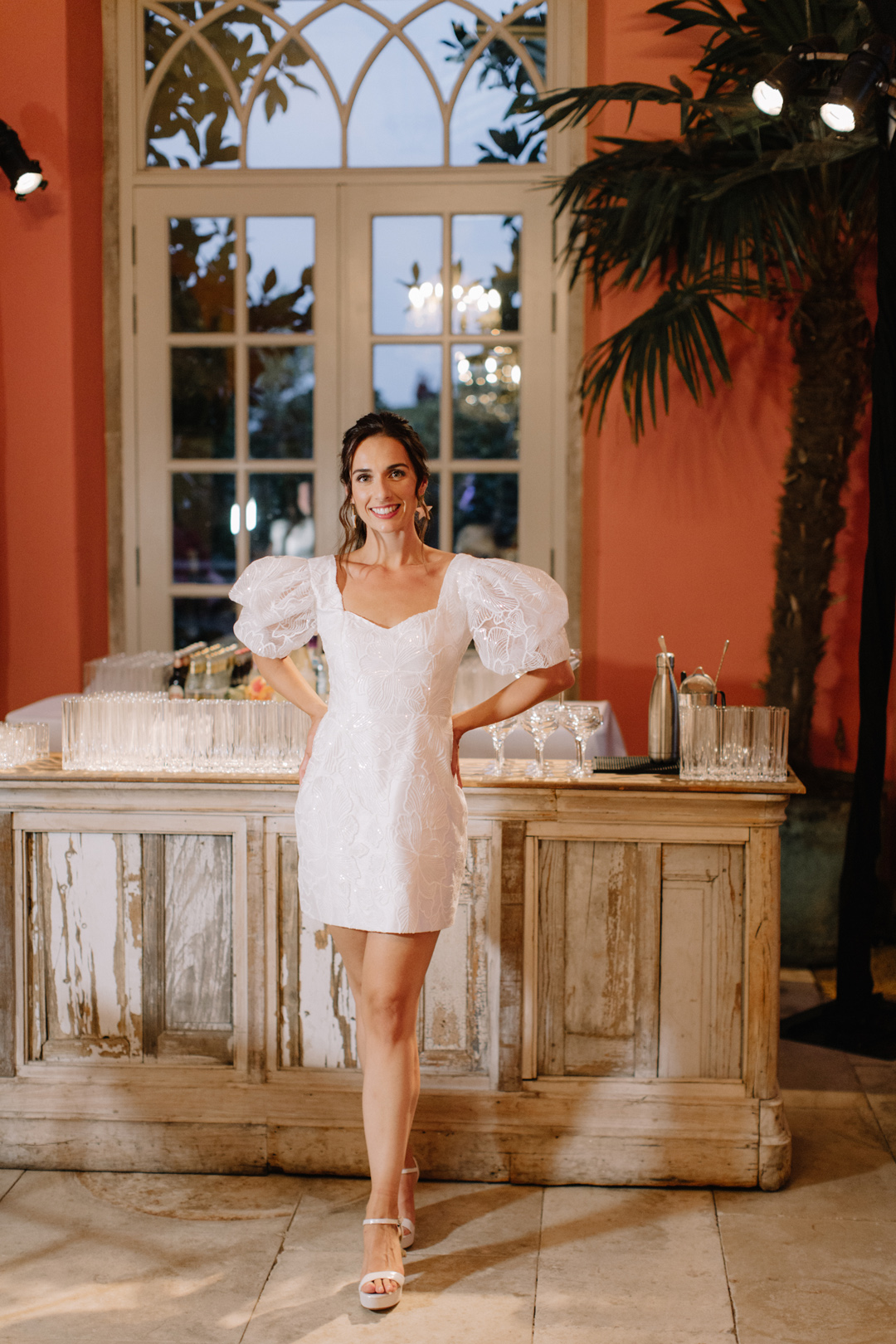 Please head to Kate Edmondson Bridal's Wedding Directory listing to find out more about her and her bespoke creations.
"I liked that a mini dress allowed me to show off my shoe change too – a pair of Freya Rose 'Gigi' shoes. They are too epic not to be seen! I wore Freya Rose earrings in the evening."
"Having become obsessed with Freya Rose after buying my shoes, I was so excited to see she was launching some earrings."
I thought these mother of pearl stars were so cool and would be amazing for the evening. They matched the pearl on my Gigi shoes."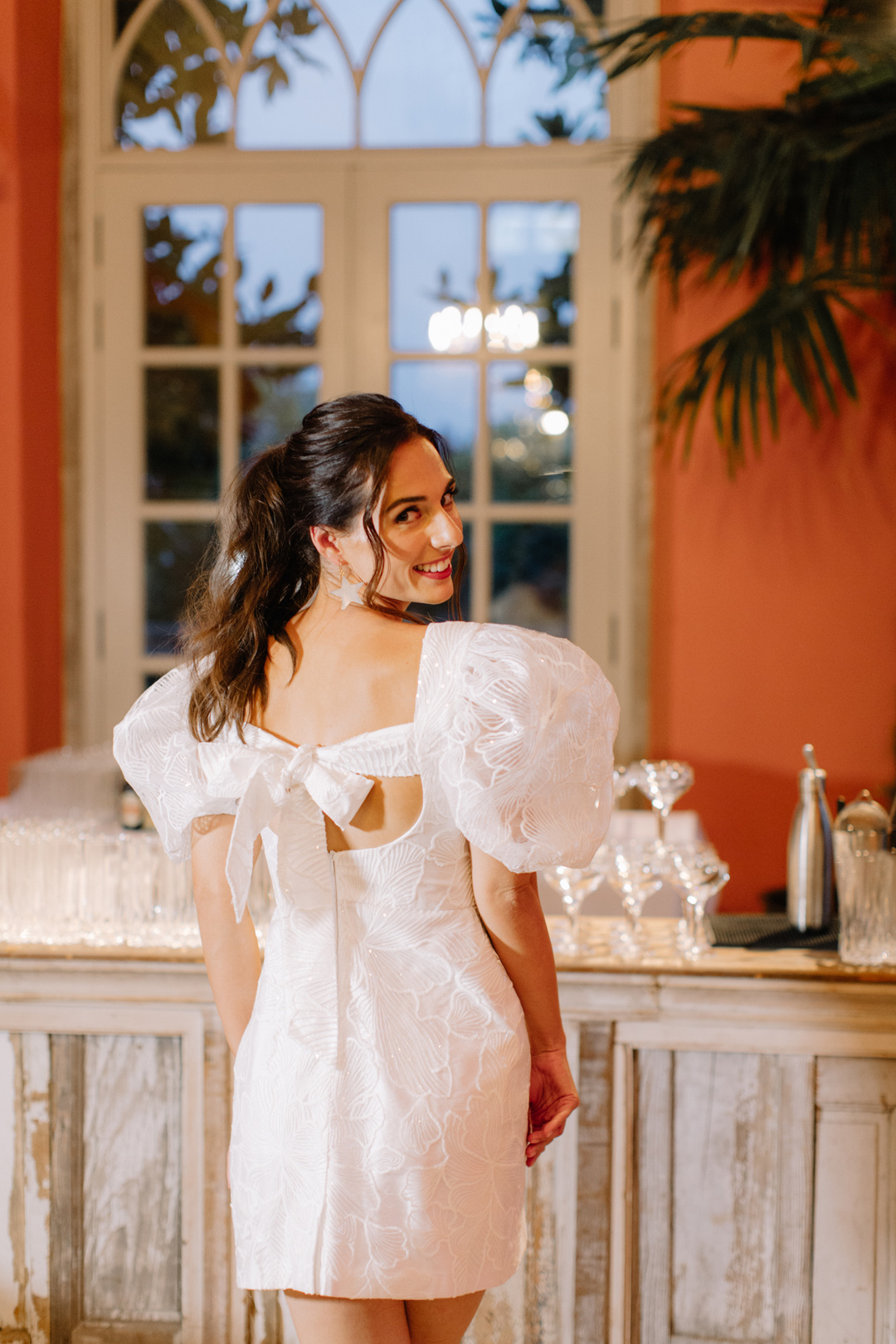 For the first dance, Atlantic Soul Orchestra sang Al Green's 'Let's Stay Together'.
"I was really happy with this choice as it strikes a balance for those who don't want something too slow and soppy whilst not being really upbeat. It's prompted a great reaction from the crowd who were singing along and works well when you beckon people in to join. It felt very special having the band sing whilst we danced."
"We had music from Atlantic Soul Orchestra after the wedding breakfast, before a friend DJd. I would urge any soul music fan to go and see Atlantic Soul Orchestra. They are so authentic and talented – it was the perfect bridge between eating and hard core DJ dancing as soul music is so appealing to young and old! Everyone was up on their feet dancing."
Rachel has so many special moments to remember from the day.
"Originally I had thought that the fun would start once the serious church service was over but I absolutely loved the ceremony."
"I thought I would be nervous and overly emotional but it was as if I reached a state of calm when the doors opened and I walked down the aisle. I ended up enjoying it so much."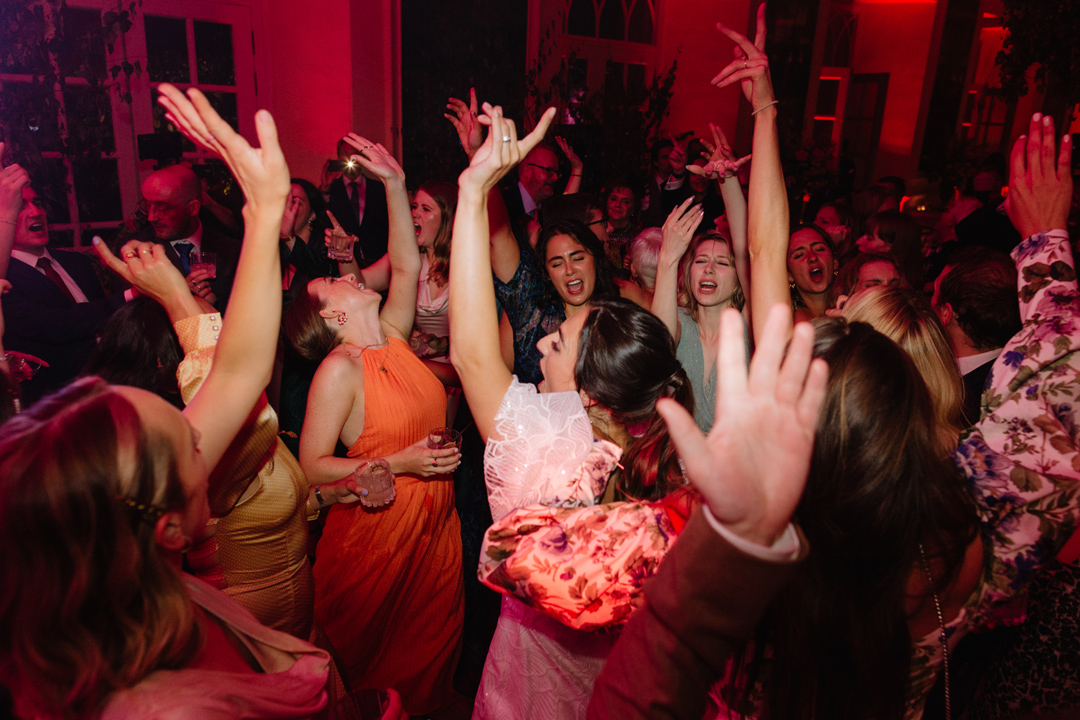 "Confetti throwing; walking though our cheering friends and family is a moment I will cherish forever."
"Finally, and probably the single best part if I absolutely had to pick, would be the dancing. Out of all potential restrictions the lack of dancing really hurt the most."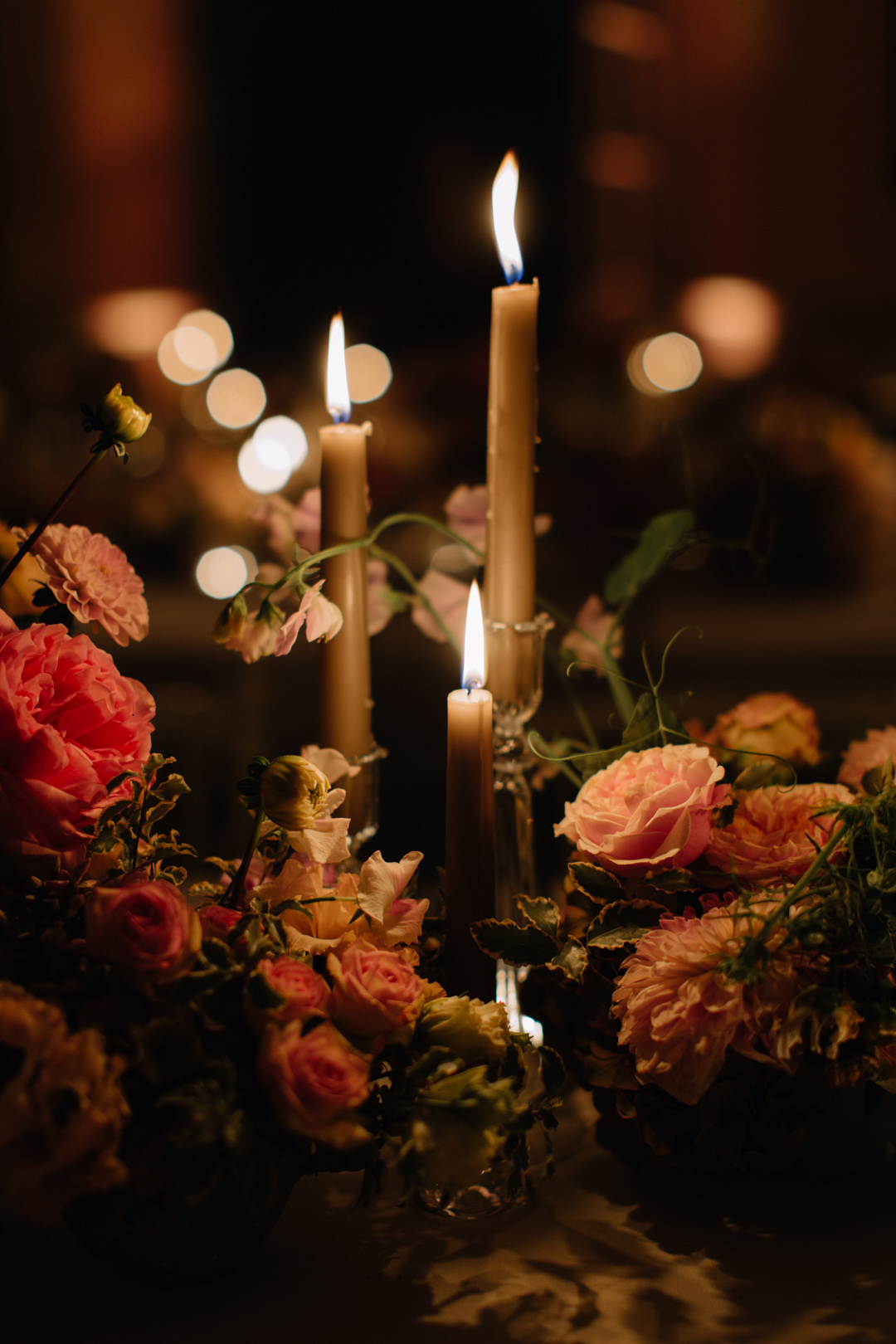 "Nothing brought me more joy than seeing all my friends dancing with both sets of parents."
"It epitomised the moments we had all been missing so much and on a personal level I don't know of any better way to let your hair down and unleash the stress of Covid wedding planning than dancing the night away."
Words of Wedded Wisdom
"I was so nervous about the ceremony in the weeks leading up to the wedding but on the day, you realise that everyone there loves and supports you! If you stutter on a word or mess up a line that's fine! The same applies for anyone doing a speech."
"Even though it is a hard job, really take your time on your seating plan. No one wants their guests to endure an awkward couple of hours speaking to people they won't get on with. We wanted to strike a balance between people having a really enjoyable wedding breakfast chatting away to friends but mingling as much as possible between groups. It bought us so much joy having separate Leeds (where John is from) and London friendship groups walk up to us and proudly say how much they liked one another. Weddings really do bring people together."
"Lastly, we asked that no one took photos or videos in our church service, but after that we were relaxed and happy for anyone to. I'm so in love with the pictures and videos that friends took. My friend took a slow-mo video as we walked through the confetti and I watch it most days… it's so joyful! I would nominate someone to do that just on an iPhone – they come out so beautifully! If you aren't having a videographer I would definitely encourage friends to record snippets where appropriate. You won't believe how happy the day will make you and you will be so grateful for anything that allows you to re-live it somewhat."
John and Rachel, sending you both a heartfelt thank you for sharing your wonderful day with us. I'm so glad you were finally able to wed, and so happy to see so many of our loved Wedding Directory suppliers played. a part in making your day so special. Thank you, Rebecca Goddard Photography, too. It's been such a joy to share your work again.
For more brides in Sassi Holford, please enjoy these Love My Dress weddings.
Ele xx