Today's wedding provides so much love, joy and colour.
Theatre producer Amy wed orthodontist Tarun on 18 September 2021 at Woolas Barn near York in North Yorkshire. Close to their home city of York, the barn provided a pared-back, almost industrial space for their clean and unfussy, black tie wedding which celebrated the season with their choice of autumnal blooms.
Photography by Richard Skins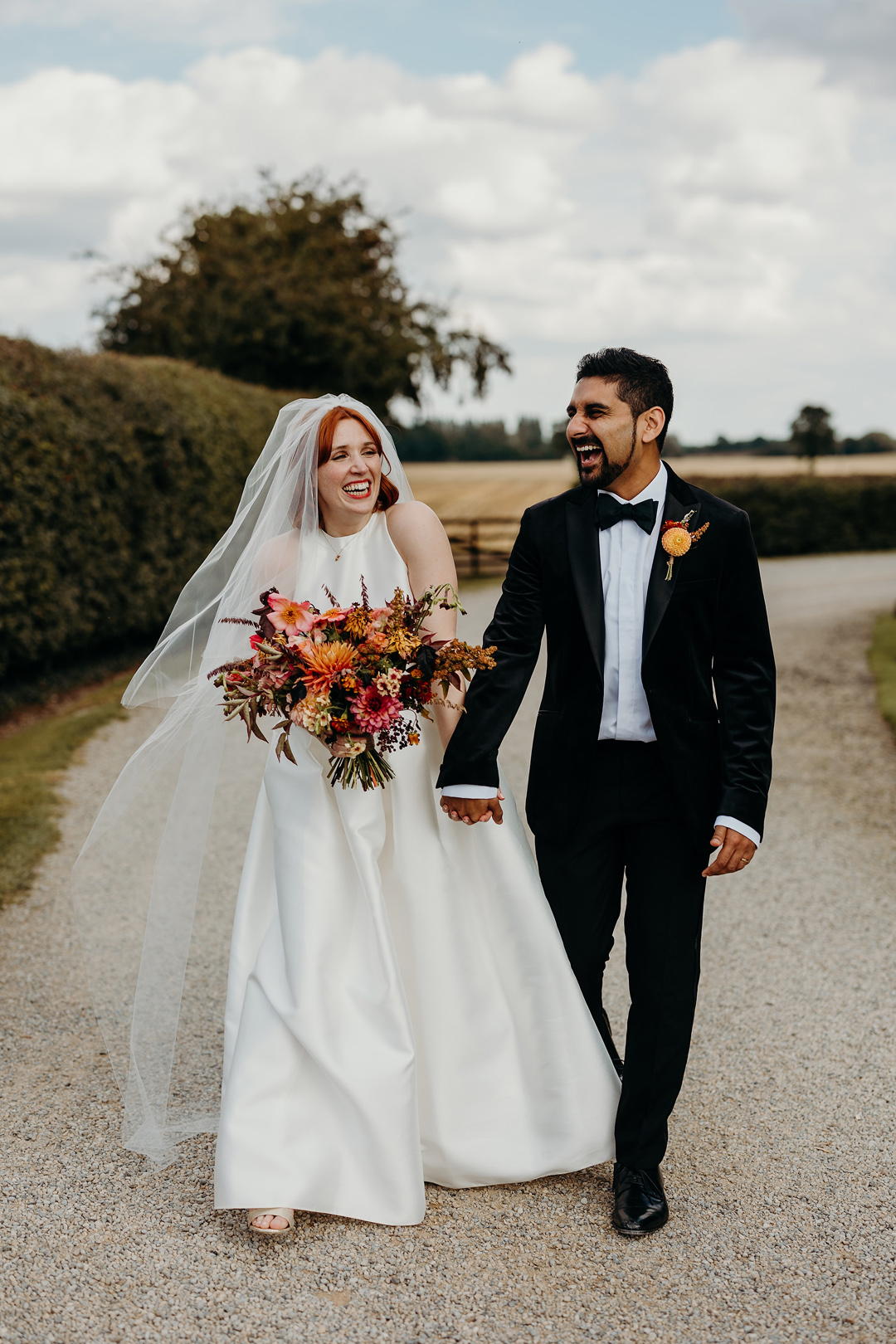 The bride looked relaxed, confident and cool in her structured Charlie Brear 'Safin' gown, featuring a full skirt, pockets and a sexy open back. She found it at The White Closet in Manchester.
"I really thought I would buy a Jesus Piero dress as they were the style I loved most when researching. I mainly wanted something in a really flattering cut, with some structure, really plain but with a great shape."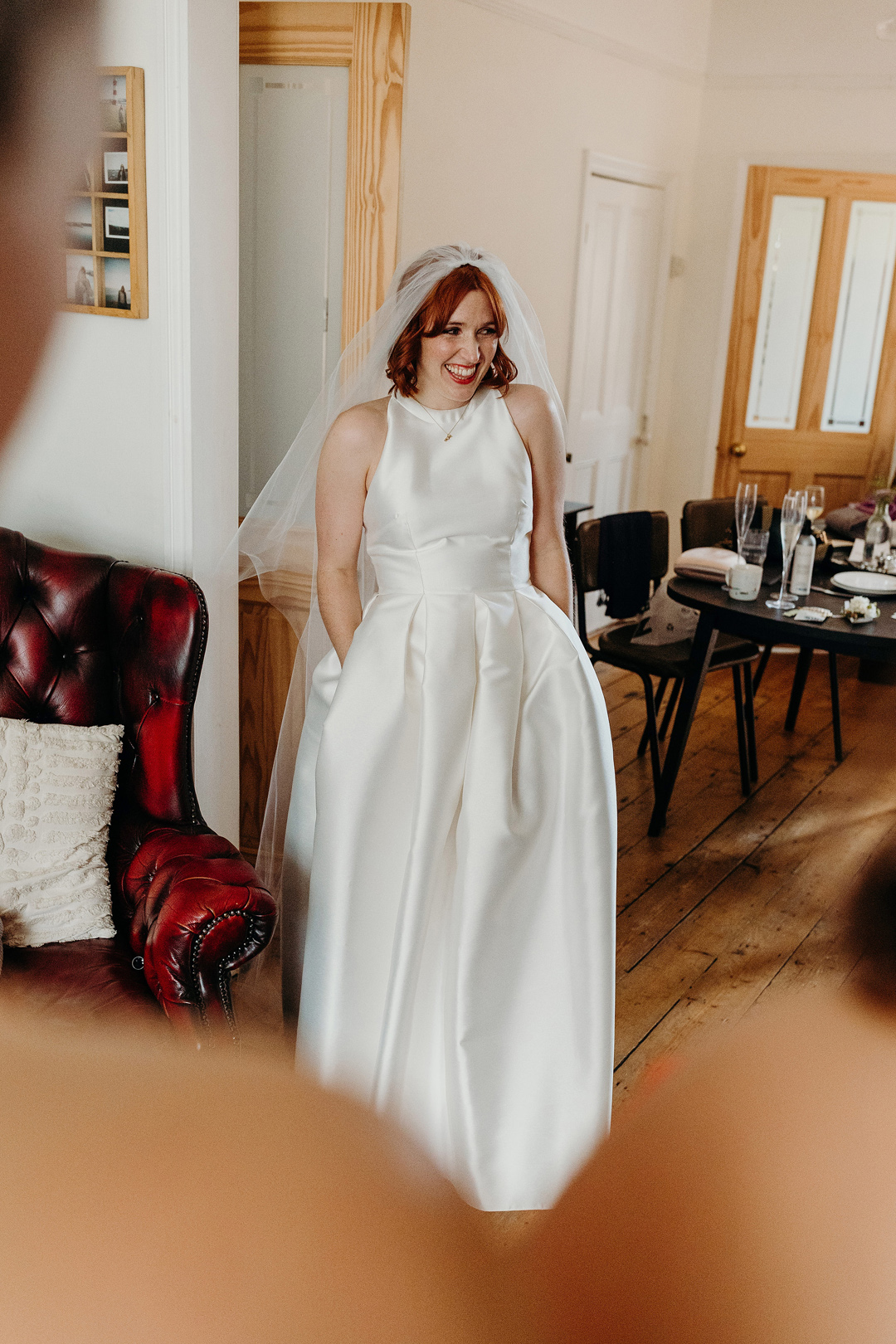 "I really thought I would want a train but I thought the dress looked a bit edgier without one. I'm only short and I think the train drowned me a bit."
"Not having one made it so easy to move around in and perfect for the dancing."
"I loved the shape of the dress the most. It fit so perfectly with no pulling the straps up. I also loved the open back in contrast to the high neck."
https://www.lovemydress.net/directory/supplier/sassi-holford/
"I felt cool in it as well as bridal. It had pockets! I told everyone about them on the day."
"The White Closet was probably the most relaxed boutique I visited. There really was zero sell at all which really suited me."
"I'd seen the Safin dress online but none of the boutiques I contacted in the north had it available to try. The White Closet said they could get a sample sent from Charlie Brear for me to try."
"The sample was midi-length and they didn't have any pictures of anyone wearing the full-length version."
"It was a bit of a risk to go ahead and order it in full length but Millie was amazing at reassuring me about what it would look like."
"I took my mum dress shopping and then took my step mum to see the Safin gown before I bought it. Most shops were limited to one guest but I even went to a couple of appointments on my own. I knew what I was looking for and going alone was really relaxing."
"If you find something you like you can always take your guests back. When my dress arrived in the shop it was the perfect length. It didn't need taking up at all and just skimmed the floor. I didn't have any kind of emotional bridal moment until and I went to collect it and then I was like, 'Phwoar, I get to wear this!'.
"I had the fitting and alterations done in York at Thimbelina of York and would recommend Sarah to anyone."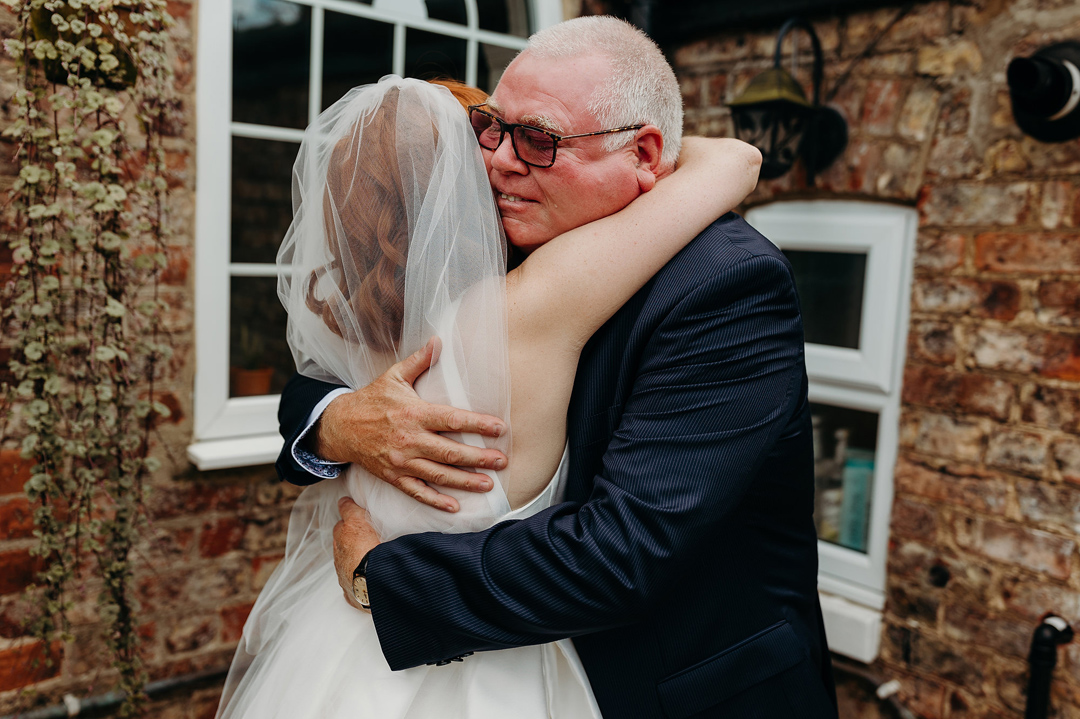 The bride's bouquet was put together by Ginger & Flynn, who Amy discovered through Love My Dress, largely used flowers grown ethically, organically and locally at Moonwind Flowers.
"We met a few lovely florists from around York whose work looked amazing but there was a lot of talk about minimum spend. At the time it wasn't a budget priority for us. When I saw Ginger and Flynn, I just really fell for the wildness of it. It's grown locally and completely plastic-free which was really important to us."
https://www.lovemydress.net/directory/supplier/moonwind-flowers/
"She said we could have as much or as little as we wanted which made me feel really in control of the spend. I gave her a loose brief of colours and let her do her thing."
"We'd discussed 'something' for the beam in the ceremony room and the hops looked so great on the day. It looked like it had grown there as opposed to a big, stuck-on piece of décor."
The bridesmaids wore vivid coral midi-gowns from Warehouse via ASOS, with gold heels
"I'd told the bridesmaids they could wear whatever they wanted in a red, pink and coral colour scheme. I wasn't bothered if they matched or were the same length – I just wanted them to feel great."
"I never thought they would end up in the same one. I ordered it in every size for them to try and they all loved it. They were an absolute bargain in the sale."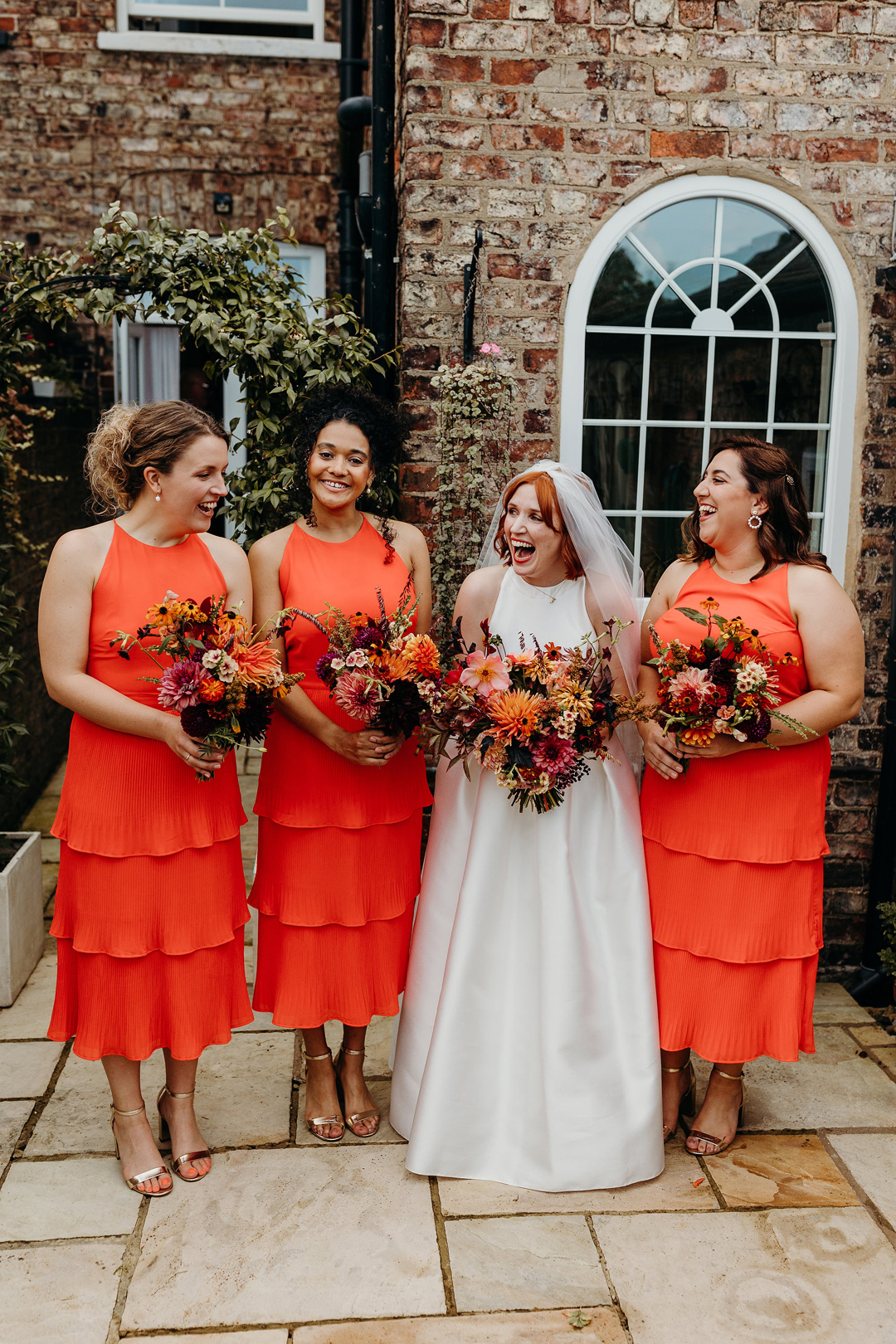 "The bridesmaids also wore gold block heels that we got in the sale from Peacocks. I got a different style of gold/ pearl earrings for each bridesmaid from Etsy."
"I also got the bridesmaids and my mum some flat sandals for the evening for dancing."
Tarun wore a black velvet tux jacket from John Lewis.
"He had planned on wearing a classic tux the same as the groomsmen but ordered the velvet jacket on a whim and really liked it. It looked really cool on the day! The jacket was another sale bargain."
The bride travelled from home to Woolas Barn with her father in a cream cab.
"I really didn't want a wedding car. I didn't have it in the budget at all and wanted to go in my Punto. My dad, however, had other ideas and booked a cream London cab from York Pullman Bus Company just a few weeks before the wedding."
https://www.lovemydress.net/directory/supplier/lyn-ashworth-england/
"Although I was so set against it originally, it was really fun to leave the house to get into the fancy car. All the neighbours were out waving and people waved to us all the way to the venue."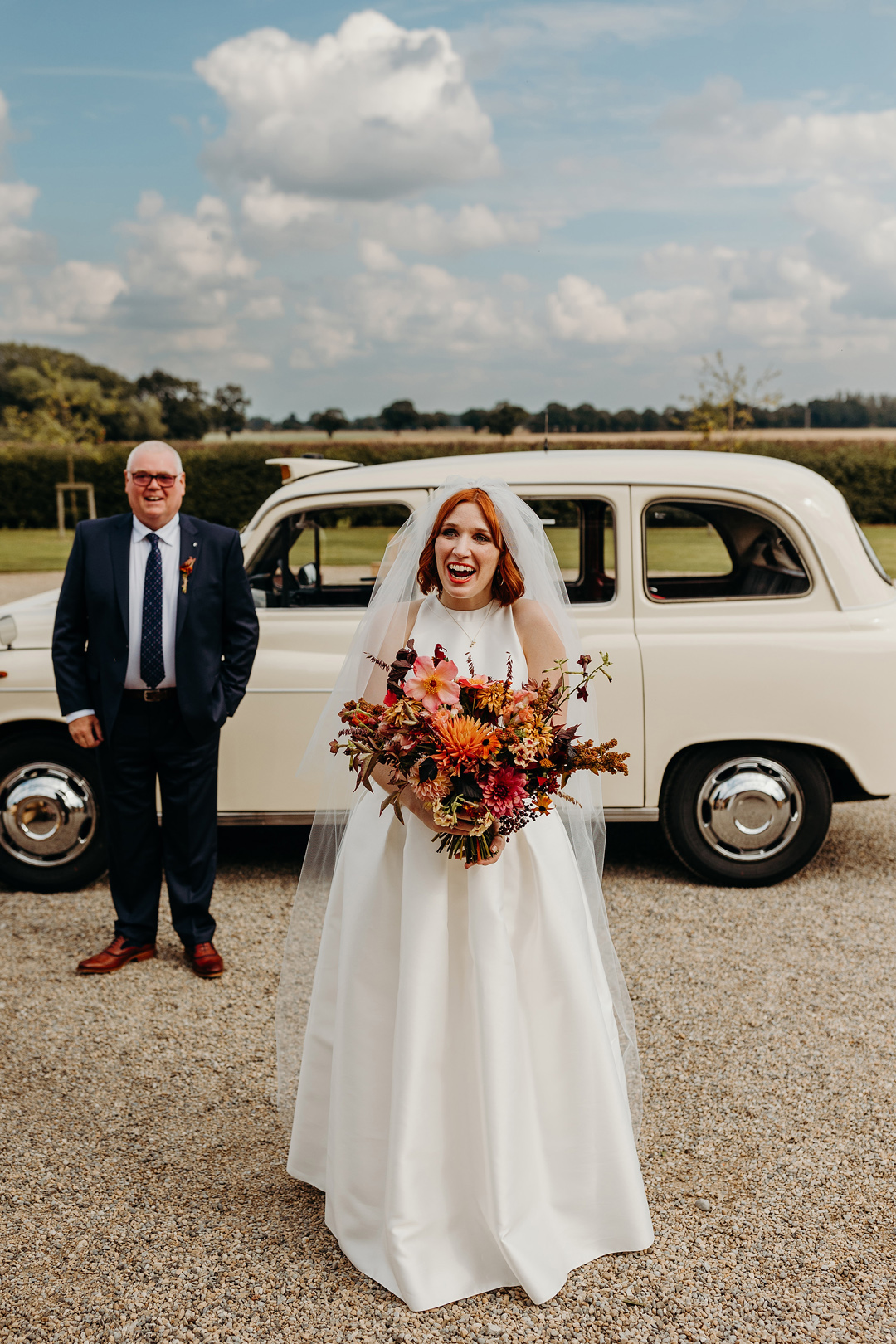 Amy walked down the aisle with her father as her brother played 'Build A Home' by Cinematic Orchestra on the piano. 
"There were full tears in the morning when I came down in my dress (from both of us) so we were able to enjoy coming down the aisle being more relaxed."
"Our first reading was 'Love Is Friendship Caught Fire' by Laura Hendricks. We found it on Love My Dress and really liked it."
"The second reading was by theatre maker Alex Kelly. I tweeted to ask what other theatre people had used as readings and Alex emailed to say he'd written it for a friend's wedding and that other people had used it since."
"He said there was no obligation to use it but we both really liked it. It's about how two people meet randomly without knowing how important that meeting is."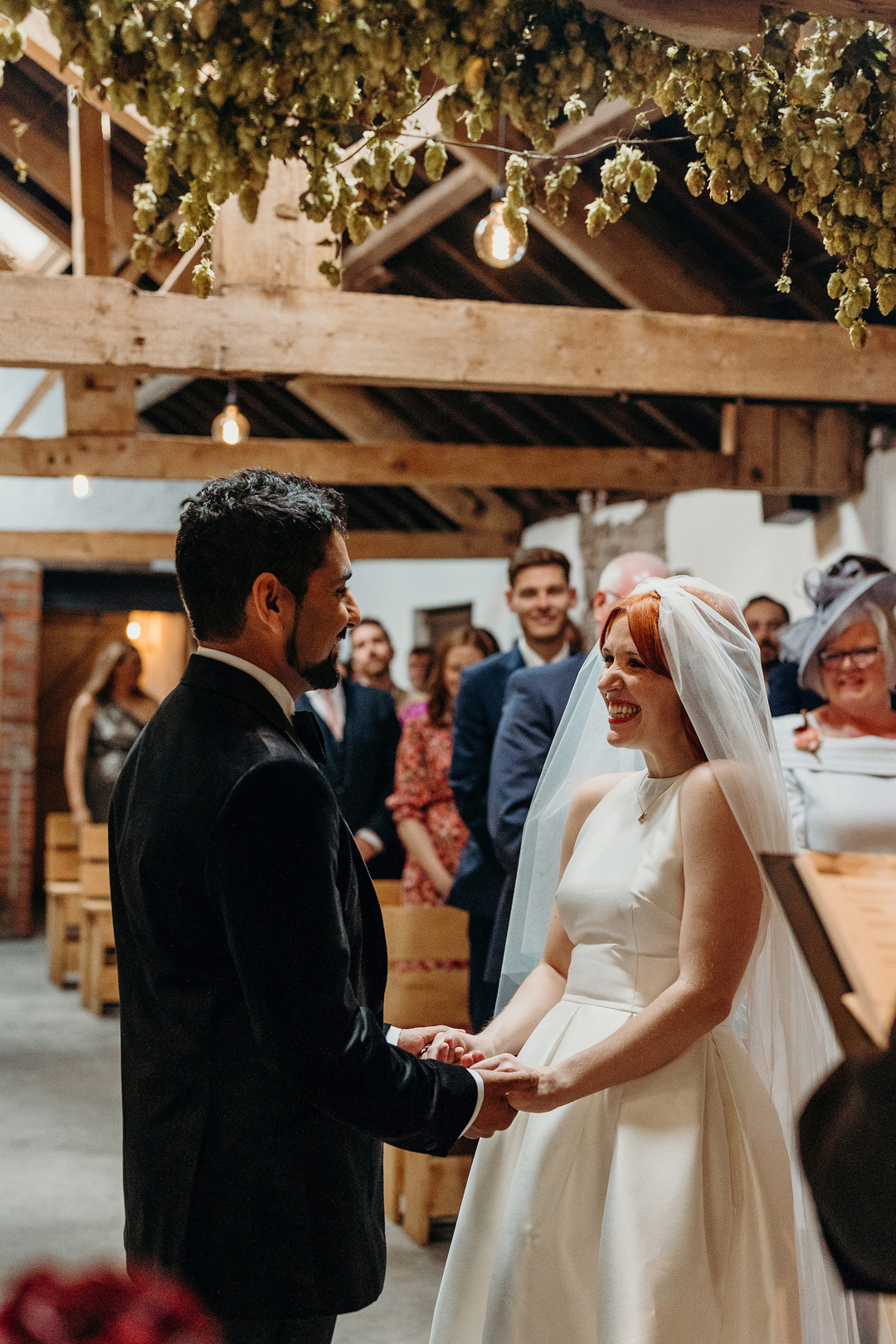 The couple's ring plain gold wedding bands from Birmingham's Jewellery Quarter.
"We got them whilst visiting Tarun's dad. It is definitely the place to go for the most competitive price, so we made the most of being close by."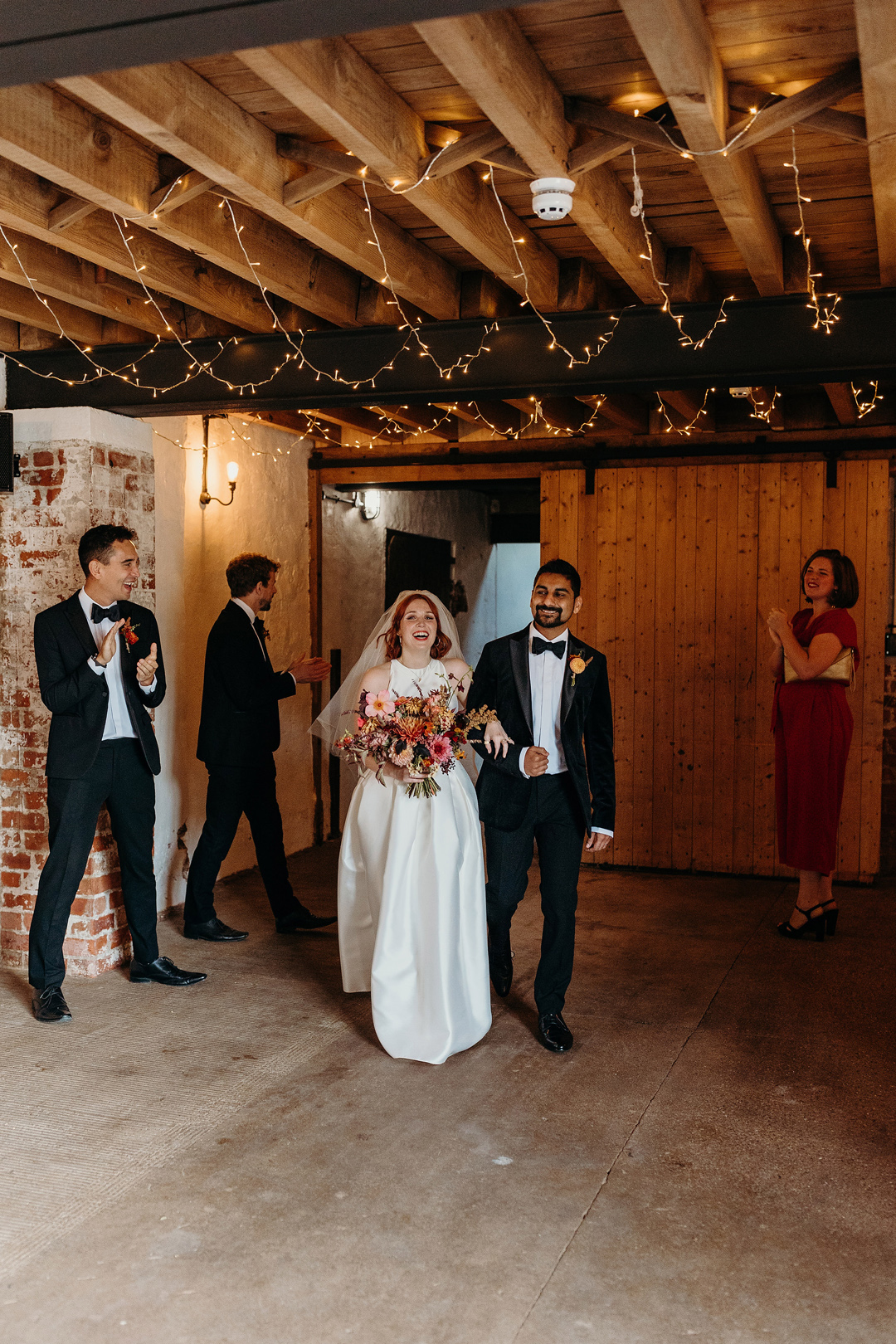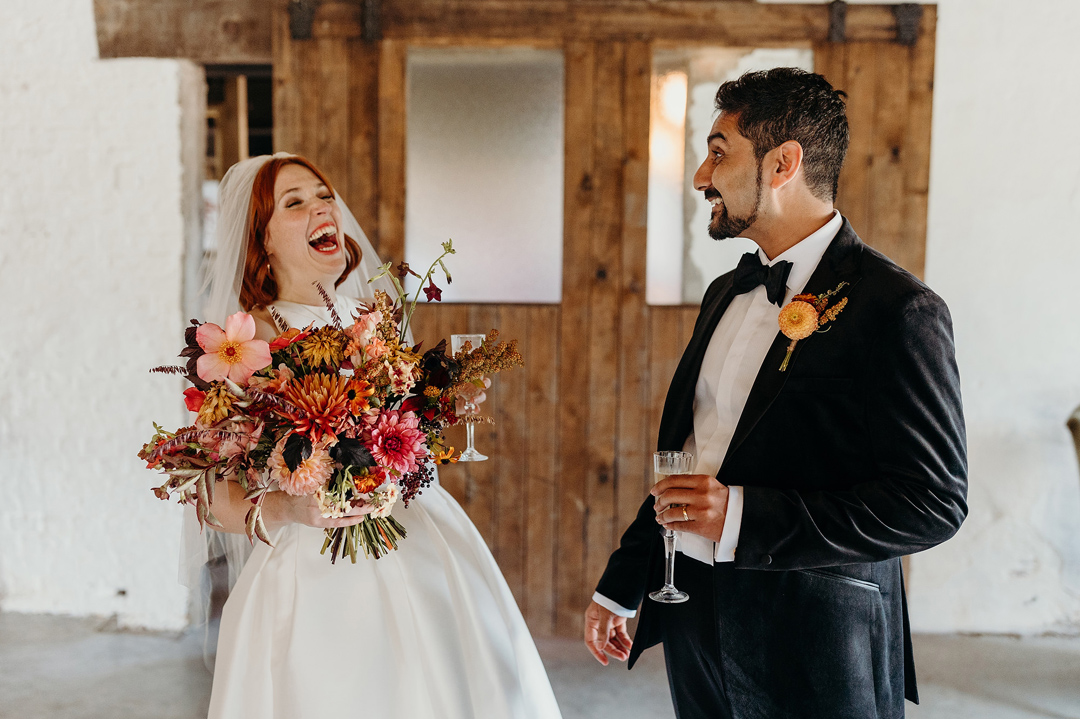 Following the ceremony, the couple had two minutes just for them, the bride's favourite part of the day.
"We came out of the ceremony together and went straight into the wedding breakfast room."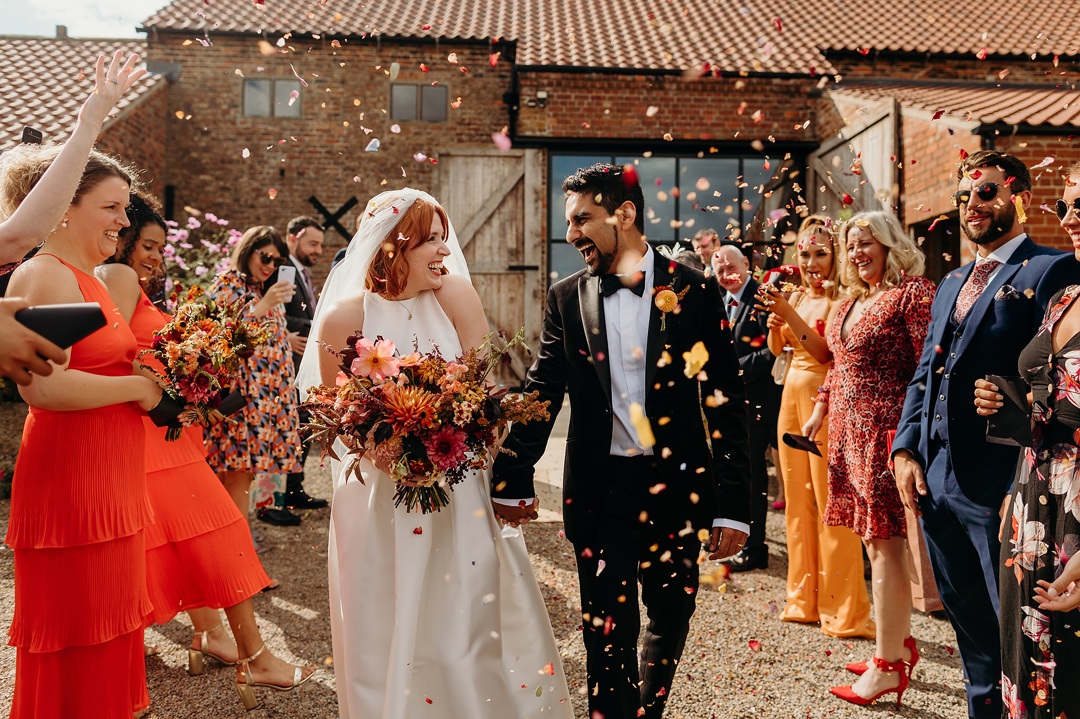 "We had a glass of champagne in there whilst the guests left the ceremony room and lined up outside for confetti. We were very giddy and it gave us chance to be on our own for a minute and take a breath."
Capturing the day in its colourful beauty and joy was Richard Skins Photography, who we are so delighted to recommend as a supplier.
"Richard shot our friends Cam and Sarah's wedding in 2016. Their pictures were amazing and although we did chat to other photographers (more local to York as Richard is based in Dorset), we were comparing everyone else's pictures to his."
https://www.lovemydress.net/directory/supplier/richard-skins-dorset-uk-destination-wedding-photographer/
"I don't think anyone worked harder on the day. A guest told us he was just about to take a bite of his pizza when he heard the band start playing 'Teenage Dirtbag' and he abandoned his pizza to run for the dance-floor."
"He clearly knew the pictures of that song would be lairy and he wasn't wrong."
"It also says on his website how much he loves Japan and we were just back from our trip there when booking. We took that as another sign."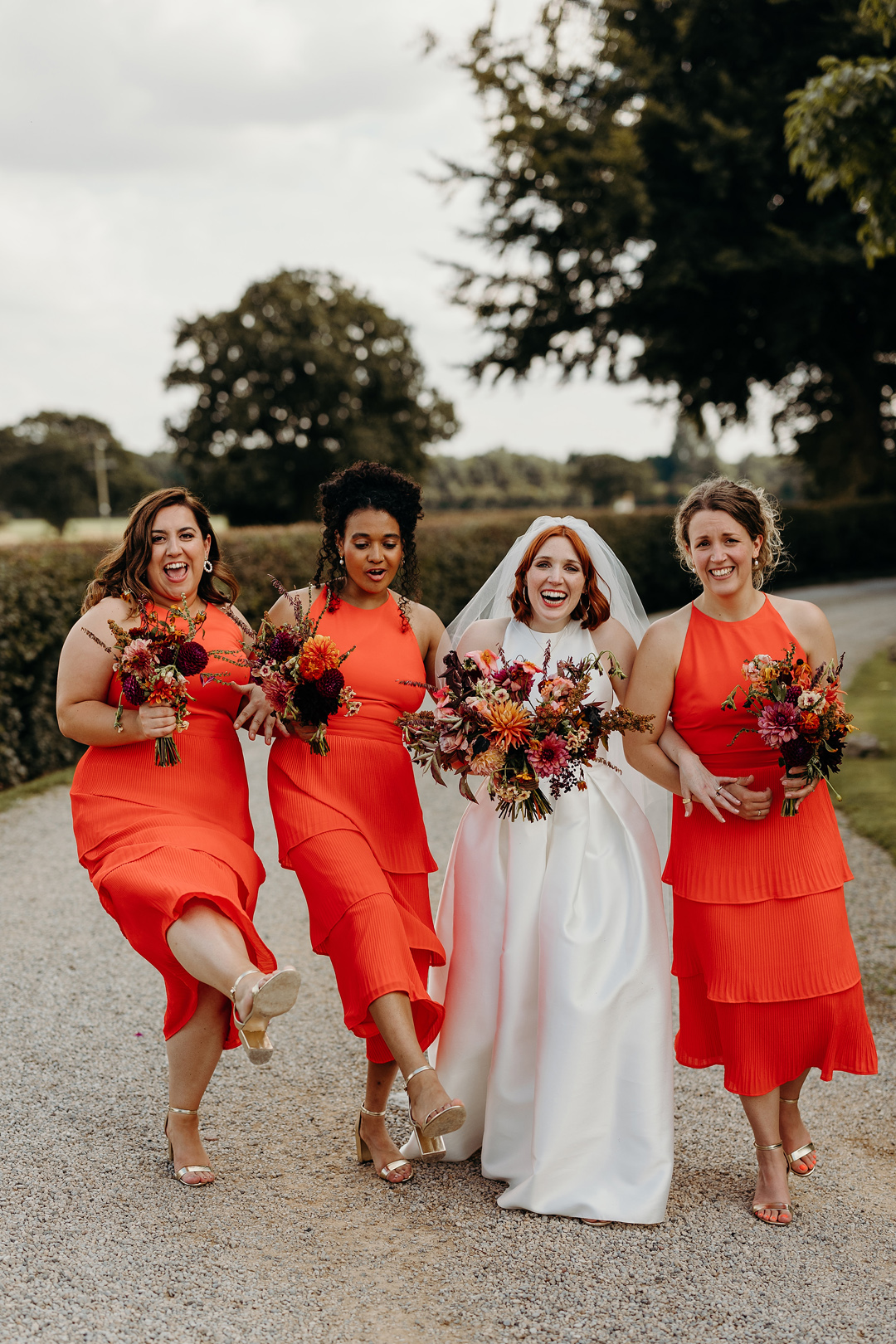 The bride's vibrant hair was styled by her regular hairdresser Hannah at 3D Hair & Beauty in York.
"I just wanted some texture. Hannah has the patience of a saint and fixed a home haircut I did three weeks before the wedding."
"I did my own make-up on the day but I had a lesson with Amy George Make-Up a few months before. It really helped me realise that you do need to go a little bolder than your normal make-up. The session with Amy was so informative and I learnt so much! She looked through the make-up I already had and suggested additions."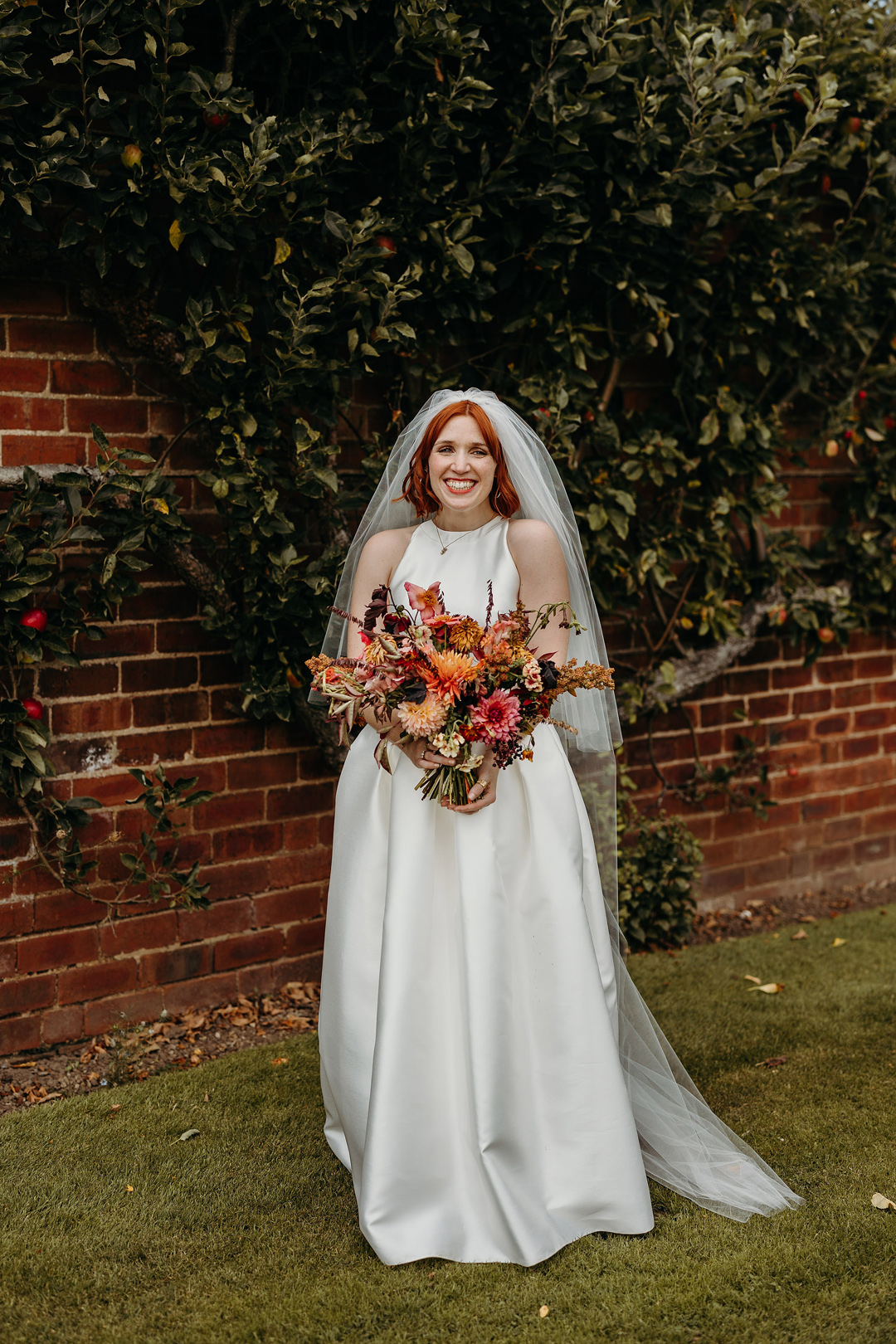 "I went for a warm brown eye shadow with brown liner and my favourite orange/red lipstick which is Laura Mercier. I smudged my lipstick on as normal and used some Lipcote so that it wouldn't transfer in the ceremony."
"I love perfume. I wasn't sure which I would choose on the day but in the end I went for my trusty Chanel Chance. I've worn it since I was 18 and my bridesmaid Tash also often wears it. It felt most like me."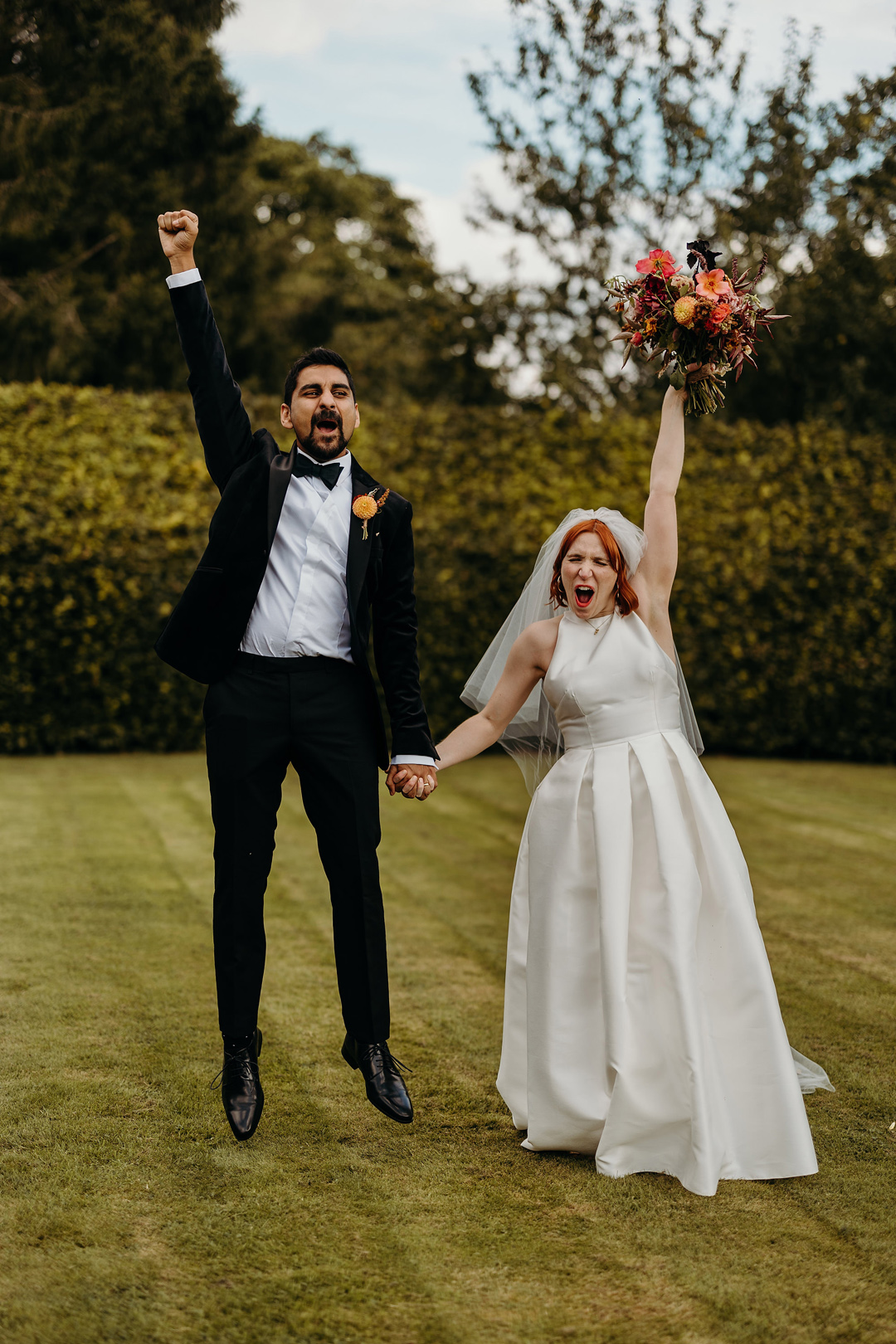 "We weren't necessarily looking for a barn but I became obsessed with the idea of getting ready at home."
"We've been living together in York for the last five years and we love it here. We wanted all our friends to come up and enjoy the city."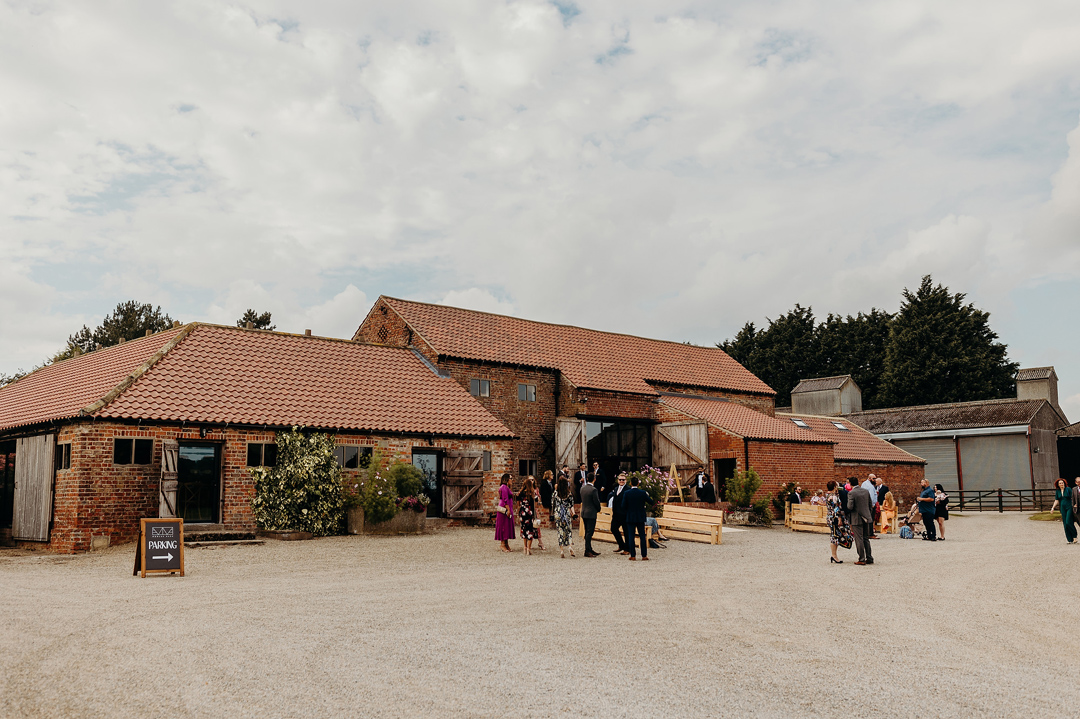 "We booked the barn because it was really paired back. Some of the other barns we saw had gone for a more 'branded', styled-up look or quite cutesy with hearts and bunting which is perfect for some couples but not for us."
"Woolas Barn is still quite industrial which we liked and has got loads of natural light."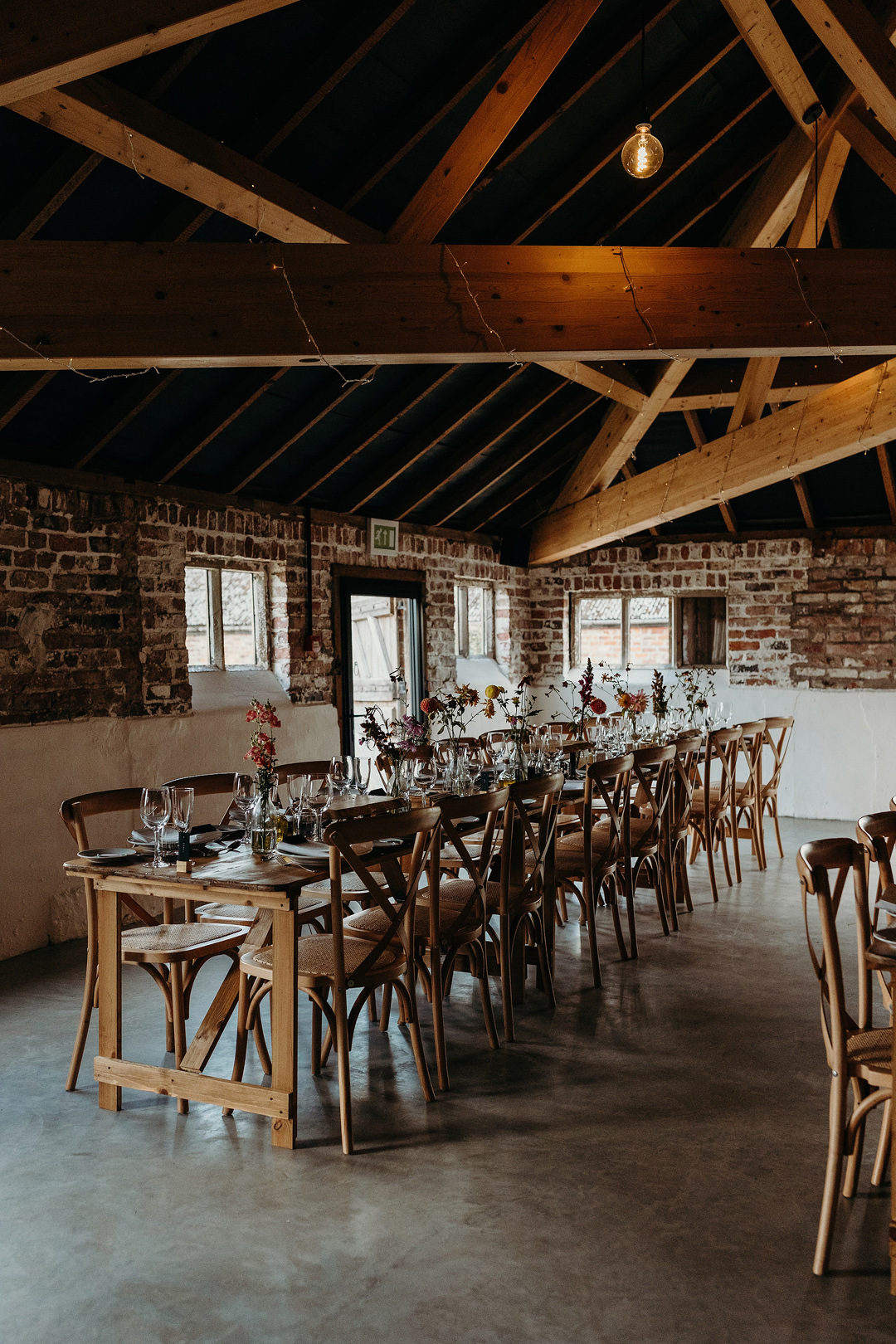 The couple were joined by 64 guests, and the barn had an ideal layout for a day full of celebrations.
"The layout is spot on in my opinion with a dance floor next to the bar, plenty of outdoor and indoor seating and no need to change around rooms between parts of the day. There's a room for the ceremony and the wedding breakfast and a bridal room where me and the bridesmaids left bags, lipsticks and flat shoes."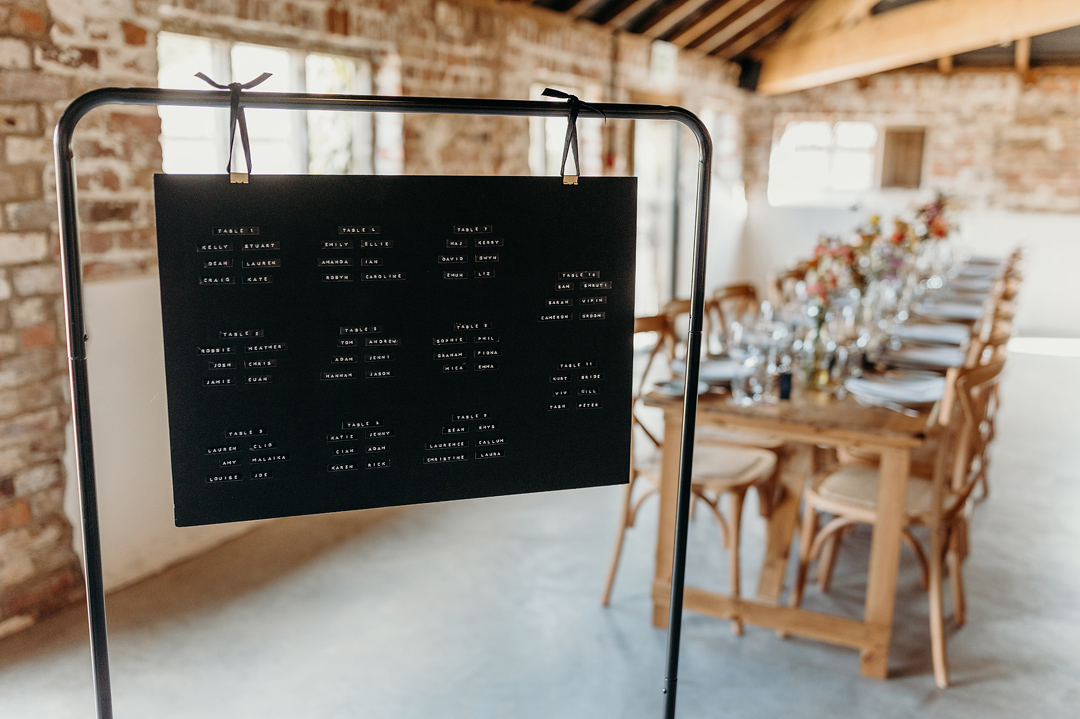 The dining room was so beautifully dressed for the wedding breakfast, with crisp stationery and more flowers.
"We saved up plain milk bottles from the milk man in the months leading up to the wedding and our florist filled these for the tables."
"I wanted something simple that guests could move around easily to pass around the sharing dishes. We've now given all the milk bottles back so they can be reused. We collected all the flowers from the venue the next day and gave them out to friends and neighbours so they didn't go to waste."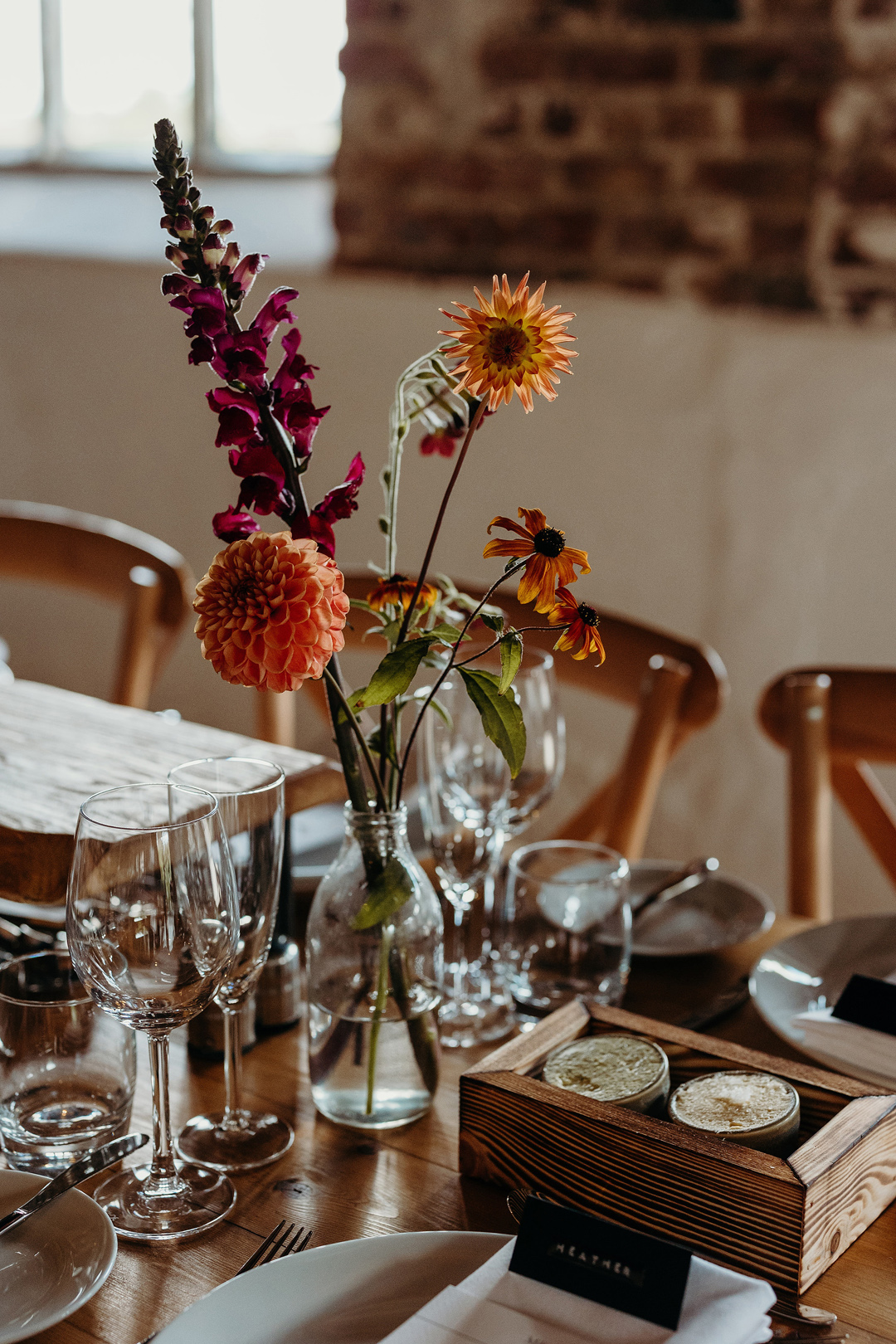 "We designed the stationery ourselves and had it printed through Printed.com. We went for a really plain design on textured paper. We made the place cards, seating plan and order of the day using the trusty old Dymo label maker."
"It was simple and not too fussy. We did all of the fiddly bits that take time to make over the summer in the garden."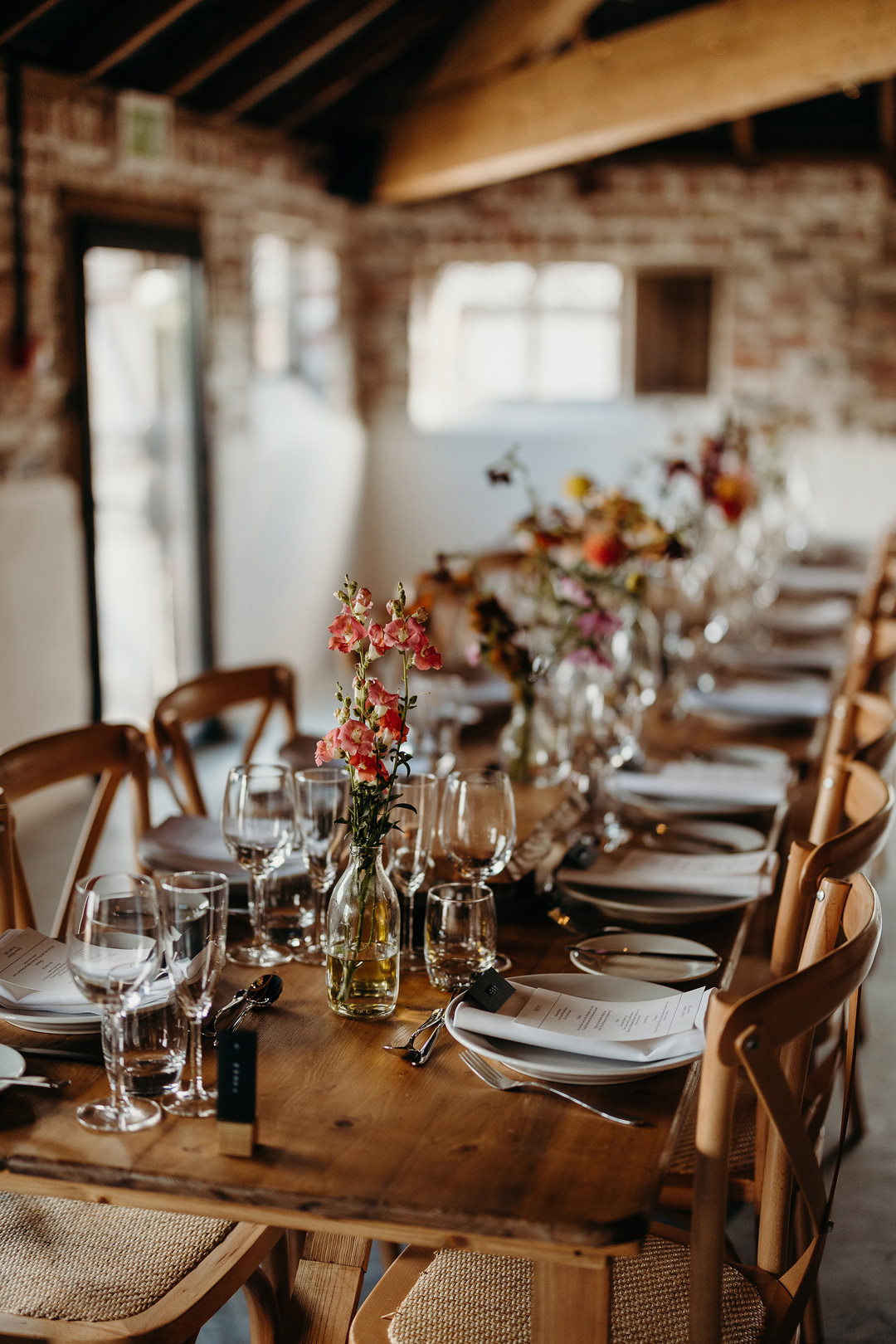 "In the theatre we always say we need to 'beg borrow and steal' when we're putting a show together and I used the same idea for the wedding."
"We repurposed things. I didn't have an easel for the seating plan so we hung it on a black clothes rail from our spare room. I wanted some signs to make sure people didn't take wrong turns on the way to the venue so I just painted on some old white shelves."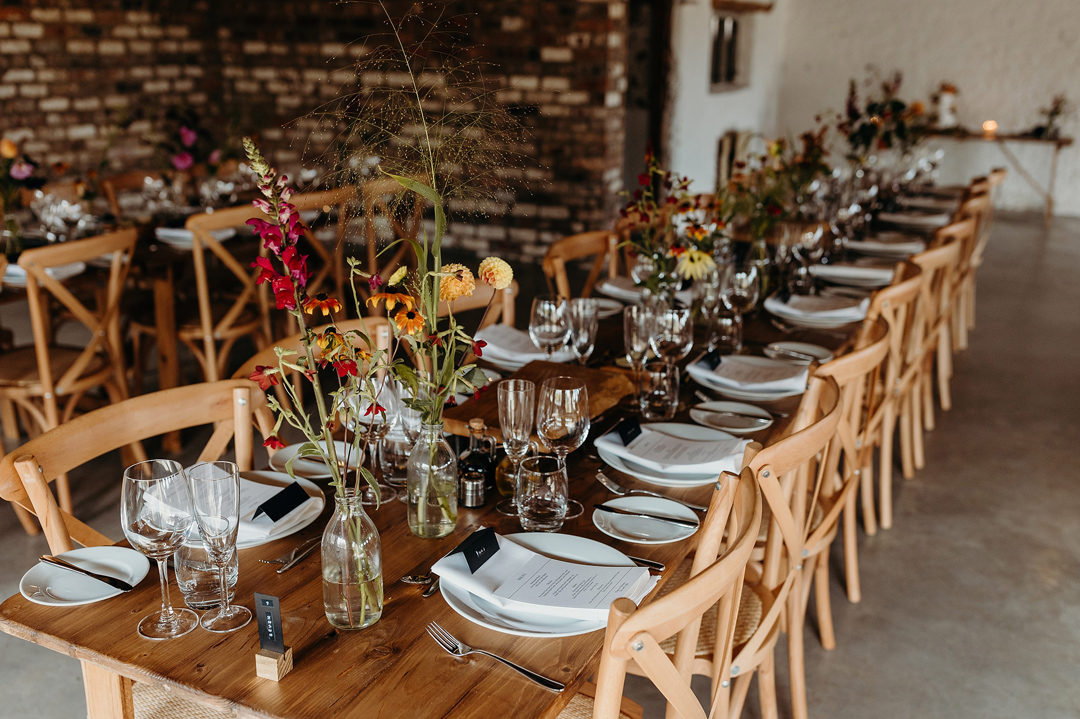 The cake was a four-tiered plain white cake with fresh flowers for decoration.
"Cake was another one of those things that was low down on priorities. A couple of our friends are talented bakers but I didn't want anyone to have the stress of transportation. "
"It was only at another wedding over the summer that we realised how much other people love cake, so we ordered a wedding cake from Waitrose and our wonderful friend Fiona decorated it for us at the venue."
"We wanted the cake to not be too serious so went for dinosaur cake toppers as Tarun really likes dinosaurs and always jokes that I have short arms like a T.Rex."
"I bought them from Smyth's toy shop and sprayed them gold. You can spray paint anything!"
Tarun proposed to Amy whilst in Japan, with the two of them having met in 2014.
"We met at a house party in Peterborough, where neither of us are from but where we both found ourselves for work."
"We started dating but by the summer Tarun had a three-year post in Plymouth to do further training to be an orthodontist and I was freelance producing in Manchester. After many long train journeys and a year where I worked half the week in Manchester and the other half in Plymouth, we finally made the move to York together."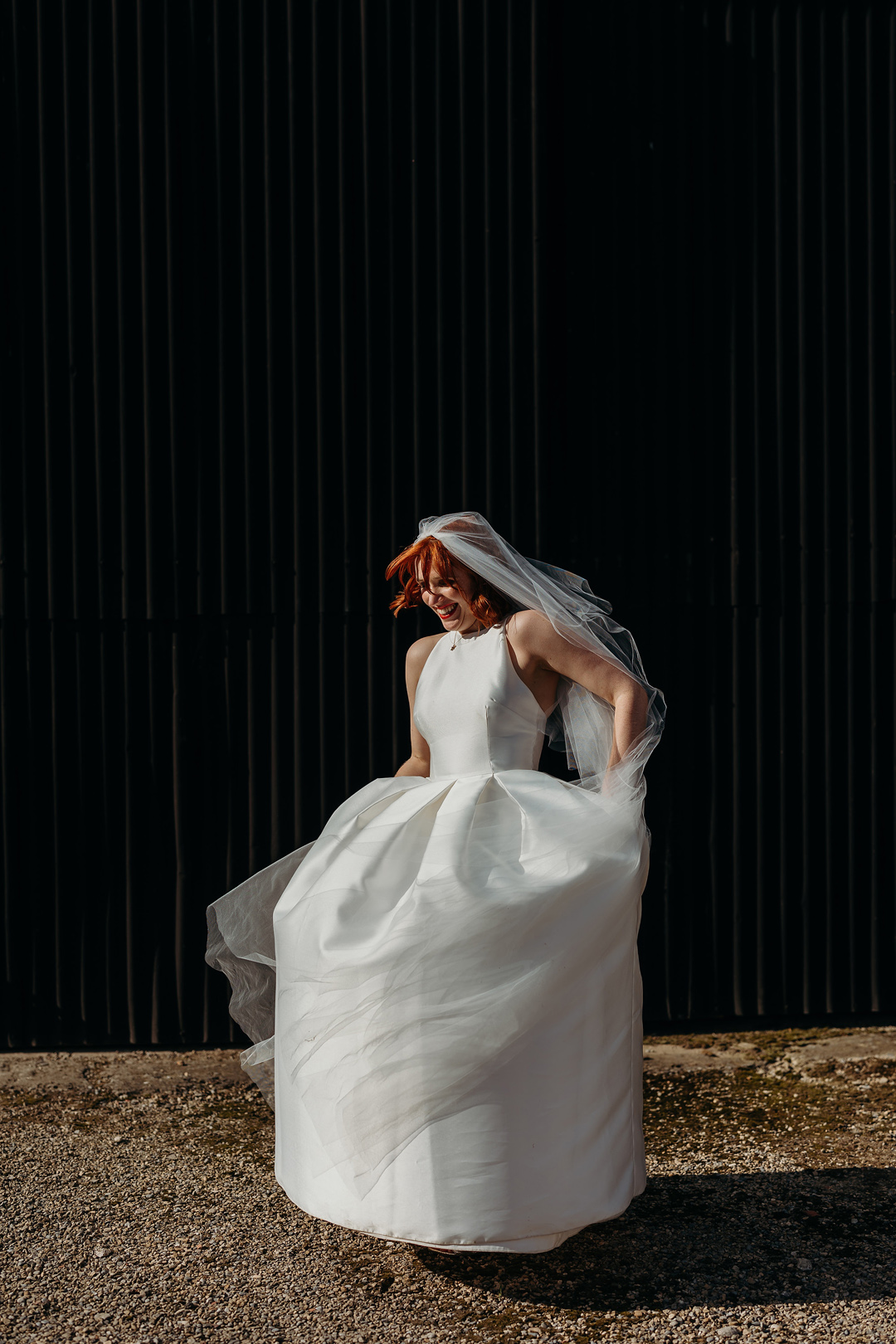 "We got engaged on holiday in Japan. Tarun had suggested heading up some steps to look at the view over the Japanese ponds and he seemed overly out of breath at the top (it turned out he was just nervous). I wasn't completely listening when he popped the question and had to keep confirming 'Are you asking me to marry you?!'."
"I hadn't predicted it at all and I had the most gross fingernails of any woman who ever got engaged."
"I also couldn't comprehend that my parents already knew about it and had managed not to let slip! They loved being in on it."
The couple were engaged for two years before the wedding and also had a Hindu wedding ceremony for 25 guests earlier in the year, in June 2021.
"It very nearly didn't happen. We had no plans in place for the Hindu wedding pre-Covid and Indian weddings are usually very large. It didn't feel possible to do what we originally thought we would have in a big venue with lots of guests over from India."
"In the end we pushed ahead and had it in Tarun's dad's garden in a marquee. I'm so glad we pushed ahead and did it. It would have been nice to be able to have family over from India to attend but I honestly don't know when that might be possible."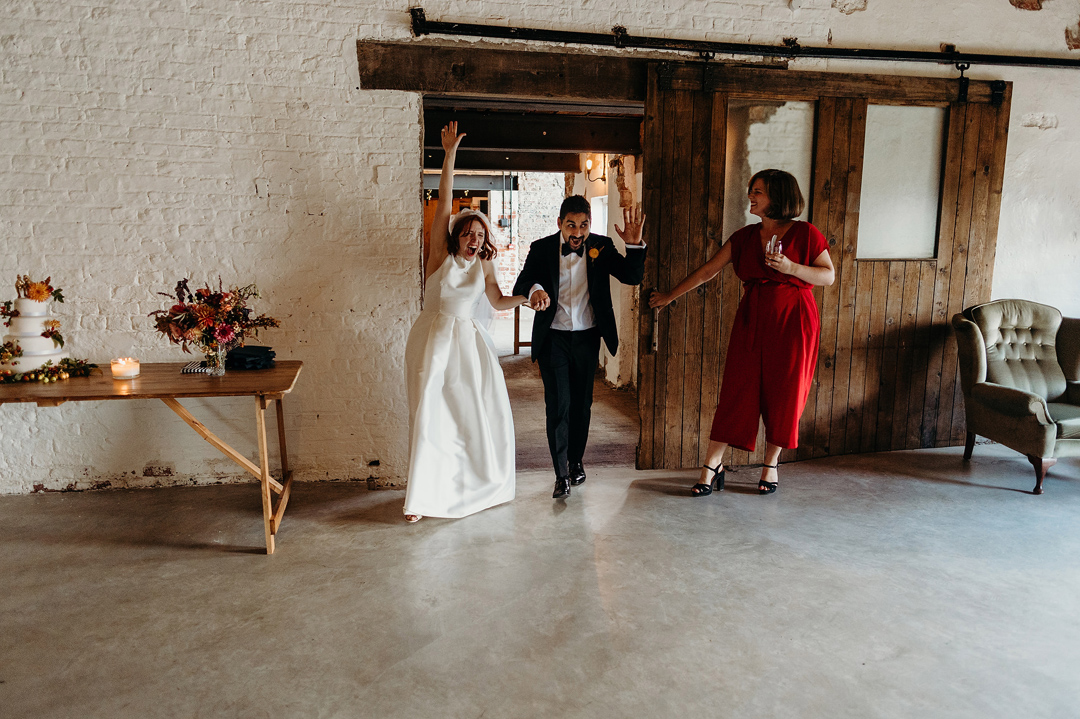 "We were planning on an Autumn 2020 wedding but when we saw Woolas Barn, their first available date was 18 September 2021. I was adamant it was too far away but couldn't find any other venue that compared. In the end we booked it."
"We squeezed in a whole pandemic in during the lead-up and somehow managed to go ahead as planned on our original date. Many of our friends have had to cancel or move their weddings multiple times and we feel super grateful that we didn't, albeit a little guilty."
"Covid put a dampener on lots of the wedding planning process. We had lots of the major suppliers in place before the pandemic started but things like buying dresses and organising tastings etc. were all impacted. Trying on dresses in a mask wasn't ideal."
"On the day we had 66 day guests including us which was about 25 less than originally planned. We had international guests who were unable to travel including one of Tarun's groomsmen which was really gutting."
"We held off sending evening invites because we were afraid of having to un-invite people if the rules changed. I was dealing with so much cancellation in the theatre and I didn't want people to have booked accommodation and end up losing money."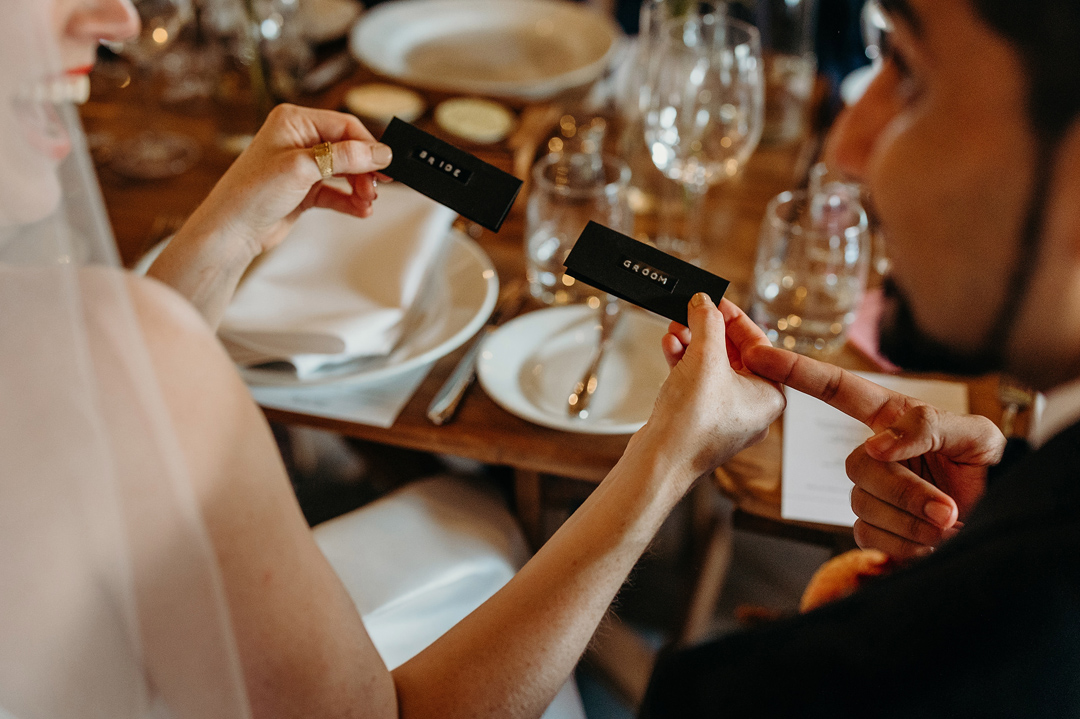 "In the end we didn't send them at all apart from to some York friends. Part of us wishes we had just thrown caution to the wind and invited everyone but it's easy to say that now that it all went without a hitch."
"Everything felt very safe on the day as we were mainly outside in the sun. It was also a big venue for the number of guests. I had a sudden worry the week before that the venue would look empty but because we moved between the spaces I never noticed."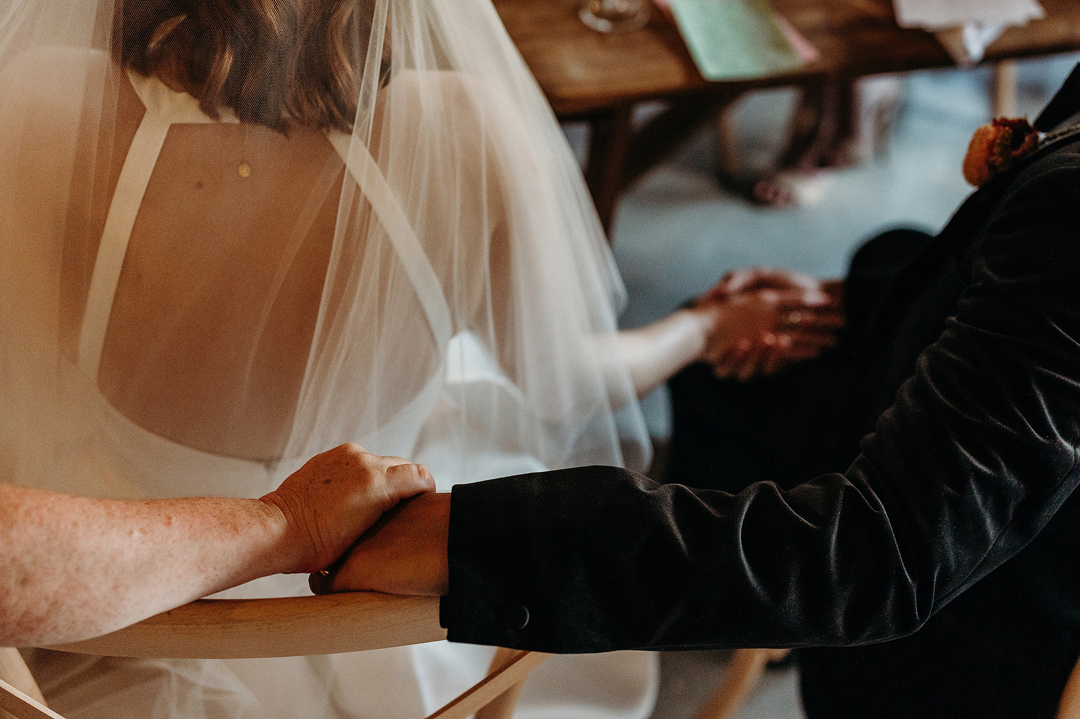 The guests tucked into Neapolitan pizzas by Scream for Pizza to fuel the fun.
"We has another pizza van booked but lost them due to Covid as they stopped doing events. We took it upon ourselves to try a lot of other pizza places to get what we wanted."
"The pizzas were incredible on the night. Me and Tarun took two home in boxes and ate them at 7am on the morning after the wedding."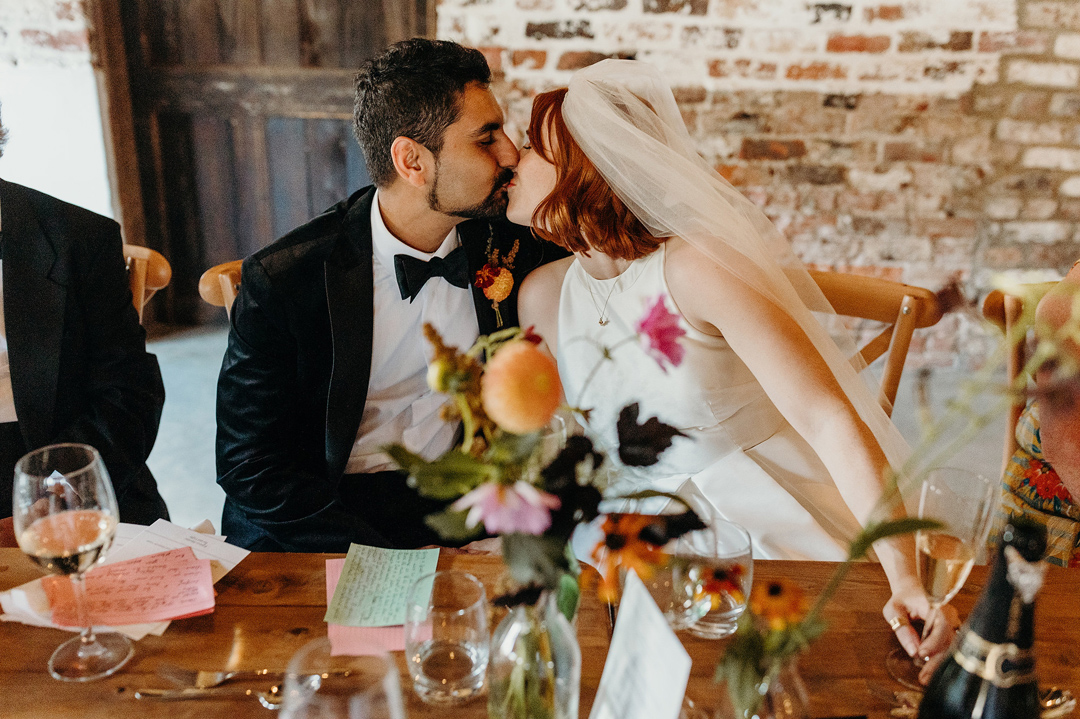 The wedding breakfast was provided by York-based Baba Ganoush Catering.
"They have loads of exciting options to choose from. We went hard on the canapés and didn't have a starter. Then we chose a sharing feast. We knew there would be a mix of appetite levels and three courses can be daunting so we had pulled lamb with rosemary and marjoram, grilled sea bass with lemon and then sides of hasselback potatoes, plum tomato and mozzarella salad and creamy orzo with spinach. The orzo side was a request from us because pasta is the best! There was roast aubergine with sesame and pulled tofu mains and vegan alternatives of the side dishes. Everyone says you don't eat much on the day and it's totally true. I'll always be a bit sad I didn't eat more because it was so good."
"The bar at the venue is run by Louisianna's Mobile Bars who were amazing! We had free-flowing beers and Prosecco during the drinks reception, espresso martinis after dinner and a cocktail menu available all day – the 'Summer meadow' was very popular. Everyone loved the bar staff. There was a video of them throwing some shapes during the disco at the end of the night which is brilliant!"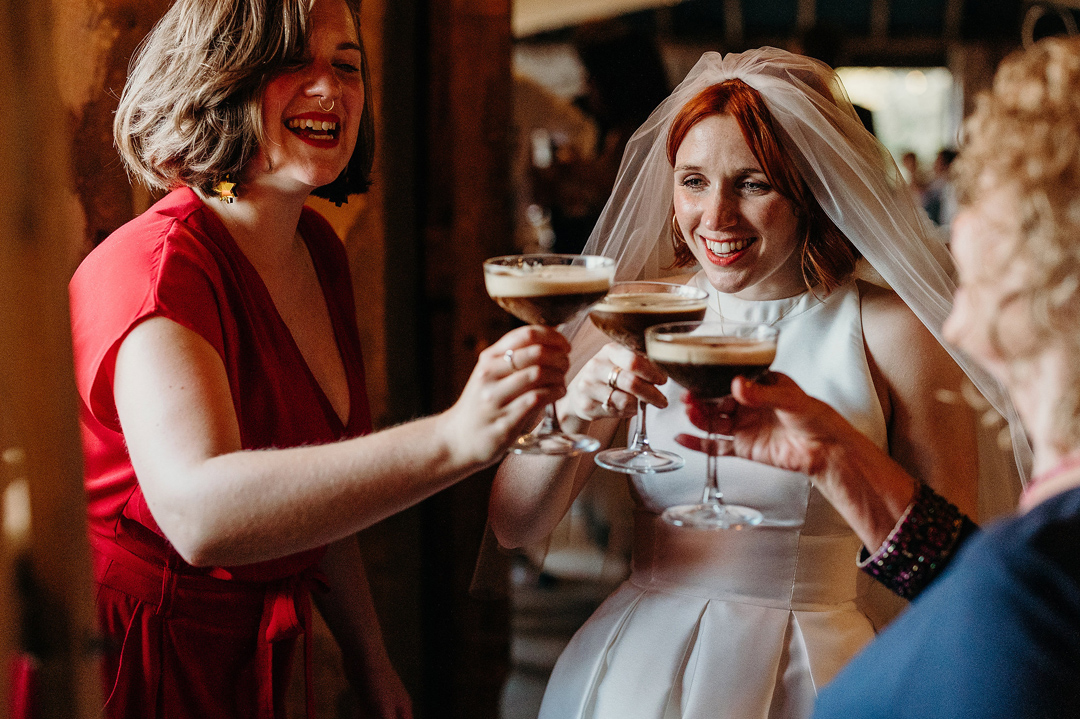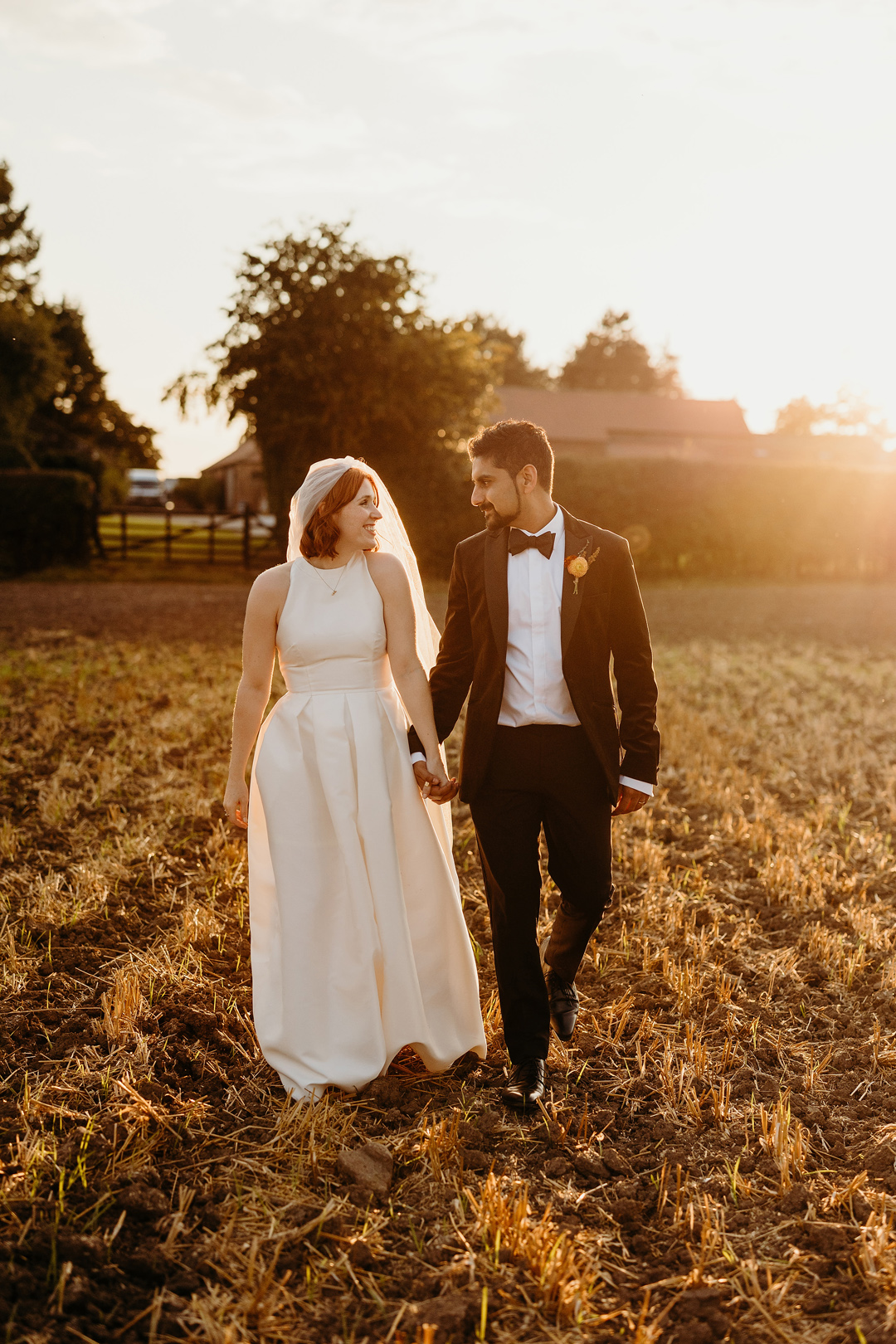 The bride's jewellery were family pieces.
"I wore gold hoop earrings, some rings that belonged to my grandparents and the wedding band and engagement ring from when my mum and dad were married to each other (they are both remarried now). I also wore a 'T' signet ring that belongs to Tarun. He got it as a teenager so it doesn't fit him now but I love to wear it on my thumb."
https://www.lovemydress.net/directory/supplier/debbie-carlisle-wedding-hair-accessories-bridal-headpieces/
"It was my 'something borrowed'. My dad always calls Tarun 'Mr. T' and it makes me laugh. I also wore my asparagus necklace by Alex Munroe. It was a gift from Tarun on our first Christmas together and he always jokes that he'll never top that gift because I love it so much."
In contrast to the more structured gown, Amy chose a floaty, two-tier, floor-length tulle veil from The Wedding Veil Shop. I invite you to see more of their beautiful designs on their Love My Dress Wedding Directory page here.
"I was actually more excited about veil shopping than dress shopping! I kept it on pretty much all day until the dance-floor."
"I wanted it quite high on my head as opposed to low down the back. I probably had it too high in the end but I was too giddy to realise."
"I feel like there was a trend for very simple, one-length, chiffon veils and I wanted to go for the opposite and have something with volume that you would be able to see from the front."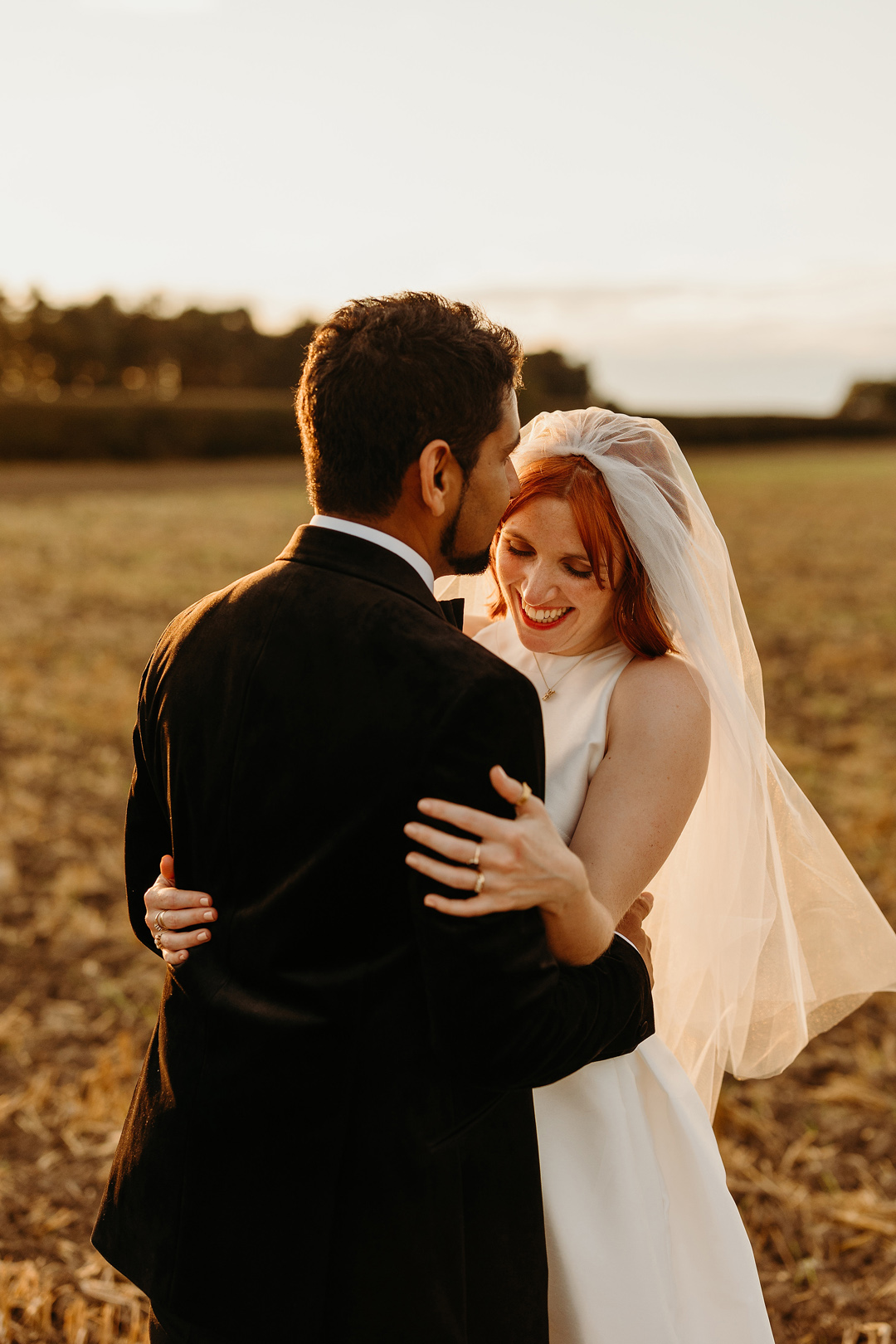 The guests hit the dance-floor as night fell, to music from a band put together by one of Amy's best friends, musician Robbie Cavanagh.
"Having him play was so much fun! The dance-floor was full for the whole two-hour set. Highlights included a version of 'Stacey's Mum' that the band changed to Amy's mum. I think Robbie picked up a couple of other bookings from our wedding – they were a real hit."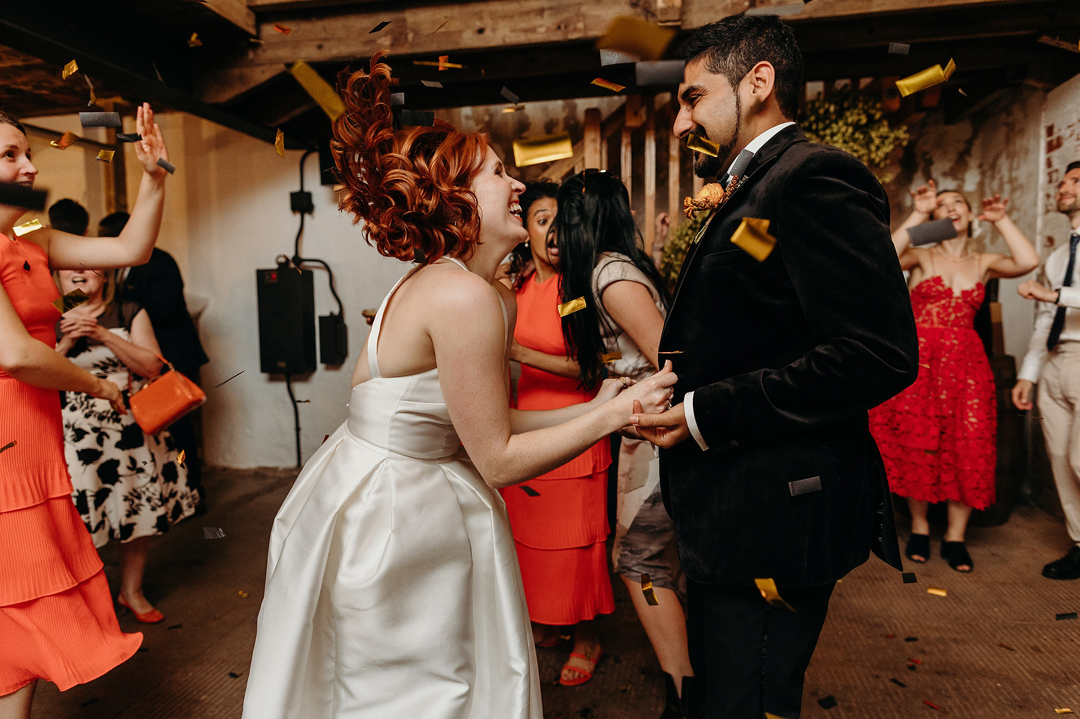 "We could not decide on a first dance at all. Everything we liked didn't feel quite right and every time we tried anything out, we looked very awkward."
"We're quite 'bouncy' dancers so in the end I looked over the song list just before the band started and agreed that my brother would fire some confetti cannons during Fleetwood Mac's 'Go Your Own Way'."
"It wasn't really a first dance because everyone else was dancing too but it was a really fun moment."

Words of Wedded Wisdom
"It's easy to say don't get bogged down with the detail but honestly, do not! I didn't look at Pinterest at all during the planning. I used to look all the time years ago, long before I was engaged, and people love it for ideas, but those beautiful, styled images of the decor aren't the ones you will look back on, it's the ones of all the people. You can really spend a lot on décor but don't feel you have to."
"Wear something that makes you feel great- whatever that is."
"Invest in your photography."
"Food, music and booze are always the most important things to your guests."
https://www.lovemydress.net/directory/supplier/lyn-ashworth-england/
"I make budgets for a living so there was a budget spreadsheet as soon as we got engaged." 
"Our original budget was based on a slightly higher number of guests and was £25k including a contingency. The total spend in the end was £22k. This includes every single penny we spent on wedding stuff including things like £11 for the marriage certificate. I looked at other people's wedding budgets but there were always lots of things they hadn't included or things other people had paid for. I understand that not everyone wants to know how much it all cost in the end but I had one comprehensive budget of every penny."
"The long lead-in really helped us save money by getting things on sale and also meant we had time to save up. During Covid, as awful as it was and is, I wasn't commuting to work and I saved all my commuting money to buy my wedding dress. There had to be some perks to the pandemic."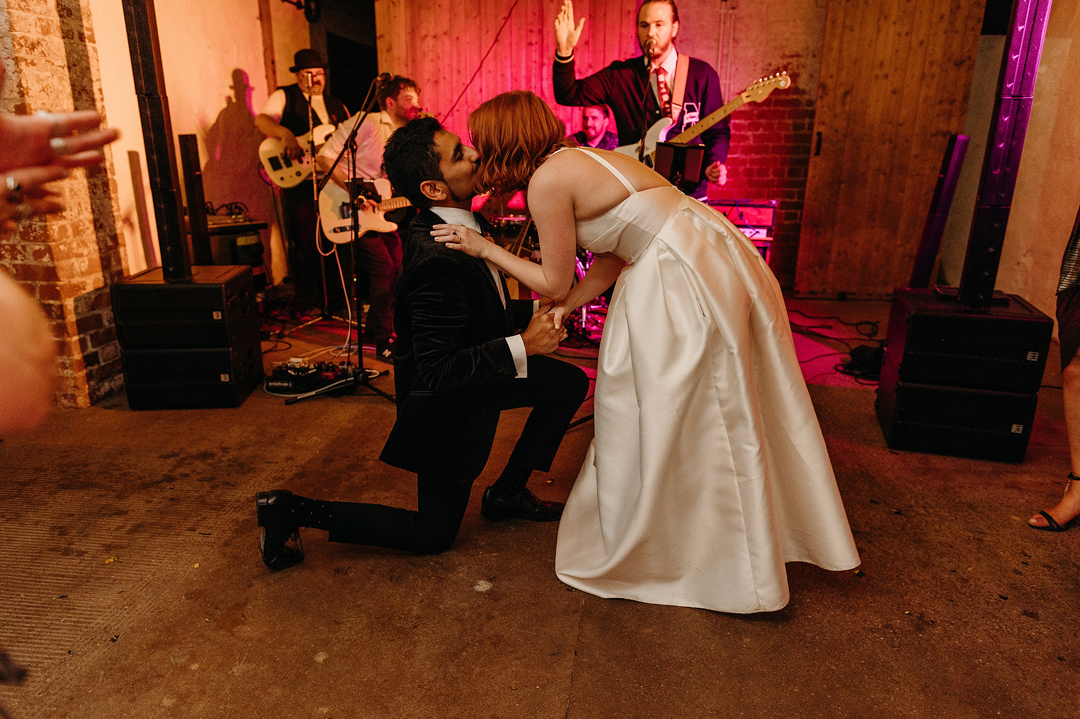 Such a great words of advice; thank you Amy. Congratulations to you and Tarun on your beautiful, autumnal wedding; what a beautiful day. Richard Skins Photography, as ever it's been wonderful to share your work on Love My Dress, so thank you.
For more brides wearing Charlie Brear, please take a look at these weddings.
Ele x