Some of my favourite weddings on Love My Dress are those which respect the beauty of their natural surroundings. I absolutely love how this couple have embraced the wild beachside location, as well as the grandeur of the venue itself, to make this an unforgettable celebration.
This is the beach-side wedding of Jennifer, a dancer and film stunt performer and James, managing director of a tech mental health company, who chose Holy Trinity Church and the Cambo Estate, St Andrews in Scotland for their grand and opulent celebration.
Photography The Unbridled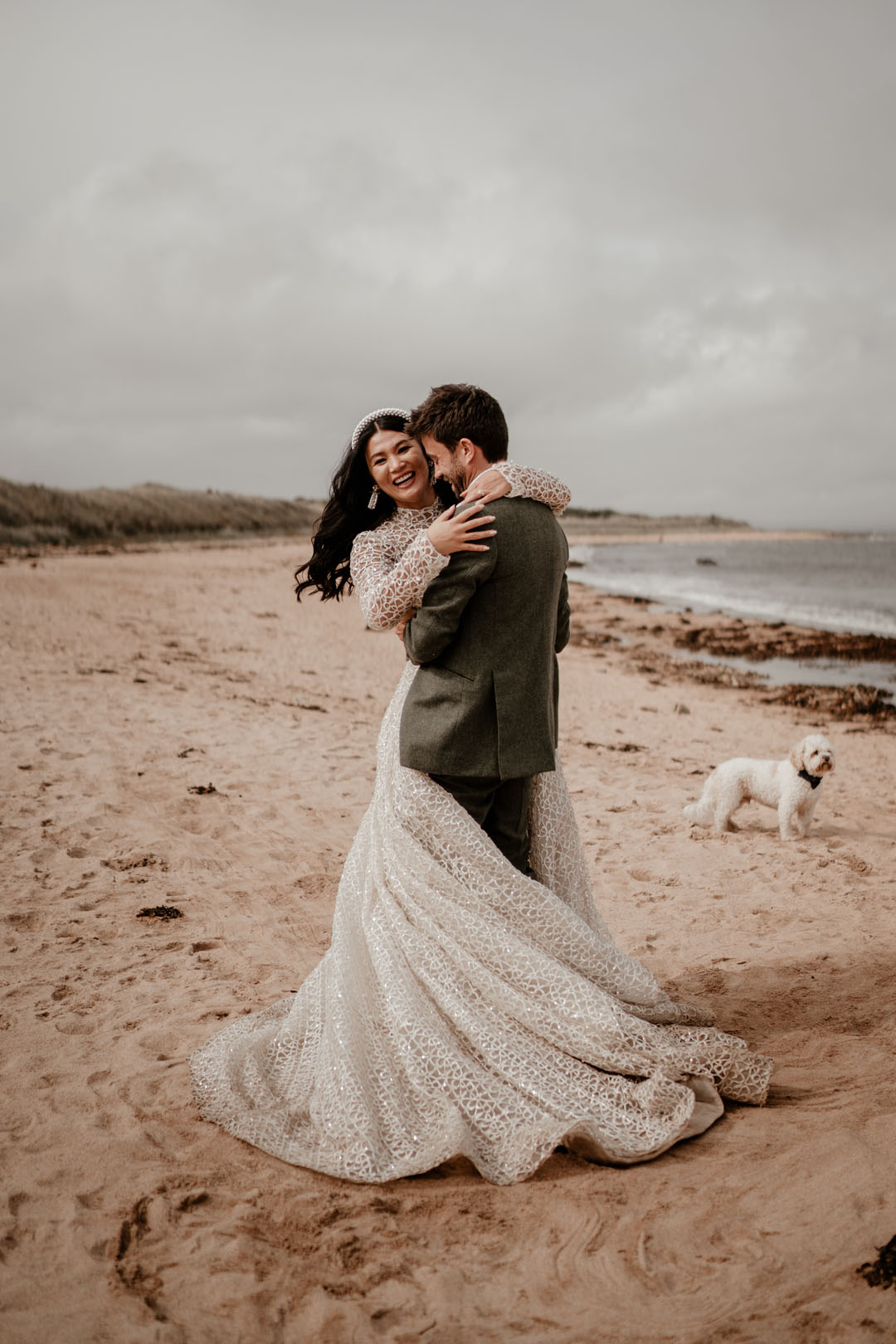 The wedding, held on 4 September 2021, had a sumptuous colour palette of gold and ivory and had a luxe, sophisticated vibe to match the grandeur of the location.
"We chose the Cambo Estate in St Andrews, Scotland because the estate looked on the beach and we could have all our guests stay with us for the weekend in one place."
"I really loved pottering around the estate in the morning with my mum by my side."
"Together we made sure everyone was in hair and make-up okay , checked in on the bridal party and met with suppliers arriving."
"I wanted our wedding to match the grandeur of the setting; ivory and gold, huge flowers, a champagne tower, oysters."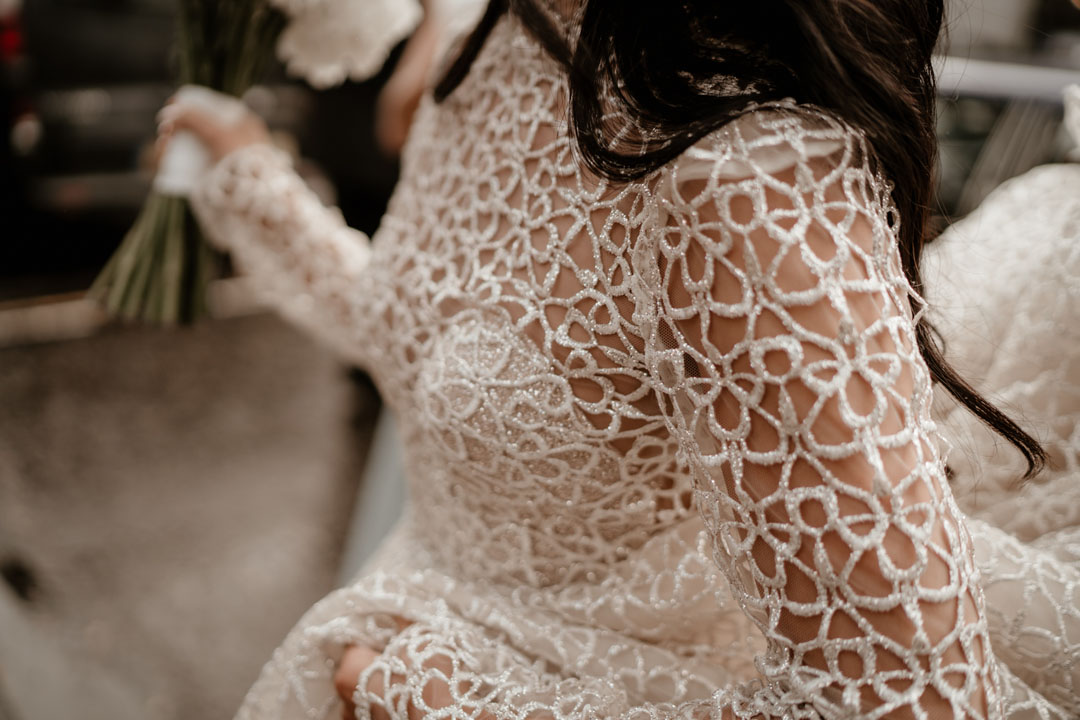 "We talked about how we wanted to give our guests the best weekend, filled with the food and booze that we both love."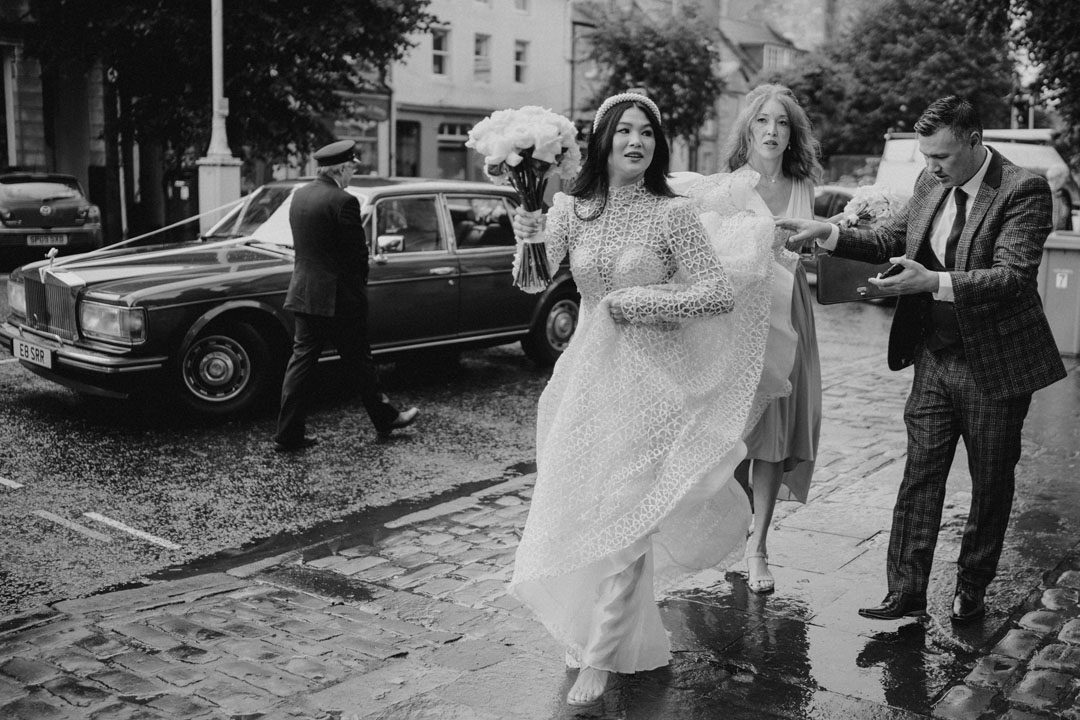 The wedding ceremony was held at Holy Trinity Church in St Andrews and the bride travelled there in a Rolls Royce.
"Our driver Shaun stepped in last-minute and it worked out perfectly. His car was cobalt blue which I preferred to the gold I had originally booked."
The bride walked down the aisle to meet James as her friend and professional performer Gary sang Robert Burns' song 'My Love Is Like A Red, Red Rose'.
"We wanted traditional vows and my friend read a Shakespeare Sonnet about marriage –  Sonnet 116 – which I have loved since school. I had highlighted it in a book in which I had written the date, 1999."
The couple exchanged rings of Fairtrade gold.
"James chose an ethical jewellery company in Cornwall for our bands. My engagement ring is Victorian and from a small antique jewellers in The Lanes, Brighton."
"It blows my mind that my ring is 200 years old. It was the only shop we went to. I picked four or five to try on, James chose the sixth and that was it – I fell in love with it."
Jennifer wore a breath-taking, full-skirted lacy gown from Berta via The Wedding Club. Its demure neckline and sleeves are balanced by the sexy open back.
"My wedding dress was by Berta from The Wedding Club. I renamed my dress 'The Berta Beast' as it was such a huge princess dress."
"I loved every minute wearing it and I felt amazing but it did get a little hot so I'm glad I had the second dress to change into for the dance floor."
The bridesmaids wore high-low hem gowns from Biba in 'sea foam', which perfectly matched the men's ties.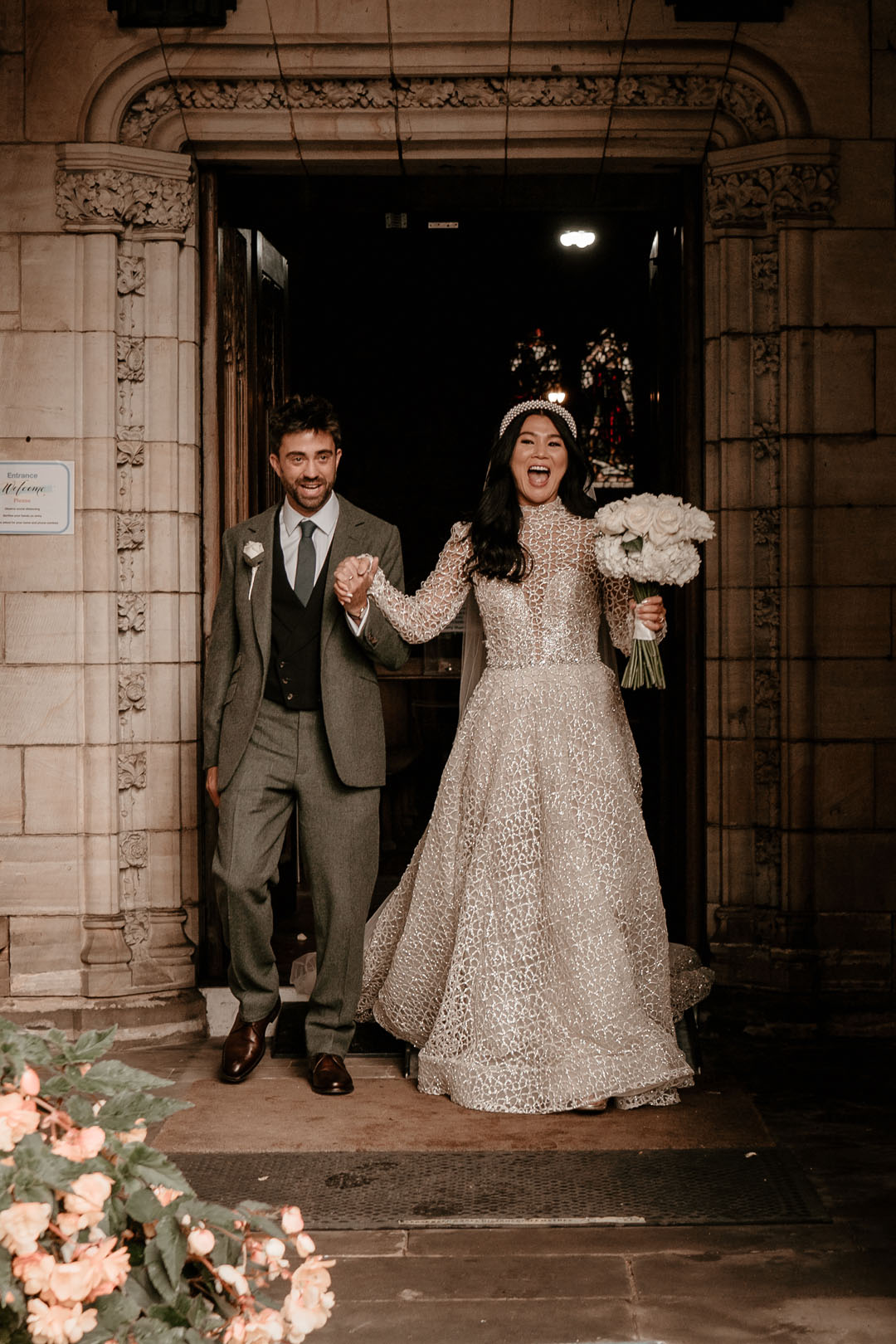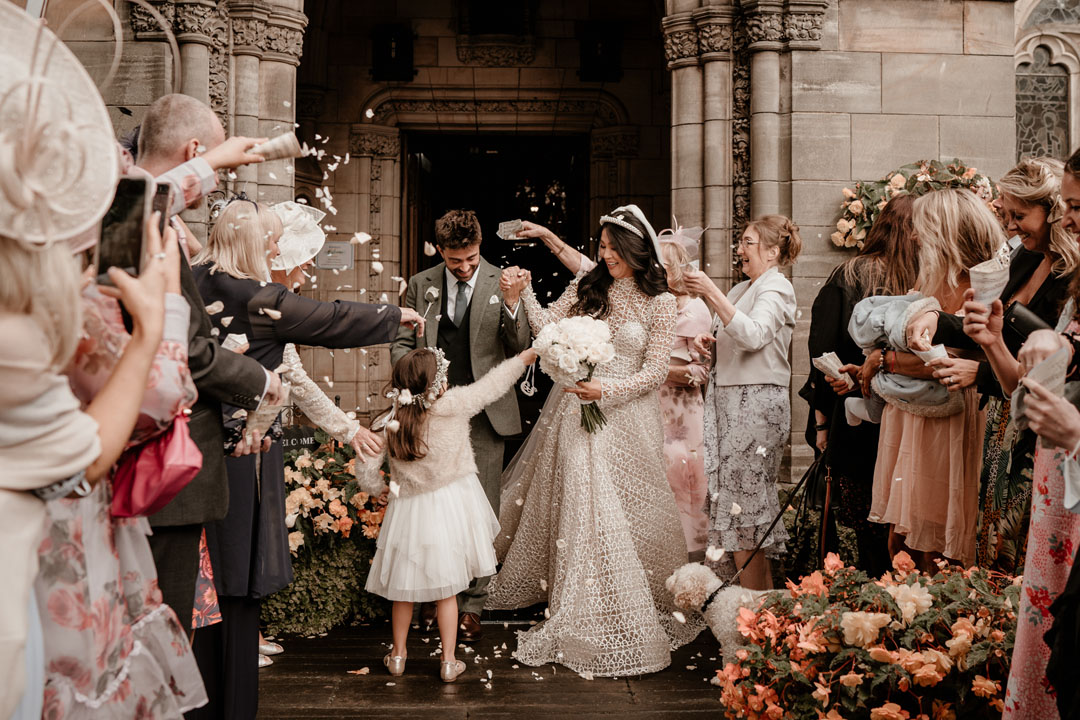 "The staff at The Wedding Club were amazing! When I found my dress online, I knew it was the one – it was the only dress I tried on. As everywhere was closed due to Covid, the lady offered to drive it down to Brighton to London for me to try on in my home."
"She brought with her a Naeem Khan dress that I picked out for my mum to wear. I modelled it for her over FaceTime."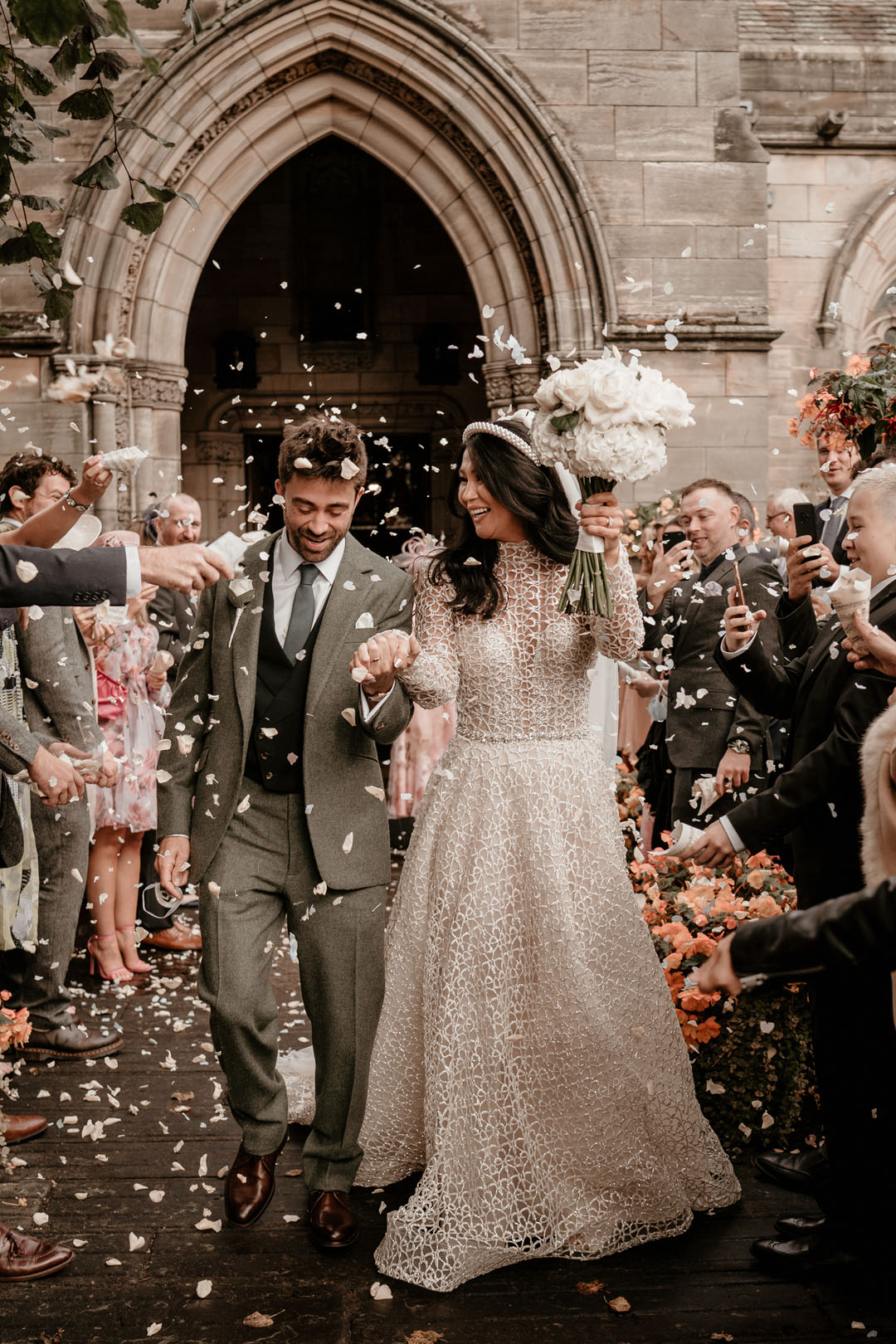 The bride paired her gown with a full, Cathedral-length veil from Morgan Davies Bridal, worn with a pearl headband from Shrimps, a beautiful contrast to her dark hair. For more on Morgan Davies Bridal, be sure to visit their Love My Dress Wedding Directory listing. Her shoes were Jimmy Choos.
Flowers were key to the styling of the day, with ivory roses taking centre-stage. They were arranged by Ruth at Supernova Wedding Design.
"Out for everything, I was happiest with the flowers; they took my breath away when I saw them."
https://www.lovemydress.net/directory/supplier/days-of-dahlia/
"I had sent some photos of what I liked and after meeting the ladies, we chatted about what flowers I love. I think sticking with the one colour really made a big impact."
"My favourite part with James was the car ride after the ceremony. We kept repeating to each other. 'We're married!'."
"My brother had bought us some Cristal Champagne to drink in the car so we were probably pretty drunk by the time we arrived back at Cambo."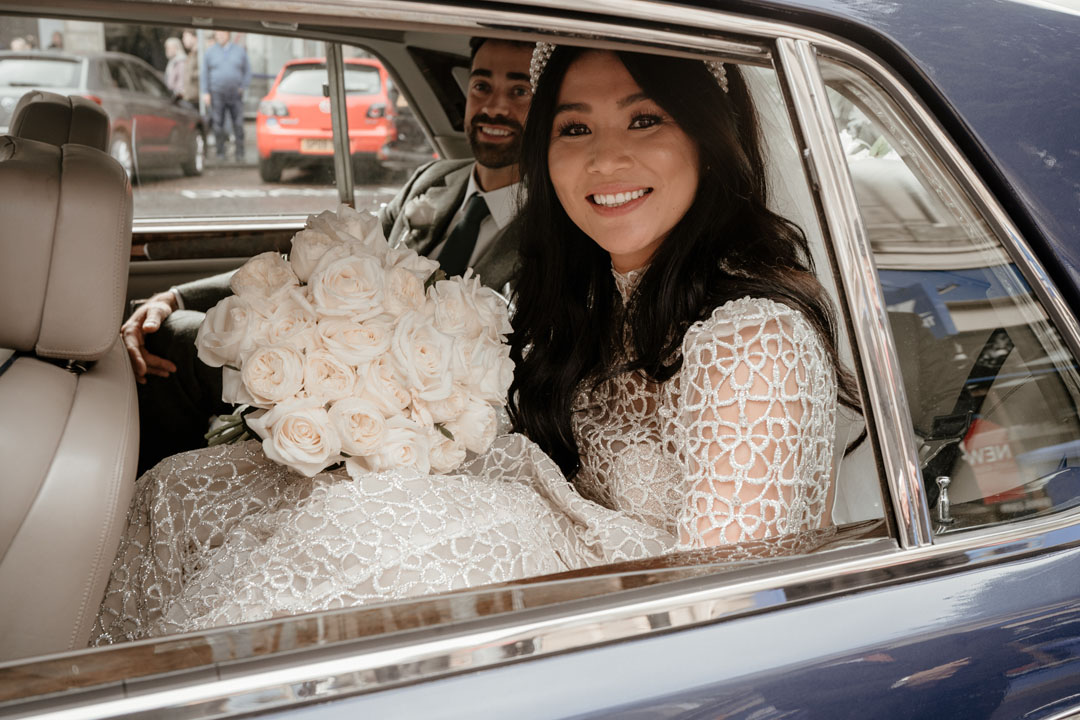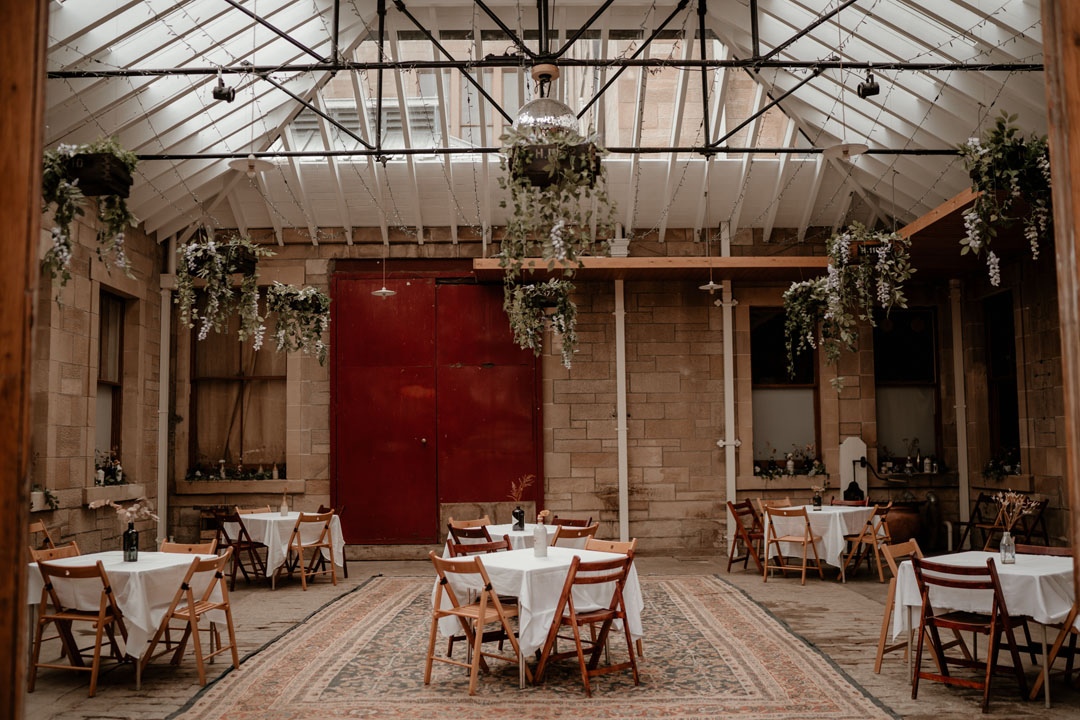 James and Jennifer met on Hinge and had a short engagement of seven months.
"James's first message to me was, 'I think you might be my perfect woman'. We left London to move to Brighton."
"On a morning run along the beach, when I was very hungover, I turned around and James was on his knee."
"We got engaged the day before Valentines and married seven months later."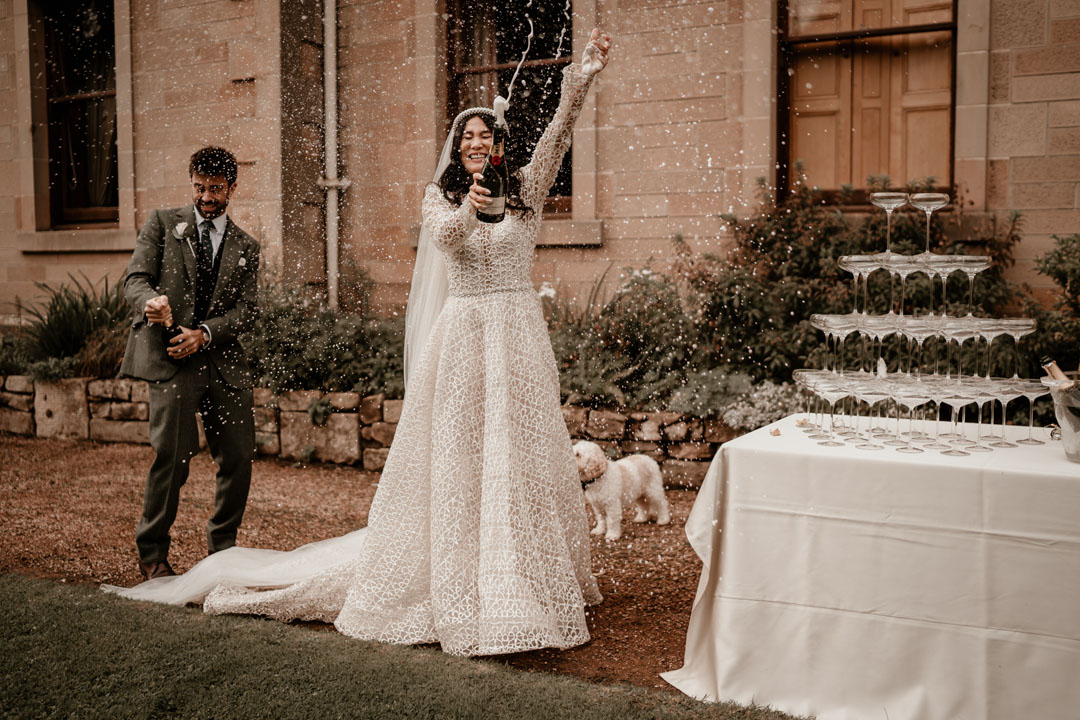 "We were so lucky that Covid restrictions didn't affect us. We booked the venue and Louise at Cambo said to plan for 50 guests but 100 would be a bonus."
"Our wedding sneaked in between Covid restrictions. We could have everyone who planned to come join us from all over, with the exception of my dad who lives in Hong Kong."
https://www.lovemydress.net/directory/supplier/rachel-scott-couture-edinburgh-wedding-dress/
"I was gutted he couldn't walk down the aisle but he and I didn't want to change our day. He's just got happy I'm married to my dream man."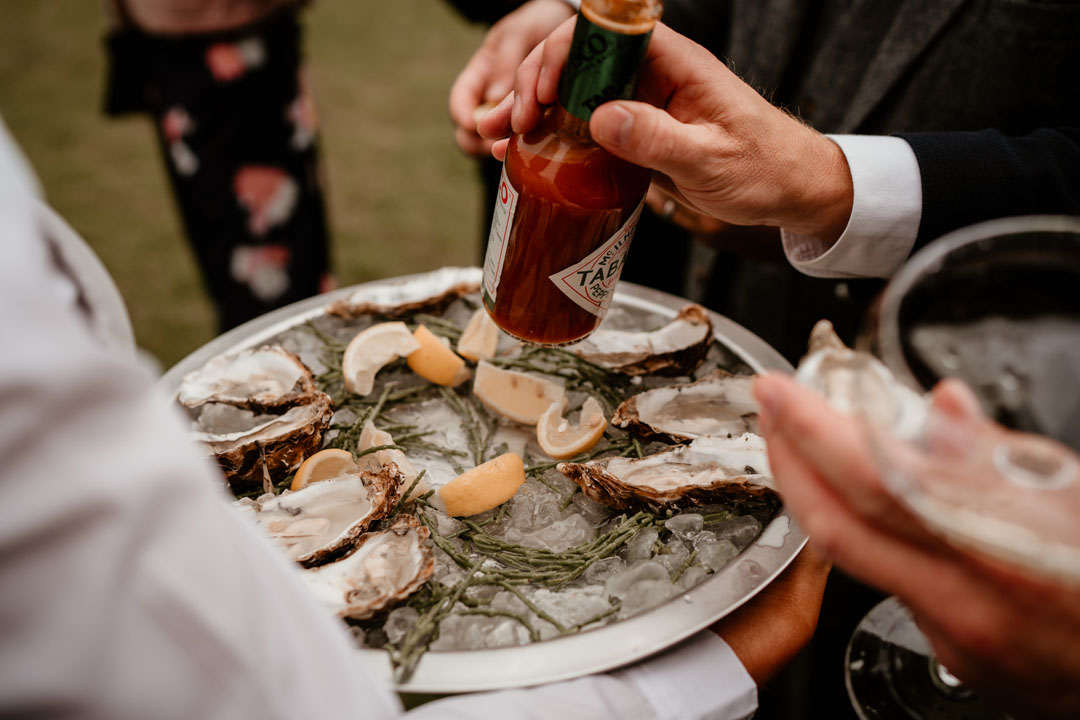 At Cambo, the guests relaxed in the the grounds overlooking the beach with drinks from a champagne tower before heading inside for the wedding breakfast. Held in the beautiful dining hall, gold and ivory accents and tall candelabras created such a luxe vibe.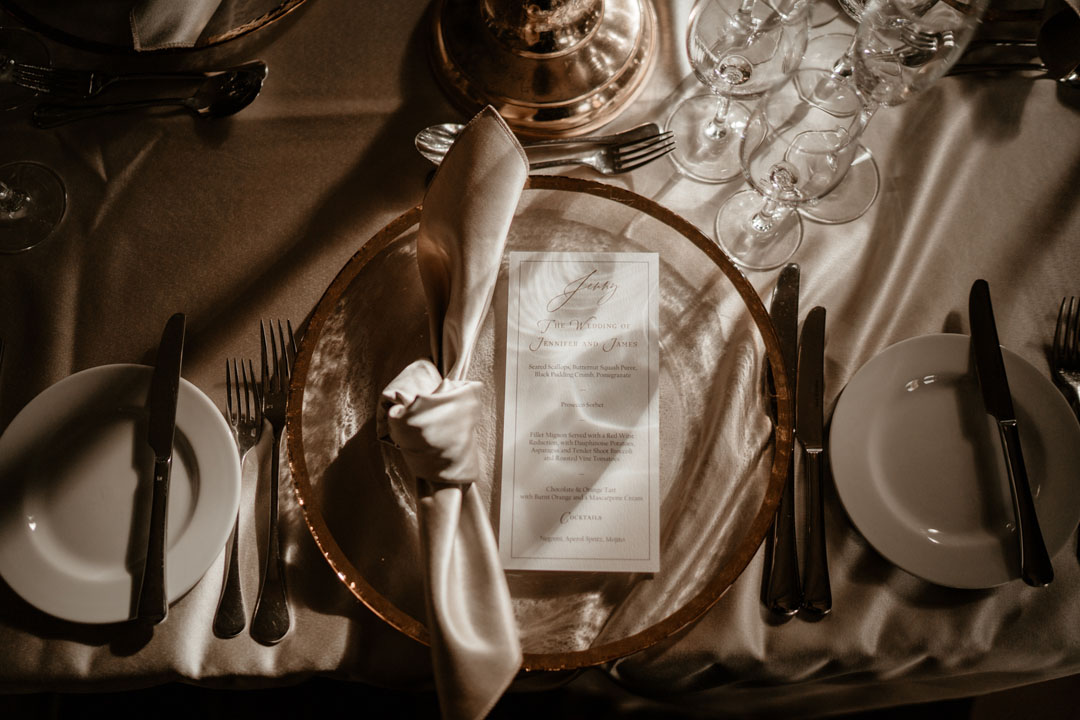 "Rachael at The Illustrated Invitation covered all the stationery for us. We had a drawing of the venue on the personalised menus."
"We had a wedding map and weekend itinerary made up and put in everyone's rooms, along with personalised favours – mostly bottles of Prosecco!"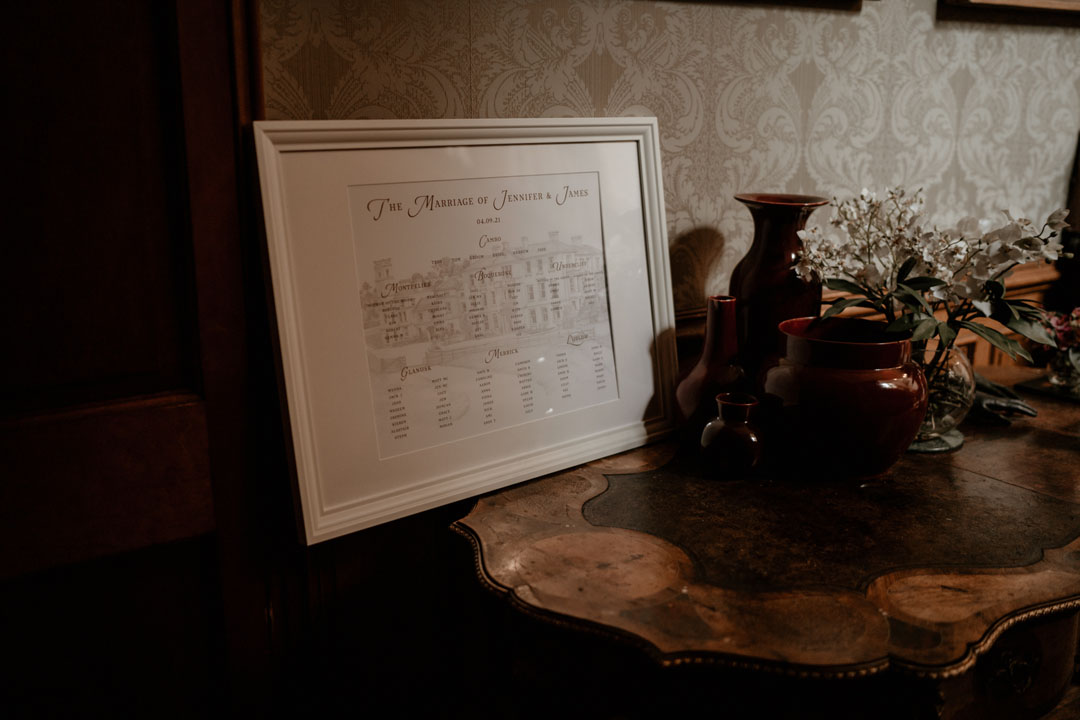 The catering for the weekend was from Regis Banqueting.
"Kelly and the team couldn't do enough. The hog roast on Friday went down so well and our wedding feast on the Saturday was a feast of local ingredients."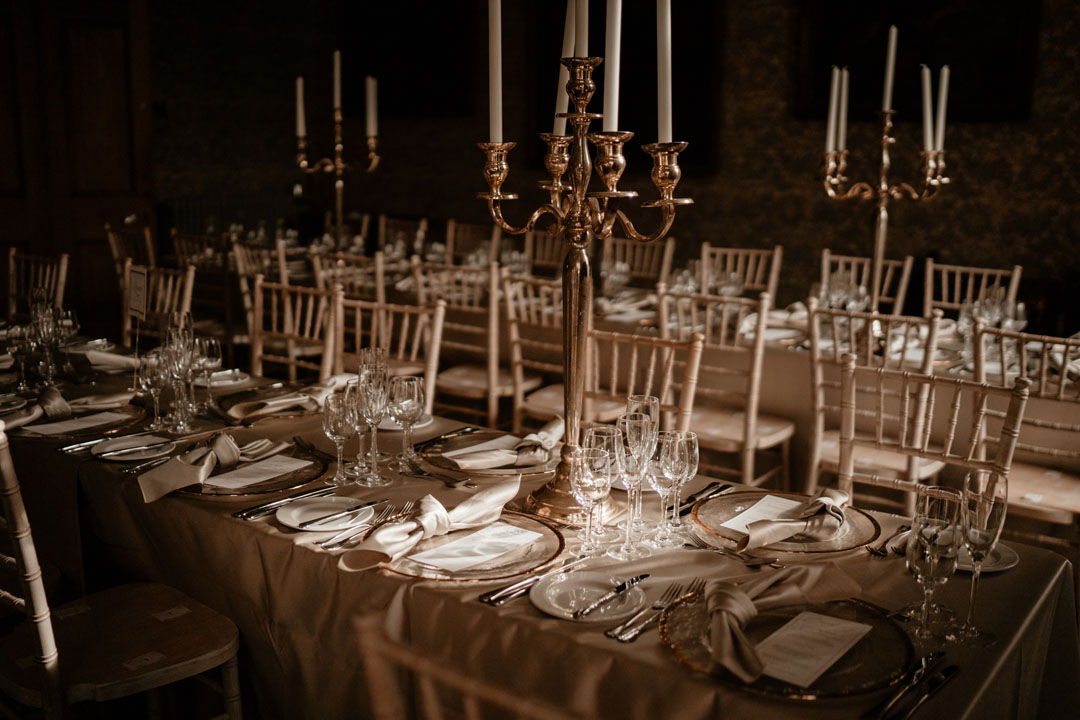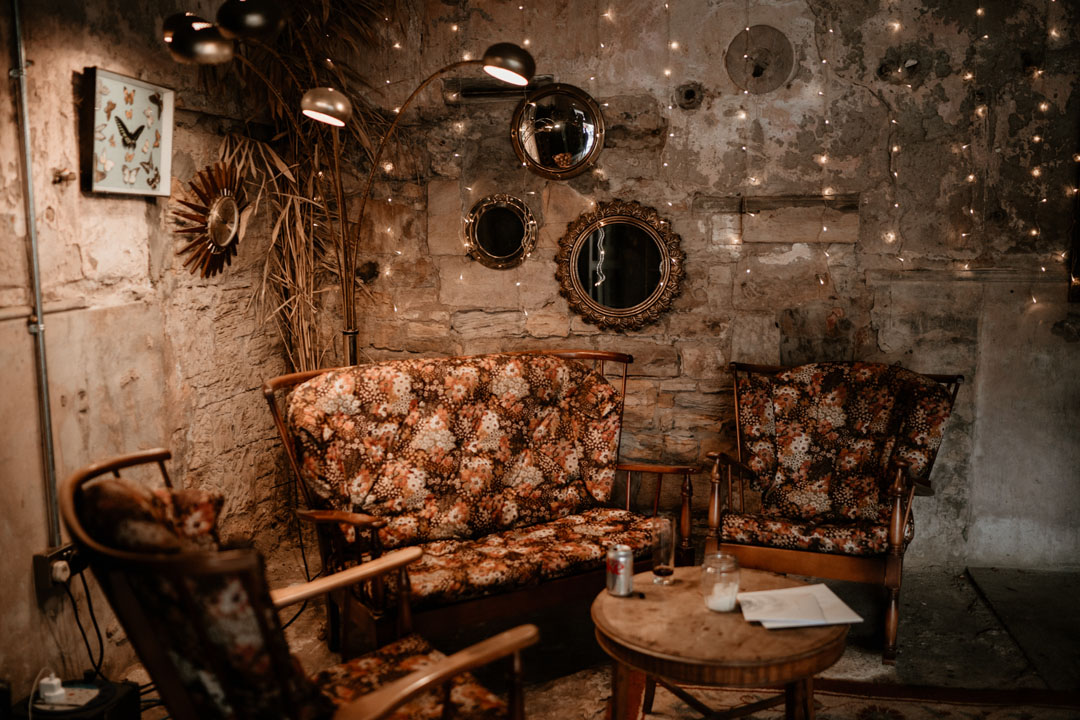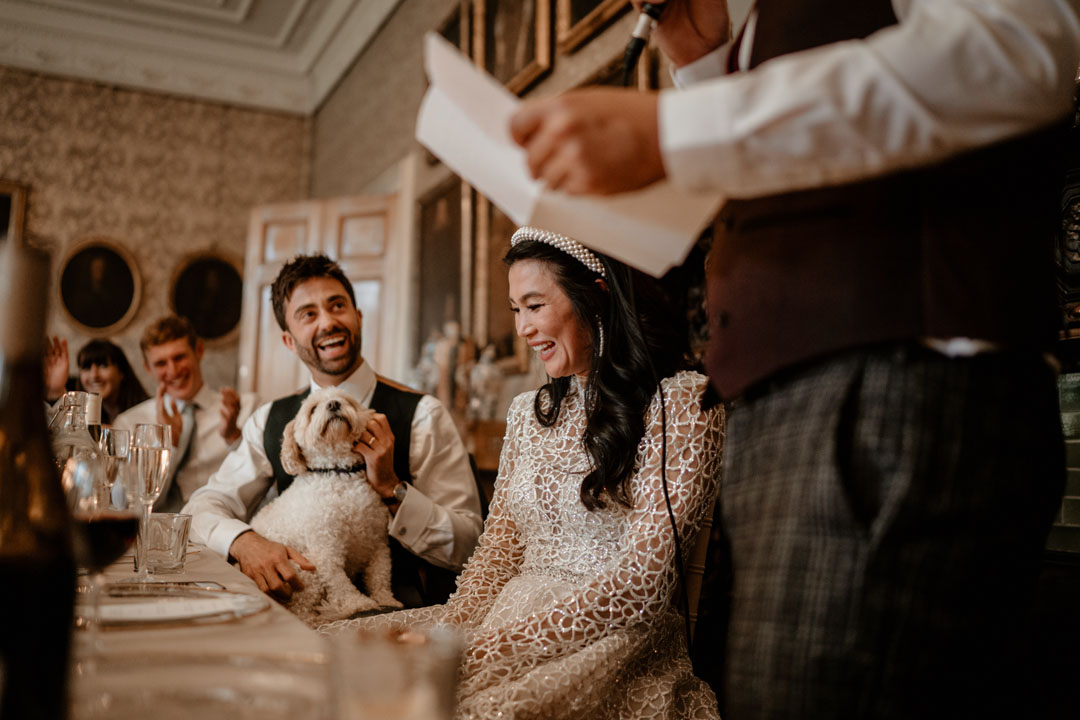 The gold-leafed cake was designed and made by Loren's Cakes and Bakes.
"I found Loren on Instagram. I told her our colours and trusted her to do her thing. She even added fresh flowers for us as we forgot to get them from our florist."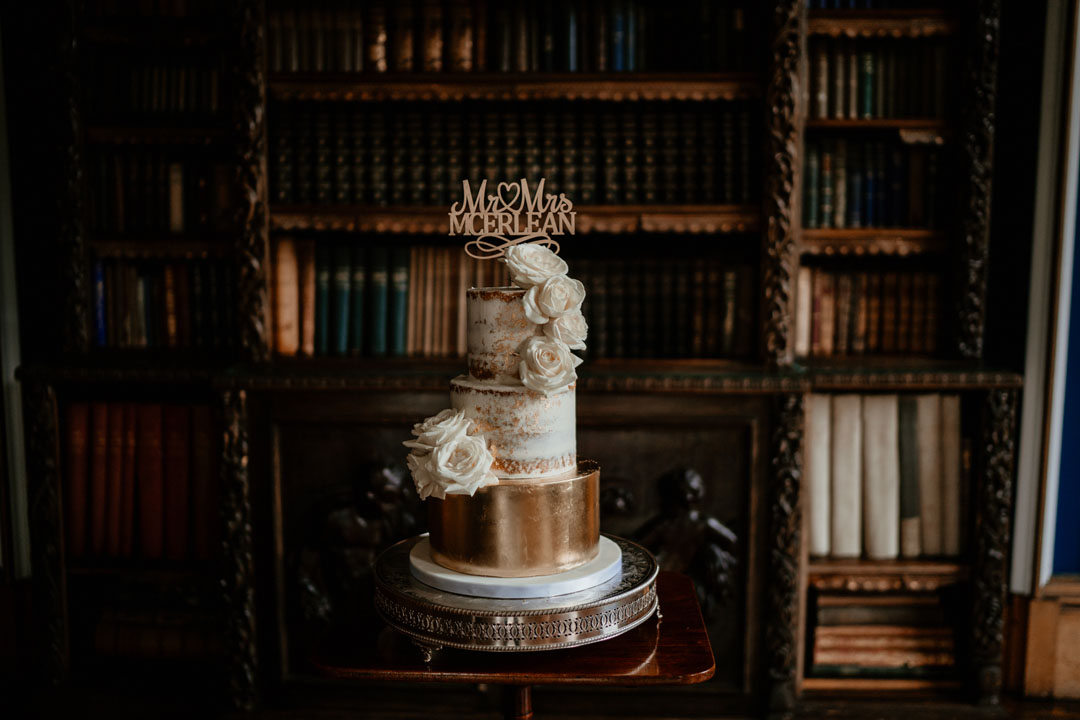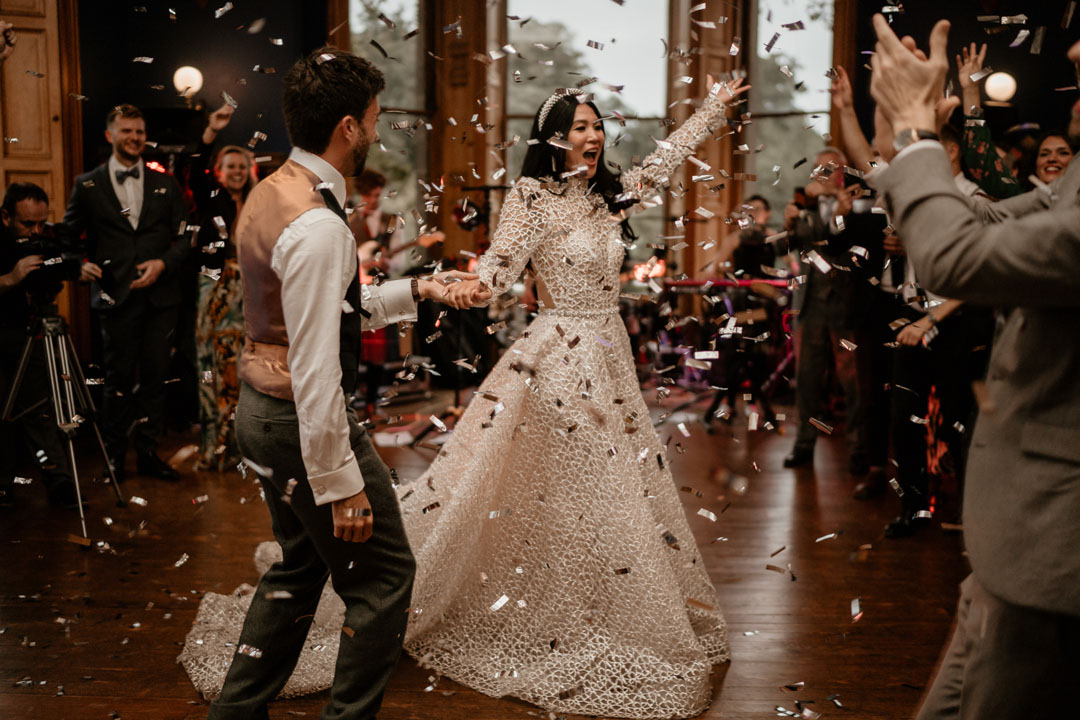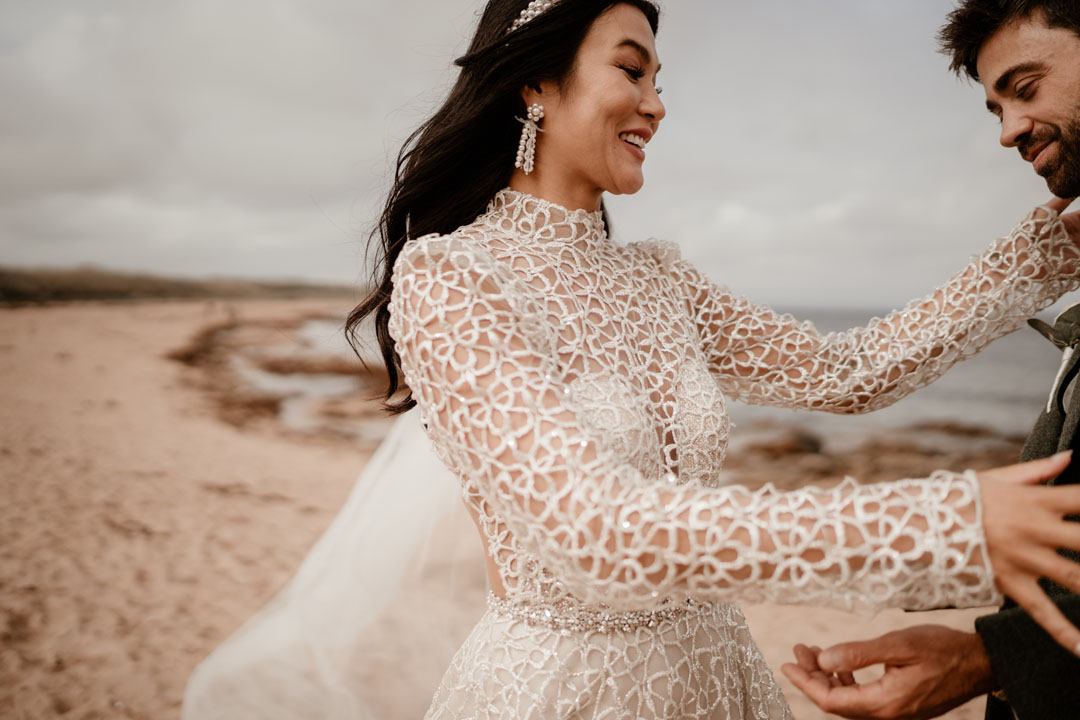 "I wore my mum's pearl earrings, that she wore on her wedding day, for the church."
"I bought my Chanel perfume when I had been away from James, working in Italy. I kept it in the box until the morning of our wedding then practically had a shower in it."
"Now I only wear it on our 'date nights' and James always comments."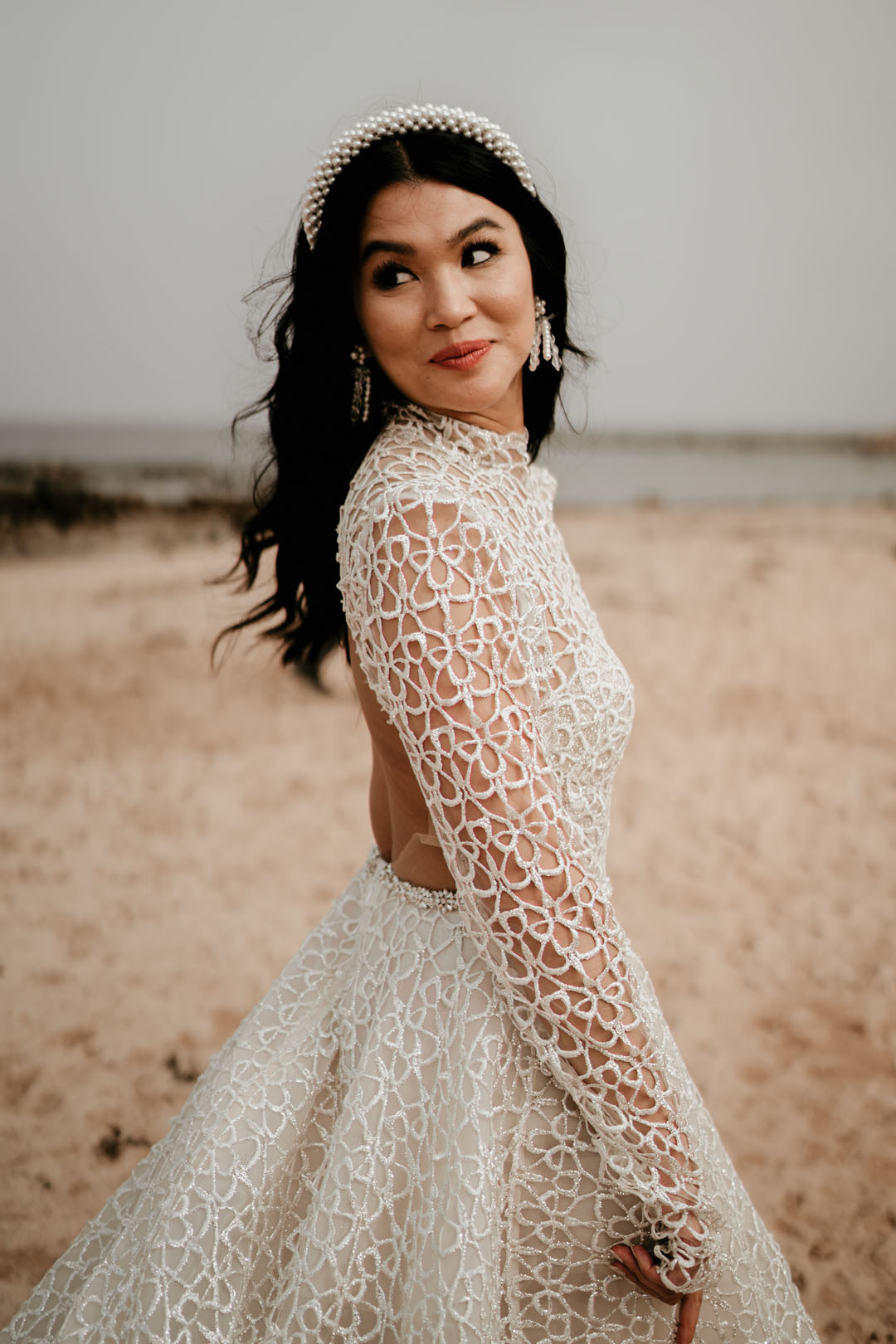 Carla of The Unbridled photographed the day with all of its emotion, not to mention the sweeping, dramatic beach shots.
"I think Carla's work speaks for itself. I shortlisted a couple of photographers to show to friends and family."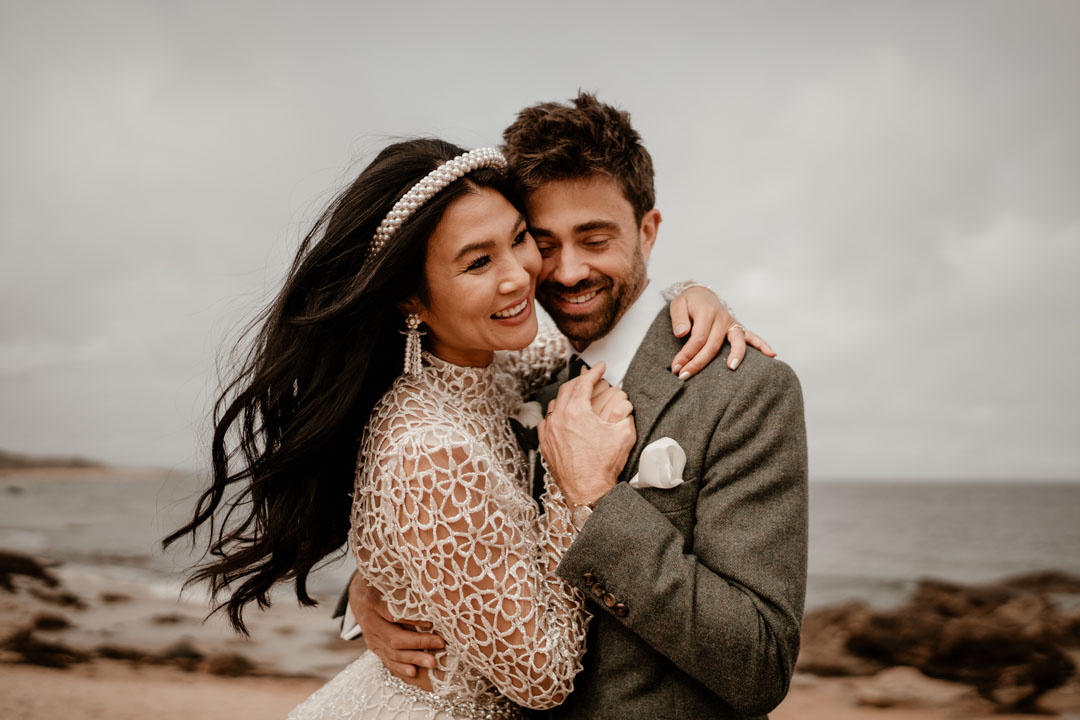 "Unanimously, Carla was the winner. I trusted Carla completely on the day and love our photos."
"Our videographer cancelled on us the week of the wedding. Alan from Memories By Movie stepped in and was lovely to work with."
James' suit was tailor-made by Henry Poole on Savile Row.
"He was extra-excited when he said they are the Royals' tailor. James' suit cost more than my dress which I always rip him about."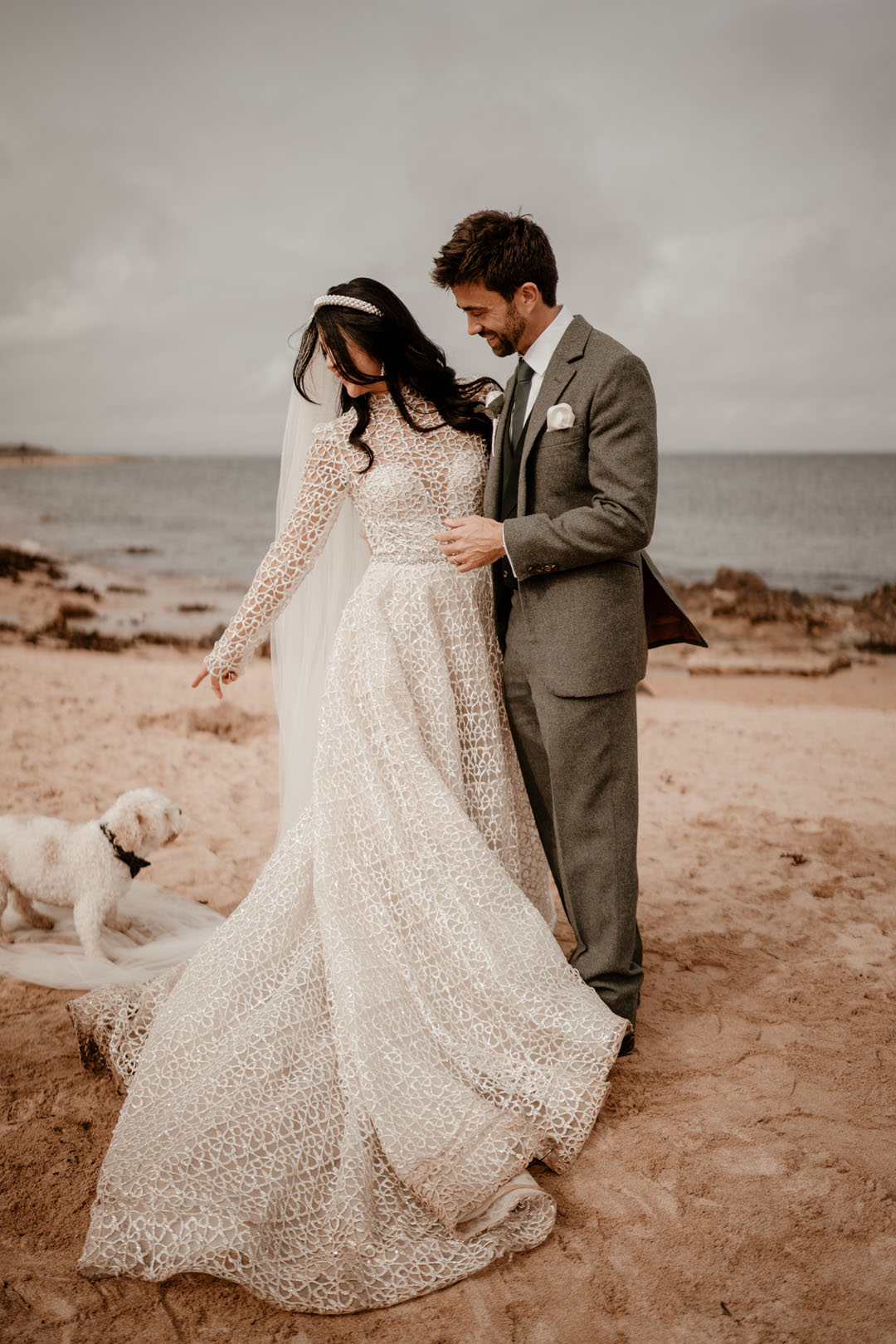 v
The original make-up artist for the wedding had to cancel at short notice but thankfully, Carol Paterson MakeUp stepped in.
"Carol was incredible. Everyone loved their make-up and she was lovely to have around on the morning. The lovely Claire Park Makeup also helped doing the bridesmaids."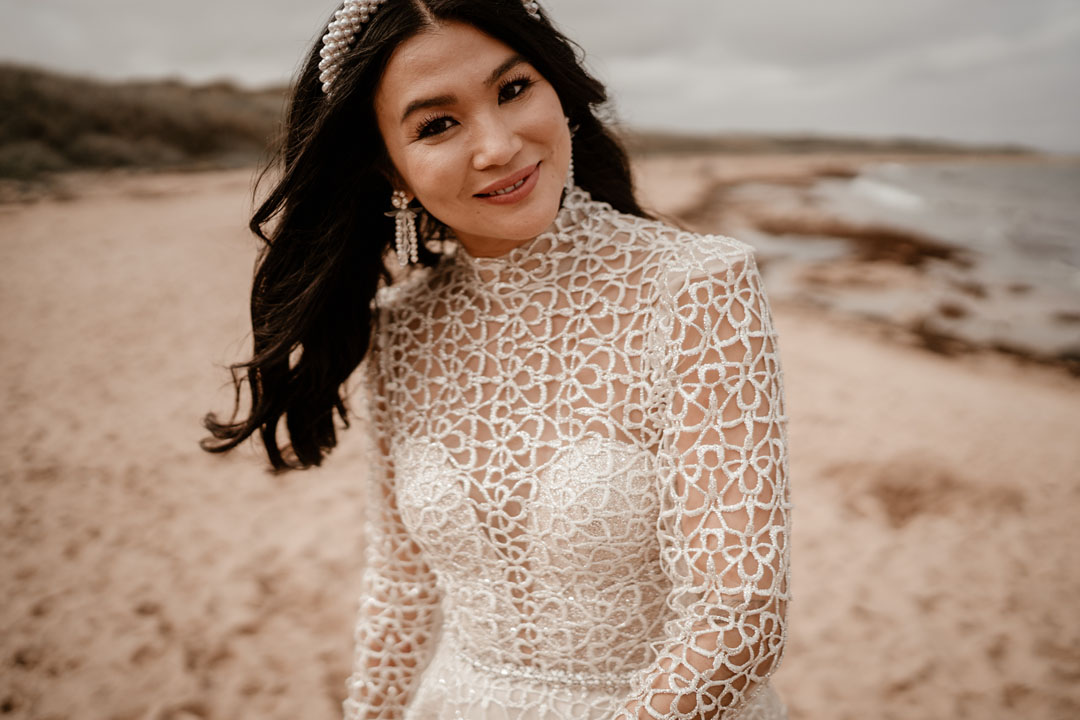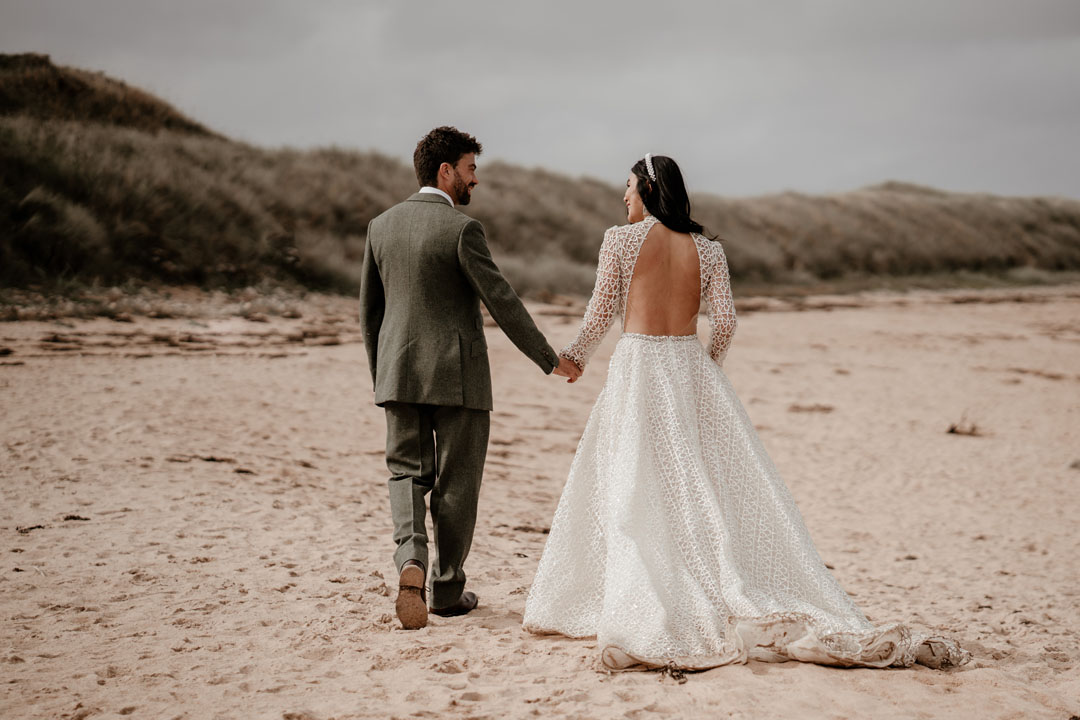 Come evening, the bride slipped into a slinky Olivia Von Halle slip dress, perfect for dancing. She added Shrimps earrings to match her head band.
The evening dance was played for by a covers and celeidh band, after a first dance to 'I Was Made For Lovin' You' by Kiss.
"James sent this track to me after our first date. We couldn't think of a first dance song."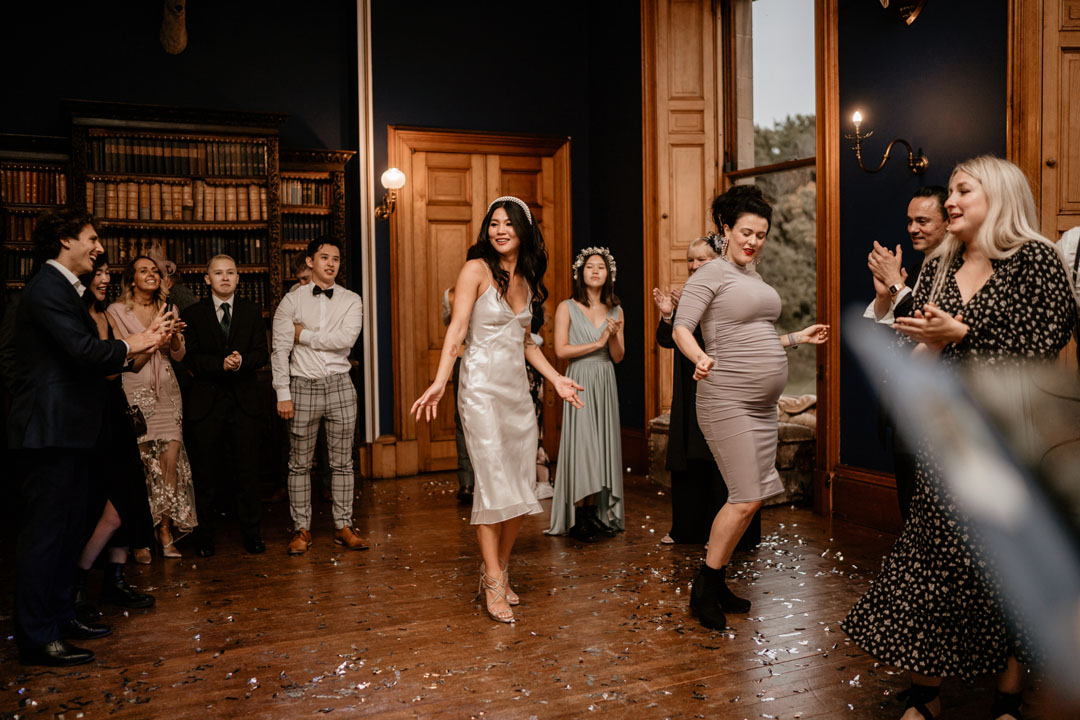 "I suggested this and then we realised he had sent it to me but we had forgotten, so it was a nice turnaround."
"Being Scottish, I've always wanted a Ceilidh at my wedding but was worried the English guests wouldn't get it. Everyone gave it a go though."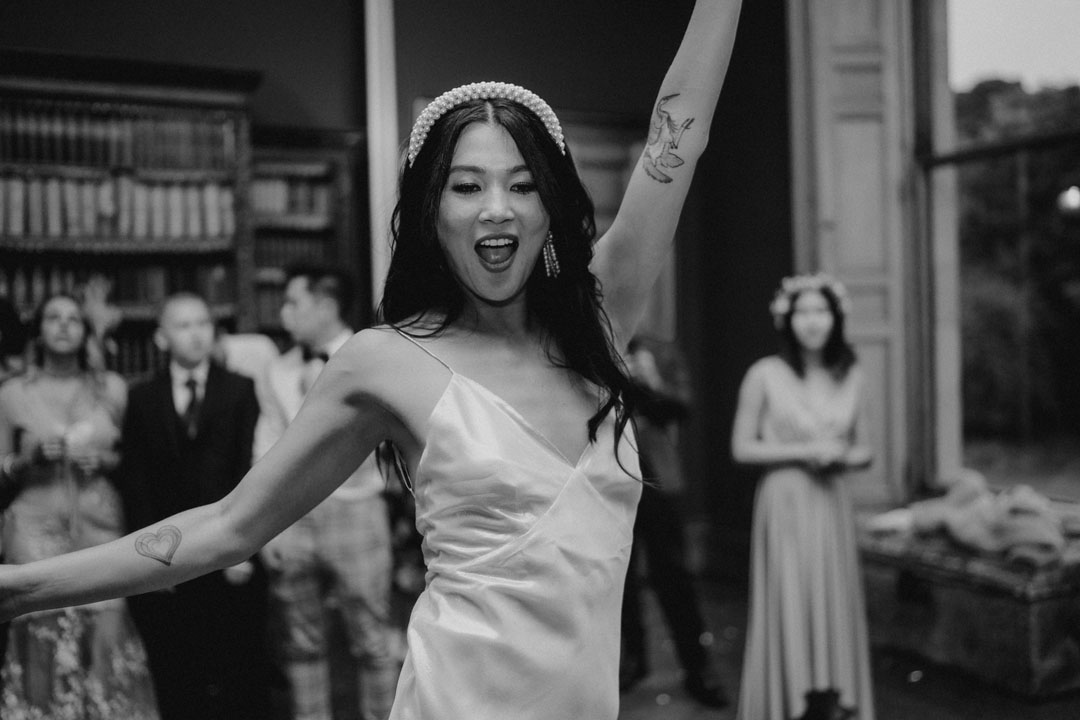 Words of Wedded Wisdom
"Plan every single detail down to the minute and delegate on-the-day things to other people so you don't have to worry about anything and can drink it all in. I didn't want any help in the planning but for on the day, delegate, delegate, delegate."
Sending so much love and congratulations to you, Jennifer and James, on your wedding. Thank you for sharing it with us and describing it with such insight. Thank you also, Carla at The Unbridled, for your wonderful work.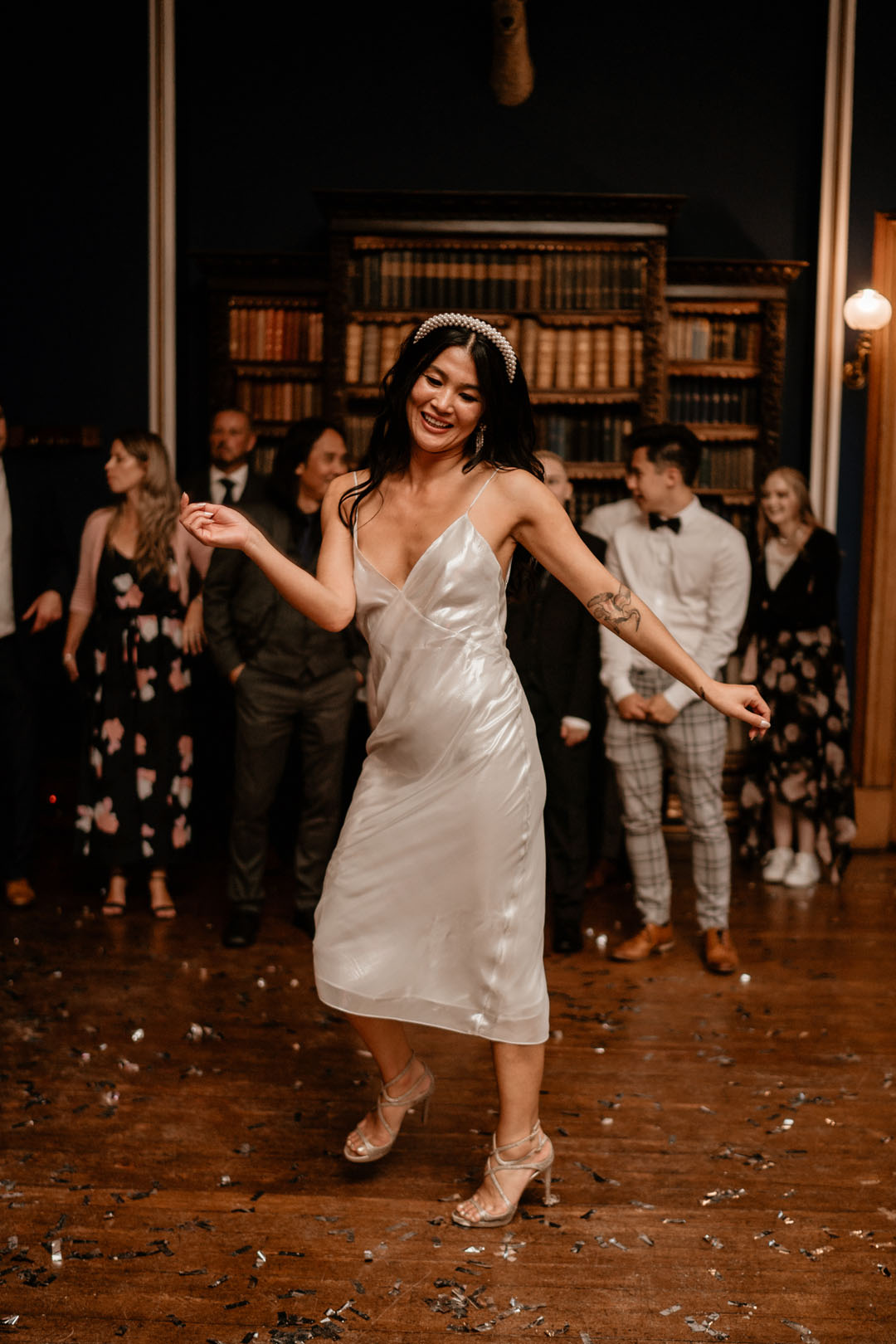 For more beach-side wedding inspiration, take a look at these Love My Dress features.
Ele xx