Leena & Jon's Glamorous & Intimate Winter Wedding at the Bodleian Library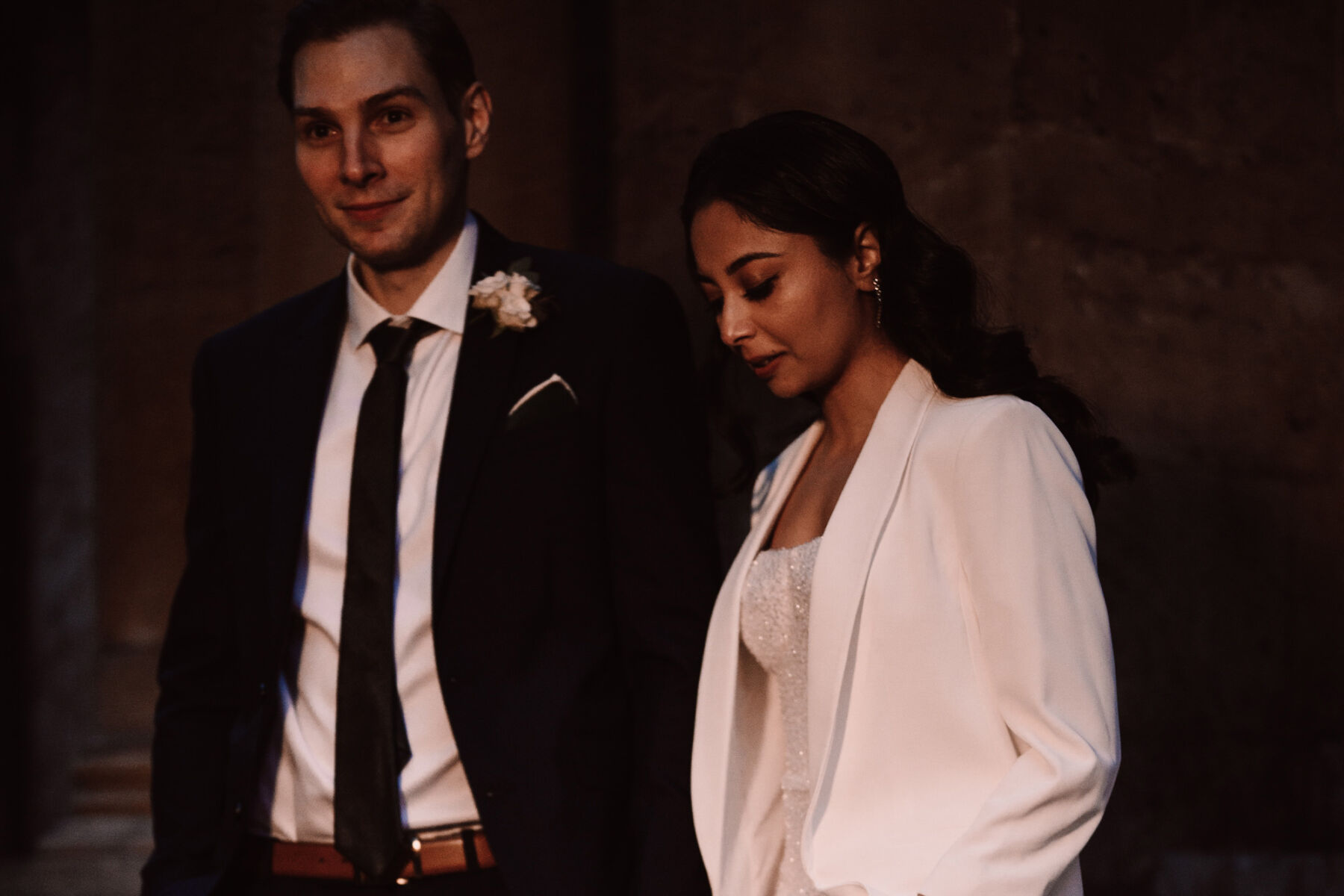 Leena and Jon tied the knot on 21.12.21 at the Bodleian Library at Oxford University with an intimate wedding full of effortless modern glamour.
Leena is Hindu, but instead of a traditional Indian wedding and for a variety of reasons including Covid, the couple opted instead for an incredibly stylish modern, intimate city wedding. Leena wore a sequin Made With Love Bridal gown and the couple booked Love My Dress recommended wedding photographers, Taylor Hughes Photography, to capture these beautiful, atmospheric winter wedding images. Enjoy!
The Dress
My dress was a Made With Love Bridal design, from The White Outlet in Portishead is a really lovely intimate boutique with lovely stylists. They build you up with confidence but don't push you if you're not 100% comfortable in a dress. They listen but own't offer something you know you really don't think is appropriate for you. Which is very important as wedding dresses can be expensive!
I had three visits in the space of six weeks. The dress was made for me, then tailored further. Super easy. I would definitely recommend visiting them, they also have an outlet store so there are lots of options for different budgets. but most importantly they were kind and understanding stylists and had stunning designs to chose from.
I saw the dress on instagram, and just thought that's very me. It was modern, sparkly (perfect for a Winter evening wedding), and as soon as I saw the dress I knew what kind of hair and makeup I wanted (which is really not my thing). I wanted to be a modern bride in a white dress, something I never saw myself as.
I just loved the sparkle of the dress and the silhouette. The photographers captured it so well too. The rest of my look was very simple but glamorous and still felt very much like myself. I had a friend pick out my main earrings for me, she has great taste and is training to be a wedding planner herself so I trusted her choice. I also wore some diamonds that my grandparents gifted me years ago.
As the dress was the main focus of my look, and wanted some daylight shots we had our wedding photos outside which was freezing so I had my lovely white suit blazer to wear which I was originally going to wear instead of a dress. Which topped off my modern bride look (for outside).
I didn't wear a veil – the dress was totally backless and my hair looked too good to cover it up. I considered 'wings' but decided it didn't need it. Plus people kept standing on my dress so a veil or wings would have been a bad idea!
Shoes & Accessories
I wore some diamond hooped earrings that were gifted to me by my maternal grandparents and also a diamond eternity ring, and I had my paternal grandfather's signet ring with a photo of him inside my bag the whole day.
I genuinely can't remember where I bought the shoes from, who terrible is that? They were really pretty, inexpensive and quite comfy, I am not really a shoe girl, but I did buy a new Chanel bag for the day.
The Proposal & Engagement Ring
We met the old fashioned way, in a bar, in Soho London. Even though we grew up 25 mins away from each other we met here. A Few months later we went on our first date, the only reason we can remember when it was, is because Andy Murray won his first Wimbledon.
The engagement was definitely untraditional, like us as a couple.  It was a case of let's get married soon (in a year ish). My family are traditional Hindu Indians and so we wanted there to be an engagement ring to make it official to be able to share it with family and friends.  Dovi Fehler aka @londonjeweller, designed an engagement ring based on an idea I'd had in my head for years.
Due to covid, it took a year to have the ring made from start to finish but 22nd June 2021 was the official engagement day and the wedding happened six months later.
Bridal Beauty
Makeup was the amazing Phoebe Hayter and Hair was the amazing Antonia Krieger of Elle Au Naturel. Both are so talented! and took a while to find the right people as I'm very fussy with my hair and makeup and I knew exactly what I wanted the look to be. Hair and makeup was perfect, and neither budged all day.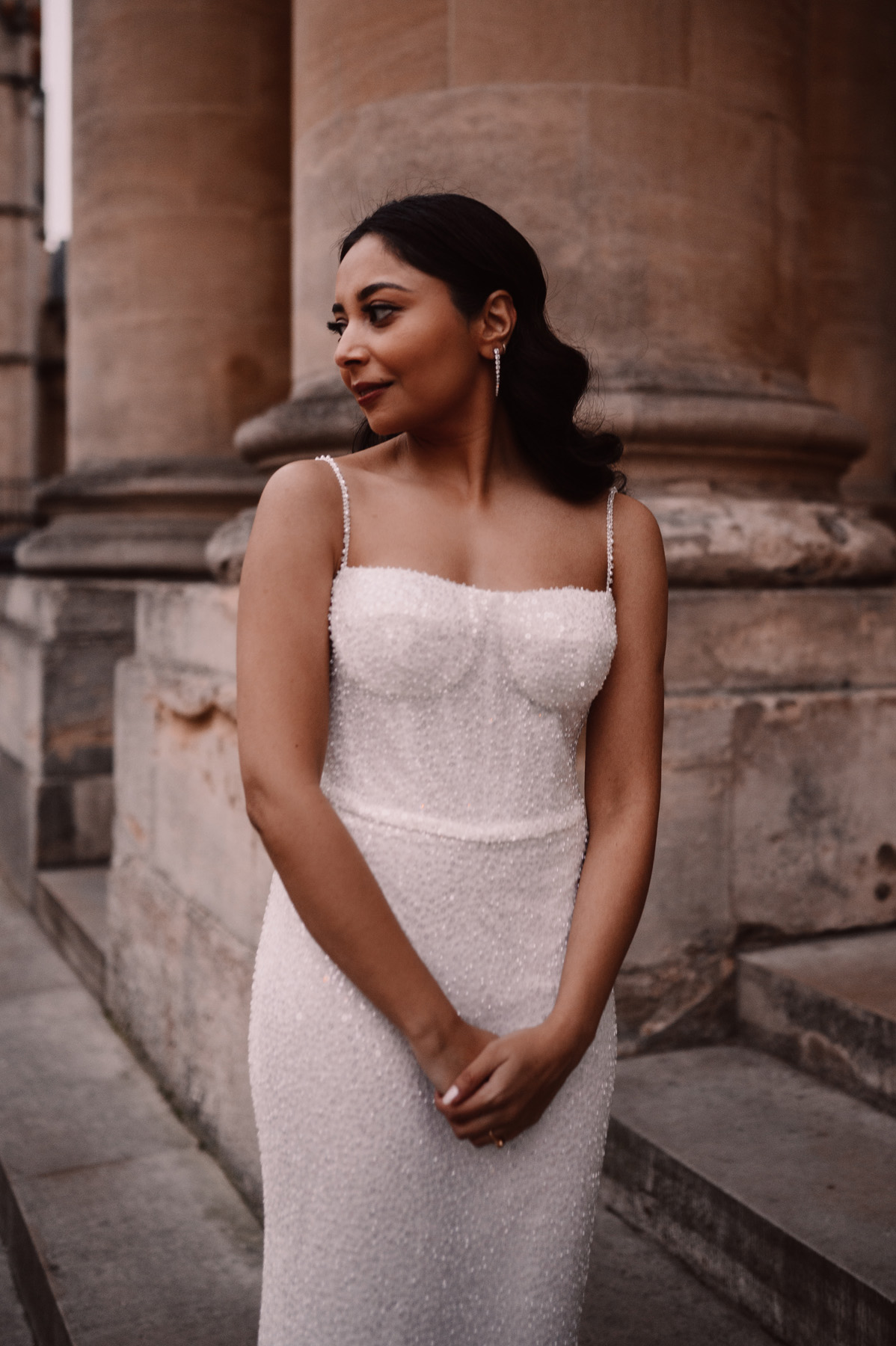 The Venue
We both were born and raised in Oxford so getting married here was full circle in a way plus it is an iconic city which we spent a lot of our childhood walking around the centre.
We actually originally decided to get married in the registry office in Oxford, we weren't into the idea of a 'big fancy' wedding or making the day a big deal. BUT I saw micro wedding photos of an old friend of mine from Oxford the summer prior around the grounds of The Bodleian and asked her about the venue. Once we saw some more photographs, we decided to go on a tour of the site with the wedding team.
We both are into literature, film and gothic architecture, and with such a rich history of these subjects, and some amazing photo opportunities, once we had the viewings we knew this was the venue. It was just as stunning inside (even though we said we weren't actually bothered about having a special venue to begin with) as it was outside.
So many famous writers studied here; TV shows and films are shot at the Bodleian which was also a fun aspect that we could share with our guests.
Our guest list was 14 people, so the wedding itself was small so it was easy for us to liaise with all the suppliers on our own. Besides they had all worked together on many events so we felt confident in the support that was being provided from them all.
The Ceremony
My father walked me down the aisle – we both were crying, a lot.  Don't laugh but, our entrance piece was a piece of music from Lord of The Rings. It's really emotional but happy at the same time and I just couldn't imagine walking down the aisle with any other music once I'd heard it.
We decided to keep the vows short and sweet as we were both nervous about getting the words wrong. We kept religious and cultural aspects out of the wedding as Jon's family are a mix of atheist and Church of England Christians and my family are Hindu,  so we just kept both parts out and had a Civil ceremony.
For our rings – we wanted to go with an independent, Oxford jeweller and the covered market was the first place we went to as we both remember John Gowling Jewellers being a long standing business there.
The Photographers
It took so long to find the right photographers. We were recommended Jack and Jade of Taylor-Hughes Photography and as soon as we saw their instagram photographs, it was exactly what we were looking for.
We are both into photography and for the wedding we really wanted a strong modern style with candid shots being a focus vs the typical group shots more posed images – and we love black and white shots.
Luckily Jack and Jade were available for our date! We also definitely underestimated how important wedding photographs are. They got those shots of the small details that were important for us to remember the work that was put into the day as well as amazing candid ones.
The photographs were more than we could ever have imagined.
Book Jack and Jade!
Detail & Decor
With it being winter, and we weren't having a traditional Hindu Indian wedding – we wanted to keep it elegant, simple but magical with the decor. And as our wedding was held just before Christmas, we didn't want it to look like a Christmas party, so we chose a colour scheme taken from the engagement ring which included white (diamond), gold, and green (emerald).
Originally, the plan was the registry office, so no flowers, lights, or even a dress but a white women's tailored suit. I think because I had genuinely never thought about a wedding in my head, Indian or western I had no clue so keeping it to the bare minimum felt right. But then we booked the Bodleian and realised 'bare minimum' wouldn't work.
We definitely wanted it to look bespoke, modern, elegant, but timeless. We wanted our guests to be able to see our taste/style and be excited about all the details.
For us It's all about details that create the entire look e.g the canopy lighting over the table, the handwritten name cards and the light up water glasses, the architectural ceilings, the variety of flower arrangements on the table etc. But once the venue was booked, the vision just became super clear.
The interiors of the Bodleian are very grand and ornate as they are and the wedding was small so we didn't need to worry about overpowering the features, but the opposite, not having the rooms feel too bare.
The flowers we would kept all pure white, with a bit of greenery from eucalyptus to keep it more modern winter like rather than Christmas. Our florist was Fabulous Flowers – my family has known for years and years, so I had total faith in them. At our meeting, we told them the colour scheme and the type of flowers we really wanted. I specifically wanted lots of candles to bring warmth and soft lighting to both rooms, as it was going to be dark at 5pm which is when the ceremony was happening. White roses, hydrangea, and peonies, as peonies were not in season they recommended ranunculus which are just as beautiful to be the main flowers in the arrangements. We specified that the tablescape was really important to us and going to be the showstopper and we wanted the table arrangements to be taken away by the guests to take home as a momento.
Jon, my mother and myself, designed and hand made all the stationery, including the save the dates, invitations and table menus and name cards. We are quite a creative bunch!
Reception & Dining
We actually aren't really into dancing, and for a room full of just 16 people we didn't feel the need to. The whole event wasn't a full day, it was only four hours, and we wanted to do what we thought was more important – eat!
So no first dance, though we did do a fake 'walk down the aisle as if we were leaving' to Fleetwood Mac's Everywhere.
Budget
We didn't really have a budget, we had an estimate, and we spent double, but that was because we ended up having a venue and everything that comes along with it, catering, flowers etc, and I also ended up having a wedding dress. But we spent around £16k, and this included the wedding dress, hair  and makeup for myself, my mum and my sister, hotel stays, and we purchased the cutlery, charger plates, and drinking glasses ourselves.
Words of Wedded Wisdom
I would not have left getting a dress so late. Even if you don't think you want one, go try them on as early as possible so you can eliminate the 'what if?' in your mind; other than that, no, we would not have done anything differently.
I think it is important to do what you want, and really try not to waste energy on pleasing other people on your special day. It is really hard with social media too these days comparing, on top of family and friends opinions on how things look, should be done and how much you should spend. This can really cloud your choices and vision of what is right for you both.
Be really clear with your planner/suppliers on what you want, you are paying a lot of money, and make sure you get what you want.
Always have back up options for your ideas, such as tablescaping, sometimes ideas you may have don't work in reality, so always good to moodboard, or ask your suppliers to create visuals for you (moodboard or flower arrangement examples).
Do any food-tasting as early as you can, and as many as you can; with Covid, we were only allowed one, and we made a few changes to the menu after but weren't able to do a second tasting before the wedding. A friend of mine got married in summer 2020 and they didn't have a food tasting at all.
Invite who you want, wear what you want, do what you want. You are going to have those memories forever of your big day, so be selfish and enjoy yourselves.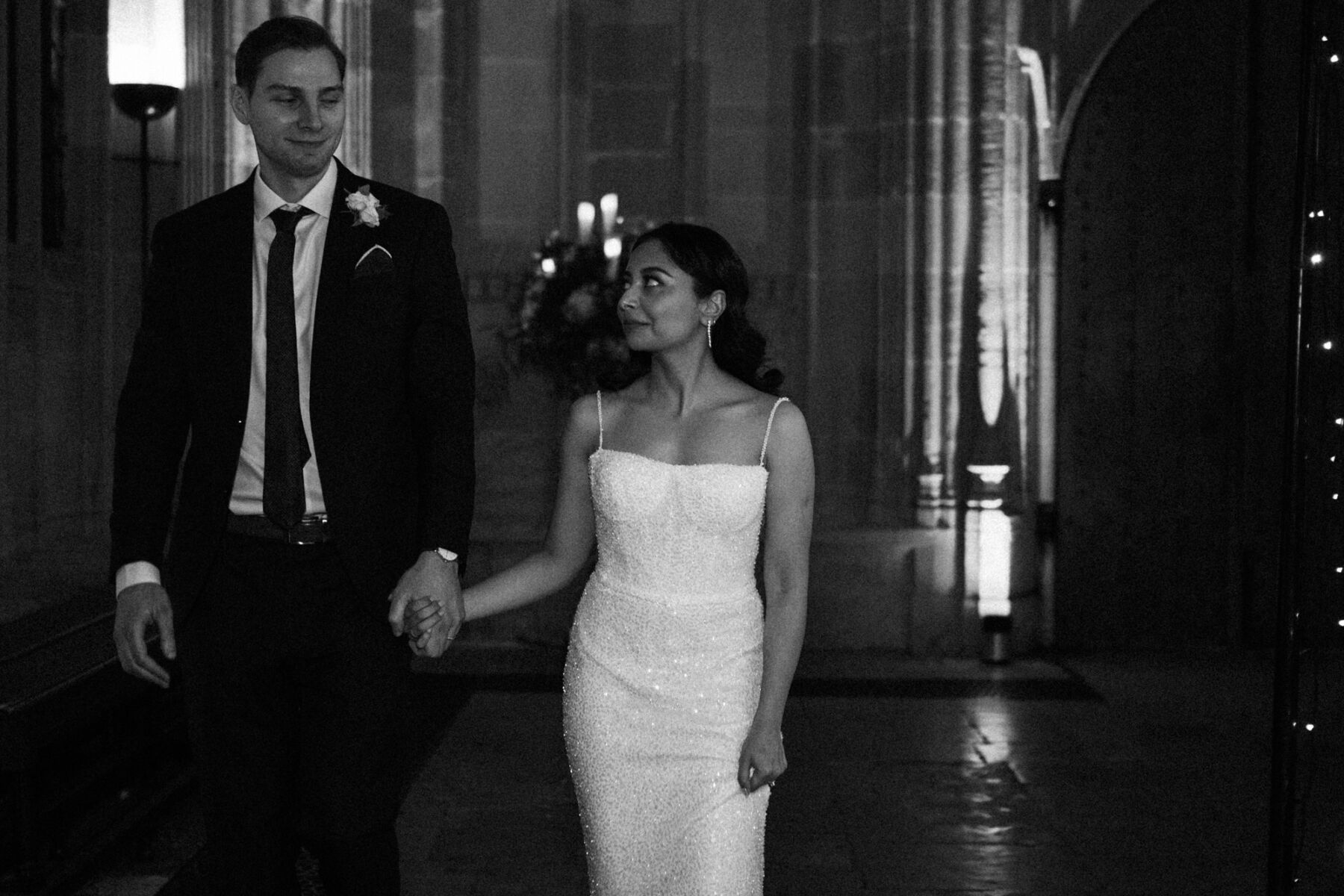 taylorhughesphotography.com