Spring Blossom: Elegant Seasonal Bridal Editorial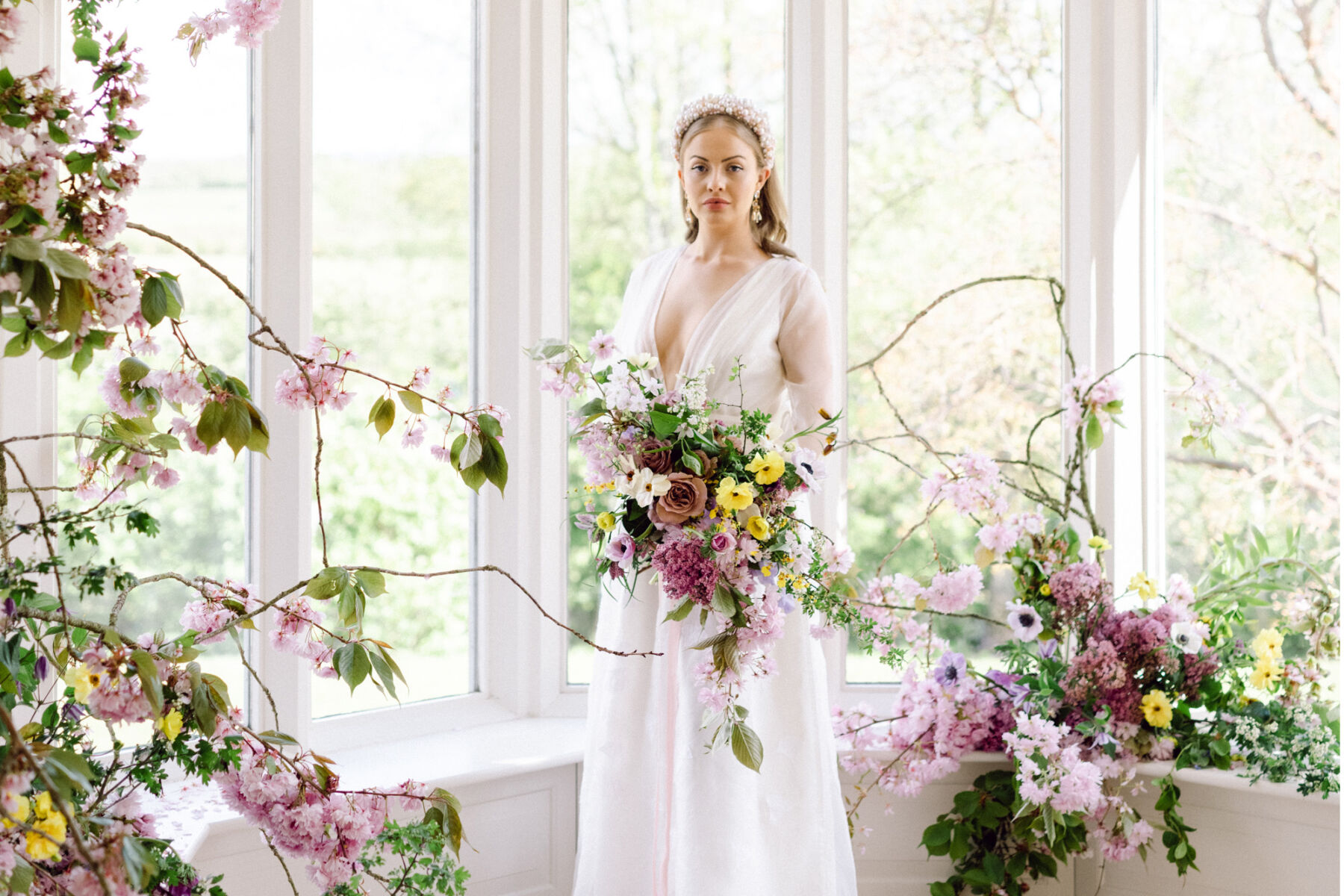 These gorgeous Spring images were produced Cotswolds wedding photographer and Love My Dress recommended supplier, Captured by Katrina.
They embody the elegance and freshness of Spring and were an opportunity for Katrina and her creative partners to gather after months of lockdown and create again. Words that follow are by Katrina…
"This shoot took place in May last year, when covid restrictions were just starting to lift, when so many of us creatives had been stuck at home unable to do what we love best for so long, and just before the busiest wedding season many of us have ever known."
"This shoot will hold a very special place in my heart because of this. It was such an incredible moment for us all – to finally come back together and do what we love most, to create."
"To finally get to work together as a team again and to start the season as we meant to go on, full of joy and excitement and creativity."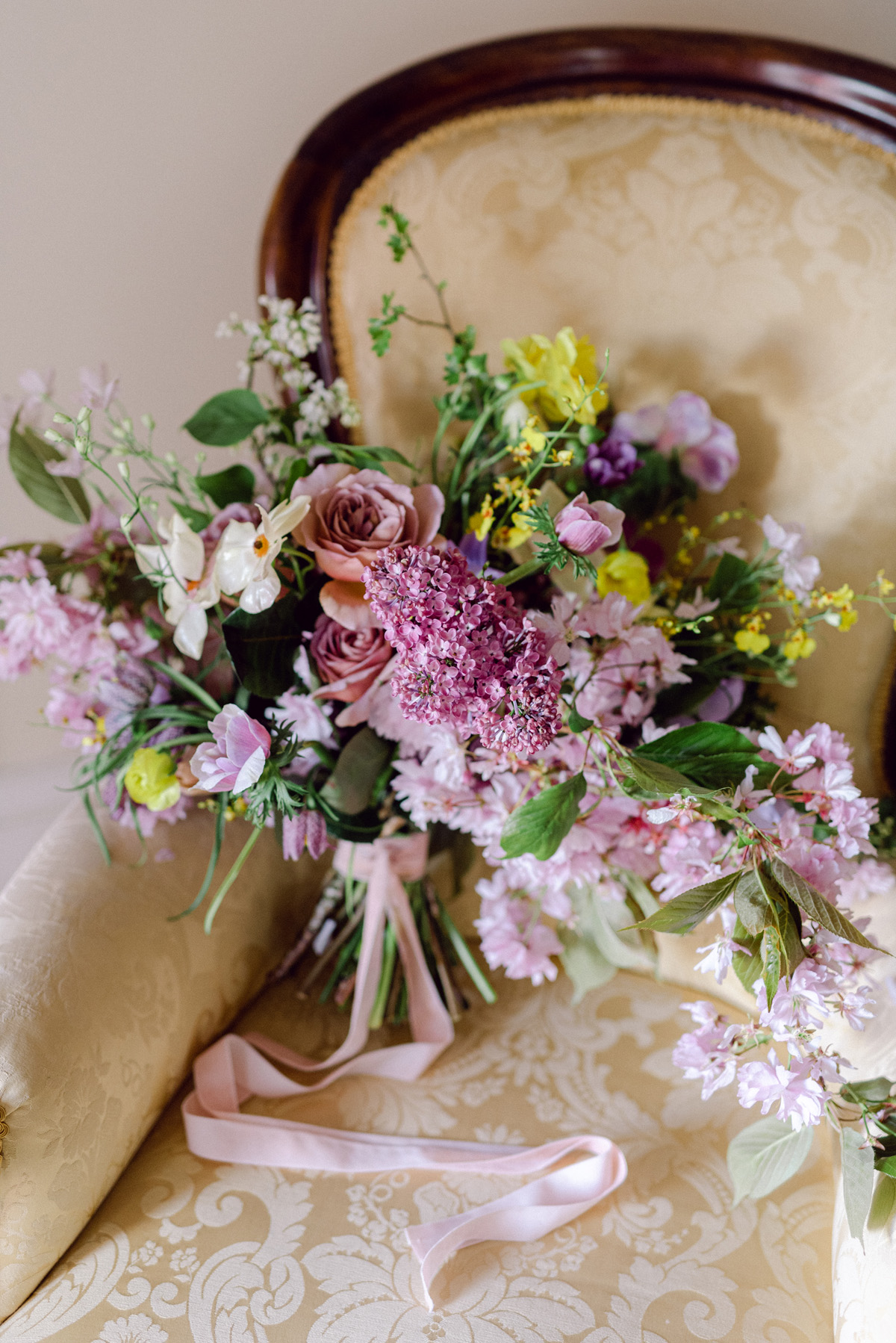 "The idea behind the shoot was twofold; firstly, we want to grasp a hold of one of the themes that many of us had noticed to come out of the few smaller and more intimate weddings we had done – the joy and beauty of an intimate dinner party."
"We wanted to create a tablescape that drew away from the more muted tones of traditional weddings and embraced the patterns, colours and textures of a British garden party."
With this in mind we created a tablescape full of layers, textures, colours and full of blooms. We went for a classic blue and pink colour combination with blue and white patterned tablecloth, soft pink textured charger plates and then the traditional blue and white Denmark plates layered on top.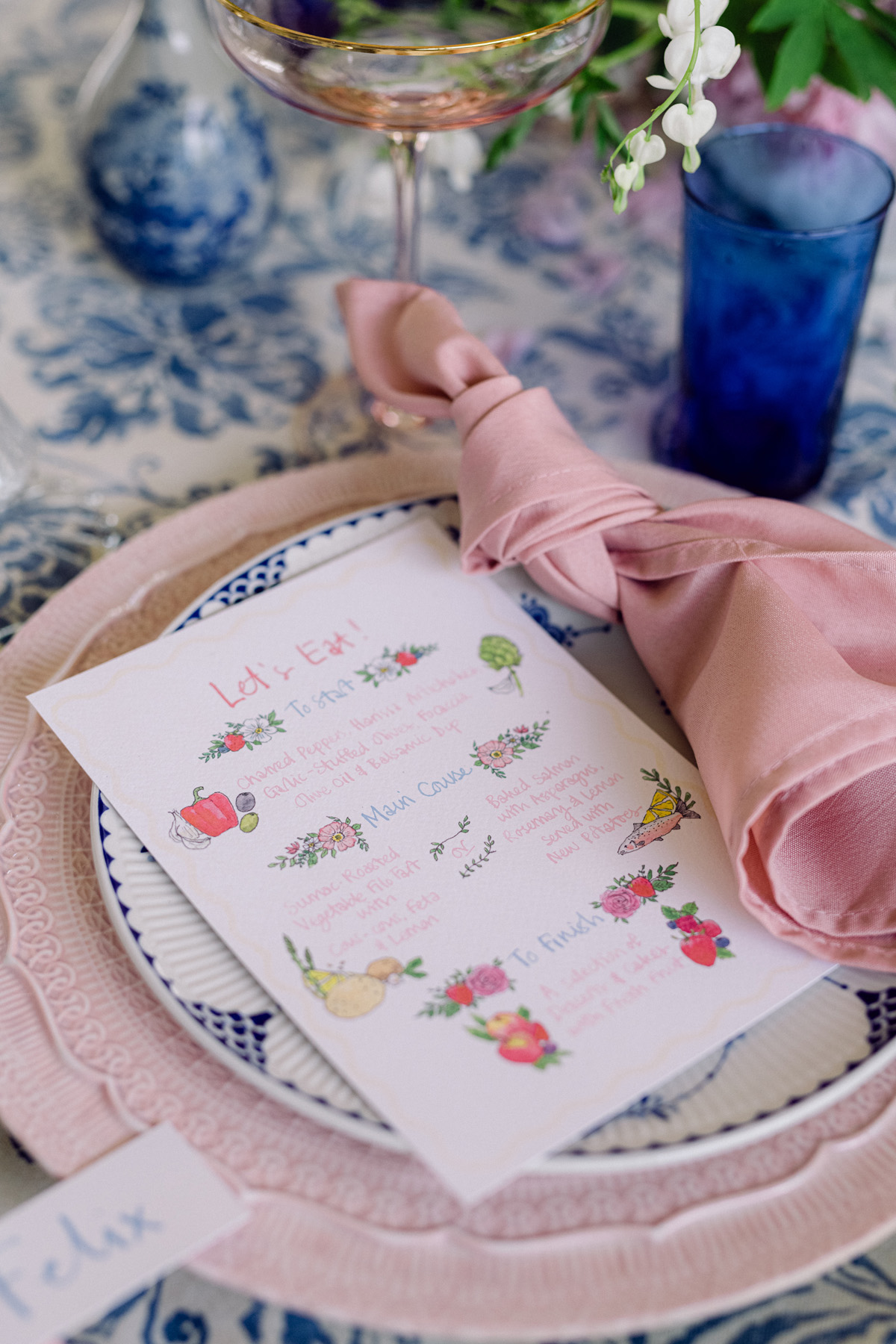 "Soft pink linen napkins and traditional tarnished silver cutlery tied with pink velvet ribbon and place names finished the place setting. Pink tapered candles in tall glass holders, blue water glasses and pink champagne saucers completed the table."
"We also wanted the shoot to embody the season of Spring. May in Gloucestershire has bountiful blossom and Honeysuckle Flower Co really embraced this creating a stunning floral statement piece around the houses' drawing room windows and another in the dining room fireplace using the natural shapes of the blossom branches intertwined with other seasonal florals."
"Along the centre of the dining table there was an abundance of flowers in pinks, yellows and purples – a real ode to the blossoming of spring. The overall effect was heavenly."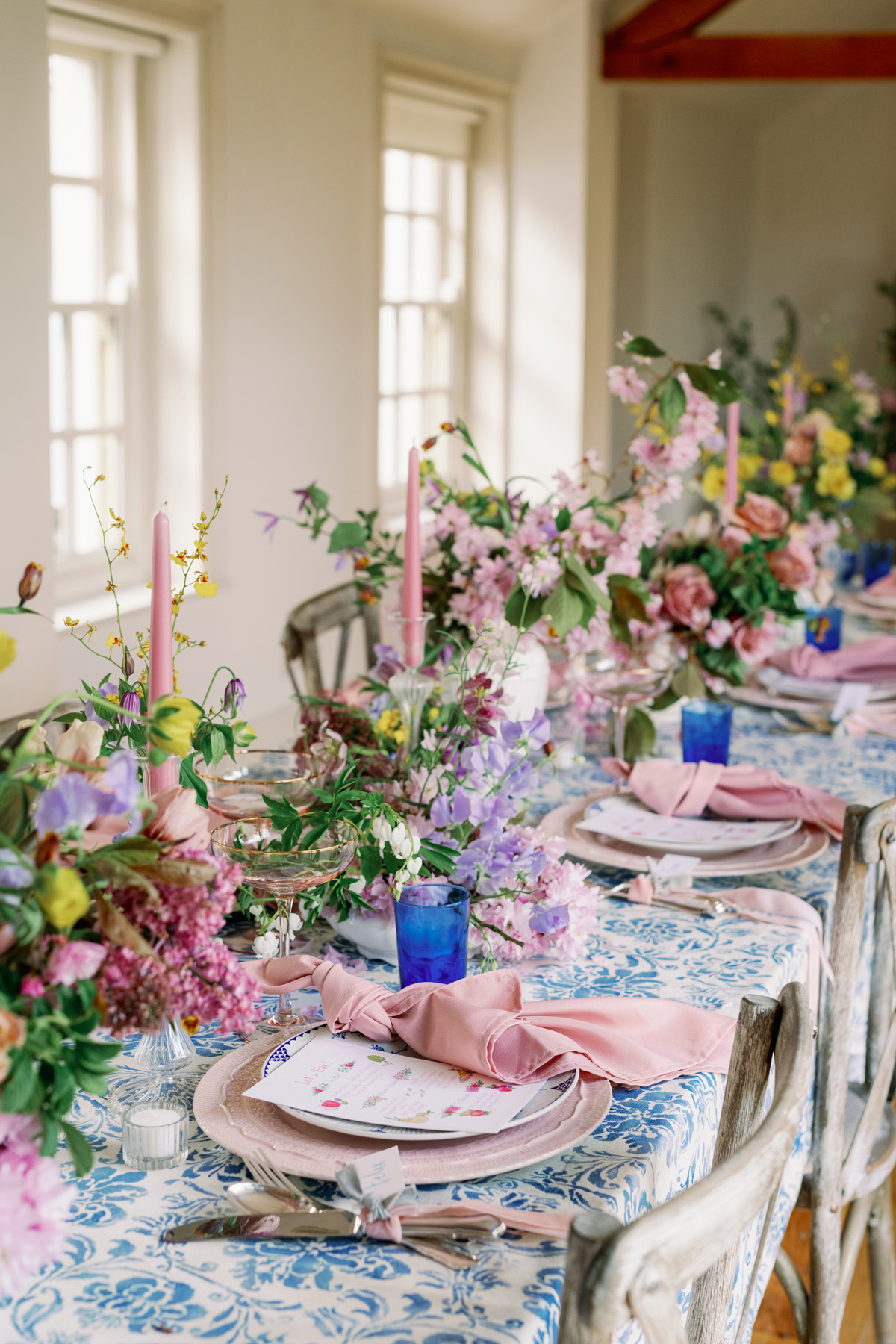 "The stationery was beautiful and continued the theme of the abundance and celebratory style of an English garden party. Menus's were beautifully decorated with illustrations of the food to be served and writing in a variety of bright colours. The envelopes for the invitations were bright red with exquisite illustrations of flowers and fruits adorned inside."
"The invitations had illustrations of the English manor we were shooting in surrounded with flowers and the bright colours and stunning pictures were such a joy to photograph, perfectly complementing the abundant and colour dinner settings."
"For the bridal look we used a wonderfully talented bridal designer, Ailsa Munro, who created a stunning dress for this shoot. Long billowing sleeves, delicate pearl buttons, a plunging neckline and full skirt were perfect for the lady of the house."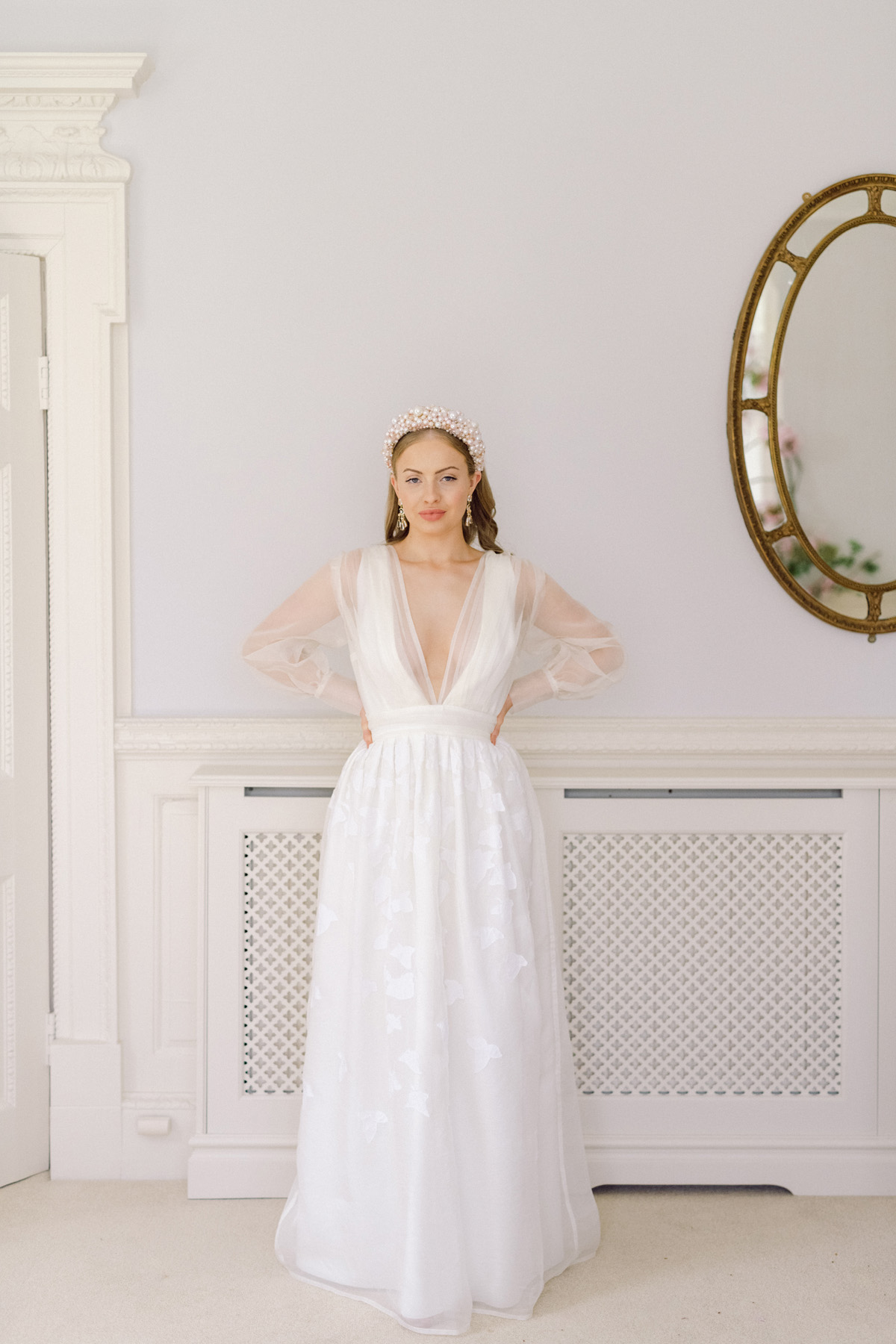 We accessorised with a stunning headpiece and jewels from Victoria Percival, an incredible headband hand sewn with hundreds of fine pearls and crystals to create a beautiful statement halo, paired with sparkling star and moon chandelier earrings.
"For shoes we were lucky enough to have a pair of Harriet Wilde shoes, elegant and classic in white with a statement organza bow which matched perfectly with the style of dress and accessories. The make up and hair were so beautiful."
"Delicate and subtle with beautiful pink lips and cheeks and bright eyes created a look that perfectly complimented the energy and brightness of spring. The bride's beautiful long hair was given the perfect blow dry and styled with the incredible pearl Aphrodite's headband nestled atop."