Looking Ahead To Autumn Weddings at Historic City Venue, RSA House, London
Summer has made a bold arrival with some crazy warm weather of late, but today darlings, we're taking you on a delightful journey in to the joy of Autumn weddings, with our friends at one of London's most beautiful, historic and well run city wedding venues, RSA House.
We've noticed that more and more couples are opting for an autumn wedding and today. Our friend and wedding coordinator at RSA House, the wonderful Silvia, is keen to tell us why RSA House, with its unrivalled location in the capital, is the perfect wedding venue for an autumn celebration. And, good news for those of you keen to tie the knot sooner rather than later – RSA House still have some availability for October 2022 so, without further ado, we'll hand over to Silvia to tell us more.
"At RSA, we believe that embracing the seasons and what they have to offer is the best way to plan weddings. This is particularly true for autumn weddings that offer a lot of inspiration and opportunities to create a cosy and stylish atmosphere."
"Colour palettes with warm tones such as gold, red and burnt orange work perfectly with our event spaces. The Benjamin Franklin Room is a blank canvas that couples can decorate as much as they wish. The original mantlepieces can be enhanced with autumn foliage, garlands, and dried flowers.
To complete the look, couples often include coloured scented candles and copper details."
"The beautiful chandelier can be dimmed down for a more romantic atmosphere with candles dotted around, or they can decide to have uplighters to add an extra touch of colour to match their theme and create the atmosphere they have been dreaming of."
"Depending on the number of guests, we can offer different layouts for the rooms and therefore there are so many different opportunities for decorations. Use your creativity to add little details here and there and spoil your guests with a delicious autumn menu and some bespoke drinks!"
October is usually one of the busiest months for weddings at RSA House but as there are still a couple of October 2022 dates available, if you love the thought of an autumn wedding right in the heart of London at one of the city's most iconic venues, get in touch!
With Silvia and the RSA House team working with you, there's absolutely plenty of time to plan the perfect wedding and here's Silvia again with some fantastic advice if your date is just a few months away:
"Start planning straight away and confirm your suppliers as soon as you find them. Making spreadsheets and to-do lists is always my go to when I plan something in a short period of time, so I'd suggest writing everything that needs to be done in order of priority and start ticking the boxes."
"This will help keep track of the progress and reduce the risk of forgetting bits here and there."
"I also believe it is also important to split tasks and ask friends and family to help if needed. The wedding planning journey should be a wonderful adventure, and each couple should enjoy it, not constantly feel overwhelmed."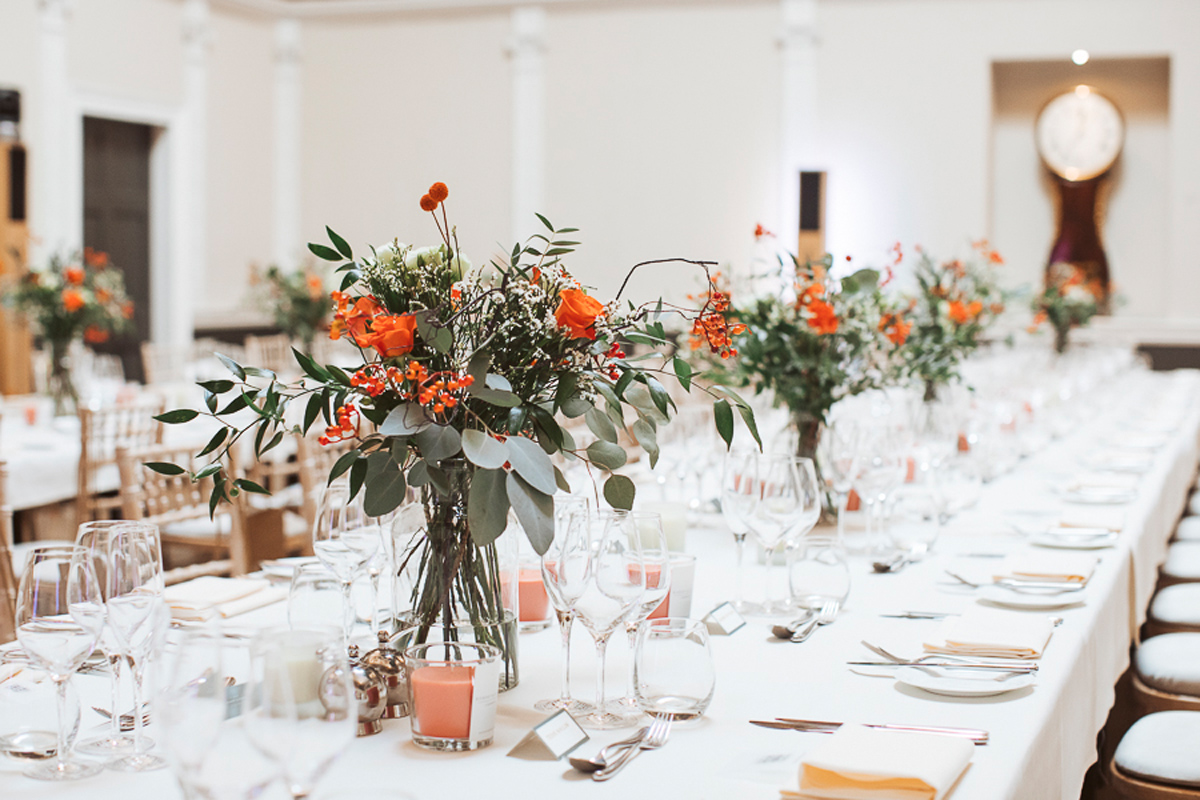 "Suppliers can help and give couples suggestions too, so don't be afraid to ask! It might be the first wedding for you, but it's definitely not the first for us. We know other professionals, and we have helped many couples make their visions come to life. Share your thoughts and your concerns: we will find a way to reassure you."
"Also very important, remember to send the save the date as soon as the date is set, so you can make sure that all the people you want to share your special day with are available, so the sooner, the better."
"If you are unsure of how to extend your autumn theme to the food and beverages you'll offer to your guests, you have nothing to worry about. The creative mind behind CH&CO, our in-house caterer, tailor all the menus we offer at RSA House and use seasonal ingredients to deliver incredible food experiences. Our Executive Chef Darren Archer Will be delighted to tailor the menu of your dreams."
"When it's time to say yes to your dress, keep in mind that you will most likely take some pictures in our beautiful surroundings. Think about the façade of the RSA, the Adelphi buildings, Covent Garden, and the beautiful north bank of the river Thames.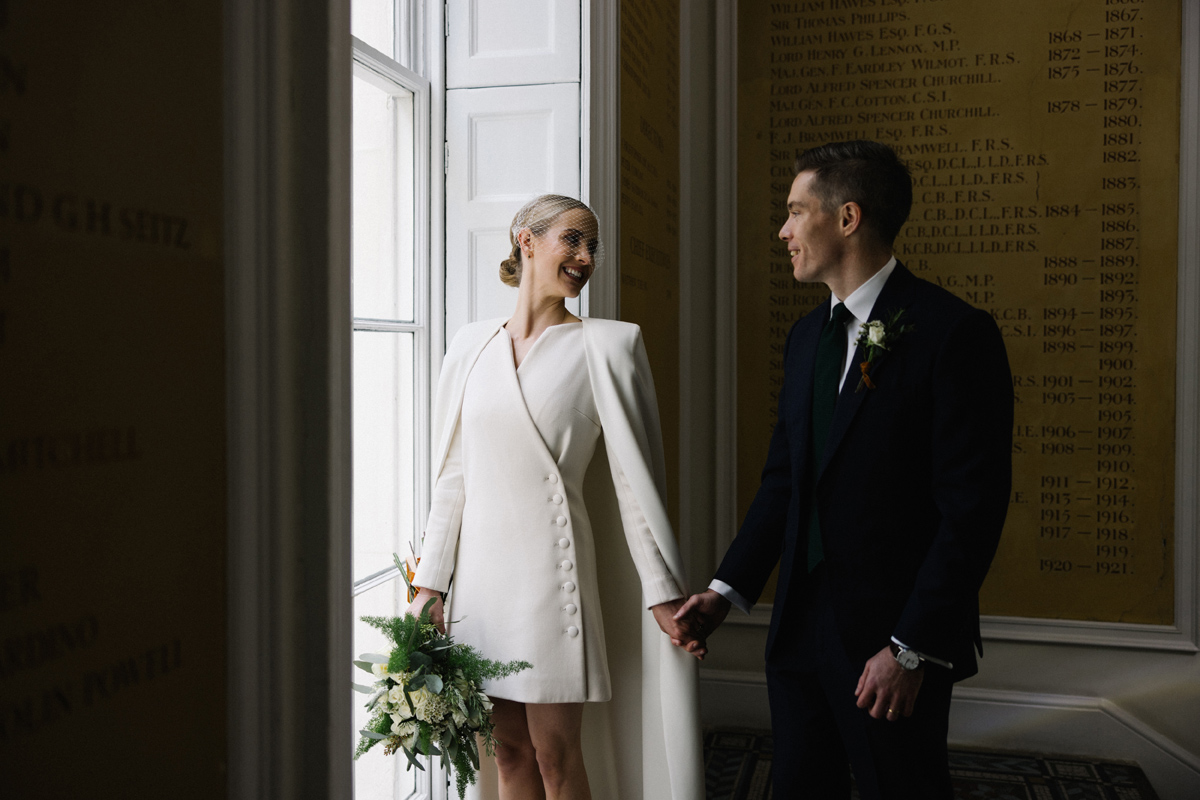 By the time you go out for some pictures with your photographer, it might be a bit chilly so why not consider a fabulous cape like our bride Gemma did? This will not only keep you warm, but will also add an additional fashionable accent."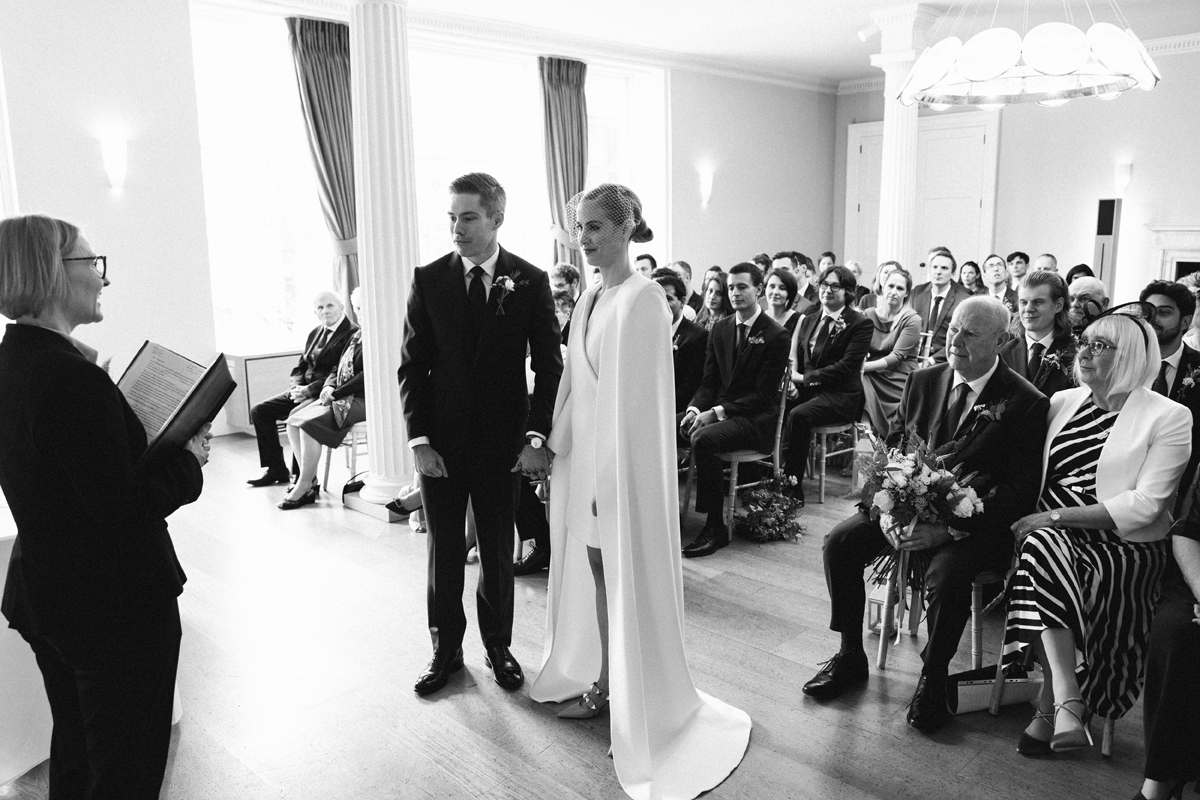 "Finally, bring the outside in. The season itself is magical and offers a lot to work with. Our recommended suppliers will add their expertise and their experience at RSA House, they will blend everything together and give you some breath-taking options that will absolutely enhance your special day."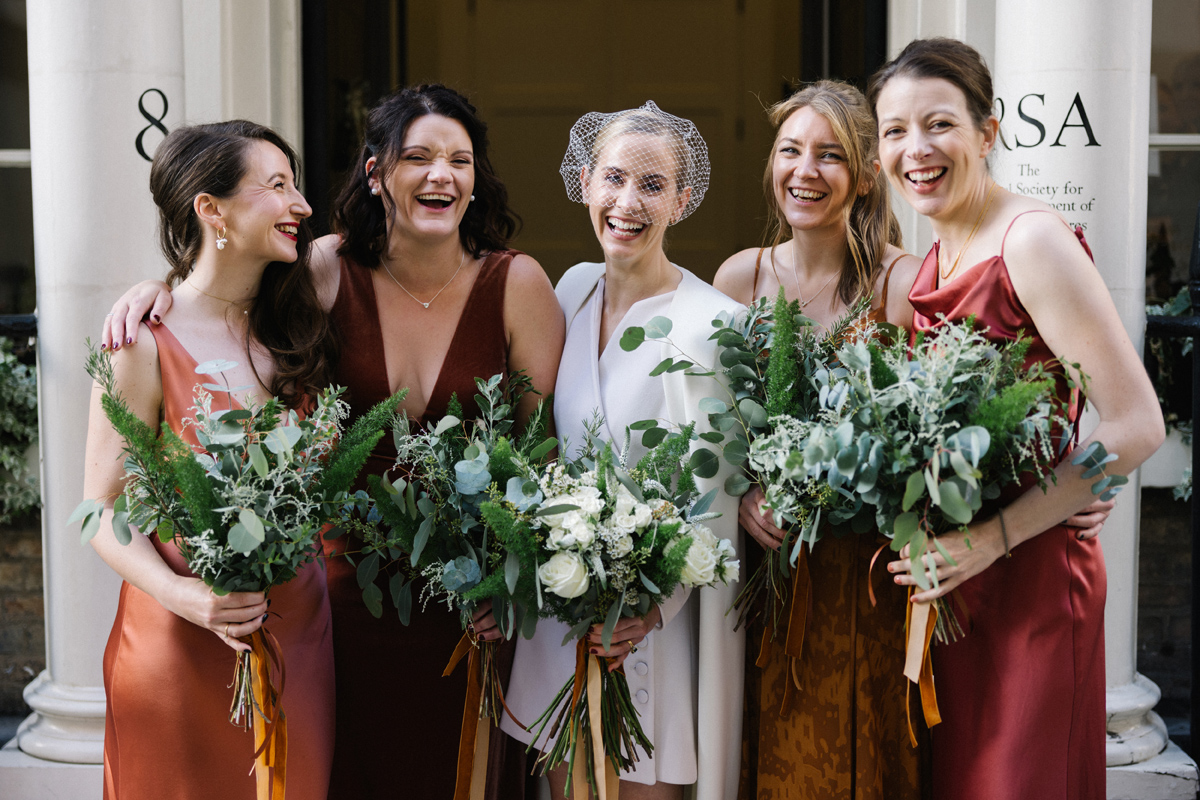 We will be honest, we have attended weddings in every season at RSA House and whether it's autumn, winter, spring or summer, it's always an extraordinary place to be. It's grandly impressive yet warmly welcoming, historic yet modern, central yet tucked away peacefully behind the Strand. Truly, it's an incredibly special place and whenever you visit, you're sure to be impressed.
To find out more about RSA, take a look at their website or go along to one of their monthly Open Evenings – you'll find all the dates and details of these on social media so make sure you're following RSA House on Facebook and Instagram to find out more.
Finally, RSA House are currently offering a rather lovely 10% discount on their most popular all inclusive wedding package for all new bookings for weddings taking place before the end of March 2023. Call 0207 451 6950 or email [email protected] to find out more.