A Romantic & Dreamy, Modern Mormon Wedding in the Woods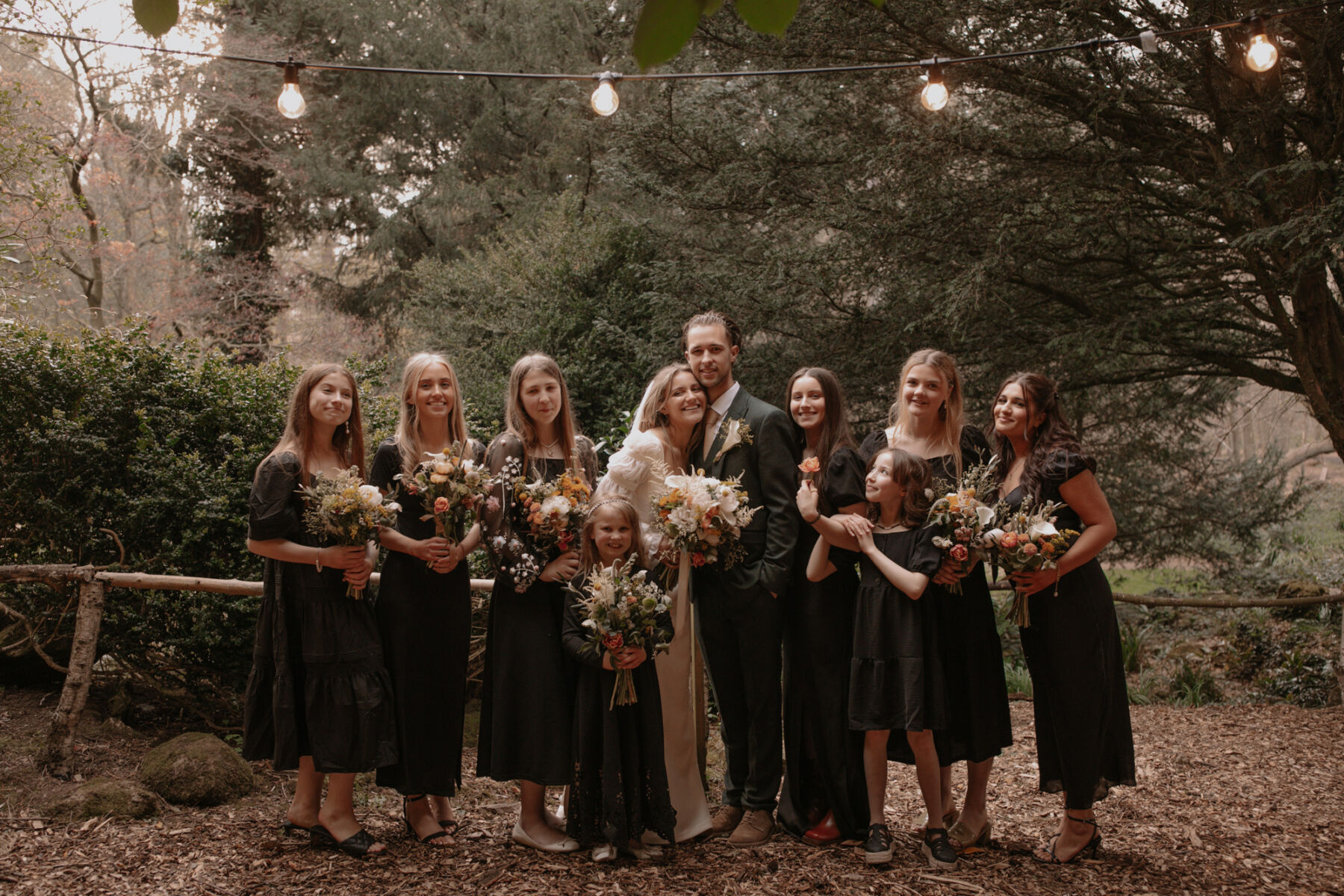 Lily and Joe's wedding took place on Friday 15th April 2022, with a ceremony in their community church, followed by a tipi reception in the woodland at Hazlewood Castle in Leeds.
The couple, who are actively involved in the Mormon church, are keen to share their wedding to help lift inaccurate perceptions of the Mormon church and community. Their wedding was romantic, dreamy, relaxed and captured beautifully by photographer Helen Rose.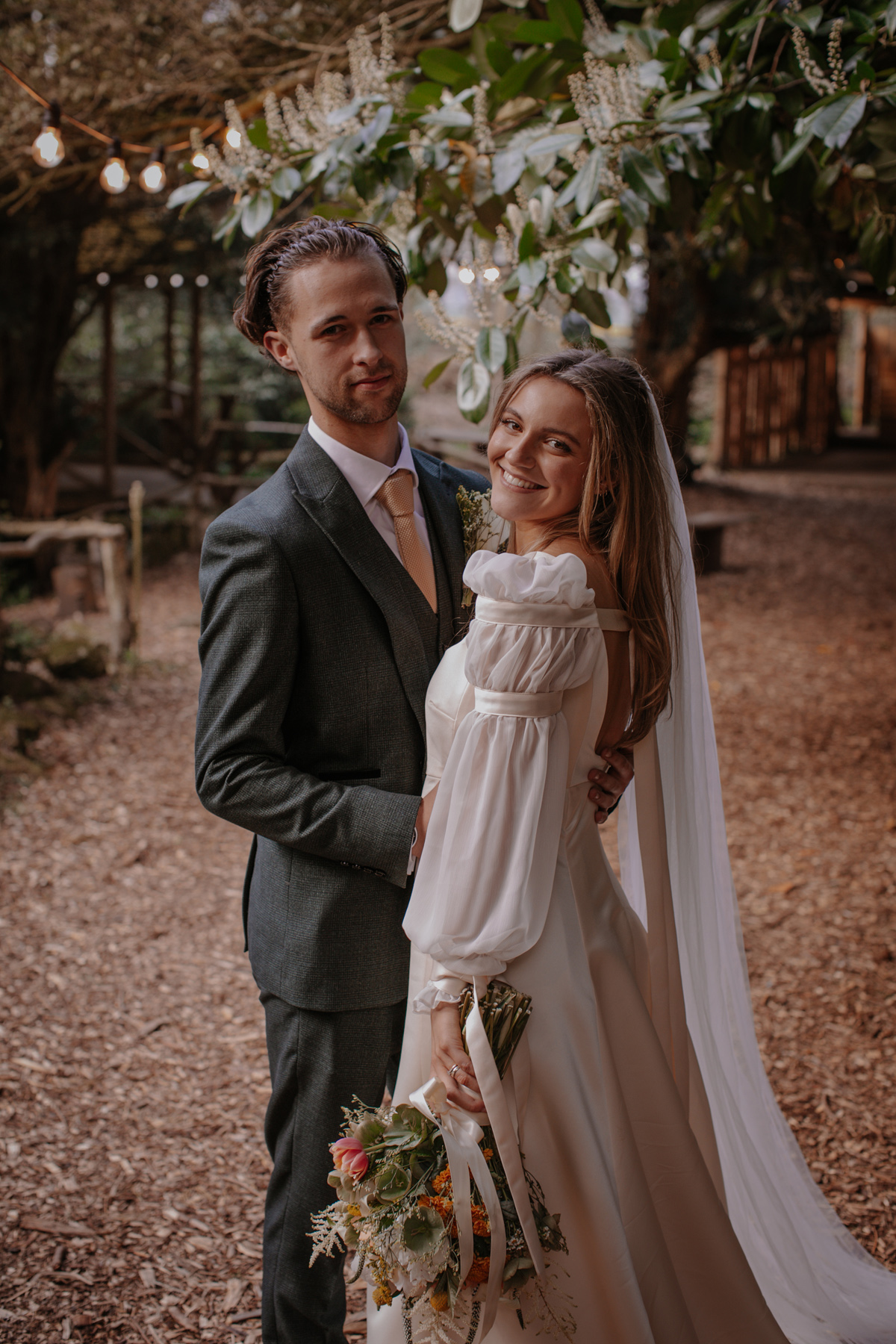 The Dress
My dress was designed and made with the help of Vikki Hoyle, who is a family friend seamstress.
I had lots of ideas from different dresses I'd seen so this was custom made for me I absolutely loved the romantic feeling of it, the sleeves were my favourite part.
I would recommend her services to anyone it fit like a glove and was so flattering, she's amazing.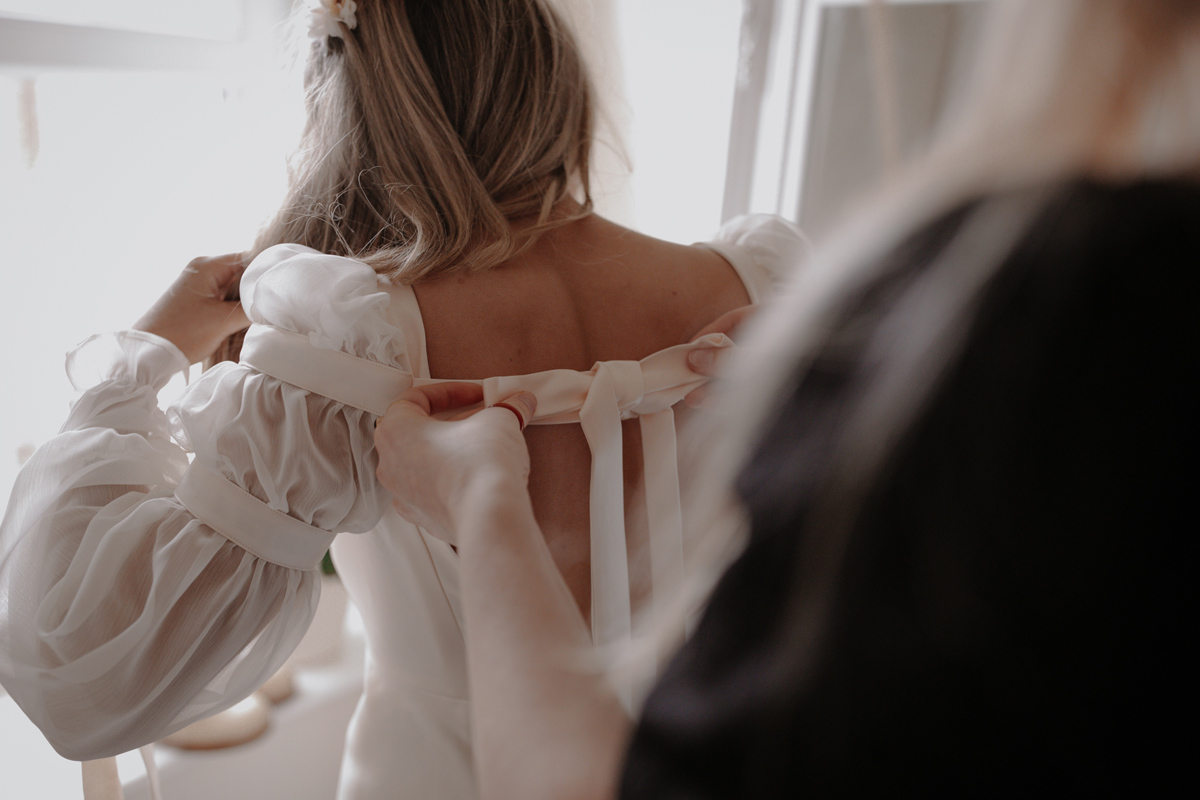 Veil, Shoes & Scent
I wore my sisters veil so was my 'something borrowed', it was floor length and an ivory/champagne colour so went with my dress perfectly.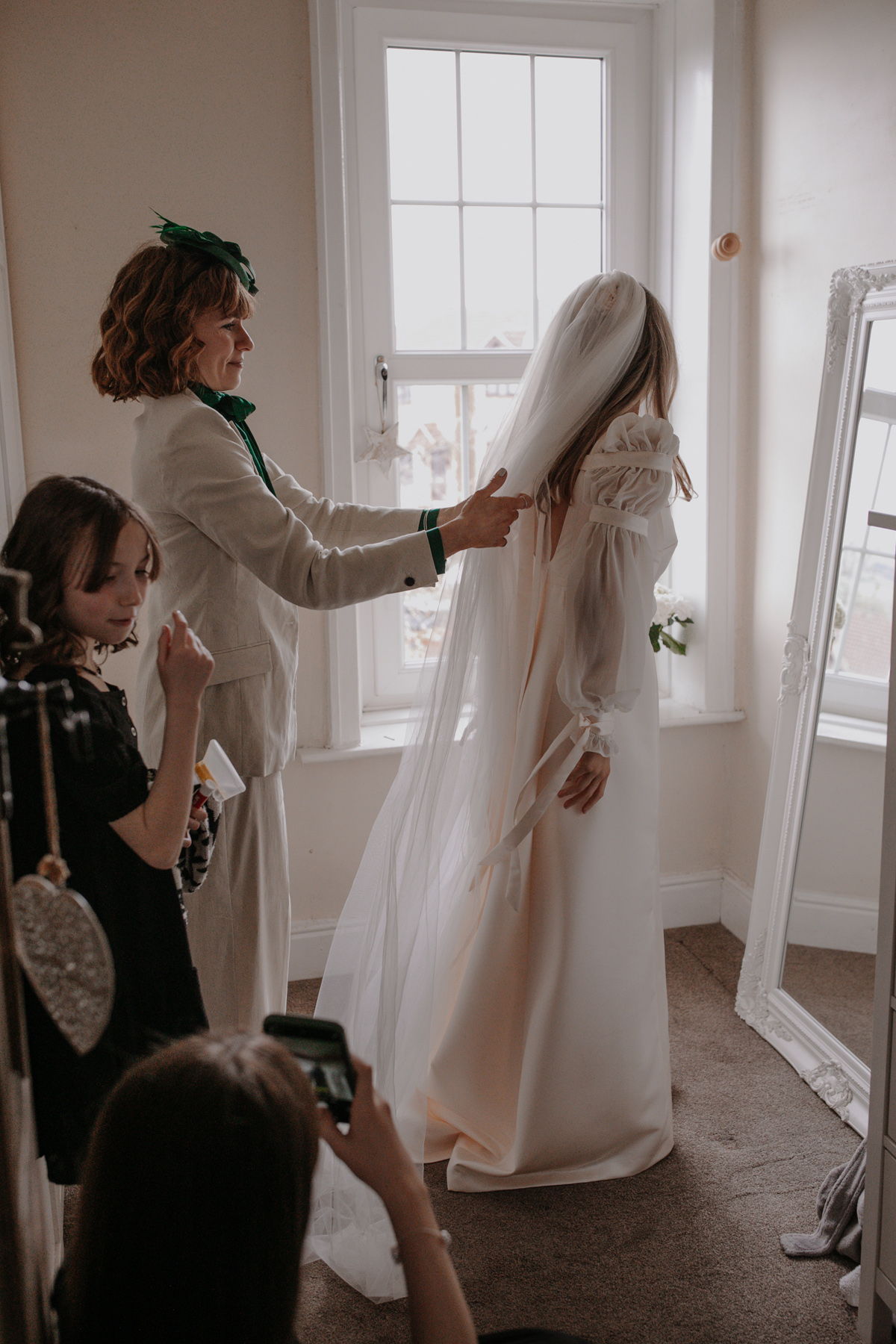 I wanted to wear boots, firstly because I wanted to be comfortable all day and be able to move to my full extent, I knew we were going to be out in the woods and I didn't want my heels to be sinking into the ground and lastly because I needed the height, I would've worn sandals or some sort of flat shoe, but my dress was long and I just wanted to feel tall and sexy for once.
My scent was Versace Red Jeans perfume, which I got from my dear friend Laurie who was one of my bridesmaids on my birthday. It just smells luscious and the packaging is so cool.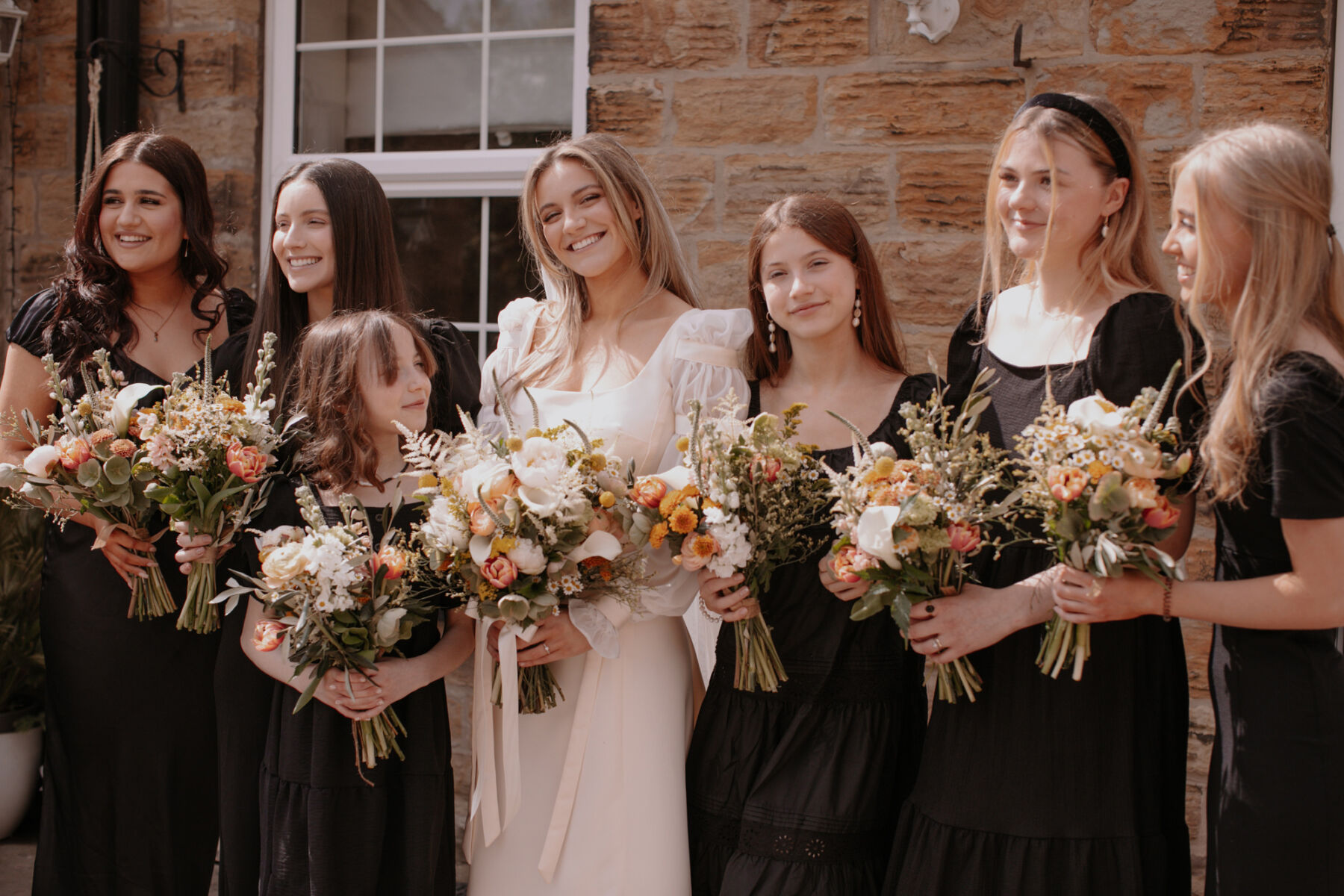 How They Met
We actually first started messaging over Snapchat then we first officially met about two months after that at my Halloween party. A few days later we went on our first date.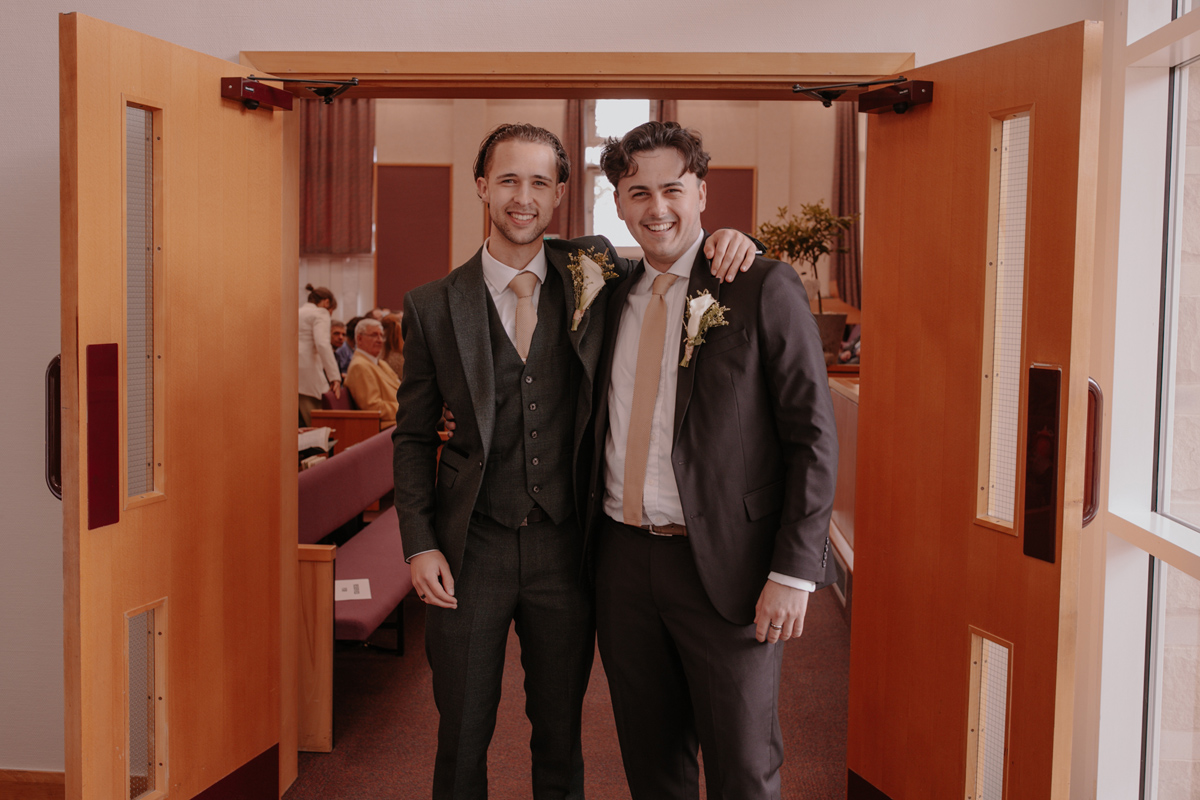 We went to Paris for a few days in December last year and on the last day he proposed to me on a ferris wheel near the Louvre. That day we also missed our flight home. We were engaged for about only four months before we got married, once we knew we just wanted to get on with it.
My dad drove me to the chapel in his car, I wasn't too fussed about transport there, it was just nice being with my dad on the journey, listening to music, and rocking out. After the ceremony Joe and I left in our black soft top Mazda MX-5. She's a beauty of a car, and we just feel super cool when we're in it the roof is down.
A Mormon Wedding Ceremony
My dad walked me down the aisle and then married us. He had only six weeks before been asked to become a Bishop in our local church that we attend (its on the side of his full time job, there's no paid local clergy in our religion) so it was a very lovely twist that he was allowed to marry us and was only part of the plan those few weeks before hand.
We had a Christian religious ceremony at The Church of Jesus Christ of Latter Day Saints.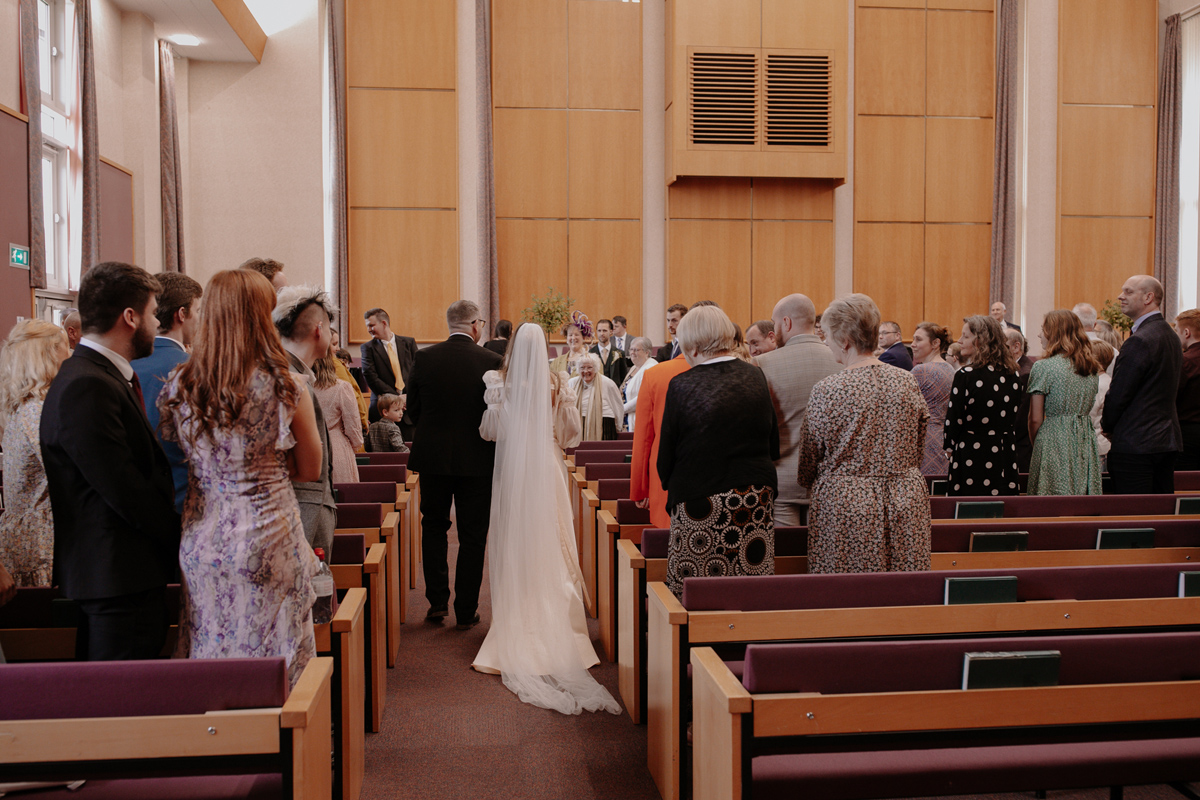 I think its important for people to realise that as a Mormon religion, we are very accepting of other faiths and everyone is free to choose and celebrate as they wish to there has been a lot of misconceptions about our religion that we want to just let the world see in this article that we are in fact normal people who like to also party hard!
Joe's brother who is part of his band played the piano for us which was really special for the service. My older sister Eden spoke in the ceremony, then Joe's grandad John spoke after, both were amazing and offered personal advice and experiences.
In the directory Rita Colson
Listed in
Bridal Fashion
Joe wrote a new song for me and two members of the band sang and played guitars as we slow danced. Joe also had written and released a song called 'The Puzzle' for me previously that we then danced to afterwards with everyone else, it was so personal to us and so special.
We got the rings from Angelic Diamonds, we both wanted plain gold bands. Mine was as a classic court style ring which was as thin as my engagement ring and Joe's as flat side court which was a bit wider.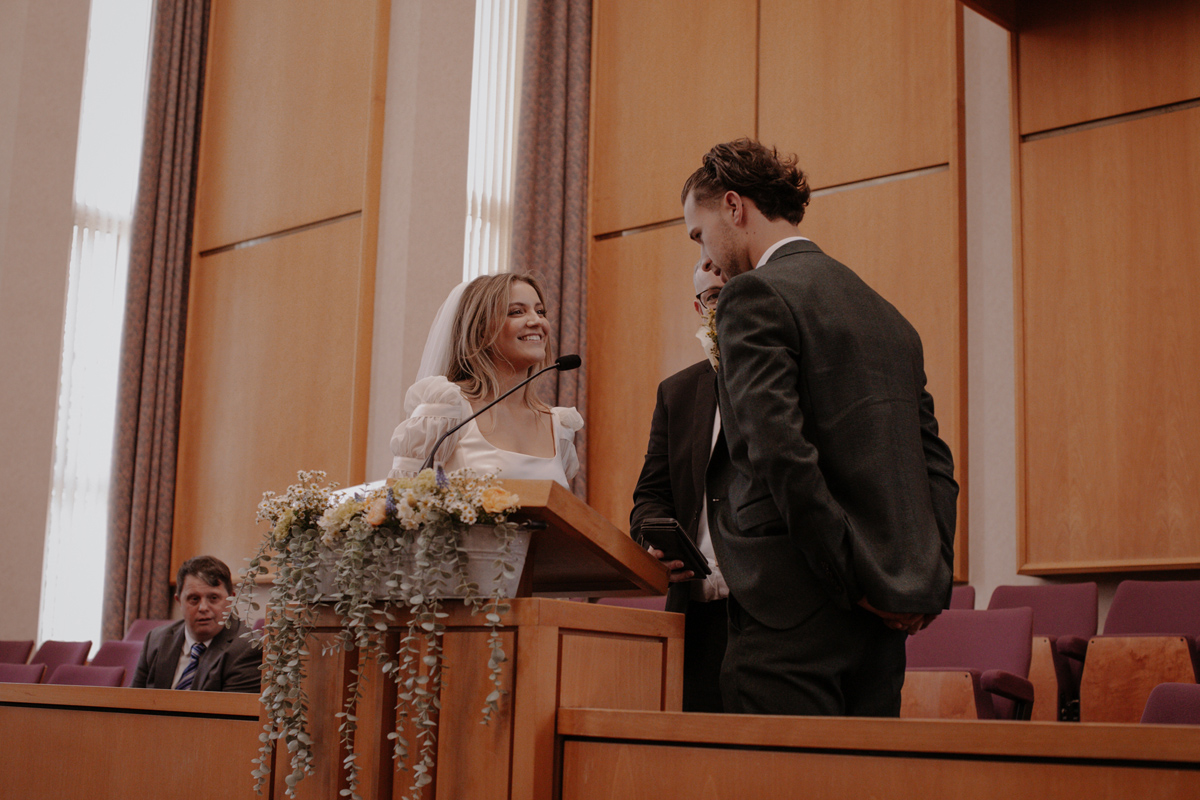 A funny story is that my dad didn't trust our best man (they have a great relationship) to remember to bring our rings so he said he would look after them and bring them… only he forgot.
He was that pre-occupied as he was the one driving me and then marrying us that he totally forgot about the rings himself it was so funny from the stand when we were getting married.
The Photographer
We chose Helen Rose as our photographer because she's the best. I've had a few friends who hired her for their own weddings and all of the pictures looked stunning and they made everyone look so good, so it had to be.
Also she's so kind and easy to be around, which makes it much less daunting having your picture taken.
Flowers
My mum is used to making floral displays for church and she is extremely talented and creative so we went to a flower market the day before our wedding and chose flowers in peaches, creams and whites so my mum made the bouquets and button holes and Joe and I actually helped her create the flowers for the tipi and tables together.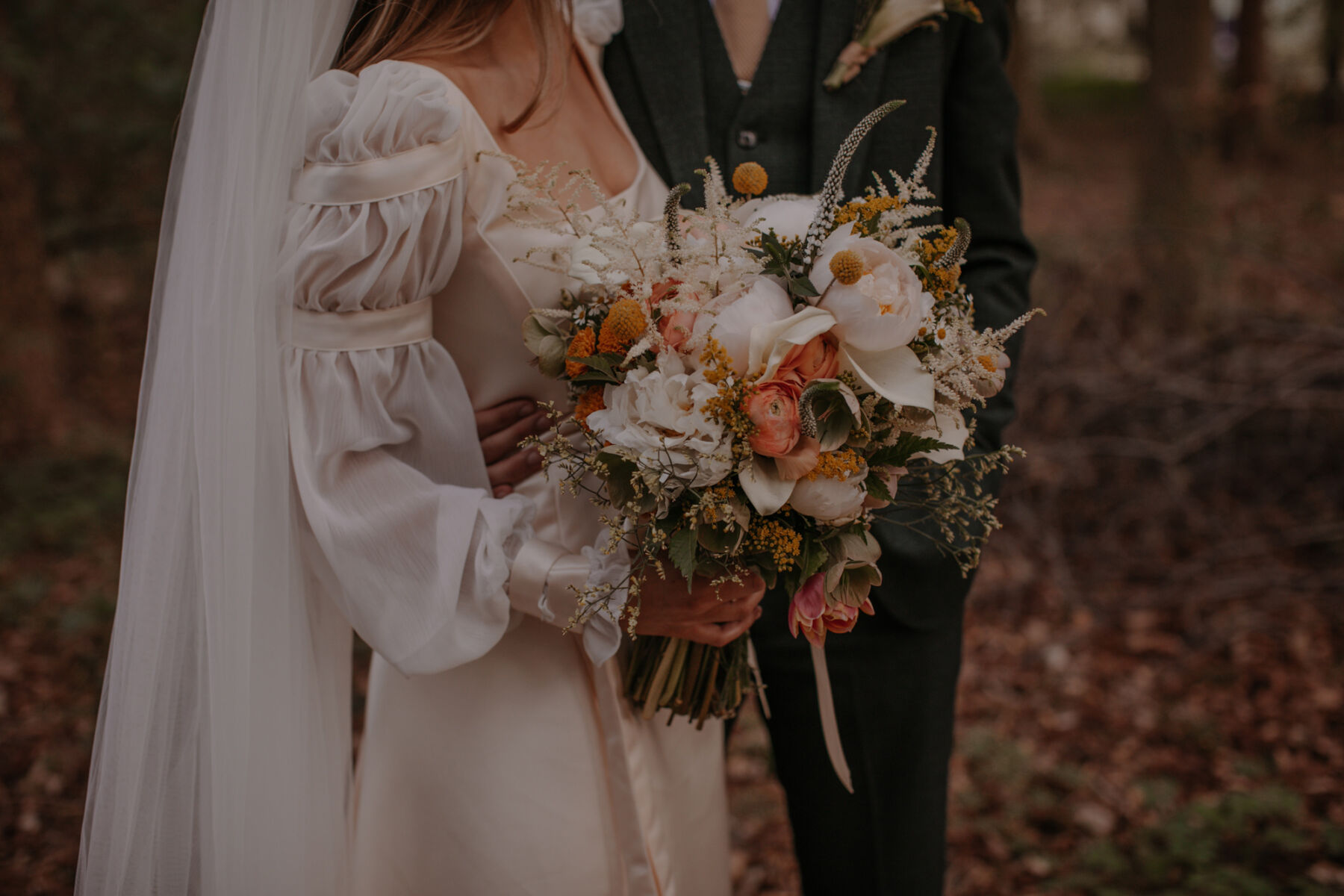 Bridesmaids Dresses
The bridesmaids each picked their own dresses I wanted them to feel comfortable in something that suited them as long as it was black, I think most of them bought them off ASOS.
Hair & Makeup
I had a friend over to help with my hair and makeup, I don't usually wear makeup at all so I wanted it to be very natural looking on the day so trusted my friend to do it – I could also be honest and work together with it.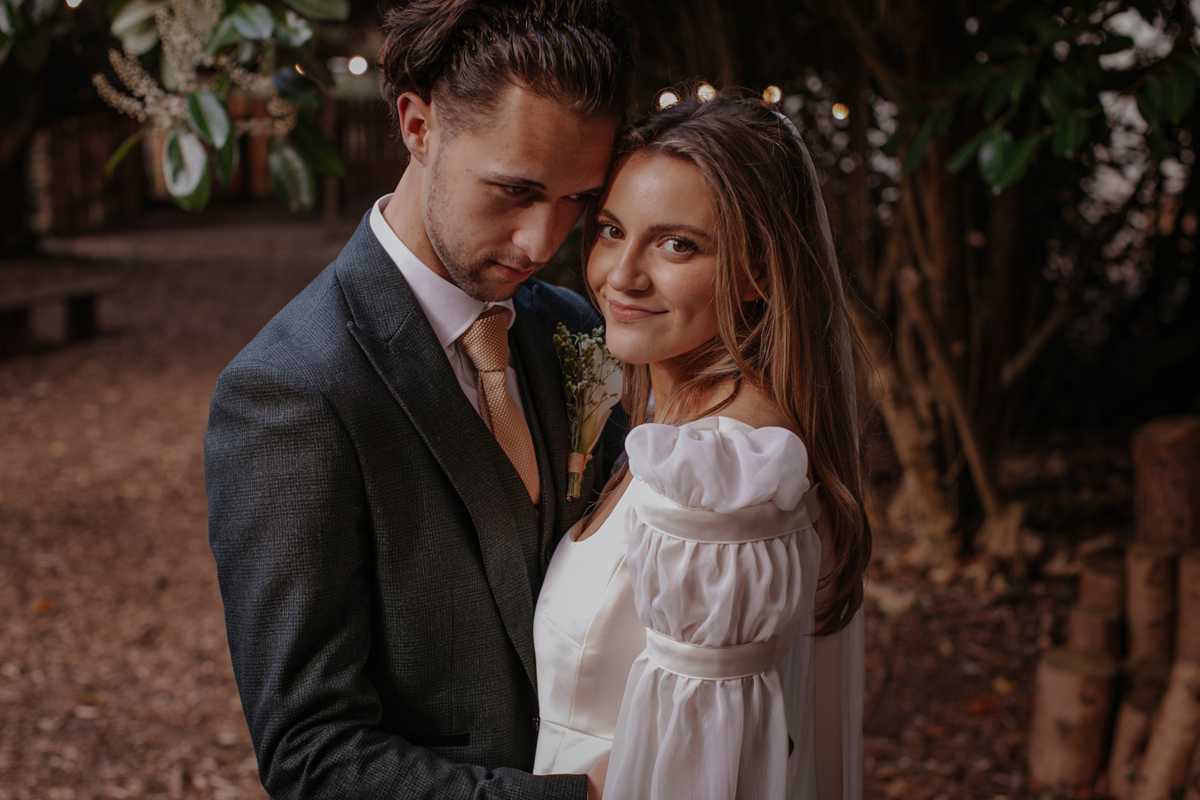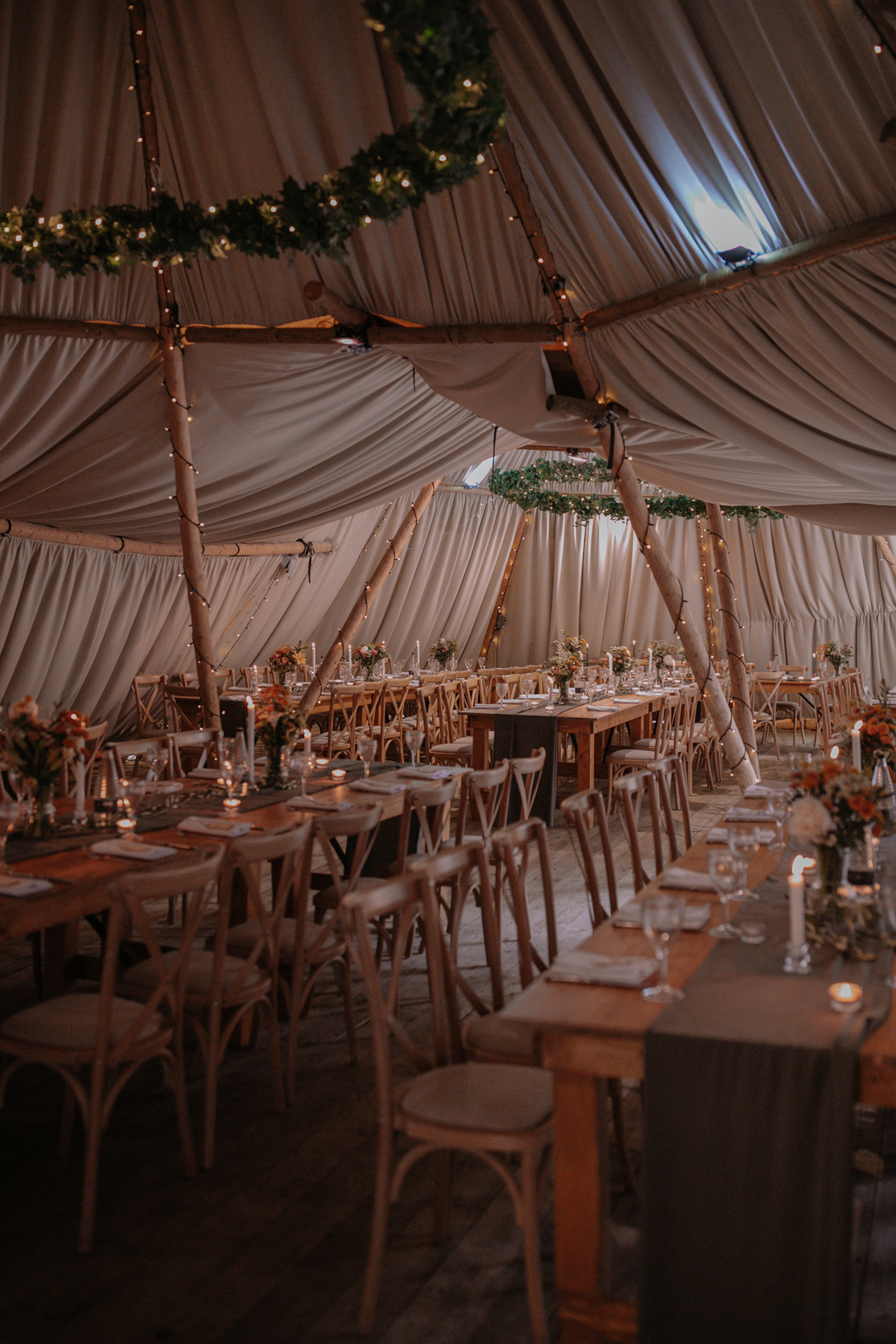 The Reception
We decided on the woodland wedding theme because it is chilled just like Joe and myself and the venue itself was actually a part of our dating story so it was quite special for us to be there.
I think the style of day was just very much what goes on in my head; it was all quite dreamy and relaxed. The colour palette was important to think about – I'm not a brightly coloured kind of person hence my bridesmaids wearing black.  The location really helped pin down my ideas with the colour palette being inspired by nature with sage green and twinkly lights.
I love muted tones so my dress had a very romantic and vintage look about it being a champagne colour instead of traditional white – we are far from traditional as a couple and this was a main theme throughout our day.
We decided on having long tables and we draped the centre of the tables with dark olive green satin cloth which we crumbled up a bit and put long candles and tea light candles along with a few small bouquets of flowers on each table. The reception was stunning anyway, so it didn't need too much doing to it.
Because we are Mormon's, there wasn't any alcohol at our wedding either but there was a bar for those that were invited that weren't members of our faith to grab a drink if they wanted to.
My mum is such a creative beauty, we have a very large family so she is used to baking in batch so she was happy to make a simple two-tier cake and I decorated it with a love heart and our initials – like something that's usually carved into a tree which we felt suited the venue and it was a bit of fun.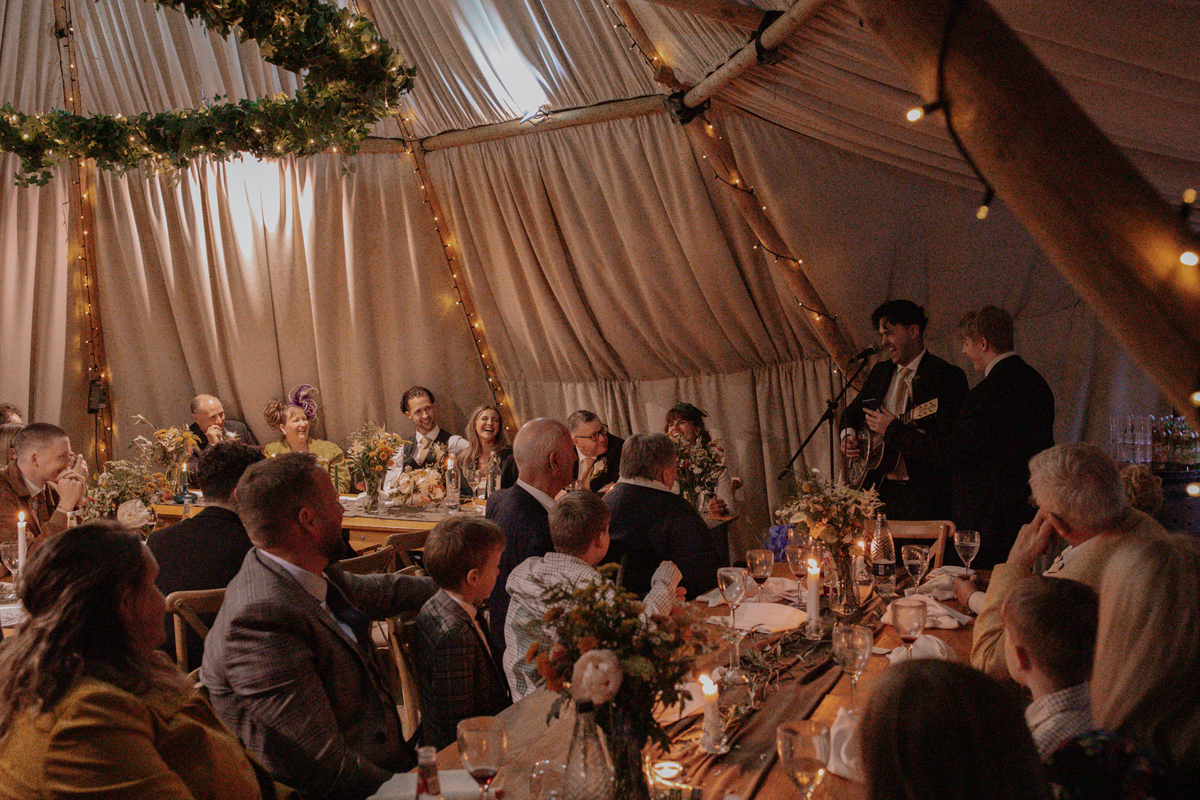 Evening & Favourite Moments
We had two other members of Joe's band – The Pretty Ugly sing for our first dance and then DJ for us that night. James, our best man who is part of the band also made up a song for us and sang it in his speech – it was so funny!
Wow, I loved it all! A few favourite parts were seeing Joe at the pulpit when we were exchanging vows, I was beaming.
I also loved seeing everyone who came during us having our group photos. I also just particularly loved the quiet moments with just me and Joe, the day is so full that when we were alone it was just comfortably quiet and lovely.
In the directory Zena Birch
Listed in
Celebrants
Words of Wedded Wisdom
I would say personally to just not get overwhelmed with all of the things that society or tradition thinks a wedding should be.
Of course you want it to be perfect, but some things just aren't worth the unnecessary stress and you also need to prioritise your relationship with your fiancé over the wedding, remember what you're doing it all for.
I would also say as a last side note, that your wedding is not a competition with anyone else's.