A Casual London Pub Wedding for Graylin in Wtoo by Watters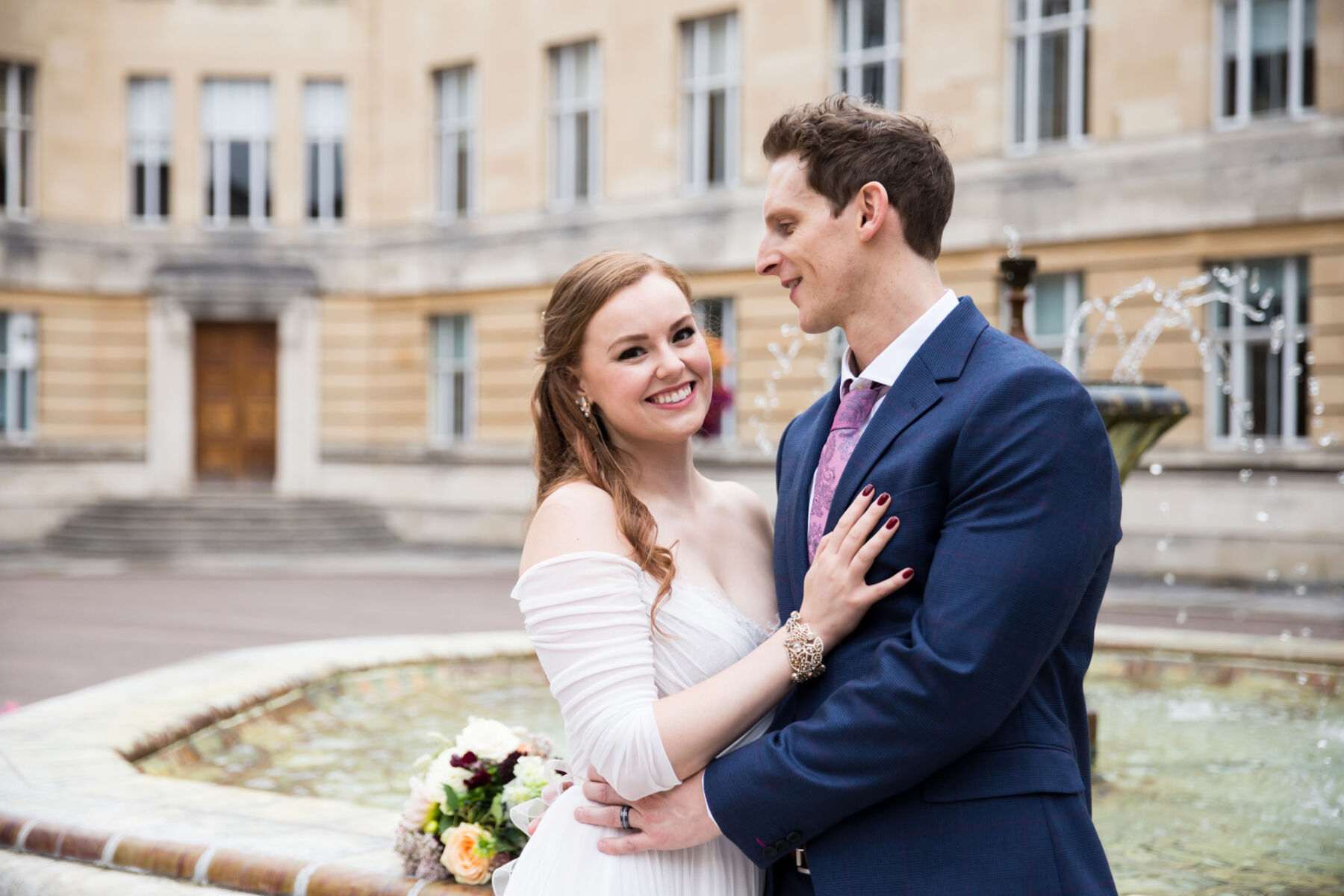 Management Consultants Graylin and Andy tied the knot on 4th September 2021 at the County Arms Pub in Wandsworth.
The couple wanted their wedding to feel casual and relaxed but full of bright autumn colours including deep burgundy, fuchsia and peachy pink dahlias. They also incorporated lots of lush greenery and soft lighting.
Photography by the very lovely Hannah Larkin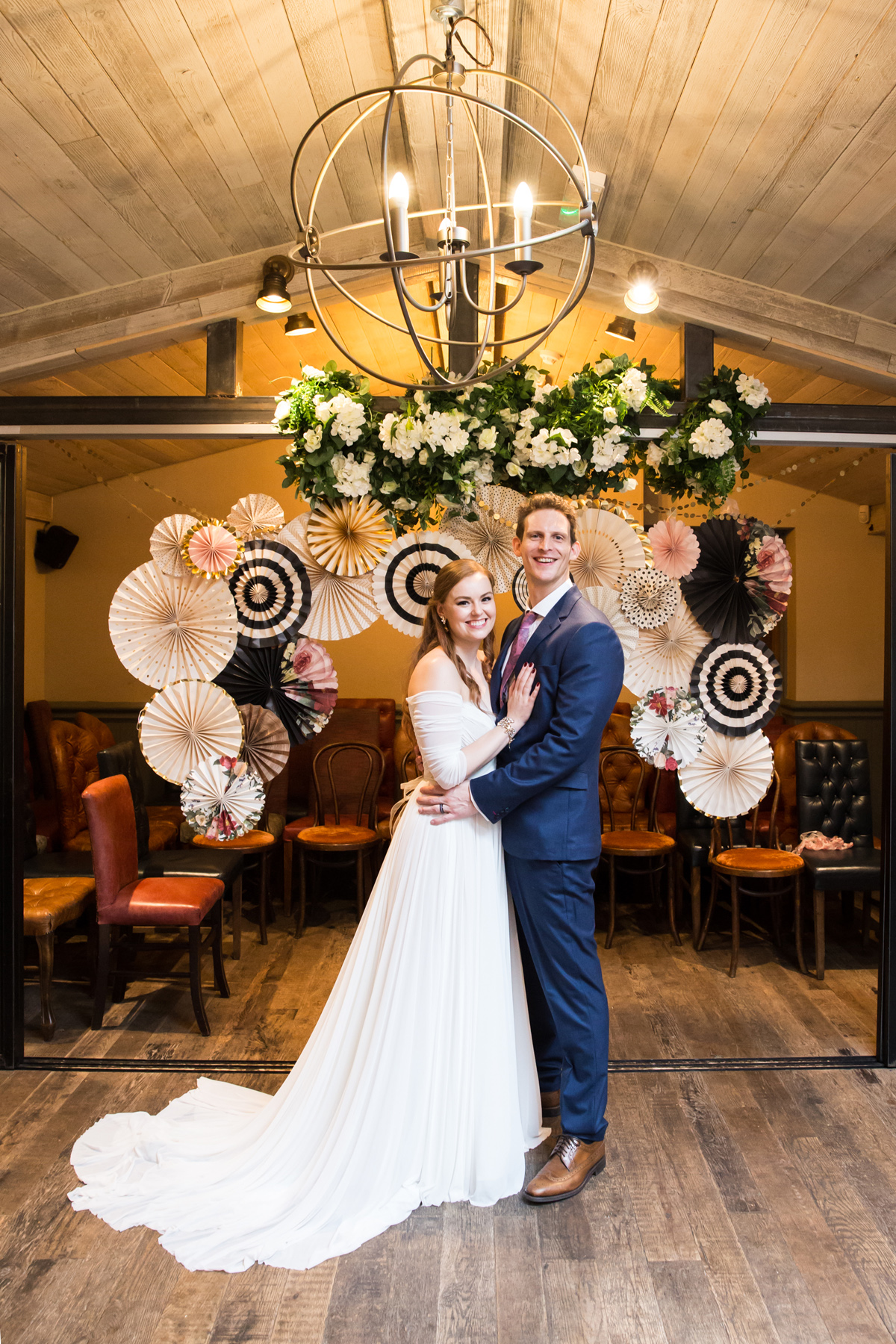 The Dress
I wore the Wtoo by Watters Miles gown, purchased via the BHLDN website.
I loved the ability to dance and move around comfortably with something that flattered an hourglass figure.
I wore a pair of Badgley Mischka shoes and beautiful statement earrings from EldorTina Jewelry on Etsy.
How They Met
We met while I was commuting to London from Chicago on a project. Andy was a new joiner to the London team and while it was a little like vinegar and water at first, there was definitely an attraction on both sides.
After working on a few projects abroad together in Germany and the Netherlands, that spark of interest eventually became secret dating. We then took our relationship to the next level, and told our firm we were together.
Using our own money this time, we flew back and forth from the UK to the States for over a year before convincing our boss to move Andy to Chicago.
We were engaged for about four months before the originally scheduled wedding date in May 2020, but with the pandemic, we ended up doing a small ceremony for just our covid bubble in July 2020. And after four years in the Windy City, we've now officially relocated to London, kicking off our UK adventure with a recommitment ceremony and wedding party.
The Venue & Ceremony
London pub wedding in Wandsworth. We wanted to be near Heathrow for the American guests (the bride is American) and also provide a venue with real London charm and character for a small, relaxed wedding party.
We tied the knot legally the summer before in Chicago with only 10 guests so this event was the first chance to celebrate in-person with family and friends.
We did a hand fasting ceremony to literally 'tie the knot'. We'd already been married for a year but wanted to have something our guests could feel was a bit more ceremonial. So we renewed the same vows and tied a ribbon rope into a knot the symbolise tying our lives to one another's.
My wedding band was from the Leigh Jay Nacht NY Boutique – they are amazingggggg for vintage rings.
Photography
We chose Hannah Larkin because she'd done beautiful photos at my sister in-law's wedding and we felt her relaxed but organized style would give us the perfect blend of posed and candid shots. She did a great job of covering all the most important moments and looks, as well as the little details that made the event feel special.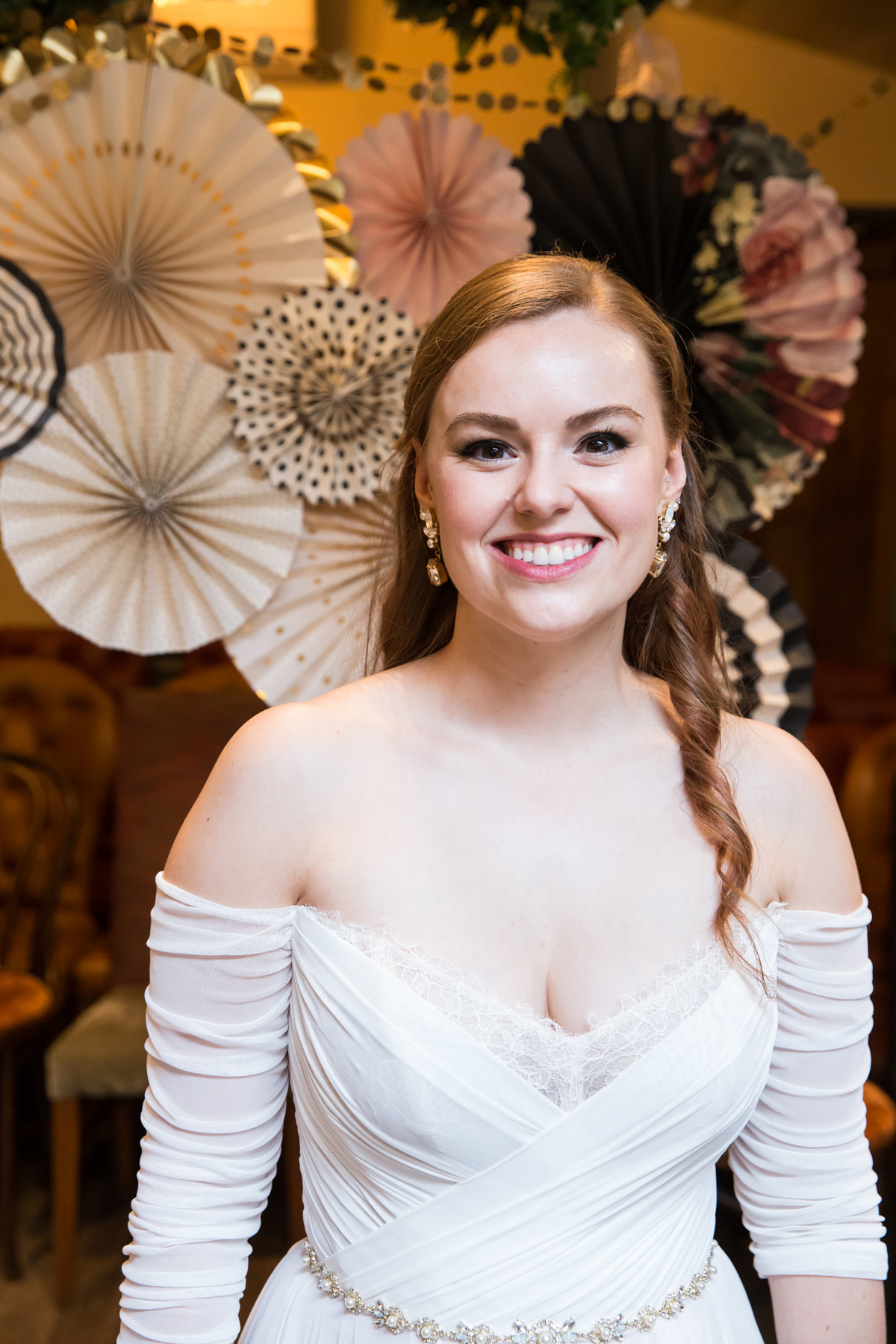 She was also really thoughtful (but flexible!) in putting together the route, the order, a few special snaps away from the party, and making sure we had everything we wanted covered. She was easy to work with and did a beautiful job capturing the day.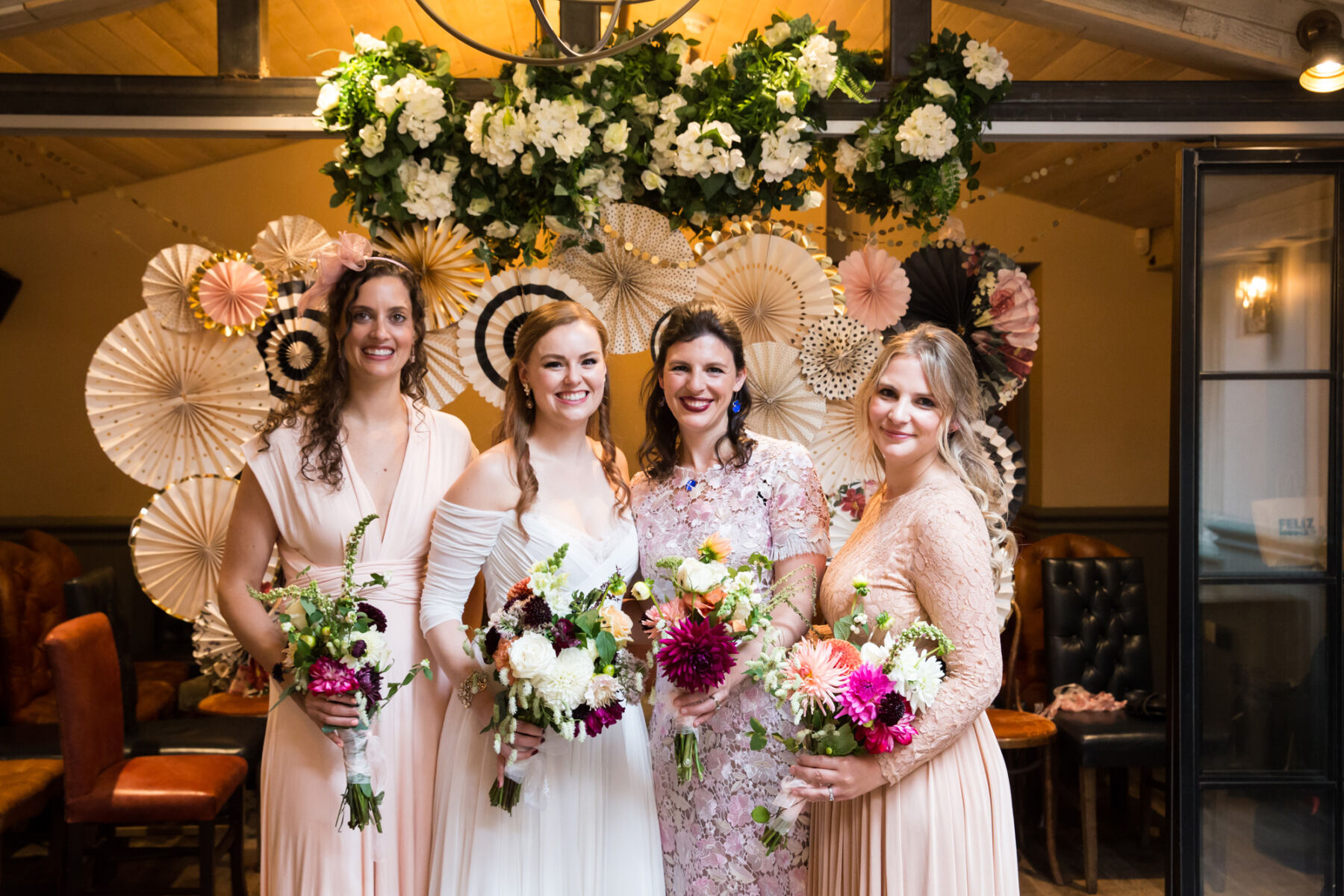 Flowers
We actually hand picked all the flowers for the wedding. We made a day going to Blooming Green with my sisters in-law, 4 nieces (flower girls) maid of honour and mother-in-law.
We picked flowers straight off the bush all morning then my mother in-law helped my maid of honour and I do all the arrangements (there were about 25!).
Reception & Evening
My mother constructed the fan wall with paper fans for the altar, from Paper confetti on Etsy.
We had an iPad with a custom made playlist that we lovingly curated which had everything from Oasis to Meatloaf to Lana Del Rey to Avicii.
Words of Wedded Wisdom
Make it your own! And invest in what's important to you, but find eco/budget friendly options for the rest. Paperless invites, DIY flowers, DIY music, and DIY makeup really kept the costs down. We didn't do favours (most people don't remember/keep them anyway). We didn't do a video. Our altar was recycled paper fans. But we did great wine, a lovely indoor/outdoor venue, and an excellent photographer!
Also, if you have kids at your wedding, bring a playbox. We did a basket with hats, capes, bubbles and squirt guns and some of the best pictures are of the littles (and a few of the older participants!) in funny hats.
Our budget was £13k without any of the clothes or jewellery. We came in right on budget (we would have been under, but paid for a few extra bottles of champagne on the night.)
It was casual but joyous, good food, good weather and so nice to share it with people in person again!
If I could do one thing differently, I would order less dessert. We ordered 1.5 per person across 4 different choices the pub offered. Unfortunately many didn't get eaten because people were dancing and chatting!