An Interview With Rita Colson, London Bridal Fashion Designer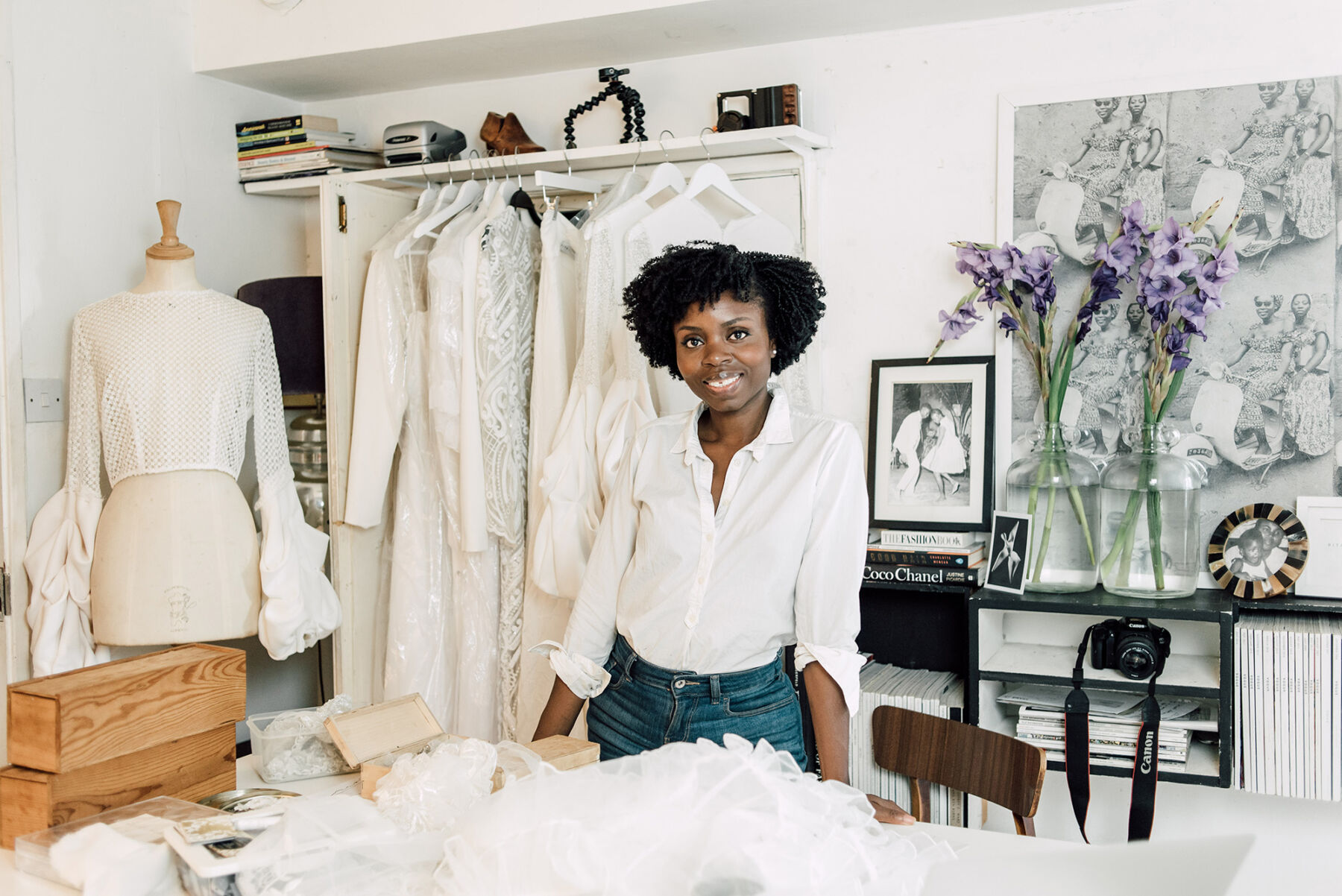 Rita Colson is a London based bridal fashion designer who hit my radar probably around about five years ago now.
I know many talented, independent bridal designers, but some truly stand out for their visionary take on bridal fashion. Rita Colson is absolutely one such designer, and through her elegant, modern, stylish, classic and bold creations, she is helping to truly transform and evolve the world of bridal fashion.
I've had the pleasure of getting to know Rita and learn more about her business over the last few months. I have discovered a wonderful human being, bubbly, smiley and overflowing with passion for her craft. Today, I'm absolutely delighted to introduce you to this new generation designer. Join me in welcoming the designer herself.
As a black owned wedding business, we are incredibly proud to support Rita Colson.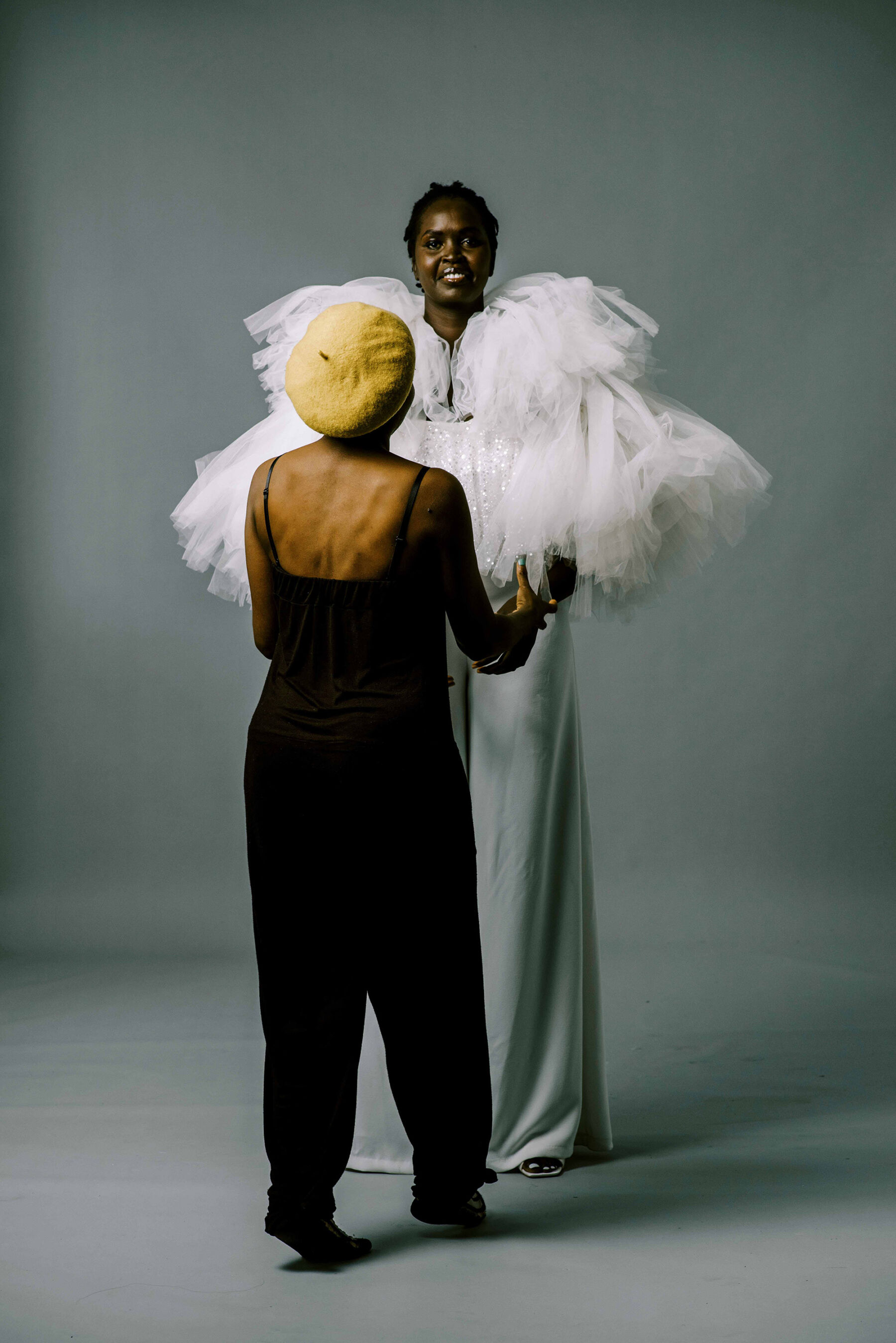 Rita Colson, London Bridal Fashion Designer
My name is Rita Akosua Colson. I'm a bridal fashion designer under the label RITA COLSON. I'm based in London.
My background is in Fashion design and I have a BA HONS Degree in Fashion.
I worked alongside a designer/stylist for a while before deciding I wanted to launch out on my own. I made four dresses, created an Instagram account and posted them online. Three of the dresses were grey, black and the fourth was beige. I noticed the beige was receiving a lot of attention but all for the 'wrong' reasons, people thought it was a wedding dress. I researched the bridal industry and realised there was a gap in the market for what I had accidentally created.
Tell us about your latest collection of wedding dresses for modern brides
I started developing the Resurgence collection just before the lockdown. I came across a photograph of a man in a 1970's three-piece tuxedo in ivory. I loved the waistcoat and the texture of the ruffled shirt. The monochromatic look elongated the length of the trousers and made him appear very lean and elegant.
From this image, I based the whole collection. I also wanted to continue the light and movement theme from the previous collection. I have a bit of a obsession with movement, I love to see the motion of fabric in photos.
If there's one thing to look out for in a Rita Colson collection, no matter the theme it will always have an element of movement within the photography.
I think brides like my brand because it's style driven, and my style focuses on originality.
Do you have a favourite gown in this collection or maybe one or two gowns you think might be really popular with your brides?
In this collection, there's something for everyone. I designed the collection with different characters or types of brides in mind. From the cool bride, to the classic bride, to the boho bride, and the party bride.
However, the dress I'm most excited about is the Una mini. This little number's got it all, a thigh high hemline, a subtly embroidered organza with sequins all over so you'll glimmer in any light, and a subtly flared long sleeve.  This dress is like a glass of bubbly champagne in dress form! After you have worn it to your reception party you would want to wear it again and again. New year's eve, birthday party, Christmas party the list is endless.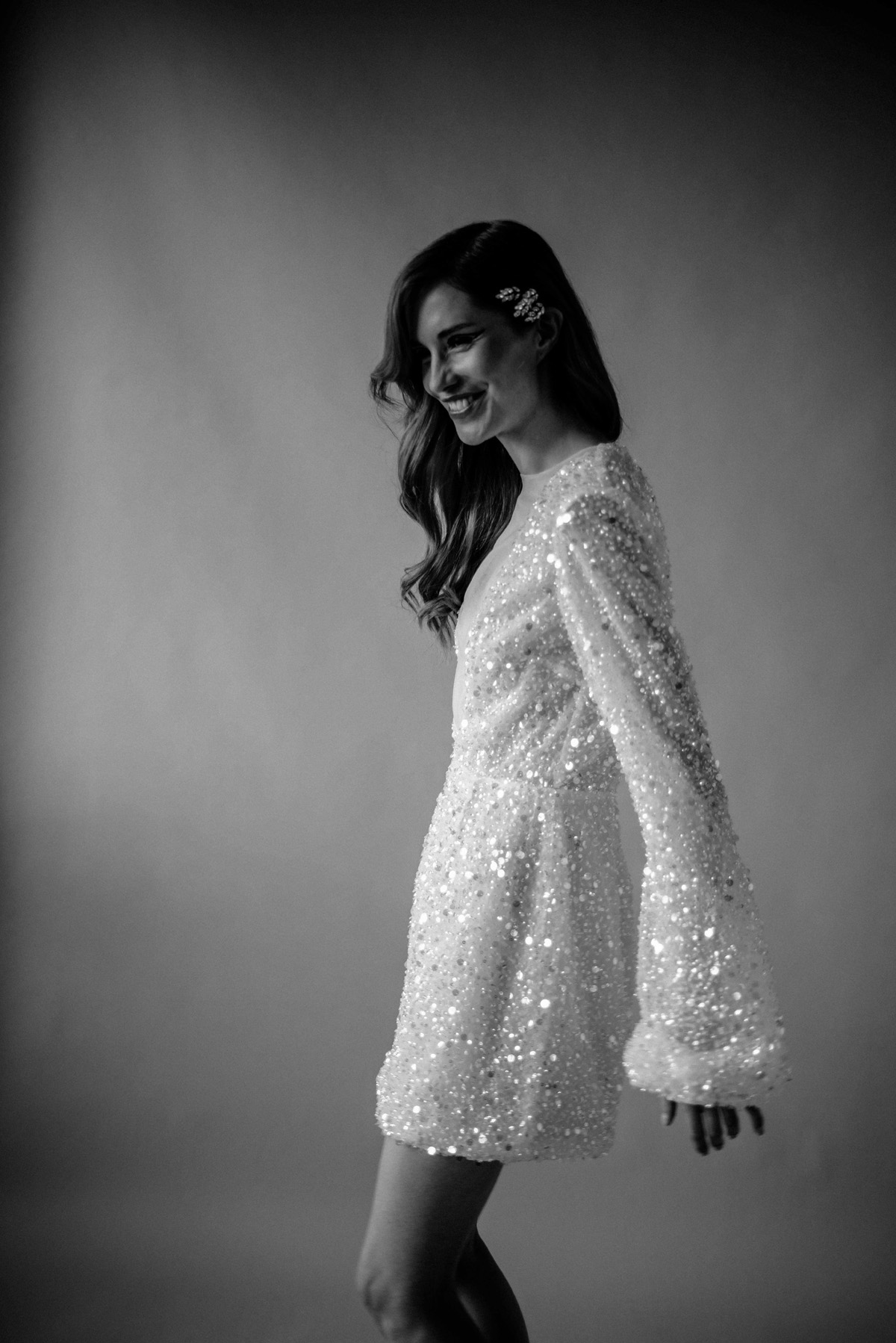 Where do you start with each new collection – can you talk us through your process?
My collections never really start or end; they're continuous with each other. There's always an idea or ideas floating about in my head from the previous collection or previous project then it develops.
An idea could come from anywhere, sometimes from a piece of fabric, a film, a movement, a picture. I would then sketch or go straight to the mannequin and start draping. I would photograph the draping ideas and start designing from that one idea. From one idea I would sometimes sketch 20 -30 design ideas, refining each time.
Eventually I choose from the design ideas into a pattern, then make a toilè then the final execution. Not all toilè ideas make it to final execution as sometimes what works 2D doesn't always translate well in 3D.
I love being part of my bride's stories – the friendships built over a short period of time which sometimes continues after the completion of the dress. I also love meeting different women from all walks of life. It's very special, there's no other job like it. Rita Colson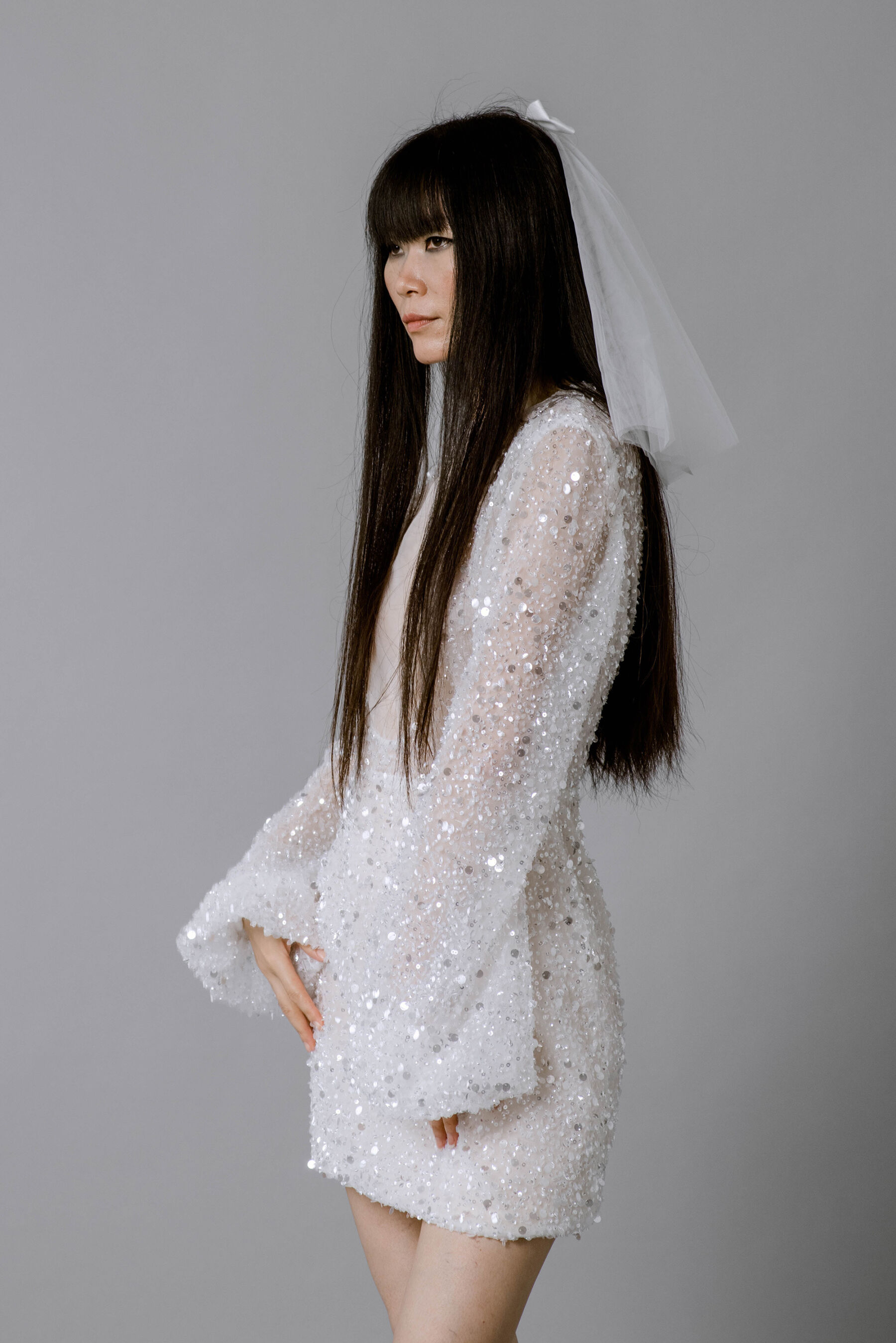 Tell us about your studio and creative space and what is a typical design day for you?
My West London studio is a very small well considered space with lovely repurpose finds from nearby Portobello market. The decor is white, cream, charcoal, and natural wood. I like to keep the space quite neutral with accents of mirrors and reflective surfaces. I love to interchange with a pop of colour by regularly adding freshly cut flowers.
There are not many average days, everyday is different. However I have a routine that I try not to break away from. I write what I need to do the day before, so when the day begins I immediately have something to work from. I check my emails and then look at my list of things to do. That normally consists of an Instagram post on my stories then get the studio ready for any appointments or fittings.
The first appointment starts at 10 and then the rest of the day is for answering emails, going over design ideas. Sewing to meet deadlines.
Do you design for women of all sizes?
Having a diverse representation of women for my collection has always been important to me. However this is the first time I've included a plus size model, it's been a natural progression.
My bespoke work has prepared me in understanding the female form. In my collection the sizes go up to a size 16 but in the bespoke service, it's tailored to the individual size whatever that may be.
I'm constantly experimenting with shapes, fabrics to find interesting ways of making that Rita Colson bride react to the style and not be bothered by the size.
I would love to make something for actress Rooney Mara. Her style is effortless!  To me she's a modern day Audrey Hepburn. I also love actress Jodie Turner Smith and Zoe Kravitz. Rita Colson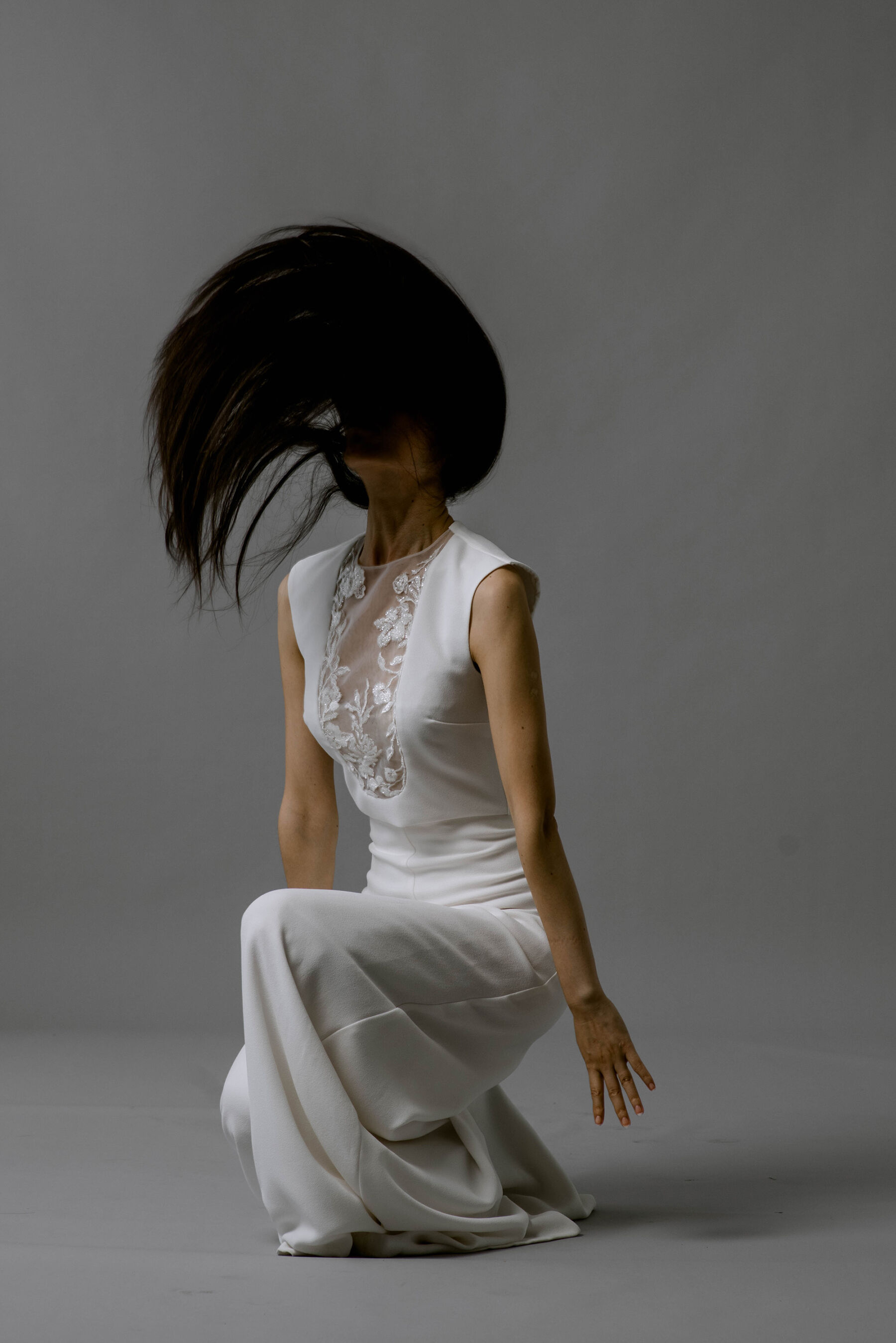 Occasion Wear & Red Carpet Line
I'm excited to be busy working on my occasion wear and red carpet line currently. The confidence I have gained from working with the most wonderful women and stylish brides is gift and has made this next step feel a very natural one for my brand.
These designs will carry the same contemporary and effortlessly cool aesthetic as my bridal collections. They will be authentically very Rita Colson; light and fluid, unconventional and graceful.  I will be designing for the same stylish woman as I do when I create for my brides, only these dresses will be destined for special occasions, parties, romantic candlelit dinners and honeymoon outings. I cannot wait to share what I've been working on with you soon.
And finally, Rita, can you reveal a little bit more about what YOU love? What is your favourite…
Movie: Anything by Issa Rae, Drew Barrymoore and Viola Davies.
TV series: A series on Netflix called 'A Suitable Boy'. It's set in India in the 1950's and the cinematography, the hair and makeup, the costumes and colours are all so beautiful. It really is a feast for the eyes.
Music: I love jazz and anything on Tiny Desk Concert, on YouTube.
Podcast: The Diary Of A CEO with Steven Bartlett.