Sassi Holford 2023 Wedding Dress Collection: Let There Be Love
I am over the moon excited to share with you the sensational new collection of bridal gowns by British bridal fashion designer, Sassi Holford. This is absolutely one for all you brides marrying in 2023 and beyond.
Let There Be Love is a collection of the most exquisite wedding dresses for stylish modern brides, which combines Sassi's 'classic English meets modern contemporary' aesthetic. These are gowns that look and feel of the moment, yet also carry an effortlessly timeless appeal.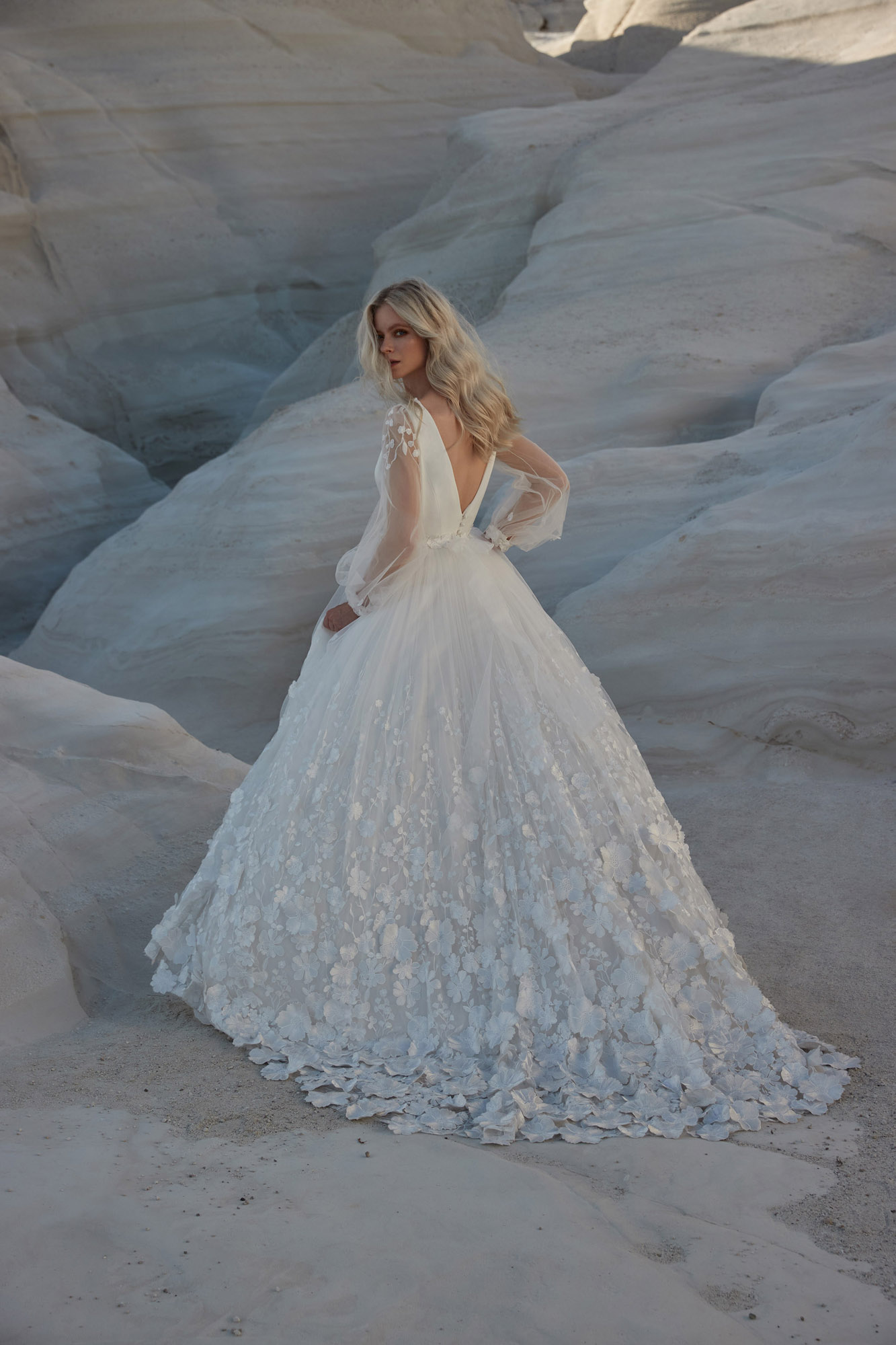 British Bridal Fashion Designer
First of all, everyone on the hunt for a wedding dress should be aware of the name, Sassi Holford. Sassi is a hugely successful British designer of couture bridal fashion. Her gowns and separates are modern classics and her brand is synonymous with high-end, luxury bridal fashion.
We absolutely adore this wonderful British bridal fashion brand and have been sharing real brides wearing Sassi Holford gowns for years now.
Sassi is an incredibly talented creative, with her finger firmly on the bridal fashion pulse. She has an innate, unrivalled understanding of the relationship between brides and their gowns and understands precisely how to flatter the female form with her sensuous, luxurious fabrics and design detail.
As well as having her own London and Taunton based showrooms, Sassi's gowns are carried in many of the very best bridal boutiques across the UK, including Mirror Mirror London, Carina Baverstock Couture in Bath, Laura Loves (formerly Brides of Winchester) in Hampshire, The Bride in Hertfordshire and Rachel Scott Couture in Edinburgh.
The New 2023 Let There Be Love Collection
Let There Be Love is a collection of feminine wedding dresses  in clean silhouettes, created for the modern, stylish bride who appreciates quality and luxury.
This gorgeous new collection includes the most exquisite, considered detail, like elegant puff sleeves, detachable tulle belle sleeves in soft, feather light luxurious fabric, gowns that swish and swoosh with the most graceful of movement and sensuous low backs, delicate shoulder and cuff embroidery and statement ruffled shoulders.
Whether you're looking for modern minimalism or to make a bold design statement, this collection has some truly beautiful options.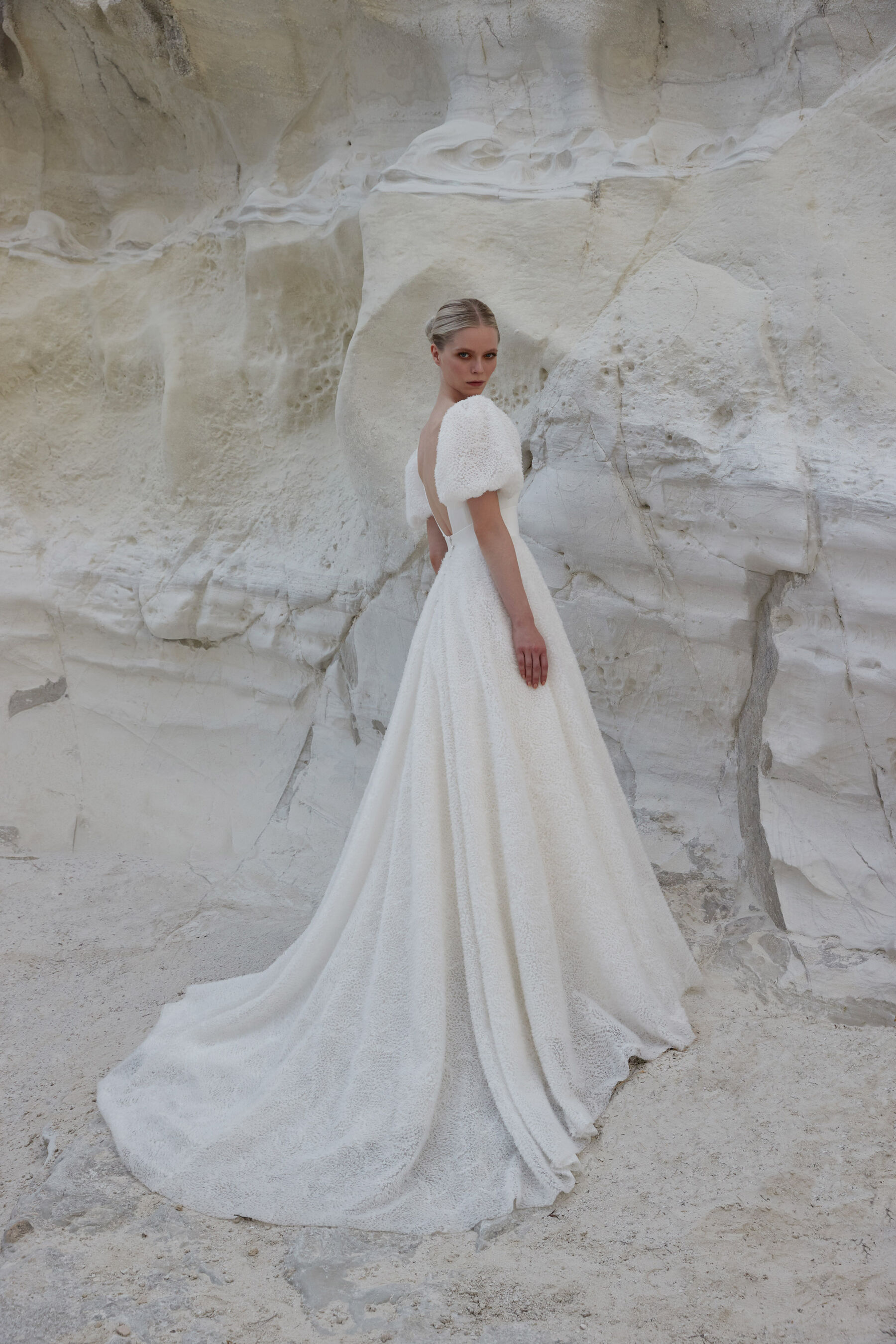 Sustainable Bridal Fashion
Love My Dress only works with brands who are committed to sustainability and reducing waste wedding industry waste.
Right from the start Sassi Holford has been a brand that has respected the environment. All Sassi's gowns are made to order only and fabrics are recycled and passed on to local businesses, fashion colleges and charities to be up-cycled and repurposed in to new products – like these gorgeous bridal hair scrunchies by Lulu The Label.
Sassi Holford fully embrace the concept of 'slow fashion', after all, such gorgeous beautiful, meticulously crafted bridal couture, can only be created with love over time. The company have committed to The Climate Pledge and are now making efforts to become a carbon neutral bridal fashion brand by 2030.
Why I Love Sassi Holford
I wanted to leave a personal word here about Sassi, who we have been working with for several years now. Sassi is one ofd the most effortlessly stylish women I know and have ever met. Her eye for design, detail and her passion for making women look and most importantly feel their most beautiful on their wedding day, is unrivalled.
I work hard to ensure that all the content we share and every business we support and promote here at Love My Dress, is done so authentically. This matters a great deal to me. I genuinely love and adore this British brand – Sassi is right up there at the top of my favourites list. She's a super cool and fun individual with an exceptional knowledge of her craft. Her gowns truly are works of wearable works of art. I genuinely can't praise her enough and am incredibly proud to support this British design brand.
This season, Sassi has taken her renowed aesthetic and high quality and created her most beautiful collection yet. I can't wait to start sharing weddings of brides wearing these breathtakingly beautiful gowns.
Luxury Wedding Dresses Made in England
All of Sassi's gowns are made at her Taunton studio in Somerset. She employs a team of incredibly talented pattern cutters, seamstresses and embroiderers who work together to bring her design visions to life.
How much do Sassi Holford Wedding Dresses Cost?
The starting fee for a wedding dress is £3,000. These are precious investment pieces that will continue to hold high value after the wedding and will make the most precious heirloom pieces to pass on to a loved one.
Once you've tried on one of Sassi's designs, and experienced a boutique visit, be it one of Sassi's own showrooms or one of her many stockists, you won't turn back.
Book an Appointment and/or Find a Sassi Holford Stockist
Contact the Sassi Holford, or get in touch with any of these stockists to arrange an appointment to try on these beautiful dresses. We recommend these stockists.