Katie, a partner and Managing Director of international members club Adoreum (who do the most amazing work) married her love Jethro, Property Director at Bell Plantation Garden Centre and Alban Mann LLP on 25th June last year.
The beautiful Manor Farm is the home of Jethro's parents, and was the perfect setting for the couple to exchange their vows. whilst surrounded by all those they love. Katie's parents live in Italy and so the couple wanted to bring La Dolce Vita to the farm, and did an extraordinary beautiful and considered job with detail and decor to delight their guests.
Katie looked out of this world in her Cortana gown and I am especially delighted that she discovered The Fall, the boutique where she found her gown, through Love My Dress.
I hope you love and enjoy this beautiful, joyful, uplifting wedding, it's pretty special.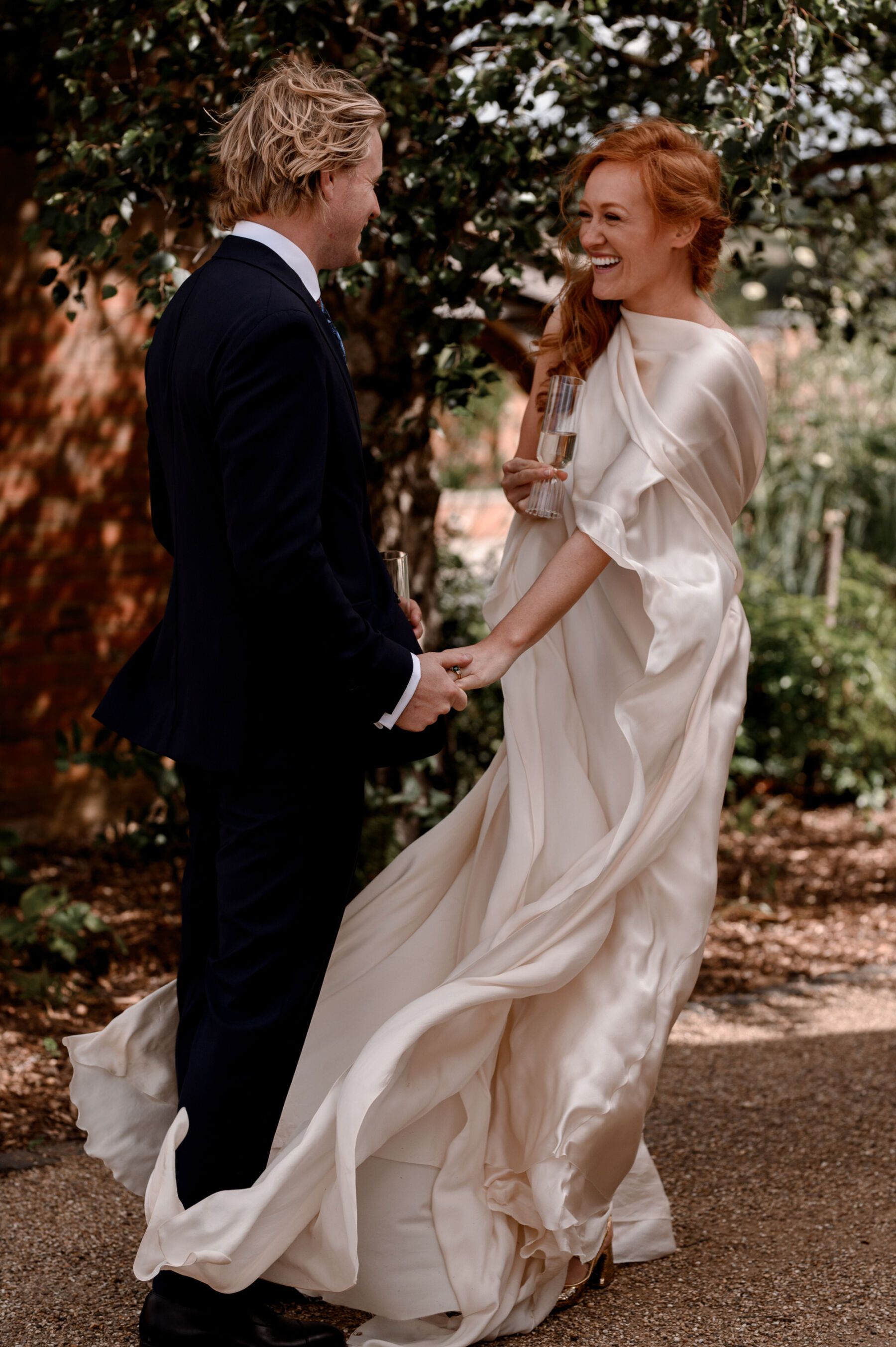 The Venue
We love people, trees and cows – what better place to celebrate our marriage and create memories for life at the stunning family home, Manor Farm in Wappenham, Northamptonshire – it was the the perfect setting for us to attempt to create something authentic and unique to us.
We used the actual cow shed where the stunning herd of Beef Shorthorns live during the winter. There was A LOT of jet washing pre carpet laying! Jethro's brother, Luke, runs Complete Ground Management, providing landscaping, arboriculture and land management services and very kindly supported us with the incredible old ash and oak trees with which Jethro, his father and a load of hydraulics used to build the tree pergola structure for our Italian terrace/grotto!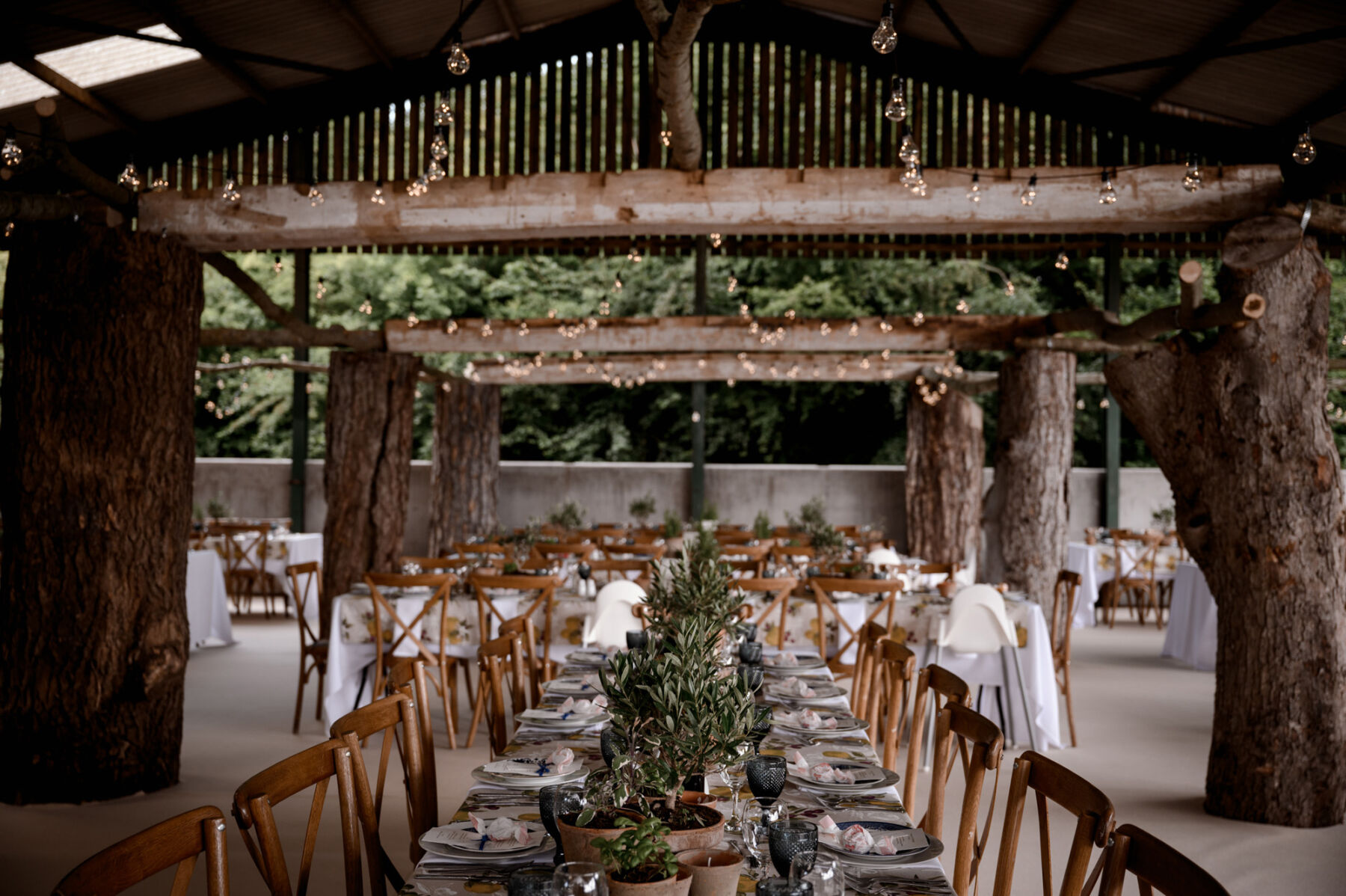 Bridal Beauty
My hair was by Joanna Curley, owner/Hairstylist at The Beauty Works in Towcester. My hair is a huge part of my personality and of who I am, and Joanna went out of her way to create something chic and styled without losing the simplicity of my hair down identity.
My makeup artist was Jasmine Kent one of my closest friends, who also happens to have bright red hair and is one of the most modest and kind, generous souls I know. Make-up product highlight was mixing the Armani Luminous Silk and Estee Lauder Double Wear Light foundations for a dreamy finish.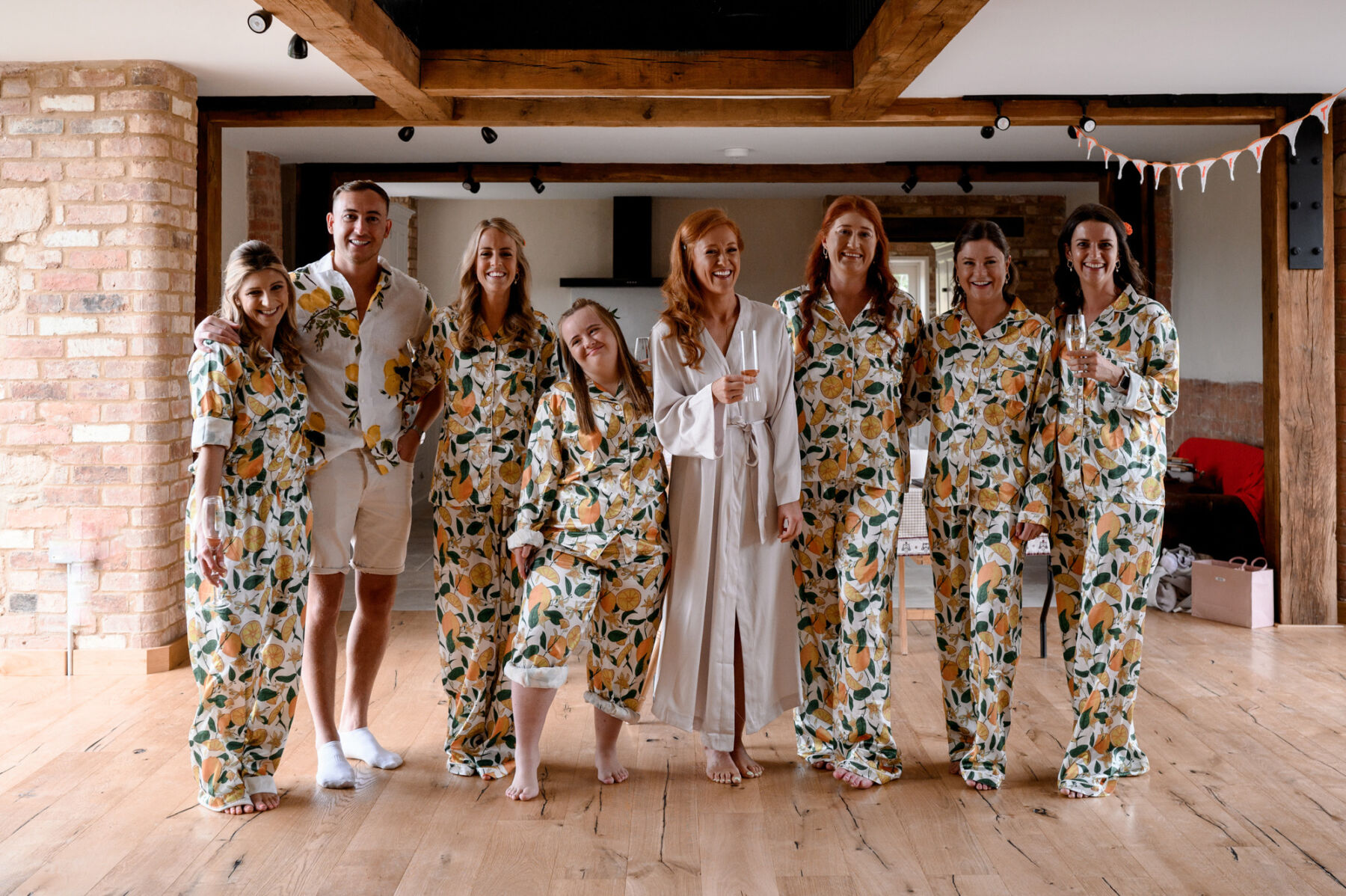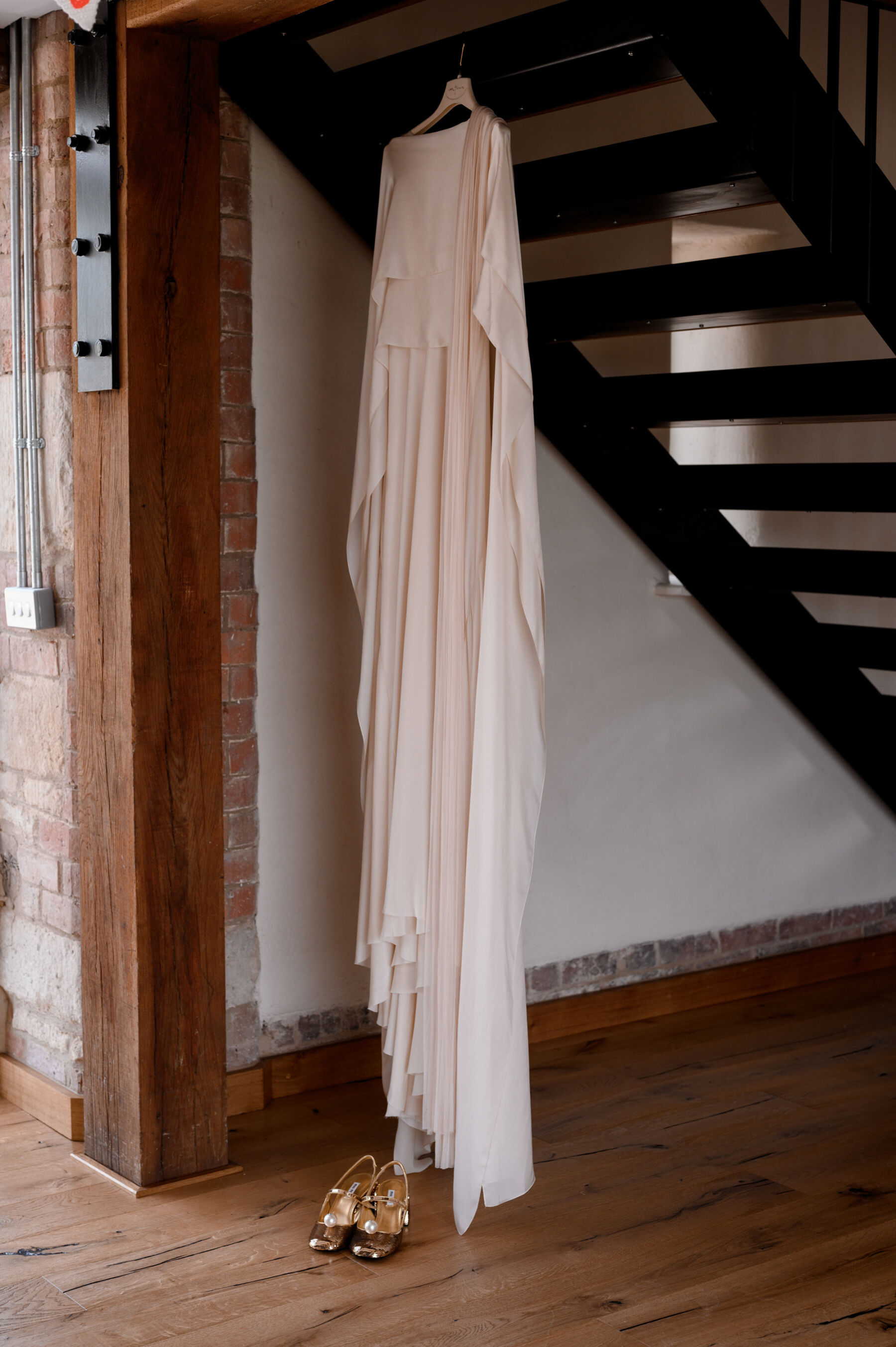 The Dress
Cortana, from The Fall
---
I wore the Cortana Lirio gown from The Fall bridal boutique. I found The Fall through this article on Love My Dress.
I went to a few bridal boutiques and The Fall was without a doubt the pinnacle.
I was looking for something unique, minimalist, and contemporary and was not disappointed by the incredible curation discovered at The Fall.
It was a pleasure to meet founder Annelise and her team who were giggling along with us during the appointment and we said yes to the dress on our first visit.
I originally selected The Fall to look at another designer and am beyond grateful to Annelise for encouraging me to try a number of gowns. When I put on Lirio, it felt different, it felt like me! I fell in love with the movement. It was more a piece of art than a gown.
I am extremely particular and find clothes shopping tricky at the best of times. I wanted to be understated but sparkly, fierce yet romantic, sexy yet ethereal and most of all original!
The Lirio gown gave me it all. I loved the movement and versatility of the dress; I was able to be respectful for the ceremony and dramatic, fun and free for the reception. The champagne Italian silk georgette was everything, it complimented my fair skin tone and was the epitome of modern elegance. The drama of the three layers of pure silk blowing in the wind was phenomenal.
The process was simple and flowed without any problems at all. The team were on hand if I wanted any information – the whole experience was calm, cool and collected and I would highly recommend to anyone looking now.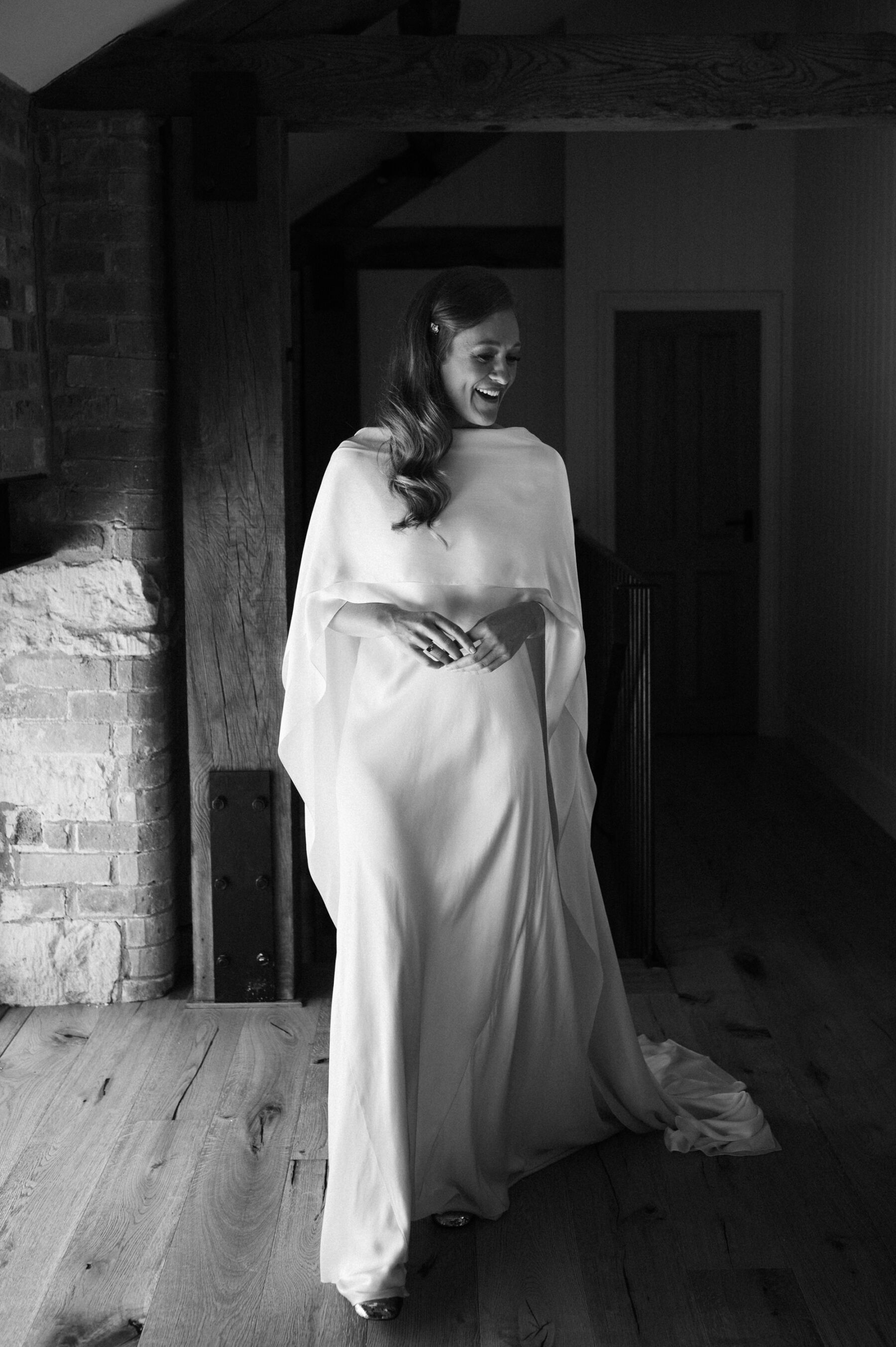 Shoes, Veil & Accessories
The Fall helped me to select the dreamy AM Faulkner's Luxe Minimal Veil, and commissioned it to be custom colour matched to the Lirio gown. It was made from delicately soft French silk tulle.
I wore Miu Miu sequined slingback pumps. They were the perfect comfortable height, refined, iconic – and oh so fun! I was walking through Selfridge's shopping for a coat when they winked at me and I literally HAD to try them on and didn't want to take them off! Bingo.
I also wore an antique Art Nouveau sterling silver, enamel Iris flower pin, from the 1910's – it was my something borrowed and something blue from my mother, to remind us of her late mother, my grandmother, Iris.
Jethro exceptionally generously gifted me a vintage Alhambra Van Cleef & Arpels yellow gold, onyx black bracelet on the morning of the wedding which I wore with my party / going away outfit at the end of the night.
I also wore Susan Caplan 1980's vintage renaissance revival clip-0n earrings.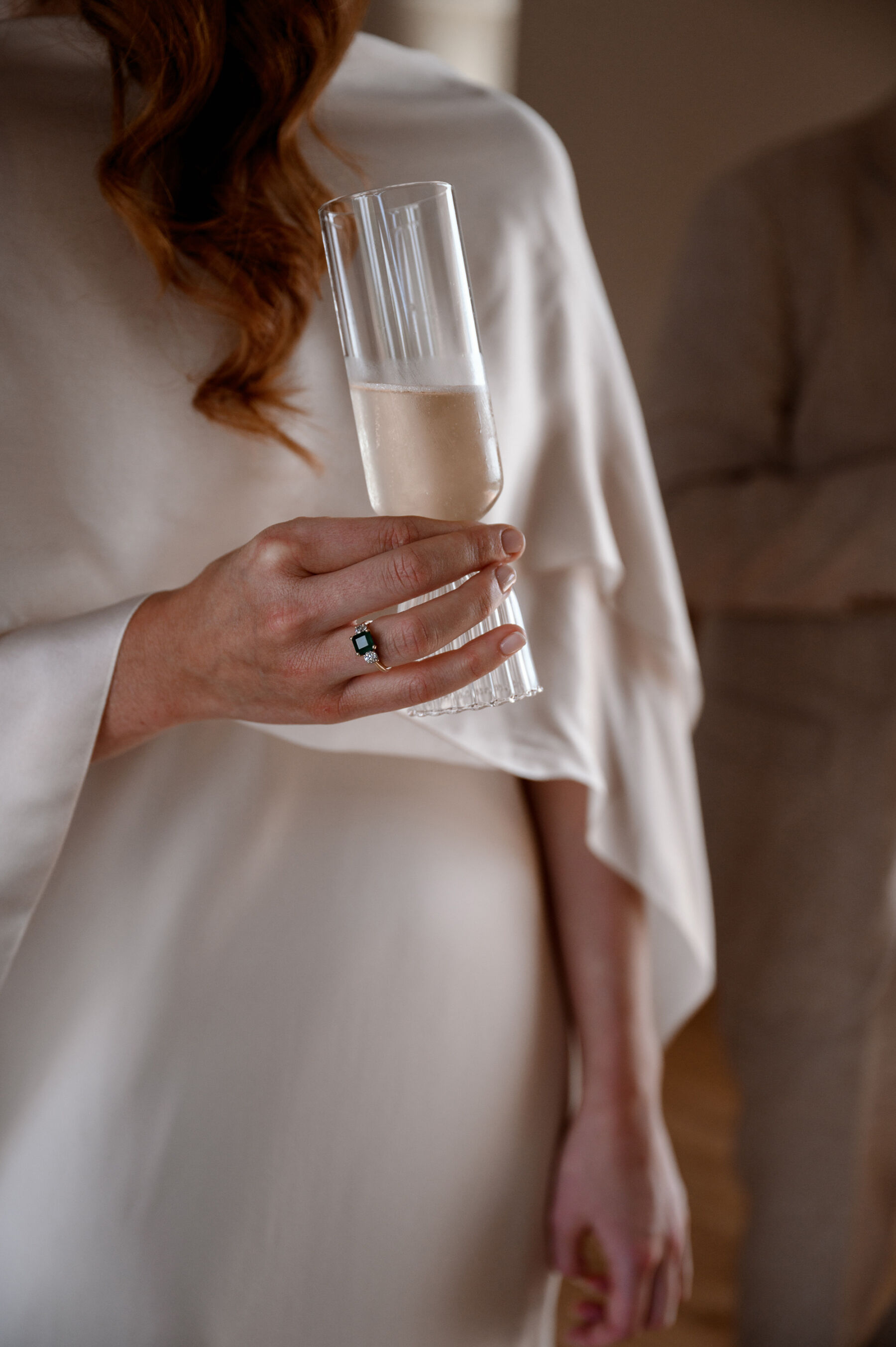 Groom
Jethro wore the navy wool travel suit, from Boggi Milano. It is one of his favourite (and Italian) brand and was chosen for its comfort and lightweight nature. His tie and pocket square were from Liberty London. His shoes were from Loake Shoemakers and he also wore a Vertex M100 Bronze 75 watch.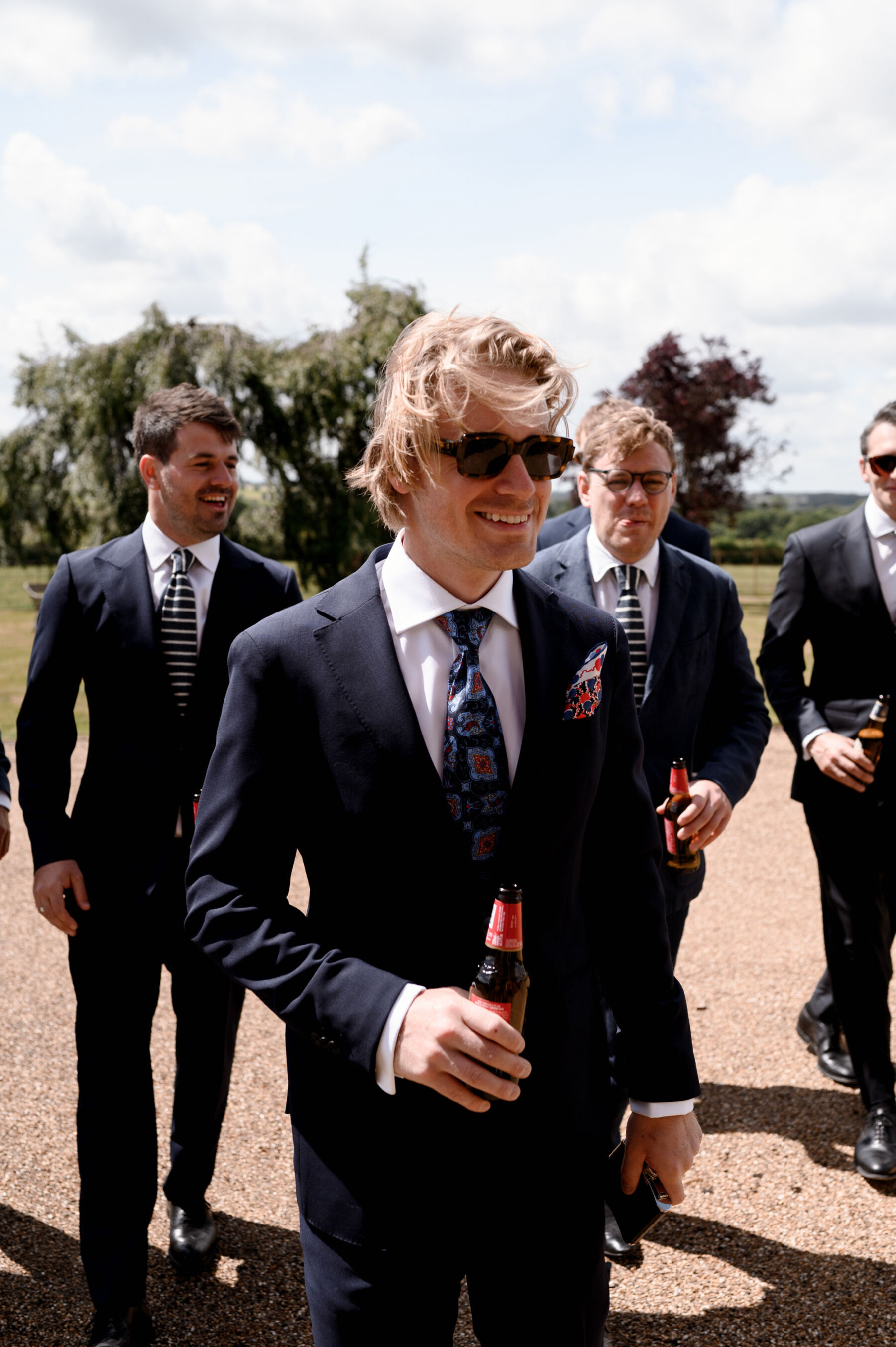 Bridesmaids
My bridesmaids wore the Mirla Beane Saffron High Neck Dress. I love colour and wanted something striking and happy for the girls that was non-traditional. Buying seven dresses, I was keen to find something sustainable and came across this dress on Gather & See.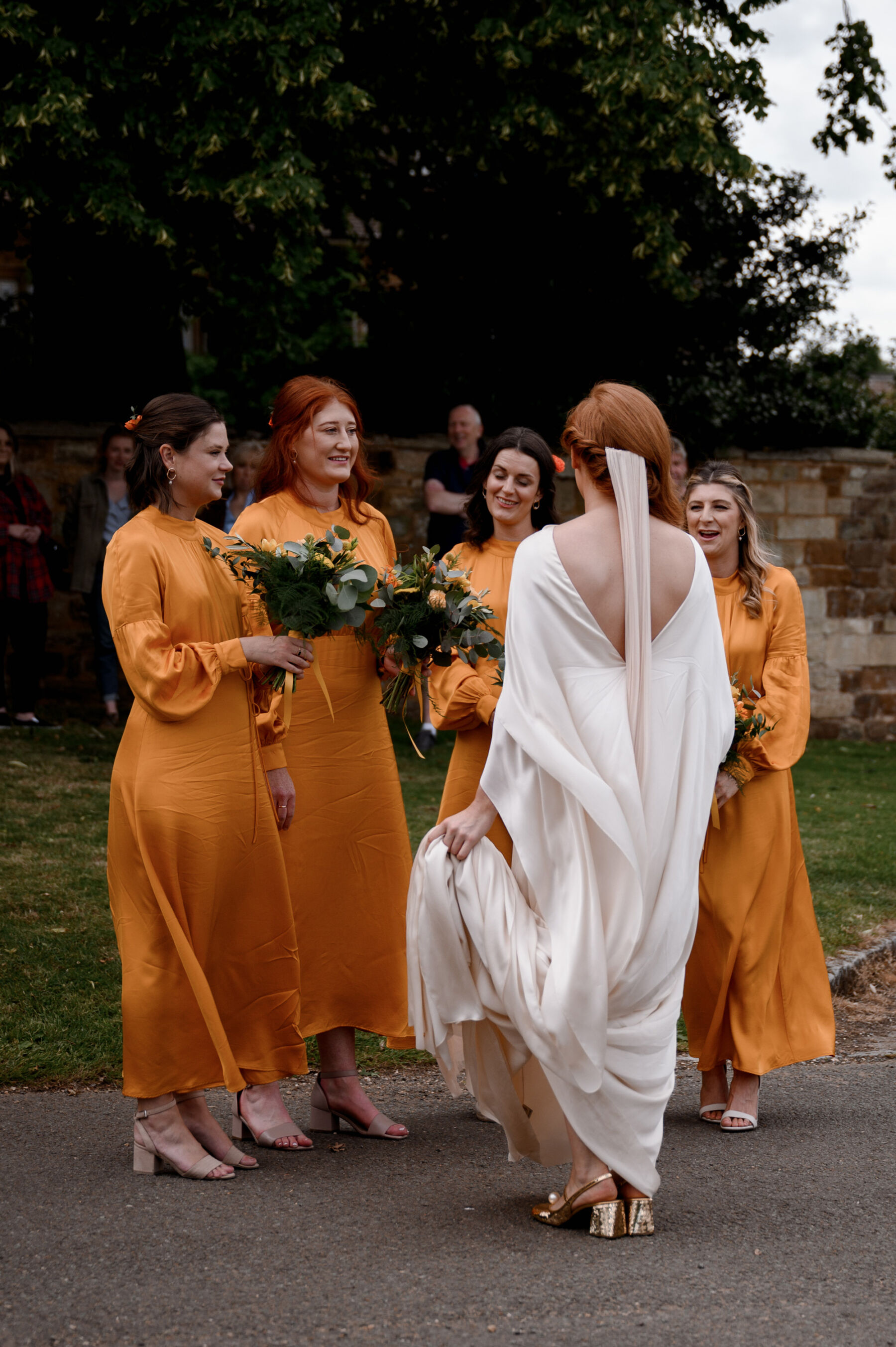 My Sister, also my maid of honour, wore a Self-Portrait Macramé-lace gathered georgette mini dress. They also wore nude colour shoes of their own choice.
I gifted them each a few things including the Verena open organic loop faux pearl drop earrings from Oliver Bonas. They complimented the high neckline of the dresses.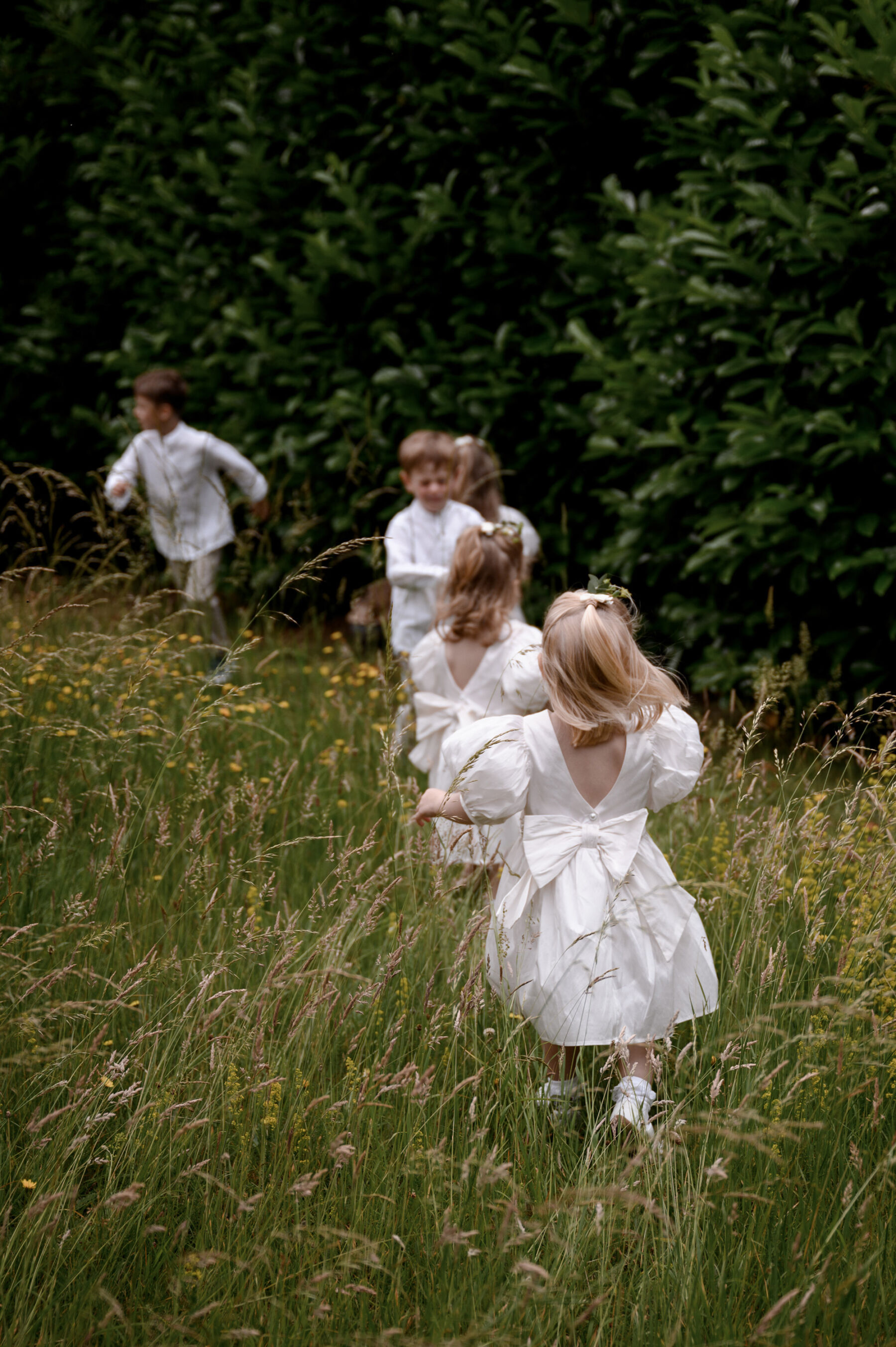 Ceremony
My father walked me down the aisle. We had the most beautiful and memorable moment once everyone else had left for the church up by the main Manor House from where you can see the Church tower, listening to the bell ringers playing guests in. It was pure magic. We entered to Pachelbel, Canon In D Major, played by local organist David Wright
Steve Nunn, a friend from a local village who made the engagement ring made our wedding bands. I went for channel set yellow-gold band with seven diamonds for extra sparkle and Jethro kept it simple with a yellow-gold classic band. We love Steve all the more as he made the engagement and wedding rings for our best friends (the wedding we met at)!
Our first reading was Song of Solomon 2: 10-13, read by Jethro's mum.
Wedding Photography by Taylor Hughes
We choose the sensational husband and wife team Jack and Jade of Taylor-Hughes Photography.
We wanted something modern, unprescribed and artistic rather than classic and they nailed it, exceeding our already high expectations.
We adored them from the moment we first spoke and felt like we were friends before we even met on the wedding day. Some people are simply incredible at their jobs and Jade is one of these people. We couldn't recommend them highly enough.
We used Perkins Florists for my bridal bouquet, bridesmaids bouquets, buttonholes plus a generously gifted bag of fresh petals to add to the confetti. We met Rosie and Tim, yet another husband and wife team, at one of our best friends weddings and it was fate that they were local to the farm.
I had a hand-tied bridal bouquet with a natural shape and lots of different varieties of foliage and pops of colour in shades to match the bridesmaids dresses.
Lawson Films
Pete and Laura, another husband and wife duo from Lawson Films. It was an easy choice, their films made us FEEL. Simply beautiful without being too cringy.
Reception, Decor & Detail
We had authentic Italian tablecloths from local Italian Lago di Garda market, which were sourced by ny parents.
Individually wrapped Ameretto Biscuits from Lago di Garda sourced by bride's parents. Children had bubbles, Italian colouring books or minature fiat500s and Piaggio Ape toys!
Our caterers were Gourmet Pop Up – a boutique, bespoke business ran by husband and wife team Laura and Felan Hennigan (sister and brother-in-law of our brother-in-law!).
Dear friend and exceptionally talented Emma Bradstreet did all of our stationery, invites, menus, table names and plans, name cards, and thank you cards. We kept it classic with traditional gold foil and printed everything on heavy weight card stock with a specially designed lemon motif running throughout.
We opted for individual traditional Italian Millefoglie wedding cakes for dessert, made by Serena De Filippis, pastry chef and founder of DOLCE London and we had amazing feedback from guests.
We added fun with iris blue ribbon, envelopes and lemon envelop slips. We couldn't have asked for better quality, and would highly recommend Emma Bradstreet.
Our best man's mother kindly sourced and arranged all the church flowers, in line with the bright and happy bursts of orange and yellows with spray roses, eucalyptus varieties, rosemary and dried oranges.
All the rest of the reception flowers and plants were sourced/provided by Bell Plantation Garden Centre, the Warren's family business, built by Jethro's parents Sheena and Ashley Warren and now run by their eldest son Freddie. Jethro runs the property side of the business.
I adore and much appreciate Love My Dress, such a fantastic resource and so beautifully curated. I found huge amounts of inspiration through the Instagram page, I love the diversity and wide range of styles showcased. Katie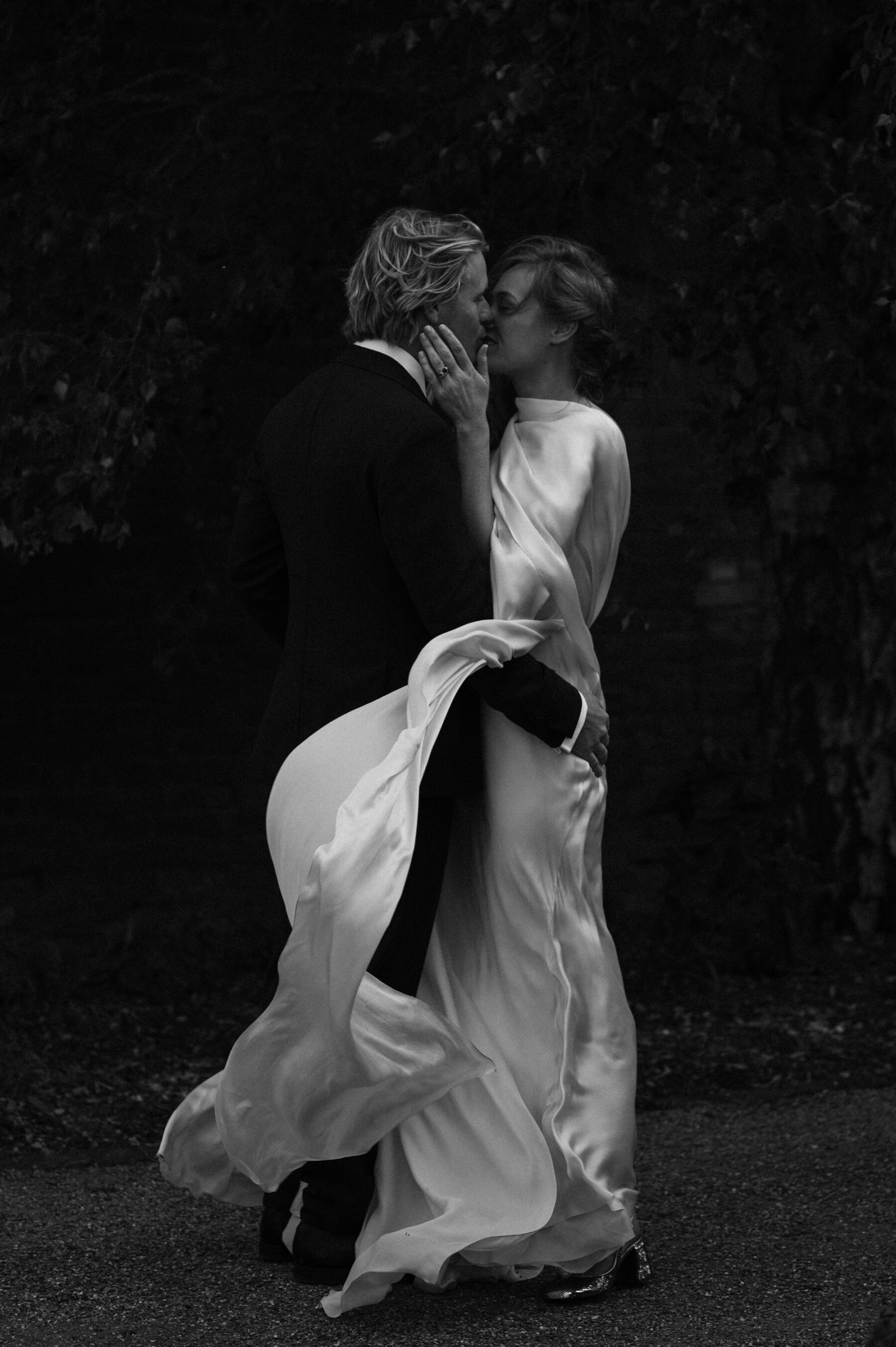 How They Met
We met at our respective best friend's wedding, The Elkingtons. We were best man x bridesmaid pairing…cliché we know.
It was in fact Jethro's mother Sheena who planted the seed on the day by telling Jethro that I was the ultimate English Rose and if he wasn't to bother trying to 'get with' her then he may as well not bother at all – whilst simultaneously feeding me with the line that Jethro was 'damaged goods and not interested in anything serious'! Ultimate Wingmaning or what?!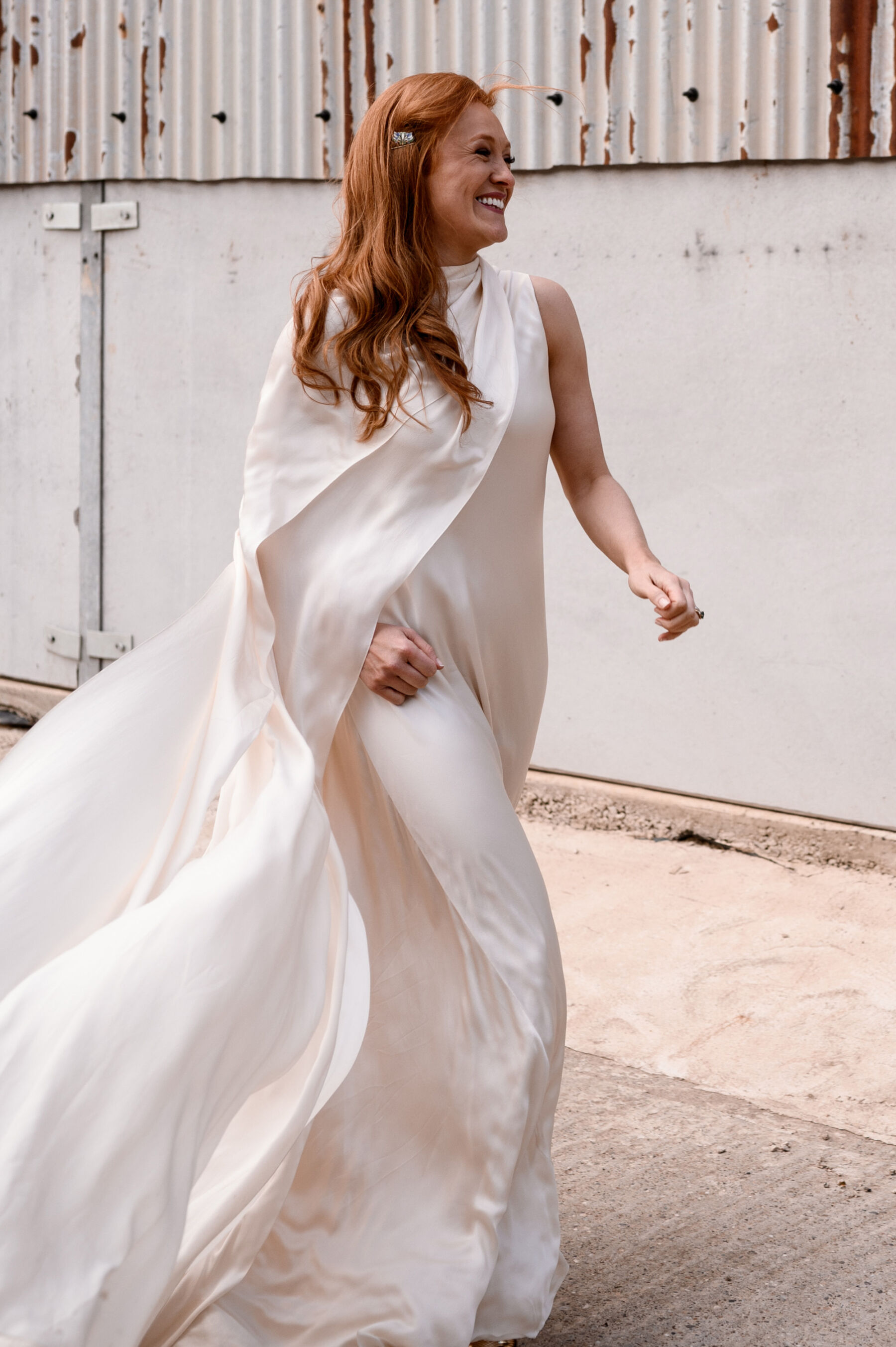 Evening & Dancing
We hired the brilliant The Black Hat Band – a seven-piece band including sax and trumpet (we love brass!)
Words of Wedded Wisdom
I adore and much appreciate Love My Dress – such a fantastic resource and so beautifully curated. I love the diversity and wide range of styles showcased. I loved the articles on fashion and beauty and it was so helpful for getting started with wedding dress designers. The real weddings section is stunning and a joy to explore when looking for inspiration.
Enjoy the planning and the lead up. It is a very special time and such a huge part of the celebrations, the day itself goes by so quickly.
Always remember, only you know how the day 'should go' so if something doesn't go quite to plan, your guests will have no idea or any awareness and it will not be a problem, don't let it worry or stress you out.
Once the day is underway enjoy every moment and let it flow.
Our wedding budget was £40k (excluding wedding gown and groom suit) and yes we did go over this, but only very slightly.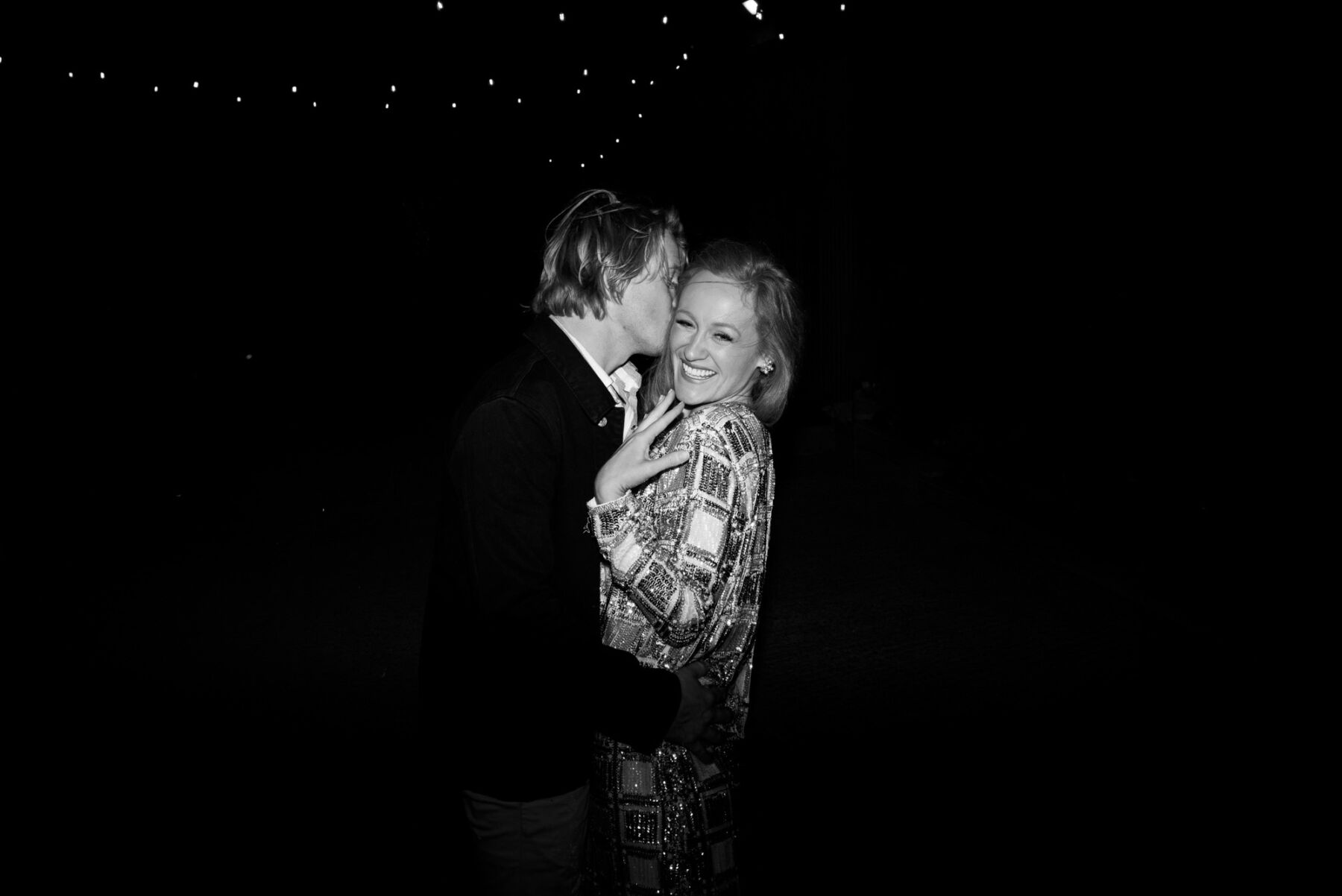 Explore our directory