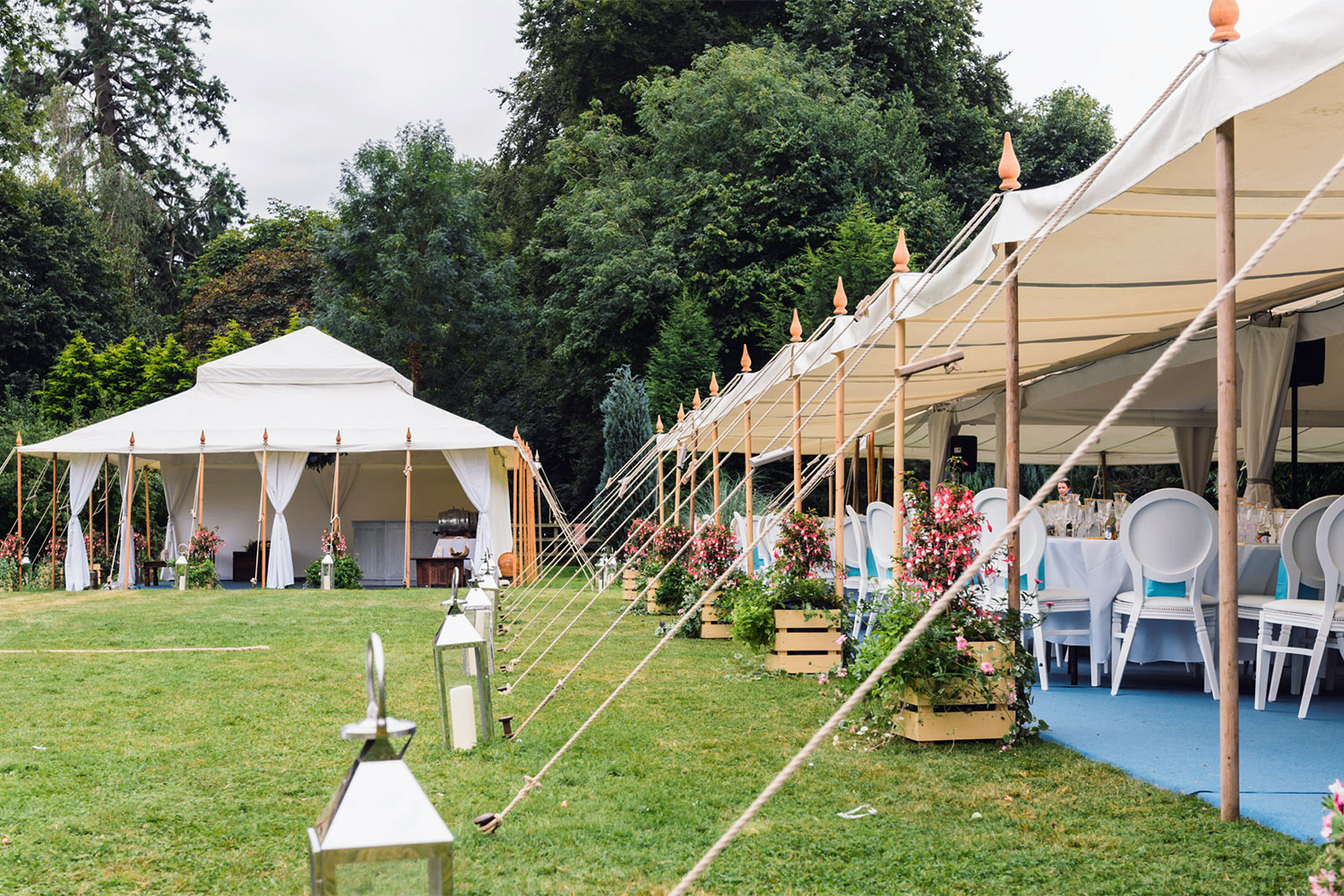 About Arabian Tents
Arabian Tent Company design, create and deliver the most sumptuous range of wedding marquees for couples who intend to celebrate in style. Their range includes Pole tents, Clear roof Marquees, Stretch tents, their iconic Pearl tents, and a unique range of Frame Tents with over 10 interiors to choose from.
They provide their beautiful tents and marquees across the South East at a site of your choice, and have a showroom near Haywards Heath in East Sussex, for you to visit to see the collection in person and discuss your wedding in detail.
From initial contact, to post event clear-up, the team strive to please with their bespoke service. The helpful, knowledgeable and friendly team put their all into each wedding to ensure everyone involved has a relaxing and unforgettable experience. With a wedding planning service also available to help you through every step.
Each wedding is treated with the dedication it deserves with the aim to reflect the couple within the interior of the marquee, to create a space that feels like theirs for their special day.
Luxury Wedding Marquee Hire, UK
Within the collection of unusual structures and dressing, there is something to suit every taste. From the Cornish Cream Frame tent – a delicately block printed wedding marquee interior which creates an 'English Country Garden' style backdrop, complimenting vintage styling wonderfully, to the ultra-modern look of a clear panoramic marquee, with hessian ceiling draping, and paired down pallet seating, to the crisp elegance of an all-white wedding in a double-peaked, Moghul style Pearl Tent, to the twinkly romanticism of a canvas Oyster Pearl tent with billowing voile and fairy lights through the ceiling. Arabian Tent Company are able to use the very best of their contacts and skills to ensure your imaginations come to life.
We are especially aware of how to strike the balance between creating your dream wedding whilst minimising your environmental impact. The world of weddings and events are major culprits in landfill and CO2 and in a normal year are an estimated 2.5 million weddings with the average wedding producing nearly 200kgs of rubbish and 63 tons of CO2. Globally that equates to about a billion tons of rubbish and as many emissions as four people would create in a year
Reviews
What a year 2020 has been! Katherine was amazing throughout the whole experience, offering her creative genius to provide us with the most memorable and unique wedding marquee for our micro-wedding. She and her team were outstanding throughout, they are the best!
Camilla & Mike
We had a stunning themed marquee for a summer drinks party in our London garden. Katherine helped us make optimum use of the space and her team were brilliant in both the set-up and de-rigging. The company were a joy to deal with – very professional and efficient - and all the team went out of their way to go the extra mile for us. We are very happy repeat customers.
Richard
Arabian Tents at House of Hud gave me the marquee of my dreams, I had been saving their images on instagram for some time and the final tent in Cornish Cream lining was even better than I expected. The team sourced the perfect trestle tables and chairs for the event and were very clear about where best to put it on the site we were using. Everybody at the wedding was wowed by the beauty of the tent, and it provided the perfect atmosphere for on hell of a party
Lucy Brough
From the moment we had contact with Jeremy I knew we were in safe hands. We wanted a Moroccan themed wedding with no white and that is what we got. Jeremy travelled all the way from Cornwall to meet us at our wedding venue 9 hours away. He completely got our vision and made it a reality. We will forever be great full and can't thank this company enough for their enthusiasm, reliability and warmth. You deserve to win big and good luck from The Hodgson x
Vivien
The staff were extremely friendly and accommodating, entering into the spirit of the event. We were given the opportunity to make informed choices concerning all the details of the marquee and what was inside it. On the day guests were astounded by the spectacle of the Arabian tent and many said they felt like they were in a different country / world as it provided such a magical atmosphere. It really made our day.
Magdalen
I cannot describe how happy my clients and all guests were when they arrived and saw the marquee. All of them would stand at the deck and simply admire it. One of our guests who runs a big movie production company arrived and she was standing looking at the marquee and all she told her husband was - "This is what I what I wish for!". This was definitely the most beautiful marquee they had ever seen. The team was fabulous. Polite, cordial, hardworking and very professional
Karishma