As style icons go, there can be few to match the elegant and exquisite Grace Kelly. The sophisticated and glamorous Hollywood star was the perfect muse for my 08-08-08 wedding at St. Audries Park in Somerset. 
Love My Dress Wedding Blog – All Photography Copyright (c) 2010, Lovegrove Weddings
For a girl who loves all things fashionable and luxurious, Grace Kelly and I were a marriage made in heaven. I wanted to create a day which encapsulated all she represented, and all the things I love. Fashion. elegance, sparkle and glamour. 
My dress was the inspiration for this theme; designed by Caroline Castigliano and called 'Beauty'- the layers of silk and corseted bodice, with intricate lace detail were so obviously reminiscent of Grace Kelly's style.
Its the details which so often pull a look together and mine were very carefully chosen so as not to compete with my gown.
The tiara, and tiny hair pins in the back of my curls, and the sparling butterfly brooch on my waist were also from Caroline Castigliano and my beautiful necklace was made from freshwater pearls, antique pearls and diamantes, primarily from France and the U.S. It was a bespoke creation by the wonderful company Magpie Vintage.  Its now a family heirloom. 
Even my toes sparkled in the gorgeous shoes I'd chosen, from Benjamin Adams. As well as the diamante buckle at the front, the ankle straps have tiny sparkly buckles too… 
To accompany me down the aisle my four gorgeous bridesmaids were to look like stars on the red carpet. In keeping with the Hollywood feel of the day I chose ivory dresses from the bridal collection in Monsoon ( many thought this was a very brave decision!)  The ties and the detailing under the bust was sparkling diamantes and the silk dresses had a layer of chiffon over the top which caught the breeze and created some stunning images on the day.  The girls wore a vintage style butterfly clip in their hair from Glitzy Secrets, and all had an elegant and understated low bun tied at the back.
Flowers were so important to me on the day and once again, I incorporated an edge of couture fashion into the design. Working with the truly inspirational and creative Rachel Lilley from Bath.  We found many ways to bring glamour and originality into the displays. The Bridesmaids carried handbags made entirely of Roses in a deep burgundy, hot pink and hot orange. The colour scheme came from the ribbon around my dress a deep rich burgundy colour, the choice of the designer. 

These were some of the most admired details of the day. In the Orangery, where the ceremony was held, Rachel hung roses from the arches in the same colours and covered a tailors dummy in flowers to stand alongside the registrars table. I nicknamed her Betty, was she was photographed just as much as the bride on the day!
As a final flourish Rachel created the most stunning flower cakes, again made entirely from Roses and cinnamon sticks. Some of our younger guests were convinced these were edible. 

My bouquet was kept simple and elegant. White avalanche roses tightly bound with tiny feathers and crystals. Pure vintage glamour. 
My bouquet was also reflective of the second colour scheme I used, in a separate part of the venue. St.Audries Park has a very beautiful banqueting hall complete with gorgeous wooden floors and huge bay windows. But the colour is a soft yellow and it simply did not work with my colour scheme in the Orangery. So I decided on a separate scheme for that area of the venue. This 2nd colour scheme idea is becoming more common in the UK, after years of being very typical of weddings in the States, and our guests said they loved the difference in decor in the 2 parts of the building.
The tables were themed using black and ivory, with everything from tiny black butterflies, to crystals and delicate black table runners. The tables were named after Grace Kelly films and each had a vintage framed photograph of her from that film to help guests identify where to sit.  Glitzy is the only way to describe the breathtaking centrepieces. Huge vases filled with fresh white Hydrangea petals and tiny LED lights, topped with a light catching glitter ball. Towering above the tables they added height and a real touch of Oscar night chic to the banqueting hall. 
The top table was adorned with small reflective bowls filled with fresh hydrangea heads in white, silver filigree butterflies softly adding the finishing touches and strings of crystals hung from the front of the table, with more petals attached to soften the overall look. 
Instead of a table plan we displayed Escort cards for our guests, on little black shoes, with a photo of Grace Kelly from each film to help identify the table they were to be seated at. 
Fashionable touches also came in the form of the place cards at each guests seat. Created by the very talented Rebekah Daley.  There were tiny 3d Hermes Kelly bags, little shoes with sparkle and tuxedos for the men. The menus were her work too, with a design showing my husband and I in our wedding outfits ( they had to be kept a secret right up until the Wedding breakfast- even from my husband). Rebekah also created 2 fabulous 6 foot high canvases for the room, of Grace Kelly in 2 very beautiful couture gowns. 
My lovely Groom of course also deserved a spot of old fashioned glamour.  His 3 piece suit was an ivory bespoke creation from the really rather wonderful Marc Wallace. His floral shirt in ivory and black added a modern twist which complimented the look of the day completely. 
More sparkle, this time on our Wedding rings. Another bespoke design for us both. These were created by the family jewellers Townsends. Nigel Townsend worked tirelessly with us to perfect the design of each ring and I have to say the process was so much fun. 
Not surprisingly, outstanding photography was absolutely vital to me and as soon as we set the date I had my heart set on one couple whose work had stood out to me from the first moment I saw one of their images in a magazine. Damien and Julie Lovegrove. Their work blew us away from the pre- wedding shoot we had through to the big day itself and the viewings afterwards. Our album is HUGE and probably weighs more than me! 
 
  
And finally to the first dance, and a perfect opportunity for me to change into another dress, this time shorter and with no risk of tripping up! This gorgeous little fifties number was from Coast.  It fitted with my theme perfectly and I eventually left the reception in it, to start my married life. We had secret dance lessons for weeks before the wedding, and mastered a foxtrot and much to my amusement my husband insisted on including a lift ! He literally swept me off my feet on our wedding day.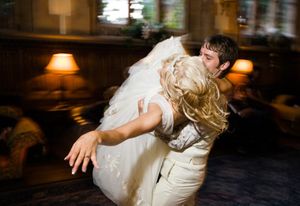 It took 20 months to plan my dream day. I hope you've enjoyed looking through the finer details that took up so much of that time. I've certainly enjoyed re-living every wonderful moment. 
Just finally a few more suppliers to recommend to you. If there's anything I've not written about drop me a line and I'll do my best to help. 
* Make-up – Kit Hall from Slap Artists 
* Hair – Joseph Bespoke
* Wedding planner- Louise at Ecomoon
~ Cat, Guest Blogger to Love My Dress