Some people have natural style and grace.  Some people manage to pull off a look that just oozes elegance and sophistication without barely even having to try.  I most certainly am not claiming to be one of them, but I think I've found a fine example in Newlywed Melissa.
Melissa had not set out to create a 'vintage inspired' wedding, yet her charming sense of style made a subtle nod to fine, old-fashioned vintage glamour.  I remember seeing some photographs she posted on a forum a few weeks after her wedding, and whilst she may not realise it, she was one of the earlier influences that I used to help style my own wedding day.  Check out these fabulous invitations, designed by the Groom himself, and one fine pretty photograph of the newlywed couple together to get you in the mood…
Imagery Copyright (C) 2009, A J Williams Photography
Melissa and Mark's wedding took place at the Jerwood Space, in London, September 2008.
Melissa told me, "Given that I'm Australian, but have lived in London since 2002, we wanted to get married locally, close to home.  The Jerwood is a 15 minute walk from where we live.  We live in a converted Victorian School; The Jerwood is also a converted Victorian School.  Mark is an artist;  The Jerwood is an art-gallery.  We wanted lots of light and the Jerwood's glass annexe meant that regardless of the whether, we'd be flooded with natural light.  Perfect on all fronts!"… 
 Pretty Maids all in a Row…
And pretty in pink too!  Pinks and lilacs were favoured colours, as these rather beautiful Bridesmaids dresses from WToo illustrate ('WToo' is part of the 'Watters & Watters' brand, that can be purchased for amazing prices and shipped directly from the US via the House of Brides website).  How lovely to see the girls in different coloured dresses but carrying off the same incredibly flattering style. 
Delicate Lace…
Melissa's exceptionally beautiful dress was Sharon Hoey, for Caroline Castigliano.
"I'd had my hair cut just after we got engaged and it naturally fell into soft waves, reminiscent of the style my Grandmother had when she got married in 1937!  So while my wedding wasn't 'vintage inspired', the hair did have an impact on the type of dress I wanted"….
I love the lace detailing on this most divine of dress, and how it works so beautifully with the single tier vintage-style veil, also from Caroline Castigliano…
A nervous Groom, awaiting the arrival of his beautiful Bride in the fabulous venue that is, the Jerwood Space,…
Melissa didn't keep her Groom waiting for long. Look at this shot of the Bride looking resplendent in her wedding day attire, entering the ceremony room with her much loved Father…
"…Mark could 'now kiss the bride.' And he did! And we did… for quite some time I gather! (Well, at least the photographers would've been able to get some photos!) To much cheering and laughter, we pulled away from each other."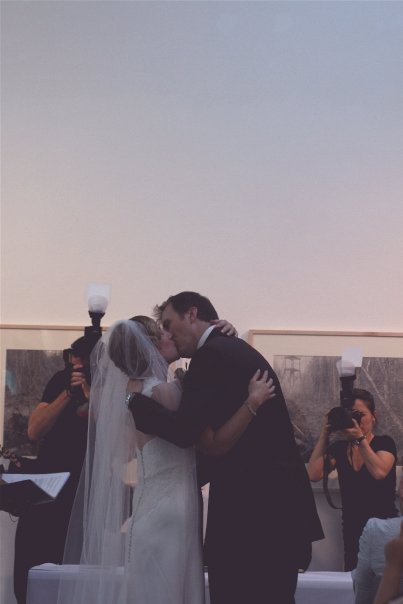 They did it!!
Eucalyptus, M&Ms, Crumbs and Doilies …
"I gasped at the flowers – simply stunning! I hadn't really given much thought to flowers; I'd seen pink snowberries on the Martha Stewart Wedding website and taken a photo to show my florist who, when she saw the colours of the best girls' dresses, suggested two different types of roses and some other filler flowers, as well as eucalyptus which I felt needed to be included, me being Australian and all!"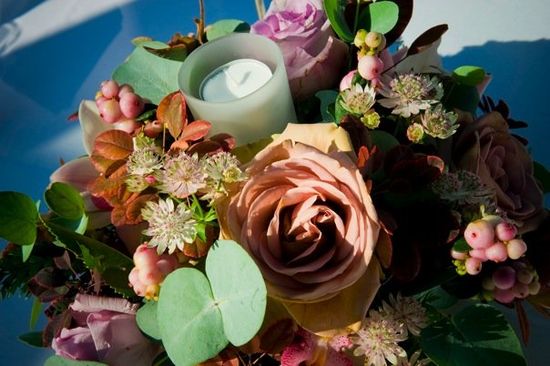 I love Melissa's art-deco inspired earrings below, from couture costume jewellery designer Stephanie Browne, of Melissa's homeland, Australia…
"Our favours were M&Ms (for Mark and Melissa; already personalised!) in small glass jars from Ikea,  tied with labels featuring our portraits, tying in with our invitations".
"Walking into Gallery 2, we saw our cake for the first time; delicious cupcakes from the fabulously named Crumbs and Doilies (whose stall at the Chelsea Food Market I visit regularly on a Saturday!), with a Konditor & Cook curly whirly cake for the top and a cake topper in the image of Mark and I and our cat Holly. It looked truly fabulous and had pride of place in the gallery, spotlit from above." 
"The heart frame by Red Direct contained photos of happy couples by our families and married members of the bridal party."

 
"Juliet, Mark's talented Sister, did all the place names, and also illustrated our guest book with the most wonderful drawings in the most incredible detail; the lace on my dress, the pattern on Mark's waistcoat, the view from our window,  our shoes, and our wedding rings…."
Fishermans Blues…
"We decided not to have a top table, and instead positioned our round table in the centre of the five, but with Mark and I able to look out at everyone. We named our tables after songs that we loved and included the lyrics of the songs on the table names so guests would see why they were important to us. Gorecki was one, also Tear Drop (Massive Attack), Somewhere only we know (Keane), Waterloo Sunset (The Kinks) and Fisherman's Blues (The Waterboys) was the top table as this was to be our first dance."
"Our fabulously talented Photographers, Aga and Jason Williams, captured the emotion, fun and personality of the day; we are so thrilled with their work and I love how in some photos, we look uber-edgy and in others, we look romantically old-fashioned!". 
Gosh I so love that final shot, it's like the closing scene of a romantic movie – just gorgeous….

Melissa says "Our guests travelled from all over the UK, as well as from Australia and the U.S.  Quite simply, it was the best day of our lives".
And we can see why; fun, merriment and one lovely, loving couple pulling off in incredibly stylish affair indeed. I have so enjoyed spending time over these wedding photographs too – for me, they capture perfectly an amazing sense of celebration.
Thank you so much Melissa for kindly sharing your special day.  I wish you and Mark a life filled with love, happiness and very fond wedding day memories…
♥