All of the content featured on Love My Dress fills me to the brim with inspiration and delight.  However, every once in a while, I come across something so completely fabulous, that I'm left feeling fit to burst with sparkly twinkly happy dust and glee!  There's a bit of a story to this one, and it goes something like this…
As I was planning my March 2009 wedding, I invested in a lot of wedding magazines to seek inspiration (um, possibly double my own body weight in quantity, if I'm honest…?!). I loved flicking through the pages and being inspired by other Brides, but I remember this one 'Real Wedding' feature in one of the most popular Bridal Magazines, that just almost blew me away ~ it was all rock n roll gorgeous but glam-glam-glamorous all the way!
Imagery Copyright (c) 2008 – 2010, French Connection Photography
The DRESS! An emerald green beauty it was ~ the shoes, the decor, everything was so colourful and rock n roll, I absolutely loved it.  Well, to cut this potentially long story short, I was chatting to my friend Tom the other day on Facebook.  I haven't seen Tom in such a long time now, but we used to have a ball clubbing with friends around, gosh, 15 years ago now I guess? (Anyone from Stafford or the Midlands in the UK remember the 'Swoon' days??).  Well, blow  me away with green feathery gorgeousness, but it only turns out that the fabulous emerald green Bride is Tom's Twin Sister Cassandra!  Cue me sending emails all over asking if Cassie would mind me featuring her amazing wedding day on Love My Dress…
"What a lovely email you have written to me!! I am honoured you would love to do a feature on my dress!!!"
HOORAY!! ….and so after a fair few emails back and forth with the fabulous Photographer that is Ian, from French Connection Photography (thank you so much Ian!), I am delighted to offer you the wedding of Cassandra and Adrian…
Cassie and Adrian wed in June 2008 at Packington Moor Barns in Lichfield, Staffordshire, UK.  I love the bright and colourful sailor tattoo style wedding invitation above.
"Someone asked me if I could do it again what would I change?   My answer would be ~ 'How do you change perfection?"'
The incredible dress! It was actually a Prom Dress from Demetrios Bride…
"It was love at first site! …the colour, the cut, I just knew that was THE dress!"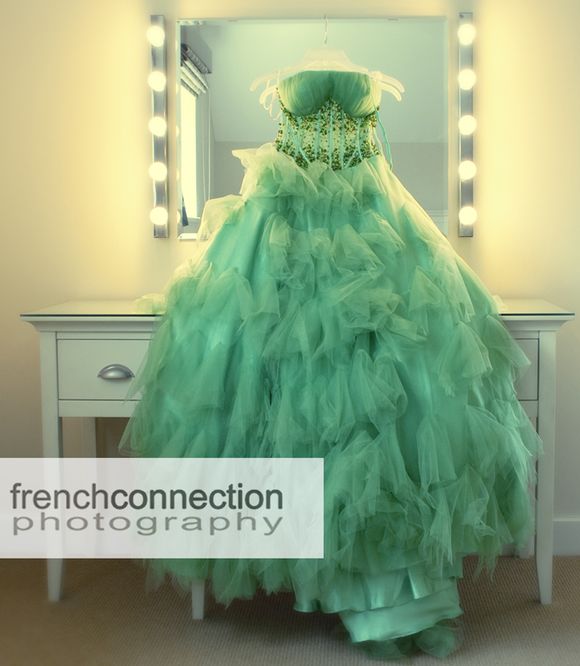 The beautiful dress looks very at home in this boudoir scene…
Cassie and her girls getting ready…
"On the day itself, I was a bag of nerves but my photographer Ian was my calming rock that day…"

Bridesmaids shoes from Irregular Choice…..TO DIE FOR! …and very in keeping with the all-round fruity/tropical theme…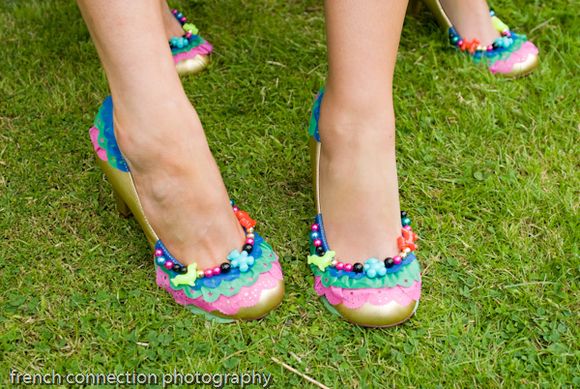 Now that's one laid-back Groom if ever I saw one! Adrian's suit was from Next, and his flip-flops were Topman. Flip-flops! Brilliant!! 🙂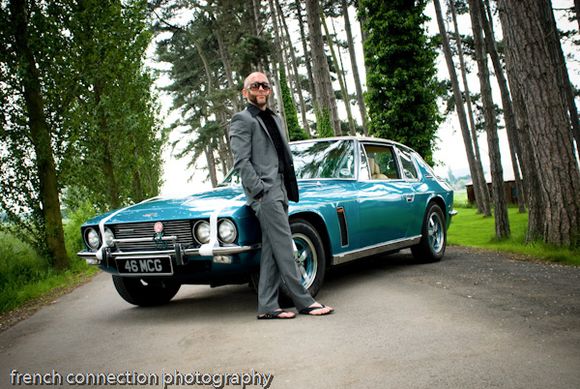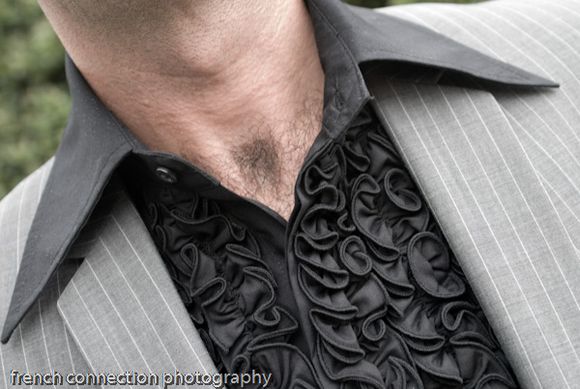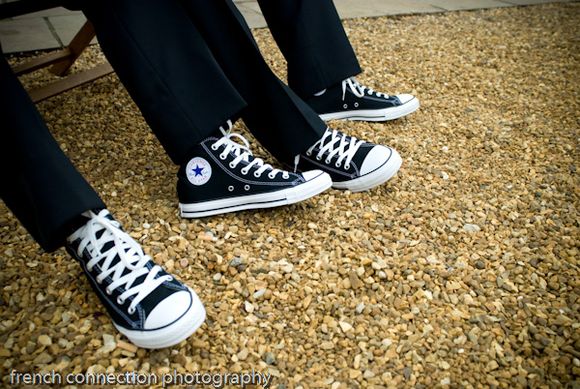 Very naughty! But what beautiful rings….
"Our rings were by Onyx of Birmingham. I designed my own and it is based on the wedding ring Elvis gave to Priscilla… Ade chose his design from the shops own…"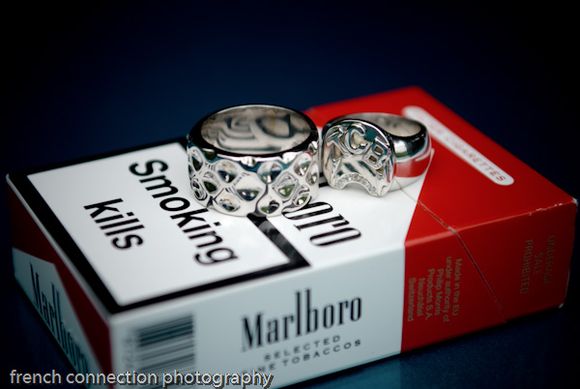 Cassie making her way into the ceremony…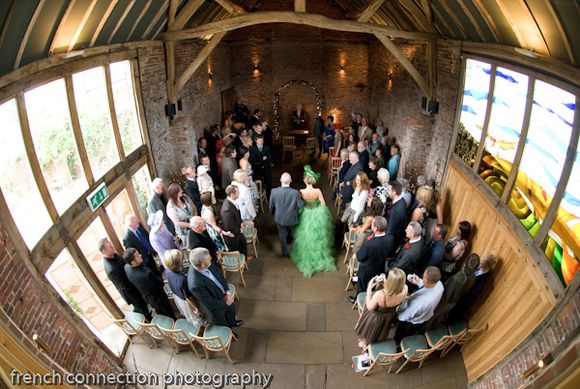 Aww, I love the ceremony shots…   Cassie's beautiful head-piece was by Vivien Sheriff at Dame Oliver's in Lichfield…
The flowers were by Kate of Lichfield (01543 252380)…
"We wanted Sex And The City and tropical all rolled into one. I had palm leaves, Birds of Paradise, Pineapples and Anthuriums…"
Hooray! They did it! :)  The lovely matching emerald green Bridesmaids dresses were from Monsoon…
I just LOVE that shot on the right, Cassie looks amazing (click to enlarge…)
A box full of luck…
"Each guest received an envelope which contained a lottery ticket and stick on tattoo which everyone were covered in by the end of the night!"
A lucky butterfly flutters by and lands on our Bride…
"Carole Gregory and her Husband made our cake. It was a combination of sponge and fruit cake and we wanted a 3 tiered cake with a theme of old sailor tattoos covering it!! It was AMAZING!"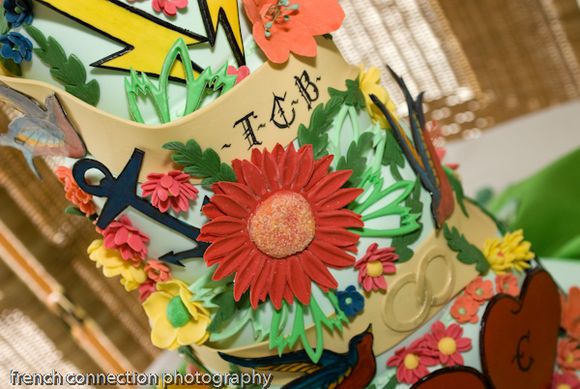 "Each table was named after various Rock Stars / Bands and we had candles on each table set on mirrors to reflect the candle light flickers. And generally each table was covered in bright, tropical Rocking :)"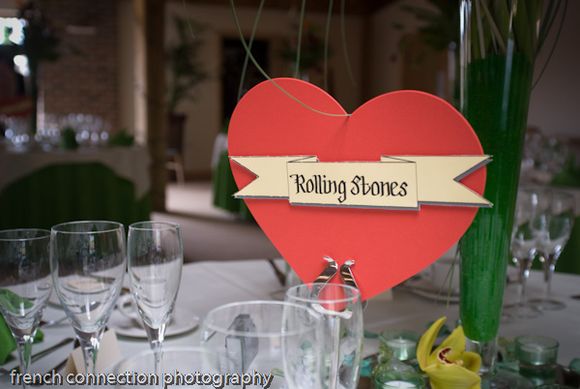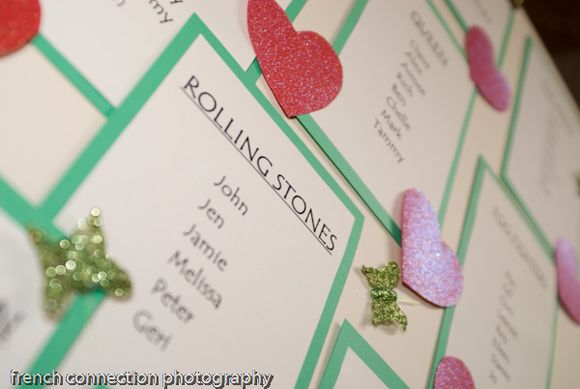 Mum's the word…
"It is all down to my mom that the day was such an amazing success ~ she shared my vision and was my very own wedding planner!!  We were so lucky because the sun shined for us which made everything all the more colourful!"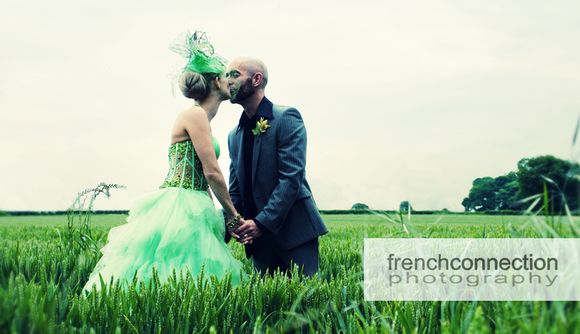 "My advice to all brides that want to put their own stamp on their big day, is don't lose heart if you don't find things up your street straight away, persevere and get creative with your mind (and fingers if you're able to!). Get creative friends to help out where they can too! Adrian designed our invitations in the theme of a tattoo and they were amazing! Finally, it's YOUR day so be as crazy and you please!! :)"
Thanks so much Cassie for sharing your detail, and thank you once again to Ian of French Connection Photography for being so helpful.
Oh look! There's a little video to see us out … 🙂
Film Credit, Electra Wedding Films
Much love,
♥