Oh, I'm such a big fan of 'art-deco vintage' weddings and I nearly fell off my chair when I first saw these photographs a couple of weeks back on the fabulous Photographer Steve Gerrard's Blog.
Art-Deco Bride Hannah and Husband Ali got married on 19 December 2009, at The Daffodil in Cheltenham, Gloucestershire, England.  I knew in an instant that Hannah's dress was a Jenny Packham – 'Ravello', to be exact.  I wore JP myself on my wedding day any fan of Jenny's will recognise the cut and gorgeous art-deco detailing on this particular dress… 
"I loved the sleeves ~ although had shoulder pads added to create even
more of a 1930s look.  I had not seen another dress that looked like
this one…it looks like original vintage – except was in perfect
condition and fitted me!!"
Photography Copyright (c) 2009-2010, Steve Gerrard
Now you might have spotted these photos on the fab Rock 'n Roll Bride site last week, but we just had to feature this wedding on Love My Dress and share all the wonderful details with you, so we spoke to the beautiful Bride Hannah on your behalf.  A huge thank you also to the hugely talented Photographer Steve Gerrard for allowing us to reproduce his wonderful work on Love My Dress…
Hannah's gorgeous shoes were 'Kross', by Dune, and her beautiful hair accessory was also by Jenny Packham – Acadia III (slightly larger than former versions of this divine hair accessory).   Hannah also wore a vintage sapphire & diamond cocktail ring from her Grandmother, earrings by Swarovski and had a beaded clutch bag by Accessorise.  Her makeup was by Tabitha Madden…
Ali gets ready…
Ali wore a vintage white tie and tails and totally looked the part.  He also wore a vintage silver pocket watch…
How dapper does this Groom look?
In keeping with their art-deco themed day, Hannah and Ali chose The Daffodil as their wedding venue – a former 1920's Art-Deco cinema…
"The venue is an old art deco cinema which has been converted into a
restaurant – it had so many original features that we needed very few
extra decorations….we did have hurricane lamps and candles around to
add to the evening glamour!"
Are these the most stylish and chic Bridesmaids ever?!?  The Bridesmaids wore shoes by Dune, gorgeous art-deco patterned sequined dresses from All Saints, and Ostrich feather headpieces made by Hannah herself (see, talented as well as beautiful, <sigh>…. some people have it all!)…
The Bridesmaids earrings were their own and the clutch-bags were an EBay find…
I just love this shot, it captures a really beautiful moment…
…as does this…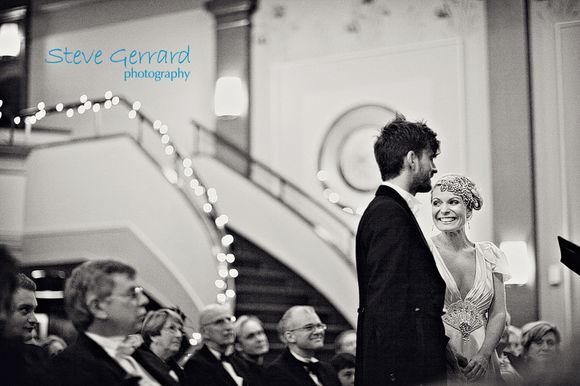 Flowers were by Little A of Kings Heath, Birmingham.  They comprised very dark red, long
stemmed calla lilies and orchids…
"We chose them for their dark red
colour and 1930s feel. The lilies were twisted inside half of the
hurricane lamps and the orchid heads were suspended in water in the
other half. We had one big display that used both orchids and lilies.
My bouquet was just calla lilies…I was keen for it not to look like a
conventional bouquet – as I wanted to hold it on my arm."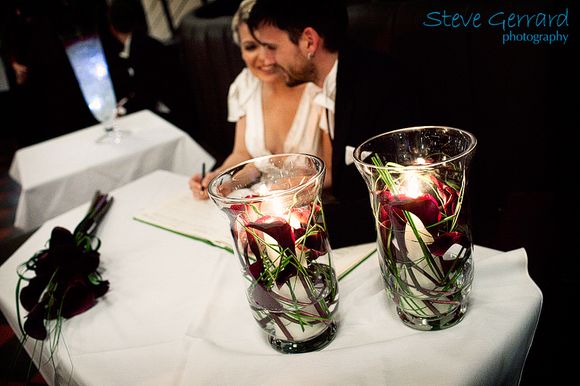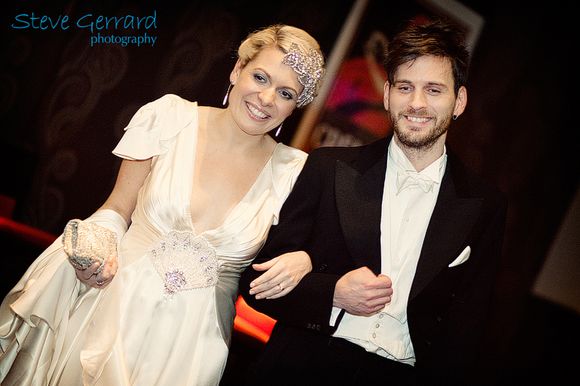 Art-Deco FONTS! They  make me weak at the knees….. really!  The wedding rings were Platinum and 18ct white gold bands from Rex Johnson & Sons, Birmingham (old friends of Hannah and Ali's)…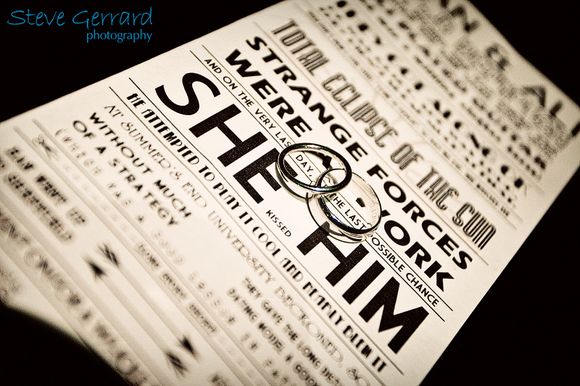 Brides speech…
Ali is a professional Musician, whose band 'Envy & Other Sins' won Channel 4's "Mobile Act Unsigned".  Alis is now a solo artist and you can check out his work here…
Ali stood to serenade Hannah at the wedding, how romantic!…
"Neither of us really likes wedding cake and everybody loves cheese
so we opted for a black & white wedding cake made of local cheeses
from The Cheese Shed…"
First dance…
Jenny Packham perfection….
The look. of. love…..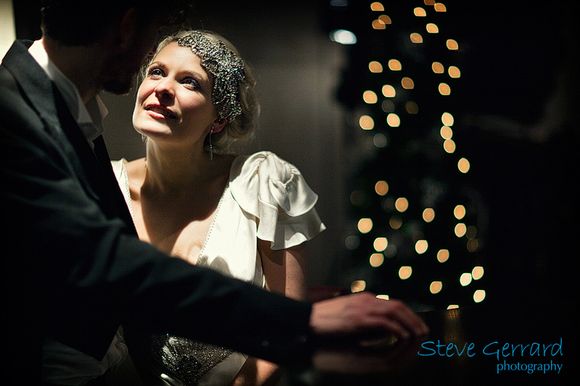 "Ali and I adore all things art deco and this influenced our day-
although we were keen that it didn't turn into a 'themed' wedding….We
made it very clear to the guests that we didn't want anyone turning up
in fancy dress!"
Don't worry Hannah, your guests did you VERY proud. Look at this stylish lot! …
Hannah and Ali with Photographer Steve Gerrard, left…
What a beautiful romantic shot to end this wedding story…
Hannah – thank you so much for sharing all your stylish detail with our readers – we wish you and Ali a beautifully long and happily married life together.
Much love 🙂
♥